The Burger Coy in Amoy Street Food Centre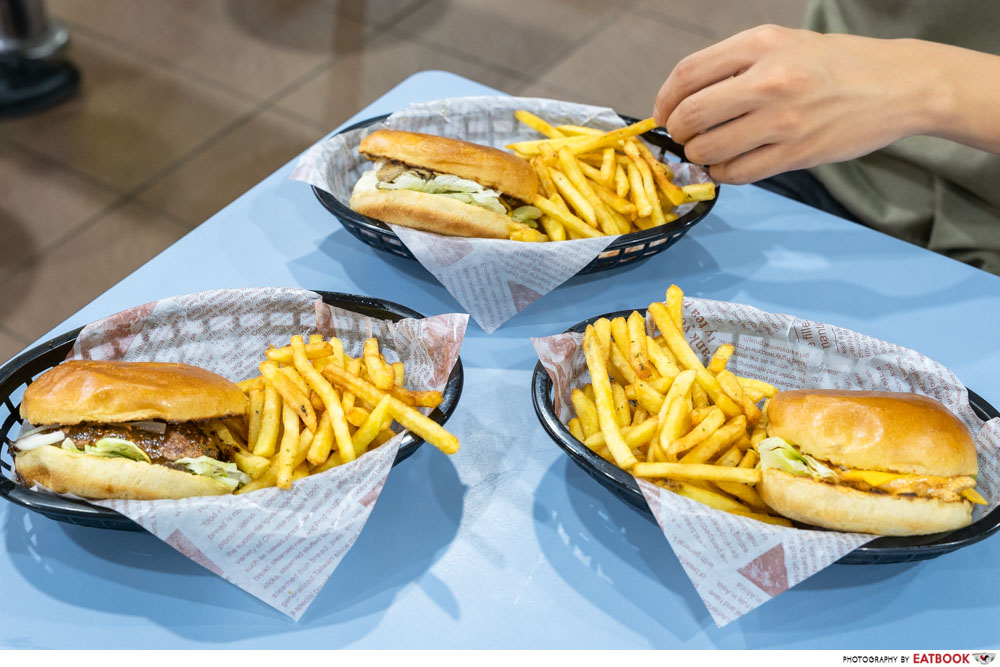 For me, it's easy to resist an expensive burger no matter how good it tastes, but an affordable one that's well put together really tests my self-restraint. So I couldn't help but pay The Burger Coy a visit when I found out that their burgers, which include a truffle-filled version and a take on McDonald's Prosperity Burger, are all under $9—with sides included.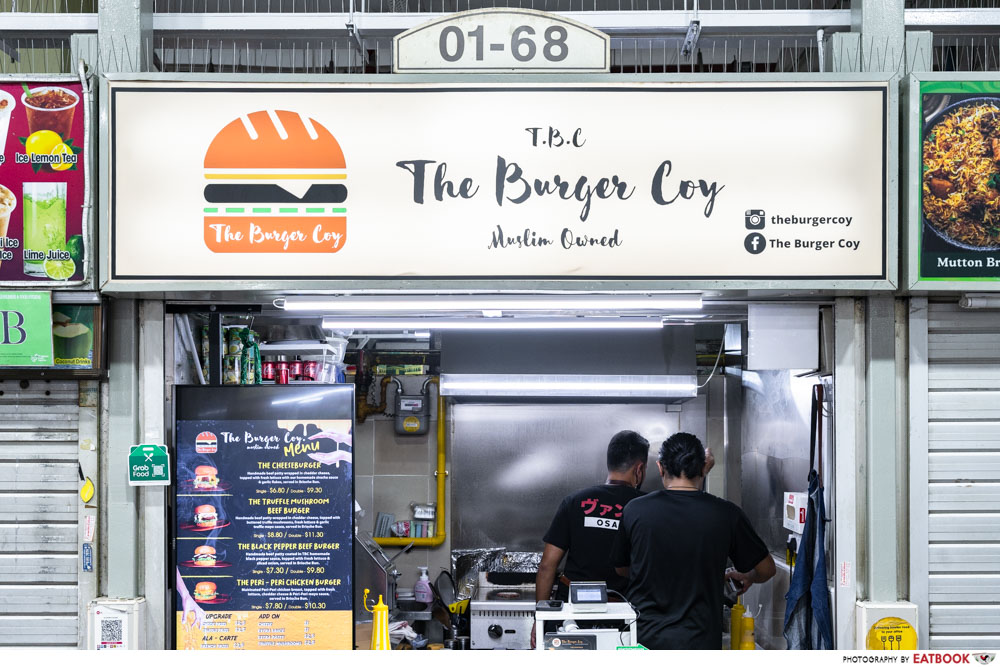 The Muslim-owned burger stall opened in Amoy Street Food Centre not too long ago, and has already been receiving rave reviews. We ordered three burgers from them to evaluate how good they were.
20 Amoy Street Food Centre Stalls To Visit When You're In The CBD
Food at The Burger Coy

The first dish we tried was The Black Pepper Beef Burger ($7.30 for single patty, $9.80 for double). We got the single patty version, which at first glance, didn't look too impressive. The beef patty was a little too small for the brioche buns, which gave it a somewhat lightweight appearance.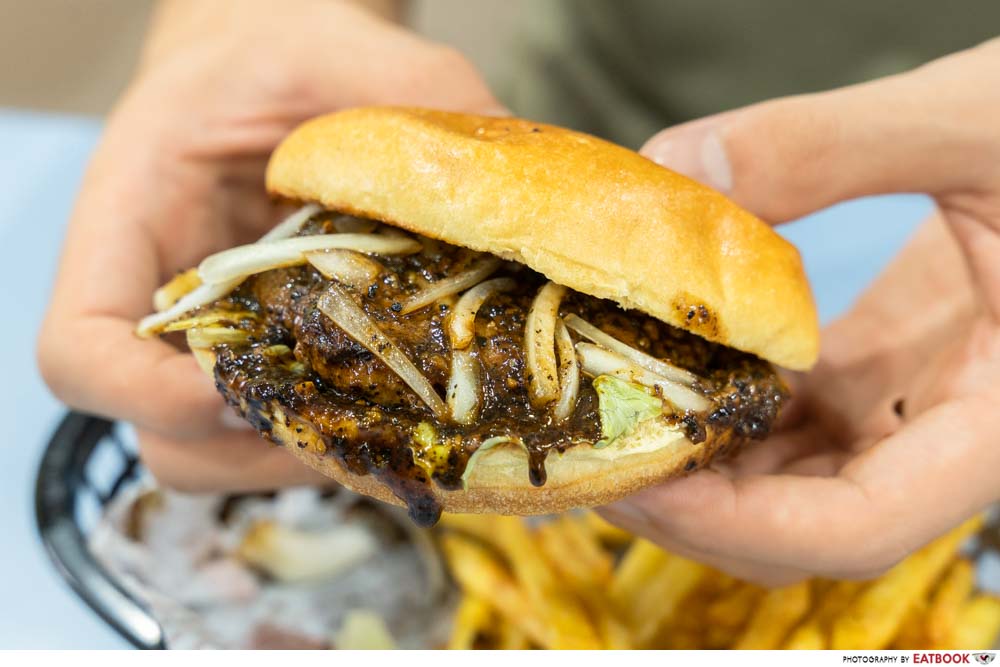 When I sunk my teeth into the burger, my first impression was that the brioche buns were super soft and pillowy. They had a buttery taste and slightly toasted exterior, which accentuated the messy pile of beef, sliced onions and lettuce. And though the patty wasn't as juicy or filled-out as I hoped it'd be, it had a nice smoky and meaty flavour.
The black pepper sauce was indeed reminiscent of the Prosperity Burger from McDonald's, but I daresay I liked it better. Balance is the best word to describe it here—it's not overly peppery, but there's enough of a spicy kick here to make it work.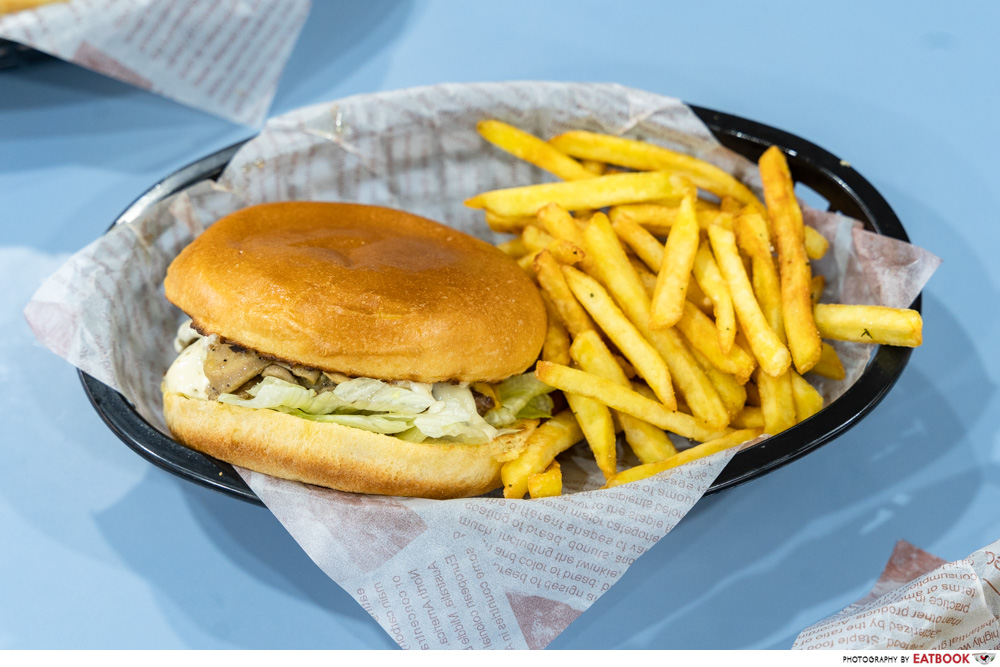 Again, the patty appeared to be a little coy in our next dish, The Truffle Mushroom Beef Burger ($8.80 for single patty, $11.30 for double). It was hidden amid a forest of lettuce and mushrooms, but like in the previous burger, it was a tasty enough piece of beefy goodness.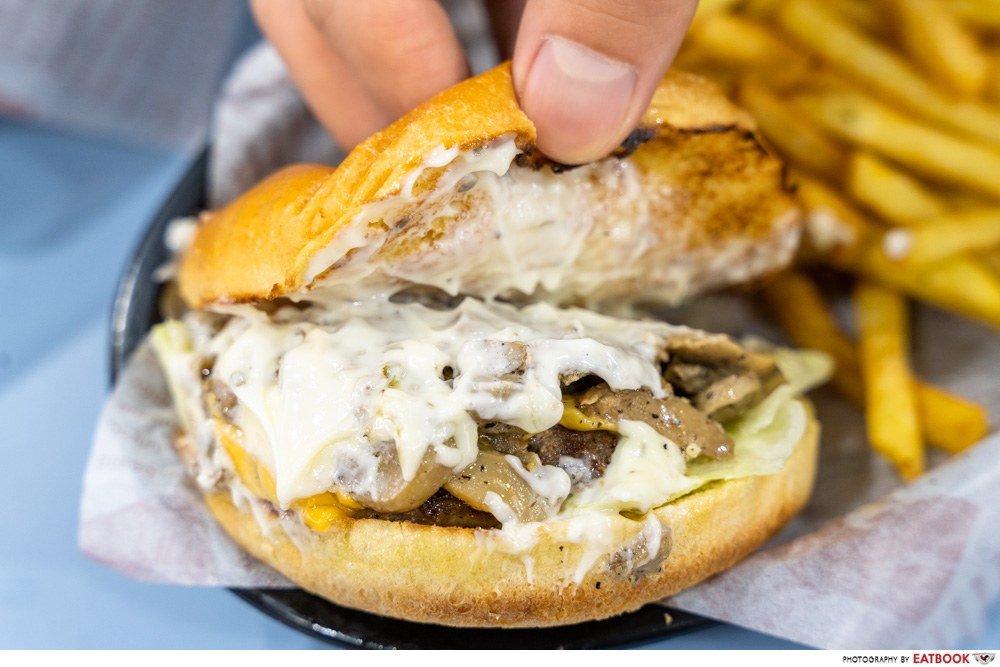 Now, this picture looks a little messy, but for those who love the aroma and taste of truffles, it should be good news. That's because you can see the generous amounts of garlic truffle mayo sauce slathered all throughout, and this translated to a rich and pungent flavour that filled every bite. The mushrooms here are also infused with truffle, so really, The Burger Coy has gone all out with the so-called "fragrant diamond".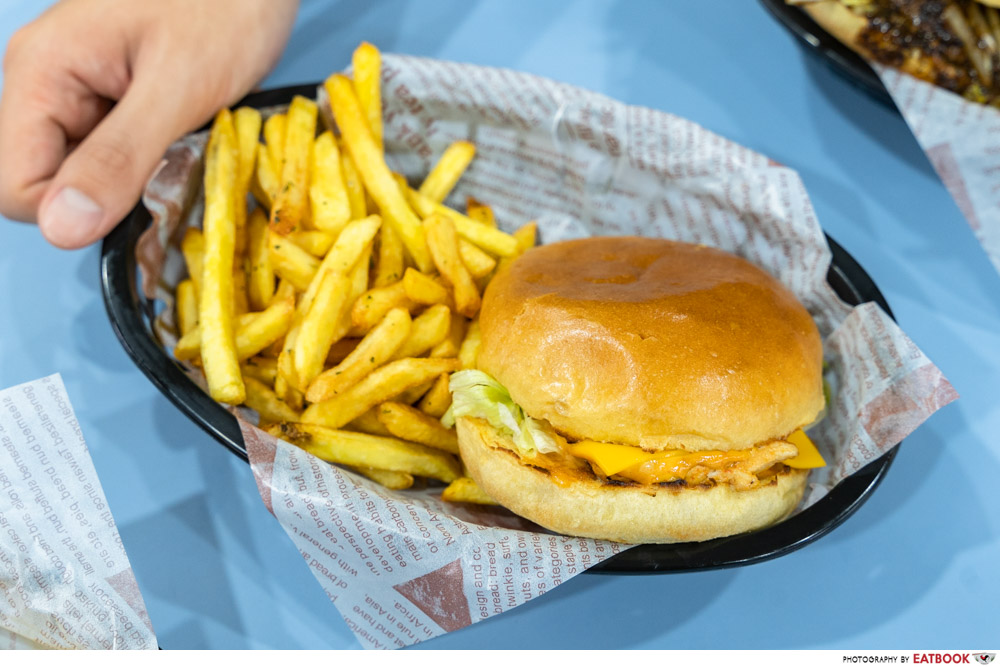 We got The Peri-Peri Chicken Burger ($7.80 for single patty, $10.30 for double) as our last dish. This one's the only non-beef burger on the menu, so we thought we'd give it a try for variety's sake.
The chicken burger was underwhelming, to say the least. It was thin and mostly dry, and felt unsubstantial when compared to the other patties. However, the peri-peri mayo sauce was pretty addictive, adding some zest and spiciness to the chicken. The cheese helped to add more savouriness to the burger as well, though I would've preferred it if it came melted.
Ambience at The Burger Coy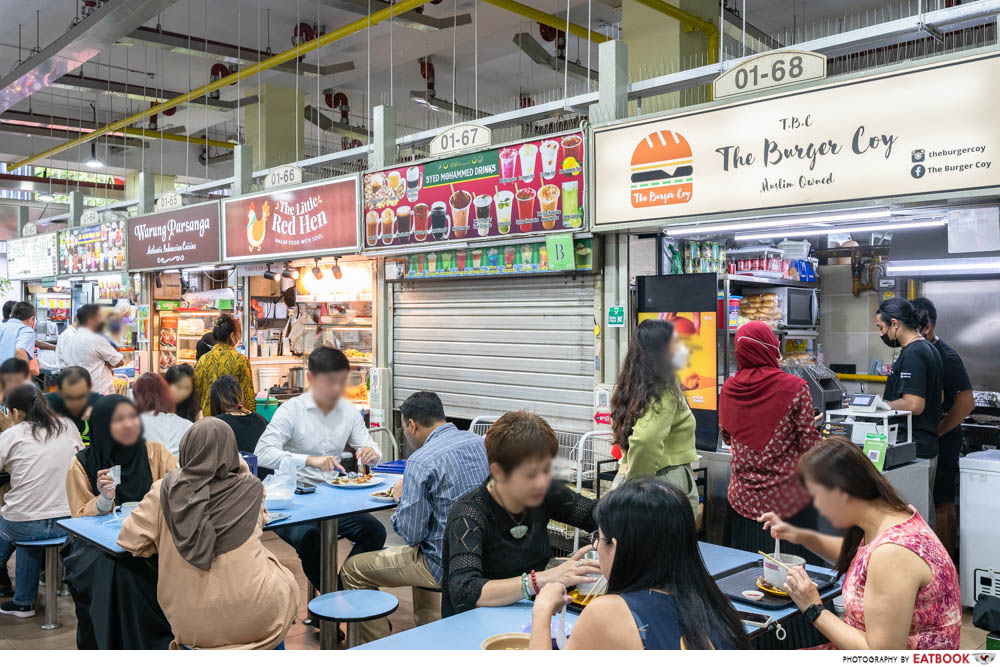 The Burger Coy is a little stall on the first floor of Amoy Street Food Centre, home to famous stalls such as A Noodle Story and Ah Ter Teochew Fishball Noodles. It's a spacious hawker centre, but one that's typically filled with tourists and office workers. Go early if you want to secure seats with ease.
Amoy Street Food Centre is a 2-minute walk from Tanjong Pagar MRT Station.
The verdict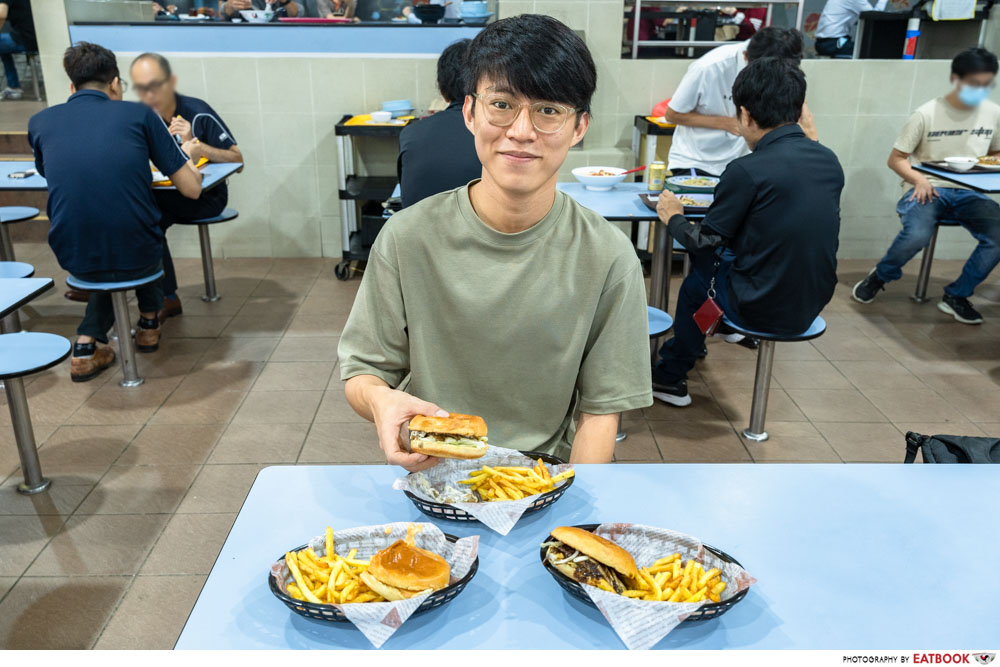 The Burger Coy's burgers are enjoyable in parts, albeit not perfect. They tend to have some elements that I think can be done a little bit better, but I found myself liking most of what I ate. And for that price, I'd say the stall is worth a look.
For affordable Halal burgers to check out, read our Salai M'an review. Those who are looking for plant-based burgers should have a look at our The Goodburger review.
Address: 7 Maxwell Road, #01-68, Amoy Street Food Centre, Singapore 069111
Opening hours: Mon-Fri 11am to 8pm, Sat 12pm to 4pm
Website
The Burger Coy is a Muslim-owned eatery.
Salai M'an Review: Halal Burgers And Smoked Meats By Ex-Potato Head Chef In Jalan Besar
Photos taken by Lau Hui Hui.
This was an independent review by Eatbook.sg.
The Burger Coy Review: Muslim-Owned Burger Stall in Amoy Street With Truffle Mushroom And Black Pepper Burgers
The Burger Coy Review: Truffle And Black Pepper Burgers By Muslim-Owned Hawkers In CBD -

7/10
Summary
Pros 
– Burgers are affordable
– The Black Pepper Beef Burger was like the Prosperity Burger, but better (hot take alert)
– The Truffle Mushroom Beef Burger will appeal to any truffle fan
Cons
– Patties tended to be small and unsubstantial
– The Peri-Peri Chicken Burger was underwhelming
Recommended dishes: The Black Pepper Beef Burger ($7.30 for single patty, $9.80 for double), The Truffle Mushroom Beef Burger ($8.80 for single patty, $11.30 for double)
Opening hours: Mon-Fri 11am to 8pm, Sat 12pm to 4pm
Address: 7 Maxwell Road, #01-68, Amoy Street Food Centre, Singapore 069111