Salai M'an for halal burgers in Jalan Besar
Update: Salai M'an is permanently closed.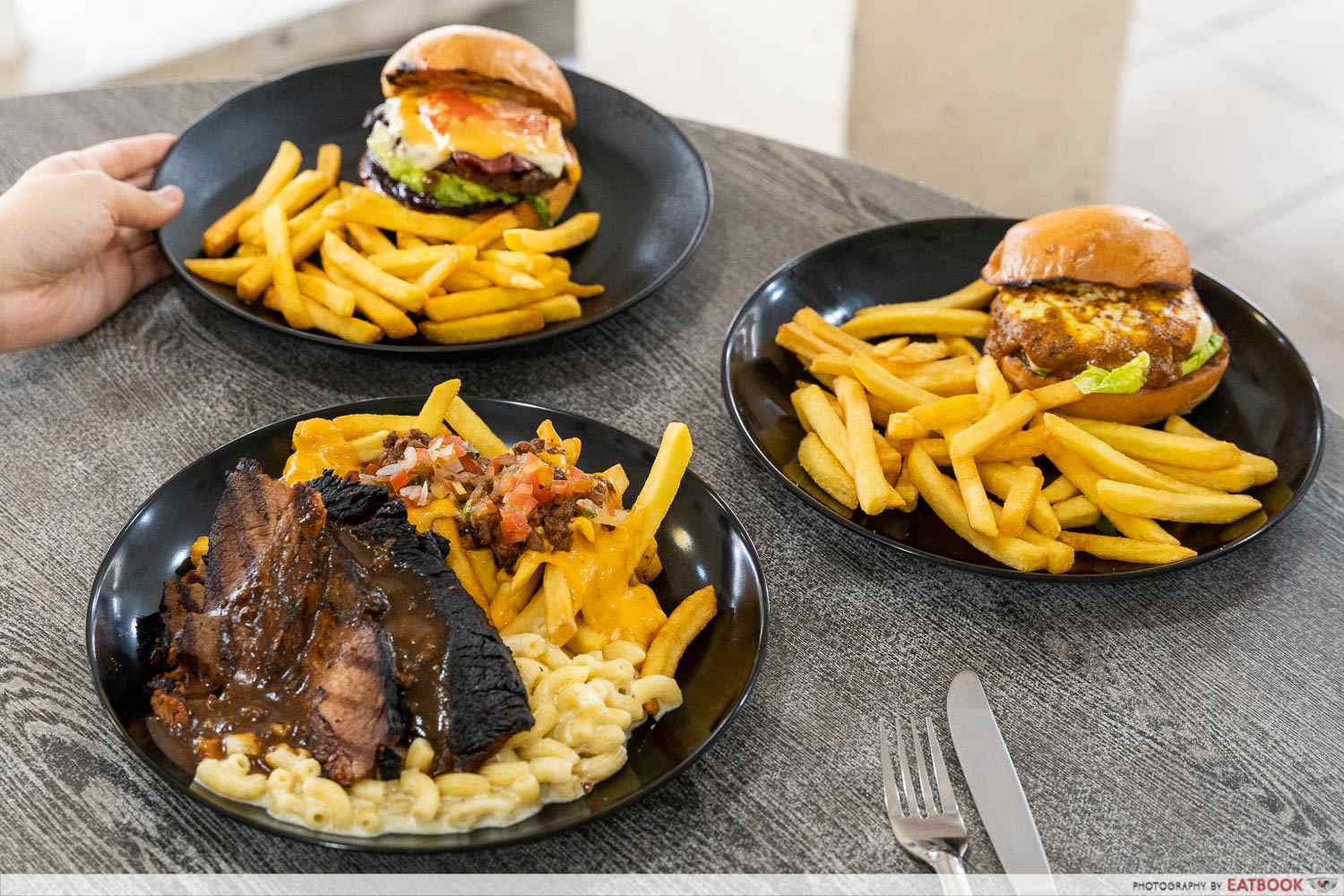 There are plenty of burger joints in Singapore, so you can easily find something out there, whether you're on a budget or out to splurge. One of my favourite places for consistently good beef burgers is One Fattened Calf, but the prices there aren't exactly the cheapest. If you're hunting for an affordable option that's also halal-friendly, Salai M'an at Berseh Food Centre is a worthy contender.
Burgs by Project Warung Review: Famous Muslim-Owned Burger Place Opens At Somerset With Prices Under $12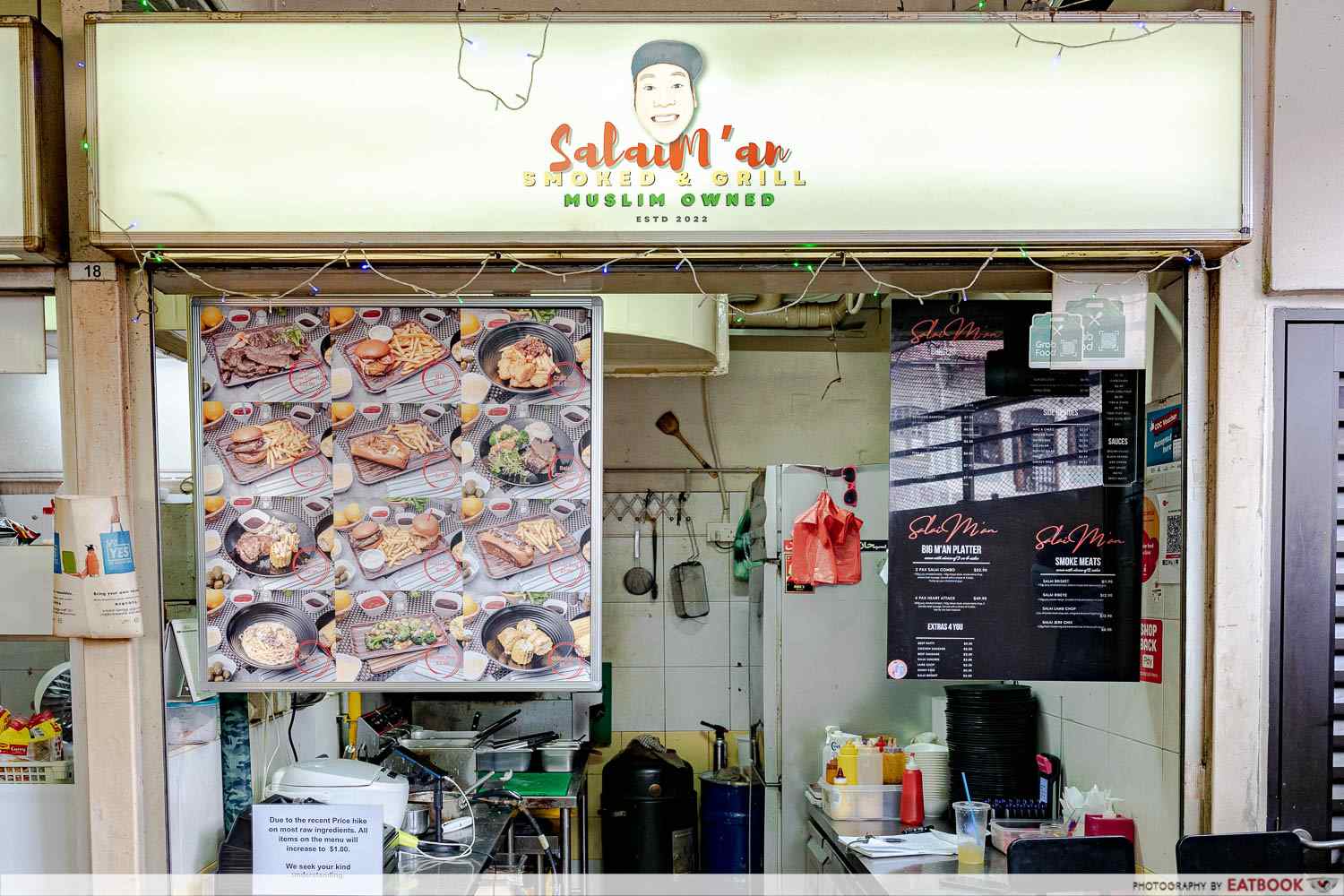 Former Potato Head Chef Sulaiman helms Salai M'an. He started the fairly new hawker stall in early 2022, dishing out a wide range of burgers, as well as smoked and grilled meats great for sharing.
Food at Salai M'an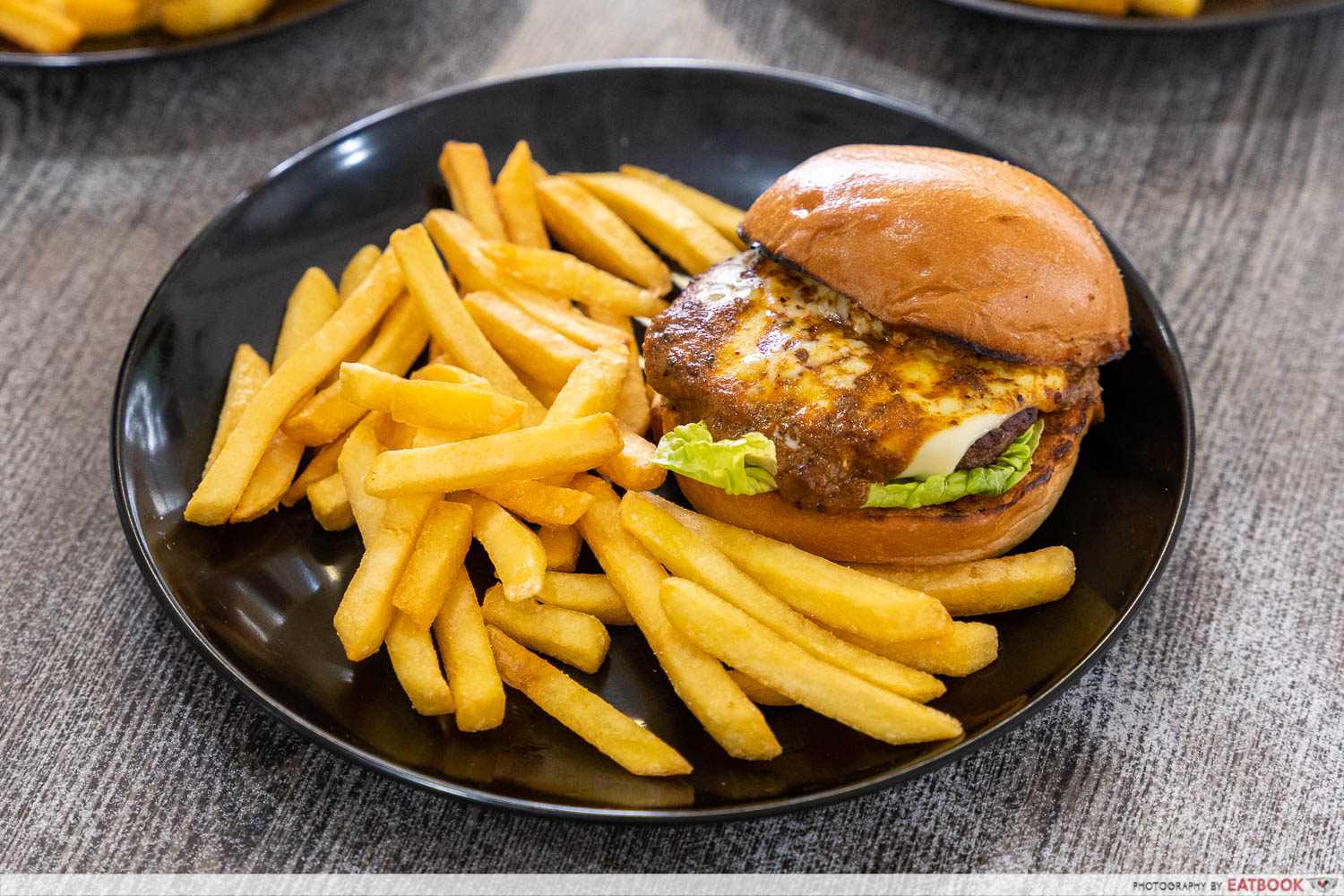 Dive straight into the Rendang Kampong ($8), a saucy burger that's worth the mess. This best-seller features a single grilled beef patty with house-made rendang sauce and a slab of cheese, sandwiched between two brioche buns.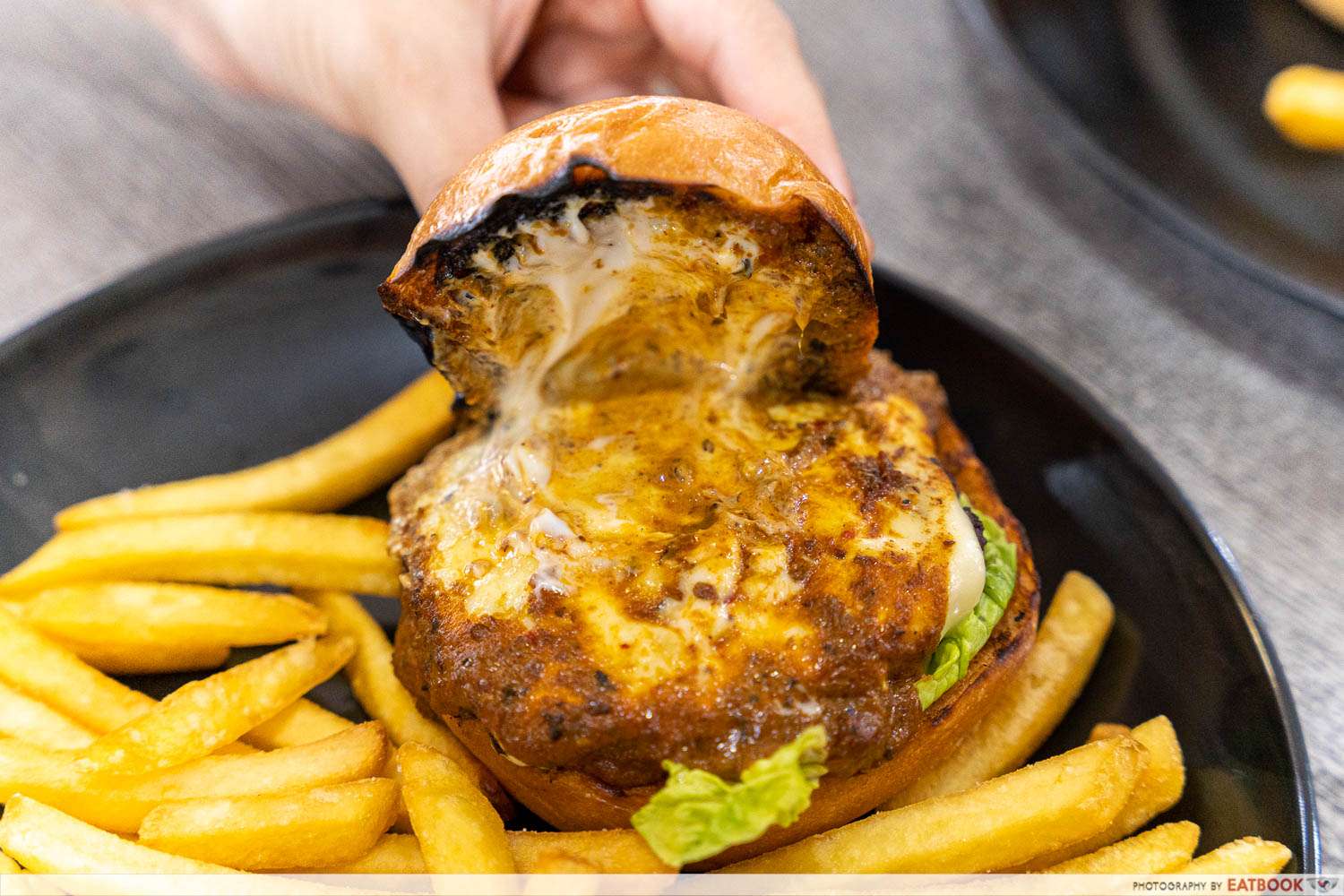 The buns were light and fluffy, with just the right amount of sweetness to complement the lemak sauce and creamy cheese. Paired with the juicy beef patty, which was thankfully not overdone, each bite was a party in the mouth.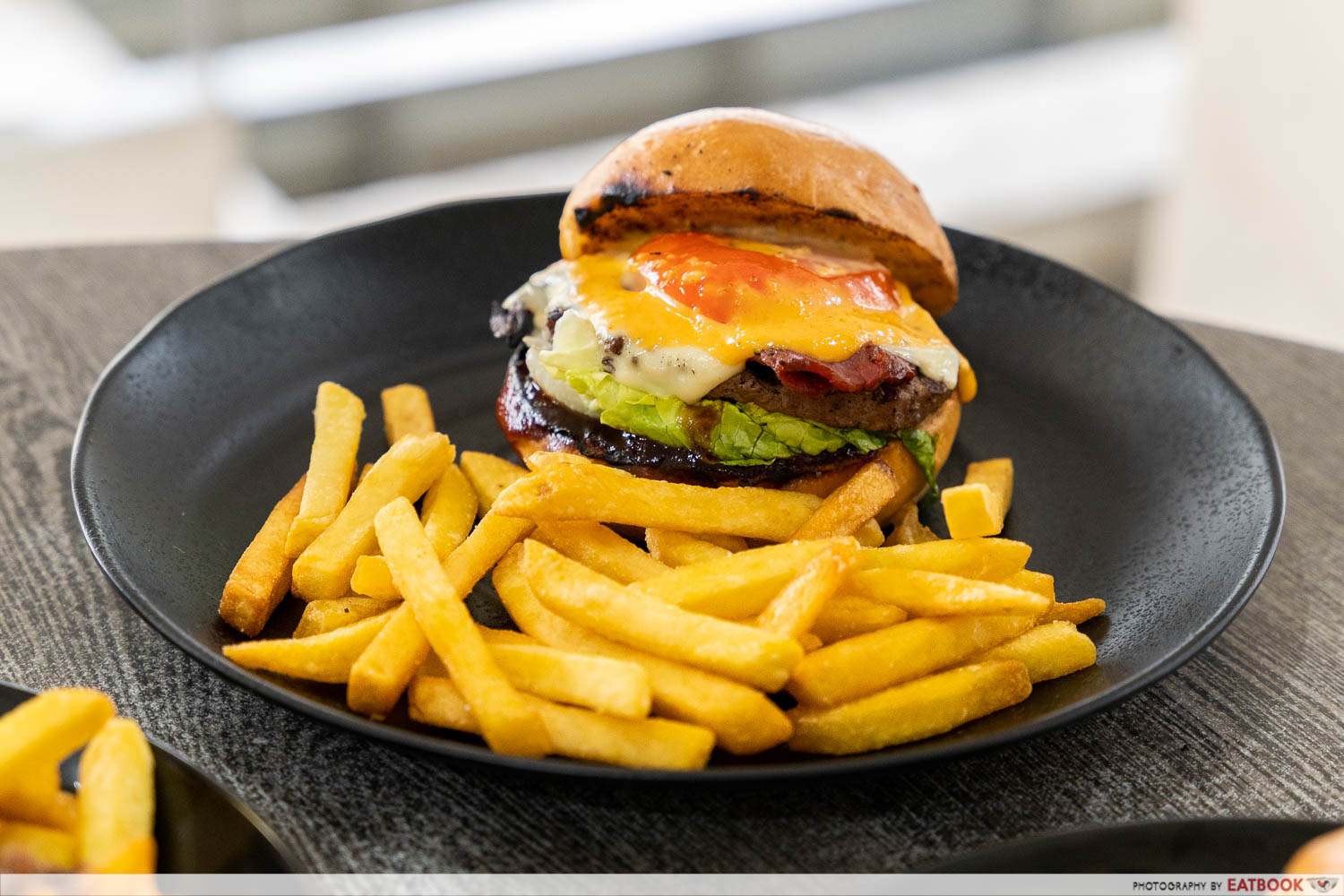 Another popular flavour is the BLT Special ($7.90), a photogenic brioche burger stacked with the same grilled beef patty, smoked turkey bacon, spicy mayo, and melted cheddar. All burgers come with a generous pile of fries on the side, so you're really getting your money's worth.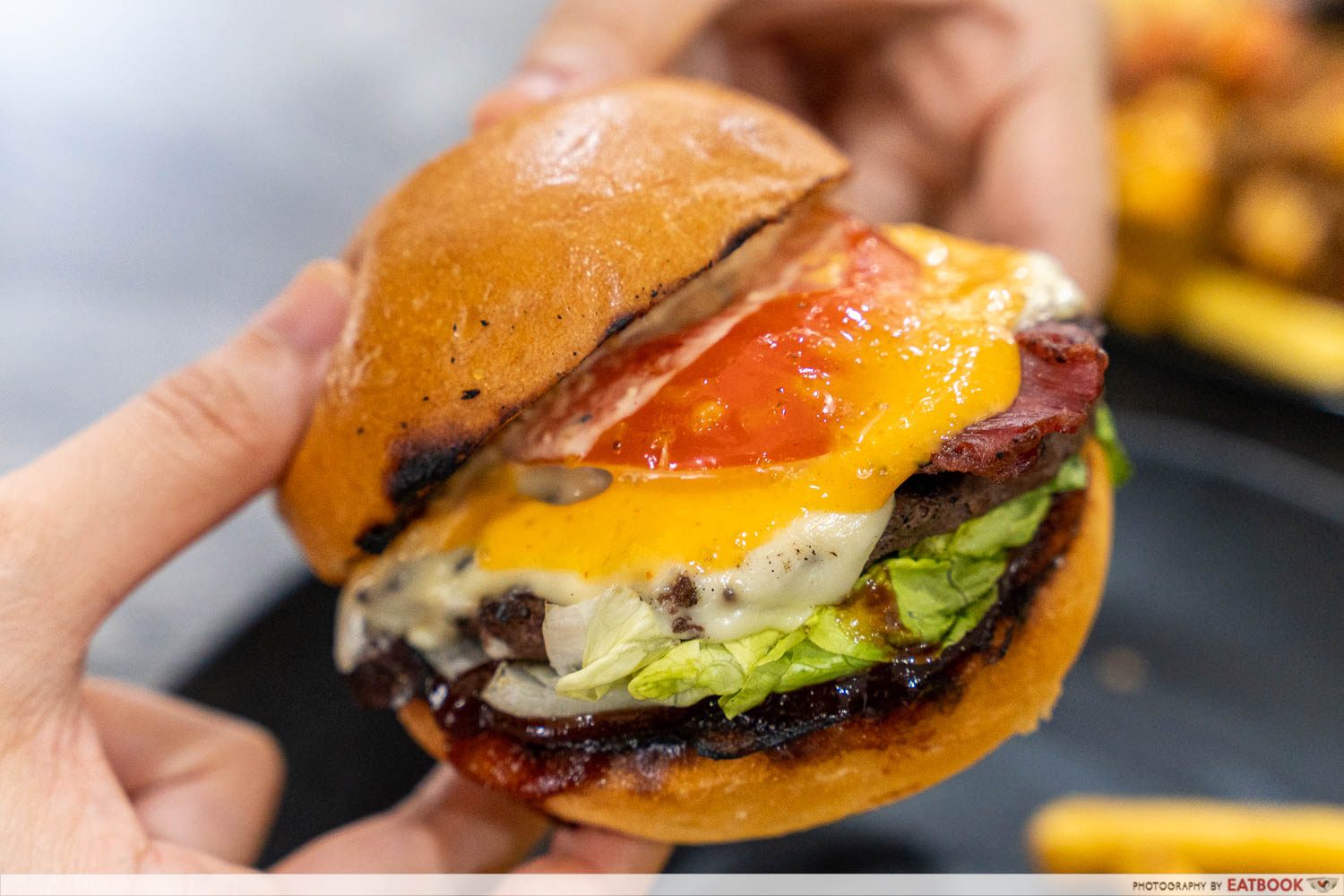 The bacon added a savoury smokiness that went well with the sharp cheddar, but I wished there was more heat in the spicy mayo. There was also a peculiarly pink sauce slathered on the bottom of the bun, which I didn't really enjoy. The almost-jammy sweet sauce tasted a little jarring, though I couldn't exactly discern what flavour it was.
While the flavours combined were generally acceptable, the beef patty in this burger was, unfortunately, more done than I'd preferred.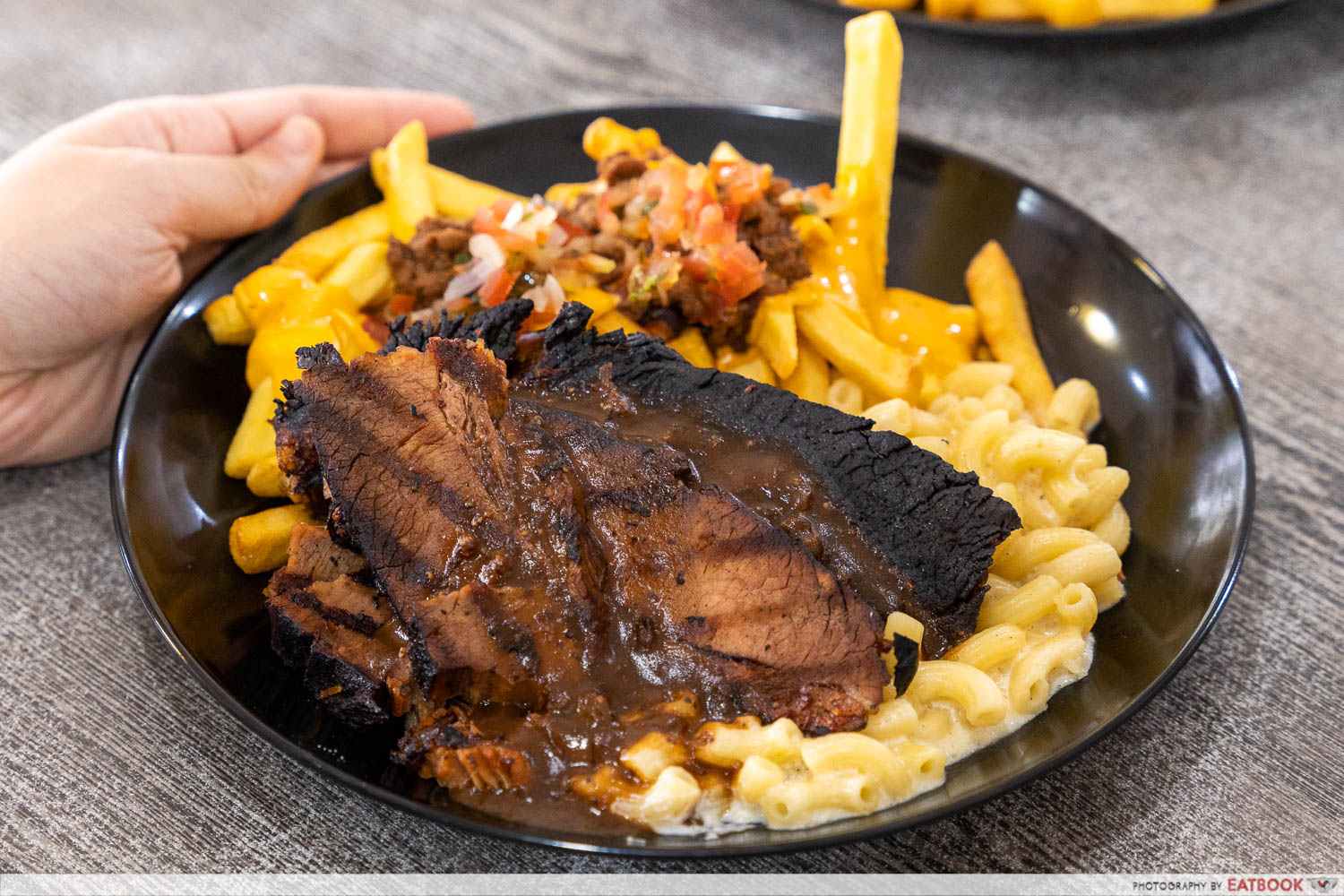 What's worth noting is Chef Sulaiman smokes his meats in-house, which is no easy feat considering how small the stall space is. We ordered the Salai Brisket ($12.90): 150g beef brisket smoked with applewood chips, complete with your choice of two sides.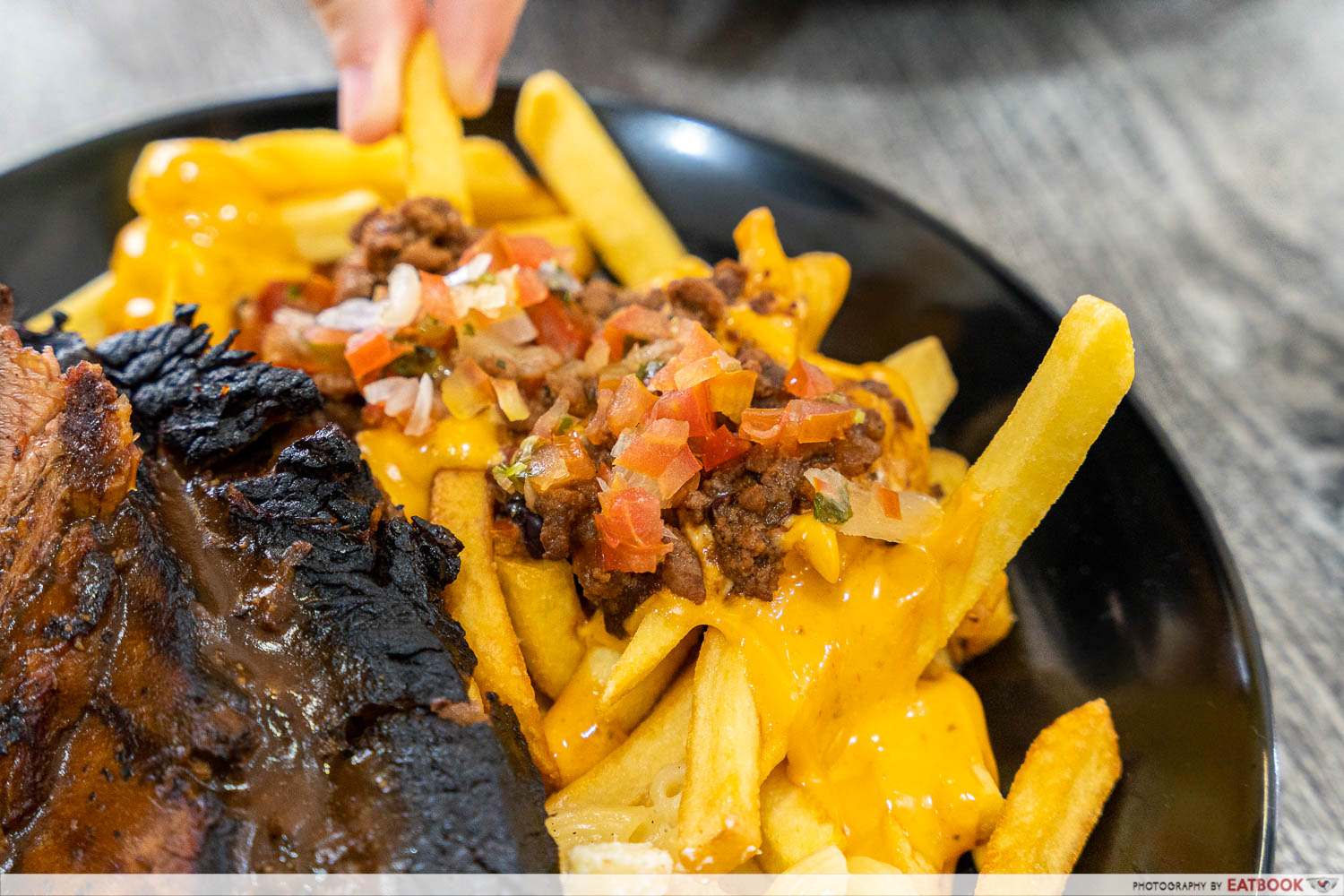 Of the two sides we went for, the Mac & Cheez and Chilli Beef, we preferred the latter. The fries came loaded with melted cheese and house-made beef chilli, which was deliciously meaty and proper chunky. I appreciated the tomato and onion bits, which helped to cut through the richness of the mince. You can also get the Chilli Beef as a side on its own at $4.50.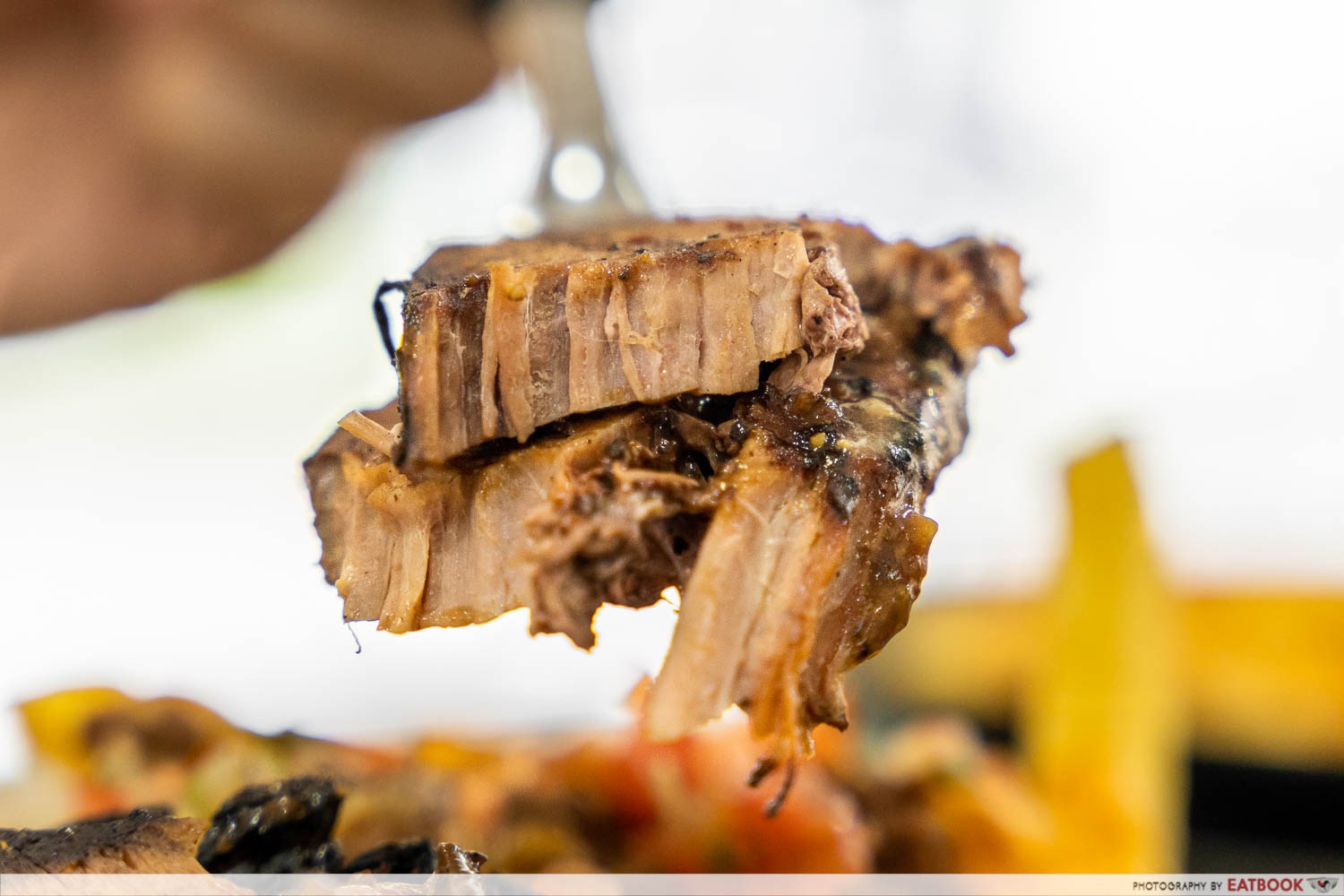 Unfortunately, we weren't that impressed with the brisket. Beef brisket isn't the easiest to work with; this cut is full of muscle fibres, so you need to cook it low and slow, or it can lean tough and dry.
While the flavours of this smoked beef brisket were on point, the texture fell short. The meat was easy to pick apart with a fork, but we were hoping for more melt-in-the-mouth, tender goodness, which was missing from this slab.
Ambience at Salai M'an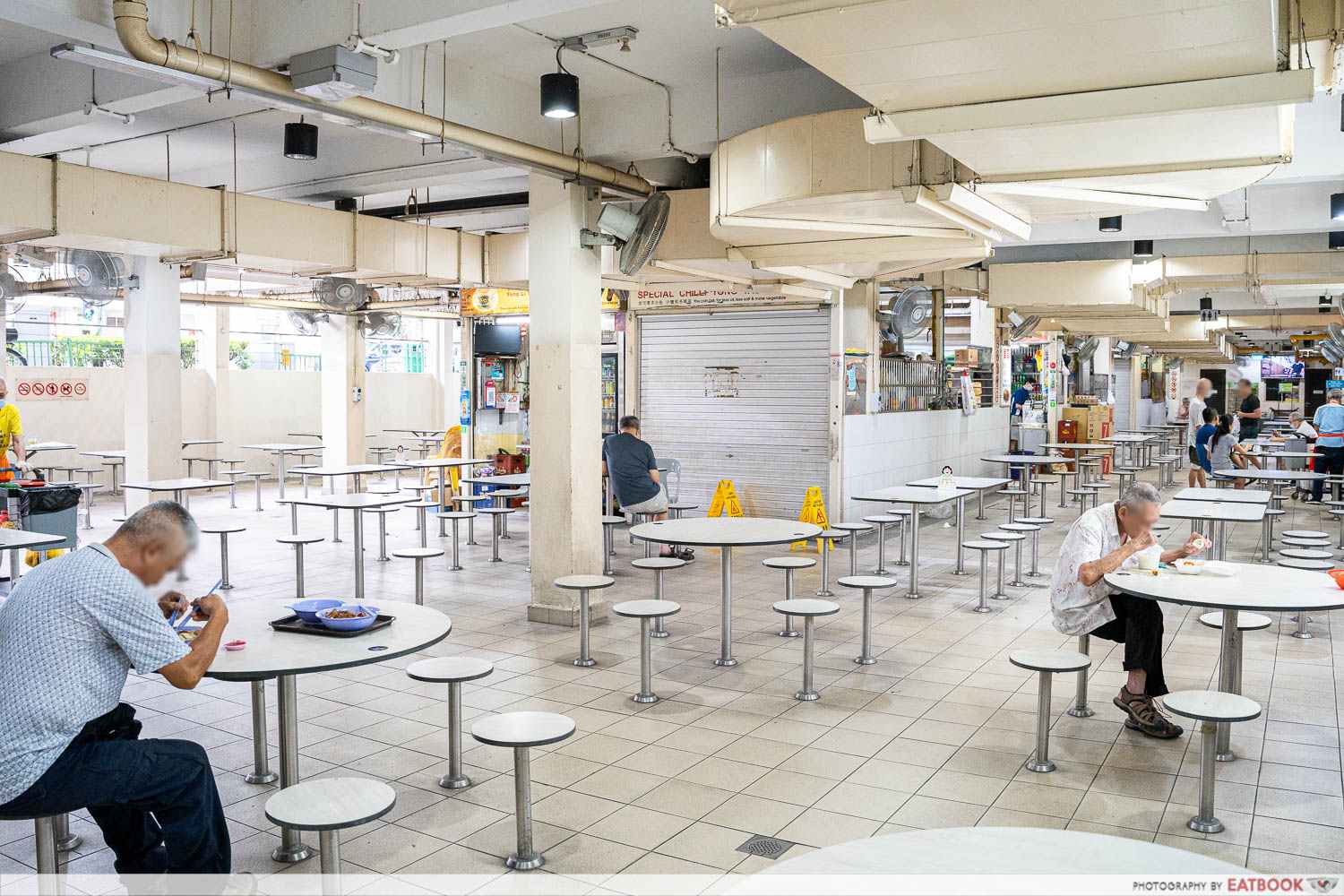 Salai M'an is located on the first floor of Berseh Food Centre, an easy four-minute walk from Jalan Besar MRT Station.
The humble hawker stall is tucked in a nondescript corner of the food centre. It took us a while to find its exact location; we visited on a weekday at 2pm so there wasn't much crowd either, which made it harder to spot the stall. Apparently, they're pretty popular on the weekends, so you might want to head down during off-peak hours to avoid the line!
The verdict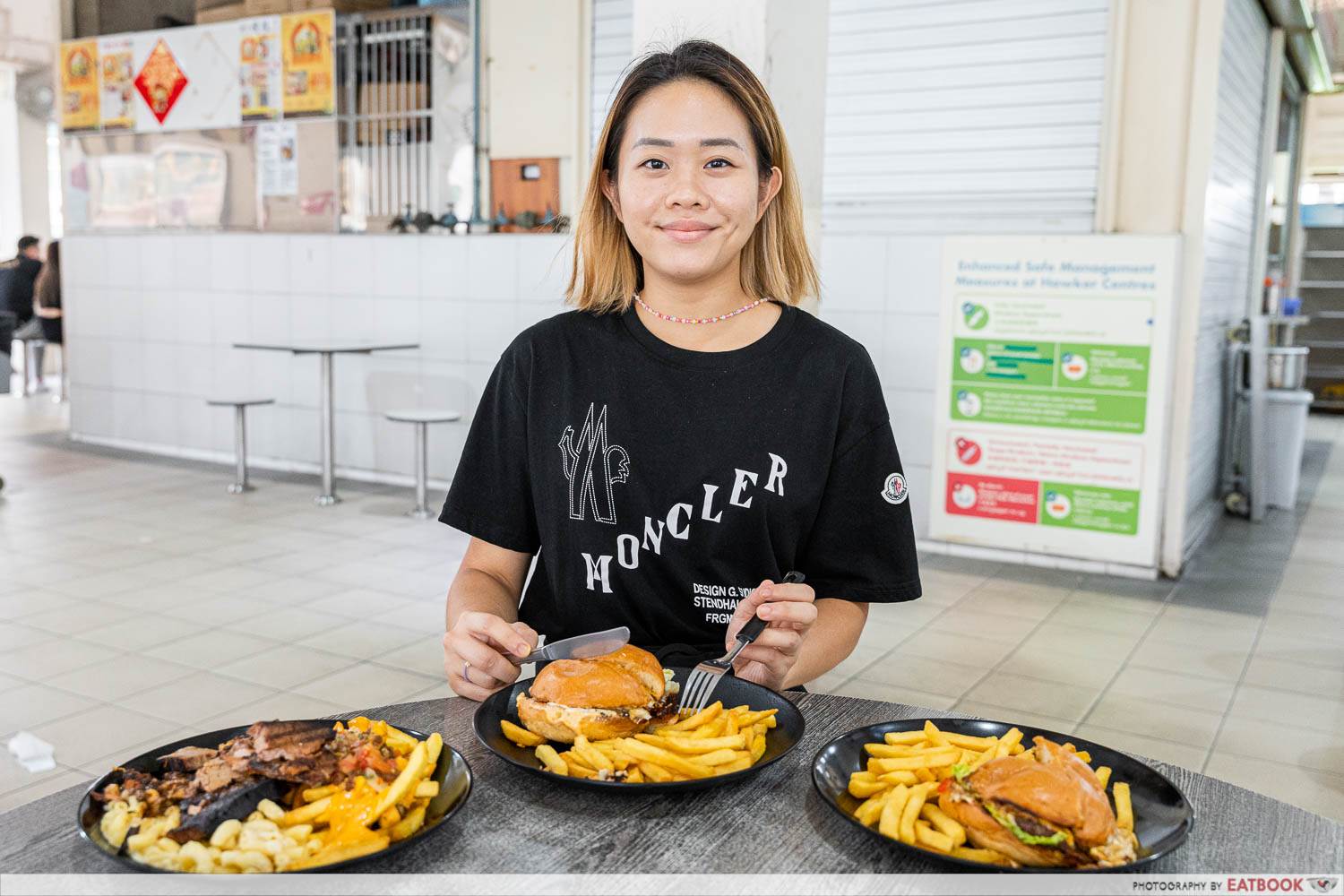 Salai M'an scored for their affordable yet hearty mains. It's hard to get a decent burger at this price point, especially in the face of inflation and rising costs of ingredients. While there were a couple of misses during my experience, I still think it's worth a try if you're in the area—just don't expect restaurant-standard food or ambience here, and you won't be disappointed. With some tweaks and improvements, hopefully, the stall will be able to gain more traction and establish a steady stream of regulars!
For more Muslim-friendly food, check out our Buey Tahan See-Food review, where you'll find sumptuous seafood and brunch fare in a retro-inspired setting. Alternatively, head to Konditori Artisan Bakes for halal croissants and scones at Bugis!
Address: 166 Jalan Besar, #01-18, Singapore 208877
Opening hours: Mon-Sat 5pm to 11pm
Tel: 8249 7578
Website
Salai M'an is a halal-certified eatery.
Konditori Artisan Bakes Review: Popular Halal Bakery With Red Velvet Croissant, Bacon Scone And More
Photos by Clarissa Wong and Chew Yi En.
This is an independent review by Eatbook.sg.
Salai M'an Review: Halal Burgers And Smoked Meats By Ex-Potato Head Chef In Jalan Besar
Salai M'an Review: Halal Burgers And Smoked Meats By Ex-Potato Head Chef In Jalan Besar -

7/10
Summary
Pros 
– Convenient location
– Affordable for burgers and smoked meats
– Rendang Kampong burger was delicious
Cons
– Salai Brisket was rather tough and dry
– Some items were pricey for a hawker stall
Recommended dishes: Rendang Kampong ($8), Chilli Beef ($4.50)
Opening hours: Mon-Sat 5pm to 11pm
Address: 166 Jalan Besar, #01-18, Berseh Food Centre Singapore 20887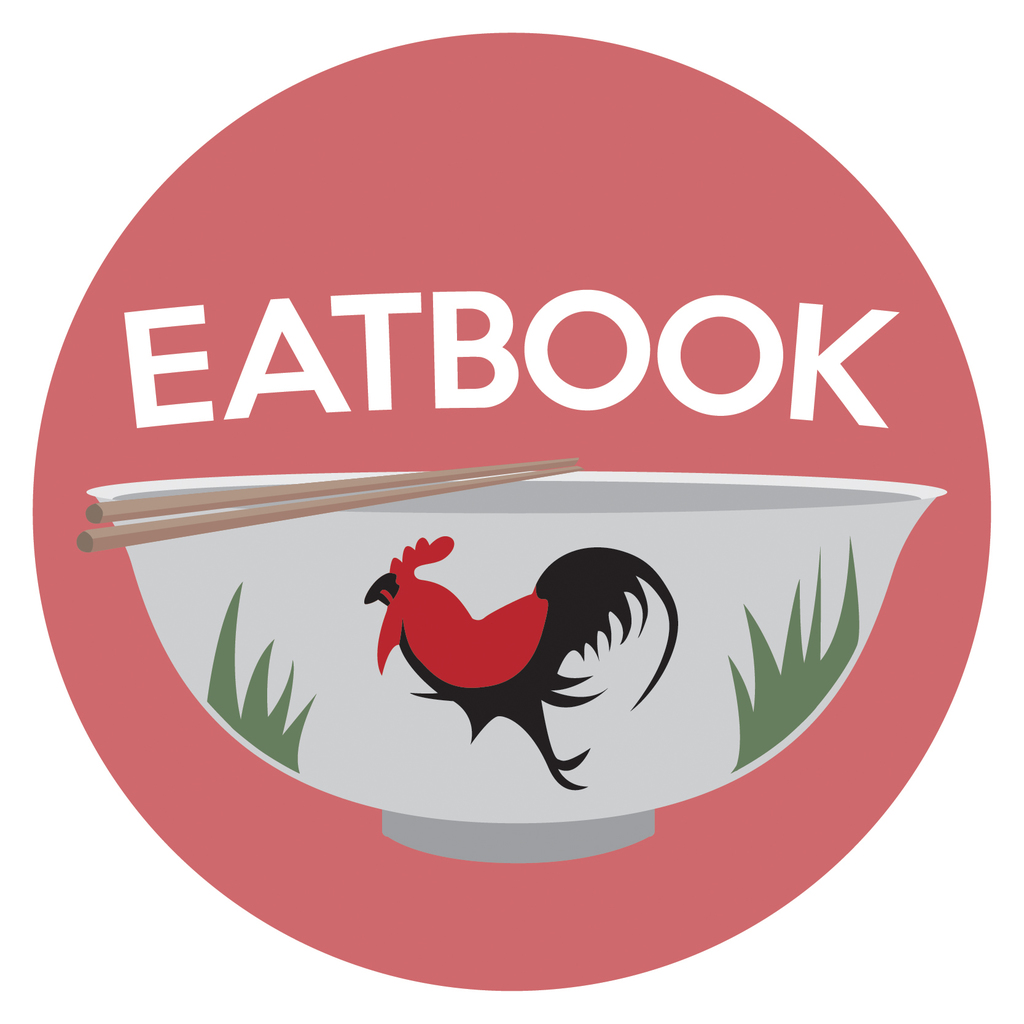 Drop us your email so you won't miss the latest news.