Asian-inspired rice bowls by The Leggy Business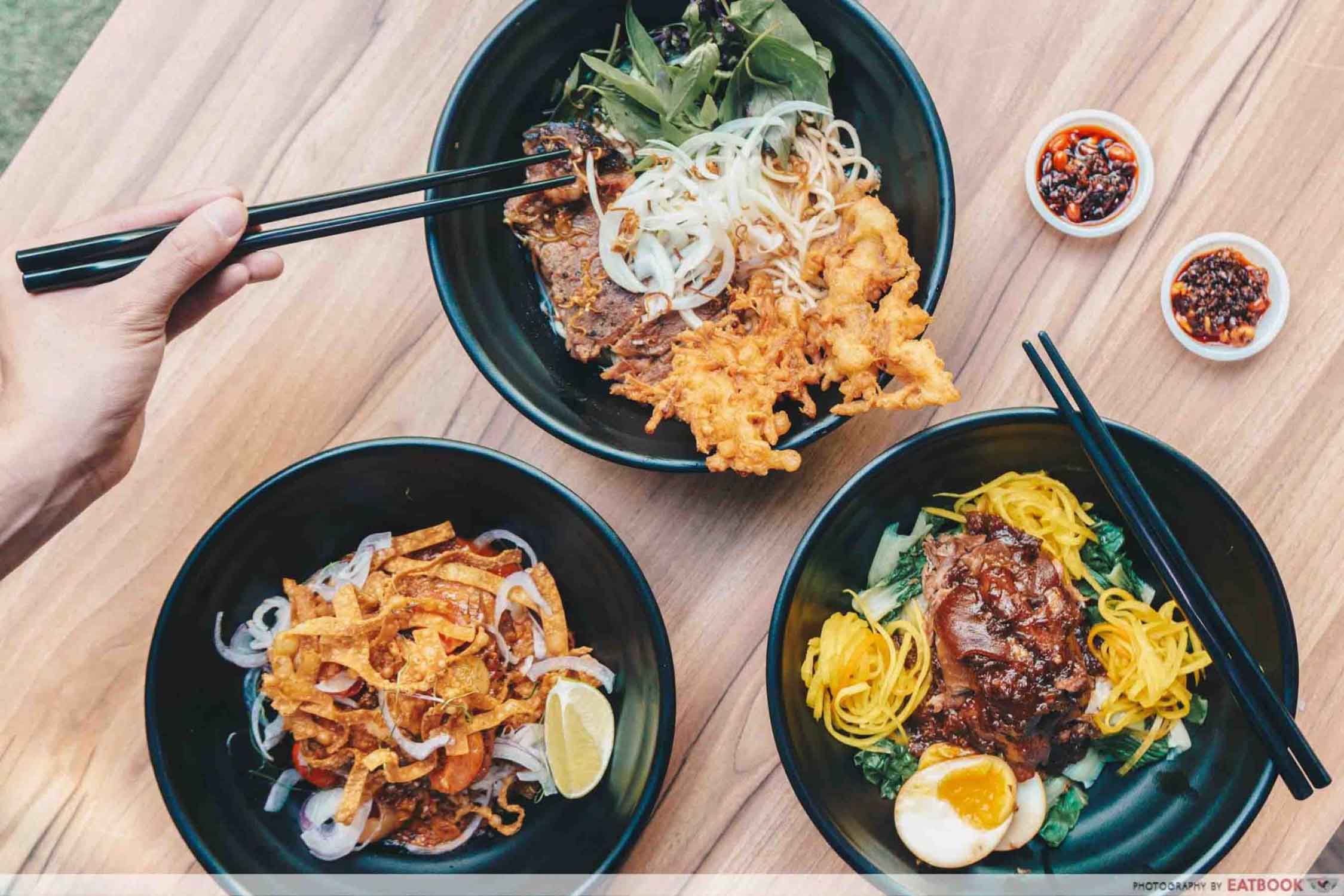 Experimenting with Southeast Asian cuisine is akin to going all-in in a poker game. Having grown accustomed to these flavours, we naturally have high expectations for such dishes. Chances of success are usually low. But should you succeed as The Leggy Business has done, a loyal queue of returning customers awaits.
Set up by brothers Jovan and Joel Goh in August last year, The Leggy Business is a charming eatery in Macpherson which serves restaurant-worthy Asian fusion food at hawker prices.
Food at The Leggy Business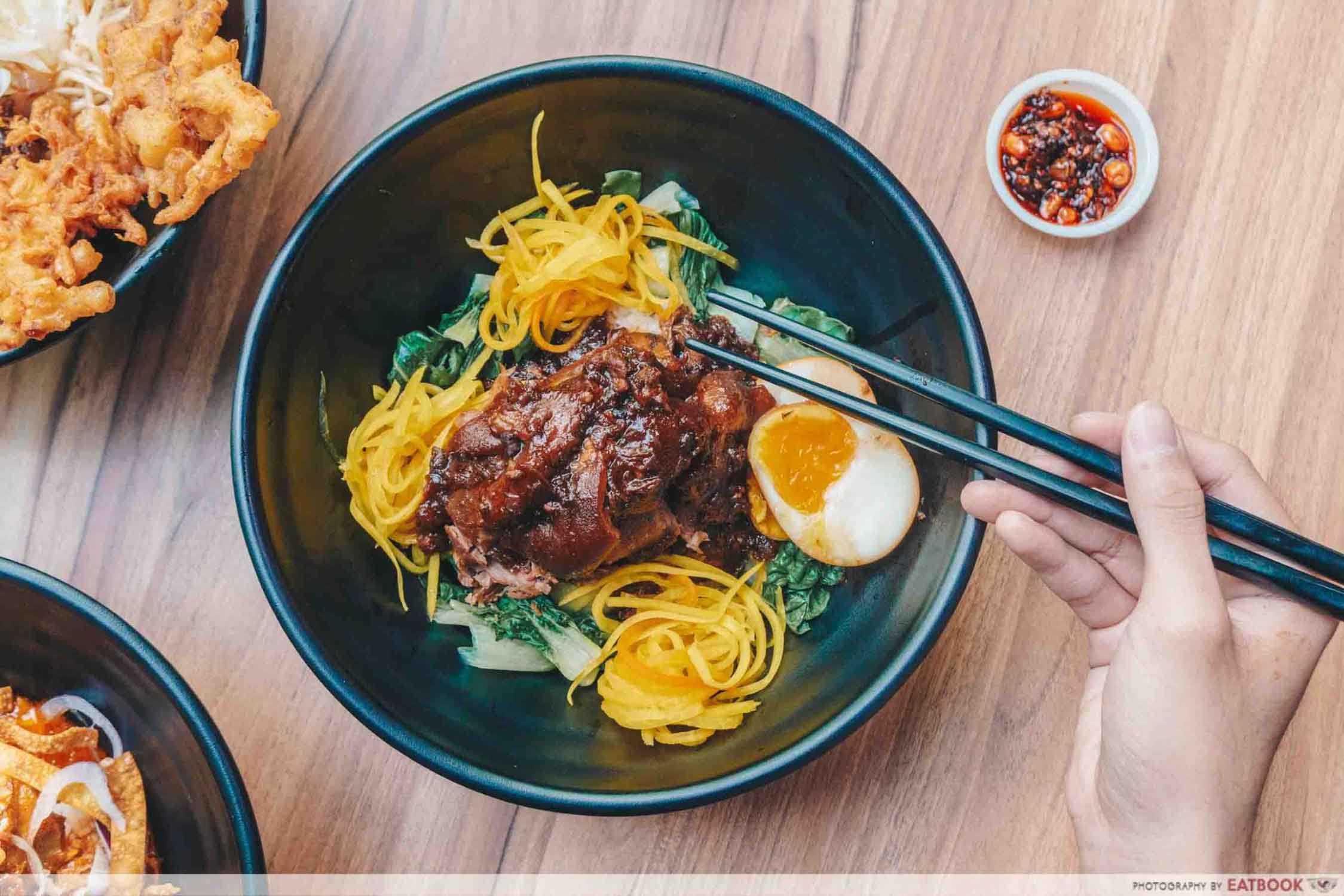 As chef-owner Jovan was trained under acclaimed chef "Bo" Duangporn of the Michelin-starred Bo.lan in Bangkok, the selection of mains carry a distinct Thai influence – none more so than the Leggy Bowl ($7.50).
This crowd-pleasing rice bowl beckons with a Thai-style pork trotter dressed in savoury minced meat sauce. A trio of pickled papaya, blanched nai bai, and onsen egg jazzes up the dish.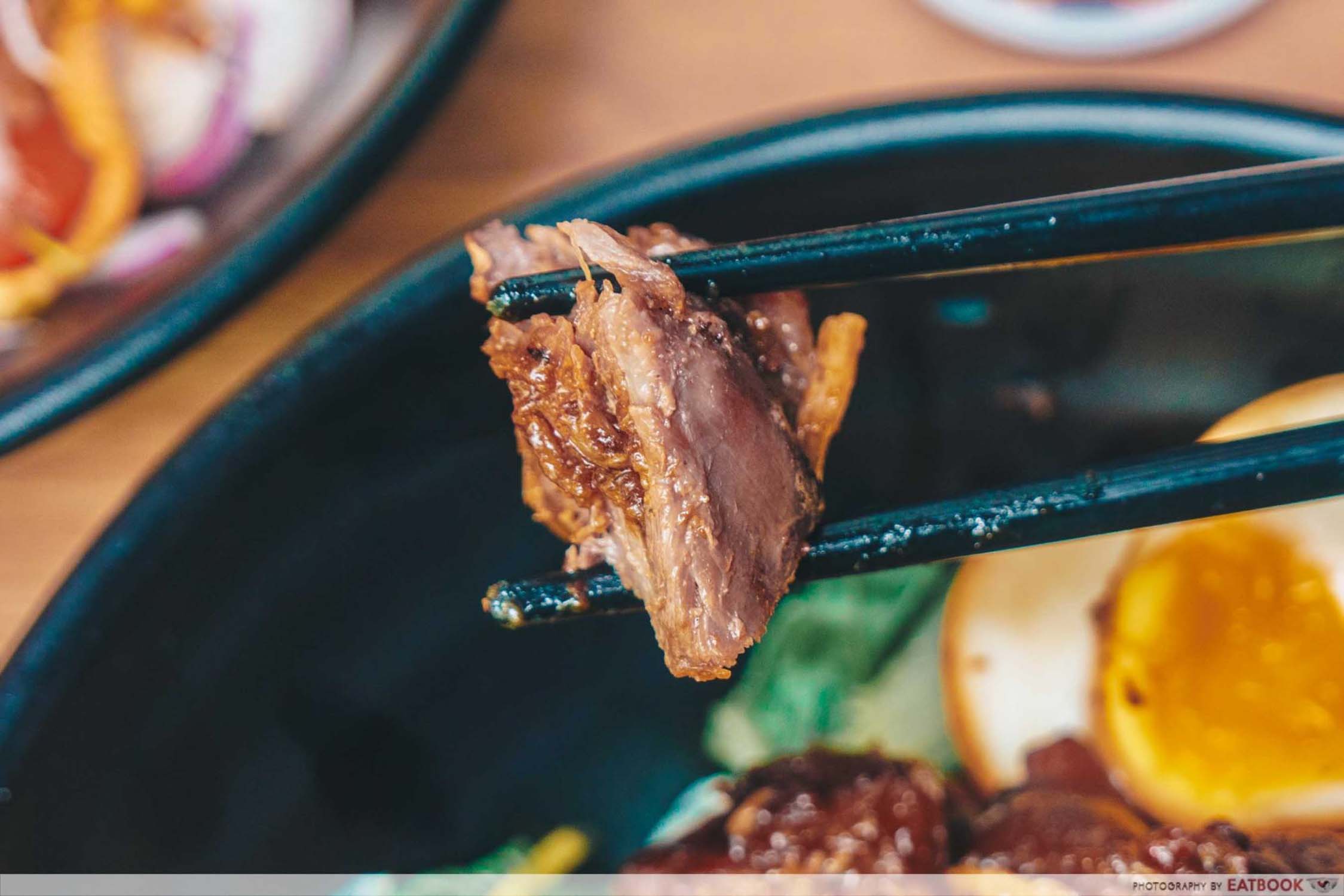 Compared to Chinese-styled braised pork leg, the Thai variant is bolstered by an additional assortment of spices. I especially liked how pandan was used in braising the pork, as it balanced out the accents of cinnamon and star anise with its light fragrance.
Fatty Thai Review: Thai Wonton Mee and Pork Trotter Rice At A Beach Road Stall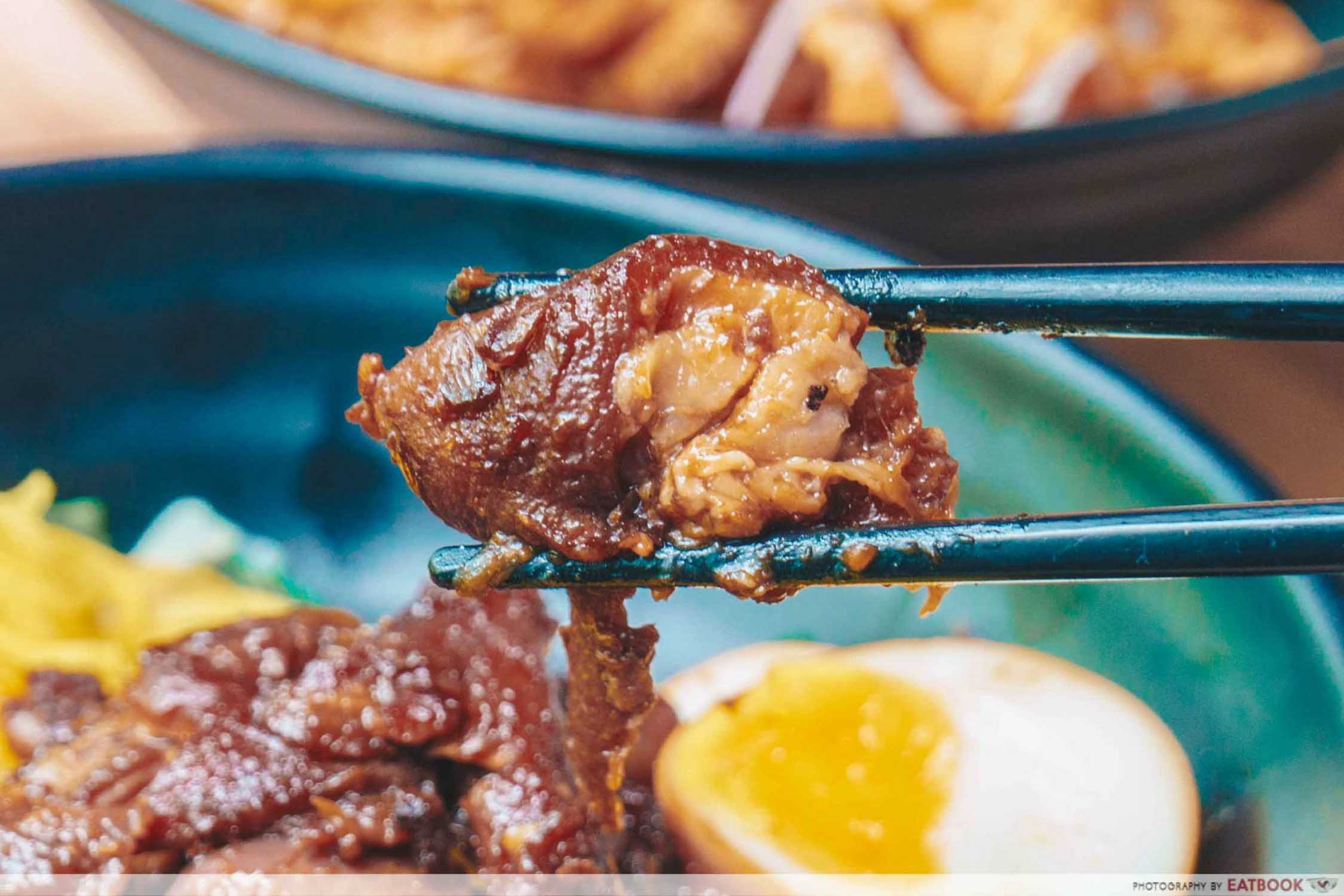 What I love most about pig's trotter is the perfect ratio of fat and meat. Braised right – as Jovan had done – and that band of fat will dissolve and fuse with the meat. Wrapped in this unctuous blanket, the pork shank delighted me with its gelatinous texture.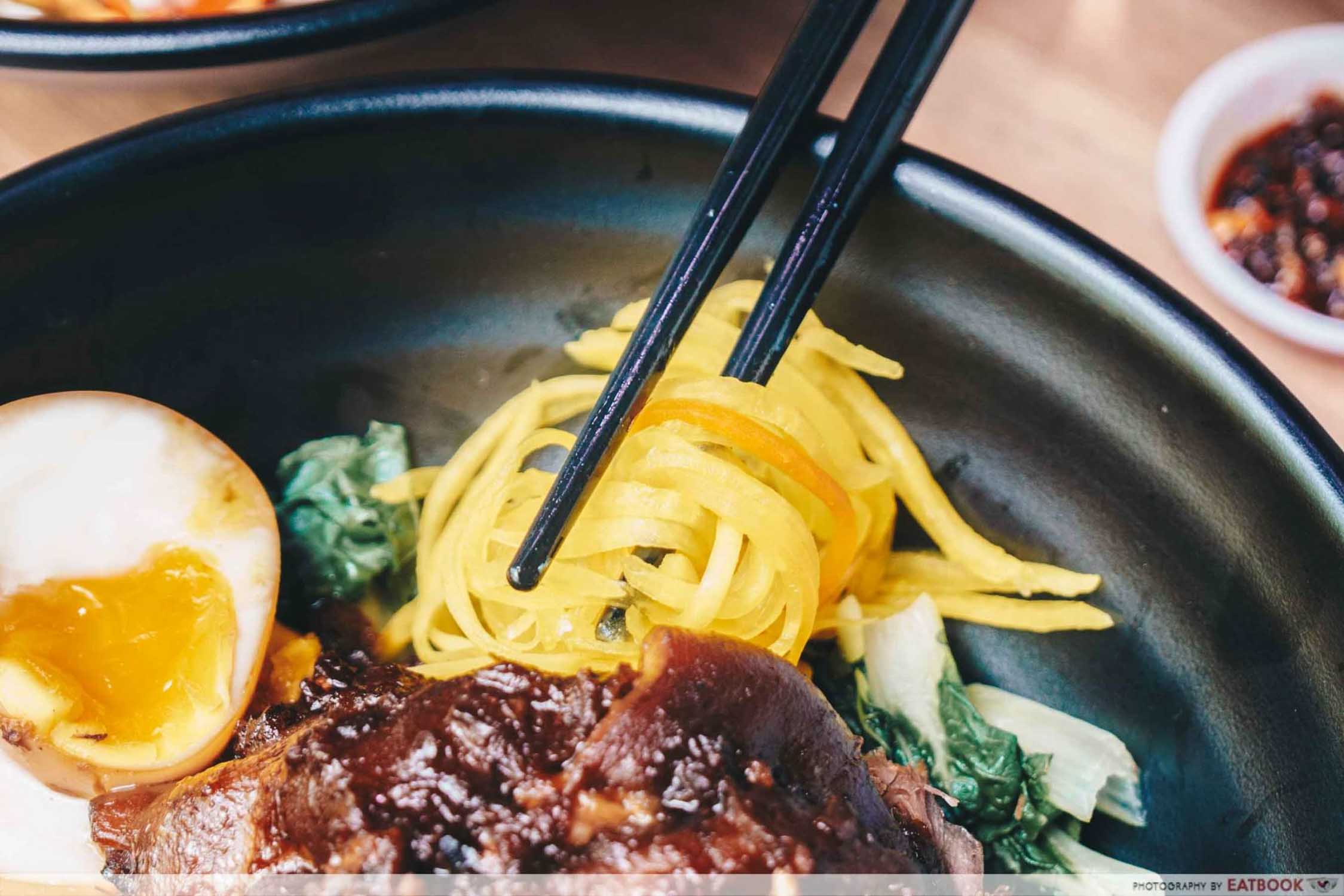 Balance is central to Jovan's cooking philosophy. Each element contributes to a cohesive trifecta of sweet, salty, and sour flavours.
In the case of the Leggy Bowl, the pickled papaya offset the bold minced meat sauce with its zesty tang. This dark horse unexpectedly stole the show. Pickled with a suitable proportion of sugar and vinegar, the papaya will reel you in with its addictive crunch and refreshing zing.
We opted for one of their newer dishes: the Red Curry Chicken Bowl ($5.80). The red citrus curry is prepared from a house-made rempah (spice paste), which is stir-fried with kaffir lime leaves and onions.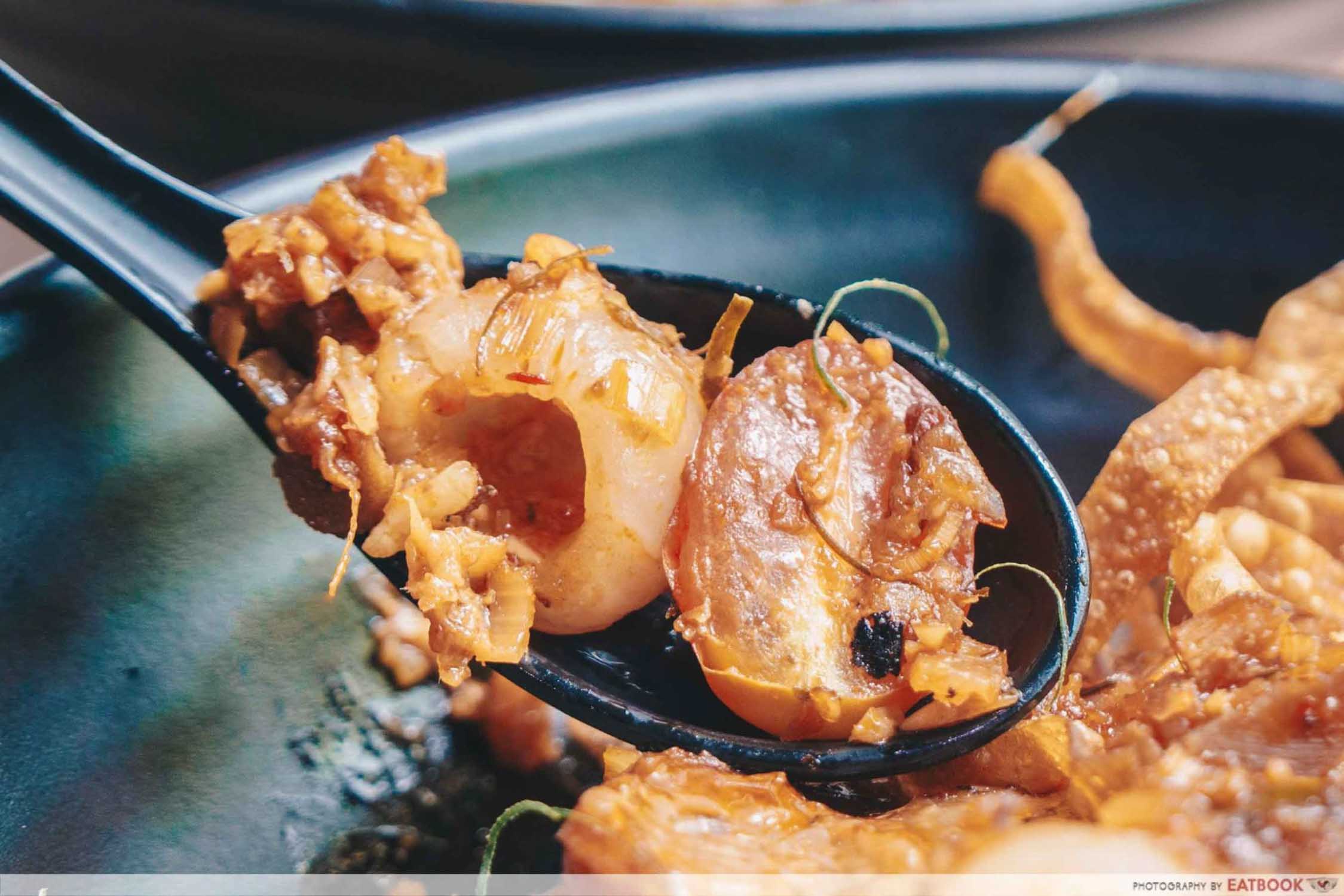 If the red curry was a musical, its opening scene was the herbaceous trace of kaffir lime leaves. This transited to a burst of lemongrass, before climaxing with a fiery burn on the tongue. Just as I was ready to reach out for a glass of water, the fruity sweetness of longan and cherry tomatoes eased in to neutralise the curry's spiciness.
Do note that house-made chilli oil is available on the side as well. The product of stir-frying Sichuan peppercorns with peanuts, this relish left a volcanic burn on the tongue. However, I will only recommend just a light dash of chilli oil at best, as the mains are best enjoyed as is.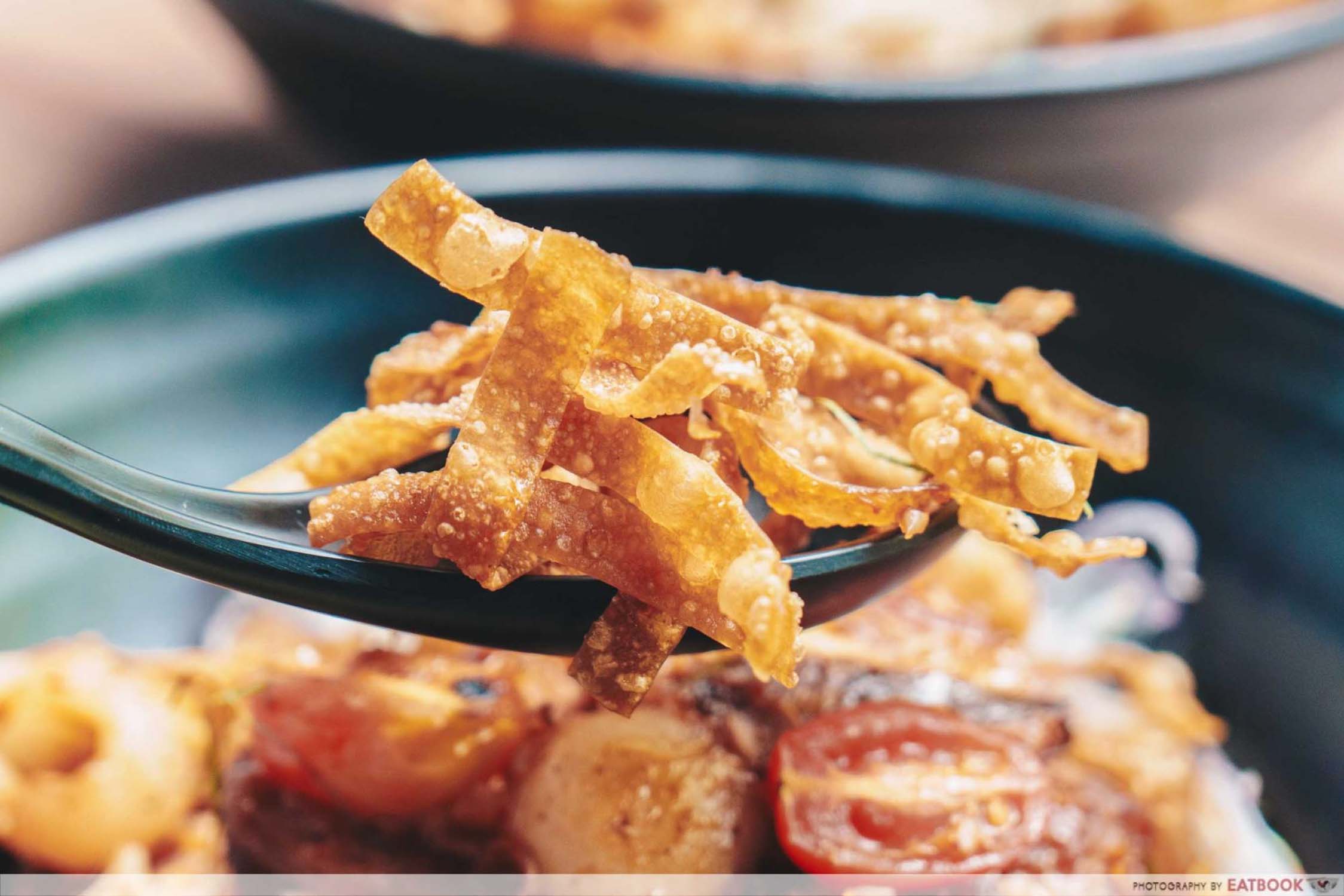 I, too, liked that the garnish of fried wonton skins added a dimension of crunch to the sauce. Furthermore, the wonton skin's natural alkaline taste helped reinforce the savoury flavours of the gravy.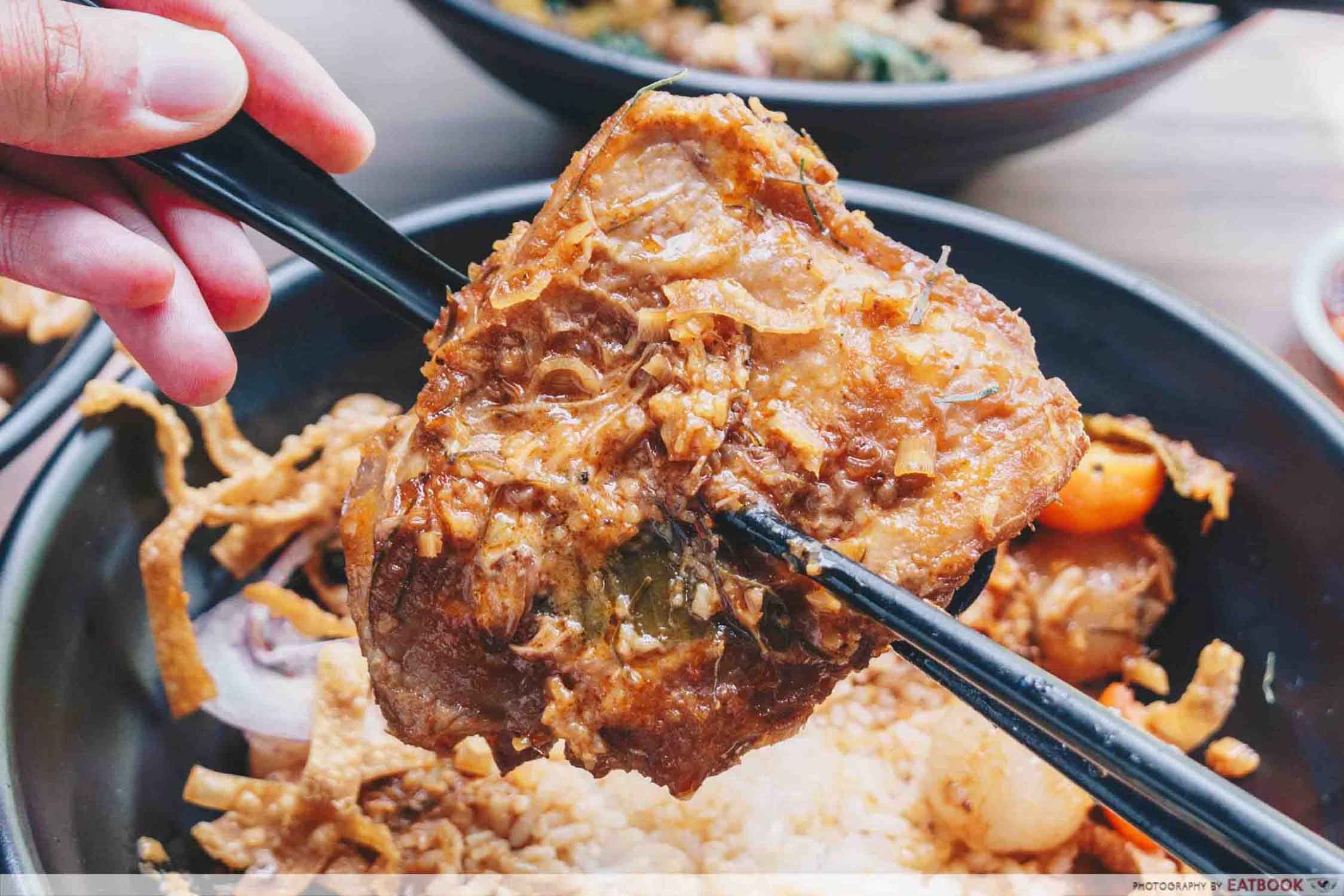 My only dissatisfaction was with the chicken thigh. Although the huge slab of protein satisfied the most famished of bellies, it was more challenging to grill as well. Understandably, it was a fraction overcooked and failed to showcase the succulence of the cut. Perhaps the thigh could have been sliced beforehand, allowing it to better soak up the full-bodied sauce.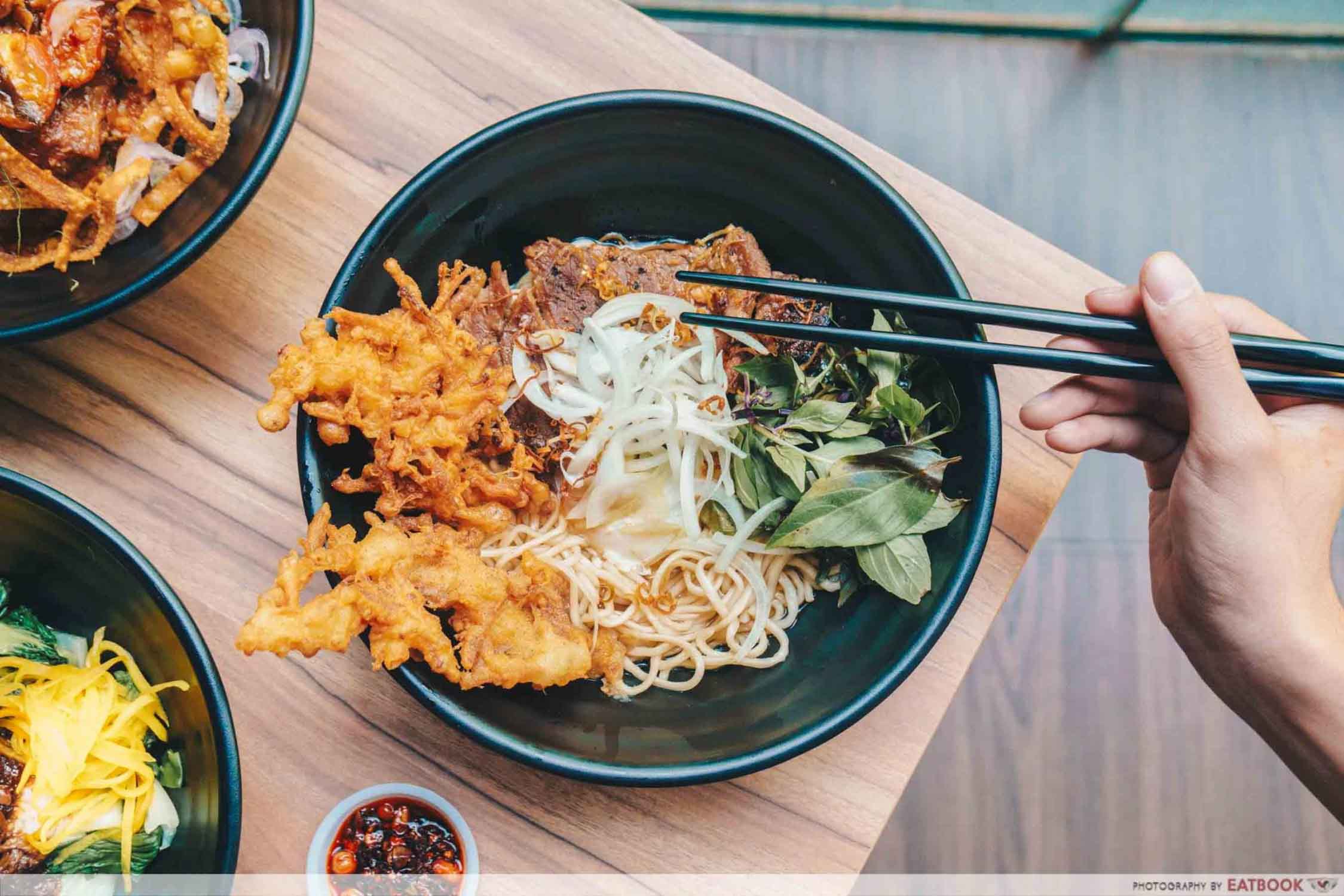 The last dish we tried was the Bun Cha Bowl ($6.50). If you are wondering why the dish sounds familiar, it's because the late Anthony Bourdain treated former President Obama to it during his visit to Vietnam!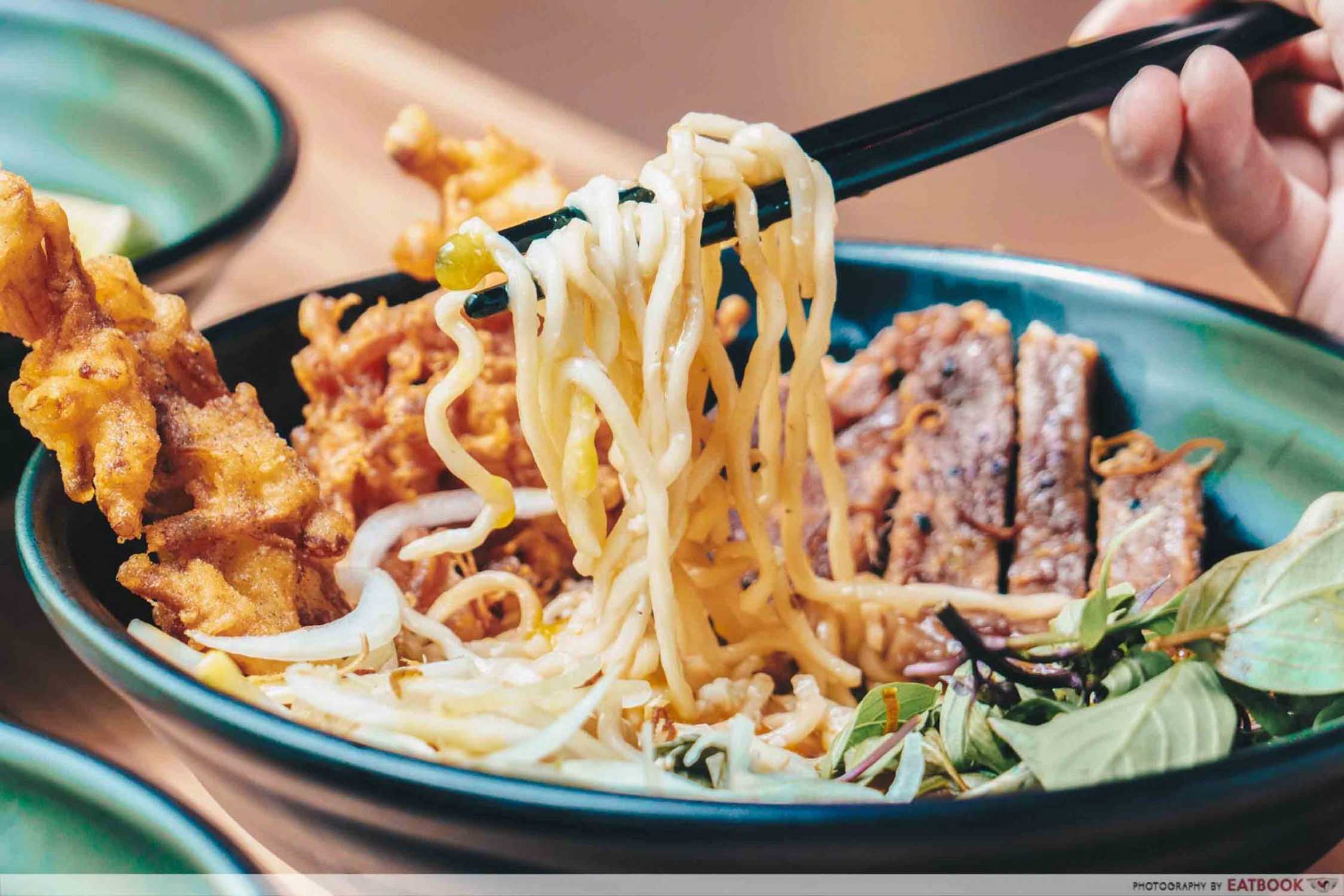 Like the other bowls, the dish is served with either rice or U-mian. As bun cha is traditionally served with vermicelli, we opted for the latter instead.
However, the bun cha doled out by The Leggy Business is anything but traditional. It substituted the dipping sauce – originally, a mix of fish sauce, vinegar, and sugar – with a pork broth simmered for 12 hours. The traditional cha mieng (grilled pork slices) was also flanked by unconventional sides, such as tempura enoki and sweet basil leaves.
There was a hidden surprise as well. Like a baby tucked in its crib, an onsen egg was nestled snugly in the middle of the bowl.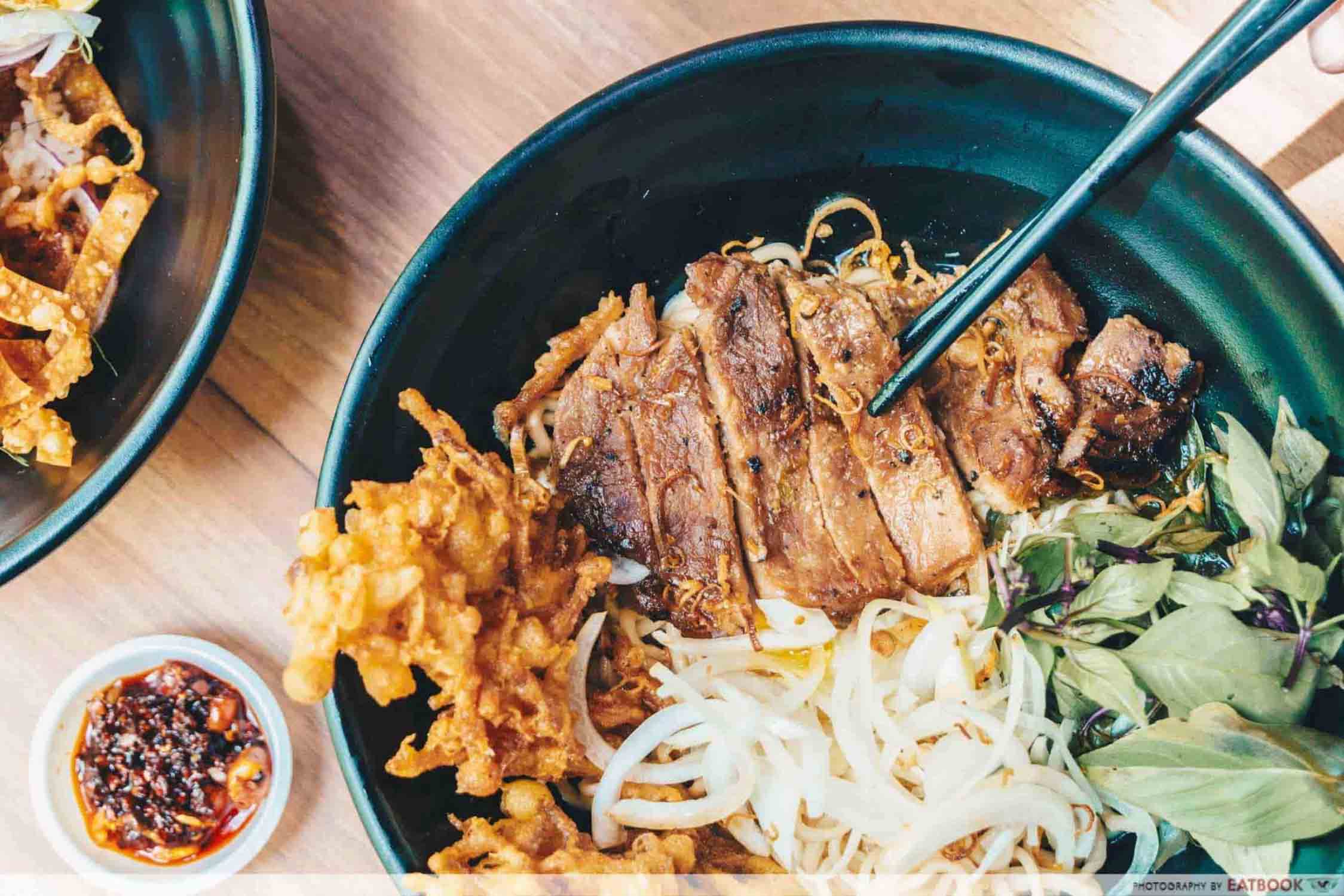 Grilled to a pleasant Maillard brown, the meat was mouth-wateringly tender. There was a hint of lemongrass, which counteracted the natural savouriness of the meat. Their sweet basil was a nice addition as well. Packing a herb-like bitterness, it cleansed my tongue of the pork's greasiness. Overall, the bun cha was lighter on the palate compared to the other two dishes.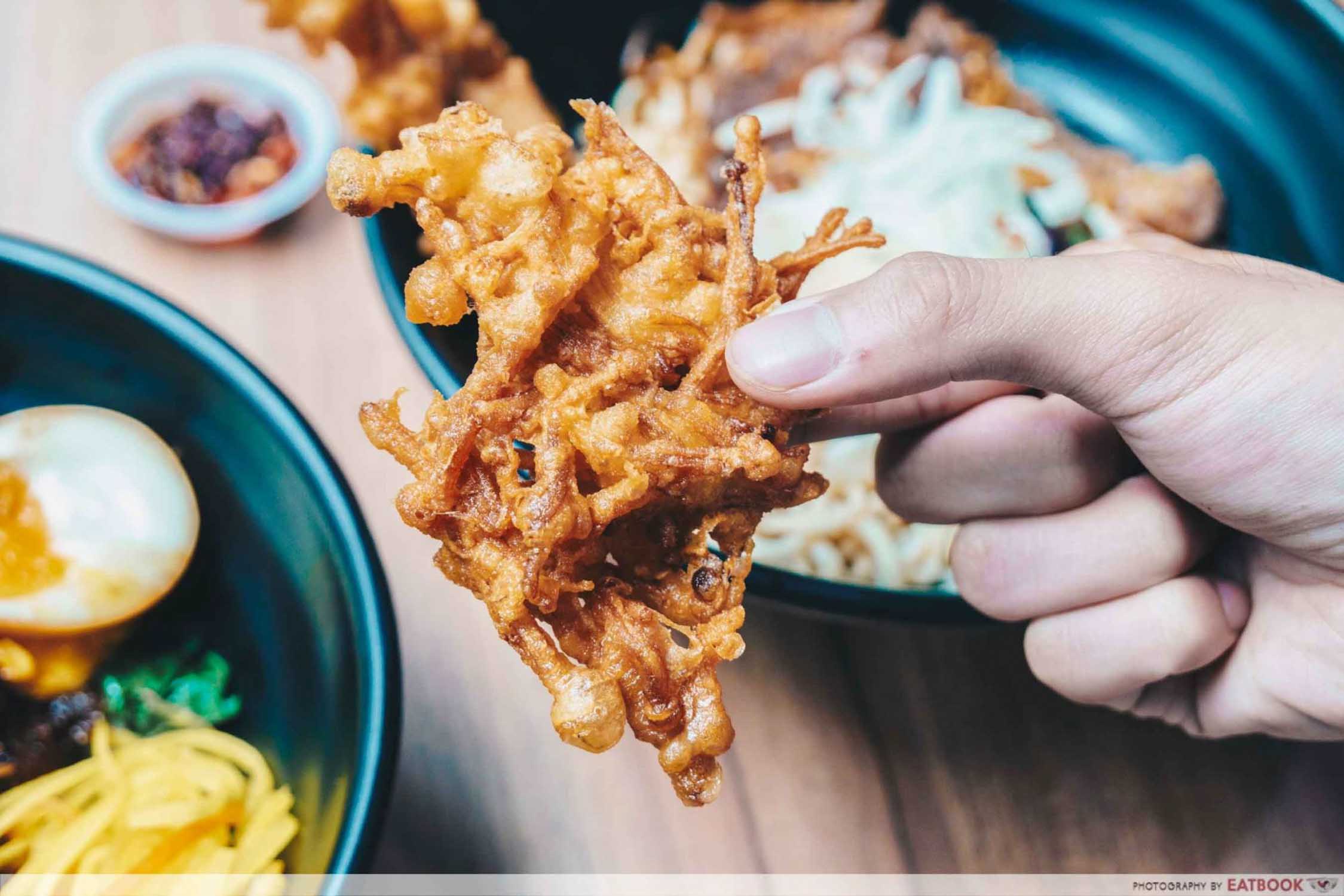 As for the tempura enoki, it possessed the chip-like crispness that's characteristic of well-fried food. However, I believed the batter could have been lighter, as I found the tempura rather jelak after several mouthfuls.
Ambience at The Leggy Business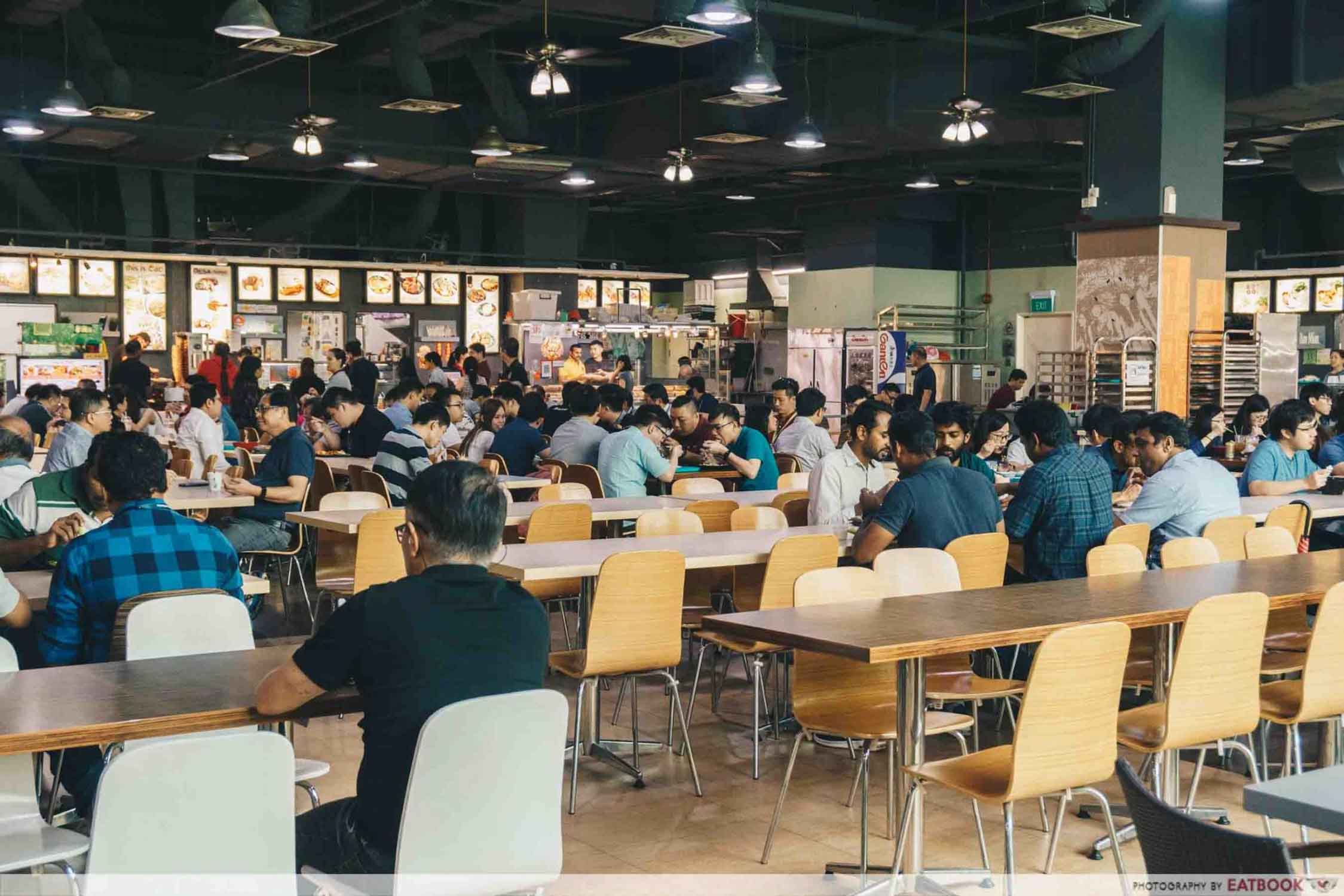 Thanks to the floor-to-ceiling glass windows enclosing Starhub Green, there is abundant natural lighting throughout. Couple that with an expansive interior and cool temperatures, and the result is a cosy environment for a meal. However, as the food court is popular with those working near Starhub Green, it is often packed during lunch hours.
The verdict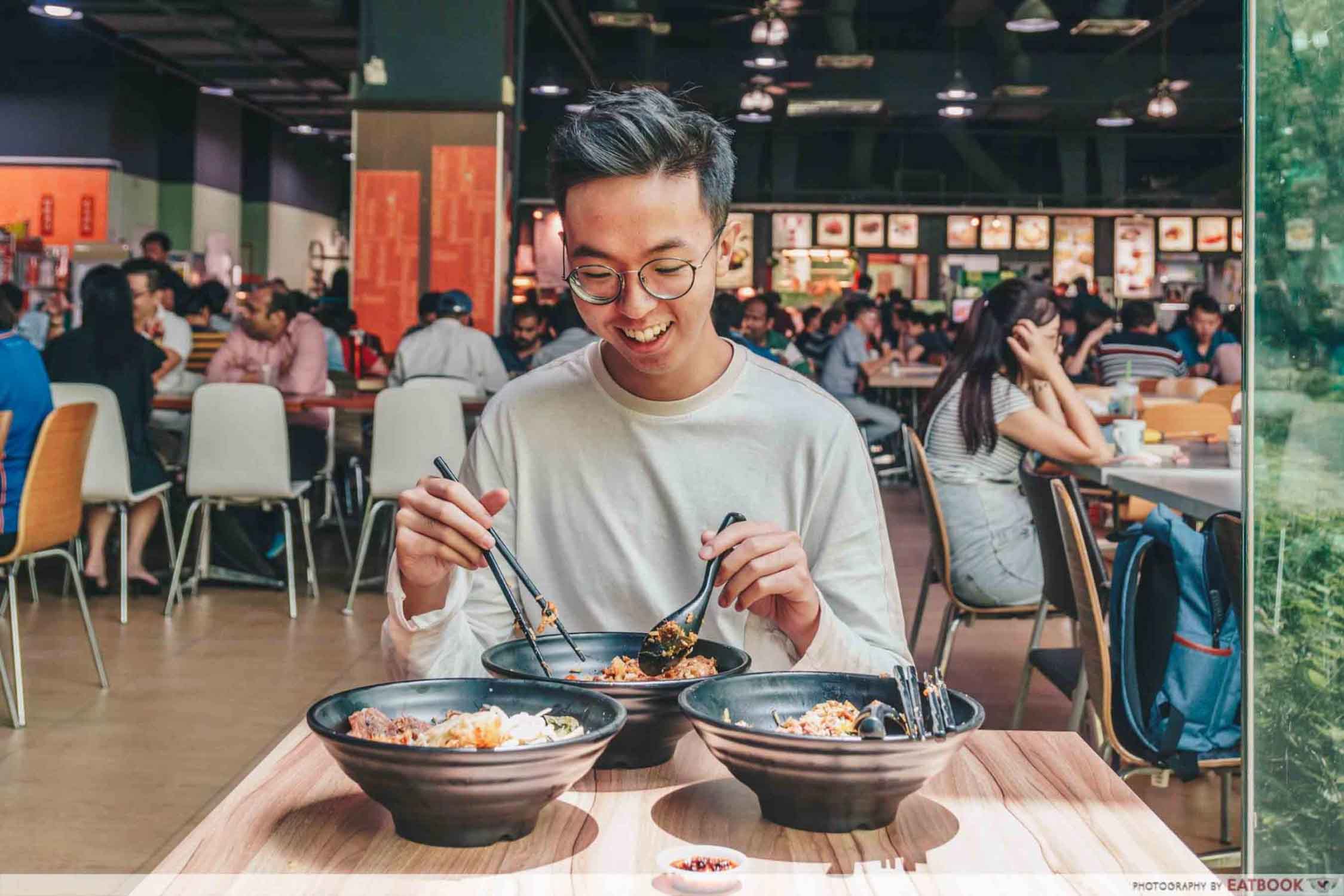 Watching Jovan's eyes lit up as he expressed his hopes for Southeast Asian food, I could instantly discern his fierce love for the cuisine. This fervent passion is apparent in his menu too, as his dishes flaunt the versatility of spices such as kaffir lime and pandan. Not only will you enjoy the cohesive medley of flavours, but you will also leave the place with a deeper appreciation of Southeast Asian food.
For more scrumptious and wallet-friendly nosh in Macpherson, check out our guide on Macpherson food below!
9 Macpherson Food Places From $3 Worth The Food Coma After Lunch
Address: 67 Ubi Avenue 1, #01-05/07, Starhub Green, Singapore 408942
Opening hours: Mon-Fri 10am to 3pm
Tel: 9710 8302
Website
The Leggy Business is not a halal eatery.
Photos taken by Rae Fung and Pepita Hope Wauran
This is an independent review by Eatbook.sg.
Summary
Pros
– Meticulously designed dishes
– Interesting ingredients
– Harmonious blend of flavours
Cons
– Slightly inconvenient location
Recommended Dishes: Leggy Bowl ($7.50), Red Curry Chicken Bowl ($5.80), Bun Cha Bowl ($6.50)
Opening hours: Mon-Fri 10am to 3pm
Address: 67 Ubi Avenue 1, #01-05/07, Starhub Green, Singapore 408942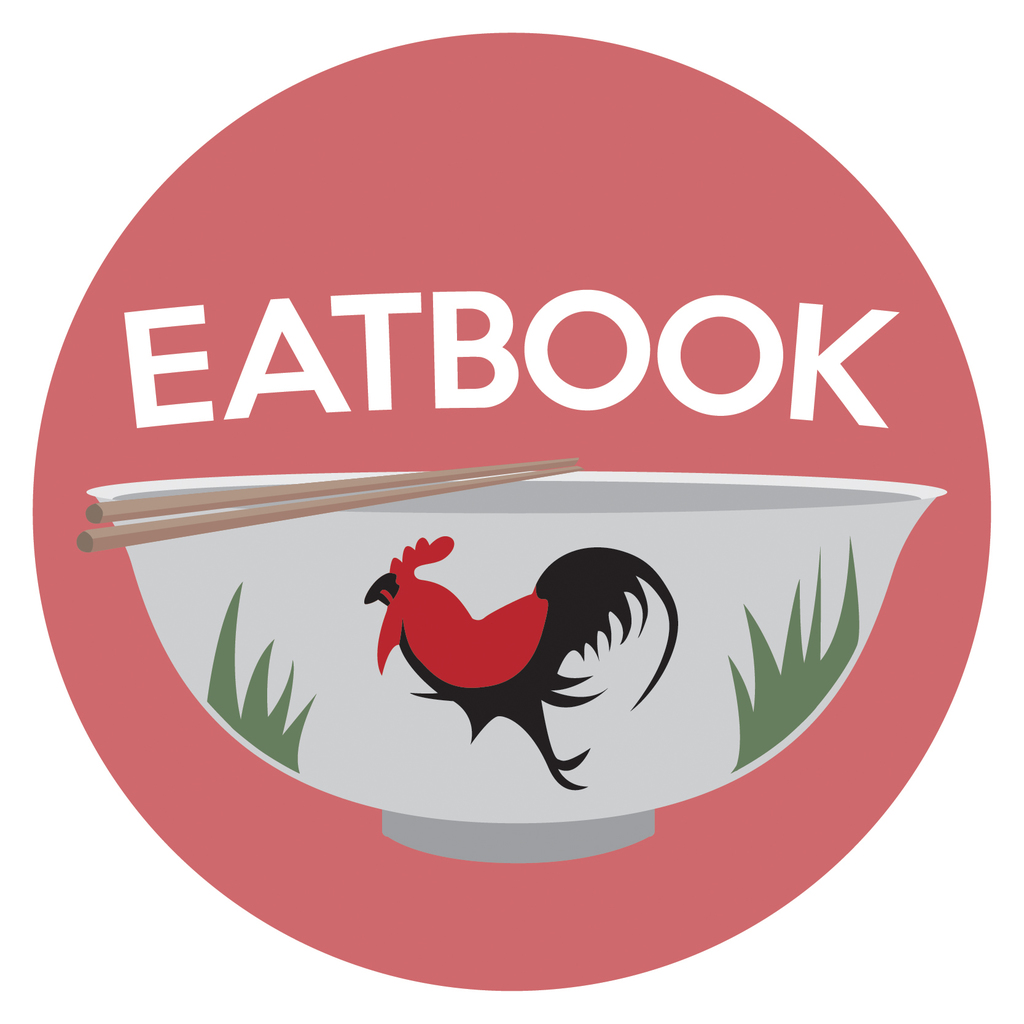 Drop us your email so you won't miss the latest news.