---
Tingkat delivery services in Singapore 
---
Even though Singapore has exited our Circuit Breaker stage, takeaways and deliveries will still be the new normal for dining. However, there's an eco-friendly and healthier dining alternative that you may want to consider: tingkat meal delivery services.
These charming nostalgic steel tins keep your food warm and fresh. Most importantly, they help keep you from fretting over what to eat. We've put together a list of 20 tingkat delivery services that won't cost an arm and leg. The list comprises both non-halal and halal-certified services, as well as a special treat for confinement mothers.
---
1. Royal Cuisine Group
---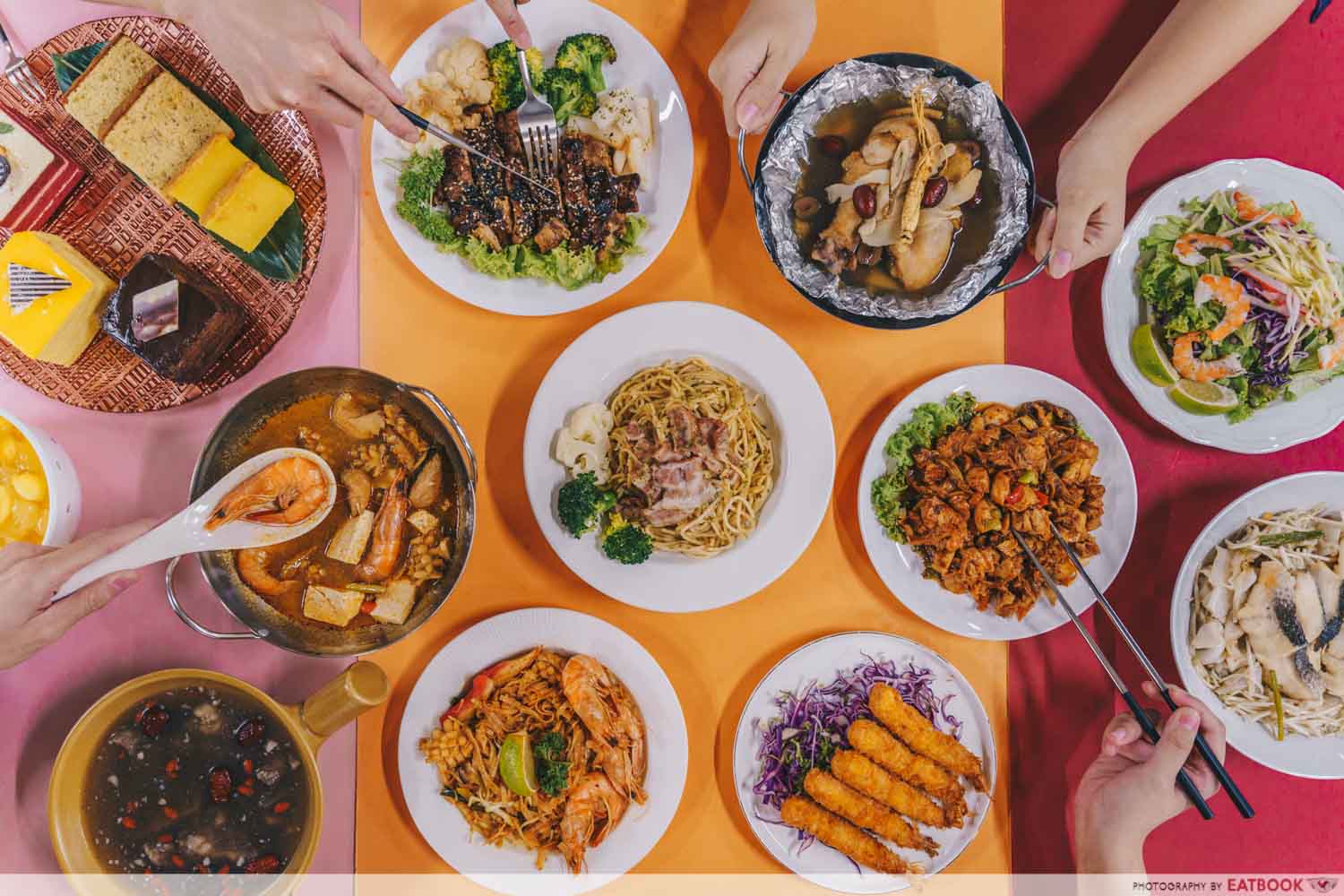 If you've always thought of tingkat food as your average cai png, delivered, let Royal Cuisine Group change your mind. A meal goes as low as $4.80, with four dishes, plus a soup or dessert. Cooked with less salt and no MSG, these meals make great options for the more health-conscious too.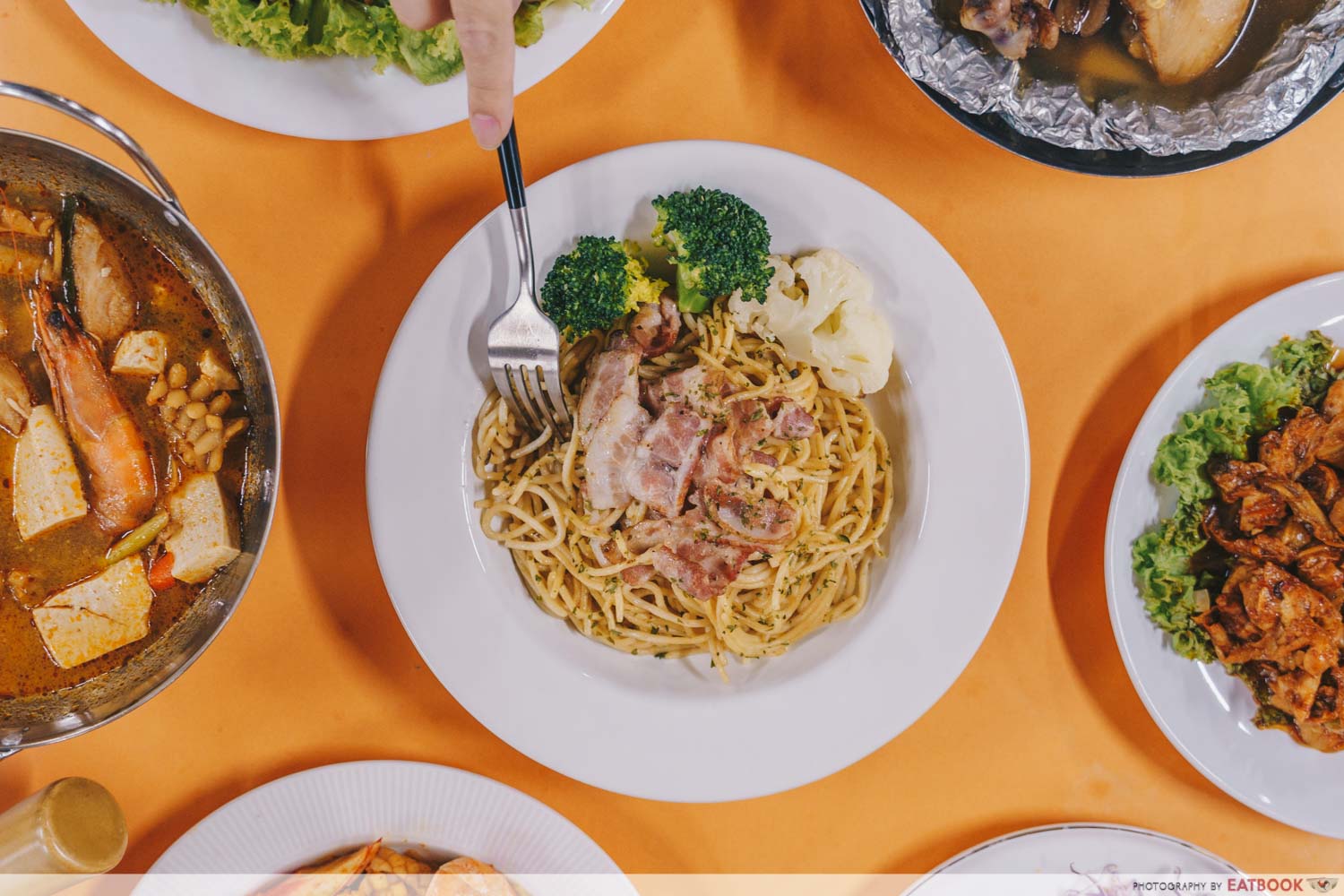 You'll be spoilt for variety with the international offerings on the menu, including piquant Kimchi Chicken, and tangy Tom Yam Seafood Soup. Top up $1 per meal for white rice, or $2 for brown rice, if you'd like some carbs to go along with the dishes. If you're feeling fancier, they also provide speciality staples like Creamy Carbonara and Pad Thai for an additional $3. Noodles are a rare sight in tingkat delivery, so go ahead and treat yourself.
---
2. Mom's Catering
---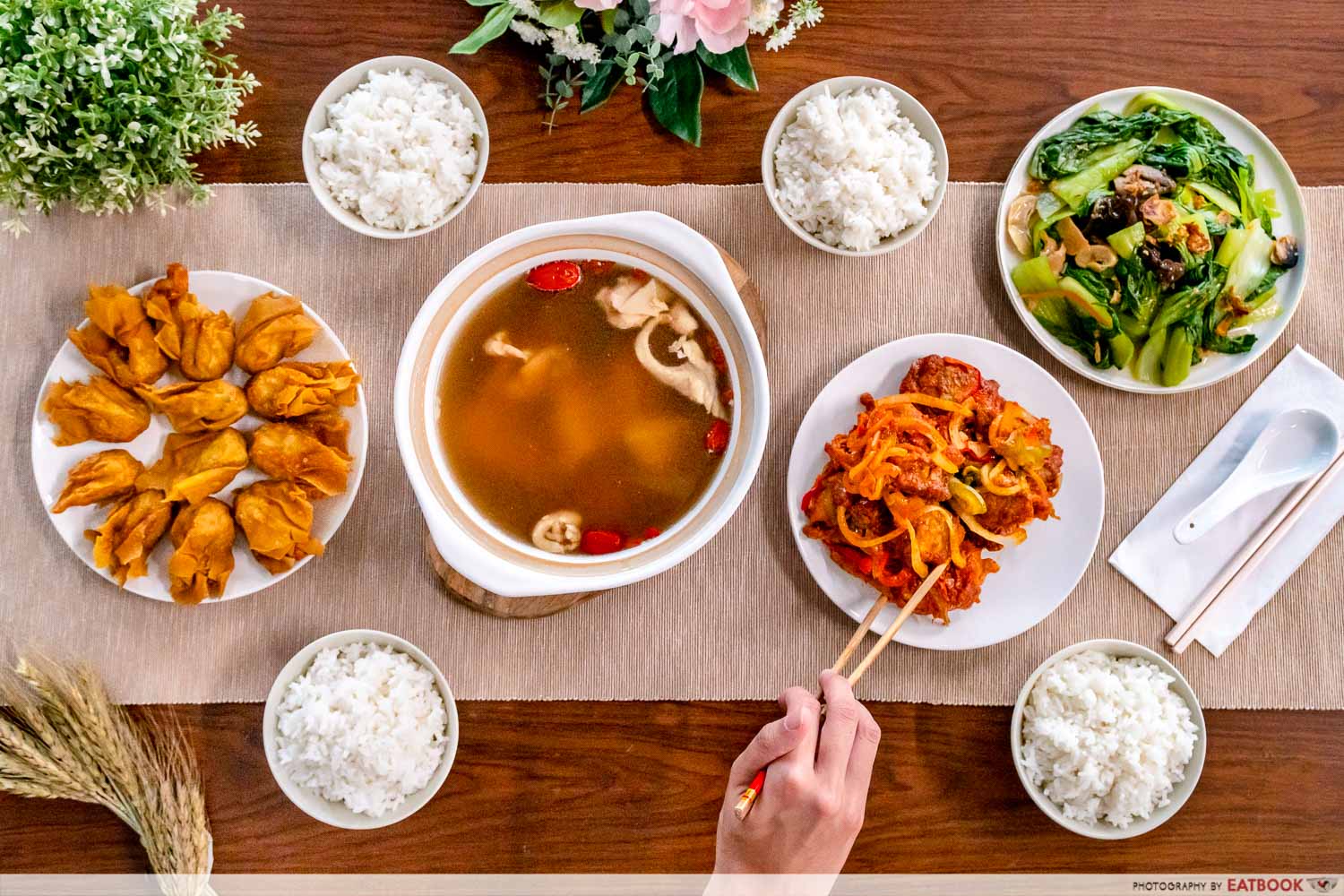 If you miss the taste of mom's home-cooked food, try the tingkat service from Mom's Catering, for hearty, wholesome meals. Choose from lunch or dinner meals, with a minimum order for two people, delivered seven days a week. You can try out the 10-day meal package, which starts from $134 for two, or opt for the 20-day package, with prices starting at $215.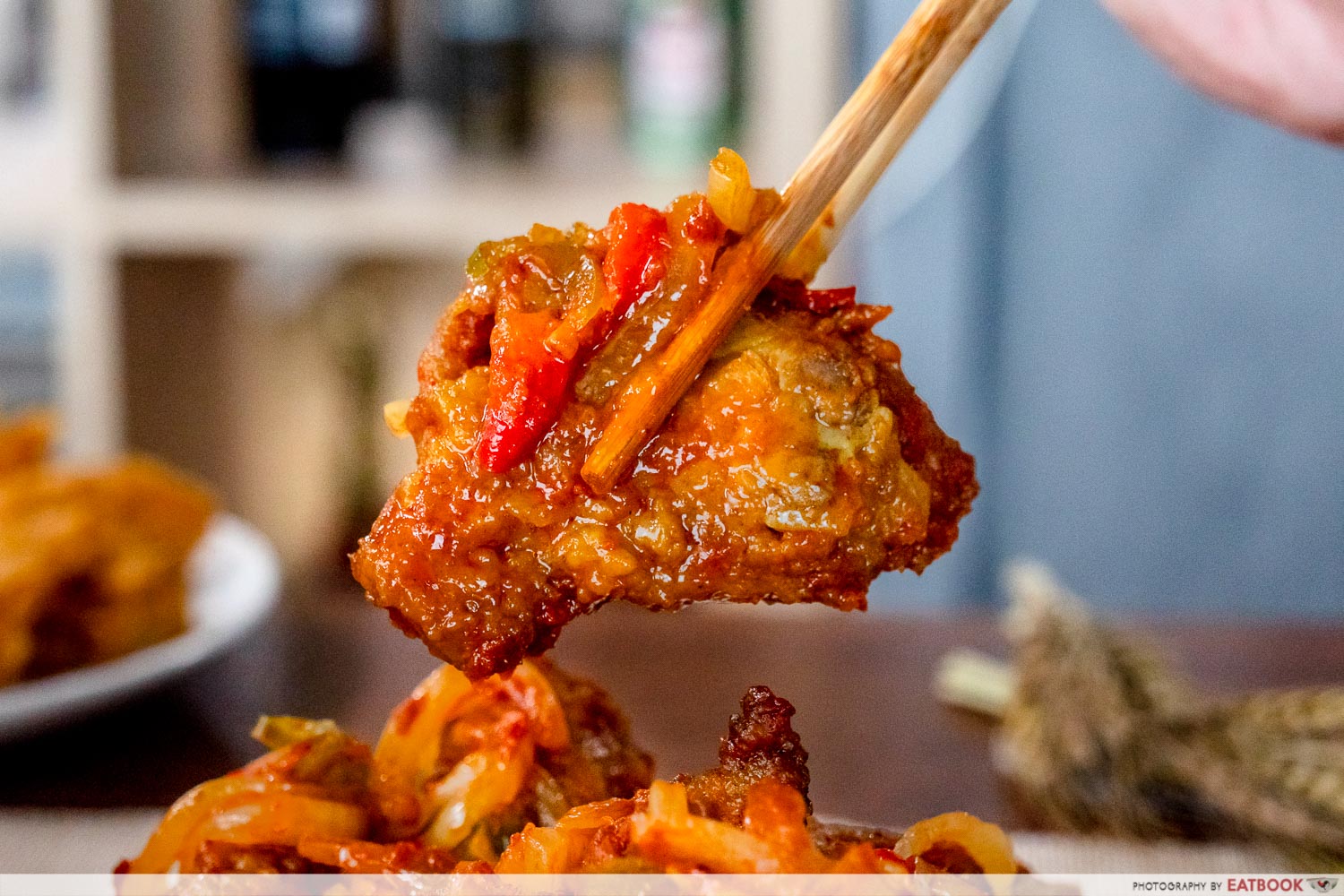 Nothing says Asian home-cooked family meals like three dishes and one soup, and Mom's Catering offers exactly that. You also have the option to replace the soup with another dish. Every meal comes with a dish of Seasonal Green Vegetables, together with a wide range of protein options such as Gong Pao Chicken, Baked Fish with Sambal, Braised Pork Belly, and more. Do note that rice isn't included, so you'll have to top up $0.50 per person for a portion of white or brown rice.
---
3. Le Xin Catering Group
---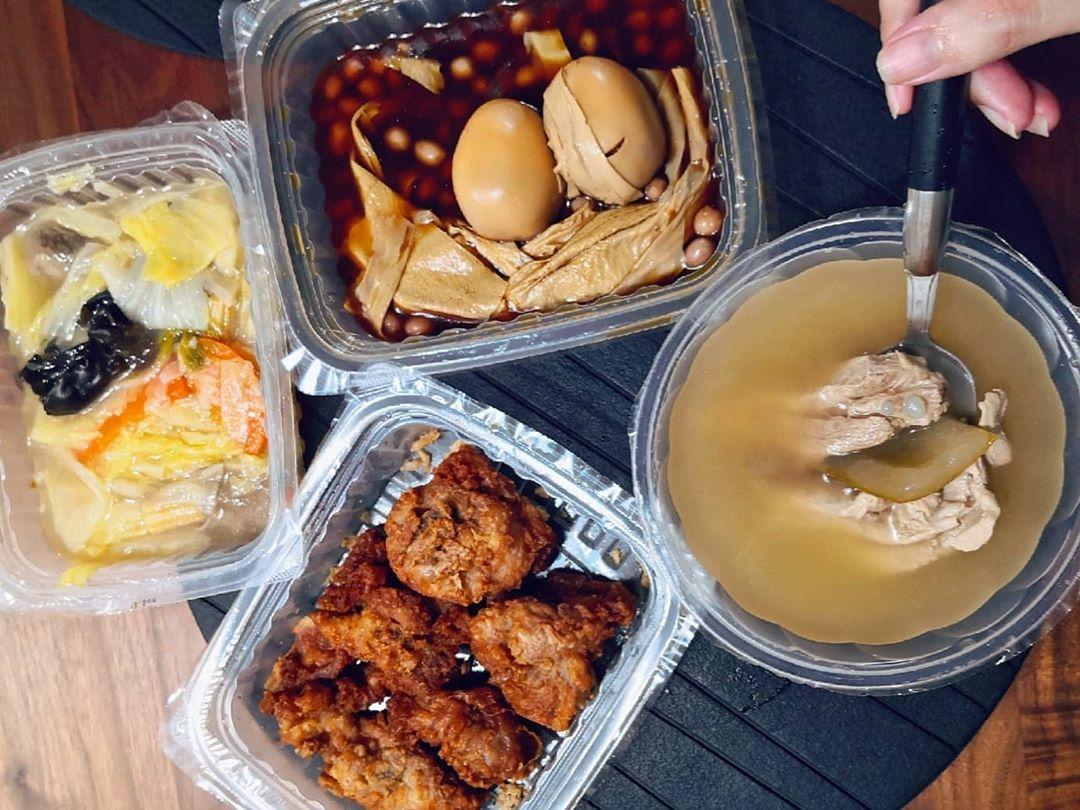 Image credit: @hclchristine
Le Xin Catering Group provides a tingkat delivery subscription package of either three dishes with soup or four dishes. On every Wednesday and Friday, they also serve up local favourites such as Hainanese Chicken Rice and Sin Chow Bee Hoon. While their delivery package typically covers a cycle of 20 days every Monday to Friday, a five or 10-day trial is offered for first-time customers from just $64.50 for one person.
Le Xin Catering Group order form
---
4. Kim Paradise
---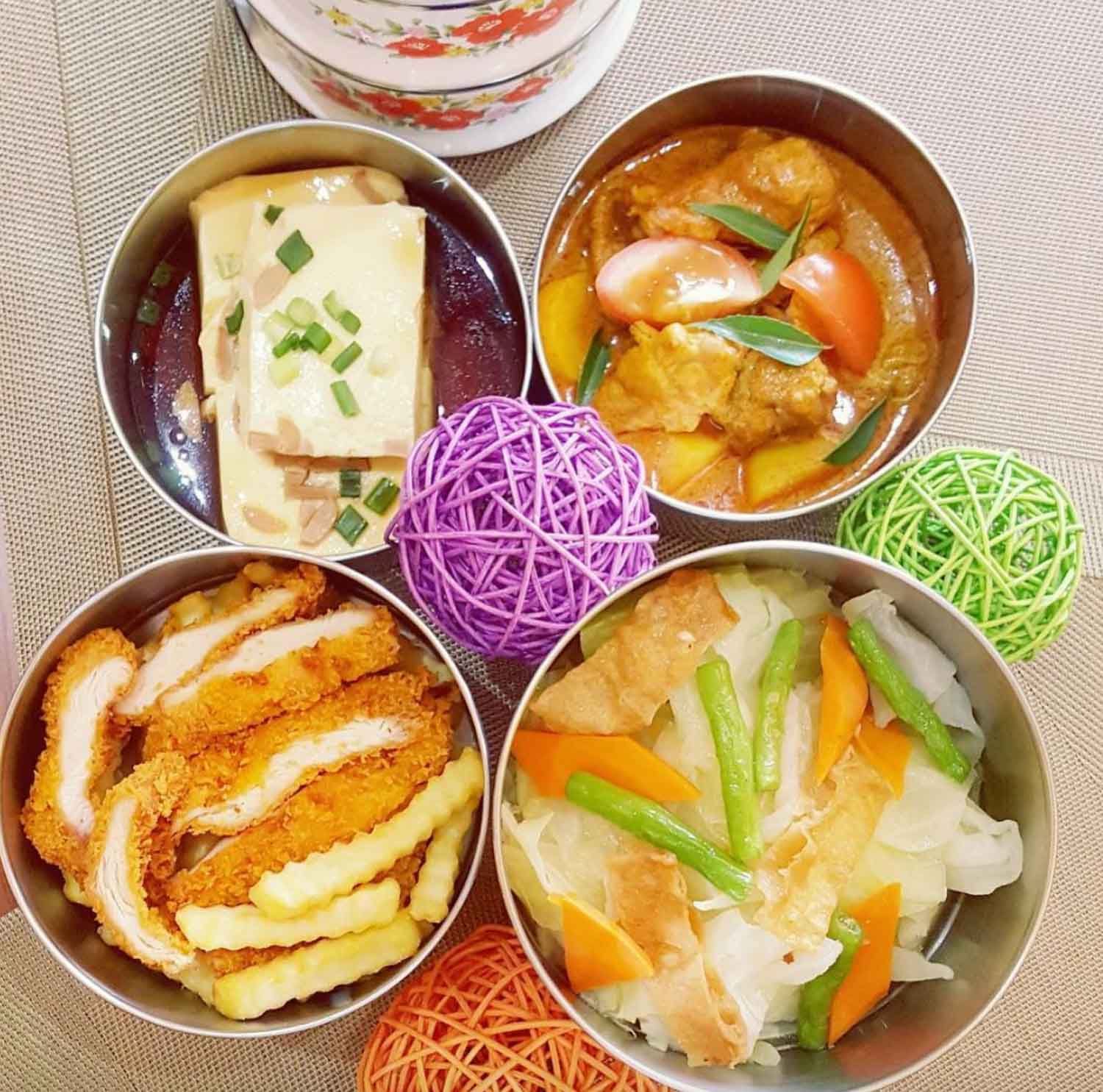 Image credit: @kimparadisesg
Kim Paradise has been around for over a decade and serves up nutritious lunch and dinner meals for up to eight people in the household. Menus are updated weekly with more than 200 dishes being switched around. That's one less thing to worry about having to eat the same food every day. For those looking to try out their dishes, their prices can go as low as $115+ for 10 days worth of food for one person—with options including sesame oil chicken, cereal fish, and white fungus soup.
---
5. Madam Kim 
---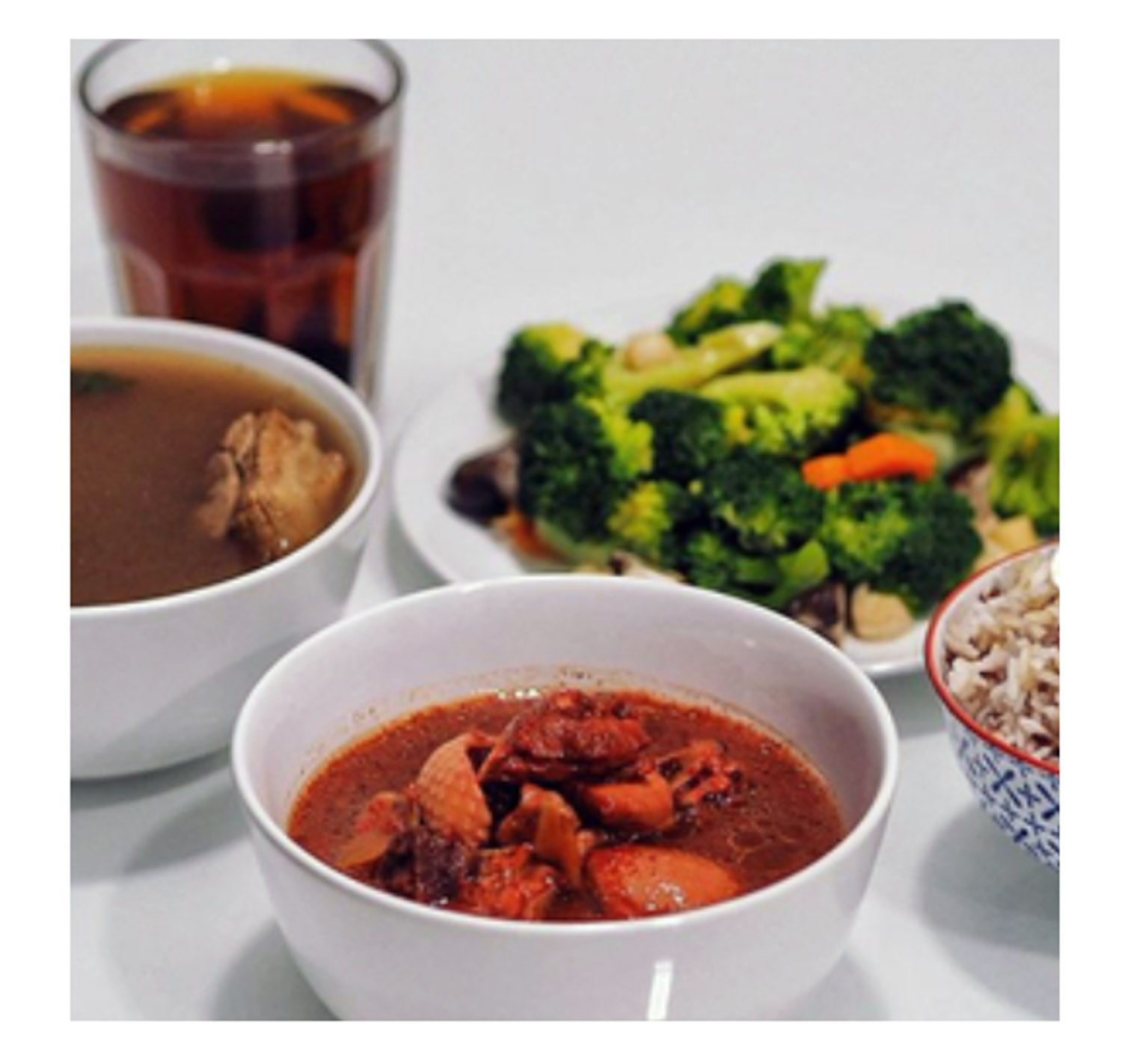 Image credit: Madam Kim
A sister brand to Kim Paradise, Madam Kim specialises in traditional Chinese confinement recipes. Many of their dishes use ginger, an ingredient that's known to dissipate the cold and warm up the stomach for faster postpartum recovery.
If you're looking to try out their services, check out the 1-Day Trial at $38+ per meal, which includes two dishes, one soup, brown rice and herbal tea. Some of these nourishing dishes include Steam Cod Fish with Chicken Essence, Baby Kai Lan with Pig Liver, and Double Boiled Ginseng with Black Chicken Soup.
---
6. YeYeah Delights 
---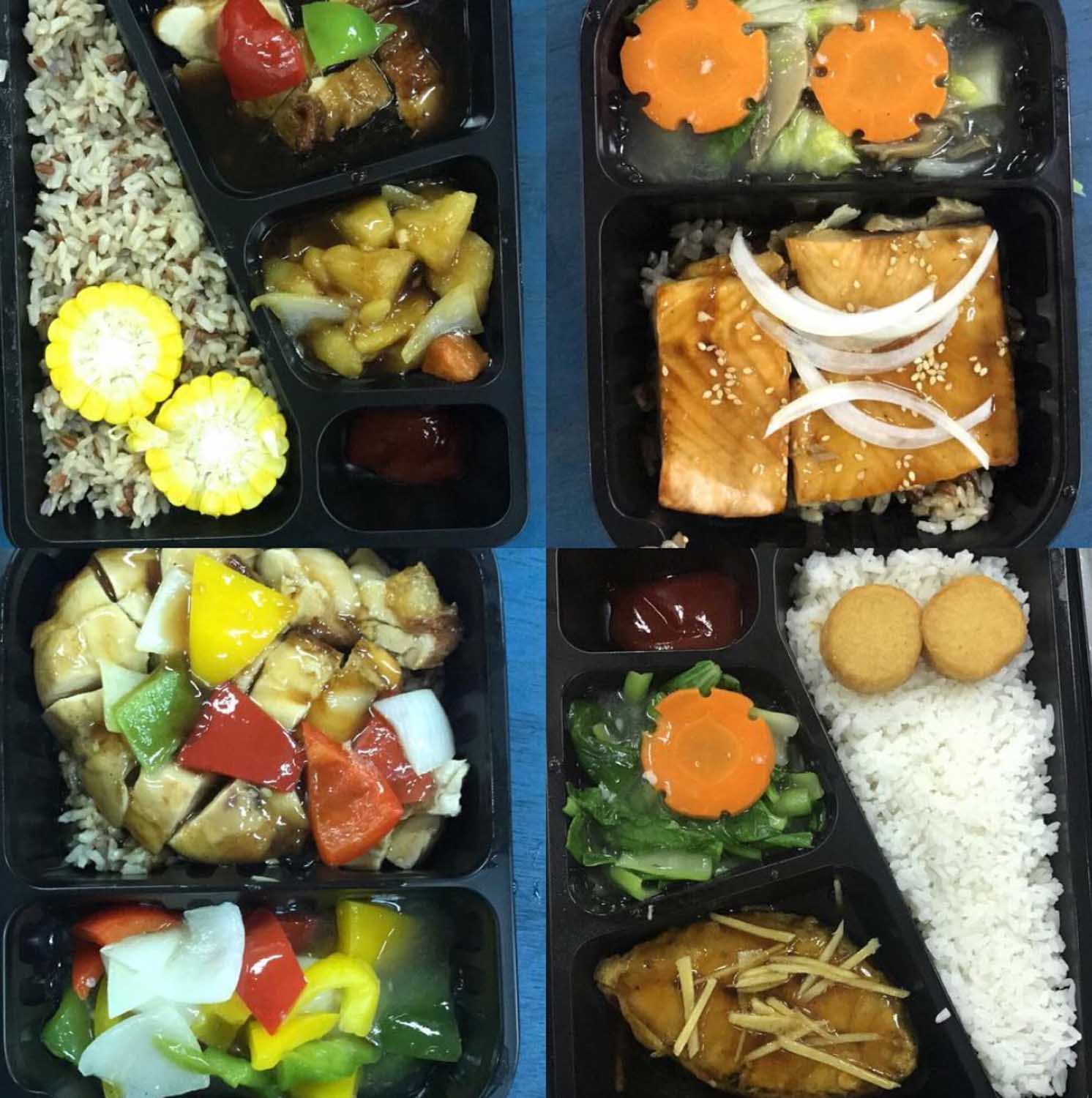 Image credit: @yeyeahdelights
Those looking to eat healthily might want to check out YeYeah Delights. This tingkat service offers a variety of clean eating meals including soup meals and those that promote weight loss. Each meal comes with a bowl of soup and steamed rice. Prices start from $100 for family meals for two, delivered five days a week for one week.
What's different about YeYeah Delights is that instead of having daily deliveries, chilled meals are delivered twice a week. These chilled meals are not frozen, so you can heat the dishes at your discretion.
---
7. Savory Kitchen 
---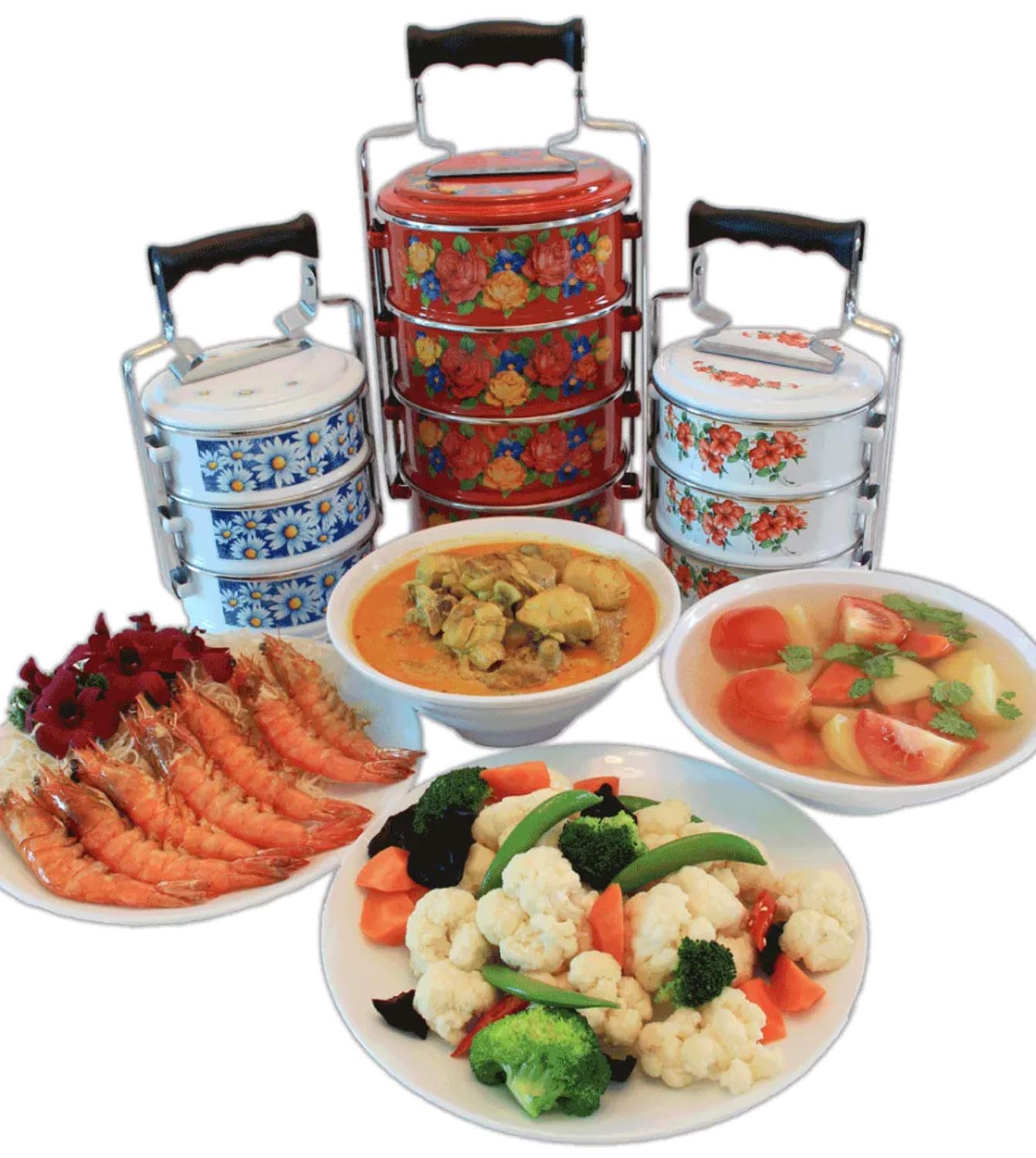 Image credit: Savory Kitchen
Savory Kitchen offers lunch and dinner meal plans separately, with lunch consisting of four dishes, and dinner consisting of a choice of three dishes plus soup or four dishes.
They currently offer either a 10-day trial meal plan from $141+ for two people or a 20-day meal plan from $260+. An example of a daily meal plan is a combo of bean sprouts, fried chicken, braised beanstalk, vegetable soup, and otah. 
---
8. Select Catering 
---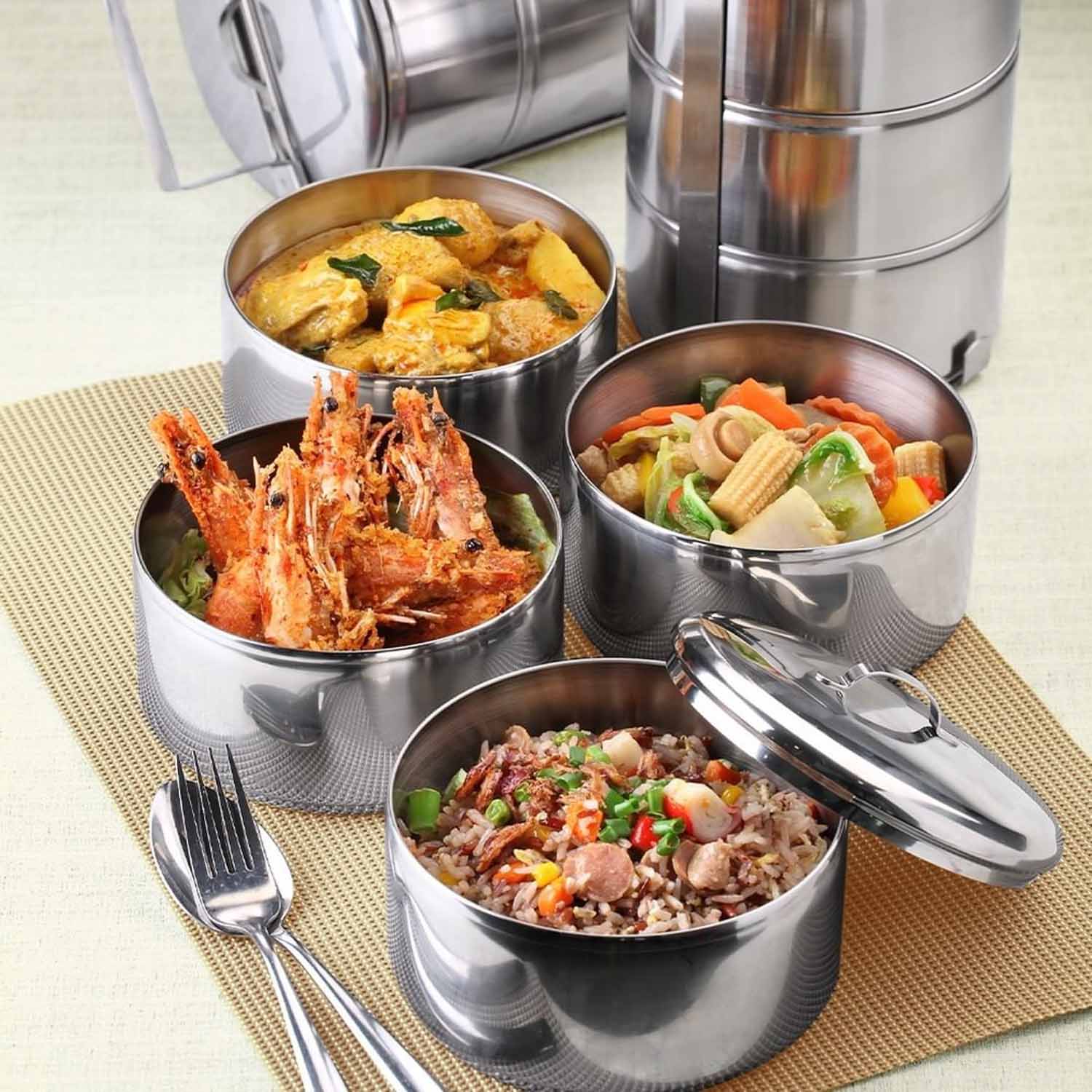 Image credit: @select_catering
Select Catering has been in the business for close to 29 years, and is a household name when it comes to event catering. They also offer tingkat delivery services, with prices starting from $4.50+ per meal per person for their Economical Package delivery that comes without rice. Each package gives three dishes and a soup, or four dishes. The menu selection ranges from over 200 different dishes and features homely dishes such as Tomato Sauce Pork Chop, Cabbage With Vermicelli, Deep Fried Wonton, and Herbal Chicken Soup.
---
9. FattyDaddyFattyMummy
---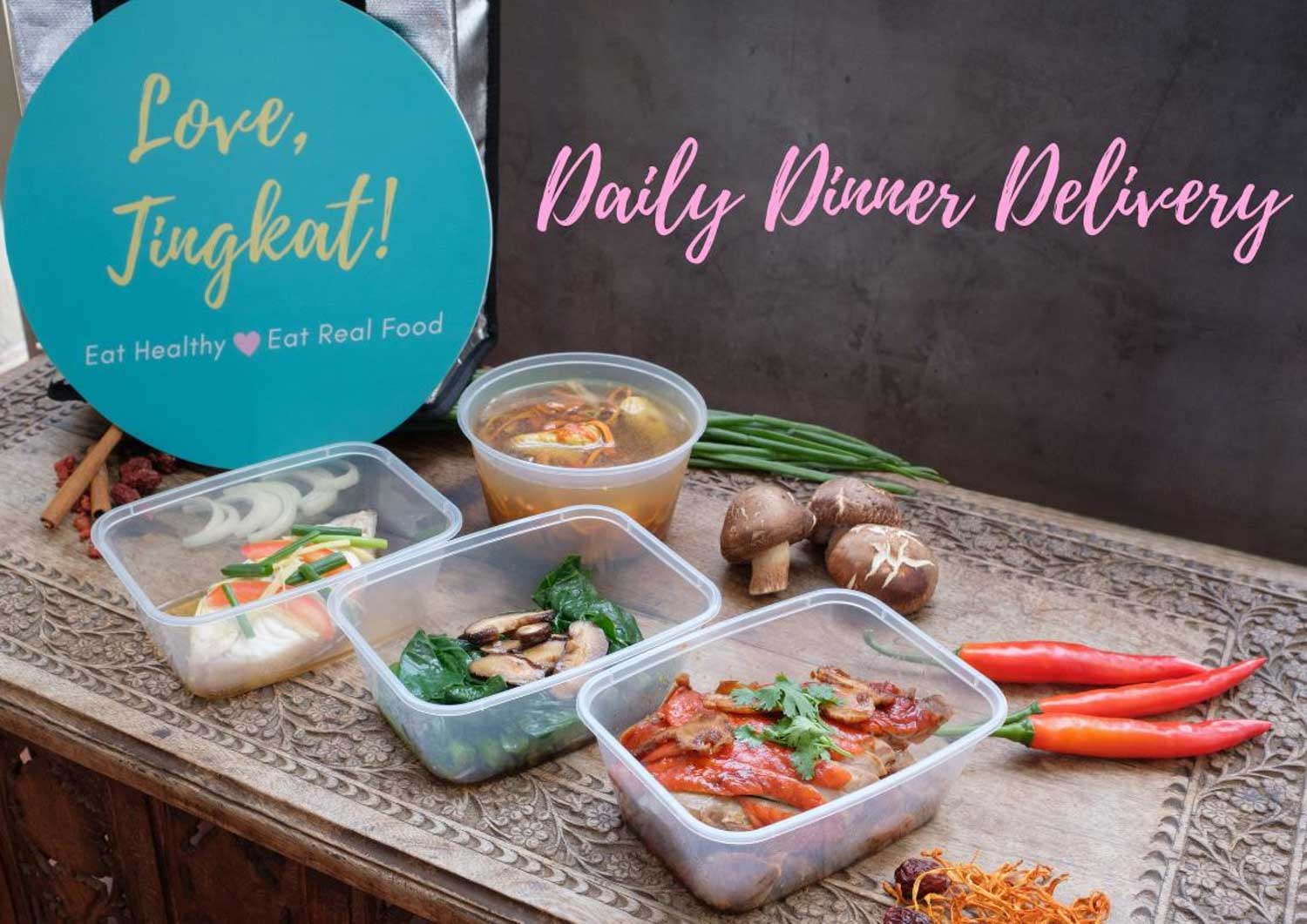 Image credit: FattyDaddy FattyMummy's Facebook page 
FattyDaddyFattyMummy is a small catering company that's set up by Kedan and Fion. Kedan used to be a professional chef who cut his teeth working at Brasserie Wolf, Hiroki 88, Kriston Catering, and Jewel @ Mount Faber. Their tingkat delivery service, Love, Tingkat!, might be a little more expensive than those on the list.
However, the husband and wife duo prides themselves on having no MSG and processed food in their delivery menu. This means that you and your family will be able to eat healthily with a bunch of fresh meats and vegetables daily. Those looking to try the food can get the 10 Day Package (from $156.22 per person).
FattyDaddyFattyMummy order form
---
10. Hong Choo
---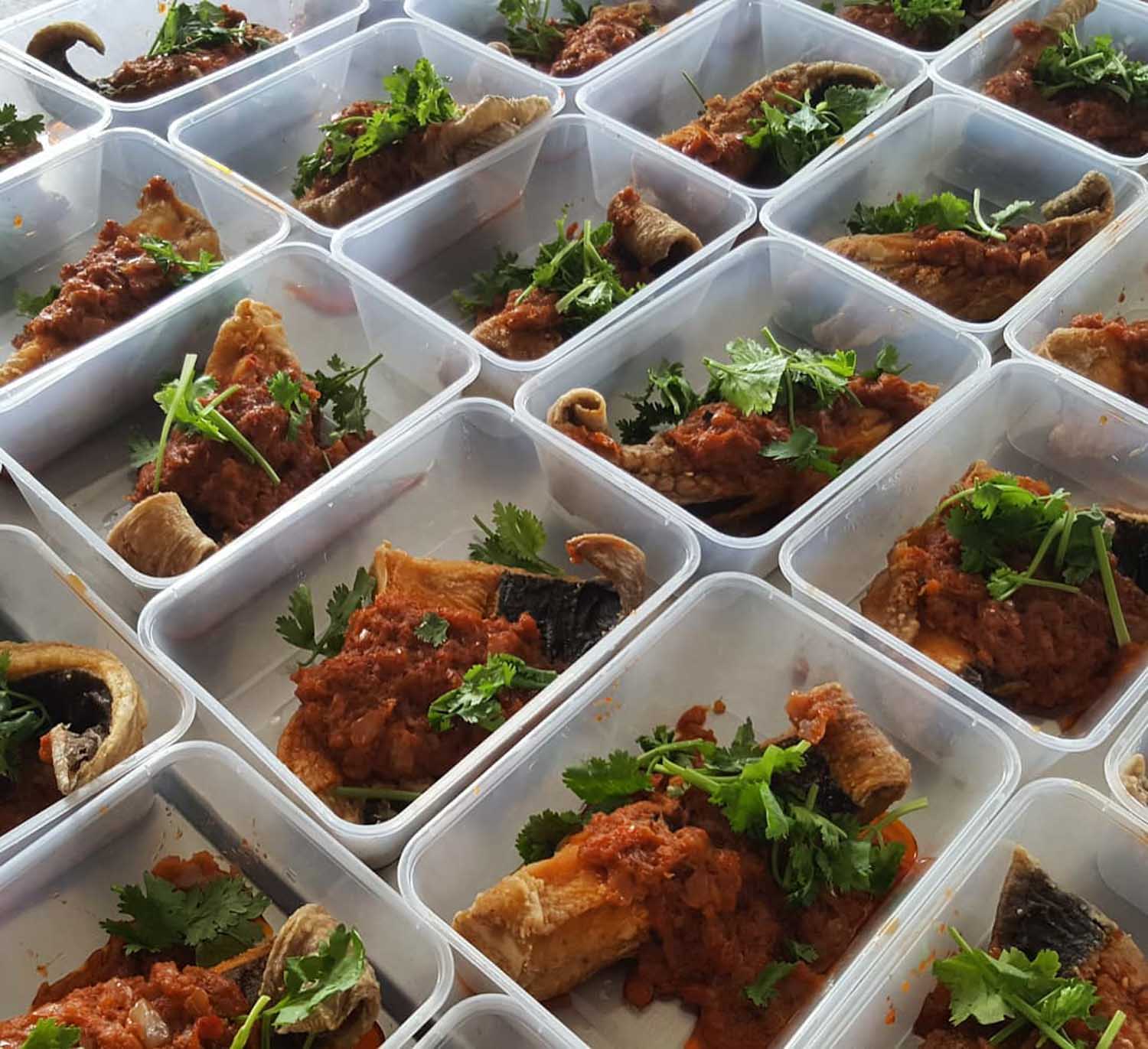 Image credit: @hongchootingkat
Hong Choo is one of the better-known tingkat caterers in Singapore. Those looking for healthy home cooking will like their light but flavourful dishes that are not too greasy. The catering company does not use any MSG, and their owner used to run a mixed vegetable rice stall at a coffee shop. 
There are plenty of positive reviews for their sambal fish, which is freshly prepared daily. Prices are $210 for a 20 day package for two people, though they also have microwave box options from $160.
---
11. Cucina 
---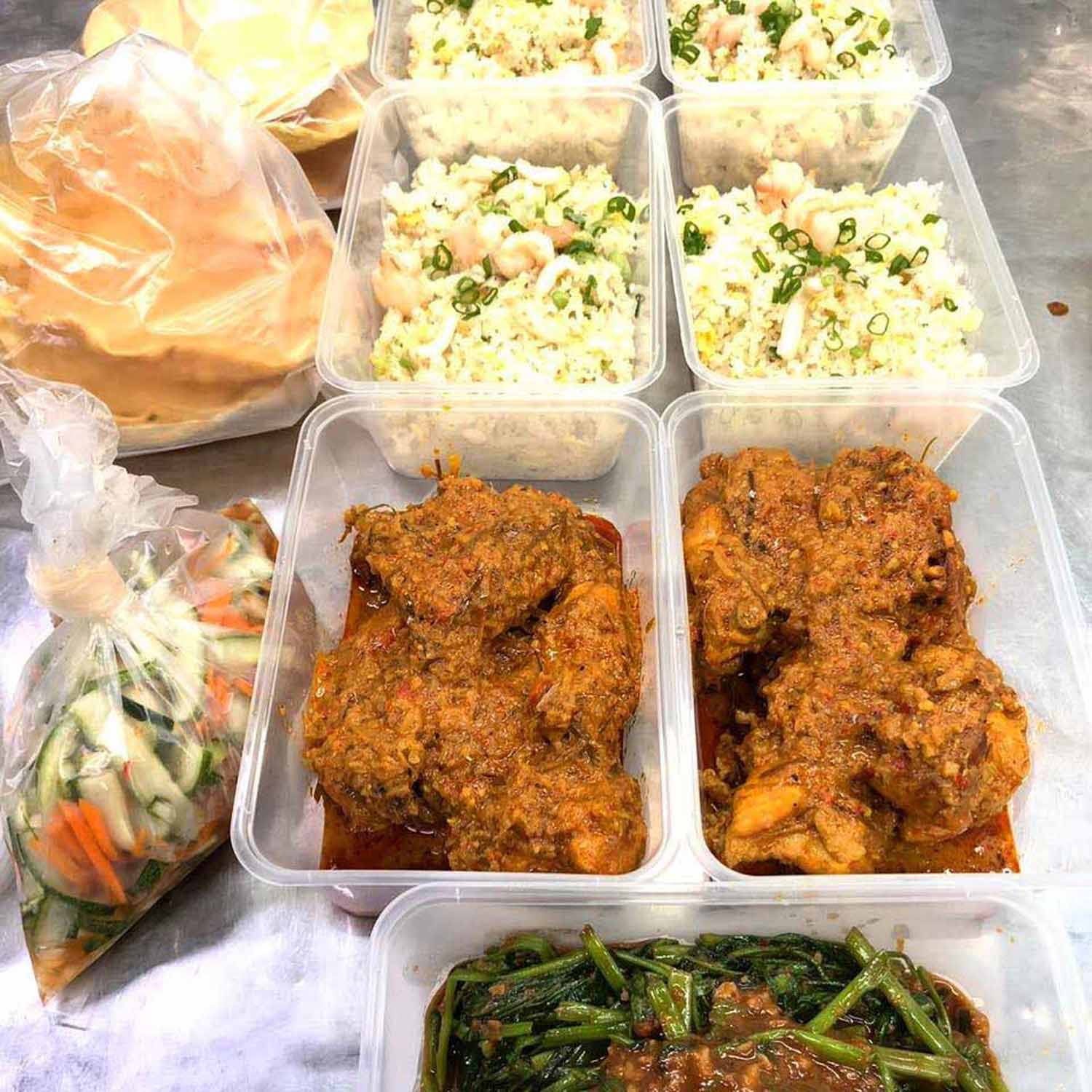 Image credit: Cucina
Cucina is an Italian restaurant at Aperia mall, but they also offer halal-certified tingkat meals that don't require diners to commit for long periods. Additionally, they also have a variety of Chinese, Western, Malay, Japanese, and vegetarian dishes that you can pick from daily. 
Look out for dishes such as Lamb Chop with Brown Sauce and Beef Teppanyaki Salad. Prices are available upon enquiry, and they deliver islandwide, except to Sentosa and Jurong Island. 
---
12. Mom's Cooking 
---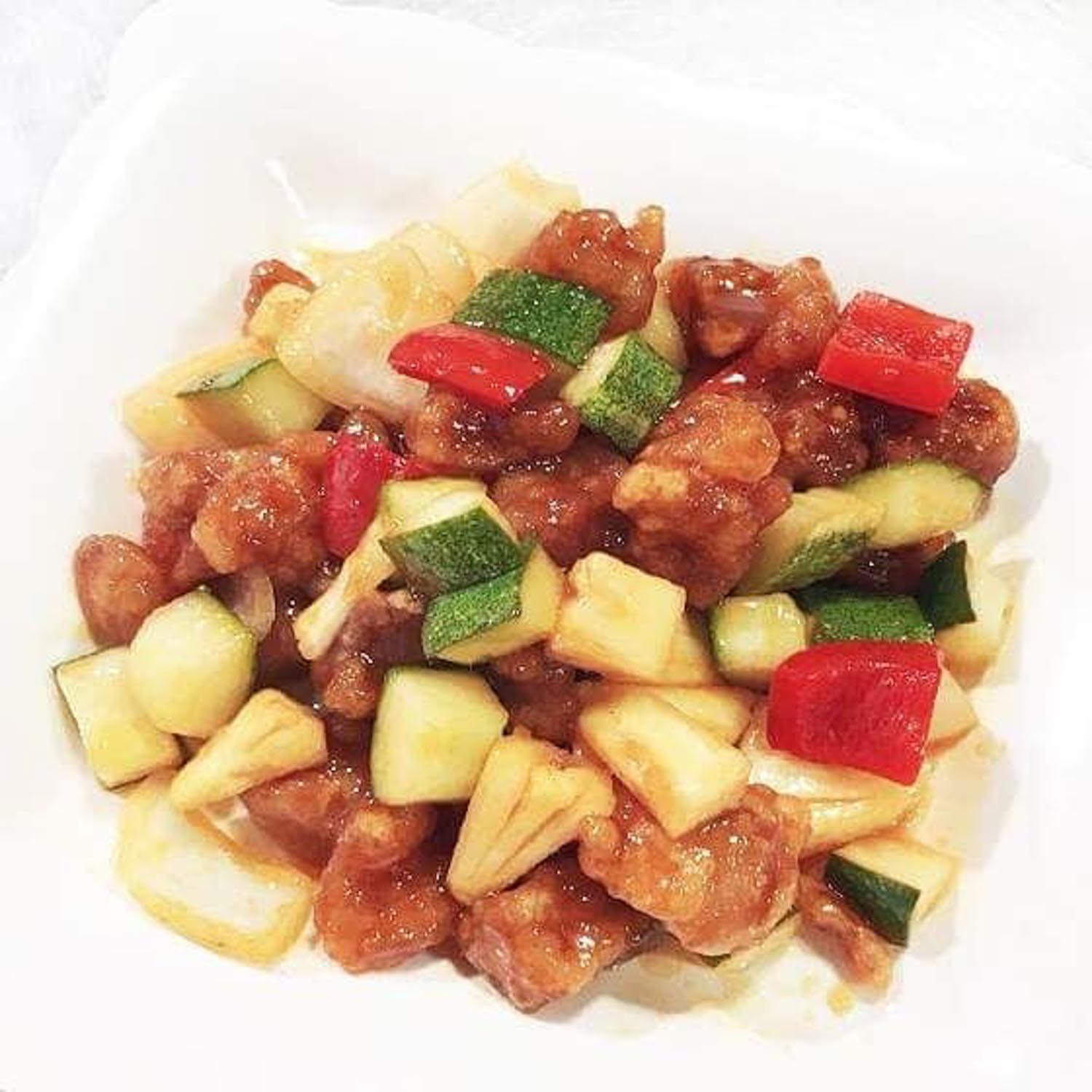 Image credit: @momscookingsingapore
Mom's Cooking offers a premium touch into everyday tingkat meals. You can look forward to getting dishes such as Japanese Chicken Curry, Stir Fried Sliced Pork With Bulgogi Sauce, and Braised Pork Rib With Pumpkin And Yam.
On top of that, they only use canola oil which is touted to be healthier than regular vegetable cooking oil. Prices start from $404.55 for four times a week delivery over 16 meals.
---
13. Best Catering
---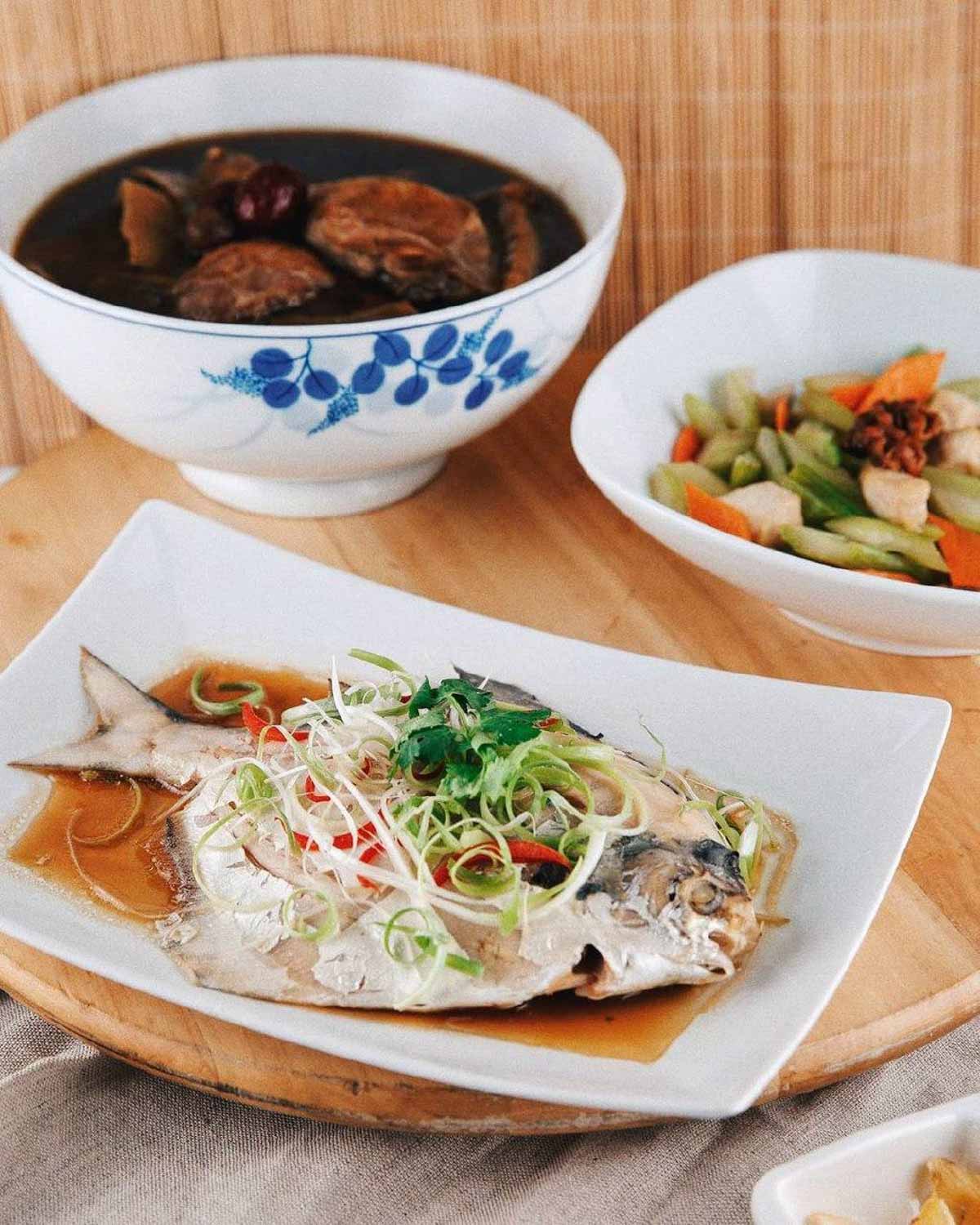 Image credit: @bestcatering
Best Catering's tingkat package may be priced at a premium, but their menu matches up with higher quality ingredients that are prepared with healthier methods. 
If you're not fussed about the occasional fried or gravy-ladened dish, you might like the 20-day family dinner package ($278.20 for two people) that is served with three dishes and one soup, or four dishes. 
---
14. Yassin Kampung 
---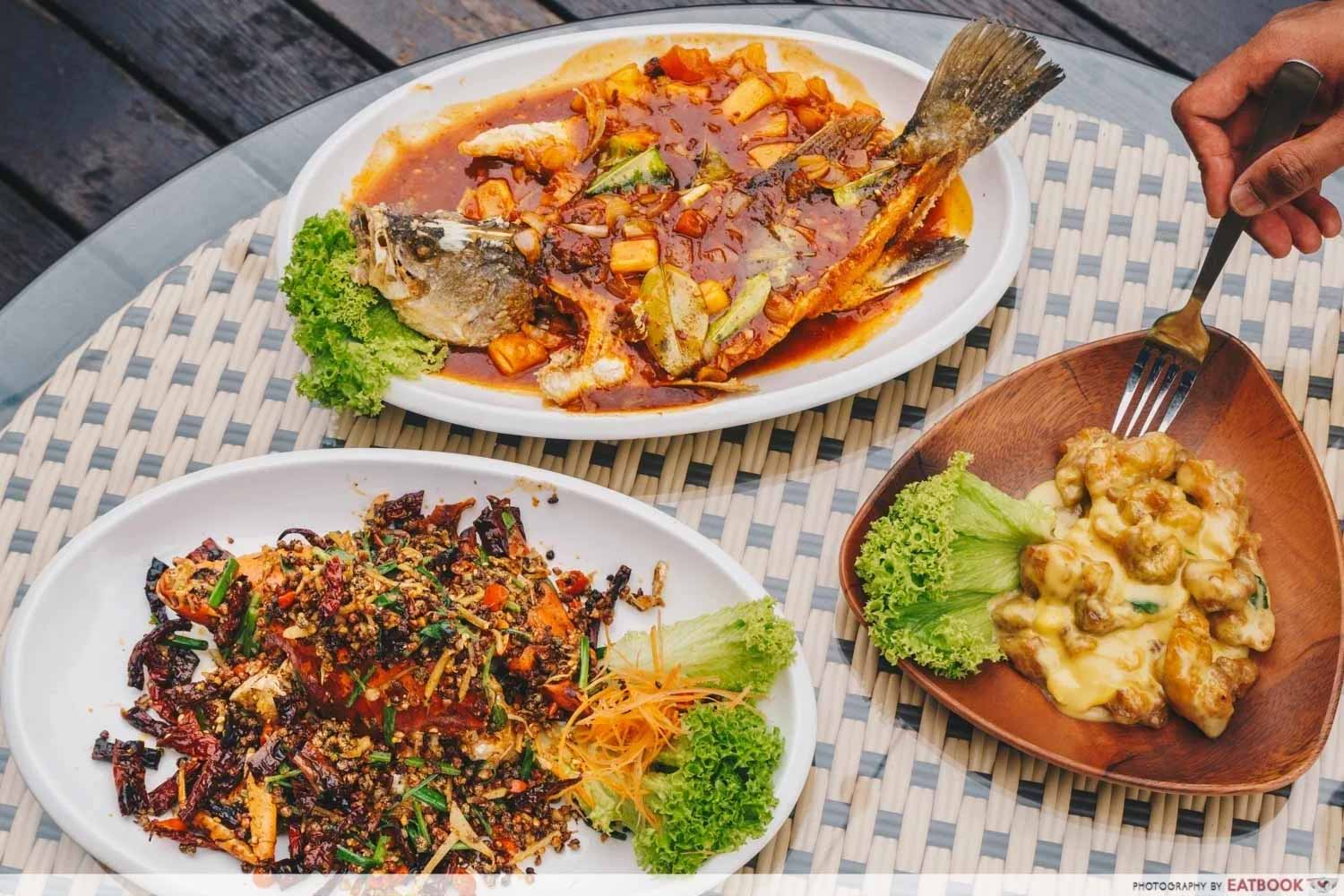 For those who can't live without spicy food, Yassin Kampung may be your best bet. While most other tingkat caterers typically omit spicy food from their menu to cater to a wider crowd, the restaurant doles out dishes such as dry chili beef, kang kong belacan, and sambal sotong.
Their 20 Days Tingkat Package can be ordered with or without rice from as low as ($346.70 for two people). The halal-certified food provider also operates four zi char restaurants across the island that serve the likes of durian chicken, mala fish and more!
Yassin Kampung Review:  Halal Zi Char Restaurant Serving Durian Chicken And Ma La Crab
---
15. Tian Wei Signature
---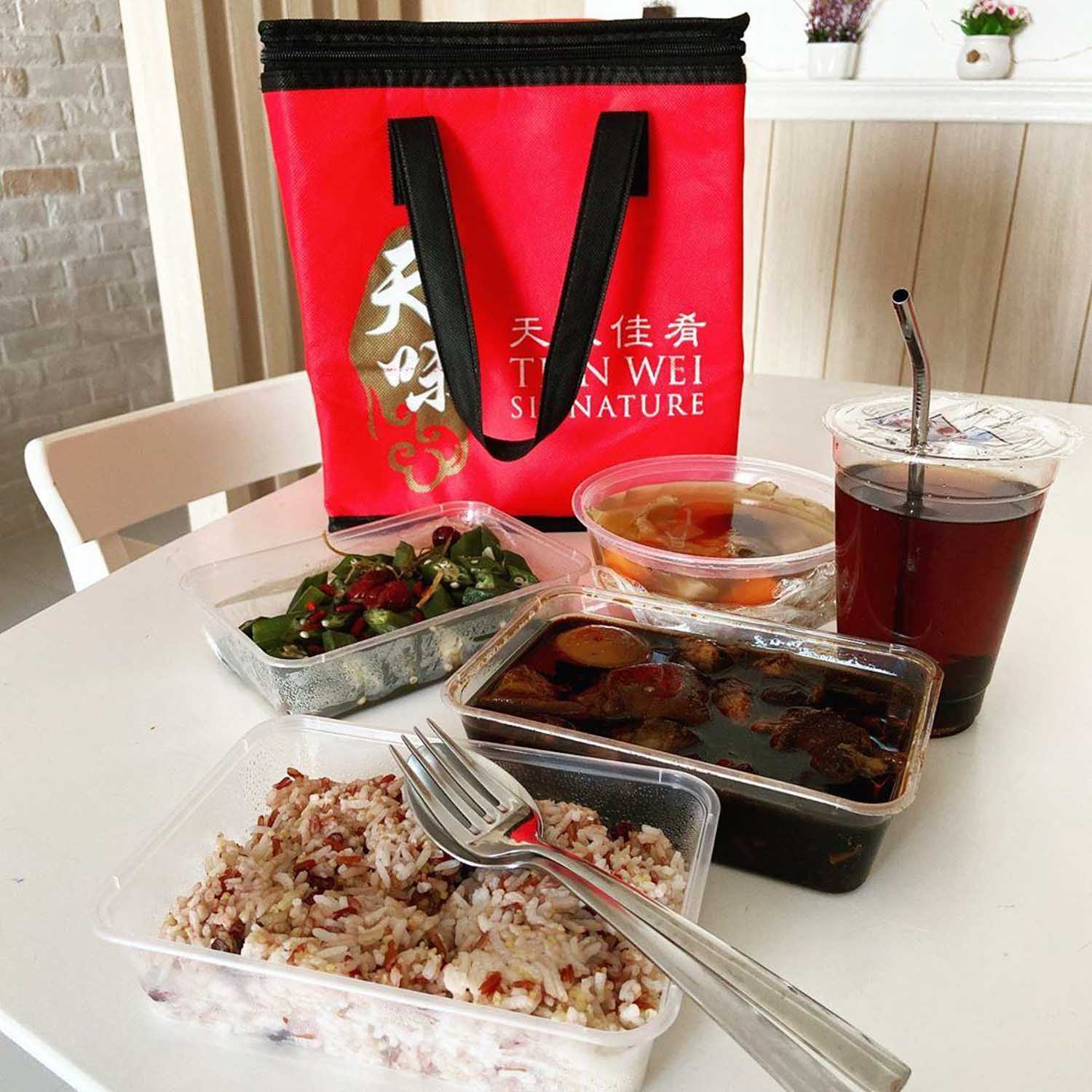 Image credit: @ycluv_123
Confinement food usually means an entire month of TCM herb-based meals, but Tian Wei Signature's 28 Days Confinement Package ($1,688 for lunch and dinner) ensures mothers won't get bored with their fusion options.
The first week's menu will offer traditional confinement dishes such as Braised Pig Trotter In Black Vinegar and  Sesame Oil Chicken. From the second week onwards, you can look forward to some interesting meal options such as their Signature Coq Au Vin (classic French chicken stew) and Seared Salmon With Cauliflower Cream. 
Tian Wei Signature order form
Menu
---
16. AMGD 
---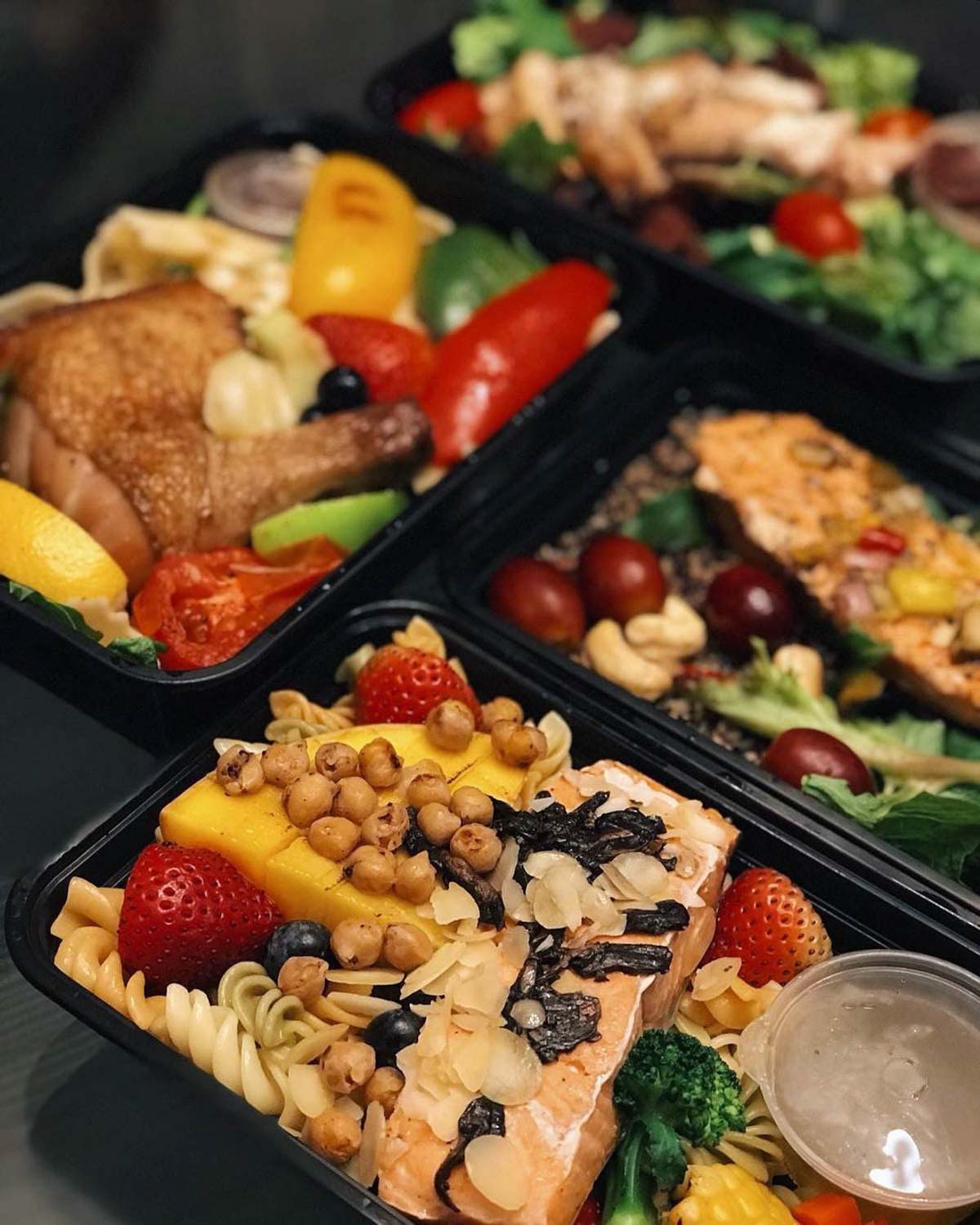 Image credit: @creativebagels
AMGD works on a pay-per-use credit system, making it the most flexible meal delivery option here. To get started, you purchase a certain number of meals. The more meals you buy, the cheaper the price per meal. For instance, buying just one meal will cost $17, but buying a package of 50 meals will cost you $12.50 per meal instead, which is valid for 90 days. 
AMGD offers a wide array of combinations with protein choices such as calamari, roast beef, and vegetarian choices on bases such as hearty salads and whole-grain options. Each meal has its calorie content already calculated too. All you have to do is place an order by 11.30pm the day before you want it delivered. We'd recommend getting more than one meal delivered at once or pairing up with someone, which will allow you to skip the $2.50 delivery fee. 
---
17. Ronnie Kitchen 
---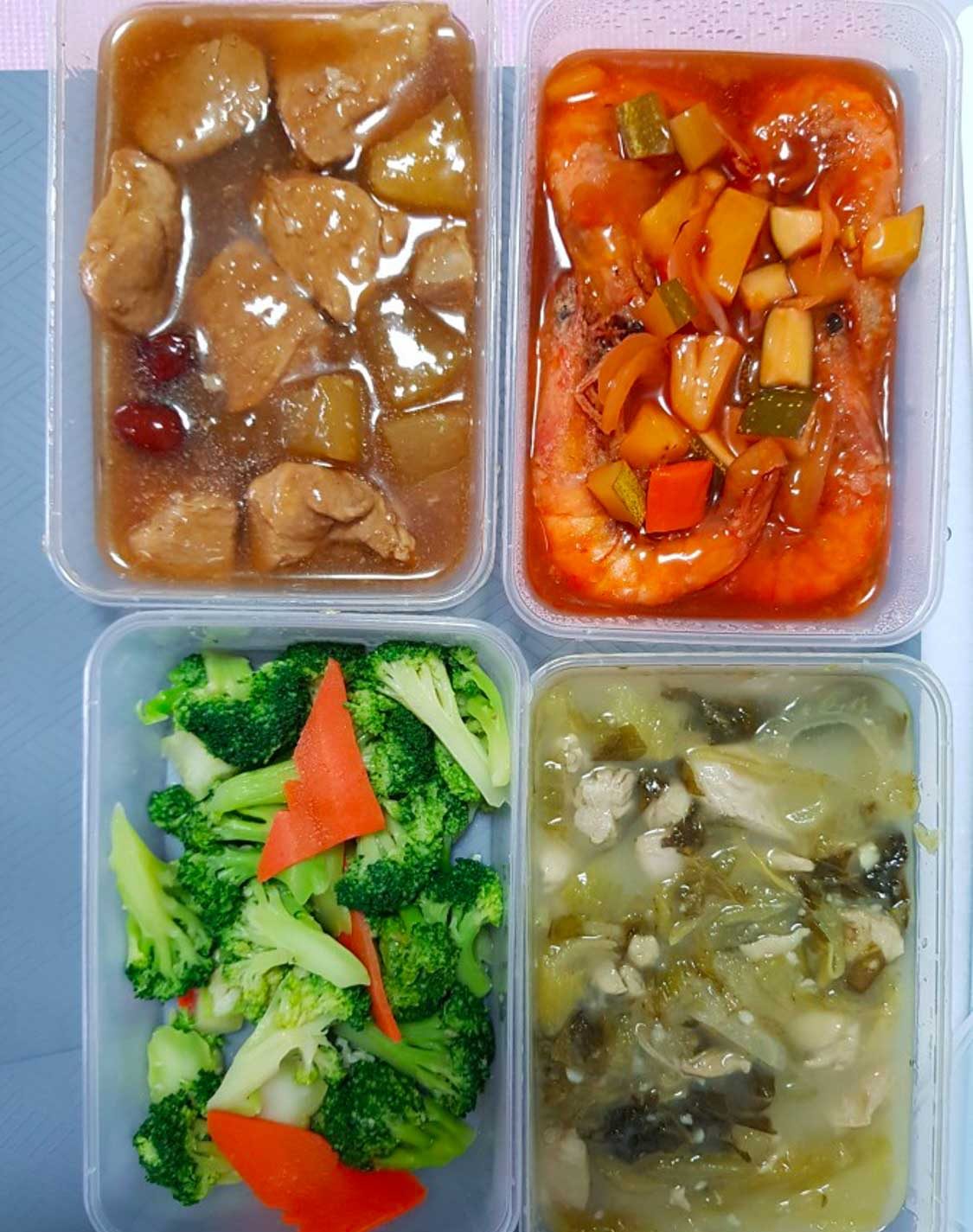 Image credit: foodline.sg 
Ronnie Kitchen is another caterer that sees many returning customers who love their tasty, homely cooking which utilises high-quality ingredients. Their 4 Dishes option is served with two meat dishes. They offer 20 day-packages that start at $175+, comprising favourites such as curry chicken, sweet and sour fish, and stir-fry leafy greens.
---
18. Fong Fu Food Industries 
---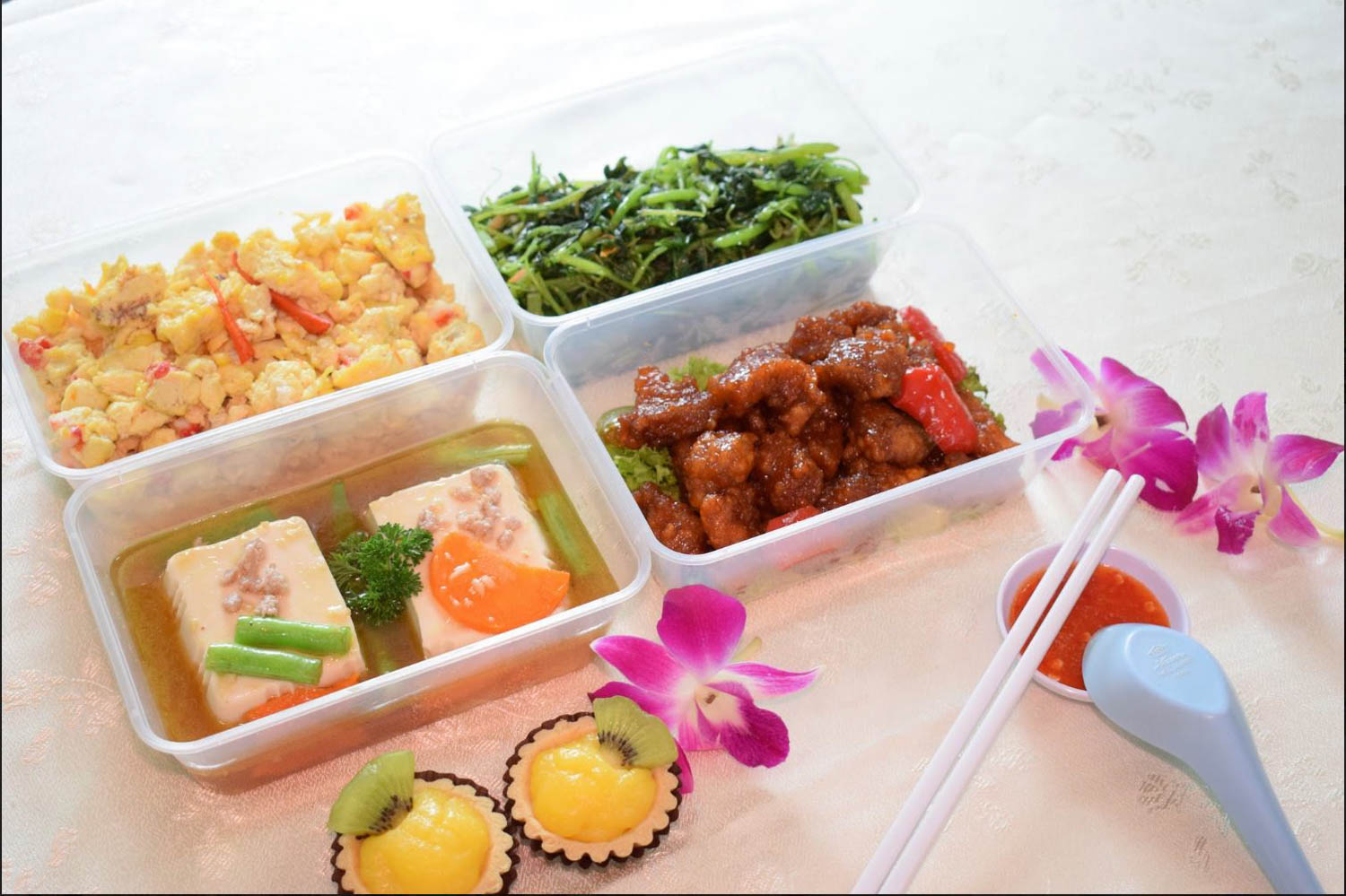 Image credit: Fong Fu Food Industries' Facebook page
Fong Fu Food Industries' 20-day tingkat dinner package ($224.70 for two people) includes three dishes and a soup or four dishes. You can request for rice with your order ($17.12 per person for 20 days). Their menu comprises familiar economical rice fare, with items such as sesame oil chicken, omelette with preserved radish, and mapo tofu. 
Fong Fu Food Industries order form/menu
---
19. Brinda's 
---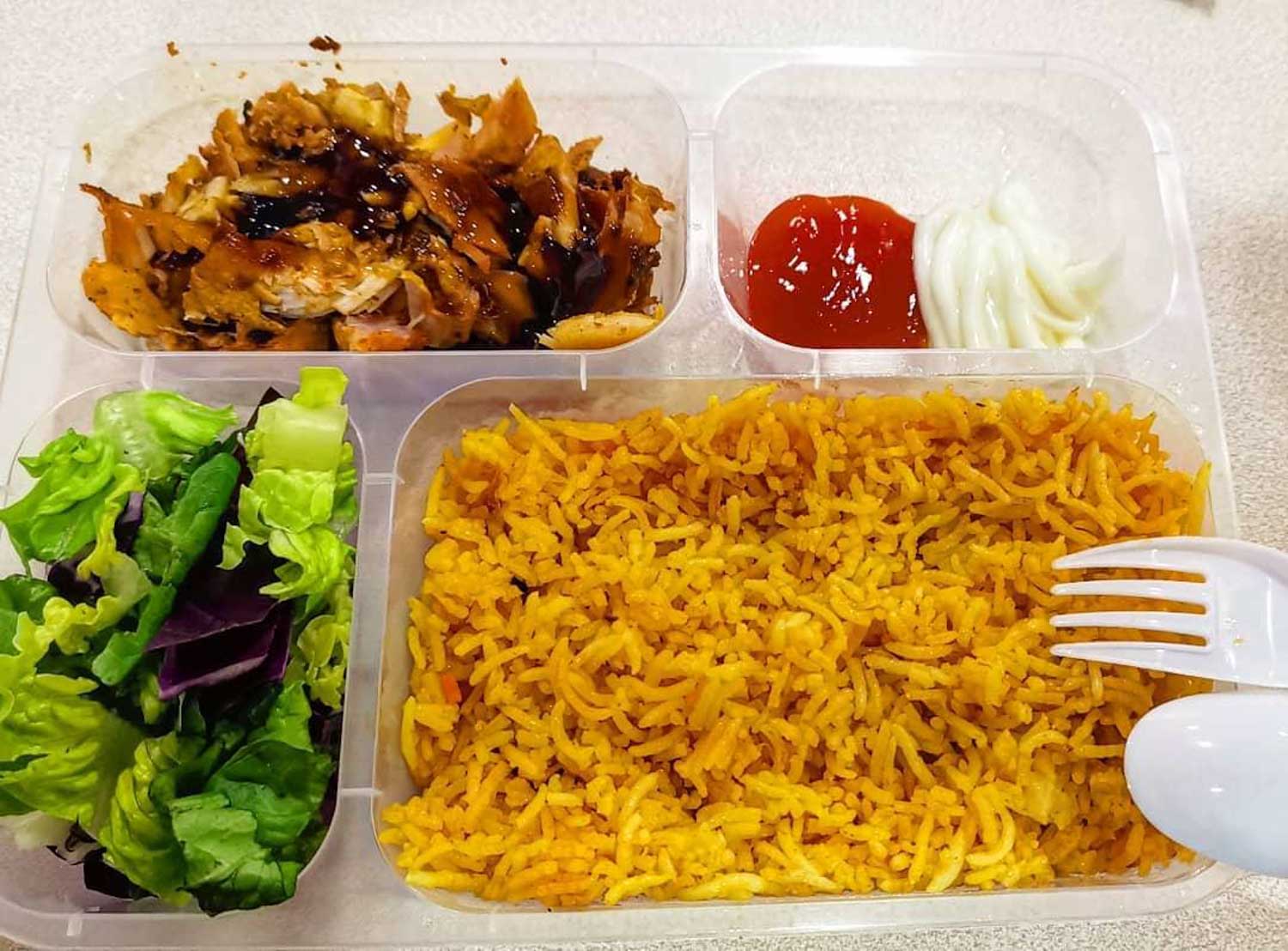 Image credit: @deegentlegiant
Brinda's is a tingkat serving both North and South Indian food to you. Unlike other caterers which have a designated menu, Brinda has an ordering system that leaves you in charge of your dinner plans.
Just select the dishes you'd like for the week from their home delivery menu. Note that a minimum value of $7 per delivery and a five-day commitment period is required. Their menu is extensive, featuring a variety of briyani and gravies including vegetarian, chicken, mutton, and seafood options. Do note that there is a charge of $3.50 per delivery. 
---
20. NouRiche 
---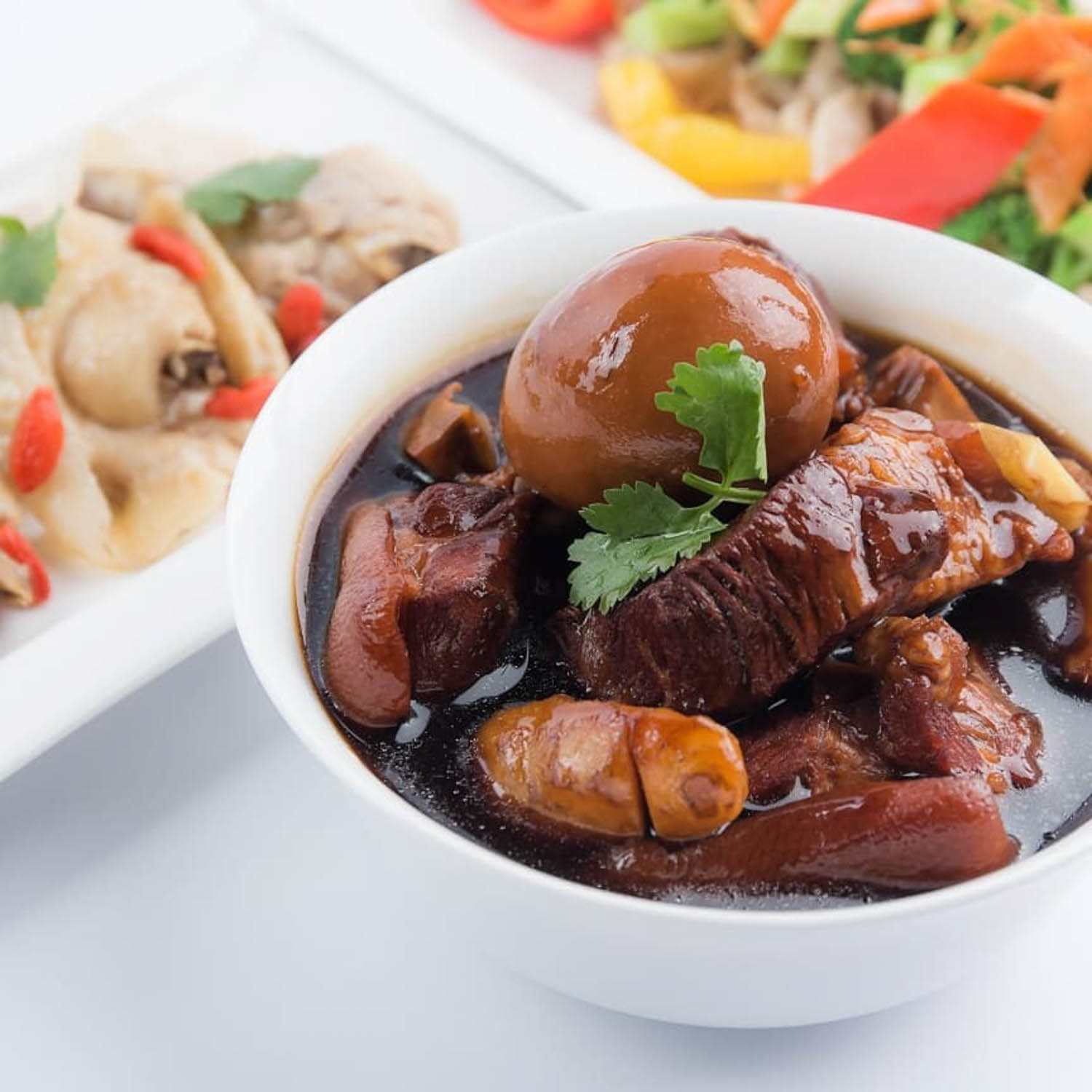 Image credit: @nouriche_richfood
NouRiche is the go-to for mothers with special dietary requirements. Each meal in their 28 Day Regular Confinement Package ($1688 for lunch and dinner) is served with tea and a traditional Chinese dessert, such as black glutinous rice & longan soup and brown sugar black sesame paste. Regular tingkat service is available as an add-on ($245 for one person for 28 days) so the whole family can dine together.
There is also a 28 Day Vegetarian Confinement Package ($2158 for lunch and dinner). Some items on the menu include Mock Pork Ribs and Ten Herbal w/ Mock Fish Soup.
---
Tingkat delivery services for the family
---
When everyone's busy with work and school, life's easier without having to fret over what to cook for every meal. Subscribe to a tingkat delivery service for meals delivered in time to sooth the rumbling tummies in your household.
For more hearty meals to share with your family, check out out list of steak delivery places for succulent slabs meat such as SteakGrill's affordable striploin and The Feather Blade's flat iron steak.
The Feather Blade Review: Flat Iron Steak And Hearty Beef Bowls Topped With Foie Gras At Club Street
This article was co-written by Suphon Liao, Priscilla Tay, Daphne Tang, and Michelle Yeo.
This post was brought to you by Royal Cuisine Group and Mom's Catering.
Photos taken by Gladys Lim and Melvin Mak.
This article was originally published on 8 June 2020.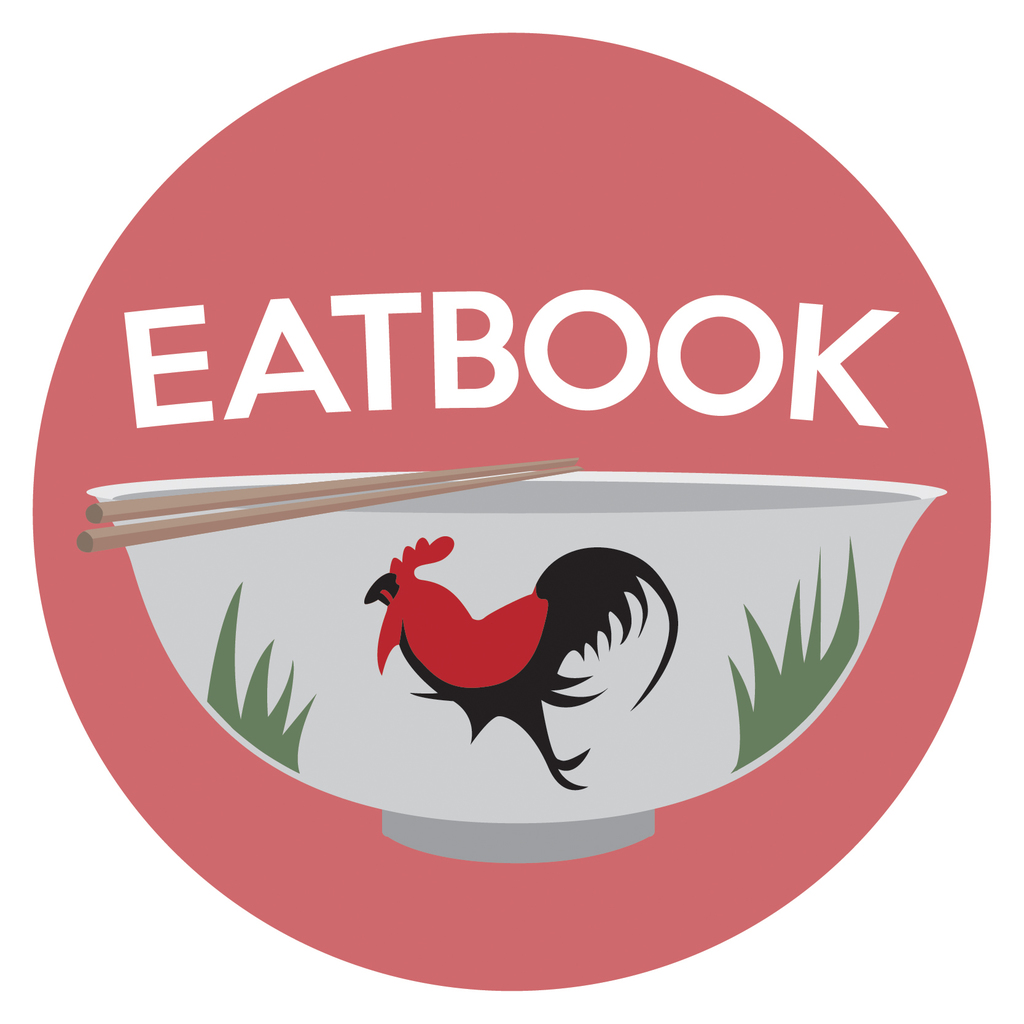 Drop us your email so you won't miss the latest news.