Triio's Corner serves affordable Western food
While chicken cutlets are sold at almost every Western hawker stall in Singapore, cheap and good chicken cutlets aren't easily found. So after receiving many readers' messages about Triio's Corner at Toa Payoh, we decided to drop by. Triio's Corner offers cheap Western food including sizzling hot plate dishes, grilled meats, and chicken cutlets. According to the messages we got, the hawker stall offer generous portions at affordable prices.
Food at Triio's Corner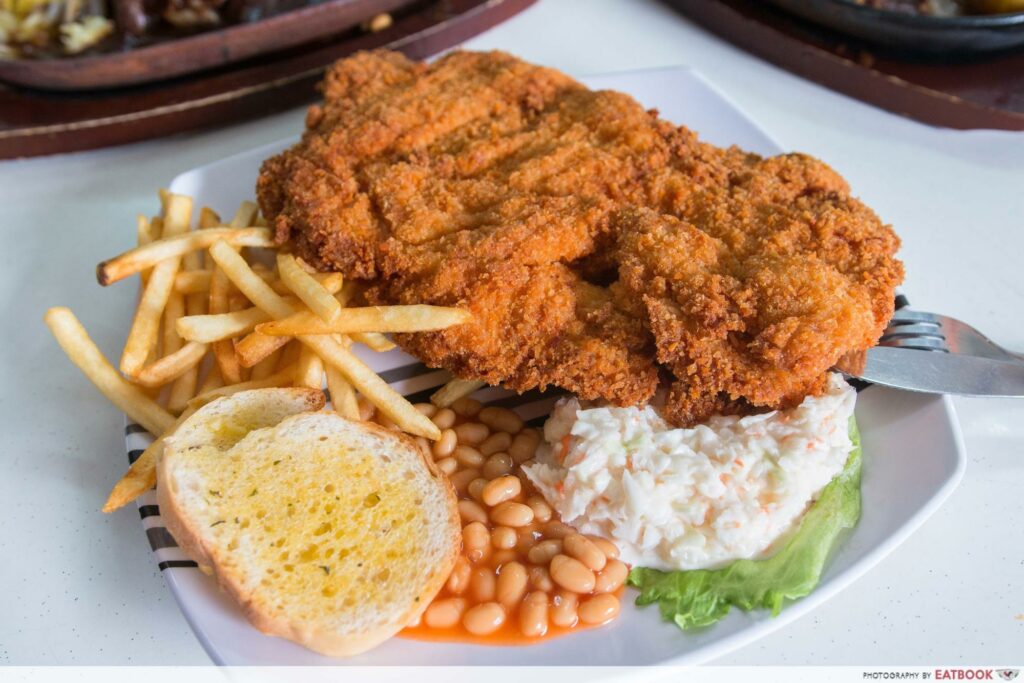 The Chicken Cutlet ($6.50) served at Triio's Corner was impressive at first look – not only for its price, but for its sheer size! It comes with a side of fries, garlic bread, baked beans and coleslaw.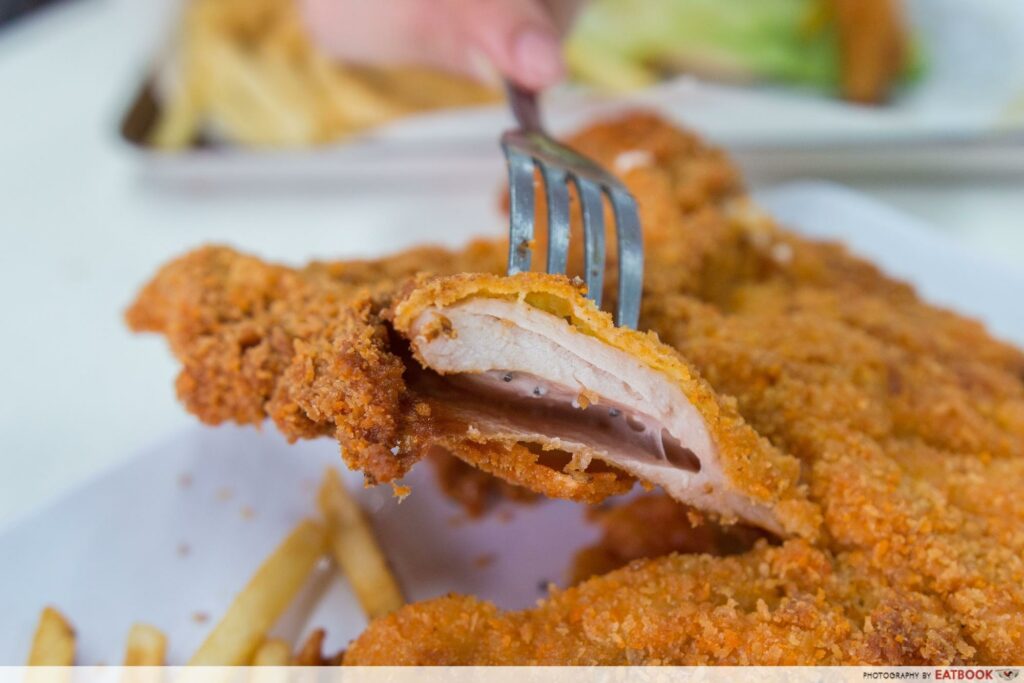 Cutting into the chicken cutlet revealed succulent meat. However, the chicken was pounded too thin, compromising the thickness of the cutlet. Fortunately, the batter was nicely seasoned and crispy, adding a good crunch to every bite.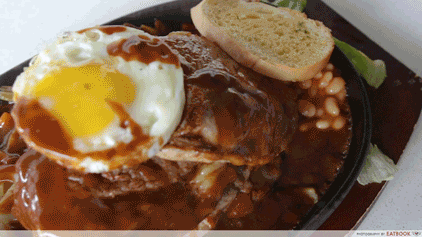 Just as its name suggests, the hot plates served straight from the kitchen were complete with sizzling sounds, rising smoke, and a peppery fragrance, making my mouth water instantly. The Mixed Grill ($13.50) was definitely the most value-for-money item on the menu. For its price, I was definitely not expecting four different types of meat to be served.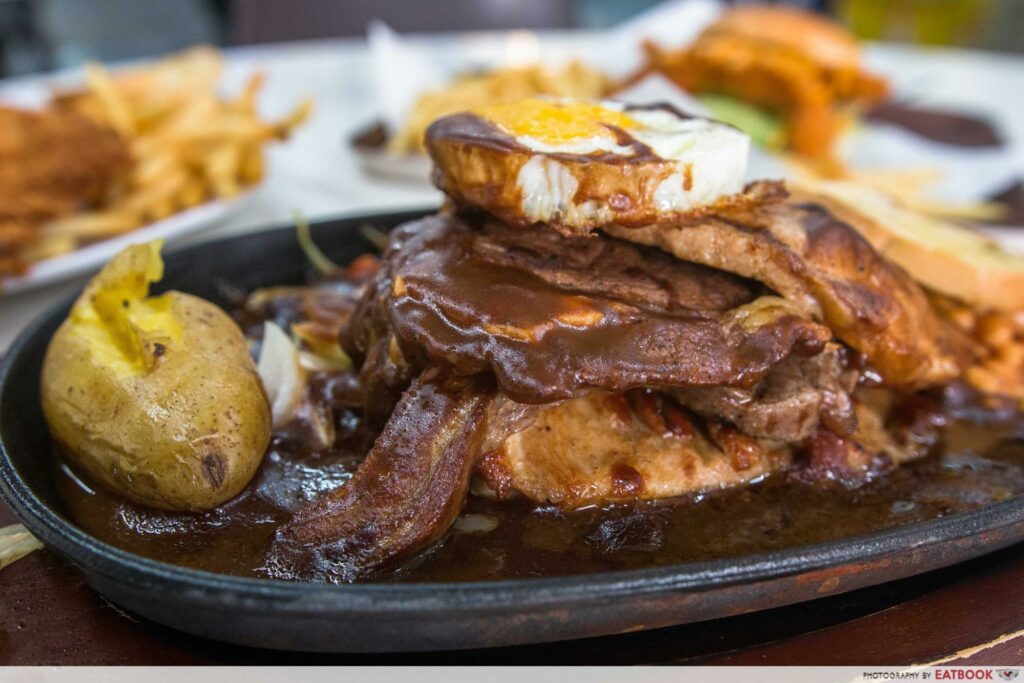 At first glance, what caught my eye was the massive amount of meat. The black pepper sauce that was drizzled over the meats tasted like the sauce from a black pepper crab dish.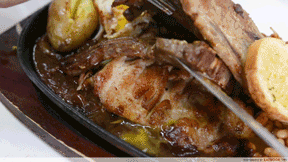 Chicken, lamb, beef and pork were stacked on top of one another, and topped with a sunny side up. It was reminiscent of an oversized burger, except without buns. Every piece of meat was grilled well but a personal favourite of mine was the chicken. It was so juicy and moist, and because it was at the bottom of the stack, it was well soaked in the sauce. The lamb was noteworthy too, and did not have a strong gamey smell. 
Onions that were nicely caramelised were generously layered on the base of the hotplate, adding an extra smokey-sweet element that brought all the flavours of the dish nicely together.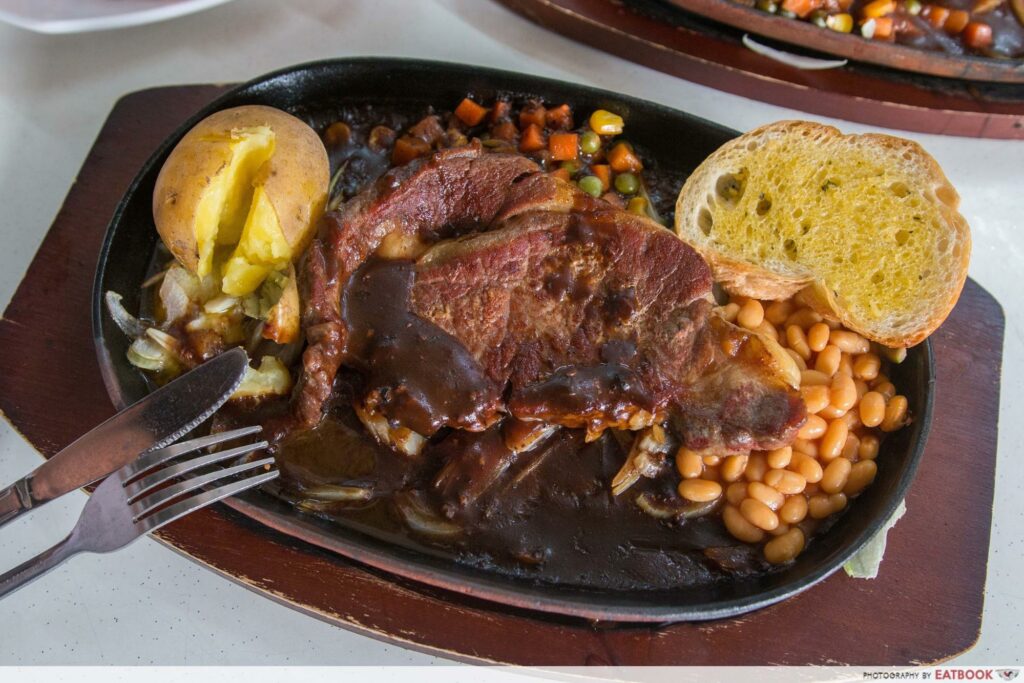 We also ordered a Black Pepper Steak ($12) done medium-well. This dish was served hot and sizzling just like the Mixed Grill.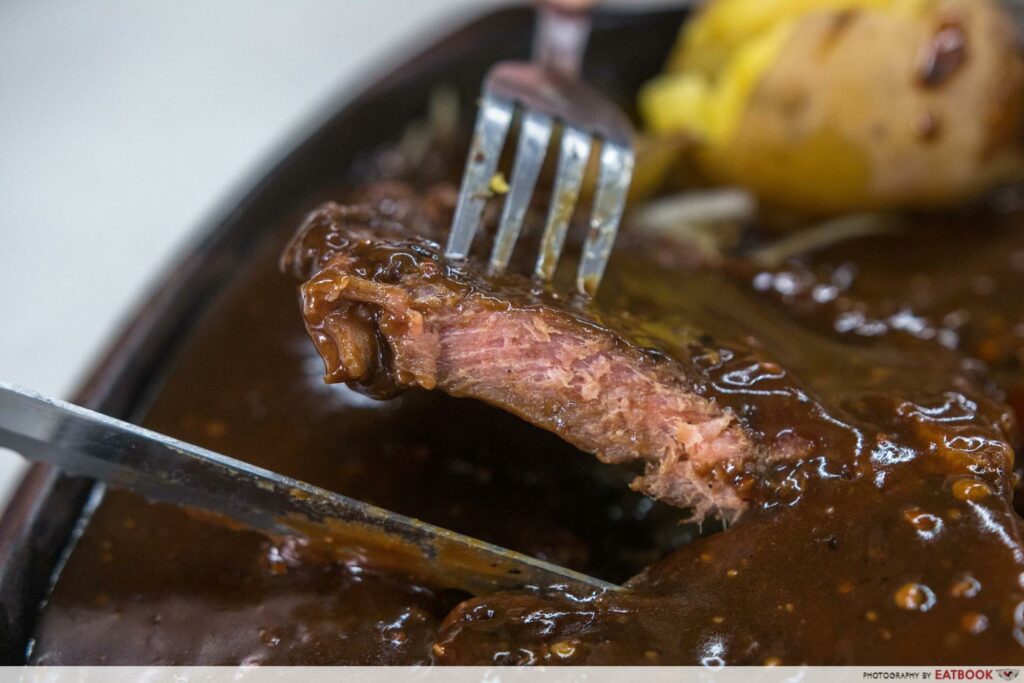 Slicing into the meat was tough and I had to cut through it with some effort – at that point I knew the meat was overcooked. Nonetheless, it was seasoned well and had good flavour.

With every order of a hot plate, not one or two, but four sides were served with it. They are namely vegetable mix (peas, carrots and corn), baked beans, garlic bread, and a baked potato!
The sides generally complemented the rich black pepper sauce and helped to balance the flavours and textures of each dish. That being said, they felt a little lacklustre when eaten separately. Having a closer texture to that of a biscotti, the garlic bread was hard and lacked the garlicky flavour that I was expecting. The vegetable mix was also soggy.
Ambience at Triio's Corner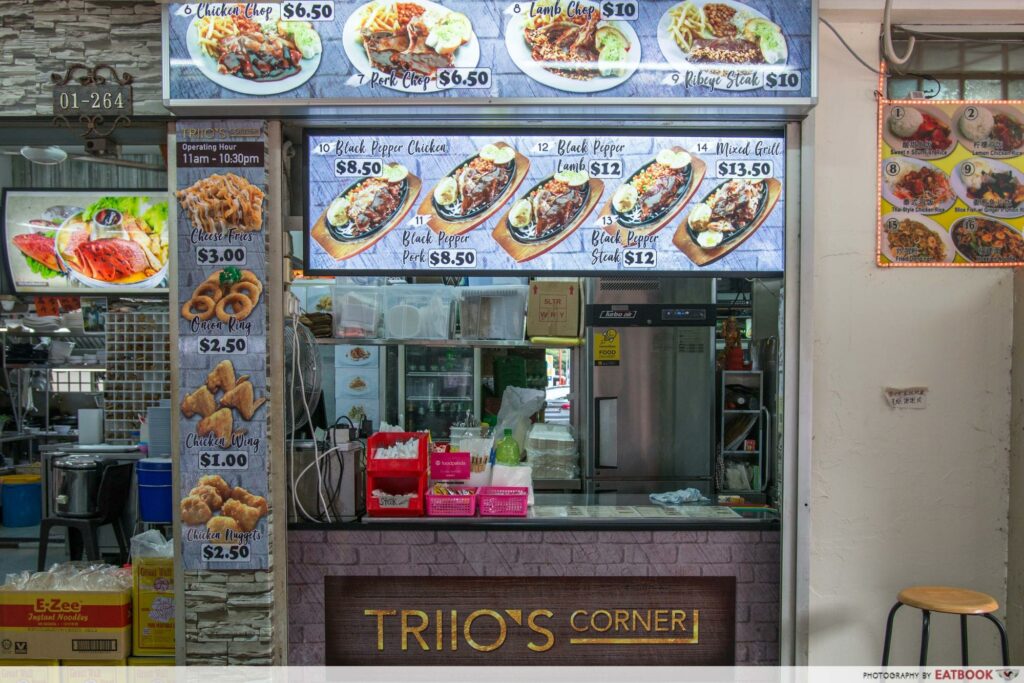 Triio's Corner is a humble hawker stall literally situated in a corner of an unassuming kopitiam in Toa Payoh. Just a short bus ride from either Toa Payoh or Braddell MRT Station can get you here.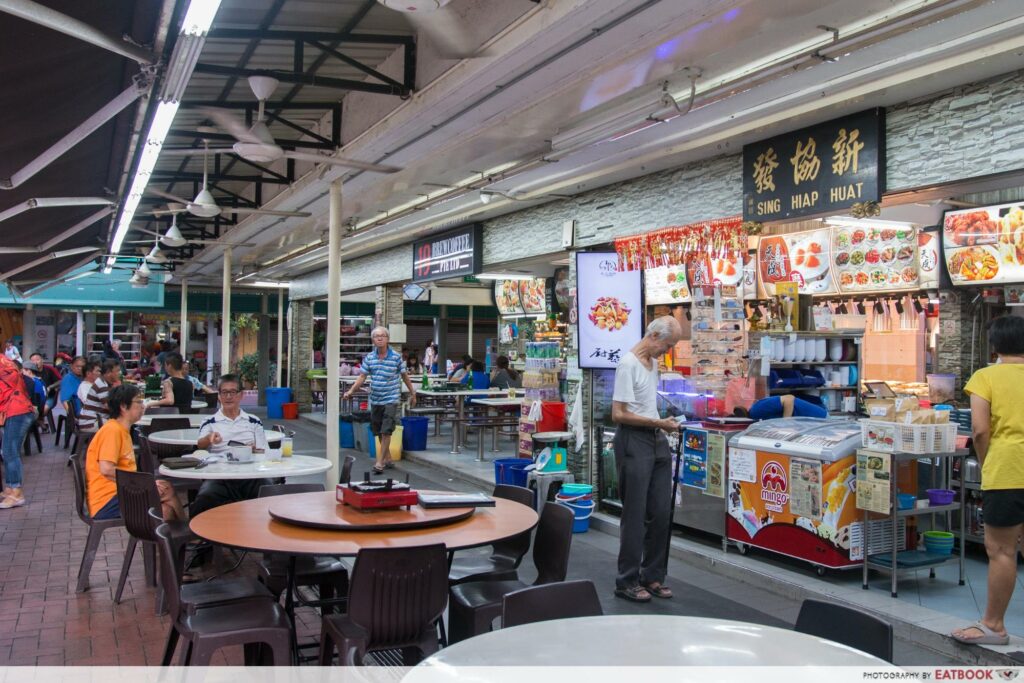 Even though it is located outdoors and not air-conditioned, the large fans provided enough ventilation to not leave me feeling sticky at the end of my meal. It was not stuffy and the area is clean and brightly lit.
The verdict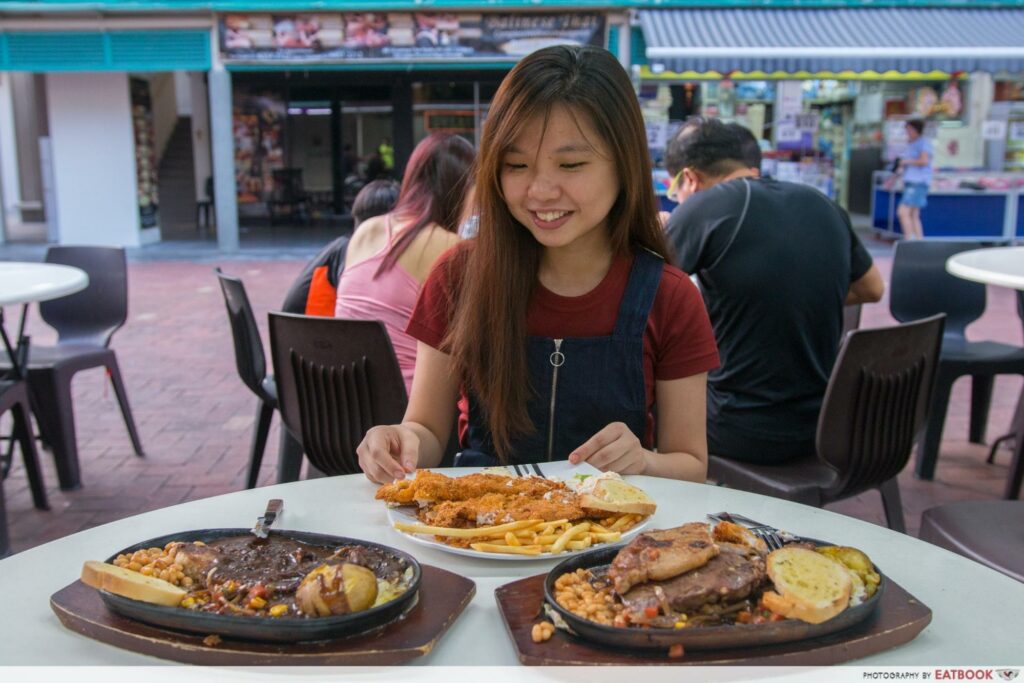 Triio's Corner offers a wide selection of meats, burgers, finger food and kid-friendly choices – so there's definitely something for everyone! With flavourful sizzling meats and good seasoning, the meal was satisfying but has got both hits and misses. I probably would not travel all the way here again just for them, but if you are in the vicinity, do head down for a cheap Western feast!
If you are a Western food junkie, check out our list of Western food stalls that offer huge portions.
8 Western Food Stalls At Kopitiams Or Hawker Centres With Huge Portions Under $7
Address: 19 Toa Payoh Lorong 7, #01-264, Singapore 310019
Opening hours: Daily 11am to 10:30pm
Tel: 9062 3356
Website
Menu
Triio's Corner is not a halal eatery.
Photos taken by Tiffany Lim.
This is an independent review by Eatbook.
Summary
Pros
– Generous portion sizes
– Affordable prices
Cons
– Mediocre sides
Recommended dishes: Mixed Grill ($13.50) and Chicken Cutlet ($6.50)
Opening hours:
Daily 11am to 10:30pm
Address: 19 Toa Payoh Lorong 7, #01-264, Singapore 310019