---
Why fit in when you can stand out?
---
After spending weeks cafe-hopping around town, it's easy to get sick of the same same but different options out there. Even if you swear by eggs benny, pancakes or matcha-everything, it's about time to give your taste buds a break with something different.
Here are 10 unusual food combinations that sound weird but taste really good once you get past its name. As long as you keep your mind and taste buds open to new experiences, one of these may even be your next favourite!
---
1. Tyson Peanut Butter Burger
---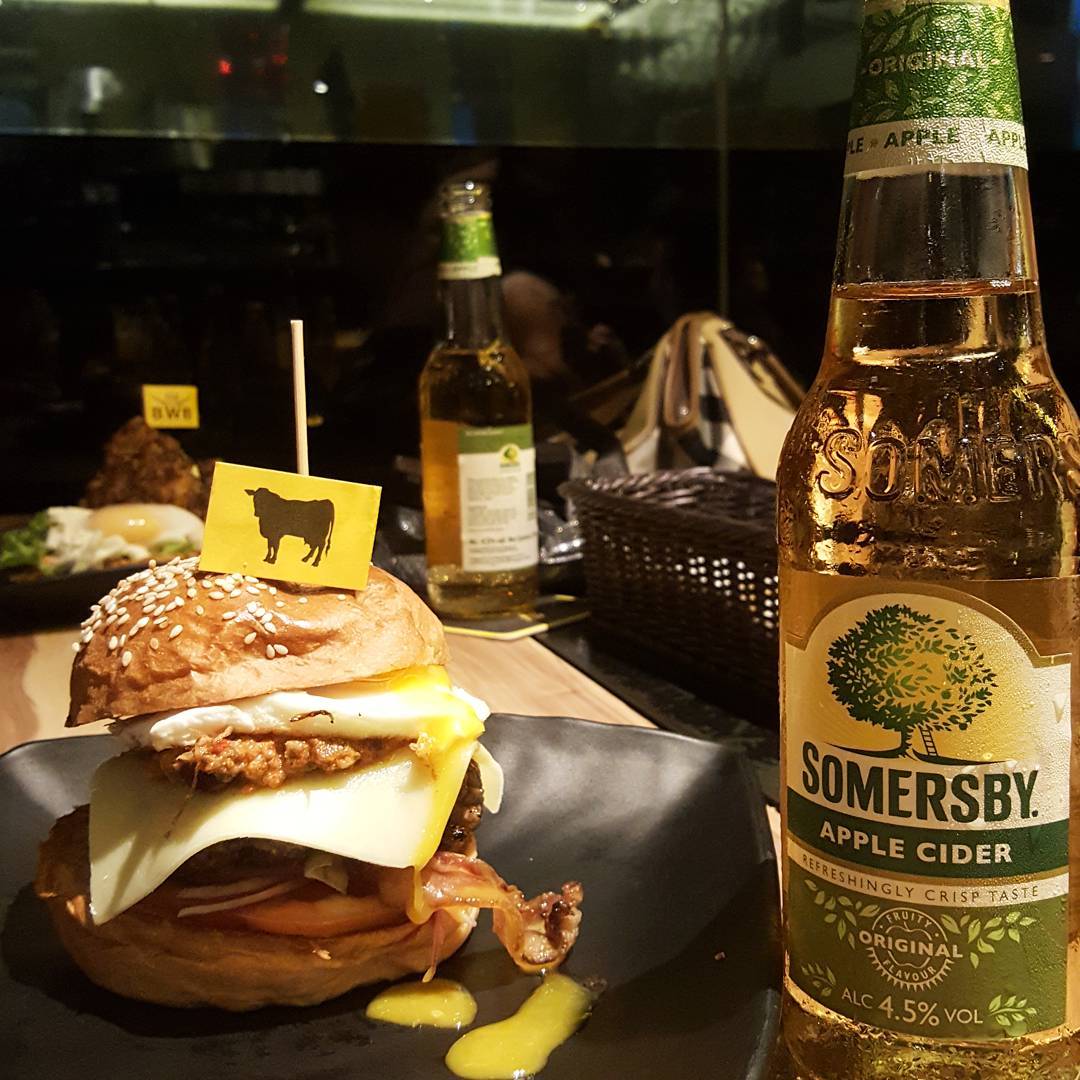 Source
As someone who has an immense love for peanut butter, I would eat anything with peanut butter on it. If you're like me, try Tyson Peanut Butter Burger ($21.90++) at BWB Burgers, Wings, Bar. Two perfectly toasted brioche buns hold together a juicy Angus beef patty, sunny side up egg and cheese. The generous spread of crunchy peanut butter complements the burger with a distinct peanut butter fragrance that doesn't overpower the other components.
Address: 181 Orchard Road, #11-03/04, Orchard Central, Singapore 238896
Opening hours: Sun-Thur 12pm to 3pm, 5:30pm to 10pm, Fri-Sat 12pm to 3pm, 5:30pm to 11pm
Tel: 6634 0423
Find out where else to get crazy creative burgers here.
---
2. Salted Egg Black Sesame Cake
---
Think moist, dense black sesame cake layered with thick salted egg yolk sauce and topped with salted egg crumbles and black sesame seeds that add a slight crunch to every bite. Salted Egg Black Sesame Cake ($9 for a slice) at Dapper Coffee is beautifully rich and fragrant, though the salted egg taste comes through much more than the black sesame. This is perfect for those who want a dessert that's more savoury than the usual slice of cake. For those who can't get enough of it, feel free to order a whole cake ($55 for 6-inch, $68 for 9-inch) online!
Address: 73 Amoy Street, Singapore 069892
Opening hours: Mon-Fri 8am to 5pm
Tel: 9005 4790
Find out where else to get crazy cake combinations here.
---
3. Ribena Wings
---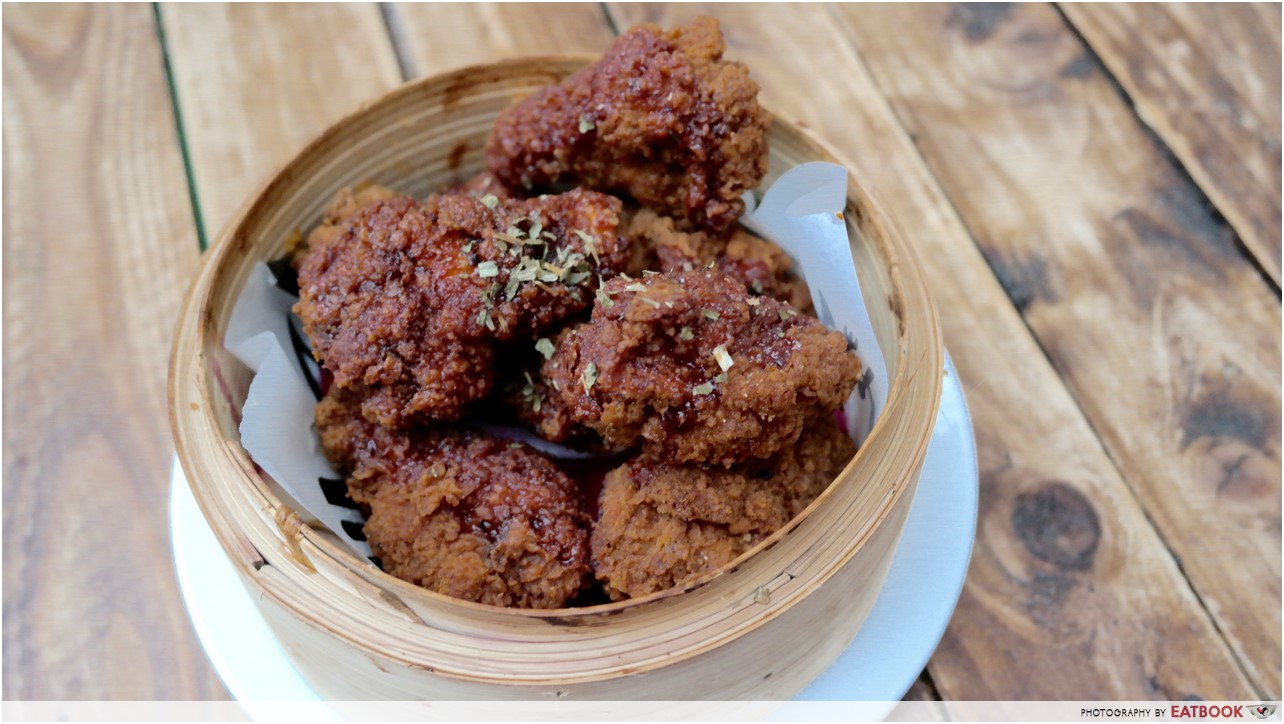 These Ribena Wings ($12 for 8 pieces) at Working Title are a good mash up of the syrupy childhood drink we all know and love. It comes with juicy and crunchy fried wings and a spice-batter that, when mixed with Ribena, makes an ingenious sweet and spicy combi. Make sure to get a basket to share, as the sweetness can get cloying after a while.
Address: 48 Arab Street, Singapore 199745
Opening hours: Mon-Thur 11am to 10pm, Fri 11am to 11pm, Sat-Sun 10am to 11pm
Tel: 8248 2841
Find out where else to get unique chicken wings here.
---
4. Bacon Brownie
---
Update: OMB has since closed down.
Bacon Brownie ($4.50) at OMB comes with an option to add vanilla (+$3.50) or bacon (+$4.50) ice-cream to this dense and fudgy brownie with specks of slightly salty candied bacon. This cafe is certainly not suitable for anyone who isn't obsessed with bacon, as they try to incorporate bacon into every single dish. If brownies aren't your thing, go for Jekyll & Hyde ($2.50 per piece, $12 for 6 pieces), which comprises of bacon strips dipped in white or dark chocolate. P.S. NAFA, Laselle and SOTA students get a 20% discount here!
Address: 7 Dunlop Street, Singapore 209337
Opening hours: Tue-Fri 12pm to 10pm, Sat-Sun 10am to 10pm
Tel: 6635 2633
Find out where else you can go for student promos here.
---
5. Wham! Fries
---
Wham! Fries ($11.90++) at Tanuki Raw combines crisp sweet potato fries with melted Gruyere, mozzarella, sour cream and a special Tanuki spice mix. On top of that, they add torched mini marshmallows to make a sticky, thick and very addictive mix. Fries lovers, this is THE bucket of fries to get to up your fries game.
Address: 181 Orchard Road, #04-01, Orchard Central, Singapore 238896
Opening hours: Mon-Sun 11am to 10:30pm
Tel: 6636 5949
Menu
Click here for their Kapok outlet address and info.
Find out where else to get uncommon fries here.
---
6. Mentaiko Lava Toast
---
I was highly skeptical about a savoury lava toast with ice-cream, but changed my mind after trying this umami Mentaiko Lava Toast ($17.90) at Meet & Melt. Get sea-salt gula melaka ice-cream to go with it as it pairs well with the salty mentaiko sauce, which comes slightly torched and topped with savoury bonito flakes. Rest assured each cube of toast will be sufficiently buttery and crisp. If you're up for the challenge to try even stranger food combinations, get Curry Lava Toast ($14.90) with coconut ice-cream.
Address: Blk 915 Tampines Street 91, #01-49, Singapore 520915
Opening Hours: Tue-Fri 3pm to 11pm, Sat-Sun 2pm to 11pm
Tel: 9185 8173
Click here for their *Scape outlet address and info.
---
7. Pepper Agave Latte
---
Pepper Agave Latté ($7.50++) at The Coffee Academics comes with an interesting twist to your regular cuppa. Raw agave nectar gives it a natural sweetness and freshly ground black pepper on the top adds a little extra spice. The peppery bits also create a tingly sensation to your taste buds, and another dimension to the smooth and fragrant latte. Order this along with their famous Academics Pancake Tower ($19++) for a super satisfying meal.
Address: 6 Scotts Road, #02-01/02, Scotts Square, Singapore 228209
Opening hours: Mon-Sun 9am to 9pm
Tel: 6538 1940
Find out where else to get unique brews here.
---
8. Volcano Ice-cream
---
Coconut ice-cream and eggs are 2 of my favourite things, but the idea of combining them never crossed my mind until I saw Volcano ($4.60) at QOOLCO. Featuring super creamy and luscious coconut soft serve drizzled with egg yolk sauce, this is one dessert to get on sweltering hot days. If egg yolk sauce isn't your thing, get the soft serve by itself. Priced at $3.80, it comes in a cute coconut husk that still contains a little bit of coconut flesh!
Address: 3 Pickering Street, #01-30, Nankin Row, Singapore 048896
Opening hours: Mon-Fri 10:30am to 8pm, Sat 11am to 7pm
Tel: 6224 2245
Find out where else to get Insta-worthy ice-cream desserts here.
---
9. Chocolate Pasta
---
If I were at Paddy Hills and someone ordered Chocolate Pasta ($16++) beside my table, I would definitely have thought it was their squid ink spaghetti, Black Sea ($25++). The former is served as a dessert, and comes with creme anglaise (light custard cream), chocolate mousse, macerated berries and hazelnuts. I can't promise you'll fall in love with this unique dish, but if you're an adventurous foodie then this is worth a try!
Address: 38 South Buona Vista Road, Singapore 118164
Opening hours: Mon-Fri 10:30am to 5pm, 6pm to 10pm, Sat-Sun 9am to 5pm, 6pm to 10pm
Tel: 6479 0800
Menu
Find out where else to get interesting chocolate desserts here.
---
10. Kopi Crab
---
Watching a waiter or waitress set fire to Kopi Crab (seasonal price) at Majestic Bay is always the best part of this dish, which is whipped up with a mixture of rice wine, coffee liqueur and coffee beans to give it a sweet, sticky caramelised crust. Together with the chef's homemade kopi sauce that's a blend of 3 different coffee beans, butter, sugar, marmalade, orange juice and apple jam, this reminds me of coffee flavoured caramel popcorn. Warning: your hands will likely smell like caramel coffee popcorn for the next 24 hours.
Address: 18 Marina Gardens Drive, #01-10, Flower Dome, Singapore 018953
Opening hours: Mon-Sun 11:30am to 3pm, 5:45pm to 9pm
Tel: 6604 6604
---
All whacked out
---
While some things should never be eaten together, there are loads of strange combos – like fries and ice-cream – that go incredibly well together too. If you know of anymore crazy flavour combinations, let us know in the comments below!