---
Best buffets of 2019
---
Although gorging on buffets is a national pastime, finding a good one to eat at can be a Russian roulette. Just 'cause it's cheap, doesn't mean it's value for money. Likewise, the pricier ones don't always boast a stellar lineup of high-quality dishes.
50 Best Food Places In Singapore For All Budgets – Eatbook Top 50 Awards 2019
Thankfully, we've spent the past year sussing out the best buffets in Singapore as part of the Eatbook Top 50 Awards. Catering to both ends of the budget spectrum, these restaurants dish out the likes of free-flow foie gras, K-BBQ, and more.
---
1. Edge
---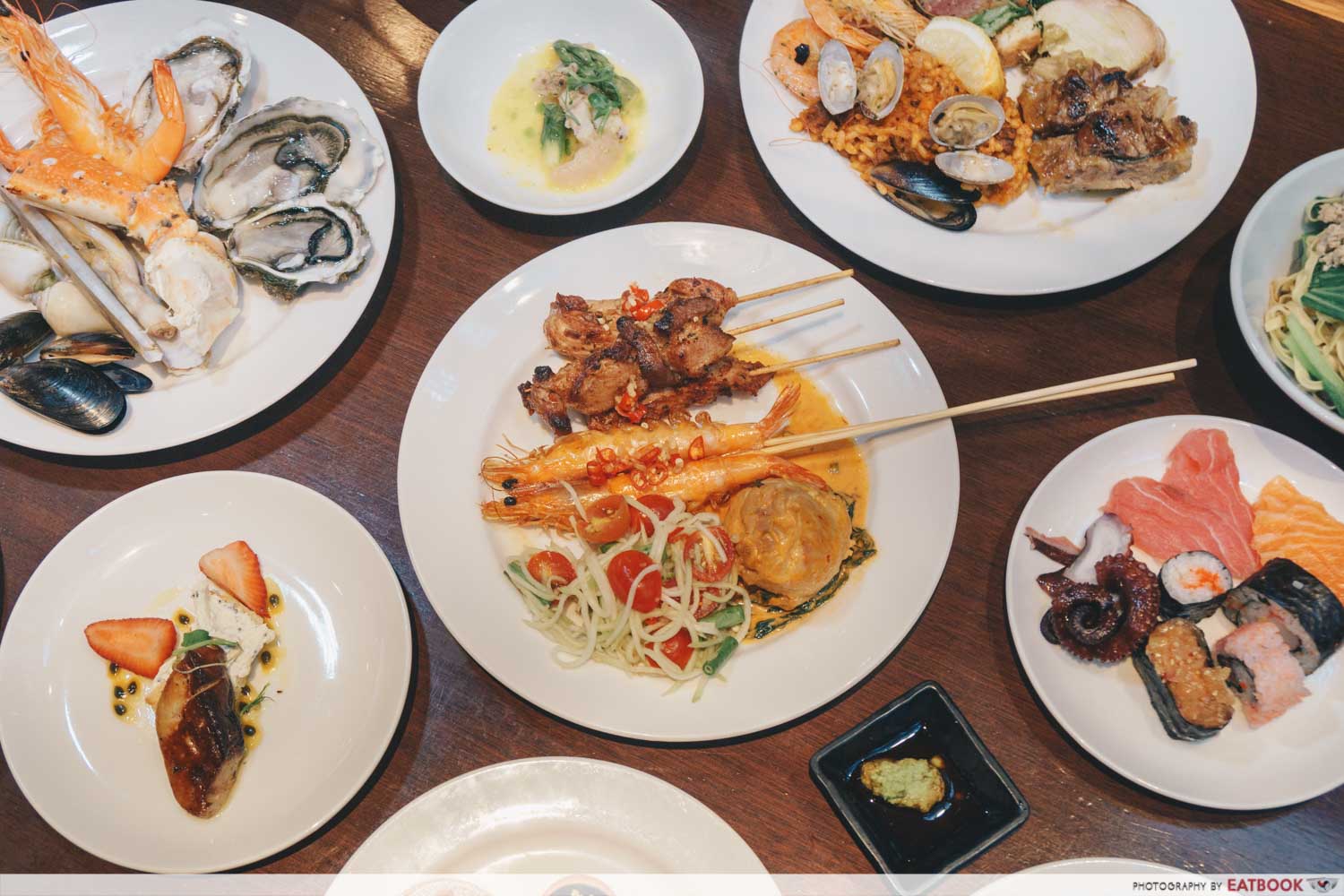 Edge blew their competition out of the water with their Sunday Brunch Buffet ($128++) which boasts 180 exquisite dishes. You won't be complaining about the high price tag once you sink your teeth into the likes of Fine De Claire oysters, seafood paella, Kurobuta cheeks, and French cheese.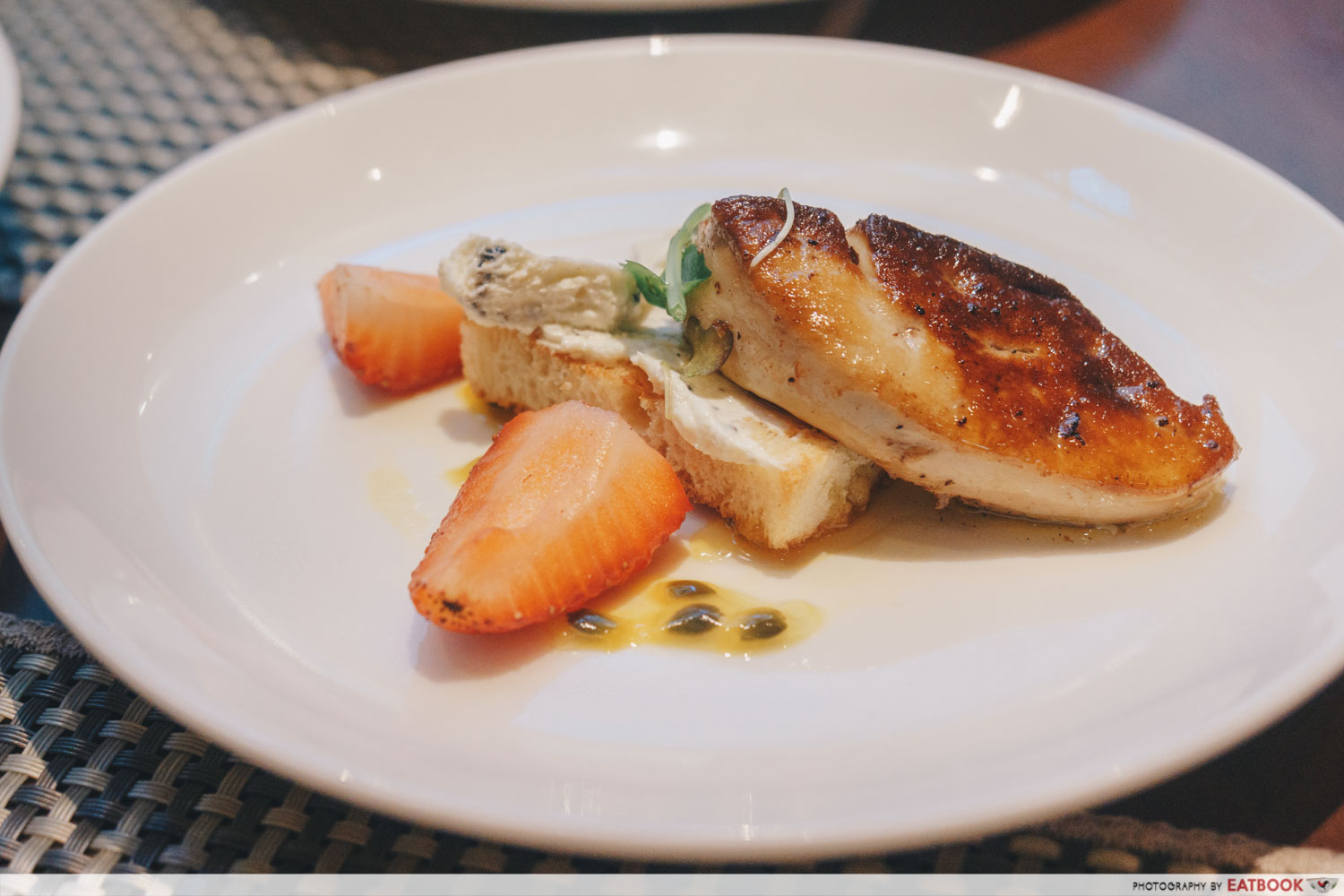 Get your money's worth by piling on their star dish, the Pan Seared "Tograshi Foie Gras", that's served with passion fruit, apple chutney, and a brioche bun. Despite the fattiness of the liver, it doesn't overpower your palate—thanks to the chutney's acidity. The buffet even has a DIY chirashi station where you can fill your bowl with toppings such as jellyfish, salmon crudo, tamago cubes, and tuna crudo.
Read our full review of Edge! 
Edge Review: Best Sunday Brunch Buffet In Singapore With Donuts, Foie Gras & Plenty Of Seafood
Address: 7 Raffles Boulevard, Level 3, Pan Pacific Singapore, Singapore 039595
Buffet hours: Sun 12pm to 3:30pm
Tel: 6826 8240
Website
Edge is not a halal-certified eatery.
---
2. Seoulid
---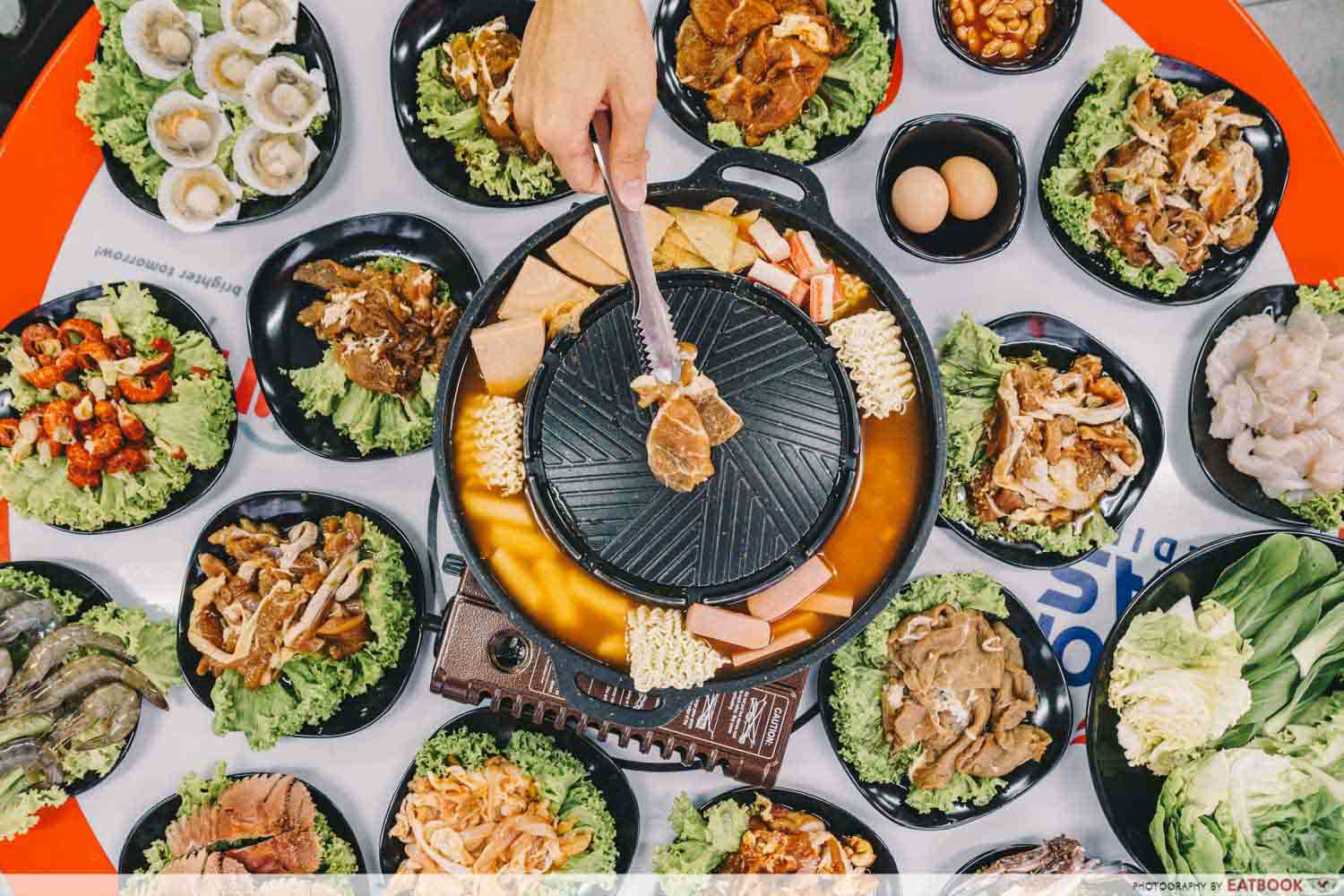 At $11.80, Seoulid's Army Stew Buffet is the cheapest one on this list. However, it doesn't mean they've skimped on quantity as you'll find bottomless servings of luncheon meat, soft tteokbokki, springy noodles and more. Although this spread can easily fill you up, the real magic comes when you top up an additional $7 for their premium buffet.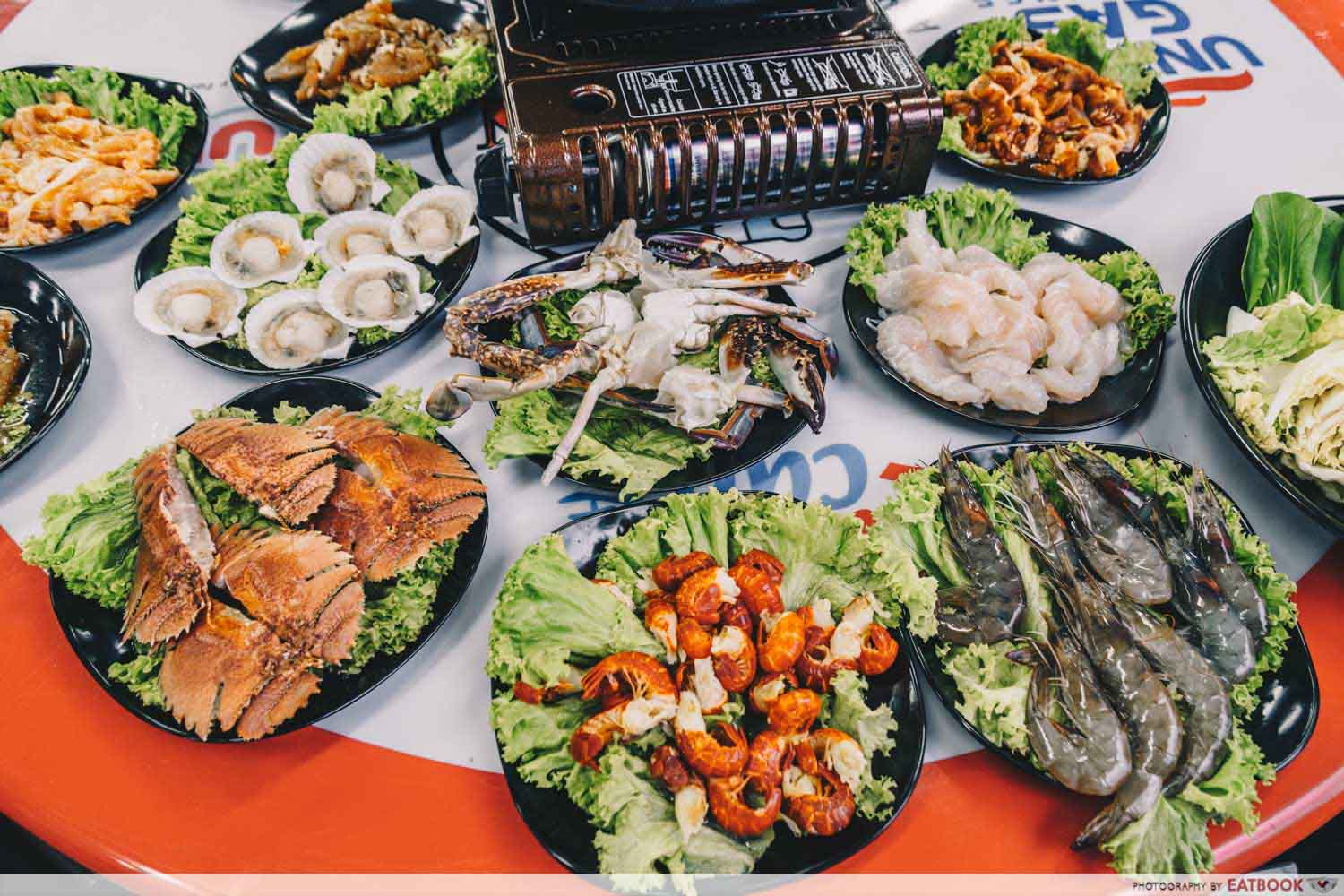 You'll unlock free-flow marinated meat, with options including honey pork collar, spicy beef, crawfish tails, and garlic chicken. The pork boasts loads of fat, giving each mouthful a good mix of sweet and savoury flavours. Do note that the buffet has a time limit of 90 minutes, so be sure to take as much as you can!
Read our full review of Seoulid! 
Seoulid Korean BBQ Review: $11.80 Army Stew Buffet With Tteokbokki, Sausages & More At Clementi
Address: Blk 328 Clementi Avenue 2, #01-220, Singapore 120328
Opening hours: Daily 5pm to 12am
Tel: 8368 8566
Website
Seoulid is not a halal-certified eatery.
---
3. Michin Korean BBQ And Hotpot
---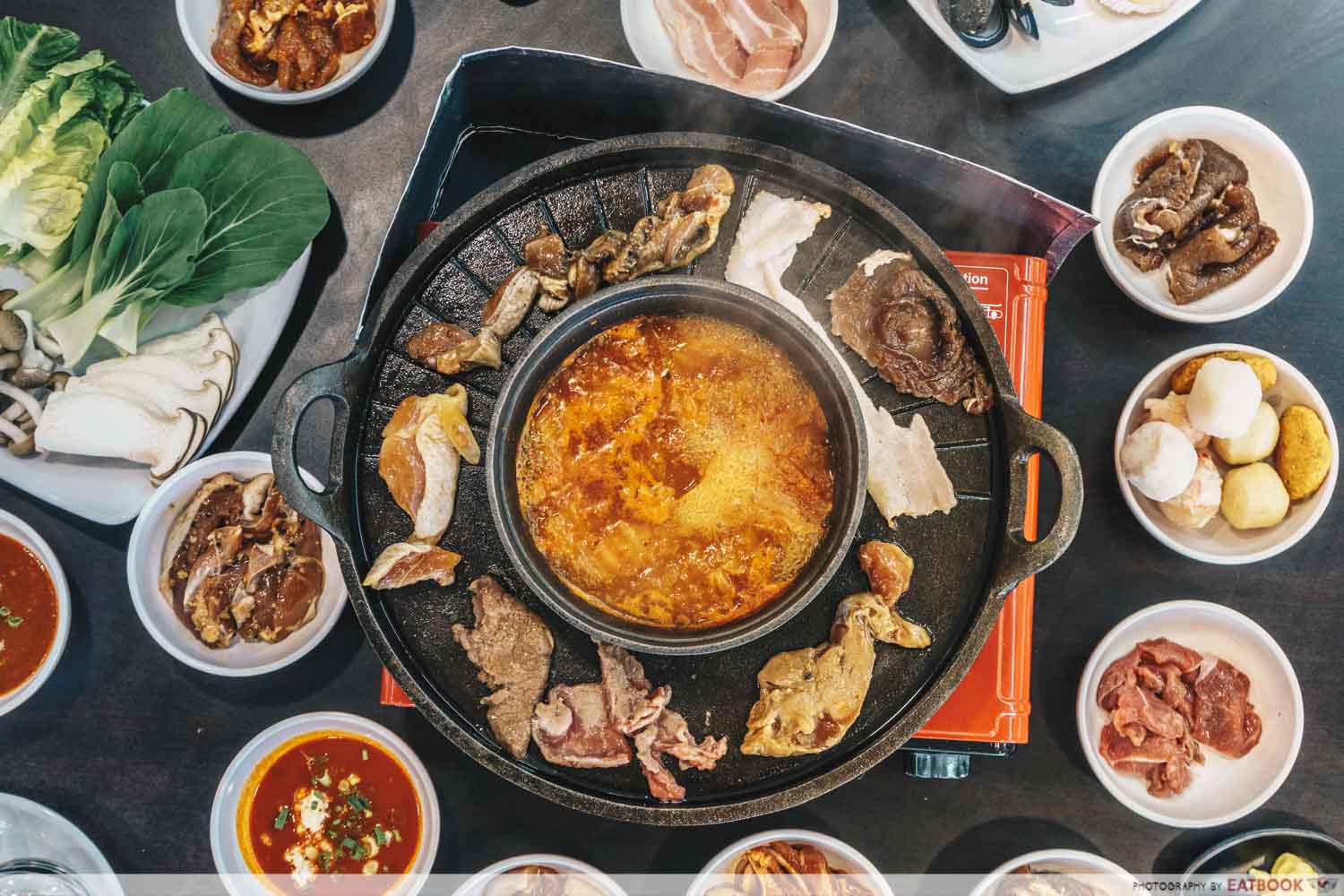 Sengkang residents no longer need to complain about the lack of food options in the area as Michin Korean BBQ And Hotpot has got you covered with their Korean BBQ buffet ($17.80 on weekdays, $19.80 on weekends). In addition to the usual spread of meat and seafood, each order comes with six choices of soup base, including mala, kimchi, and tom yum.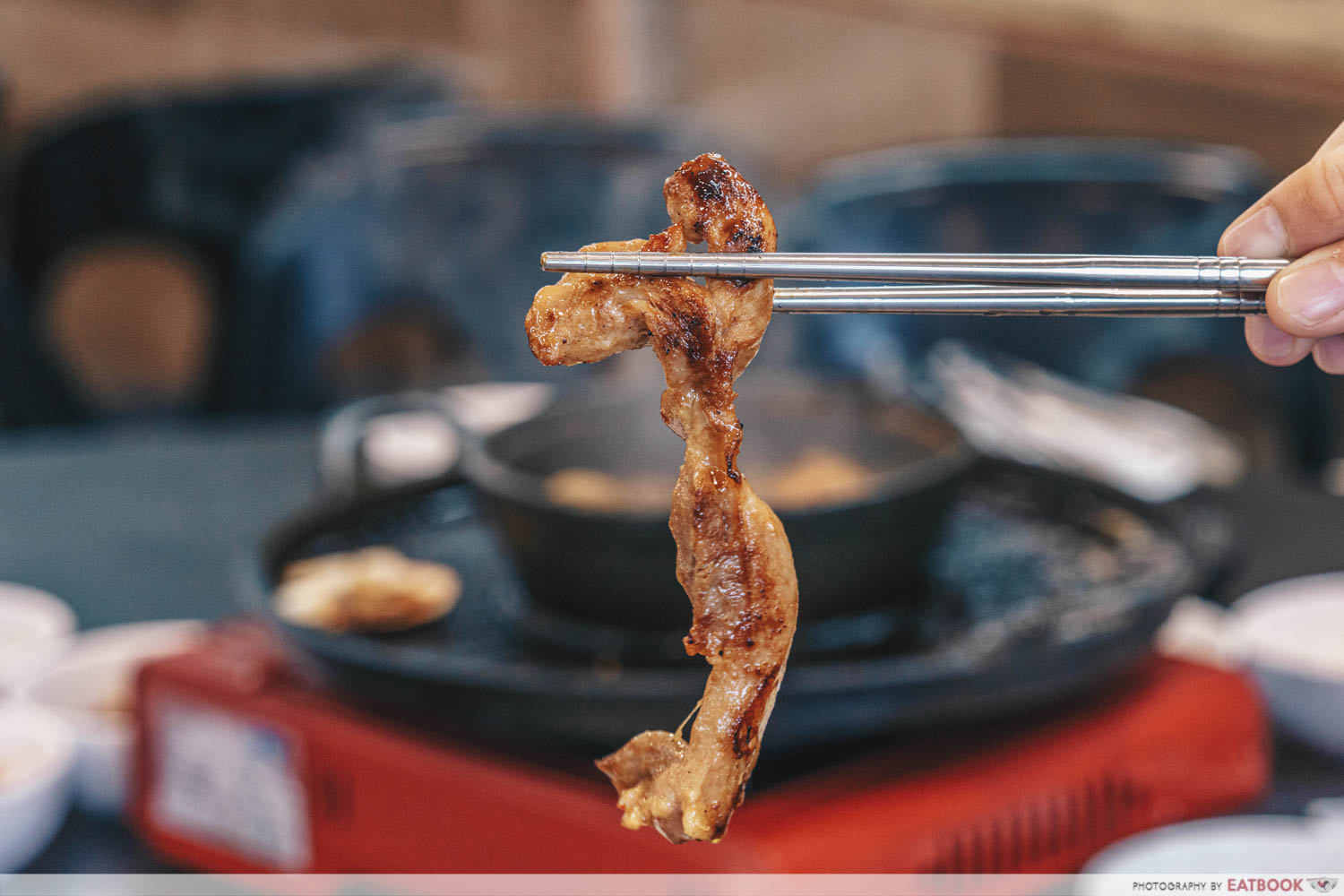 The soya chicken leg scored high marks with its large size and juiciness. Even though it was left on the grill for a long time, it remained tender throughout with its soya marinade conferring it tons of flavour.
Read our full review of Michin! 
Michin Korean BBQ And Hotpot Review: Flaming Korean BBQ And Hot Pot Buffet For $17.80 At Sengkang
Address: 473 Fernvale Street, #01-05, Singapore 790473
Opening hours: Mon 4pm to 10pm, Wed-Fri 4pm to 10pm, Sat-Sun 11am to 10pm
Website
Michin Korean BBQ and Hotpot  is not a halal-certified eatery.
---
4. Mister Wu
---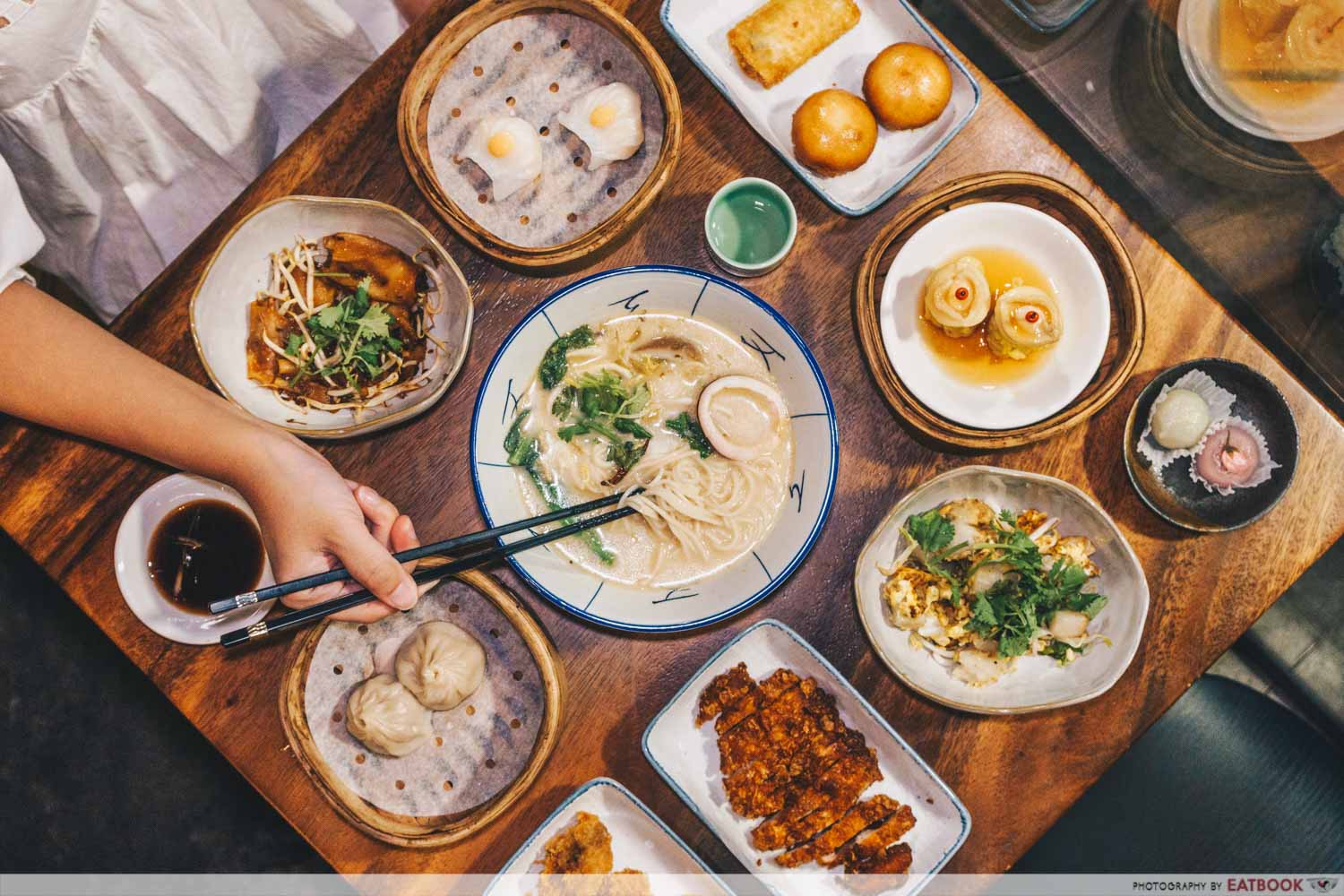 When we tried Mister Wu last year, we were thoroughly impressed with their zhnged-up Chinese dishes such as the XOXO Jumbo Scallops La Mian and Chilled Truffle Caviar Oyster La Mian. This year, they've repeated the feat with their dim sum buffet ($29+) which grants you access to over 30 items on the menu. Take your pick from the Truffled Carrot Cake to the Crispy Lava Bun. The former excites with tender carrot cake chunks, bolstered with some umami from the truffle.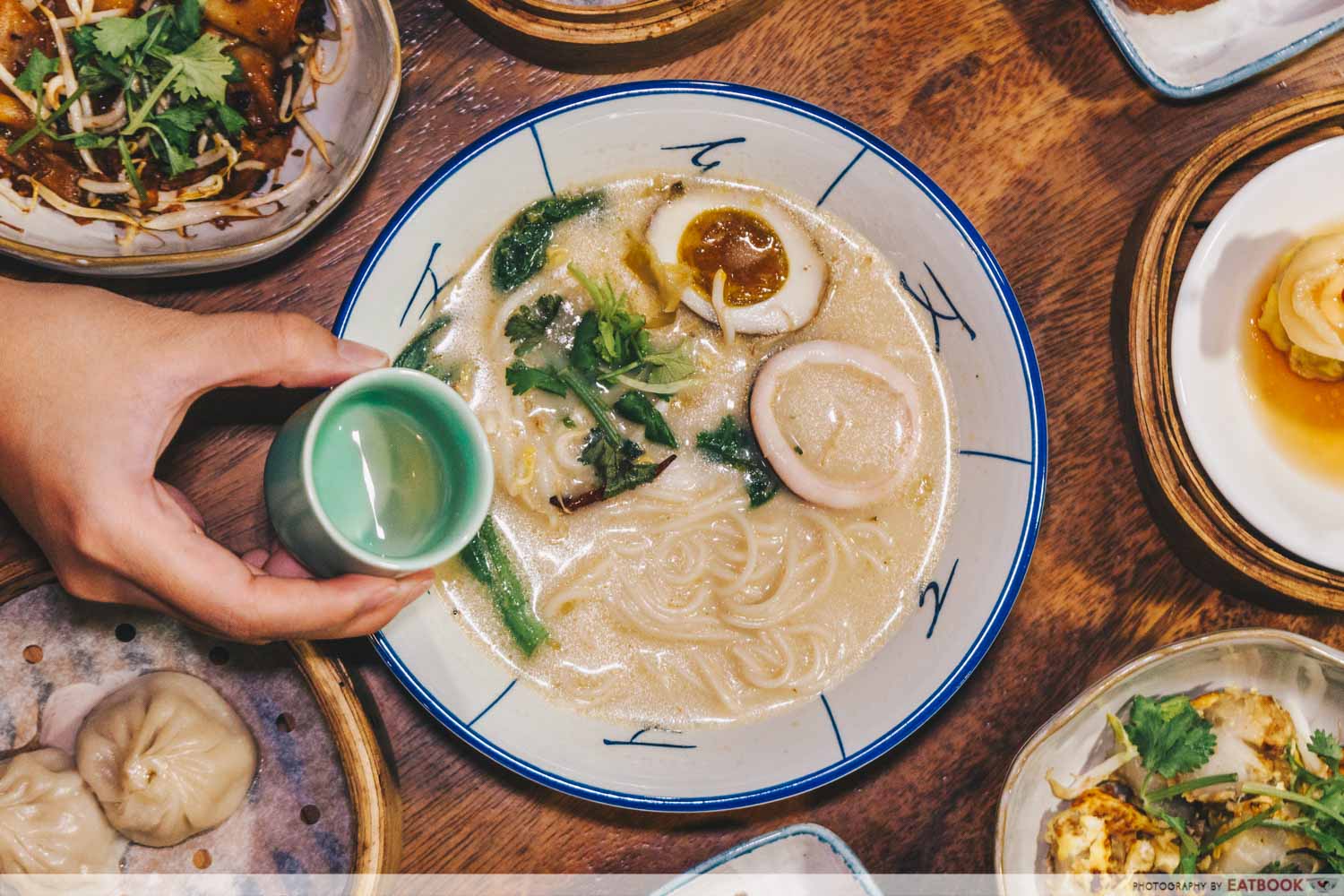 Most of the items in this buffet are free-flow, with the exception of two: Hibiki Whisky Seafood La Mian and Abalone Siew Mai. As they each can be ordered only once, get them ASAP to enjoy the milky broth and packed siew mai.
Read our full review of Mister Wu! 
Mister Wu Review: $29+ Dim Sum Buffet In Singapore With Free-Flow Truffle XLB And Truffle Carrot Cake
Address: 3 Pickering Street, #01-44/45, Nankin Row, Singapore 048660
Buffet hours: Mon-Fri 6:30pm to 9:30pm
Tel: 6781 3833
Website
Mister Wu is not a halal-certified eatery.
---
5. 15 Stamford By Alvin Leung
---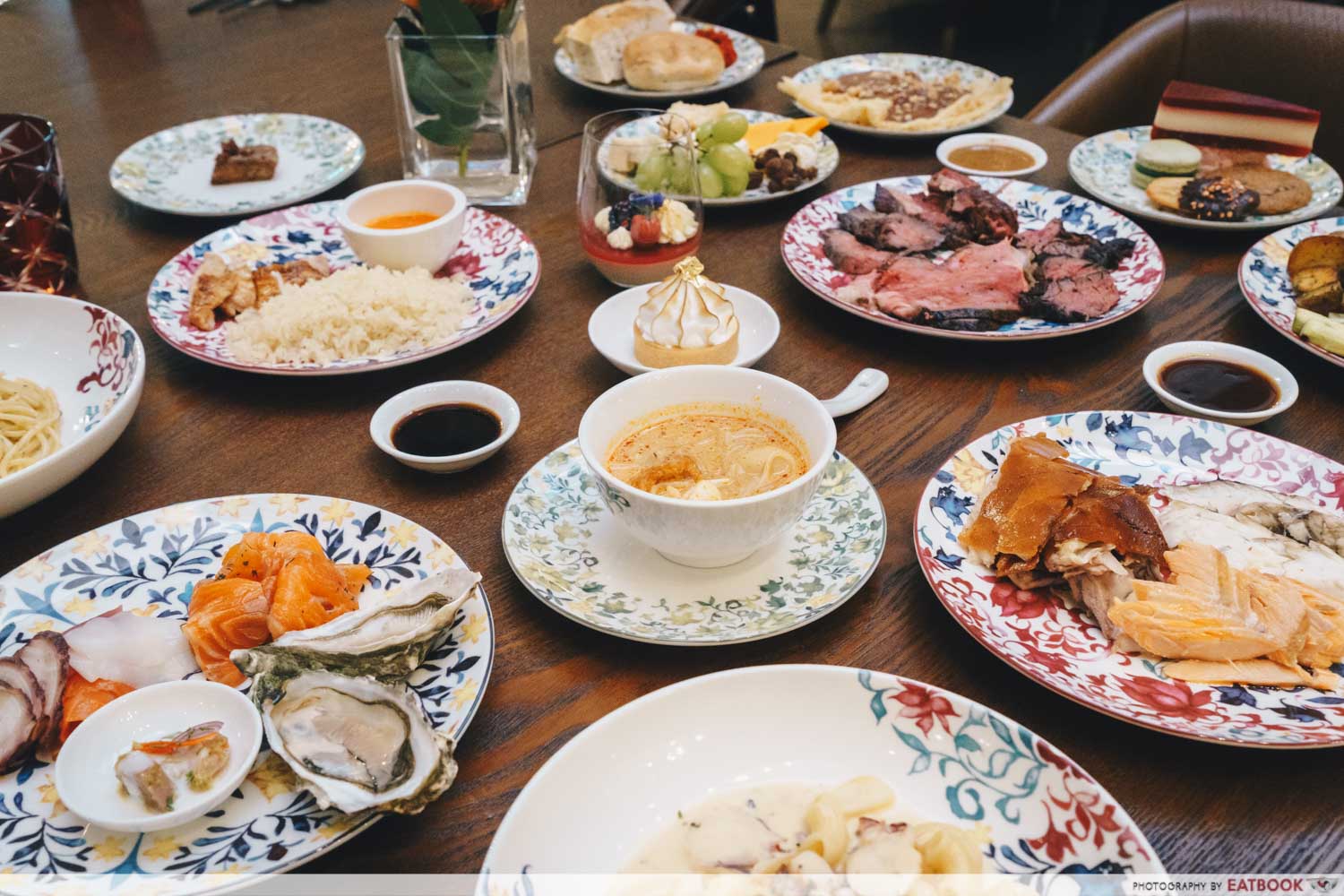 Started by the infamous Masterchef Canada judge, 15 Stamford By Alvin Leung is the place to go for luxe Asian and Western food. Their Fancy at 15 Sunday Brunch ($148++) comprises a hearty spread of free-flow wagyu beef cuts, foie gras, sashimi and more.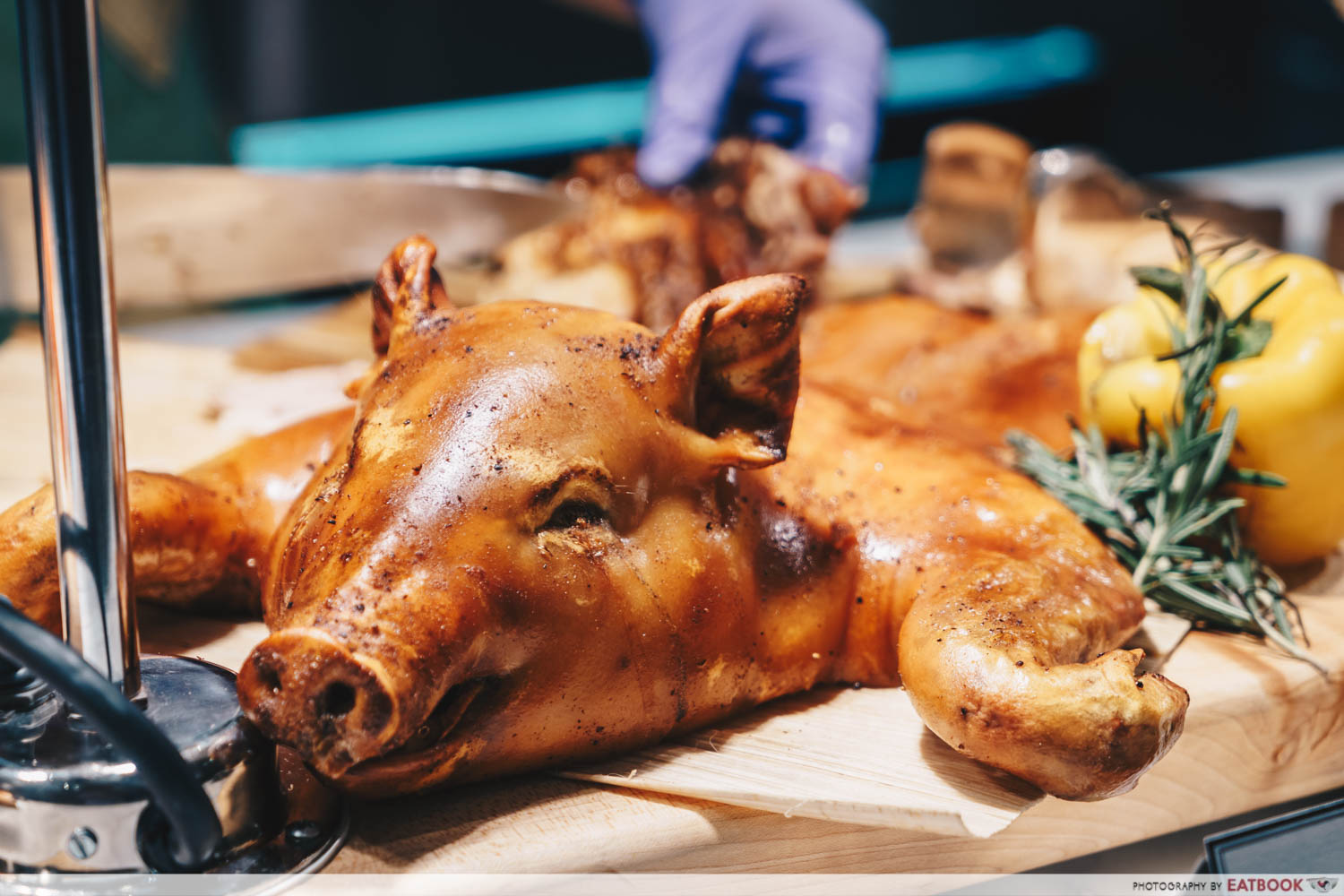 The centrepiece of the restaurant is the hot coal grill in their open kitchen. Here, multiple types of meat are transformed to steaming platters of indulgence, including the wagyu beef, Fjord trout, and suckling pig. Be sure to spring for the roasted pork as it comes as a whole. Those with a sweet tooth will also be glad to know that there's an entire room filled with desserts such as macarons, creme brulee, tarts, and fresh crepes. 
Read our full review of 15 Stamford By Alvin Leung! 
15 Stamford By Alvin Leung Review: Sunday Brunch Buffet With Foie Gras, Suckling Pig, And Wagyu Beef
Address: 15 Stamford Road, The Capitol Kempinski Hotel, Singapore 178906
Buffet hours: Sun 12pm to 3pm
Tel: 6715 6871
Website
15 Stamford By Alvin Leung is not a halal-certified eatery.
---
Gorge at the best buffets in Singapore of 2019 
---
No matter your budget, there's a good buffet in Singapore to suit your need—be it Michin's hotpot or Edge's free-flow brunch buffet with foie gras. As 2019 reaches its end, make a date with your loved ones at these best buffets in Singapore and treat yourselves to these sinful spreads.
If you've got a small appetite but don't wanna miss out on good food, check out our full list of Eatbook Top 50 Awards 2019 winners.