---
Best buffets in 2020
---
This year has been a rough one for restaurants around Singapore, especially for buffets, as many had to reshuffle from DIY service to a la carte concepts. As diners, we're just immensely grateful to still be able to dig into all-you-can-eat buffets in spite of the current pandemic, so with that in mind, we've eaten our way through our fair share of free-flow menus this year to bring the 5 best new buffets in Singapore, awarded as part of our Eatbook Top 50 2020 list.
---
1. Peppermint Restaurant
---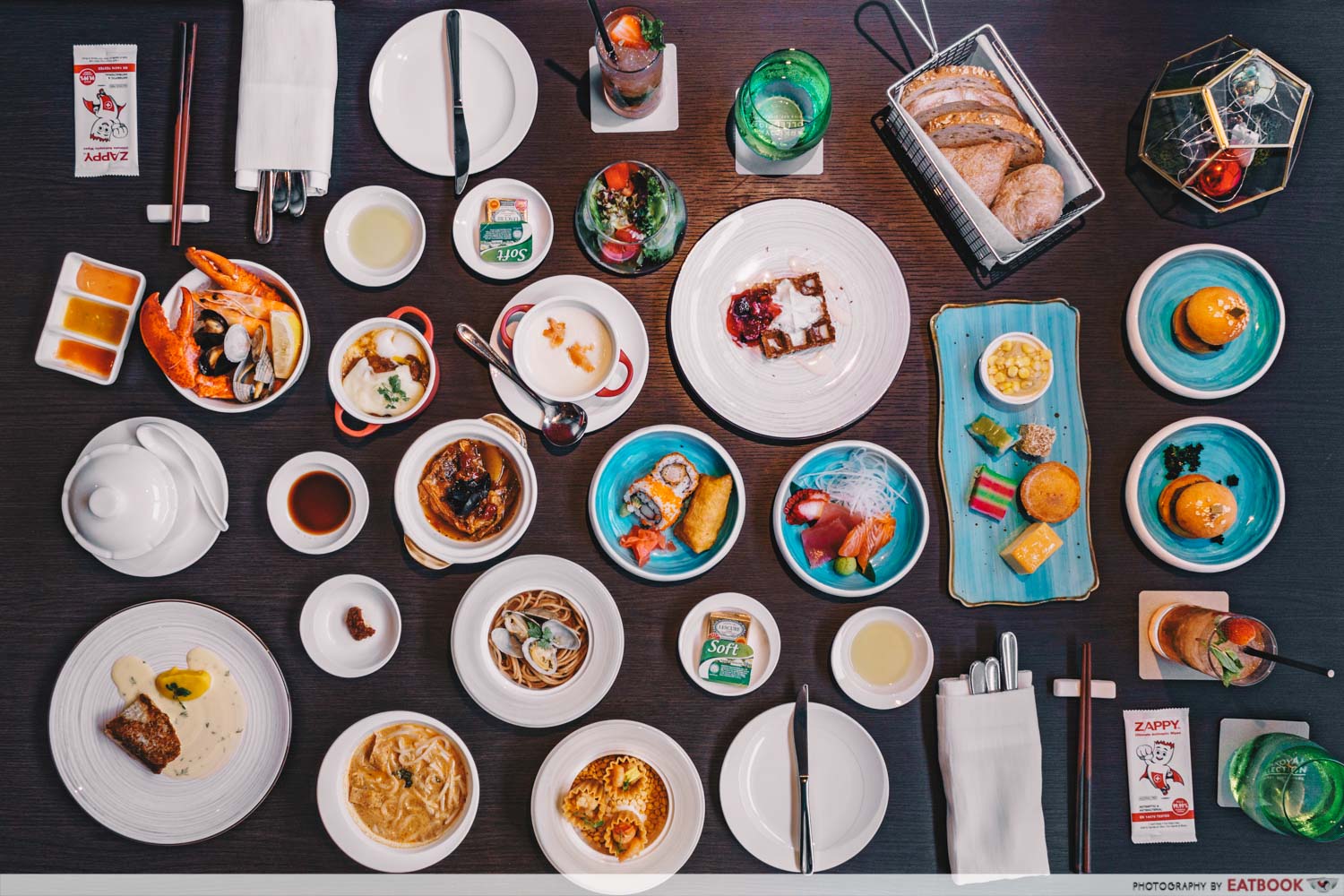 Peppermint, a newly-opened hotel buffet restaurant at PARKROYAL COLLECTION Marina Bay, brings sustainable and delicious buffet fare to the table. Their all-you-can-eat lunch buffet starts at $65++, and entitles you to premium fare such as fresh seafood, local delights, and sashimi. We heartily recommend the Nordic Smoked Cauliflower Cream Soup, of which our writer polished off two bowls, and the restaurant's signature Singapore Laksa with Seafood, starring a lemak gravy that is rich with hei bee.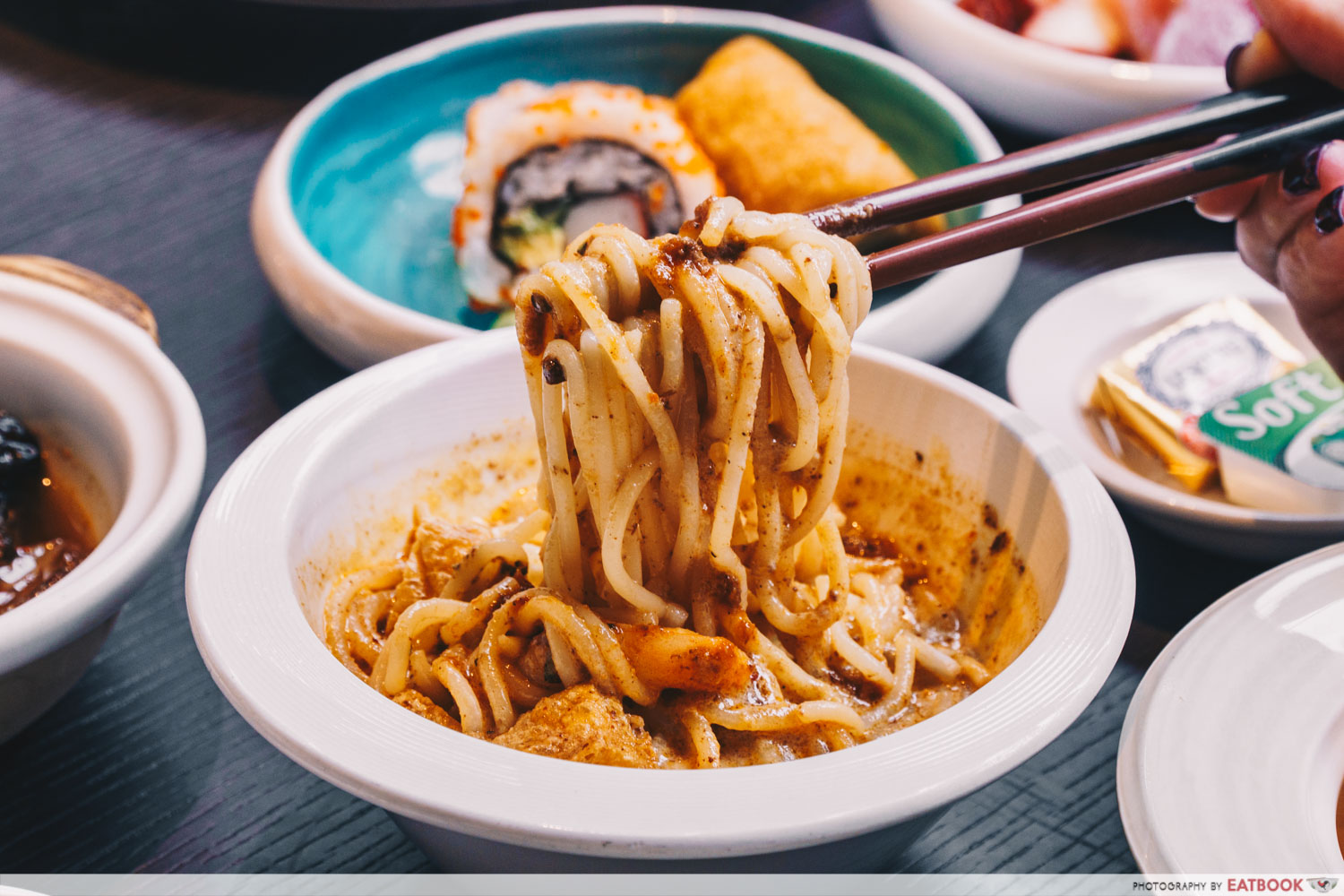 When it comes to decor, Peppermint is also hard to beat, given that the restaurant is set amidst a garden-themed dining area.
While Peppermint is currently not halal, their dishes contain no pork nor lard, and they are in the process of getting their halal certification.
Check out our Peppermint buffet review.
Address: 6 Raffles Boulevard, PARKROYAL COLLECTION Marina Bay, Singapore 039594
Buffet hours: Daily 7am to 11pm
Tel: 6845 1112
Website
Peppermint is not a halal-certified eatery.
Peppermint Review: Garden Buffet With Free-Flow Fresh Seafood, Lemak Laksa And More At PARKROYAL Marina Bay
---
2. Lao Dong Bei Shao Kao
---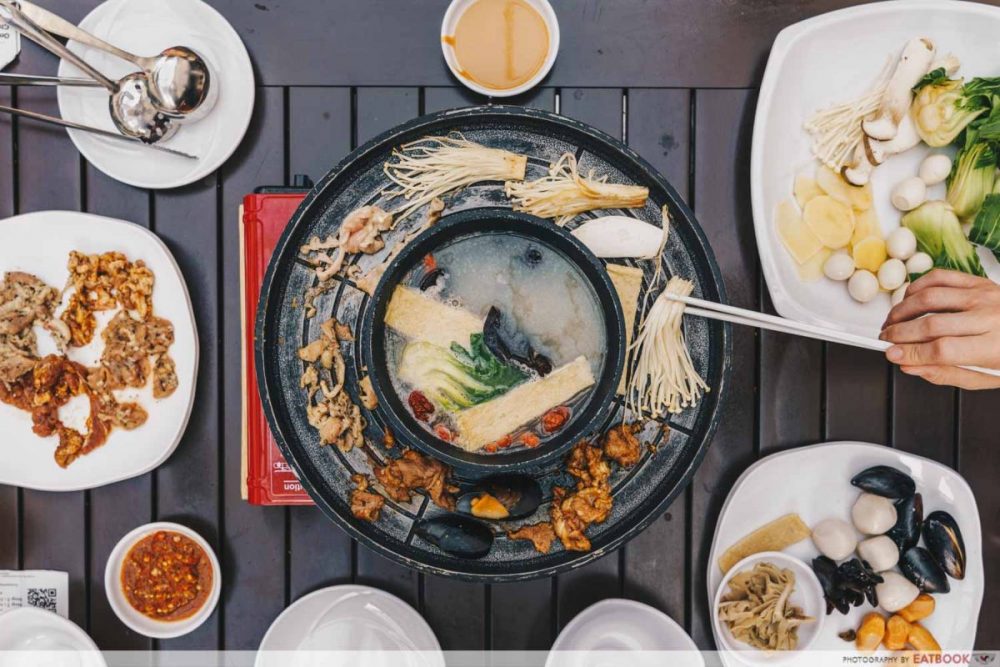 The iconic Chinatown Food Street has recently reopened, and with that comes the launch of six new buffet concepts sharing the same space, including the likes of Korean barbecue, mookata, and nabemono. Our favourite of the bunch is the ultra wallet-friendly two-in-one buffet by Lao Dong Bei Shao Kao, which promises hotpot with a comforting collagen broth, and ma la barbecued meats.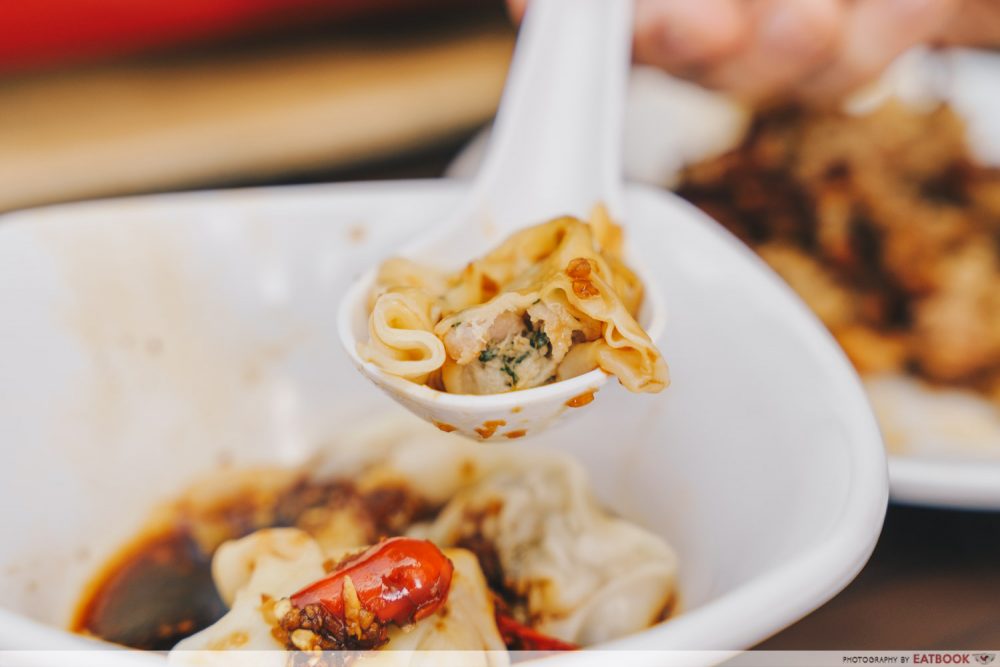 With over 40 items to pick from, this free-flow dinner option will only set you back $19.90. We especially enjoyed meats like the Spicy Lamb and Black Pepper Pork Belly, as well as their free-flow Chilli Oil Dumplings as a side dish.
Check out our Lao Dong Bei Shao Kao review.
Address: Smith Street, Chinatown Food Street, Singapore 058938
Buffet hours: Daily 5pm to 11pm
Website
Lao Dong Bei Shao Kao is not a halal-certified eatery. 
Lao Dong Bei Shao Kao Review: 2-in-1 Ma La Barbecue And Hotpot Buffet In Chinatown Food Street
---
3. Tang Lung Restaurant
---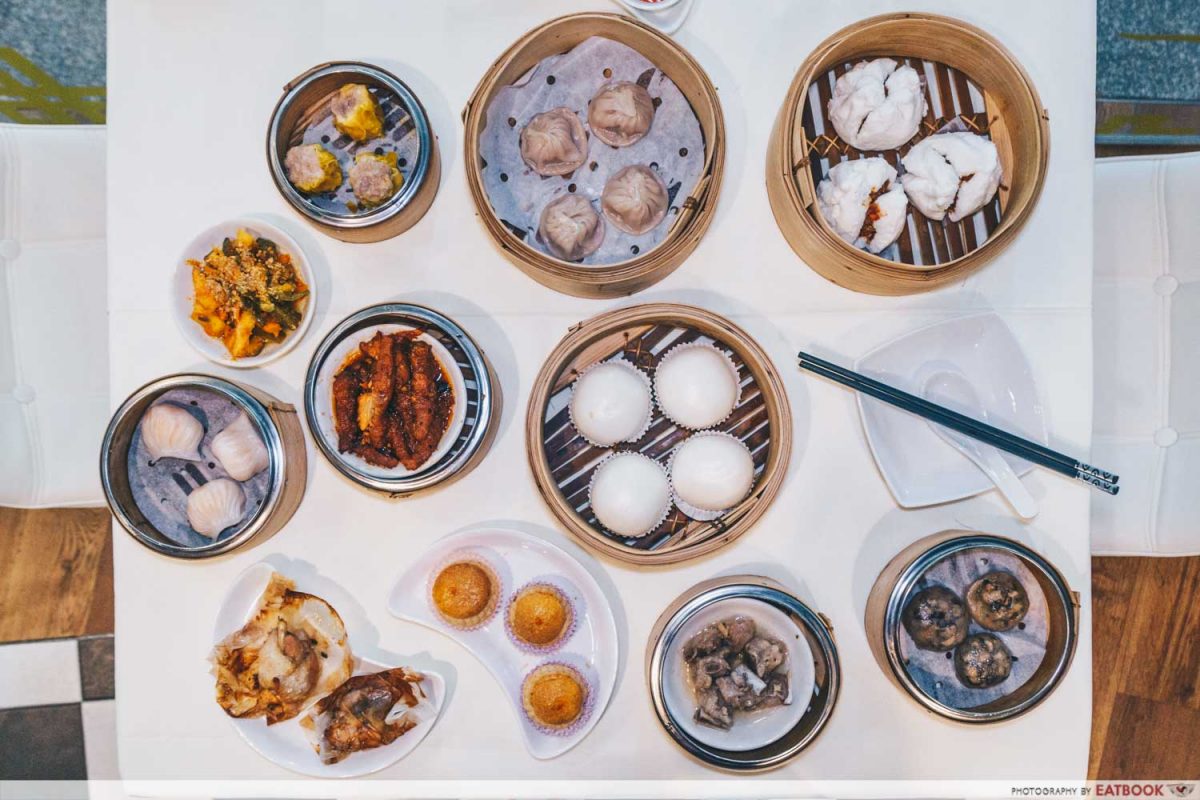 As one of the cheapest dim sum buffet options around, Tang Lung Restaurant offers over 30 free-flow dishes to pick from, starting at $23.80++ for weekday lunches. We especially enjoyed their selection of Handmade Dumplings, including xiao long bao and more, as well as their juicy Har Gow. The menu also includes some unorthodox items, including Pineapple Char Siew Tarts, a hybrid between char siew, polo bao, and an egg tart.
Located at Robertson Quay, Tang Lung Restaurant doubles as a central spot to feast with friends or family over dim sum.
Check out our Tang Lung Restaurant dim sum buffet review.
Address: 80 Mohamed Sultan Road, #01-12, The Pier At Robertson, Singapore 239013
Buffet hours: Mon-Fri 12pm to 3pm, Sun 3pm to 5pm
Tel: 6262 9966
Website
Tang Lung Restaurant is not a halal-certified eatery.
Tang Lung Restaurant Review: $23.80++ Dim Sum Buffet With Over 30 Menu Items In Robertson Quay
---
4. Yi Zi Wei
---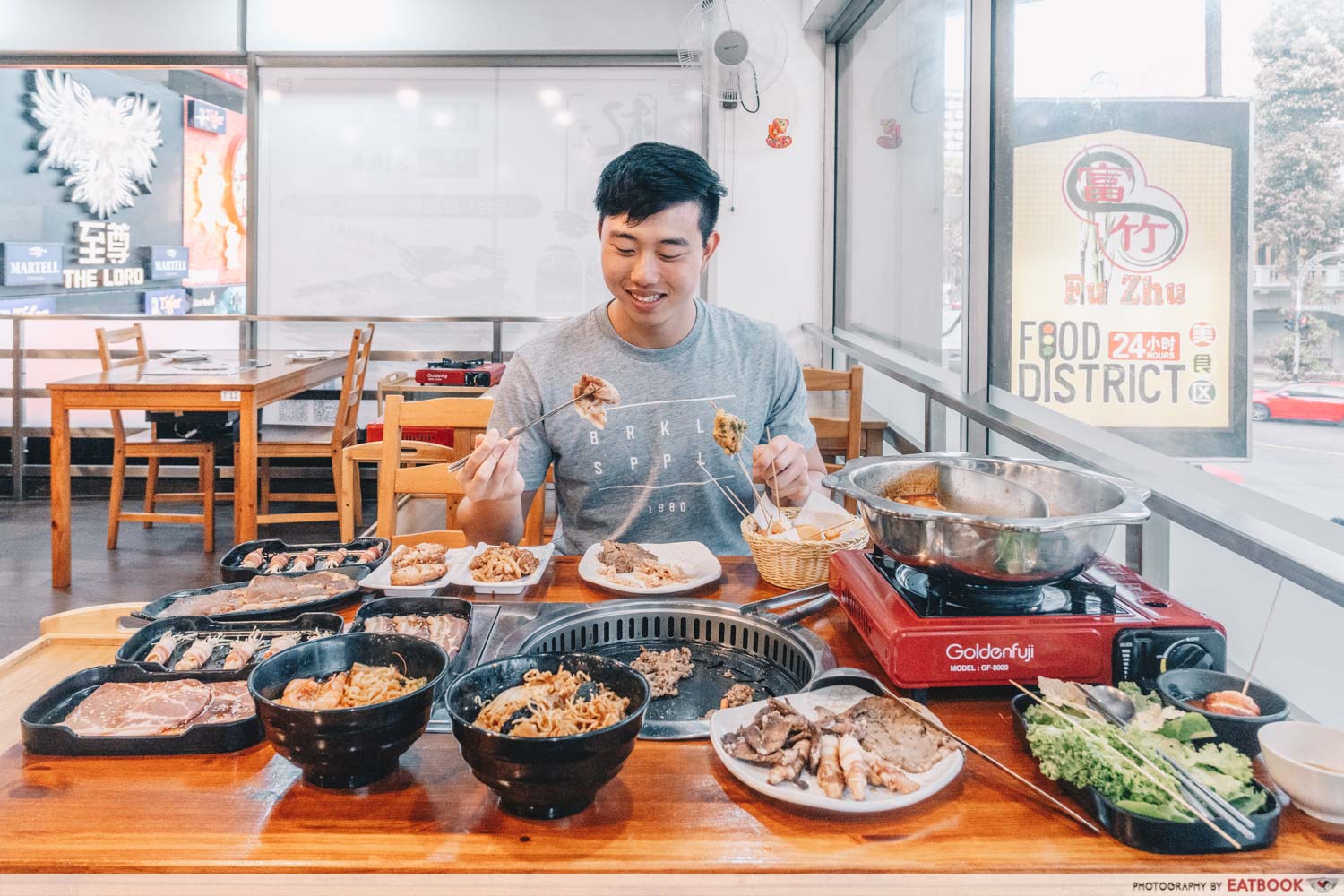 Some of us just can't decide on one thing when it comes to food, and if you fall into that camp, then check out Yi Zi Wei, a six-in-one buffet concept at Peace Centre. Prices start from $19.90+ for lunch, and you get unlimited steamboat, barbecue, Korean army stew, lok lok, mala xiang guo as well as mala soup for the price. Apart from the variety, expect generously-portioned meats, vegetables, and other ingredients to go with your hotpot and mala soup too.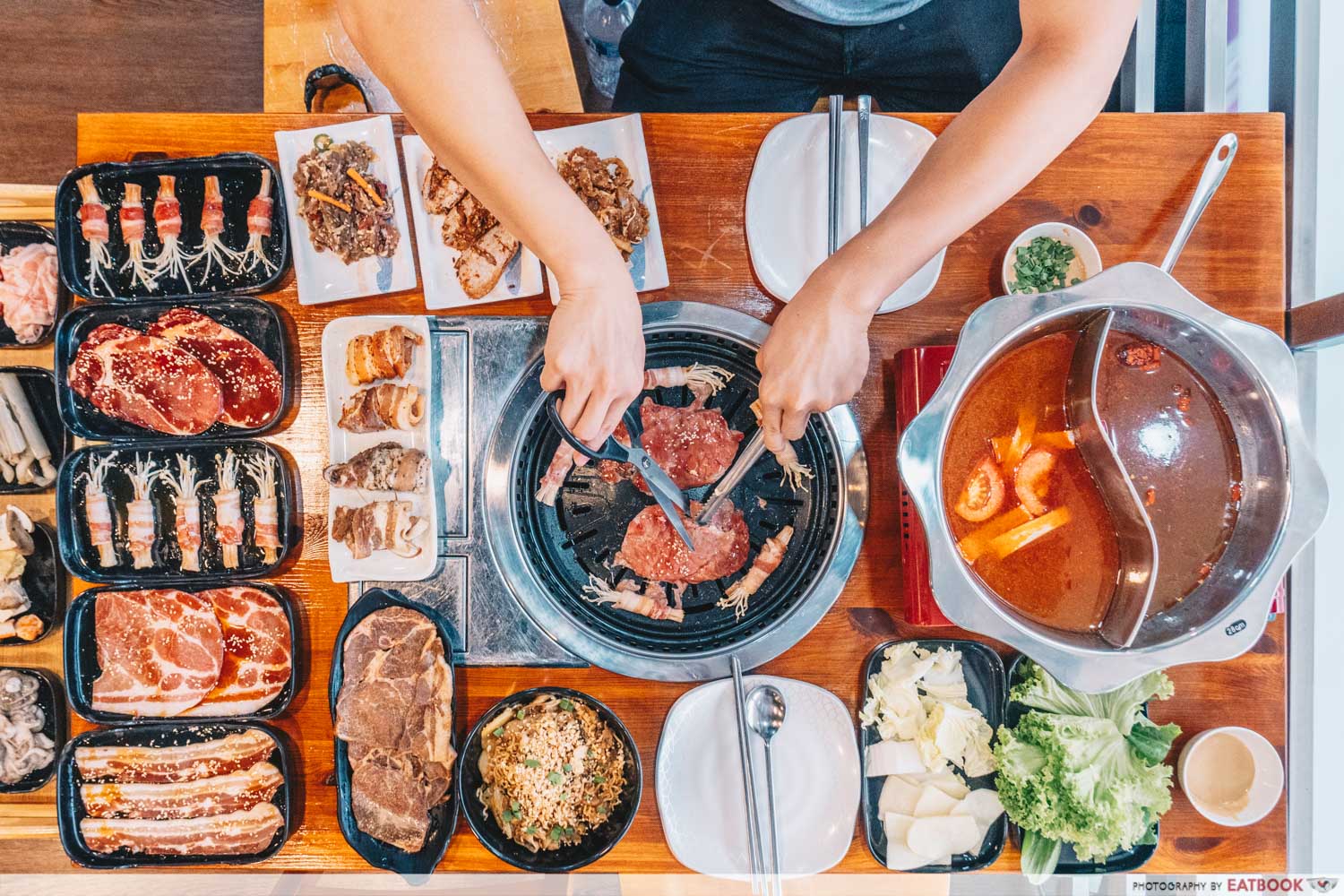 Do note that prices increase to $29.90+ after 3:01pm, as it is considered dinnertime.
Check out our Yi Zi Wei review.
Address: 1 Sophia Road, #02-01, Peace Centre, Singapore 228149
Buffet hours: Daily 11am to 11pm
Tel: 6358 3368
Website
Yi Zi Wei is not a halal-certified eatery.
Yi Zi Wei Review: 6-In-1 Buffet With Steamboat, Lok Lok, Mala Xiang Guo, Army Stew And More
---
5. Food Capital
---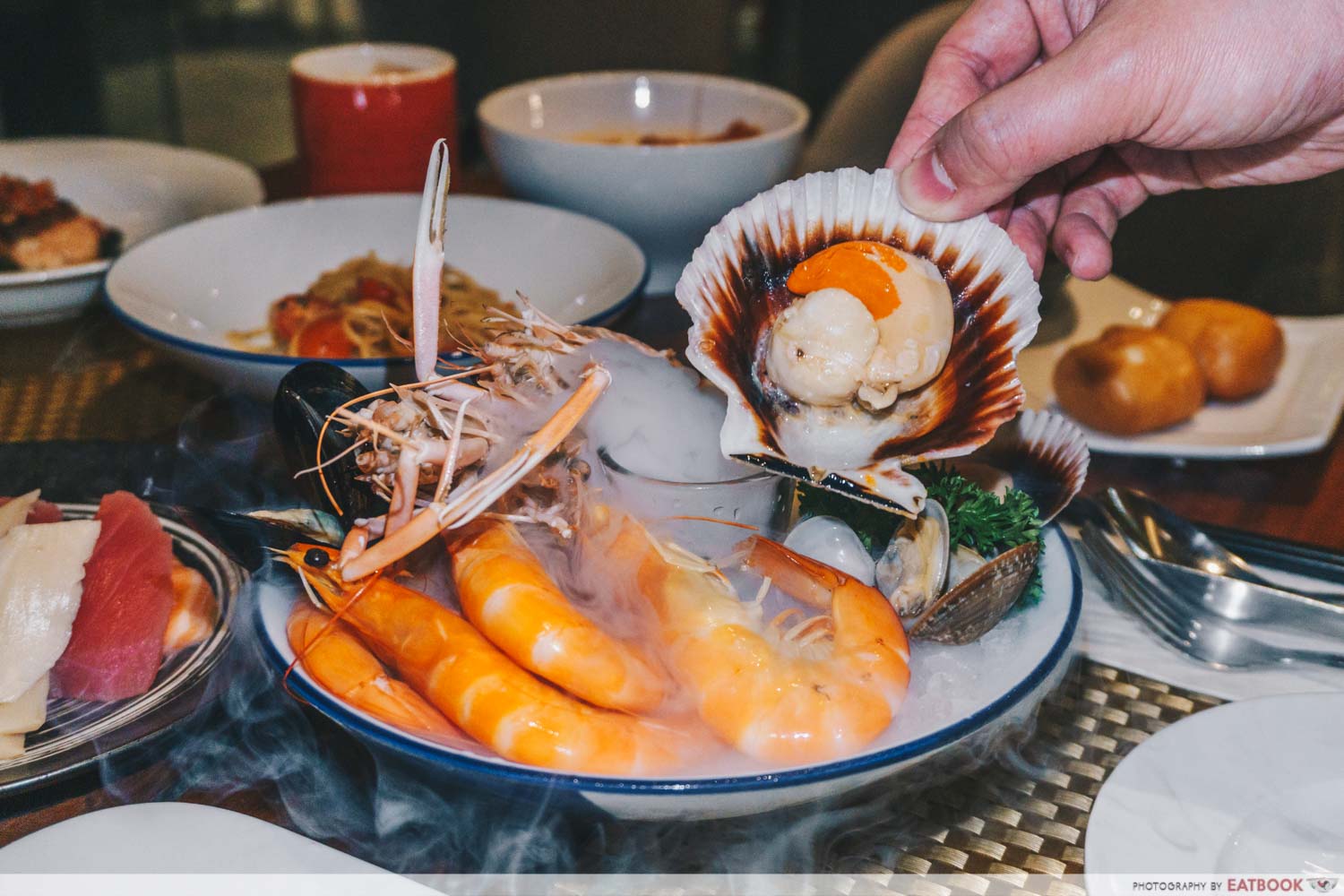 Located at the Grand Copthorne Waterfront Hotel, Food Capital has an international-themed buffet with over 50 menu items and a riverside dining option that's great for dates. Priced from $65++ for lunch and $85++ for dinner per adult, you get dishes like Barbecue Platters that you can design yourself, starring the likes of sausages, pork belly, and more, free-flow sashimi, and Seafood On Ice, exclusive to dinner hours.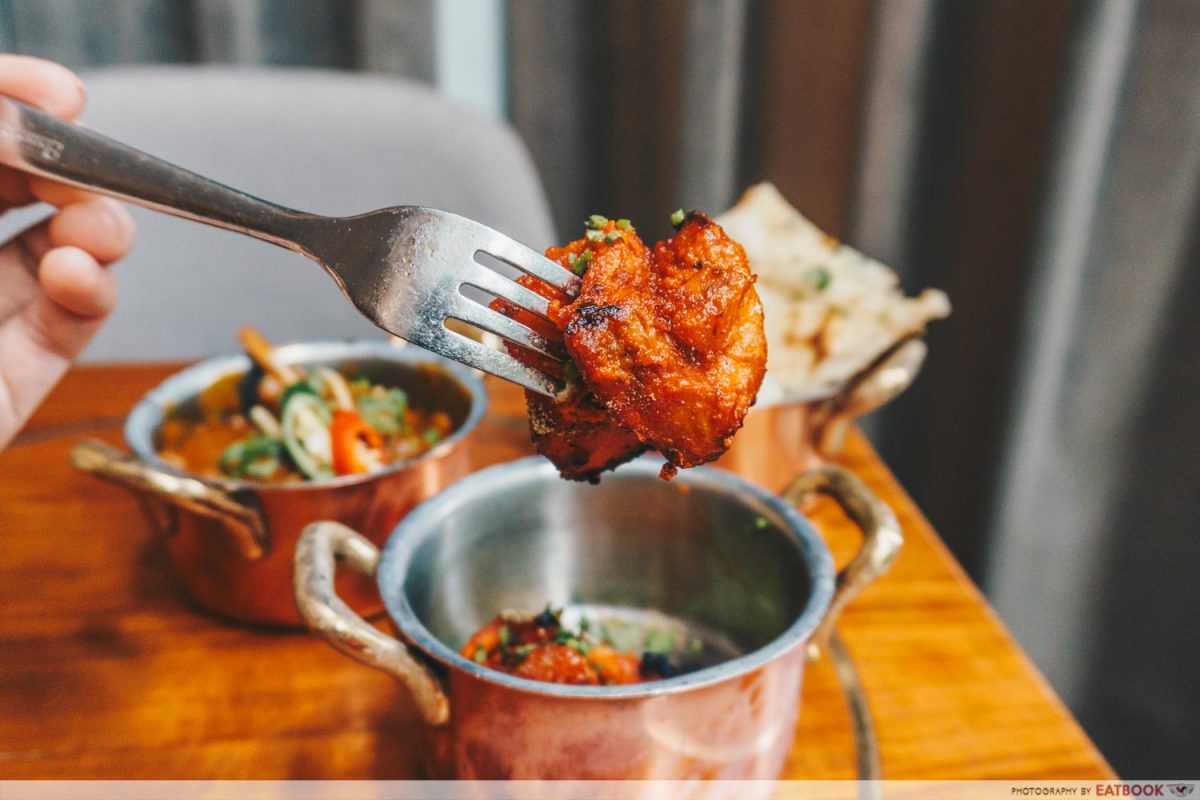 The Tandoori Chicken and Garlic Naan are two unlikely wins on the buffet menu, so eat your fill of fragrant and fluffy naan bread and the moist, lightly-spiced chicken thigh cubes.
Check out our Food Capital review.
Address: 392 Havelock Road, Grand Copthorne Waterfront, Singapore 169663
Buffet hours: Tues-Sun 12pm to 2:30pm, 6pm to 10pm
Tel: 8168 1539
Website
Food Capital is not a halal-certified eatery.
Food Capital Review: Riverside Hotel Buffet With Over 50 Dishes, Including Barbecue Platters And River Lobster
---
Best buffets in Singapore this 2020
---
From free-flow sashimi to dim sum, the buffets on this list will satisfy the hungriest of diners, from prices as low as $19.90. For more of our Eatbook Top 50 2020 winners, check out our list of the best new cafes and best new dessert places.