---
Blue pea flowers dishes 
---
By now, the trend of blue pea flowers that swept the nation has died down a little bit. Still, that doesn't mean that these colourful dishes are any less beautiful. Plenty of restaurants still serve them up as signature dishes after their raging popularity in the past year. Any shots of these vivid meals are sure to light up your colour-coordinated IG feed. 
Before they were trending on plates and IG stories, butterfly/blue pea flowers were typically used as a natural food colouring for Peranakan kueh. They've always had a traditional role in colouring dishes, such as kueh salat and kueh lapis, before food colouring became widespread. 
Apart from being used to spruce up aesthetic food and adding splashes of colour to bubble tea, butterfly pea flower tea is also a popular drink in Southeast Asian countries such as Thailand and Vietnam. 
The drink is capable of changing colour right before your eyes, giving endless possibilities for lighting up a coloured meal. Blue pea tea reacts to anything sour or acidic, and quickly transforms into a vivid shade of purple. It's no surprise that such a vibrant and beautiful shade would be added into absolutely everything. 
---
1. Simple.簡
---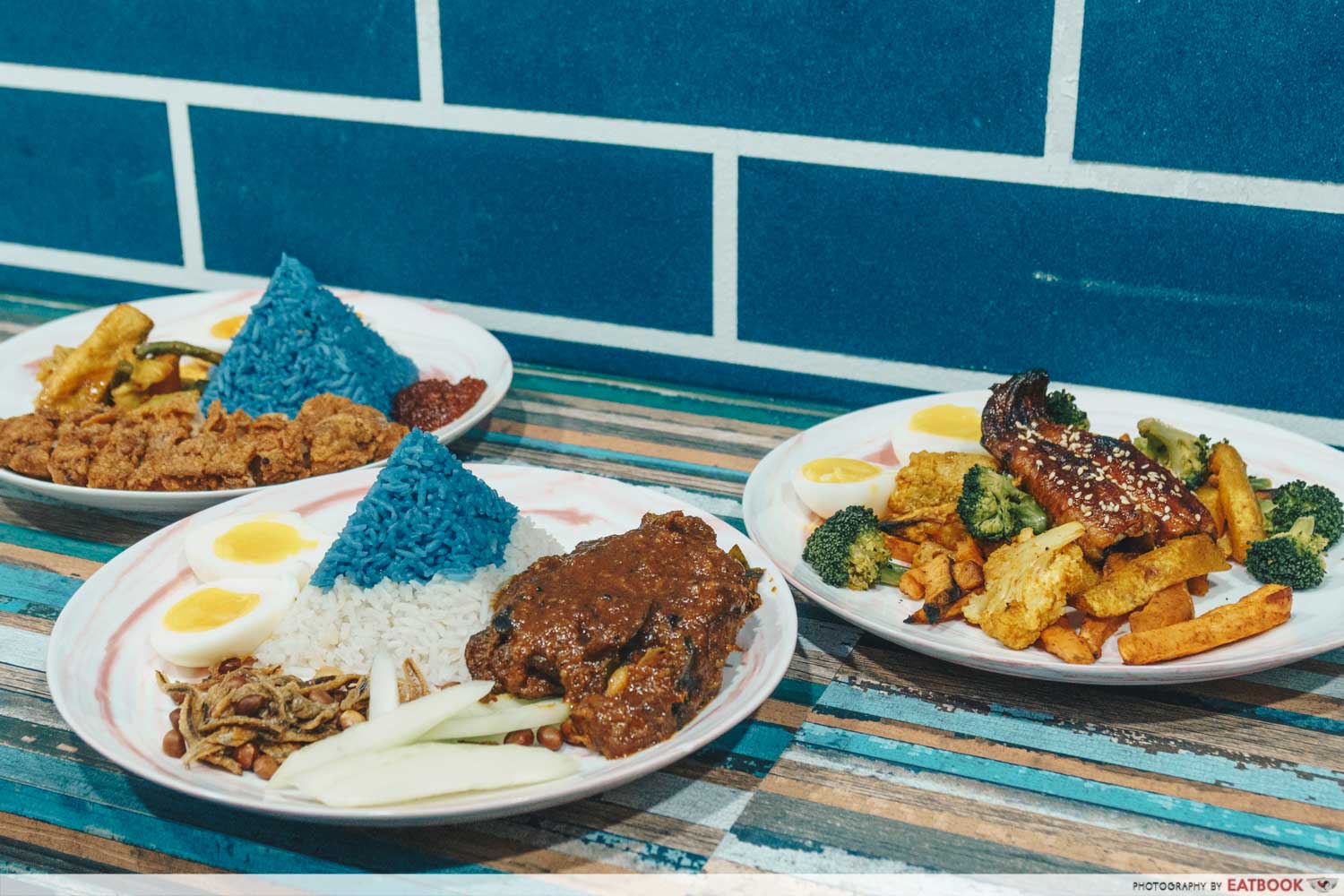 Blue-tinted rice is one of the most popular blue pea flower dishes, especially when the bright extract is added to fragrant nasi lemak. The flower itself has barely any taste, so it's light on the palate and doesn't clash with any ingredients it's paired with. Simple.簡 at Lavender has been doling out its signature blue rice long before it was trending.
Formerly known as Jia Xiang Nasi Lemak, Simple.簡  is helmed by a pair of siblings. The two picked up the recipe from their grandmother back when they lived in Malaysia. Their use of butterfly pea flowers was adopted from their village too, where the flowers grow in abundance. 
After rebranding to Simple.簡, they cut their pandan rice from the menu and instead focused on their blue pea flower nasi lemak which comes with a ton of options for sides.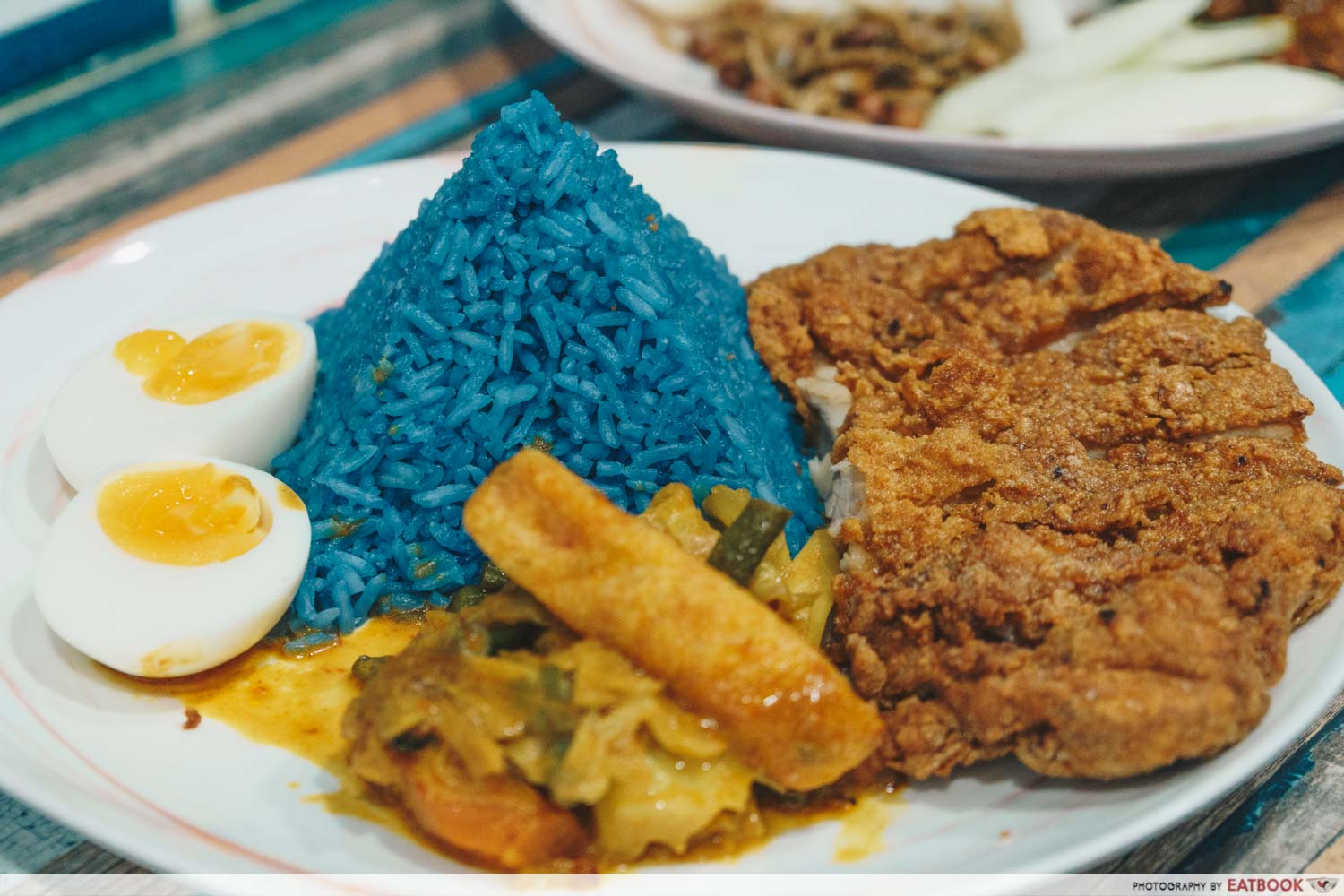 Their Blue Rice + Har Cheong Chicken ($6.50) nasi lemak is a sight to behold. A pyramid of rice sits in the centre of the plate, topped with blue-dyed grains of rice. 
The chicken comes with it is thick, tender, and juicy. It comes with crispy skin and is dripping with savoury flavours. The rice doesn't have much taste on its own, so you'll likely want to mix it up with the mild sambal chilli to give it a bit of piquant spice.  
To finish off the meal, you can get a cup of azure Butterfly Pea Brown Sugar Soy Milk ($2). This pretty drink turns into a milky, creamy, and sweet mixture once stirred up. It's light and sugary, and the beautiful gradient makes for a great shot.
Check out our review of Simple.簡 here!
Address: 114 Lavender Street, #01-09, CT Hub 2, Singapore 338729
Opening hours: Mon-Fri 11am to 6:30pm, Sat 11am to 3pm
Tel: 8188 6325
Website
Simple.簡 is a halal-certified eatery.
---
2. Cafe De Nicole's Flower
---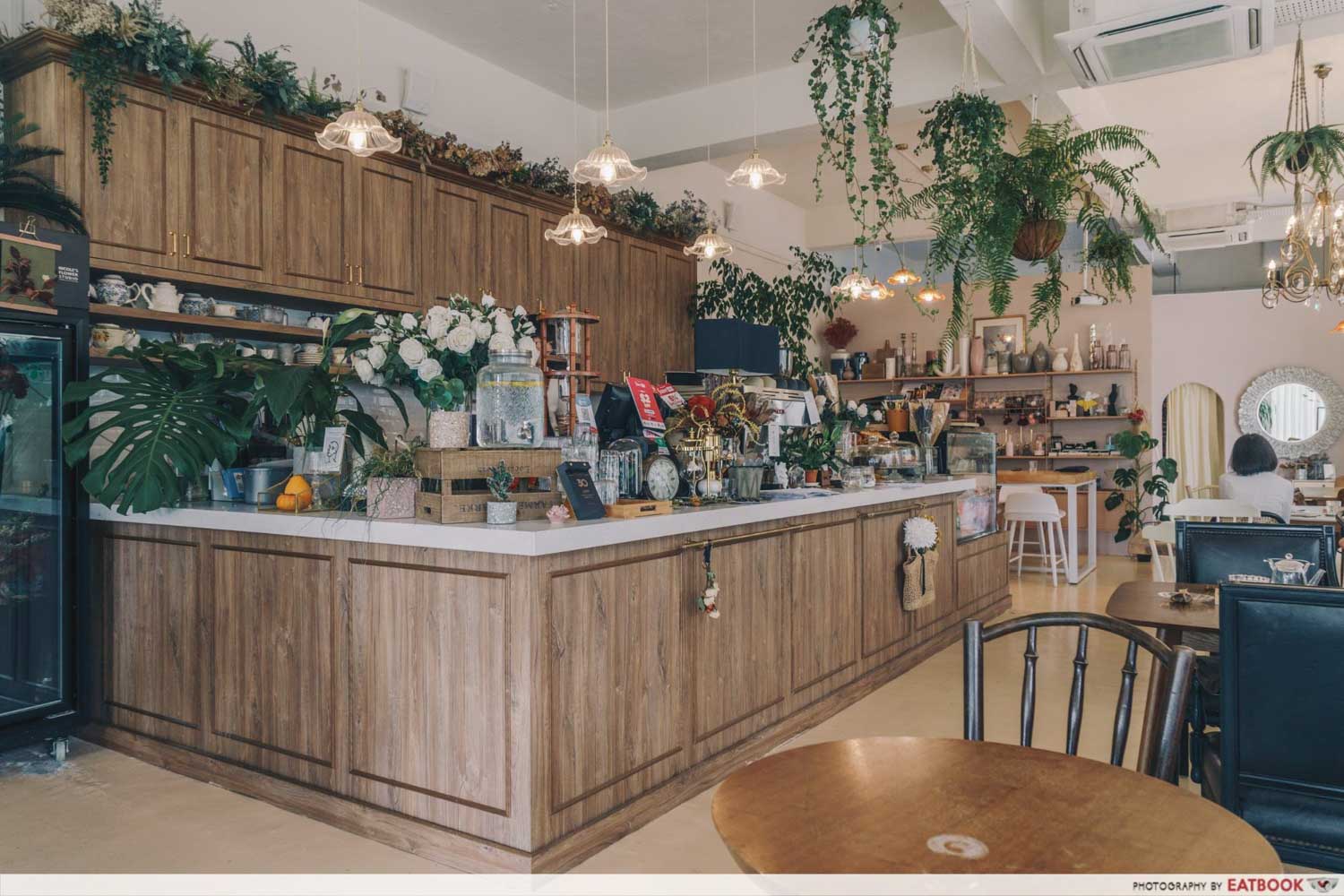 Cafe De Nicole's Flower is a beautiful cafe that has much more to offer than just blue pea flower drinks. The flower-themed cafe is a wonderful setting to have a lazy afternoon tea session in. They have decadent and buttery Souffle Pancakes ($19.90+), rich avocado toast, a range of salads, and tons of breakfast options. The cafe even has an adorable resident cat who slinks beneath the seats as you dine!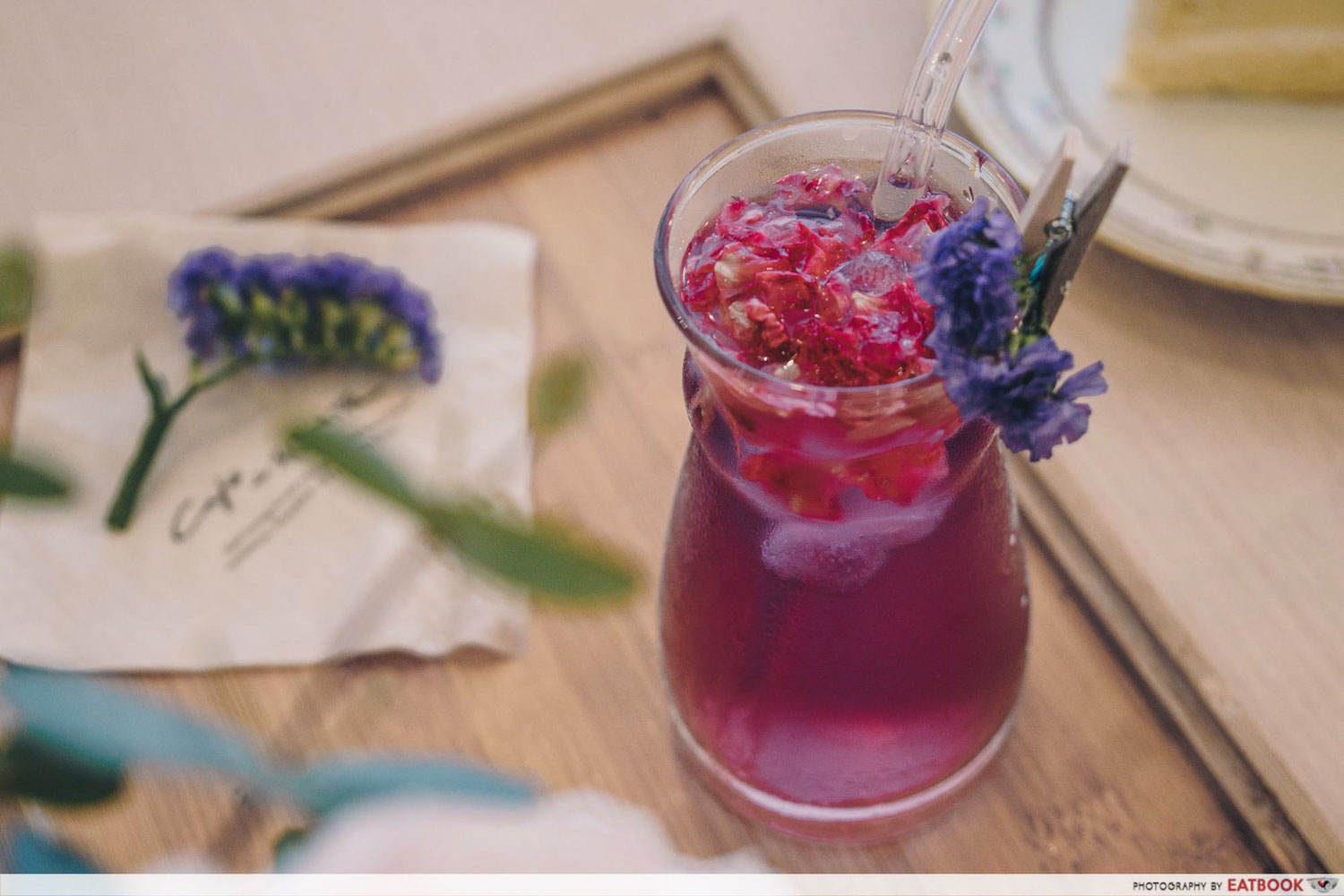 One of their signature drinks is a tall glass of Mermaid Tears ($7.90+), which contains blue pea flower tea with a tinge of honey lemon. Watch the drink swap colour as the lemon juice is poured in, with sweet and sour flavours melding to turn the liquid a vibrant shade of fuchsia. The cafe also has other fancy drink options, such as their Alice In Wonderland, Romeo & Juliet, and Heart Melting tea blends. 
Enjoy the relaxing and beautiful ambience as you sip on exotic tea, and enjoy decadent desserts. Don't forget to catch a nice shot of the eye-catching dishes of course!
Find out what else you can get at Cafe De Nicole's Flower! 
Address: 224 Telok Kurau Road, #01-01, Singapore 423836
Opening hours: Tue-Sun 8:30am to 8:30pm
Website
Cafe De Nicole's Flower is not a halal-certified eatery.
---
3. Soi Thai Soi Nice
---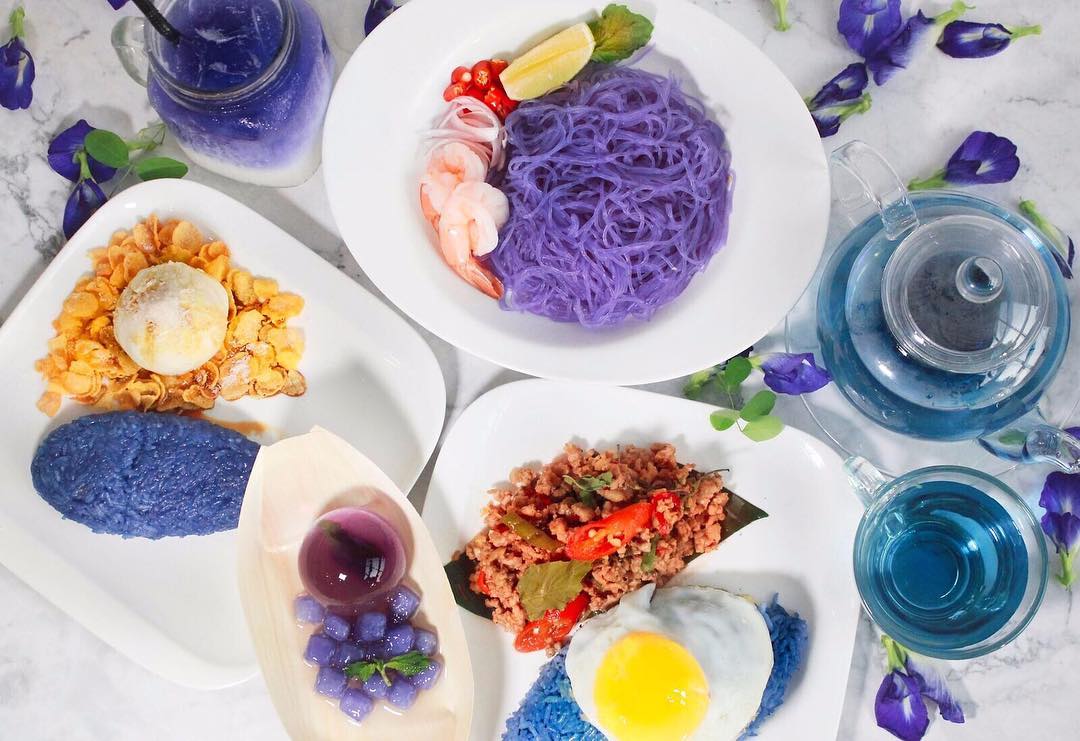 Image credit: @soithaisoinice
Hopping on the blue pea flower bandwagon, Soi Thai Soi Nice released a huge range of blue pea flower dishes in 2017. Some of the limited-time items such as the Butterfly Pea Glass Noodle Salad are gone by now, but drinks such as the Iced Butterfly Pea Coconut Drink ($4.90++) still remain.
There are also two desserts that have stuck around. The first is the Butterfly Pea Mango Sticky Rice ($8.90++). The glutinous rice has been dyed with blue-pea flower and coated in creamy coconut sauce along with bits of mung beans for an extra crunchy texture. 
The Blue Treasure ($6.90++) is a rather unique dish. At first glance, it's hard to tell what exactly this mysterious dessert contains. A large sphere of purple agar-agar sits in the middle like a crystal ball. The 'blue treasure' bits are an alternative take on Thai red ruby, which are cubes of water chestnut dipped in coloured tapioca flour. To top it off, the colourful morsels are drizzled with sweet and tangy honey. 
Address: 33 Sengkang West Avenue, #01-29/30, The Seletar Mall, Singapore 797653
Opening hours: Daily 11:30am to 12am
Tel: 9295 6488
Website
Soi Thai Soi Nice is not a halal-certified eatery.
---
4. The White Tiffin
---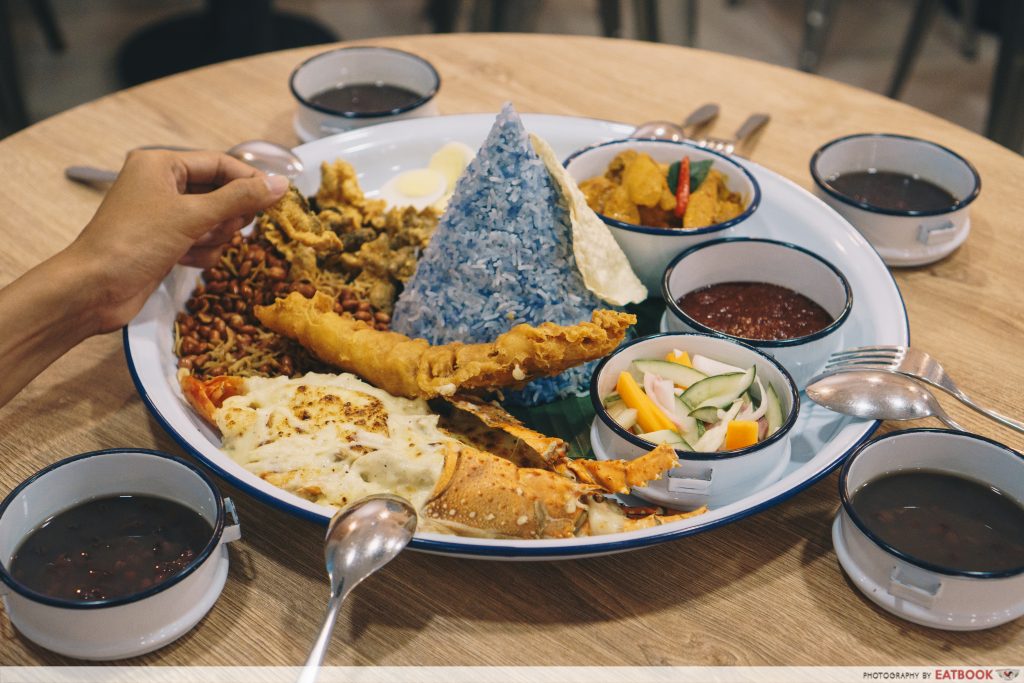 Another nasi lemak joint on this list is The White Tiffin. This restaurant's main attraction is their Nasi Lemak XXL ($49.90). The colossal dish is set up in the style of Indonesian tumpeng, with a pyramid of mixed blue pea flower coconut rice standing at the centrepiece. The mountain of fluffy grains have a mild coconut fragrance and is meant for up to four people to share.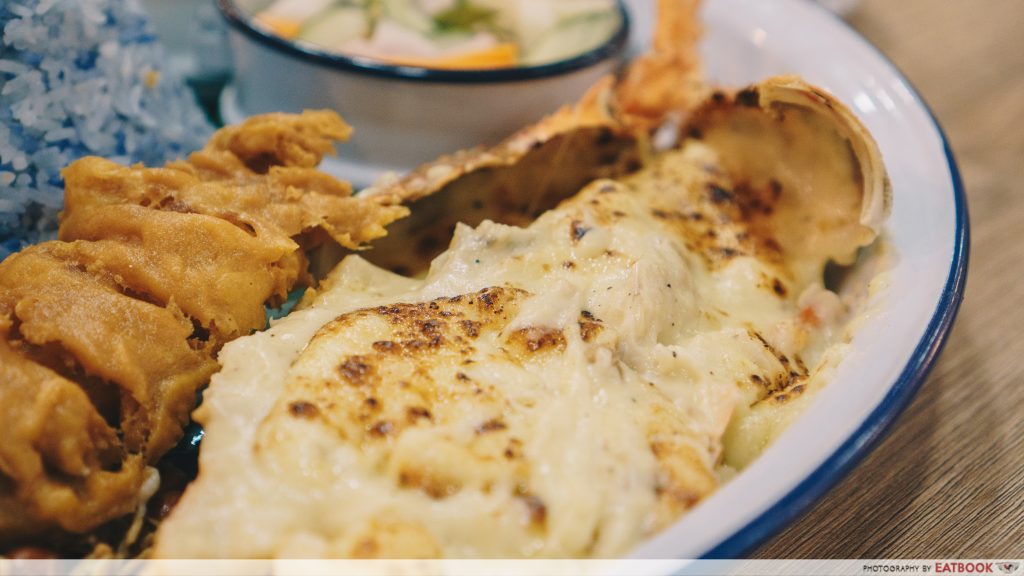 The White Tiffin isn't all style and no substance either. Their extra large nasi lemak contains generous portions of lobster gratin. The luxurious shellfish is coated in savoury, creamy cheese that's lightly torched. 
There are other sides such as battered dory fish, The White Tiffin's signature chicken curry, salted egg fish skin, and nasi lemak essentials; egg, chilli, peanuts, and ikan billis. $49.90 doesn't seem so bad for a portion of this scale, and the sky-blue pyramid is sure to make a great centrepiece for a memorable photograph.
Here's our review of The White Tiffin!
Address: 5 Changi Business Park Central 1, #01-44, Changi City Point, Singapore 486038
Opening hours: Mon-Fri 11am to 9:30pm
Tel: 6777 0833
Website
The White Tiffin is not a halal-certified eatery.
---
5. Yue Lai Xiang Delights
---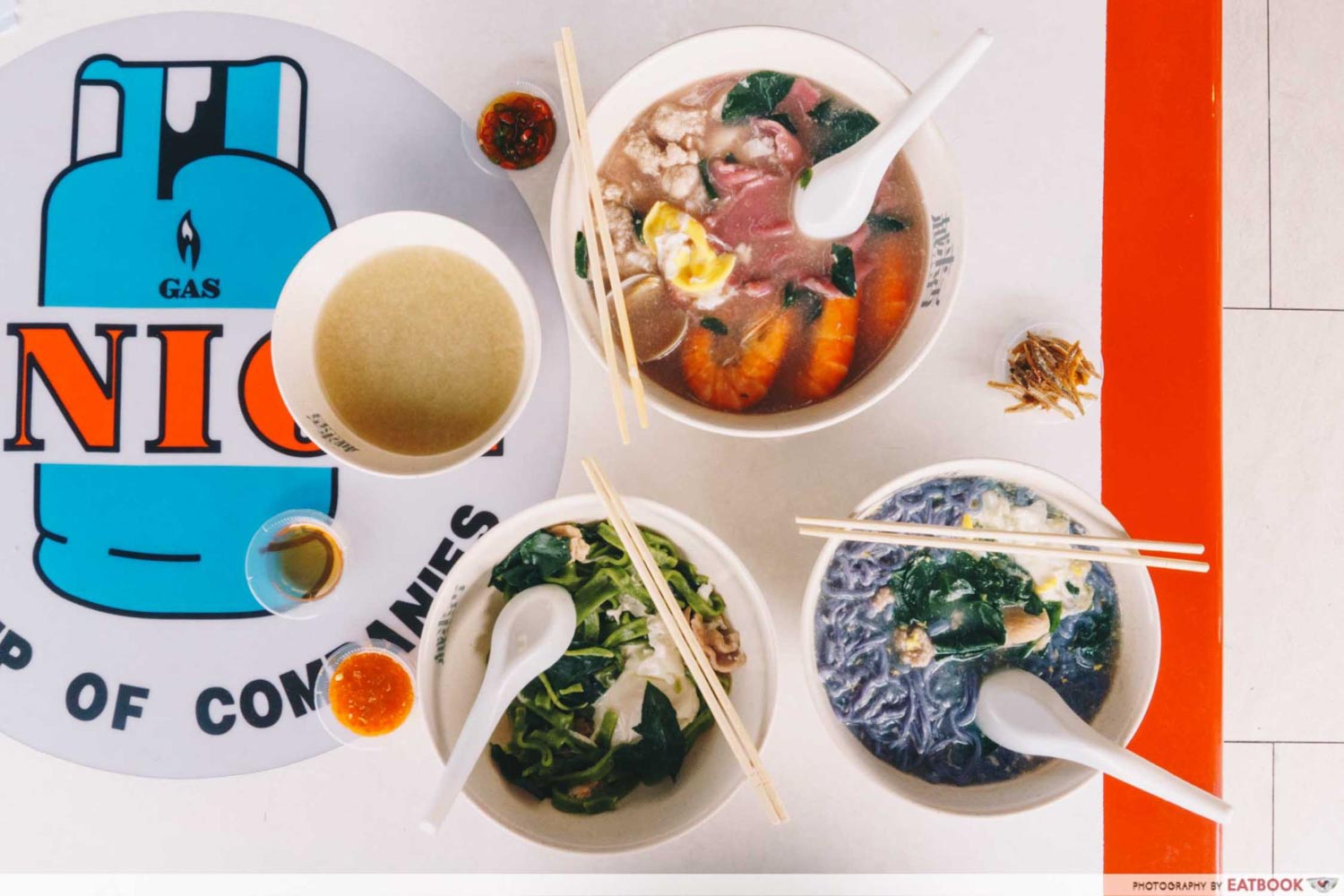 A few years ago, diners who came across Yue Lai Xiang Delights would likely have thought: 'Ew, they put food colouring into their noodles'. And indeed, the noodles at this hawker stall look artificially coloured. But despite the vivid hues of these soup noodles dishes, they're all made with natural ingredients. The red ones contain beetroot juice, the blue uses blue pea flowers, and the green uses healthy spinach.
The noodles are made in-house, and only pulled into long strands once orders are placed. This kind of colour definitely can't be found in packaged noodles.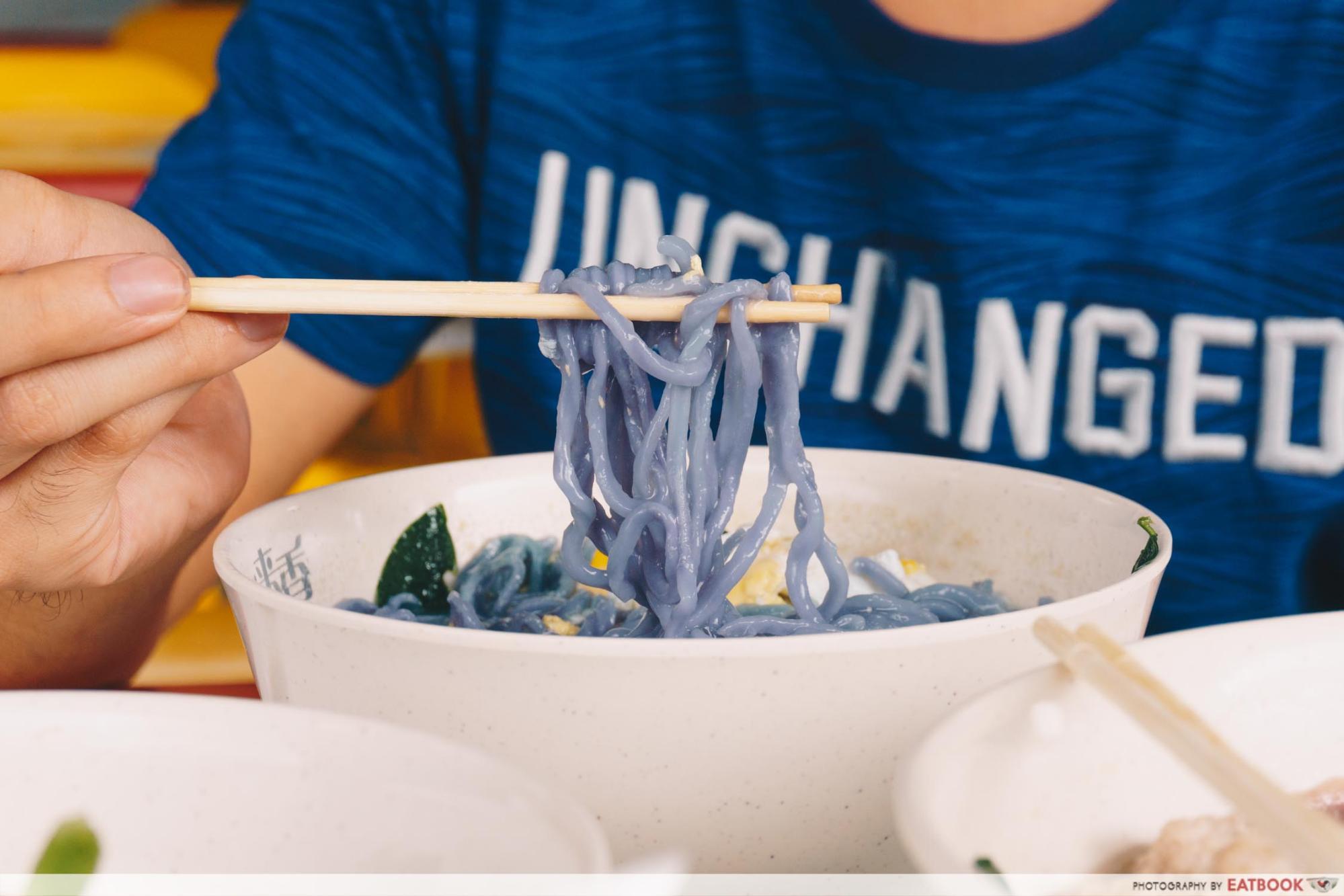 When I see food that's coloured bright blue, I tend to assume that it's going to be sweet and sugary. For that reason, tucking into the Butterfly Pea You Mian ($5.50) might be rather jarring. This bowl of ban mian comes with the green veggies, fluffy egg, savoury broth and tender meat chunks that you would expect from its uncoloured counterparts. There's very little blue pea flower flavour, and it tastes like a regular noodle dish. But it's certainly a novel concept, especially when accompanied by the other two colours. 
Check out our full review of Yue Lai Xiang Delights.
Address: 22 Sin Ming Rd, #01-224, Singapore 570022
Opening hours: Mon-Fri 7:30am to 4:30pm, Sun 11am to 2pm
Tel: 9017 8778
Website
Yue Lai Xiang Delights is not a halal-certified eatery.
---
6. Lagoon In A Bowl
---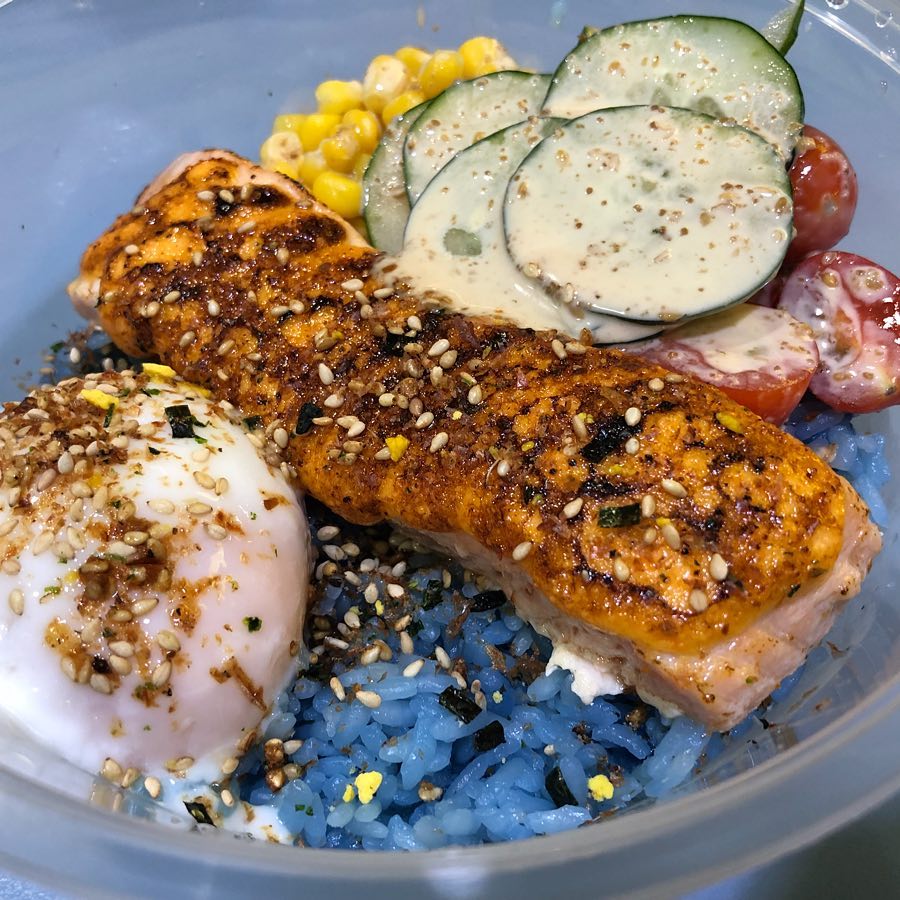 Image credit: @brenbreneats
Amoy Street Food Centre is host to both modernised hawker stalls and classic eateries with winding queues. Lagoon In A Bowl is one of these new-generation stalls, serving up seafood rice bowls. The sous vide fish fillets are covered in mentaiko sauce, then promptly torched for a flavourful boost of smokiness. The Mentaiko Salmon Rice Bowl costs $10 and is one of the few things on their small, focused menu. 
The Japanese rice is dyed with blue pea flower juice to represent a cerulean blue ocean. The hefty fillet of fish sits atop it, providing a healthier option for the CBD crowd. Both elements combine together to represent a fish in water. Lagoon In A Bowl also has Wagyu Beef Bowls ($10), which are tender, juicy, and delightfully marbled. These whopping portions of donburi will definitely fill you up.
Address: 7 Maxwell Road, #01-48, Amoy Street Food Centre, Singapore 069111
Opening hours: Mon-Sat 11am to 3pm
Tel: 9119 2619
Website
Lagoon In A Bowl is not a halal-certified eatery.
---
IG-worthy blue pea flower dishes
---
As a way to spruce up plain-looking dishes without using unhealthy food colouring, it's no wonder blue pea flowers have become such a popular tool in modern cooking. Dishes blessed with their sky-blue shade are sure to make for great snapshots, even if the food itself ends up being a little gimmicky.
Check out our review of Elixir Boutique Roasters, which has wagyu beef rendang and a free-flow of blue pea flower nasi lemak!