Bold Bowls at Kallang Bahru
Update: Bold Bowls is now permanently closed.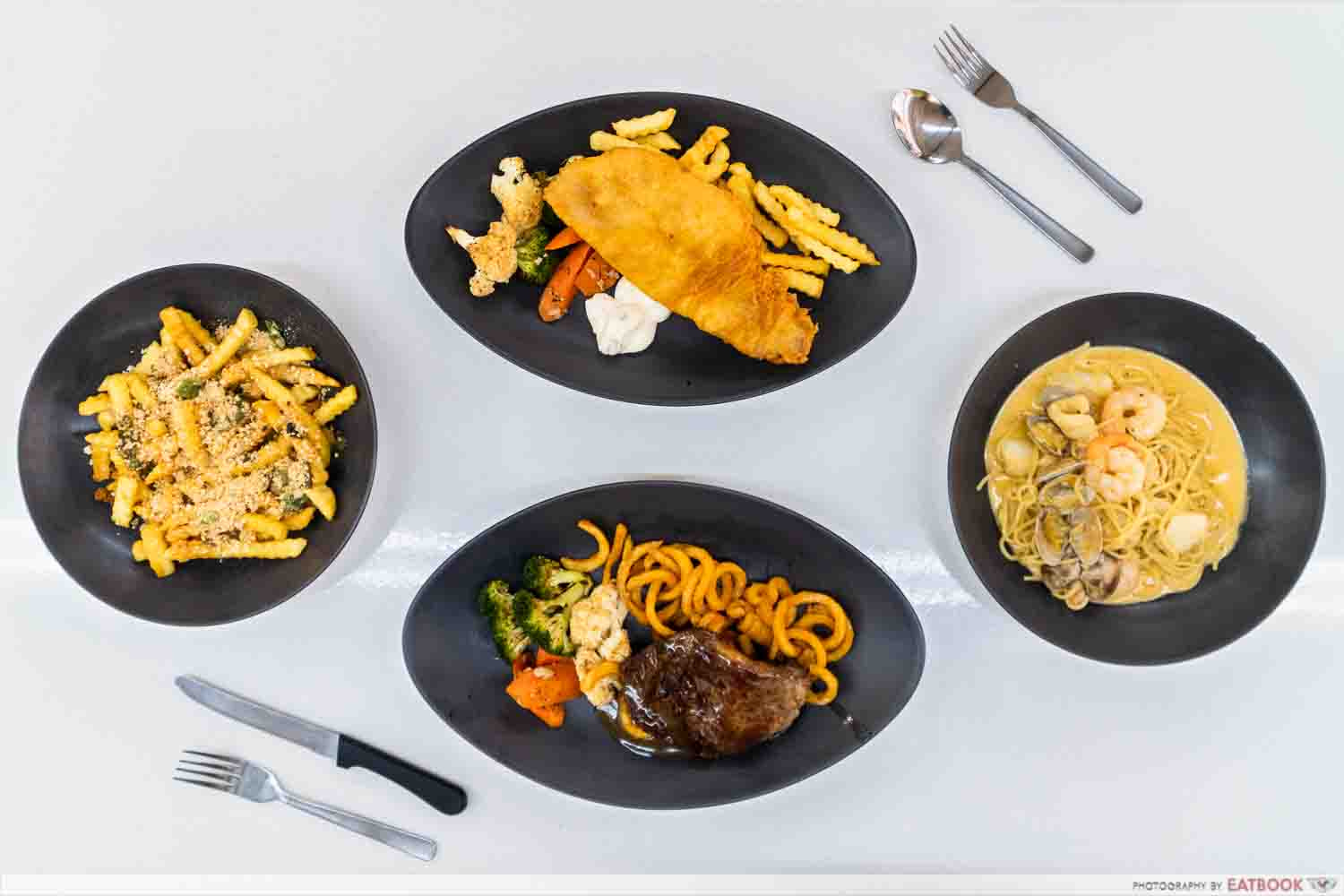 My dad's a chef, so when it comes to dishes such as fish and chips, pasta, and steak, I've been lucky enough to have them whenever I want. Thus, I generally stay away from hawker Western food, because I've never had anything that comes close to what my dad cooks. But, when I discovered Bold Bowls, a Western stall selling chicken roulade for less than $10 near our office, I felt like I was obliged to give it an opportunity to dazzle me. 
Food at Bold Bowls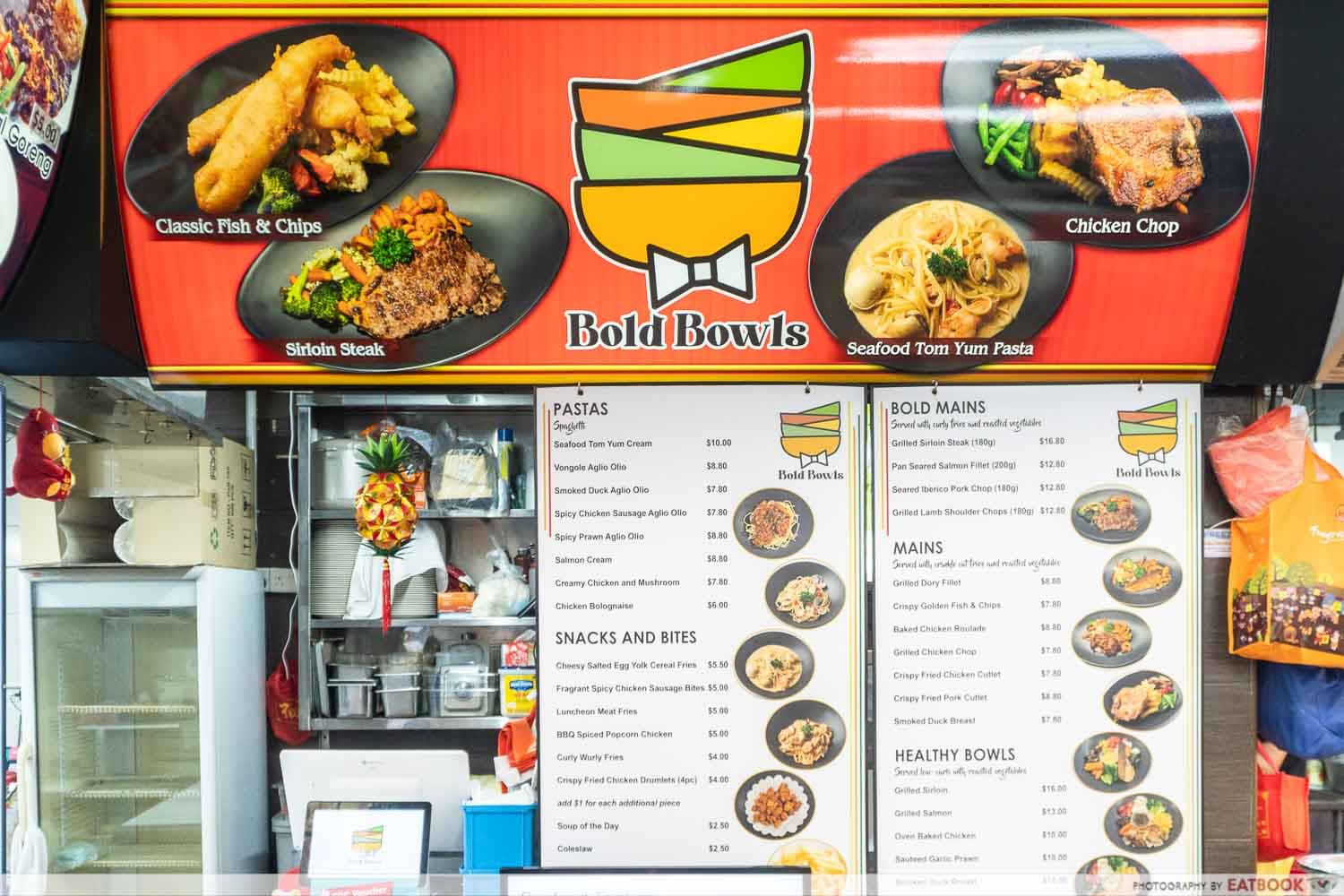 I was all prepared to be blown away by the Baked Chicken Roulade ($8.80), but I was met with disappointment when I made my trip down to Bold Bowls. The item had been taken off the menu, as demand for it was low. "Singaporeans can't appreciate it yet," the owner remarked sadly.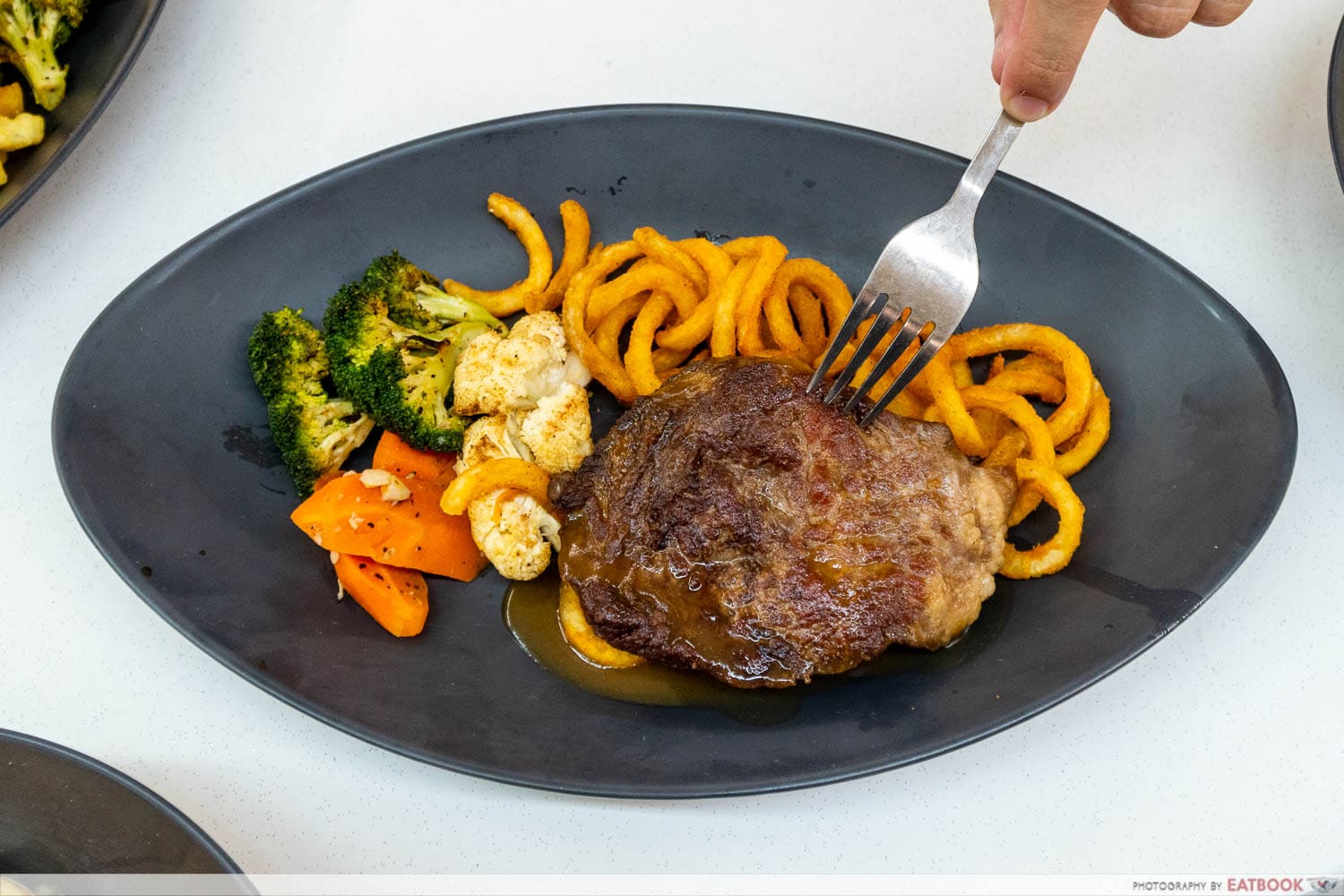 The middle-aged man, who didn't wish to be named, suggested we try the Seared Iberico Pork Chop ($12.80) instead. As promised, the Seared Iberico Pork Chop was indeed delicious. Grilled to a golden brown, the slab of meat had a flavourful caramelisation and was oozing with juices. There was also a smokiness that permeated the pork.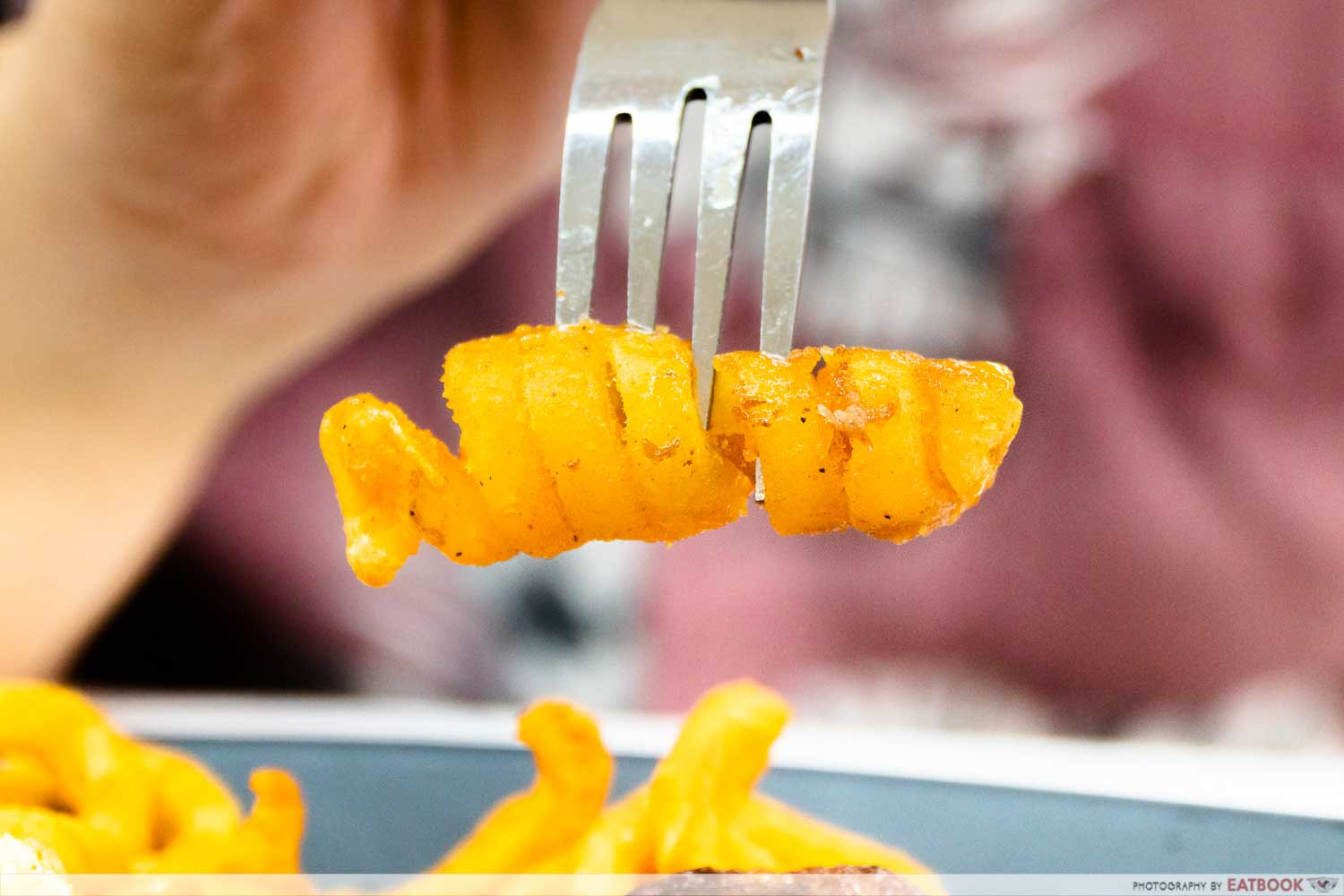 If you can't get enough of McDonald's Curly Fries, you'd be elated to know that Bold Bowls serves their pork chop with the curled potato bites. My colleague and I adored the salty treats, though we were sad that we didn't manage to unearth that coveted long curly fry.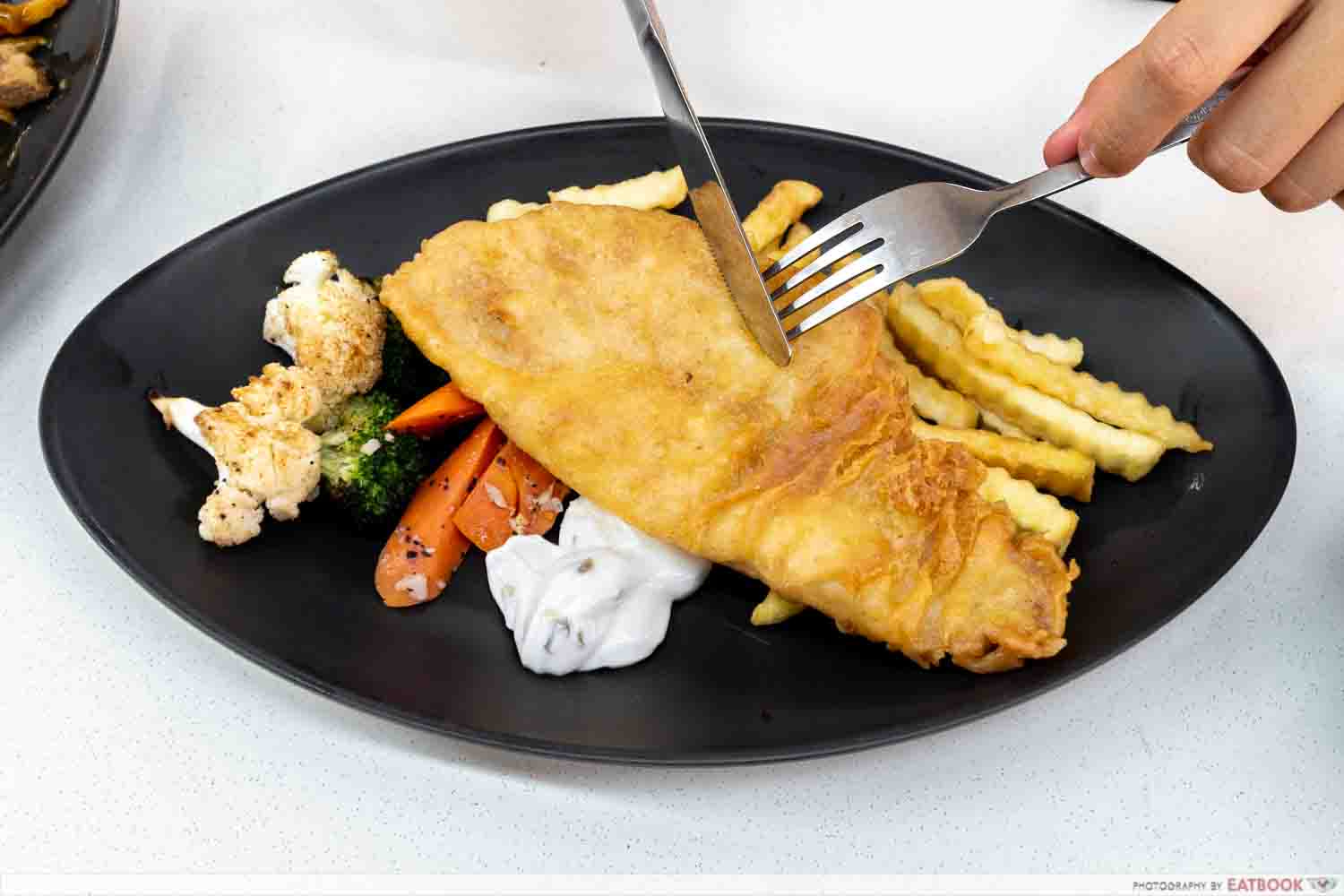 The Seared Iberico Pork Chop was a tough act to follow, but the Crispy Golden Fish & Chips ($7.60) managed to hold its own. A good battered fish and chips is quite difficult, in my opinion, to find at coffeeshops and hawker centres, but if that's what you're into, look no further than Bold Bowls.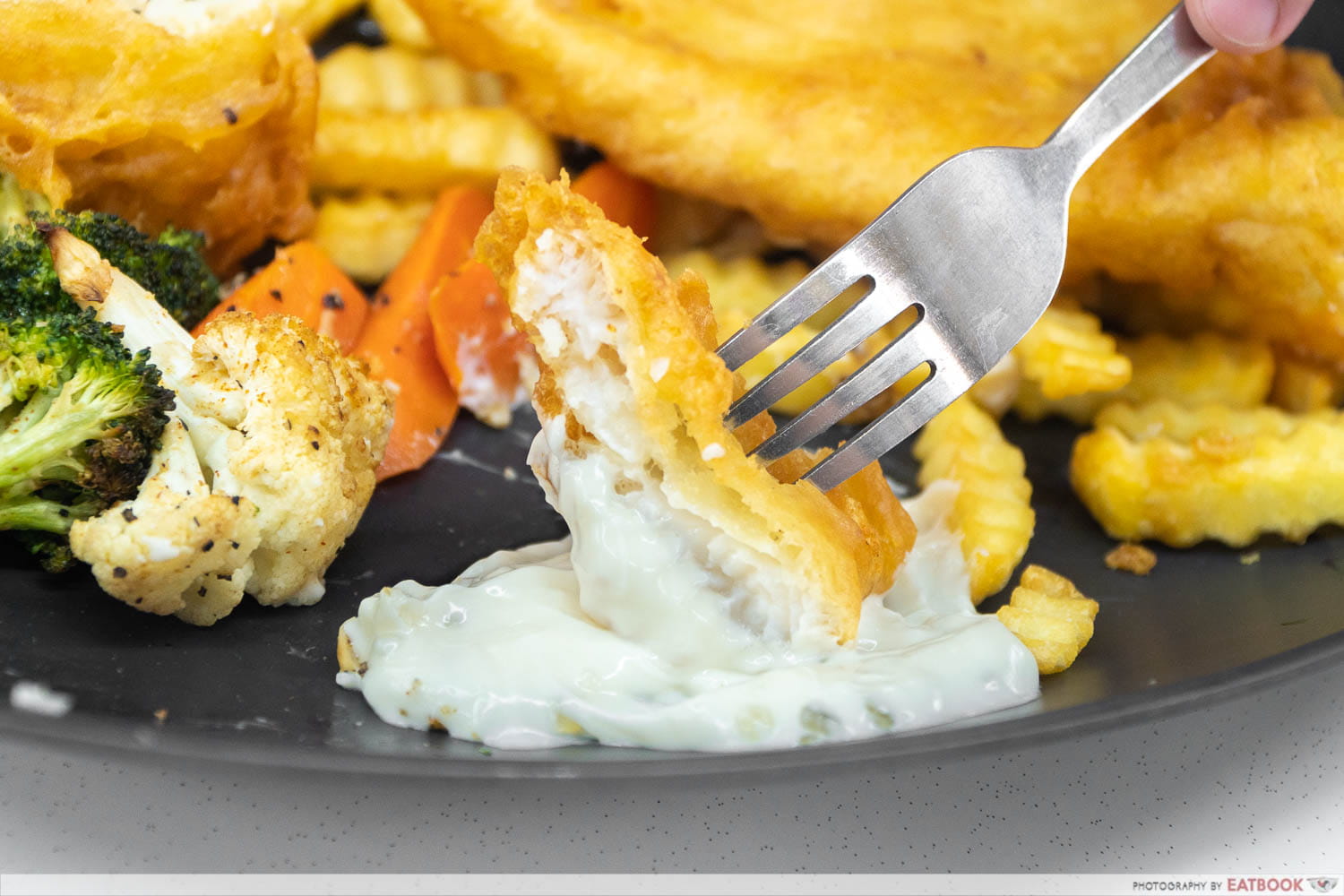 Deep-fried to a glorious golden, the batter here was light and crispy. I also appreciated that the dory was not at all greasy, and flaked apart with ease. It was a tad unfortunate, however, that the tartar sauce that accompanied the Crispy Golden Fish & Chips was not very fragrant, and was a tad too sour.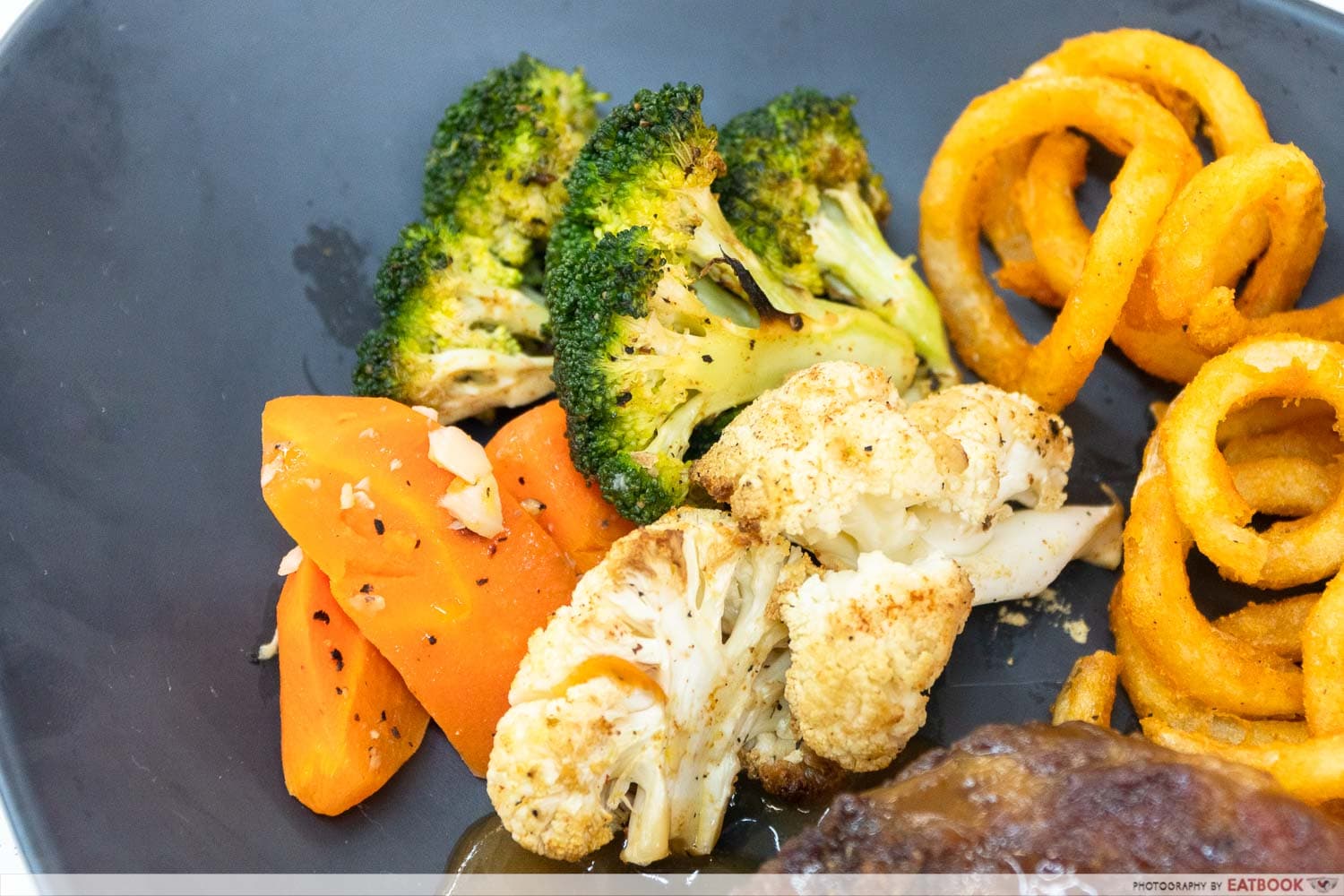 A side of sauteed mixed vegetables—broccoli, cauliflower, and carrots—accompanied the mains, which gave them a pop of colour and added healthy boost.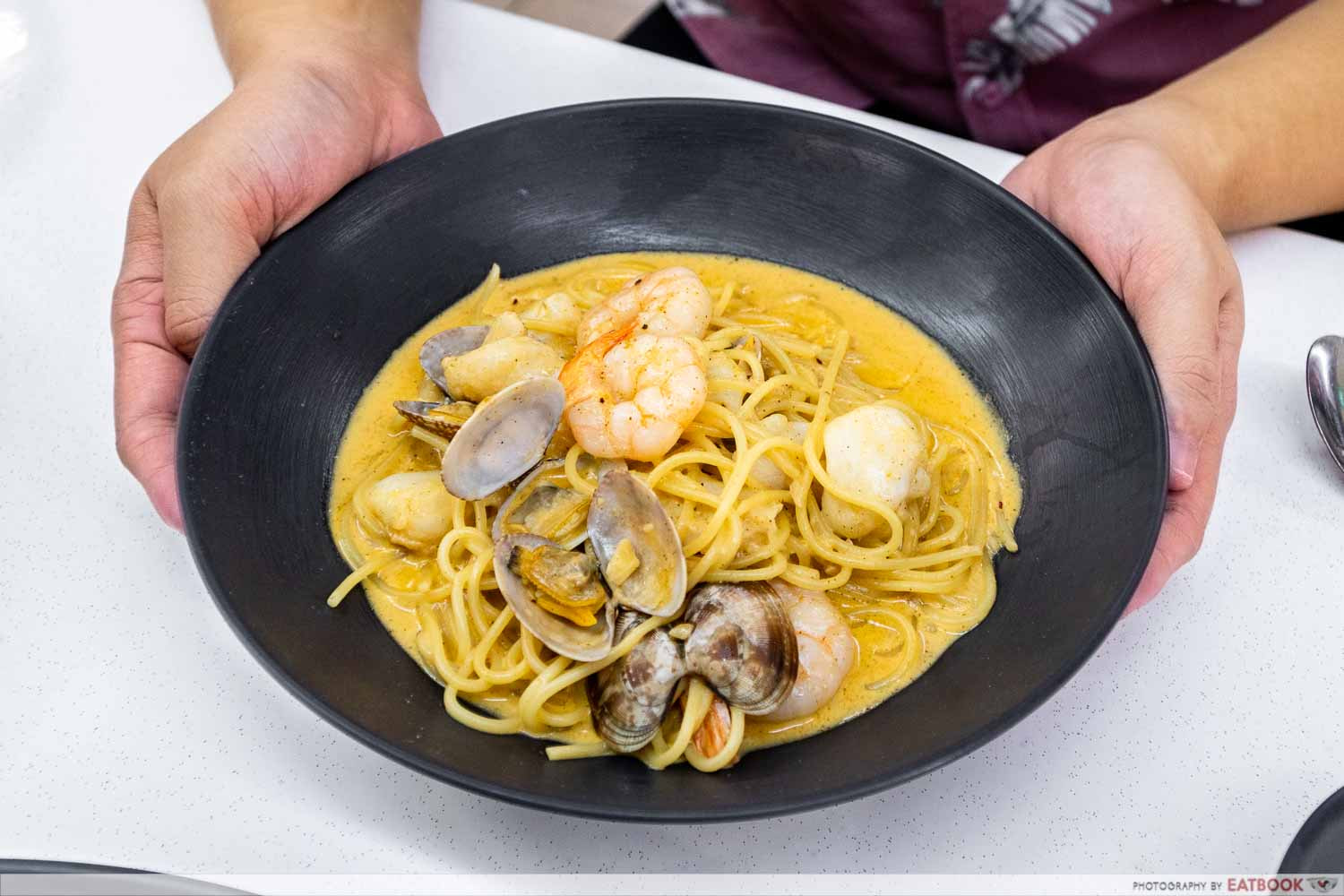 We also tried the Seafood Tom Yum Cream ($10.20), which came with a mountain of seafood. Prawns, fish, and clams were present in the pasta, and I found them to be of reasonable quality.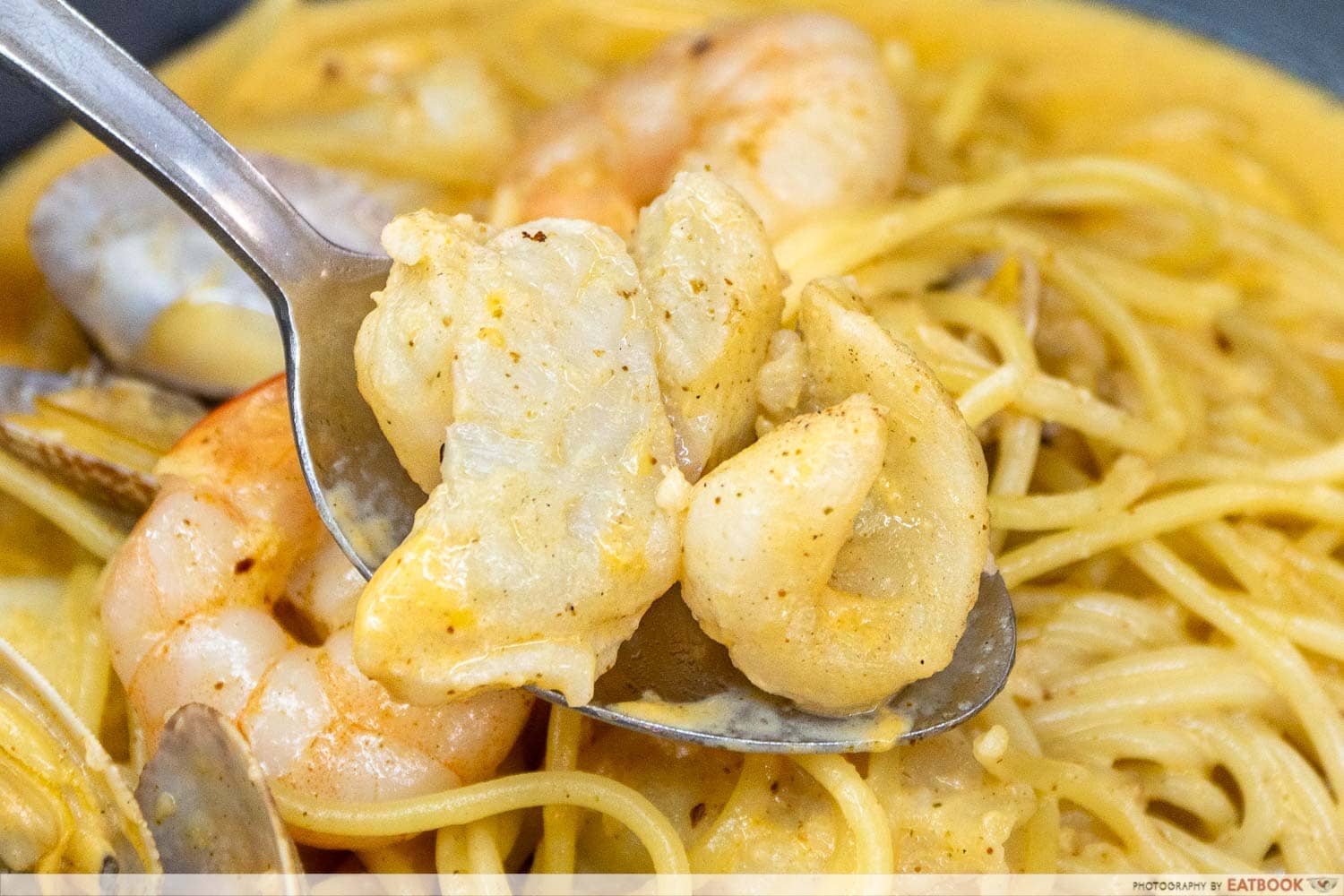 Though the portion of seafood was generous, it was the tom yum cream that was the star of the dish.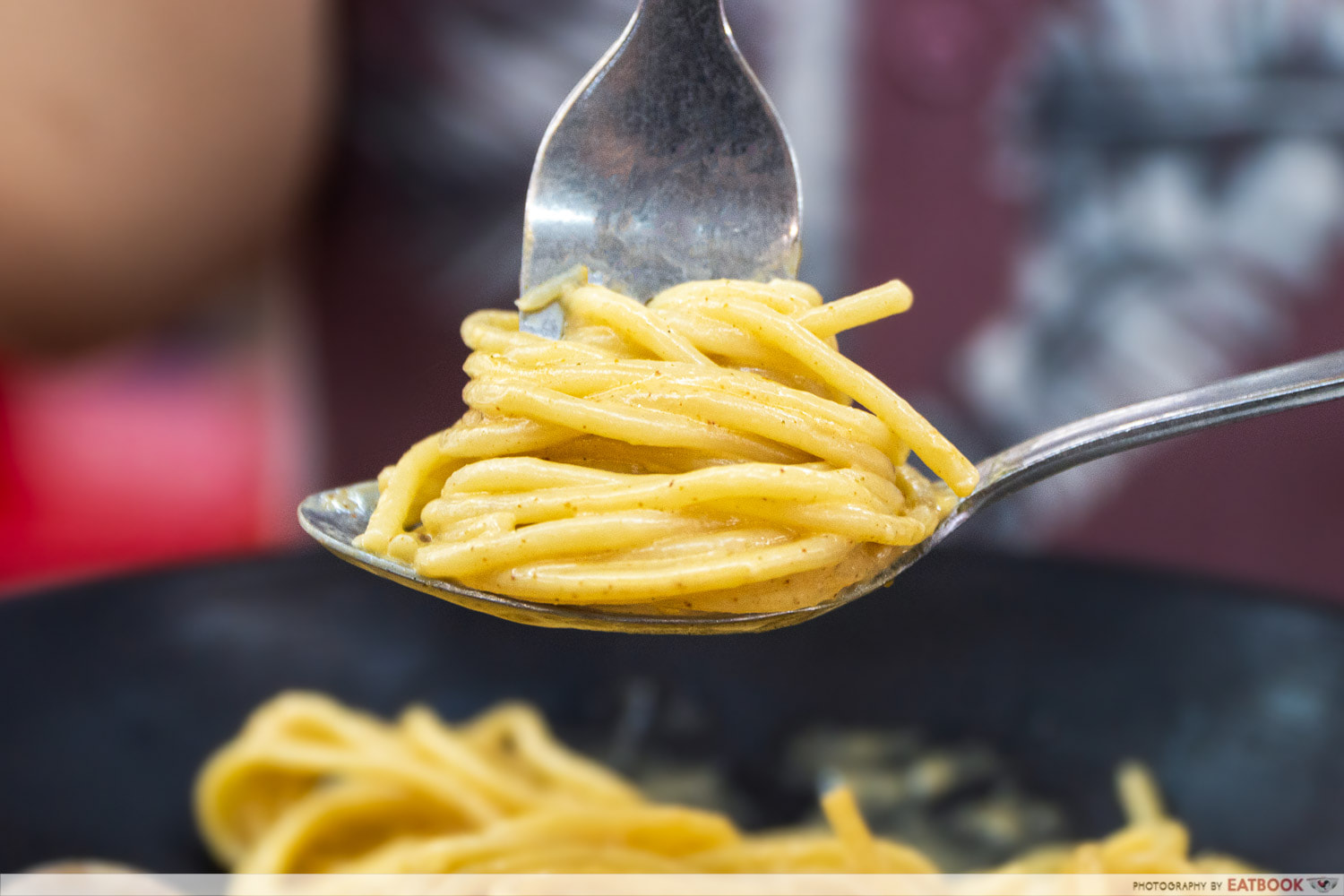 The sauce was lightly tinged with spice, and had an aromatic lemongrass fragrance. There were also tangy afternotes that helped brighten the dish. I only wish that the tom yum cream had been thicker, so that it could better coat the pasta.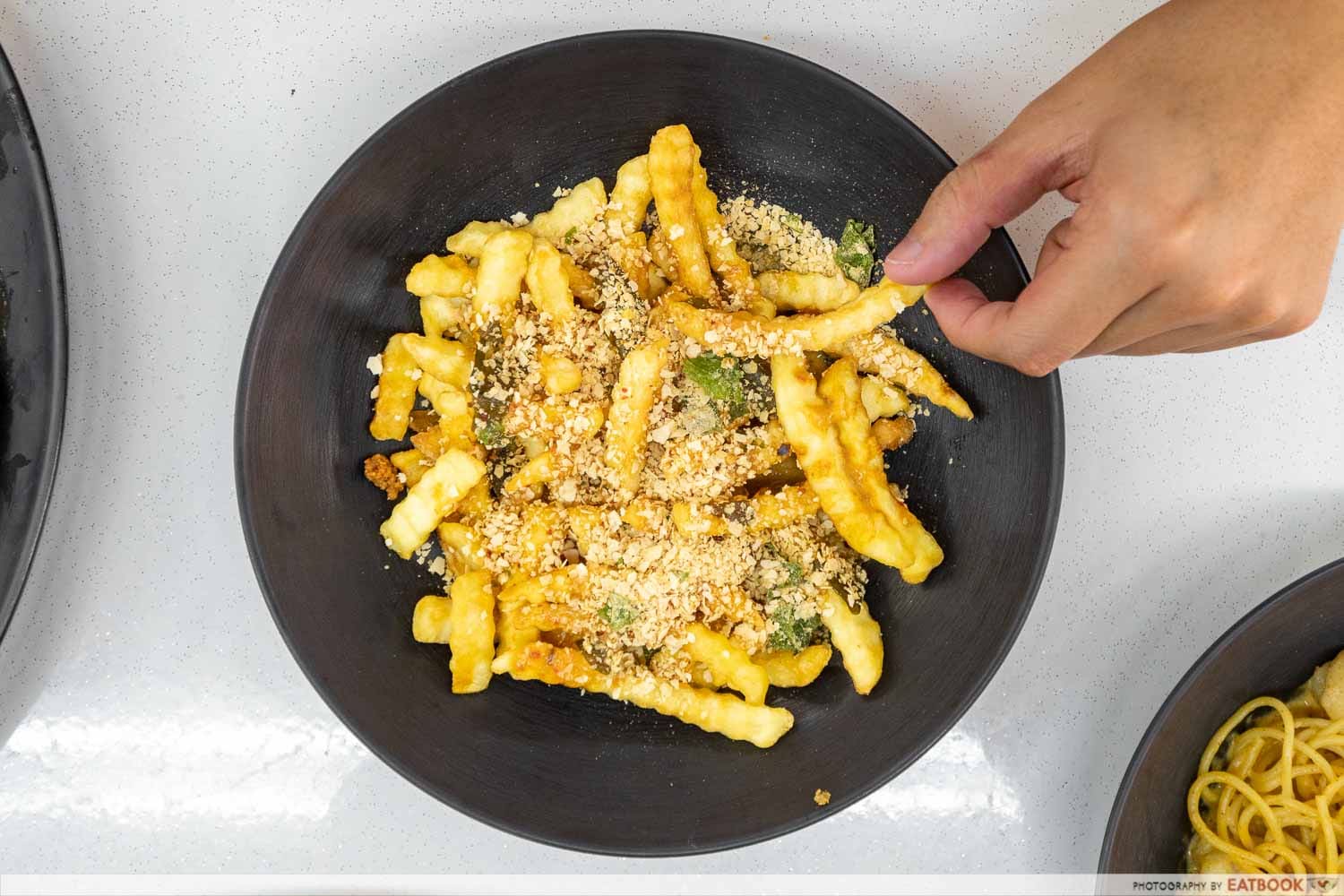 I'm a sucker for all things salted egg—except for salted egg yolk ice cream—so naturally, I had to order the Cheesy Salted Egg Yolk Cereal Fries ($5.50). At first glance, the fries seemed promising. They were crispy, and the ridges on the fries had captured the sauce quite adequately. However, the mishmash of flavours proved to be too clashing, and I felt that each element of the dish was competing for my attention.
Ambience at Bold Bowls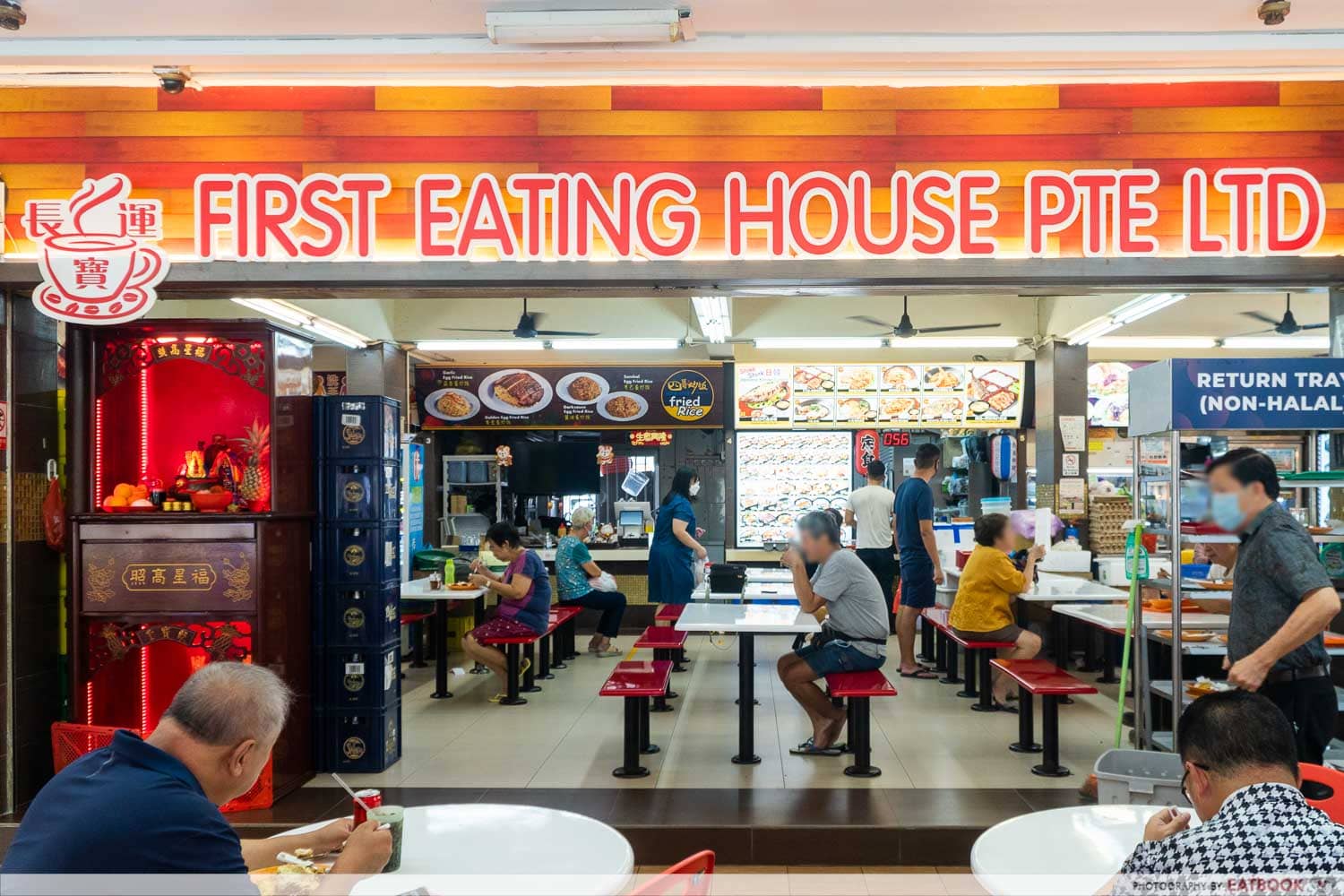 Located beside Geylang Bahru Market and Food Centre, Bold Bowls is a mere three-minute walk from Geylang Bahru MRT Station. Although the Western food store is tucked away in the corner of First Eating House, its orange signboard ensures that it is unmissable. 
Although most of the crowd flocks to the hawker centre, the remaining few that do choose to dine at this coffeeshop means that it can still be hard to find a space here come lunchtime. 
Visit Bold Bowls slightly later if you can, as the store now only opens after noon. We found out the hard way, after having headed down earlier in an attempt to beat the crowd. Alternatively, you can also phone in your takeaway order and pick it up when it's ready.
The verdict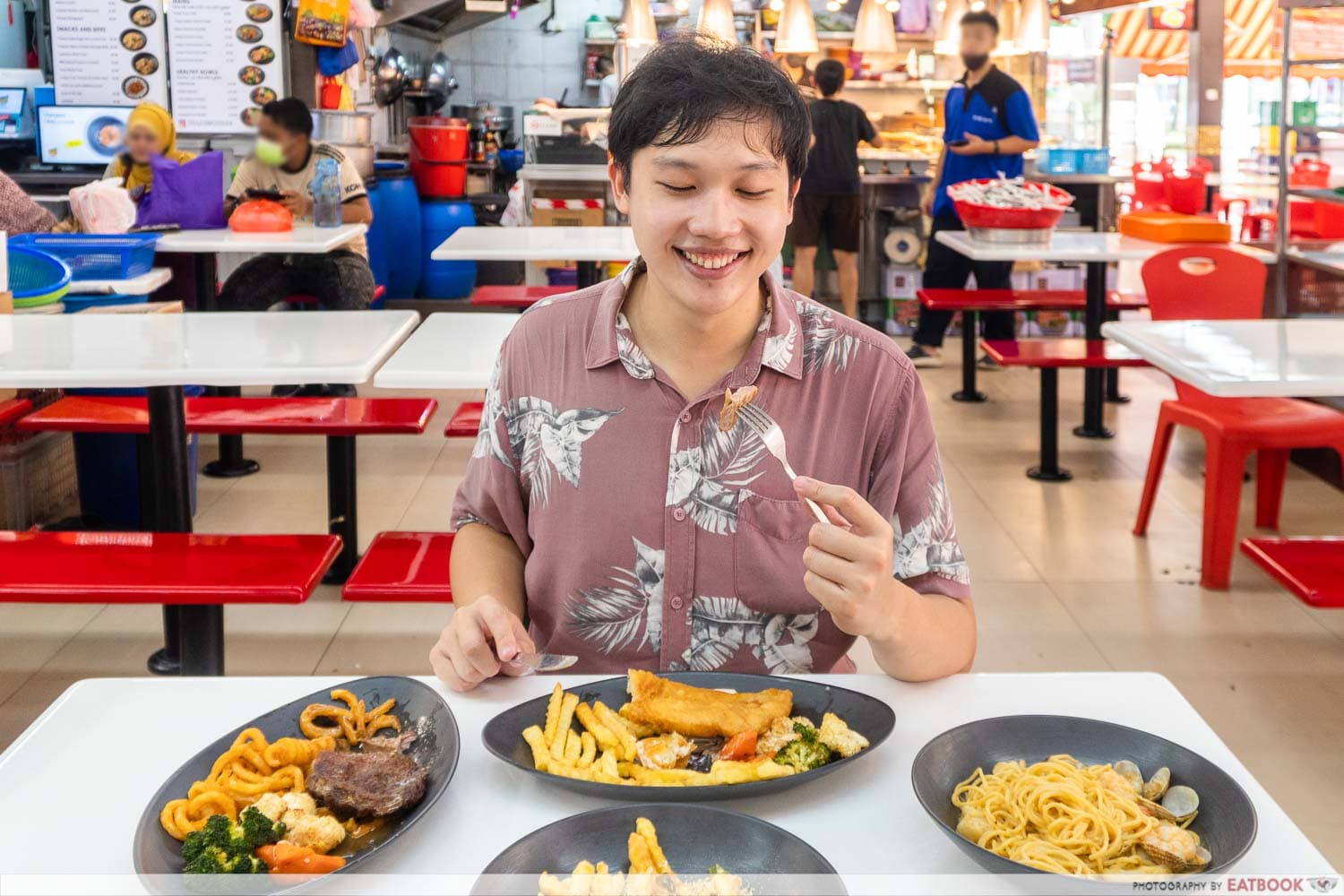 It's wholly unfortunate that the Baked Chicken Roulade has been taken off the menu, as it's a dish that is not commonly found at other stalls. That said, the other dishes here at Bold Bowls are not too shabby themselves. 
They haven't quite changed my perspective of hawker Western food, but if you're looking for alternatives to COLLIN'S or West Grill Station, I'd point you in the direction of the Seafood Tom Yum Cream and Seared Iberico Pork Chop.
For more Western fusion dishes, check out our Five Dragons at Waterloo Street for their unique mala chicken wings. Otherwise, if you prefer to keep things authentic, La Mensa serves up Carbonara done in the traditional way—without cream!
Address: 66 Kallang Bahru, #01-473, First Eating House, Singapore 330066
Opening hours: Daily 12pm to 9pm
Tel: 8899 5747
Website
Bold Bowls is not a halal-certified eatery.
La Mensa Review: Pasta Restaurant With Legit Bolognese And Carbonara Under $15 At Tanjong Pagar
Photos taken by Tanya Tham.
This was an independent review by Eatbook.sg
Bold Bowls Review: Western Food Stall With Affordable Iberico Pork Chop And Chicken Roulade
Bold Bowls Review: Western Food Stall With Affordable Iberico Pork Chop And Chicken Roulade -

7/10
Summary
Pros
– A lot of seafood in the pasta
– Iberico pork chop was seared beautifully
Cons
– Salted egg flavour in fries tasted mild
– Pasta sauce was a bit too watery
Recommended dishes: Seafood Tom Yum Cream ($10.20), Seared Iberico Pork Chop ($12.80)
Opening hours: Daily 12pm to 9pm
Address: 66 Kallang Bahru, #01-473, First Eating House, Singapore 330066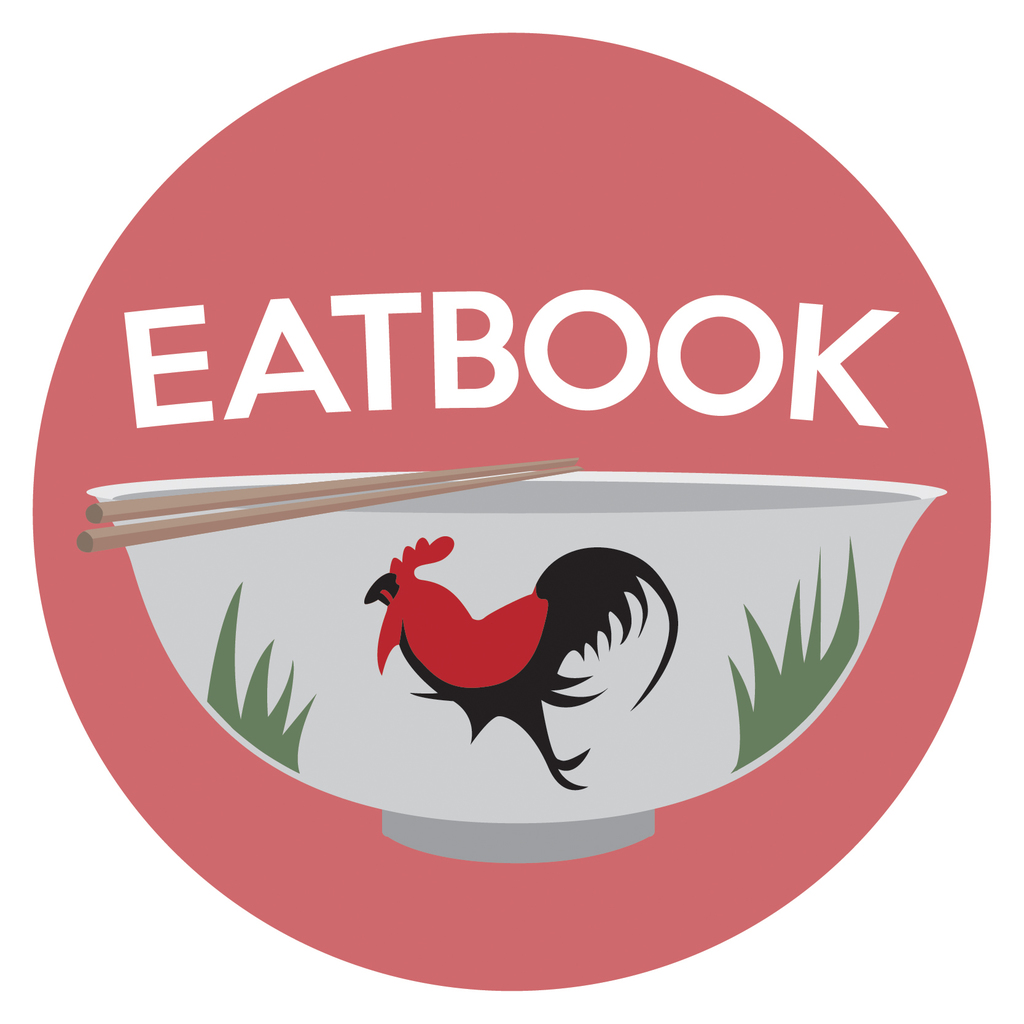 Drop us your email so you won't miss the latest news.