---
Toa Payoh – Where Hipster Cafes Meet Old School Hawker Food
---
This bustling heartland is full of stories, traditional businesses, and of course, food. You'll find almost everything here from small hawker stalls that have been around for the last few decades to trendy coffee joints that look like they belong to the hipster enclave at Duxton. There is something for everyone right here at Singapore's largest housing estate, but here are our top finds in the area:
---
1.Teochew Handmade Bao
---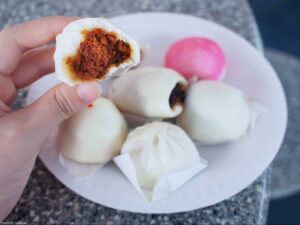 These bite-sized Teochew delights may be small, but they are full of delicious fillings, like char siew, braised pork, and red bean. My favourite is the Kou Rou Bao ($0.60) with its flavourful tender fatty meat being a perfect match for the fluffy and soft bun. These baos are also incredibly versatile, and they can easily go from breakfast fare to homely party 'petits-fours'.
Opening hours: Tue – Sat: 6am – 2pm, Sun: 6am – 12pm
Address: #02-02 Toa Payoh Blk 127 Market & Food Centre, Toa Payoh Lor 1, Singapore 310217
---
2.Shrove Tuesday
---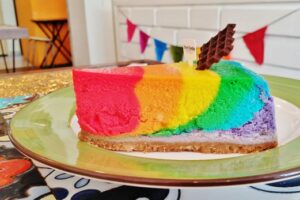 Source
To Catholics, Shrove Tuesday is a day of feasting and decadence before Lent. But now, everyone can participate in such indulgence all day, every day at Shrove Tuesday. This cosy little cafe and bakeshop not only sells waffles ($5) and homemade ice-cream ($3 for a single scoop), they also dish out beautiful baked goods like this rainbow cheesecake ($7).
Opening hours: Sun – Thu: 12pm – 10pm, Fri & Sat: 12pm – 11pm
Address: Block 94 Lorong 4 Toa Payoh #01-32, Toa Payoh, Singapore 310094
---
3.Chey Sua Carrot Cake
---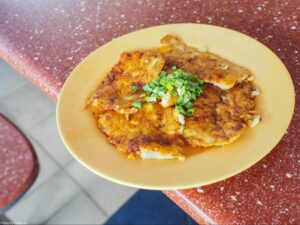 This popular carrot cake stall at the Block 127 Market is a one-woman show, so expect a long wait up to 30 minutes on weekends. Unlike most other carrot cake places, Chye Sua's carrot cake ($2/3/4) looks more like a carrot pan-cake, with the crisp egg gelling the fragrant radish cake together. The textural contrast of the crispy exterior, tender insides, and crunchy chye poh is heavenly – probably the reason why people are willing to queue so long for this.
Opening hours: Tue – Sun: 6am – 1pm
Address: #02-30 Toa Payoh Blk 127 Market & Food Centre, Toa Payoh Lor 1, Singapore 310217
---
4.Creamier
---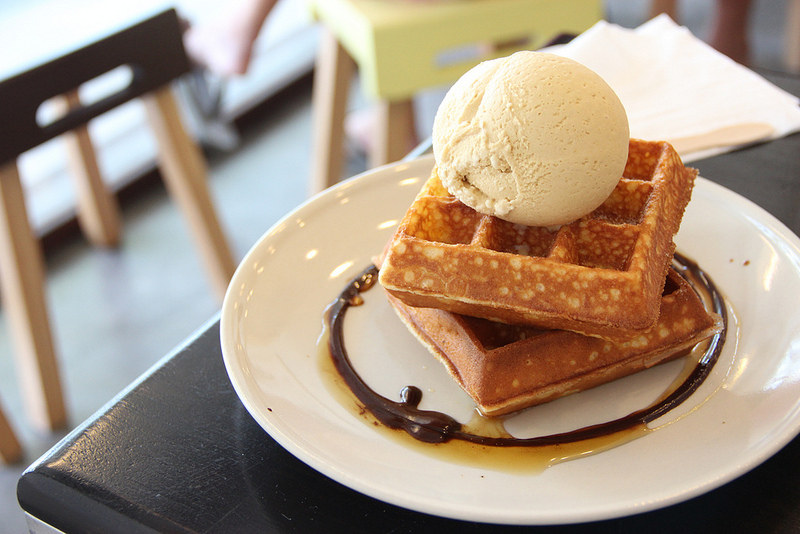 Source
With its never-ending crowd, even at the most peculiar hour on a weekday, Creamier is possibly Toa Payoh's best loved waffle corner. Every trip there is guaranteed a happy belly with their crisp, fluffy waffle and spoonfuls of luscious ice-cream ($7.50). Waffle fans can check out our Waffle Guide on more places to satisfy your waffle cravings!
Opening hours: Tue – Thu: 12pm – 10pm, Fri & Sat: 12pm – 11pm Sun: 12pm – 10pm
Address: #01-835 Blk128, Toa Payoh Lorong 1 Singapore 310128
---
5.Tian Tian Lai Hokkien Mee
---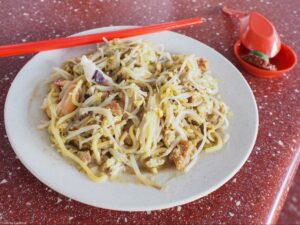 There's a good reason why this hokkien mee stall is known not just in Toa Payoh but throughout Singapore. The stock flavouring the noodles is robust and full of heady prawn flavour. The fragrance of sinful lard also permeates the dish. This together with the abundance of fresh seafood and a sedap chili creates a recipe for success… and a long wait, especially on weekends. 
Opening hours: Tue – Sun: 930am – 9pm
Address: #02-27, Toa Payoh Blk 127 Market & Food Centre, Toa Payoh Lor 1, Singapore 310217
---
6.The Daily Press
---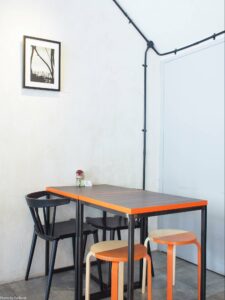 The Daily Press is one of the newer establishments at this corner of Toa Payoh. It's cosy layout make it a great place to hang out with friends on a quiet weekday afternoon. Say goodbye to jostling for a seat at one of the franchise coffee chains in town, and head drop by The Daily Press instead. After all, Toa Payoh is only six minutes away from town.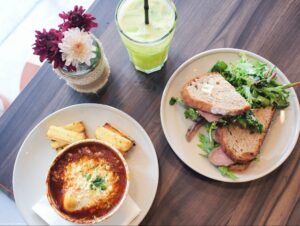 The affordable food menu here largely comprises of unique sandwiches and a range of hearty sides like the baked egg with polenta fries ($9). We thoroughly enjoyed the roast beef sandwich ($15) which came with generous amounts of tender meat and rocket leaves tossed in sesame oil.
Opening hours: Tue – Sun: 1030am – 930pm
Address: #01-561 Blk 126, Toa Payoh Lorong 1 Singapore 310126
---
7.Uncle Gen's Hong Kong Cuisine
---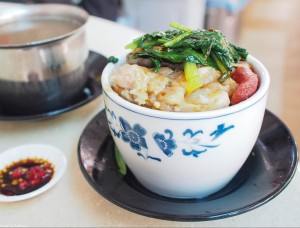 One of the most popular haunts at Lorong 4 would be this traditional Cantonese food stall that serves Hong Kong style steamed rice and soups. Their Chicken and Salted Fish Steamed Rice ($4) is a combination of tender chicken, fragrant vegetables, and briny salted fish steamed together to create the ultimate comfort food. Their soups ($4) are also lovingly made with a whole medley of nourishing ingredients. Best way to beat the haze that will plague us till next year!
Opening hours: 6am – 12pm
Address: #01-03, Blk 74 Food Centre, Toa Payoh Lor 4 Singapore 310074
---
8.Lau Sim Shredded Chicken Noodles
---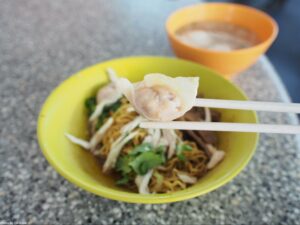 Don't be put off by the gruff couple manning this stall. Their fish dumplings and bouncy fishballs are worth the attitude! Served alongside lard and chili coated noodles, the fish dumplings boast translucent and chewy skin that encase a moist, fragrant filling.
Opening hours: Tue – Sun: 730am – 2pm
Address: #02-01, Toa Payoh Blk 127 Market & Food Centre, Toa Payoh Lor 1, Singapore 310217
---
9.Frozen By A Thousand Blessings
---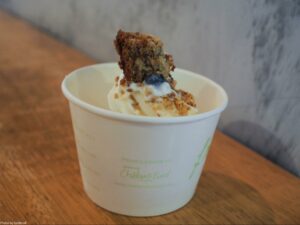 This frozen yogurt chain from Australia has set up their first outlet at Toa Payoh. Unlike a certain overrated froyo chain we mentioned in our most overrated food trends article, the frozen yogurt at Frozen by a Thousand Blessings is fabulous.  It is tart but creamy, flavourful but not artificial tasting, and you can choose from the most amazing range of toppings! Think granola, flaxseed, mochi, and even sinful little bites like brownies, banana cake, and cheesecake.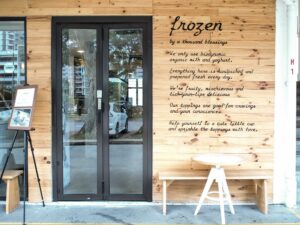 Opening hours: Mon – Sun: 530pm – 11pm
Address: #01-25 Blk 75, Lorong 5 Toa Payoh Singapore (S)310075
---
10.Hougang 6 Mile Famous Muah Chee
---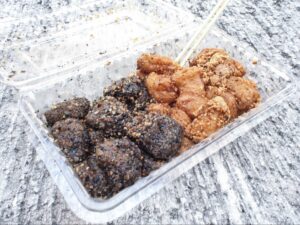 $3.50 for Muah Chee is slightly pricey, but anything for this interesting variation of black sesame muah chee I've yet to see in other places. The sticky glutinous rice dough was soft and chewy, but not too tough, and had a pleasant nutty aroma from the black sesame. I didn't think I would like it better than the original peanut version, but life is indeed full of surprises.
Opening hours: Daily, 12pm – 10pm
Address: #B1-01 Gourmet Paradise, HDB Hub 480 Lorong 6 Toa Payoh Singapore 310480
---
11.JQ Chef Cafe
---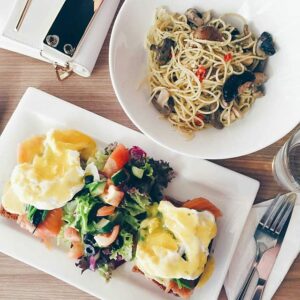 Source
One of the newest additions to the ever-growing cafe scene in Toa Payoh is JQ Chef Cafe, named after Chef Johnny Quek. The concise menu here of eggs and pasta will make ordering hassle-free. You won't go wrong with the Eggs Royale ($11.90) – the eggs are poached to perfection, the hollandaise is perfumed with tinge of acidity, and the smoked salmon comes in generous amounts. This place is definitely going to get a spot on our list of affordable brunch places in Singapore!
Opening hours: Mon – Fri: 1130am – 4pm, 5pm – 10pm, Sat & Sun: 1130am – 10pm
Address: #01-428 Blk 186, Toa Payoh Central Singapore 310186
---
12.Soon Heng Rojak
---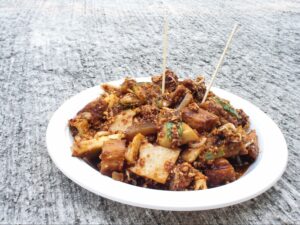 This non-descript stall at the basement food court of HDB Hub always has a long, snaking queue of hungry campers waiting to get their hands on a plate of freshly tossed rojak. Even people like me who aren't particularly fond of rojak now understand what the hype is all about. $4 bought me a generous mix of cuttlefish, pineapple, turnip, and youtiao drenched in an avalanche of tamarind gravy and peanuts. Here's a tip though: ask for less sugar!
Opening hours: Daily, 11am – 10pm
Address: #B1-23 Gourmet Paradise, HDB Hub 480 Lorong 6 Toa Payoh Singapore 310480
---
13.Ban Mian at J99 Eating House
---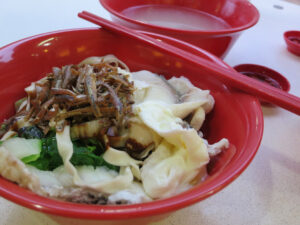 Source
We found the ultimate bowl of dry ban mian at Whampoa Market in our Balestier Guide, but the dry ban mian at this popular stall at Blk 186 is a decent alternative if Whampoa is too inconvenient. This bowl of sliced fish ban mian ($4) has springy thick noodles and sliced fish tossed in an aromatic black sauce, before being topped with a generous amount of fried anchovies. Great for people who don't want to sweat it out over a bowl of noodle soup.
Opening hours: Daily, 10am – 9pm
Address: #01-406 J99 Eating House, Blk 186 Toa Payoh Central Singapore 310186
---
Come To Toa Payoh For Great Food
---
This heartland is located right smack in the middle of Singapore, so listen to the calls of your hungry belly and head down for a feast right now!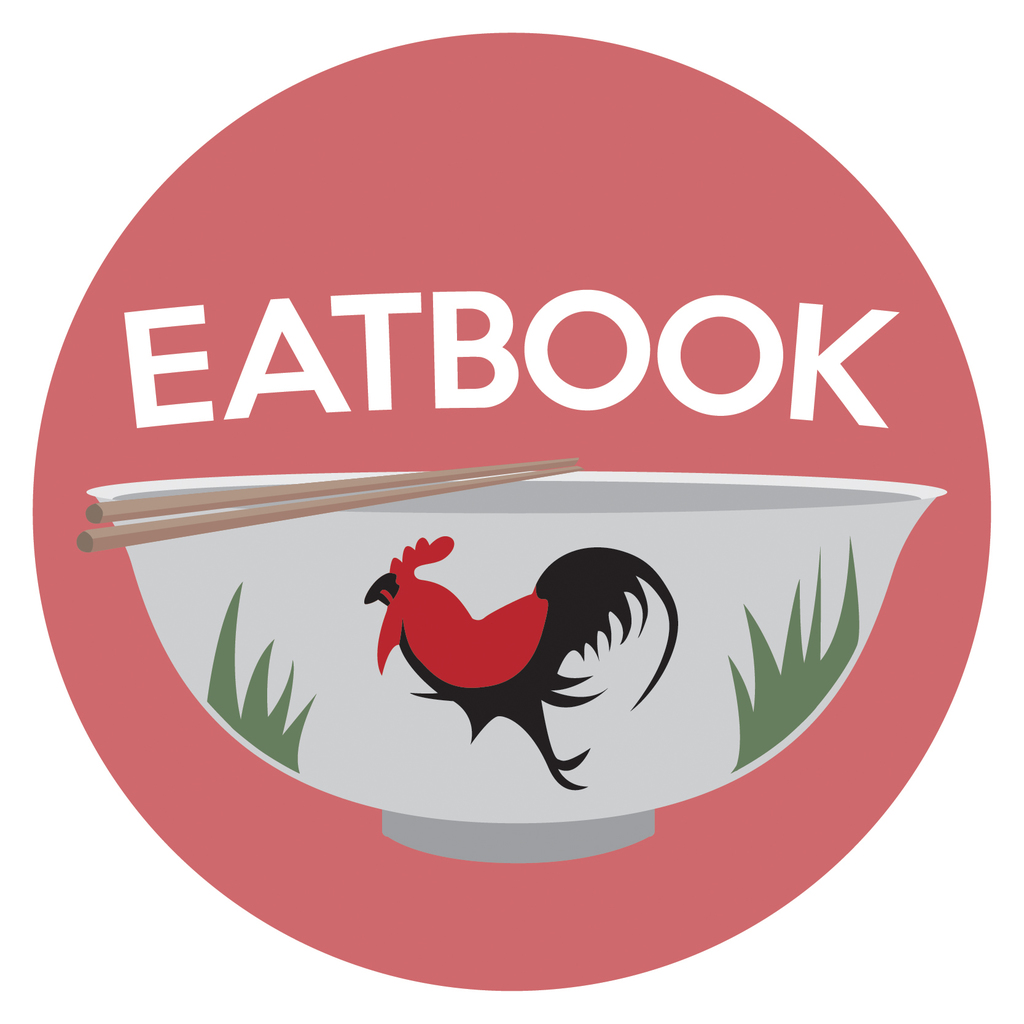 Drop us your email so you won't miss the latest news.