Jyu Gae Bistro offers Taiwanese food at Bras Basah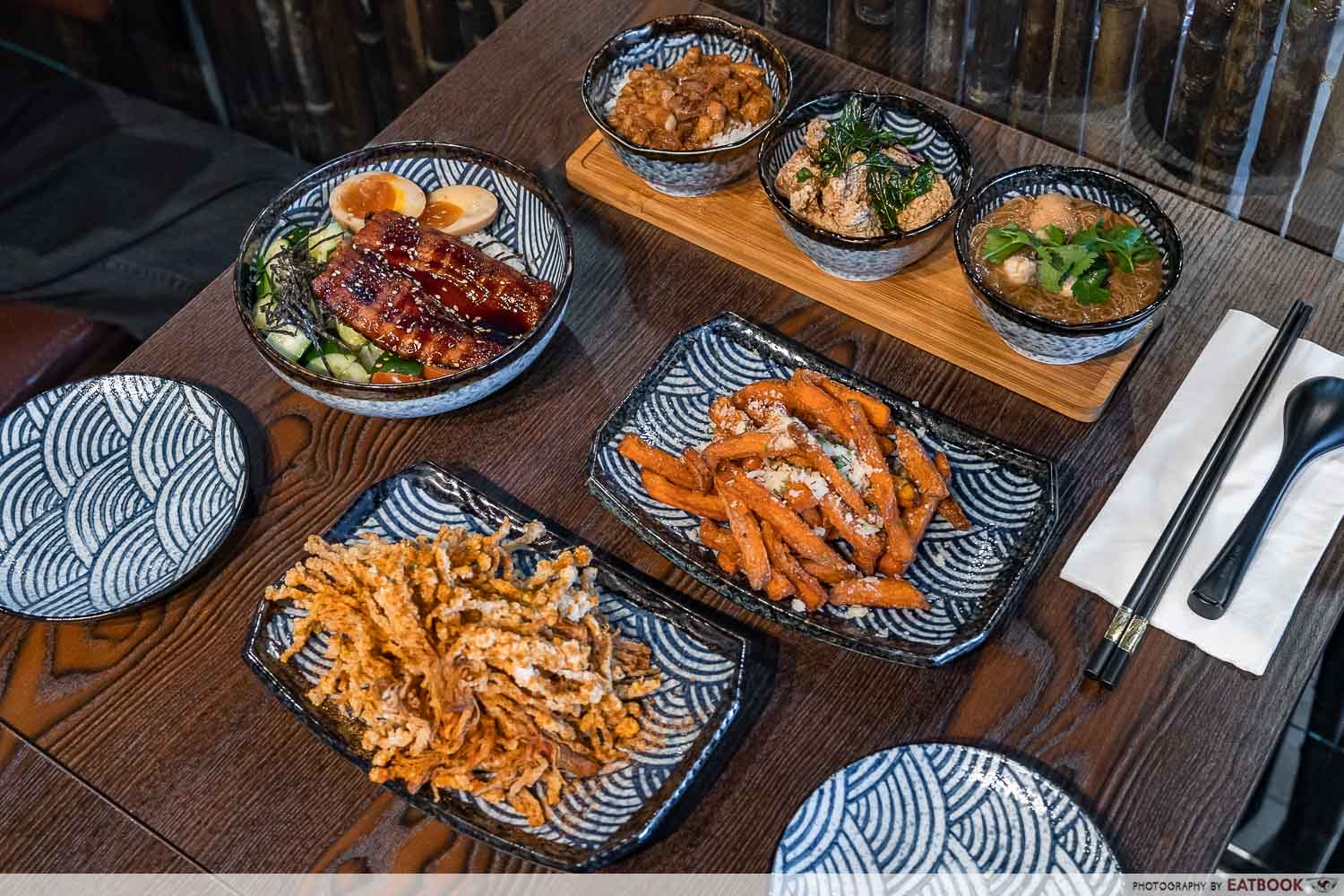 While Taiwanese eateries are aplenty in Singapore nowadays, few offer a blend of charms quite like Jyu Gae Bistro does. Located on the ground floor of Lazada One, this newly opened bistro is several things at once: a good breakfast spot, a restaurant for a hearty meal, a cosy bar, and a venue for enjoying live music.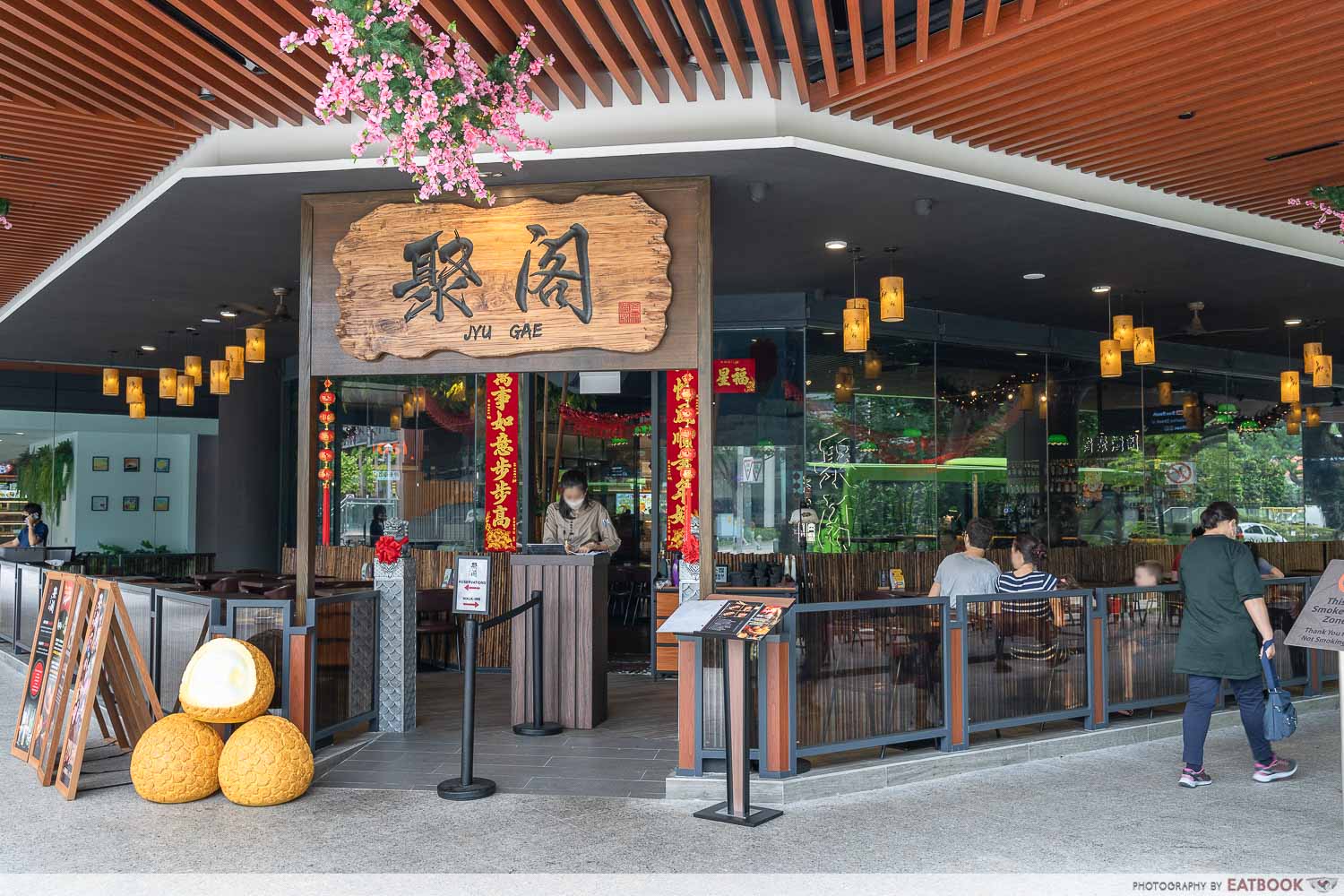 Food-wise, Jyu Gae Bistro offers an impressive range of eats. Though their breakfast dishes—which include fare such as Taiwanese egg crepes and milk toasts—are tantalising options, this review will focus on the items more suitable for lunch or dinner.
12 Taiwanese Food Places In Singapore Serving Lu Rou Fan, XXL Mee Sua And More
Food at Jyu Gae Bistro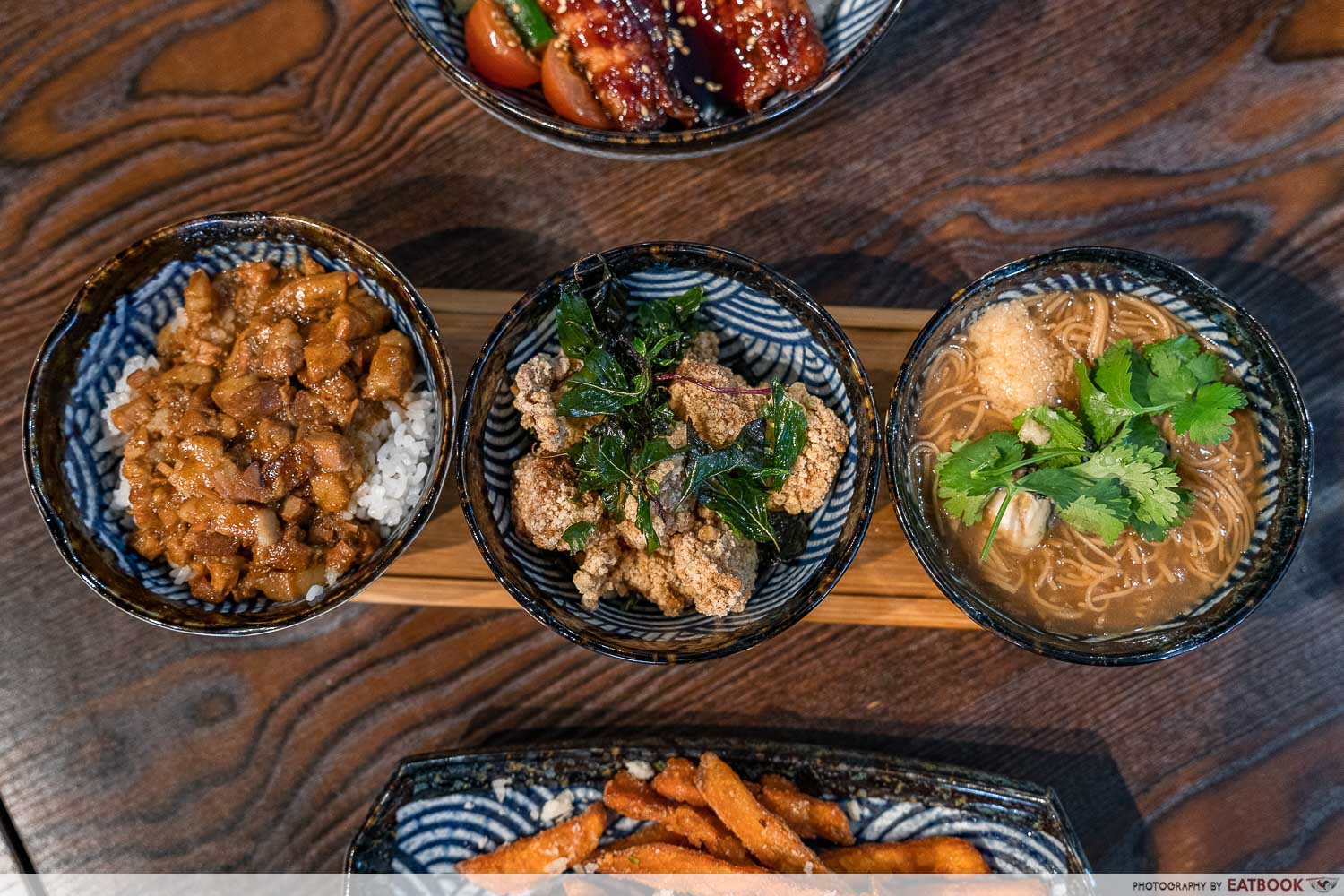 There's no better place to start than the Jyu Gae equivalent of a greatest hits record: the Signature 3 Bowl Set ($16.90++). This set is suitable for one person, and features small portions of three Taiwanese classics—lu rou fan, oyster mee sua, and popcorn chicken.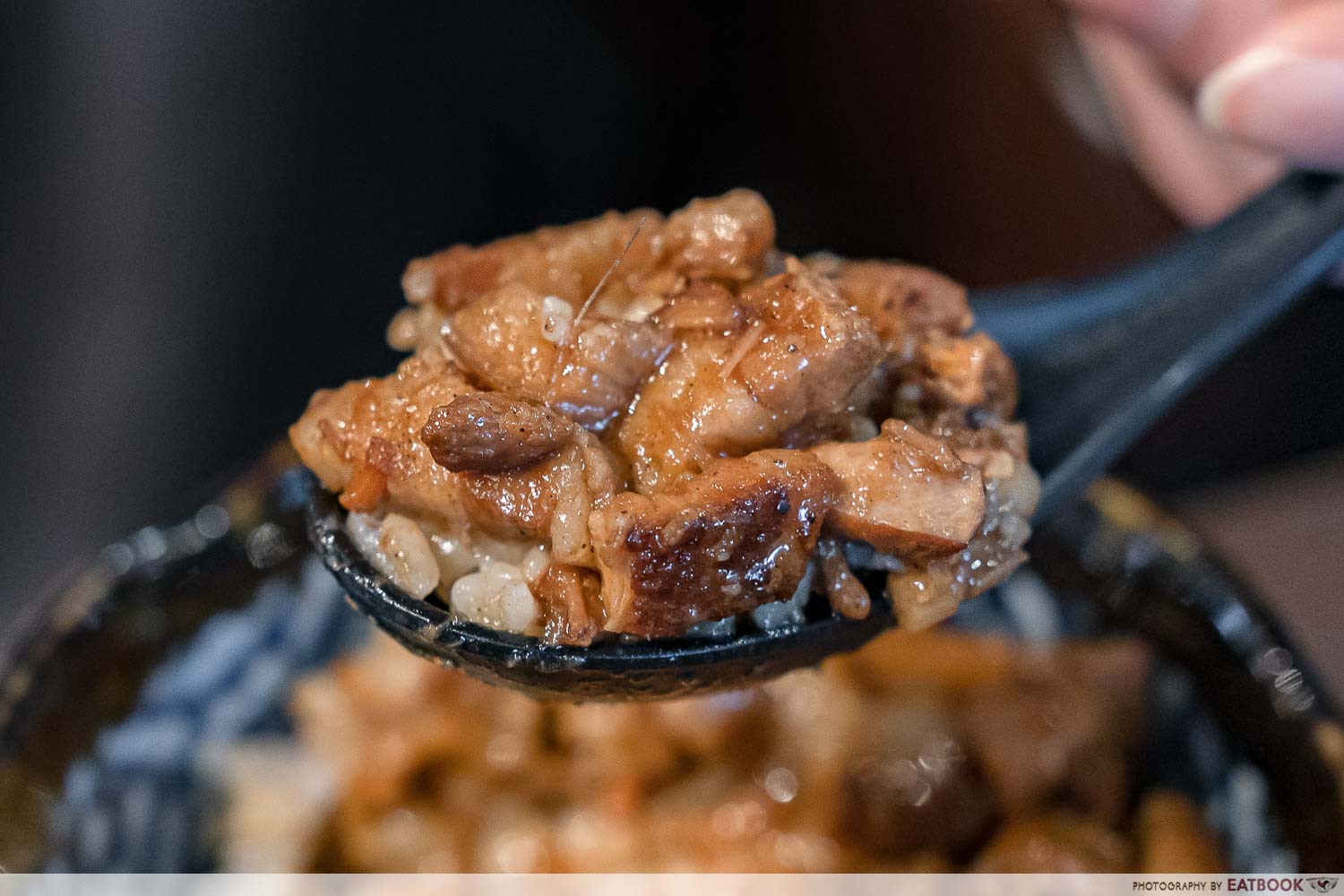 Good lu rou fan requires aromatic and flavourful braising sauce, juicy pork, and fluffy pearl rice. Jyu Gae delivers on all three fronts, and I have to specially commend the braising sauce, which was well-balanced yet highly addictive.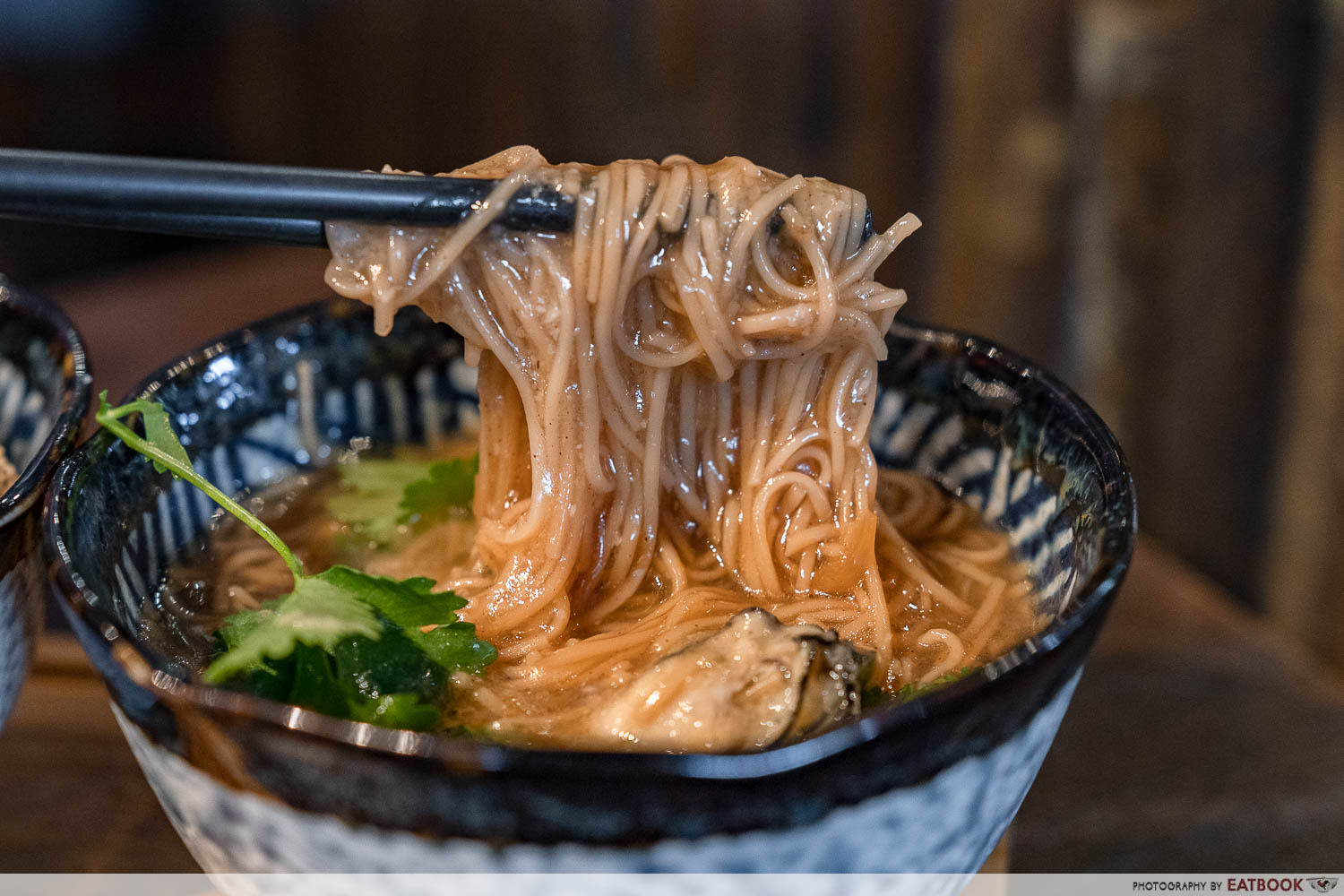 The oyster mee sua, meanwhile, was a bit of a mixed bag. While I loved how plump and juicy the oysters were, the gooey broth, which should be full of umami, was instead quite bland. This made the starchy vermicelli noodles a dull affair.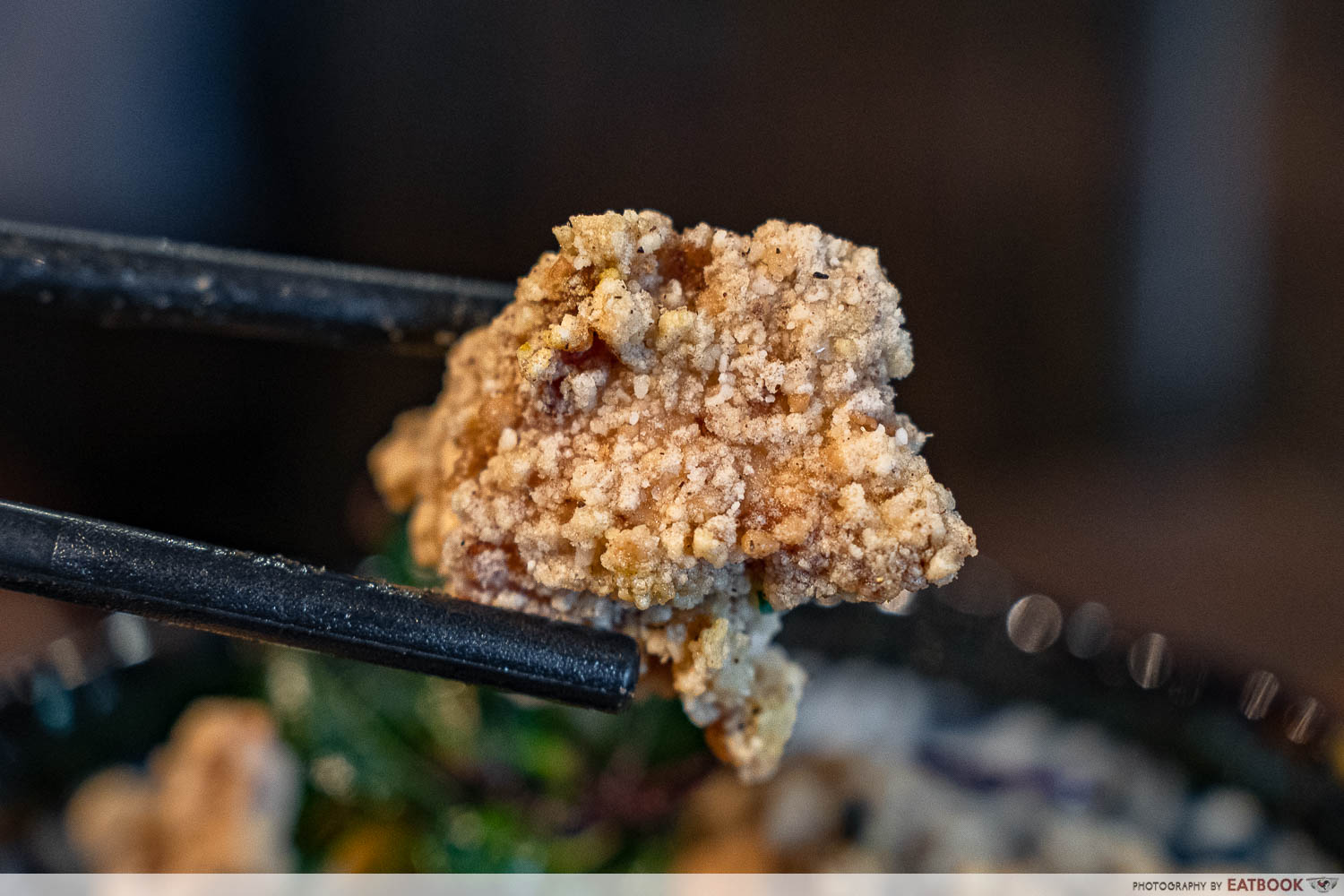 But that slack was picked up by the popcorn chicken. You're allowed to choose between original, spicy, and mala flavours for this dish, and here we went for the first option. Each piece of crispy chicken was reasonably juicy, and packed a savoury punch, courtesy of the generous salt and pepper seasoning.
Up next was the Pan-Seared Teriyaki Unagi Rice Set ($19.90++), one of the more Japanese-inspired dishes on the menu.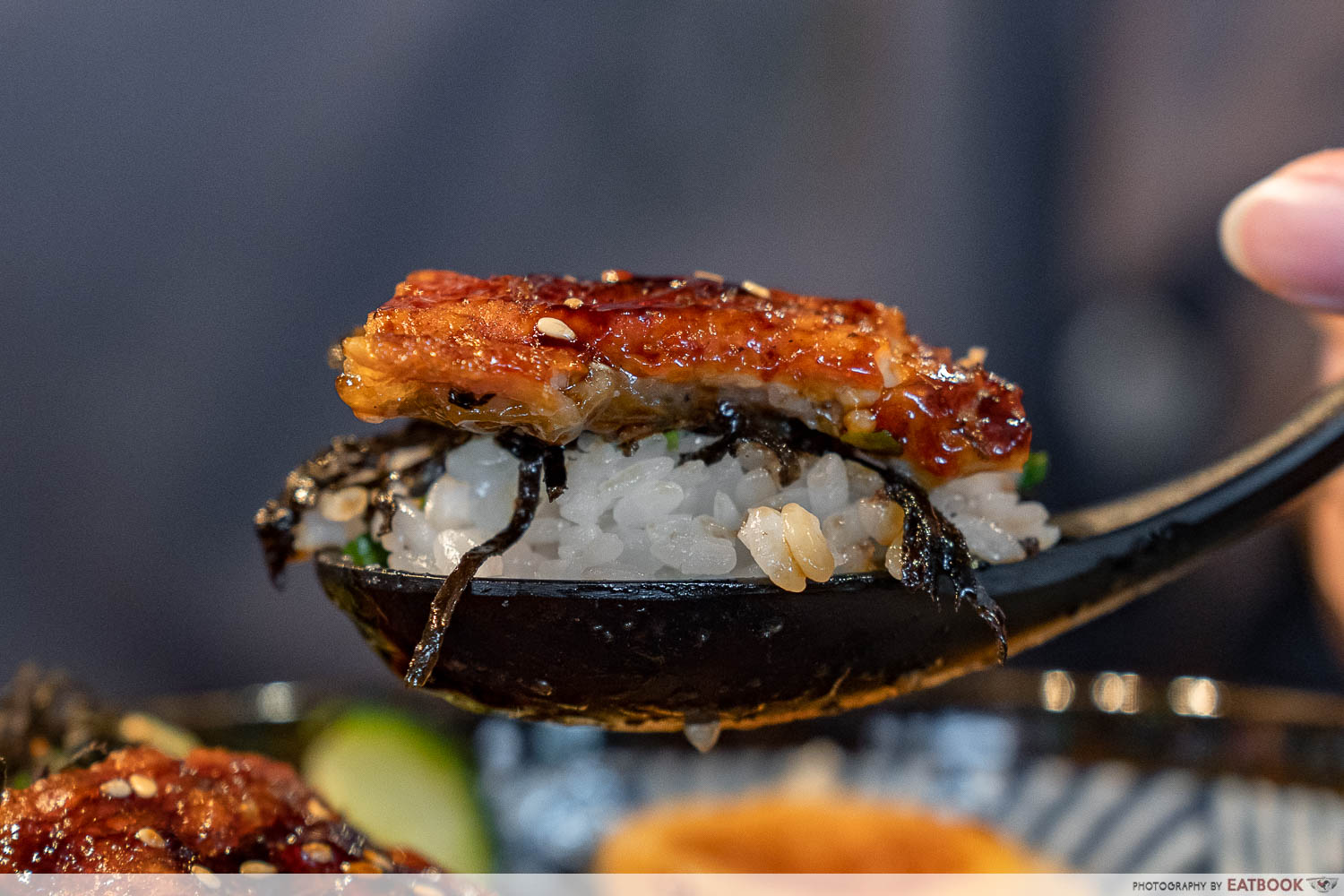 Though the unagi was relatively sizeable, juicy, and well-marinated, it had one major flaw—the meat was too tough. I'll give it the benefit of the doubt that it's just an issue with my bowl, however, as the other elements, including the moist rice and savoury ajitsuke eggs, were pretty solid overall.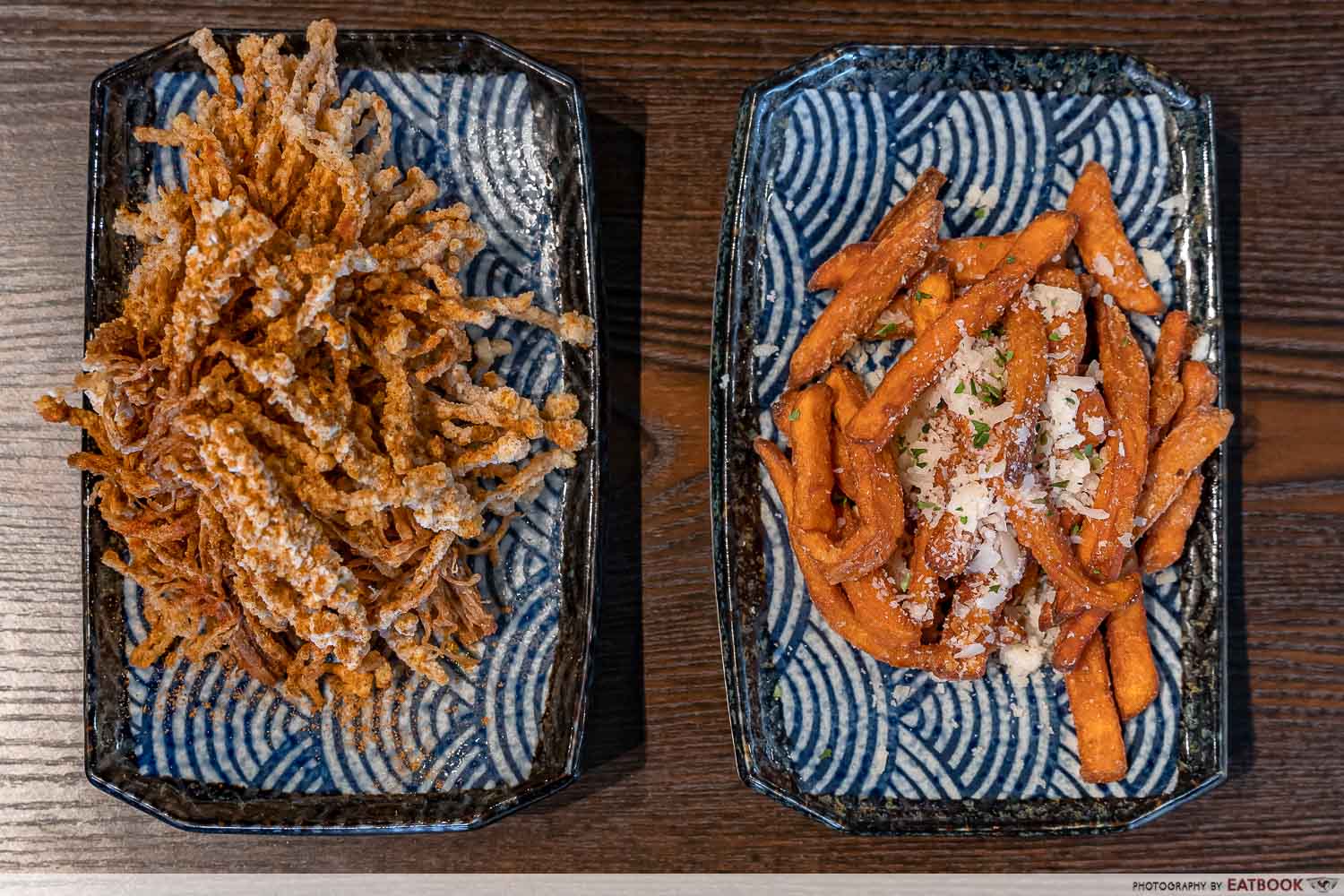 Jyu Gae has some really good sides, too. We recommend the Truffle Sweet Potato Fries ($9.90++), which were these crispy-on-the-outside, fluffy-on-the-inside fries  enhanced by the flavour of sweet potato and the irresistible aroma of truffle. The Crispy Deep-Fried Enoki Mushrooms ($9.90++) is wonderful, too, especially when you choose mala seasoning to go with it.
Interestingly, a lot of Jyu Gae's desserts are made by KAZO, a franchise that specialises in Taiwanese pastries.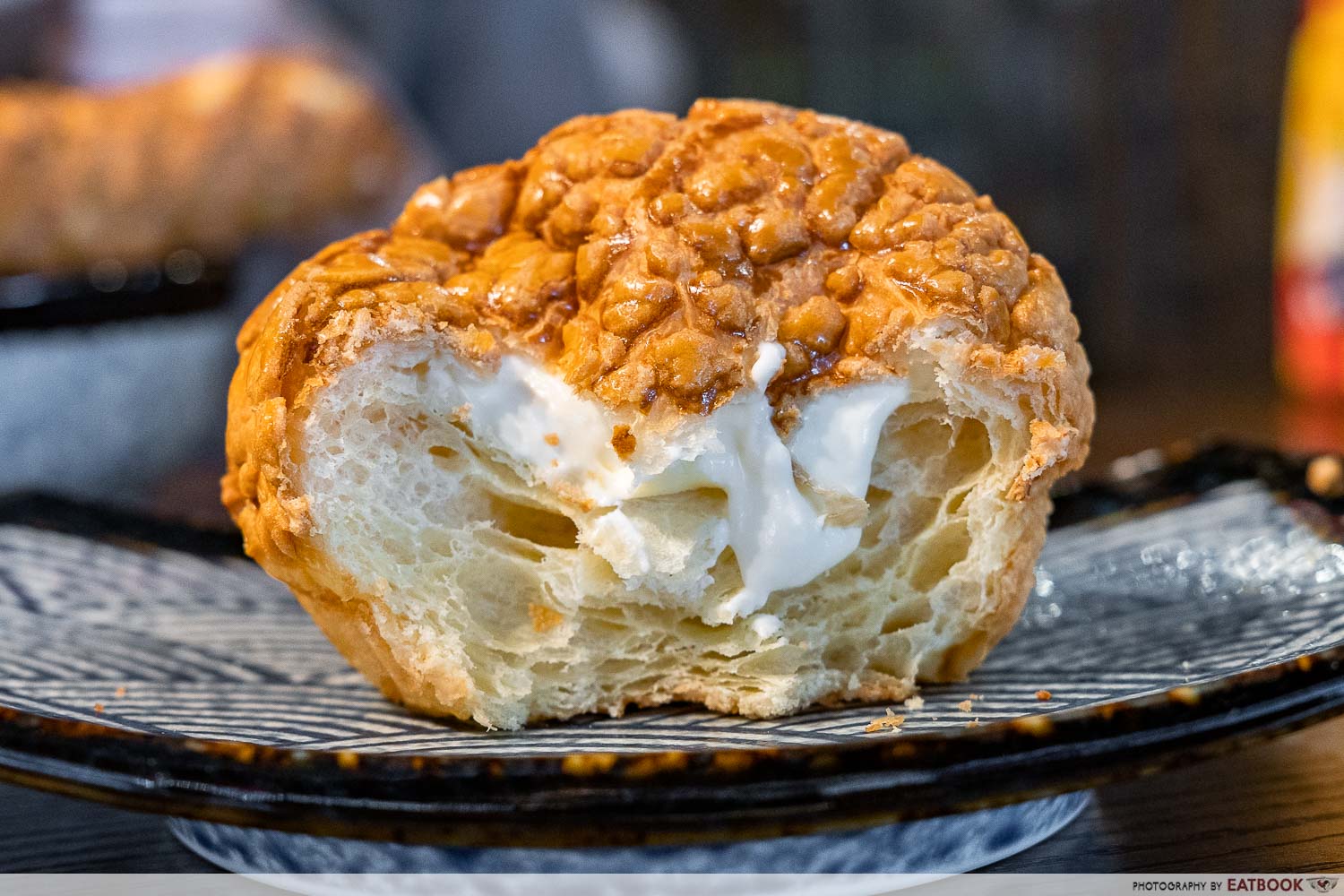 We tried the Crispy Cream Puff ($2.20++ each), which was this massive, crispy puff filled with delicious Hokkaido milk cream. Because of its sheer size, it can be quite tough to finish it after a massive meal, but those with big appetites—or a dessert stomach separate from their main one—will be rewarded with an excellent piece of pastry.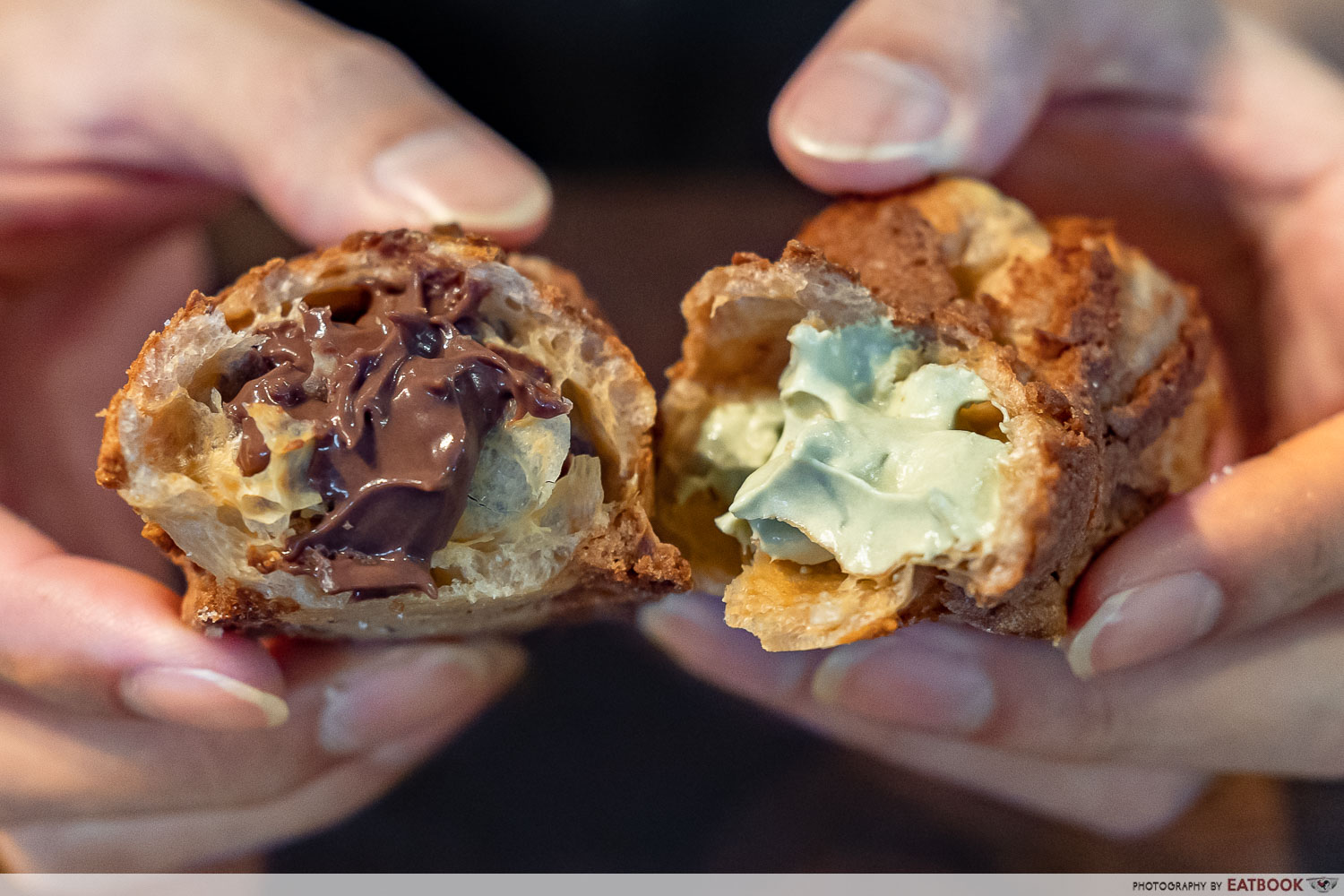 We also had the Yuan Yang Kazu Kazu ($4.20++ each), a chunky breadstick filled with two different flavours: chocolate and matcha. This was another delightful pastry—crunchy on the outside, and full of moreish flavours within.
Ambience at Jyu Gae Bistro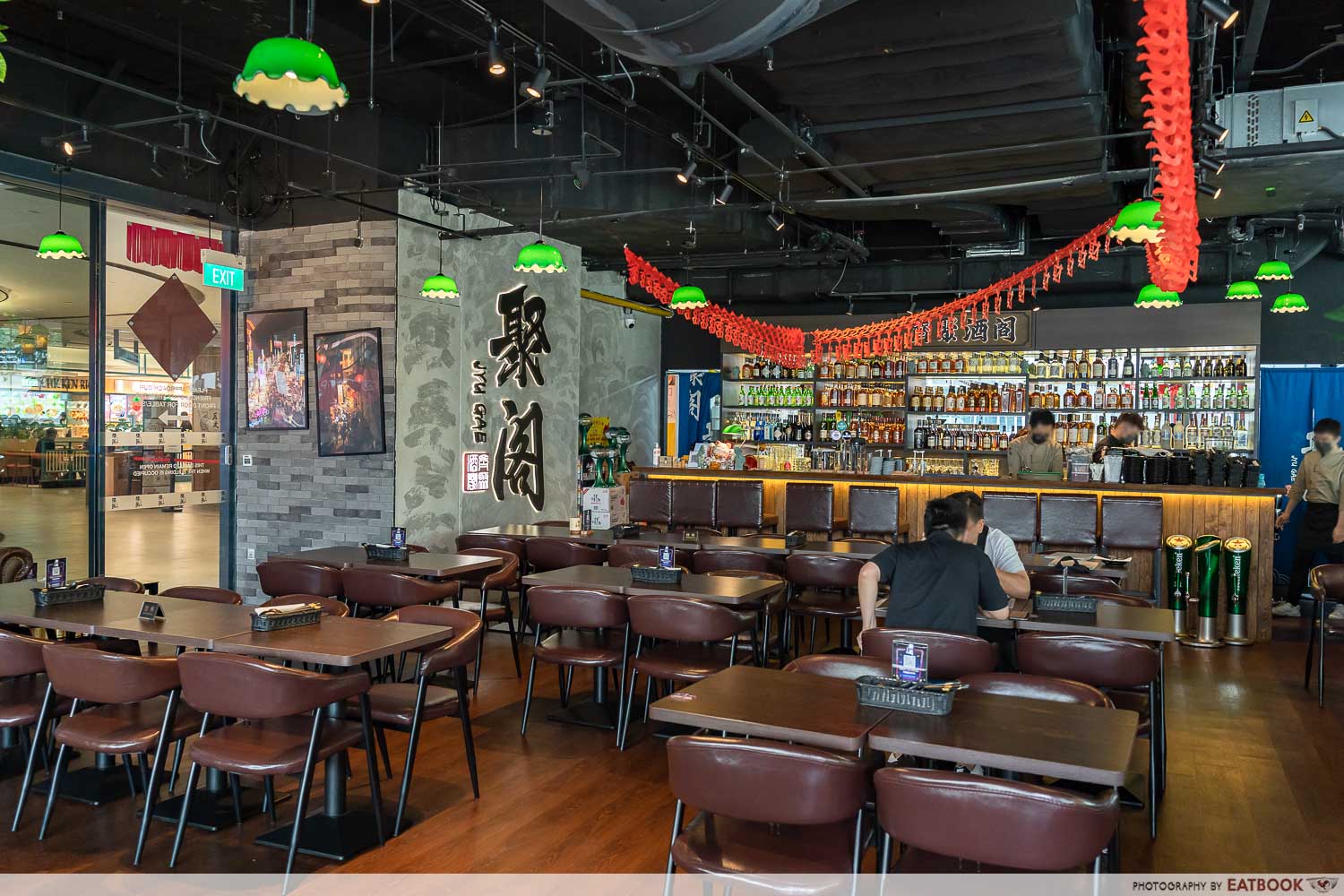 With its moody, atmospheric lighting and cosy furnishing, Jyu Gae Bistro is a good environment for having food and drinks as a live band entertains you with some tunes. You can check out Jyu Gae's Facebook page for its live music schedule.
Jyu Gae Bistro is a one-minute walk from Bras Basah MRT Station.
The verdict
With its wide range of eats, Jyu Gae Bistro is a nice place to visit should you ever crave Taiwanese food. It's even better if you're looking for drinks and live music to accompany your meal.
If you're interested in trying famous solo hotpots from China, check out our Xiabu Xiabu review. For the best eats in Shunfu Mart, read our Shunfu Mart Food Centre guide.
Address: 51 Bras Basah Road, #01-08, Lazada One, Singapore 189554
Opening hours: Sun-Thurs 10:30am to 12am, Fri-Sat 10:30am to 3am
Tel: 8889 8990
Website
Jyu Gae Bistro is not a halal-certified eatery.
Xiabu Xiabu Review: Famous Solo Hotpot From China Now At Bras Basah, Has Curry Broth And Ice Kachang
Photos taken by Jasper Juay.
This was a media tasting at Jyu Gae Bistro.
Jyu Gae Bistro Review: Lu Rou Fan, Unagi Don And More At This New Taiwanese Bar Near Bras Basah MRT
Jyu Gae Bistro Review: Lu Rou Fan, Unagi Don And More At This New Taiwanese Bar Near Bras Basah MRT -

7/10
Summary
Pros
– Lu rou fan was a solid rendition
– Popcorn chicken and other finger food were delectable
– Desserts by KAZO were excellent
Cons
– Oyster mee sua was bland
– Unagi was a little too hard
Opening hours: Sun-Thurs 10:30am to 12am, Fri-Sat 10:30am to 3am
Address: 51 Bras Basah Road, #01-08, Lazada One, Singapore 189554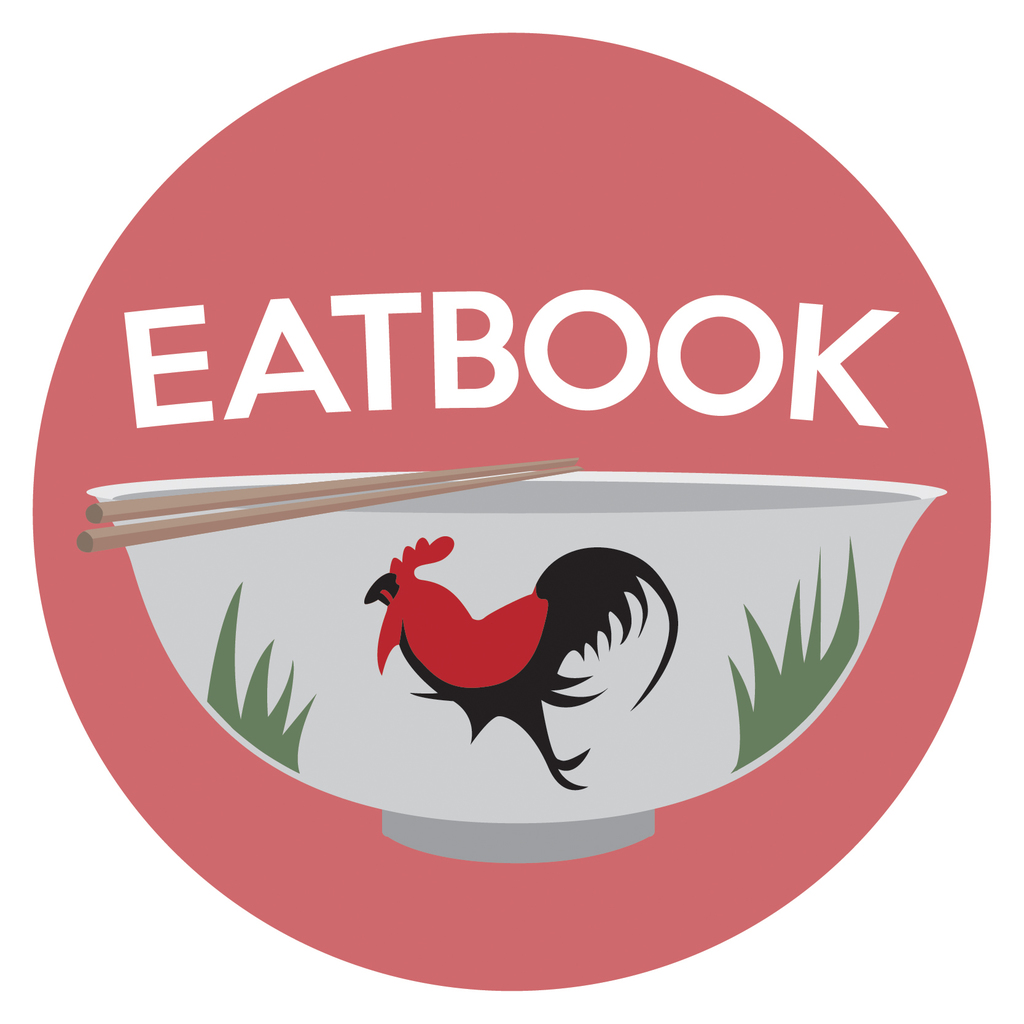 Drop us your email so you won't miss the latest news.