---
New restaurants in Singapore this November 2022
---
Before the Christmas feasting truly begins, carve out some time for yourself this November to try out some of the new eateries we have in Singapore. From a TikTok-famous cafe serving up grilled cheese sandwiches that can rival Korio to live fish hotpot, here are some new restaurants in Singapore to try this November 2022.
---
1. Ohayo Mamasan
---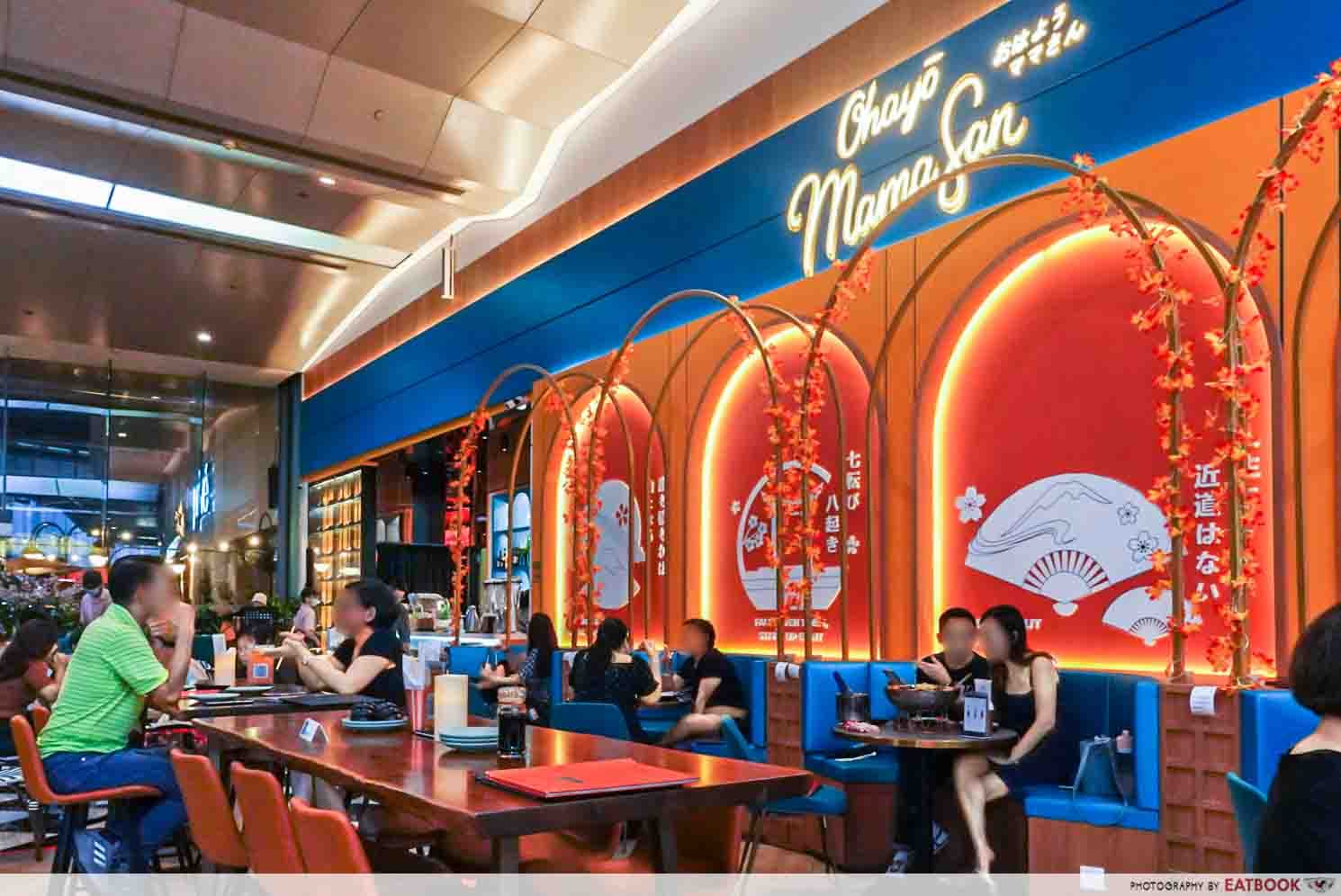 Dig into new DIY sets and a revamped menu at Ohayo Mama San, a Japanese restaurant serving all-day brunch and creative cocktails at 313 Somerset. Go for the colourful Negitoro & Salmon Tartare DIY Kit ($48++ for 2-3 people) and make your own negitoro rolls from chopped fatty tuna and salmon belly. Top it off with tempura bits, ikura, and the restaurant's signature mentaiko sauce. Salmon lovers can satisfy their cravings with the humongous Salmon Obsession Platter ($68++), which sees 10 different kinds of savoury salmon creations for you to indulge in.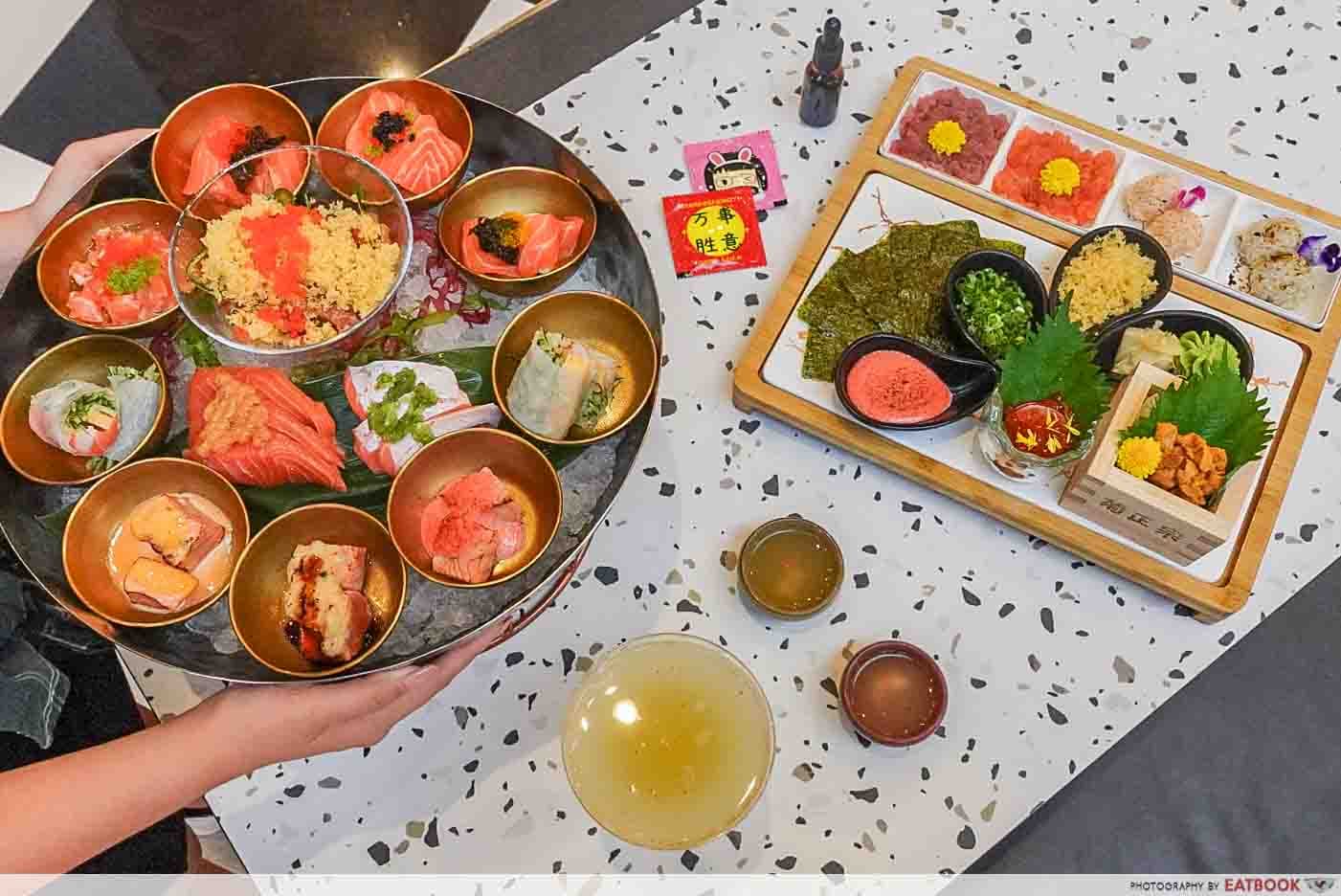 Wash everything down with their new cocktails—Vampire Daiquiri ($22++) and Mama San G&T ($22++), two eye-catching creations that come topped with a pop-able, smoking bubble.
Read our Ohayo Mamasan review.
Address: 313 Orchard Road, #01-29, 313@Somerset 238895
Opening hours: Daily 11am to 10:30pm
Tel: 8875 2777
Website
Ohayo Mamasan is not a halal-certified eatery.
Ohayo Mama San Review: $19++ Per Person Japanese Fusion High Tea Set And More In Somerset
---
2. Phat Fingers 
---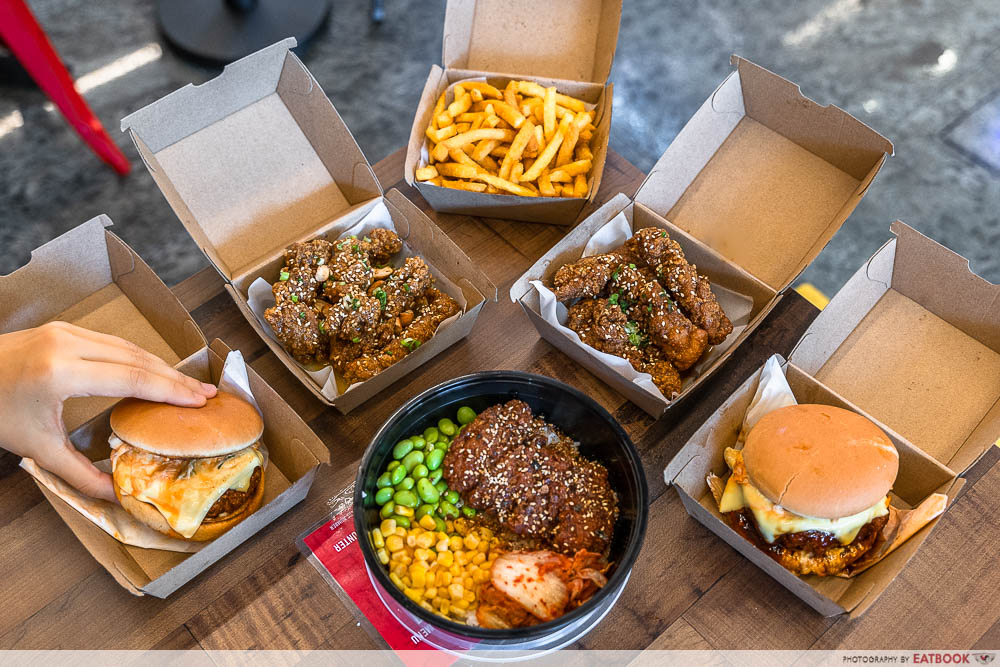 You may have heard of Phat Fingers when they were a cloud kitchen concept, serving up Korean fried chicken, fast food style. Now, they've expanded to their first brick-and-mortar eatery, located at China Square.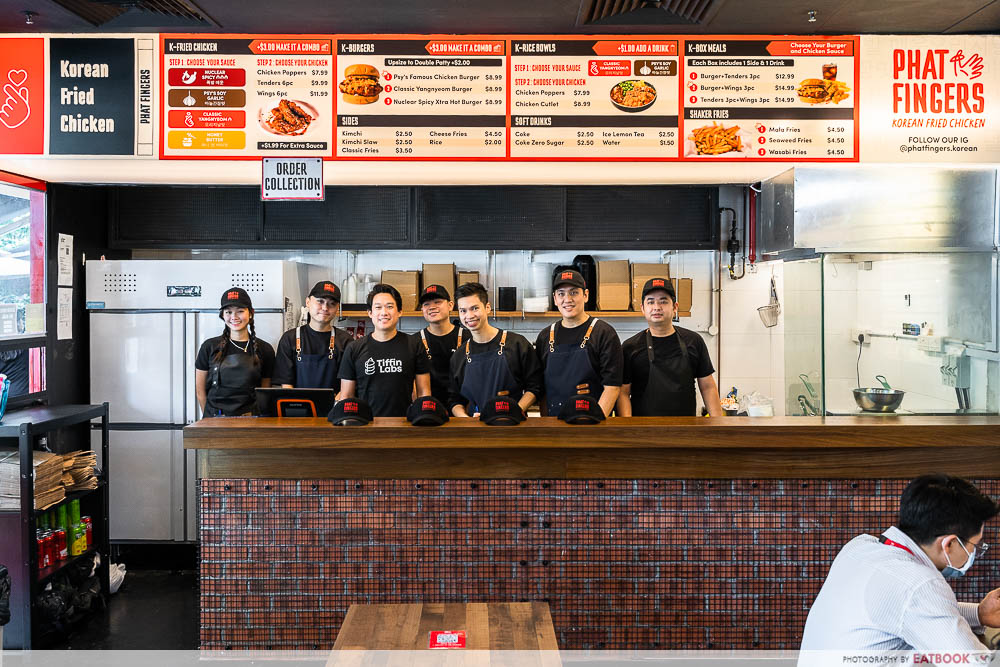 CBD diners can swing by for wallet-friendly Korean fare priced under $10. If you don't feel like just having fried chicken, you can get their burgers, which come with a fried chicken cutlet. We recommend the Nuclear Spicy Xtra Hot Burger ($8.99), a sweet-spicy powerhouse of deep-fried chicken thigh dressed in yangnyeom sauce, topped with melted cheese, and zingy kimchi slaw. Another must-try on the menu is their Honey Butter Chicken Tenders ($9.99), where double-fried chicken tenders are tossed in a rich honey butter sauce, and topped with cashews for crunch. For a slightly healthier meal, zone in on their rice bowls.
Read our Phat Fingers review here.
Address: 51 Telok Ayer Street, #01-03, China Square Food Centre, Singapore 048441
Opening hours: Daily 11am to 9pm
Website
Phat Fingers is not a halal-certified eatery.
Phat Fingers Review: $8 Honey Butter Korean Fried Chicken And More Near Telok Ayer MRT
---
3. SoupCup 
---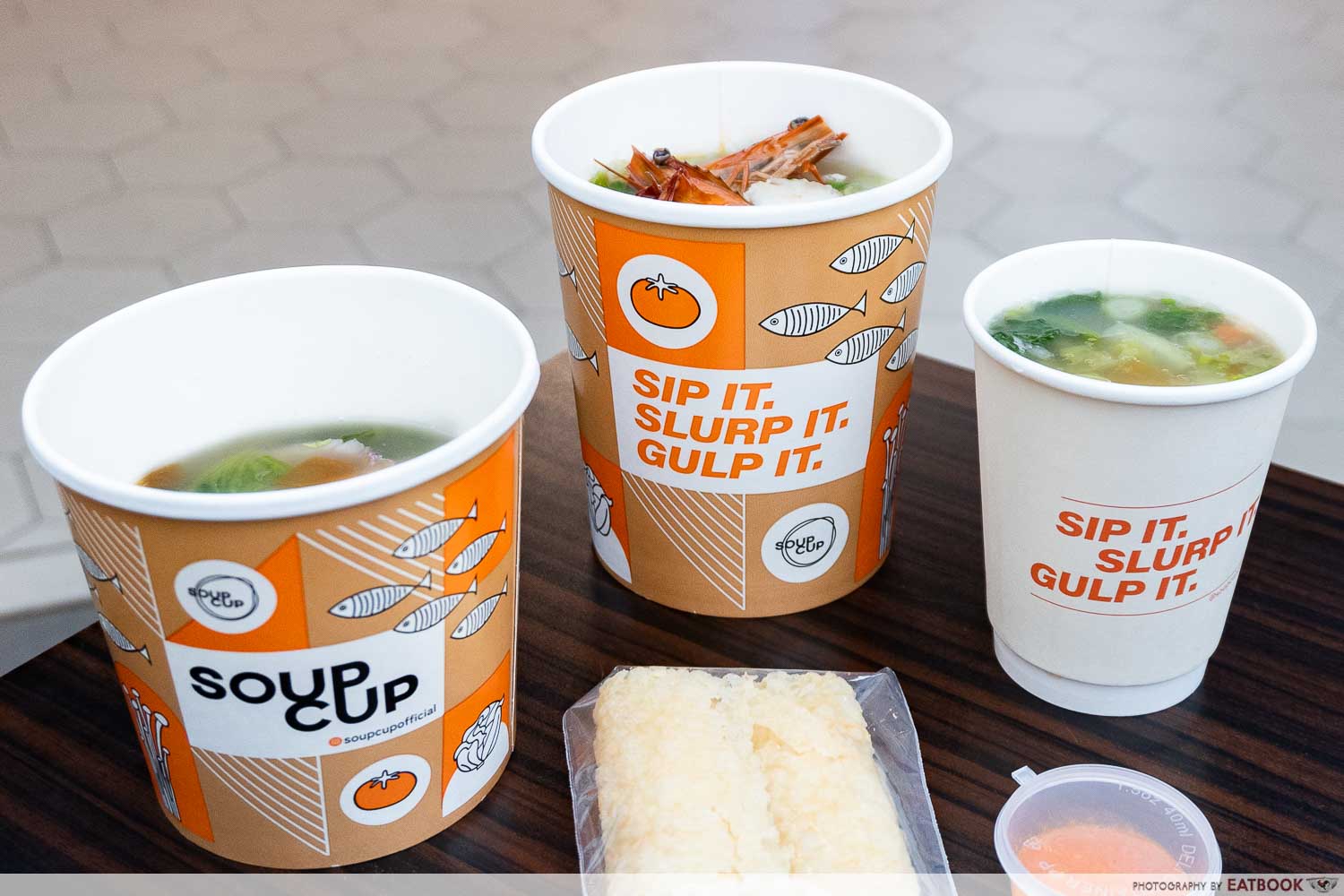 Another CBD entrant is SoupCup, a casual eatery by ex-MasterChef finalist, Sharon Gonzago. They serve, you guessed it, soup in a cup, but not just any soup—fish soup. SoupCup elevates the staple lunchtime pick of office workers with fresh seafood, and a rich broth slow-boiled for eight hours to fully extract its flavour. The result: collagen-rich fish soup that you can enjoy with your selection of seafood items, from shrimp to squid, and more.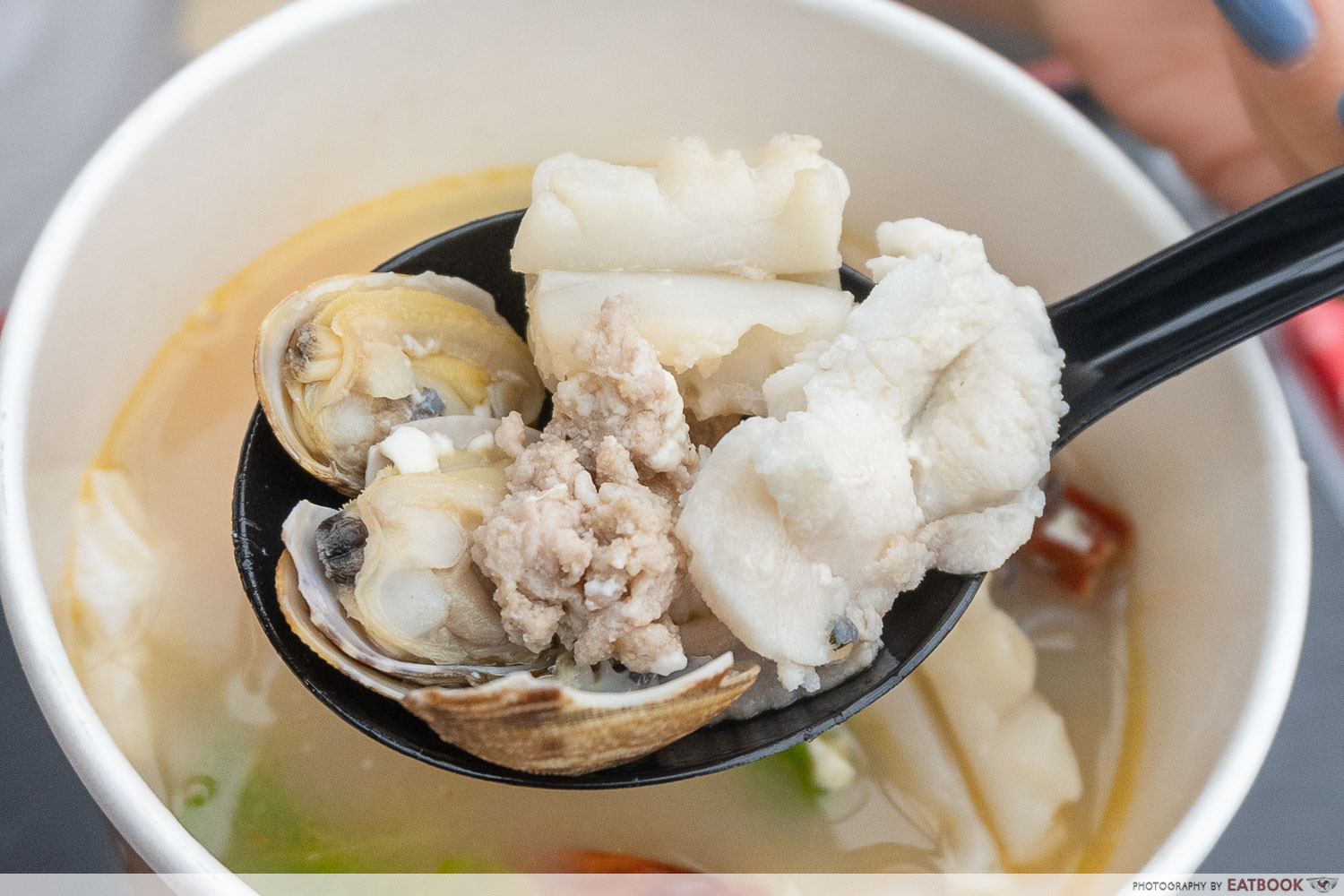 Prices start at $4 for the Piccolo cup, but we suggest going straight for the Signature ($13), which comes with a full range of seafood, and konjac noodles to make it a full meal. There's also the option to Build-Your-Own-Soup, priced from $7.50. Make sure you grab a side of their signature chilli sauce to go with your meal. Not for the faint of heart, this searing house-made chilli dip is garlicky, zingy, and mouthwatering.
Read our SoupCup review.
Address: 16 Raffles Quay, #B1-26, Singapore 048581
Opening hours: Mon-Fri 9am to 3:30pm
Website
SoupCup is not a halal-certified eatery.
SoupCup Review: MasterChef Finalist Opens Fish Soup Kiosk In The CBD
---
4. YUN NANS Stonepot Fish 
---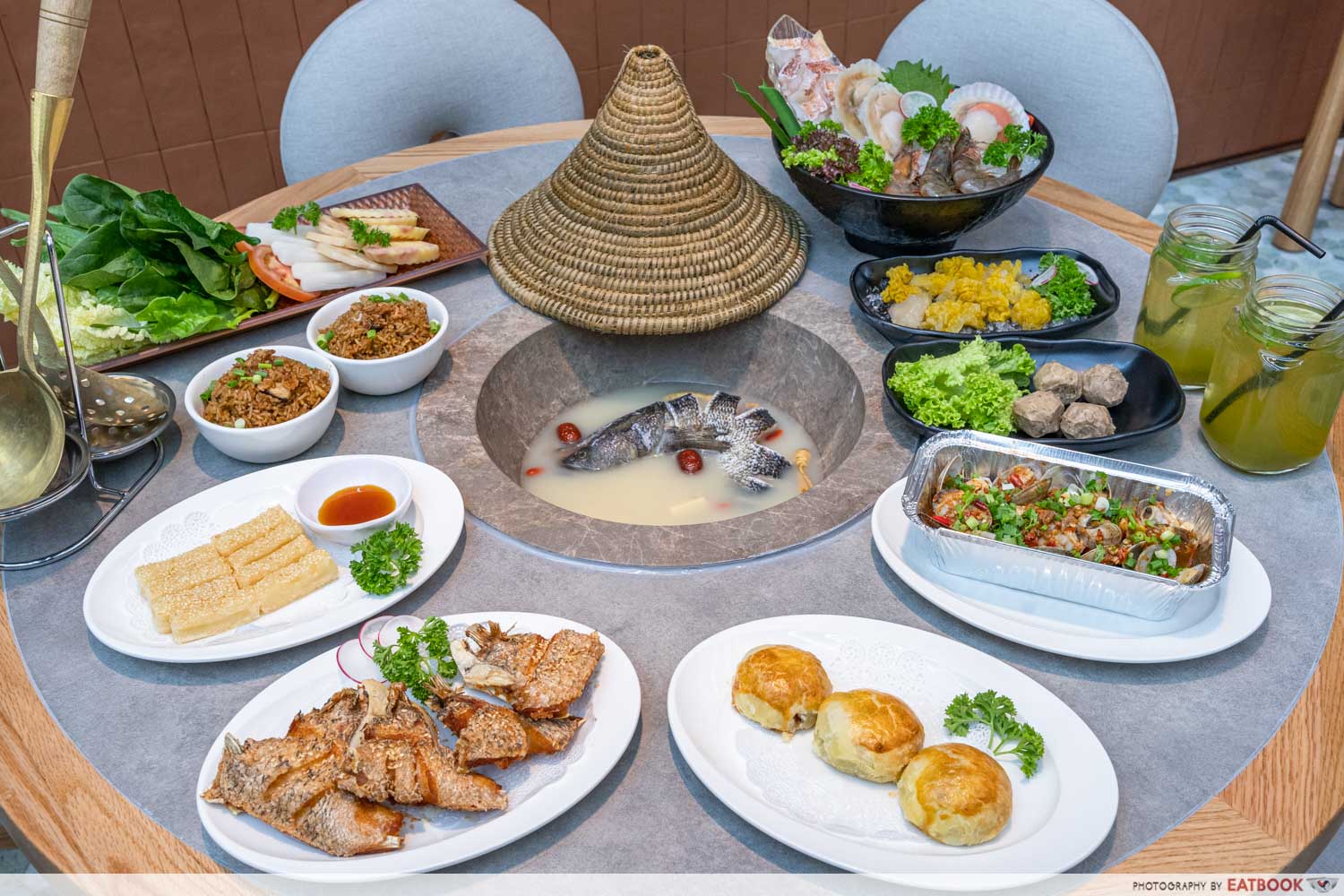 Popular Chinese restaurant chain YUN NANS has opened YUN NANS Stonepot Fish, an all-new concept bringing live fish collagen hotpot to Northpoint. When the restaurant first opened in China, it saw queues stretching up to an hour long, and for good reason. Their Live Soon Hock ($8.80++ per 100g) with Collagen Fish Soup ($18++) is the star of the show, cooked before your table in a special granite stone pot. Because the fish is so fresh, it only needs the slightest cooking to reveal sweet, tender flesh.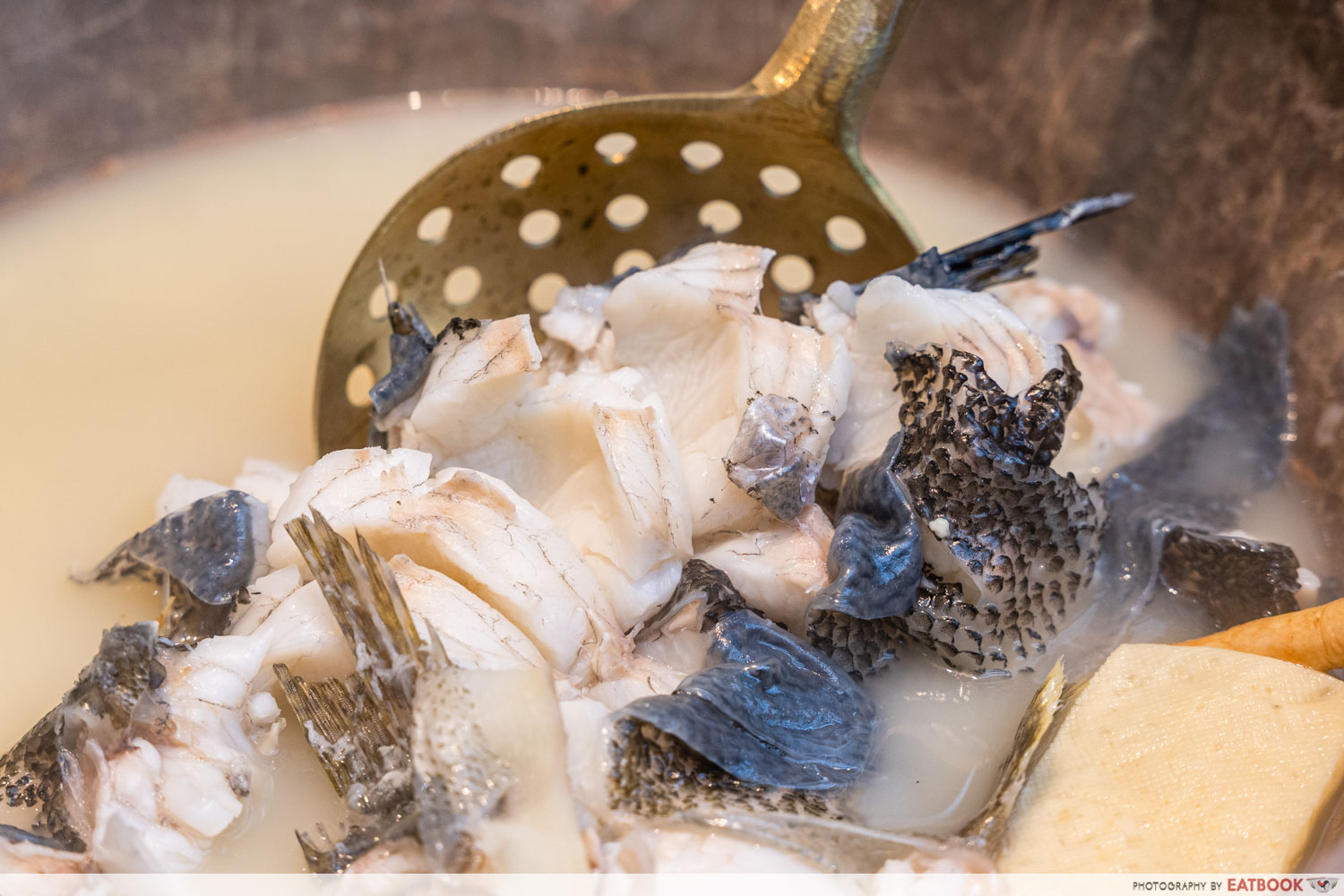 Enjoy your hotpot with other ingredients, from Seafood Platter (from $32.80++), Beef Balls ($8++ for half portion), and the Yunnan-imported Golden Fungus ($10++ for half portion). There's also a condiment section where you can DIY your own sauces.
Read our YUN NANS Stonepot Fish review.
Address: 930 Yishun Avenue 4, #01-103, Northpoint City, Singapore 769098
Opening hours: Daily 11:30am to 10pm
Website
YUN NANS Stonepot Fish is not a halal-certified eatery.
YUN NANS Stonepot Fish Review: Unique Pressure-Steamed Live Fish And Collagen Hotpot In Yishun
---
5. Folk Yard 
---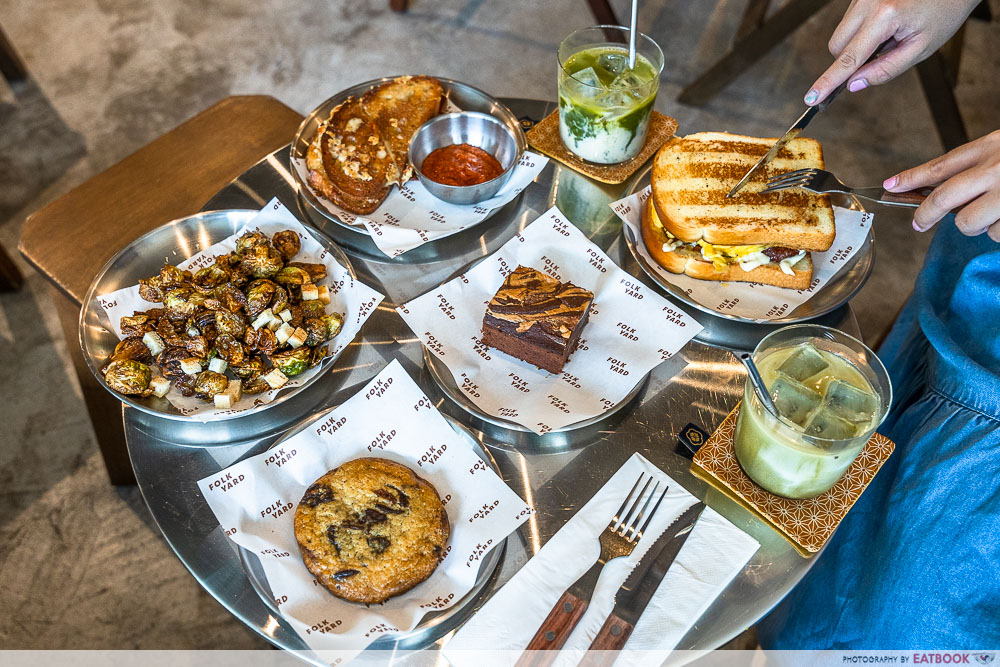 Potong Pasir is becoming quite the cafe hub, especially with Folk Yard joining the scene. The eatery has been making its rounds across social media for their grilled cheese sandwiches and coffees. Get their Breakfast Sandwich ($14), a winning combination of grilled toast, cheesy scrambled eggs, caramelised onions, candied bacon, and a maple syrup-soaked hashbrown. To go with, nab a portion of Fried Brussels ($10), where brussels sprouts are cooked in a sweet teriyaki-esque sauce till they're charred and smoky.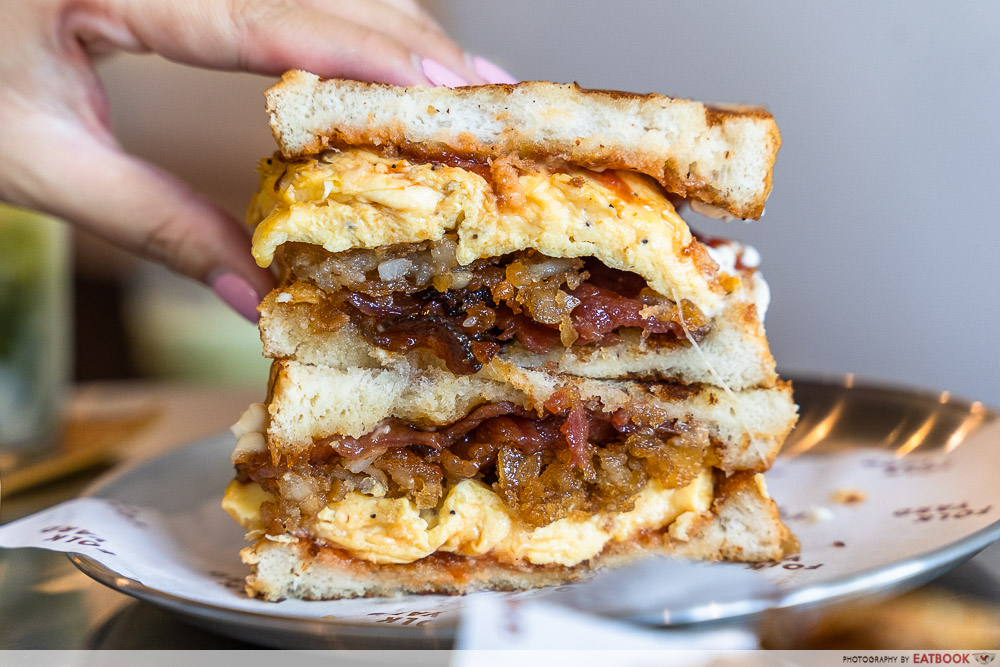 Also available on the menu are desserts such as brownies, and coffees starting from $4.50.
Read our Folk Yard review.
Address: 51 Upper Serangoon Road, #01-59, Poiz Centre, Singapore 347697
Opening hours: Tue-Sun 9am to 5pm
Website
Folk Yard is not a halal-certified eatery.
Folk Yard Review: New Cafe At Potong Pasir Serving Thick Sammies That Can Rival Korio
---
6. KA-En Grill & Sushi Bar 
---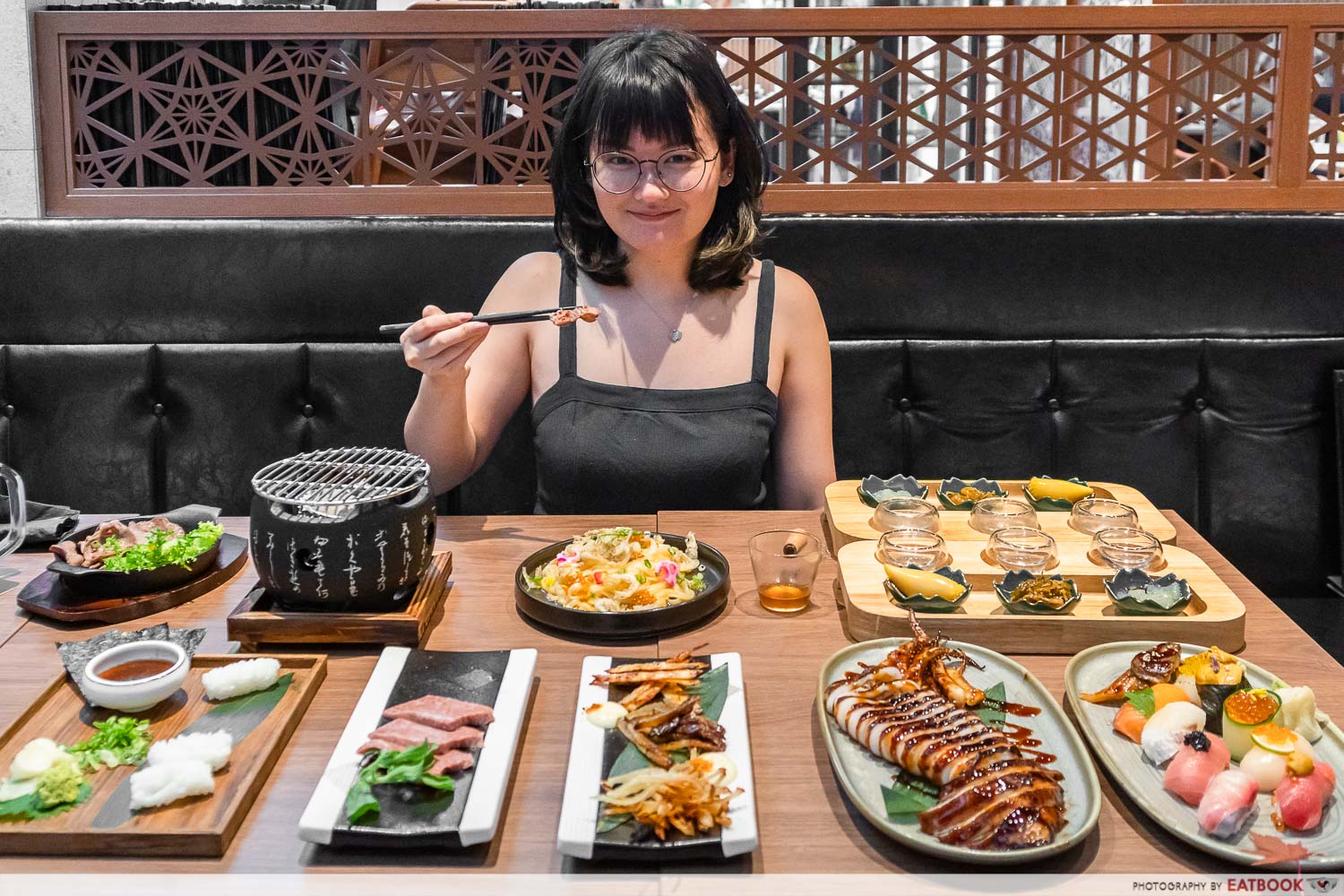 Ka-EN Grill & Sushi Bar joins the lineup of restaurants at  Arcade @ The Capitol Kempinski, bringing diners classic Japanese dishes, izakaya-style beverages, and more. Start your meal with the 10 Kinds Nigiri Sushi ($50++), which comes with a medley of premium sashimi and sushi, from grilled unagi and uni to fatty bluefin tuna. If you really want to splurge, try the DIY Premium Wagyu Sumi Yaki Set ($35++), served with marbled  A4/A5 Miyazaki Wagyu, rice balls, and seaweed. Slap the beef on the grill and cook it to your desired doneness, before creating your own beef nigiri.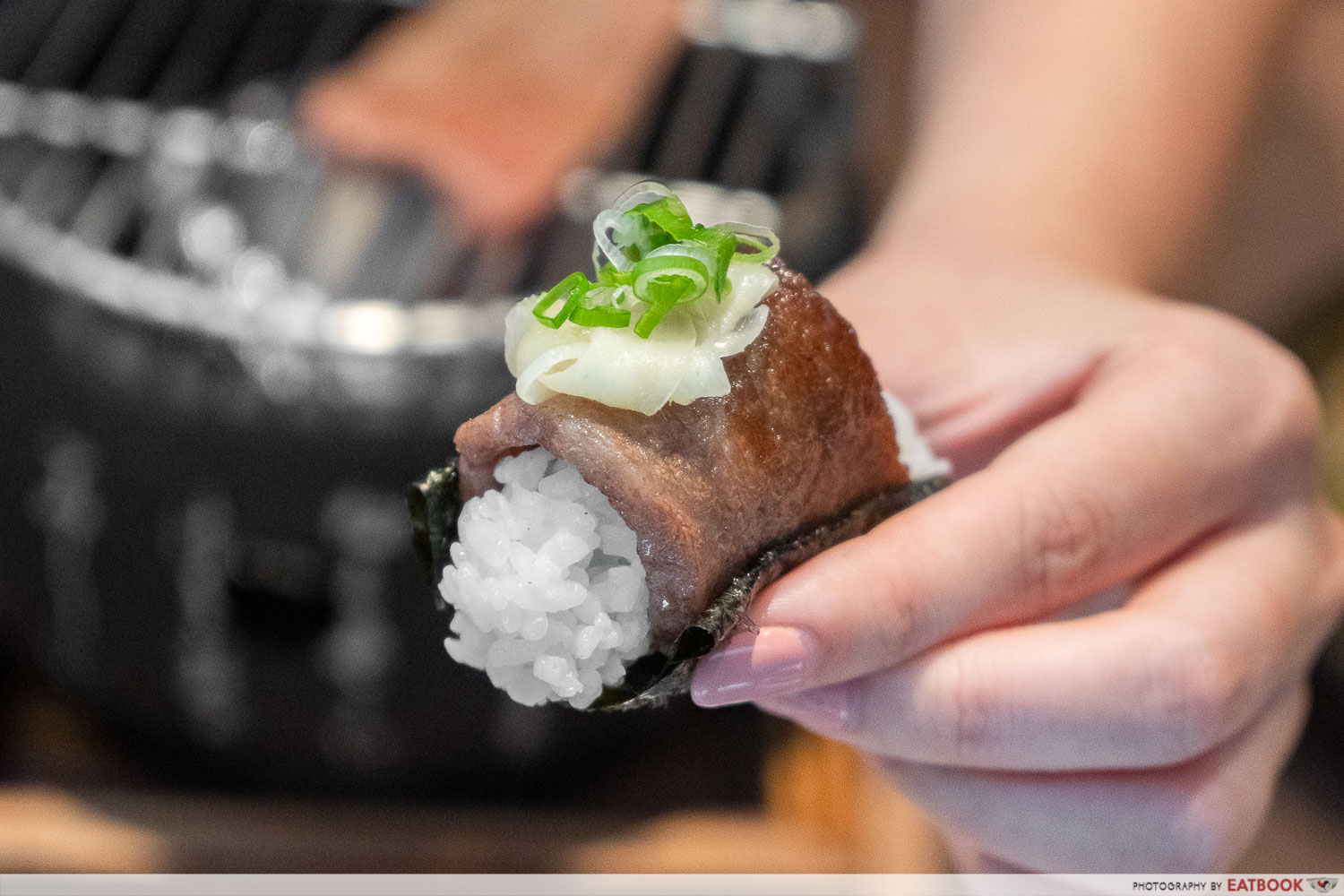 On the drinks front, expect tipples like the Classic Jim Beam Highball ($8++), and a wide range of sakes, wines, beers, and cocktails.
Read our KA-En Grill & Sushi Bar review.
Address: 15 Stamford Road, #01-82 Arcade @ The Capitol Kempinski, Singapore 178906
Opening hours: Mon-Thurs 11am to 4pm, 5pm to 10pm, Fri 11am to 4pm, 5pm to 12am, Sat 11am to 12am, Sun 11am to 10pm
Tel: 6284 3788
Website
Ka-EN Grill & Sushi Bar is not a halal-certified eatery.
Ka-EN Grill & Sushi Bar Review: Japanese Restaurant In City Hall With DIY Wagyu BBQ
---
7. Yeast Side 
---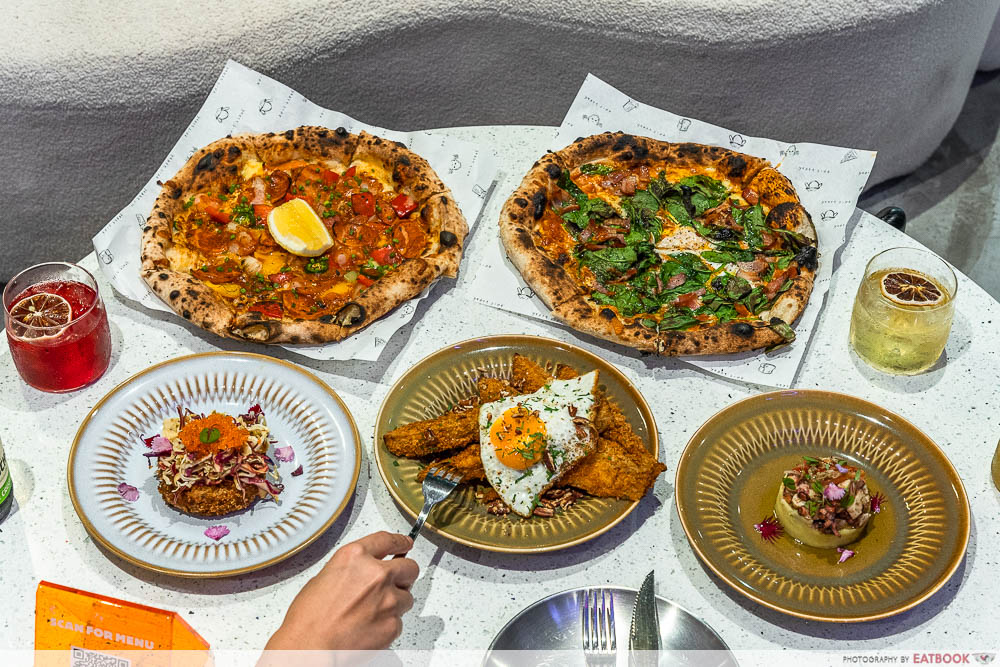 You may know Yeast Side from their King Albert Park restaurant, but the eatery recently expanded to Farrer Park, bringing with them the same beloved menu faves, as well as a few new additions. Swing by after 4pm to enjoy their dinner menu, which comes with a selection of sourdough pizzas and other fusion mains. We're big fans of the Bestside Breakfast ($22++), a breakfast-inspired pie topped generously with spinach, bacon, eggs, cheddar, mozzarella, and a house-made tomato sauce.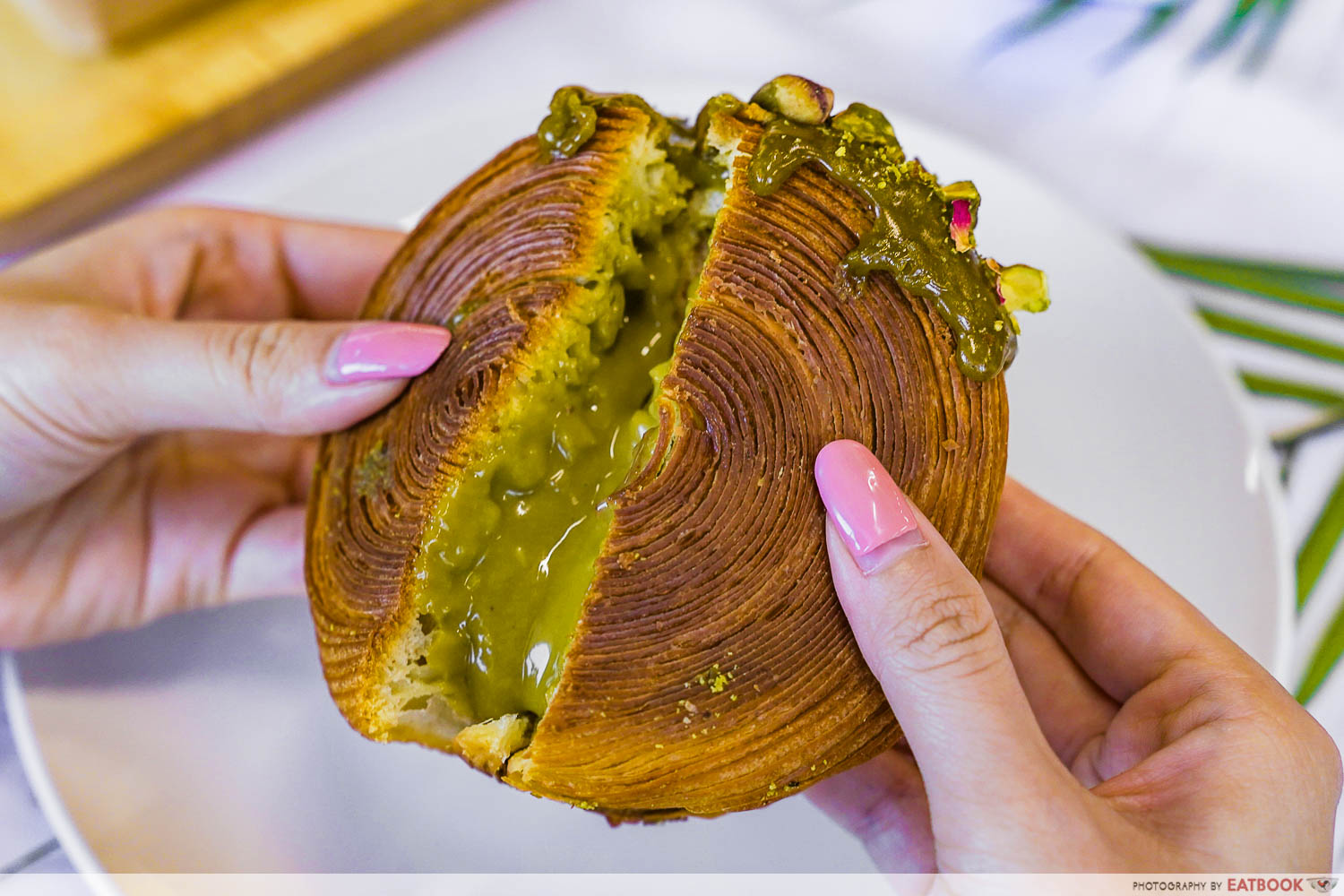 Don't skip their spin on the viral circular cream croissants. The Vanilla Pistachio Swirl ($8) features buttery whorls of pastry and an oozy pistachio vanilla cream middle. Yeast Side also serves cocktails if you're looking for a nightcap.
Read our Yeast Side review.
Address: 2 Perumal Road, #01-06, Singapore 218773
Opening hours: Wed-Sun 9am to 11pm
Website
Yeast Side is not a halal-certified eatery.
Yeast Side Review: Fresh Sourdough Pizzas, Circle Croissants And More Near Farrer Park
---
8. Barood 
---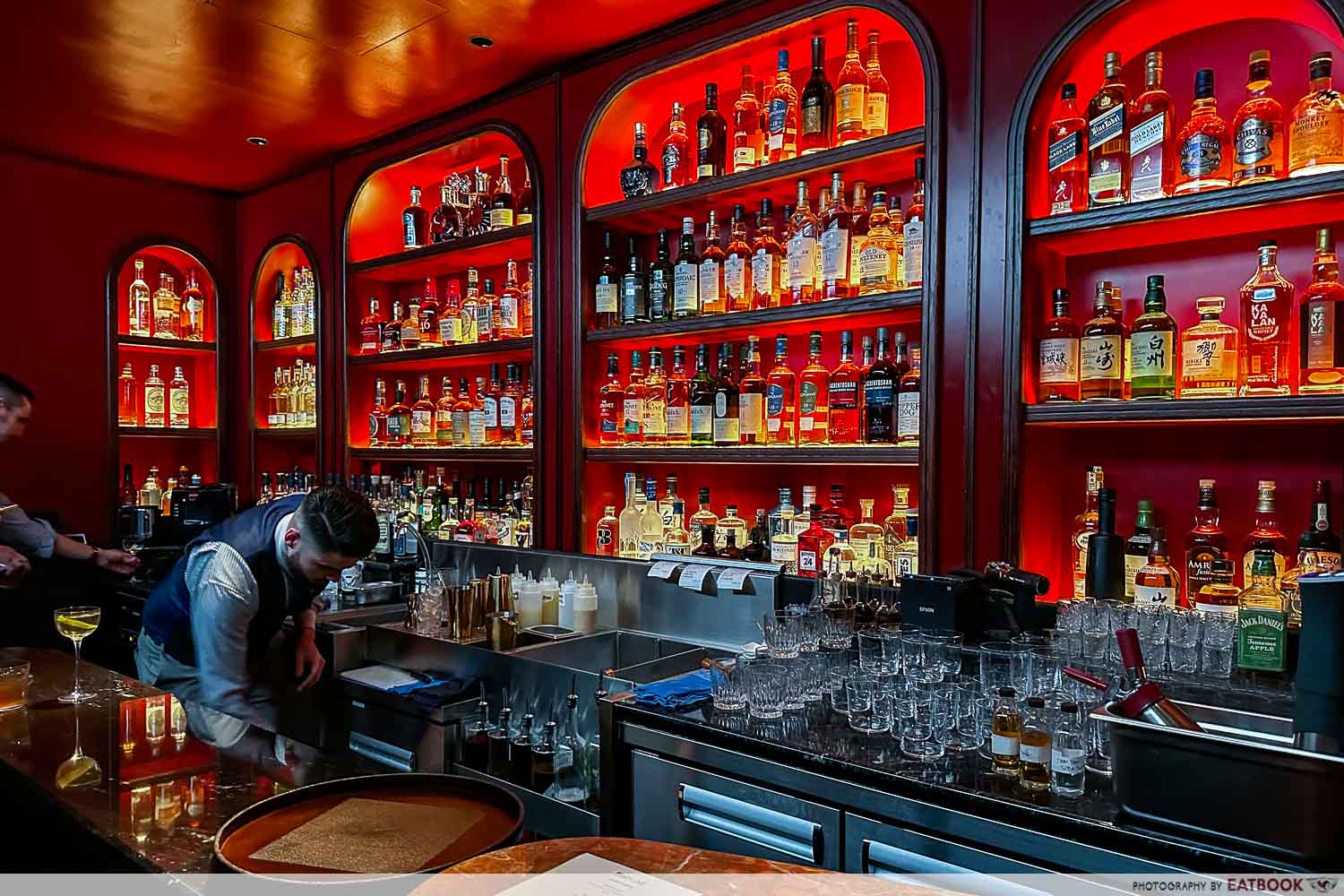 One Michelin-starred Revolver now has an enigmatic little brother, Barood, tucked away upstairs. The Latin-Indian izakaya is lushly dark and dramatically lit, with plush trimmings in shades of plum and dark chocolate. Expect spins off the classic cocktails, such as the Espresso Martini (Price TBA) that's shaken with cold brew okra coffee, roasted coconut, and vodka, topped with hot hazelnut foam liqueur.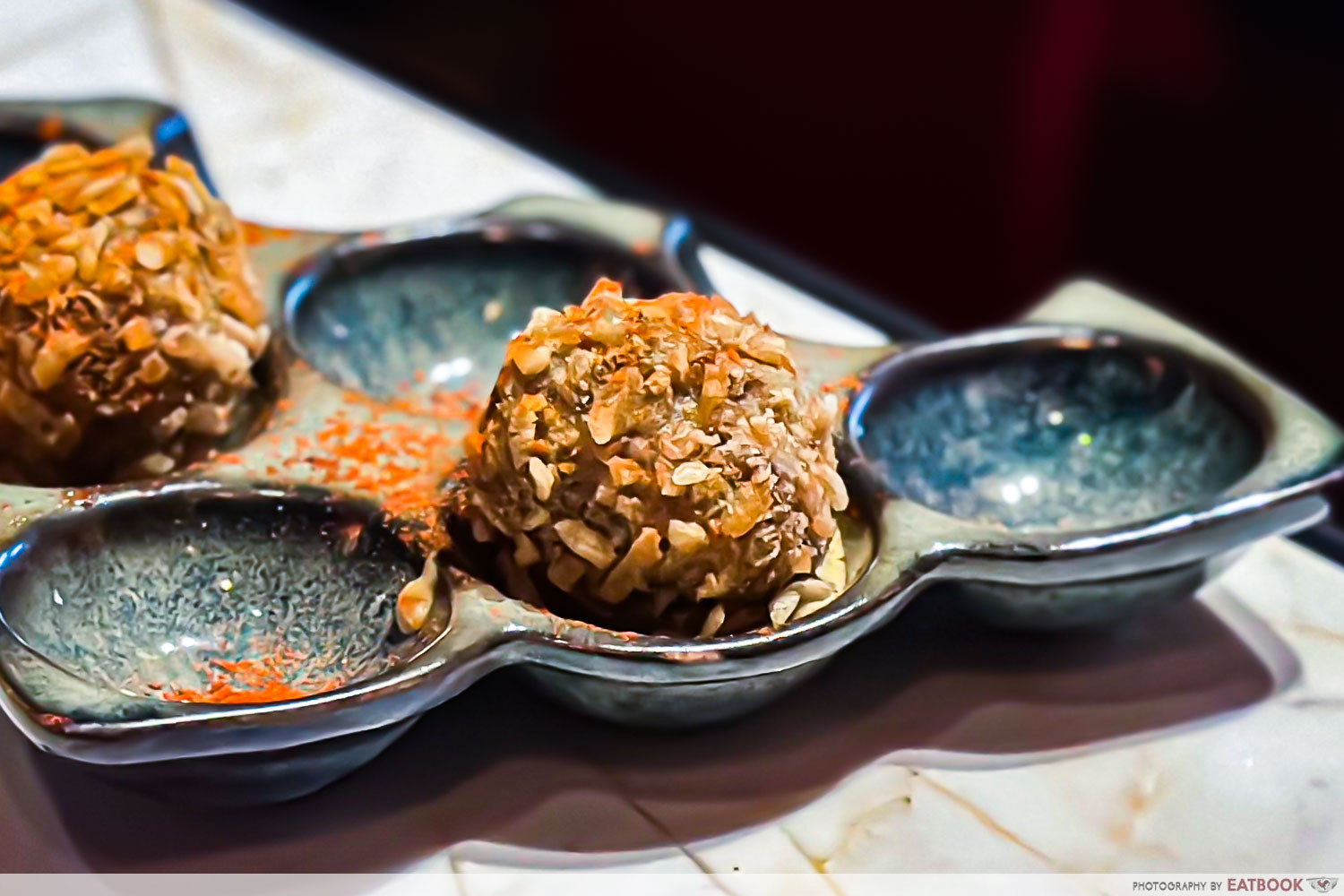 Then there's the tapas menu, headlined by Bombay Uni Toast ($28++) on bread pakora, enlivened with tamarind. There's also Otoro Tostadas ($26++), with yuzu and served on papdi, though the Goat Biryani Arancini ($24++) dipped in Revolver's signature gunpowder, and Malabar Sloppy Joe ($22++), with its addictive spiced shallots, were surprising favourites. 
Address: 56A Tras Street, Singapore 078995
Opening hours: Wed-Sun 5pm to 12am
Tel: 9622 3410
Website
Barood is not a halal-certified eatery
---
9. Élan 
---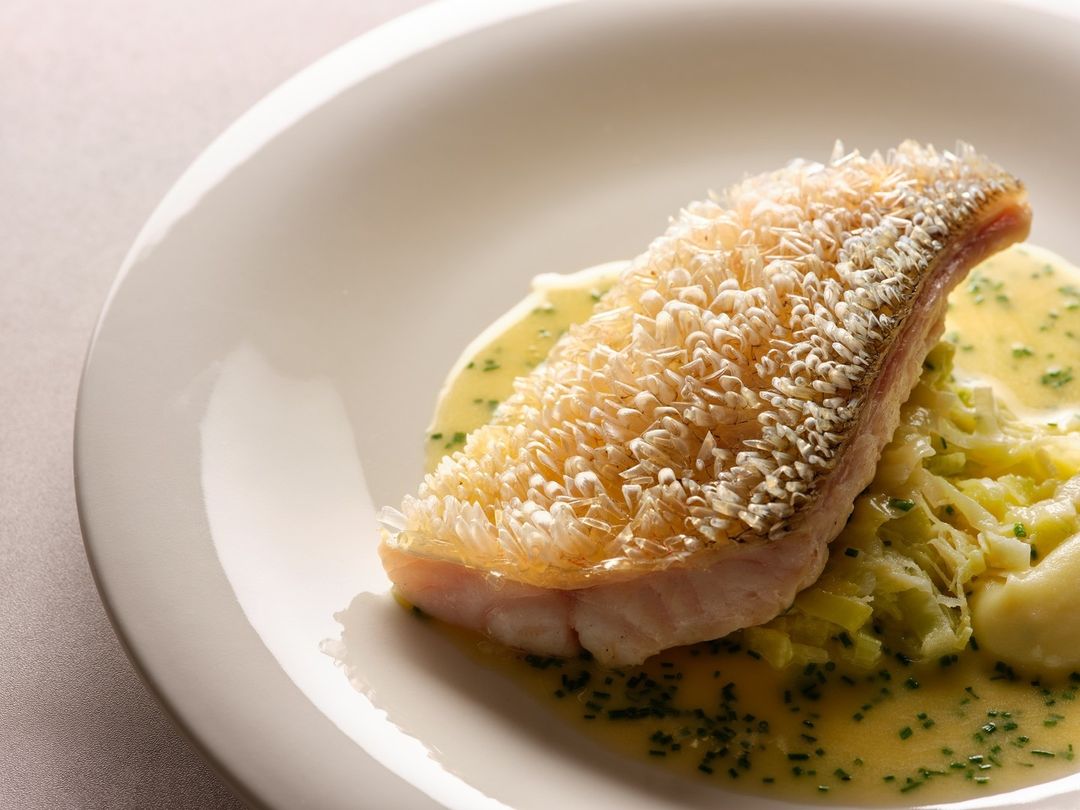 Image credit: @elan.dining
Taking over from La Strada and Bistro du Vin is the Les Amis Group's newest venture, élan. Pronounced 'eh-lawn', its name means vigour, liveliness, and enthusiasm━synonymous with the restaurant's aim of serving modern French food with Asian influences in a casually joyful, slightly irreverent setting.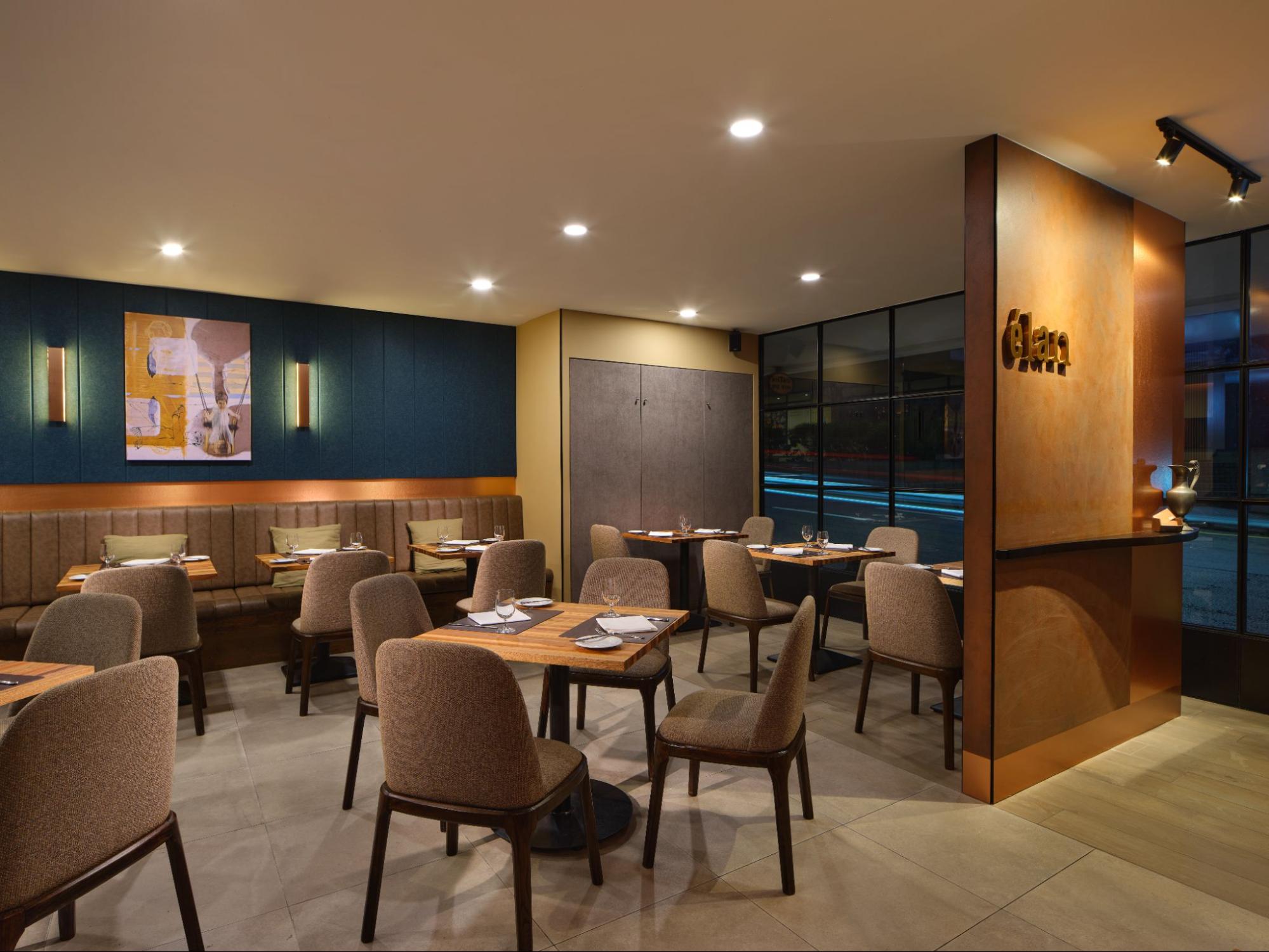 Image credit: @elan.dining
Start with the Foie Gras Bonbon ($38++), where the French delicacy is encased in a dark chocolate dome and served with kumquat. Don't miss a serving of the Frog Legs ($34++), which come tempura-ed and plated atop Mangetsu scrambled eggs for a most decadent all-day breakfast. The Tilefish ($65++) sees impossibly crisp scales on melted leeks with a bonito velouté, and if you're up for the splurge, Aqina "Pineapple" Chicken ($110++) might just be the best take on chicken rice you've ever had. 
Address: 1 Scotts Road, #01-13, Shaw Centre, Singapore 228208
Opening hours: Mon-Sat 12pm to 2pm, 6:30pm to 10pm
Tel: 6735 665
Website
élan is not a halal-certified eatery.
---
10. Ree.Connect by Ree and Mummy 
---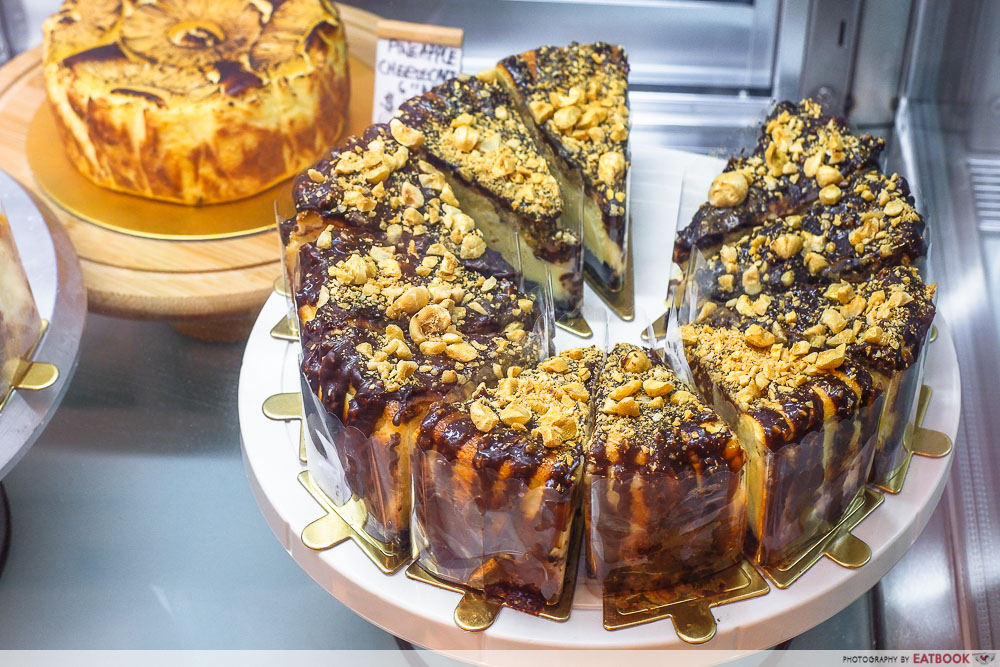 If you reside in the East, check out Ree.Connect by Ree and Mummy, a homely cafe in Katong V with delicious burnt cheesecakes and decadent gelato. The family-run dessert stop was started by home-based business Ree and Mummy, most known for their Charred Pineapple Cheesecake ($6.50 per slice), which pairs creamy cheesecake with delicately burnt pineapple slices. Fans can also look forward to the Chocolate Hazelnut Cheesecake ($7.20 per slice), a sinful treat of cheesecake with an Oreo base, finished with a chocolate hazelnut ganache that's reminiscent of smooth, dreamy Nutella.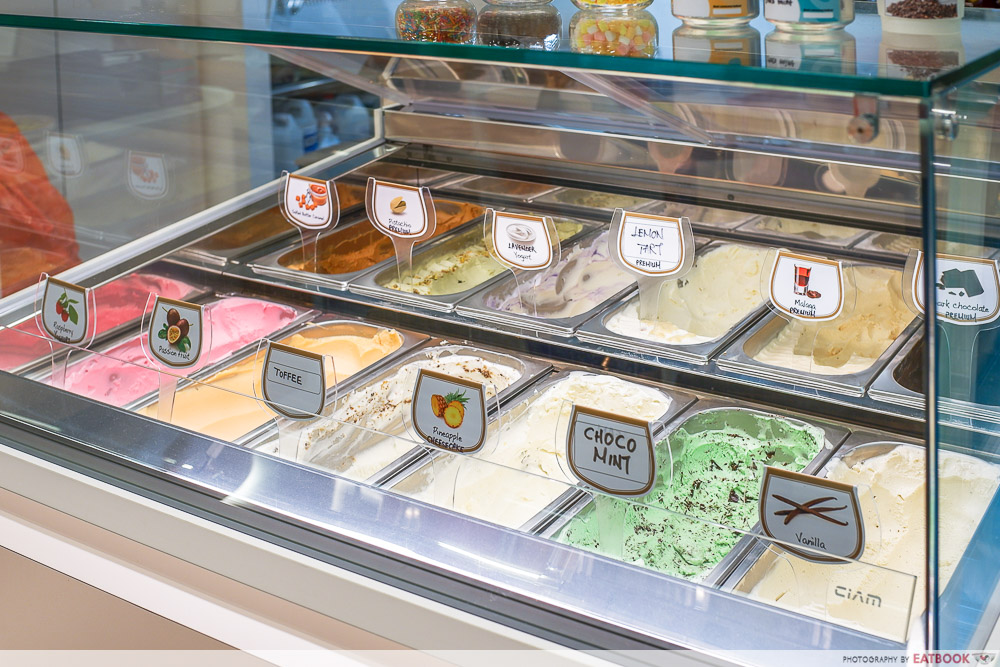 Cool down with the array of house-made gelato (from $4), available in flavours such as Lemon Tart, which takes inspiration from the popular Kong Guan Lemon Biscuit. There's also the crowd-favourite Pistachio that comes with roasted pistachio bits. Don't forget to dabao their Gelato in a Can (from $9), which stars gelato scooped into a cute can, and sealed to order!  
Address: 30 East Coast Road, #01-03, Katong V, Singapore 428751
Opening hours: Daily 11am to 10pm
Tel: 8928 5513
Website
Ree.Connect by Ree and Mummy is not a halal-certified eatery.
---
New restaurants and cafes in Singapore for November 2022
---
For other notable eateries to check out this month, check out the news of the Hello Kitty and Little Twin Stars cafe opening at Swissôtel The Stamford. We also have a guide to the best high tea places in Singapore if you feel like treating yourself this month.
Swissotel To Open A Hello Kitty And Little Twin Stars Cafe On 22 November