XXL truffle chicken rice in Bukit Timah
I've always loved chicken rice ─ the rice part of the dish, in particular. Put truffle-anything on the menu and you can take my money too.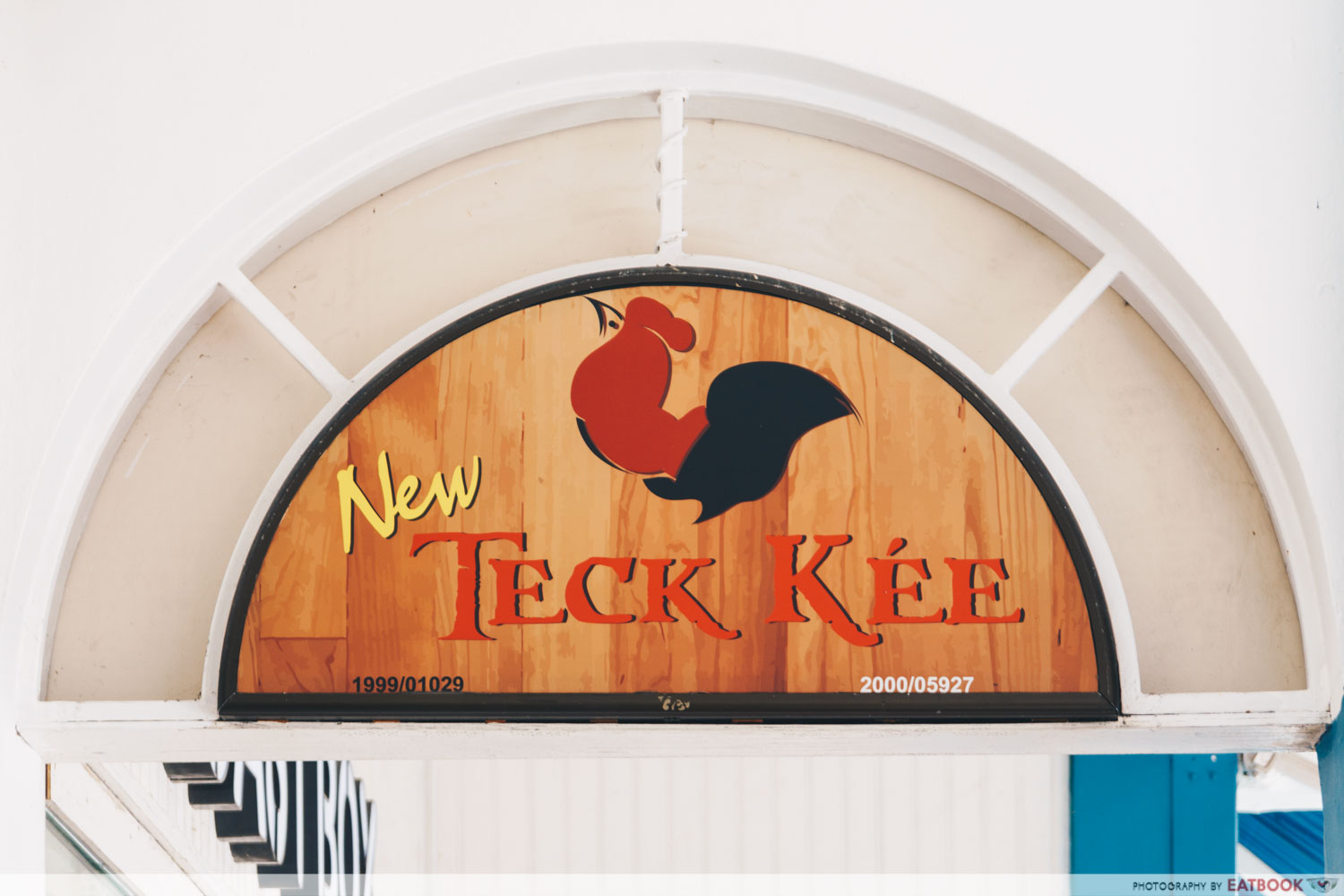 To discover that New Teck Kee Chicken Rice serves Truffle Chicken Rice had me flying across the road to Rail Mall one fine morning, photographer and dining companion in tow.
Food at New Teck Kee Chicken Rice
First introduced in May this year, the Truffle Chicken Rice Platter ($23) caught my greedy eye, although there were only two of us that morning. We also topped up $3 for extra chicken.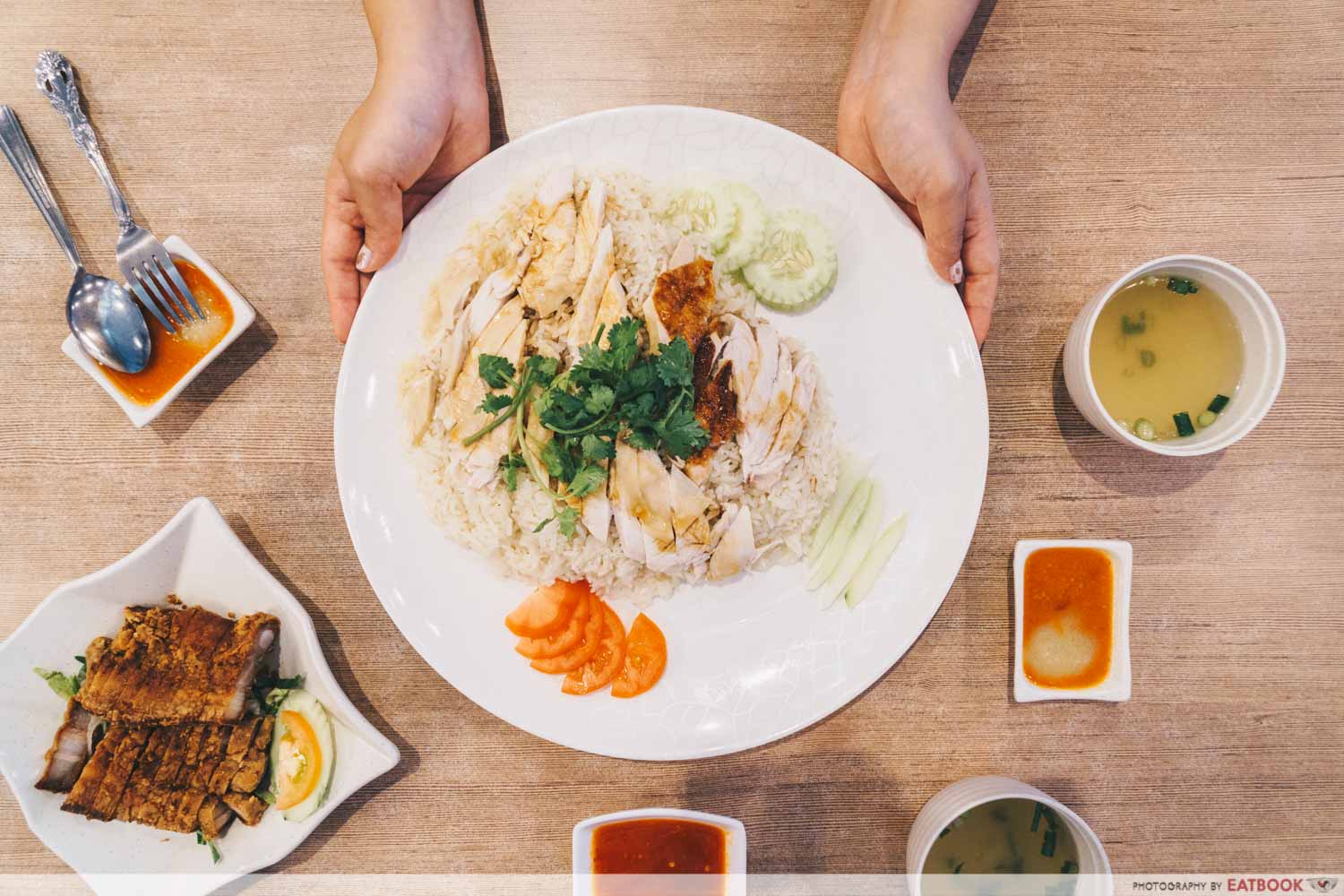 The auntie who took our order looked at us in shock. "There's four plates of rice in there!" She told us in Mandarin, but sent it out to the table eventually. In spite of the pervasive scent of chicken rice in the air-conditioned shop, the distinctive aroma of truffle reached us before the food did.
Le Da Chicken Rice Review: Delicious And Tender Chicken Rice By Young Hawker At Bukit Batok
A heaping mountain of glistening rice topped with two rows of boneless chicken was served to our table. We had opted for both the steamed and roasted chicken to go with our chicken rice, along with the usual condiments of homemade ginger and chilli and dark sauce.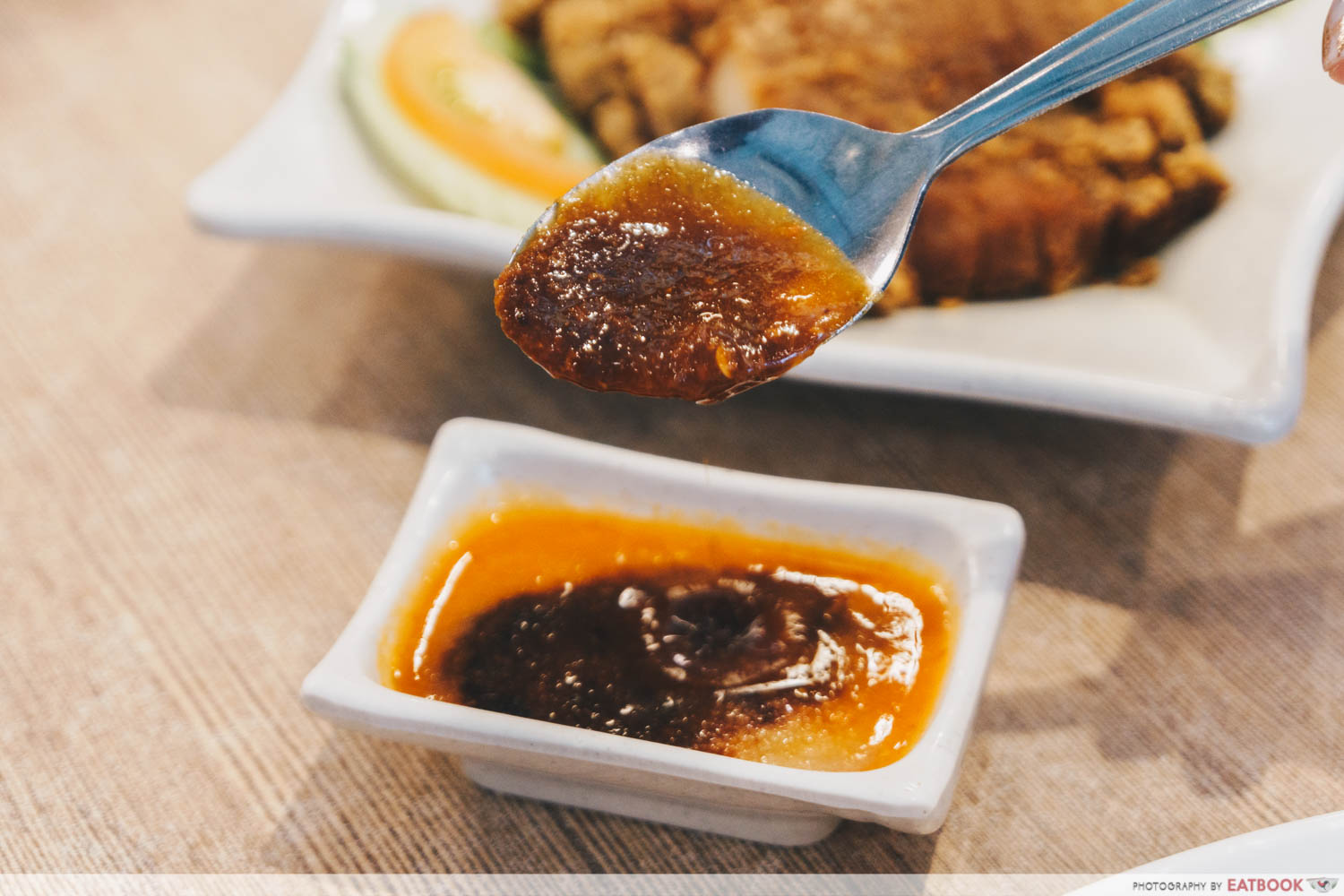 Here, these three sauces are served together in a single sauceplate, so do let the staff know if you prefer them separate. I liked the sourness in the chilli, which complemented the sweet-savouriness of the dark soy sauce, and the zesty freshness of ginger. 
I started with a spoonful of rice. The rice was cooked through but not mushy. It was lightly fragrant without being greasy with chicken fat.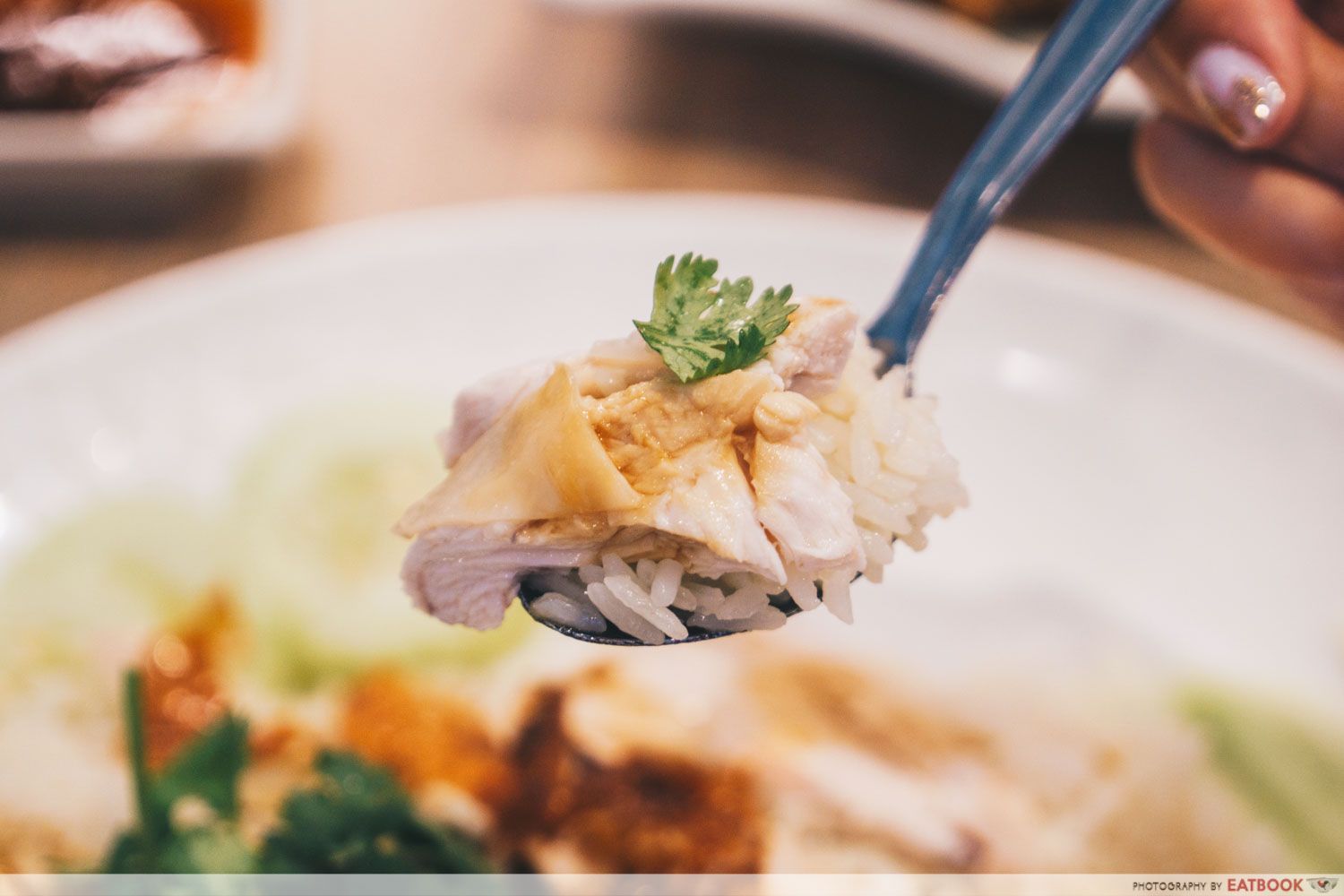 Despite the strong aroma of truffles, I found that I couldn't really taste it in the rice. Where they had drizzled more truffle oil, there was a very faint, oily aftertaste in my mouth that was not entirely pleasant. The smell of truffle on the chicken rice platter also faded rather quickly.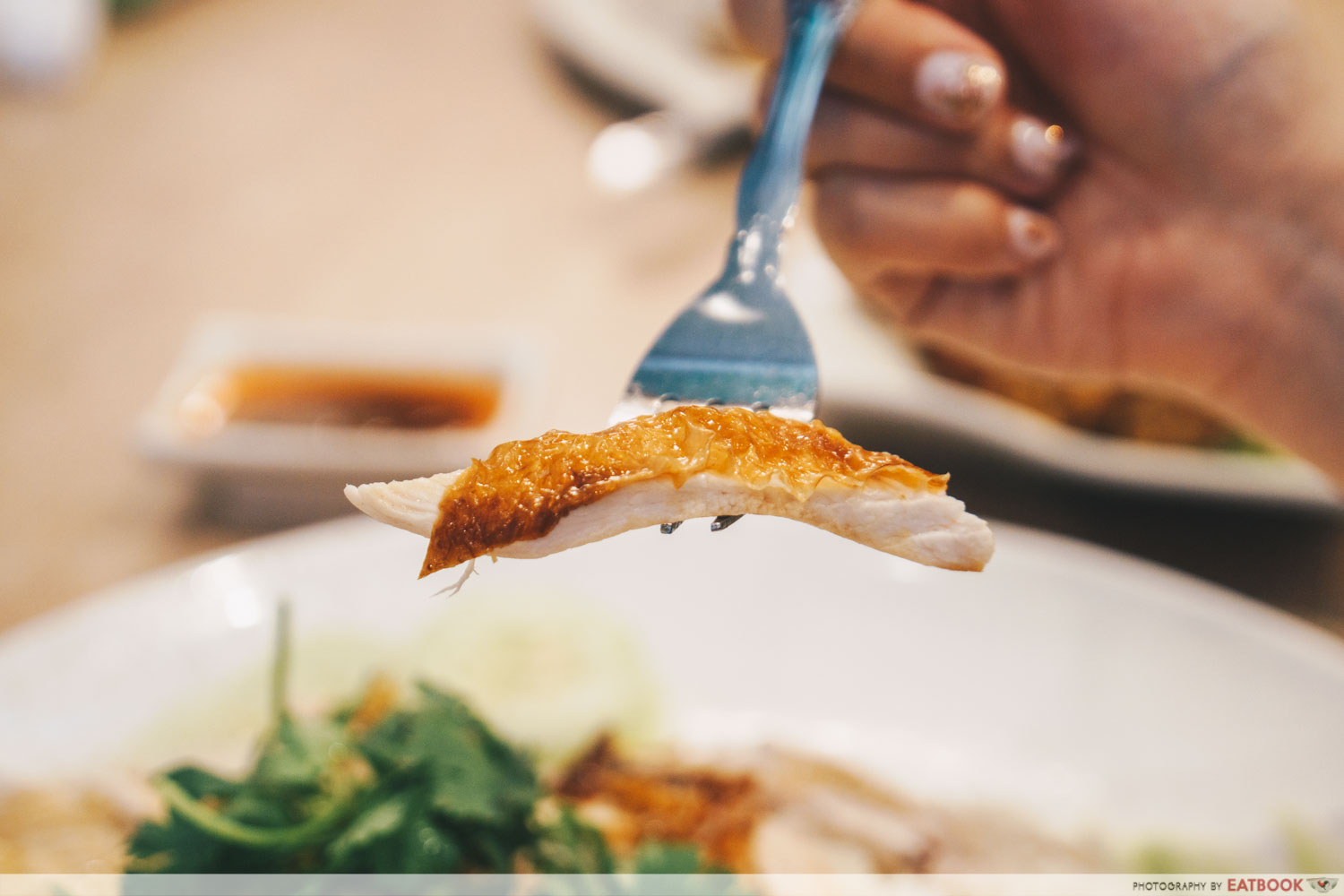 While the roast chicken skin was papery-thin and flavourful, I found the breast meat to be on the dry side and a little stringy. 
The steamed chicken, on the other hand, was still moist and smoother, with a layer of bouncy, gelatinous skin.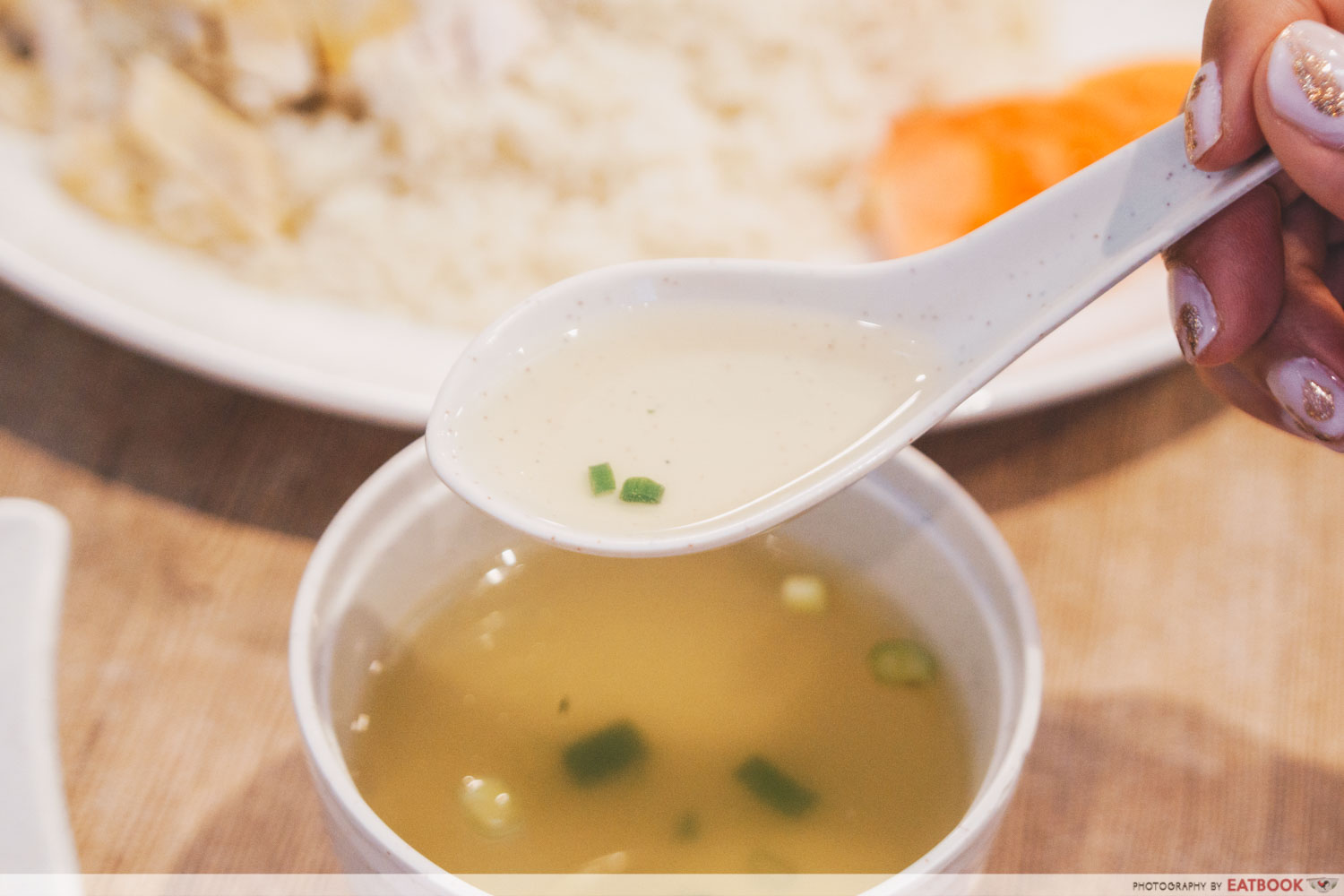 My dining companion enjoyed the accompanying bowls of clear chicken soup so much, he drank them all up. Although it didn't look like much, the broth was savoury and faintly aromatic with a slight herbal taste.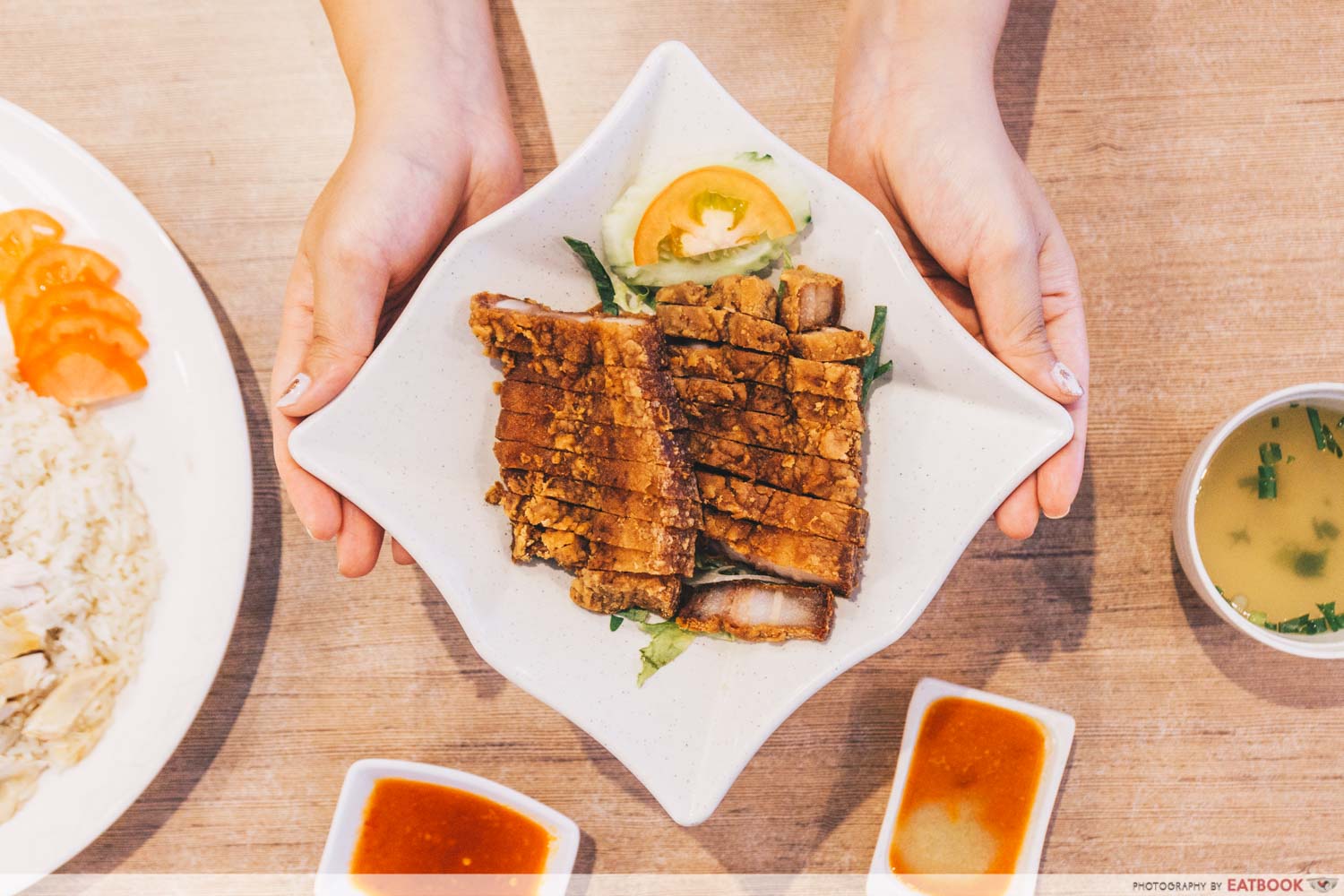 We also had the Deep Fried Pork Belly ($12), a traditional Hakka dish of pork belly marinated in fermented red bean curd. This was crispy and addictive, with the layers of fat in the pork belly providing textural contrast as I bit into it.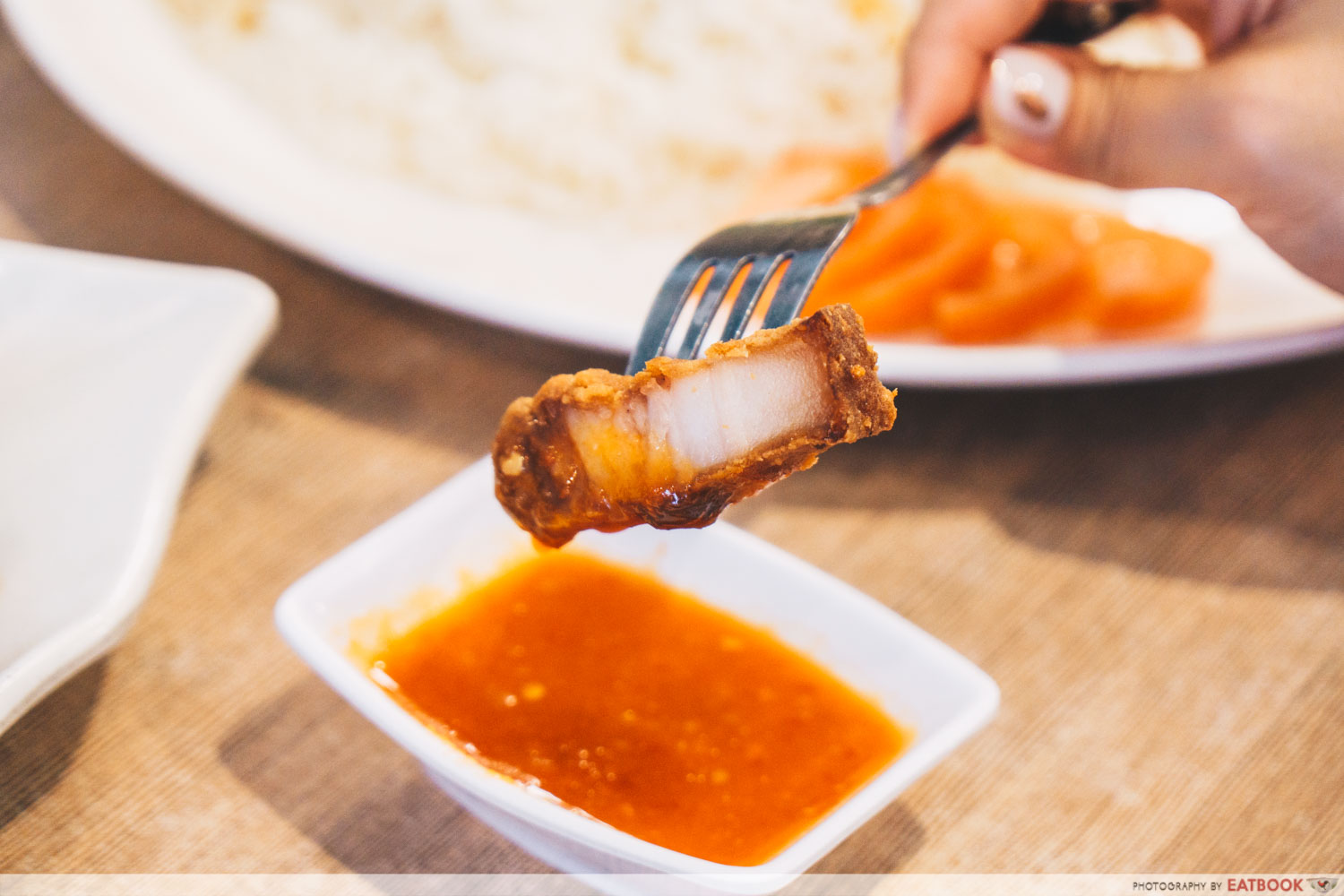 This came with a dipping sauce of sweet chilli that complemented the strong salty taste of the red fermented bean curd marinade.
Ambience at New Teck Kee Chicken Rice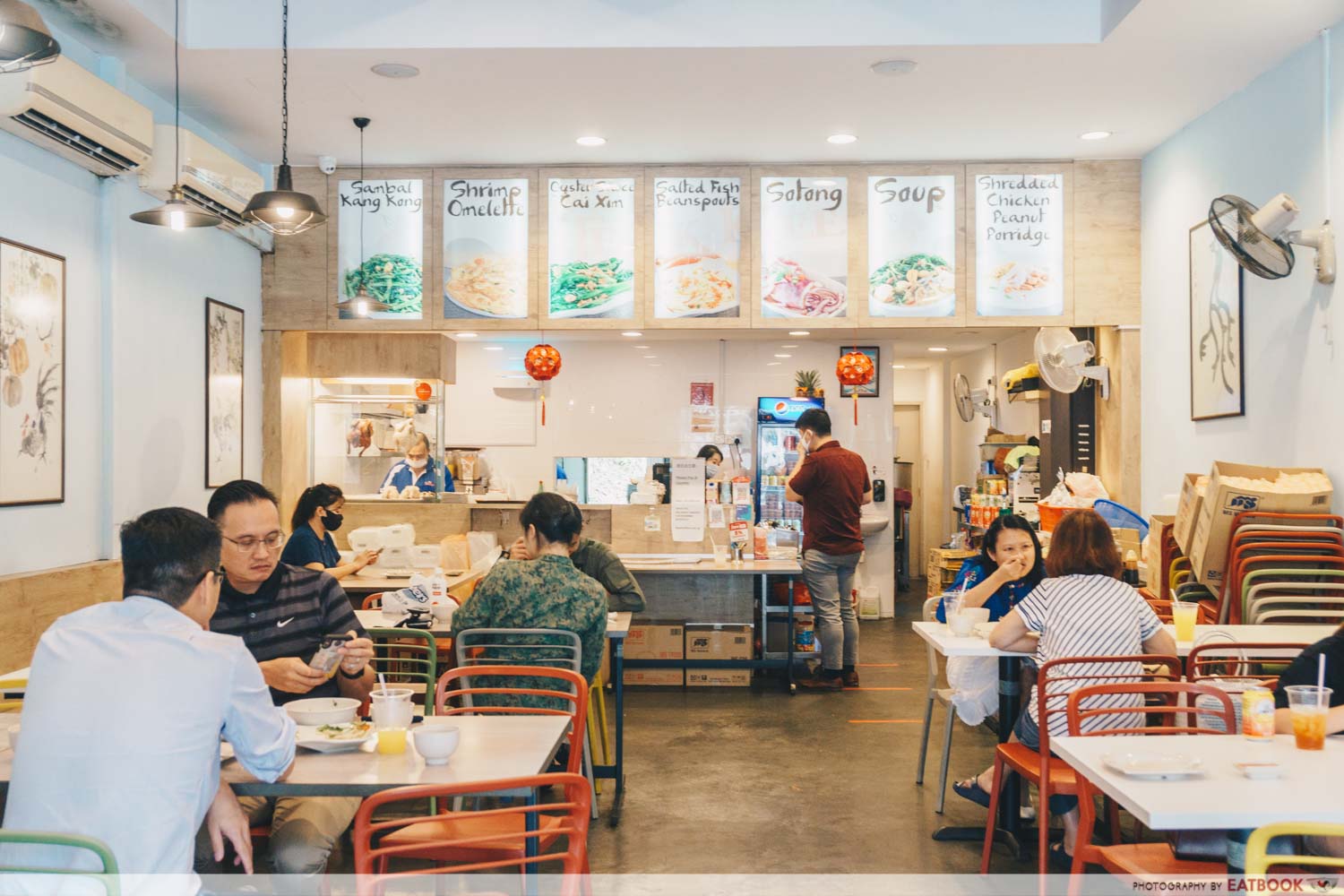 The air-conditioned outlet was comfortably cool after walking in the hot sun to Rail Mall and waiting by the road outside the shop for our table. There is limited seating available, and it gets crowded at lunchtime, which was when we were there.
Hillview MRT station is a short five-minute walk from New Teck Kee Chicken Rice, and there is a bus stop almost right outside the store. It would be best to visit outside of peak hours to avoid the lunch crowd from the MINDEF base nearby. 
The verdict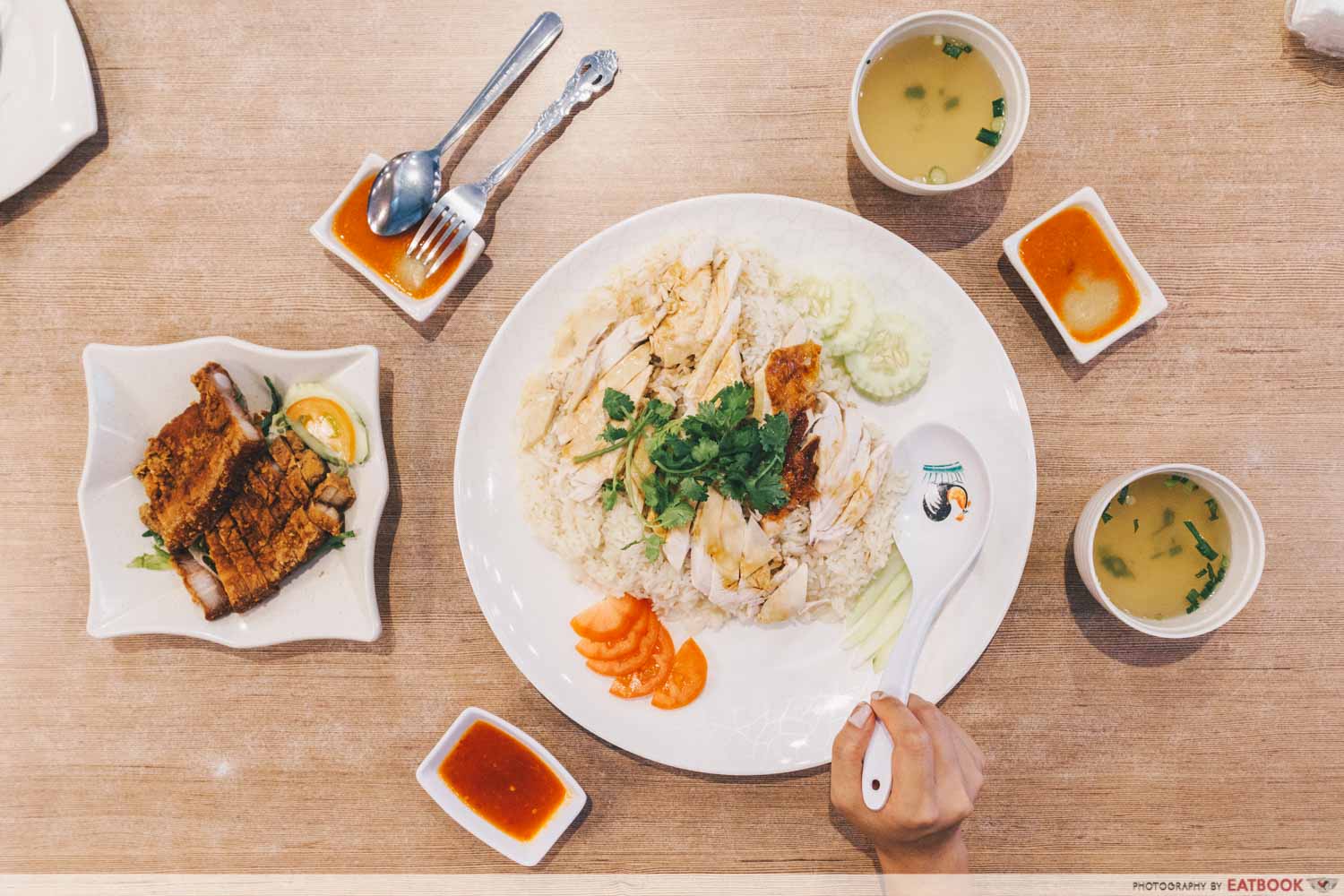 I would return for the regular chicken rice at New Teck Kee Chicken Rice, but not for the Truffle Chicken Rice Platter. The addition of truffle oil to an already strong-tasting dish was conflicting for me, and we both thought that it didn't really add value to chicken rice.
For $23, I would recommend ordering the chicken rice platter without truffle oil, which the shop allows. They'll give you more chicken meat instead if you choose this option. It's value-for-money if you're coming here with your family or a small group of friends. It'll also be a fun communal eating experience!
Roast Paradise Review: Beautifully Charred KL-Style Char Siew At Old Airport Road
Since our visit, New Teck Kee Chicken Rice has also launched nostalgic Chicken Rice Balls ($7 for 3) with a serving of steamed or roasted chicken. There are two variations: the classic chicken rice, or their house special Chicken Floss with Garlic Balls.
Le Da Chicken Rice in Bukit Batok is another chicken rice stall nearby that you should check out. For more traditional roast meats, head to Roast Paradise in Old Airport Road Hawker Centre!
Address: 450 Upper Bukit Timah Road, #01-45, The Rail Mall, Singapore 678069
Opening hours: Mon-Fri 10am to 9pm, Sat-Sun 10:30am to 9pm
Website
Tel: 9028 6713
New Teck Kee Chicken Rice is not a halal-certified eatery.
Photos taken by Muhammad Hafiq.
This is an independent review by Eatbook.sg 
Summary
Pros
– Chicken rice was tasty
– Chicken rice platter was worth it
– Chilli was tangy and appetising
Cons
– Truffle oil did not really go with chicken rice
– Chicken breast was a little dry
Recommended dishes: Chicken Rice Platter ($23), Deep Fried Pork Belly ($12)
Opening hours: Mon-Fri 10am to 9pm, Sat-Sun 10:30am to 9pm
Address: 450 Upper Bukit Timah Road, #01-45, The Rail Mall, Singapore 678069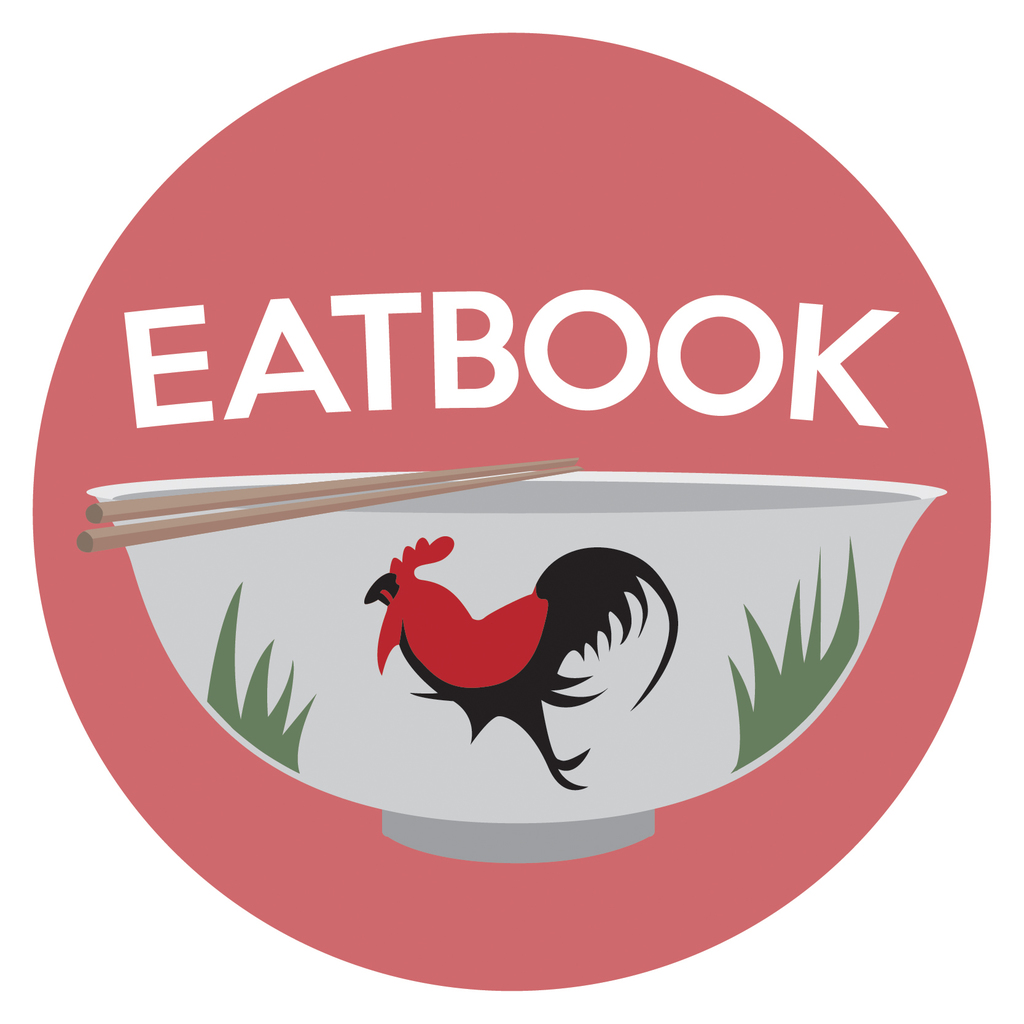 Drop us your email so you won't miss the latest news.