Onigirazu Don has cheap onigiri sandwiches at Senja Hawker Centre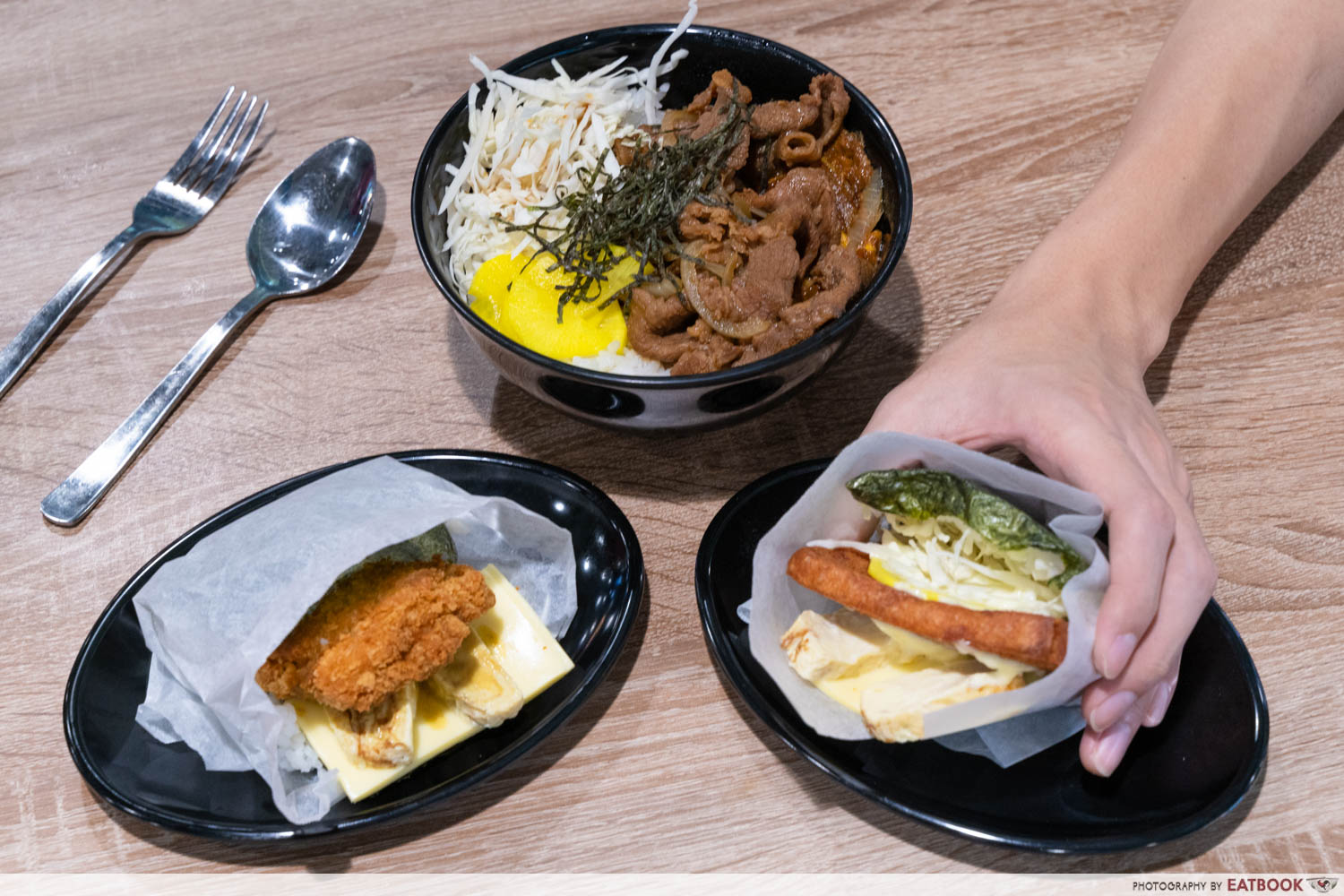 While most of us in Singapore are no strangers to onigiri, AKA Japanese rice balls, you may not be as familiar with its sister dish, onigirazu. It's a flatter version of onigiri that comes in a variety of fillings, and is best described as "onigiri sandwiches".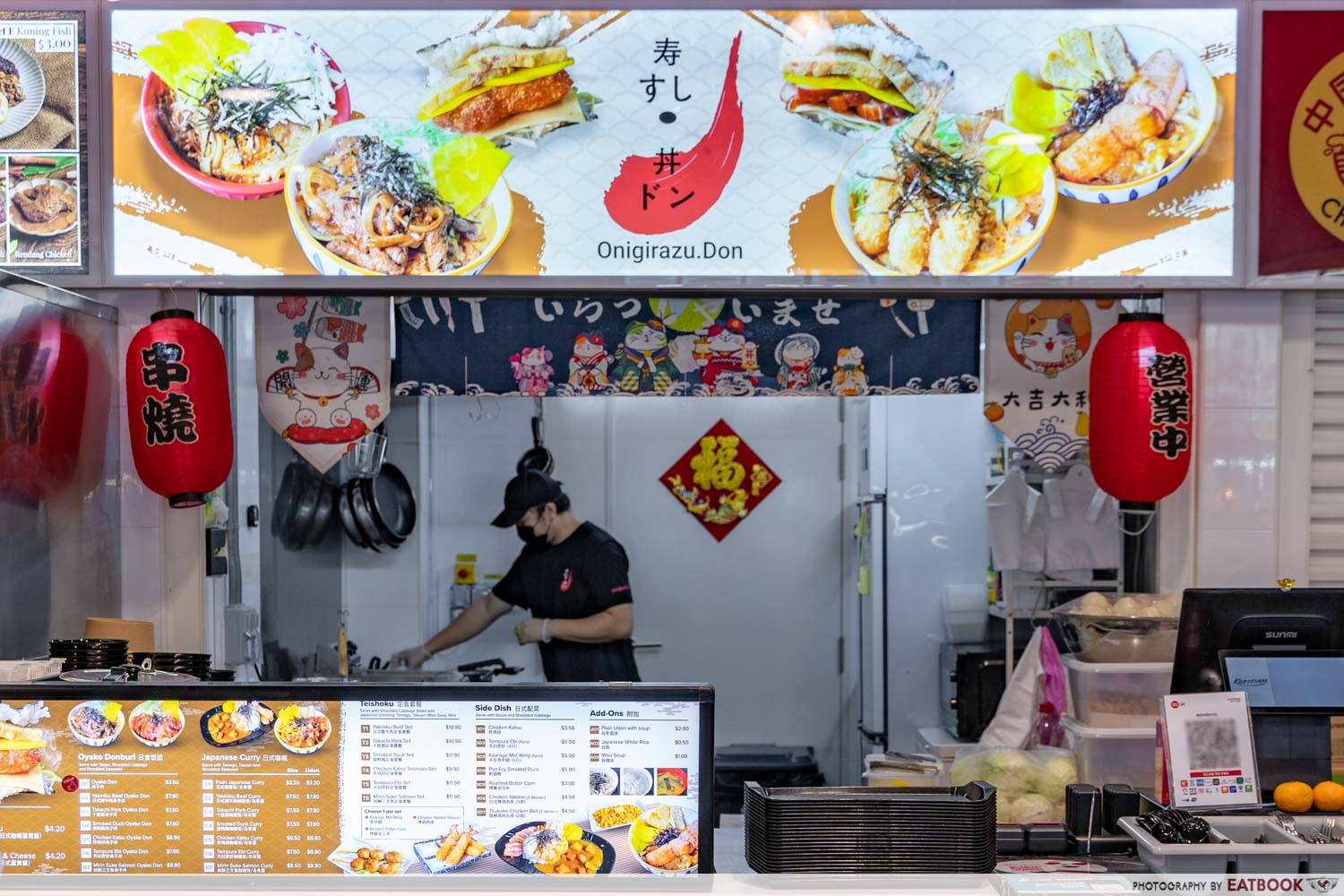 In recent years, onigirazu has been on the rise, with numerous eateries creating their own spin on the dish. One of the latest to do this is Onigirazu Don, a Japanese stall that recently opened in the new Senja Hawker Centre at Bukit Panjang.
The stall's prices caught our attention—its onigirazu and donburi start from just $3.50. We decided to drop by the stall to see if the food is any good.
New Bukit Panjang Hawker Centre Has $2 Nasi Campur, Michelin-Approved Duck Rice And More
Food at Onigirazu Don
We started with the cheapest onigiri sandwich on the menu, the Spam & Cheese Onigirazu ($3.50). Luncheon meat, egg, sliced cheese, lettuce, daikon, and mayonnaise were stuffed between a layer of rice and seaweed.
Most of the elements here were executed decently: the luncheon meat was fried nicely, giving it crispy outsides and juicy insides, the eggs were fluffy and moist, and the daikon and lettuce added a refreshing crunch.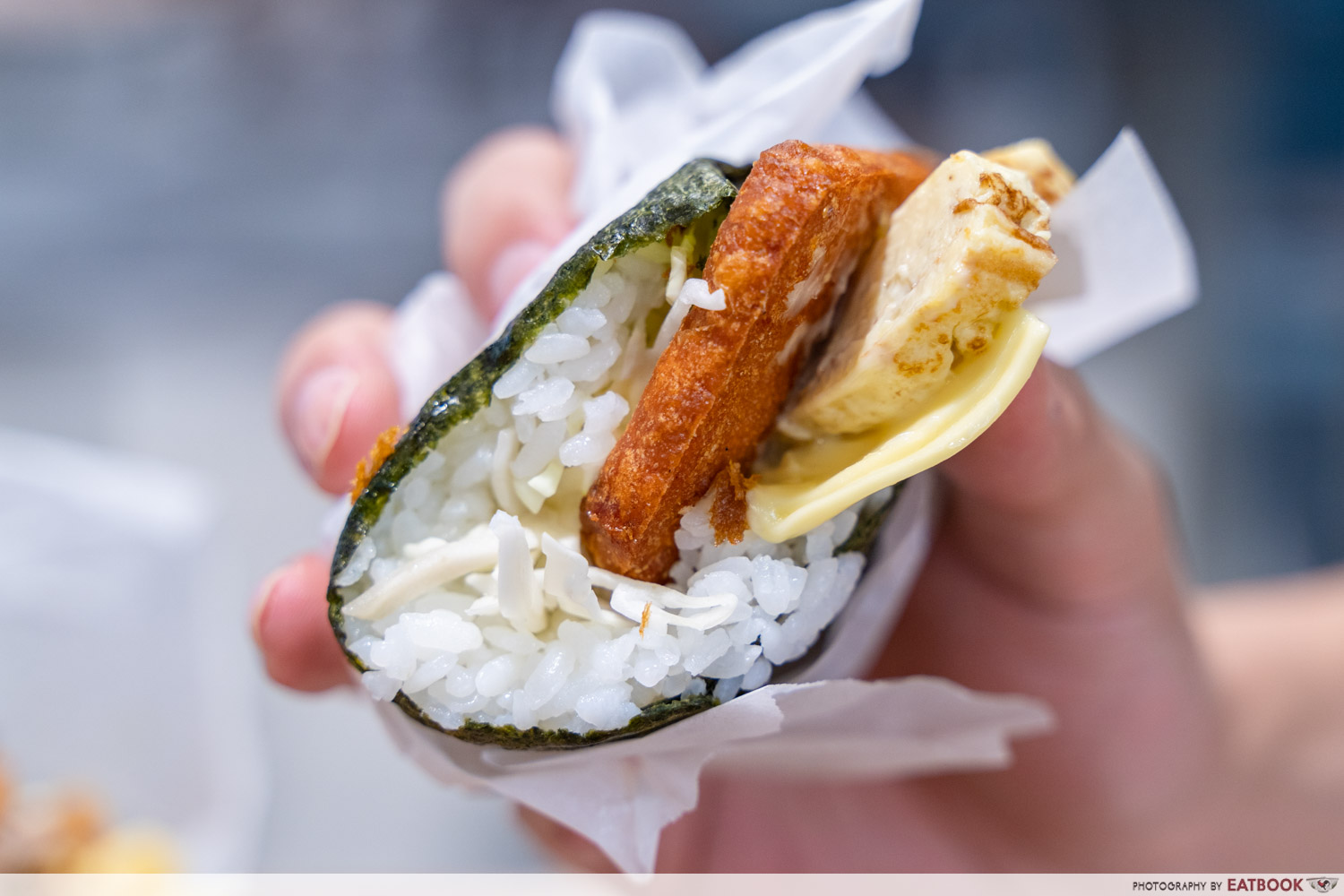 However, they didn't really come together in a way that elevated the dish, and I even felt that some elements—such as the sliced cheese—seemed out of place. I also had an issue with how the rice was too thin on each side, which made this onigiri sandwich quite awkward to eat.
The Spam & Cheese Onigirazu worked as a somewhat unique and affordable snack, but don't go into it expecting an amazing dish.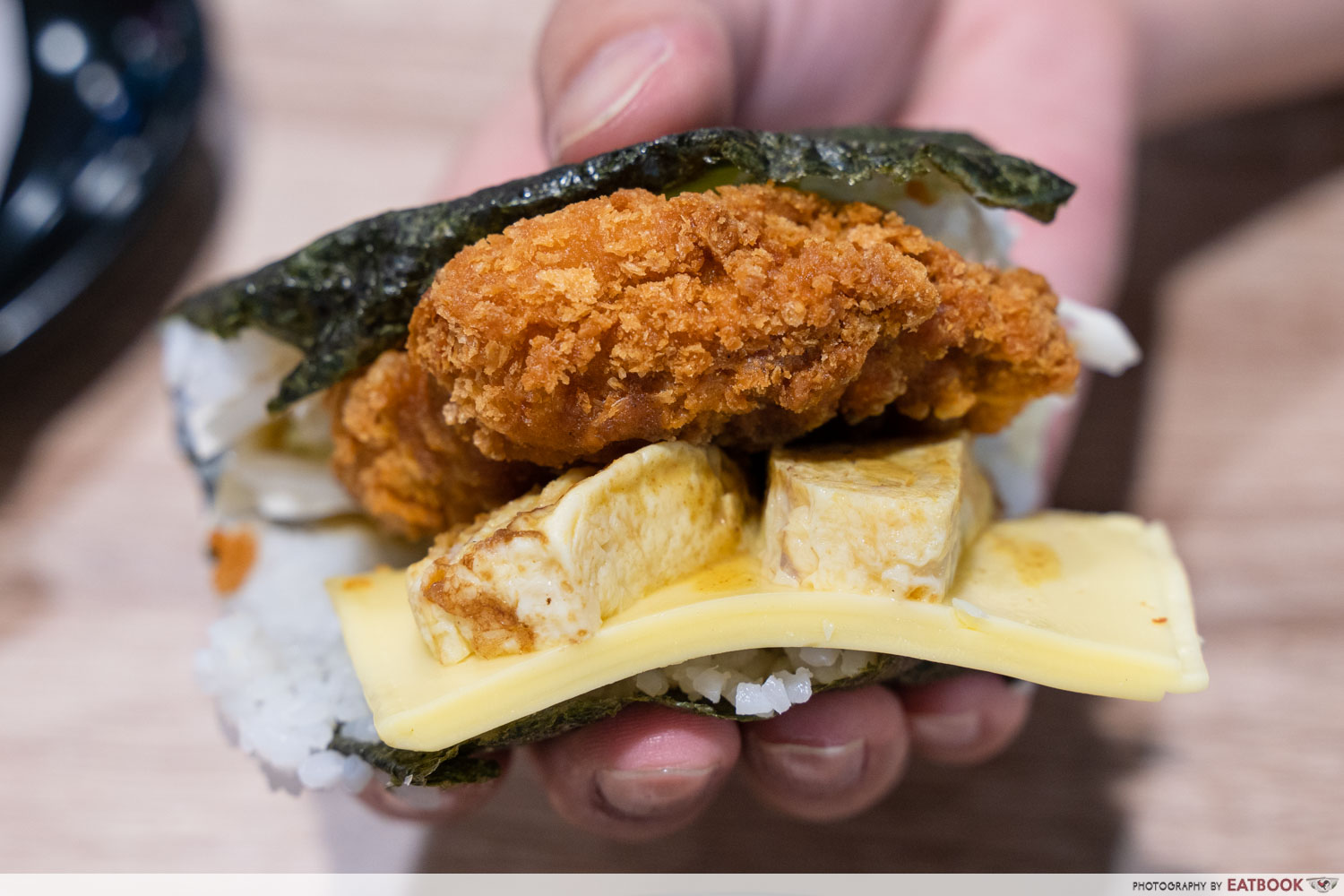 For our next dish, we decided to go for a pricier sandwich, the Kare Katsu Onigirazu ($4.20). The luncheon meat in the previous dish was swapped with a fried chicken cutlet, one that was slathered in Japanese curry mayo. The wrapping paper barely held it together—such was the packed nature of the dish.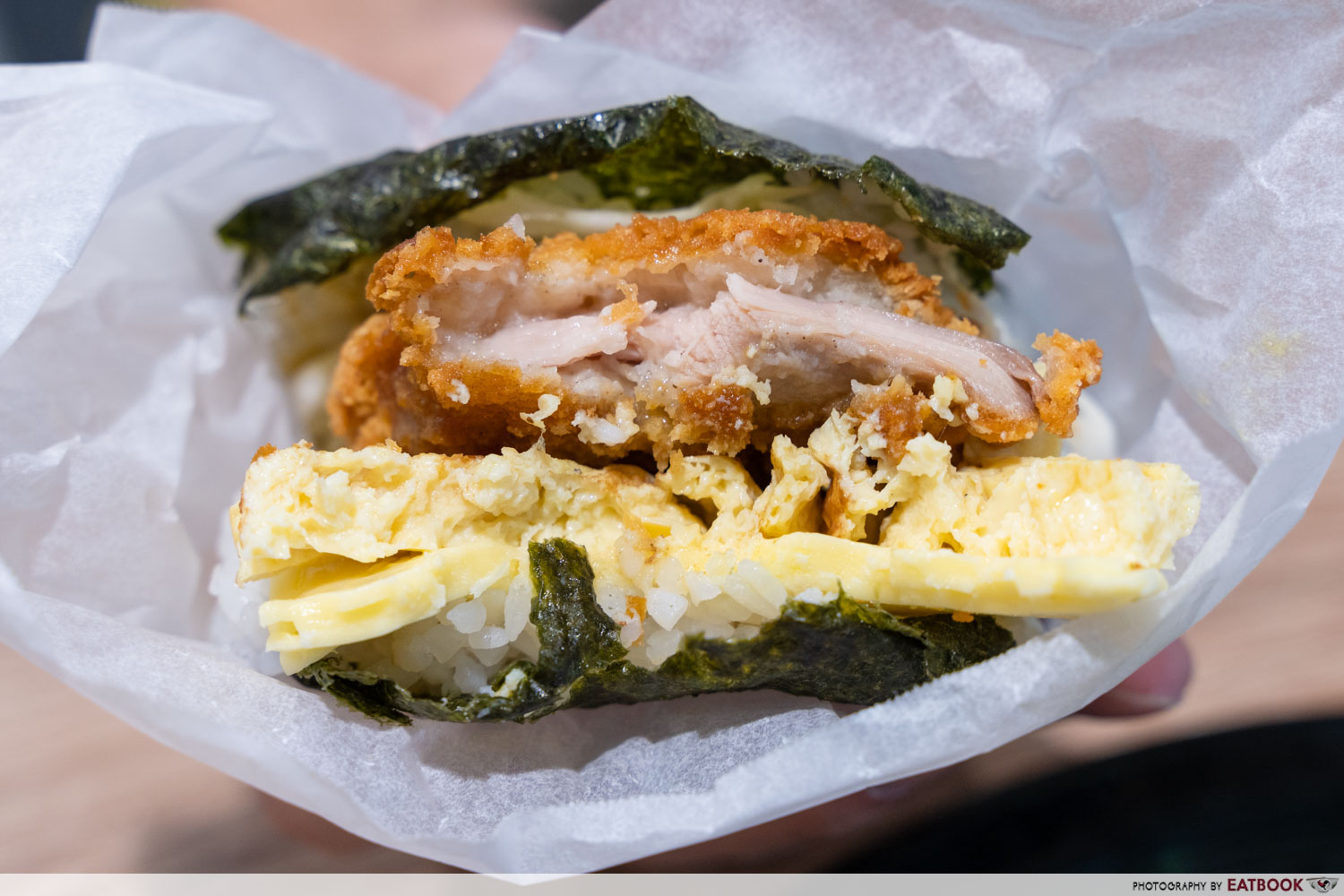 This was surely the more exciting dish. Though the chicken katsu was probably of the frozen variety, it was crunchy and succulent enough to be thoroughly enjoyable. The hints of curry in the dish were enough to spice things up, too. And while the rest of the dish was the same as in the Spam & Cheese Onigirazu, the delectable curry-katsu combination did enough heavy lifting for me to consider it a success.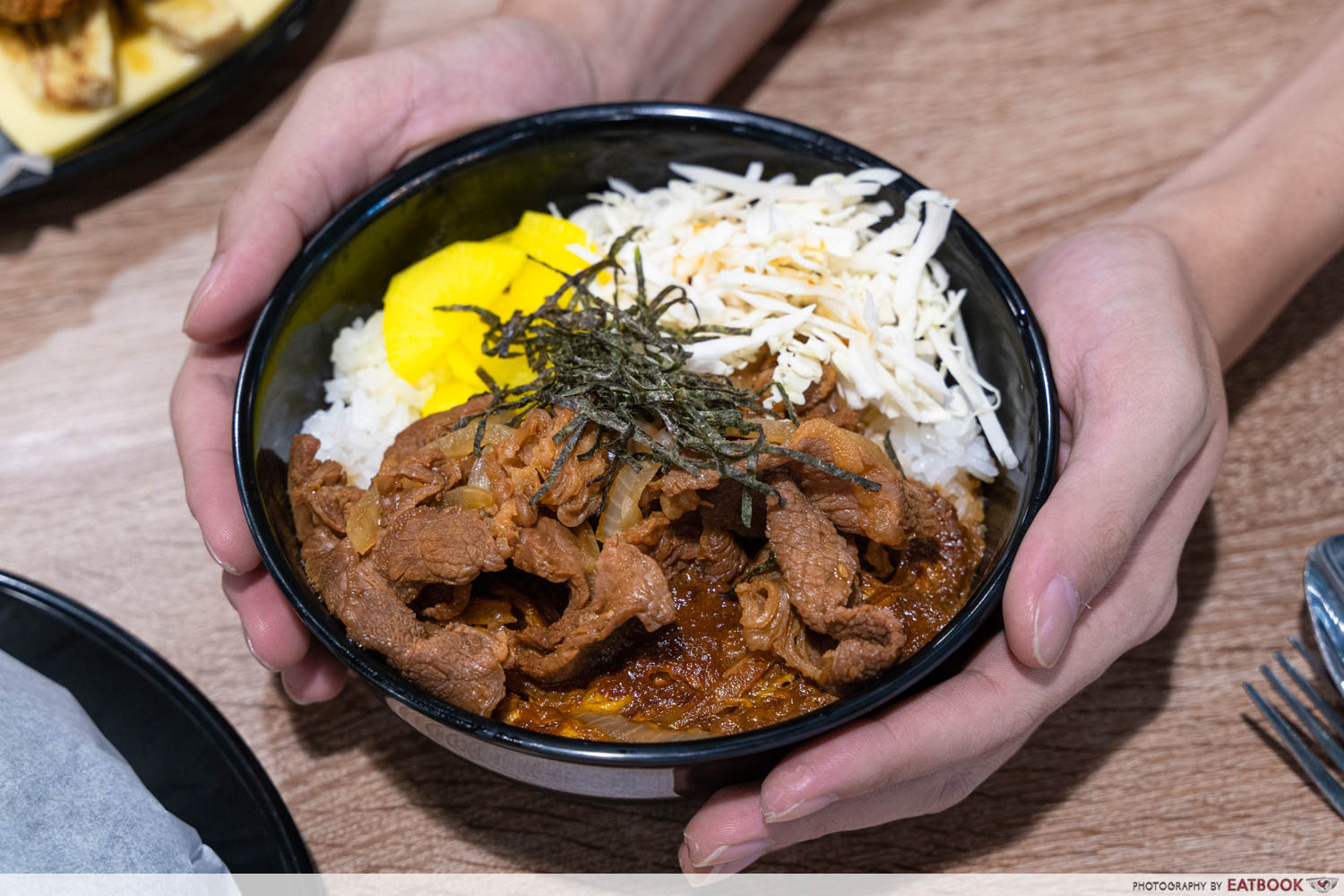 We couldn't end our meal without trying one of the stall's donburi. While the most affordable option in this category is the basic Oyako Don ($3.50), we decided to go for a dish that would beef things up. Of course, I'm talking about the Yakiniku Beef Oyako Don ($7.90).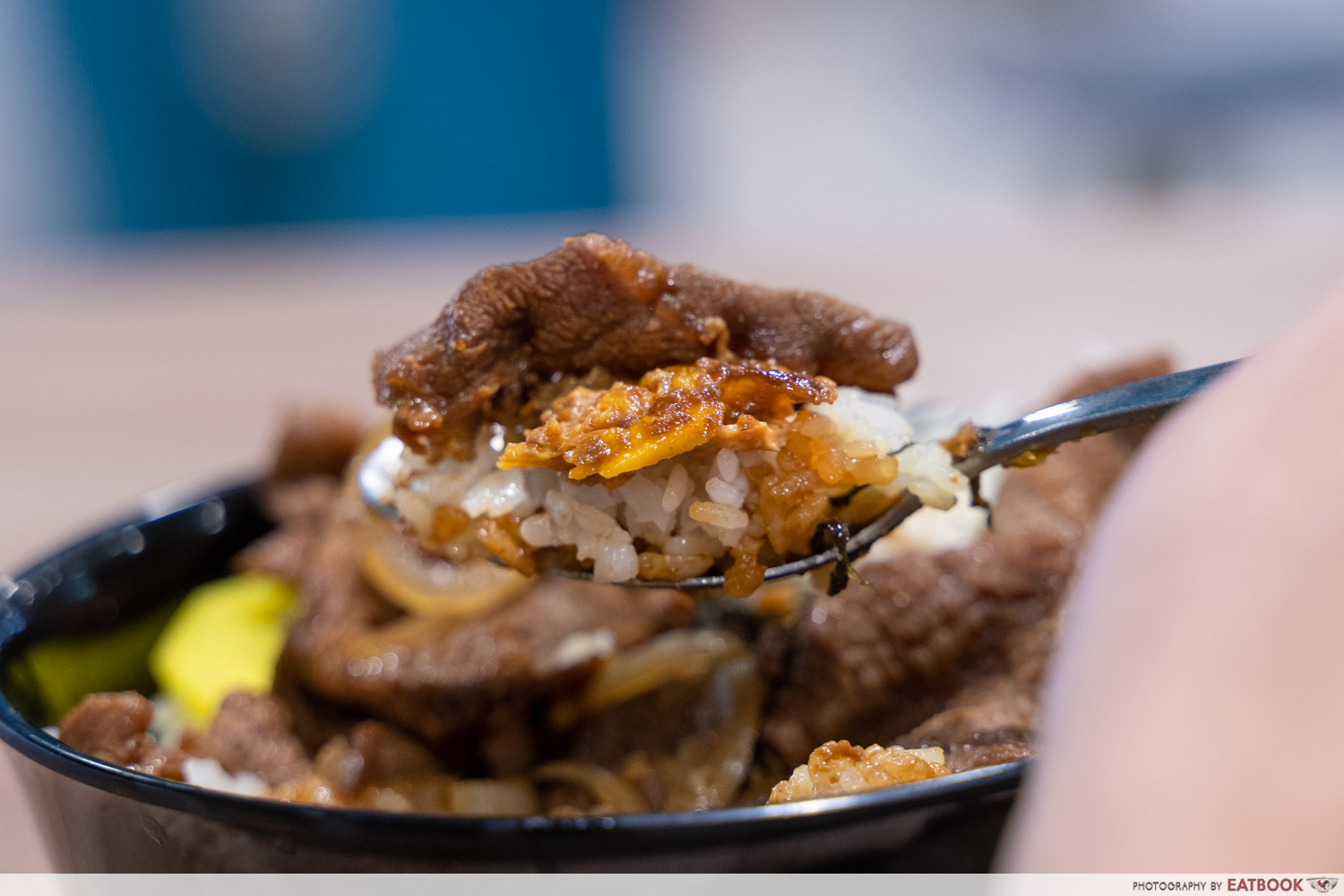 The tender beef slices here were coated in a sweet soy sauce that, while immensely flavourful on the first few bites, did get cloying too quickly. Still, they went well with the fragrant bed of eggs and onions, and eating them along with the short-grain rice helped balance things out a little.
Ambience at Onigirazu Don
Onigirazu Don can be found in Senja Hawker Centre, a new hawker centre that opened in December 2022. You can expect the place to be spacious and comfortable to dine at, with high ceilings for good ventilation. And with its 28 hawker stalls, there's plenty to check out if you'd like to try something other than Onigirazu Don.
Senja Hawker Centre is a seven-minute walk from Jelapang LRT Station.
Ima-Sushi Review: $1 Salmon Sushi And Affordable Chirashi Bowls In SMU
The verdict
While Onigirazu Don doesn't exactly serve stellar Japanese fare, its cheap and interesting dishes make it worth checking out—especially if you reside in the area. If you've never had onigiri sandwiches before, then this might be a decent introduction to the dish.
If you're looking for a good sushi place to try, have a look at our Ima-Sushi review. For other affordable Japanese eats, read our Mr Ramen review.
Address: 2 Senja Close, #02-04, Senja Hawker Centre, Singapore 677632
Opening hours: Daily 11am to 2pm, 3.30pm to 5pm
Website
Onigirazu Don is not a halal-certified eatery.
Unatoto Review: Famous Japanese Chain Opens With Unagi Bowls From $9.50+ In Tanjong Pagar 
Photos taken by Melvin Mak.
This was an independent review by Eatbook.sg.
Onigirazu Don Review: $3.50 Onigiri Sandwiches And Donburi At This Bukit Panjang Stall
Onigirazu Don Review: $3.50 Onigiri Sandwiches And Donburi At This Bukit Panjang Stall -

6.5/10
Summary
Pros
– Affordable prices
– Kare Katsu Onigirazu was a good take on onigiri sandwiches
Cons
– Though cheap, the Spam & Cheese Onigirazu was an average dish
– Yakiniku Beef Oyako Don was overly sweet
Opening hours: Daily 11am to 2pm, 3.30pm to 5pm
Address: 2 Senja Close, #02-04, Senja Hawker Centre, Singapore 677632