---
Pet-friendly cafes in Singapore
---
With most restaurants and cafes adopting a no-pets stance in Singapore, going on dates or simply hanging out at your favourite cafes often mean you'll have to leave your beloved pets at home. But that doesn't always have to be the case. These eight pet-friendly cafes in Singapore prove you can enjoy a cafe visit with your pooch or moggy in tow. 
---
1. Wheeler's Yard
---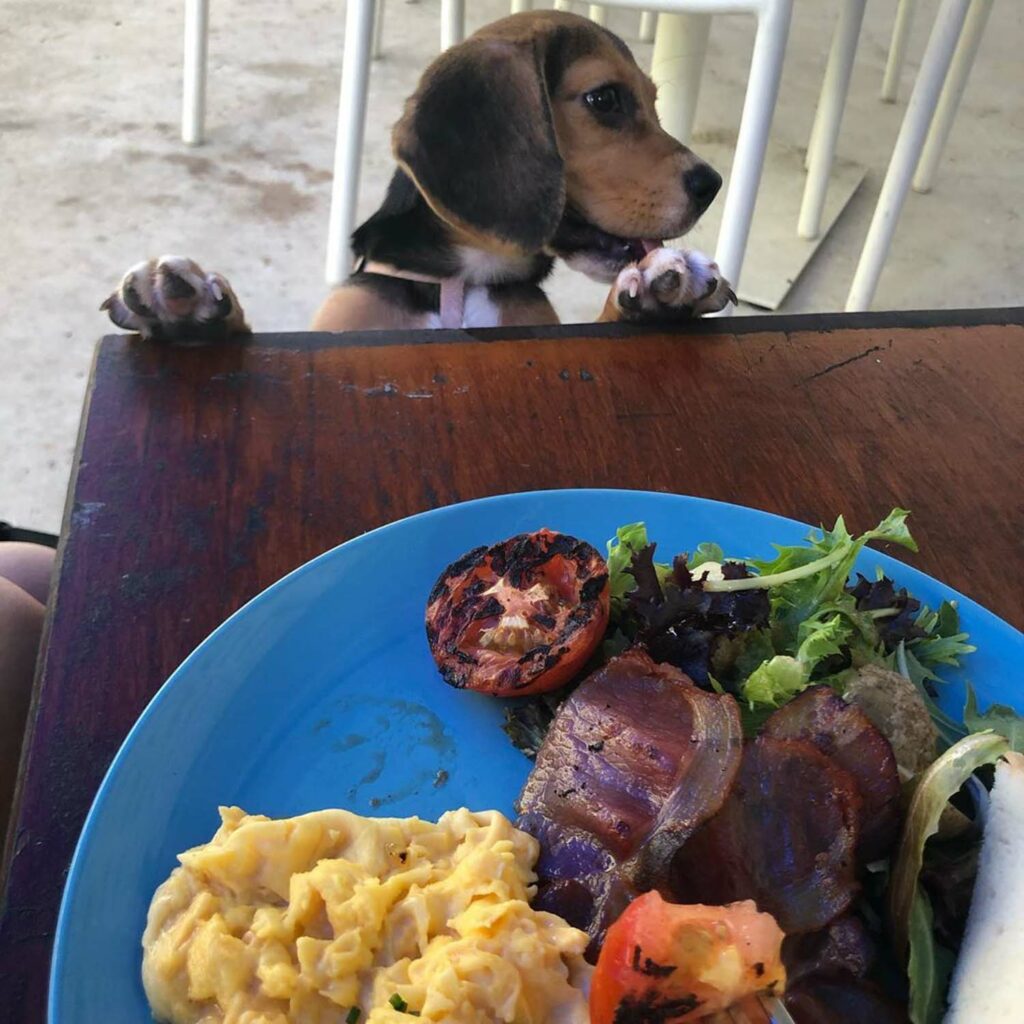 Image credit: @cookieisabeagle
The next time you're cycling around the Whampoa Park Connector, bring your furry kid and head over to Wheeler's Yard to chill after your workout. Wheeler's Yard is nestled in a massive industrial warehouse and boasts a whimsical vintage theme centred around bicycles. There is also a bicycle workshop here if your bike is in need of repairs.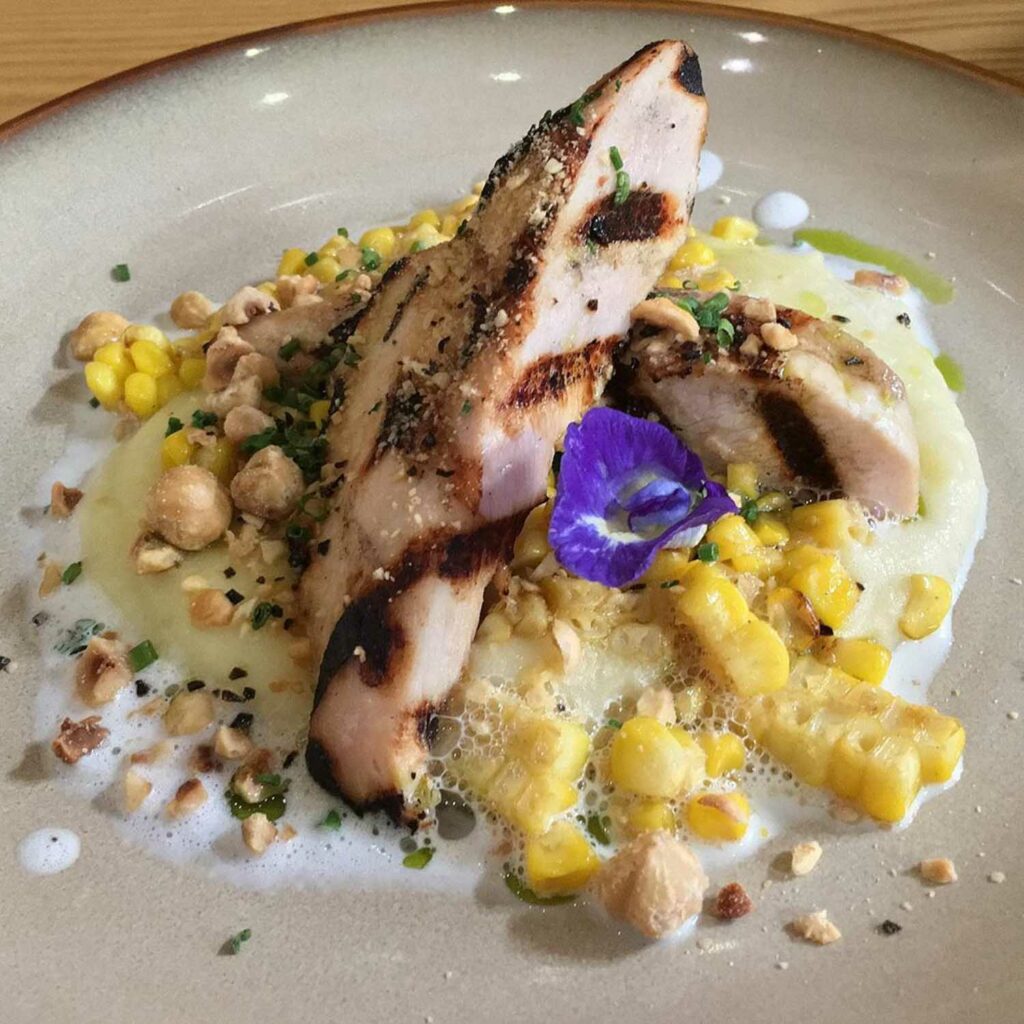 Image credit: @tubs78
Don't forget to check out the food options that are available here too, such as the 60°C Chicken Breast ($18.90). The sous-vide chicken breast is cooked to tender, juicy perfection and comes served with grilled corn, roasted hazelnut, shio kombu, mashed potatoes, and hazelnut milk foam. If you're looking to get brunch, Wheeler's Yard has got you covered till 3pm. Options include the hearty Rise & Shine Brekkie ($16.90), a platter comprising pork bacon, grilled tomatoes, salad, white toast and eggs, and the healthy Simply Granola ($13.90), a granola bowl served with a variety of fruits.
Address: 28 Lorong Ampas, Singapore 328781
Opening hours: Tue-Fri 11am to 10pm, Sat-Sun 10:30am to 10pm
Telephone: 6254 9128
Website
---
2. Whisk & Paddle
---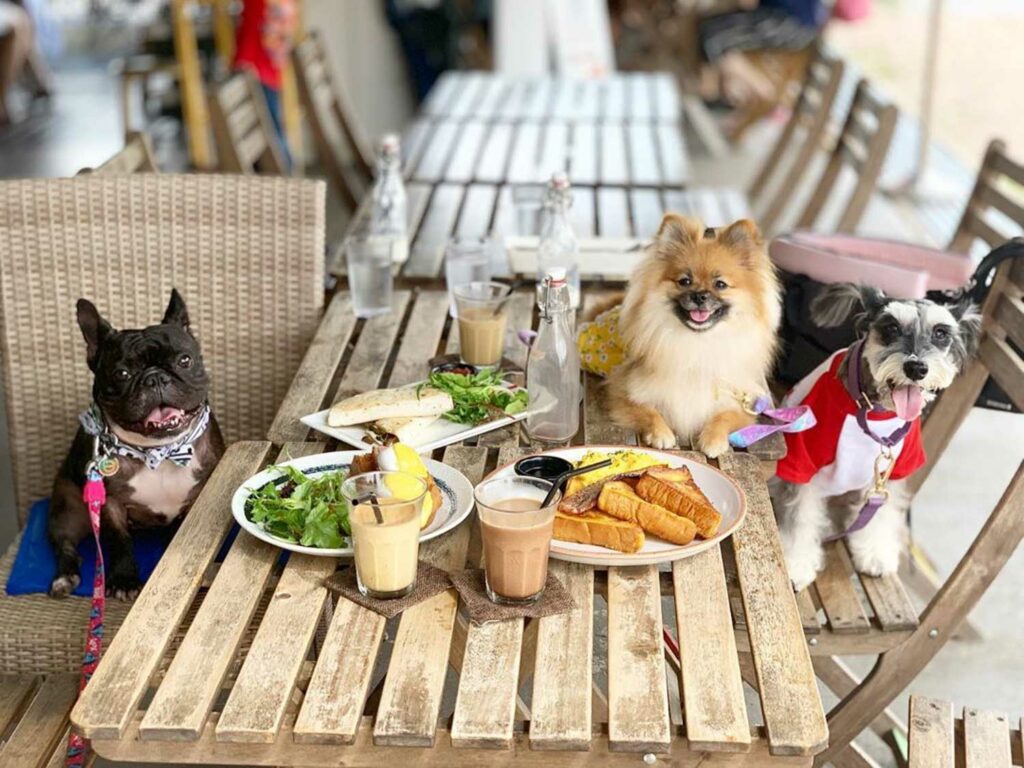 Image credit: @boo._thefrenchie
Bask in lush greenery with your pooch over at Whisk & Paddle, which commands a gorgeous view of the Lorong Halus Wetland located opposite the Punggol Serangoon Reservoir.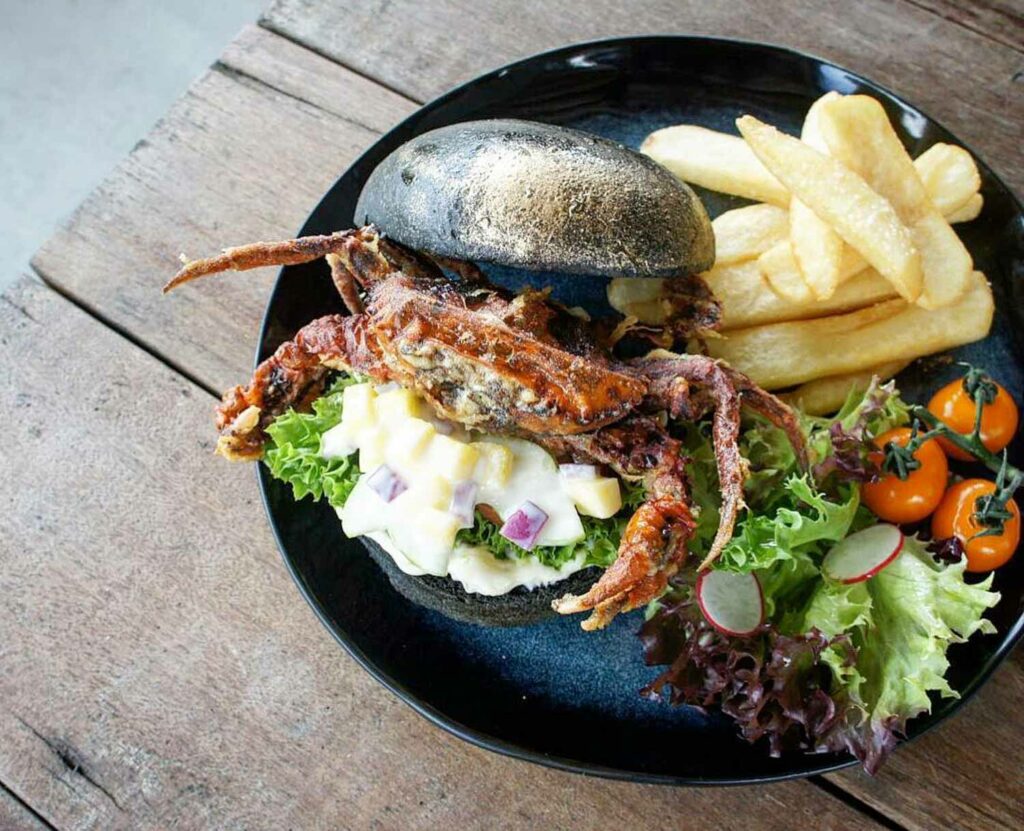 Image credit: Whisk & Paddle Facebook
Tuck into their Battered Soft Shell Crab Burger ($26.80++) that comes paired with pineapple rum sauce, and savour their Handmade Beetroot & Spinach Gnocchi with Sautéed Mushrooms ($21.80++). Celebrating your pampered pooch's birthday is also made easier as you can order a customised cake and even book the cafe for the occasion. Simply drop them an email at enquiry@whiskandpaddle.com.sg to find out more.
Address: 10 Tebing Lane, #01-01, Singapore 828836
Opening hours: Mon-Fri 3:30pm to 10:30pm, Sat-Sun 9:30am to 10:30pm
Telephone: 6242 4617
Website
---
3. The Coastal Settlement
---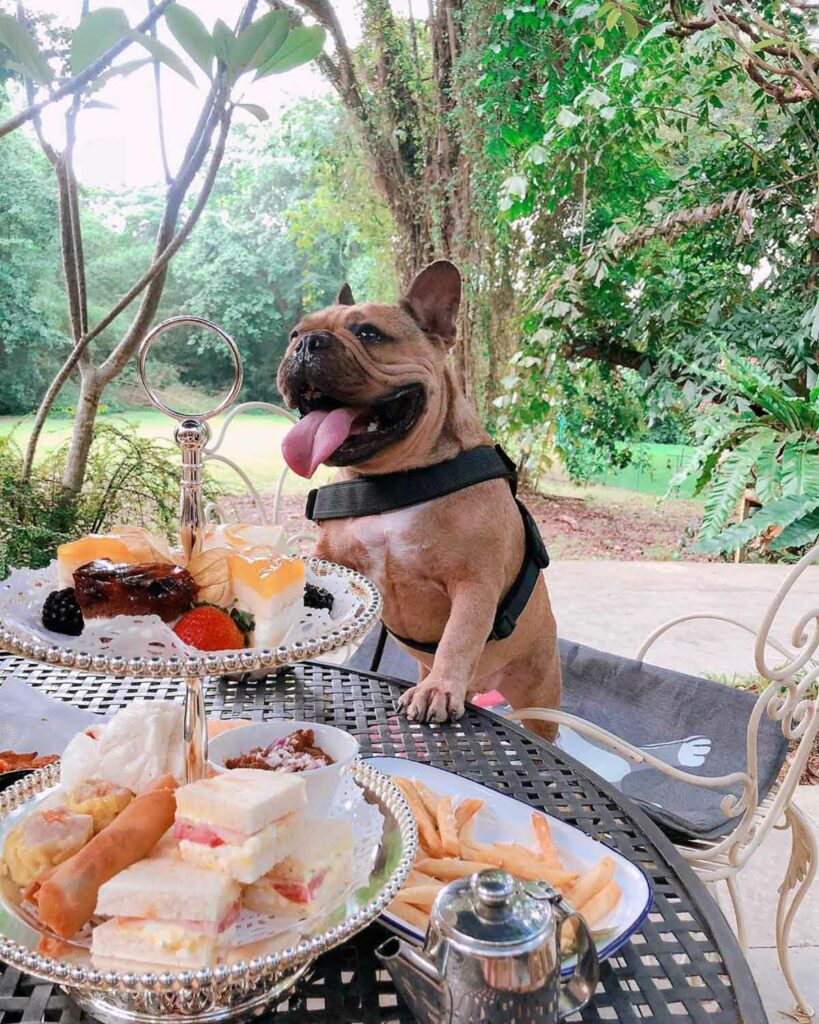 Image credit: @baconwitheggs0303
Bring your furry friend to the outdoor dining area of The Coastal Settlement and find yourself transported to a green wonderland. This casual dining restaurant-bar is hemmed in on all sides by verdant tropical foliage.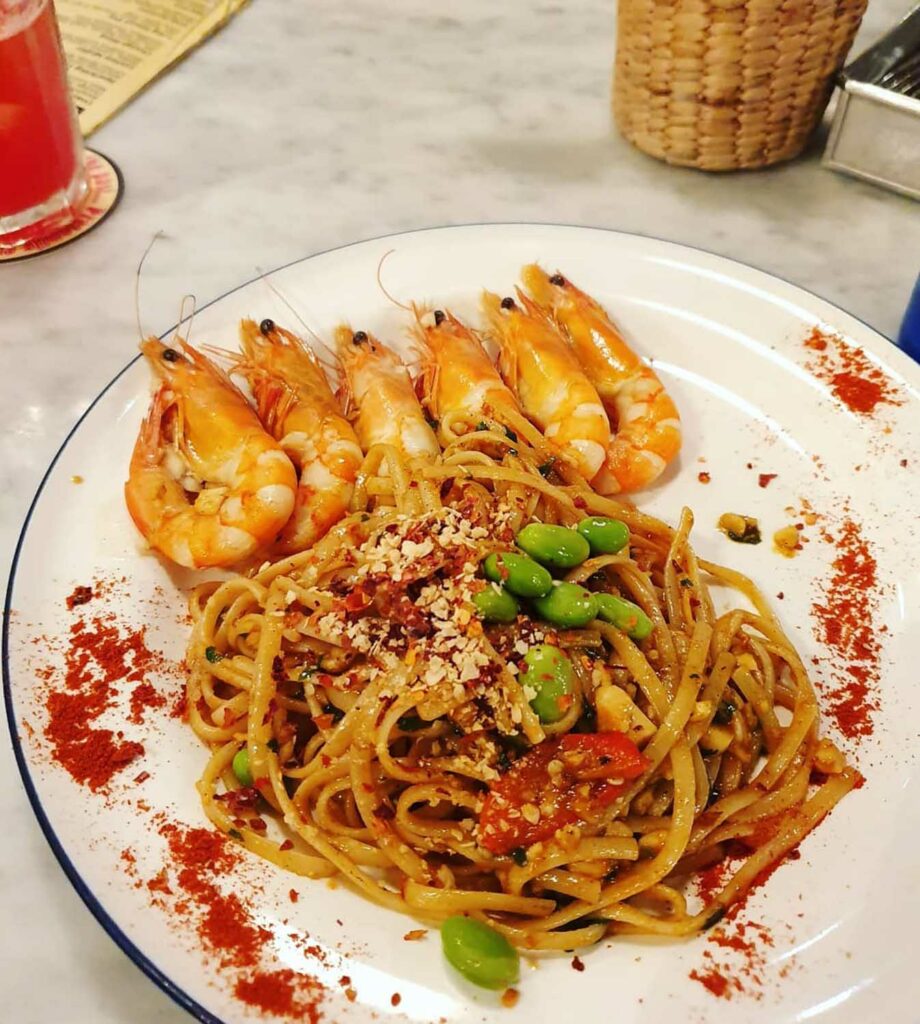 Image credit: @missbebe_beatrice
The Coastal Settlement also offers both local and international cuisines on its menu, leaving you spoilt for choice. Try out their in-house TCS Hokkien Mee ($24++), which comes bursting with a generous serving of prawns, squids, and even a half-shell scallop. If you crave something more savoury, tuck into their Prawn Aglio Olio in XO Sauce ($25++).
Address: 200 Netheravon Road, Singapore 508529
Opening hours: Tue-Fri 10:30am to 11pm, Sat 8:30am to 12am, Sun 8:30am to 11pm
Telephone: 6475 0200
Website
---
4. The Garden Slug
---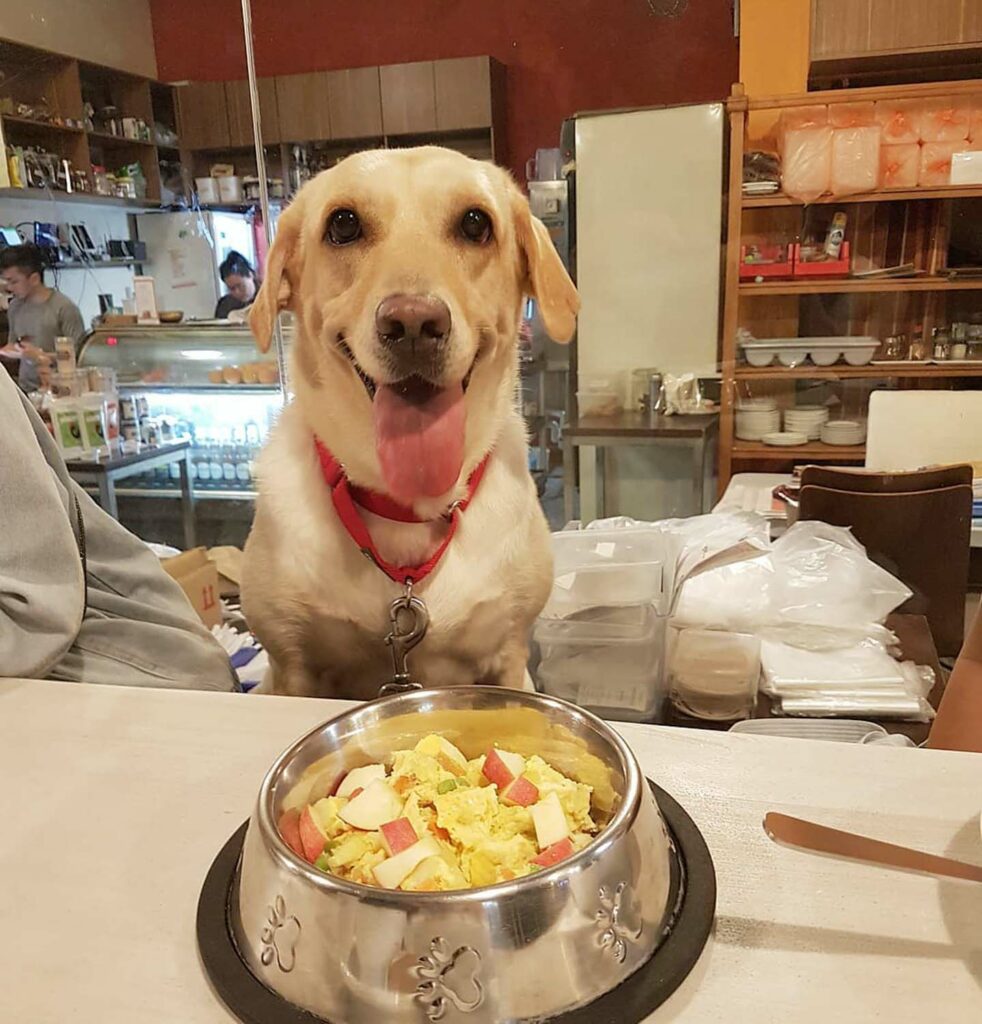 Image credit: @labradorpeanut
Dine with your furry pal at The Garden Slug, where food is not just prepared for humans—there is a dedicated Awesome Pawsome menu for your dog too! All dishes on the menu are made with dog-approved ingredients which are prepared fresh.
Pick up an order of Woofmelette Breakfast ($13.90) for your canine buddy, which is a potato omelette paired with sweet potatoes, zucchini, french beans, coconut oil and apples. For something on the lighter side, you can choose to get a Vegan Pupcake ($13.90), made with bananas, basil, and pumpkin.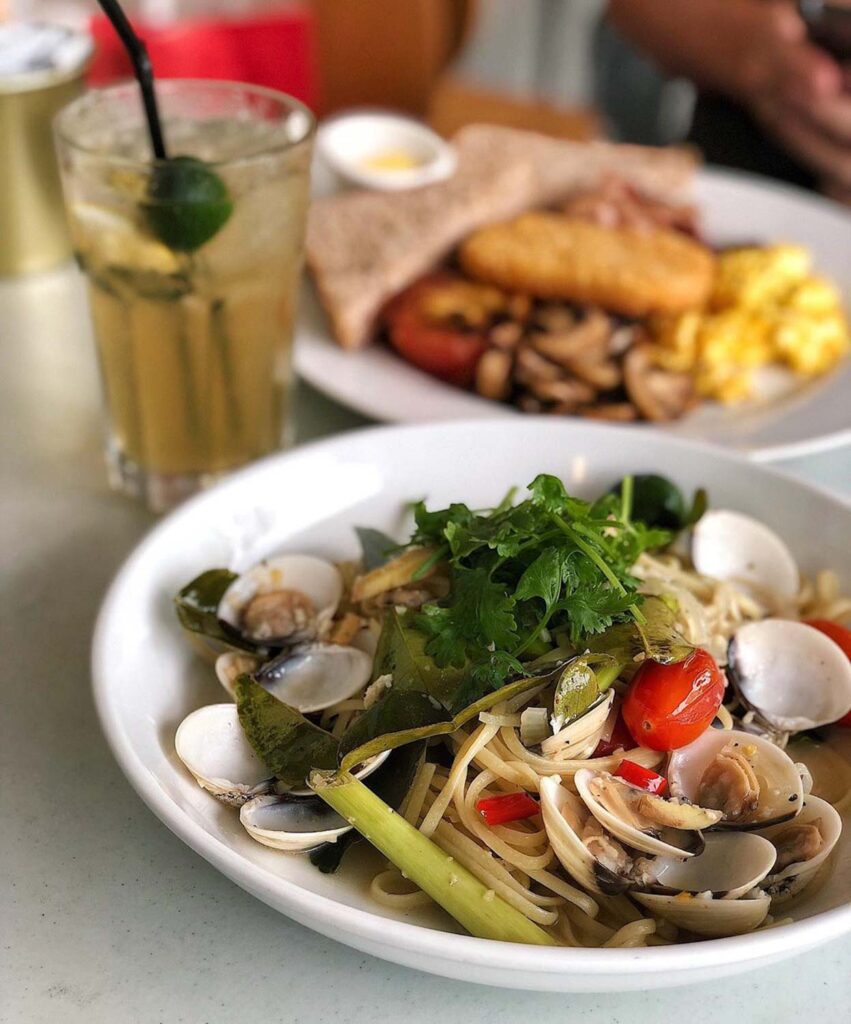 Image credit: @that_dex
The Garden Slug doesn't scrimp on its human menu either, offering a huge variety of dishes to satisfy every palate. Seafood lovers can try their fusion Tom Yum Pasta Vongole ($19.50) that's full of clams. If you're in the mood for brunch, you'll be glad to know that it's available all day. For a satisfying meal, order their massive All Day Big Breakfast ($19.80) which is stacked with sausages, scrambled eggs, hashbrown, and bacon.
Address: 55 Lorong L Telok Kurau, #01-59/61, Singapore 425500
Opening hours: Mon-Tue 6pm to 10pm, Wed-Fri 11am to 10pm, Sat-Sun 9am to 10pm
Tel: 6346 0504
Website
---
5. Café de Nicole's Flower
---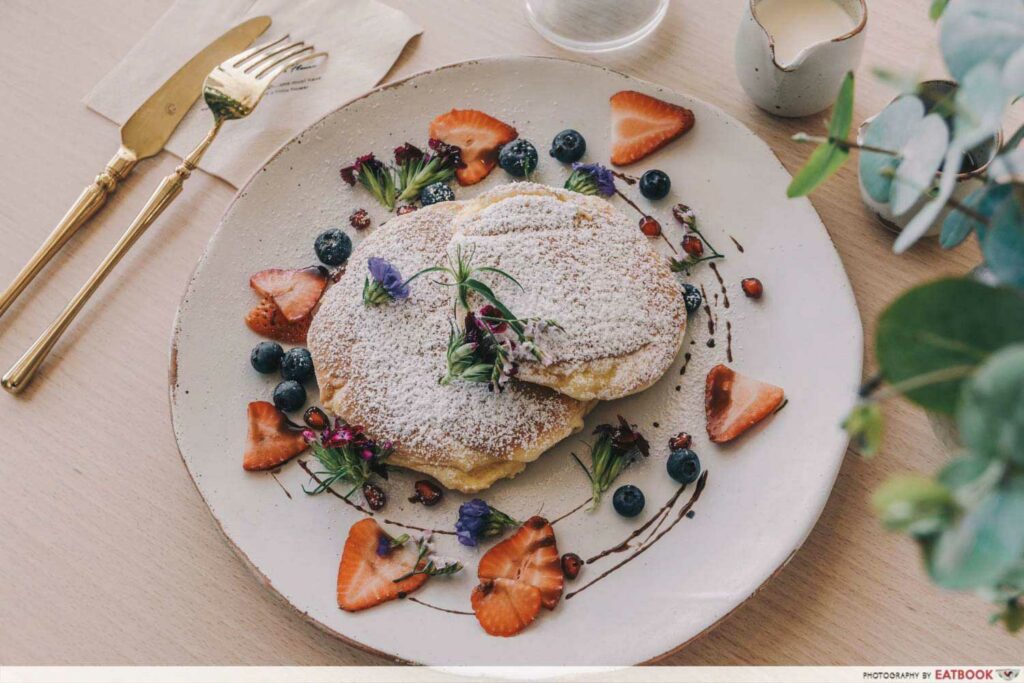 Café de Nicole's Flower is a quaint cafe at Telok Kurau Road that uses colourful blooms as the mainstay of its garden-themed decor. Fuel up with their in-house brunch platter Nicole's Flavours ($21.90), a staggering smorgasbord of hearty breakfast food such as sunny-side-up eggs, hash brown, pork sausage, and avocado slices.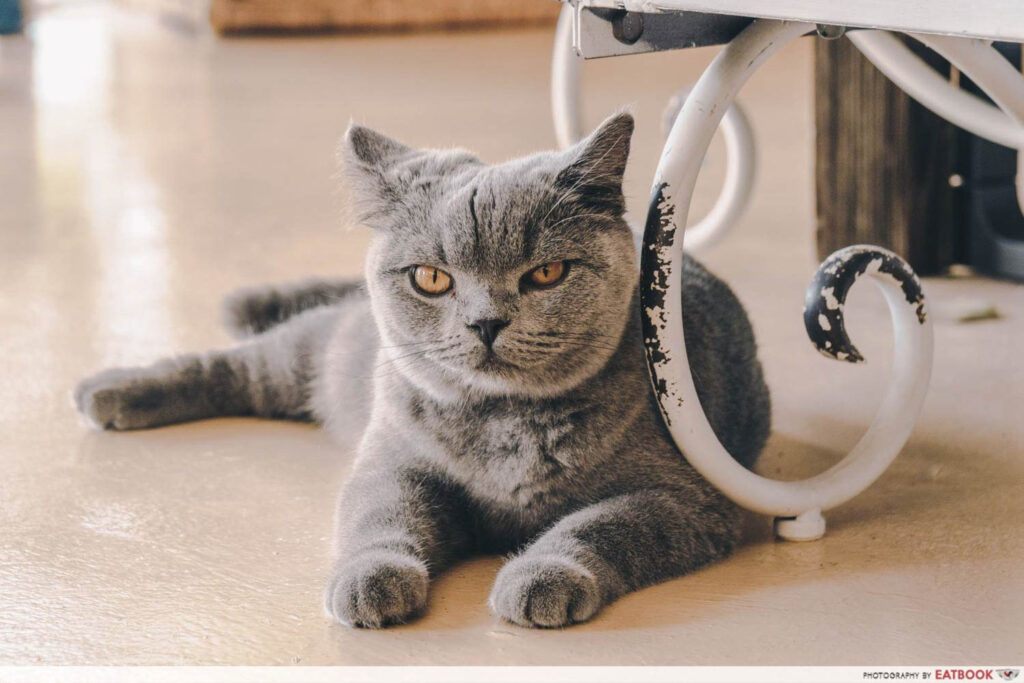 If you have a sweet tooth to satiate, check out the desserts they have available, such as their Soufflé Pancakes ($19.90+). The café even comes with its own house cat, an adorable British Shorthair aptly named Lao Ban (Boss); don't be alarmed if he brushes past your legs!
Check out our review of Café de Nicole's Flower here.
Address: 224 Telok Kurau Road, #01-01, Singapore 423836
Opening hours: Tue-Sun 8:30am to 8:30pm
Tel: 8338 8511
Website
---
6. Sun Ray Cafe
---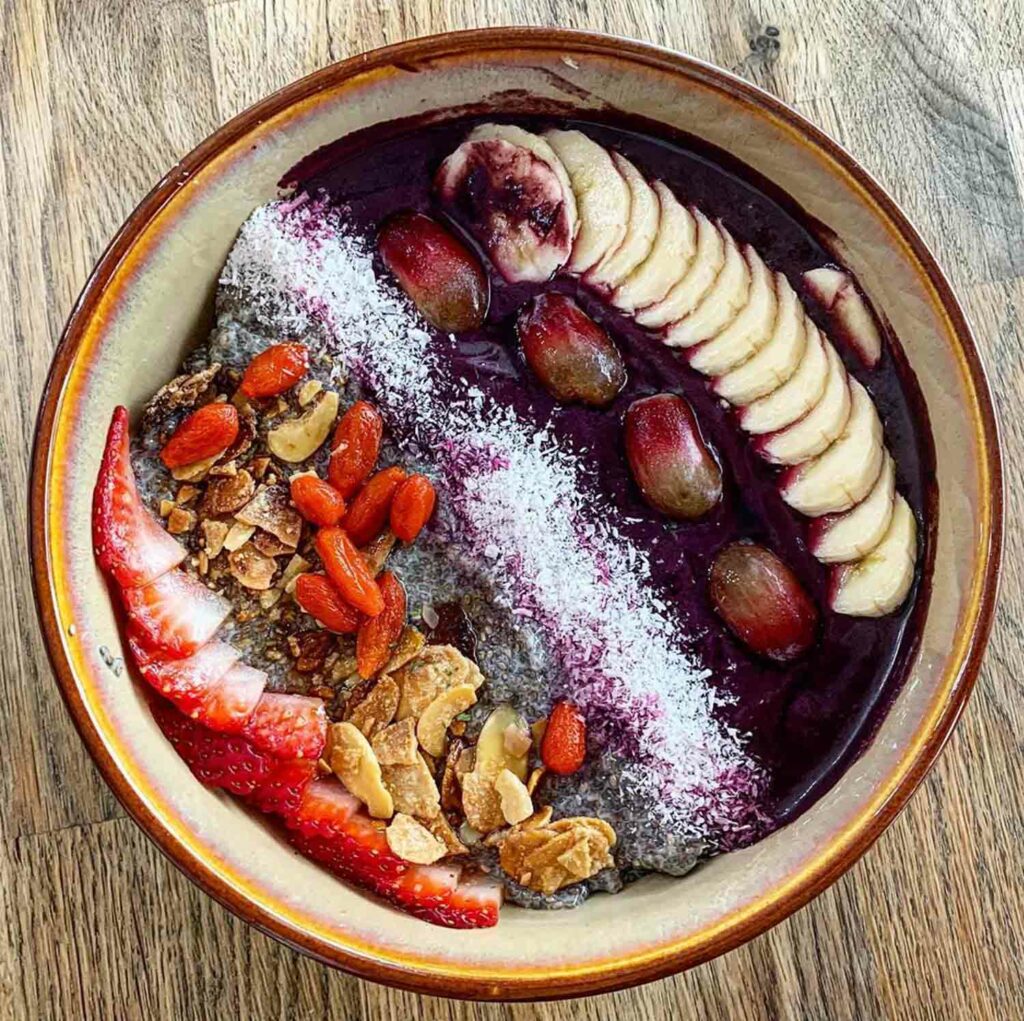 Image credit: @cindy_t_quek
If you're in need of a caffeine fix, swing by Sun Ray Cafe for its wallet-friendly hand-roasted coffee blends. Prices start from as low as $1 for an Espresso, going up to a maximum of $3.50 for their Iced Mocha and Iced Brighton drinks. Don't forget to check out the food options that Sun Ray Cafe has available, which are also affordably priced like their drinks. For a healthy boost after a good workout, try their Super Chia Pudding and Acai Bowl ($10), which comes paired with fresh berries, bananas, and crushed nuts.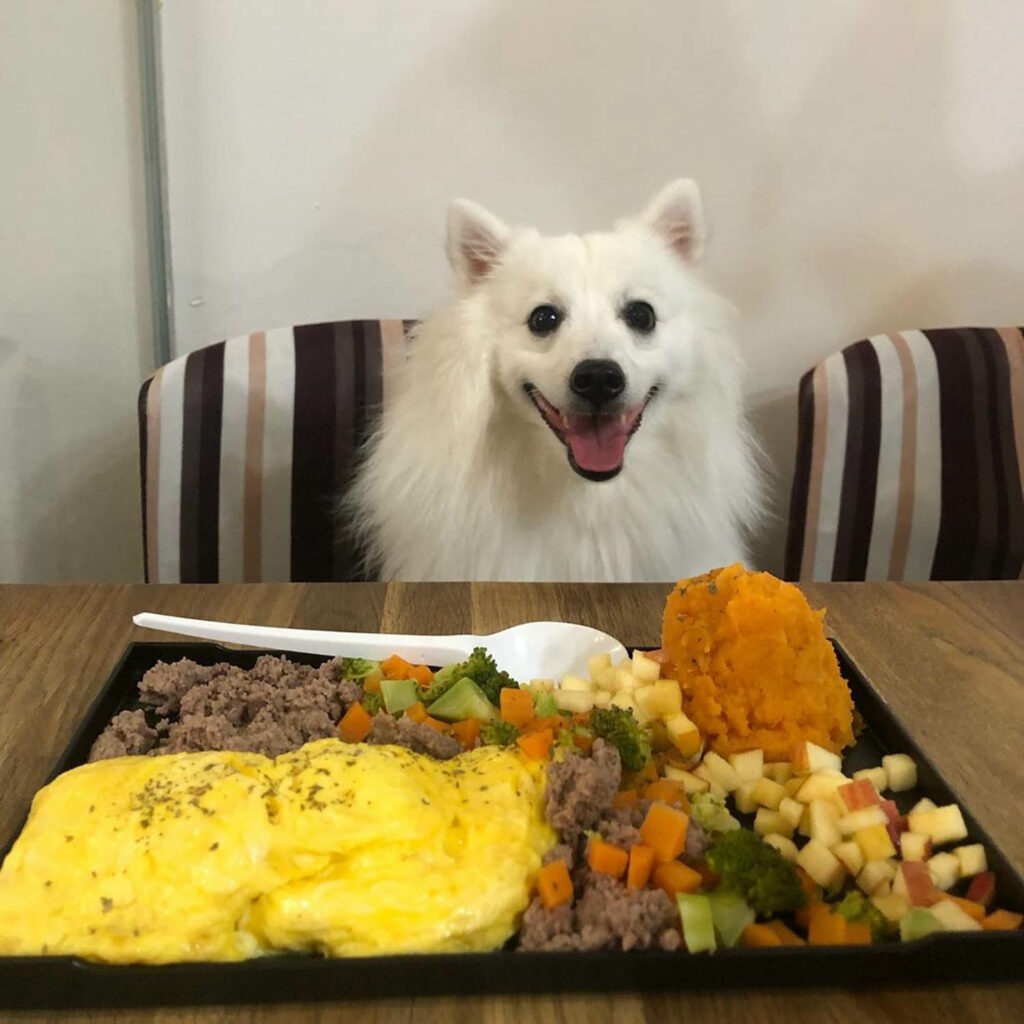 Image credit: @baymaxthespitz_
Treat your trusty dog pal to a good meal such as the Happy Paw Bento Set ($10), a platter of wholesome goodness comprising meat, vegetables, fruits and scrambled eggs.
Address: 79/81 Brighton Crescent, Serangoon Gardens Estate, Singapore 559218
Opening hours: Tue-Sun 9:30am to 10pm
Tel: 6283 8700
Website
---
7. Lola's Cafe
---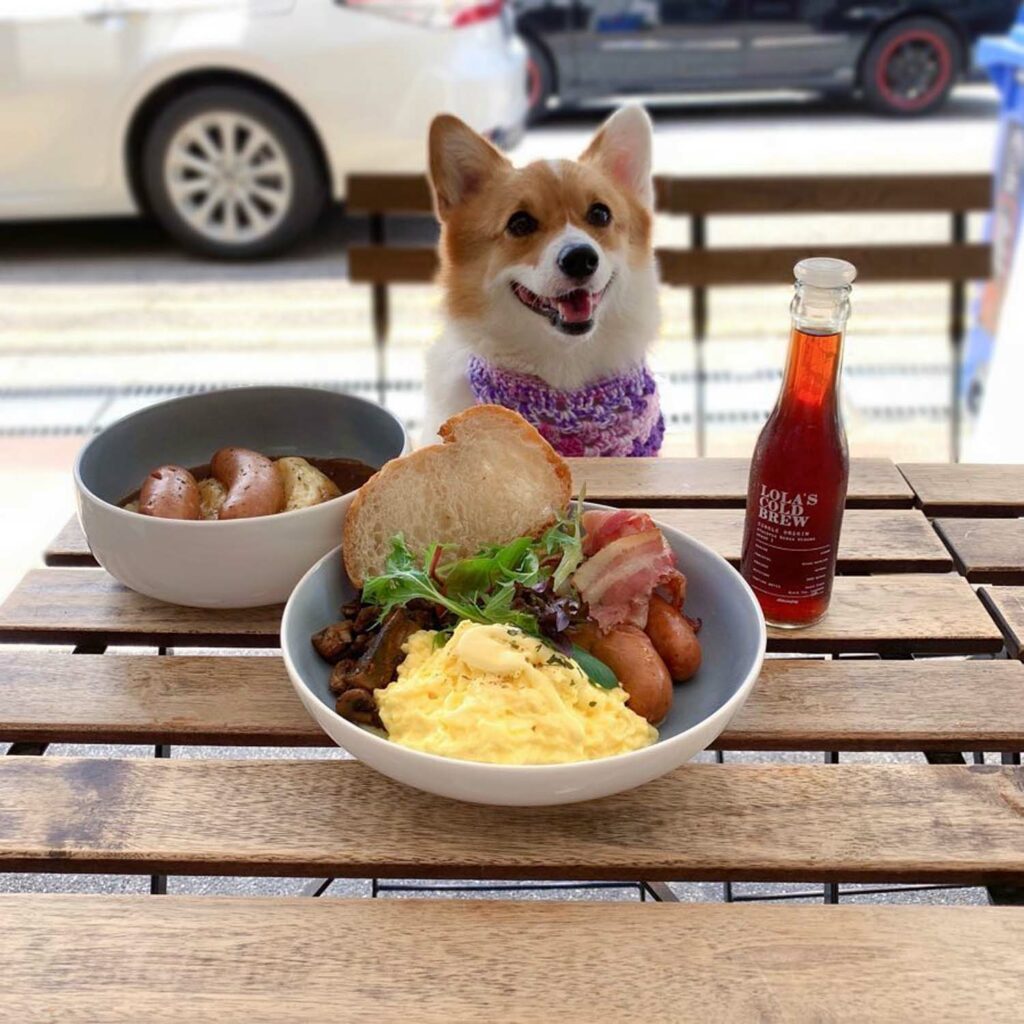 Image credit: @pudding.corgi
Famous for their delectable desserts, Lola's Cafe is the place to go to if you have a craving for pastries and ice cream. They also welcome dogs in their outdoor dining area, so feel free to bring your pup along on your next dessert outing!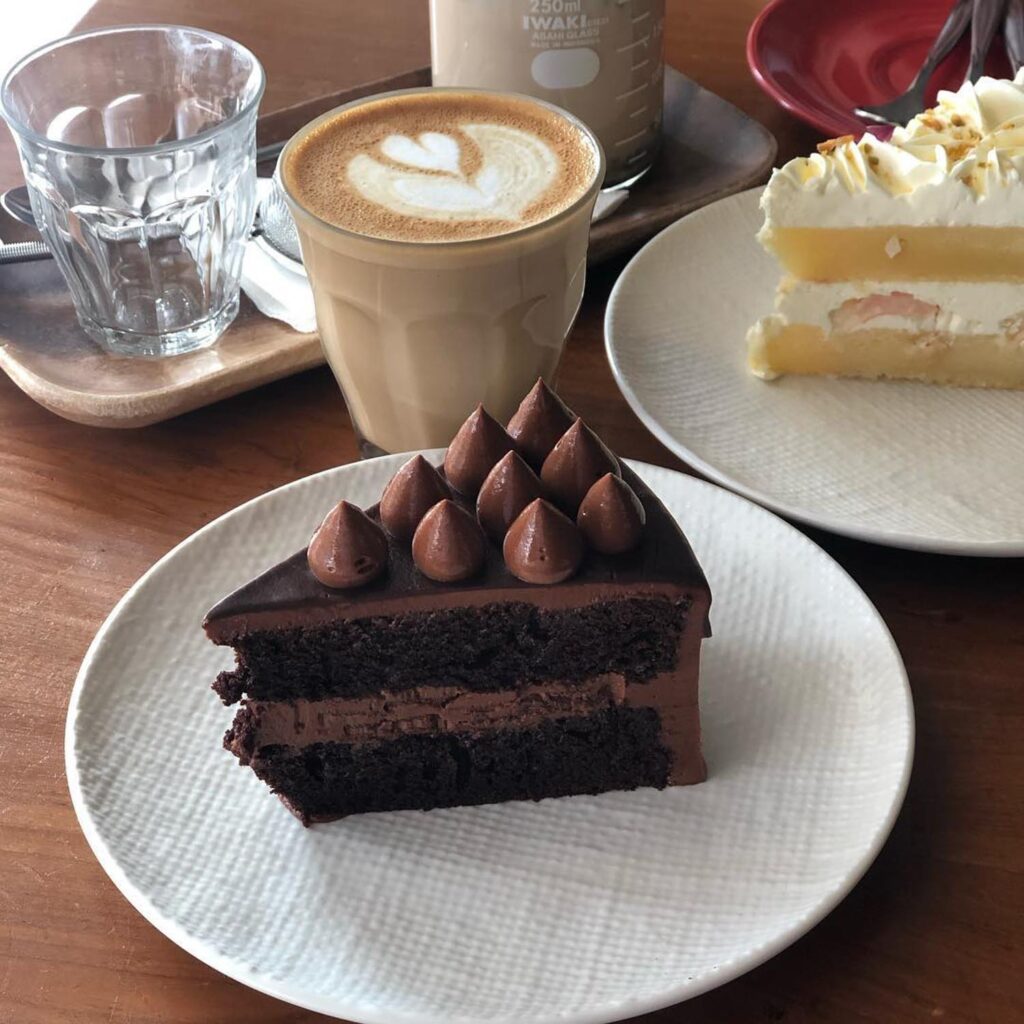 Image credit: @rajakarunareth
For chocolate lovers out there, you don't want to miss the signature Lola's Chocolate Cake ($6.50 a slice), a rich cocoa sponge cake that is layered with cocoa buttercream and topped with hazelnut feuilletine. If you want something that has a richer hazelnut flavour, try out their Hazelnut Chocolate Tart ($5.60).
Desserts aren't the only things on Lola's menu, with scrumptious starters such as their Cauliflower Quinoa Salad with Salmon ($16) available to order. If you're looking to get a filling meal at Lola's, check out their mains such as their Duck Leg Confit with Truffle Mash ($18).
Address: 5 Simon Road, Singapore 545893
Opening hours: Tue-Thur, Sun 10am to 11:30pm, Fri-Sat 10am to 12am
Telephone: 6284 0349
Website
---
8. Happenstance Café
---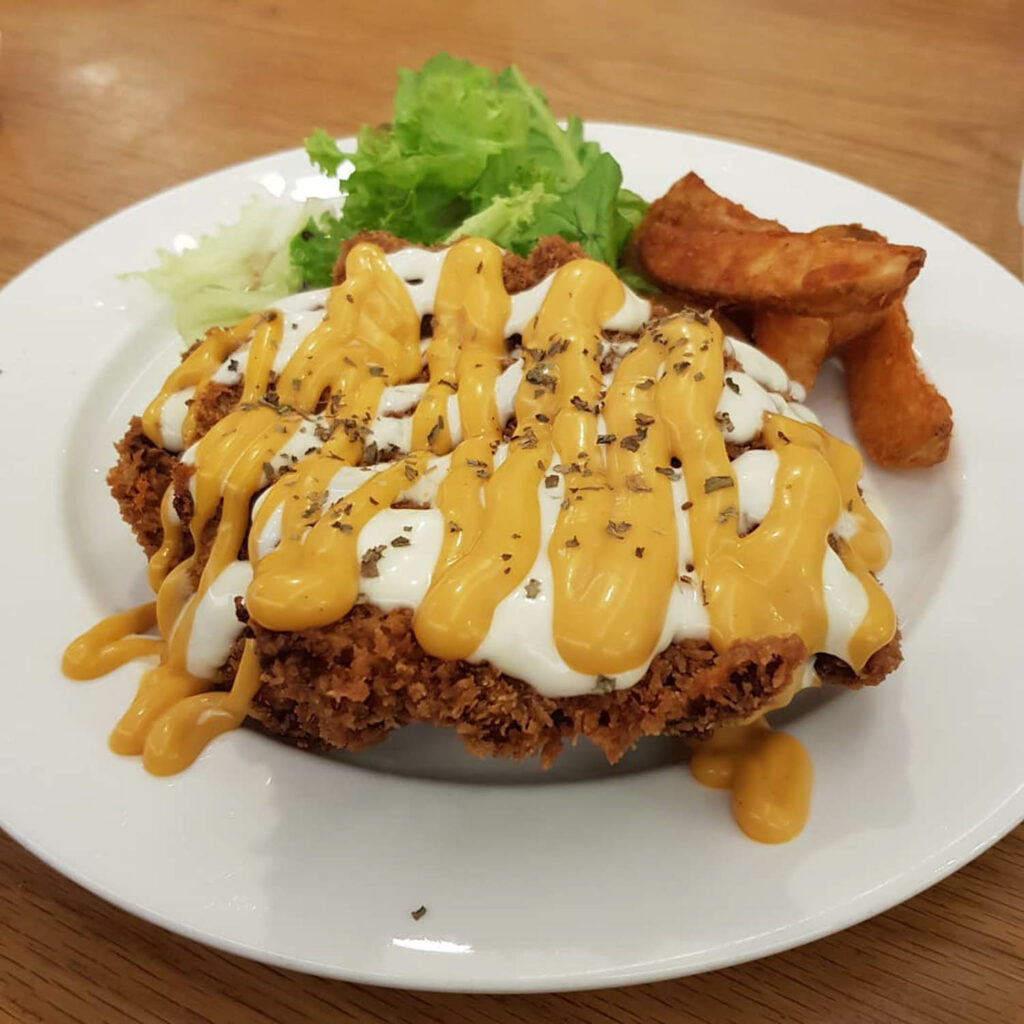 Image credit: @melstastymonial
Boasting a spacious, homely interior designed with the boisterous energy of your furkids in mind, Happenstance Café is the place to bring your pup to let loose and meet new friends as you dine.
Dining options are aplenty for both man and dog alike at Happenstance. While your canine pals frolic about the cafe, tuck into their Cheesy Chicken ($18) or try out their Seafood Marinara Pasta ($20).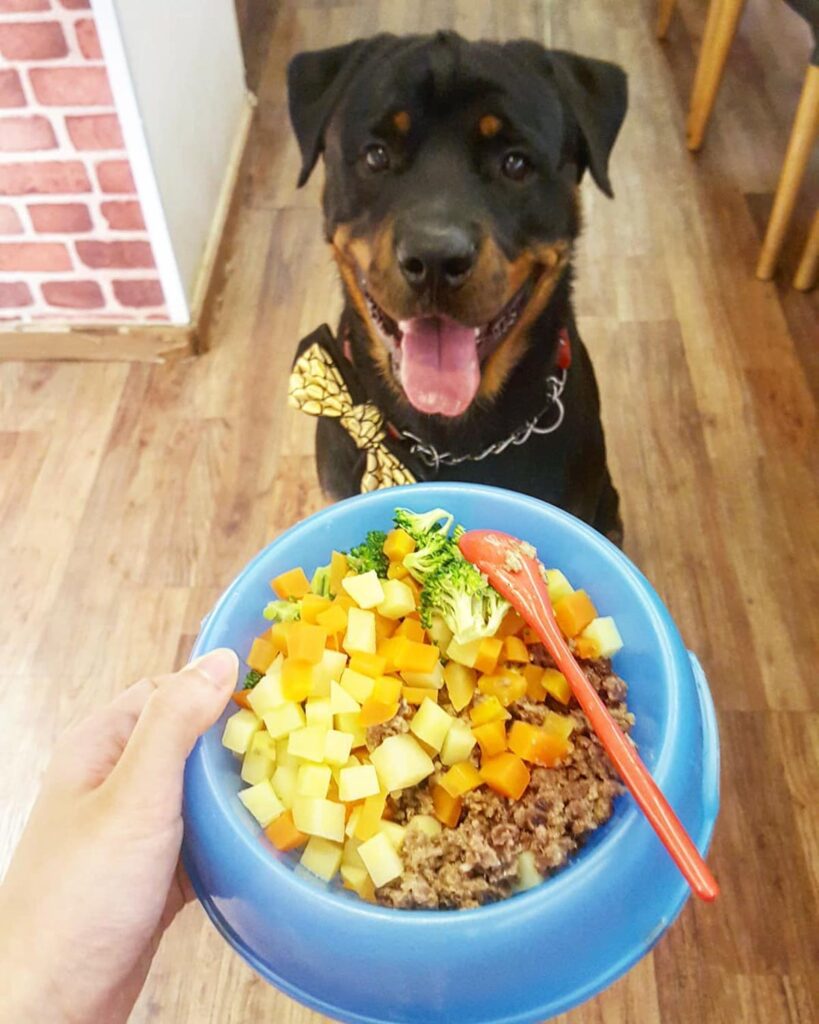 Image credit: @rhinotherottie
Don't forget to indulge your beloved doggos after they're done playing and present them with one of Happenstance's canine food platters. For starters, place an order of the Minced Meat Set ($8), which comes packed with meat, broccoli, carrots, and potatoes.
Dog-centric cakes are also available, such as this Lamb Meaty Pupcake ($7.50) that's made from lamb, potatoes, carrots, and topped with a generous helping of biscuits.
Address: 35 Opal Crescent, Singapore 328425
Opening hours: Mon-Tue, Thur-Fri 12pm to 9pm, Sat-Sun 11am to 9pm
Tel: 6341 7871
Website
---
Bring your pups to these pet-friendly cafes
---
With this list of cafes on hand, you will no longer need to leave your dog at home the next time you plan a cafe date. You even get to introduce your furkid to your potential partner and this may just earn you extra brownie points in their good books.
Featured image adapted from @boo._thefrenchie, @baconwitheggs0303, and @pudding.corgi.