---
Best cafes in Singapore 2018
---
It's not just about the food when it comes to cafes. The best cafes have to offer a comfortable setting as well, to make your brunch date or catch-up with friends one that's cosy and memorable. Here are 10 best cafes in Singapore – as listed in the Eatbook Top 50 Awards 2018 – that serve up not only delicious nosh but also some of that chill vibes for you to enjoy your next casual gathering.
---
For brunch that won't break the bank (<$12++)
---
1. Haru
---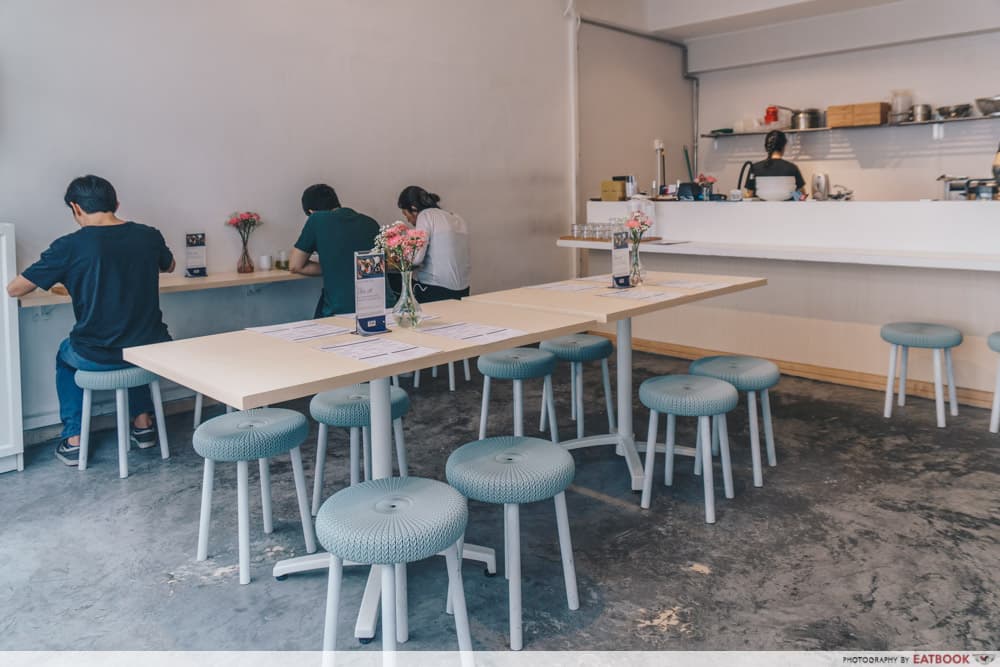 A stone's throw away from the dodgy streets of Geylang lies Haru. Seating around 20 people in total, the tidy interior is far from elaborate. However, it provides a nice respite from the hustle and bustle of the city, due to its far-out location.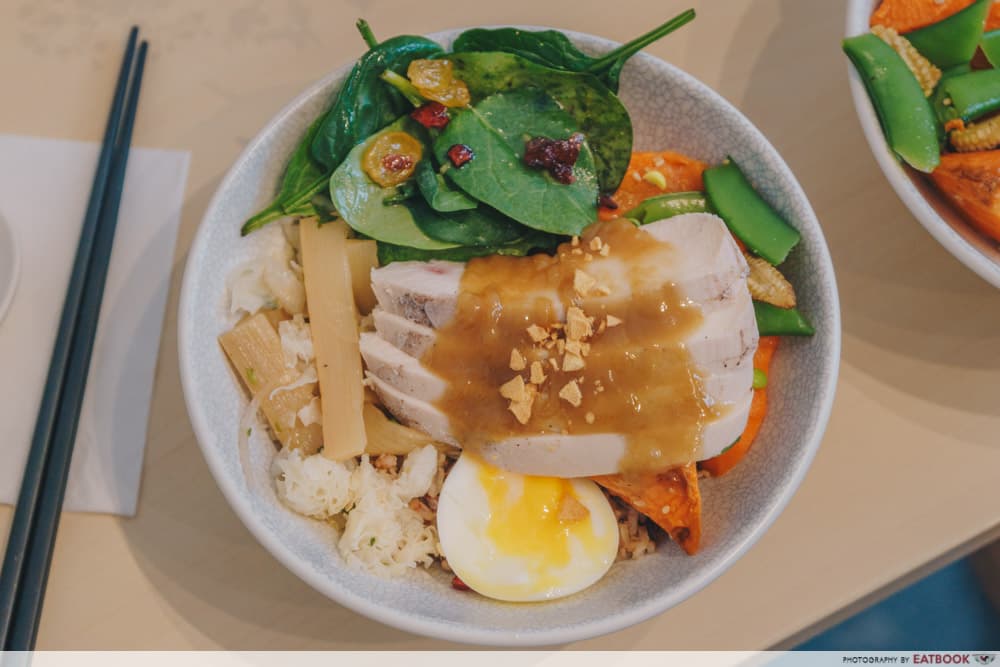 If you love Korean honey butter almonds, the Honey Butter Chicken ($10++) will be right up your alley. The dish comprises sous-vide chicken glazed in sweet honey butter, accompanied by cherry tomatoes, sliced marinated cucumbers, baby spinach and crunchy sugar peas. You can choose from four different types of carbs to accompany these goodies, but we recommend getting the Koshihikari – a premium short-grain rice boasting a rich flavour.
Check out our full review of Haru!
HARU Review: Unique Japanese-Korean Rice Bowls At $10 Near Geylang
Address: 100 Guillemard Road, #01-06, Singapore 399718
Opening hours: Tue-Fri 12pm to 3pm, 6pm to 10pm, Sat 11am to 3pm, 6pm to 10pm, Sun 9am to 6pm
Website | Menu
---
2. Two Hana
---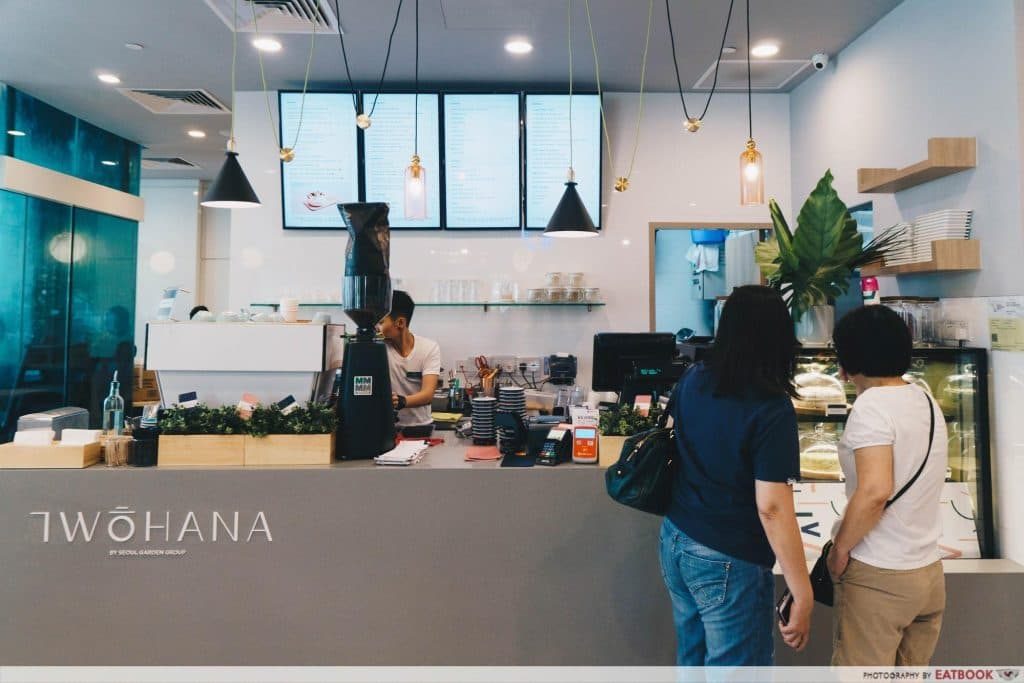 Those living in the East are blessed with the arrival of Two Hana, a Korean-Western cafe at Century Square. Adopting a clean two-toned aesthetic, this halal-certified joint is cosy yet sleek.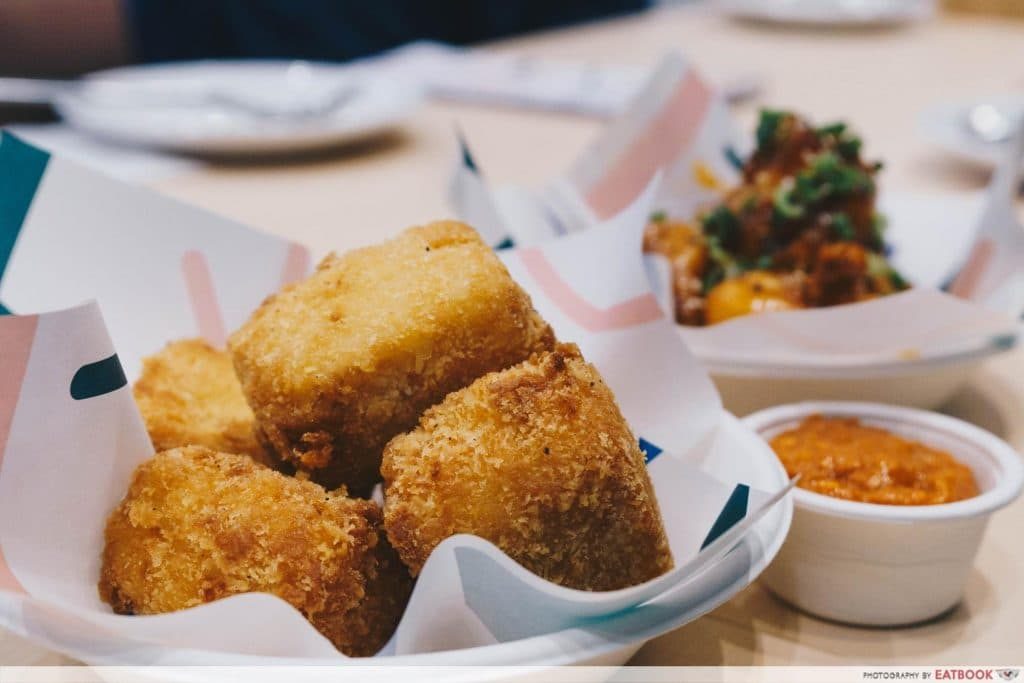 An interesting snack to munch on is the Kimchi Mac and Cheese ($9). These fried morsel are packed with gooey mac and cheese dotted with dried kimchi bits. On the side is a sauce mix of chilli padi, sesame oil and kimchi jjigae paste. Dip these golden goodies in for some lip-numbing heat!
Check out our full review of Two Hana!
Two Hana Review: New Korean-Western Cafe With Nett Prices At Tampines
Address: 2 Tampines Central 5, #01-21, Century Square, Singapore 529509
Opening hours: Daily 8am to 10pm
Tel: 6260 4321
Website
---
For simple get-togethers with friends (<$15++)
---
3. Two Men Bagel House 2.0
---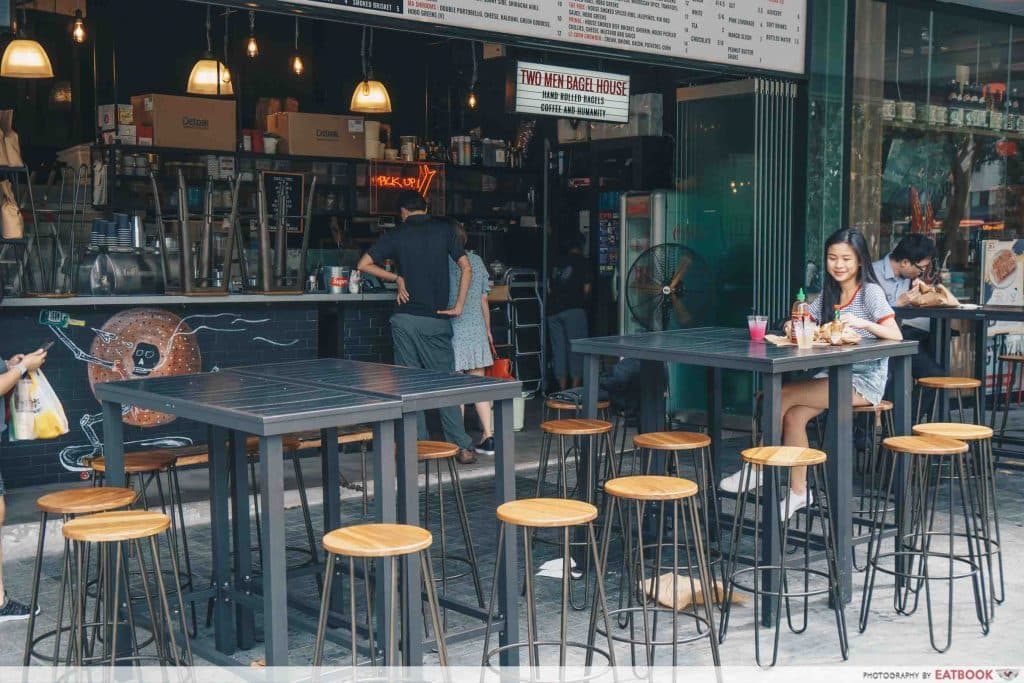 As compared to the OG branch at Tanjong Pagar, Two Men Bagel House 2.0 brings more meat-heavy bagel sandwiches to the table. Located at Royal Square, this rustic cafe only has al fresco seats and can accommodate 20-odd folks.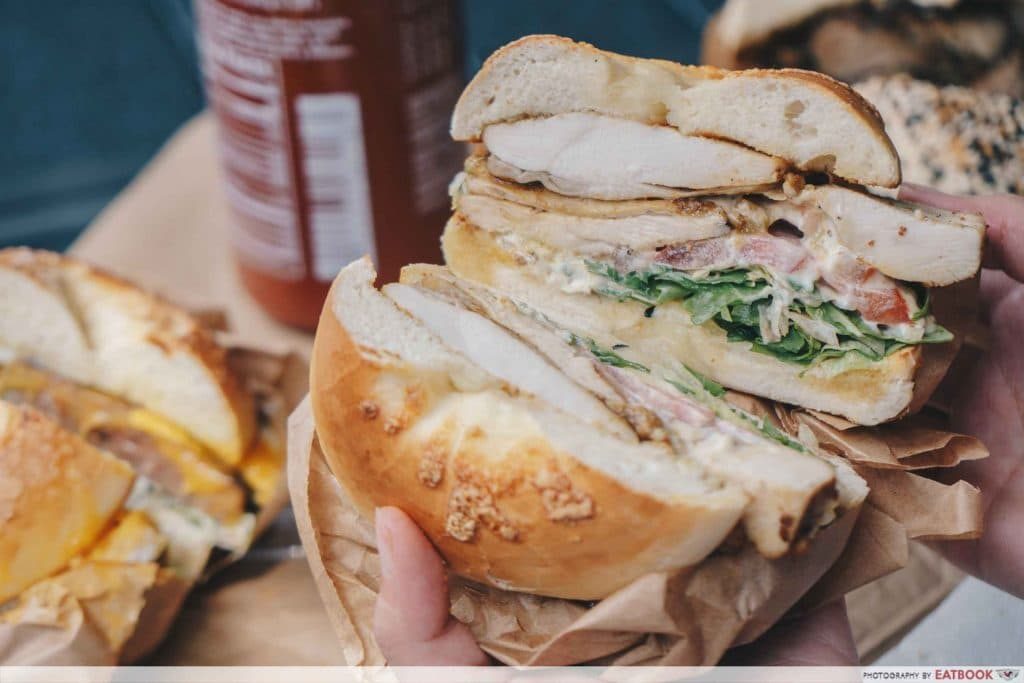 Appearances can be deceiving, and this ordinary-looking bagel sandwich tastes better than it looks. Smoked in-house with a blend of hickory and apple wood, the Bird ($12) consists of a tender chicken leg that's marinated in Moroccan spices. It has a robust smoky aroma, which promises to make your mouth drool.
Check out our full review of Two Men Bagel House 2.0!
Two Men Bagel House 2.0 Review: Smoked Meat Bagel Sandwiches With Spiced Ribs
Address: 103 Irrawaddy Road, #01-04, Royal Square, Singapore 329566
Opening hours: Mon-Fri 8am to 6pm, Sat-Sun 9am to 6pm
Tel: 6251 6601
Website
---
4. Grids and Circles
---

Switch things up and check out minimalist Japanese cafe Grids and Circles on your next cafe-hopping session. Taking two levels of a shophouse in Chinatown, the cafe's decor reminds me of Muji, with wooden tables and chairs donning the area.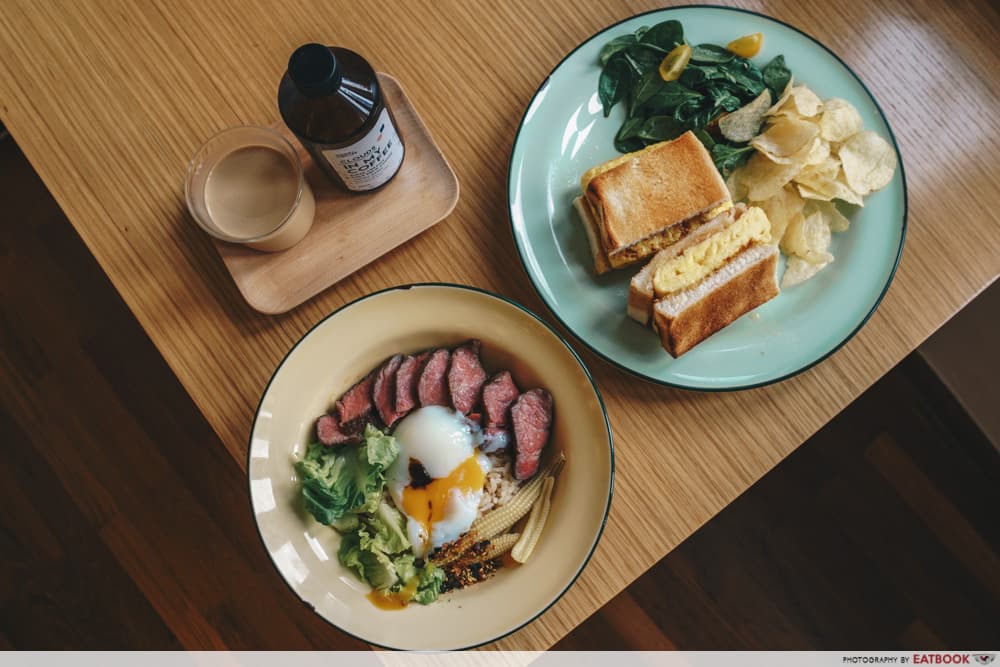 On the menu you will find unique items such as the Tamago Sando ($12++). Here, charred soft bread sandwiches a fluffy, thick omelette. While it may look like an ordinary eggwich, there is actually a layer of house-made pear sauce and konbu mayo, which help elevate the dish to a sweet and savoury delight.
Check out our full review of Grids and Circles!
Grids And Circles Review: New Minimalist Japanese Cafe Near Chinatown MRT Station
Address: 200 South Bridge Road, Singapore 058749
Opening hours: Sun-Thur 8:30am to 6:30pm, Fri-Sat 8:30am to 12am
Tel: 6935 3546
Website
---
5. Columbus Coffee Co.
---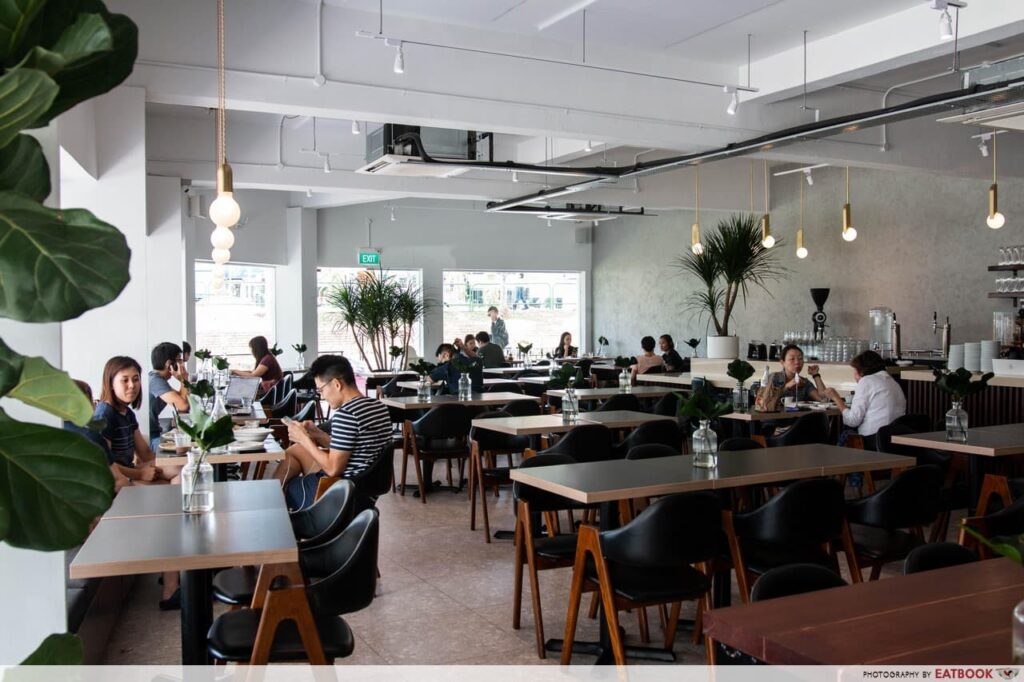 Situated opposite One Man Coffee along Upper Thomson Road, Columbus Coffee Co. is a sprawling cafe, with plenty of tables for large groups. The space takes on a minimalist Scandinavian interior and boasts an airy vibe, thanks to sunlight streaming in through the floor-to-ceiling windows.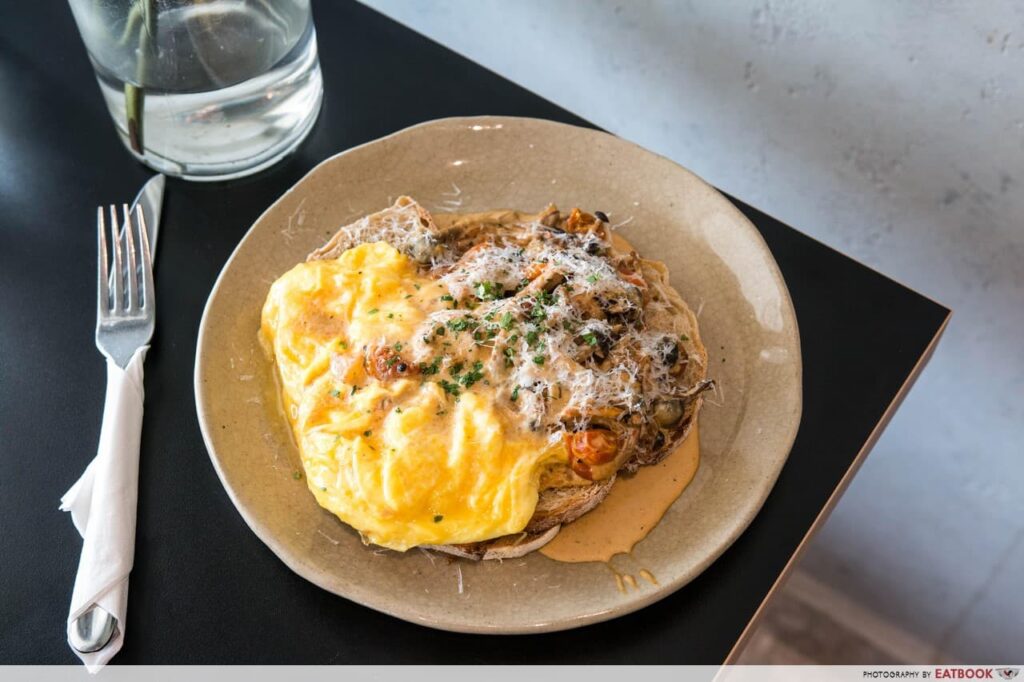 Welcome the food coma that's about to come when you dine here. The Creamy Mushrooms on Toasted Sourdough ($14+) with an add-on of Scrambled Eggs (additional $3+) is our pick, with creamy egg blanketing sauteed shimeji mushrooms. The mushrooms are also soaked in a herby cream sauce, delivering an explosion of earthy flavours.
Check out our full review of Columbus Coffee Co.!
Columbus Coffee Co. Review: Atlas Coffeehouse's Sister Cafe With Good Brunch Dishes
Address: 220 Upper Thomson Road, Thomson Garden Estate, Singapore 574352
Opening hours: Tue-Sat 9am to 10pm, Sun 9am to 7pm
Tel: 6253 6024
Website
---
For dates with your Tinder match (<$20++)
---
6. Clan Cafe
---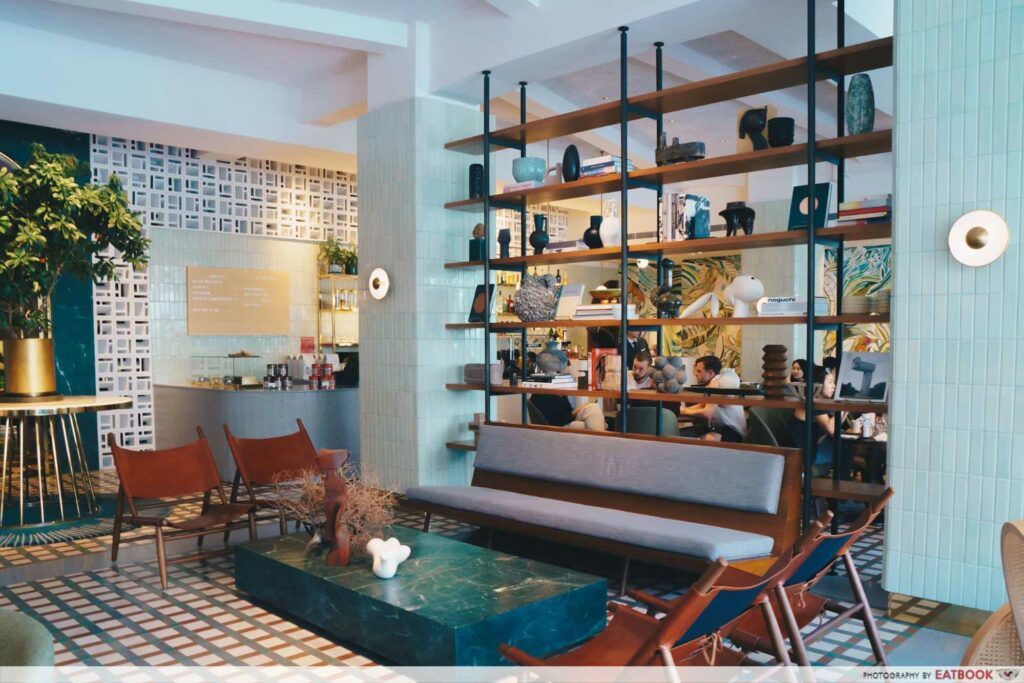 Housed in members-only club Straits Clan, Clan Cafe is a classy cafe that's bustling with movers and shakers. The space, which is open to the public, is tastefully designed with a mid-century style in mind, and you will find patterned floors, golden accents, wicker armchairs and olive green armchairs decorating the area.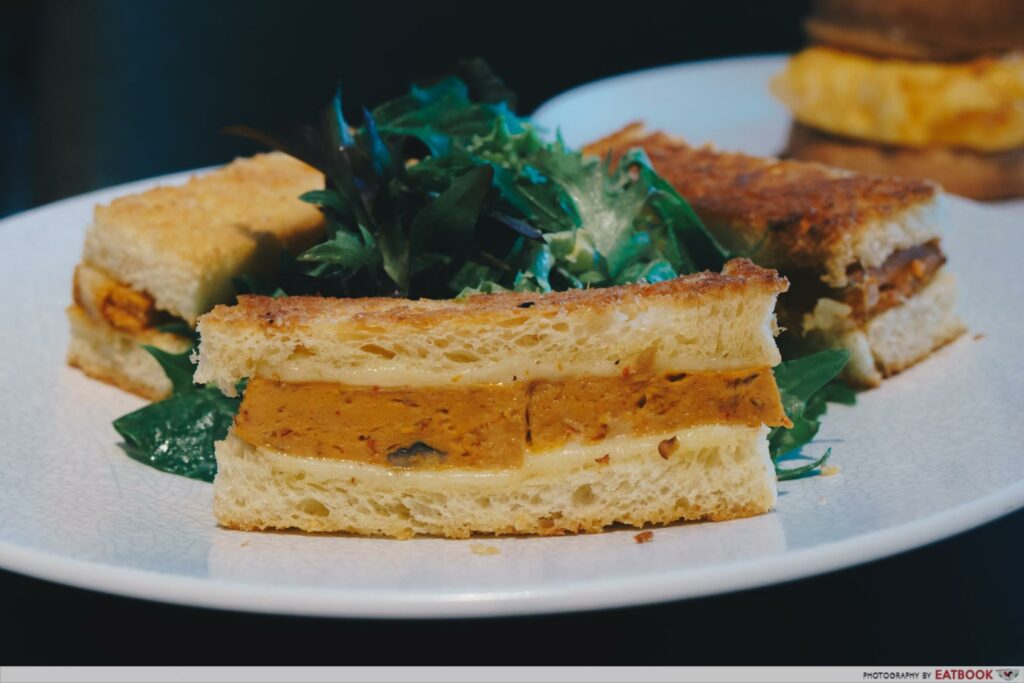 Heed our advice and get the Otah Sandwich ($16++), where buttered brioche sandwiches a chunky slab of otah and comté. It's a simple dish that excels. For something heartier, the Scrambled Egg Brioche ($15++) will do the trick. Nestled between two toasted buns are fluffy scrambled eggs, bacon and caramelised onions.
Check out our full review of Clan Cafe!
Clan Cafe Review: Hidden Cafe At Keong Saik Road With One Of The Best Kueh Salat In SG
Address: 31 Bukit Pasoh Road, Singapore 089845
Opening hours: Mon-Sat 10am to 10pm
Tel: 6320 9180
Website
---
7. Seven and Ate (CLOSED)
---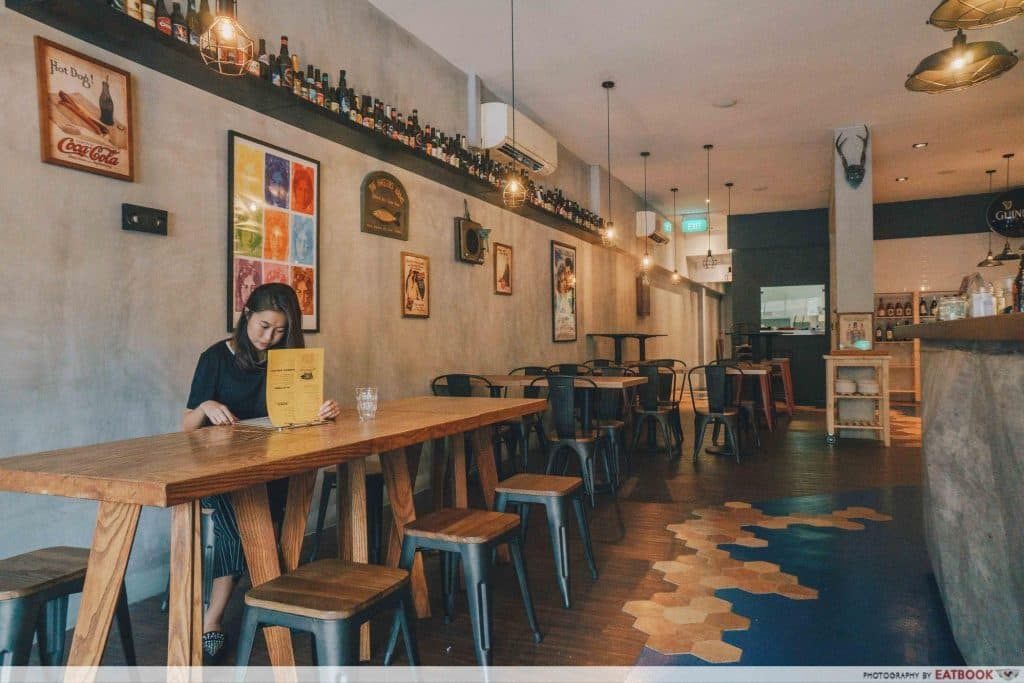 Unlike most pretty cafes, Seven and Ate exudes a masculine vibe, with its teak tables and concrete walls. In fact, come nightfall, the cosy cafe turns into a kicky gastrobar.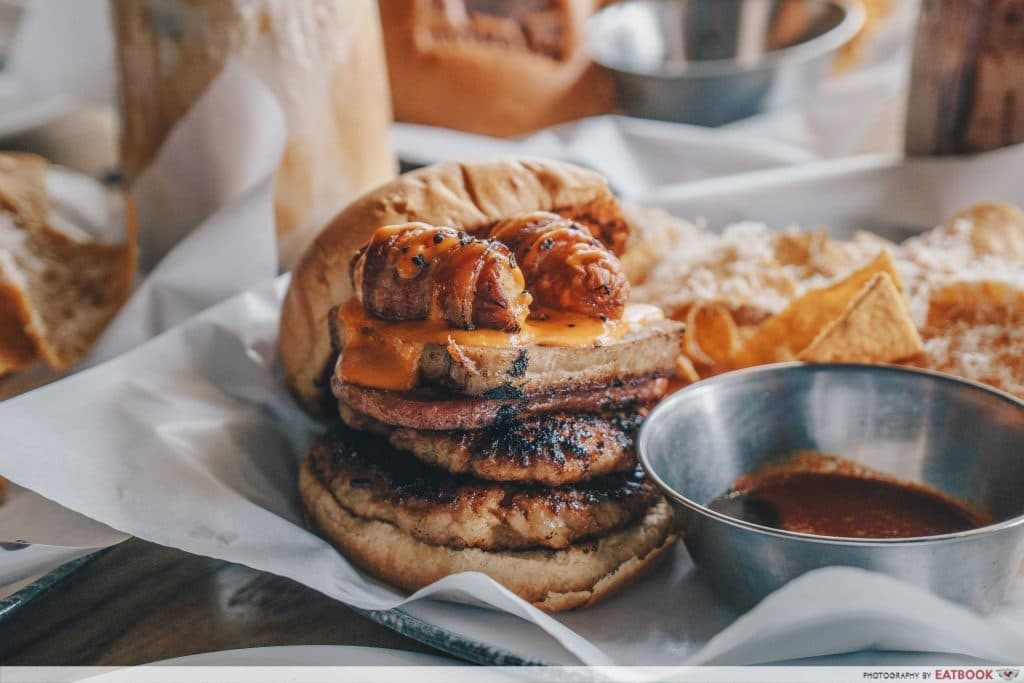 Specialising in pork burgers, the cafe's 3 Little Pigs ($18) is a tower of pork patties, grilled Spam, slow-cooked pork belly and bacon-wrapped sausage. It's extremely sinful, but 100% worth the calories. Wash it all down with an alcoholic milkshake such as the S'mores ($14), which features a creamy blend of Baileys and chocolate ice-cream, and is topped with torched marshmallows.
Check out our full review of Seven and Ate!
Seven & Ate Review: New Pork Burger And Spiked Milkshake Bar At Jalan Besar
Address: 78 Horne Road, Singapore 209078
Opening hours: Tue-Fri 4pm to 12am, Sat 11am to 12am, Sun 11am to 10pm
Tel: 9618 5726
Website
---
8. Earlybird
---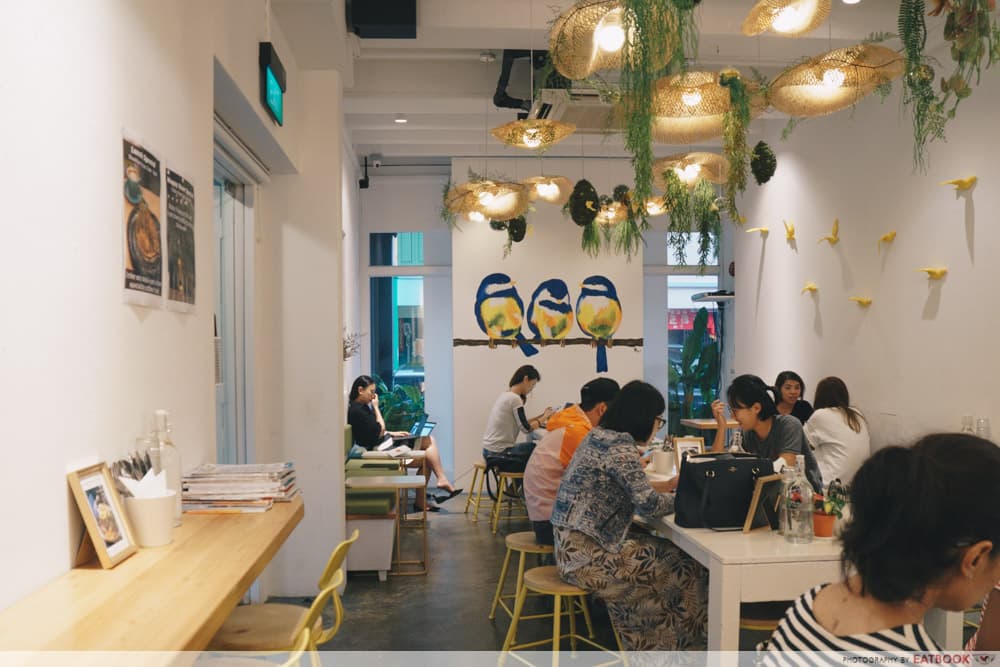 Bright and airy, Earlybird provides the perfect setting for lazy weekend brunches with friends. Its space is thoughtfully designed, as there are seats catering to all types of diner, including a settee with side tables for those dining alone.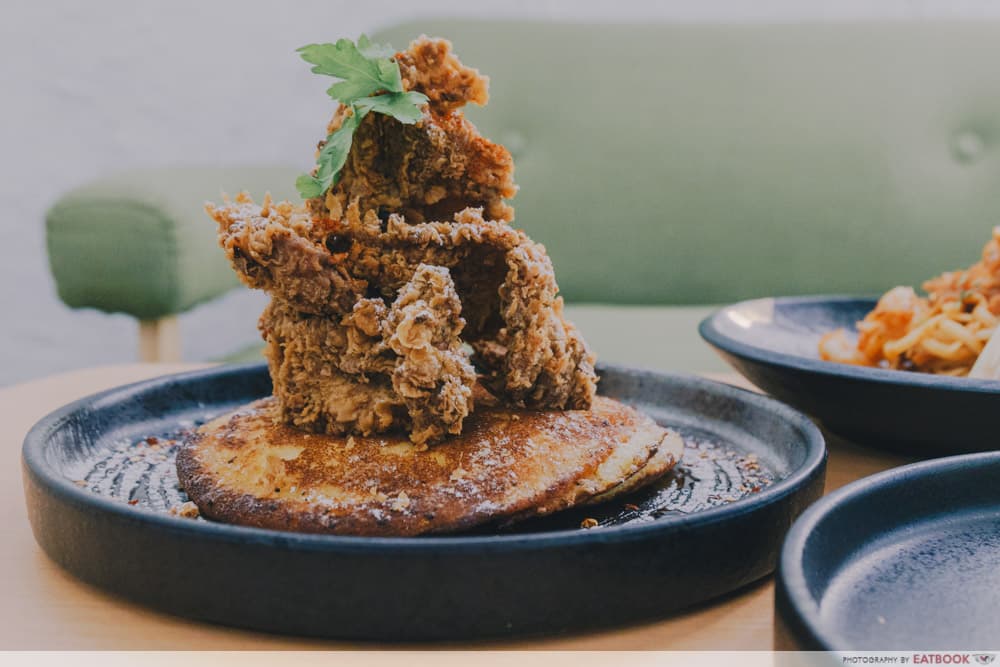 A master of the famous Louisiana dish, their Chicken and Pancakes ($19) is a must-get. The crispy fried chicken gracing the buttery pancakes are seasoned in herbs and spices, and boasts juicy meat within. The Crumbed Eggs on Toast ($18) is an interesting dish that showcases two fry-poached eggs atop BBQ pulled pork on sourdough bread.
Check out our full review of Earlybird!
Earlybird Review: Weekend Brunch Spot For Crispy Fried Chicken And Buttery Pancakes At Arab Street
Address: 17 Jalan Pinang, Singapore 199149
Opening hours: Sun-Thur 8:30am to 9pm, Fri 8:30am to 10pm, Sat 9am to 10pm
Tel: 9788 6856
Website
---
For times when you need to treat yo'self (<$25++)
---
9. Five Oars Coffee Roasters
---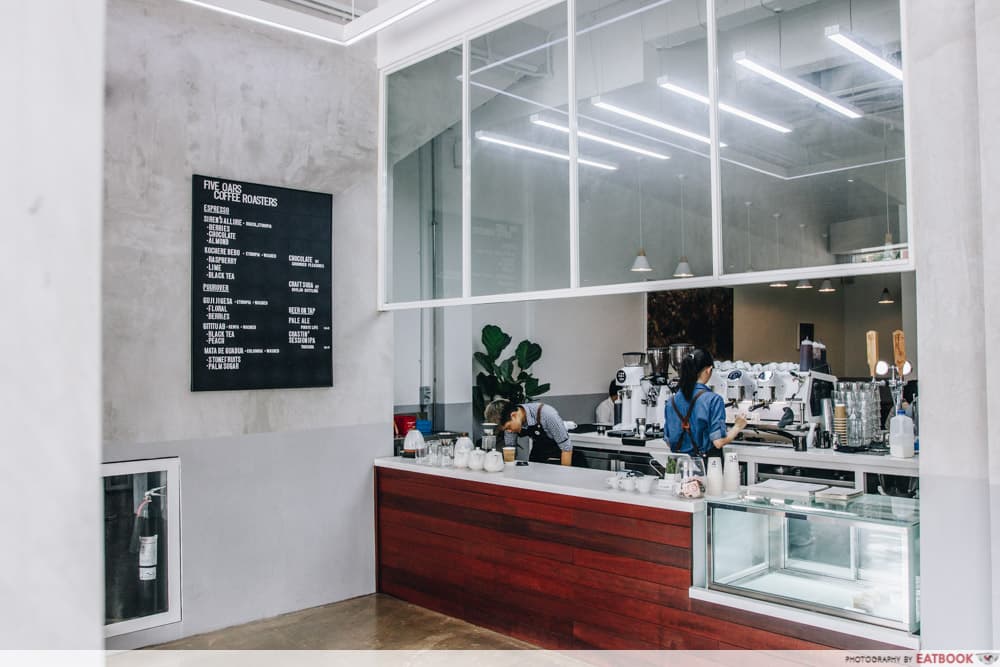 If good food sets the tone for the day ahead, then CBD-dwellers can look forward to a cheery work day whenever they grab breakfast at Five Oars Coffee Roasters. Sporting an industrial-chic look, the cafe is not as aesthetic as the rest on the list, but its food is worth the trip.
The Creme Brulee French Toast ($18.50+) is French toast on steroids. It features a thin and hard layer of caramelised sugar on top, which opens to reveal a layer of creamy egg custard. On the side is a scoop of pistachio ice-cream and fruits. For a savoury bite, the Mentaiko Mac & Cheese ($20.50+) won't disappoint, with the generous chunks of prawn, crab meat and ebiko hidden under a thick layer of parmesan and cheddar.
Check out our full review of Five Oars Coffee Roasters!
Five Oars Coffee Roasters Review: Creme Brulee French Toast, Mentaiko Mac And Cheese And More
Address: 39 Tanjong Pagar Road, Singapore 088462
Opening hours: Daily 8am to 10pm (last order for food and drinks at 9pm and 9:30pm respectively)
Website
Menus
---
10. Bearded Bella
---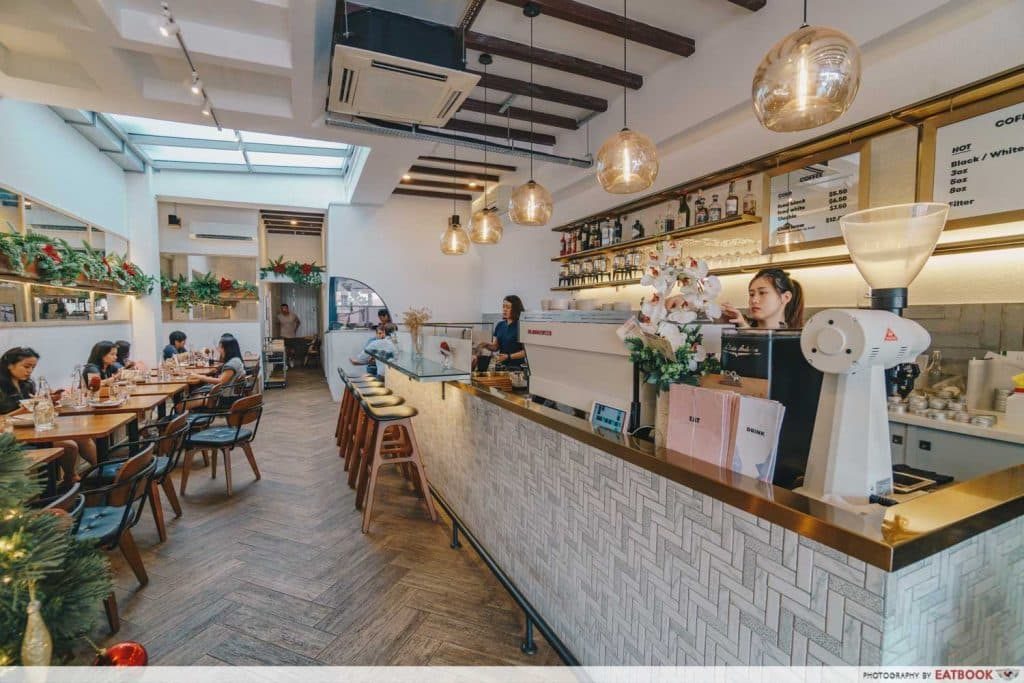 If beautiful cafes are your weakness, than Bearded Bella will win over your heart the minute you step in. Decked in pastel pink and blue, the aesthetic space looks like a page out of Kinfolk. If weather permits, snag a seat outdoors and bask in the sun.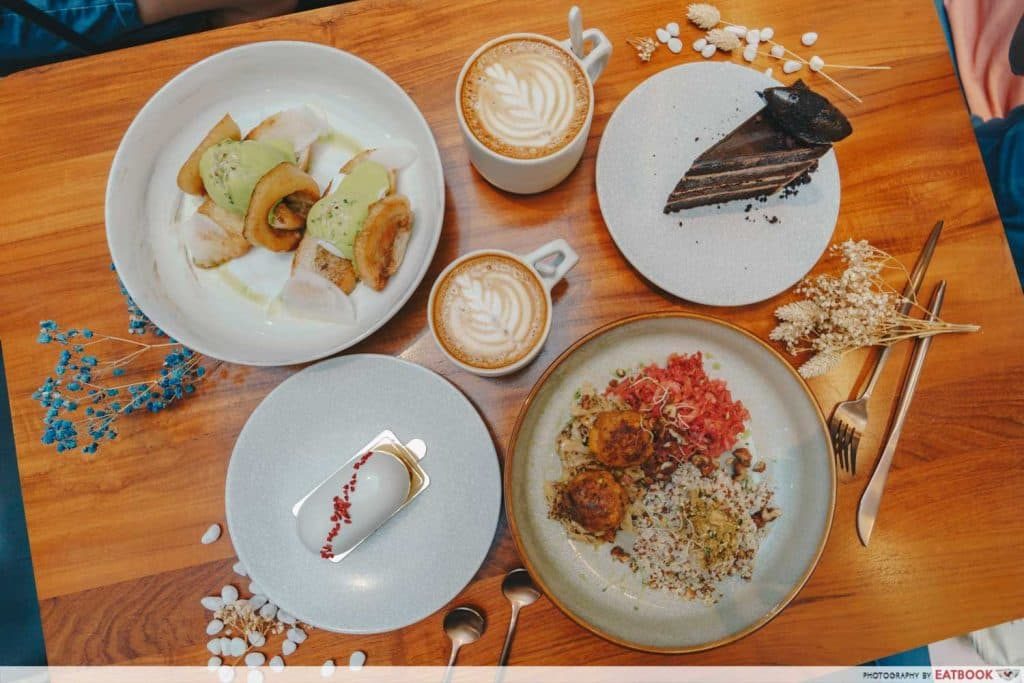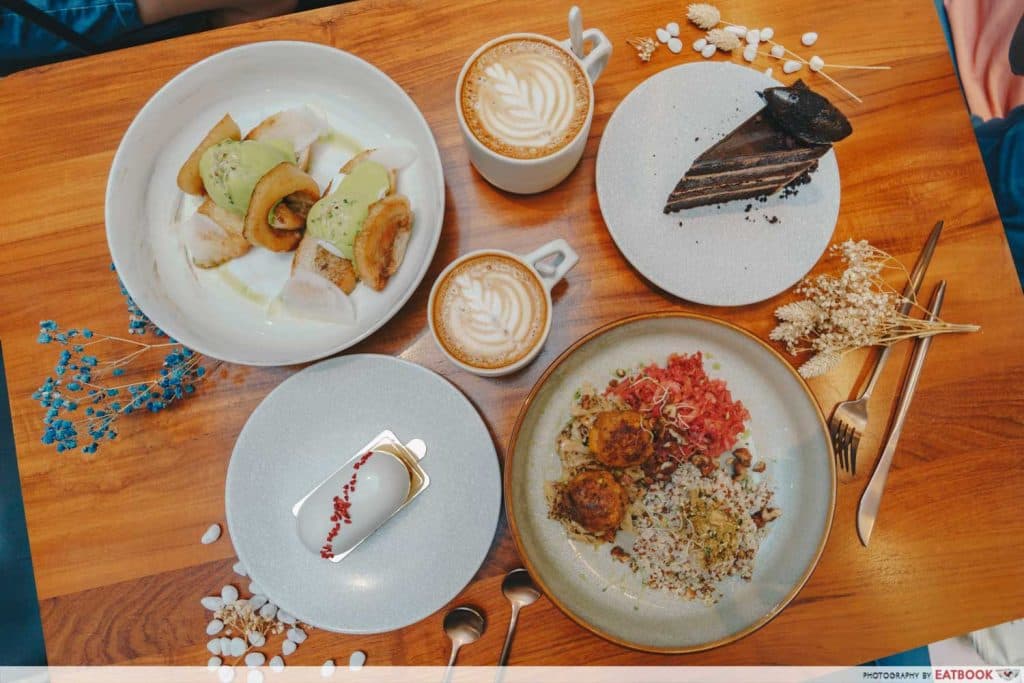 On the menu you will find soulful brunch fare as well as desserts baked in-house. Taking us by surprise was the Italian Meatballs And Sauerkraut ($20++). The simple grain bowl delivers a delicious harmony of nutty, earthy, salty and tangy flavours. Alternatively, if eggs are more your thing, get the Pig & Eggs ($24++), which comes with runny poached eggs and slow-cooked pork jowl.
Check out our full review of Bearded Bella!
Bearded Bella Review: Beautiful Cafe Serving Melbourne-Inspired Food At Tanjong Pagar
Address: 8 Craig Road, Singapore 089668
Opening hours: Mon-Wed 7:30am to 5pm, Thur-Fri 7:30am to 11pm, Sat-Sun 7:30am to 6pm
Tel: 9880 0775
Website
---
Hop on to our list of best cafes in town
---
Don't waste your money on lacklustre cafe food. Check out these 10 best cafes that won't disappoint the next time you head out for a brunch date. Find out where else you die die must go by referring to our entire list of Eatbook Top 50 Awards 2018 winners!
50 Best Food Places In Singapore For All Budgets – Eatbook Top 50 Awards 2018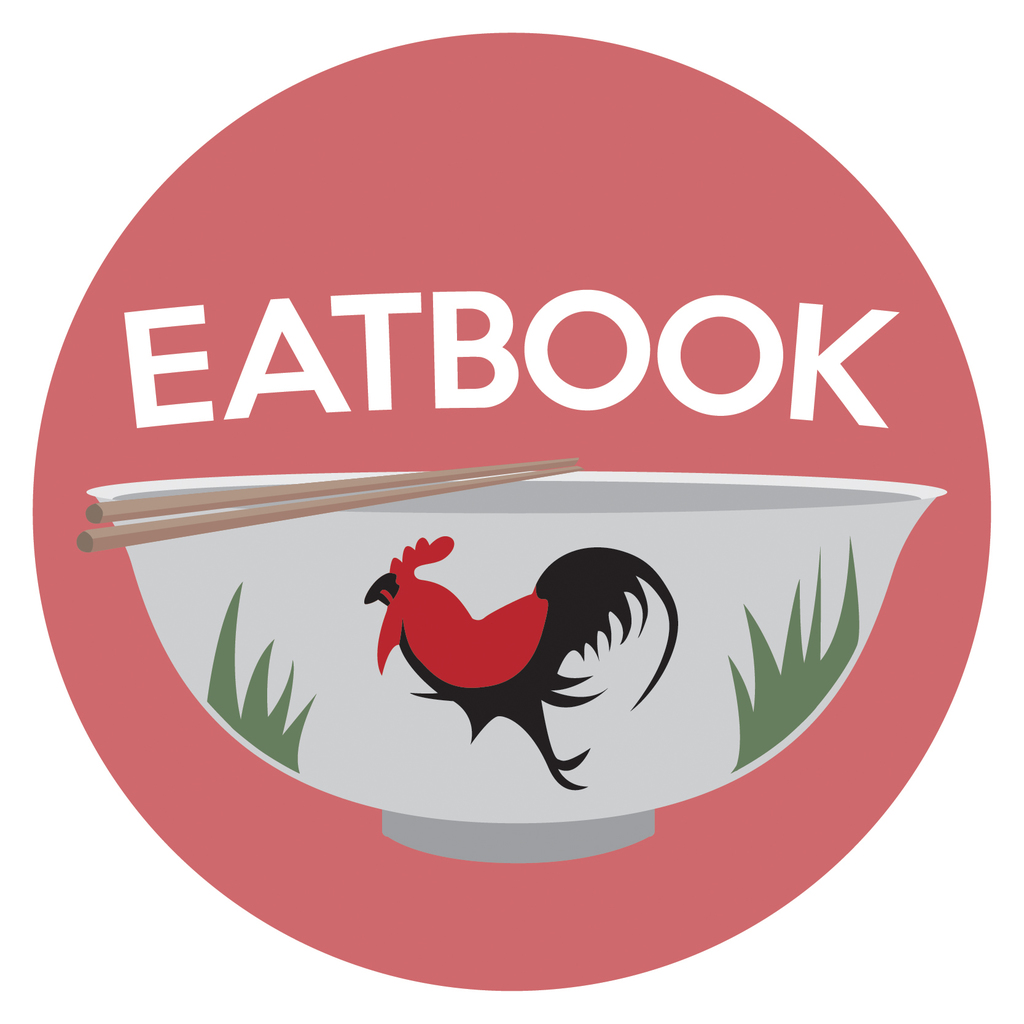 Drop us your email so you won't miss the latest news.