---
1-for-1 deals with ShopBack GO Super Season
---
As far as food discounts go, 1-for-1 deals rank highly on my list. After all, you're basically getting 50% off your meal. Unfortunately, it's hard to plan makan sessions around 'em as a) they're hard to come by and b) they usually have a very short shelf life.
Enter ShopBack GO. 
From now till 31 December 2019, as part of their first Super Season campaign, the app will have hundreds of 1-for-1 deals, for FREE with no strings attached, at popular places including Pasta Supremo and Earlybird—meaning half-priced Wagyu steaks, brunch dishes, and pasta. The best part is they all come with cashback of up to 50% so you can gorge away without feeling sorry for your bank account.
Here are some restaurants you can snag the vouchers at.
---
1. Nook & Cranny Cafe
---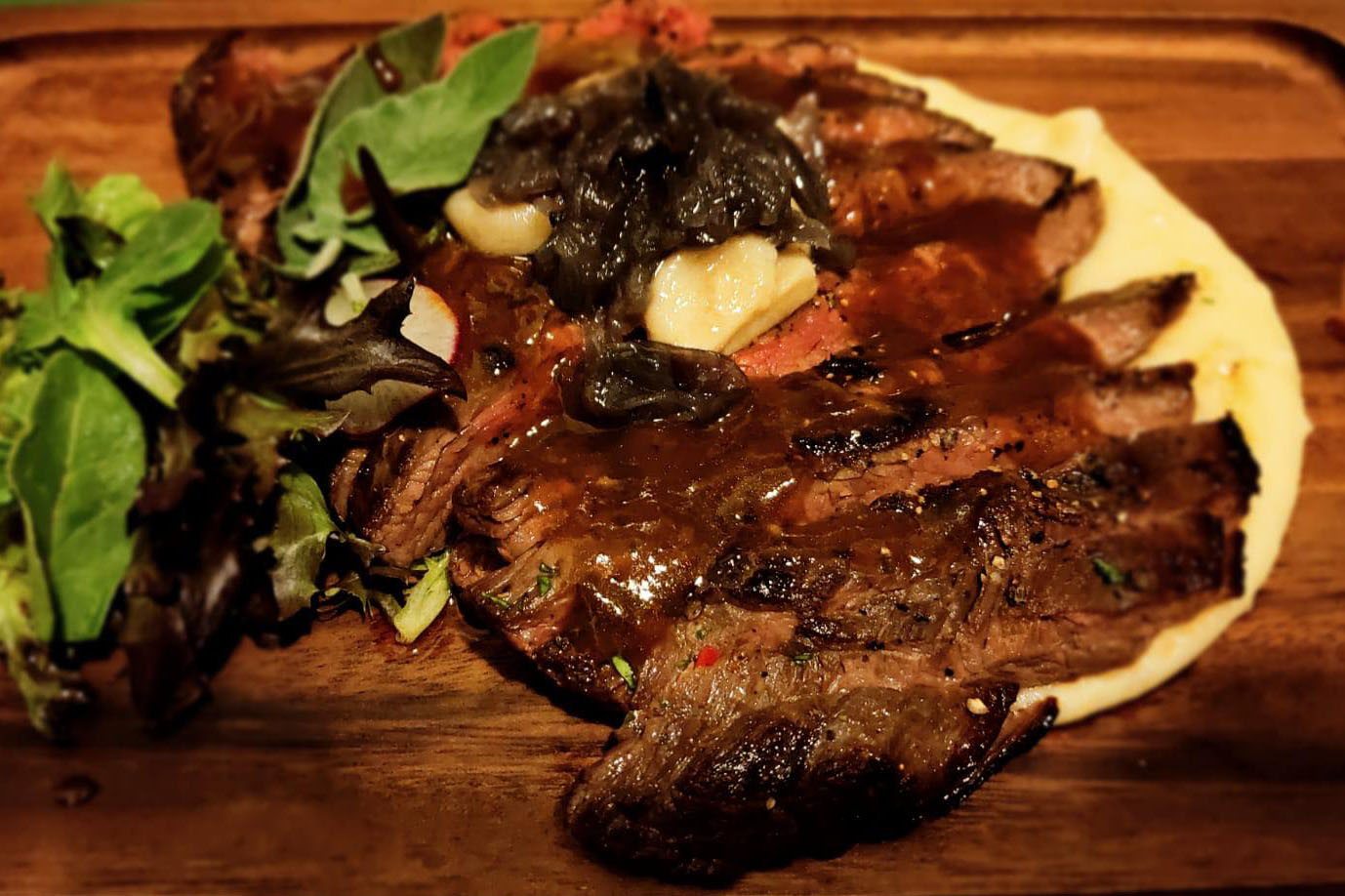 Image credit: Nook & Cranny's Facebook page
Tucked near the entrance of Thomson V One, Nook & Cranny Cafe checks off all the boxes of a great hangout spot.
Cosy ambience. ✔️
Tasty brunch dishes. ✔️
Free-flow finger food and booze buffet. ✔️
If you're here with a partner, check out their 1-for-1 deal which encompasses both the Grass Fed Australian Wagyu Steak and Olde Style Fish & Chips ($35.90++ each). The former boasts juicy and tender meat with a beautifully seared crust, while the latter delights with its crunchy batter and flaky flesh.
Address: 9 Sin Ming Road, #01-03, Thomson V One, Singapore 575630
Opening hours: Wed-Thurs 2pm to 10pm, Fri 2pm to 11pm, Sat-Sun 11am to 11pm
Website
---
2. The Salted Plum 
---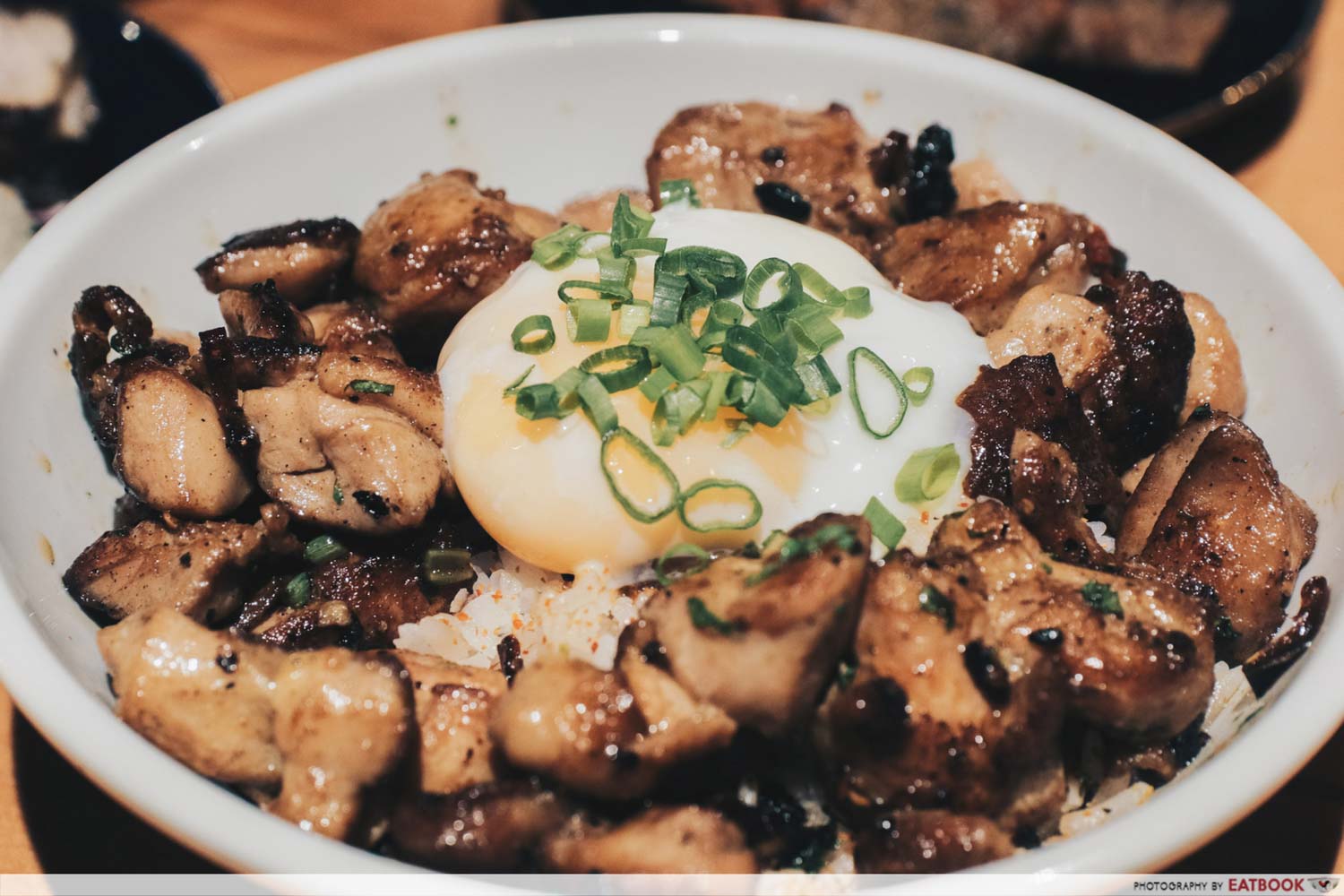 The Salted Plum was one of the best restaurants we visited last year, and it's easy to see why. Their Taiwanese-inspired dishes pack loads of flavour and are reasonably priced to boot. We especially loved the Burnt Chilli Chicken Rice, which comprises short-grain rice blanketed by seared chicken and an onsen egg. Rounding it up is their signature "burnt chilli" for a huge punch of spiciness.
You can get this dish and other mains at 1-for-1 with ShopBack GO. Just note that you need at least two diners to enjoy the deal.
The Salted Plum Review: Delicious Rice Bowls At $10+ By Five Ten
Address: 10 Circular Road, Singapore 049366
Opening hours: Mon-Sat 11:30pm to 2:30pm, 6pm to 9:30pm
Tel: 6260 0155
Full list of outlets
Website
---
3. Earlybird
---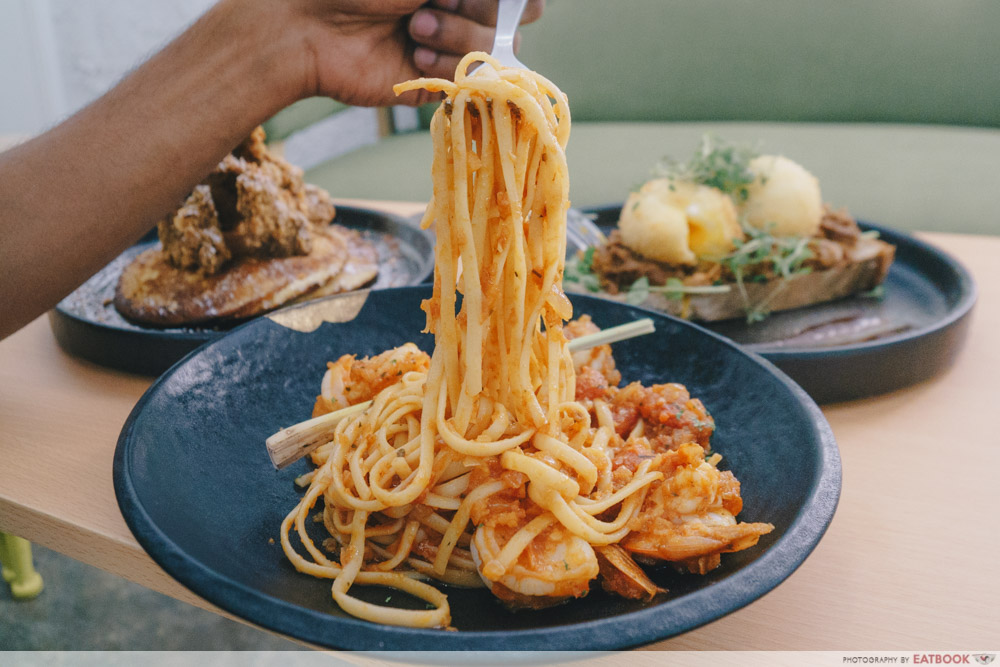 Their unique take on popular brunch food, coupled with nett prices and a homey atmosphere, landed Earlybird a spot on our list of best cafes. Use the 1-for-1 deal on any savoury main to try as many dishes as you can during your next brunch sesh. While the Chicken and Pancakes ($19) and Salmon and Avocado Toast ($22) are amazing in their own right, it's the Tom Yum Prawn Pasta ($20) which you should spring for.
The al dente pasta soaks up all the rich sauce, providing each bite with a beautiful mix of savoury, sour, and spicy flavours. As our writer puts it, "Fusion pastas are the norm, but this one reigns king."
Earlybird Review: Weekend Brunch Spot For Crispy Fried Chicken And Buttery Pancakes At Arab Street
Address: 17 Jalan Pinang, Singapore 199149
Opening hours: Sun-Thur 8:30am to 9pm, Fri 8:30am to 10pm, Sat 9am to 10pm
Tel: 9788 6856
Website
---
4. Pasta Supremo
---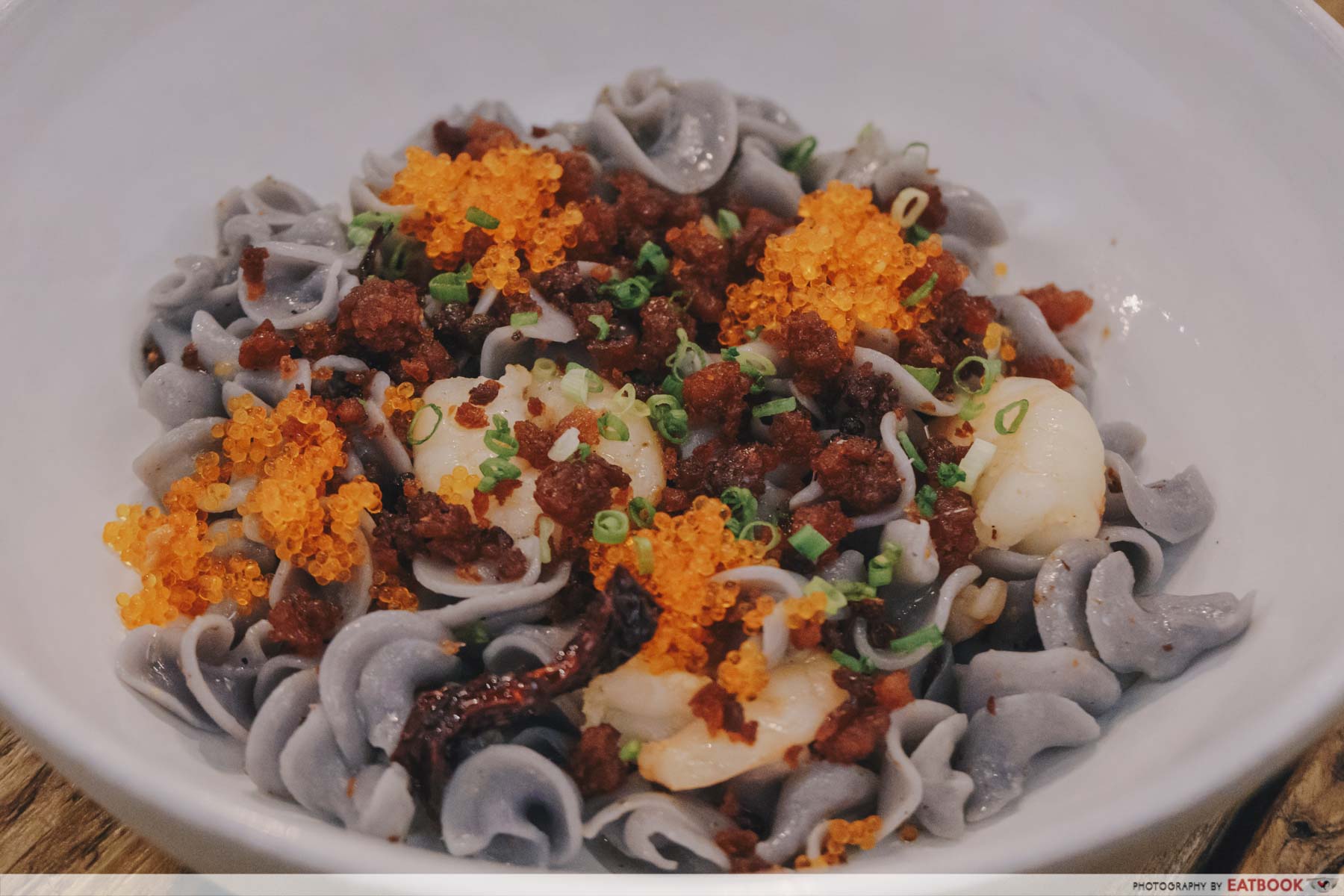 It's not often you find restaurants serving freshly handmade pasta at affordable prices. Pasta Supremo does just that, and even kicks things up a notch by offering eclectic ingredients such as bak kwa jam and blue pea flower-infused pasta. The latter is a main component in the Prawn Olio Olio ($18++). Coupled with shiny tobiko, this dish will light up your IG feed and taste buds with its blend of oceanic and aromatic flavours.
The 1-for-1 deal applies to this and other Haus Pasta items, so if you prefer something more savoury, opt for the Supremo Porky Marinara ($14++) that's topped with a gigantic meatball.
Pasta Supremo Review: Ma La Pasta And Bak kwa Jam From $5++ At Suntec City
Address: 3 Temasek Boulevard, #01-365/366/373/374, Singapore 038983
Opening hours: Daily 9am to 9pm
Tel: 6909 8138
Website
---
5. Rookery
---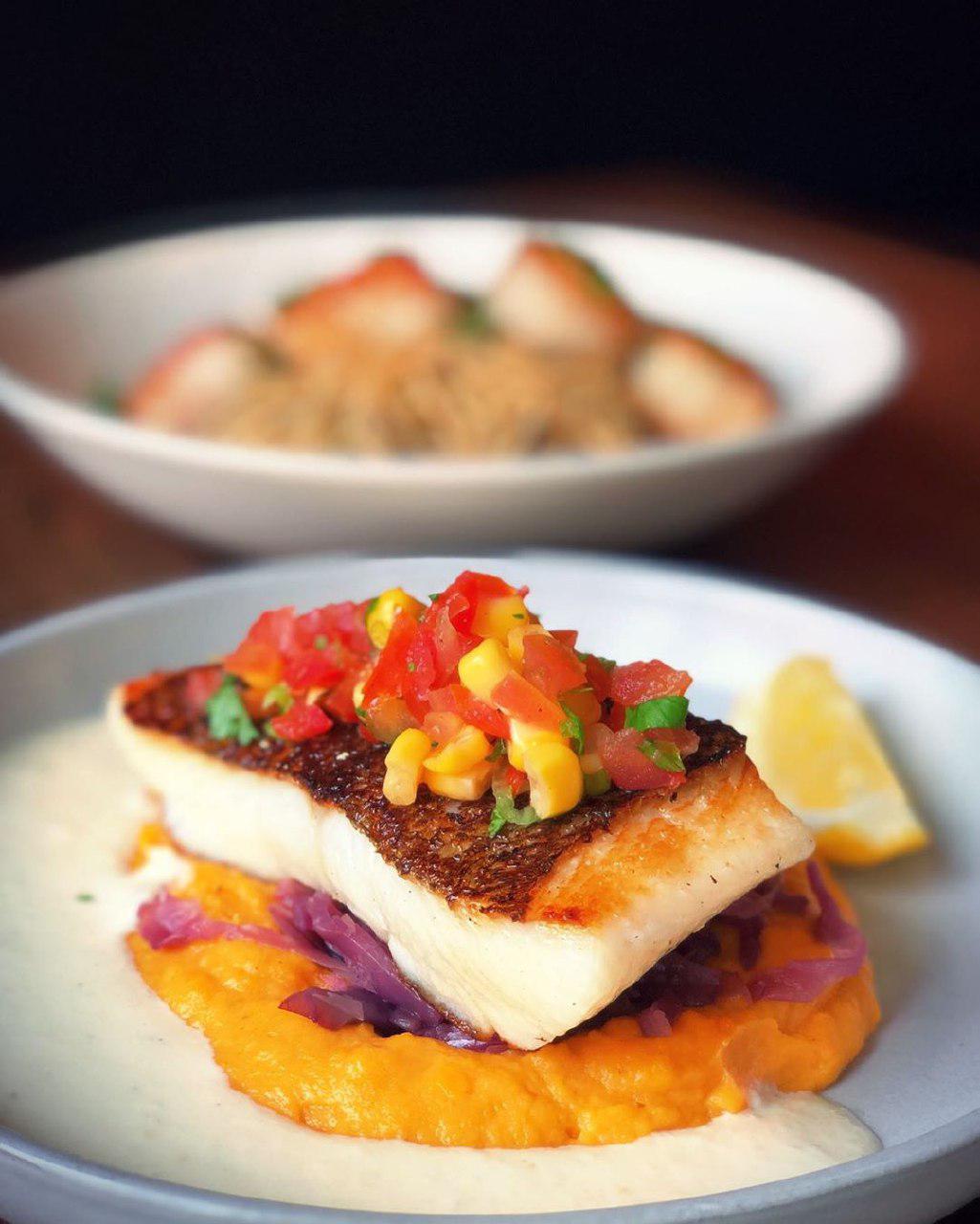 Image credit: @rookerysg
With both their outlets located in the CBD, Rookery is a haven for office workers looking to recharge after a hard day at work—be it via booze or hearty food. The restaurant-bar is offering 1-for-1 mains, which includes the Pan Roasted Halibut ($25++) served with pumpkin and parsnip puree. Underneath that crispy skin is tender and sweet meat that meshes well with the crunchy braised cabbage.
Address: 16 Raffles Quay, #01-02A, Hong Leong Building, Singapore 048581
Opening hours: Mon-Fri 8am to 11pm, Sat 11am to 9pm
Website | Full list of outlets
---
6. Nsquared Barbecue
---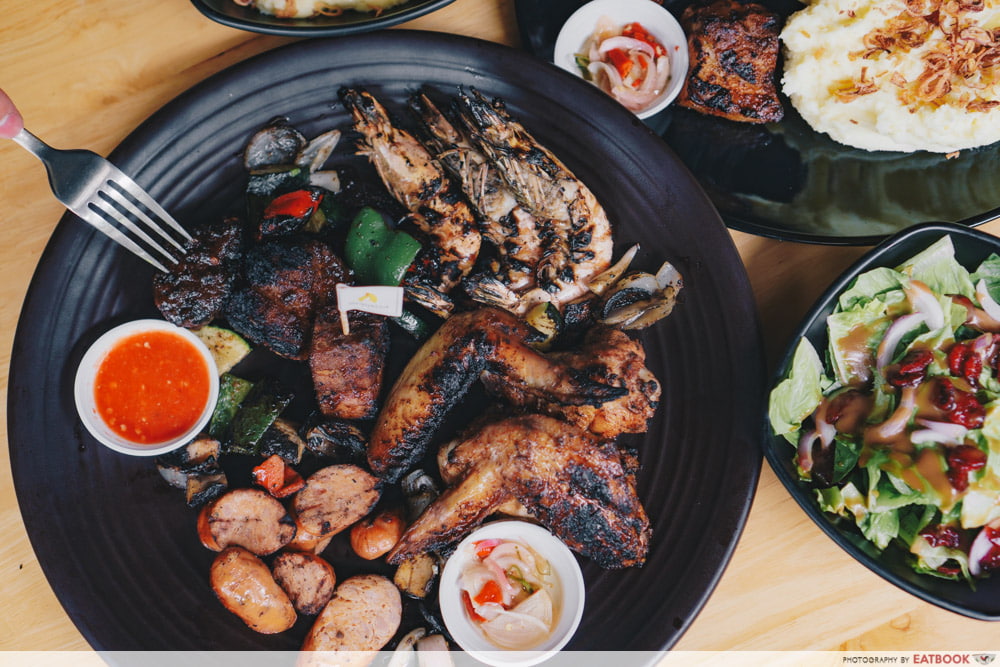 Good charcoal-grilled food is something you rarely find at hawker centres, much less at affordable prices, especially when they're whipped up by the former head chef at Camp Kilo. Thankfully, Nsquared Barbecue pulls it off with well-seasoned meats which go as low as $5.50. 
For those who wanna savour a wide variety of meats on their platter, use the 1-for-1 deal on their BBQ set ($12.90) to score a mountain of pork belly burnt ends, chicken wings, half-rack ribs, and more. In particular, the burnt ends will captivate you with a beautifully charred crust that encases sweet and tangy meat.
Nsquared Barbecue Review: Affordable Flame-Grilled Meats Below $10 At One-north
Address: 73A Ayer Rajah Crescent, Timbre+, Singapore 139957
Opening hours: Daily 11am to 10pm
Website
---
7. Spinelli Coffee
---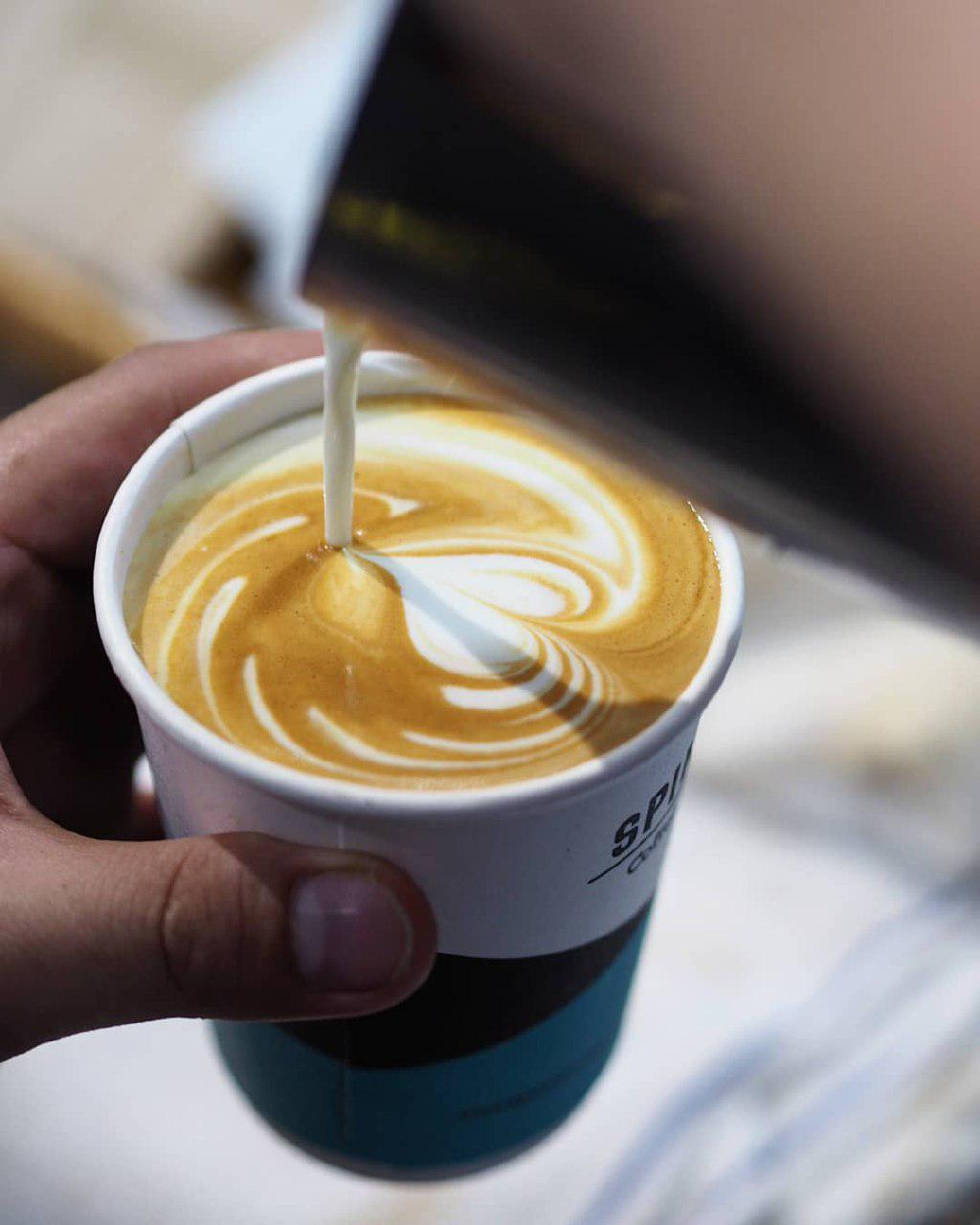 Image credit: @spinellicoffeecompany
With outlets at prime locations such as NUS and Raffles Quay, Spinelli Coffee has been responsible for perking up many tired Singaporeans. Their Large Flat White ($6.30) is a popular item, with strong espresso bolstered by velvety milk. With a 1-for-1 deal on their large Flat White, you'll have extra kopi for a second coffee break or if you're feeling generous, treat your fav' colleague to a cuppa. For those who are lactose intolerant, this offer also comes with a free upgrade to soy milk.
Address: 9 Battery Road, #01-01, MYP Centre, Singapore 049910
Opening hours: Mon-Fri 7am to 8pm, Sat 9am to 5pm
Tel: 6225 7781
Full list of outlets
Website
---
8. HEYBO
---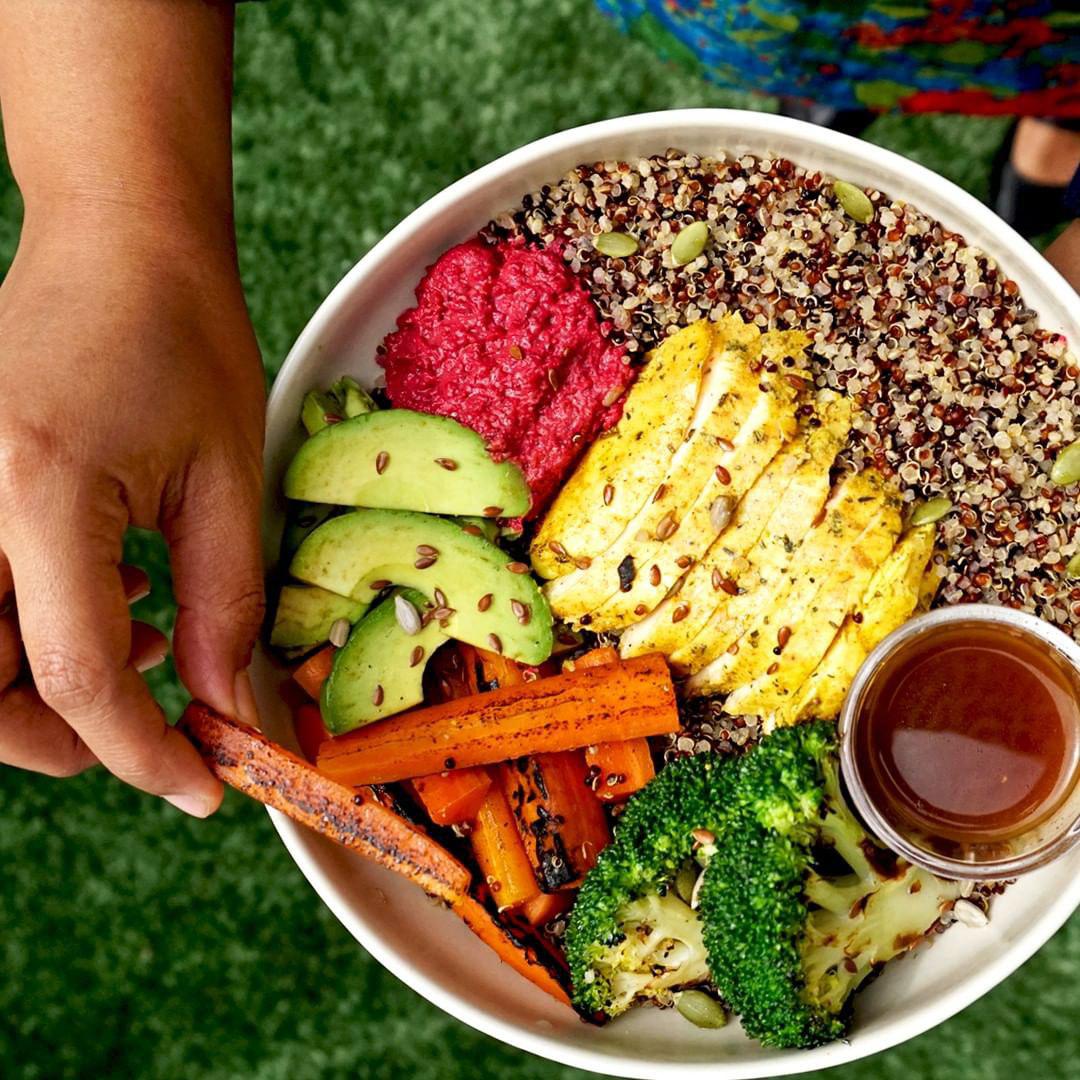 Image credit: @heybosg
Build-your-own bowl stalls are a dime a dozen in the CBD. However, HEYBO stands out from the competition with unique toppings including Impossible patties and mala sauce.
If choosing from a plethora of ingredients seems a lil' daunting, you can opt for one of their eight Signature Bos (from $9.90). Each bowl has a good balance of protein and carbs for a much-needed energy boost. With the 1-for-1 deal on these bowls, you'll essentially pay hawker prices for restaurant-quality nosh. Do note that the offer is only available on Fridays!
Address: 9 Raffles Place, #01-04/05, Republic Plaza, Singapore 048619
Opening hours: Mon-Fri 7:30am to 8:30pm
Website
---
9. Cha Tra Mue
---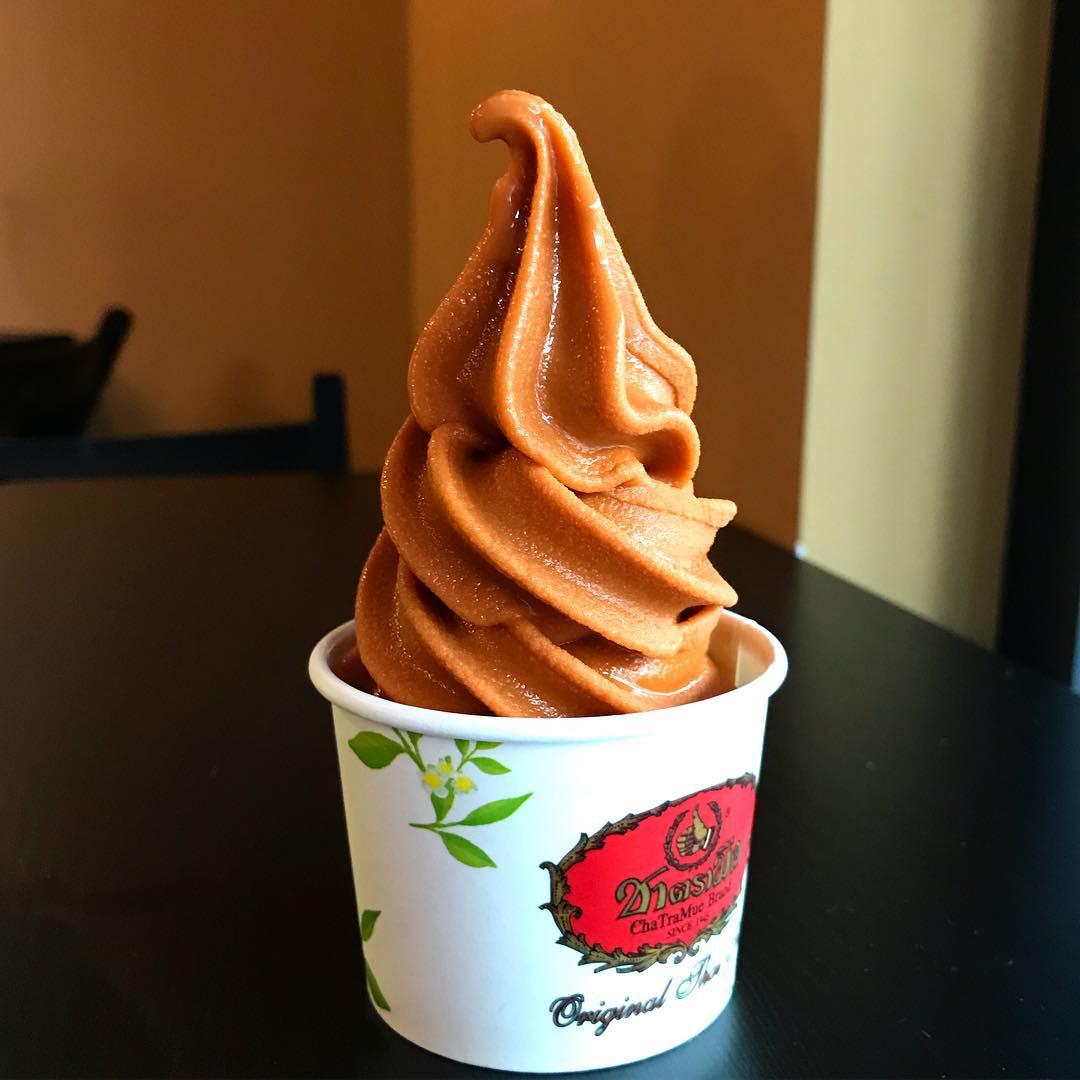 Image credit: @foodforfoong
Despite their red logo being a popular sight at pasar malams, few people know that Cha Tra Mue has a permanent store at The Star Vista. Besides their signature milk tea, the stall sells an assortment of refreshing desserts such as lattes and BBT. My personal favourite would be their uber creamy Thai Milk Tea Soft Serve ($3.50). With the 1-for-1 deal, you can try out this frozen treat with friends at less than $1.50 per set.
Address: 1 Vista Exchange Green, #B1-06, The Star Vista, Singapore 138617
Opening hours: Daily 11am to 9pm
Website
---
10. Canopy Garden Dining
---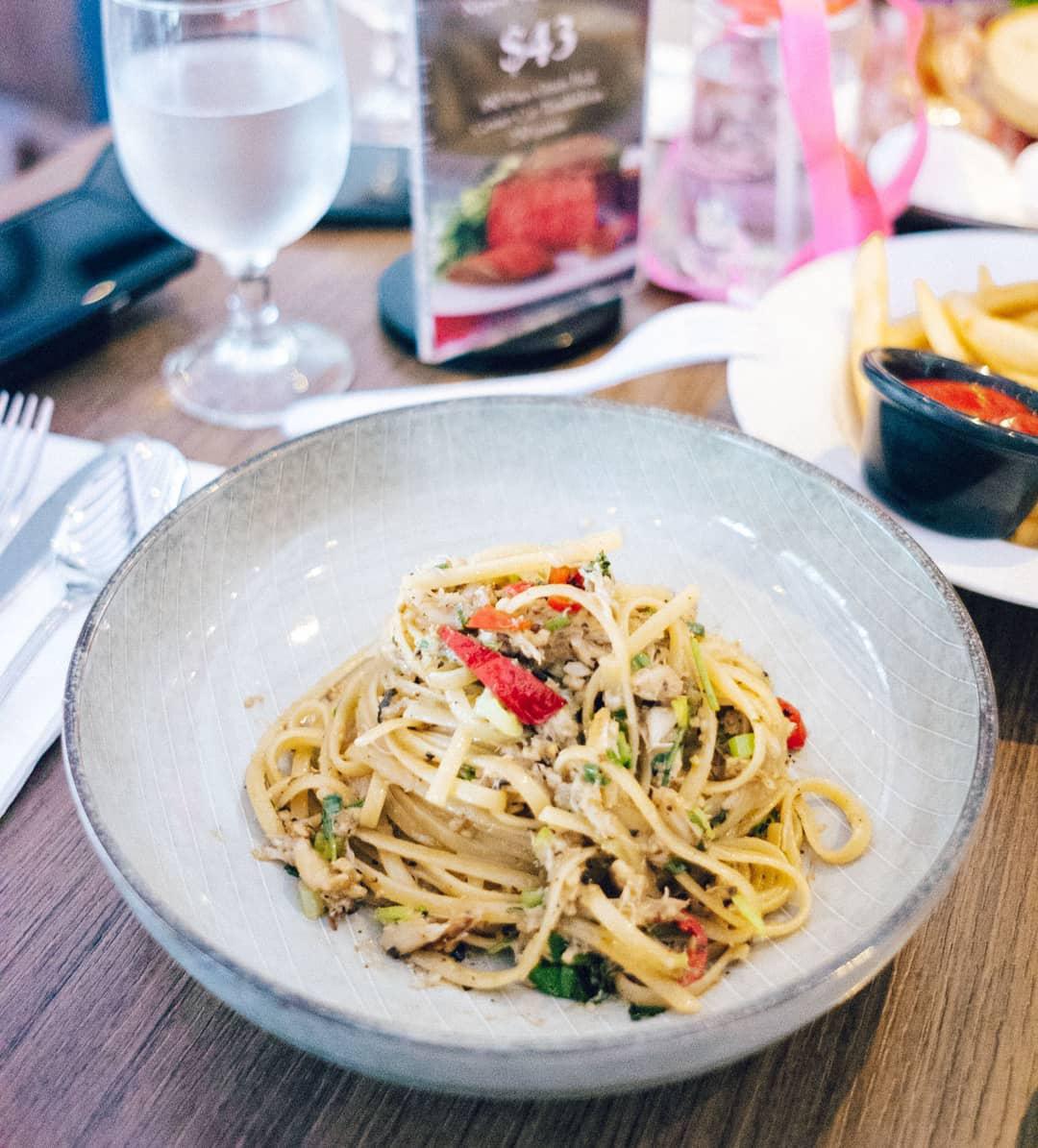 Image credit: @sandiecanico
Boasting a marvellous view of Bishan-Ang Mo Kio Park, Canopy Garden Dining is the place to fuel up after a morning run with the fam'. You'll find mostly brunch fare here, including uncommon options such as Chef Tan's Lobster Roll ($22++) showcasing sauteed lobster and shrimp roe for maximum brininess. 
However, you'll wanna zoom in on their pasta section instead, as that's what the 1-for-1 deal will cover. Besides the usual suspects such as Carbonara ($18++), they also sell the Lobster Pomodoro ($20++)—a classic spaghetti dish with succulent lobster meat, roasted Pomodoro sauce, and greens.
Address: 1382 Ang Mo Kio Avenue 1, Bishan Park 2, Singapore 569931
Opening hours: Mon-Thurs 9am to 10:30pm, Fri 9am to 11pm, Sat-Sun 8am to 11pm
Website
---
11. Jekyll & Hyde
---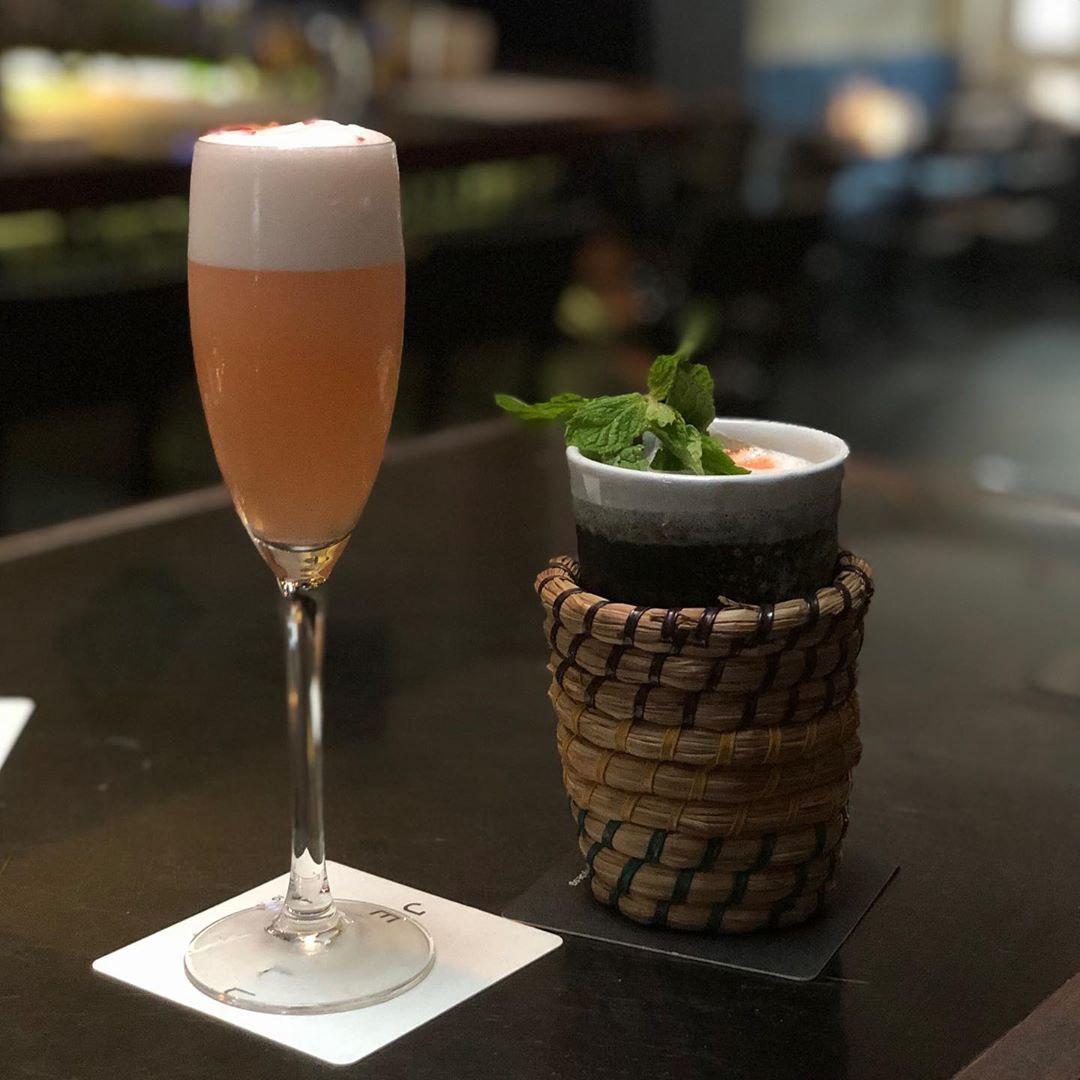 Image credit: @nomsandchomps
Be prepared to see double after a night of drinks at Jekyll & Hyde. The award-winning bar will have a 1-for-1 deal on their Signature Cocktails ($22++), so you know where to go for your next night out. Pick your poison out of a range of 10 different drinks.
Try their Kopi-o-Fashioned, a coffee bean-infused scotch, topped with a Guinness Stout reduction foam, or Sesame Street, a creamy dream of black sesame, coconut milk and vodka. If you're here with a large group, spring for their Strawberry Blossom Punch Bowl!
Address: 49 Tras Street, Singapore 078988
Opening hours: Mon-Thurs 5pm to 12am, Fri 5pm to 2am, Sat 6pm to 2am
Website
---
Bonus: Muchachos
---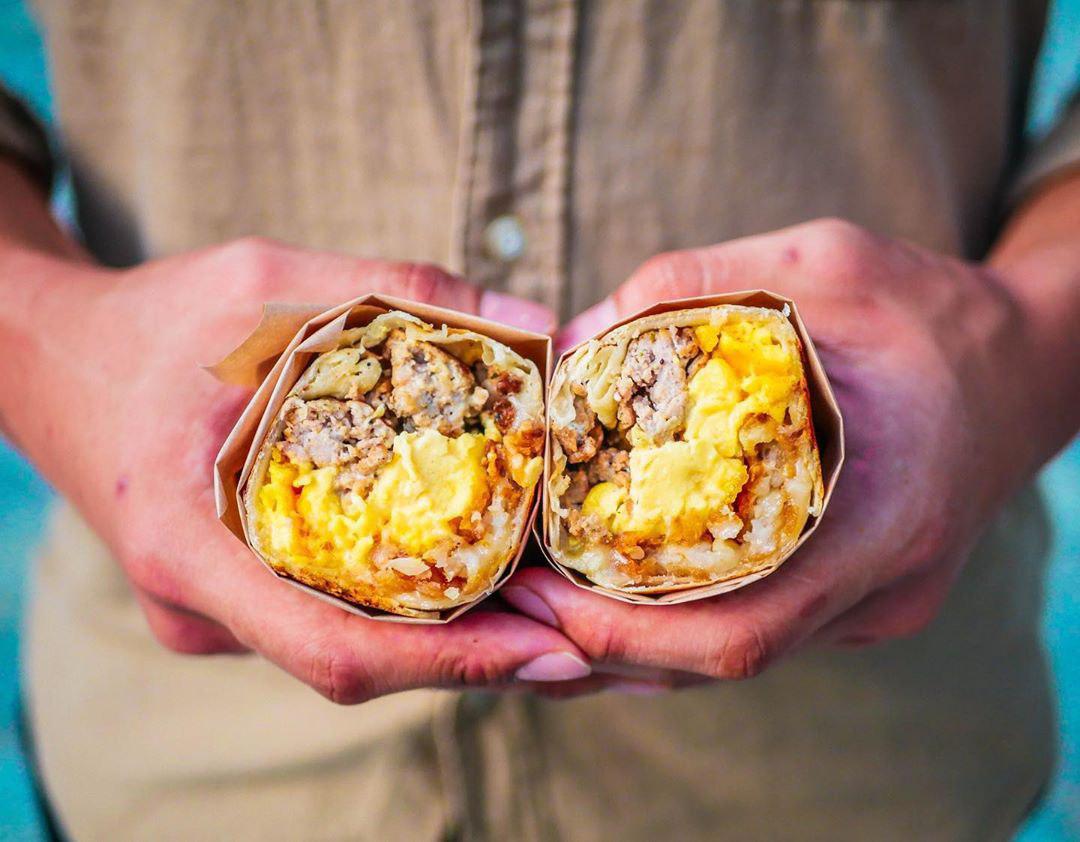 Image credit: @muchachos.sg
Muchachos is one of the few places in town that offers legit and tasty Mexican food. If you need comfort food that'll fill you up immensely, grab their 1-for-1 deal on burritos and bowls ASAP as it's only available till 30 November 2019. Popular options include the Breakfast Burrito ($13.50), which comprises creamy scrambled eggs, crispy bacon, and sour cream, and the Pollo Asado Bowl ($12) that comes with a generous amount of cheese.
Address: 182 Cecil Street, #01-01, Frasers Tower, Singapore 069547
Opening hours: Mon-Sat 11am to 9pm
Website
---
Enjoy more deals with ShopBack GO
---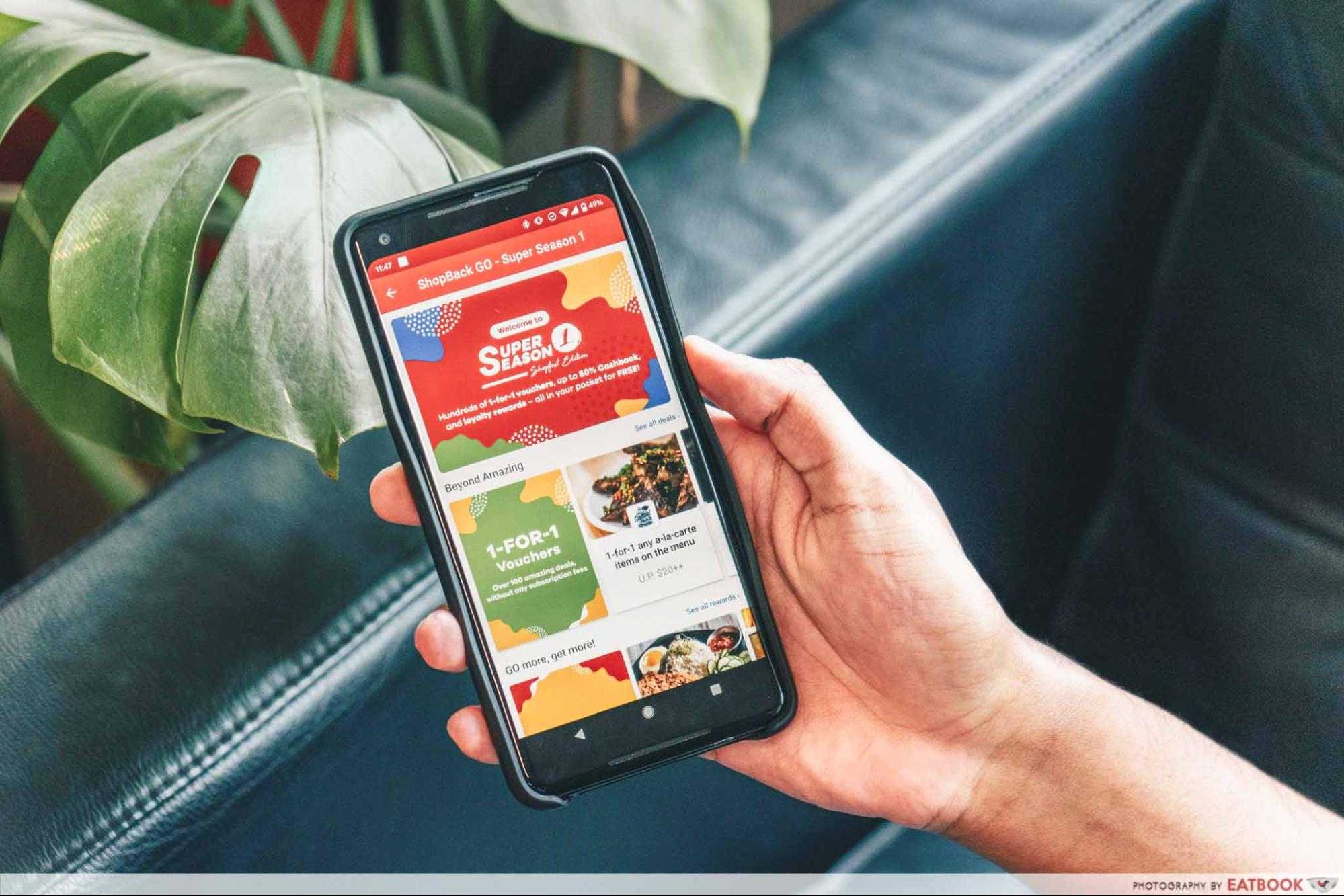 With 2019 drawing to a close, there's no denying that your bank account will take a barrage of hits—courtesy of holiday gifts and EOY vacays. As such, tighten the purse strings a lil' by using ShopBack GO's 1-for-1 food vouchers. These deals will be available on their app till 31 Dec 2019, and can be used without any subscription fees! 
By spending, you'll even "add" money to your account as they have up to 50% cashback, along with exclusive deals including free half dozen house oysters at Greenwood Fish Market and a set of any burger and Thirst Quencher for $15 at HANS IM GLÜCK.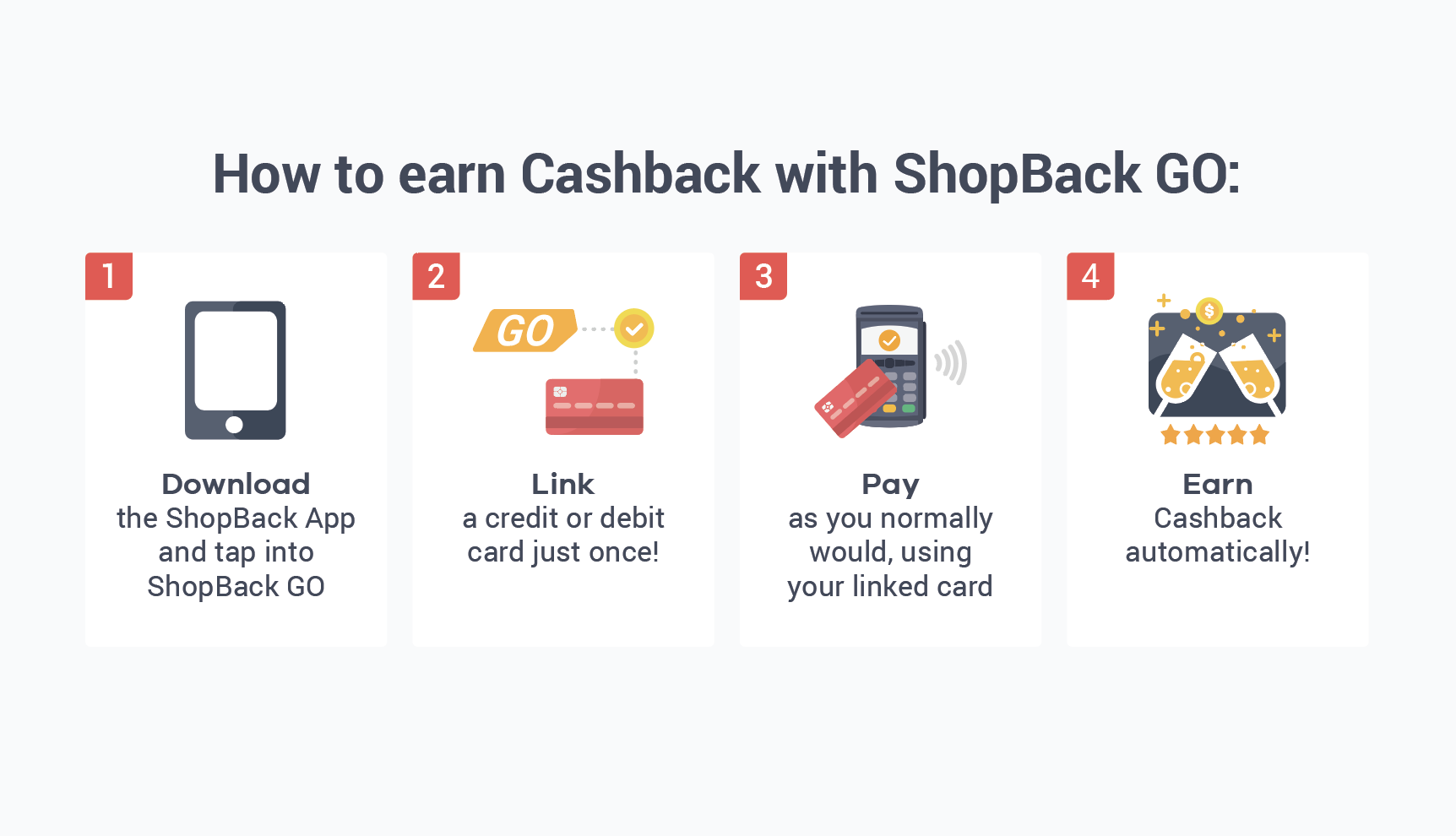 To get in on this, simply:
Link your credit or debit card to ShopBack GO in the ShopBack app. 

Head down to the restaurants to redeem the vouchers.

Pay with your linked card.

Receive your Cashback automatically on the app.

Withdraw real money into your bank account.
Don't fret if you missed out on these deals as there'll be another round of new promos once 2020 arrives!
This post is brought to you by ShopBack GO.
Feature image adapted from @jekyllandhyde.sg, @fish_fish20, @sandiecanico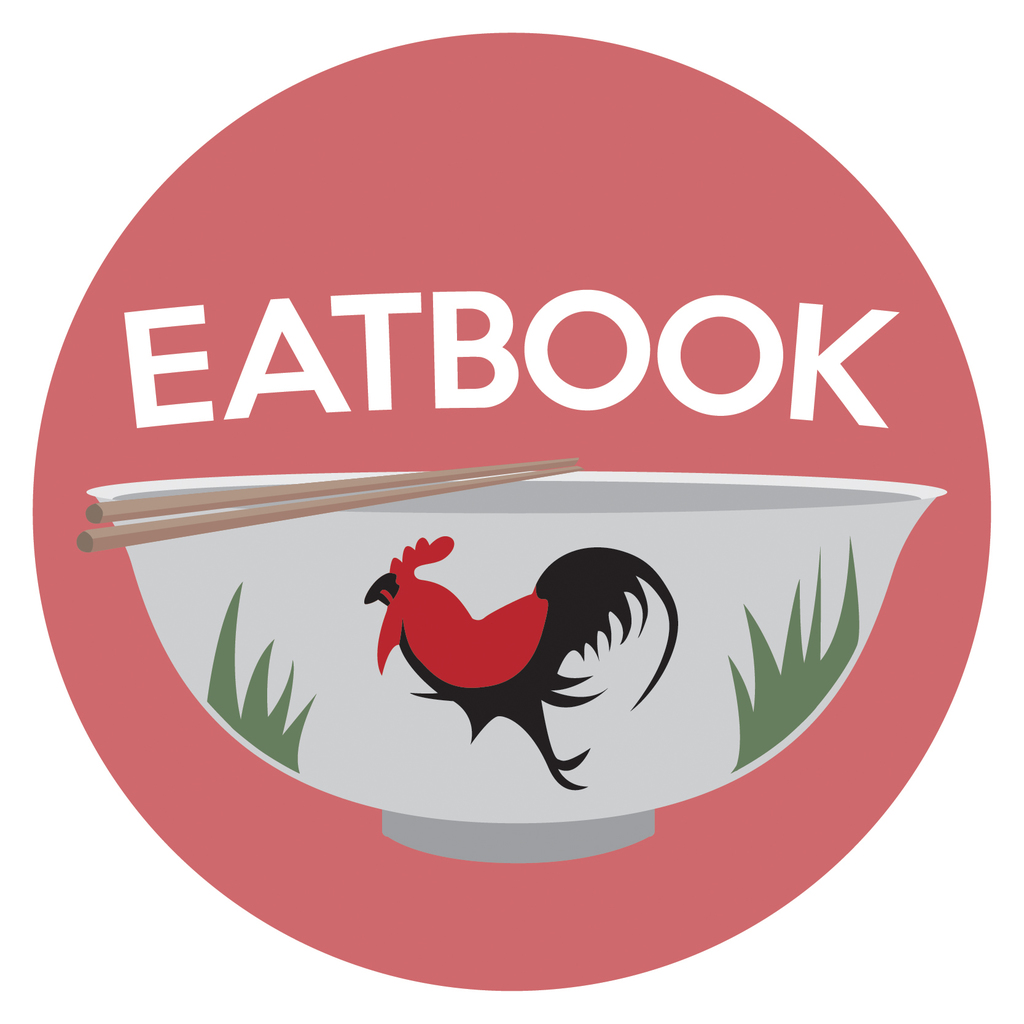 Drop us your email so you won't miss the latest news.