Tofully at ABC Brickworks Food Centre
Upodate: Tofully is permanently closed and will reopen at a new location.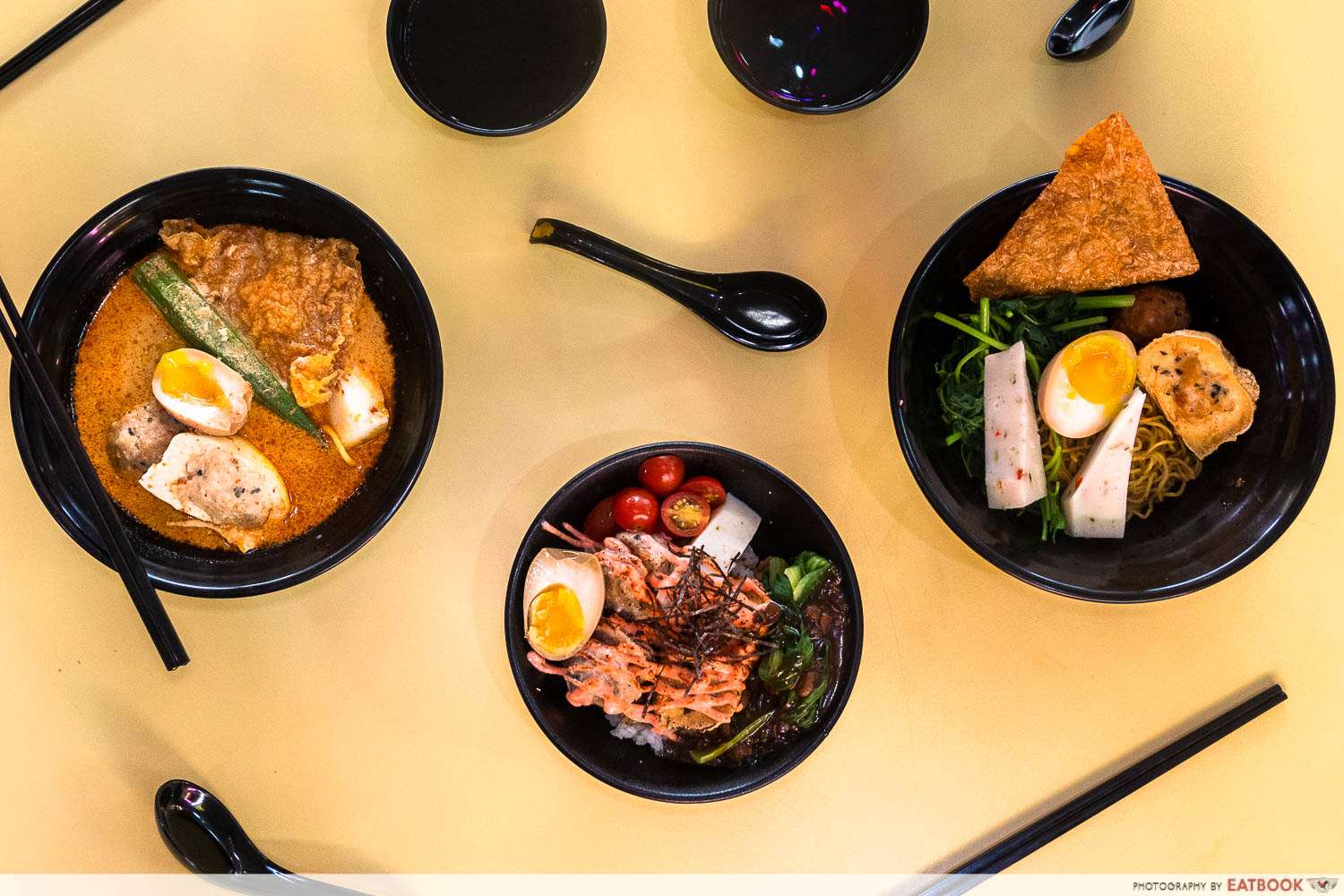 Yong tau foo doesn't always surface on top of the list when people talk about their hawker favourites. It's often the more prominent suspects of bak chor mee, chicken rice, and hokkien mee that get more love for their rich and robust flavours. Nonetheless, I often gravitate towards young tau foo, especially when I'm overwhelmed with the plethora of options at a hawker centre. Being relatively healthy, entirely customisable, and affordable, you really can't go wrong with it!
12 Hokkien Mee Stalls In Singapore Every Local Foodie Must Try
Within the spacious compound of ABC Brickworks Food Centre is Tofully, a relatively new hawker stall specialising in handmade Hakka yong tau foo. The humble stall is run by owner Keith, who amassed a steady following after winning the Hakka yong tau foo category in Mediacorp's Hawker Academy TV programme in 2020.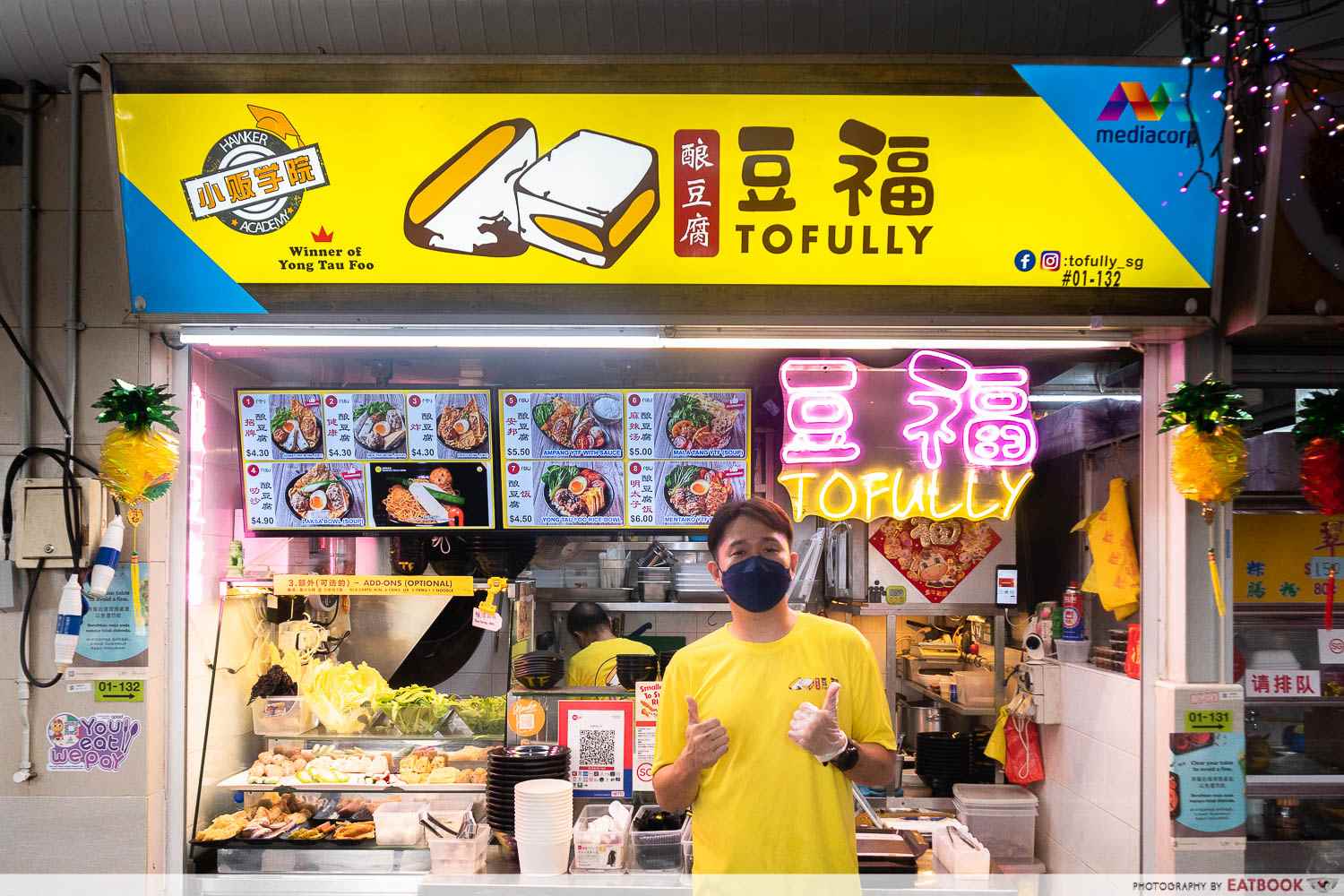 Food at Tofully
To me, a good bowl of yong tau foo comprises a few elements: well-varied toppings, fresh ingredients, and springy noodles. At Tofully, Keith makes most of the ingredients by hand every day, with signatures such as handmade meatballs and meat-stuffed beancurd donning each bowl.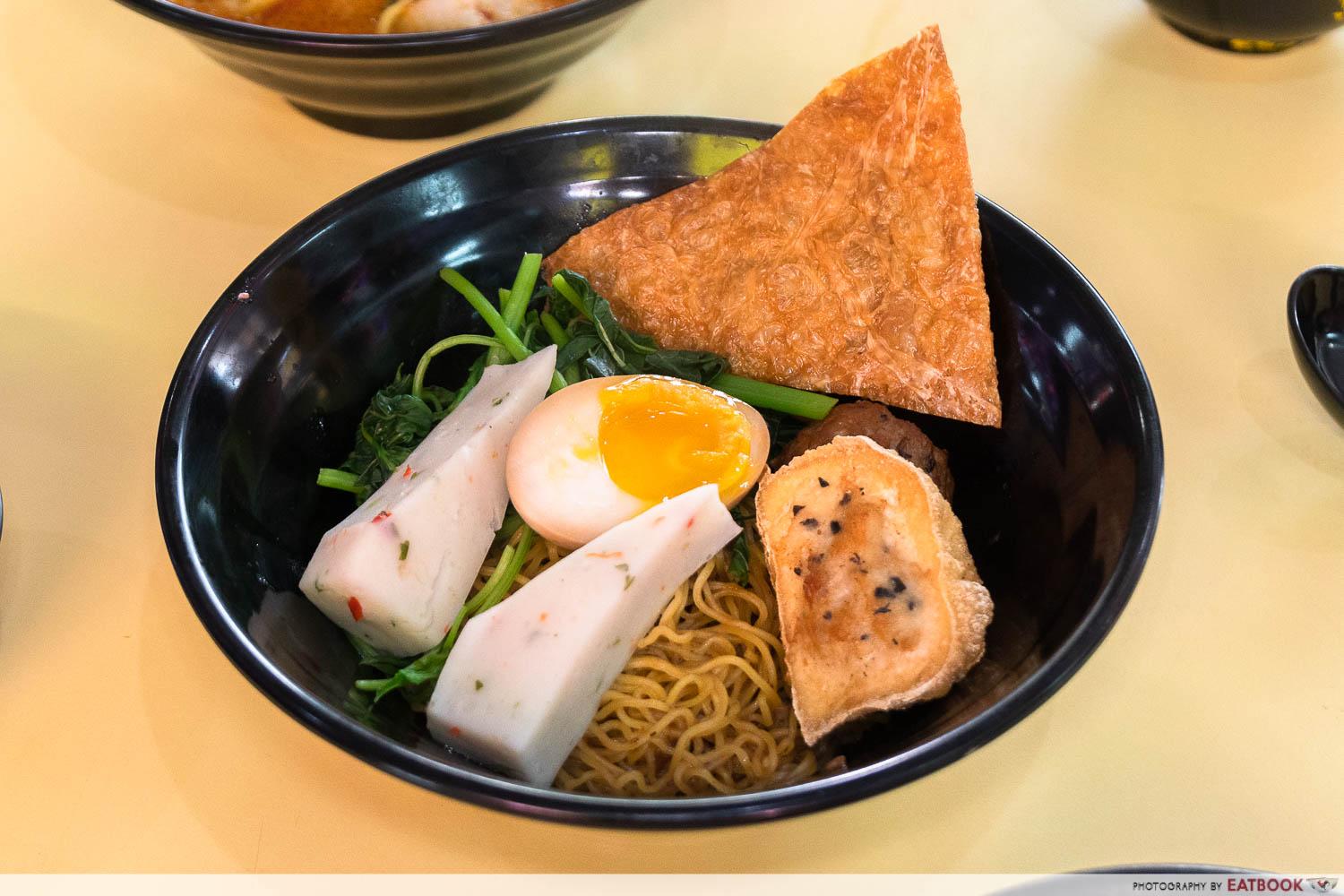 While you can DIY your own dish with the displayed toppings, the stall offers curated options—perfect if you're too lazy to pick your own ingredients. You'll get a pleasant introduction with the Signature Bowl (Dry) which comes with your choice of noodles, plus a mix of deep-fried and boiled toppings neatly lined up. At just $4.30, you're getting your money's worth with the generous amount of noodles and liao in each bowl.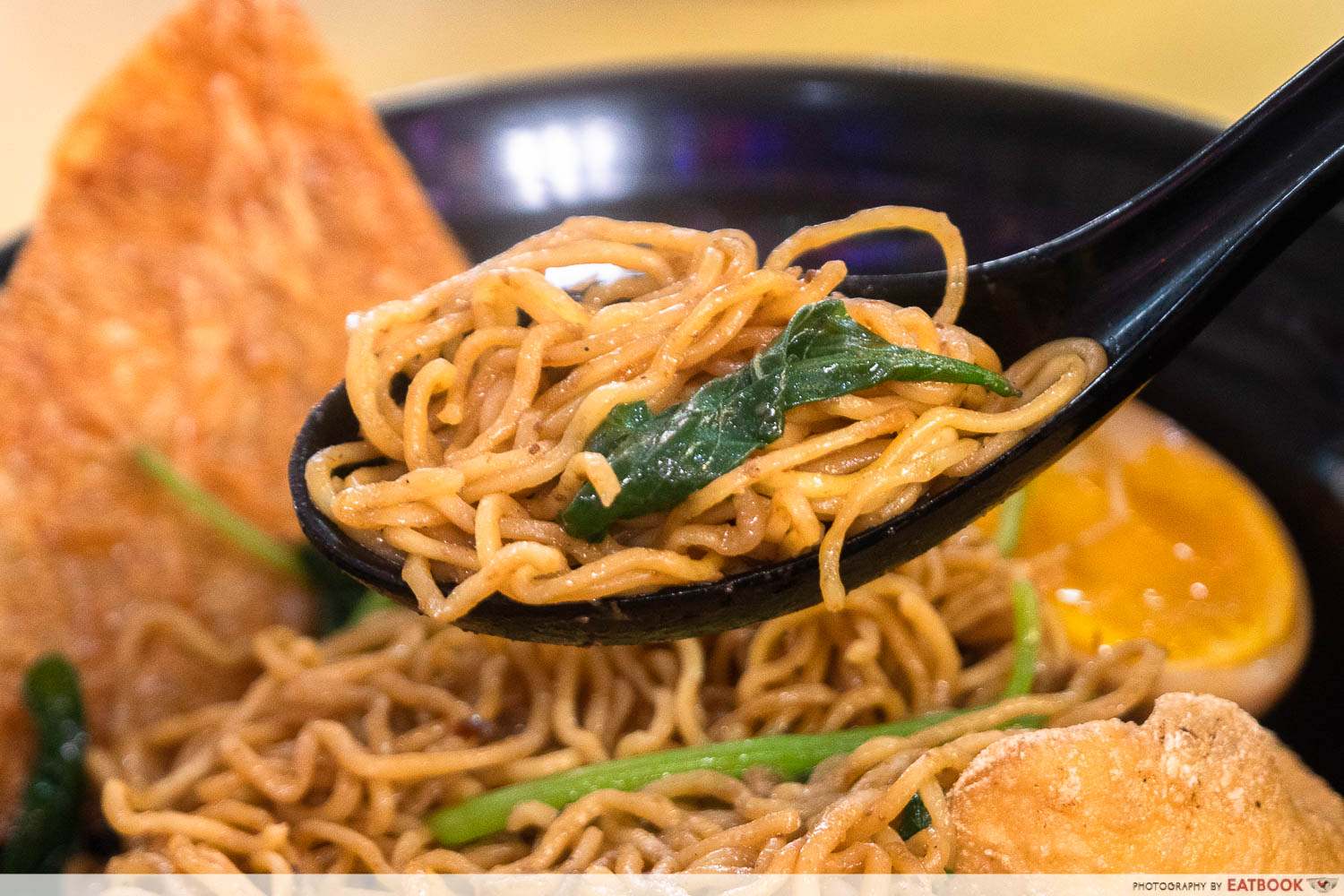 We chose mee kia for this, which proved to be an excellent choice even after our long shoot. Despite sitting out for an hour or so, the thin egg noodles retained their springy texture, which scored extra brownie points.
Yanan Ban Mian Review: Ex-St Regis Chef Opens Hawker Stall With Handmade Dumplings And Seafood Ban Mian
Thankfully, the noodles weren't swimming in a pool of sauce either. In fact, the sauce to noodle ratio was just right. Keith mentioned that extra thought had been put into developing the sauce, which is a special mix of sesame oil, soy sauce, fish sauce, and a few secret ingredients. The kitchen team also makes sure to dole out a consistent amount of sauce for each bowl, so you get a well-balanced flavour in each bite.
The star of the show here was the fried pork meatball, handmade daily and deep-fried upon order. It was well-seasoned and flavourful while retaining a good bite.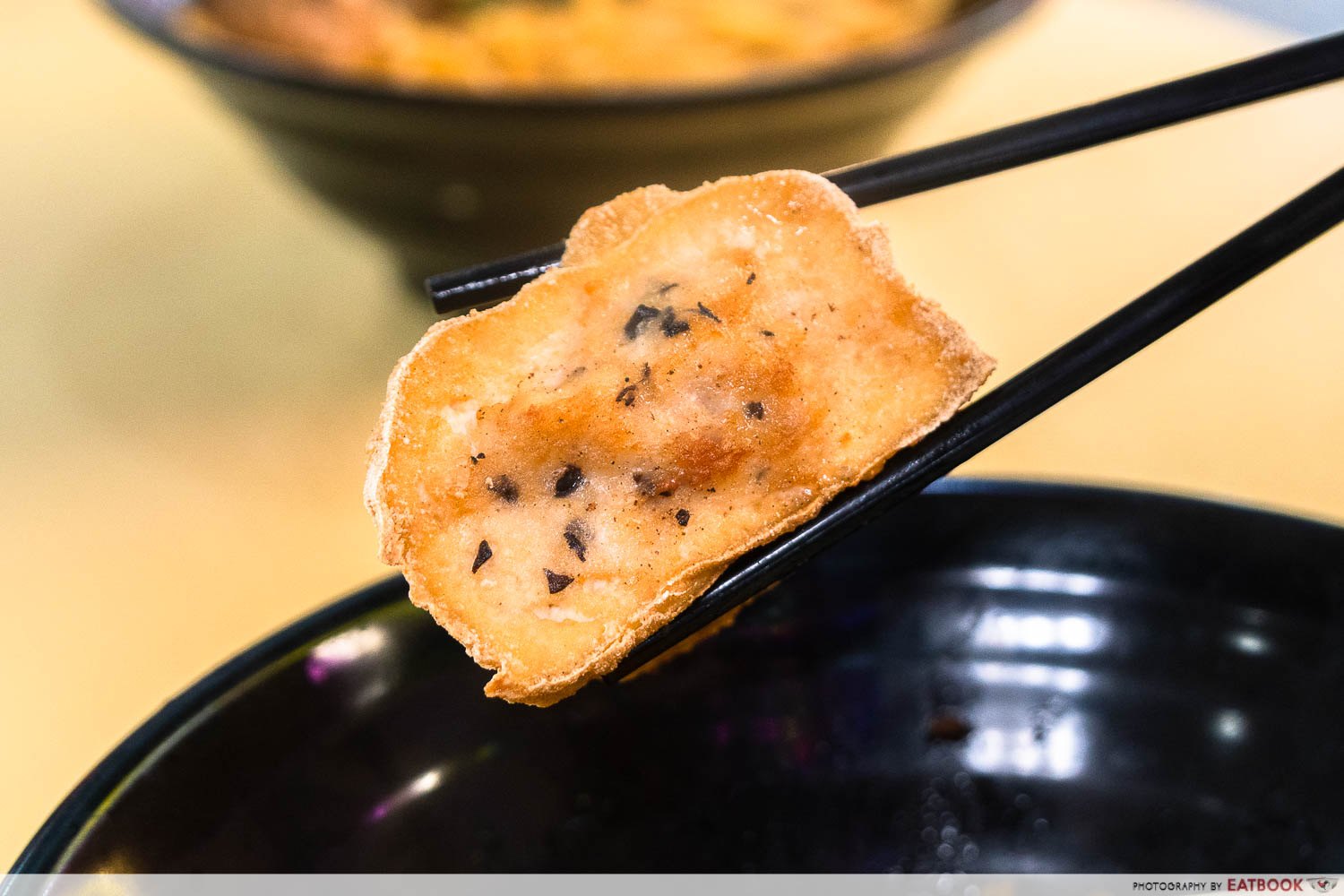 Another signature is the fried tofu, stuffed with a meat blend. Being a stickler for quality, Keith took some time to find the right tofu supplier, as many run-on-the-mill factories did not produce tofu that was up to his standard. While the fried tofu was bordering towards dry for my liking, the juicy meat filling compensated for it.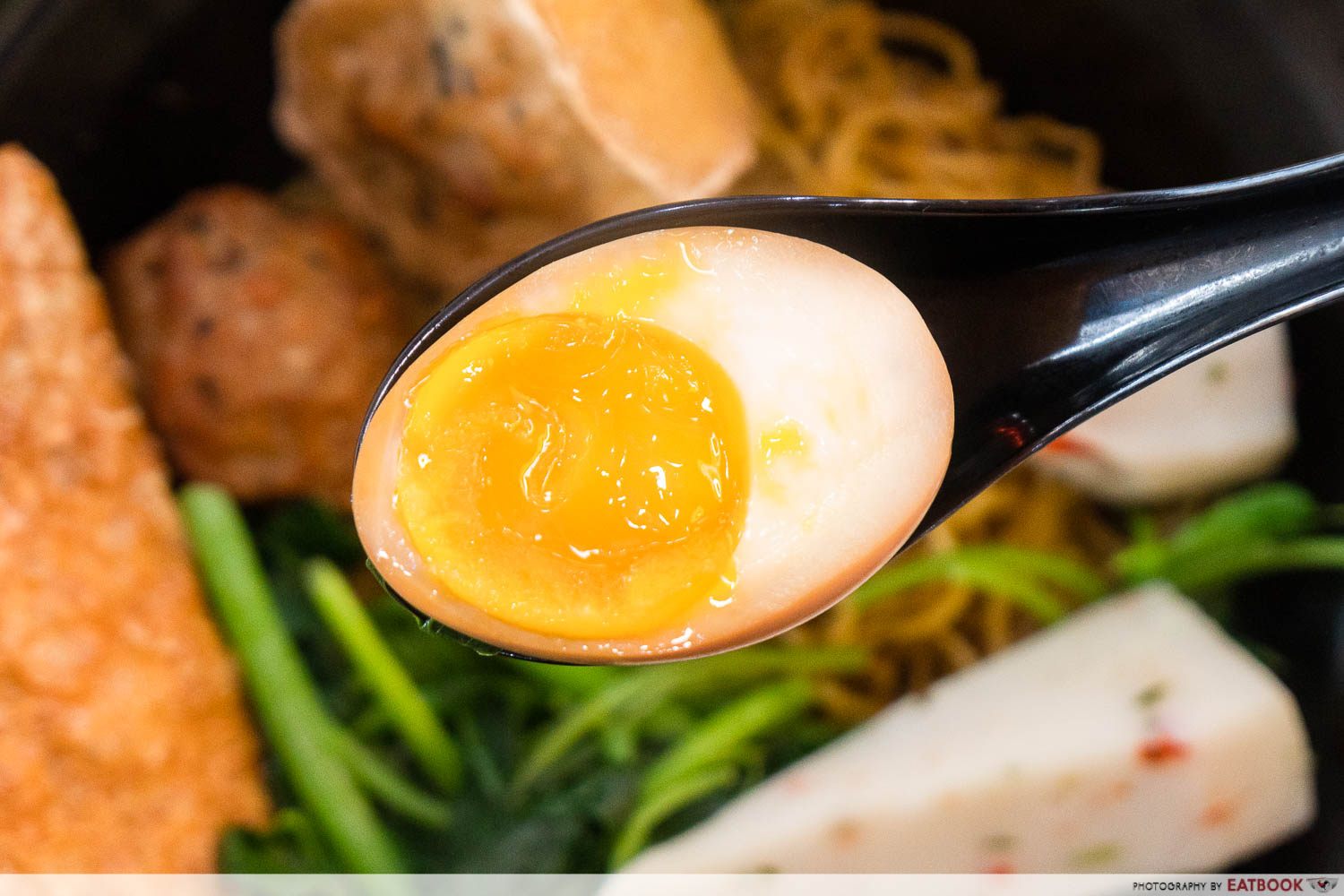 Each bowl also comes with half an Ajitsuke Tamago, AKA ramen egg, that was perfectly done. It was well-seasoned for a hit of umami, with a creamy yolk centre.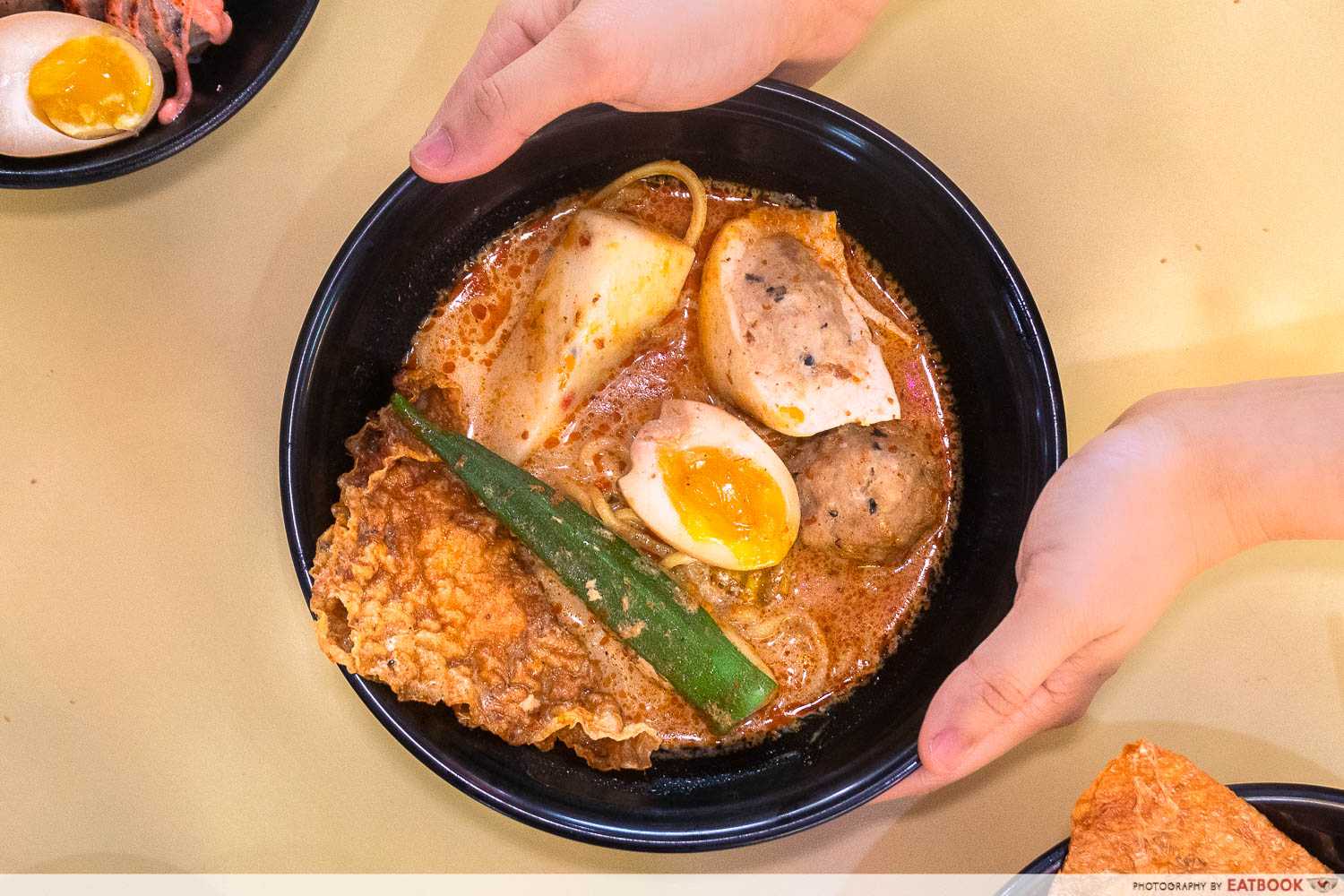 If you prefer something soupy, I'd recommend the Laksa Bowl (Soup) ($4.90). To be honest, I wasn't expecting much from this dish as laksa broths at most YTF stalls are either too lemak, or too watery. I was pleasantly surprised by how much I enjoyed the soup here; it was rich but not too jelak, with a slight hit of spice that came right at the end.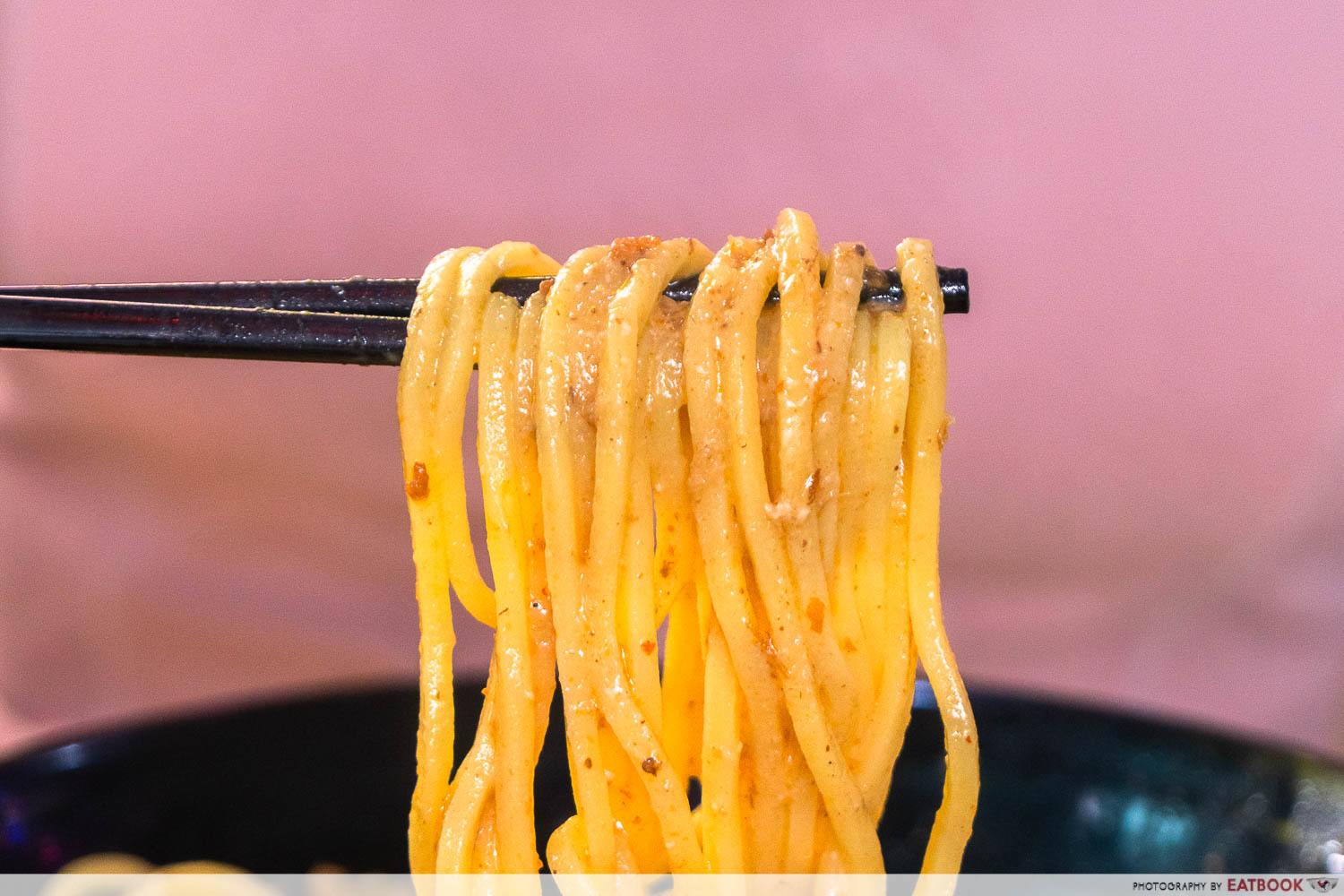 The yellow noodles, which were cooked to an al dente texture, accompanied the gao laksa soup that boasted a hint of heady hae bee. Next time, I'll ask for a mix of bee hoon and yellow noodles to soak up all the delicious flavours.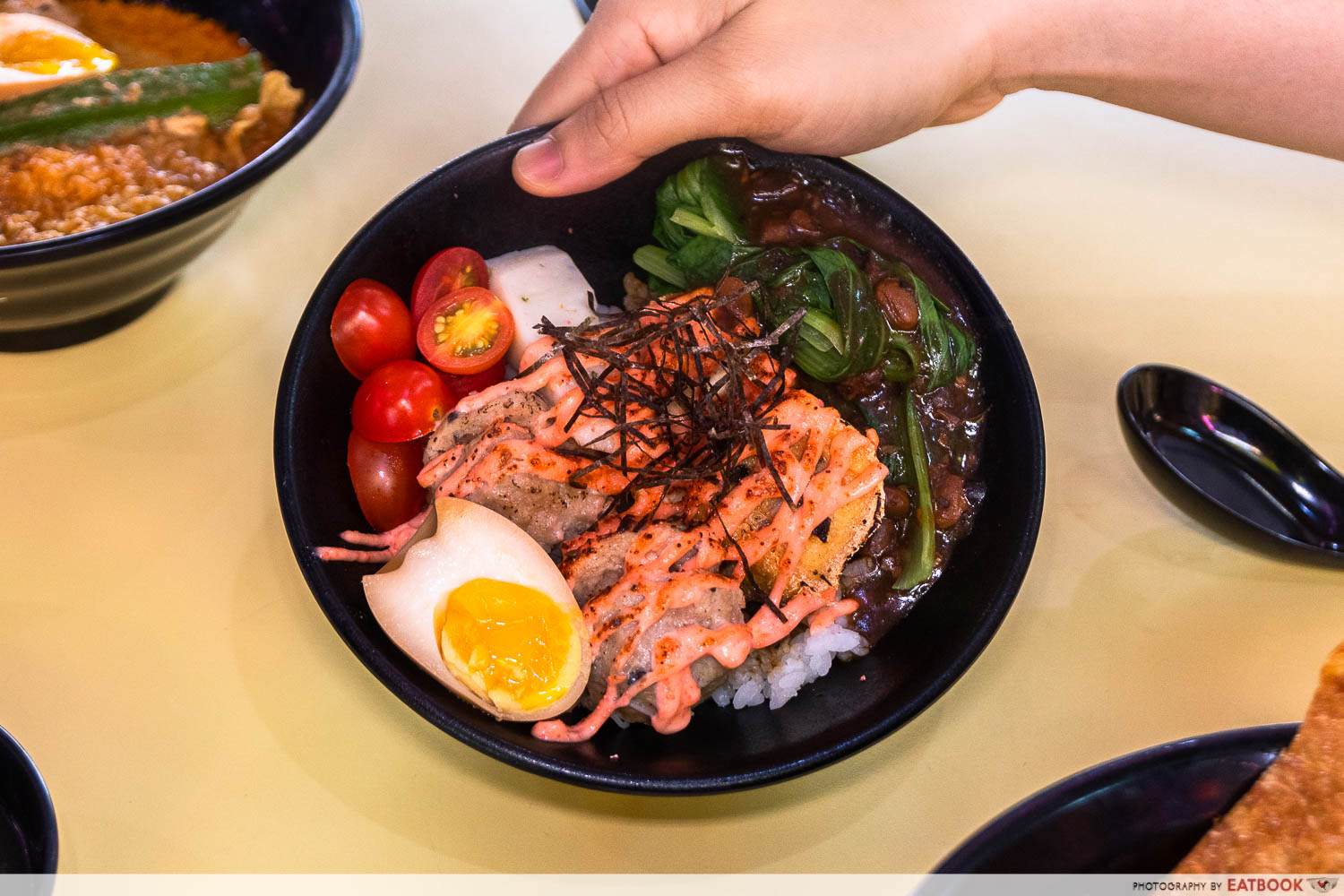 Mentaiko fans will be pleased with the Mentaiko YTF Rice Bowl ($6). This photogenic, Japanese-inspired don features a bed of short-grain rice, topped with fried liao and drizzled with housemade mentaiko mayo.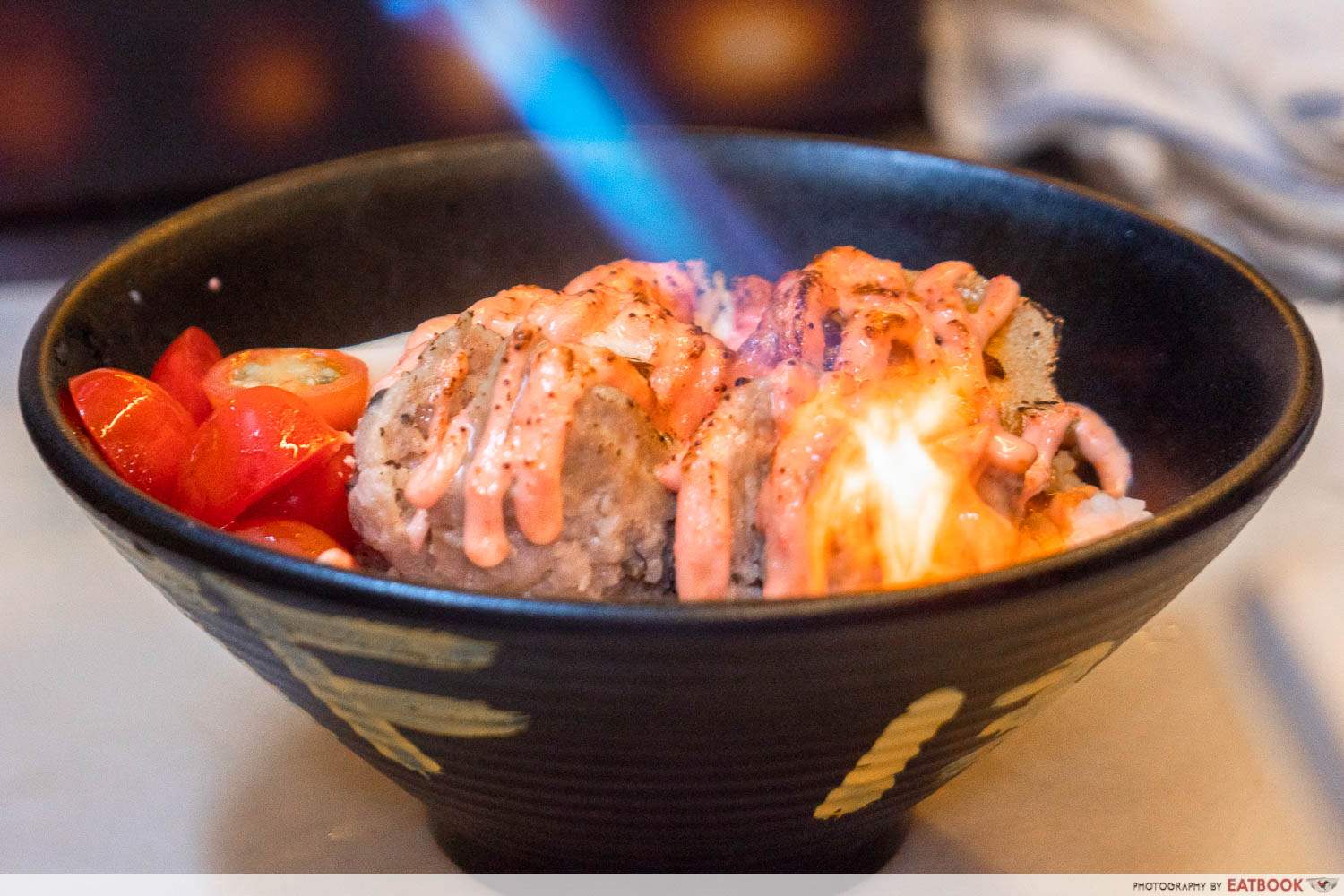 The mentaiko sauce was flame-torched before our eyes, right before serving, resulting in a slightly charred fragrance that hits you before you dig in.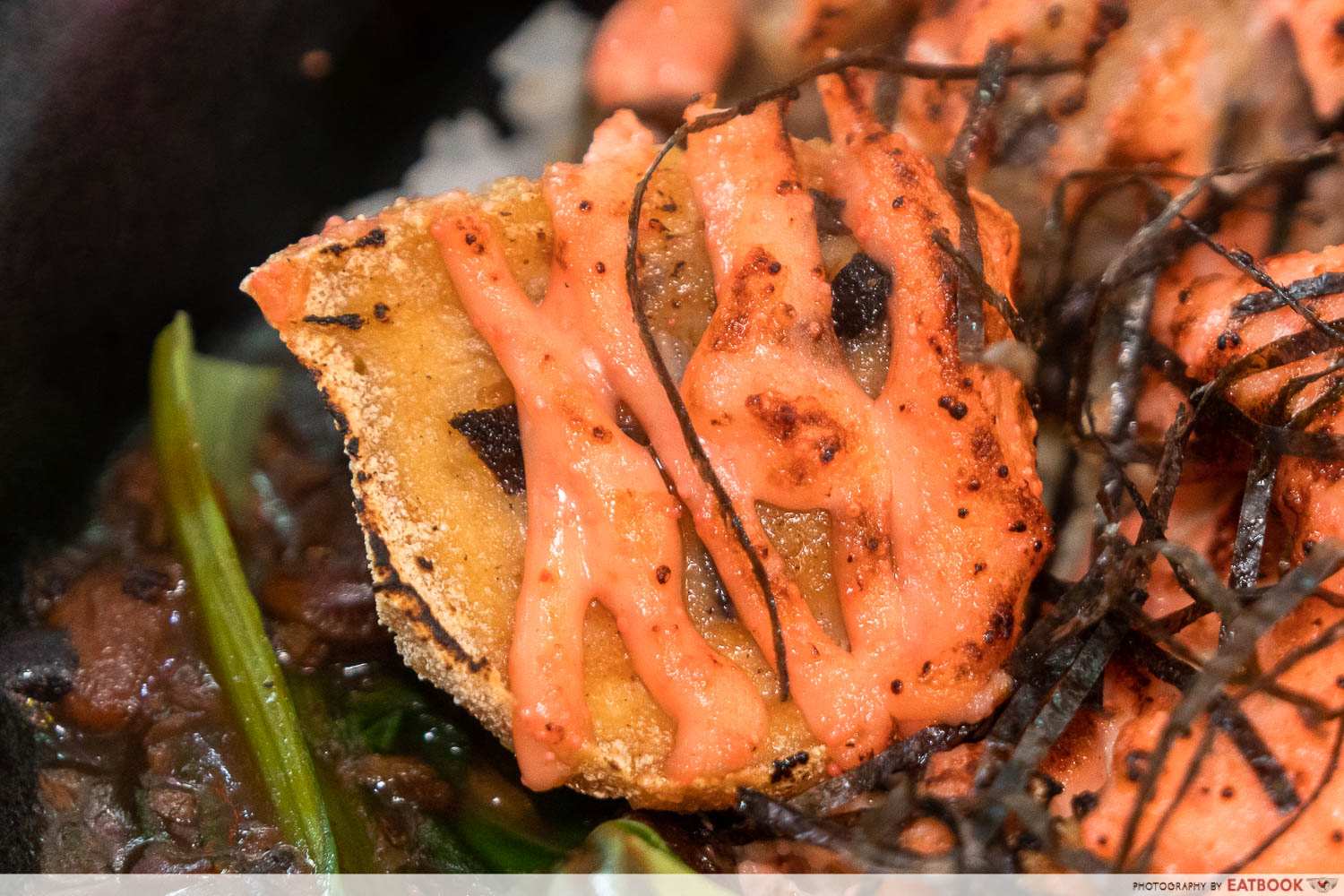 While I appreciated how generous they were with the toppings, I found myself hankering for more of that creamy mentaiko goodness. The specially concocted fish roe mayo mix was absolutely delicious with an intense, umami flavour that kept me going back for more.
You also get a small side of veggies, too, coated in Keith's signature ampang yong tau foo sauce, which was slightly viscous with visible bits of soya beans for texture. I just wished there was a smidgen more sauce on the rice to make it less dry and add extra oomph to the dish.
Ambience at Tofully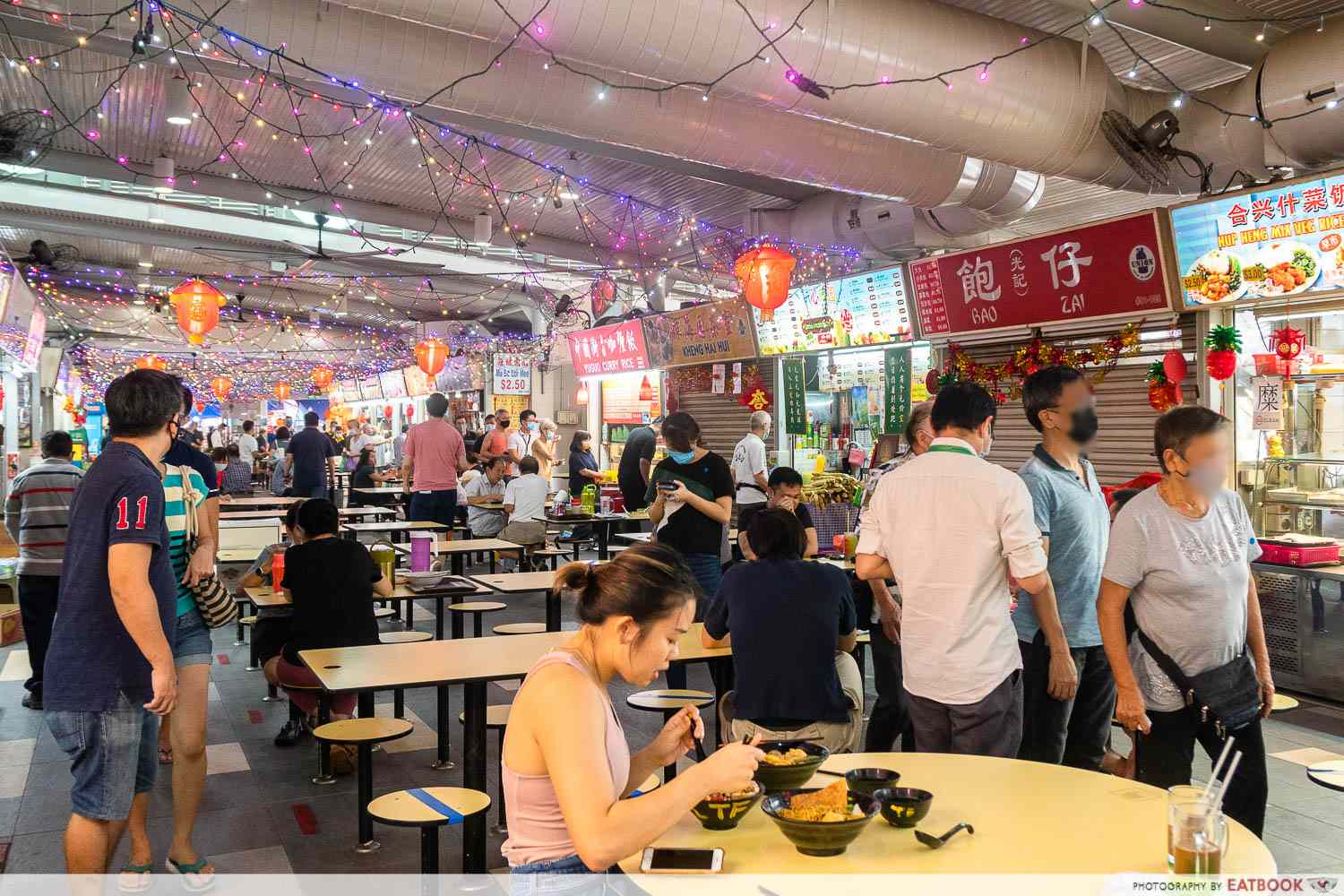 Tofully is located in ABC Brickworks Food Centre, which is a 10-minute bus ride from Redhill or Commonwealth MRT Station. It's not exactly the most convenient, but you get plenty of food options here, some of which are super affordable. Be prepared to queue up during lunchtime!
The verdict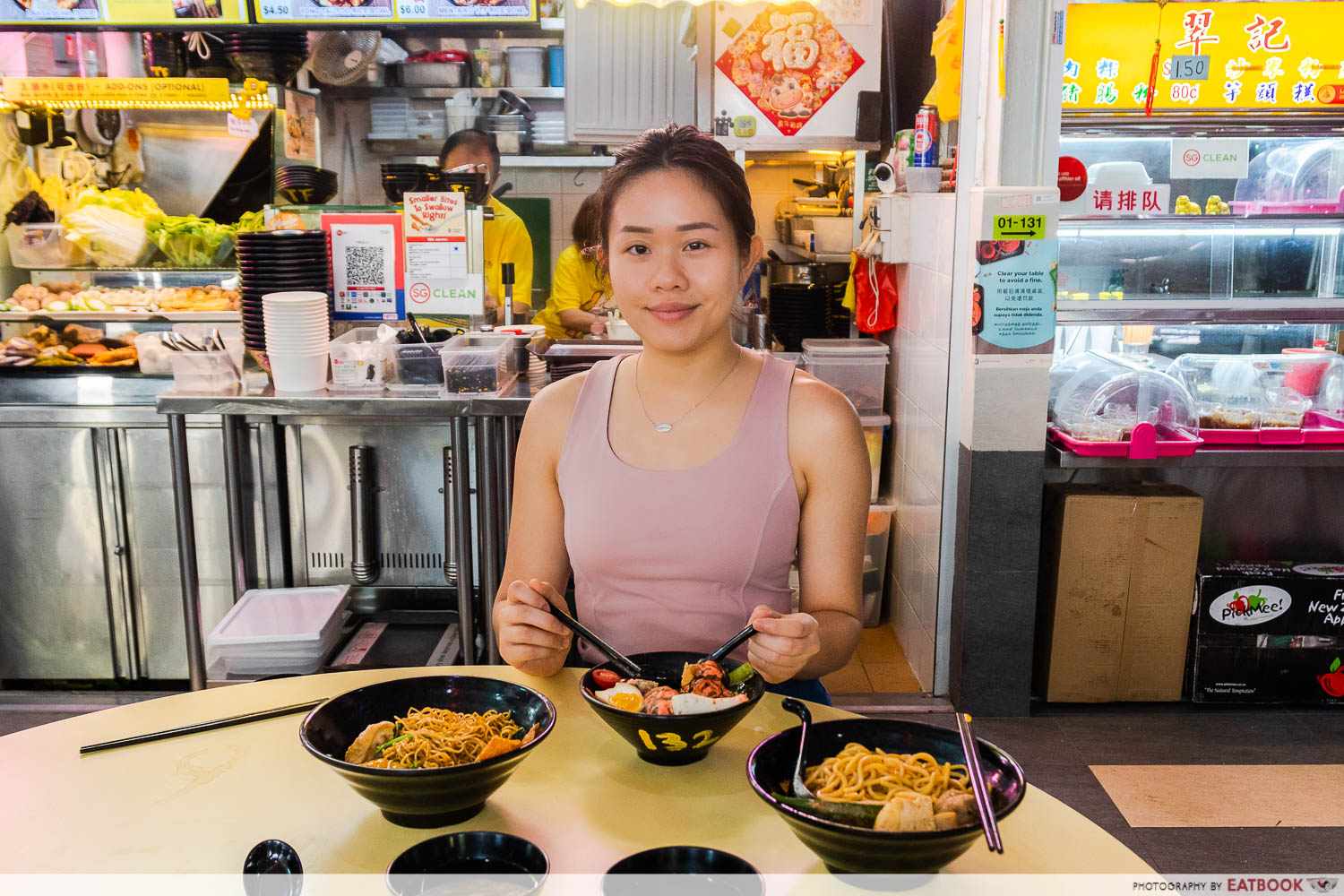 While there are many yong tau foo stalls in Singapore, Tofully stands out for their excellent Hakka-style rendition, tediously handmade with good quality ingredients. It's clear that Keith takes pride in mastering the art of making YTF. His creative spins on the humble dish make this spot worth visiting if you're in the area. Additionally, nothing crosses the $6 mark here, so you won't have to break the bank for a satisfying meal!
For more food in the area, check out our ABC Brickworks food guide, and read our Tiong Bahru Yi Sheng Fried Hokkien Mee review!
Address: 6 Jalan Bukit Merah, #01-132, ABC Brickworks Market & Food Centre, Singapore 150006
Opening hours: Wed-Mon 9:30am to 5pm
Website
Photos taken by Zadelin Wong.
This was an independent review by Eatbook.sg
Tiong Bahru Yi Sheng Fried Hokkien Mee Review: Michelin-Approved Hokkien Mee With 40-Year History
Tofully Review: Handmade Hakka Yong Tau Foo, Torched Mentaiko Rice Bowl And More At Bukit Merah
Tofully Review: Handmade Hakka Yong Tau Foo, Torched Mentaiko Rice Bowl And More At Bukit Merah -

8/10
Summary
Pros
– Laksa broth was unexpectedly good
– Noodles were al dente
– Yong tau foo pieces were fresh
Cons
– Fried tofu was a tad dry
– Not enough sauce for the rice bowl 
Recommended dishes: Laksa Bowl (Soup) ($4.90), Signature Bowl (Dry) ($4.30)
Opening hours: Wed-Mon 9:30am to 5pm
Address: 6 Jalan Bukit Merah, #01-132, ABC Brickworks Market & Food Centre, Singapore 150006