---
Give the kid in you some upgraded childhood snacks
---
If you grew up in Singapore, your childhood probably consisted of Paddle Pop, Milo, Kinder Bueno and gem biscuits. While you might not stock your fridge with them anymore, it's nice to occasionally think back to the good old days with some elevated renditions of these treats. Here are 10 places you can get upgraded versions of your favourite childhood snack for a major throwback sesh with your squad.
---
1. Root Beer Float Into Root Beer Waffle Soft Serve
---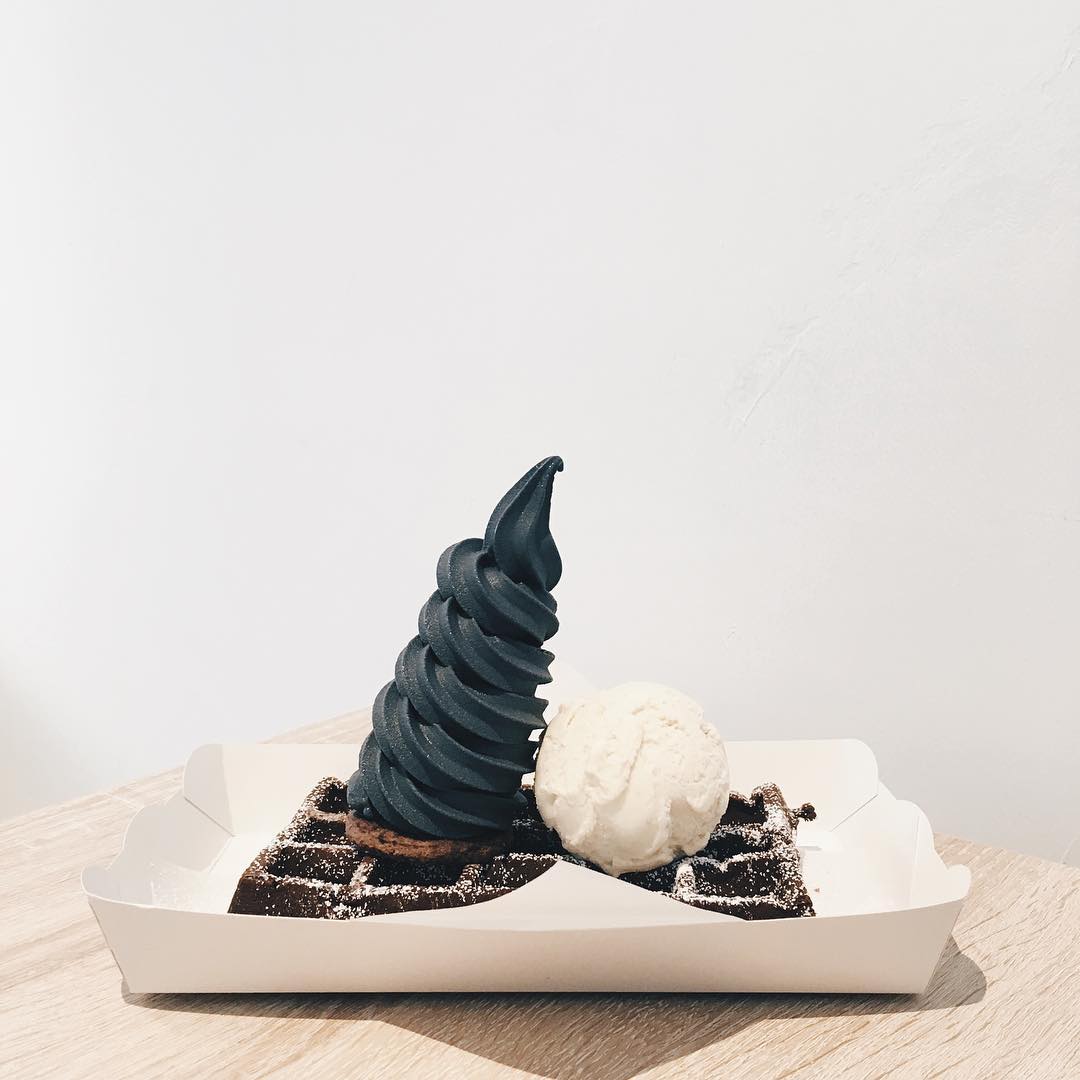 Source
This Chocolate Root Beer Waffle topped with Charcoal Vanilla Soft Serve ($12.50) at The Cold Pantry is the perfect upgrade to a traditional root beer float. Do not be fooled by the simple waffle that looks basic, because if brownies and root beer had a baby, this toothsome waffle would be it. With a mildly fizzy tang, the swirled tower of charcoal vanilla soft serve topped with homemade root beer drizzle sauce is the icing on the cake. Another treat you have to get is a Thai milk tea soft serve called Cha Yen ($6.50) along with a Sea Salt Caramel Waffle ($8).
Address: 88 Rangoon Road, #01-01, Singapore 218374
Opening hours: Mon-Fri 4pm to 10pm, Sat-Sun 12pm to 10pm
---
2. Bo Bo Cha Cha Is Now A Cake
---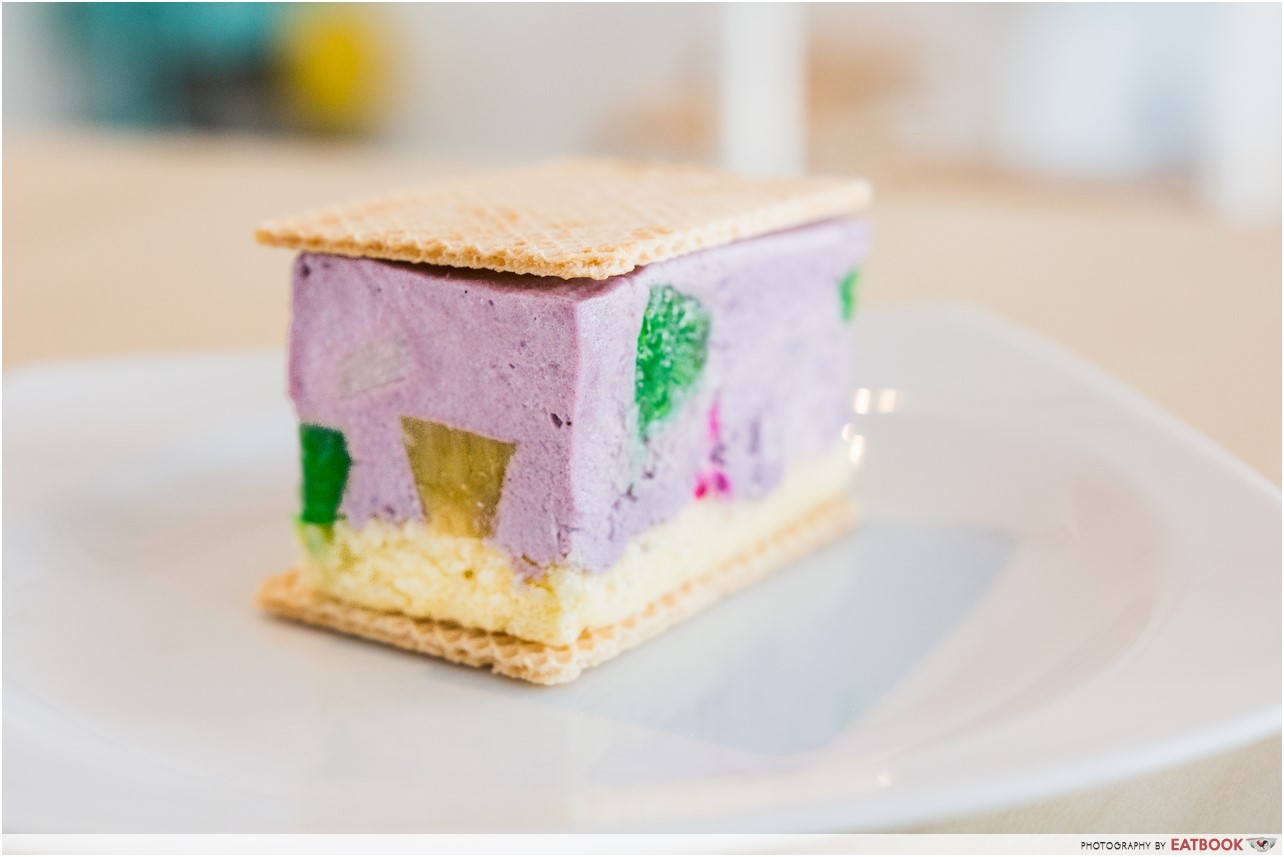 Perhaps the only Bo Bo Cha Cha ($5.50) cake island-wide, this unique treat at Out Of The Cake Box is a made up of cake and street-side ice-cream wafer biscuits. To create this, purple sweet potato is paired with rich coconut milk to make a fragrant mousse that's studded with sweet potato, yam and colourful jellies. This is one dessert my mum would be willing to eat because it isn't too sweet, but still sinful enough for one to get their cravings satisfied.
Address: Blk 45 Telok Blangah Drive, #01-173, Singapore 100045
Opening hours: Tue-Fri 12pm to 8:30pm, Sat 12pm to 9pm, Sun 10am to 5pm
Tel: 6271 1975
Menu
Read our full review here.
Find out where else to get unique cakes here.
---
3. Chocolate Burger
---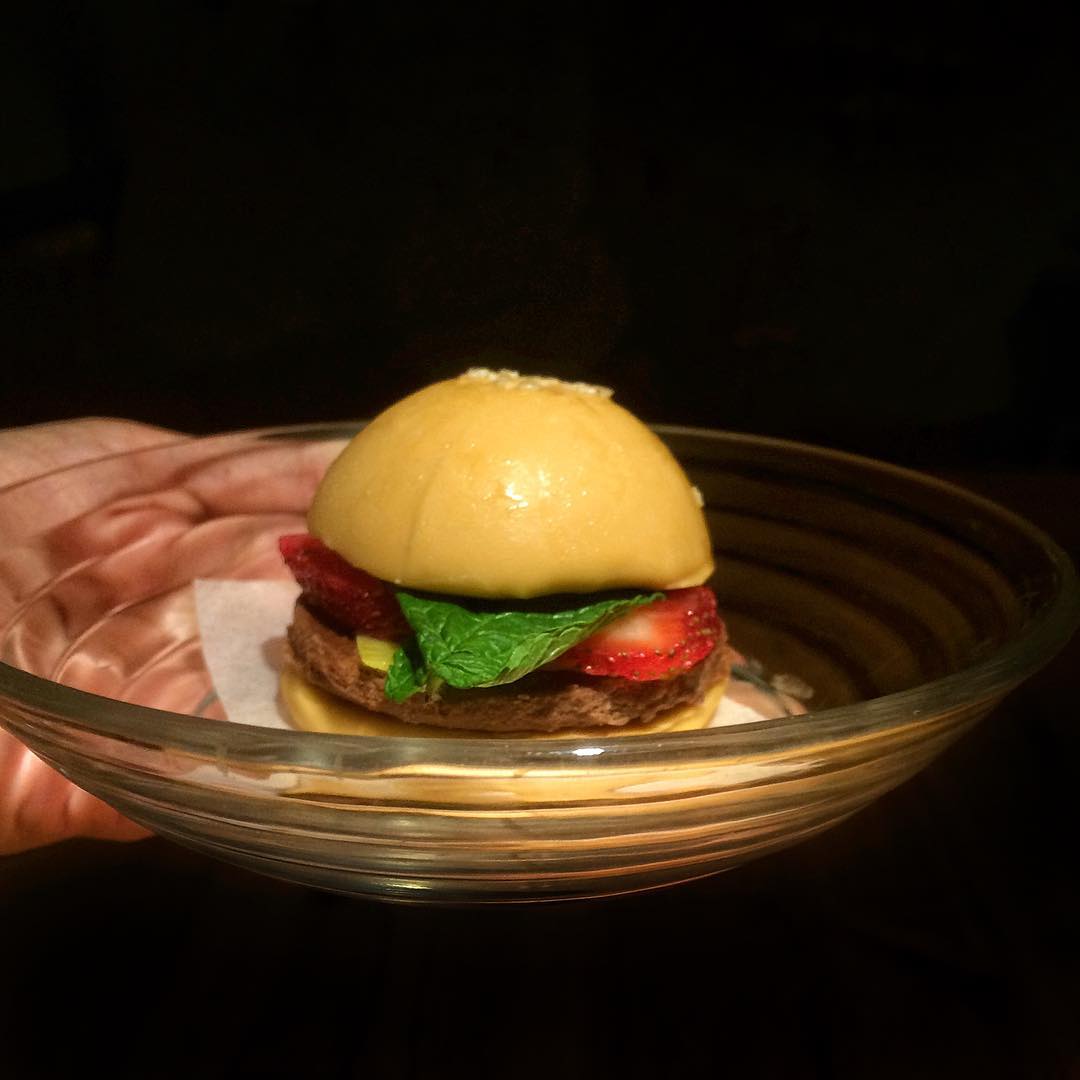 Source
I still remember how I would secretly buy two full-sized packs of Yupi gummy candies after school as a kid, and eat them all before dinner. Now that I'm much older, though still not much wiser than my childhood self, I can instead choose to indulge in a Yupi gummy burger look-a-like, FOC Chocolate Burger ($12++). This Instagrammable dessert at FOC consists of white chocolate "buns" filled with vanilla mousse, a milk chocolate "patty", mint leaves, mango and strawberry.
Address: 40 Hongkong Street, Singapore 059679
Opening hours: Mon-Thur 12pm to 2pm, 6pm to 10pm, Fri- Sun 12pm to 2pm, 6pm to 10:30pm
Tel: 6100 4040
Menu
---
4. Paddle Pop Tart
---
Before rainbow cakes became a thing, I used to love running down to the mama shop near my house to get a Paddle Pop ice-cream. Honestly, it wasn't the tastiest ice-cream around, but its colourful rainbow swirls always has me swooning. For those who have outgrown the classic Paddle Pop, Geometry has a gorgeous look-alike called Bing Bong ($3.20), which goes great with their house-made tarts.
Address: 2 Jalan Bukit Merah, #01-5142, Singapore 150002
Opening hours: Sun-Thur 12pm to 9:30pm, Fri-Sat 12pm to 11pm
Tel: 6255 6366
Find out where else to get photogenic ice-cream desserts here.

---
5. Gem Biscuits Now A Dessert

---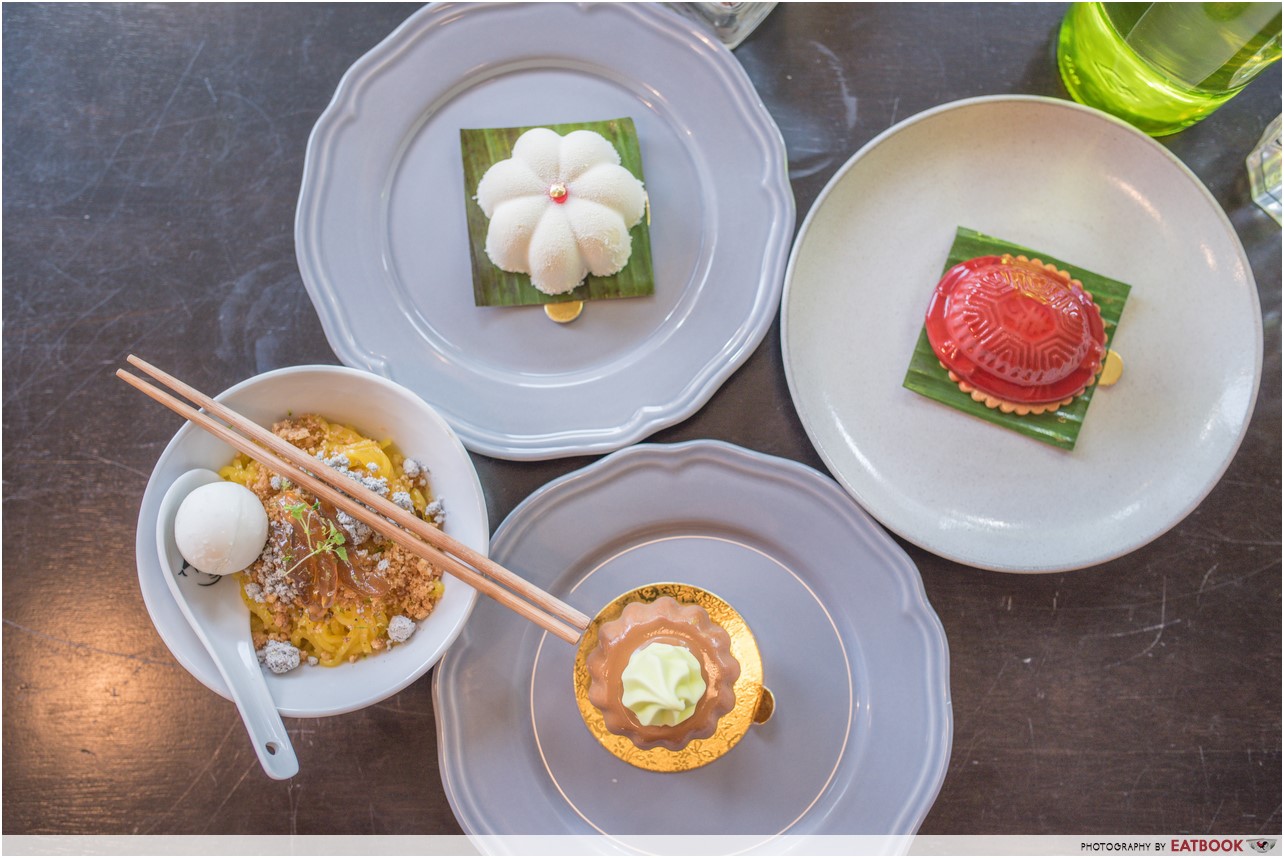 With a series of desserts themed "Back to the Future", Non Entree Desserts has atas versions of old-school TuTu Kueh ($8.90+), Gem Biscuit ($10.90+), Ang Ku Kueh ($9.90+) and even Bak Chor Mee ($14.90+). They may look almost identical to the traditional snacks they're inspired by, but these cakes hold a hidden surprise within. Ang Ku Kueh, for example, has a core of coconut almond sponge cake and gula melaka cream. With such creative and delicious pairings, each of these stunning creations is worth every penny paid.
Address: 204 Rangoon Road, Hong Building, Singapore 218451
Opening hours: Tues-Thur 2pm to 10pm, Fri-Sat 2pm to 11pm
Tel: 9878 6543
Read our full review here.
---
6. Atas "Kinder Bueno"
---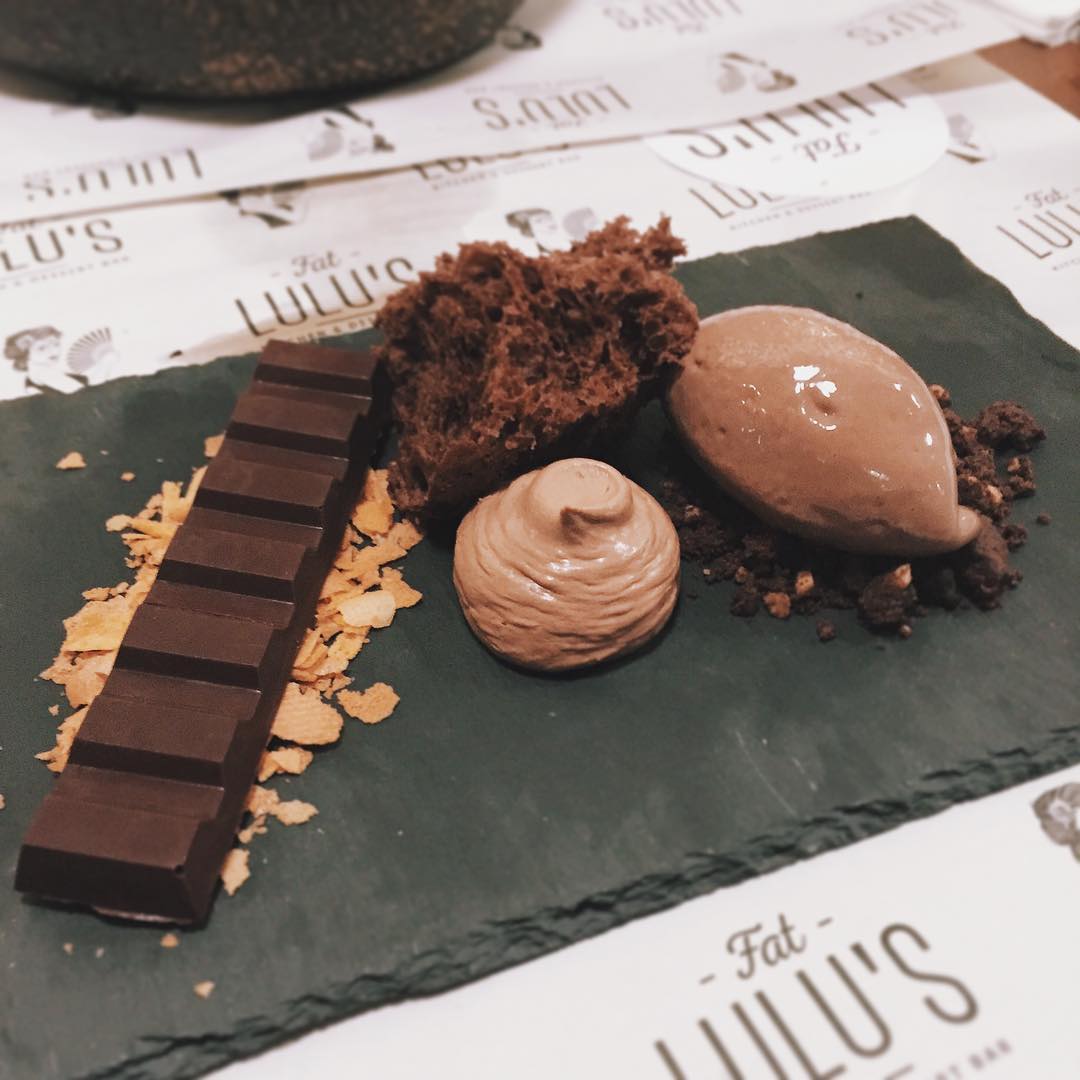 Source
Aptly named "Atas" Kinder Bueno ($16++), this indulgent dessert from Fat Lulu's is a mix of four different types of chocolate. Bailey's infused hazelnut cream, lusciously creamy milk chocolate, bitter chocolate sherbet and chocolate sponge are presented separately before you so you can sink your teeth into each of them one by one. Though this does take me to seventh heaven, I still don't think anything can persuade me to give up a good ol' Kinder Bueno. For those who need date night tips, Fat Lulu's is a romantic place to bring bae to as well.
Address: 297 River Valley Road, Singapore 238338
Opening hours: Tue-Fri 6pm to 11pm, Sat-Sun 11am to 4pm, 6pm to 11pm
Tel: 9236 5002
Menu
Find out where else romantic to bring your date to here.
---
7. Kaya Freak Cake
---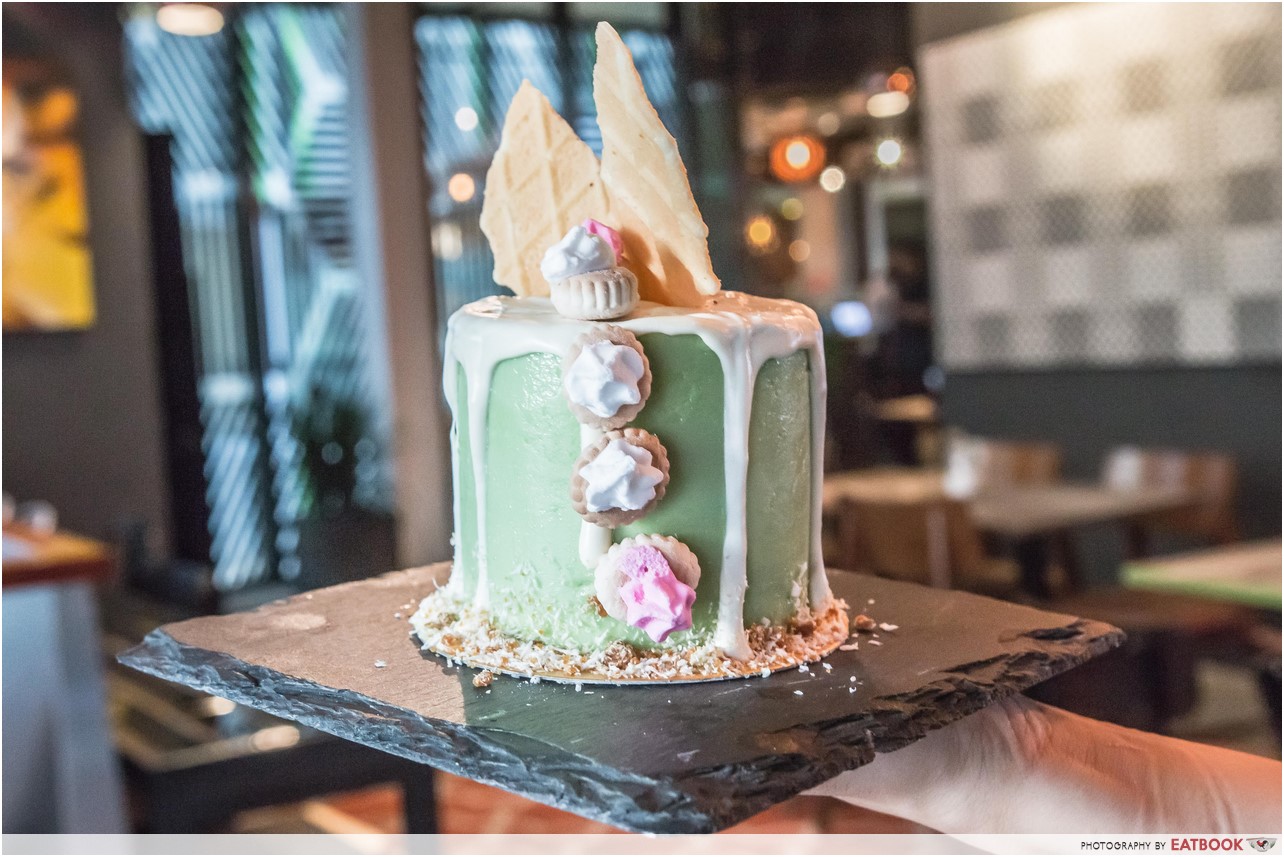 This Coffee Kaya Coconut Freak Cake ($14.80++) from Montana is an elaborated upgrade of the kaya toast and kopi breakfast we have always loved. Made with kaya butter frosting sandwiched between coffee sponge cake and decorated with coconut-infused white chocolate glaze, gem biscuits as well as coconut shavings, get ready for a #throwback sesh that involves going to Ya Kun with your parents when you were a kid. Be sure to also get their delicious waffles that come in interesting flavours like Assam Crab Waffle ($18++), Jalapeno Mac and Cheese Waffle ($12++) and Red Velvet Waffle ($14.50++).
Address: 1 Selegie Road, #02-25, PoMo, Singapore 188306
Opening hours: Mon-Fri 11am to 10pm, Fri 11am to 11pm, Sat 9am to 11pm, Sun 9am to 9:30pm
Tel: 6334 3137
Read our full review here.
---
8. Chendol Soft Serve
---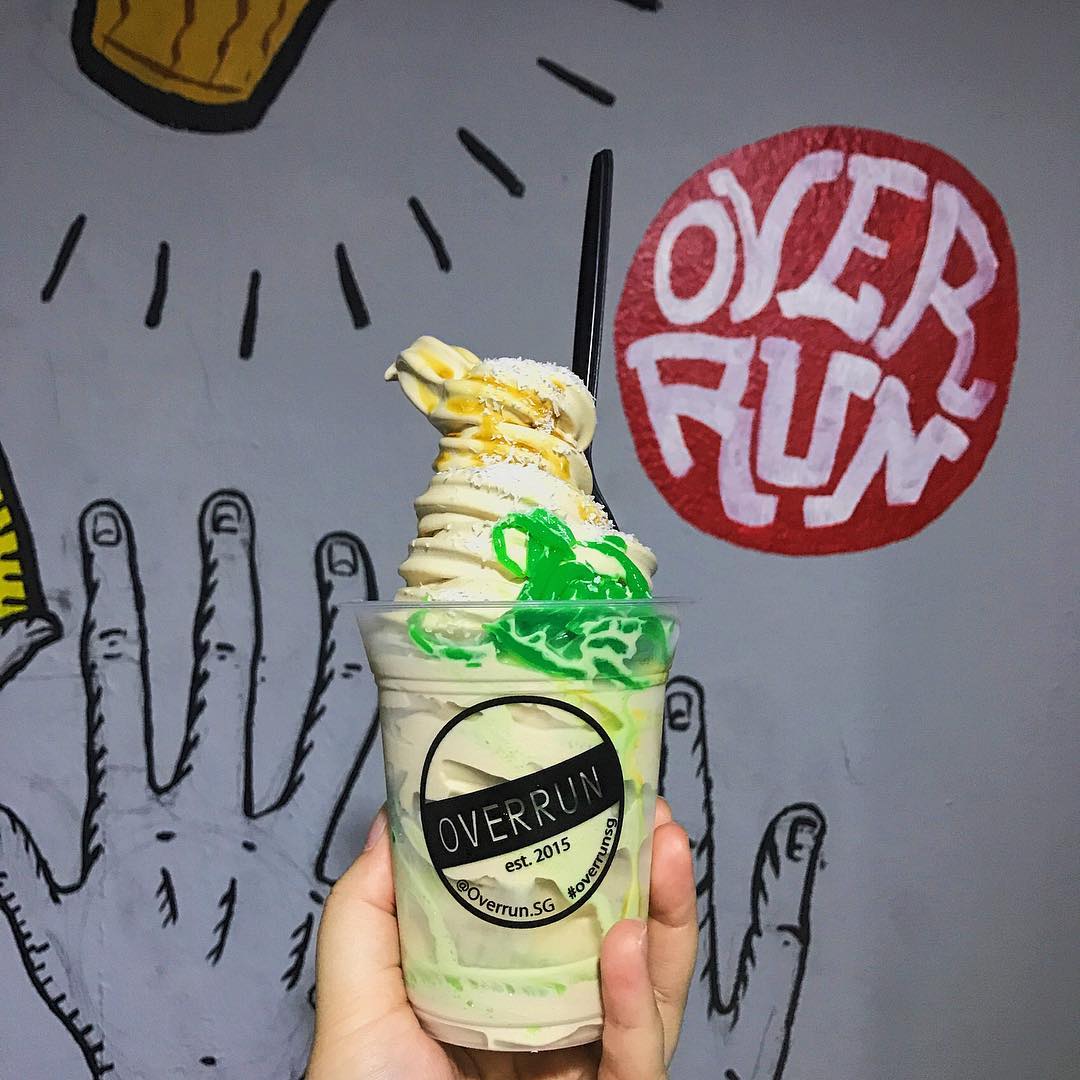 Source
Chendol Soft Serve ($6) from Overrun comes with a generous amount of toppings like gula melaka syrup, green worm jelly and coconut shavings as well.  If you're a die-hard fan of durian, top up a dollar to get some durian puree on your soft serve. If chendol is not your thing, they also have a flavour of the week that might just catch your fancy.
Address: 18 Baghdad Street, Singapore 199657
Opening hours: Tue-Thur 12pm to 8:30pm, Fri 2pm to 9:30pm, Sat-Sun 12pm to 9:30pm
Tel: 9271 2616
---
9. Ondeh Ondeh Pancakes
---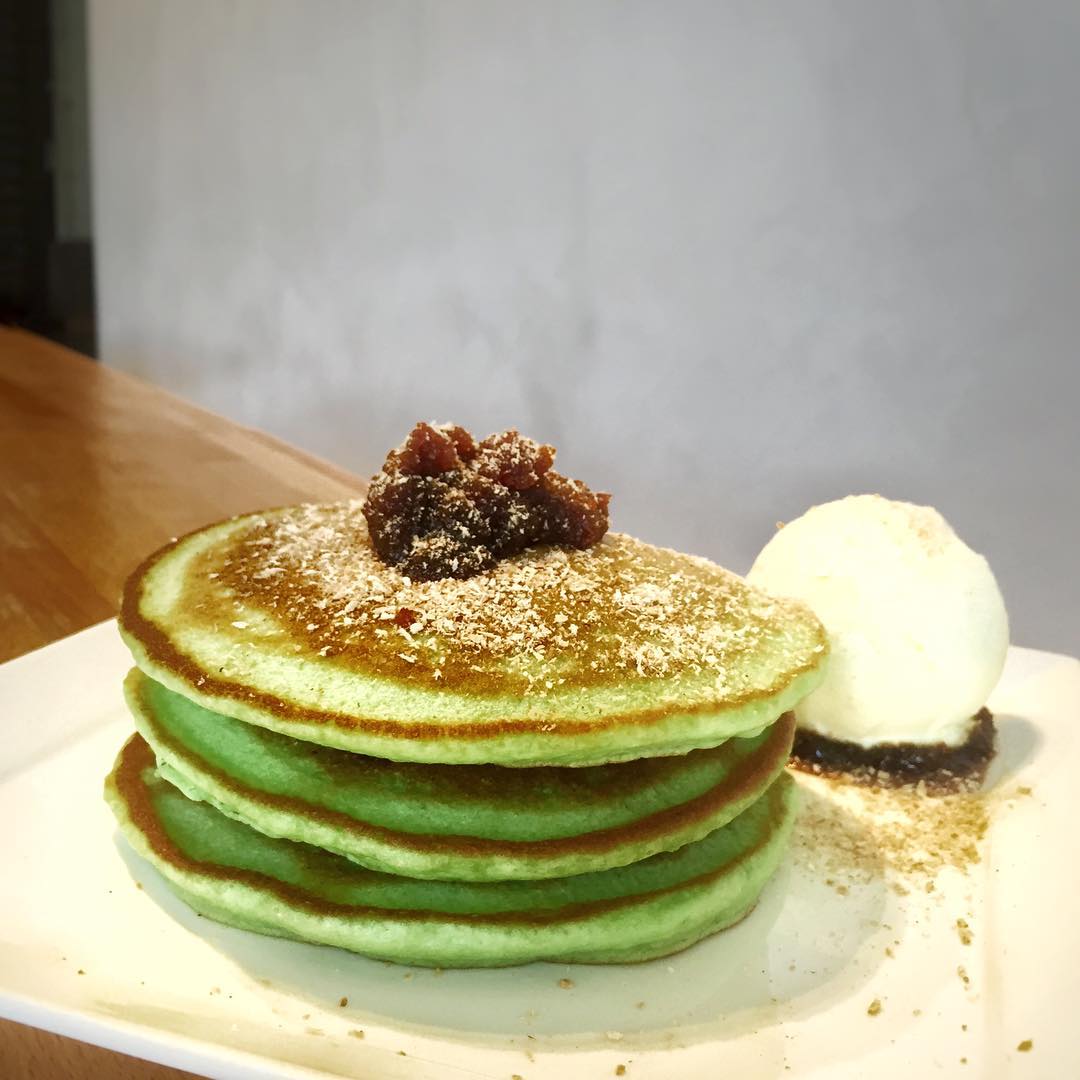 Source
If you like fluffy pancakes and ondeh ondeh, you will love this stack of Ondeh Ondeh Pancakes ($14) from Collective Brewers. Between two pancakes lies a layer of coconut shavings infused with gula melaka to give every ondeh ondeh fan a little foodgasm after each bite. While it's hard to beat actual ondeh ondeh that bursts in your mouth, this at least can fill you up for a few hours.
Address: 301 Changi Road, Singapore 419779
Opening hours: Tue-Fri 11am to 10pm, Sat-Sun 10am to 10pm
Tel: 6635 7455
Find out where else to get unique pancakes here.
---
10. Milo Dinosaur Cheesecake
---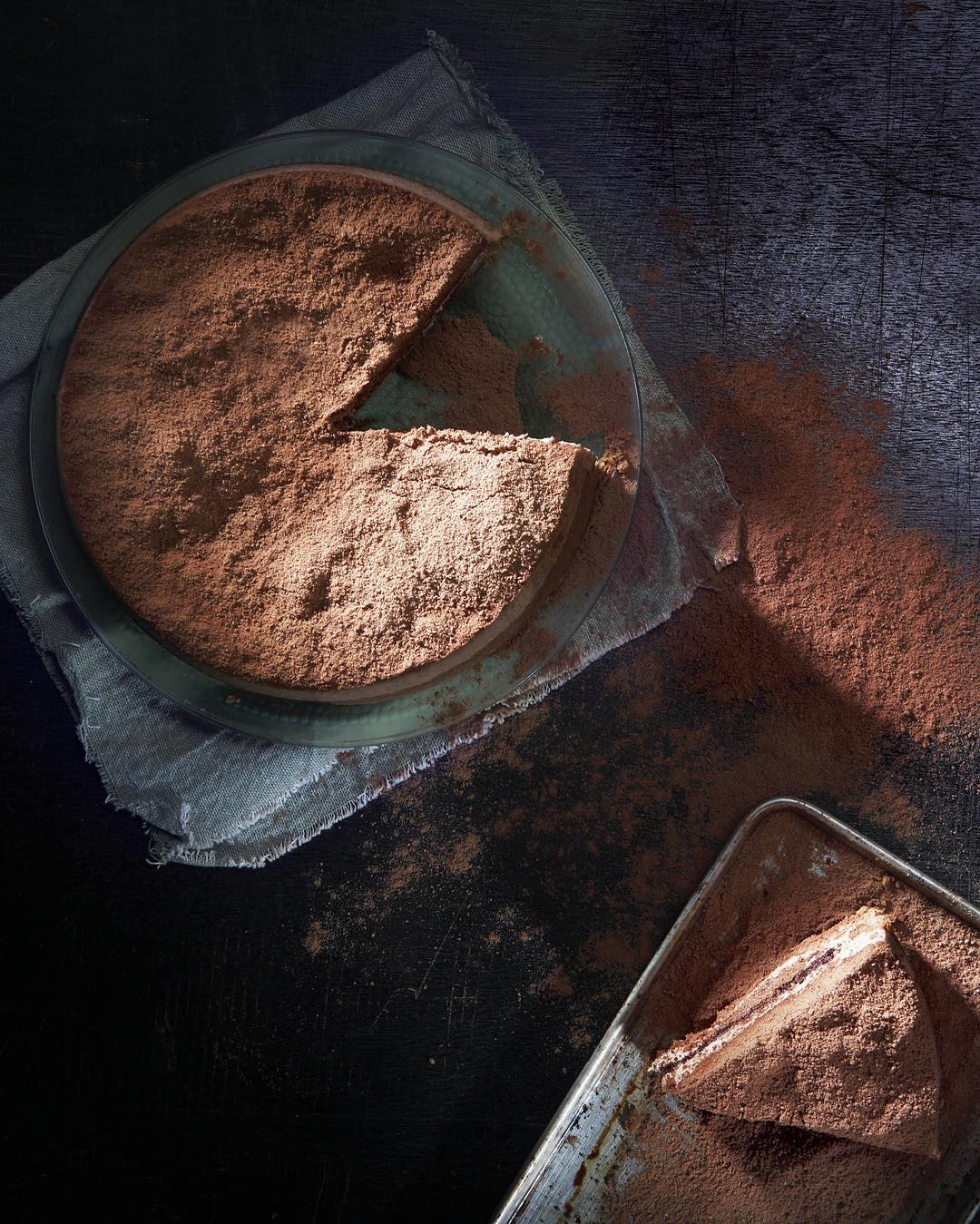 Source
There's a reason why Singaporeans stuff bags of 3-in-1 Milo in their suitcases every time they go overseas. There's just something homely and comforting about a tall glass of iced Milo, and it gets even better when you top it off with copious amounts of Milo powder. The team behind Cat & the Fiddle has recreated Milo Dinosaur ($32.90) in cheesecake form, and the fun part is that you are given a packet of Milo when you receive your cake order to sprinkle on top.
Tel: 6287 0077
Menu
Find out where else to get Milo desserts here.
---
Time for a throwback
---
Have fun letting the kid in your tuck into these desserts like old times. If you know anywhere else with atas childhood snacks, feel free to let us know in the comments!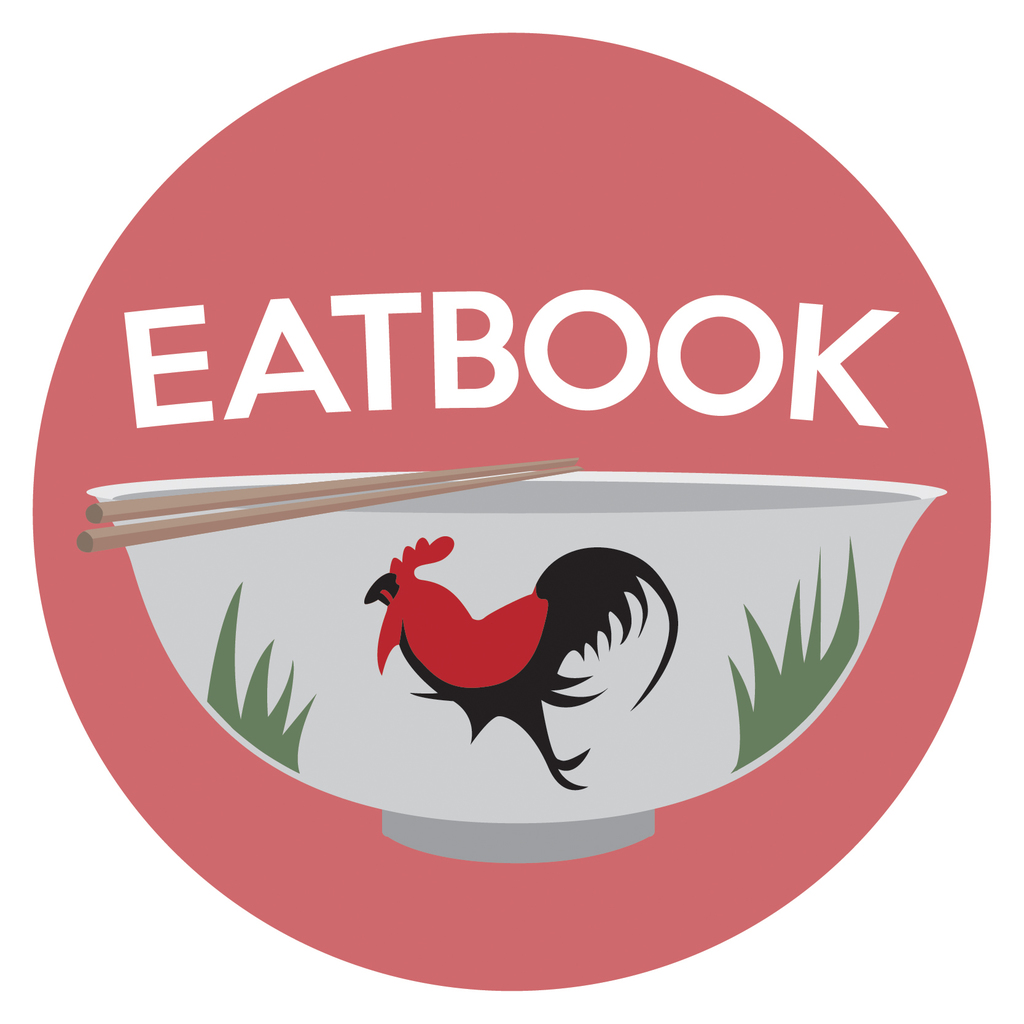 Drop us your email so you won't miss the latest news.