---
Affordable Thai Food In Singapore
---
I always crave Thai food whether it's the common creamy green curry (gaeng khiao wan) with fragrant thai rice or the pungent and addictive thai dipping sauce (nam prik kapi) on a bed of raw green thai eggplants, cabbage, beans and cha-om (acacia leaves) omelette. If you're anything like me you've already spent too much on flights to Thailand to relive your culinary dreams. So here's to embracing your not so flourishing bank account with a list of 10 Thai restaurants under $20 to keep on your radar.
---
1.Sawasdee
---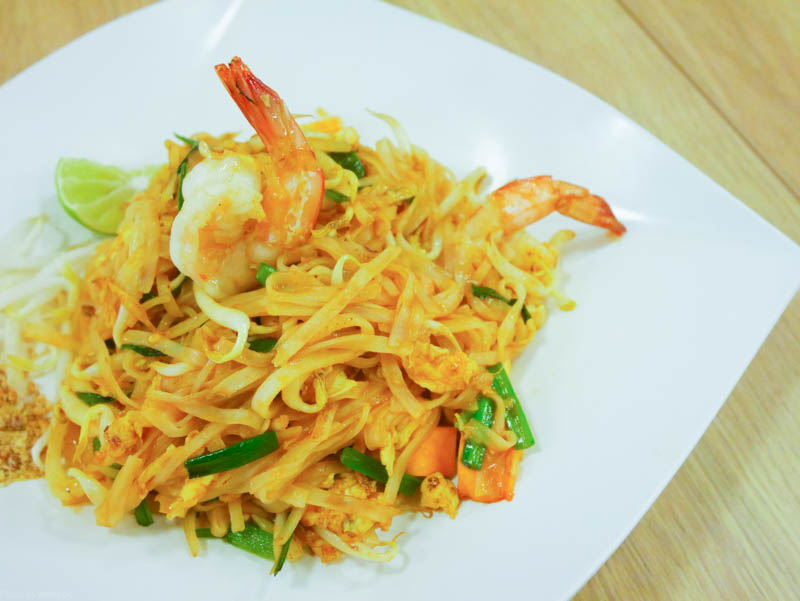 Nestled in the heart of Chinatown's streets, Sawasdee restaurant has both indoor and outdoor seating. It's a perfect place for a mid afternoon beer and people watching. The classic pad thai is delicious with a healthy portion ($10) and the green curry, a whirlwind of spice and mellow coconut cream ($12.95 )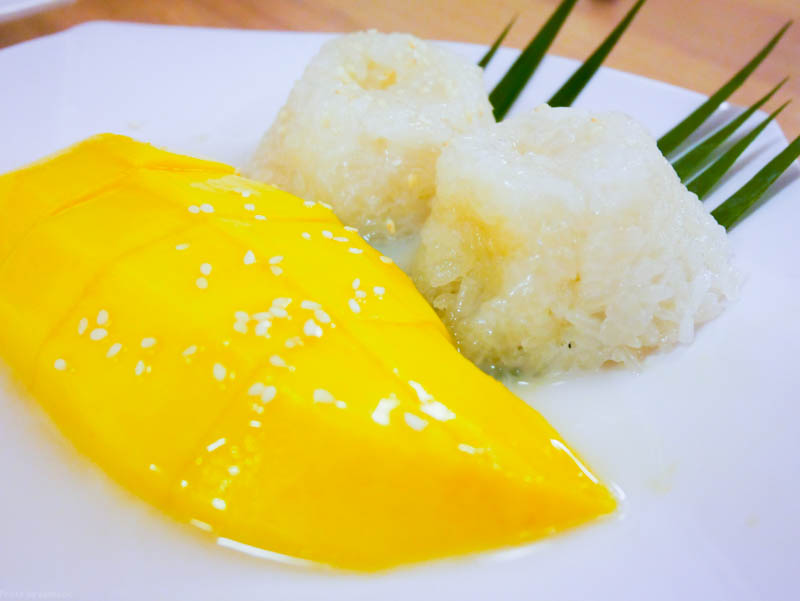 The mango sticky rice ($8.90) comes with the perfect balance of sticky rice and mangoes that are deliciously ripe from the season. To top it off service is attentive and friendly. What's not to like?
Opening hours: Mon- Sun: 11am – 10pm
Address: 32 Pagoda St, 059191
---
2. Jane Thai
---
Minus the questionable location, Jane Thai serves a variety of food to curb your cravings. The fresh and succulent Seafood Vermicelli Salad priced at $10 is a must order . Jane Thai also offers a mookata set for two that is priced reasonably ($38). It's unapologetically spicy food might leave you in sniffles with puffy eyes. But by the end of it you will be coming back for more.   
Opening hours: Mon- Sat: 1130am – 230pm, 530pm – 1030pm
Address: 400 Orchard Road, #04-28/30 Orchard Towers, 238875
---
3. Joe's kitchen
---
Joe is a chef from Thailand and he runs a small unassuming restaurant in Bukit Merah. It is easy to rush past this spot but it'll be your loss! You'll be missing out on the famous stuffed Chicken Wings ($3 per piece), Crab Vermicelli Claypot ($15) and the Mango Salad ($7.80) which is topped with a little twist of fried cuttlefish bits – talk about tantalizing your taste buds! Definitely not a stop to miss!
Opening hours: Mon- Sun: 11am – 3pm, 5pm – 10pm
Address:125 Bukit Merah Lane 1, #01-182, 150125
---
4. Nakon kitchen
---
Nakon is one of those places you'll have to get in line for. The food is affordable , authentic and absolutely delicious. Its famous Pandan Chicken ($6) is usually sold out by the afternoon. The curries are priced at ($6-$8), crispy pork at $6 (below) and a wide menu. The crispy pork was a little dry to me, but the fry batter was beautifully spiced and irresistibly crispy. The other delectable dish is tapioca in sugar syrup and coconut. Your belly deserves this and it's only $3!
Opening hours: Mon – Sun: 12pm – 3pm, 530pm – 10pm
Address: 212 Hougang Street 21 #01-341
---
5. Ah Loy Thai
---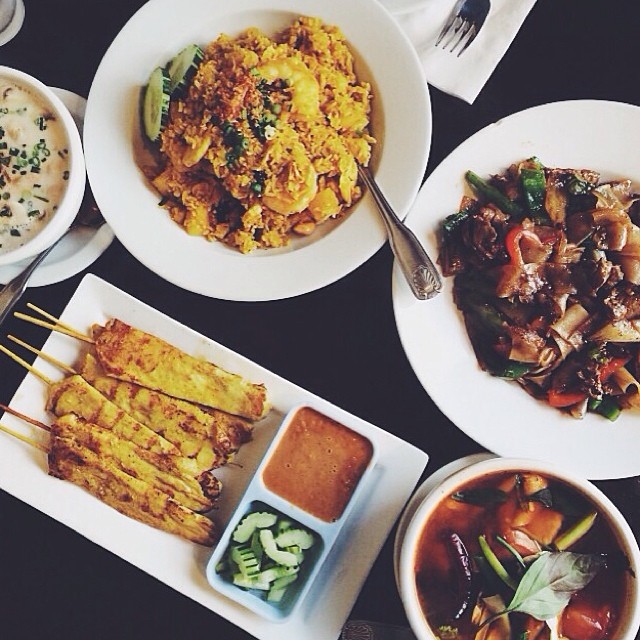 Source
Ah Loy Thai has a nice spot, it is nestled right in the city center. It's a prospered family business that screams authentic with a smaller than normal menu. There's no service charge or GST at this place. Commendable dishes include Fried Butter Calamari ($7.50)
Opening hours: Mon- Fri: 12pm- 8pm, Sat – Sun, 1pm to 7pm
Address: 100 Beach Road, #01-39/40 Shaw Tower
---
6. Nana Thai
---
The locals love this place, and so do the Thais! One of the reigning favourites in Golden Mile, Nana Thai needs no introduction. You'll do well to stick with the classics.The Mango Salad goes at $5 or if you have a spicy palate, the Thai Chicken Curry is only $10. It's the place to be if you're looking to impress that Thai Girl you picked up at the siam diu bar.
Opening hours: Mon- Sat: 12pm- 8pm
Address: #01-51/52/66C, Golden Mile Complex
---
7. Thai Noodle House
---
You know this restaurant is the real thing when the kitchen is filled with Thais. Nothing gets more authentic than Fried Beef Basil Rice ($8.50), Sweet Potato Leaves and Thai Chilli Paste ($8), olive rice ($14), Green curry chicken ($10). But the star of the show is the famous Beef Noodle Soup ($7) with thinly sliced beef, coriander, bean sprouts and a delectable broth. Bring on an empty tummy and fill yourself up!
Opening hours: Tues- Sun: 1130am – 930PM
Address: 5 Coronation Road #01-03 Coronation Arcade S(269406)
---
8. Cha Thai
---
Cha Thai is a relatively new restaurant. It has a very modern interior clearly catered to the progressive times. The food here is more refined. Unlike the other restaurants some of the dishes here carry a heavier price tag. However, a set menu exists for $25 inclusive of a drink, curry, rice and fruit.
Opening hours: Mon- Sat: 11am – 10PM
Address: 82 Telok Ayer St, 048467
---
9. Thida Cuisine Corner
---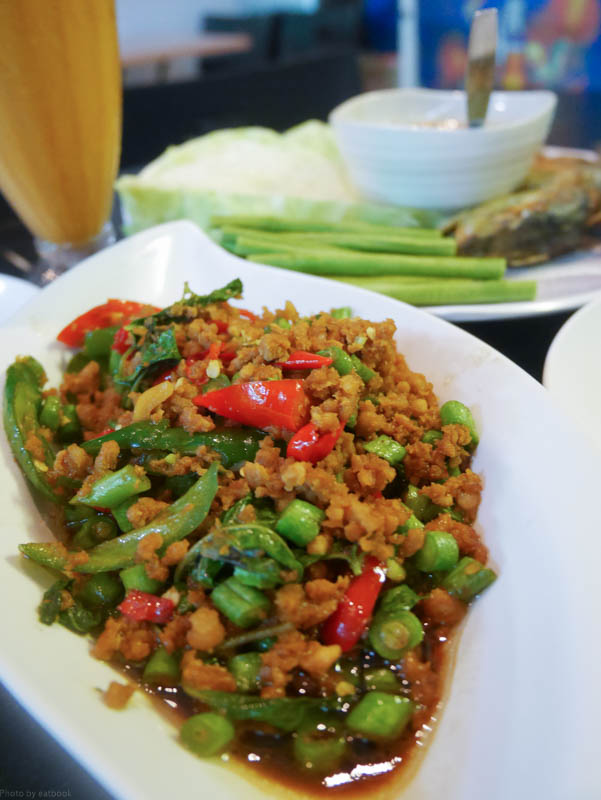 This small restaurant is located on the first floor of Golden mile but rarely talked about due to other larger and popular places like Nana Thai in the vicinity. However the food here is admirably authentic. Even though the thai milk tea edges too close to just pure sugar, the other dishes like the stir fried basil pork ($7) prove to be delicious with its aromatic herbs. The nam prik kapi platter ($12) is a welcoming spicy treat served on a bed of raw vegetables (eggplants, cabbage and green beans) The service is also very accommodating. They would gladly adjust spice levels to your preference.
Address: 5001 beach road, Golden mile complex, Level 1
---
10. Waan Waan
---
Now what better way to combat the heat than with ice cream? Step proverbially on to the streets of the Chatukchak market, these scoops of ice cream get served with up to 5 toppings ($3.50). For dessert hunters, how about the mango sticky rice option with a scoop of ice cream ($5.90)? Talk about killing two birds with one stone.
Opening hours: Thurs-Tues: 12pm- 8pm (closed Wednesdays)
Address: 1 Old Airport Road Food Centre & Shopping Mall, 51 Old Airport Road #01-51, Singapore 39005
---
Got Some More Budget Thai Spots?
---
Know any hidden gems in the area not in this article? Comment below and tag us at #eatbooksg with your favourite finds.
Written by Preethi