Breakfast Hola for Taiwanese breakfast in Chinatown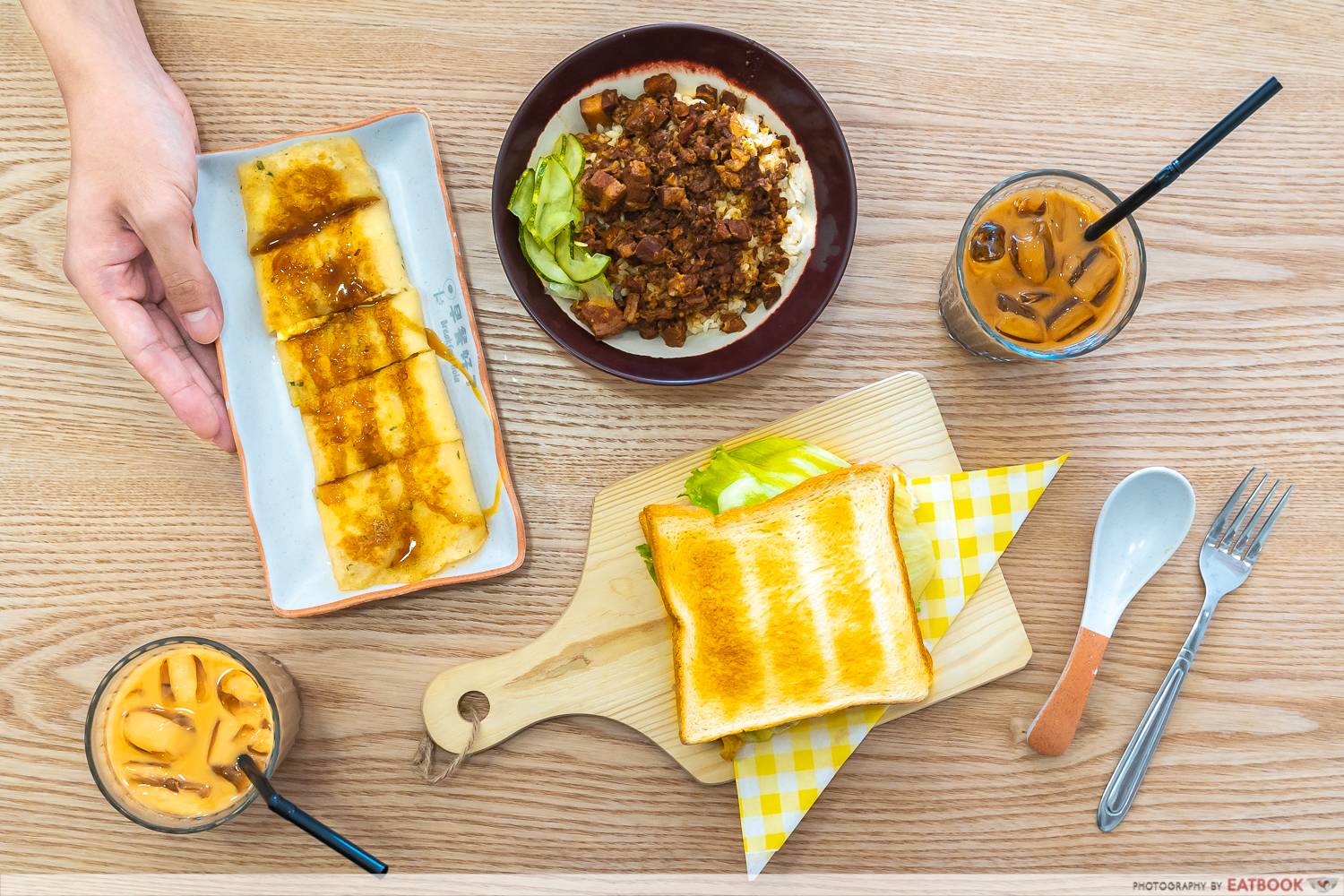 I'm of the opinion that lu rou fan is the perfect breakfast dish. However, I will concede that other popular Taiwanese eats, such as thick toasts and egg crepes, aren't far behind. Breakfast Hola, a relatively new cafe at South Bridge Road, is themed around the joys of Taiwanese breakfasts. In other words, it's the perfect place for me to get my morning grub—at least on paper.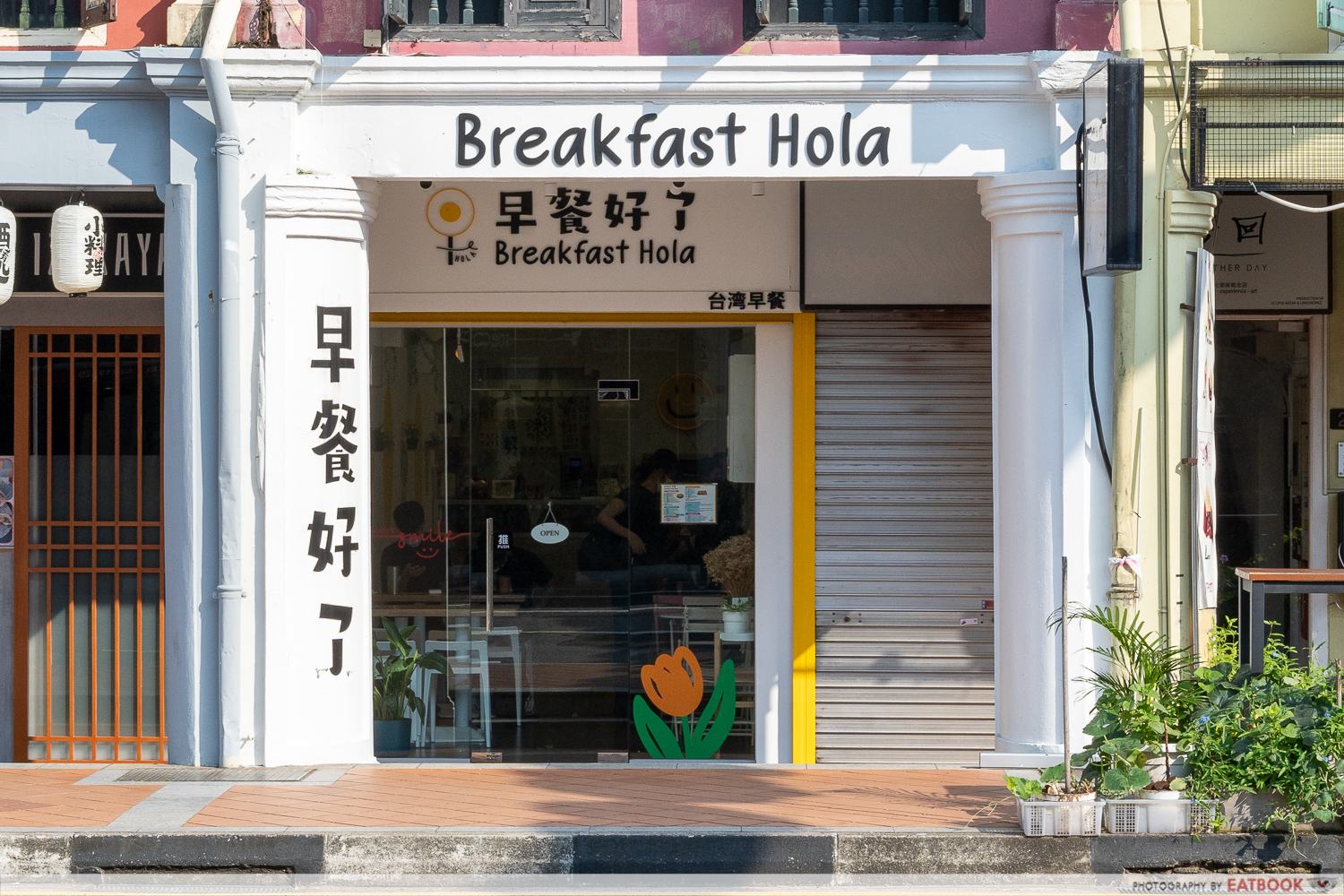 To confirm whether the above statement would prove true, we headed down to the cafe for a taste of their fare.
Braise Lu Zhi Jia Review: $3.50 Lu Rou Fan And Braised Pork Bowls At Golden Mile
Food at Breakfast Hola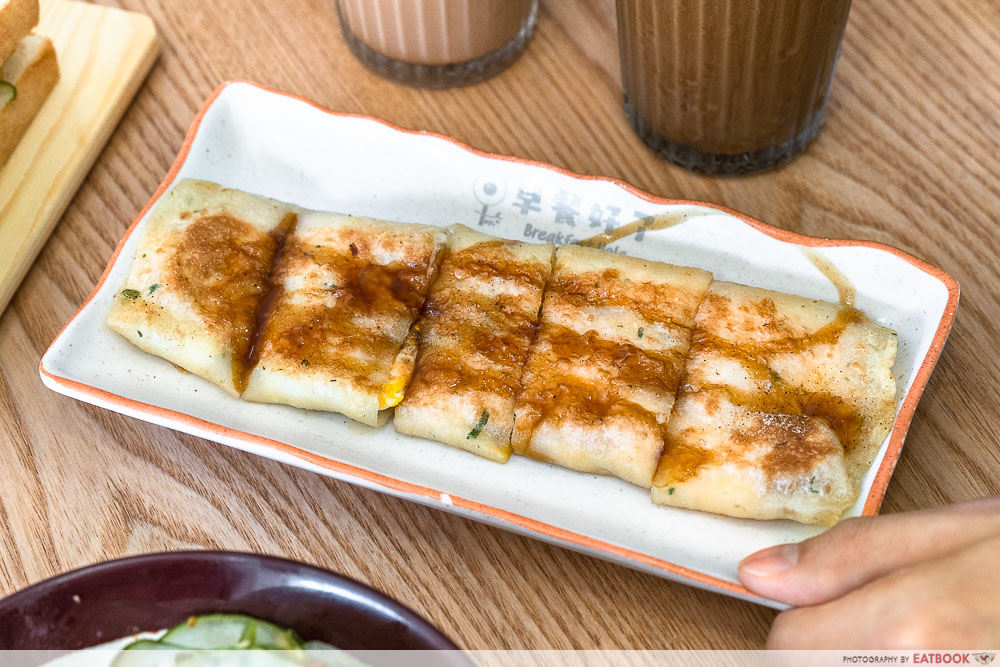 We started our meal with the Egg Crepe ($4.50+). It's a simple dish, but one that often goes wrong when the right balance isn't achieved—I've encountered egg crepes that were too oily or jelak one too many times. Thankfully, Breakfast Hola struck that balance pretty well.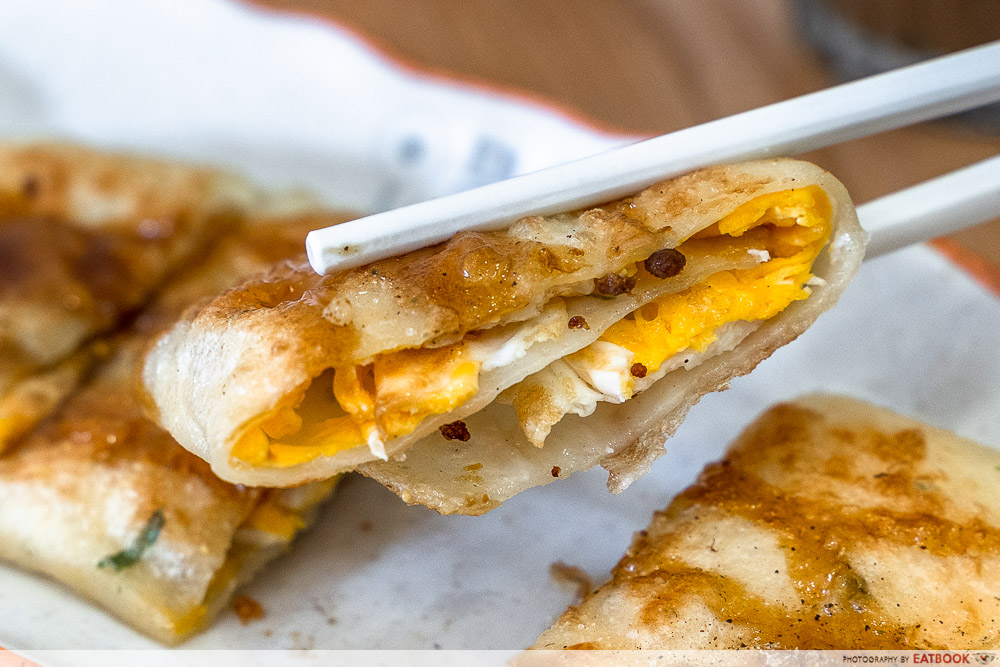 The crepe was well-fried, bringing out the egg's natural aroma and savouriness while being not too oily. The presence of scallions and pepper added more dimension to the flavours, too. And while its exterior was a little too thick and lost its crispiness quite quickly, the fluffy eggs inside helped to alleviate any textural unpleasantness.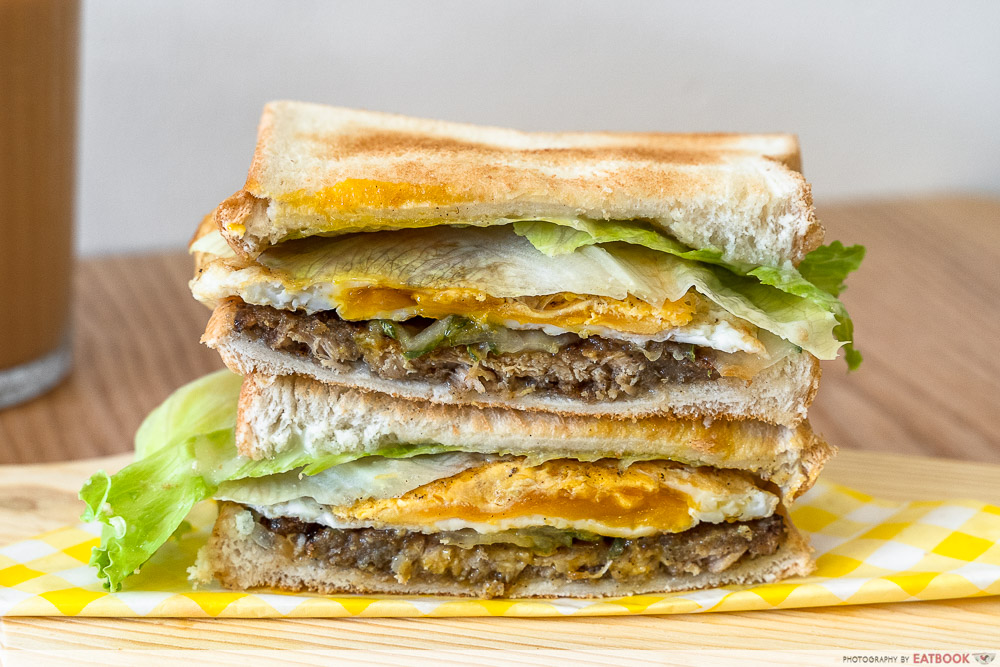 Next up was the Grilled Pork Meat and Egg Toast ($5.80+). On appearance alone, the thick toast, nicely browned exterior, and juicy looking insides looked promising, so we were plenty excited to dig into this.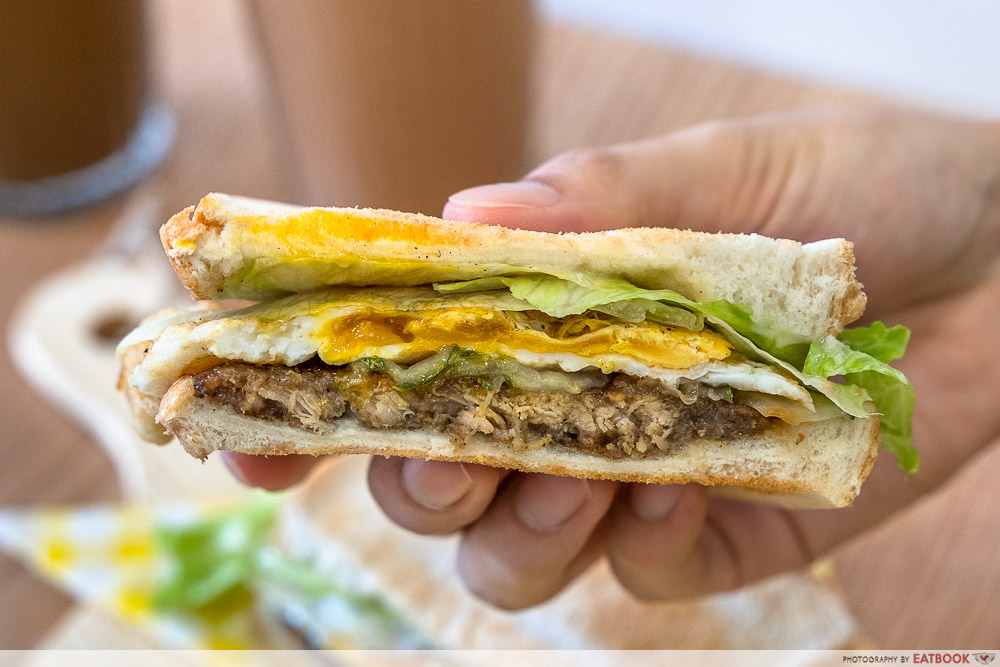 While the marinated pork was somewhat tough and far from the most flavourful, it did have a notable meaty taste that was enhanced by peppery notes. The sweet-ish toast and sunny-side-up egg were tender, while the crunch from both the lettuce and pickles gave the dish a varied mouthfeel. Overall, it was a decent piece of toast.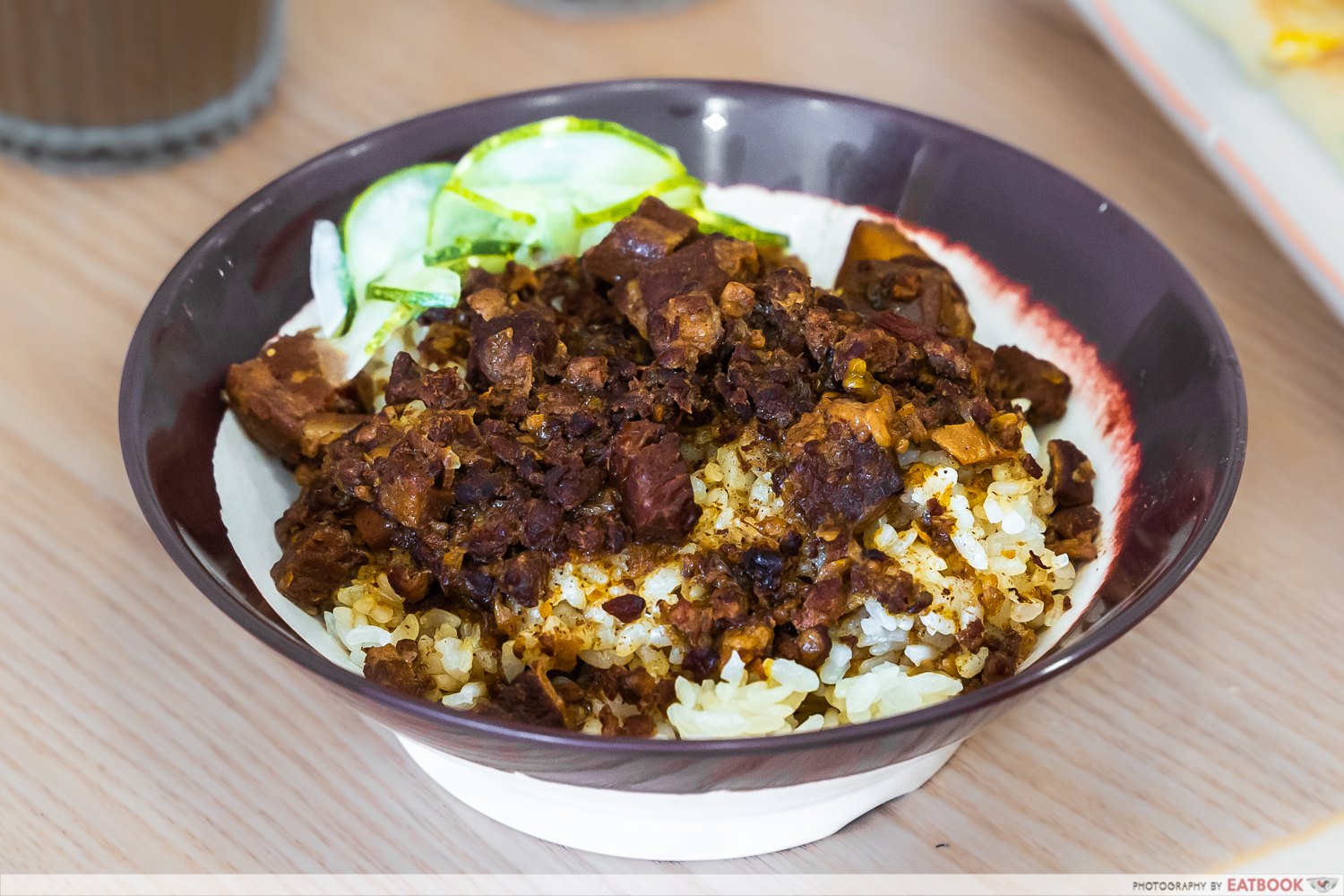 We concluded our meal with my much beloved lu rou fan or, as the cafe calls it, Authentic Taiwanese Braised Pork Rice (from $4.80+).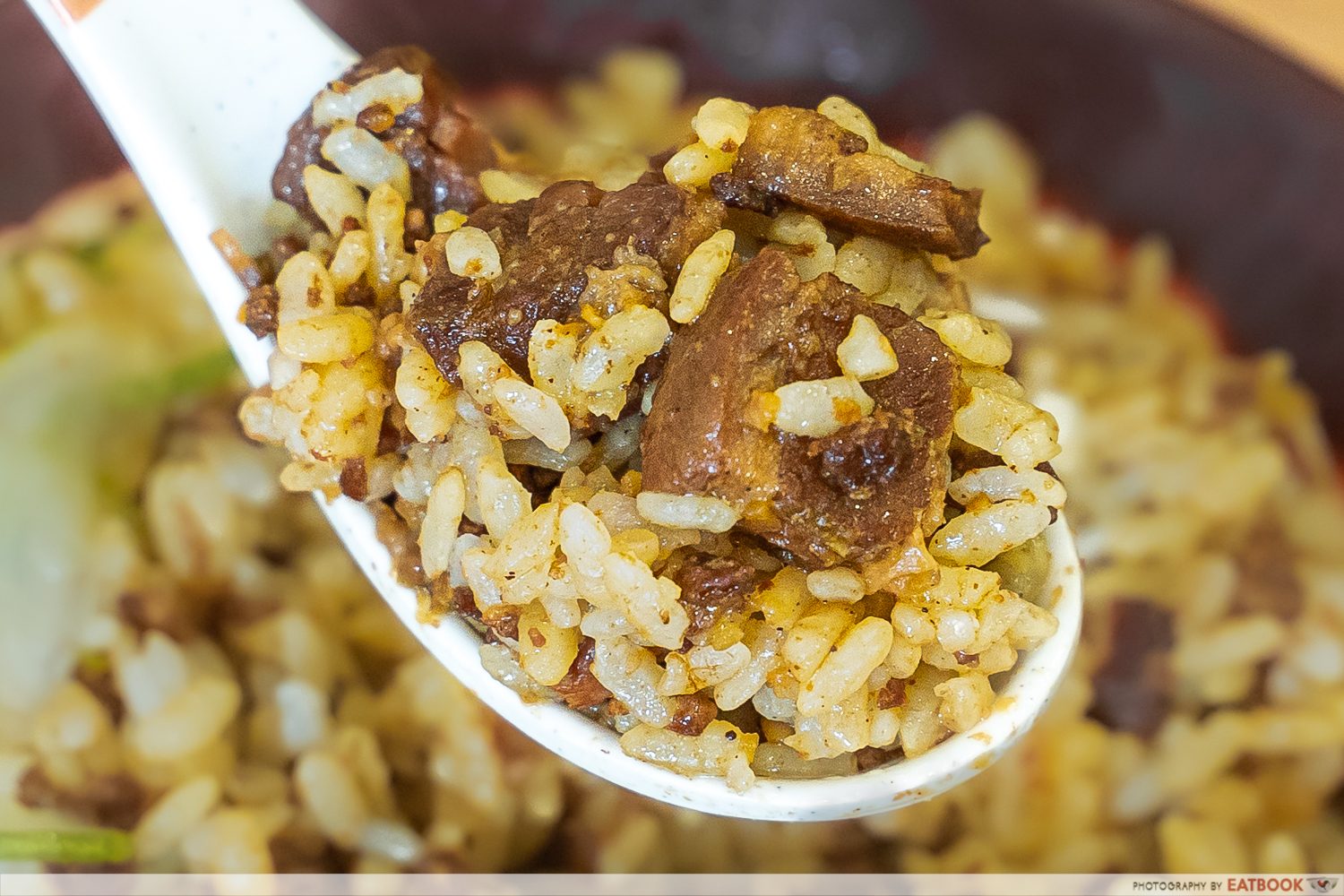 Alas, the lu rou fan was a let down. I think the dish lives and dies by its braised pork, and the one here was dry and tough. In terms of flavour, however, the braising sauce gave the pork belly an adequately savoury taste, and this coated the fragrant soft pearl rice as well.
Isshin Machi Review: Taiwanese Cafe With Lu Rou Fan And Spicy Wonton Noodles In East Coast
Ambience at Breakfast Hola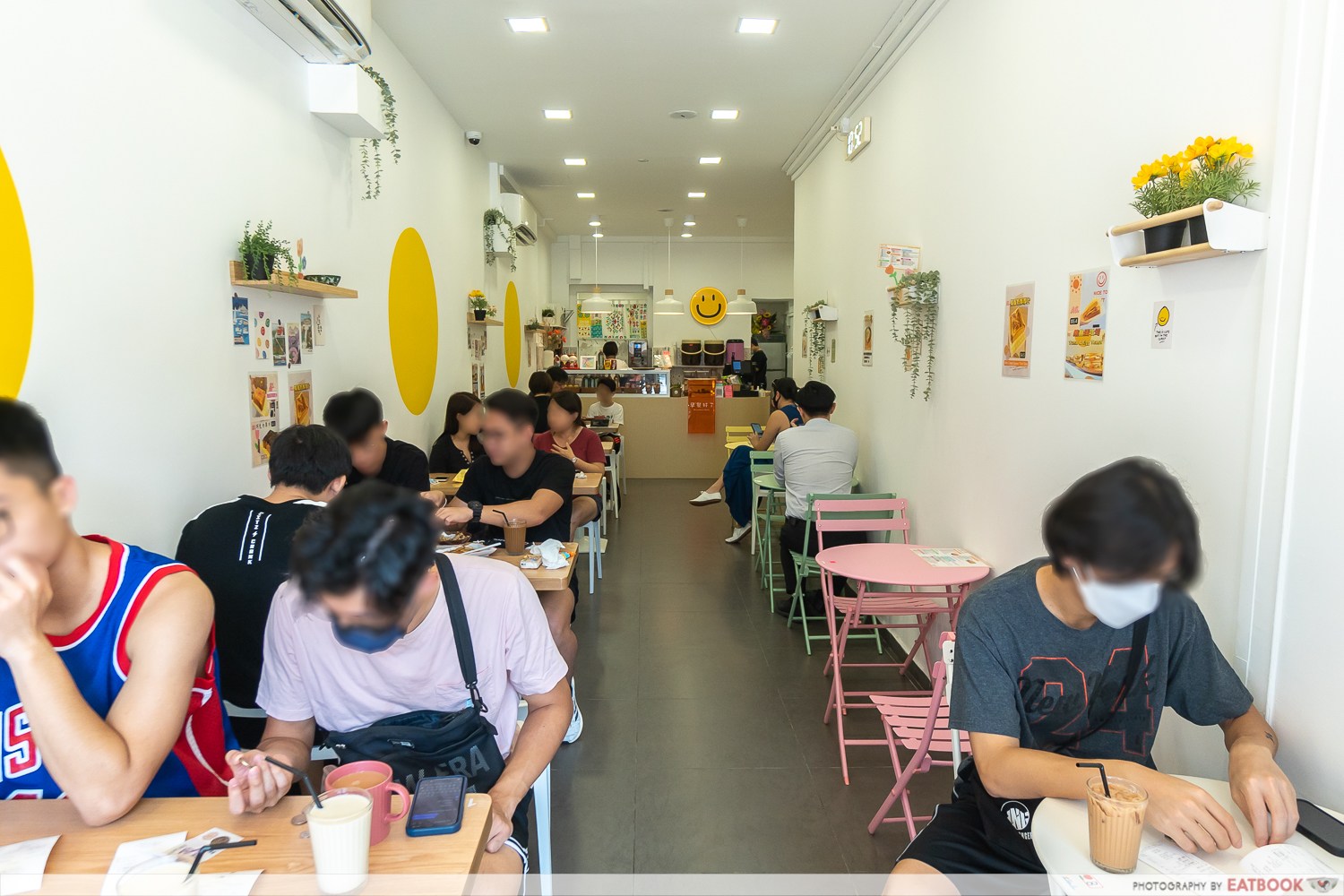 Breakfast Hola's interior is minimal yet cheery, with white walls enlivened by yellow markings on the wall and colourful furnishing. Due to its narrow construction, the space can feel a little cramped at times, but its bright aesthetic and choice of music—which included lo-fi Studio Ghibli remixes—make up for it by creating a comforting atmosphere.
The cafe is a five-minute walk from Chinatown MRT Station.
The Voice Review: Taiwanese Food From $3.80, Including Lu Rou Fan And Braised Pork Belly Bun
The verdict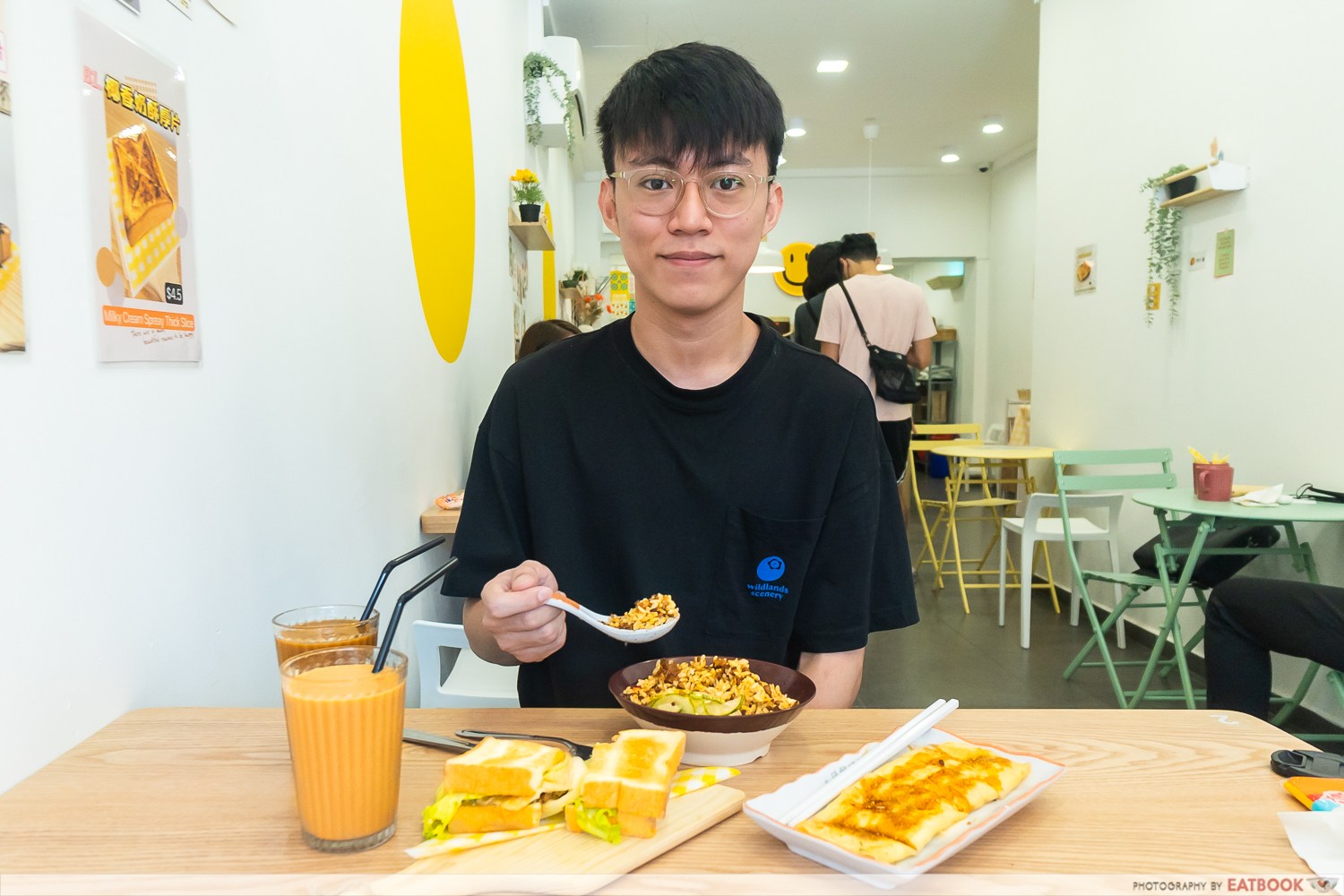 The breakfast dishes at Breakfast Hola weren't exactly amazing, but they were tasty enough that I left the cafe feeling satisfied and satiated. If you enjoy Taiwanese fare, specifically breakfast fare, then Breakfast Hola might be worth checking out.
For another place to get good Taiwanse food, check out our Wen Li Taiwanese Food review. If you'd like to have tasty braised meat rice, read our BBraise review.
Address: 280 South Bridge Road, Singapore 058829
Opening hours: Wed-Mon 8:30am to 5:30pm
Tel: 8482 8938
Website
Breakfast Hola is not a halal-certified eatery.
Wen Li Taiwanese Food Review: $3.50 Braised Pork Rice And Pig Intestine Mee Sua By Young Hawkers
Photos taken by Poh Jin Ron.
This was an independent review by Eatbook.sg.
Breakfast Hola Review: Taiwanese Breakfast Cafe In Chinatown With Thick Toasts And Lu Rou Fan
Breakfast Hola Review: Taiwanese Cafe In Chinatown With Thick Toasts And Lu Rou Fan -

7/10
Summary
Pros 
– Egg crepe was tasty
– Grilled Pork Meat and Egg Toast was hearty and satisfying
– Cute interior
Cons
– Authentic Taiwanese Braised Pork Rice was underwhelming
– Cramped space
Recommended dishes: Egg Crepe ($4.50+), Grilled Pork Meat and Egg Toast ($5.80+)
Opening hours: Wed-Mon 8:30am to 5:30pm
Address: 280 South Bridge Road, Singapore 058829