---
Japanese curry rice is the best #comfortfood
---
Weird flex, but I already have an answer if someone randomly asks me to pick one Japanese dish to eat for the rest of my life. That dish is definitely going to be either ramen or Japanese curry rice. Both provide immense comfort to my belly and is bound to elevate my mood regardless of the situation. Yes, I know, I am an emotional eater. Since we already have an article dedicated to cheap ramen, I thought, why not round up the best places in Singapore to enjoy a plate of Japanese curry? So here are my top 10 restaurants for Japanese curry rice – you're welcome.
---
1. Japan Rail Cafe
---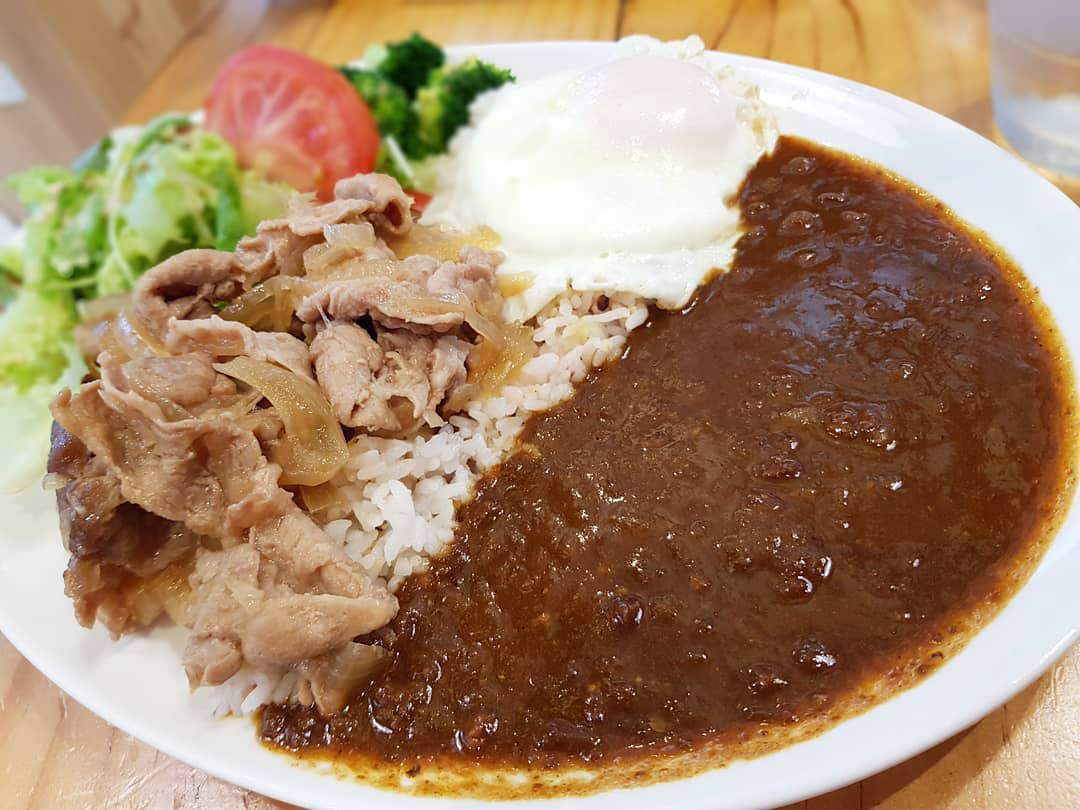 Image credit: @moonie_jy
The first travel-themed cafe in Singapore, Japan Rail Cafe dishes up a variety of Japanese dishes and even allows travellers to purchase legit JR passes. Watashino Curry Rice ($18) is a crowd-favourite, comprising a thick black pepper curry base atop rice. Customise the curry with your choice of main and side dish, my favourite combination being ginger pork and crispy salmon respectively. Enjoy your meal with La France Pear Fruit Tea ($6.20), a refreshing drink infused with peach puree – perfect for Singapore's sweltering heat.
Address: 5 Wallich Street, #01-20, Singapore 078883
Opening hours: Sat-Thu 11am to 9pm, Fri 11am to 9:30pm
Tel: 6385 5422
Menu
Website
---
2. Ma Maison
---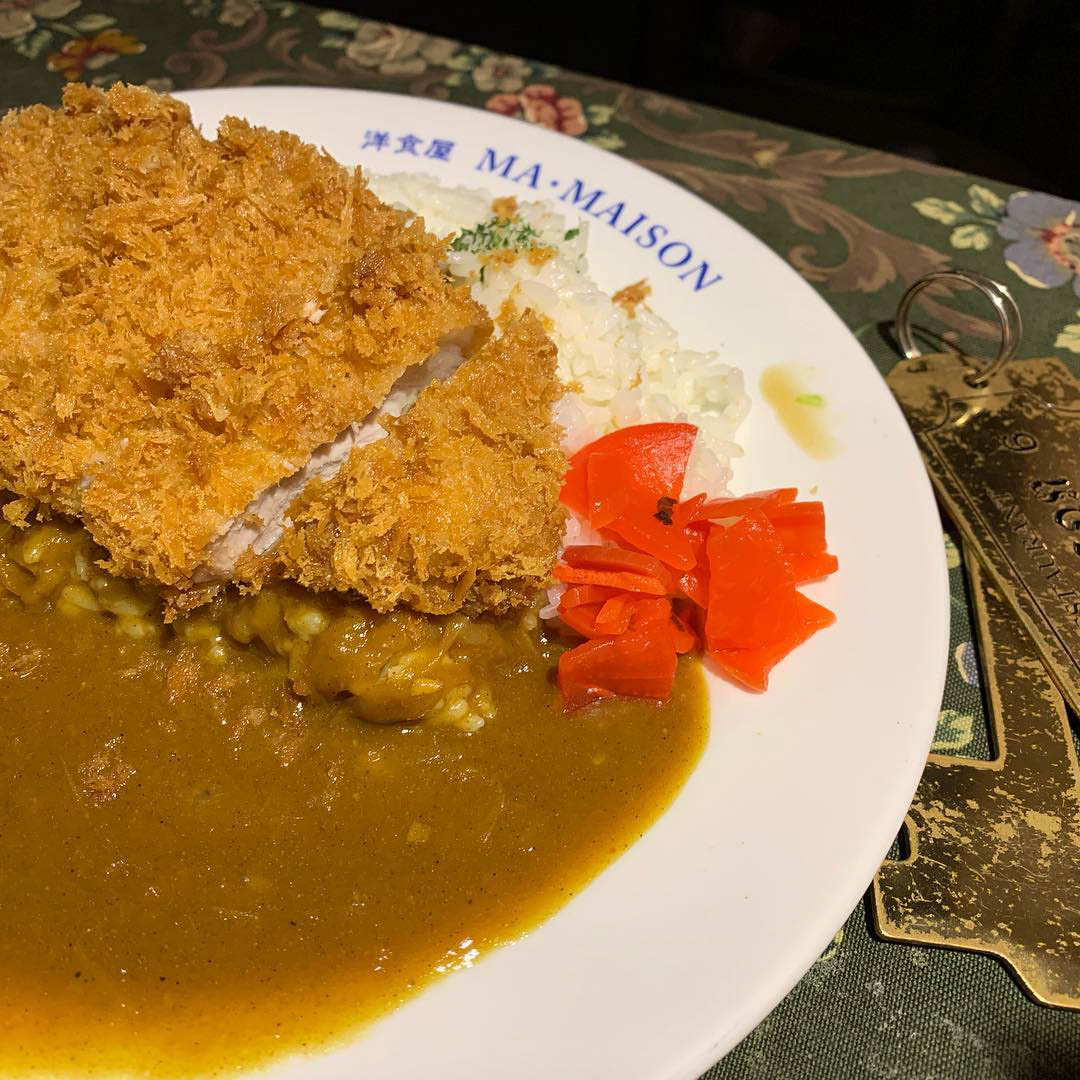 Image credit: @jenteo27
Inspired by a cosy hotel stay in England, Ma Maison – which translates to 'my house' in French – prides themselves in providing impeccable customer service and quality Japanese-Western fusion dishes. Dive straight into their Tonkatsu Curry ($16.30++) if you're looking for something comforting and delicious. This classic dish comes with a thick pork cutlet breaded and deep-fried to a golden-brown, atop Japanese white rice and with a pool of velvety curry.
Address: 30 Victoria Street, #01-09, CHIJMES, Singapore 187996
Opening hours: Daily 11:30am to 3pm, 5:30pm to 10:30pm
Tel: 6338 5907
Full list of outlets
Website
---
3. Otoko
---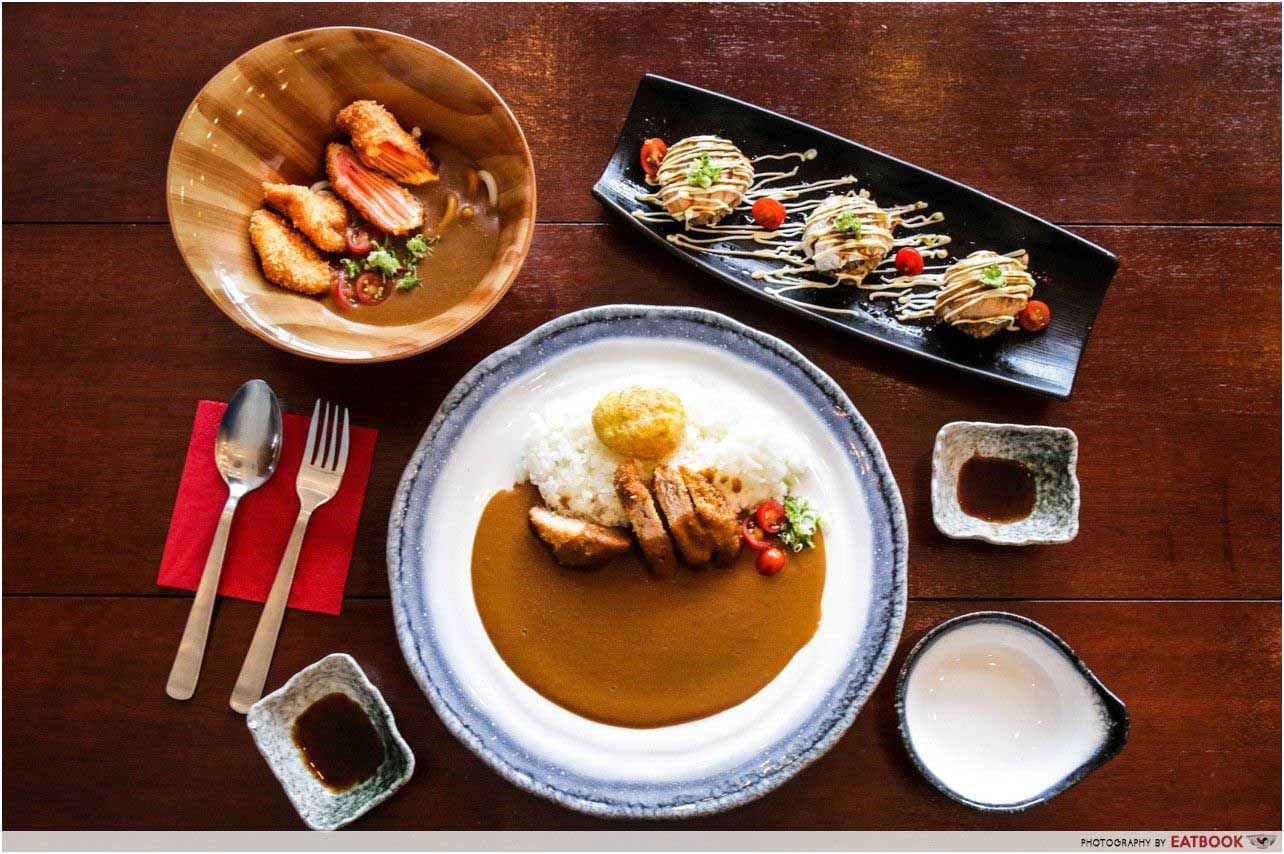 Situated in Hougang, Otoko allows diners to customise their Japanese curry rice and udon. To "build your own curry", start by indicating your choice of carbs on the order slip before choosing from a plethora of sides. Curry Rice ($2.80) topped with Pork Cutlet ($2.80) and Lava Egg ($1.80) is as simple as your curry rice can get, and we enjoyed the spicy kick from the creamy curry sauce as well as the explosive lava egg that still retained its breaded, crispy exterior.
Check out our full review of Otoko!
Otoko Review: Customisable Japanese Curry Rice At This New Cafe At Hougang
Address: 1187 Upper Serangoon Road, #01-20, The Midtown Residences, Singapore 533971
Opening hours: Wed-Mon 11:30am to 10pm
Tel: 9274 6542
Website
---
4. Japanese Curry Express
---
It is no surprise why Pork Katsu Curry Rice ($7) is a crowd-favourite dish from Japanese Curry Express. After all, it boasts a thick cut of crispy katsu with a good fat-to-meat ratio and slightly sweet, viscous curry. Another stellar dish from this small Japanese eatery is Salmon Mentai Don ($10/$13), which comes with slices of torched salmon covered with a blanket of creamy mentaiko sauce, atop chewy vinegar rice.
Check out our full review of Japanese Curry Express!
Japanese Curry Express Review: Legit Japanese Food At Fortune Centre With Nothing Over $10
Address: 190 Middle Road, #03-04, Fortune Centre, Singapore 188979
Opening hours: Mon-Sat 11:30am to 3pm, 4:30pm to 8:30pm
Tel: 9689 6314
Website
---
5. Tengawa Hokkaido White Curry
---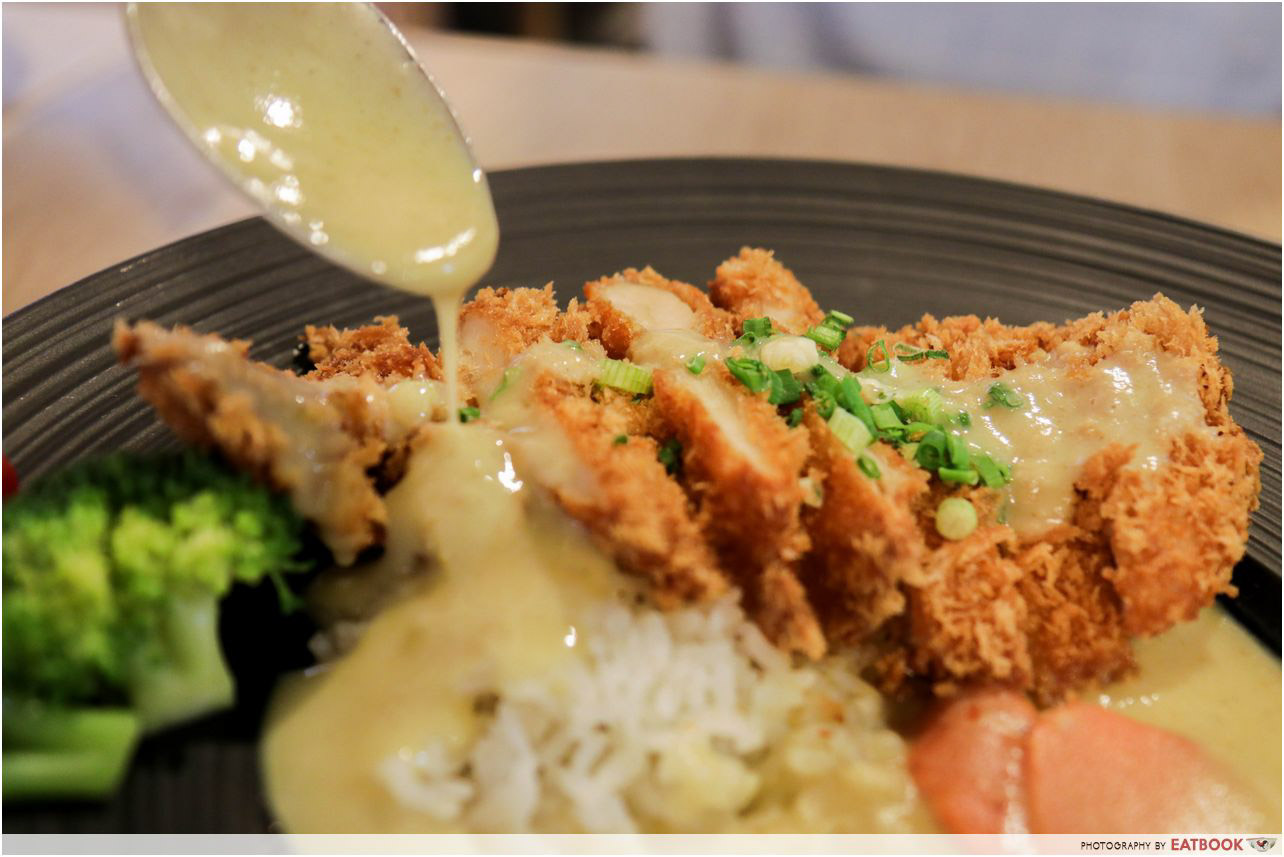 Tengawa Hokkaido White Curry dishes up curry rice served with a unique white curry sauce made from Hokkaido milk. Chicken Katsu White Curry Set ($15.80++) is good enough to be enjoyed on its own, but the white curry adds depth texture and flavour with its velvety consistency and milkier taste. Premium Ebi Fry White Curry Set ($16.80++) is a hit among seafood lovers, with fresh prawns breaded and deep-fried to a golden brown, boasting a meaty yet crunchy texture.
Check out our full review of Tengawa Hokkaido White Curry!
Tengawa Hokkaido White Curry Review: First Japanese White Curry Rice In Singapore
Address: 9 Raffles Boulevard, #02-16, Millenia Walk, Singapore 039596
Opening hours: Daily 11:30am to 10pm
Tel: 6265 1314
Website
---
6. Washoku Goen
---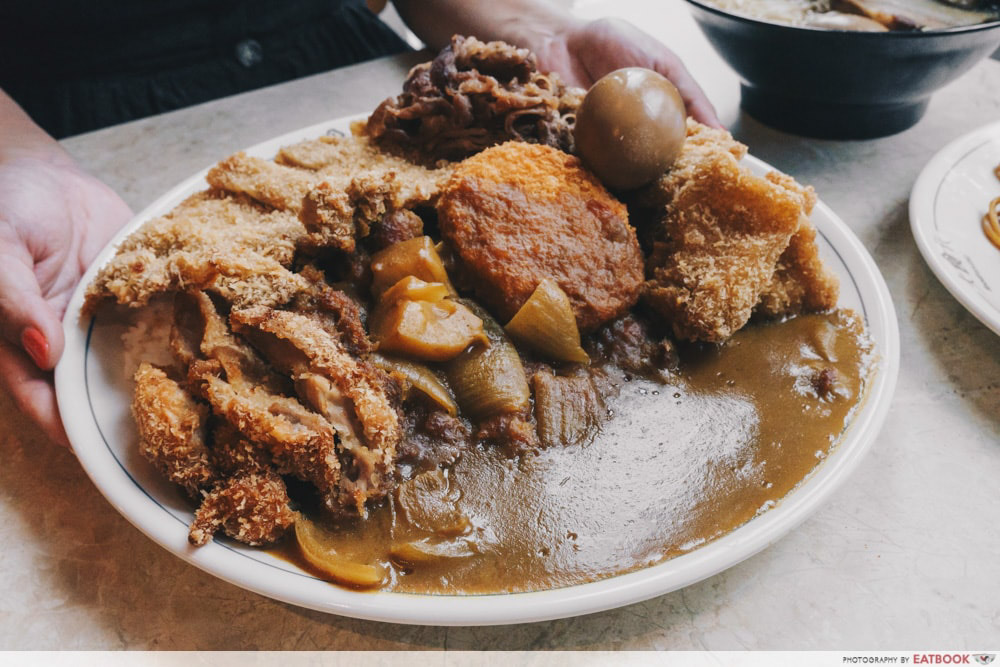 If you're heading to town with friends and neither of you can decide on where to eat, bring the gang to Washoku Goen and share the Japanese Ultimate Original Curry Rice ($19.80). This humongous plate of curry rice is piled with chicken katsu, fried fish pieces, a huge tonkatsu, a potato croquette, marinated beef slices and a soy sauce marinated egg. Simmered with tonkatsu broth, the curry sauce is rich and velvety, filled with chunks of potato and sliced onions. Be sure to portion out your curry sauce so that you won't be left with plenty of meat and rice and no sauce!
Check out our full review of Washoku Goen!
Washoku Goen Review: Cheap Japanese Food With Large Portions At Wisma Atria
Address: 435 Orchard Road, #04-02/38, Stall 11, Wisma Atria Food Republic, Singapore 238877
Opening hours: Daily 10am to 10pm
Tel: 6337 4237
Website
---
7. SAMA Curry & Cafe
---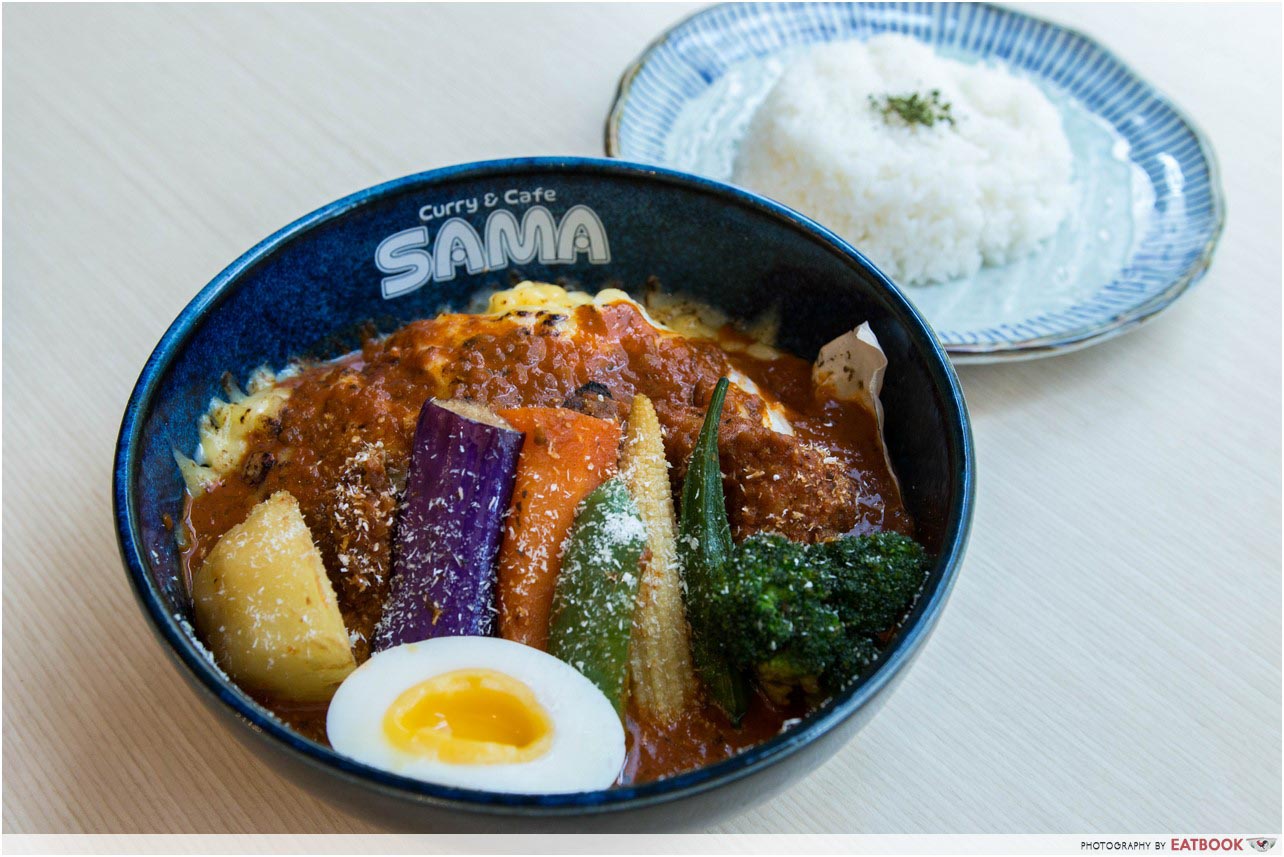 Hailing from Hokkaido, SAMA Curry & Cafe dishes out customisable soup curry made from a base of either tomato, coconut, shrimp or chicken, with 30 levels of spiciness. Cheesy Bear ($16.90+) is served with chunks of fried chicken, shredded cabbage, an assortment of veggies and topped with a blanket of torched cheese. We chose this with the coconut soup base and the highest level of spiciness offered, level 30. Though the curry still packed a punch, the creamy coconut base and cheese mellowed out the spicy kick and made this manageable for spice wimps like me.
Check out our full review of SAMA Curry & Cafe!
SAMA Curry & Cafe Review: Hokkaido Soup Curry With 30 Levels Of Spiciness
Address: 6 Shenton Way, #03-26, OUE Downtown 2 Gallery, Singapore 068809
Opening hours: Daily 11am to 9pm
Tel: 6224 0590
Website
---
8. Sora Boru
---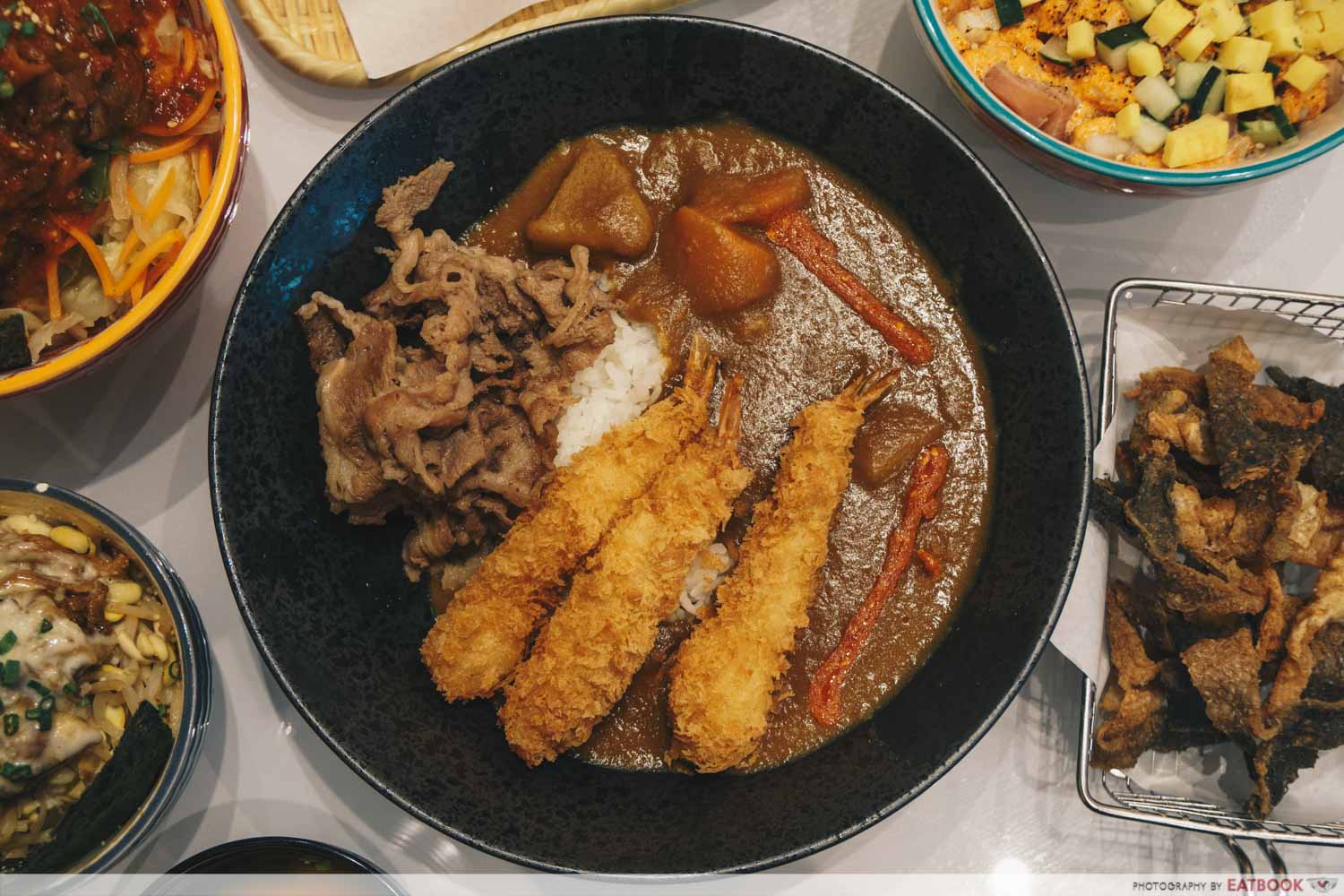 For a quick rice fix, head down to Sora Boru, a newly opened fast-casual Japanese dining restaurant. Their CurryBoru (curry rice bowls) is served with a robust curry sauce with a slightly spicy kick, and comes with your deep-fried meat or seafood. The Chicken Katsu CurryBoru and Breaded Ebi CurryBoru will set you back by $6.50 for the mini bowl, or $10.90 for the regular bowl. For large eaters, opt for the combo options, which comprises two different proteins in a bowl – Breaded Ebi with Shabu Beef ($12.90) or Breaded Salmon with Shabu Beef ($11.90). You can also customise the level of spiciness of the curry from level one to three, so fret not if you're a spice wimp!
Address: 201 Victoria Street, #01-10, Bugis+, Singapore 188067
Opening hours: Daily 10am to 10pm
Tel: 6341 9978
Menu
Website
---
9. The Japanese Curry Shop
---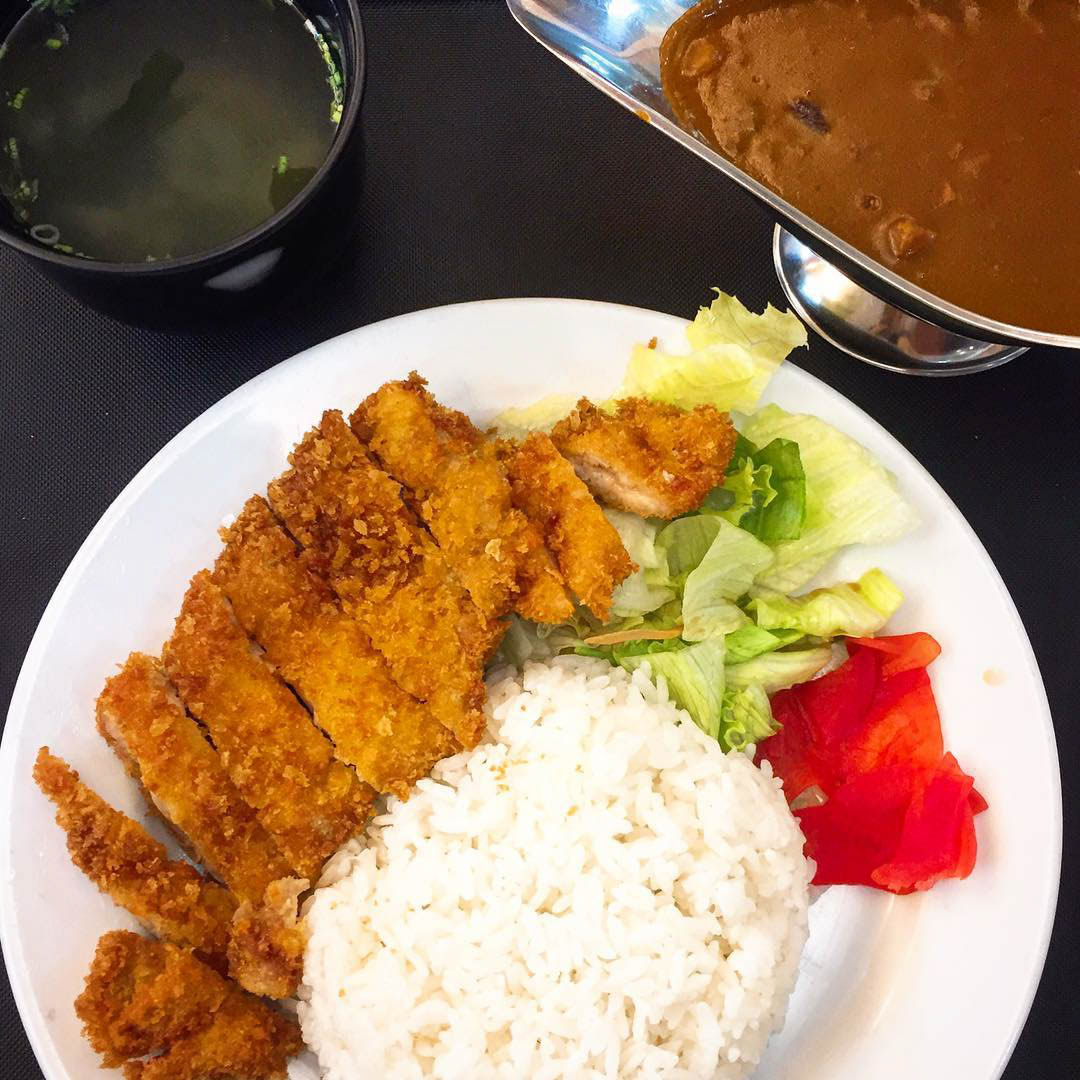 Image credit: @ig.yoloyolo
Tucked in the basement of Liang Court right outside Meidi-Ya is The Japanese Curry Shop which serves up plates of fuss-free Japanese curry rice. Chicken Katsu Curry ($10.20) comes in a big portion, with slightly sweet curry sauce served on the side – perfect if you like to control the amount of curry sauce on your rice. For seafood lovers, Ebi Fry Curry ($12.30) comprises four thick hunks of crispy ebi, giving you bang for your buck.
Address: 177 River Valley Road, #B1-50, Liang Court, Singapore 179030
Opening hours: Daily 10am to 10pm
Tel: 6333 0630
---
10. Monster Curry
---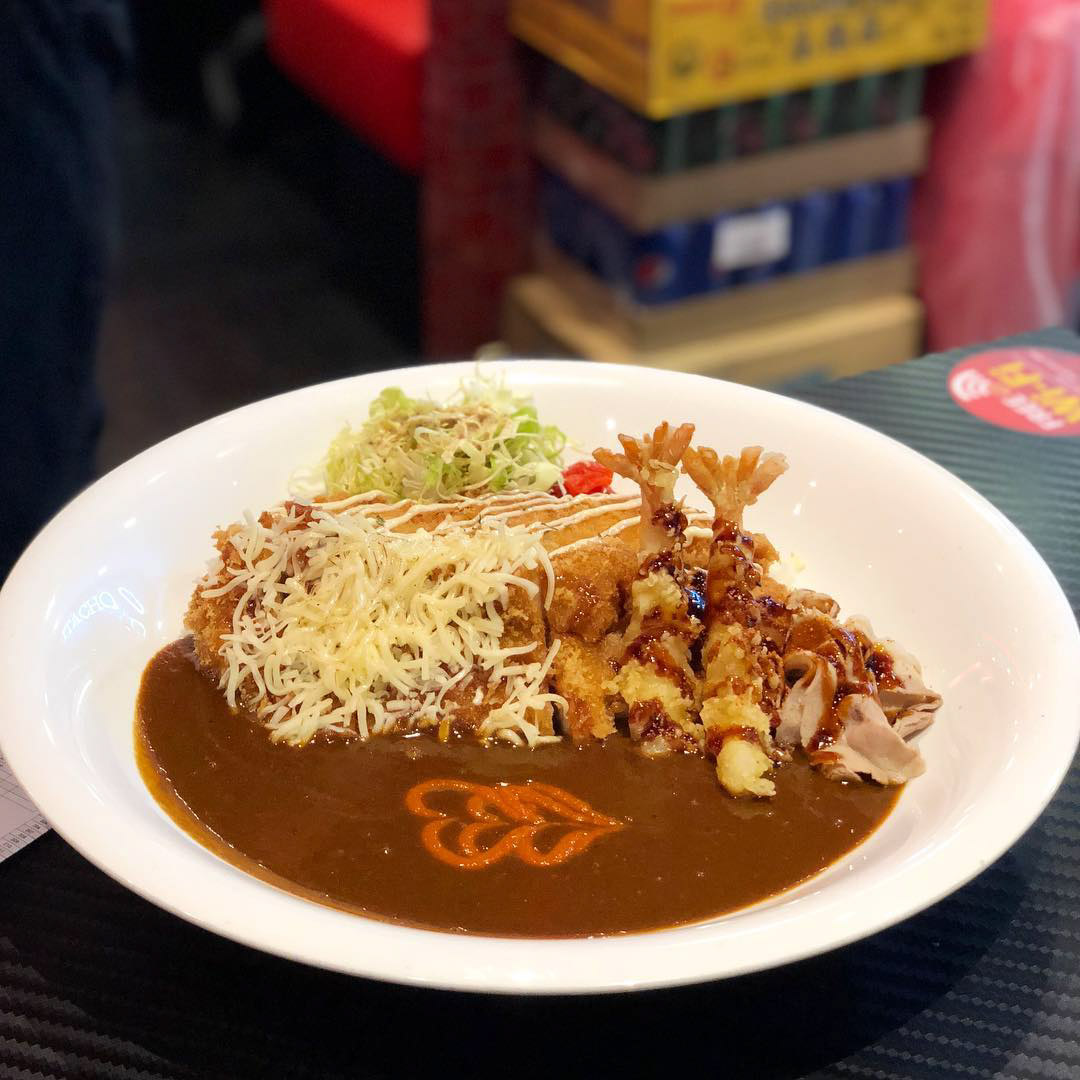 Image credit: @elricaaa
Monster Curry is one of my clique's favourite hang out spot because of the huge portions and convenient locations. Monster Curry Combo ($27.80++) is our go-to order, comprising pork katsu, pork shabu-shabu, shrimp tempura, fried fish and a mountain of cheese served alongside rice and their signature curry sauce. There are five levels of spiciness to the curry sauce, and while level two, in my opinion, strikes the best balance between savoury and spicy, feel free to try their level five curry if you're up for the game.
Address: 2 Orchard Turn, #B4-52, ION Orchard, Singapore 238801
Opening hours: Daily 11am to 10pm
Tel: 6509 4555
Menus
Full list of outlets
Website
---
Keep calm and curry on
---
Japanese curry rice is the one dish that will always hold a special place in my heart. Hit us up in the comment section below if we missed out on your favourite Japanese curry restaurant, or let us know if you've tried any of the dishes mentioned above!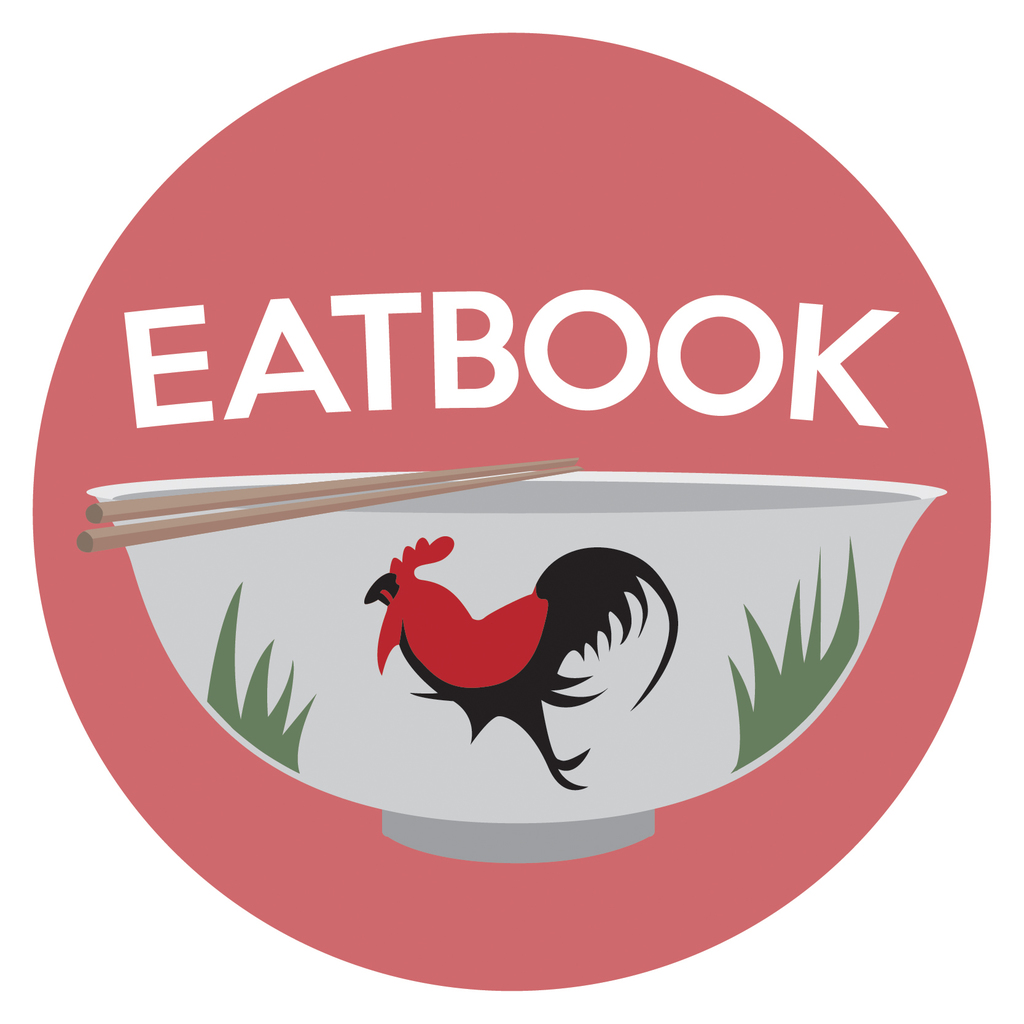 Drop us your email so you won't miss the latest news.