---
Food at Kovan Market & Food Centre
---
While some people would label Orchard as the place to get good food, true foodies would know that most gems lie within humble neighbourhoods. From Punggol Nasi Lemak to Yi Dian Xin and Sin Chie Toke Huan, Kovan never fails to satisfy whenever the cravings for cheap and good comfort food hits. Besides these well-known names, Kovan 209 Market & Food Centre is another place where I frequent for some of the best hawker food. Here is a list of 10 must-visit stalls when you are at the hawker centre!
---
1. Sun Kee Drinks
---
If you only have $0.30 to spare, head to Sun Kee Drinks for a cup of Bird's Nest, Soya Bean, or Grass Jelly. Larger cups are sold at $0.50 each. Started in 1985, Sun Kee Drinks is probably one of the few stalls in Singapore that still persists on keeping prices the same after so many years. When we visited the stall a few months back, we were impressed by how the stall owners did not compromise on the quality of the drinks which are still gao (rich) despite the low price!
Check out our interview with the owner of Sun Kee Drinks!
Unit number: #01-65
Opening hours: Mon-Sat 6am to 3pm
---
2. Fa Ji Dessert
---

Image credit: @siming
Although a cup of grass jelly for $0.30 sounds good, sometimes that just doesn't suffice, especially after downing a bowl of laksa in the afternoon heat. For those craving for a bowl of icy goodness, look for Fa Ji Dessert.
While they do serve the usual hawker desserts, one of their most interesting dishes is Peanut Ice Kachang ($3.50). Unlike the typical ice kachang that is served with colourful sweet syrups, this one comes with just gula melaka. A generous amount of peanut bits is also doused on the ice shavings to give a crunch to the dessert. Hidden beneath the heap of ice are ingredients like atap chee, green agar agar, and grass jelly.
Unit number: #01-47
Opening hours: Daily 7am to 9:45pm
---
3. Ah Hui Big Prawn Noodle 
---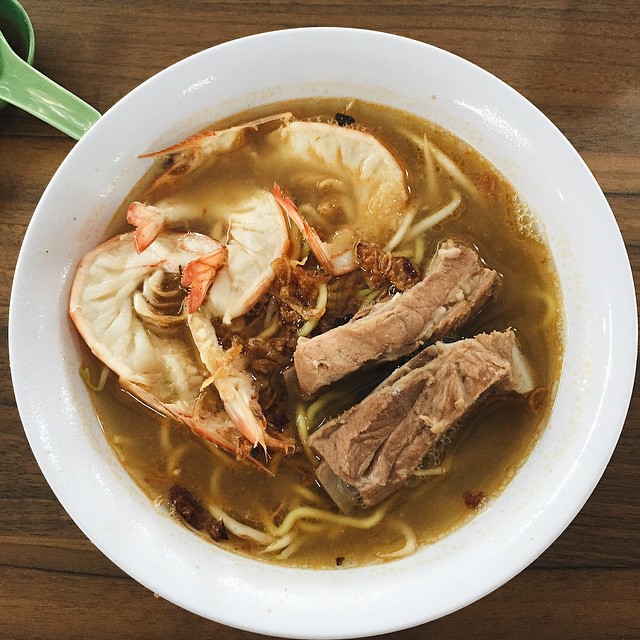 Image credit: @yuehshiun.koh
Named after the owner Mr Tan Ah Hui, Ah Hui Big Prawn Noodle first started in Balestier Market and their second branch was opened at Kovan last year. While prawn noodles can be found in many stalls at the market, Ah Hui Big Prawn Noodle stands out with their huge tiger prawns and flavourful broth that is cooked with pork ribs, prawn shells, and fried shallots. A bowl of Big Prawn Noodle here would cost you $5 and for an additional $1, you can have their pork ribs as well.
Unit number: #01-59
Opening hours: Fri-Wed 8am to 5pm
---
4. Yam Mee Teochew Fishball Mee 
---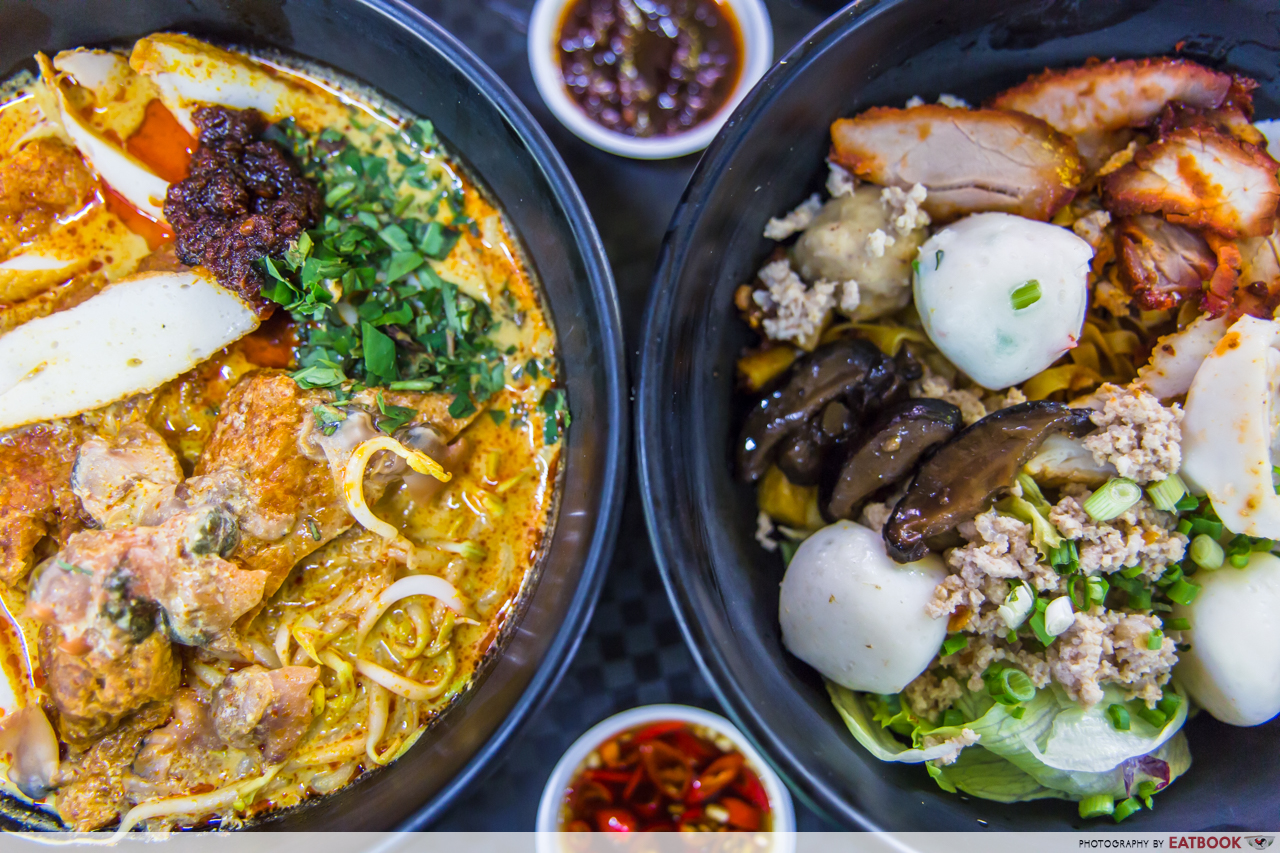 Occupying two stalls in the market, regular patrons would be familiar with the popular Yam Mee Fishball Mee that has been run by an elderly couple for years. Priced according to the size of the bowl, you can get the noodles at $3.50, $4.50, or $5. While they specialise in fishball noodles, their Curry Chicken Mee and Laksa are some of the dishes that attract insane queues during lunch time!
If you happen to be in the Yishun area, you can also check out their second outlet at Yishun Park Hawker Centre. That stall is run by their 25-year-old daughter, Anthea!
Unit number: #01-35-36
Opening hours: Tue-Sun 7am to 9pm
---
5. Bedok Cooked Food
---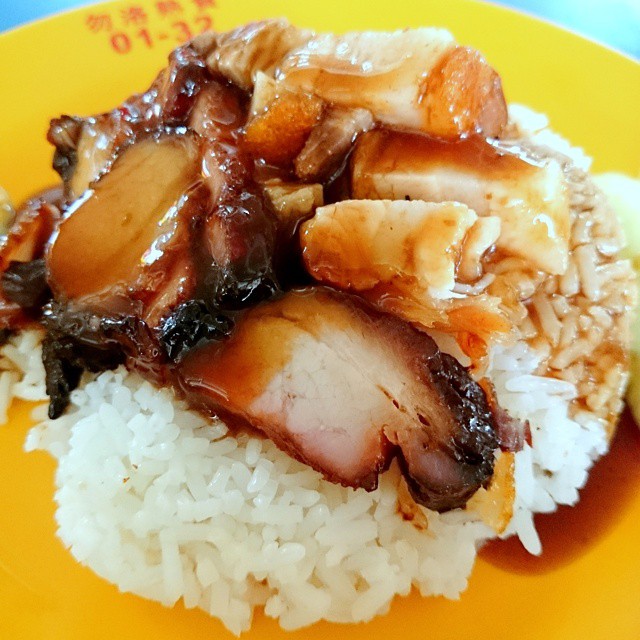 Image credit: @tamkokseng
Head to Bedok Cooked Food and you will find yourself tempted by the roast duck, char siew, and roast pork displayed at their stall front. For $8, you can get the set that comes with all three meat as well as a plate of rice. Their roast duck is especially popular, known for the crispy skin that comes with the fatty meat. However, getting your hands on these alluring meats requires some sacrifice as the stall is known to be one that attracts the longest queues in the food market!
Unit number: #01-32
Opening hours: Tue-Sun 10am to 7pm
---
6. Fa Ji Minced Meat Fishball Noodle   
---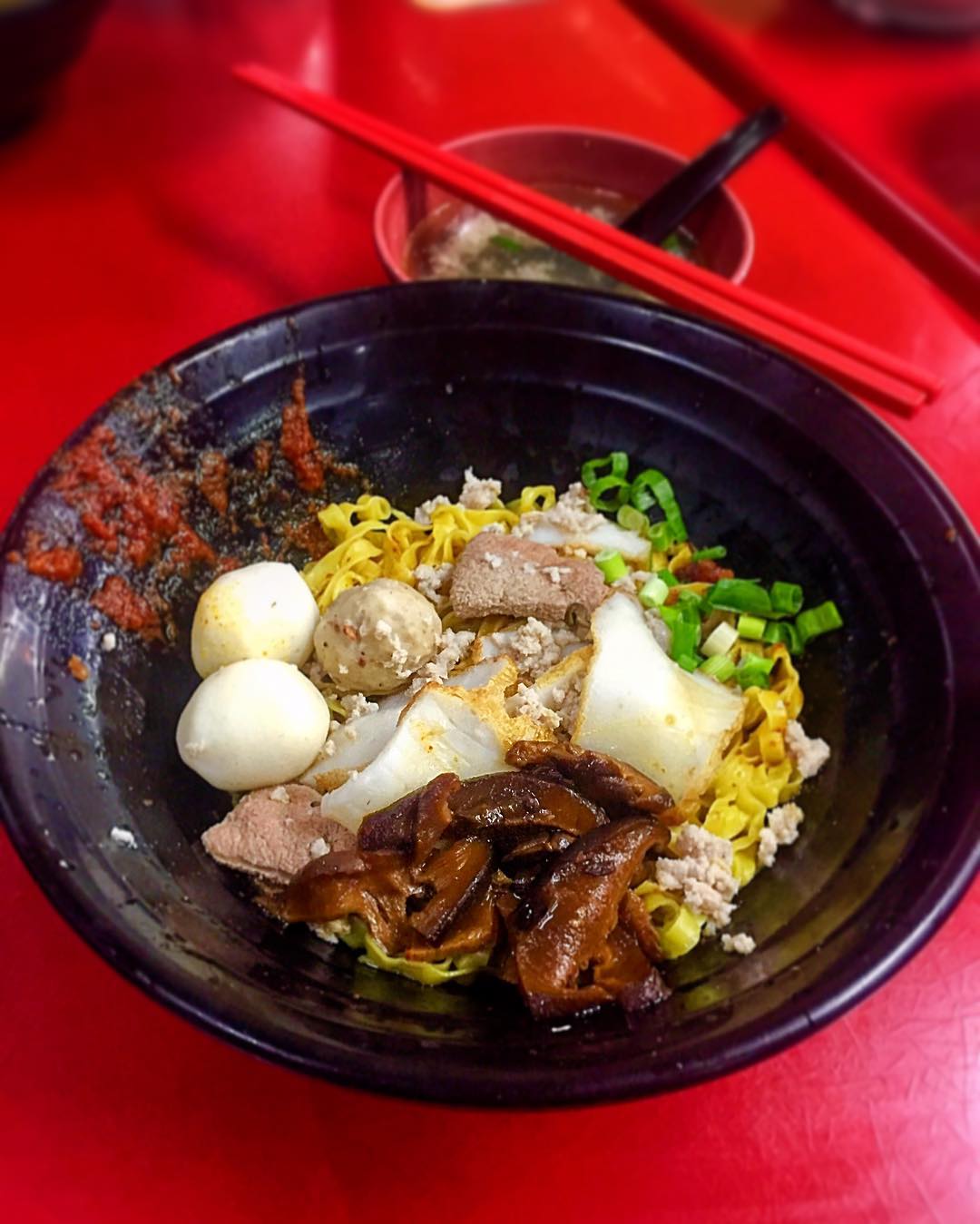 Image credit: @makanwarrior
For a good bowl of bak chor mee and handmade fishcake, visit Fa Ji Minced Meat Noodle. Besides being delicious, their Bak Chor Mee ($3.50) also draws crowds for its generous portion. Each bowl of noodles served at this stall is loaded with ingredients such as minced meat, fishballs, meatballs, liver slices, and braised mushrooms. Their other famous dish would be their Handmade Fishcake which you can get the entire piece at just $1.50! For those looking for something else, the stall also serves Laksa ($3.50) and Curry Steamed Chicken Noodle ($3.50).
Unit number: #01-05
Opening hours: Thur-Sun 7:30am to 8pm
---
7. A1 Kway Chap 
---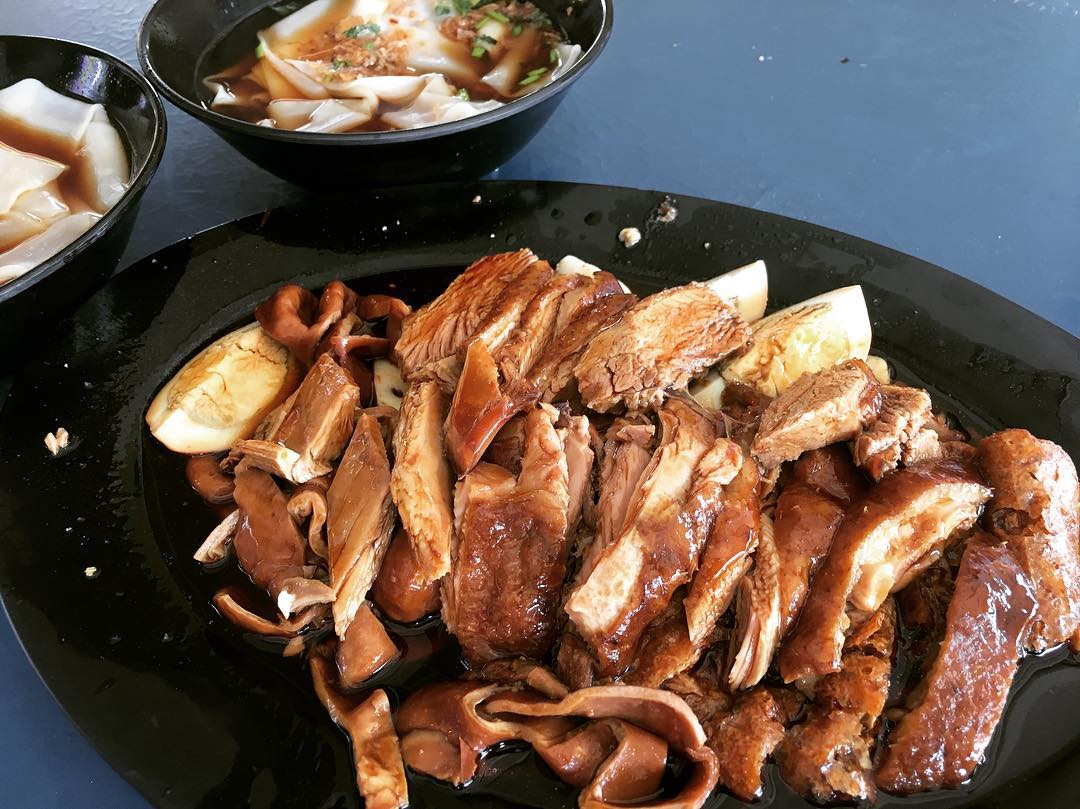 Image credit: @an_na.c
Another stall that often sports a snaking queue at the food market is A1 Kway Chap. Also serving duck rice and Hainanese chicken rice, their most popular Kway Chap Set would cost you about $5. This set comes with ingredients like braised egg, lean duck meat, braised tofu, and pork innards. Though the delicious kway chap here looks just like the others served elsewhere, there is a reason why they are often ranked as one of the top kway chap stalls in Singapore. 
Kway chap lovers, check out these kway chap and organ soup stalls as well!
Unit number: #01-15
Opening hours: Daily 8:30am to 9:30pm
---
8. Fatt Soon Kueh 
---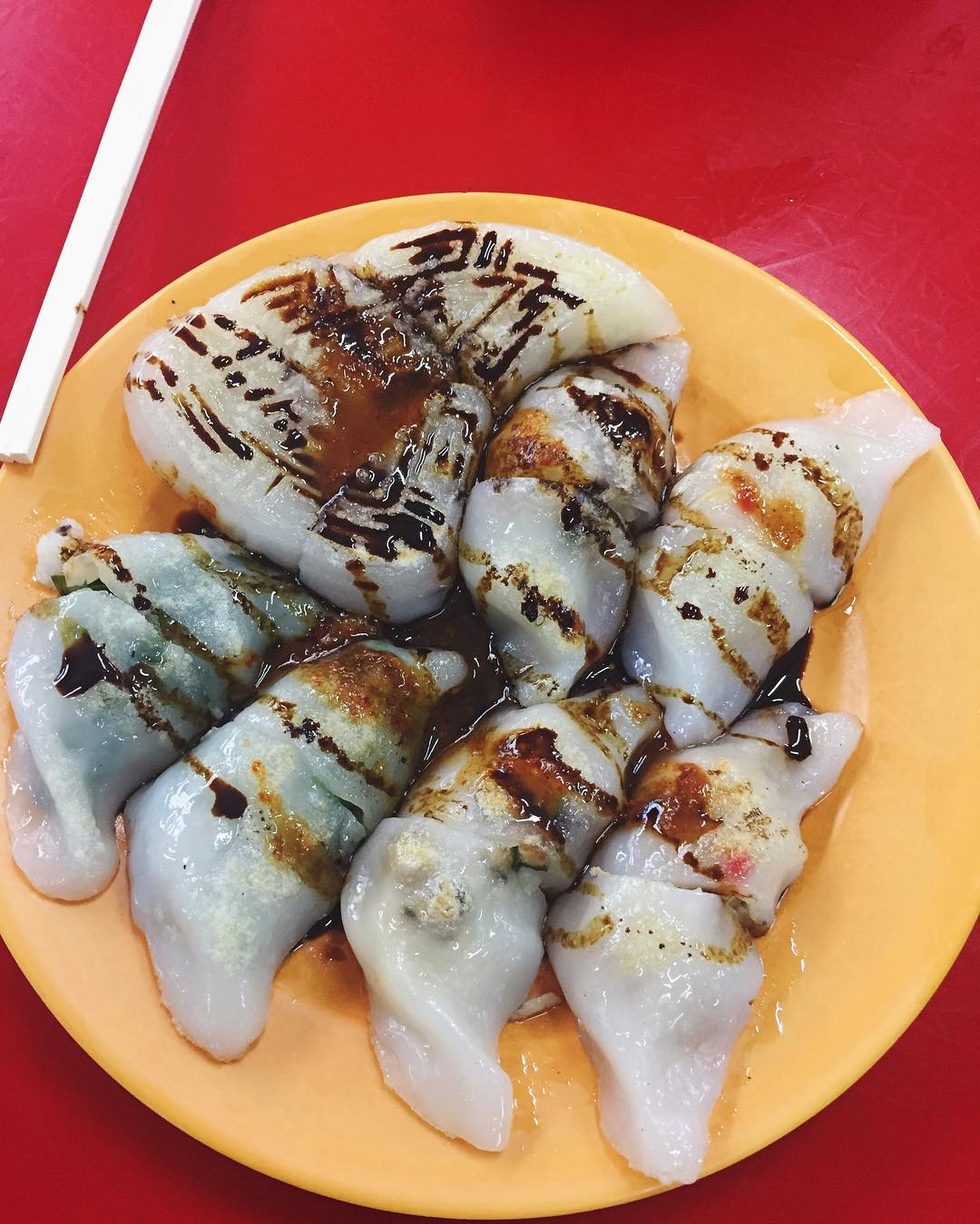 Image credit: @corinne_liying
With two other outlets in Upper Changi Road and New Market Road, Fatt Soon Kueh is a popular stall that specialises in traditional kueh. At $1 per piece, the stall sells only five types of kueh, namely Soon Kueh, Png Kueh, Ku Chye Kueh, Ang Ku Kueh, and Black Sesame Kueh. Located right next to A1 Kway Chap, these traditional nibbles would serve as great snacks to munch on while queuing for your kway chap!
Unit number: #01-17
Opening hours: Mon-Sat 9am to 6pm
---
9. Xiang Rui Zhou Pin
---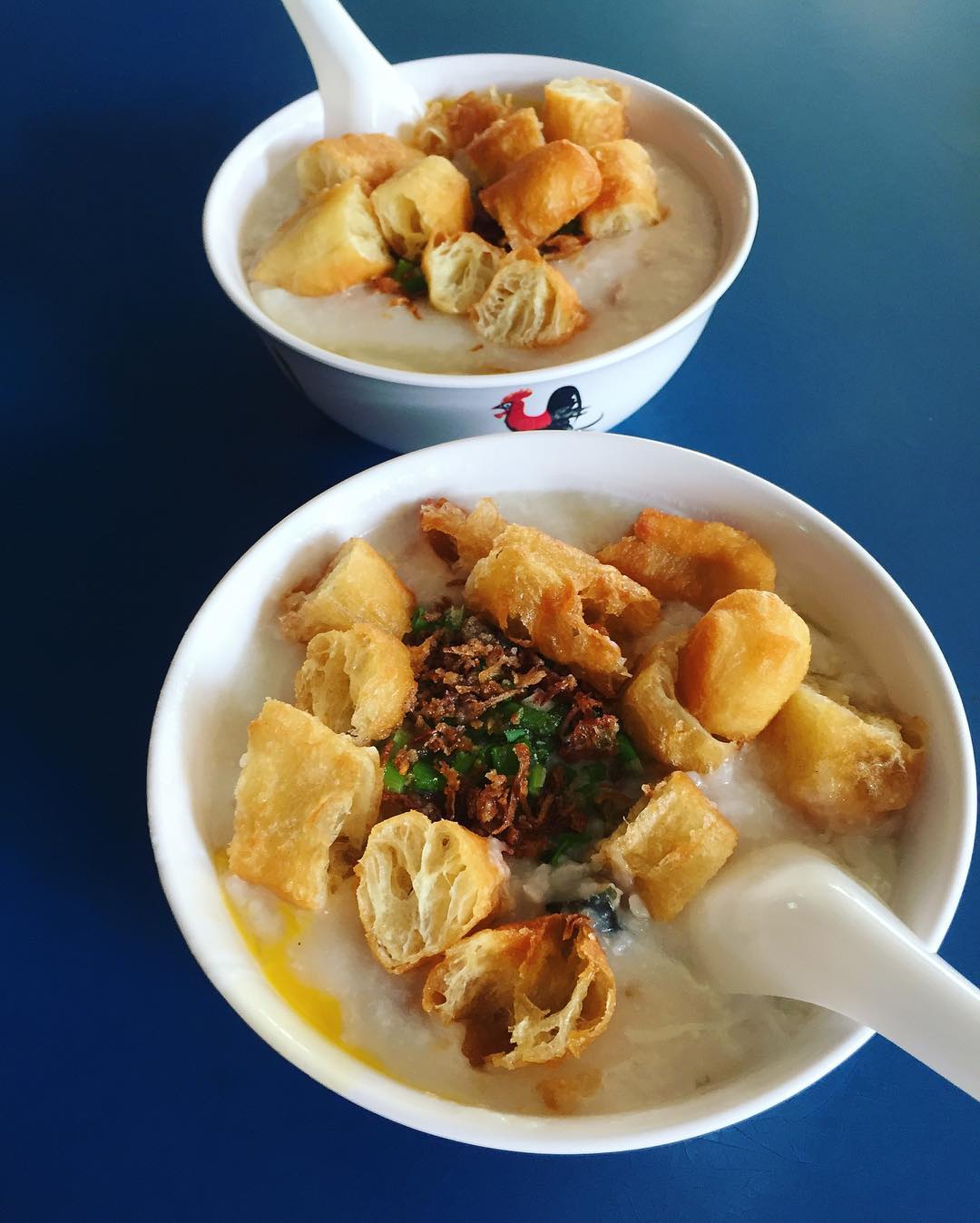 Image credit: @vinc_fitness_
I have always thought that congee is a dish that people eat only when they are sick and definitely not something that you would travel or queue for. And so whenever I was the food market, I could never quite wrap my head around the long queue seen at Xiang Rui Zhou Pin – until I finally tried it for myself. Unlike some congee bowls that are laden with MSG, the ones here are tasty but does not leave you desperate for a drink after the first spoonful. At the stall, you can find a variety of congee, including Sliced Fish ($3.50), Congee in Boat Style ($5), and Century Egg & Lean Meat Congee ($3.50). Like a typical Hong Kong-style breakfast, every bowl of congee comes with an entire fried youtiao!
Unit number: #01-28
Opening hours: Daily 7:15am to 9:15pm
---
10. Chai Kee Prawn Noodle
---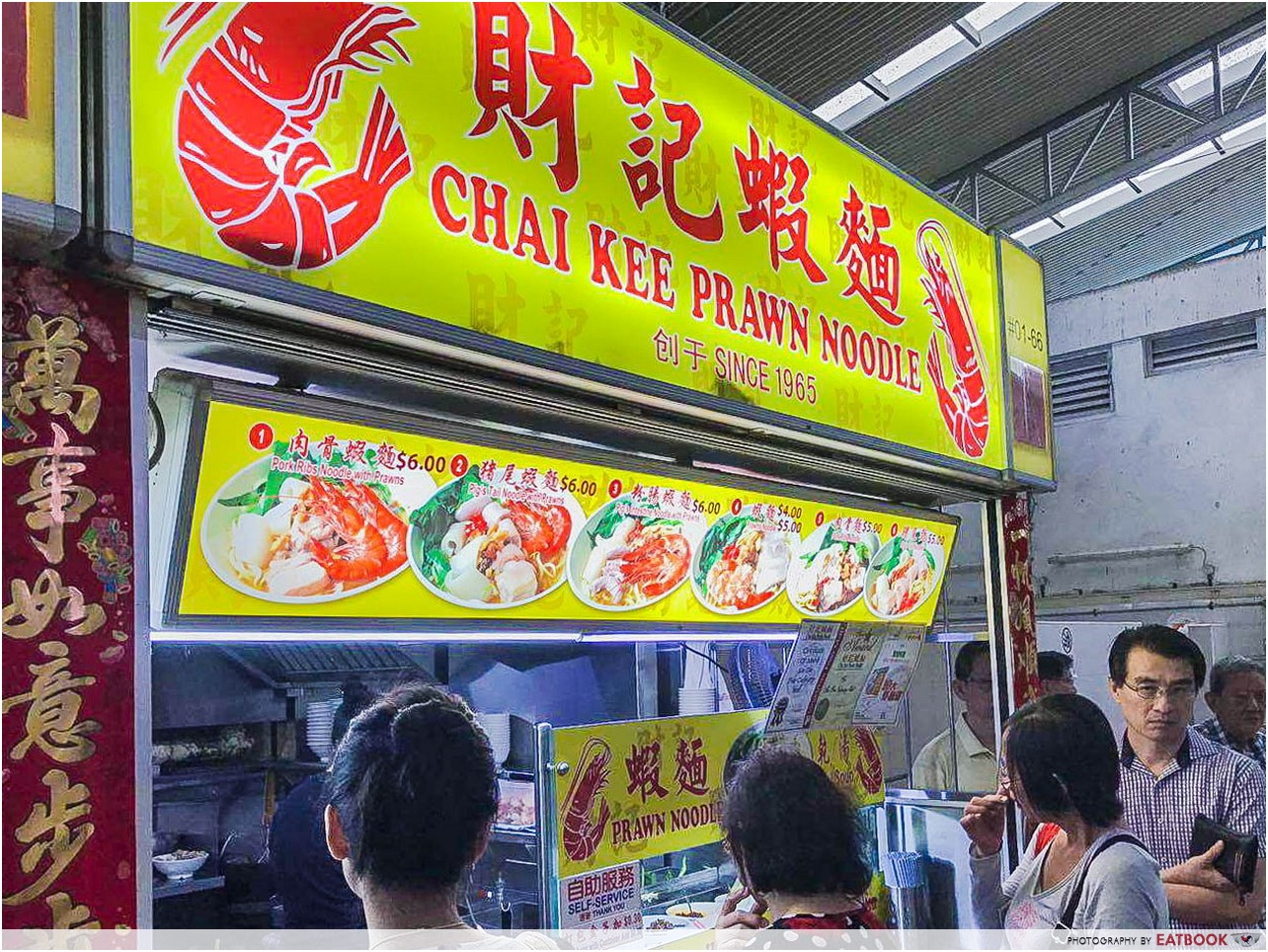 Tucked at a corner at the back of the hawker centre, Chai Kee Prawn Noodle does not have the most advantageous position but still has no problem attracting crowds at as early as 8am in the day! While we were there, we spoke to some of their regular customers in the queue and many recommended going for their dry noodles that comes with the broth in a separate bowl. Like most prawn noodle stalls, Chai Kee Prawn Noodle serves dishes such as Prawn Noodles ($4), Pork Rib Noodles With Prawns ($6), and Pig's Tail Noodles with Prawn ($6).
Unit number: #01-66
Opening hours: Daily 6:30am to 2pm
---
Good things must wait
---
Yes, almost every stall here comes with crazy queues but we all know that good things never come easy. If you do not have the time or patience to sweat it out in the hawker centre just for a bowl of wanton noodles, we also have a guide of food places to check out in Kovan that includes restaurants and cafes!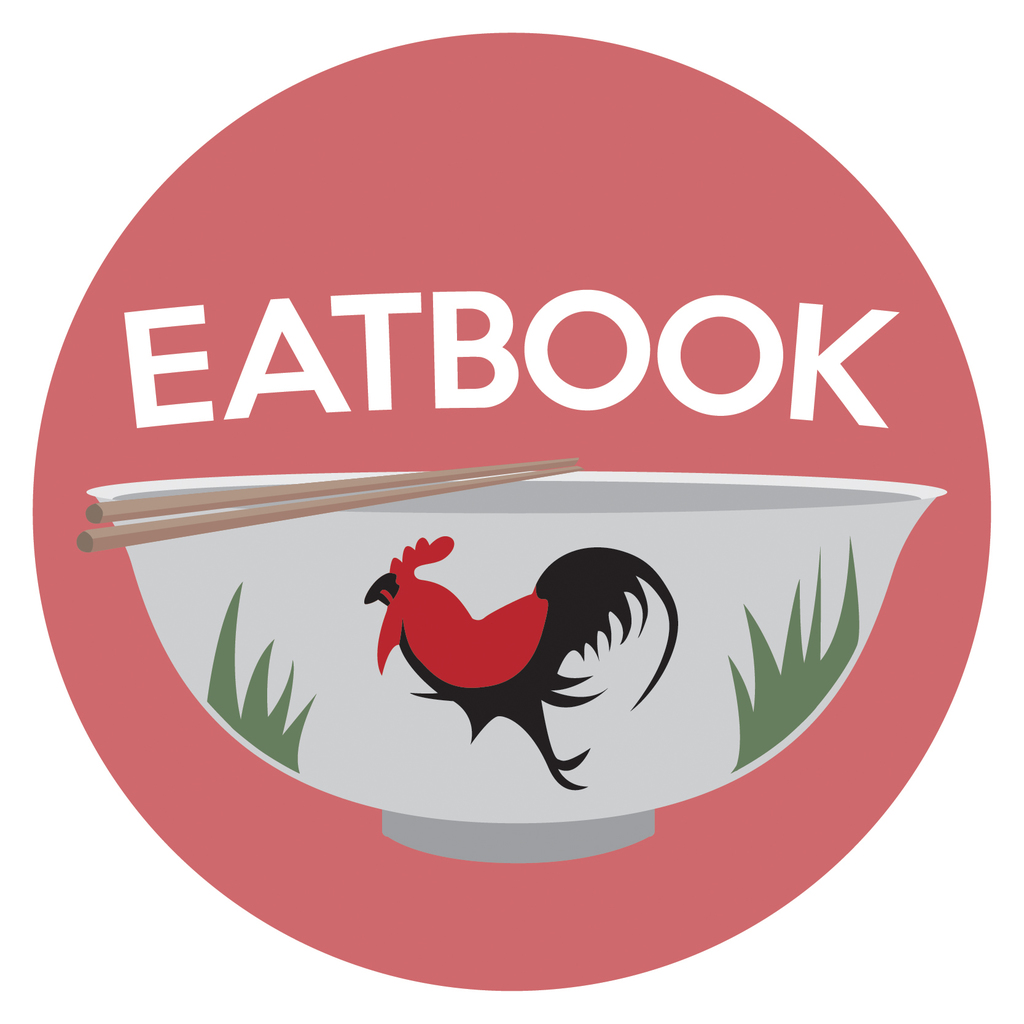 Drop us your email so you won't miss the latest news.