Lao Foong Ji has Hakka noodles and dimsum in Hougang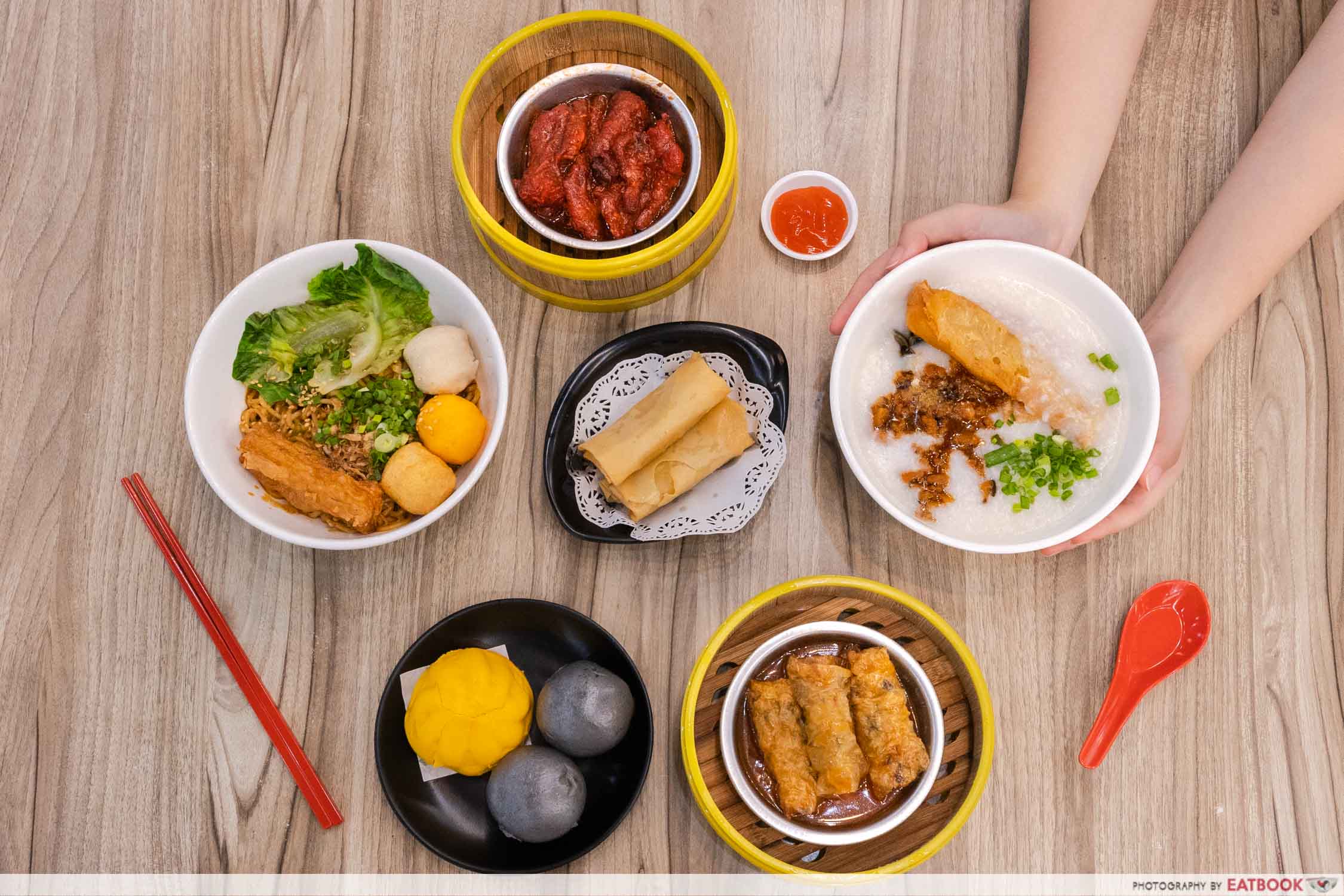 I was more curious about Lao Foong Ji's Ipoh-style hakka mee and century egg porridge, but upon hearing that one of the hawkers was an ex-dimsum chef at well-known brands including Din Tai Fung and Tim Ho Wan, our resident dim sum expert Michelle also requested that I review some of the more eyebrow-raising dim sum options too. Interesting choices aside, the food looked pretty good, so I grabbed a friend and headed down with an open mind and hungry belly.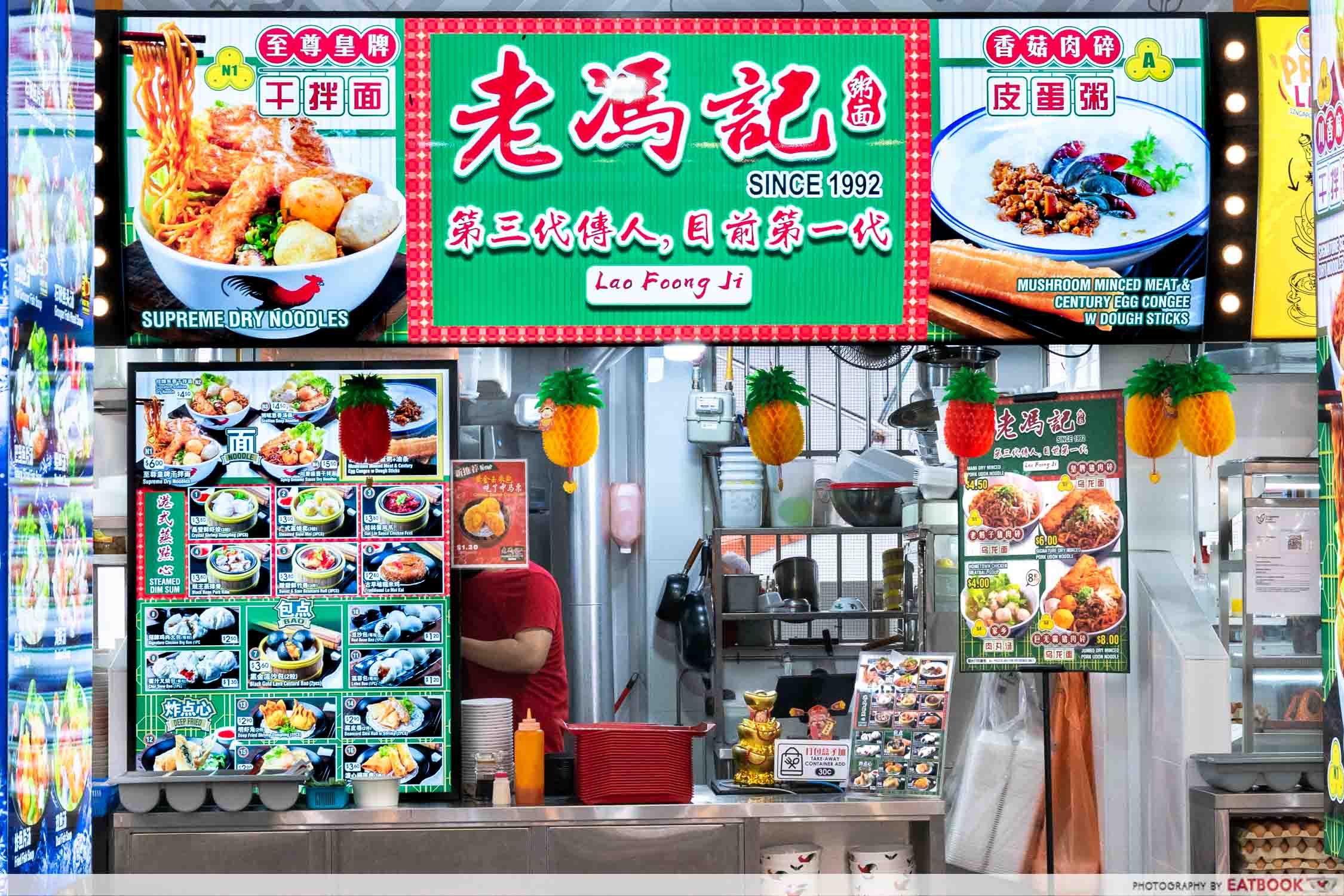 A new stall opened by two Ipoh-born brothers, Lao Foong Ji offers a diverse mix of Hakka noodles, century egg congee, and dim sum. If you were left mystified by the Chinese slogan on the stall front like I was, the 'third generation' refers to them using noodle recipes passed down from their grandfather.  
Ipoh Zai Prawn Noodles Review: Ipoh-Style Prawn Mee In Tanjong Pagar With Shiok Sambal
 Food at Lao Foong Ji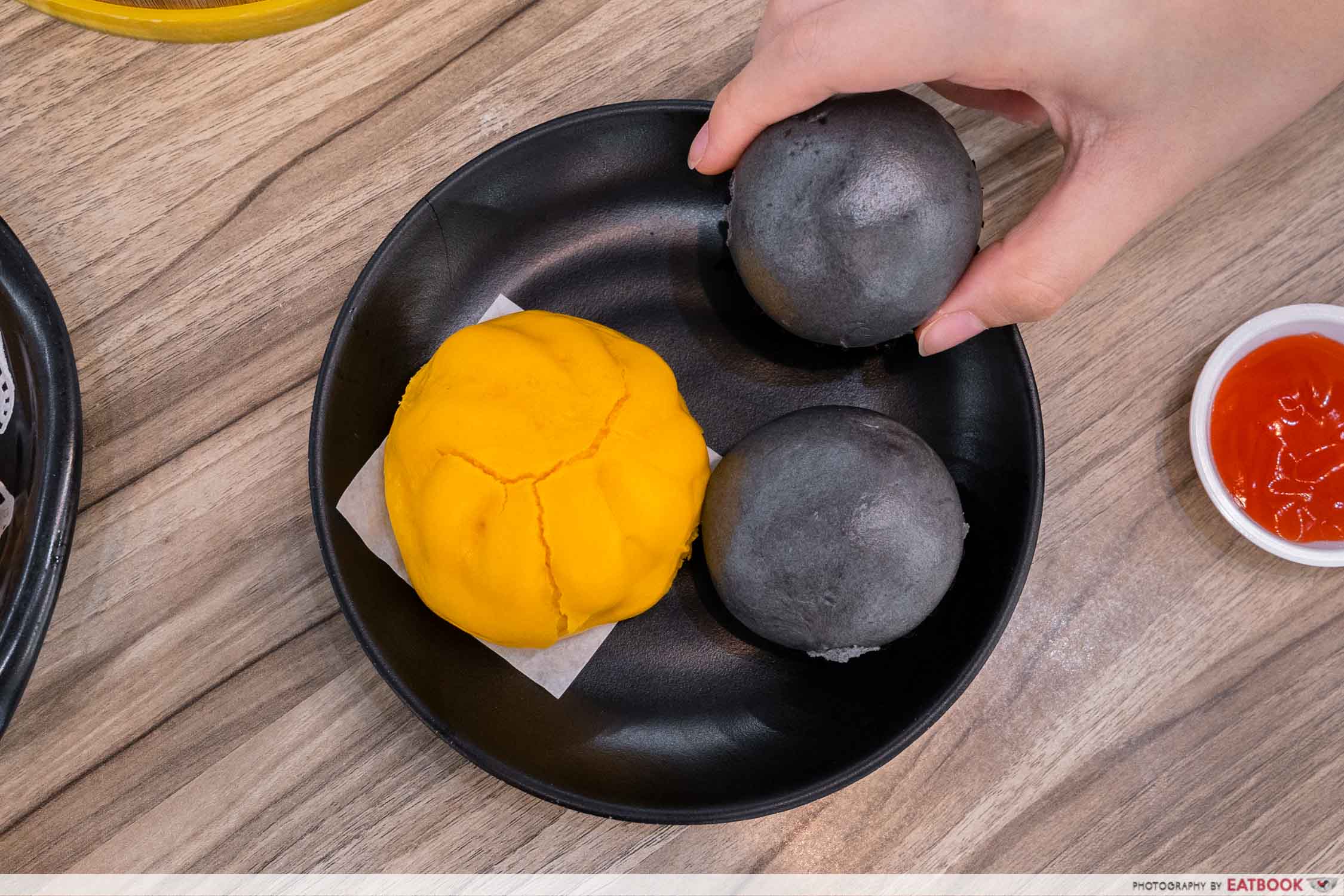 We started off with their Black Gold Lava Custard Bao ($3.60), which came in sets of two bao small enough to fit in the palm of your hand. Of the dim sum we ordered, I was most excited for this one, because it's hard not to love liu sha bao.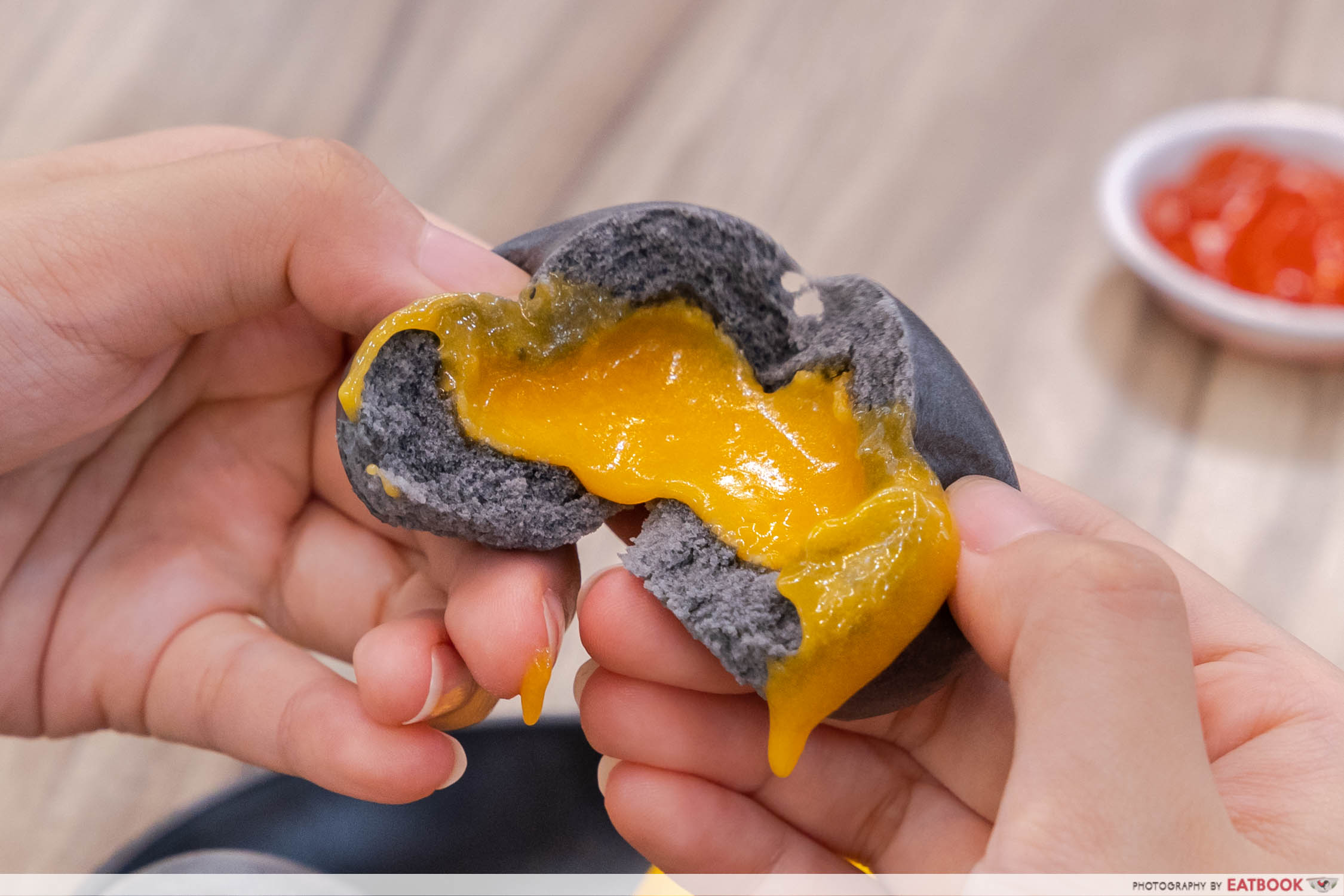 The bao burst open to reveal a stunning contrast between the molten, golden yellow core and the dark grey bun, with the lava-like custard a perfect consistency and piping hot. I loved the savoury salted egg custard and the sweet, fluffy bun, which was pretty similar to Din Tai Fung's version in quality at nearly half the price!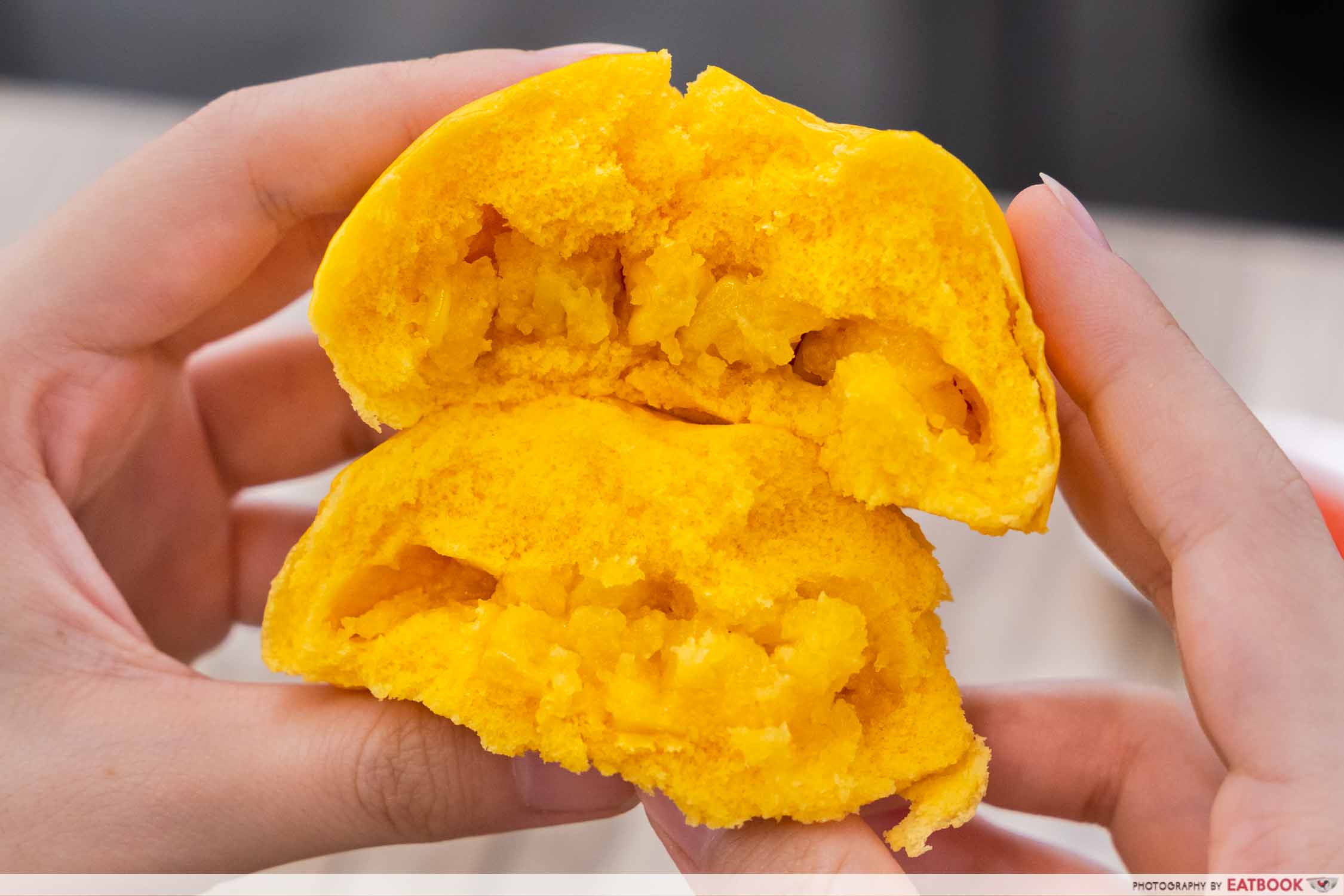 On the other hand, tearing open the large, yellow Golden Sweet Corn Bao ($1.20) after the liu sha bao was underwhelming. The colour of the bun and the filling were exactly the same, and for a quick moment, we feared that the bao was void of filling. As it turned out, the bun itself was perfectly fluffy and soft, but I felt that parts of the smooth filling not broken up by the sweet corn kernels tasted too akin to wet dough for my liking.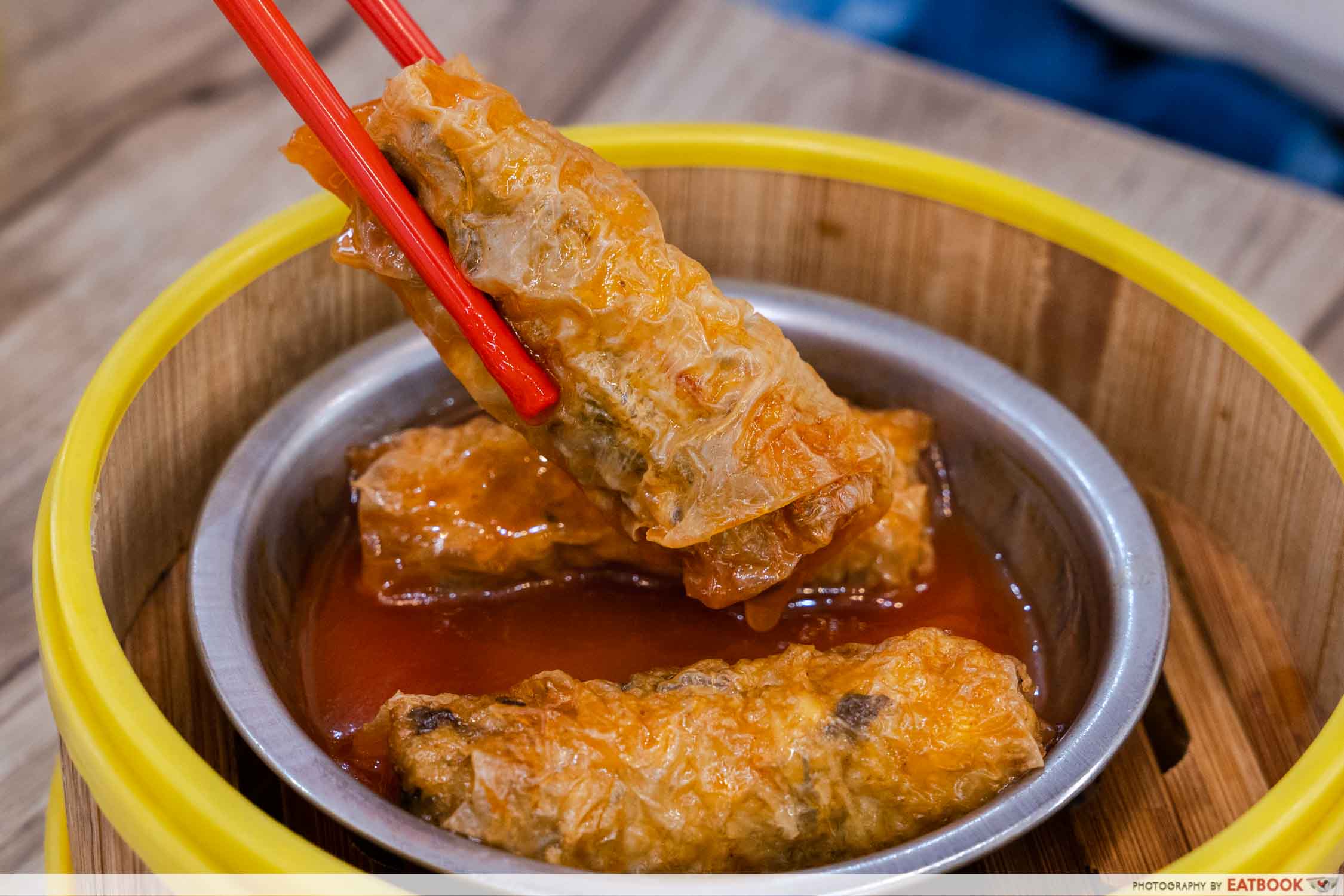 The Sweet And Sour Beancurd Roll ($3.80) included three small dim sum-style beancurd rolls drenched in a small puddle of sweet and sour sauce.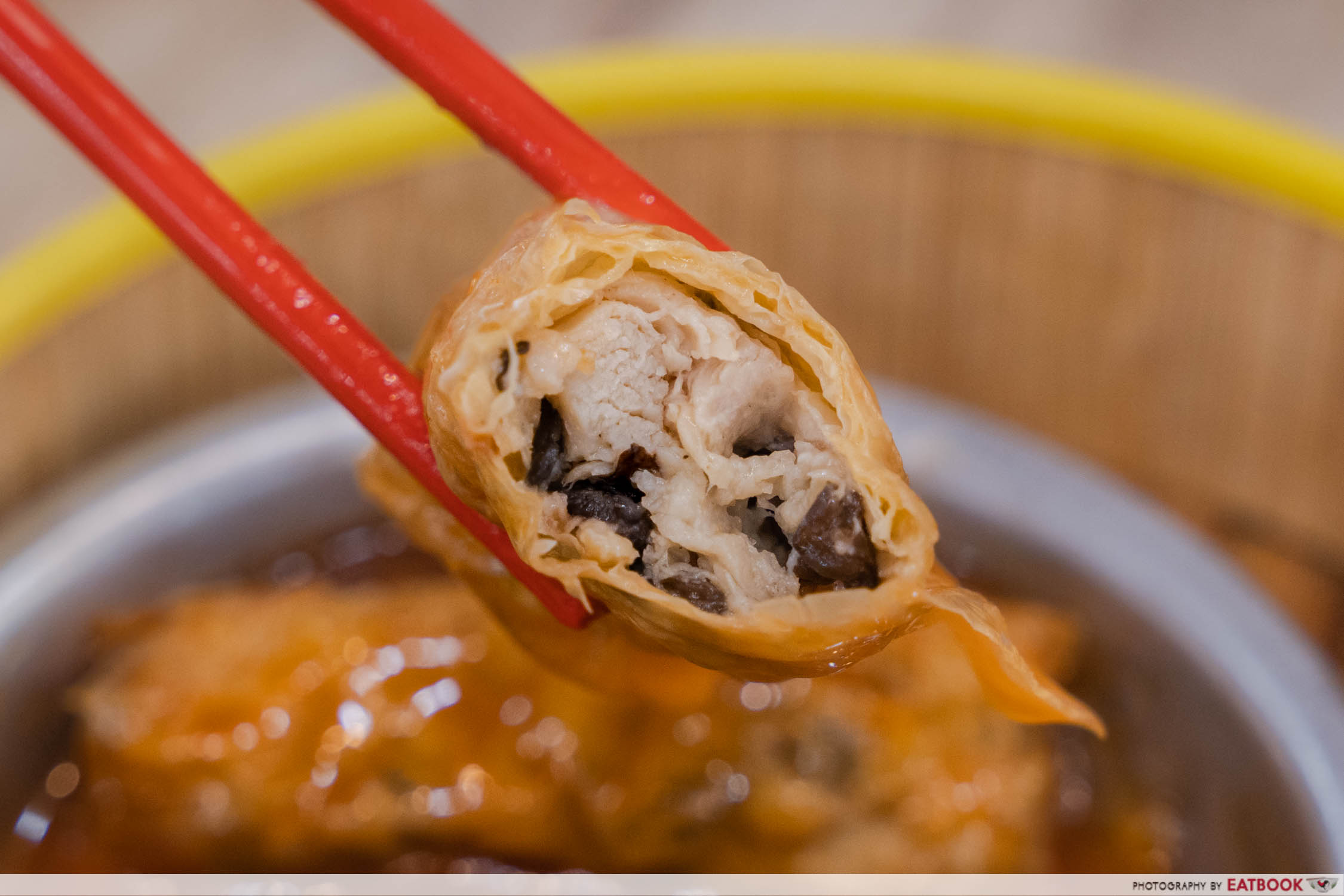 Most of the flavour in this dish came from the sauce, and the roll itself was rather bland with the minced chicken and black fungus filling not sufficiently seasoned. I also felt that they could have used a smaller sheet of beancurd skin when making such small rolls, as the skin being wrapped multiple times over made the exterior thick and hard to bite through.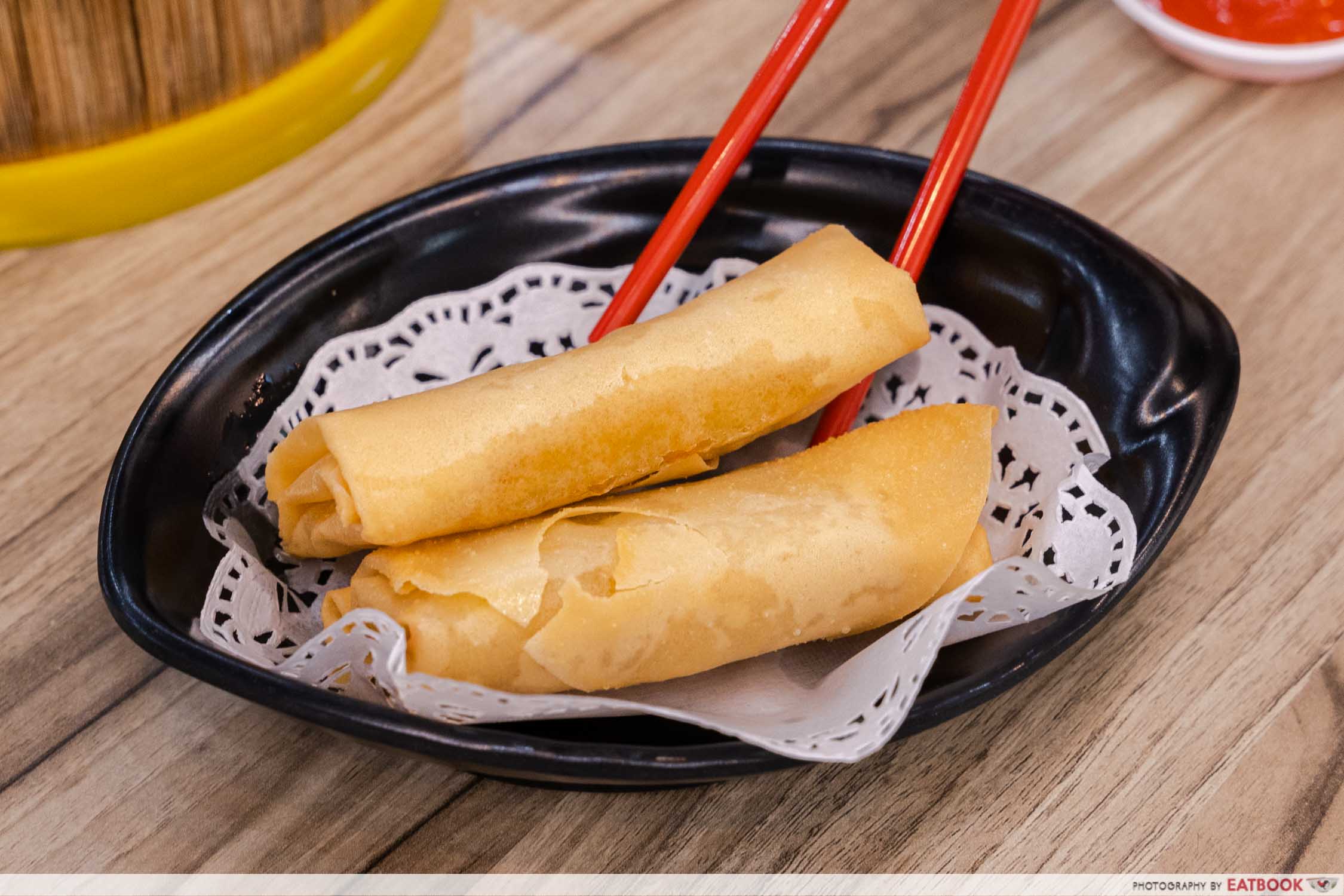 The most unique dim sum on the table was the Lava Durian Roll ($4.50). I don't like the taste or smell of durians. Fortunately, my dining companion loves them. Unfortunately, I've always said that I'd try anything at least once, so I held my breath and took a bite.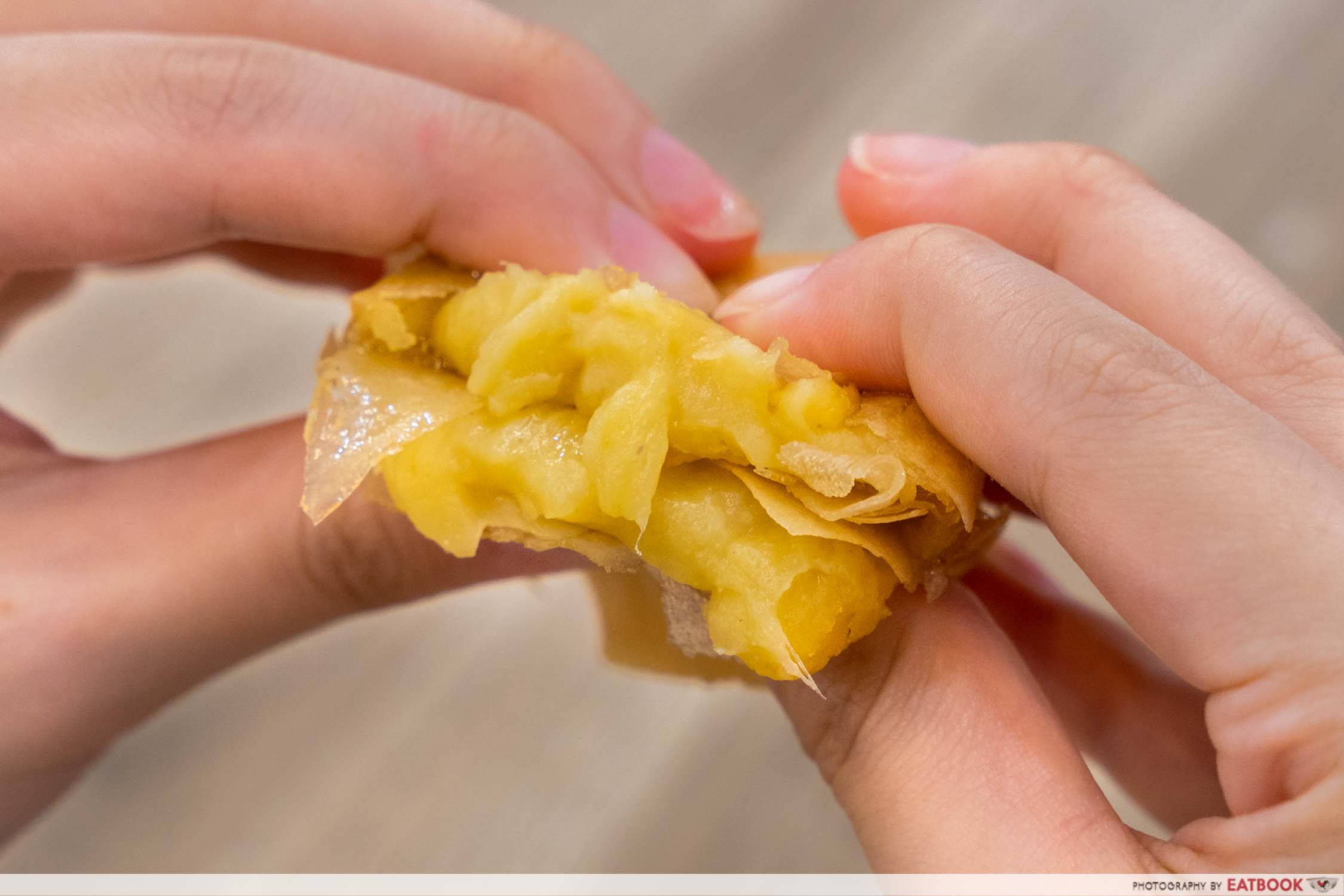 This roll did not make me change my opinion on durians. It does have an incredibly crispy skin and the stall was generous with the creamy, very musky filling, though as I had to squeeze the paste out I didn't think it lived up to the 'lava' in its name. 
To provide the thoughts of my friend, she felt that the creamy durian paste was mild in flavour without a strong durian taste and so 'not the best', but seemingly good enough that I watched her polish off the rest of the rolls over the course of our meal.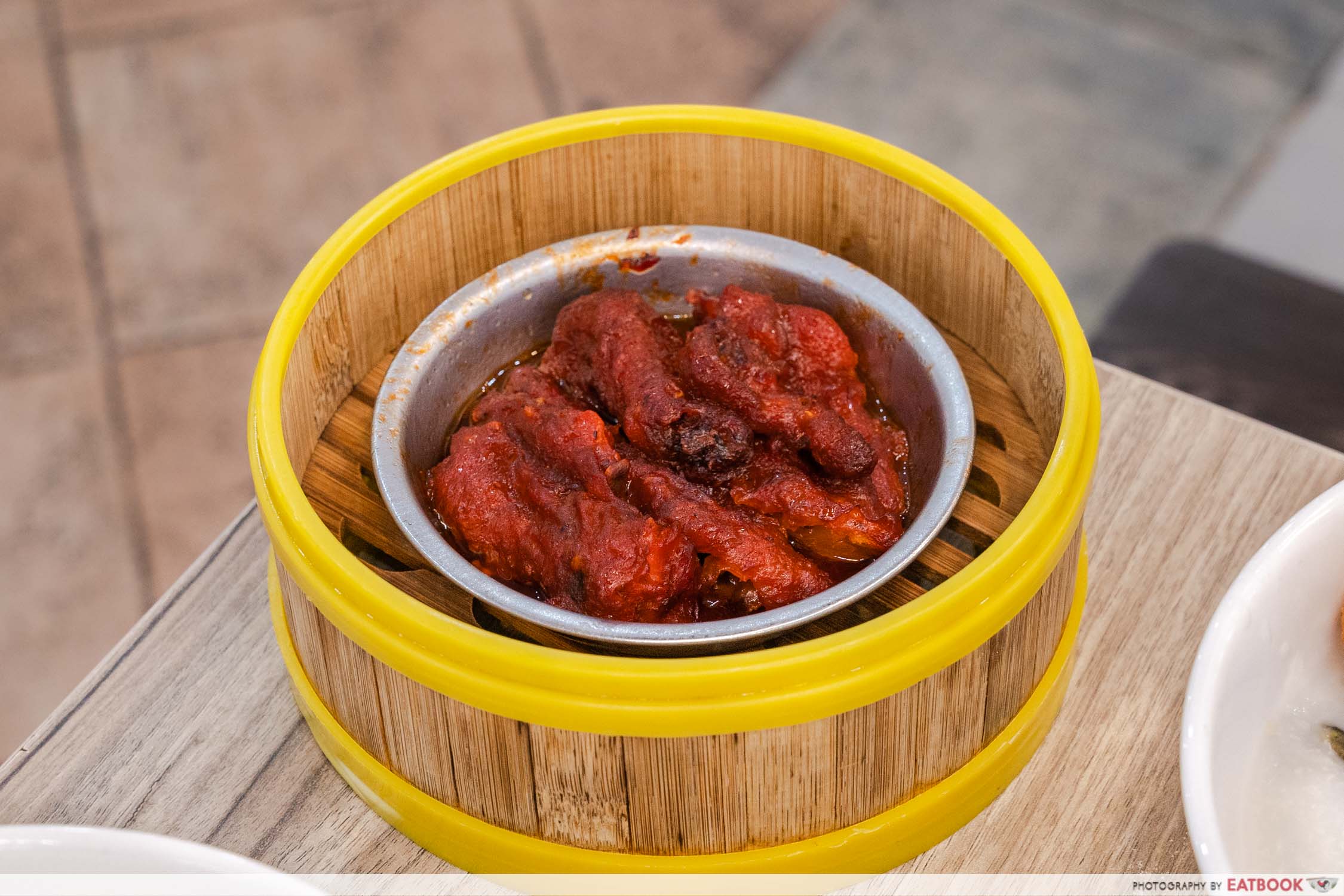 Our last dim sum order was an old-school dish my mum only came to love in her 40s: Guilin Sauce Chicken Feet ($3.80). Oddly, the chicken feet here were chopped up into small bits, so instead of the whole foot, you get to suck individual toes. The skin on these toes were also extremely moist and coloured a striking crimson from being drenched in Guilin sauce: a spicy mix of chillies, fermented soybeans, and garlic.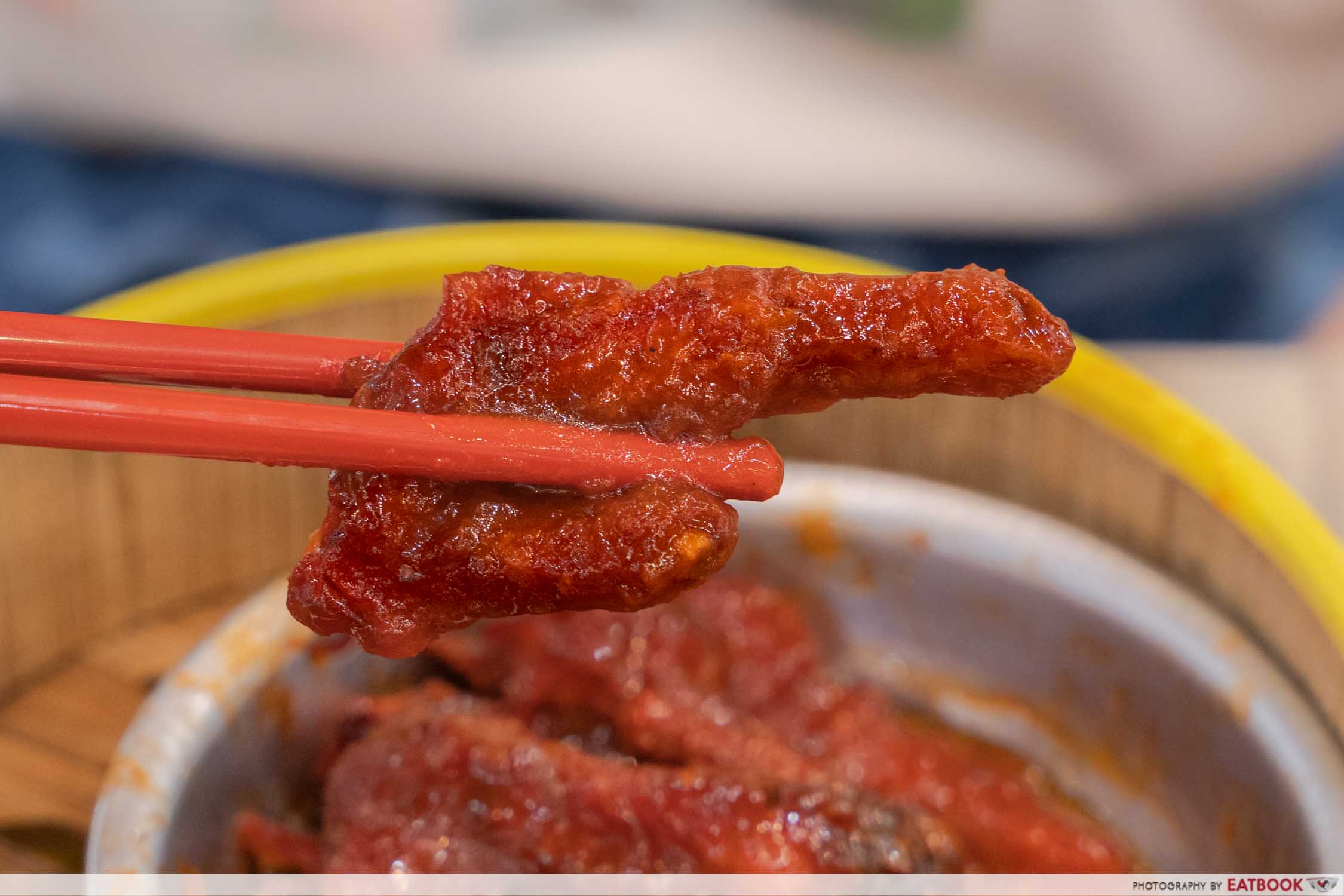 It's definitely tender, with the puffy skin and gelatinous cartilage very soft, and the toes well-seasoned with Guilin sauce. I didn't register any spice at all, but that was because I was too occupied with the unique texture of chicken feet assaulting my tastebuds. Those who enjoy chicken feet would likely find this a perfectly good rendition, but as someone who isn't a trotter or goose web fan either, feet just doesn't do it for me. 
If I thought the chicken feet lacked some spice, the Spicy Sesame Sauce Dry Noodles ($5.50) most certainly did not. At first glance, this Ipoh-style, Hakka noodle dish seemed fairly unassuming, with bouncy, round fish and meatballs, fried fishcake, veggies, and a small smattering of sesame seeds on top of noodles that had been tossed in a spicy sauce mix.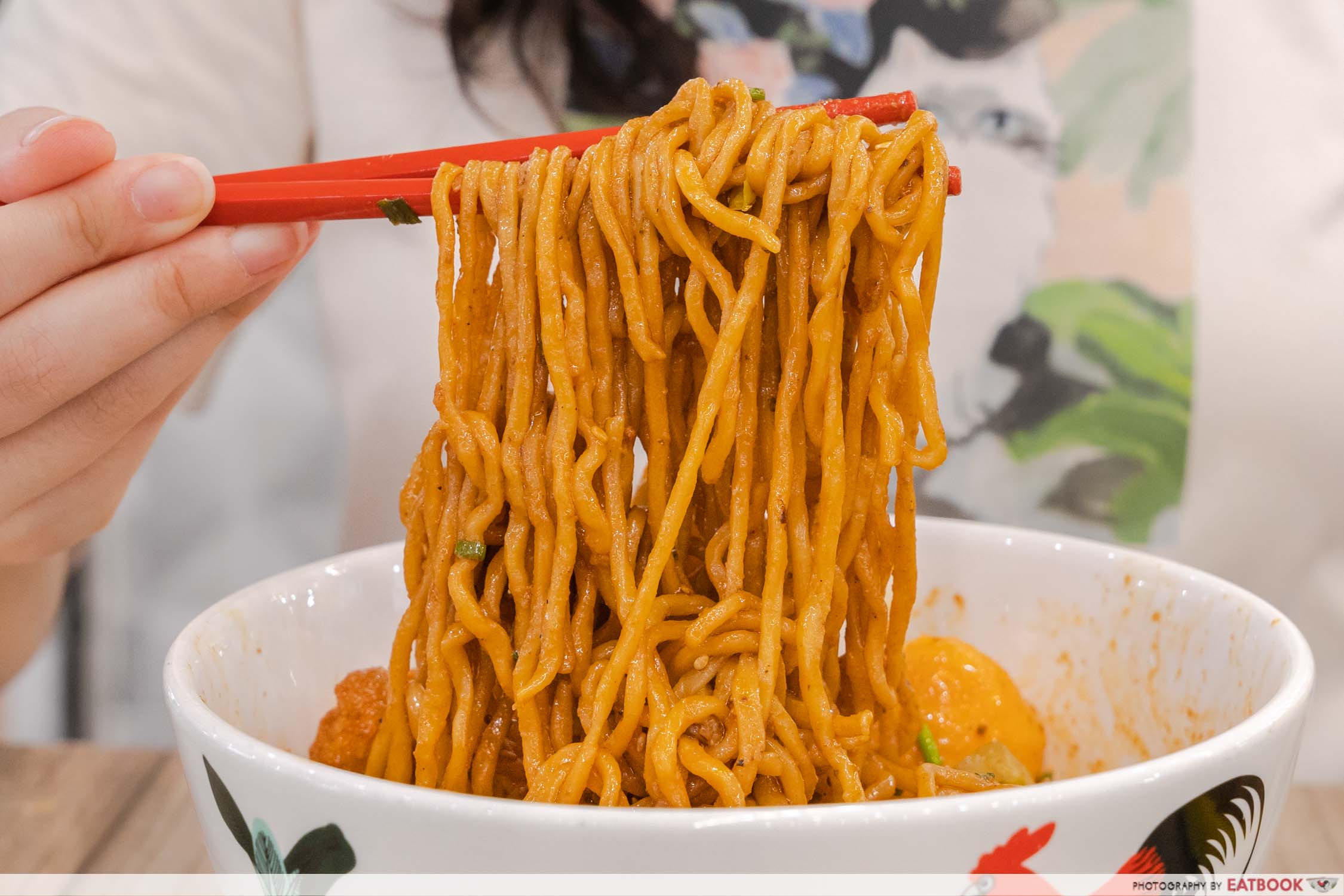 Alarm bells started ringing once we mixed the bowl up and a spicy aroma started wafting in the air. The noodles here were springy and well coated in the sesame chilli oil. When we took a bite of the now slick noodles, they were too hot for us to handle without drinks on hand, as they lingered in the back of our throats with a numbing feeling reminiscent of mala.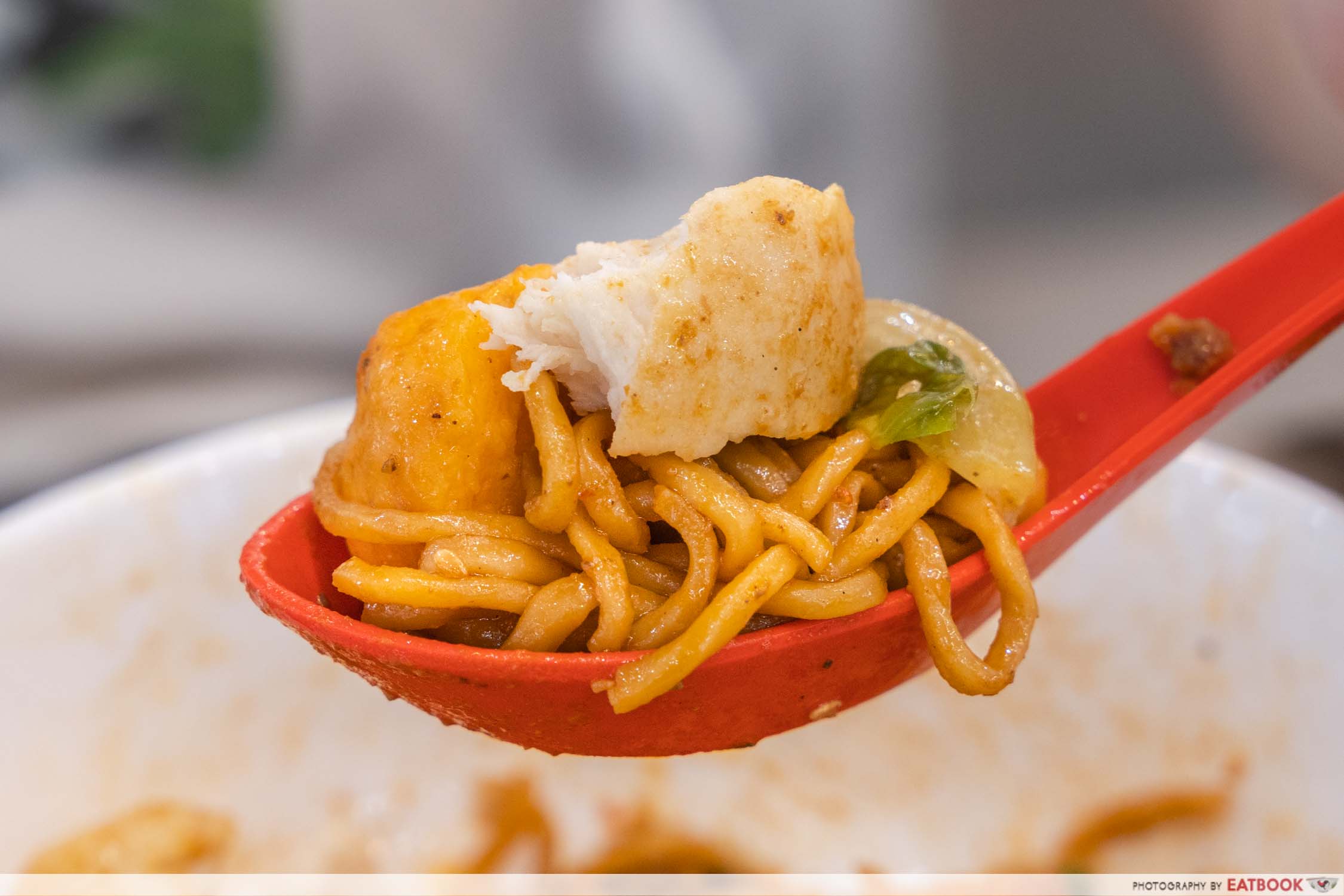 I feel that the spice was a major factor as to why this bowl was so memorable. It permeated into all the ingredients such as the meatballs, fishball, and fish cake, which were otherwise decent, but not particularly special.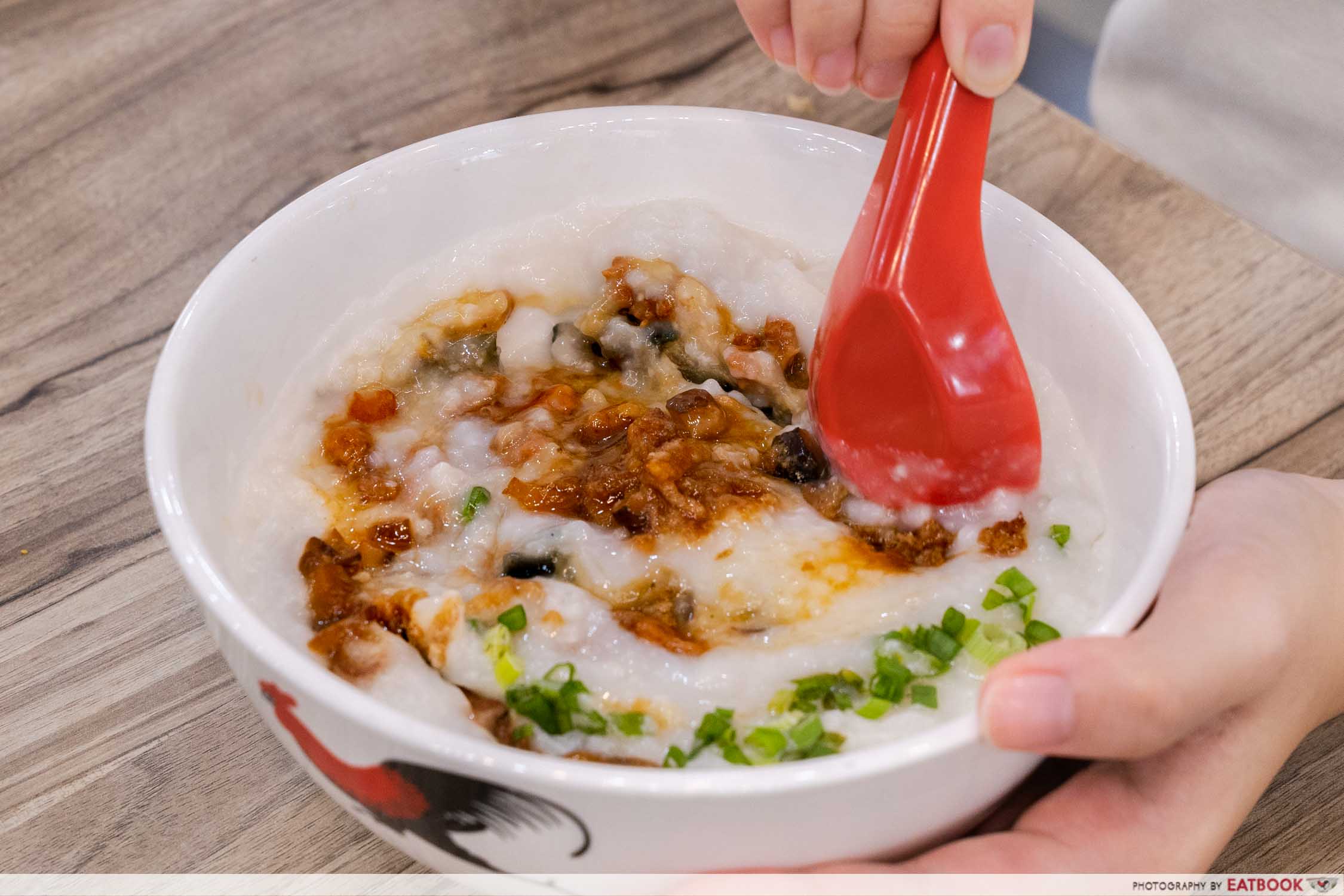 Moving on, I love century egg porridge, and Lao Foong Ji's Minced Meat and Century Egg Congee ($3.60) was both affordable and delicious.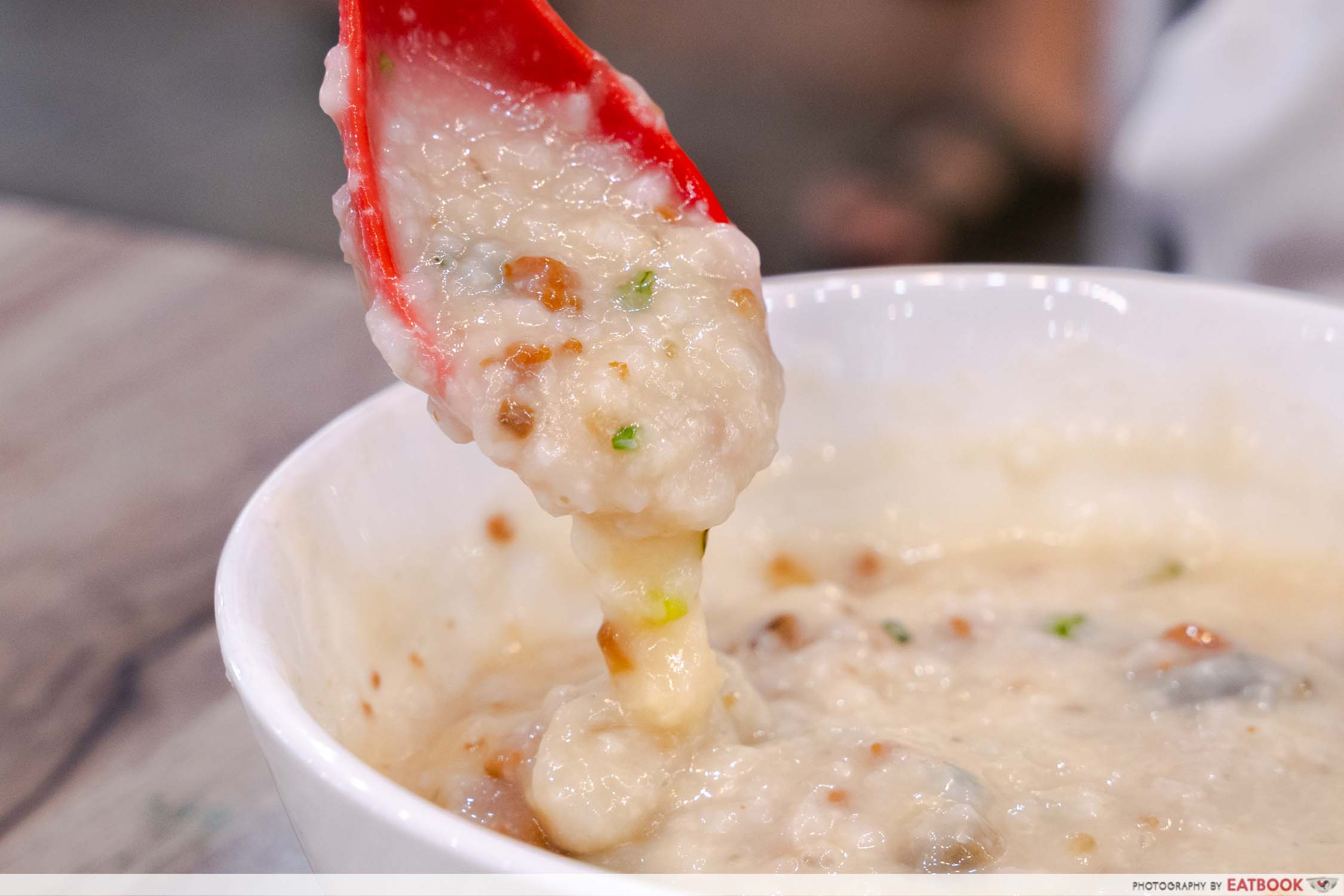 The Cantonese-style porridge was thick and very well-seasoned, and its milder, creamier taste was a much-needed escape after the fiery heat of the noodles.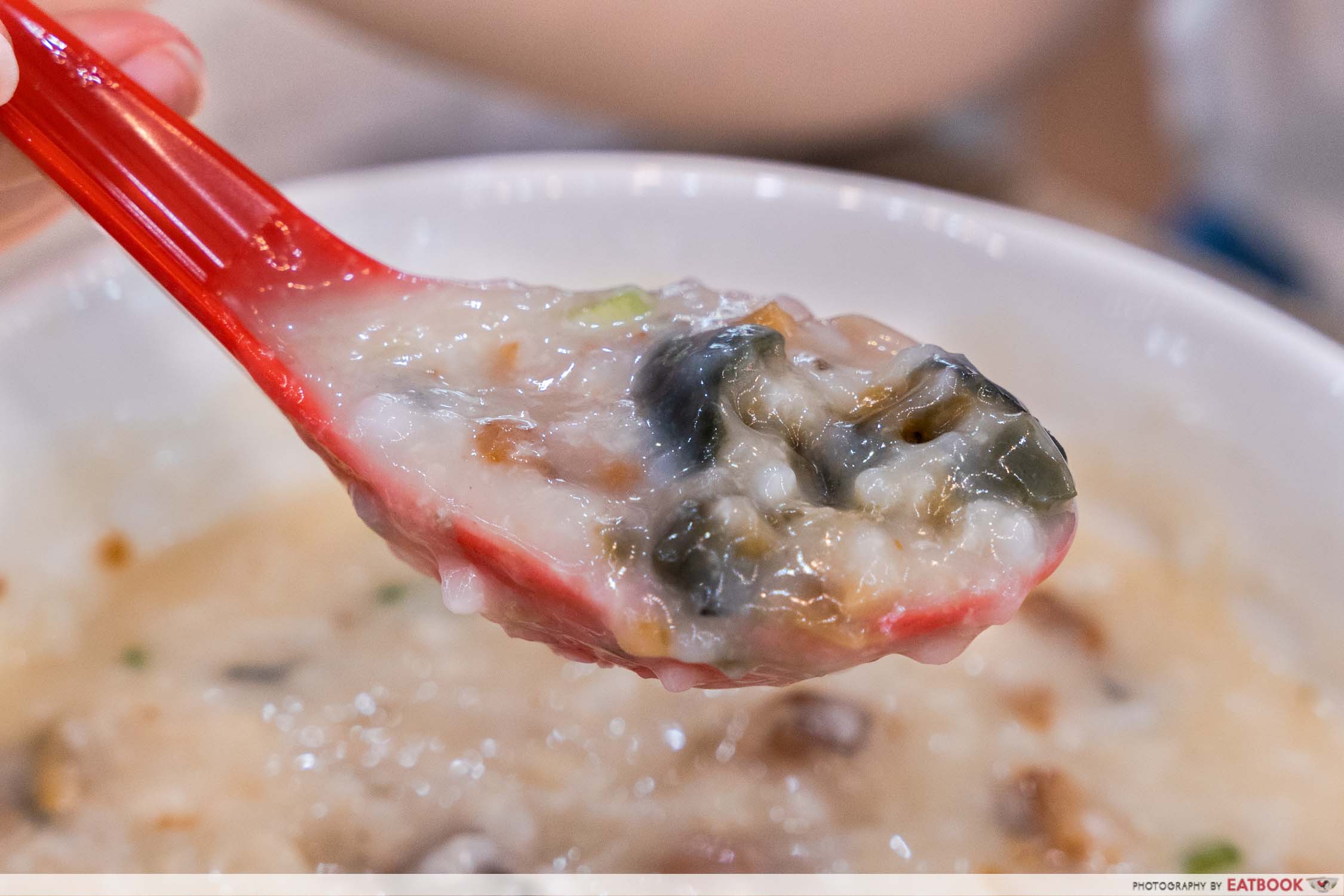 I enjoyed how the smooth texture was also broken up by the presence of tender minced pork, spring onions and rich century egg. You also get half a stick of youtiao in your bowl that came hot and very crispy. Overall, a very satisfying bowl of congee that I absolutely recommend trying.
Pang's Hakka Noodles Review: Springy Noodles With Crispy Lard, Abacus Seeds And More In Bukit Merah
Ambience at Lao Foong Ji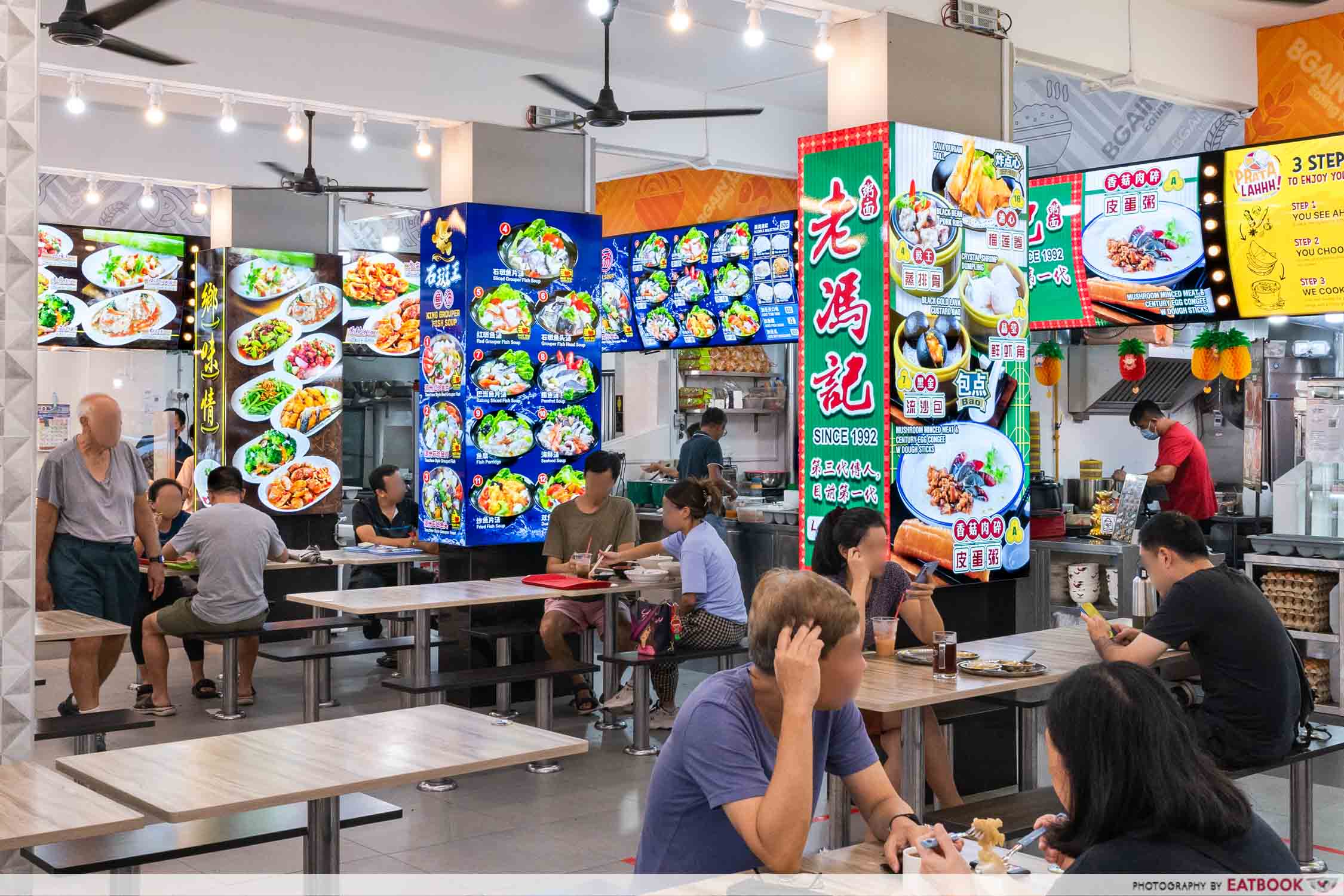 Lao Foong Ji is located in one of those recently renovated kopitiams deep within an HDB estate. It's not the most convenient to get to, being a 14-minute walk from Kovan MRT Station. The kopitiam itself is bright and airy, while the stall owners and random passersby we encountered at the place were friendly and chatty. 
The verdict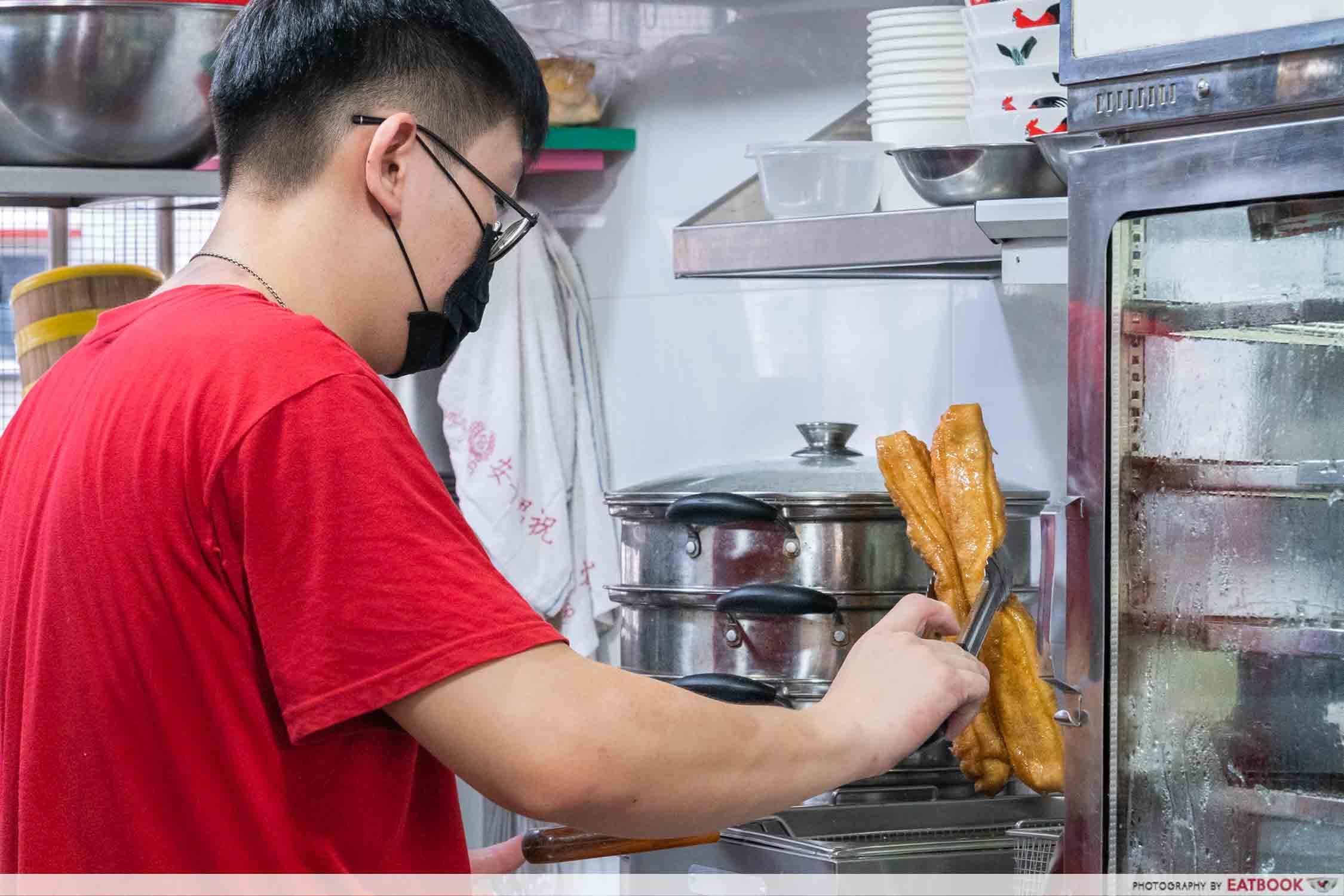 With the exception of some of the dim sum, everything else I had at Lao Foong Ji was memorable even if I didn't necessarily enjoy them, and was worth stepping beyond my comfort zone. I'll definitely will be back, though maybe I'll stick to my favourites next time. 
For more Hakka noodles, check out Pang's Hakka Noodles in Bukit Merah, or Bei-Ing Dim Sum Club on the East Coast for more unique and affordable dim sum by the famous Roxy Square wonton mee hawkers. 
Address: Block 121 Hougang Avenue 1, #01-1358, Bgain 121 Coffee Shop, Singapore 530121
Opening hours: Daily 8am to 7:30pm
Website
Lao Foong Ji is not a halal-certified eatery. 
Bei-Ing Dimsum Club Review: Famous Wonton Mee Founders Sell $1.50 Truffle XLB, Deep-Fried Bao And More
Pictures taken by Tan Jia Hui
This was an independent visit by Eatbook.sg
Lao Foong Ji Review: Ipoh-Style Hakka Noodles, Century Egg Porridge, And Durian Dim Sum In Hougang
Lao Foong Ji Review: Ipoh-Style Hakka Noodles And Durian Dim Sum In Hougang -

7.5/10
Summary
Pros: 
– Affordable prices
– Minced meat century egg congee was delicious 
Cons: 
– Corn bao was underwhelming
– Not the most convenient to get to
Recommended Foods: Black Gold Lava Custard Bun ($3.60), Spicy Sesame Sauce Dry Noodles ($5.50), Minced Meat and Century Egg Congee ($3.60)
Opening hours: Daily 8am to 7:30pm
Address: Block 121 Hougang Avenue 1, #01-1358, Bgain 121 Coffee Shop, Singapore 530121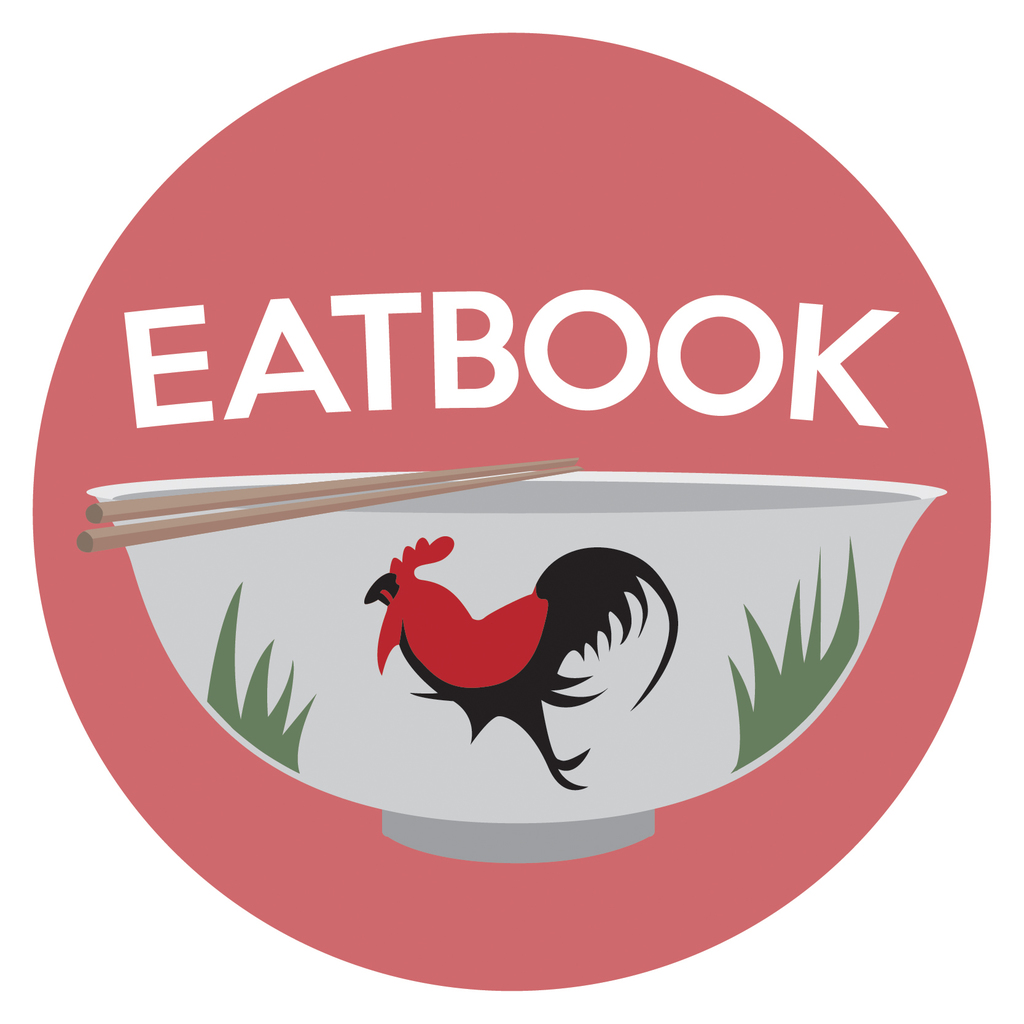 Drop us your email so you won't miss the latest news.