My Little Pony cafe in Orchard Central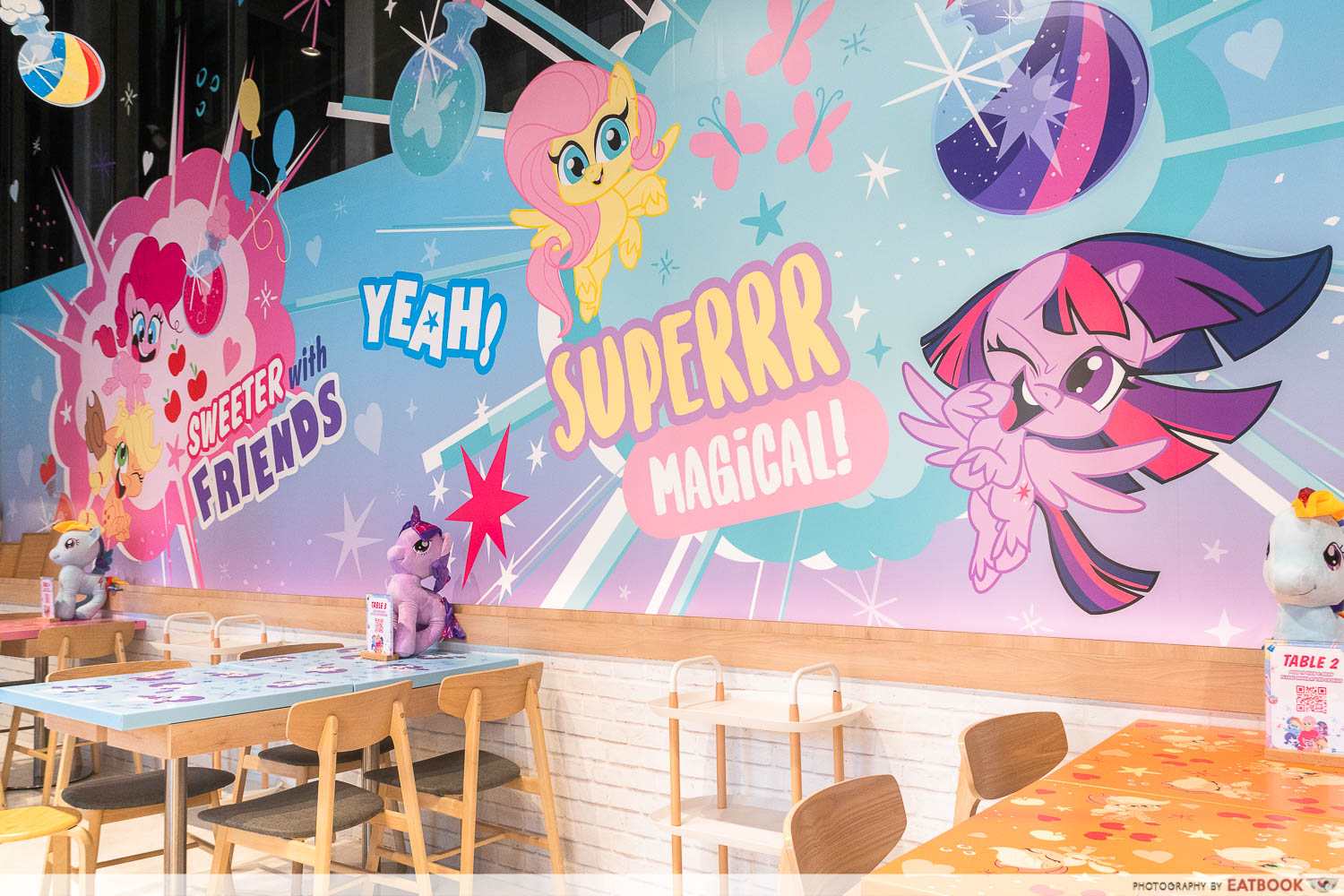 In addition to their list of adorable pop-up concepts such as Spongebob Squarepants and Hello Kitty, Kumoya is bringing back the much-beloved My Little Pony cafe! This latest installation will be available for a limited time only, at Orchard Central from 24 March 2022.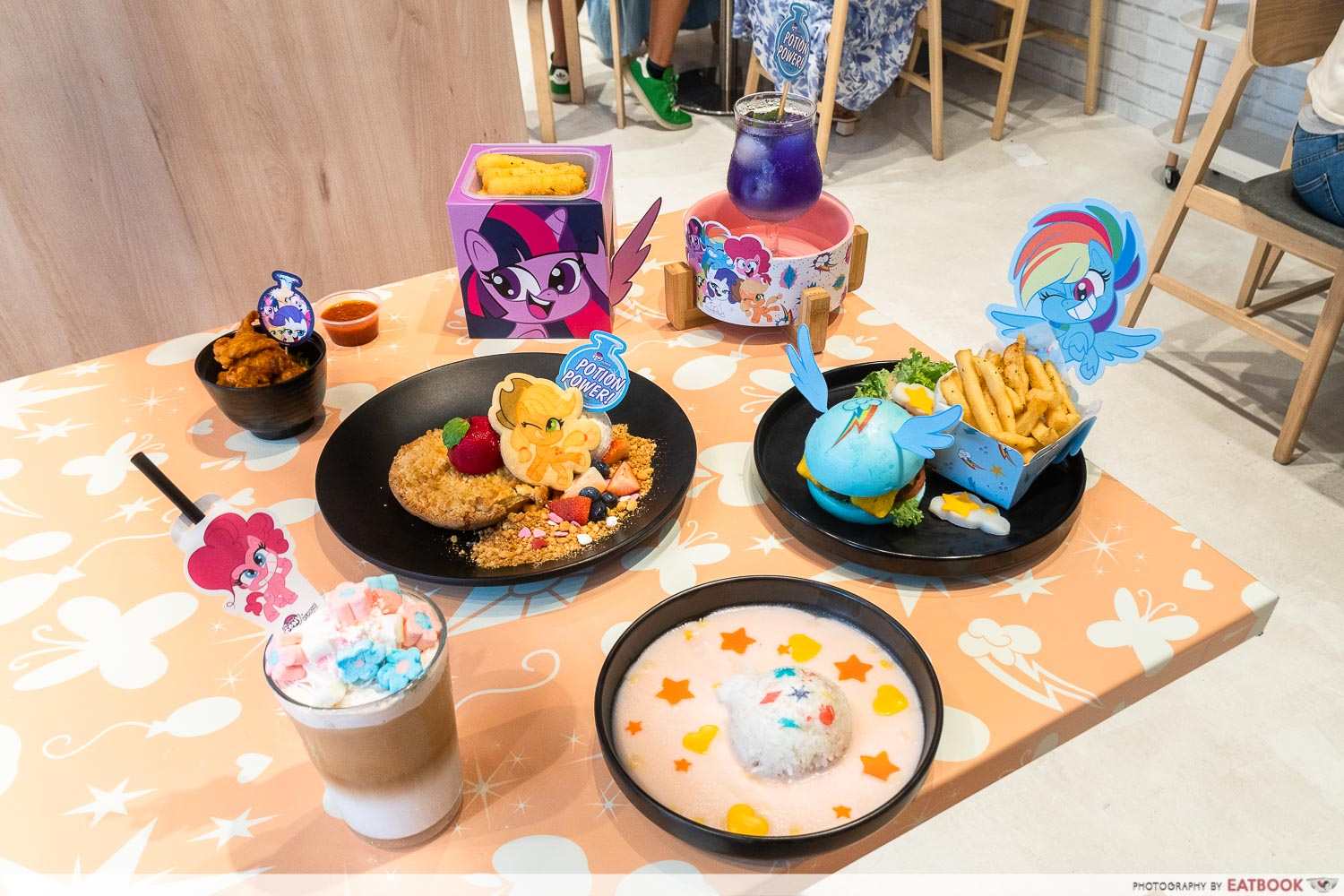 Inspired by the adorable characters from the animated children's show, the cafe will sport My Little Pony decor, and serve a menu that's been specially designed by Shirley Wong, more popularly known by her Instagram handle @littlemissbento. Her menu for this latest pop-up features six snacks, five mains, three desserts, and 11 drinks.
Food at My Little Pony Cafe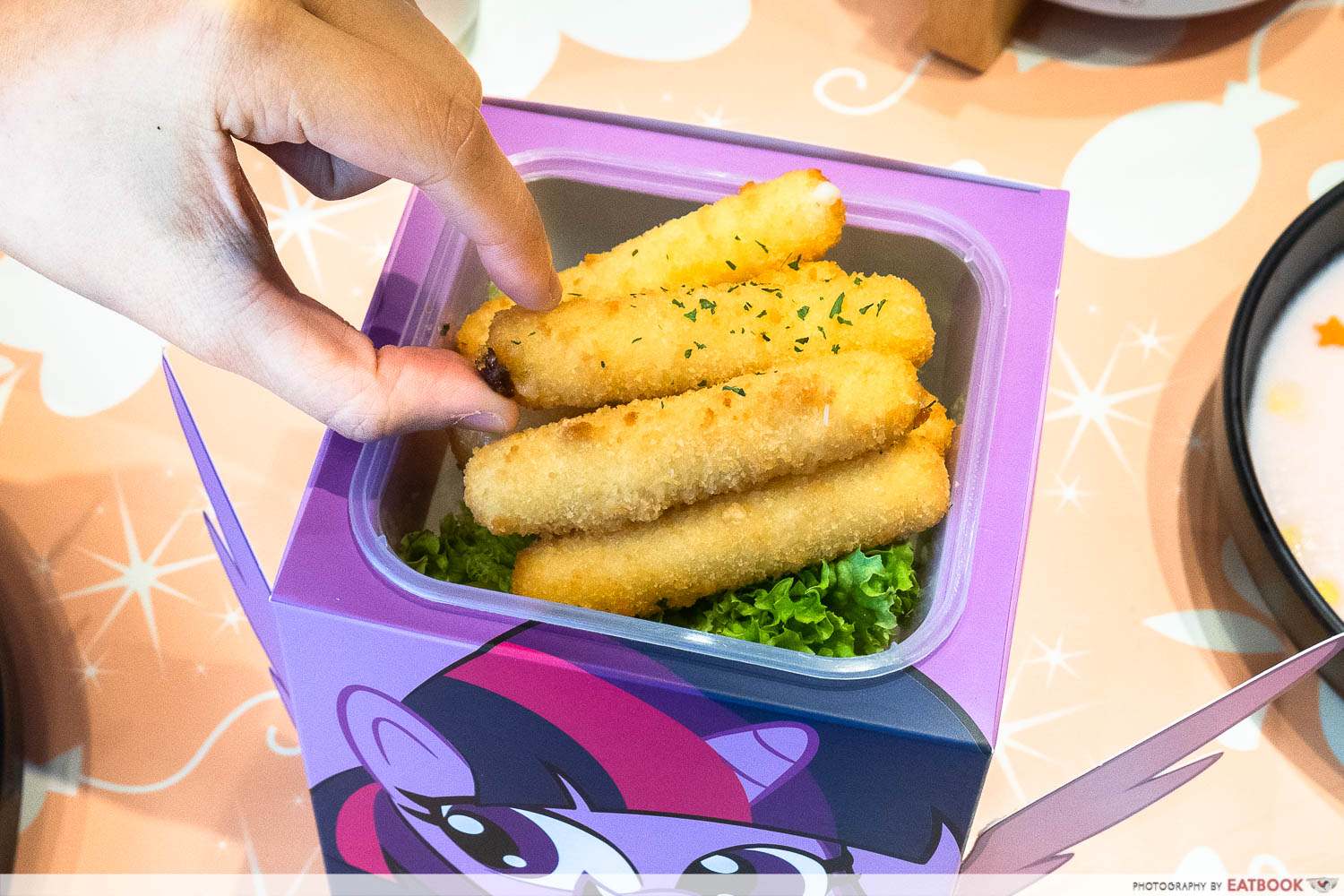 You won't go wrong with the Mozzarella Cheese Sticks ($12.90+) to start.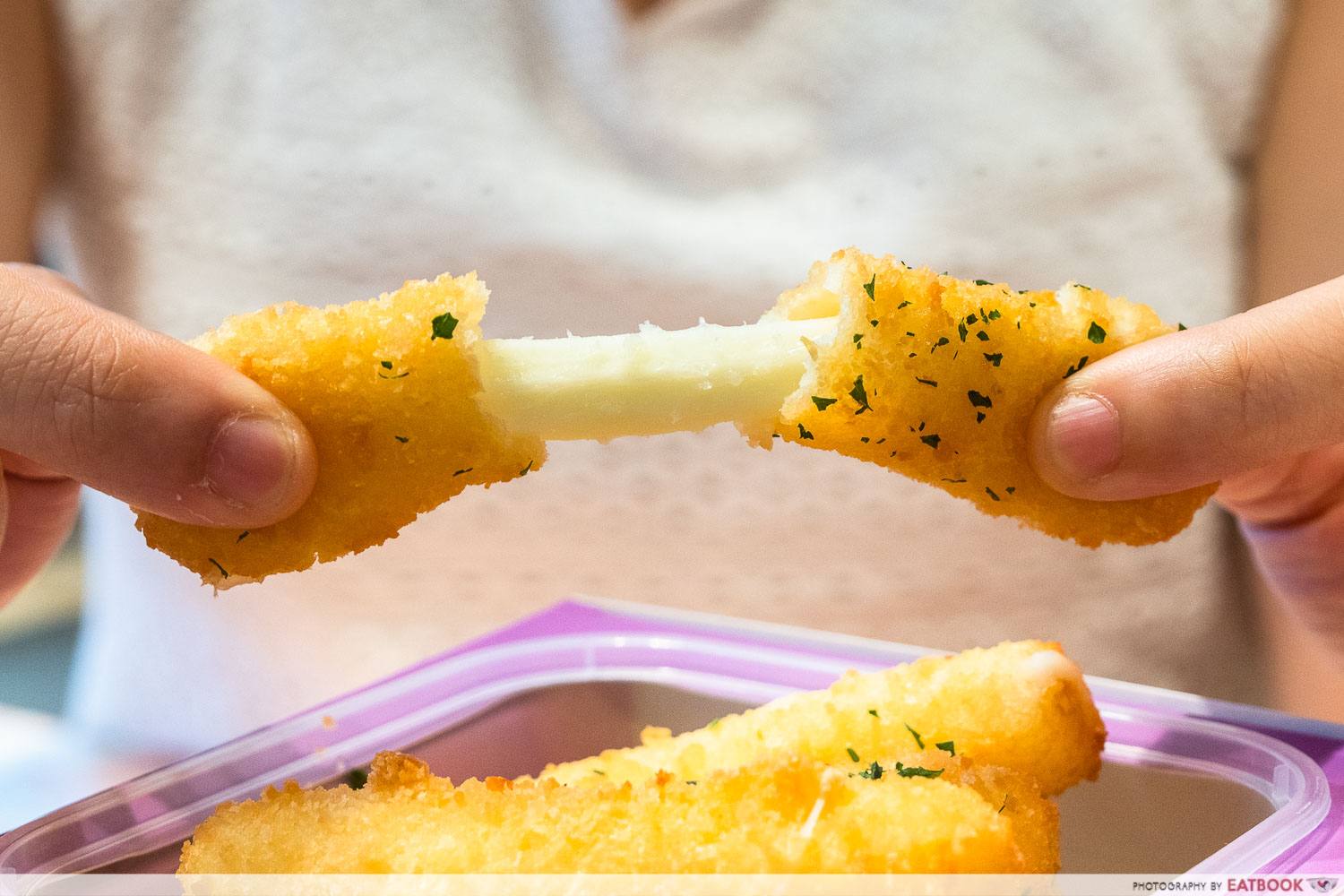 These were proper stringy without being too salty, and while I found them a little bland, a dip in the flavoursome tomato sauce did the trick to add a zing.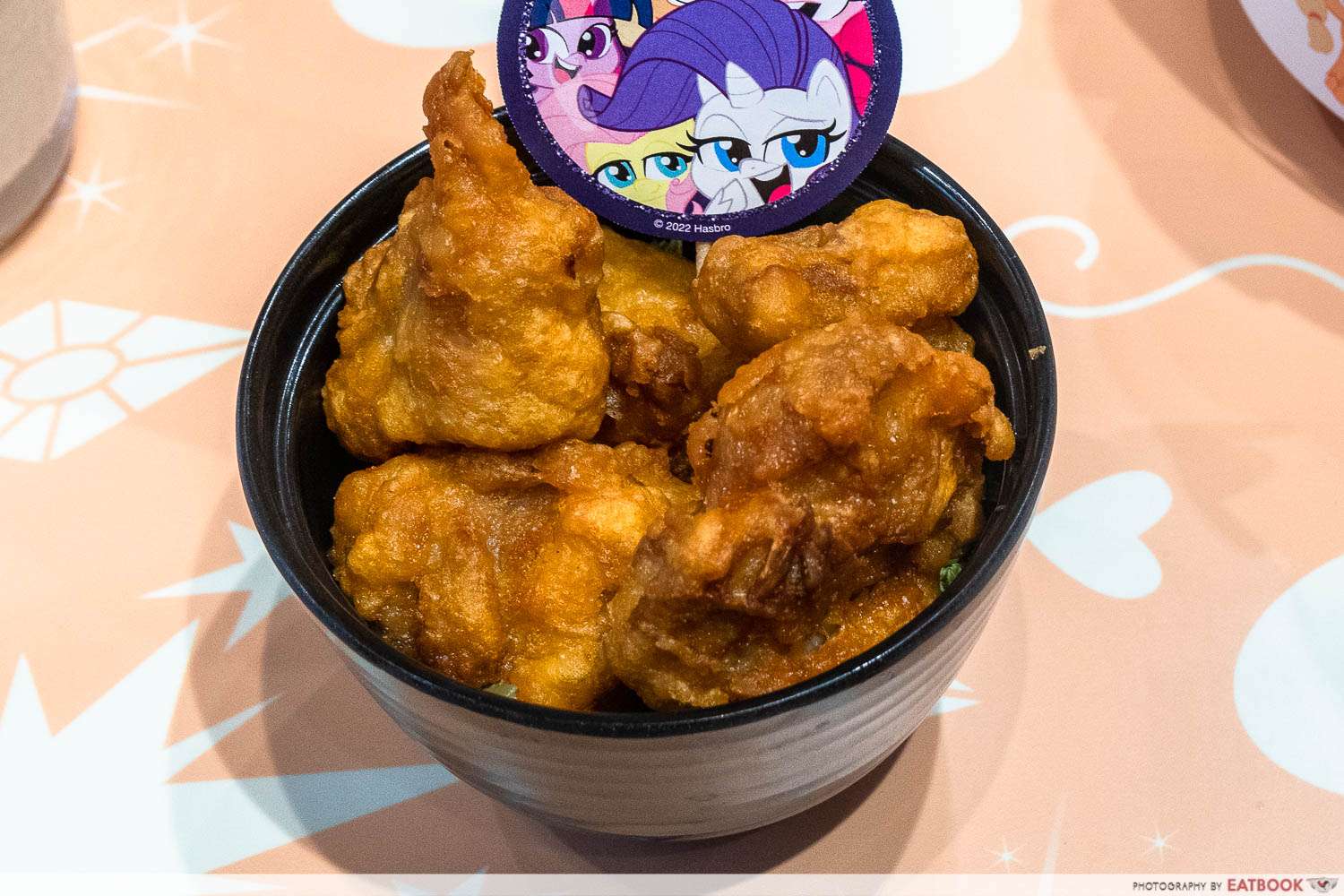 If you're still feeling peckish, get the Karaage Chicken With Soy Garlic Glaze ($15.90+), which comes with a soy garlic dip that you can pair with the crispy karaage chicken. Otherwise, you could also consider getting a side of Hand Cut Truffle Fries ($14.90+) or the Impossible Mini Corn Dog ($14.90+).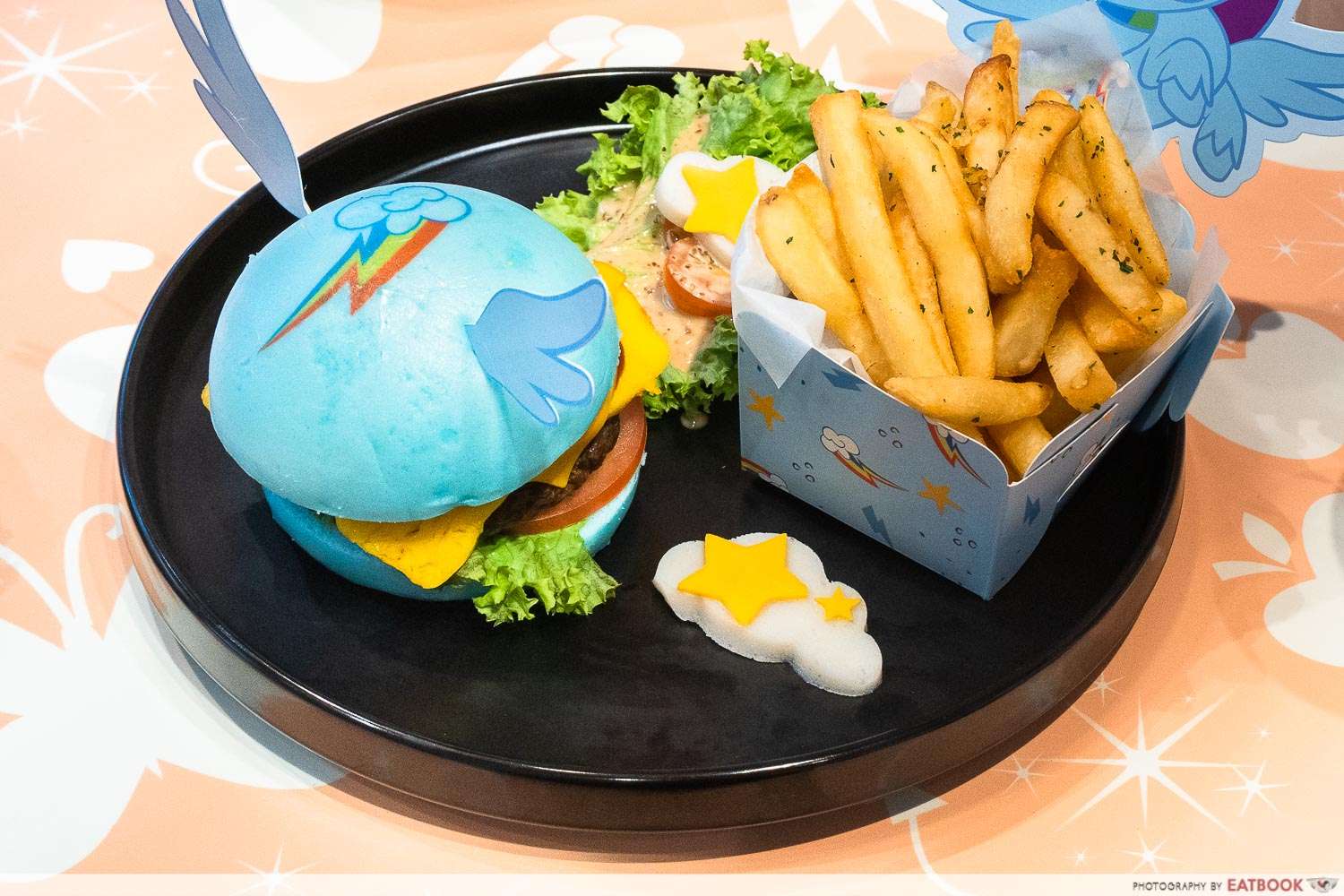 For mains, fill up with The Dashing Magical Rainbow Dash Impossible Plant-Based Burger ($27.90+). We were intrigued by the blue mantou, which turned out to be surprisingly light and fluffy despite being left out for a while. Held within the soft buns were a house-made Impossible patty, cheddar cheese, tamago, and caramelised onions. You also get a side of fries and salad.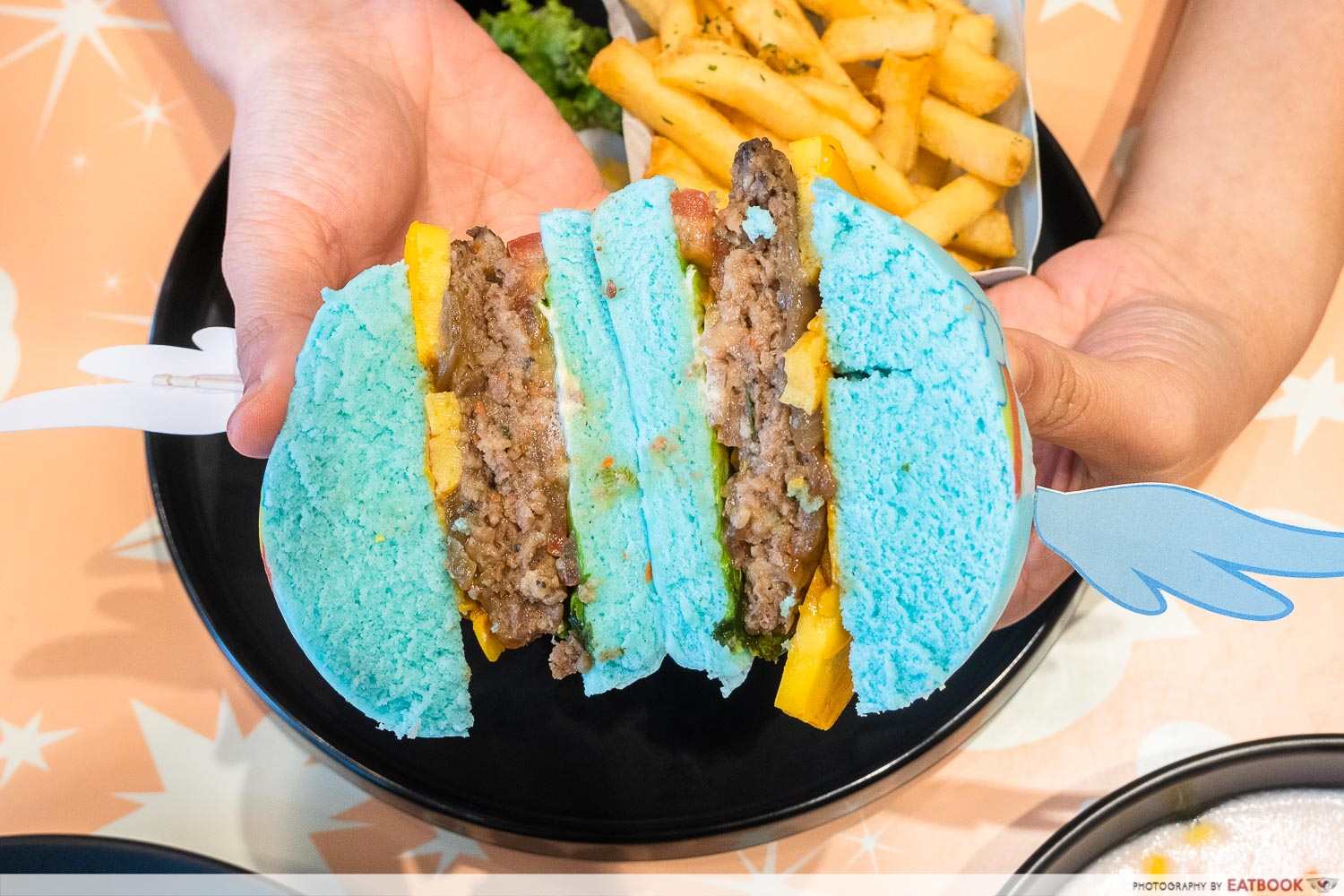 The savoury plant-based patty was well-seasoned, and contrasted well with the sweetness from the Japanese egg and onions. I enjoyed this burger, but found myself wishing it was slightly bigger.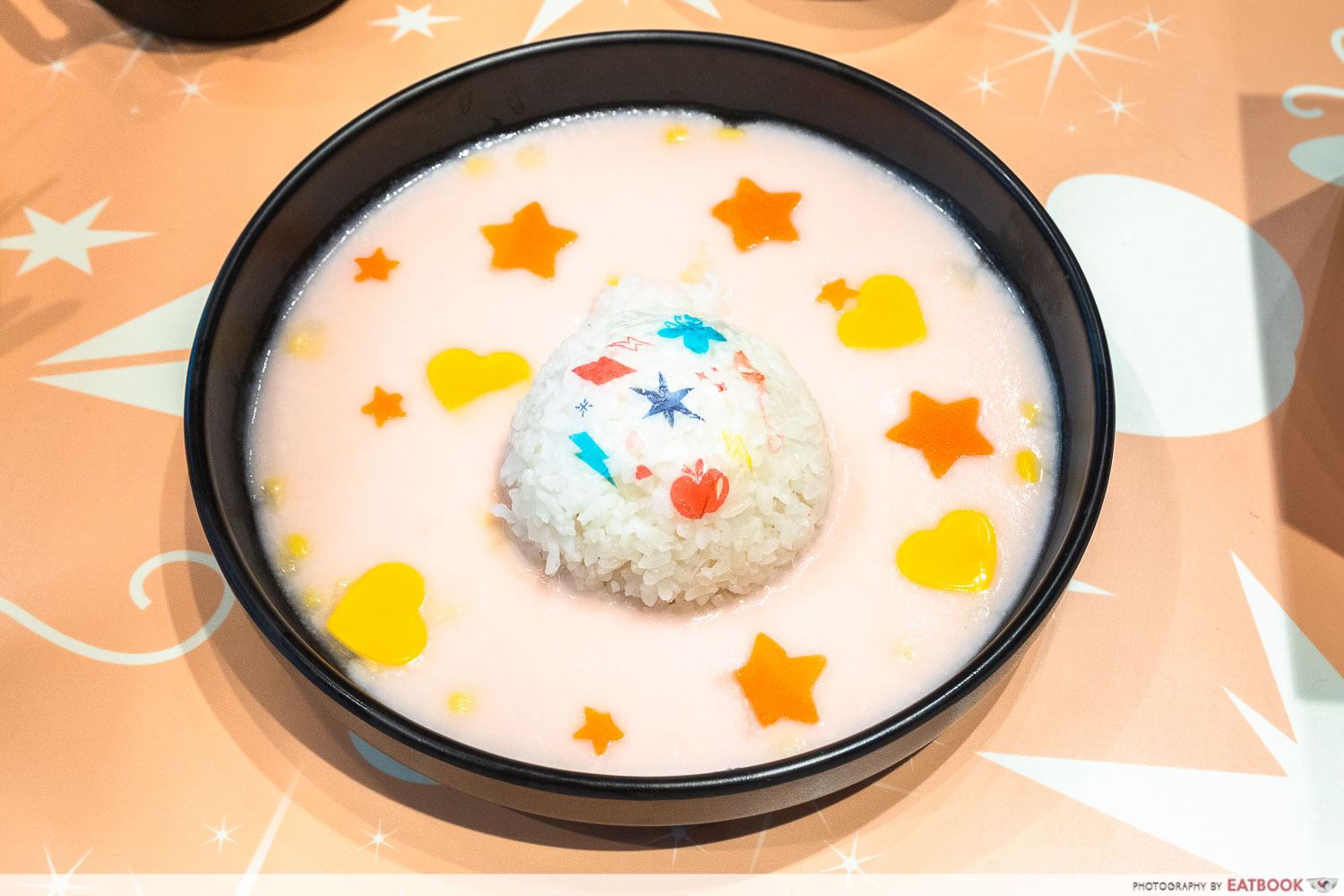 Those who prefer rice as their carb of choice can try the Magic Potion Karaage Chicken With Beetroot Cream Rice ($26.90+). This cute dish looked just like its picture on the menu; you get a rice mount shaped like a potion bottle, accompanied by a generous serving of pink-hued, beetroot cream sauce. Carrot stars and cheddar cheese hearts adorn each plate, making it even more photo-worthy. You also get a small serving of the fried chicken chunks, which we wiped out almost immediately.
Spongebob Squarepants Pop-up Cafe Opens With Croquette Curry Rice, Sweet Potato Mochi Balls And More
While I appreciated the aesthetic effort, I felt that the rice was too sticky and clumpy, while the beetroot-infused sauce was fairly bland. The creamy sauce had a thick consistency, which made it less appetising after our prolonged shoot. This dish is definitely best enjoyed as soon as it hits your table.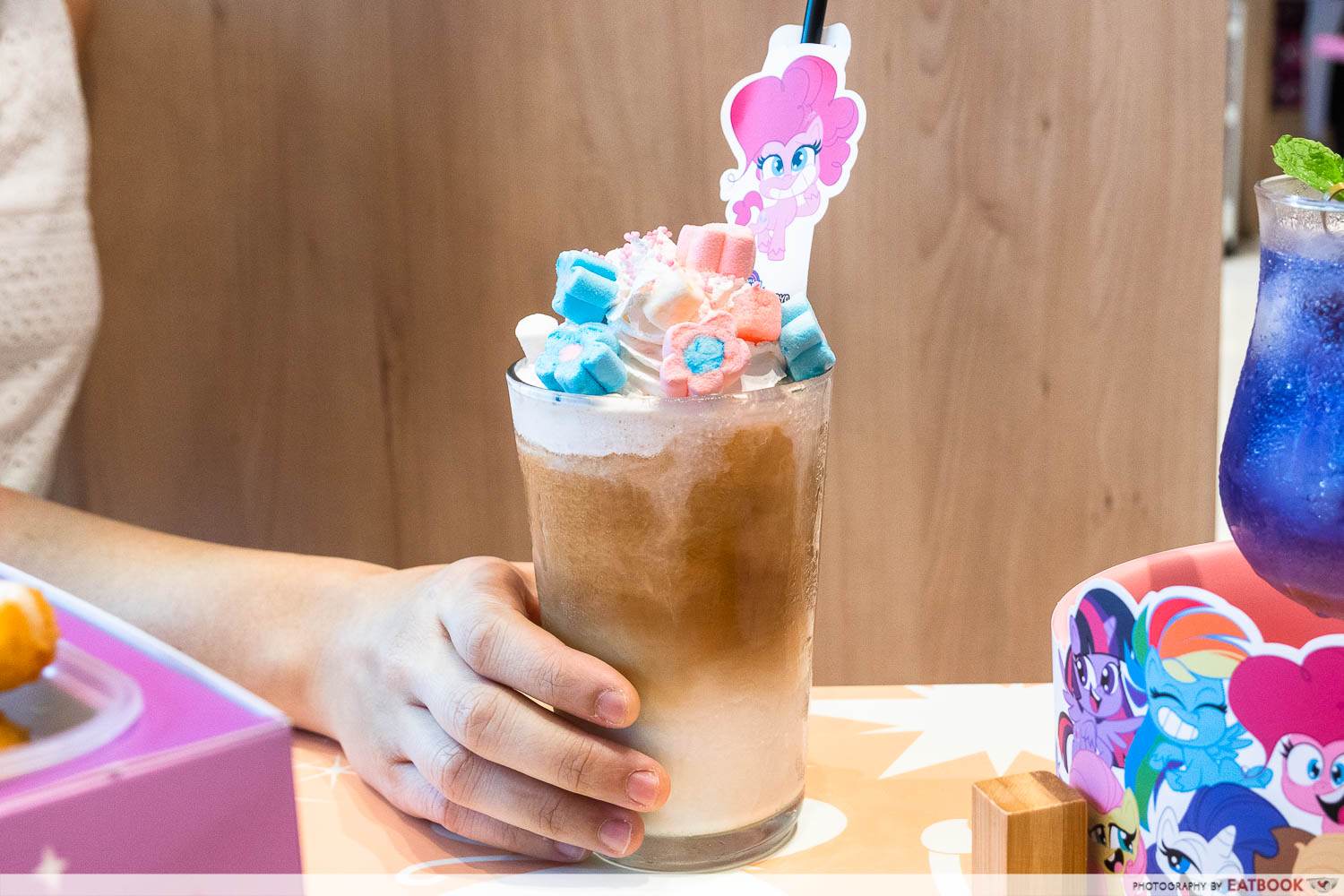 If you like your coffee extra creamy, you might enjoy the Pinkie Pie Iced Latte ($12.90+). I found it way too milky for me, so this did not give me the caffeine kick I needed. The price for this drink was also rather steep for a latte, so I'd give this a miss.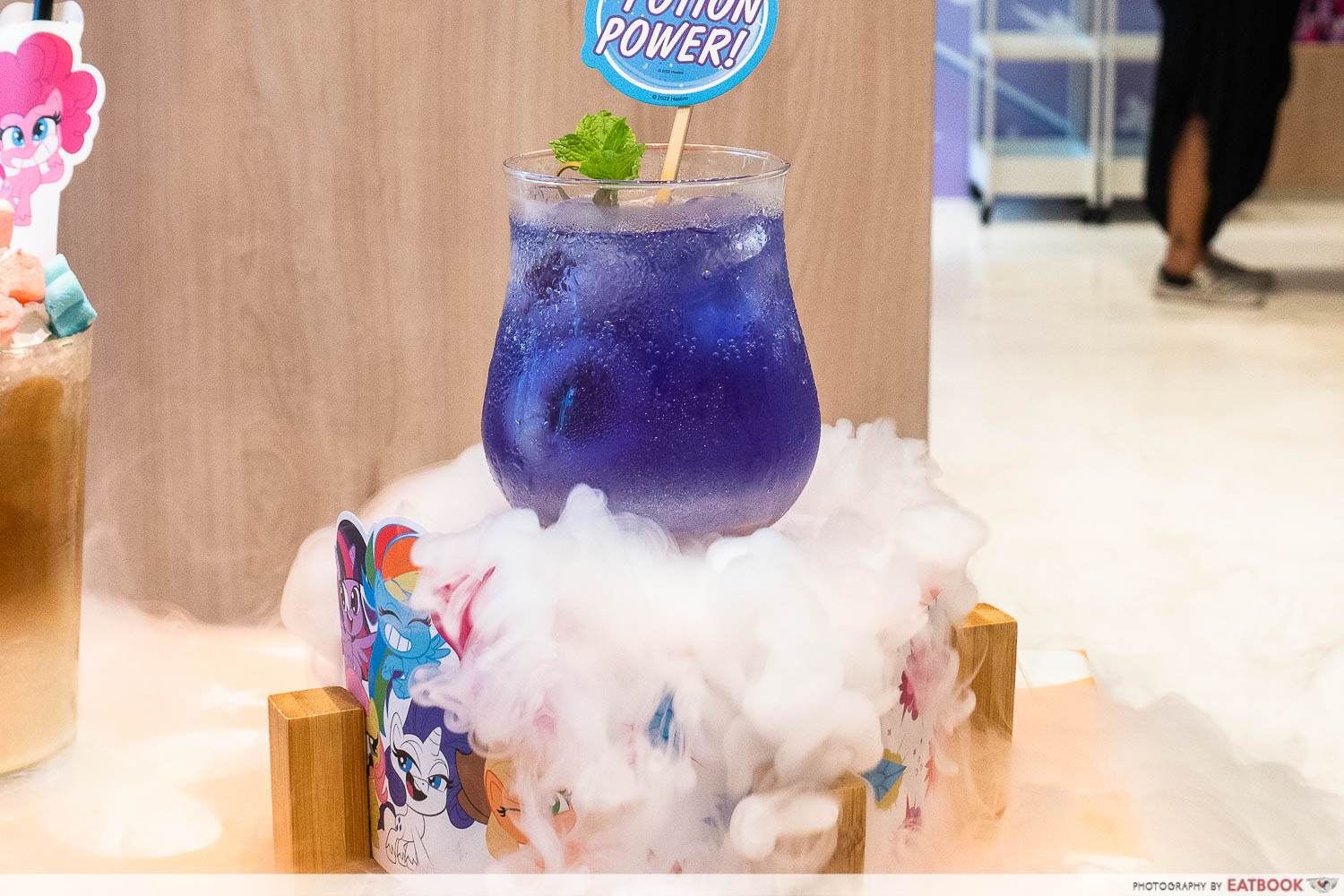 There's also a fancy-looking Lychee Yuzu Galaxy Soda ($13.90+), which was thankfully not too sweet. Served with dry ice for a theatrical effect, this refreshing beverage came with two lychee pieces for extra texture.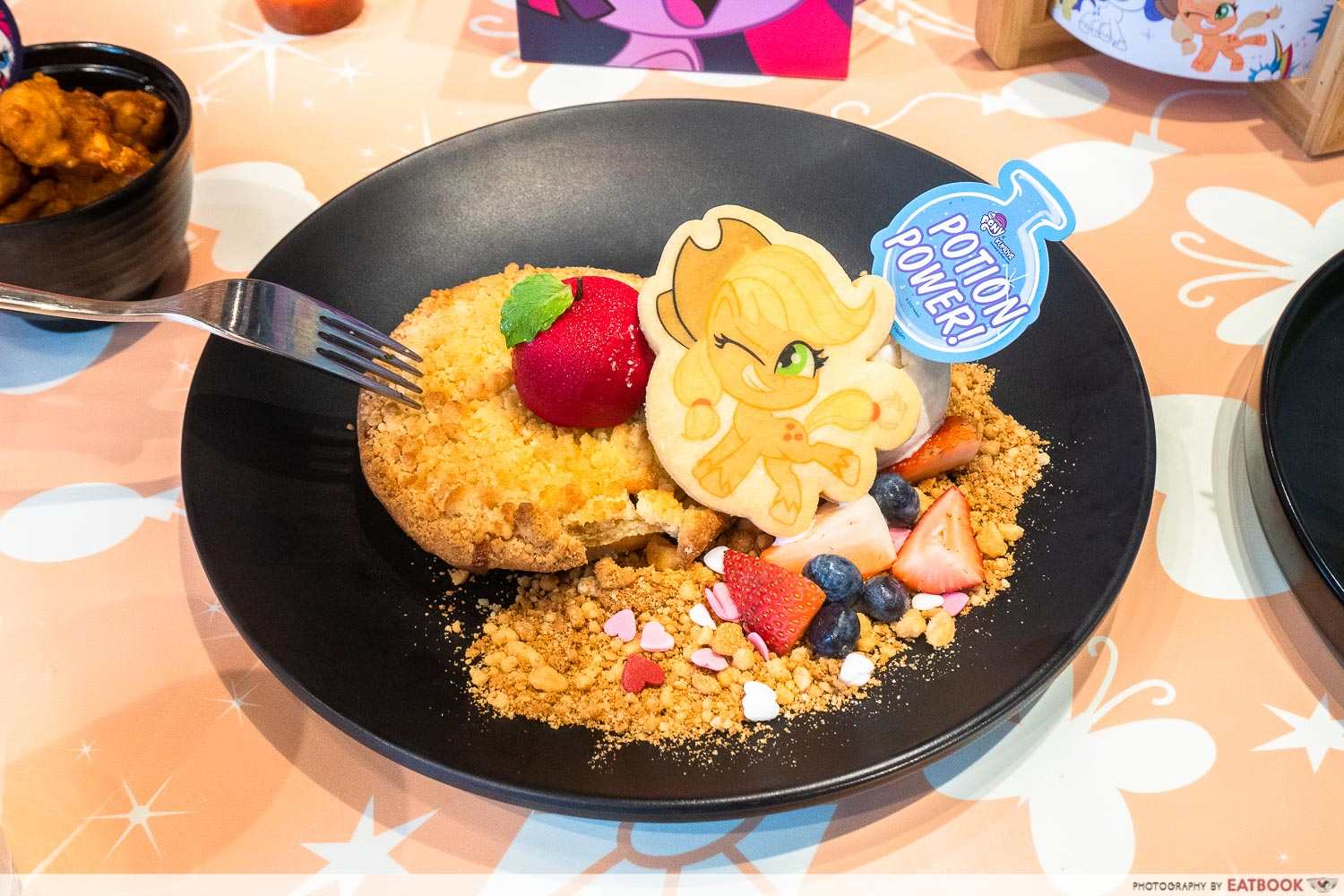 End your meal on a high with the Just Apple Applejack Housemade Apple Tart ($22.90+). This dessert will please all the Applejack fans not just for its pretty plating.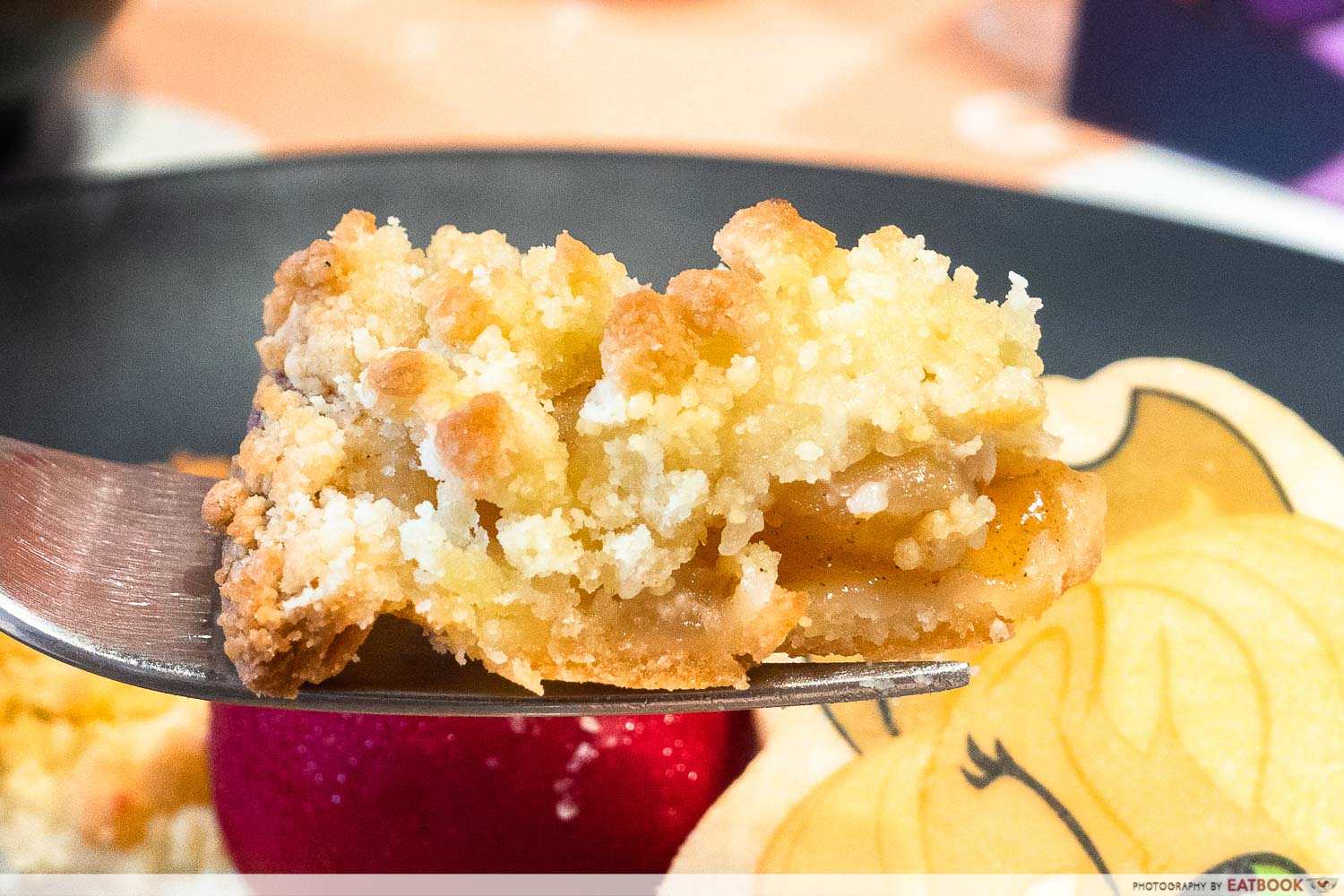 Served with the full works—a housemade butter cookie, vanilla ice cream, fresh fruits, and a dose of crunchy hearts for a cute touch—the freshly baked tart was deliciously crisp on the outside, and gooey on the inside. 
Ambience at My Little Pony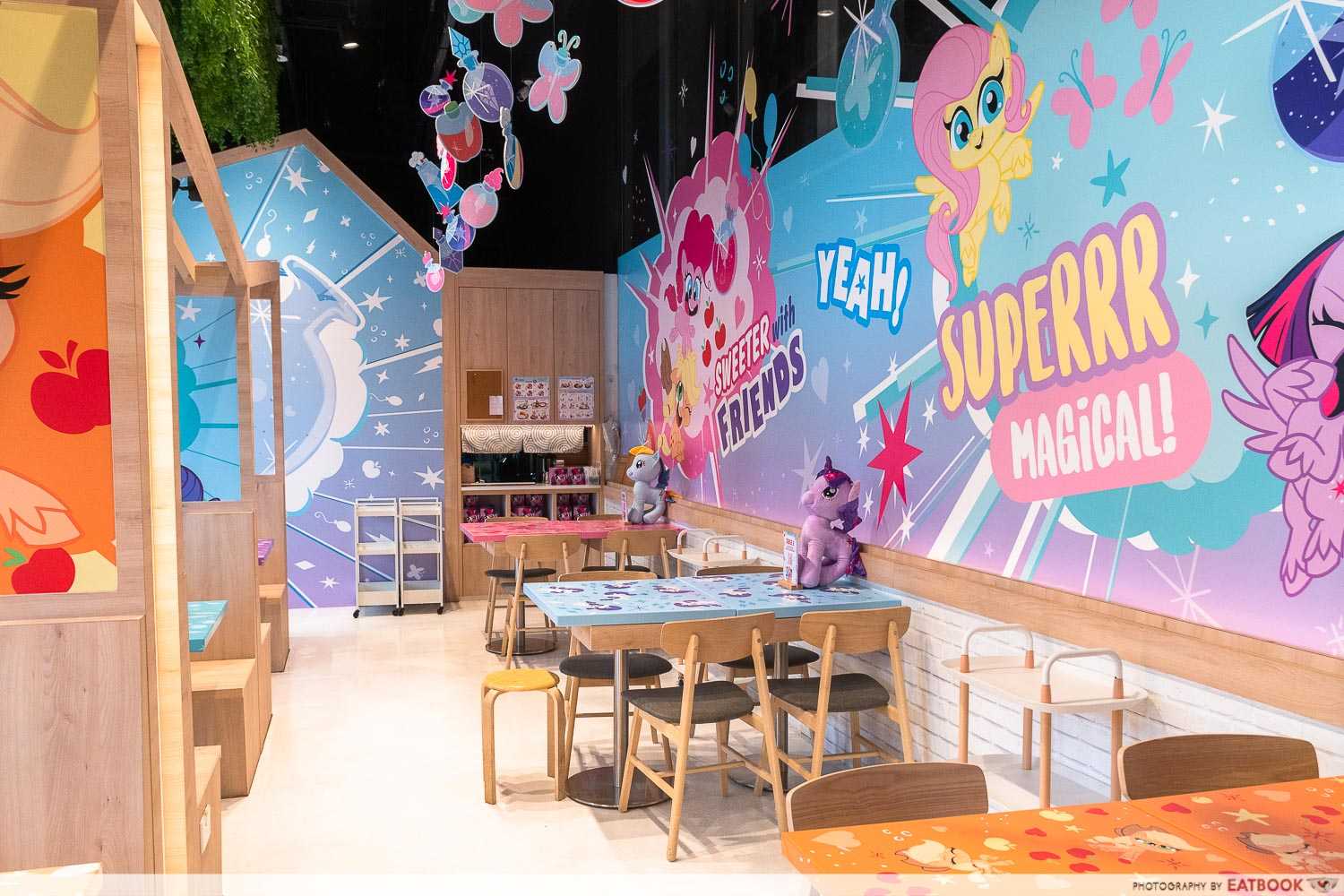 My Little Pony Cafe is a pop-up concept by Kumoya that took over the spot of the Hello Kitty Shabu Shabu Restaurant. This iteration sees colourful themed decor draping from the ceiling, plushies dotted throughout the space, as well as a small corner shop stocked with some of the hottest My Little Pony merch in town. It's as in-your-face as it gets—exactly what the pop-up cafe business does best.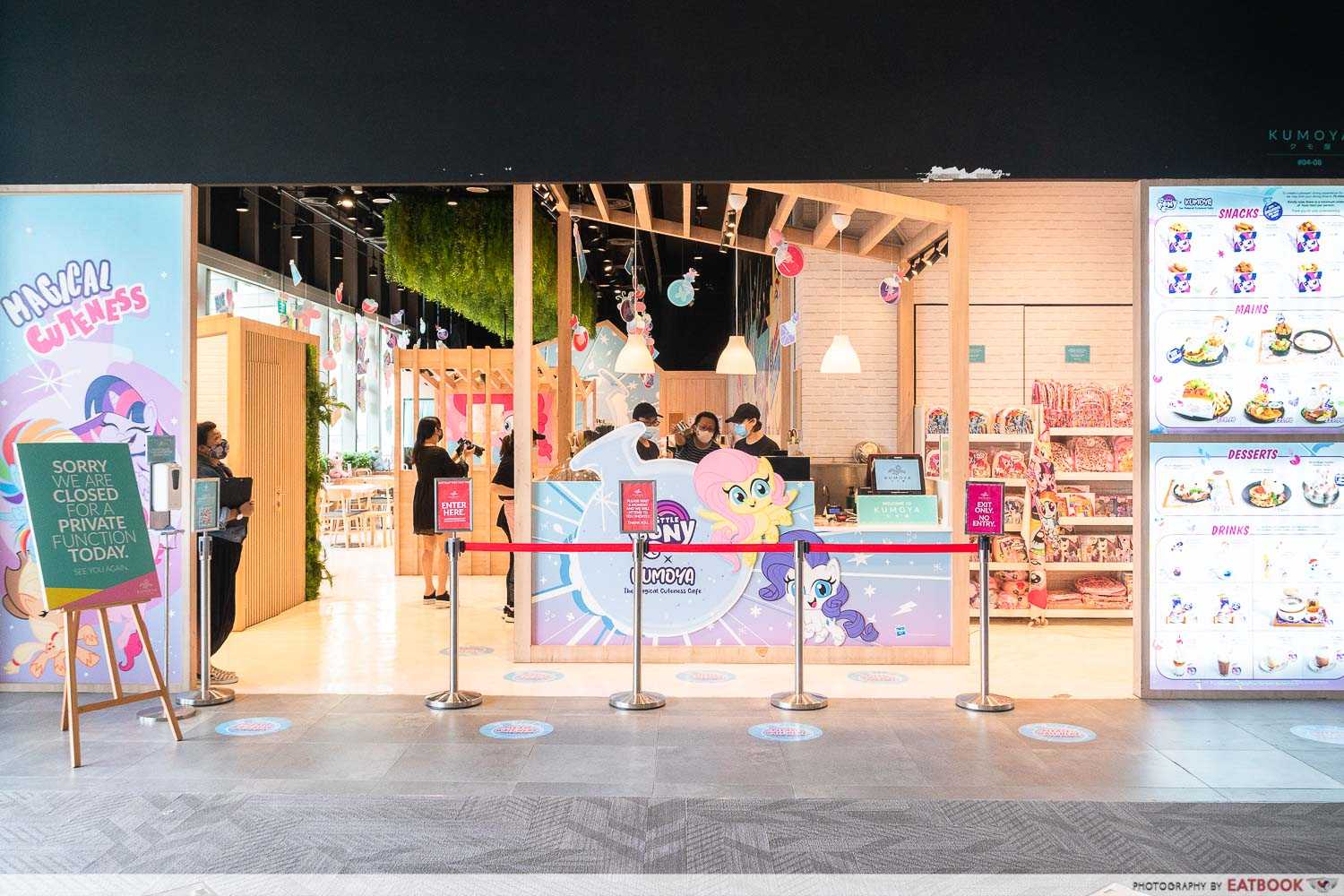 The casual cafe is located in Orchard Central, right above Somerset MRT Station. Seats are aplenty, but if you want the best lighting, go for the tables nearer to the windows.
The verdict
While I'm not well-acquainted with My Little Pony, I can see the cafe's appeal to those who are ardent fans of the show. Each dish comes with bright and colour in-your-face cut-outs of the characters, which will definitely attract the littles, and the young at heart. 
Unfortunately, the dishes we tried were not exactly mind-blowing. For the prices listed, I was slightly let down by the portions served. Nonetheless, this is one spot to bookmark if you're trying to impress any kid who's obsessed with the cartoon. Now, can we get a Powerpuff Girls-themed cafe for old times' sake, please? 
If you are planning to visit the cafe, it's best to make a reservation through their online portal to secure seats. Walk-ins are also available, but there's no guarantee that seats will be available.
In other food news, Lucky Dumplings at ION Orchard has truffle and mala dumplings under $10. You can also check out Shakey's Pizza first outlet at Lucky Plaza, where you can try their famous chicken and deep-fried potatoes.
Address: 181 Orchard Road, Orchard Central, #04-08, Singapore 238896
Opening hours: Daily 11am to 9:30pm
Website
My Little Pony x Kumoya is not halal-certified, but uses no pork, lard, or alcohol.
This Stall Sells Truffle And Mala Dumplings Under $10 In ION Orchard
Photos taken by Zu Yi Kong.
This was a media tasting at My Little Pony Cafe.
My Little Pony Cafe Review: Blue Impossible Burger, House-made Apple Tart, Galaxy Soda And More In Orchard Central
My Little Pony Cafe Review: Blue Impossible Burger, House-made Apple Tart, Galaxy Soda And More In Orchard Central -

6.5/10
Summary
Pros
– Cute decor
– Central location
Cons
– Expensive
– Some dishes were bland
Recommended dishes: The Dashing Magical Rainbow Dash Impossible Plant-Based Burger ($27.90+), Just Apple Applejack Housemade Apple Tart ($22.90+)
Opening hours: Daily 11am to 9:30pm
Address: 181 Orchard Road, Orchard Central, #04-08, Singapore 238896