---
New restaurants this July 2021
---
We've made it through P2HA and now, as a new month awaits us, we're finally ready to dine in at restaurants again. To celebrate, here's a list of 10 new restaurants to try in July 2021, including a minimalist cafe selling lychee boba cake, as well as a modern prawn mee bar in town.
---
1. Chef Bui Bui
---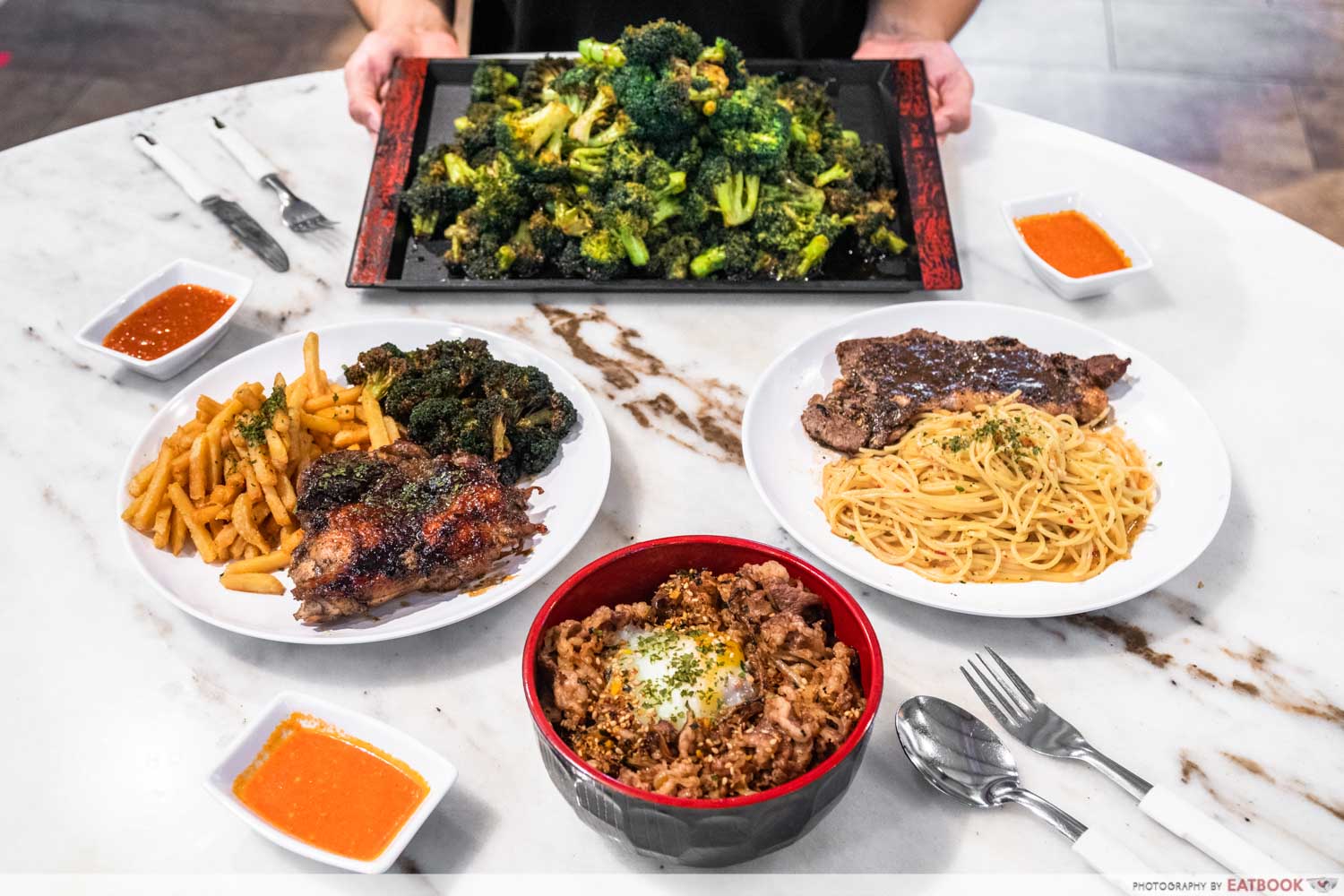 The folks behind Tittle Tattle have come up with a brand new lok lok concept at Lau Pa Sat—Chef Bui Bui. Apart from the Malaysian street skewers, here you can expect Japanese-inspired rice bowls, Western fare, and more! We enjoyed the Beef Donburi ($9.50), which featured fatty beef slices and an oozy onsen egg atop rice.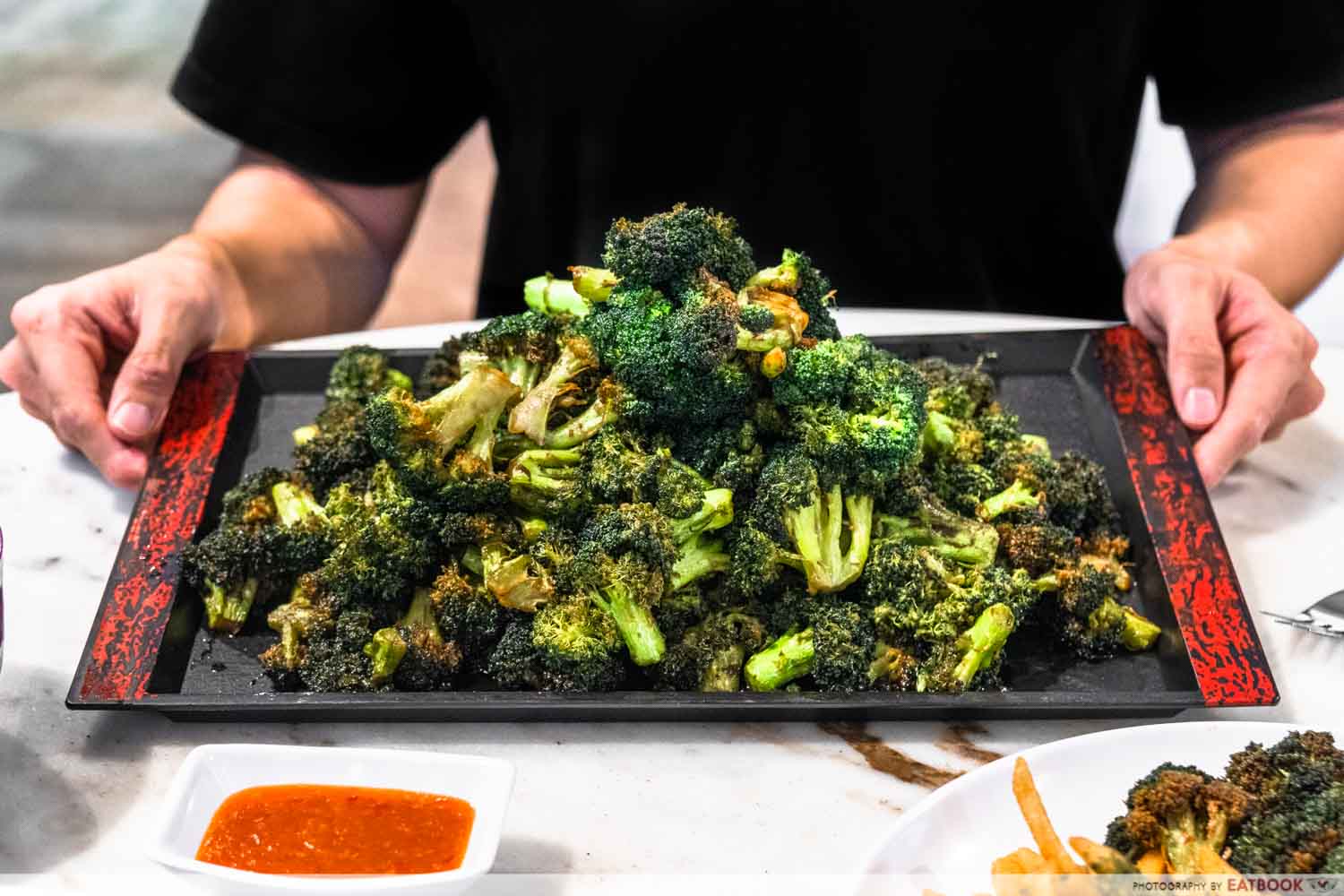 If, like me, you're obsessed with lok lok broccoli, go all out with their Broccoli Mountain ($118 for 200 pieces), with thick, charred florets that trap the addictive seasoning and oil. 
Read our Chef Bui Bui review here!
Address: 18 Raffles Quay, Stall 12, Lau Pa Sat, Singapore 048582
Opening hours: Daily 10am to 10pm
Website
Chef Bui Bui Review: New Hawker Stall At Lau Pa Sat Selling Lok Lok And Western Food
---
2. Ebi Bar
---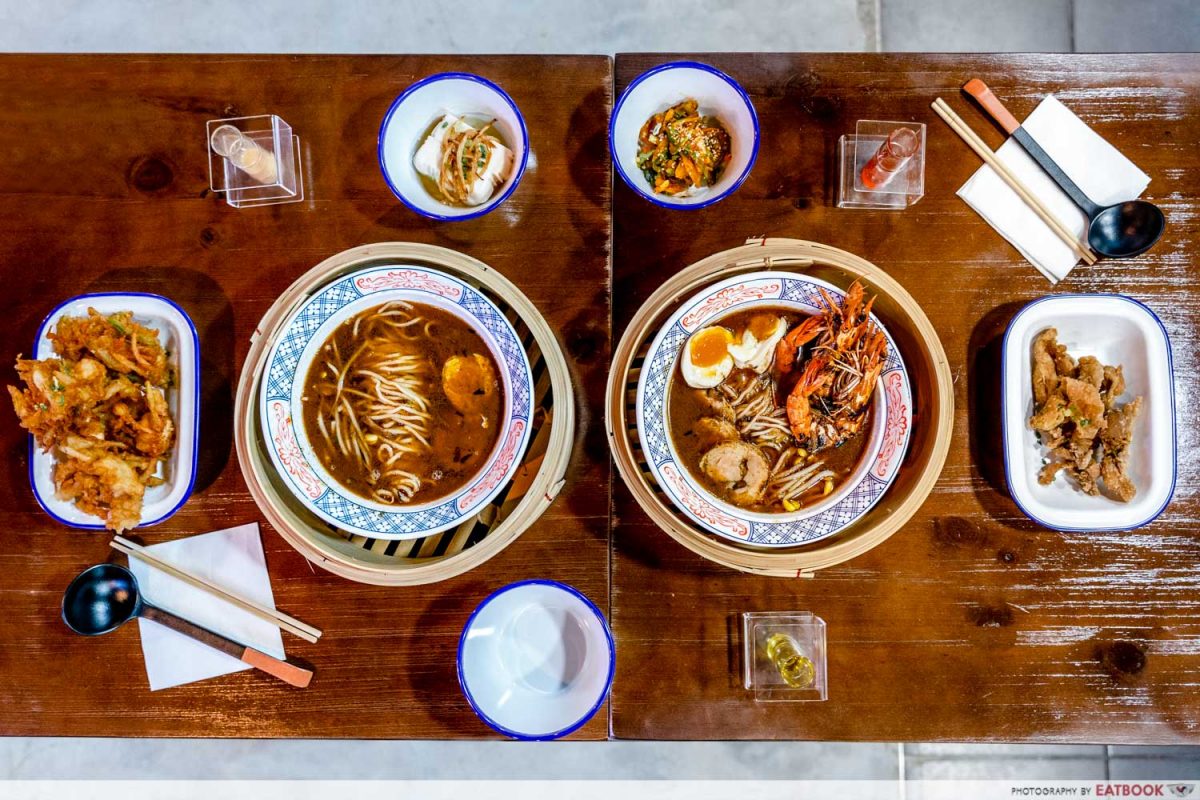 Hae mee is one of my favourite hawker dishes in Singapore, and Ebi Bar in Cuppage Plaza has taken this up a notch by adding a modern twist. For example, their Signature "Chao Da" Ebi Noodles ($14.90) sees the addition of charred tiger prawns, pan-seared chicken, and a jammy egg. These are steeped in an umami broth that's cooked for over eight hours, using around 40 kilograms of prawn shells and heads.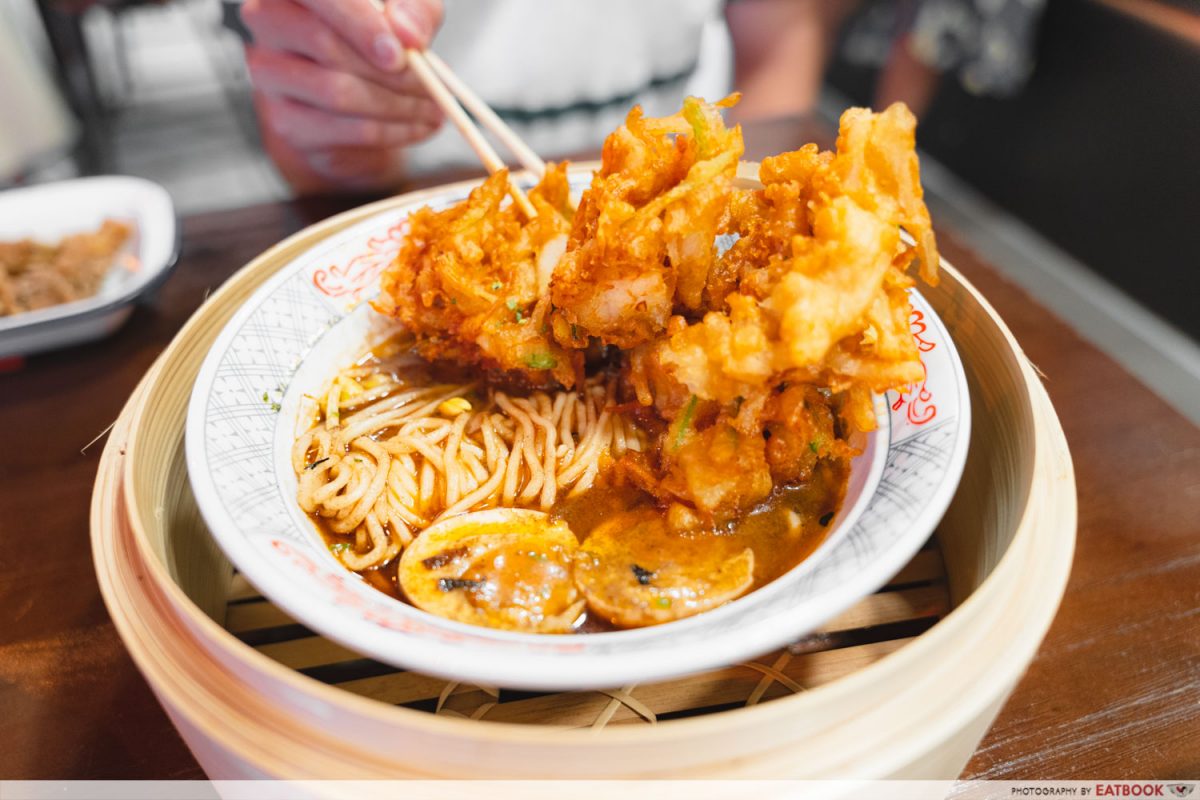 Wu xiang is the perfect accompaniment to hae mee and Ebi Bar's Ebi & Vege-Crispy Fritter Noodles ($12.90) is a play on these local fried prawn fritters, topped with crispy Japanese ebi kakiage tempura instead. 
Address: 5 Koek Road, #B1-21, Cuppage Plaza, Singapore 228796
Opening hours: Tue-Sun 11am to 10:30pm
Website
Ebi Bar Review: New Modern Prawn Noodle Bar With Japanese Twist At Somerset
---
3. Stixers
---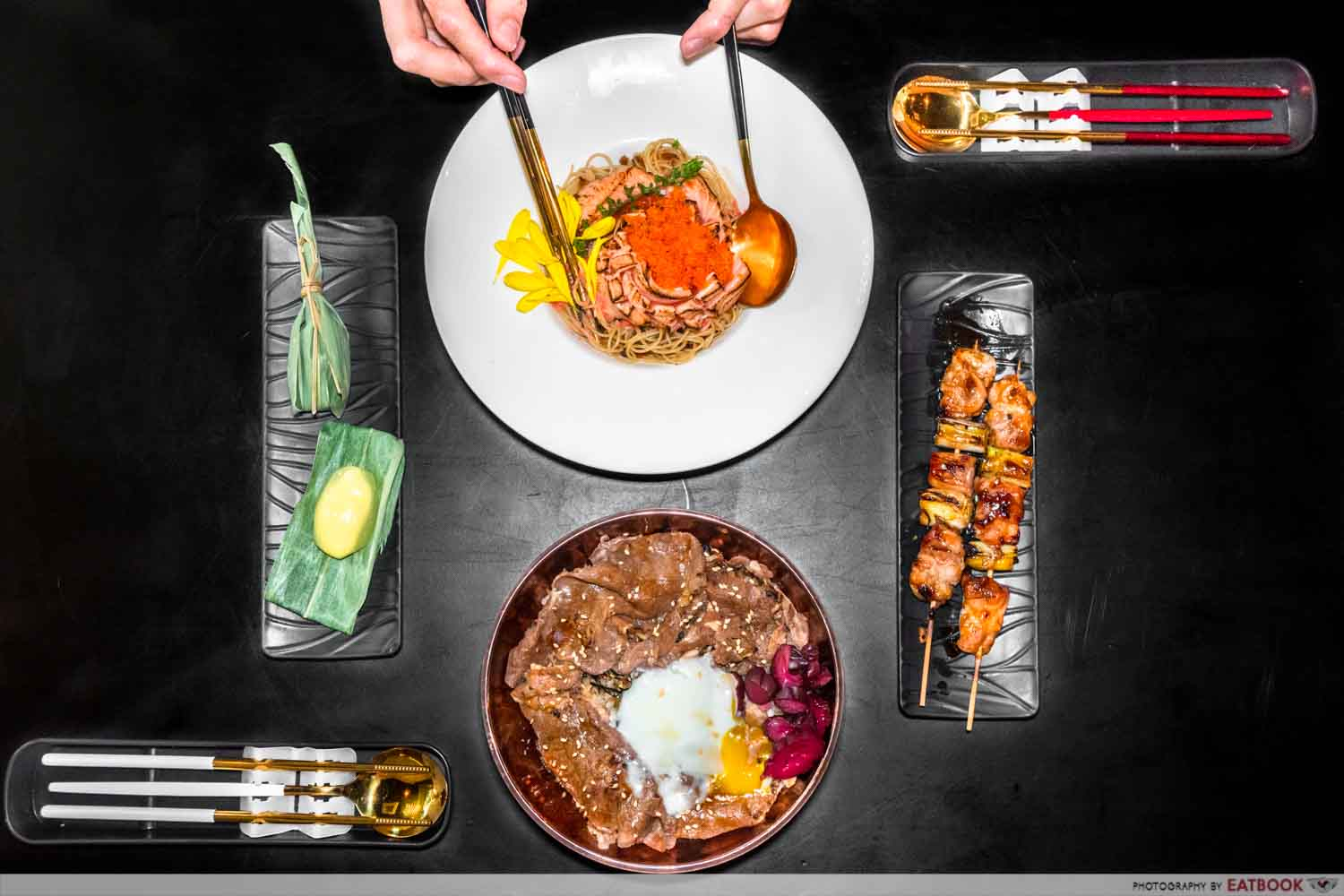 Stixers is a new izakaya at Jalan Besar, opened by the people behind the well-loved Chirashi King Kong. This IG-worthy spot is decked in neon decals and modern fixtures, with a comprehensive menu of donburi, pasta, yakitori, and more!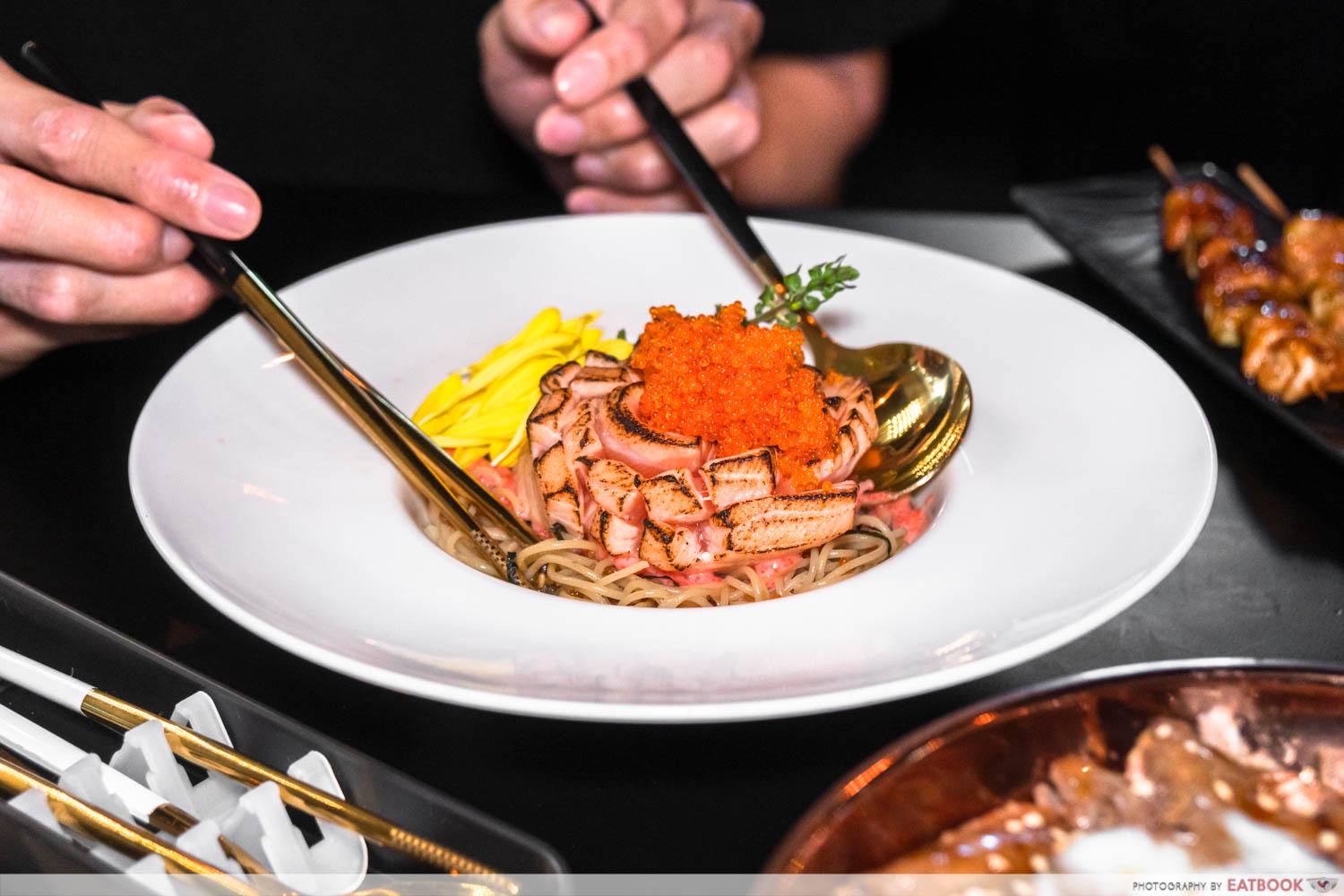 Their Angel Lover ($16.90+) was one of our favourites, prepared with angel hair pasta, mentaiko, buttery salmon, and crunchy tobiko. There's also the Gyudon ($16.90+), topped with generous amounts of beef, purple pickles, and an onsen egg.
Address: 35 Tyrwhitt Road, Singapore 207536
Opening hours: Tue-Sun 5:30pm to 10:30pm
Tel: 8333 3934
Website
Stixers Review: New Izakaya Opened By Chirashi King Kong For Truffle Beef Rice Bowls, Mentaiko Pasta And More
---
4. Maruhachi Donburi
---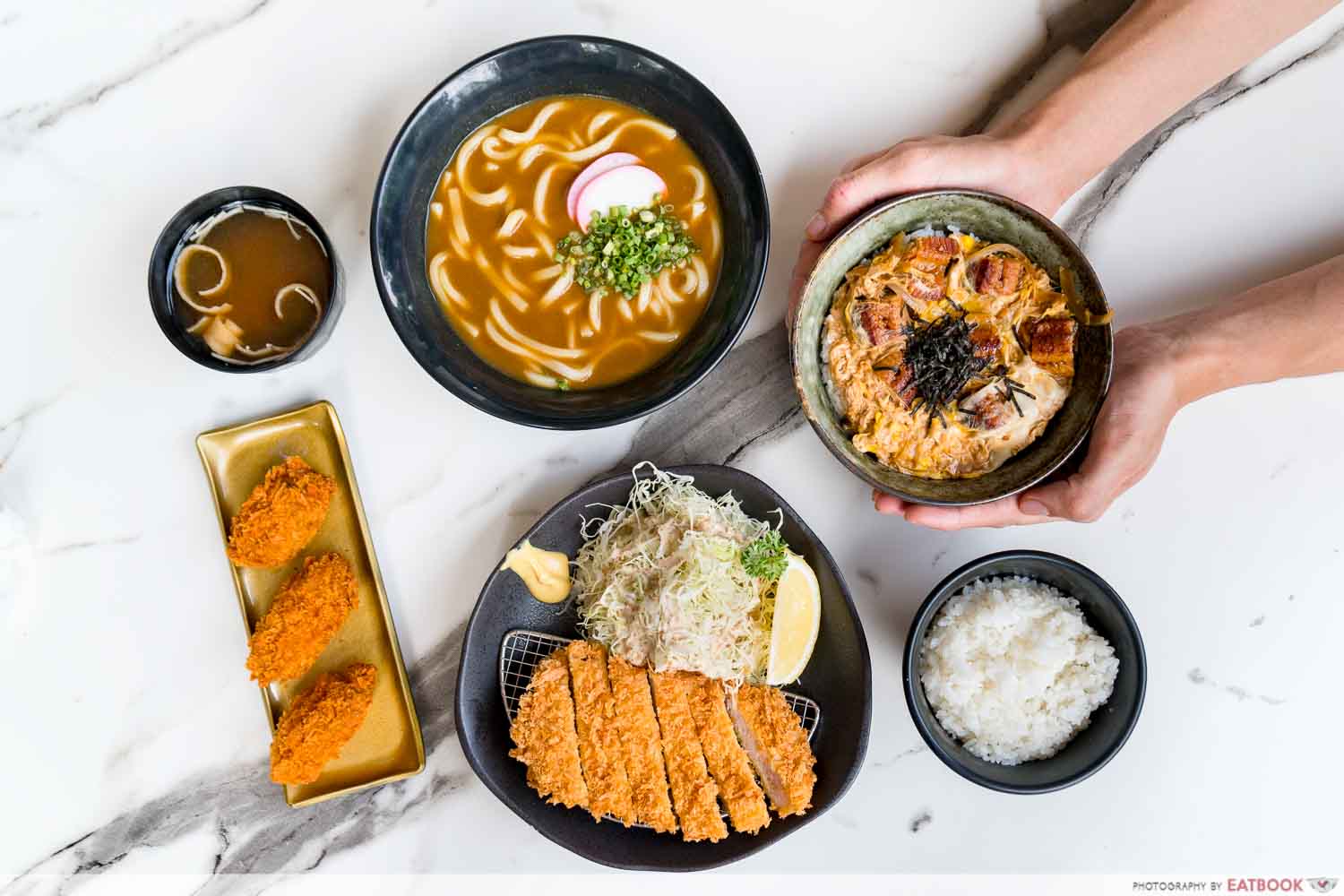 Situated in Punggol is Maruhachi Donburi, a hawker gem that sells affordable Japanese food. This stall is run by August Wijaya, the previous head chef of an unrevealed tonkatsu restaurant, with nine years of experience to his name. As such, we had to try their Black Pig Katsu Set ($14.80), which features crisp, fatty pieces of katsu cutlet, alongside salad, miso soup, and white rice.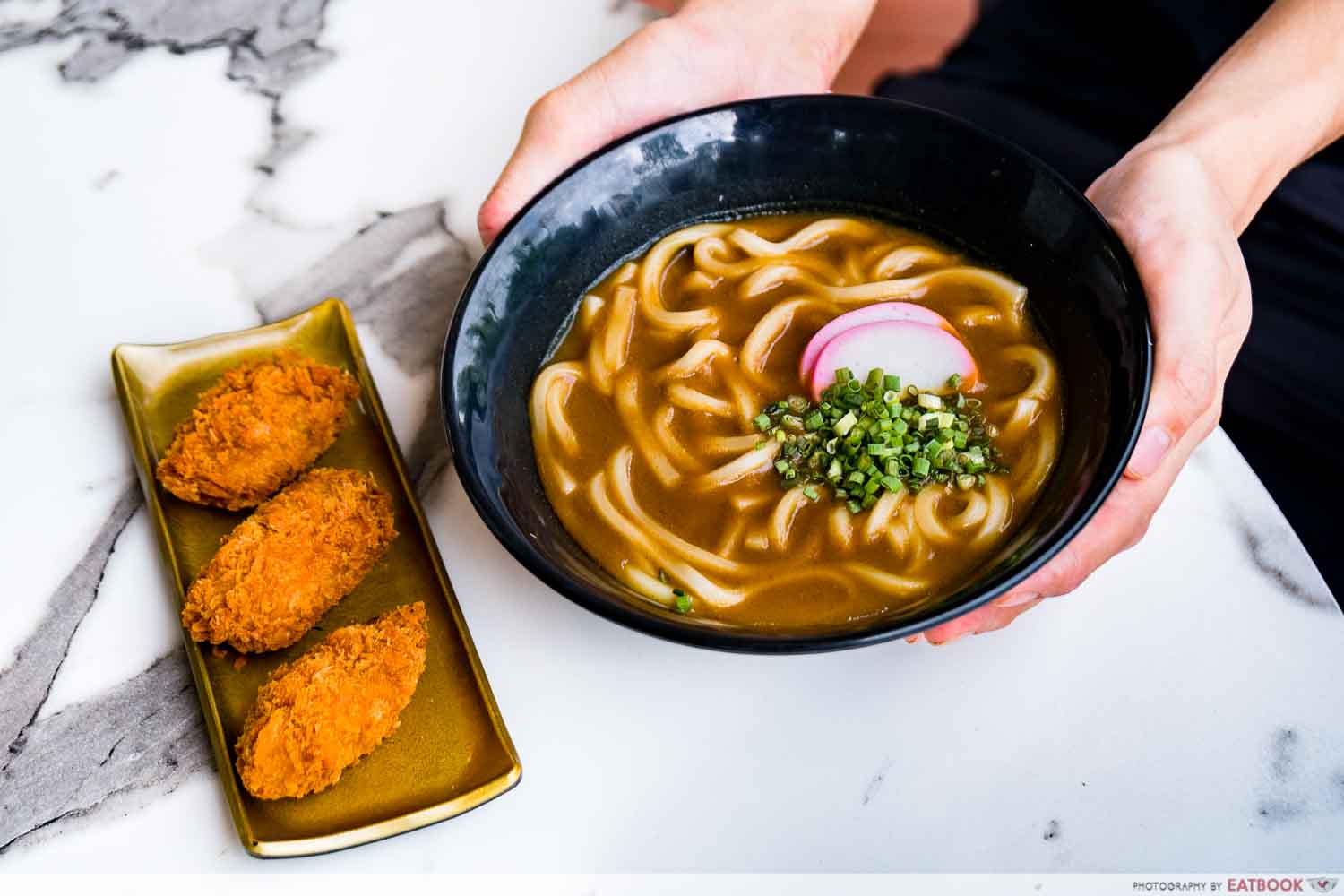 If you like oysters, give their Kaki Fry Curry Udon ($12.80) a shot as it comes with deep-fried, breaded oysters, and a bowl of curried udon noodles. 
Read our Maruhachi Donburi & Curry review!
Address: 671 Edgefield Plains, Happy Hawkers, #01-01, Singapore 820671
Opening hours: Wed-Mon 11am to 2pm, 5pm to 8pm
Tel: 9176 5750
Website
Maruhachi Donburi & Curry Review: New Hawker Stall At Punggol With Iberico Curry Rice, Fried Oyster Udon And More
---
5. Champion Bolo Bun
---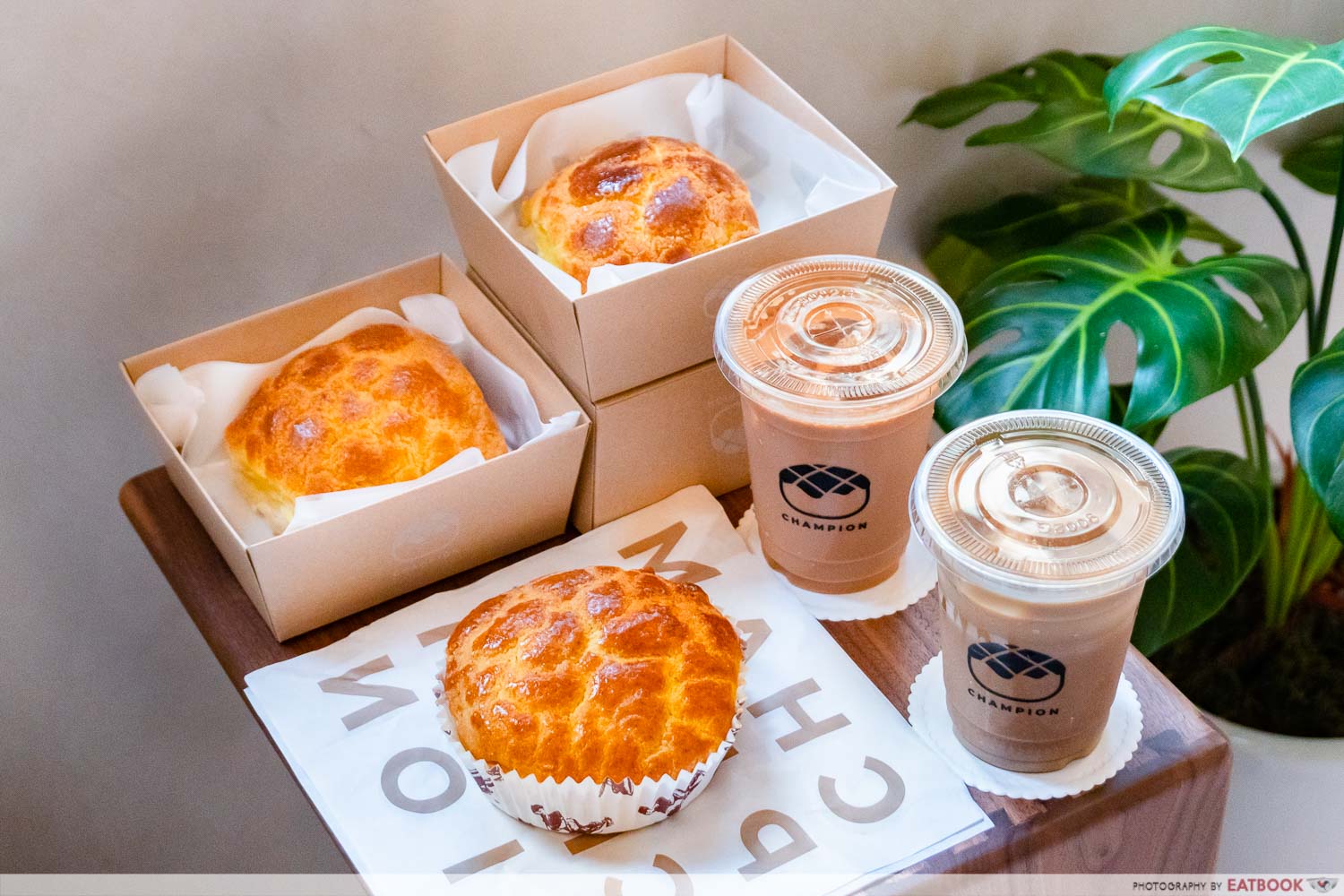 Amidst the throngs of Korean eateries at Tanjong Pagar, Champion Bolo Bun stands out, as a new three-storey contender specialising in bolo buns. We love the aesthetic here—all industrial greys, warm lights, and potted botany. 
Aesthetics aside, we thoroughly enjoyed their Classic With Butter ($5), essentially a bolo bun stuffed with a slab of cold butter. The bun was as fluffy as a cloud within, with a touch of savouriness from the butter. Their Curry Potato ($6) fared excellently as well, starring an immensely aromatic curry filling.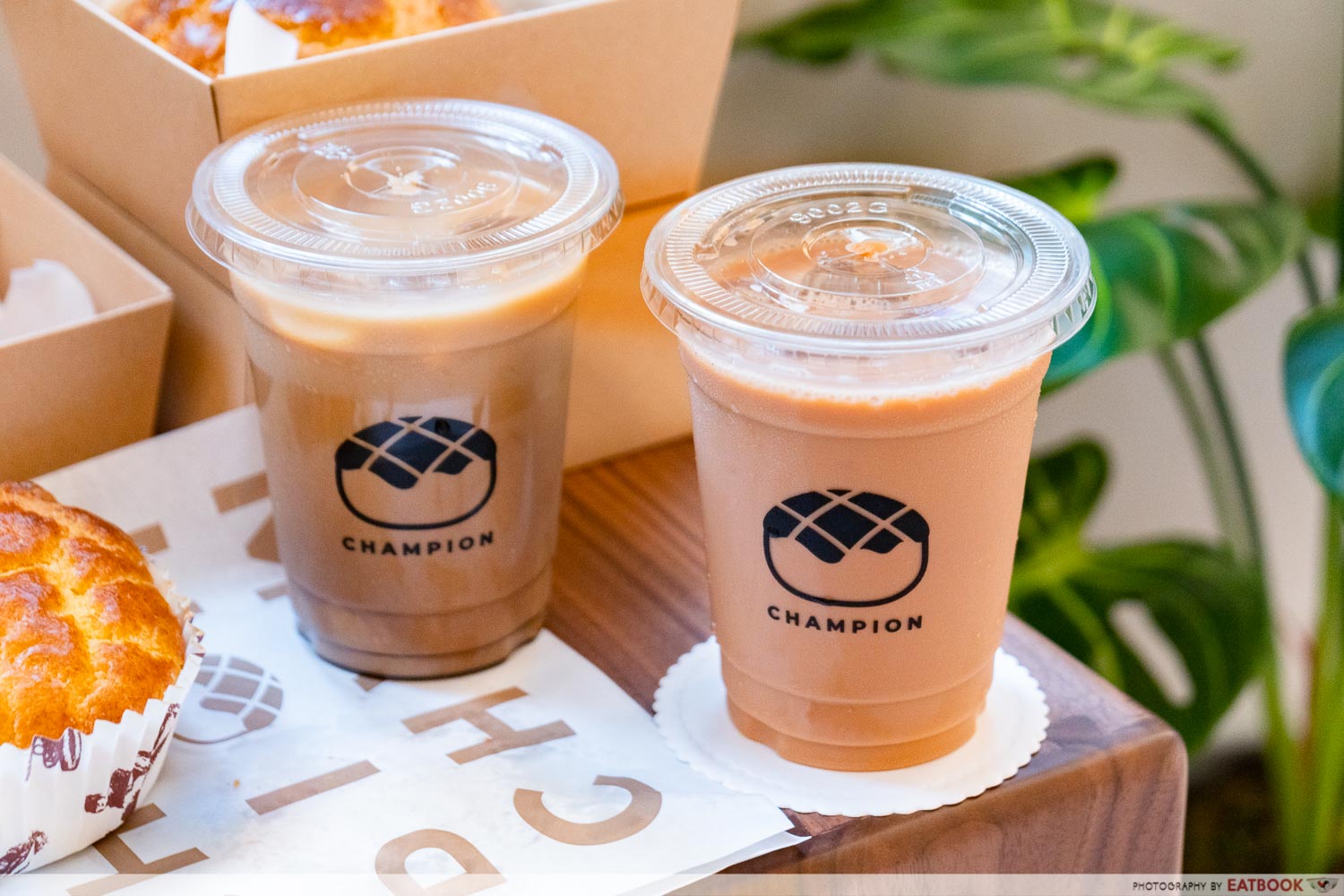 Champion Bolo Bun also has a small selection of beverages to go along with your buns, of which we loved the Iced Champion's Milk Tea ($6). This drink is made using Sri Lankan tea leaves and highlights a pronounced tea fragrance. 
Read our Champion Bolo Bun review here!
Address: 92 Tanjong Pagar Road, Singapore 088513
Opening hours: Tue-Sun 11am to 4:30pm
Website
Champion Bolo Bun Review: Three Storey-Cafe With Curry And Butter Bolo Buns
---
6. La Vie
---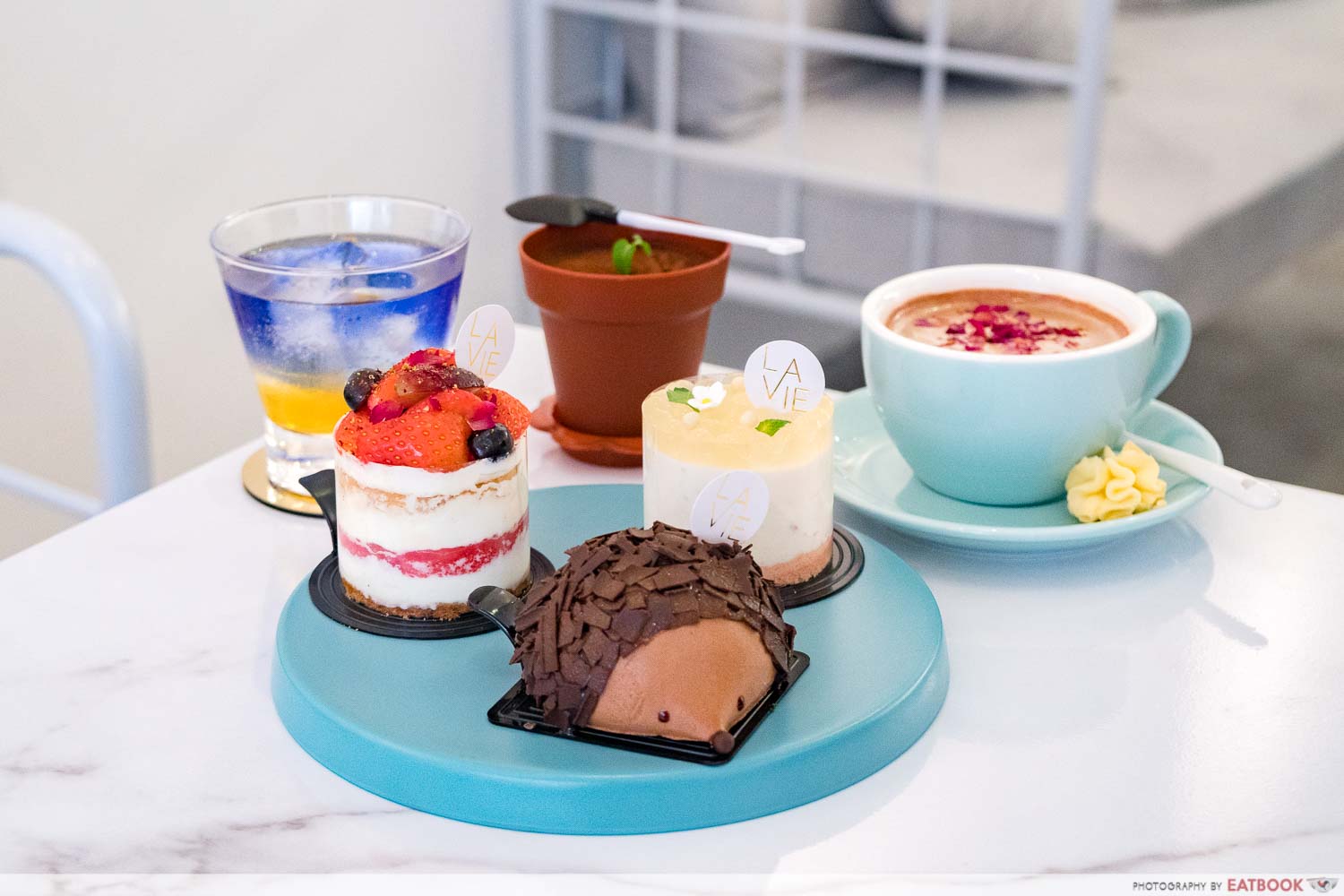 Jalan Besar is a haven for good eats and joining the leagues is La Vie, a minimalist online-store-turned-physical-cafe that's helmed by a Le Cordon Bleu-trained chef. Their desserts here are one-of-a-kind, such as the Epic ($11), a chocolate porcupine with layers of chocolate mousse, crispy hazelnut dark chocolate, feuilletine, and brownie sponge cake.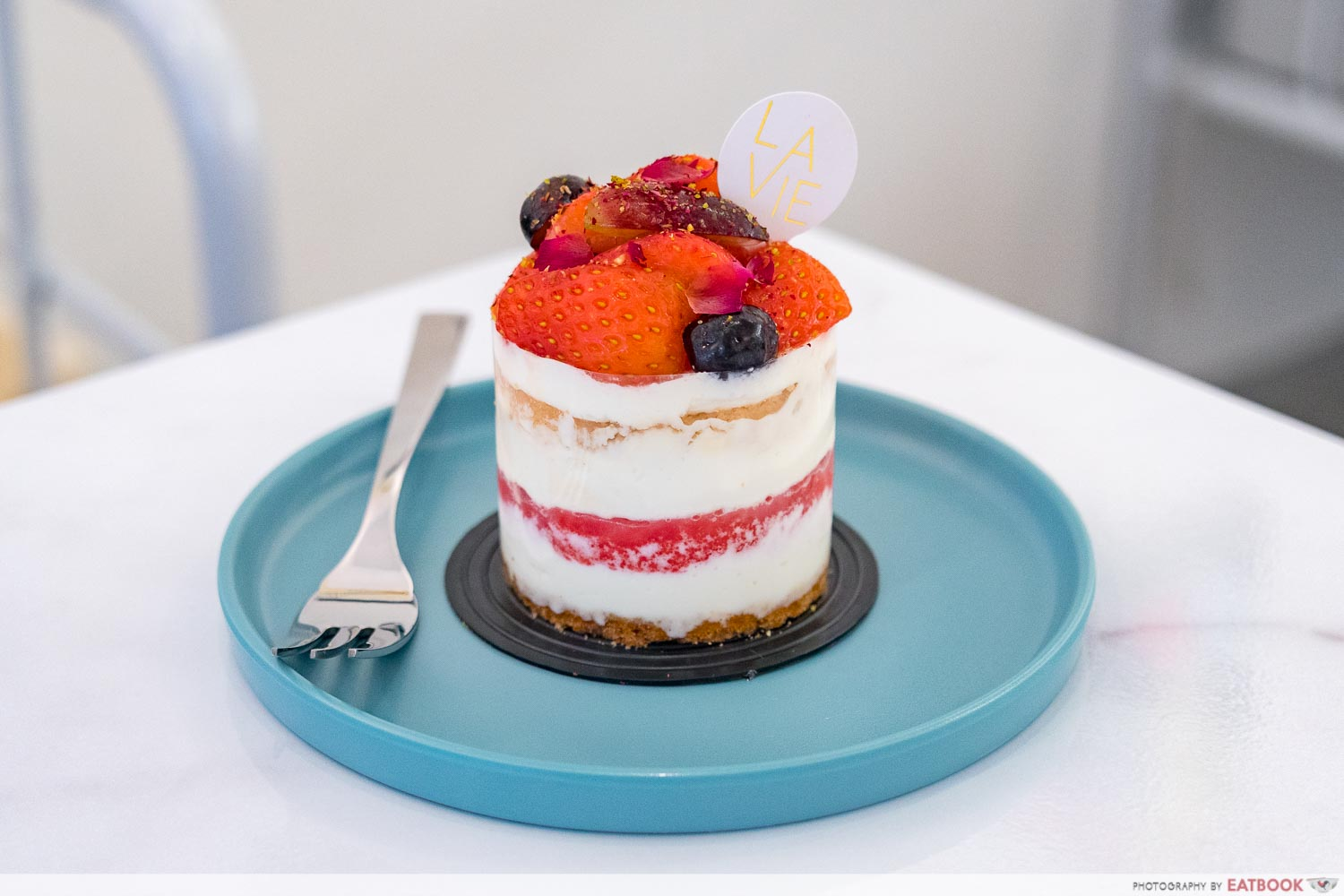 There's also the iconic Watermelon Strawberry ($9.50), made famous by Black Star Pastry in Sydney. This dainty dessert is stacked with rose chantilly cream, watermelon, and a medley of fruits. If not, their Chloe ($8.50) is a must-try, made with lychee mousse, rose sponge, and popping lychee boba. 
Address: 204 Jalan Besar, Singapore 208890
Opening hours: Daily 12pm to 10pm
Website
La Vie Review: Minimalist Dessert Cafe At Jalan Besar with IG-Worthy Lychee Boba Cake, Baileys Tiramisu And More
---
7. PICKLE Bakery
---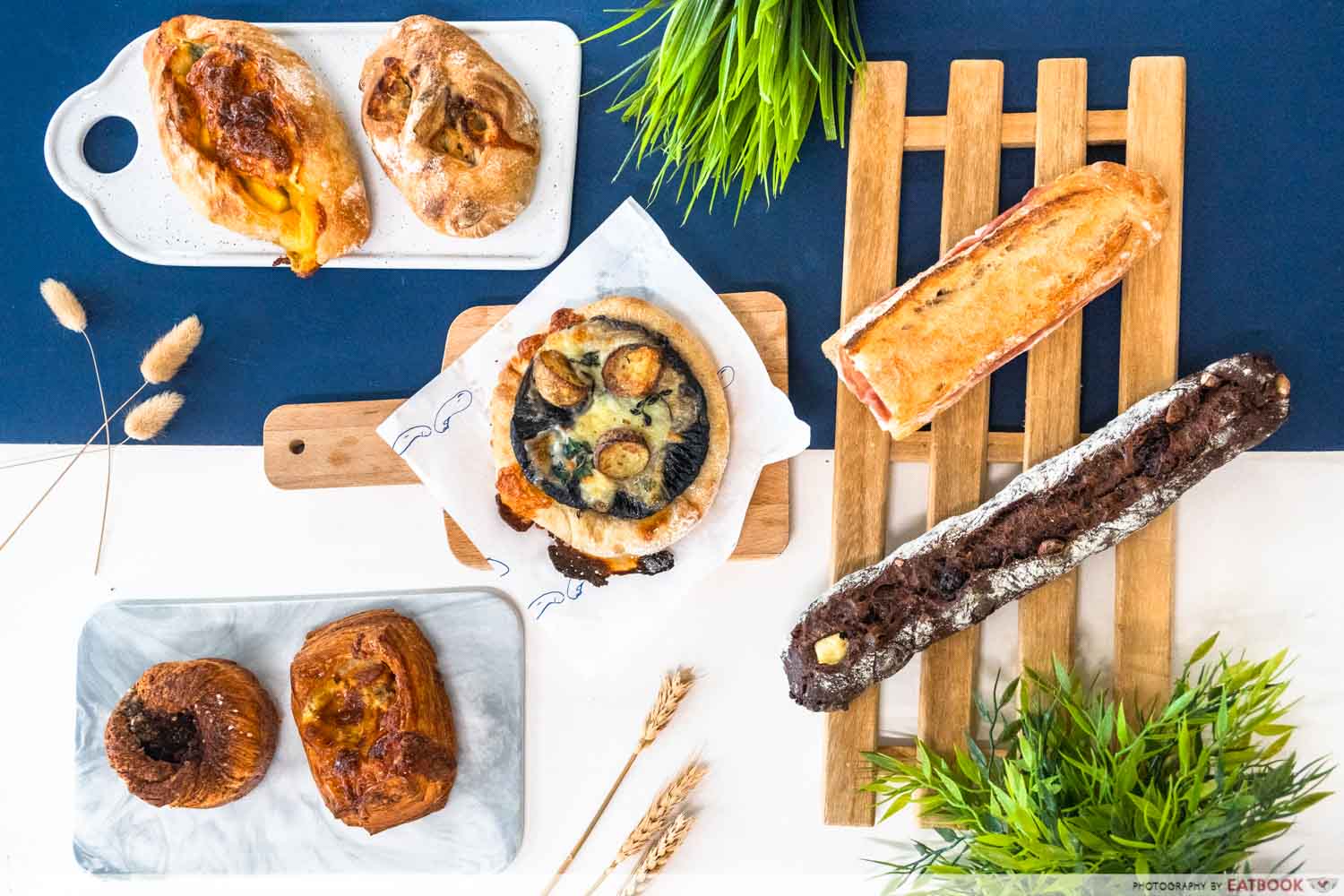 We Singaporeans love our artisanal bakes and with that, here's a new takeaway-only spot to check out—PICKLE Bakery, located in the old-school-meets-new-cool neighbourhood of Everton Park. This bakery is run by two bakers who've worked in Japan, Korea, as well as Paris. Their menu sees a comprehensive range of viennoiseries, sandwiches, sourdough buns, and sourdough loaves.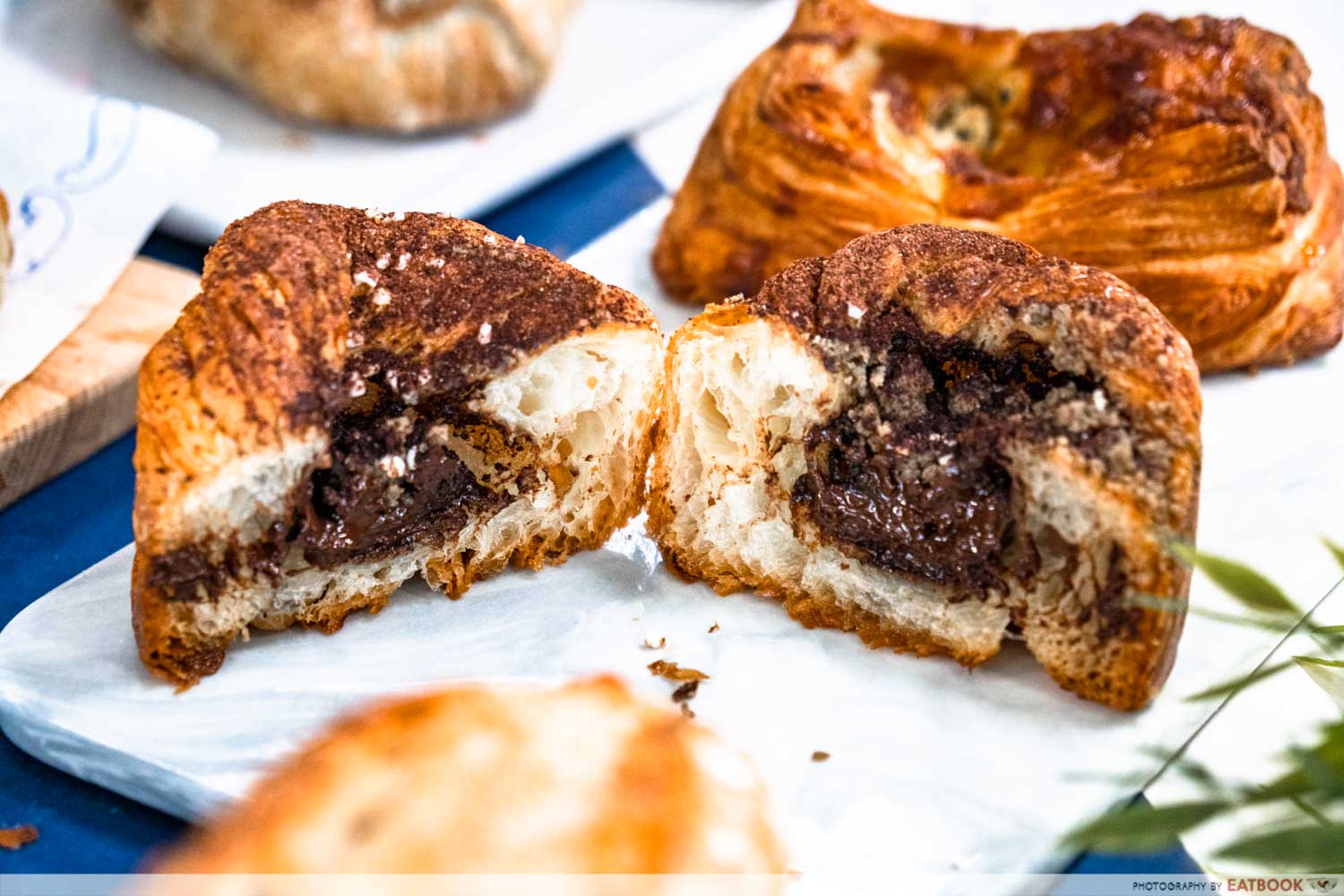 One of the bakery's signatures is the Chocraunt ($7), with crispy, flaky croissant pastry enwrapping a molten chocolate core. Another item worth trying is the Figs, Blue Cheese, Walnuts Sourdough Bun ($5.50), well-balanced with the slightly sweet figs, bitter walnuts, and savoury blue cheese.
Read our PICKLE Bakery review!
Address: 2 Everton Park, #01-61, Singapore 081002
Opening hours: Wed-Sun 8:30am to 2pm
Tel: 8322 9500 (WhatsApp only)
Website
PICKLE Bakery Review: Buckwheat Chocraunts, Burrata Sandwiches And More At Everton Park
---
8. Joji's Diner
---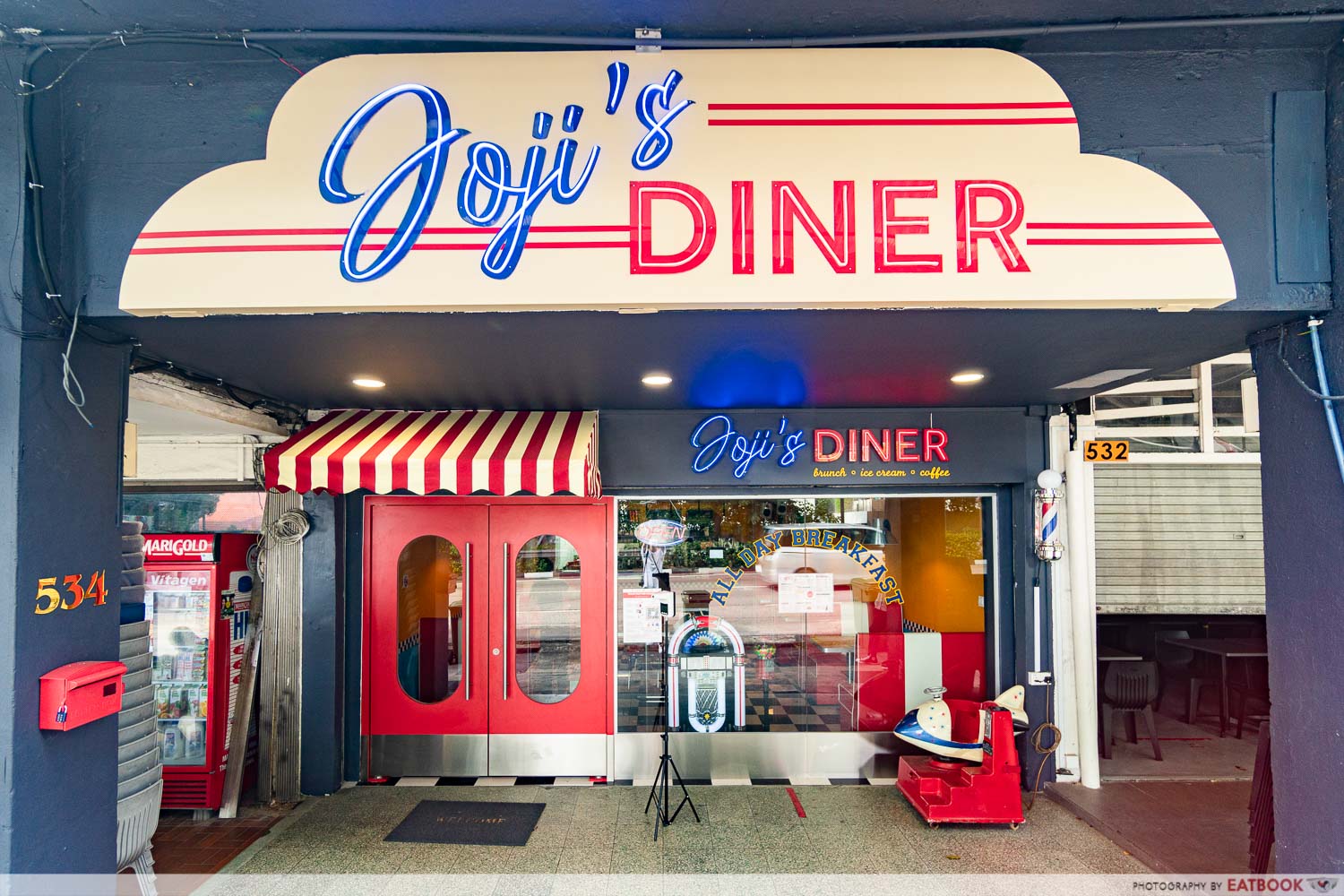 Right out of a Riverdale scene is Joji's Diner, an American diner concept that's situated in Serangoon. This restaurant is adorned with checkered tiles, glossy red chairs, and even a jukebox and gumball machine, adding to the diner's vintage and retro vibes.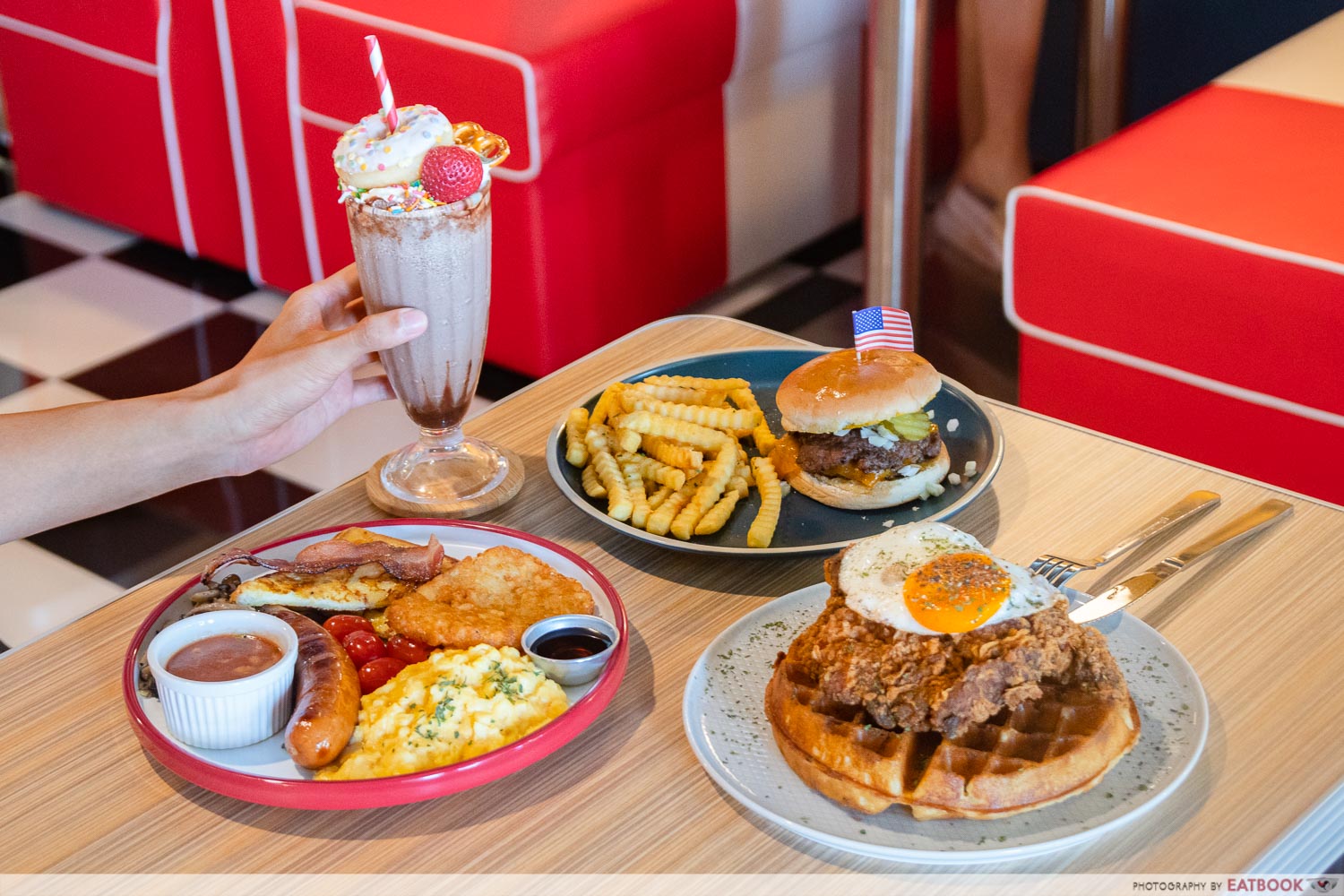 Here, you can get affordable breakfast grub such as the All-Star Platter ($12.90), a zhnged-up big breakfast loaded with the full works. If not, their Smash Burger ($11.90) is an American diner staple, stuffed with double beef patties, cheese, and pickles.
Read our Joji's Diner review here!
Address: 534 Upper Serangoon Road, Singapore 534549
Opening hours: Thurs-Tue 10am to 10pm
Website
Joji's Diner Review: Retro American Diner At Serangoon For Chicken Waffles And Burgers Under $12.90
---
9. Three Point Two
---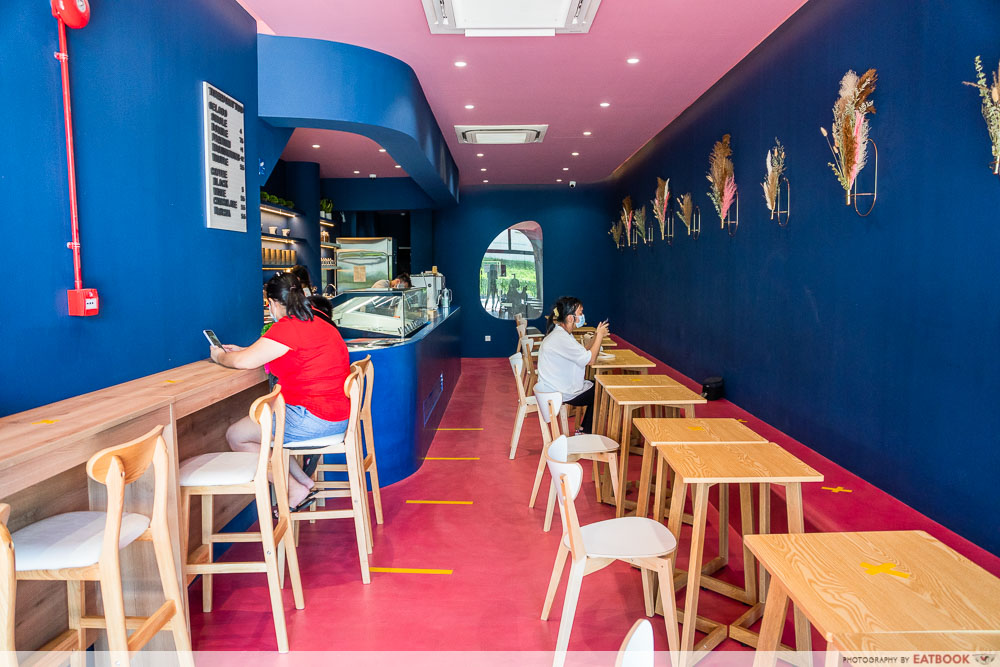 Kampong Bahru is lined with cafes and bakeries, and joining the list is Three Point Two, a blue-and-pink dessert cafe with gelato, waffles, durian mochi, and other sweet treats.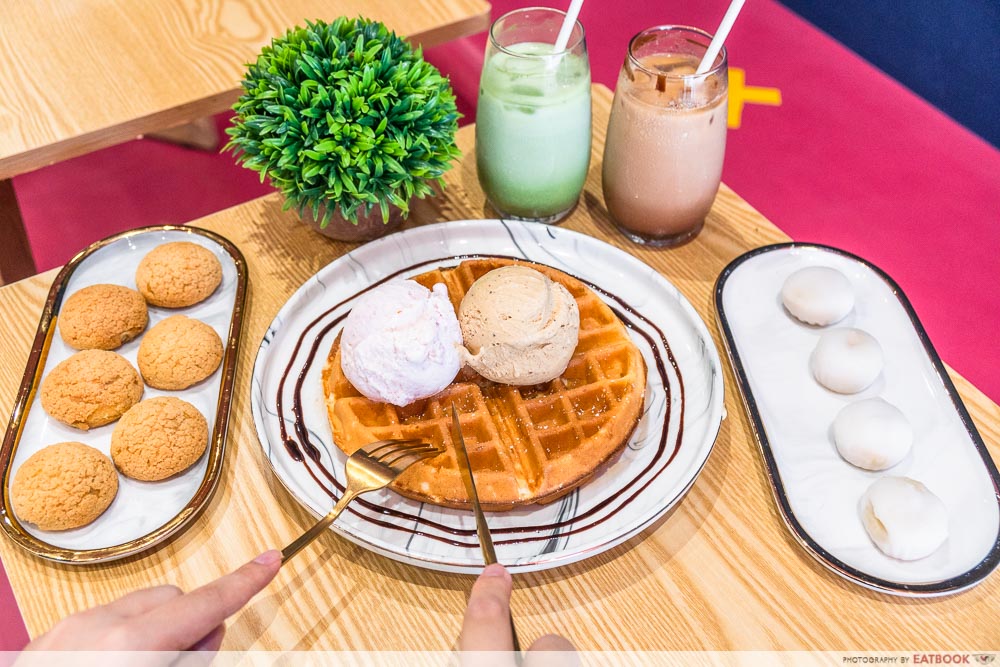 Their Buttermilk Waffle ($5.50) was definitely one of the better ones we've tried, with a fluffy interior, laced with a buttermilk fragrance. Top it with a scoop of Lychee Rose Gelato ($5), where floral notes of rose enhance the flavour of lychee. Their Earl Grey Puffs ($10.90 for six pieces) make for a good sweet treat too, with craquelin pastry encasing luscious earl grey custard.
Read our Three Point Two review!
Address: 85 Kampong Bahru Road, #01-01, Singapore 169380
Opening hours: Daily 12pm to 10pm
Website
Three Point Two Review: Pink-and-blue Cafe With Gelato Waffles And Durian Mochi
---
10. Rotiboy
---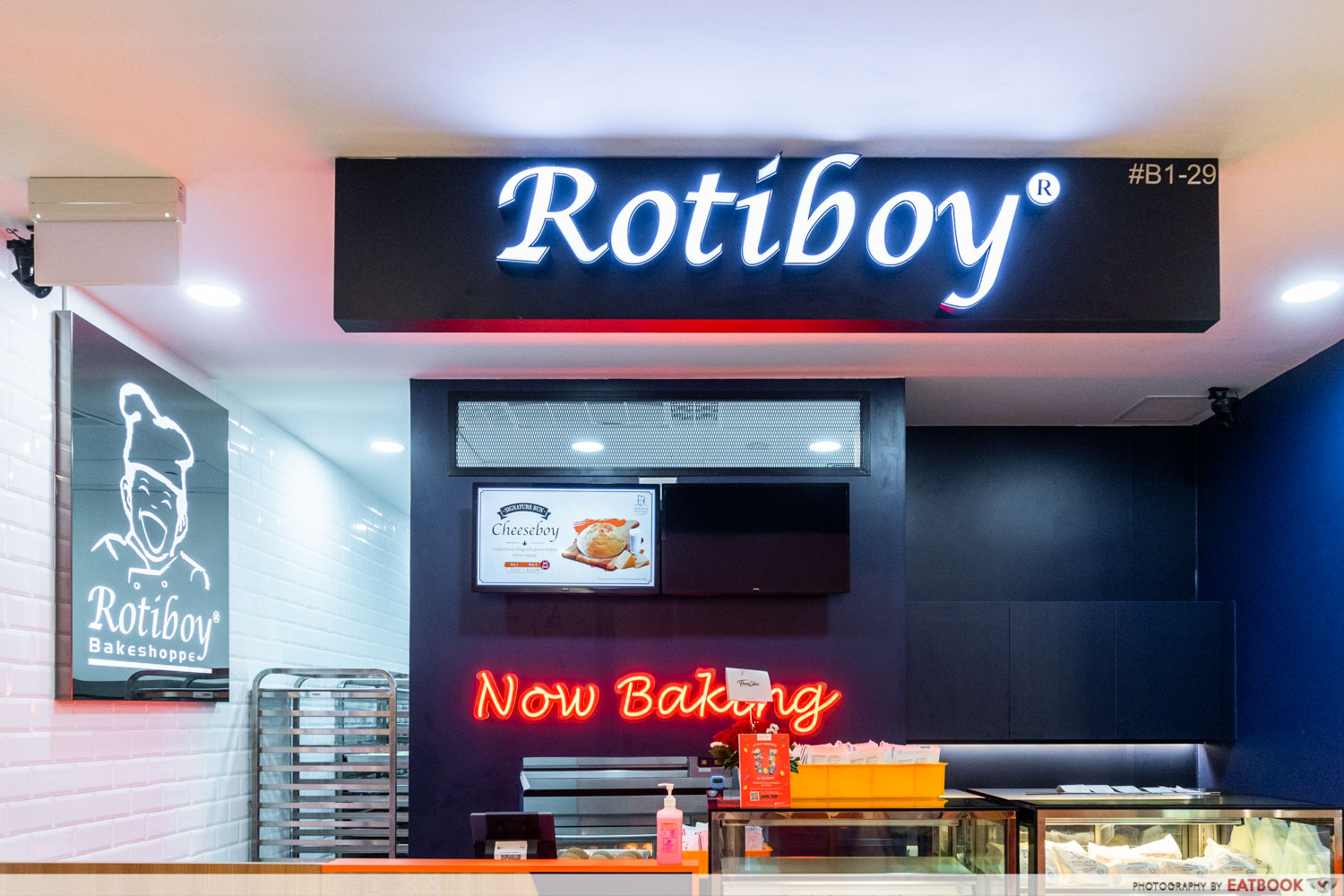 If you've been to JB, chances are you've caught whiffs of the aromatic coffee buns from Rotiboy. This famed Malaysian bakery has recently landed on our shores, with a brand new store located at KINEX.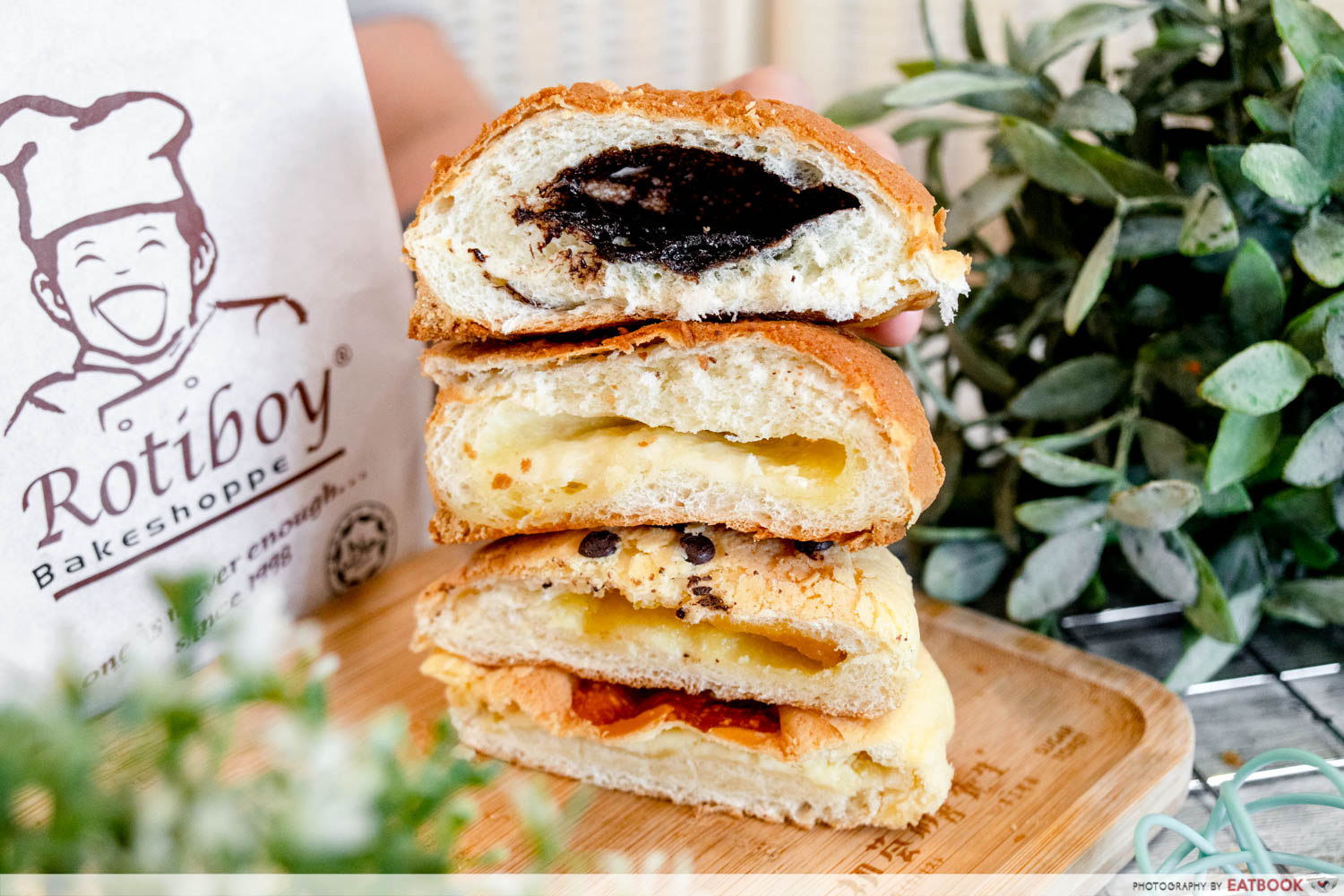 Apart from the classic Rotiboy ($2.50), there are also other buns to get your hands on, such as the Mocha Bun ($3), which features a gooey chocolate filling. Meanwhile, if you're craving for something a touch more savoury, there's the Cheese Bun ($3), made with a cookie and cheese crust, as well as cream cheese filling.
Check out our first look at Rotiboy!
Address: 11 Tanjong Katong Road, #B1-29, KINEX, Singapore 437157
Opening hours: Daily 10am to 10pm
Website
Rotiboy Opens In Singapore, Bringing JB's Famous Coffee Buns To KINEX
---
Try these new restaurants this July 2021
---
We've curated a list of new restaurants to try this July 2021, made even more apt by the relaxed dining restrictions in P3HA. 
While you're here, check out McDonald's Chicken McCrispy, which has now become a permanent item on the menu. Come 9 July, LiHO is also launching a brand new black truffle bubble tea series, including oolong and chocolate BBTs.
McDonald's Chicken McCrispy Now A Permanent Part Of The Menu, '90s Kids Rejoice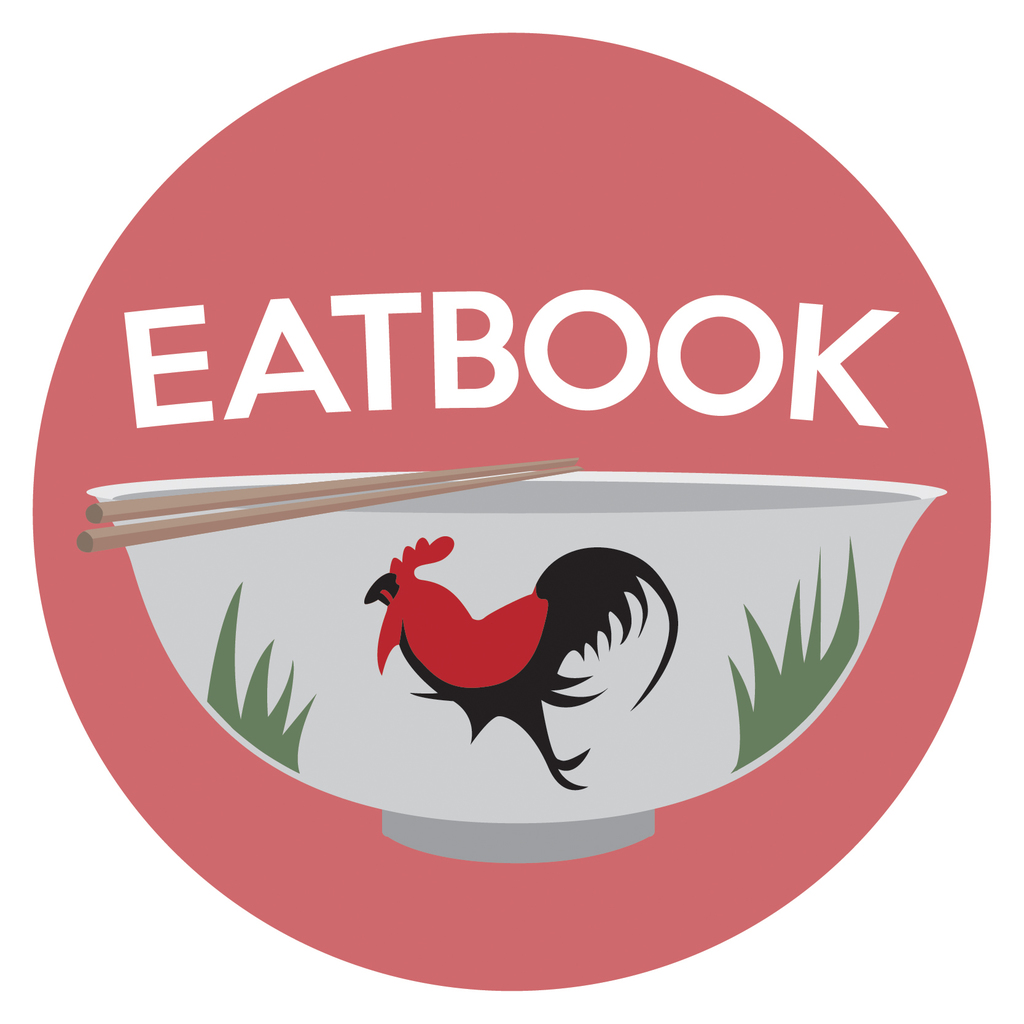 Drop us your email so you won't miss the latest news.