---
New restaurants this March 2021
---
As we bid goodbye to the CNY holidays and transition into a new month, here are 10 new restaurants in Singapore this March 2021 to relieve post-festivity withdrawals. These range from Korean-fusion brunch fare to affordable yakiniku, which will leave you spoilt for choice over where to eat this month.
---
1. Chir Cafe + Bar
---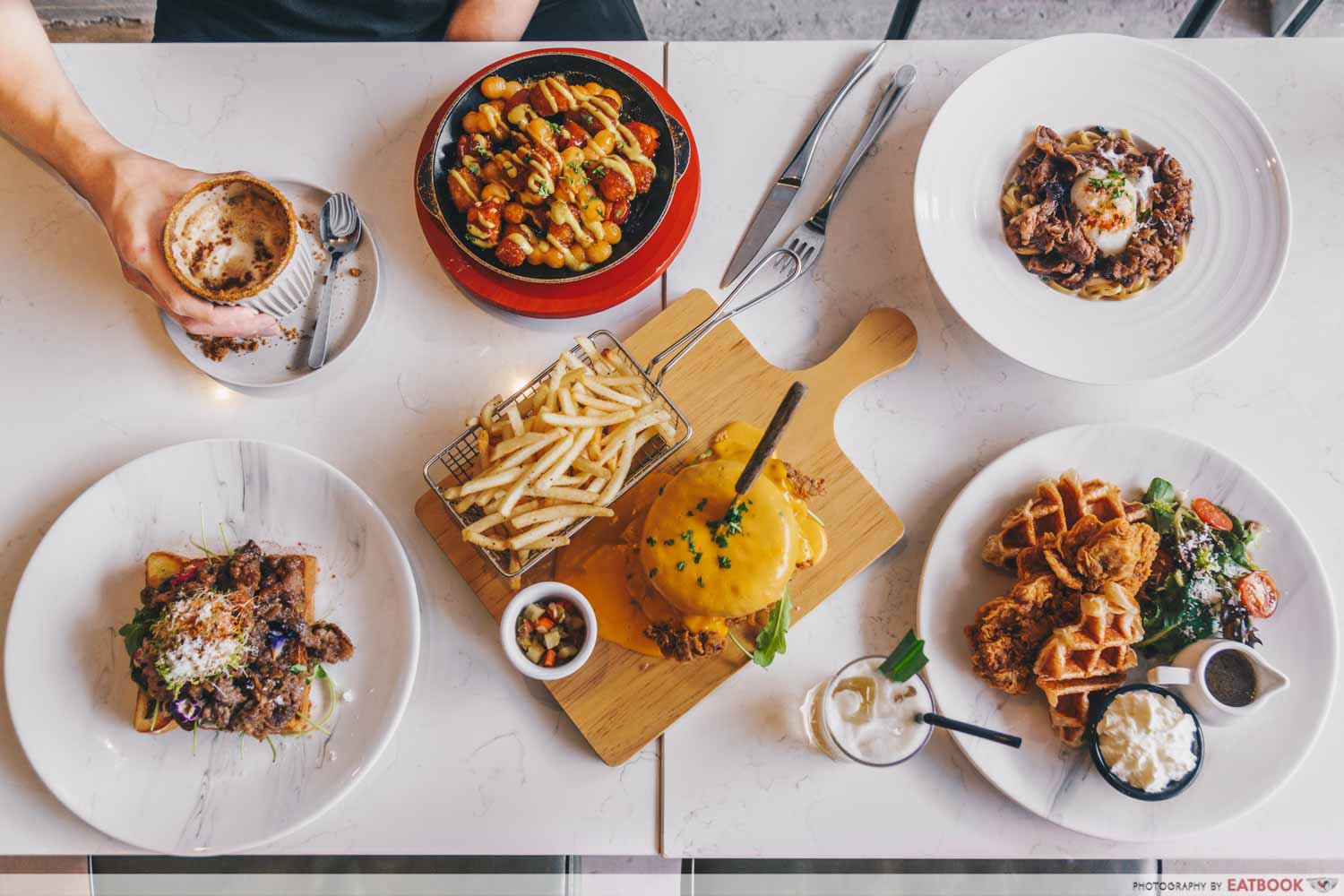 Chir Chir has recently extended its restaurant chain concept to a cafe-bar experience with Chir Cafe + Bar, serving up Korean cuisine laced with modern elements. This new cafe is located at Holland Village, with a brunch menu that runs from 9:30am to 4pm, and dinner offerings that begin after.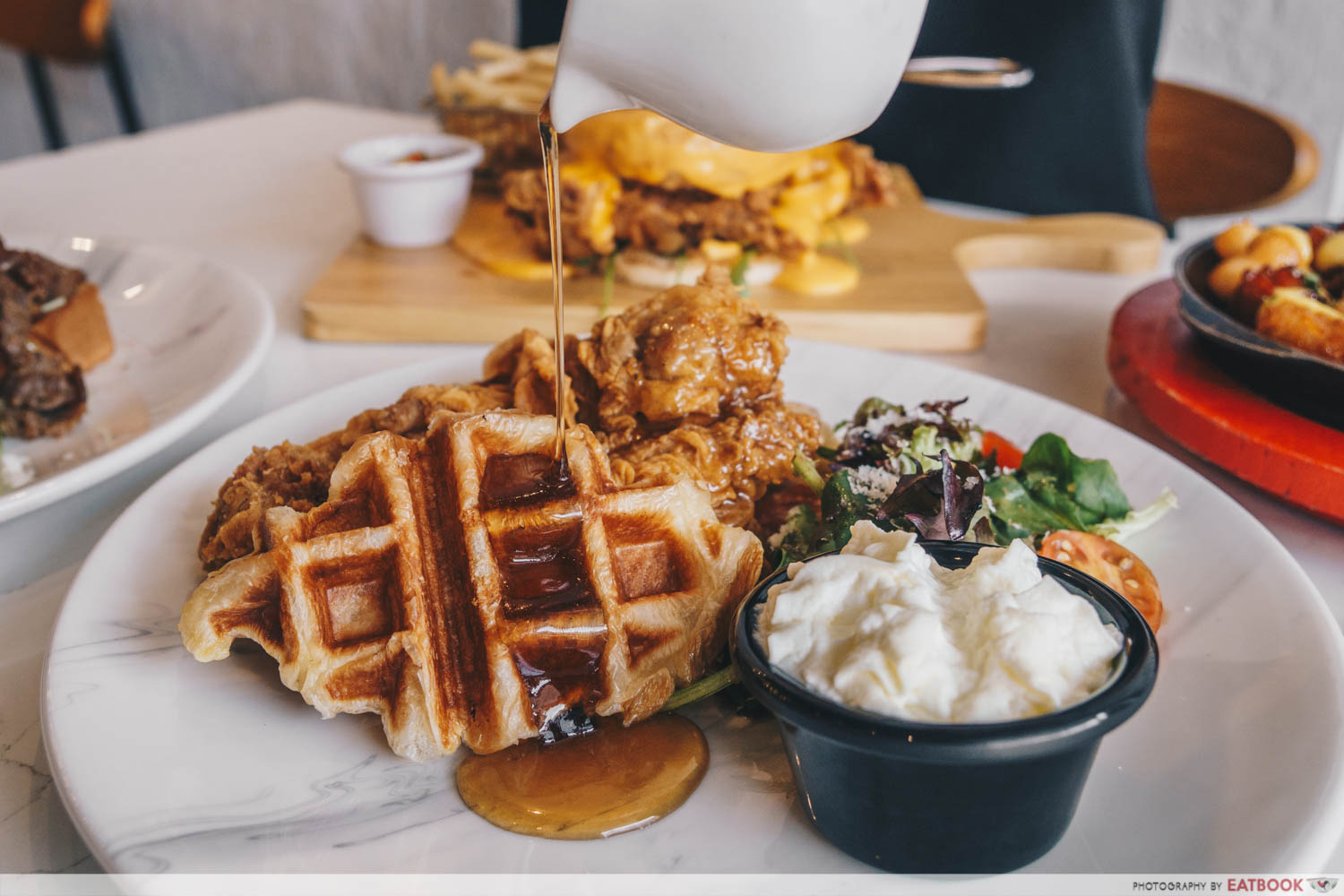 Korean cafe-goers will be pleased with their Chir Chicken Croffle ($17.50++) which sees flaky croissant turned into a waffle, alongside fried chicken and whipped cream. We recommend not going overboard with the maple syrup, as it might obscure the other flavours. Other noteworthy dishes include their So-Tteok Bowl ($14.50++), a popular Korean street snack with rice cakes and sausages, and the Fondue Chicken Burger ($15.50++) which is drenched with nacho cheese.
Check out our Chir Cafe + Bar review!
Address: 26A Lorong Mambong, Singapore 277685
Opening hours: Mon-Fri 11:00am to 10:30pm, Sat-Sun 09:30am to 10:30pm
Tel: 6235 9950
Website
Chir Cafe + Bar is not a halal-certified eatery.
Chir Cafe + Bar Review: New IG-Worthy Korean Cafe With Cheese-Drenched Burger, Croffles And More
---
2. Keisuke Chicken Yakiniku Tori Yaro
---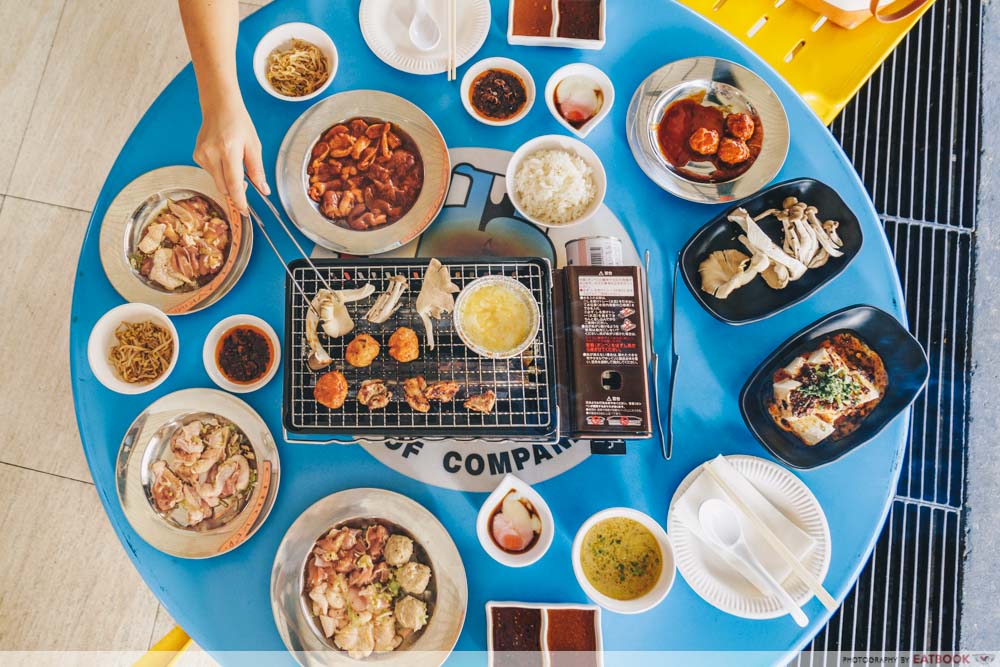 You've probably heard about the Keisuke Group from their chain of restaurants around Singapore. The brand has now brought yakiniku to kopitiams, with their newly-opened Keisuke Chicken Yakiniku Tori Yaro. Here, you'll get a chicken-only grill set from $3.90. Each order of meat comes with Keisuke's trademark marinated bean sprouts and an onsen egg.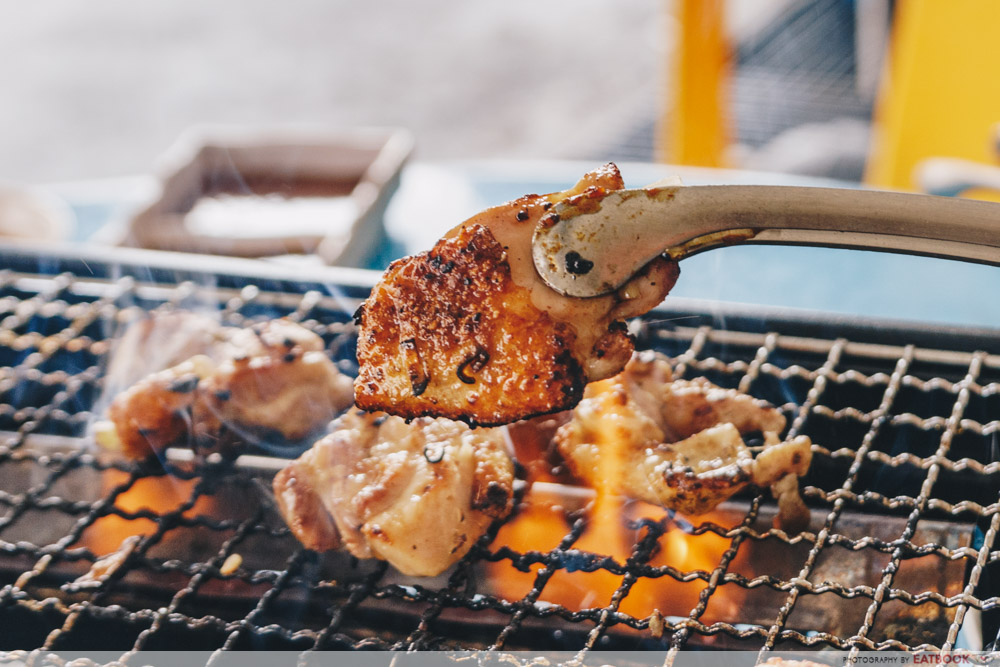 We particularly enjoyed the Kampung Chicken Thigh ($5.90) that's seasoned with their house negi-shio marinade. Their gizzards were also pleasantly fresh, and paired well with the spicy marinade. For a more substantial meal, get the Rice & Soup Set ($2.50) to go along with your meats. 
Check out our Keisuke Chicken Yakiniku Tori Yaro review!
Keisuke Chicken Yakiniku Tori Yaro Review: Chicken Yakiniku From $3.90 In A Kopitiam
Address: 2 Lorong 29 Geylang, Stall 3, Yinchuan Building, Singapore 388058
Opening hours: Daily 5pm to 10:30pm
Tel: 9720 3997
Website
Keisuke Chicken Yakiniku Tori Yaro is not a halal-certified eatery.
---
3. Molang x Kumoya Pop-up Cafe
---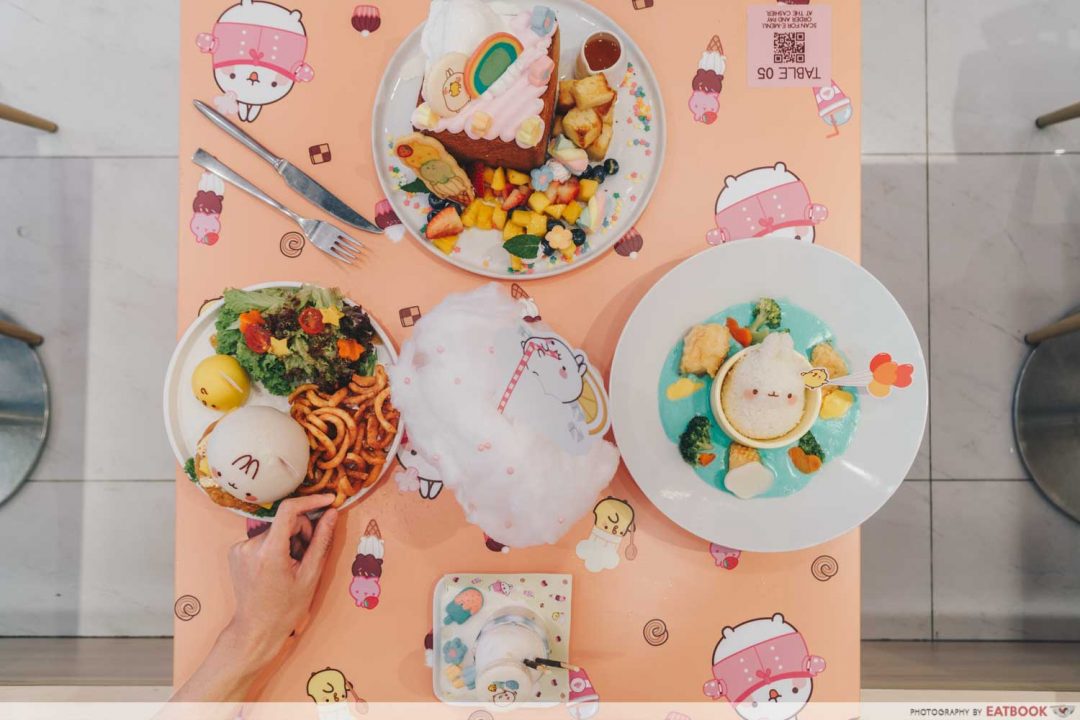 Kumoya has opened the world's first Molang-themed pop-up cafe, where you can get Molang-themed dishes and merchandise, set against IG-worthy pastel backdrops.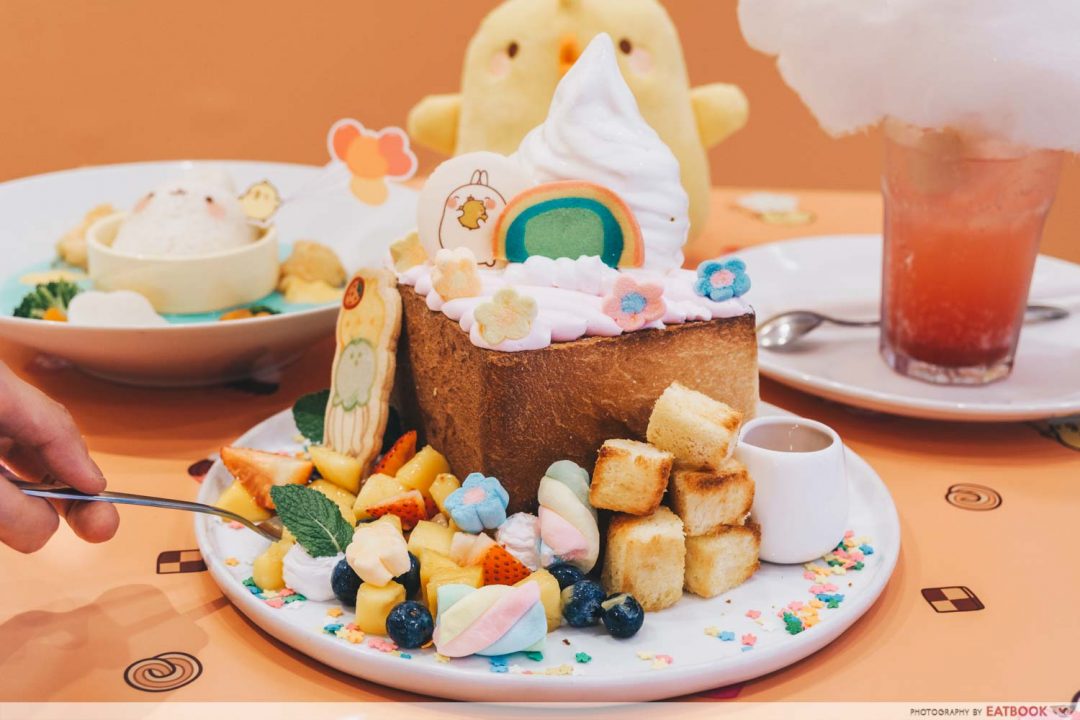 If you're missing the Shibuya honey toast from Bangkok's After You Dessert Cafe, consider Kumoya's Huggy Hugs Mango Berries Shibuya Toast ($24.90+) which comes assembled with Hokkaido soft serve, macarons, rainbow cookies, fresh cream, and fruit. We also tried their Happy Sunny Day Mango Berries Cake Jar ($14.90+) that is layered with sponge cake, fresh cream, and mango jam.
Check out our first look at Kumoya x Molang Pop-up Cafe!
Address: 8 Jalan Klapa, Singapore 199320
Opening hours: Tue-Sun 12pm to 9.30pm
Tel: 8204 5330
Website
Molang x Kumoya is not a halal-certified pop-up cafe, but the food is prepared with Muslim-friendly ingredients.
Molang x Kumoya Pop-Up Cafe Near Bugis Has IG-Worthy Cotton Candy Floats And Shibuya Thick Toasts
---
4. Yakiniku-GO
---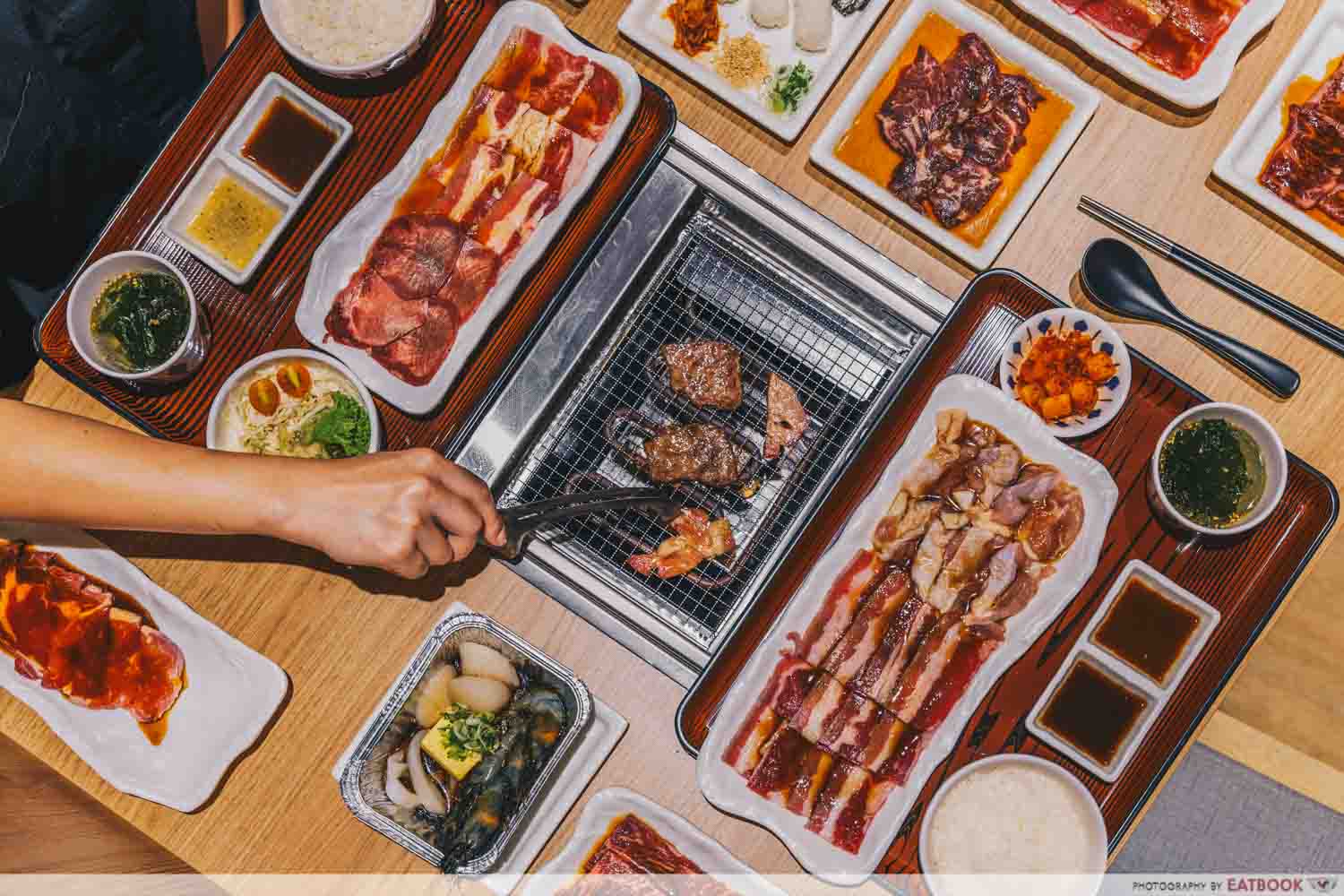 Joining the yakiniku craze in Singapore is Yakiniku-GO, with affordable Japanese BBQ that starts from $2.90++. You'll be spoilt for choice with their a la carte selection of meats. Otherwise, the restaurant has curated 13 set meals which come with rice, soup, and a side of kimchi.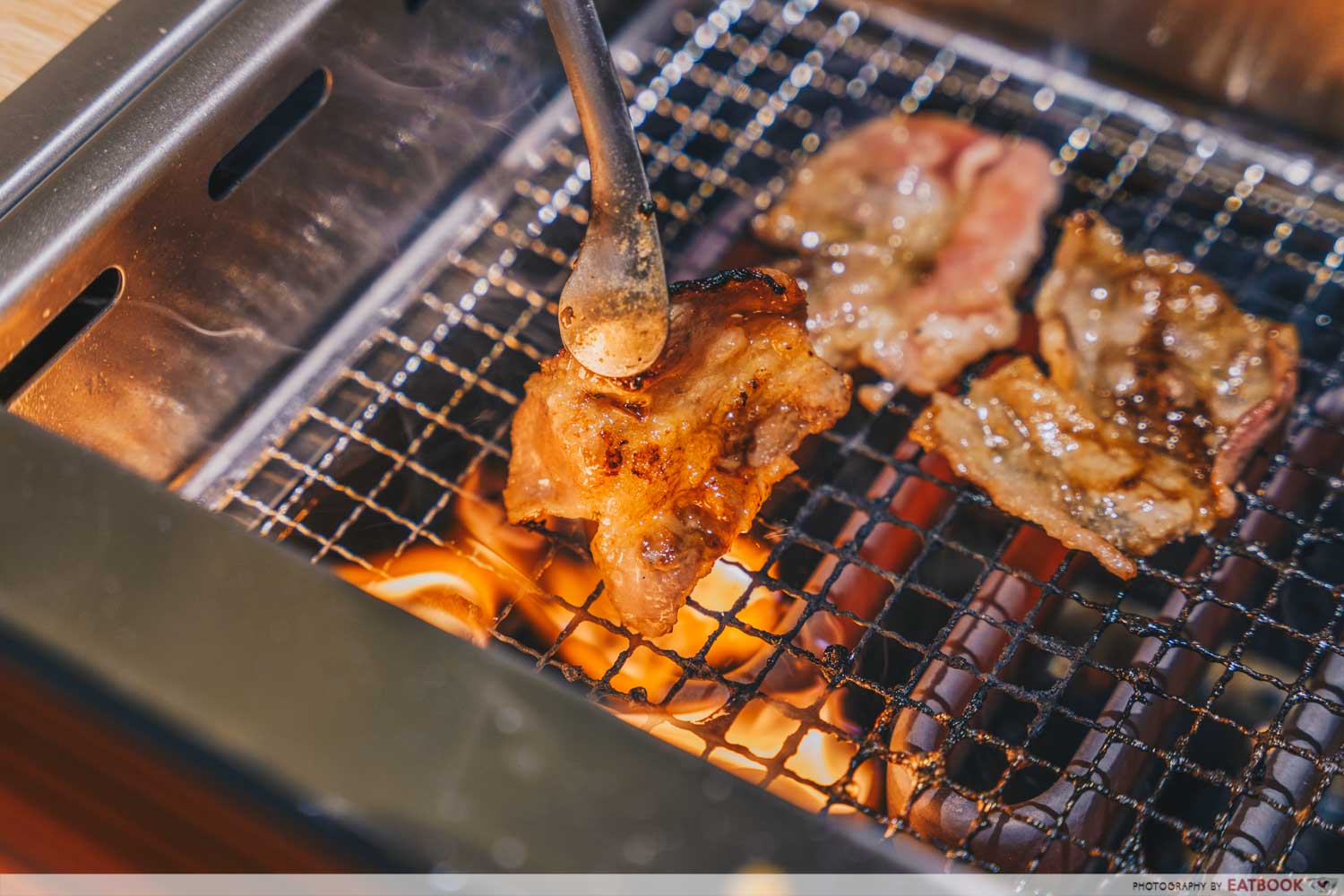 A favourite of ours was the Karubi (from $2.90++). These tender slices of beef dripped with fat on the grill, and paired well with the citrusy Negi Shio Tare sauce. Another must-have is the Wagyu Tokujou Karubi (from $11.80++) which boasts a marbling score of eight out of 12, and melted in our mouths.
Check out our Yakiniku-GO review!
Address: 33 Sengkang West Ave, #01-49, Seletar Mall, Singapore 797653
Opening hours: Daily 11am to 10pm
Tel: 6242 5939
Website
Yakiniku-GO is not a halal-certified eatery.
Yakiniku-GO Review: Yakiniku Joint In Seletar Mall Has Grilled Meats From $2.90++
---
5. A&W Jurong Point
---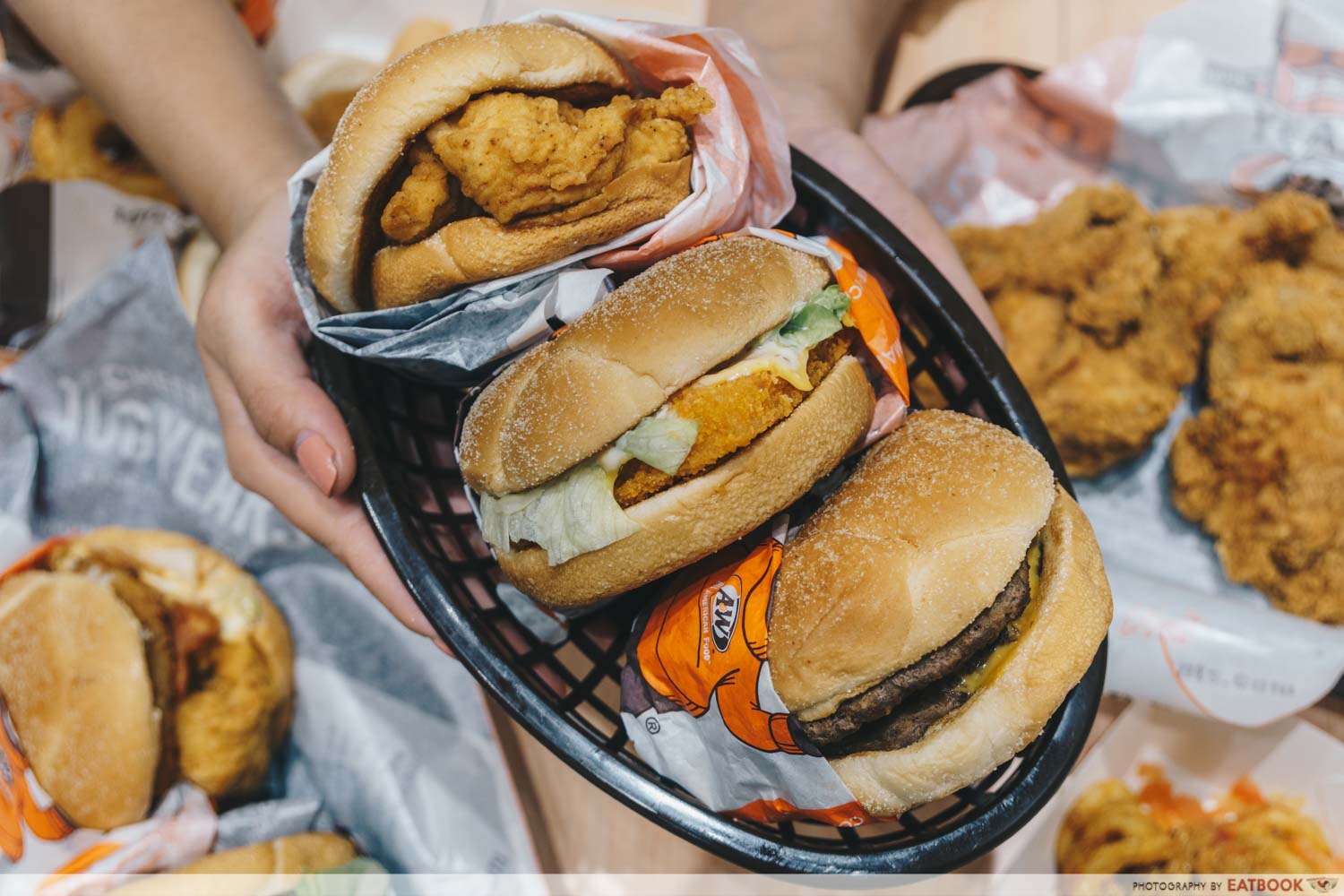 It's another win for West-siders as A&W opens a new outlet at Jurong Point, marking their first outlet in the West. Unique to Singapore and Okinawa is the Indulgent Cream Cheese Burger series (from $7.90), where you can opt for beef or chicken burgers dressed with cream cheese. This exclusive burger is only available at the new Jurong Point outlet.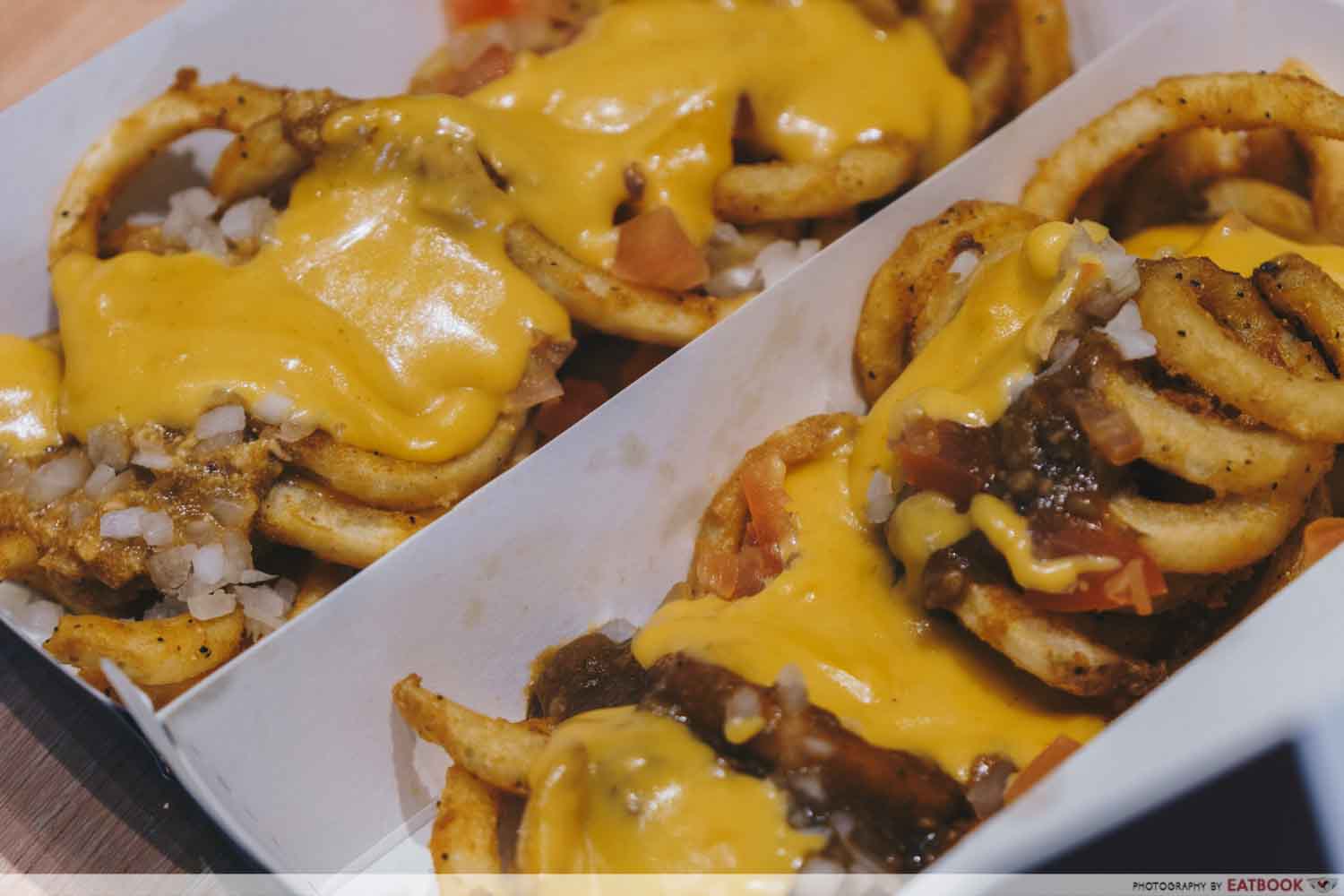 My personal favourite at A&W is their Curly Fries ($3.60), which you can zhng up with their Beef or Chicken Coney Cheese Fries ($4.90) selections. Round off your meal with A&W's signature Root Beer Float ($3.50) that makes for a nostalgic treat.
Address: 63 Jurong West Central 3, #03-42/43/44/45/46/47K3/K4, Jurong Point Shopping Centre, Singapore 648331
Opening hours: Daily 10am to 10pm
Website
A&W is a halal-certified eatery.
---
6. Picanhas'
---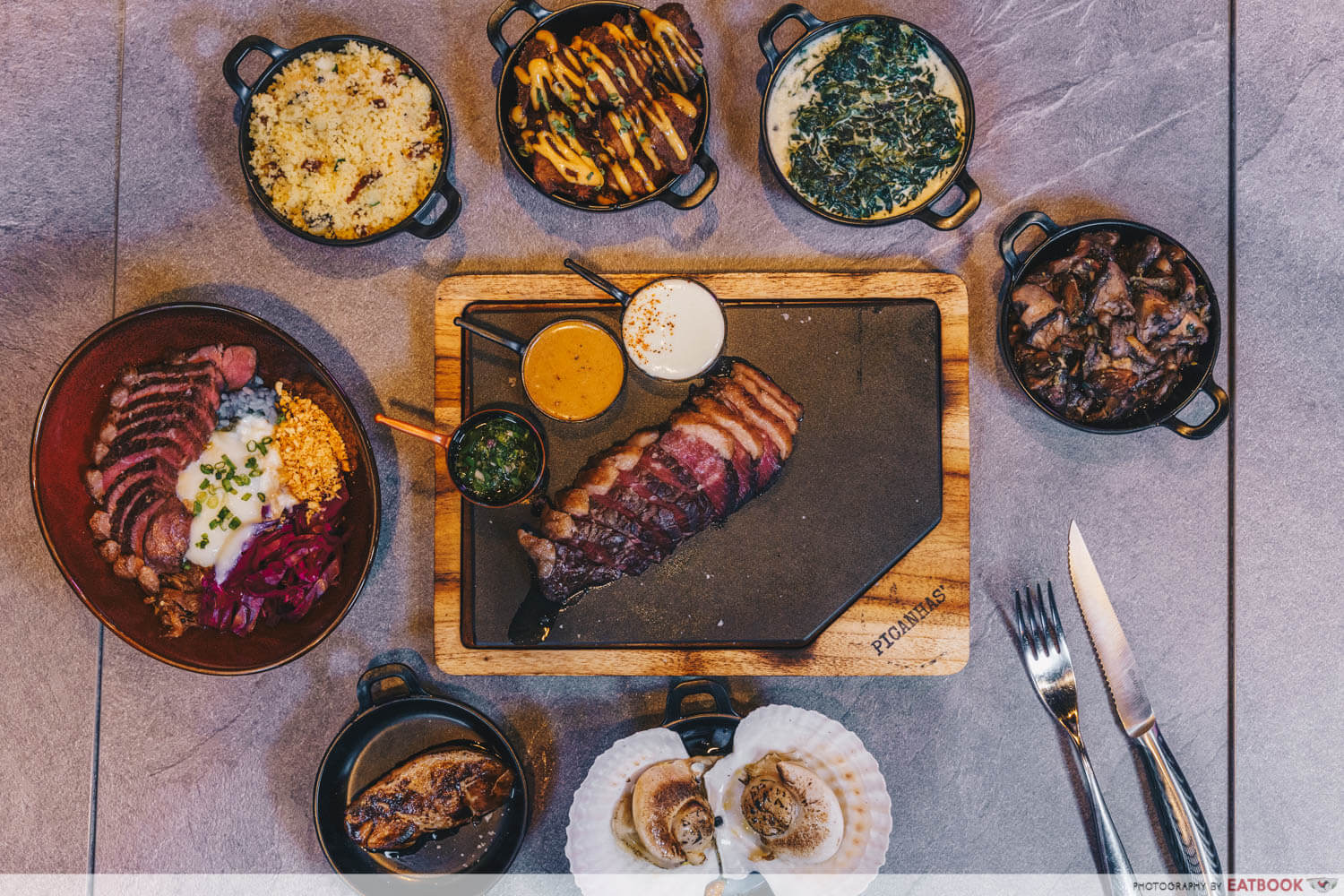 Everybody loves a good steak, though it can sometimes be hard on the wallet. Consider Picanhas', a new halal steakhouse opened by the folks behind The Feather Blade. Here, you can expect good-quality meats at affordable prices, made better by the restaurant's convenient location in the CBD.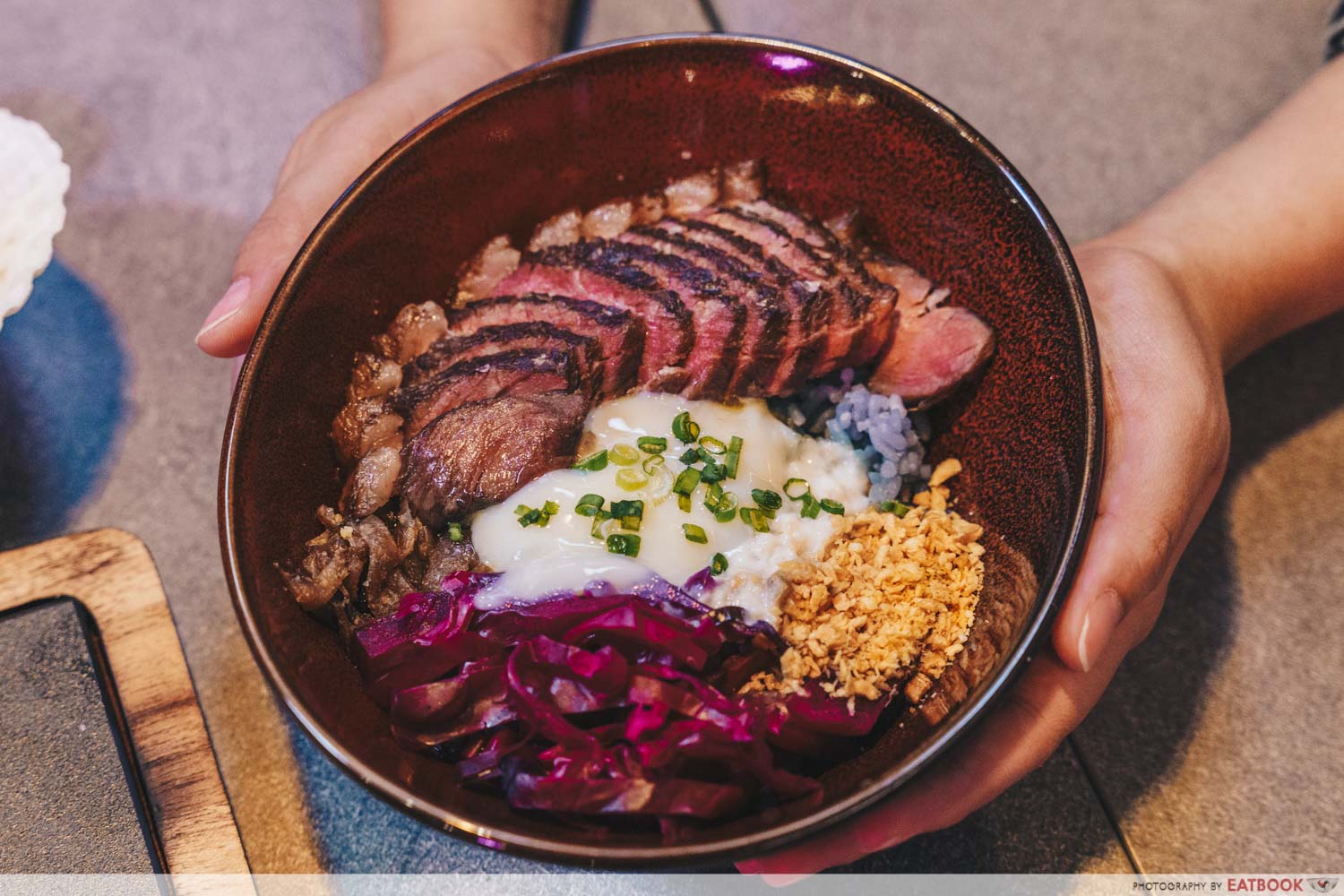 Their Queen Of Steak ($21++) is salt-brined then sous-vide, to ensure it's tender without drying out. Out of the two mains on the menu, we actually preferred the Picanha Don ($16++). This bowl felt more well-rounded, with steak served alongside an onsen egg, caramelised onions, pickled cabbage, garlic bits, and blue-coloured rice. 
Check out our Picanhas' review!
Address: 90 Club Street, Singapore 069458
Opening hours: Tue-Fri 12pm to 3pm, 5:30pm to 10pm, Sat-Sun 11am to 3:30pm, 5:30pm to 10pm
Website
Picanhas' is a halal-certified eatery.
Picanhas' Review: New Restaurant Serving Value-for-money Steak And Mocktails In The CBD
---
7. Yum Sing!
---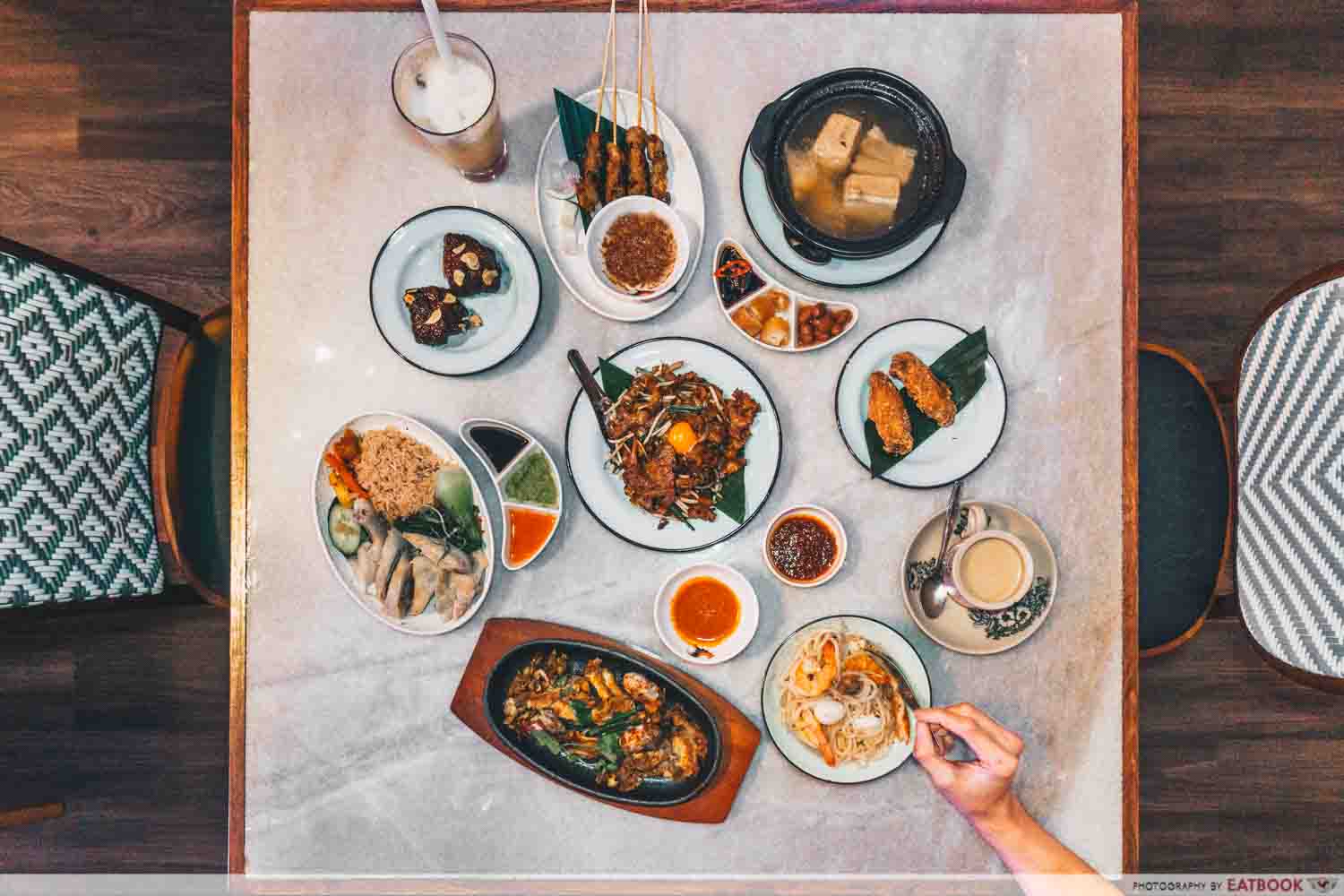 Started by the people behind Putien, Yum Sing! is a retro restaurant themed after New World, an amusement park in Singapore from back in the day. Here, you can expect an array of upgraded local dishes such as laksa, bak kut teh, and more.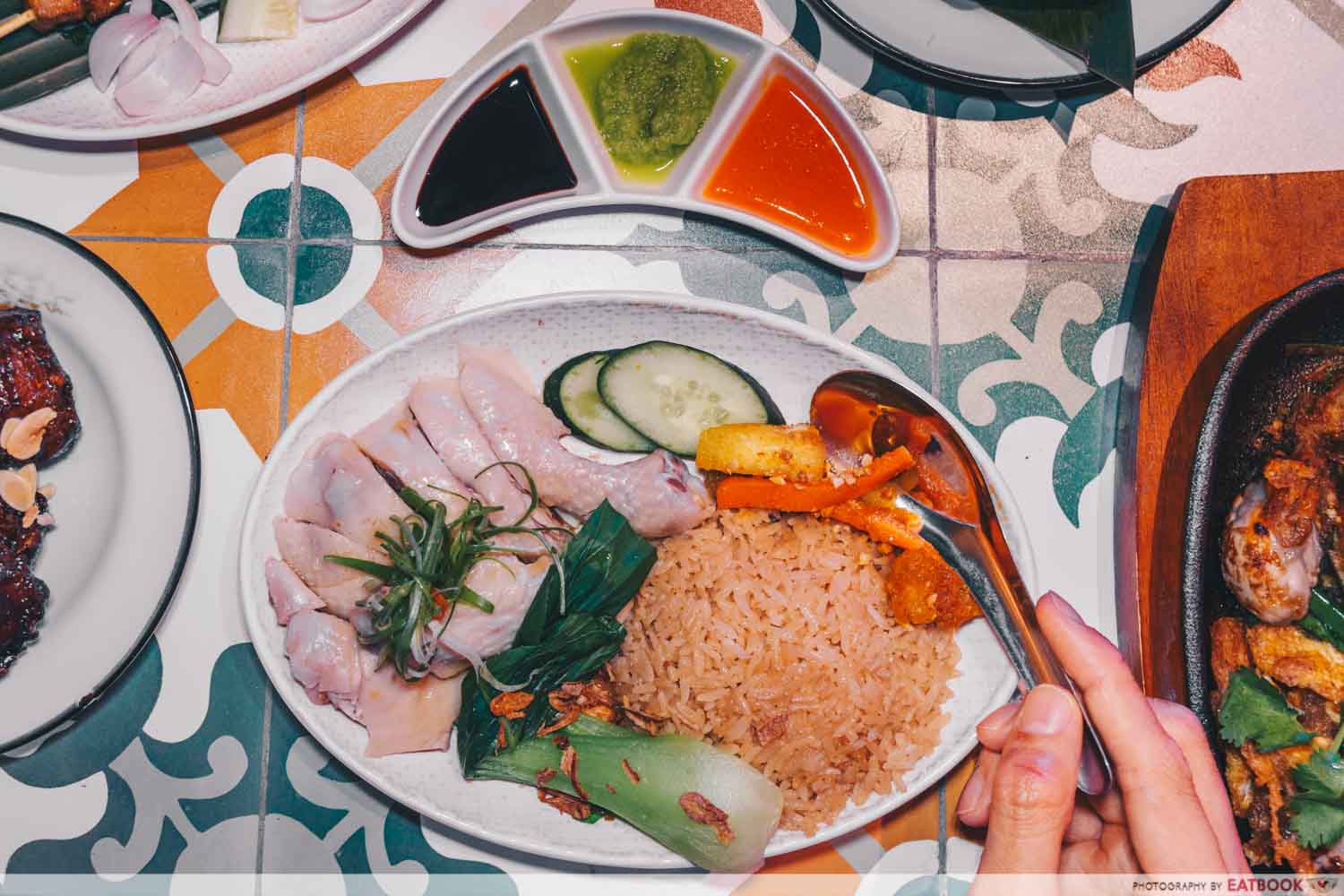 We had to try their take on Chicken Rice ($10++), a hawker staple amongst Singaporeans. Though we found the rice a tad too salty, the tender chicken did help to balance the dish. We also enjoyed the Oyster Omelette ($12++), which was generously studded with juicy, plump oysters.
Address: 3 River Valley Road, #01-06/07, Block B, Singapore 179021
Opening hours: Daily 4pm to 10:30pm
Website
Yum Sing! is not a halal-certified eatery.
---
8. Hanjip Korean Grill House
---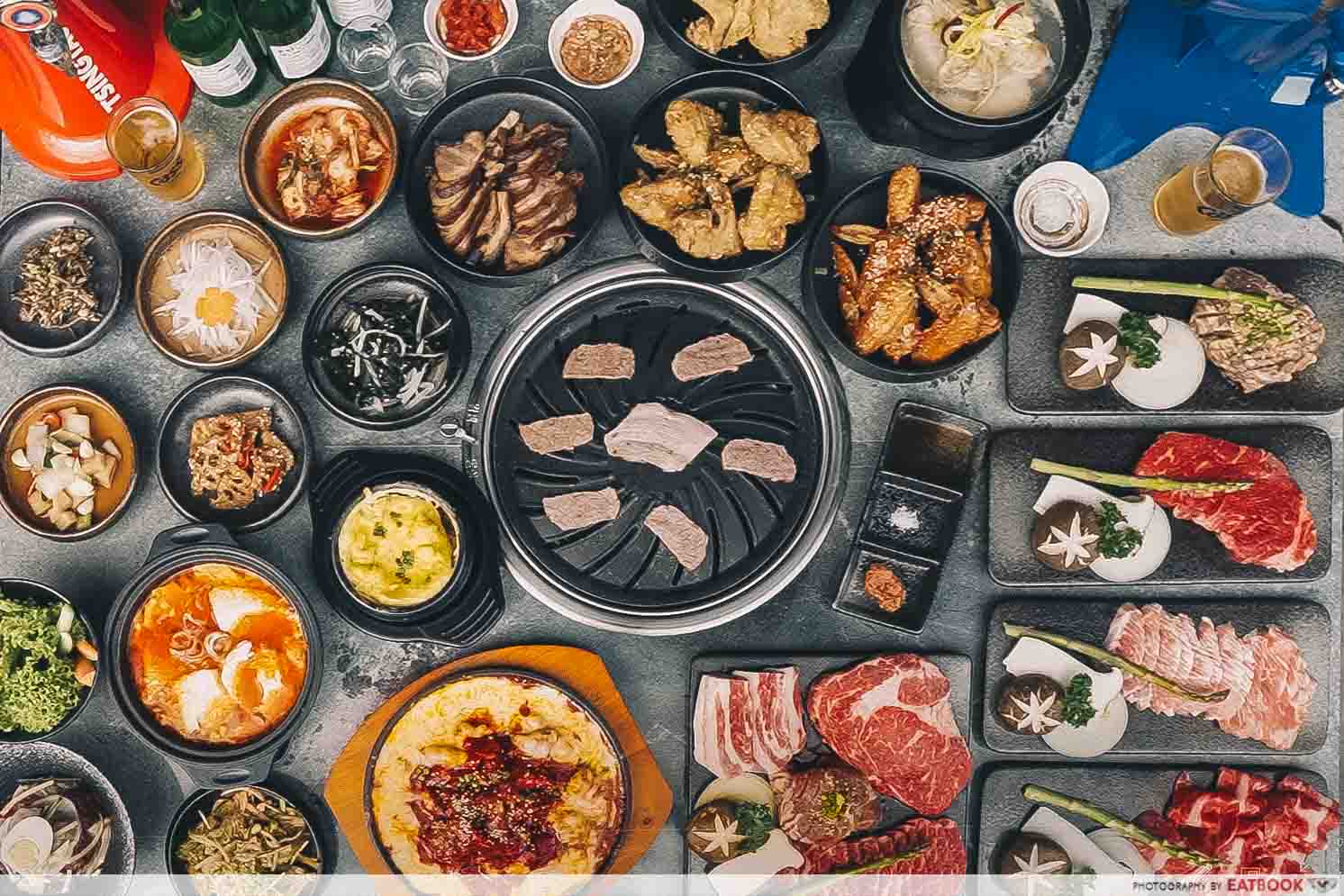 Another new kid on the block is Hanjip Korean Grill House, the first Korean barbecue restaurant in Clarke Quay. Their menu is very comprehensive, and we were especially impressed by the banchan selection, which is freshly made daily. Out of the restaurant's extensive meat selection, we particularly loved the Wagyu Brisket ($32++) and Kurobuta Pork Jowl ($32++), both of which were melt-in-the-mouth.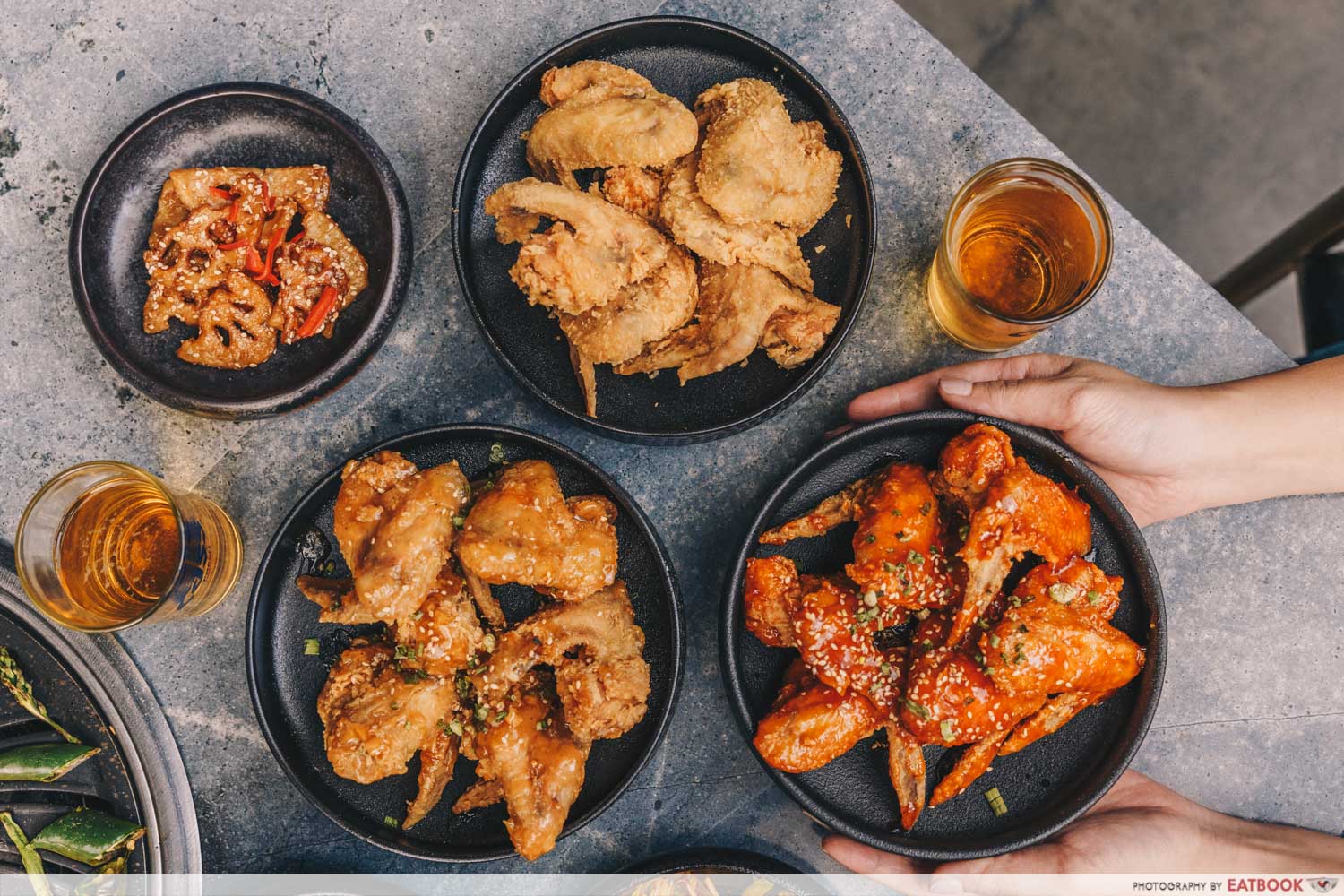 Their Korean Fried Chicken Wings ($20++) are equally stellar, glazed just right without being overly drenched in sauce. You can get them Original, Soy, or Spicy, and pair them with beer for the ultimate chimaek experience.
Check out our Hanjip Korean House review!
Address: 3C River Valley Road, #01-11, Blk C, The Cannery, Clarke Quay, Singapore 179022
Opening hours: Daily 5pm to 12am (last order at 10:30pm)
Tel: 8882 9011
Website
Hanjip Korean Grill House is not a halal-certified eatery.
Hanjip Korean Grill House Review: Korean BBQ With USDA Prime Ribeye And Wagyu Platters In Clarke Quay
---
9. Happy Congee
---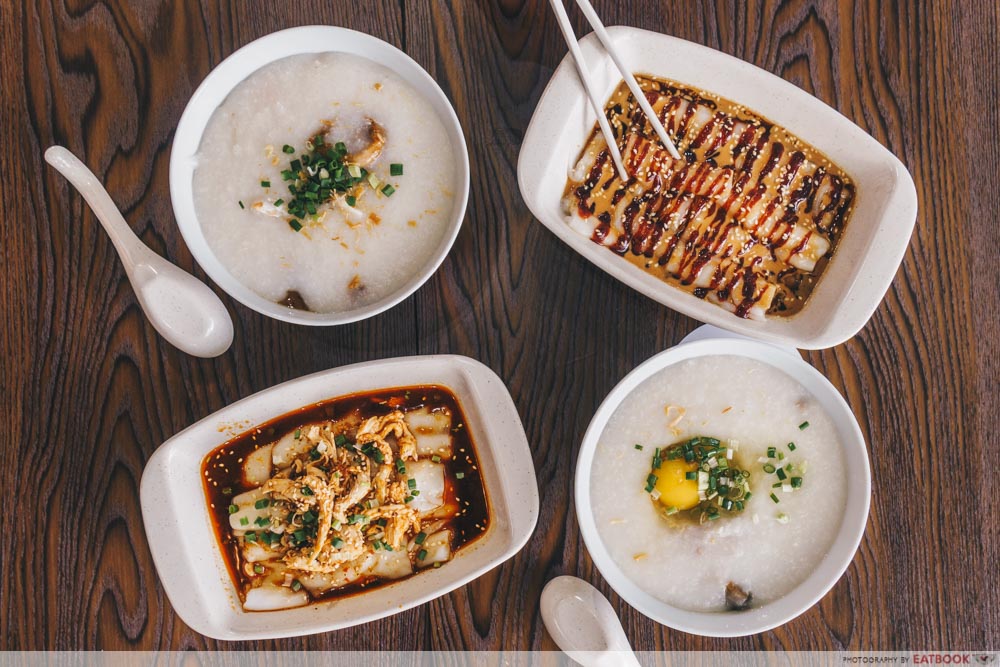 I've always turned to congee and chee cheong fun for comfort food, and Happy Congee takes these up a notch with renditions like mala and abalone. Their rice noodles are freshly made to order, with the Mala Chicken Shredded Rice Noodle Roll ($5) being our personal favourite. This plate of chee cheong fun is dressed with a flavourful mala sauce that has distinct notes of Sichuan peppercorn.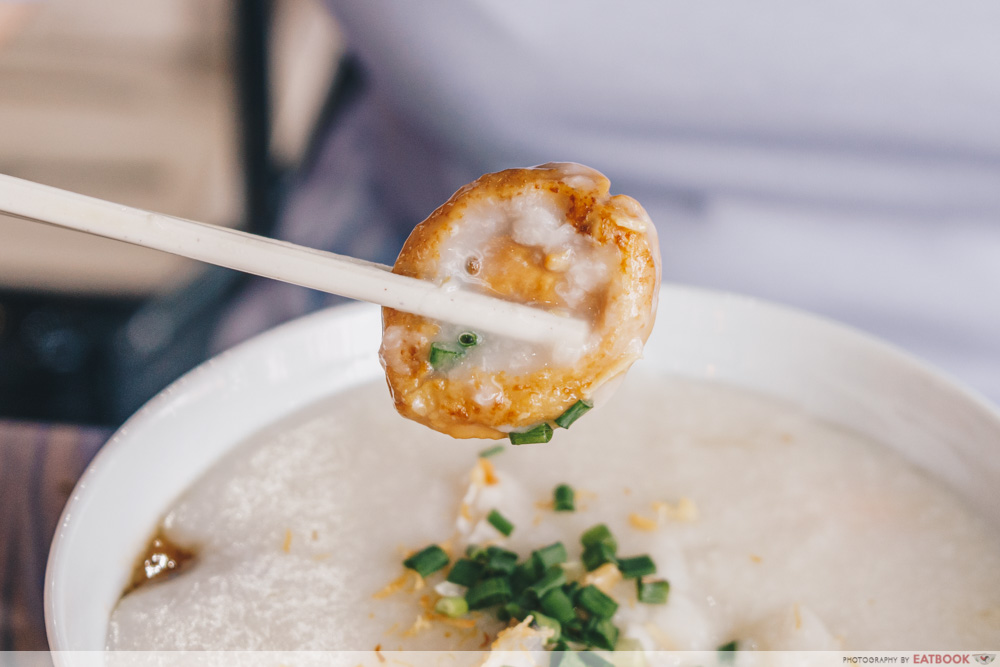 The congee here is one of the thickest we've had, true to a traditional Cantonese style porridge. Treat yourself to the Seafood Abalone Congee ($8) which sees fish maw, sliced fish, and chopped prawns within, finished with a whole baby abalone on top.
Check out our Happy Congee review!
Address: 380 Jalan Besar, ARC 380, Singapore 209000
Opening hours: Daily 8:30am to 2:30pm, 5:30pm to 8:30pm
Happy Congee is not a halal-certified eatery.
Happy Congee Review: Handmade Mala Chee Cheong Fun And Abalone Congee At Bendemeer
---
10. Takeshi-San
---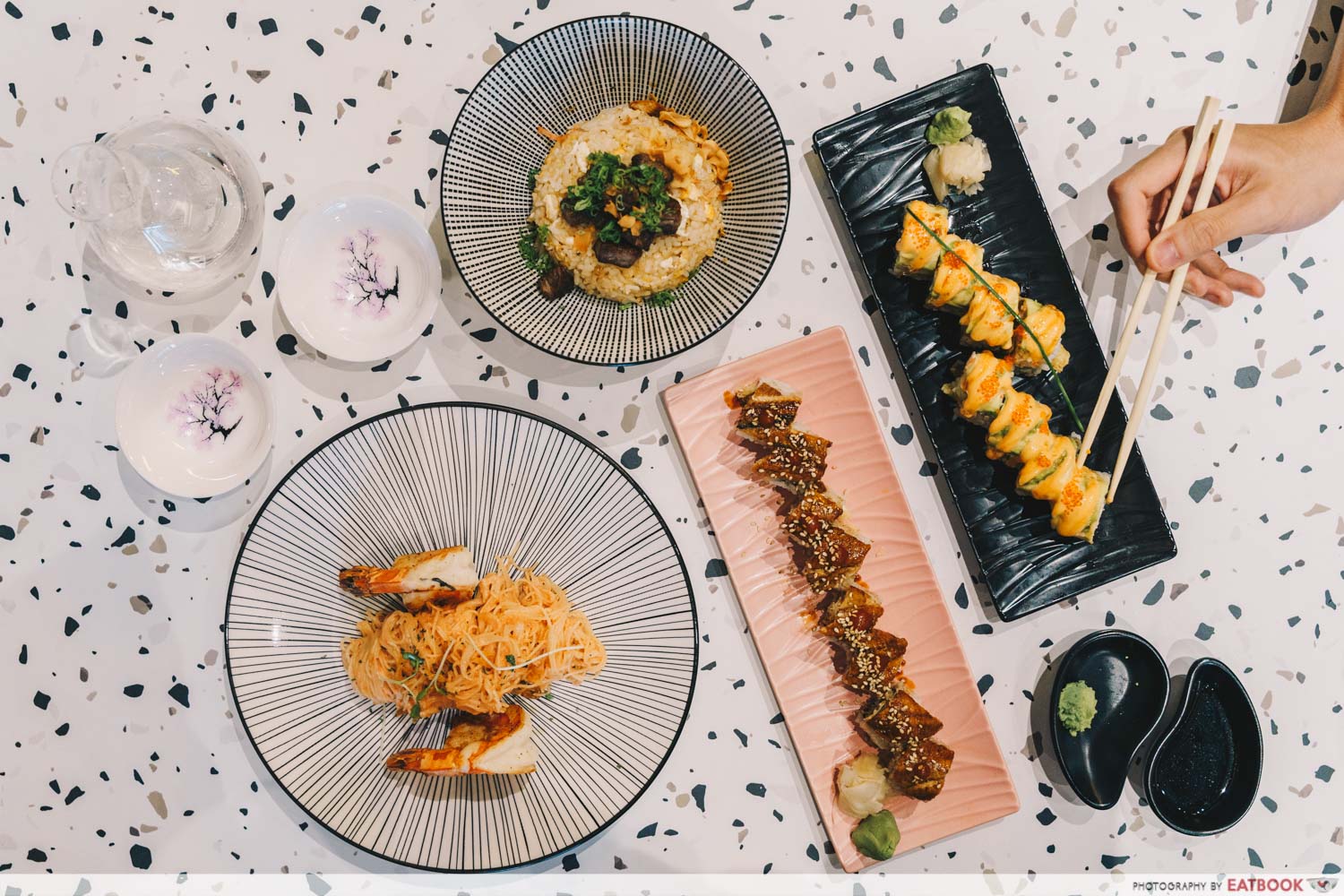 The dynamic F&B scene in Holland Village is joined by Takeshi-San, a new Japanese restaurant-bar. Here, you can expect one-of-a-kind Japanese dishes paired with their selection of sake. Their sushi rolls are a treat, with our favourite being the Incredible Hulk ($20), made with tempura ebi and kani salad, then topped with baked eel.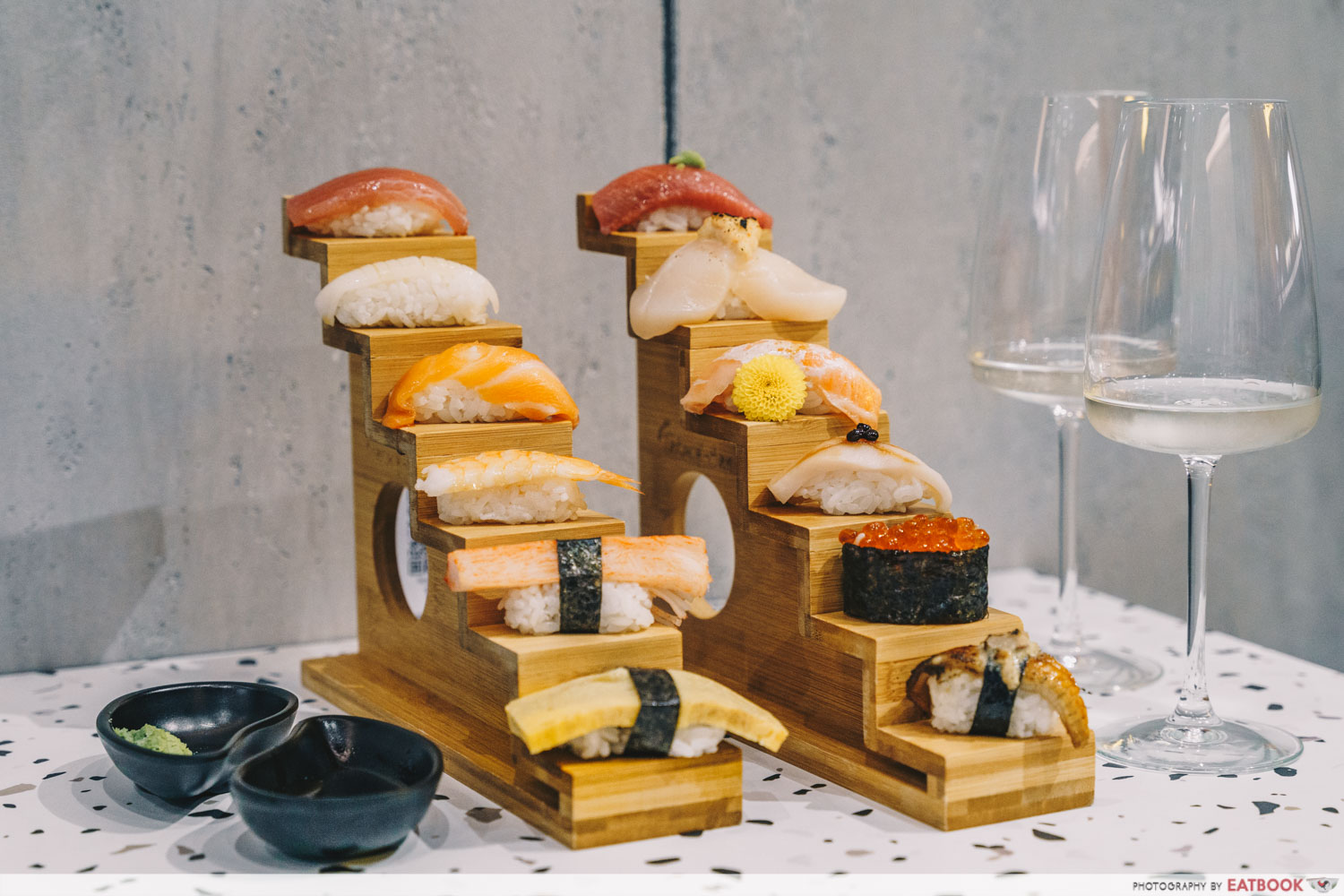 Their sushi kaidan sets are also pleasing to the eye, assembled on a stairway platter. Purists can opt for the Nigiri Set (from $15) while the more adventurous can try their Foie Gras Set ($38).
Address: 38 Lorong Mambong, Singapore 277694
Opening hours: Daily 11.30am to 3pm, 5.30pm to 10pm
Website
Takeshi-San is not a halal-certified restaurant.
---
Try these new restaurants this March 2021
---
Our list has rounded up 10 new restaurants in Singapore to check out this March 2021. We've also dined at places that aren't as novel but worth trying for the food. Check out our L32 Handmade Noodles review for handmade seafood ban mian, or our Flying Pig review for Thai omelette rice stuffed with crab meat.
L32 Handmade Noodles Review: Handmade Seafood Ban Mian With Long Queues At Geylang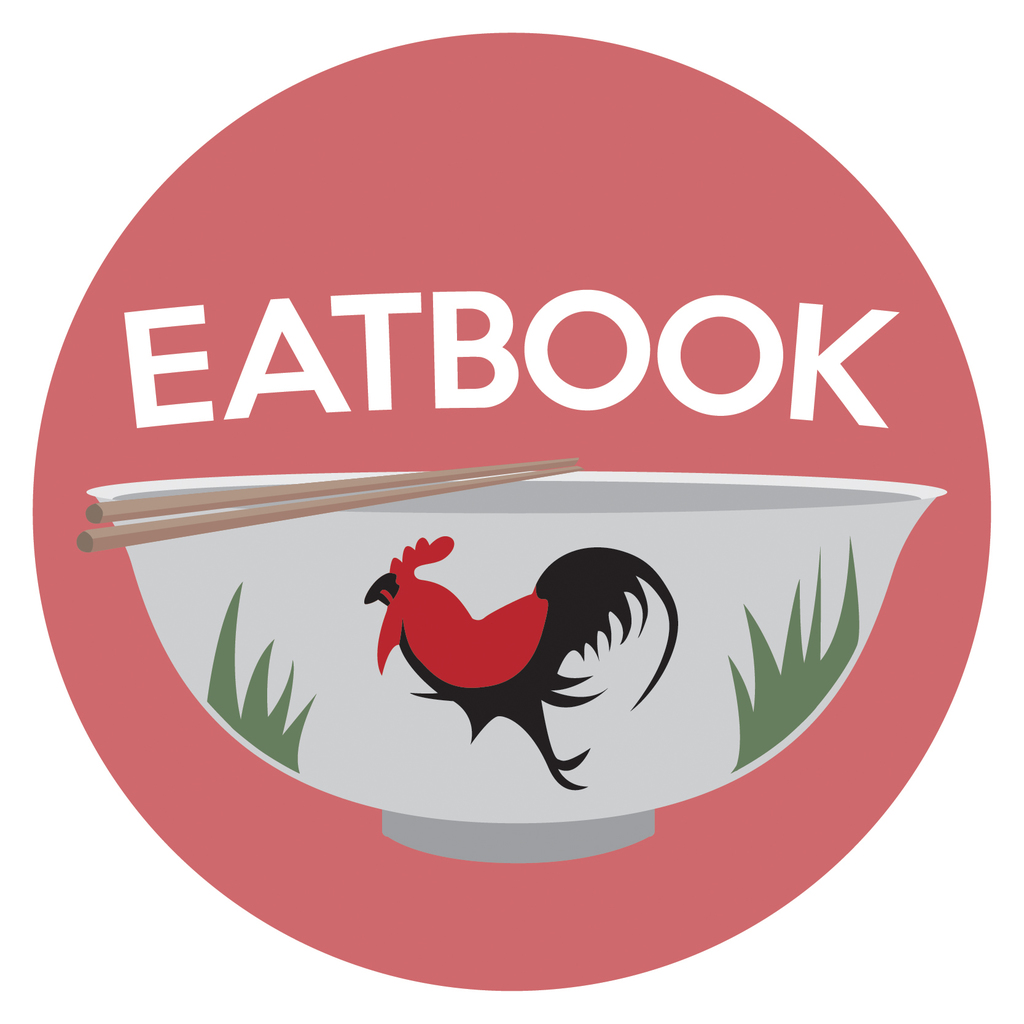 Drop us your email so you won't miss the latest news.