---
Bread delivery services during Circuit Breaker
---
If there's one thing I really crave for during this Circuit Breaker period, it's bread. Yes, I can still easily get processed white bread from supermarkets, but I miss freshly baked sourdough and those soft bread buns from neighbourhood bakeries. Hence, I've collated a list of bakeries that offer delivery across the island during Circuit Breaker, so all my fellow bread lovers can continue feasting without stepping out of the house.
---
Bread buns
---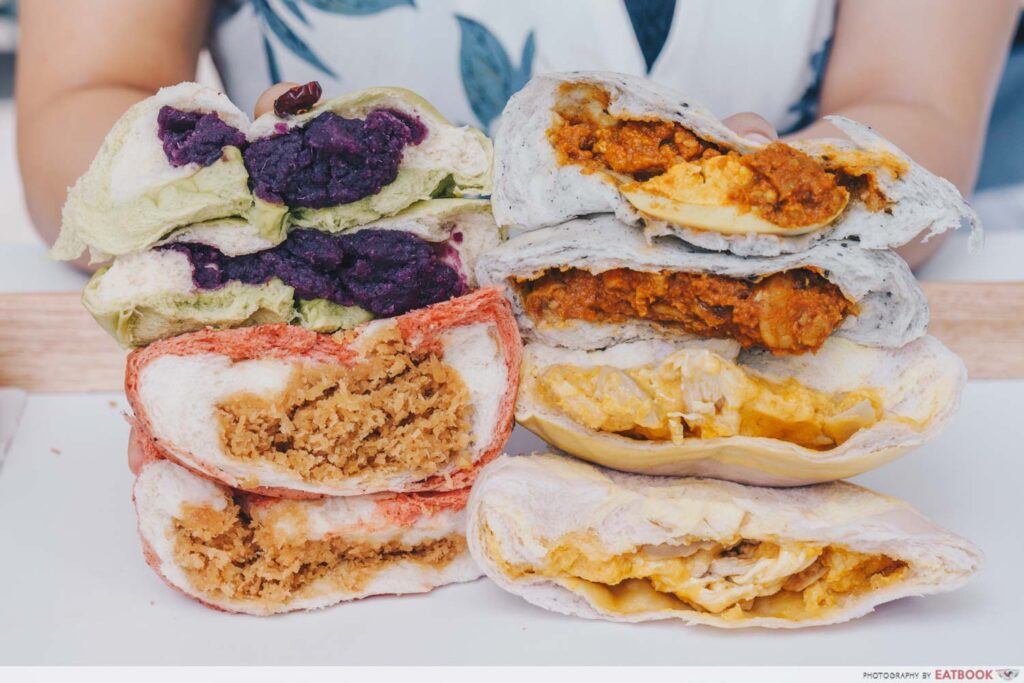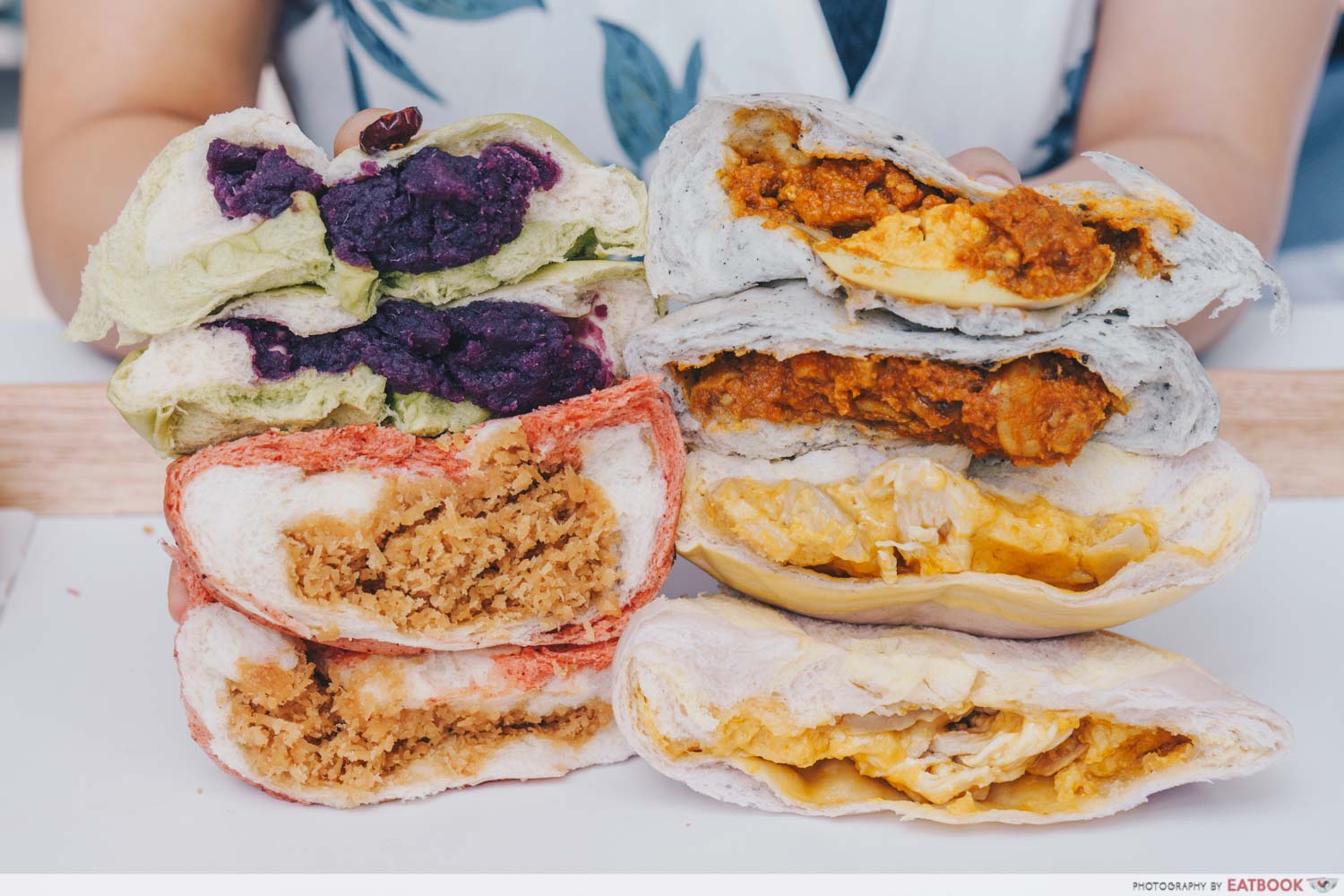 1. Breadstory
Breadstory is your typical neighbourhood bakery, with buns ranging from $0.70 to $1.60. Tarts and cakes are available as well. You can WhatsApp them to find out what's on the menu. There's a $3 delivery fee for those living in Telok Blangah, and an $8 delivery fee for islandwide deliveries. For the latter, you have to order a day in advance as well. There is no minimum order required. 
WhatsApp 9728 1375 to order
Find out more on their Facebook page
2. Sweetland Bakery
This old-school bakery offers a range of buns and traditional loaves, with prices ranging from $1.20 to $2.40. Their loaves come in a few varieties, including Rainbow Traditional and Brown Sugar Traditional. A minimum order of $30 and a $5 delivery fee are required. Alternatively, you can jio your neighbours and put in a $50 order to get free delivery. 
WhatsApp 8795 1266 to order
Find out more on their Facebook post
3. Thai Baang
The first thing that'll strike your attention is the metal tin that encases every bread bun at Thai Baang. Each bread bun is pillowy soft and hides a generous amount of filling within it. You'll find a wide variety of these metal tin breads, along with cakes and soft loaves, available on their website. To get your order processed ASAP, drop a WhatsApp message to 9722 1213 at least one day in advance instead of using their online form. They offer island-wide delivery with a minimum order of $30, and delivery fee ranges from $5 to $10 depending on your location. 
WhatsApp 9722 1213 to order
Check out the full menu on their website
Thai Baang: First Thai Bread Bakery In Singapore Beside Lavender MRT Station
4. Just Dough
Just Dough's colourful buns taste as good as they look. They've got flavours such as Purple Sweet Potato ($2.10), Banana Choc ($1.80), and Wolfberry & Longan ($2). Their prices are higher than the buns at neighbourhood bakeries, but they're justified by the ingredients they use. Only natural ingredients are used to colour the buns, and you'll find plenty of fillings in each fluffy bun. A minimum order of $25 applies for deliveries, and delivery charges range from $5 to $10 depending on your address. Place your order a day in advance to receive them between 12pm and 7pm. 
WhatsApp 9118 1440 or 9131 7445 or 9111 6813 to order
Check out the full menu on their Facebook page
Just Dough Review: Cheap And IG-Worthy Steamed Buns With Generous Fillings At Suntec City
5. Keng Seng Confectionery
If you stay in Canberra, Sembawang, or Yishun, check out Keng Seng Confectionery. The bread menu is small, but you'll find classic favourites that your fambam would enjoy. Chiffon cakes are also available at just $5.20. There's a minimum order of $10, and you can pay via cash or PayNow. Be sure to order a day in advance to get your bread between 5pm and 8pm the next day. 
Keng Seng Confectionery order form
6. Paris Baguette
Those having a Itaewon Class or Crash Landing On You marathon can check out the Korean series at Paris Baguette. There are a few sets to choose from, and you can get cakes, croissants, loaves, and sandwiches as well. Free delivery is available for orders above $50, and the website says you'll get your order within an hour, making Paris Baguette the fastest option in this entire list. 
7. BreadTalk
There's no introduction needed for this staple in our lives. There are four fixed sets to choose from, and some a la carte cakes available. Orders must be placed by 8pm the day before. There's free delivery if you spend $30 or more, otherwise, a delivery fee of $5 applies for smaller orders. 
---
Bread loaves
---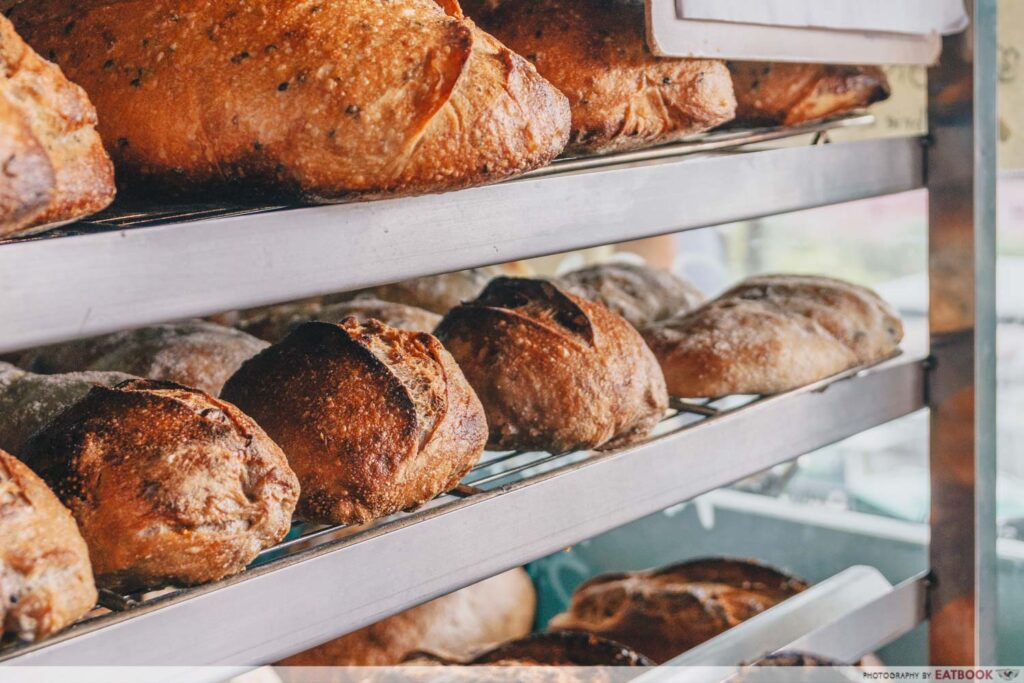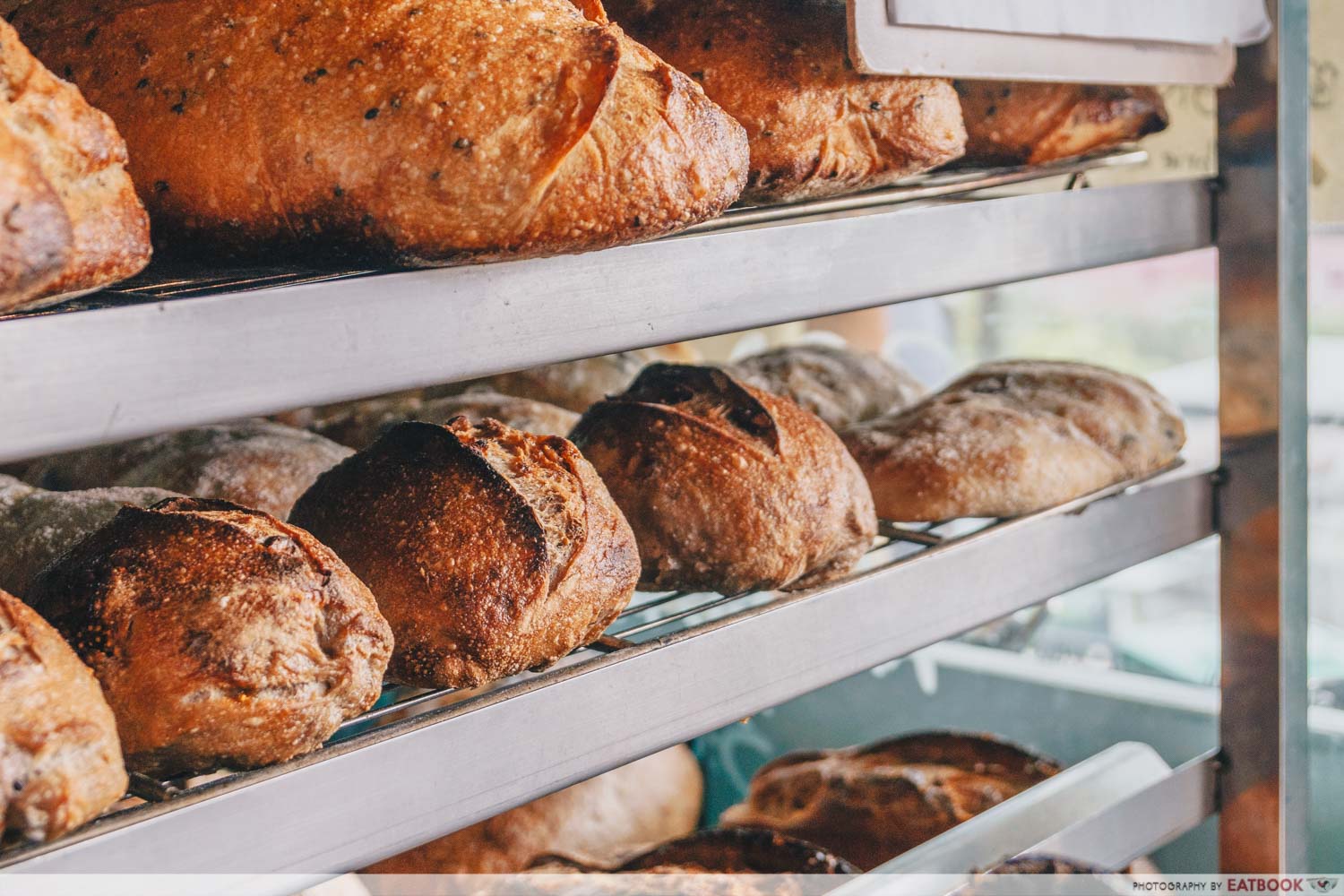 8. Guru Nice Bakery
You can get bread loaves at neighbourhood bakeries as well. Guru Nice Bakery offers a range of loaves, such as Healthy Organic Multigrain and Walnut Bread, at $6.50 each or $22 for four loaves. They've also got Swiss rolls at $3.80 if you're craving for something sweet. The delivery fee ranges from $5 to $10 depending on your address. 
Find out more on their Facebook post
9. Micro Bakery & Kitchen
Check out Micro Bakery for scrummy loaves of bread and cakes. A Country loaf goes at $9, while a loaf of Herb Olive Oil Focaccia goes at $10. You can also get a Sunshine Gift Box ($38), which comprises a loaf of Rosemary Olive Oil Sourdough Focaccia, a small loaf of Lemon Chia Cake, a jar of house-made jam, two Chocolate Chip Sea Salt Cookies, and a packet of Chocolate Coconut Hazelnut Granola (200g). A delivery fee of $15 applies.
Micro Bakery & Kitchen order form
Micro Bakery & Kitchen Review: Neighbourhood Bakery Serving Artisanal Bakes And Hearty Sandwiches At Bukit Timah
10. Bread Yard
If your family eats bread on a daily basis, consider the subscription plans dished out by Bread Yard. You can get two loaves of bread delivered to your house once or twice a month, or on a weekly basis, depending on your preference. Those with a sweet tooth can throw in some pastries such as croissants or kouign amann by opting for the Bread And Pastry plan. Prices start at $40 for two loaves of bread per month. 
Bread Yard Review: "Bak Kwa" Cheese Pancakes At Fusionopolis
11. Starter Lab
Starter Lab is a famous cafe from Bali that serves up stellar loaves, which you can get delivered if you live in their designated areas. They only deliver to three zones. Zone 1 comprises East Coast, Geylang, Marine Parade and Kallang, Zone 2 comprises River Valley, Tiong Bahru, Orchard, Raffles, the CBD and Sentosa, and Zone 3 covers Bukit Merah, Alexandria, Tanglin, Queenstown, Bukit Timah and Holland Village. A flat fee of $15 applies for all deliveries. 
Starter Lab Review: Muji-Style Cafe At Tiong Bahru Serving One Of Singapore's Best Sourdough
12. The Whole Kitchen
The Whole Kitchen is good for those who need gluten-free bread. They have a range of these, including Gluten Free Sourdough and Gluten Free Focaccia Bread. Gluten free cakes, vegan brownies, and granola are also available for delivery. Orders must be made at least three working days in advance and they only deliver between Tuesdays and Saturdays. You'll get free delivery if your order is $45 or more. Otherwise, a $10 delivery fee will be charged at check out.
The Whole Kitchen's website and order form
13. Bakery Brera
A small bakery hidden in Empress Mall, Bakery Brera is known for their cruffins, croissants, and loaves. They've got their usuals on sale this CB season, as well as Basque burnt cheesecakes in flavours such as hojicha and matcha. It's difficult to get a delivery slot as they're overwhelmed with orders, but you can keep an eye on their Facebook page to see when the next round of slots will be released. 
Delivery menu
Check their Facebook page for delivery updates
Bakery Brera Review: Flaky Cruffins Stuffed With Peanut Butter, Salted Caramel And More