---
New restaurants in Singapore March 2022
---
We're officially rounding off the first quarter of 2022, and it's been a challenging one. Few things offer a quick pick-me-up like a good meal, so book yourself a table at any of these new restaurants in Singapore and have something to look forward to.
From affordable souffle pancakes to an all-char siew cafe, here are the new restaurants in Singapore to check out in March 2022.
---
1. Gary's Restaurant 
---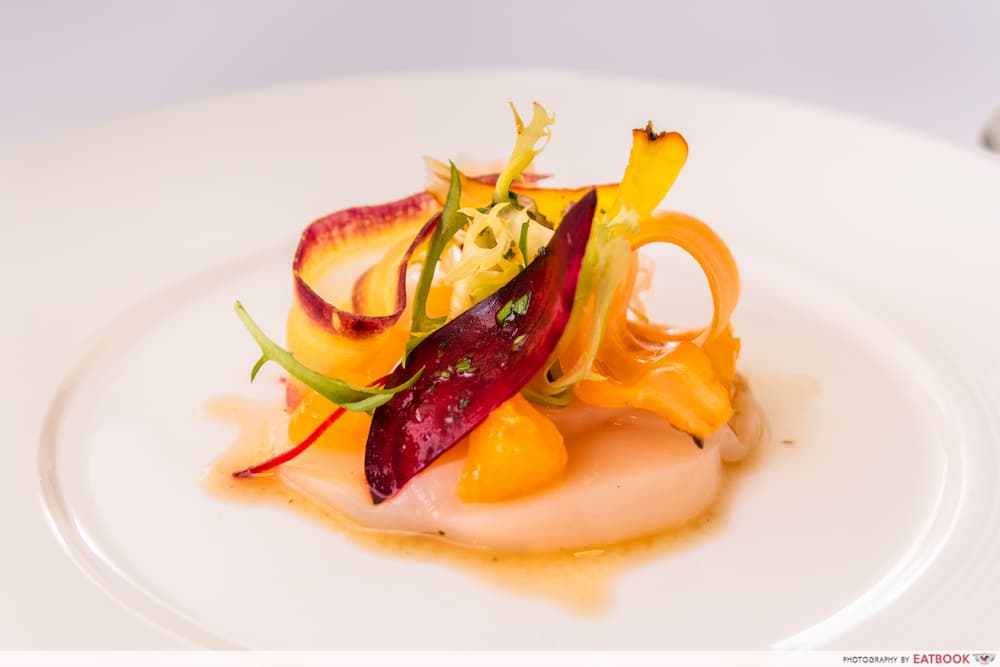 Gary's Restaurant is a great option for date nights and special occasions. The Italian-Japanese restaurant is set in a colonial bungalow at Rochester Park, replete with old-world charm and lush greenery.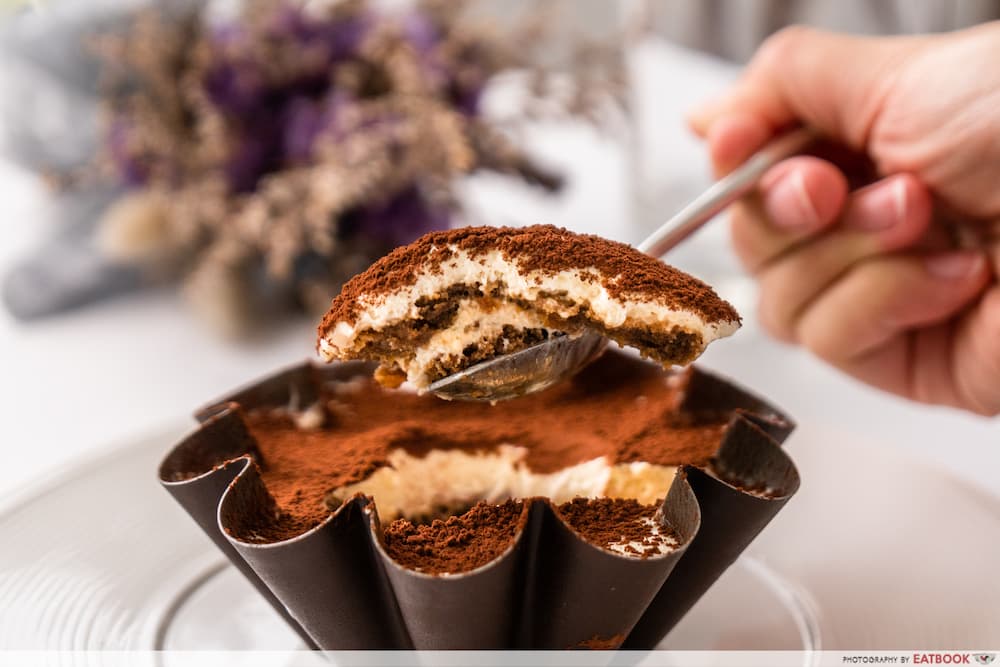 Come down for lunch and enjoy their set menus, with prices starting from just $38++ for a three-course feast. Seafood is a strong suit here, so we recommend the Seabass, served with bright spring vegetables, or the Spaghetti Aglio Olio, served with sweet tiger prawns.
Address: 41 Rochester Drive, Singapore 138582
Opening hours: Daily 11:30am to 10:30pm
Tel: 8920 0200
Website
---
2. Flipper's 
---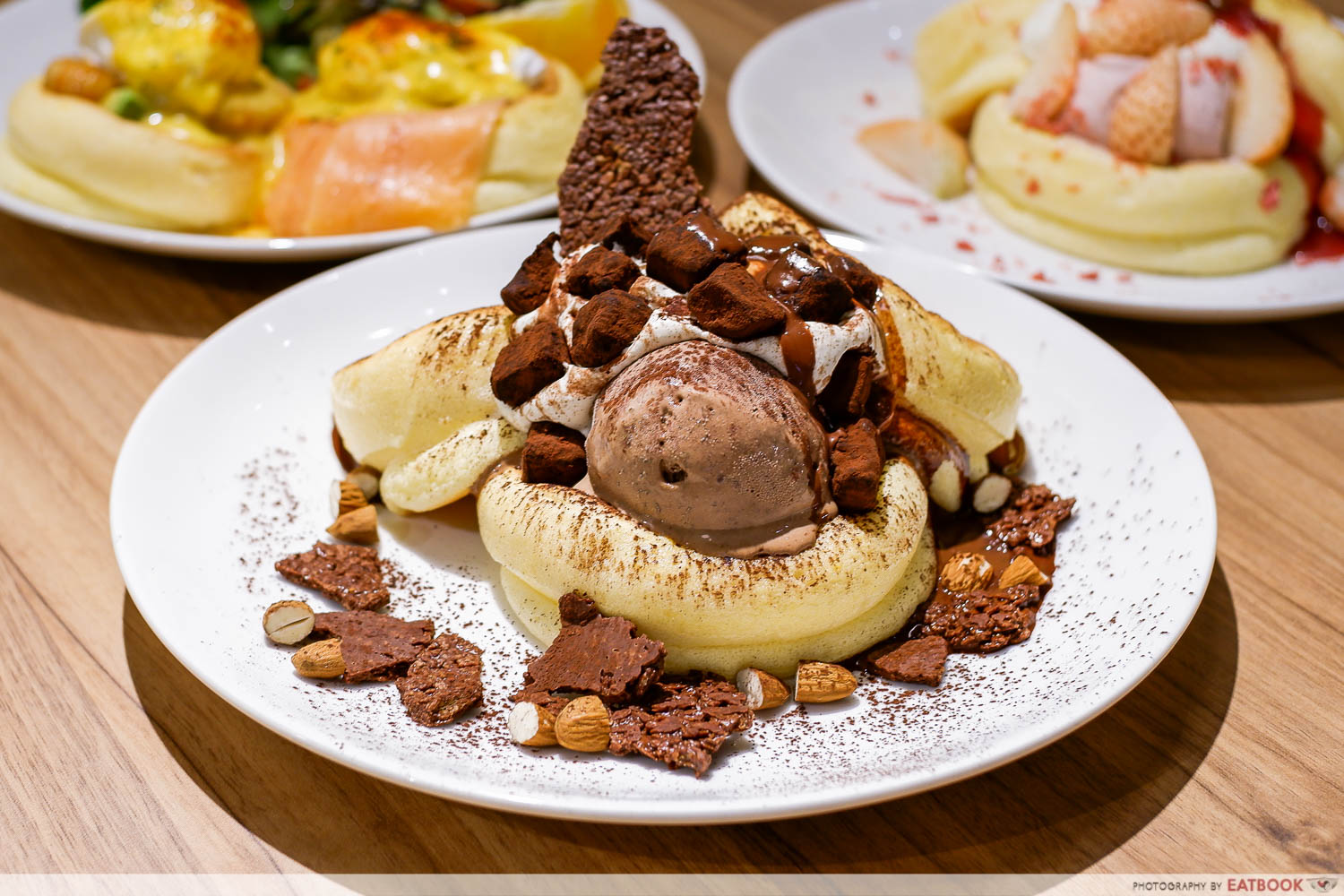 Halal souffle pancake joint Flipper's is back with two limited-run specials: Melty Chocolate ($24.80++) and Japanese Awayuki Strawberry Souffle ($26.80++). The former sees the Japanese chain's signature Kiseki pancakes drenched in an indulgent 70% chocolate sauce, and topped with silky 55% cocoa chocolate truffles that melt in the mouth. There's also a generous serving of crunchy chocolate bits and almonds on the side for textural contrast. 
For something lighter on the palate, get the Japanese Awayuki Strawberry Souffle. This fruity number consists of Kiseki pancakes with dollops of strawberry-infused cream, fresh whipped cream, and strawberry syrup, finished with premium Awayuki strawberries known for their light pink hue and delicious sweetness. 
These flavours are available for a limited time only, so be sure to get them while you can! 
Address: 80 Middle Road, Bugis Junction, #01-97, Singapore 188966
Opening Hours: Daily 11:30am to 10pm
Website
Flipper's Review: Popular Cafe From Japan Arrives With Matcha And Eggs Benedict Souffle Pancakes
---
3. Nox 
---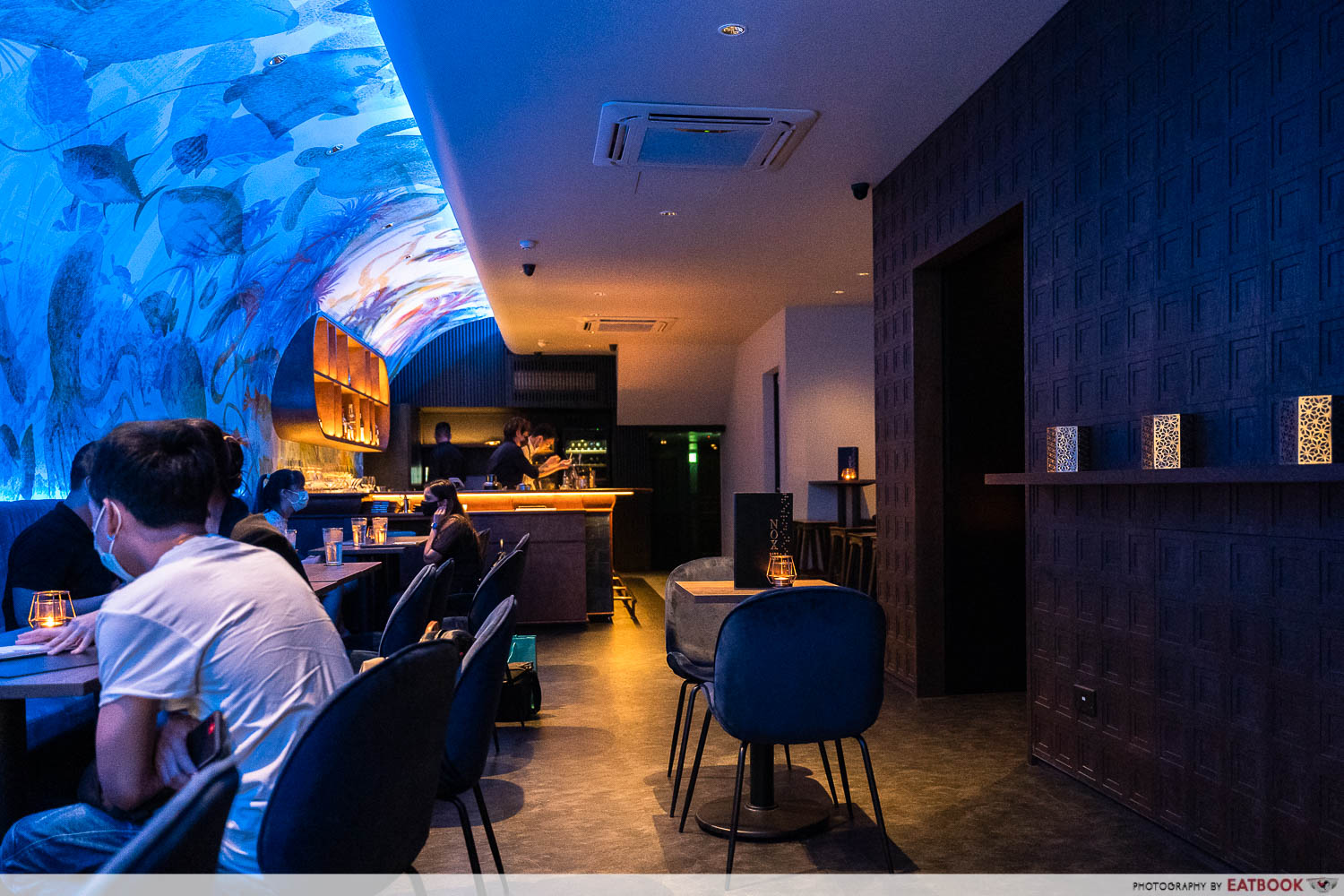 Nox – Dine In The Dark offers a dining experience unlike any other. For two hours, you eat a 12-course meal ($88++), enjoyed entirely in the darkness. The restaurant is manned by visually impaired and blind staff, and the lack of light is meant to create a temporary affinity between both diner and staff. By taking away the visual from the dining experience, a meal at Nox also explores how one's other heightened senses can introduce a new dimension to the way food is enjoyed.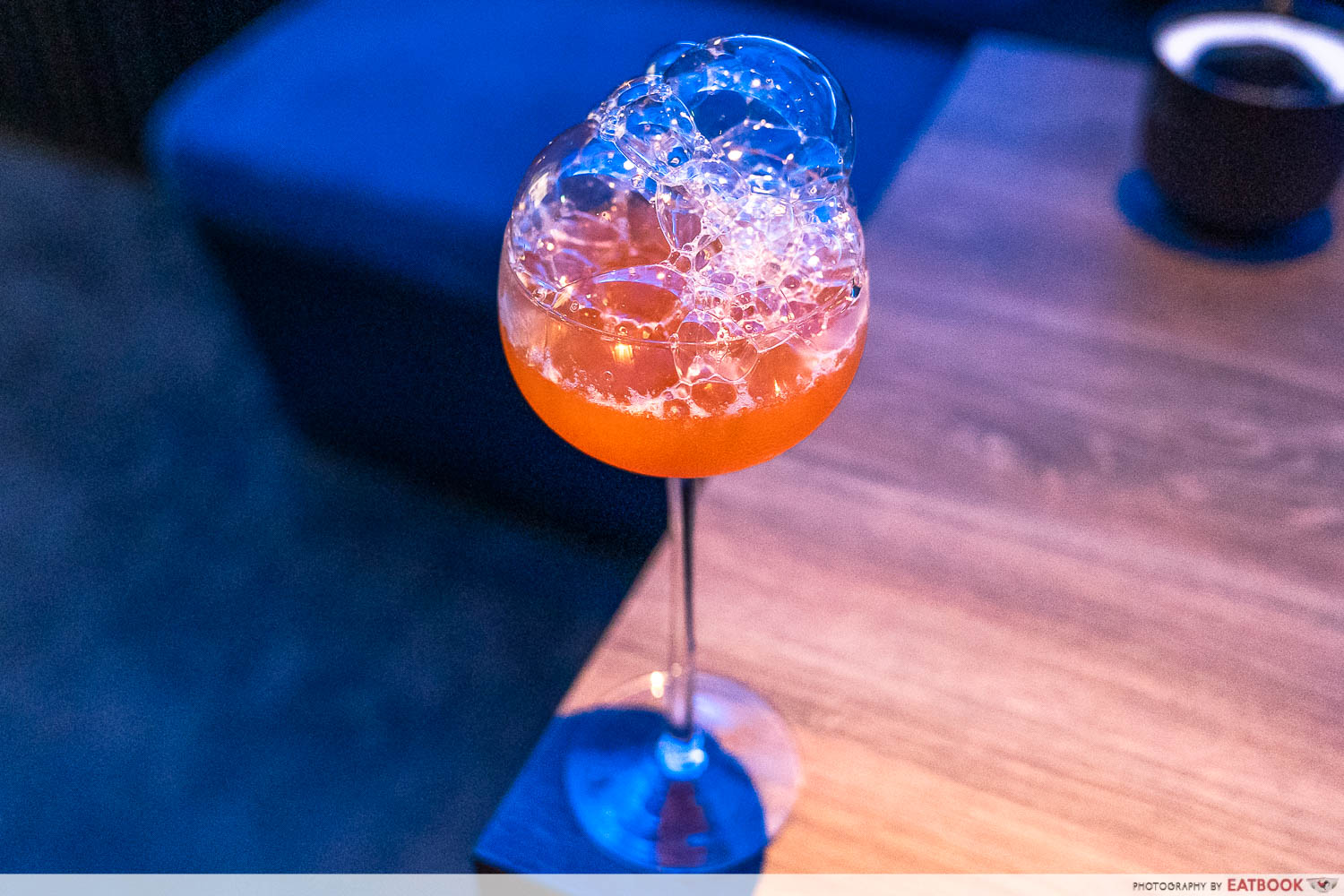 Nox was previously at Beach Road, but they have since moved to a new outlet in Club Street. The menu is unknown and seasonal, which makes your meal extra-intriguing. Apart from the refreshed food offerings, the new Nox address is also home to a cocktail bar serving up pre-dinner drinks created by renowned local bartender, Sam Wong.
Read more about our experience at Nox.
Address: 83 Club Street, Singapore 069451
Opening hours: Tue-Sun 6pm to late
Tel: 6298 0708
Website
NOX Dine In The Dark Reopens With A 12-Dish Dinner And Cocktails By Ah Sam Cold Drinks Stall
---
4. Char Seal Bar 
---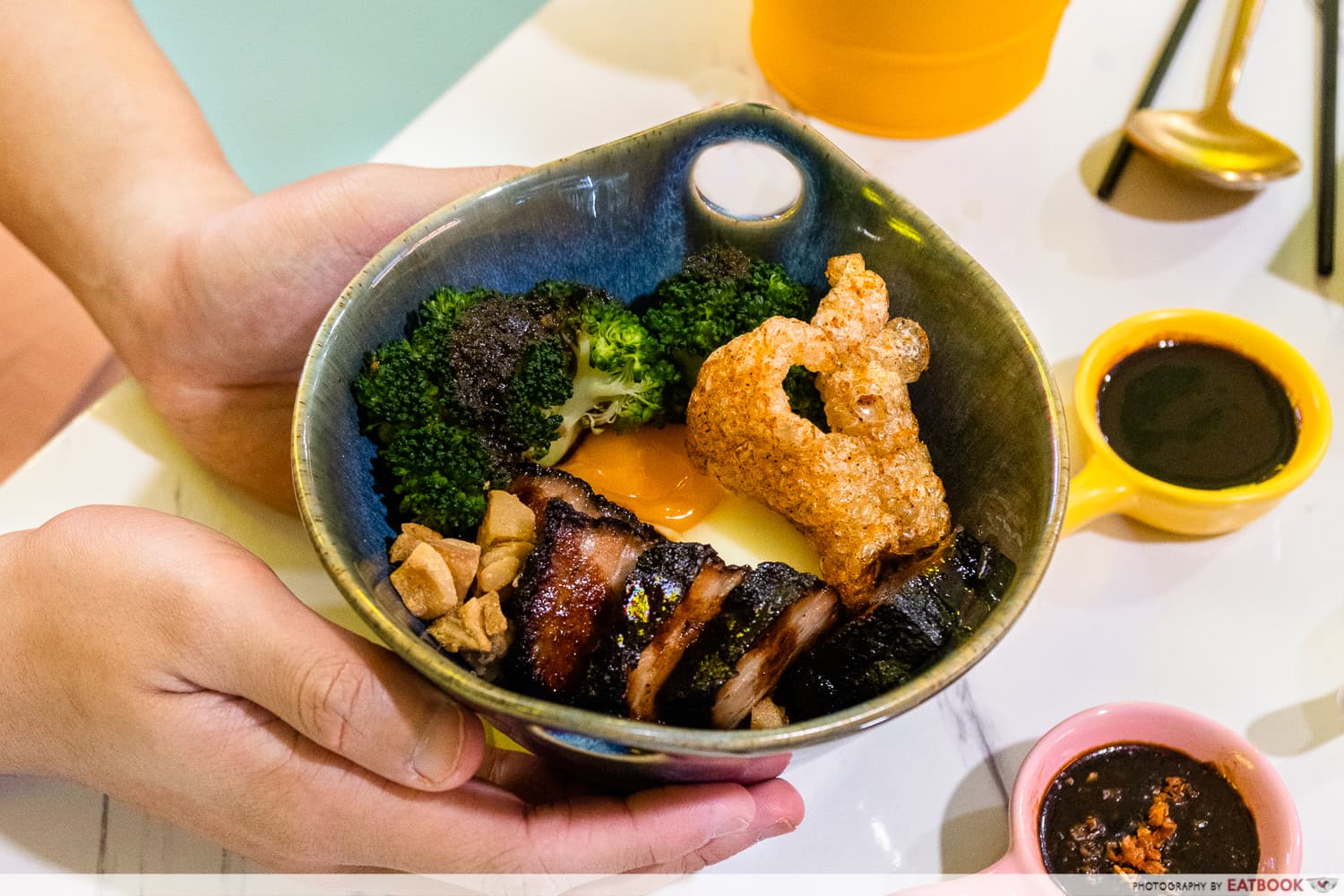 If you've ever seen Valentine's day bouquets crowned with char siew on social media, then you know about Char Seal. They began as a home-based business selling KL-style char siew made with a family recipe, and have since opened a physical cafe in Havelock 2.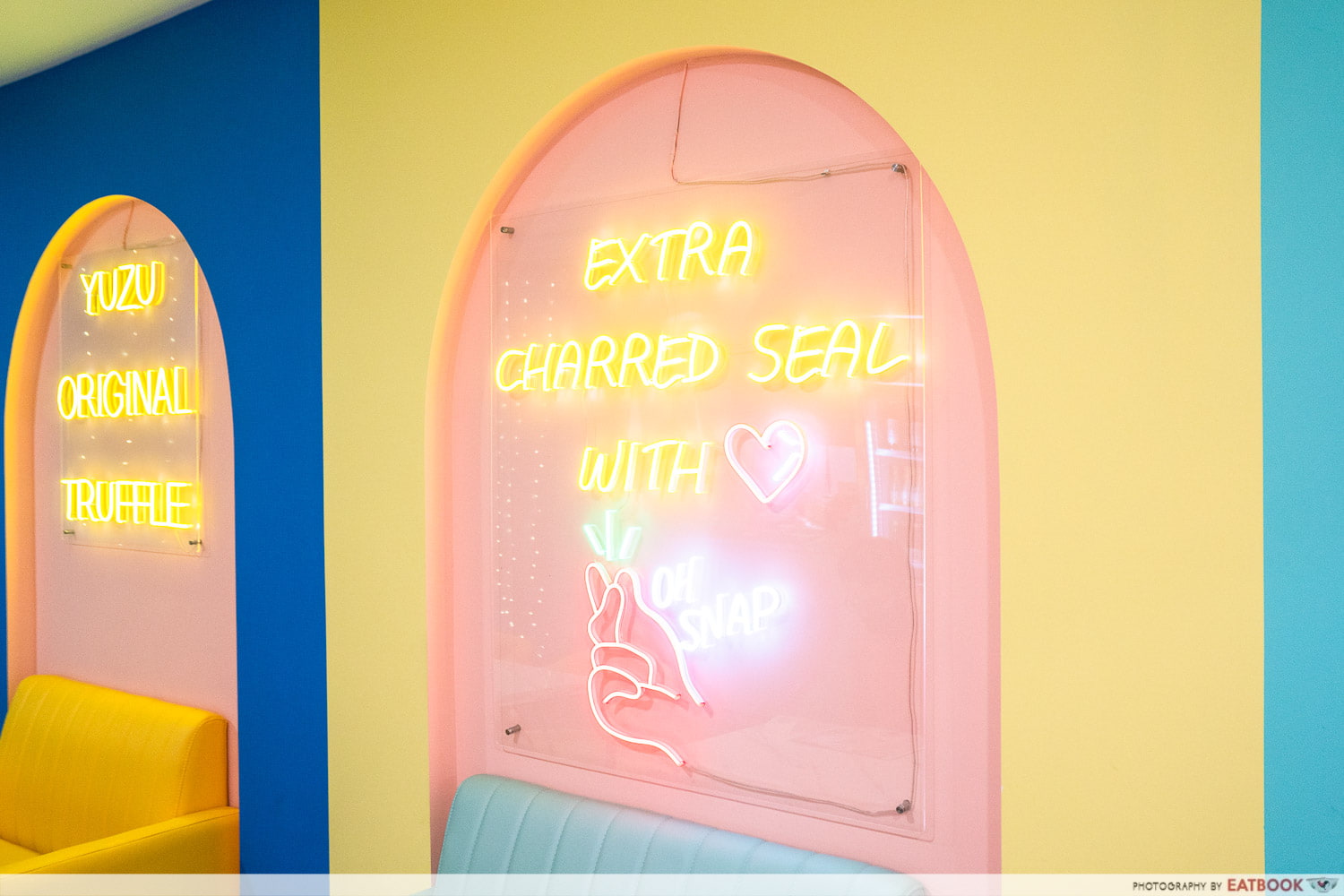 Char Seal Bar spotlights all things char siew, but the quality here goes above and beyond. They only use Duroc pork, which is more marbled and fatty, and each slab of meat is marinated for over a day before being roasted. Enjoy the char siew in a variety of dishes, from the Char Seal Pau ($9.50), a spin on kong bak bao, to the Char Seal Special Noodles ($13.90), where char siew is served atop Indomie, and garnished with lard.
Read our Char Seal Bar review.
Address: 2 Havelock Road, #01-02, Havelock 2, Singapore 059763
Opening hours: Daily 11am to 10pm
Tel: 8388 4310
Website
Char Seal Bar Review: KL-style Char Siew Cafe With Spicy Noodle Challenge In Clarke Quay
---
5. SYIP 
---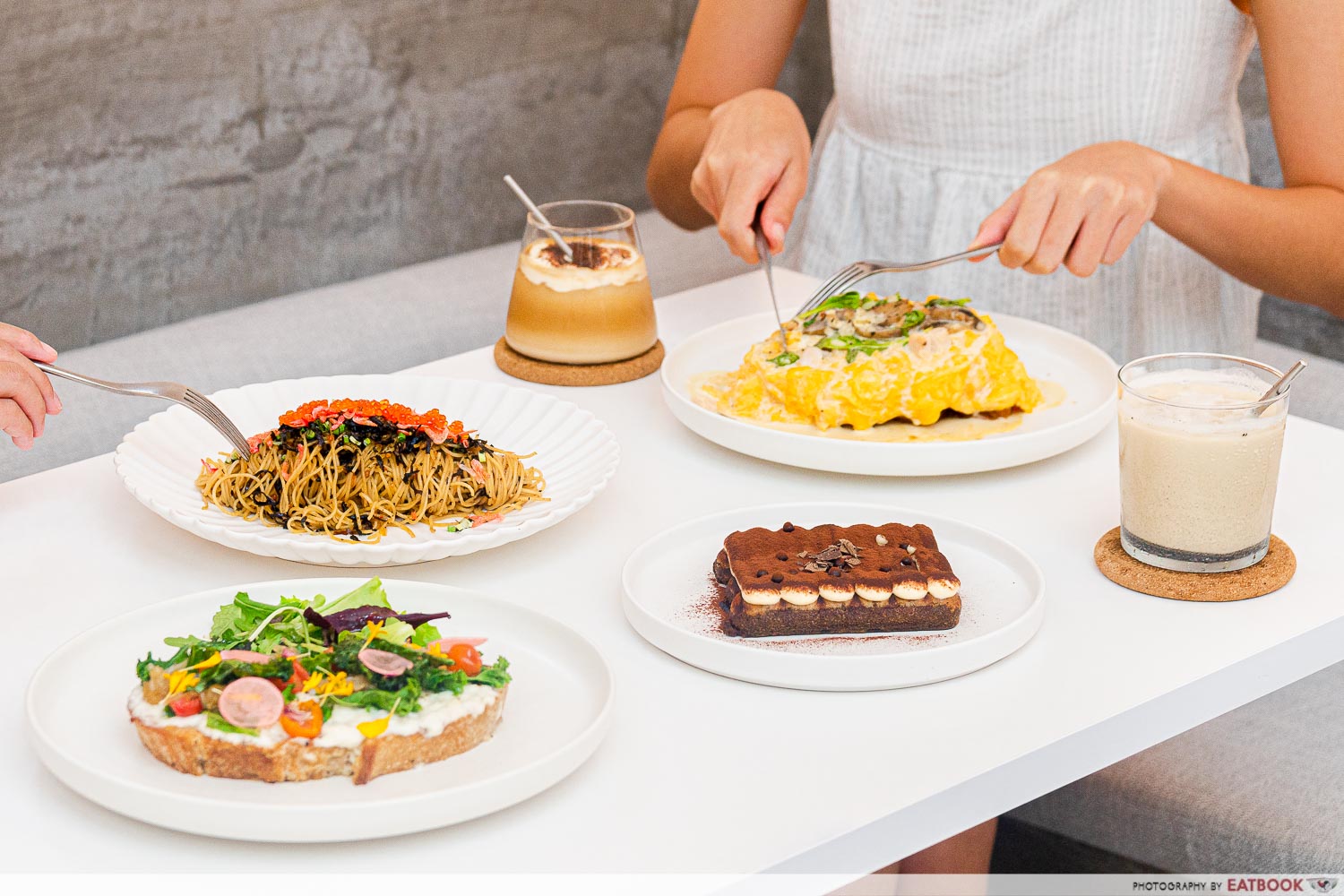 SYIP is a new minimalistic cafe in Farrer Park established by two sisters. Their all-white interior is reminiscent of an Arabica% outlet, albeit with warm touches of wood.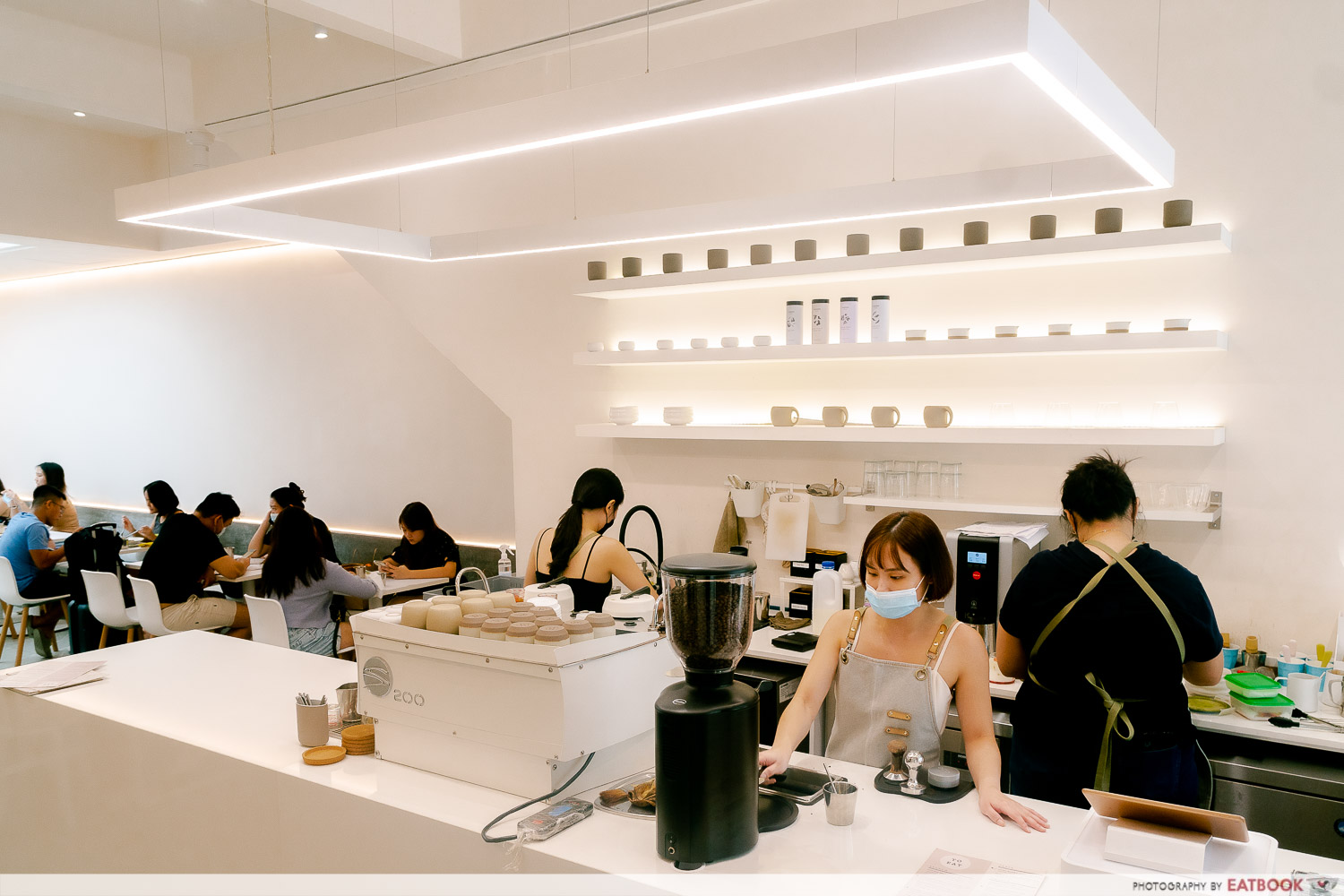 The menu houses some equally eye-catching and delicious hits. We recommend the Burrata Open-Faced Toast ($22++), served on sourdough and topped with a medley of eye-catching vegetables. If you're here just for coffee and dessert, then do try the Tiramisu ($7++). The owners used to run a home-based business specialising in the Italian dessert, so the iteration here definitely hits the spot. 
Read our SYIP review.
Address: 79 Owen Road, Singapore 218895
Opening hours: Tue-Sun 9am to 6pm
Tel: 8770 9079
Website
SYIP Review: Aesthetic Cafe At Farrer Park With Kombu Pasta, Burrata Toast And More
---
6. Fei Lou Fatt 
---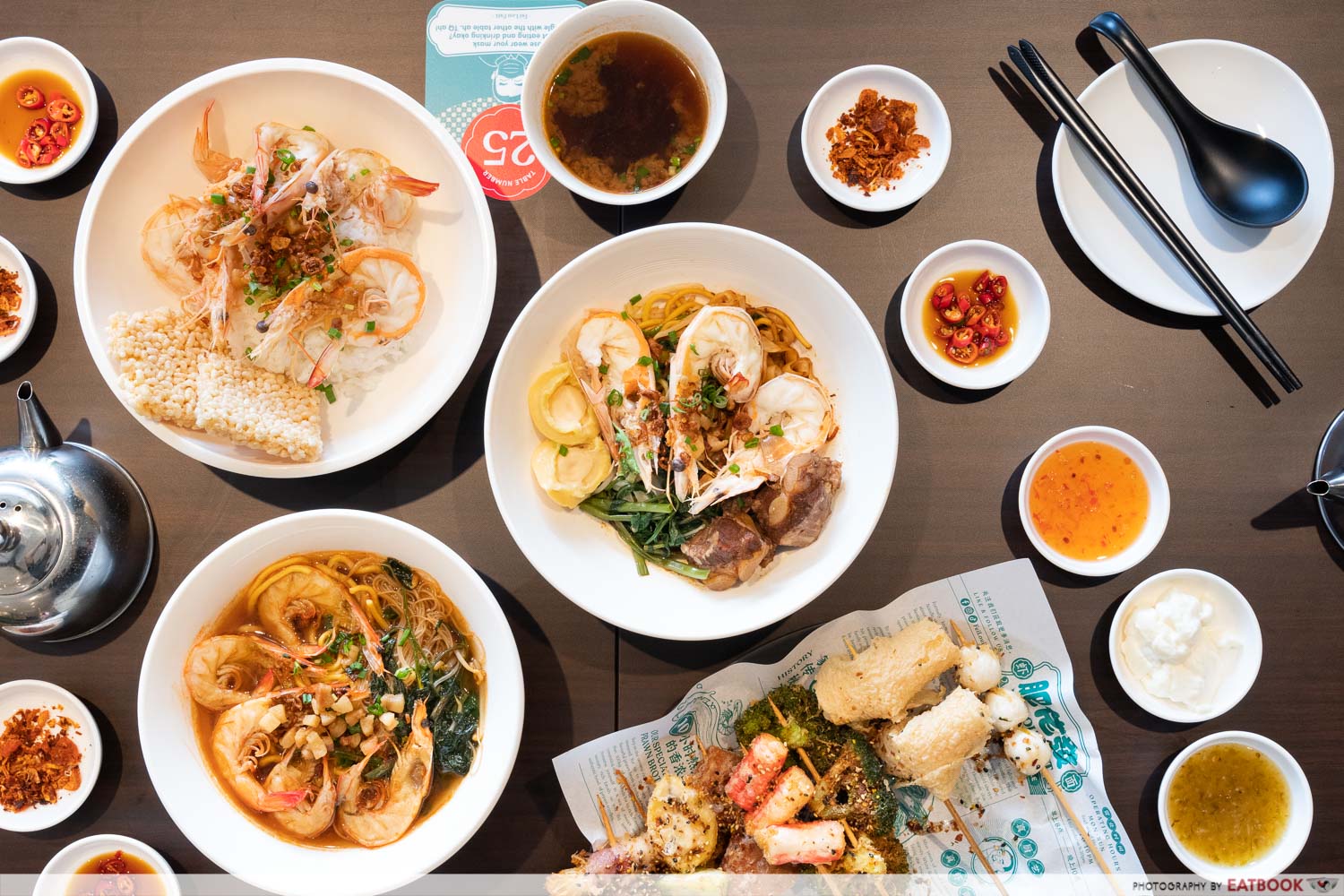 After expanding to numerous malls and innovating unique iterations of white beehoon, the founders of White Restaurant have their sights set on all-new territory: prawn mee. Fei Lou Fatt is their first prawn mee eatery, housed along Upper Thompson Road.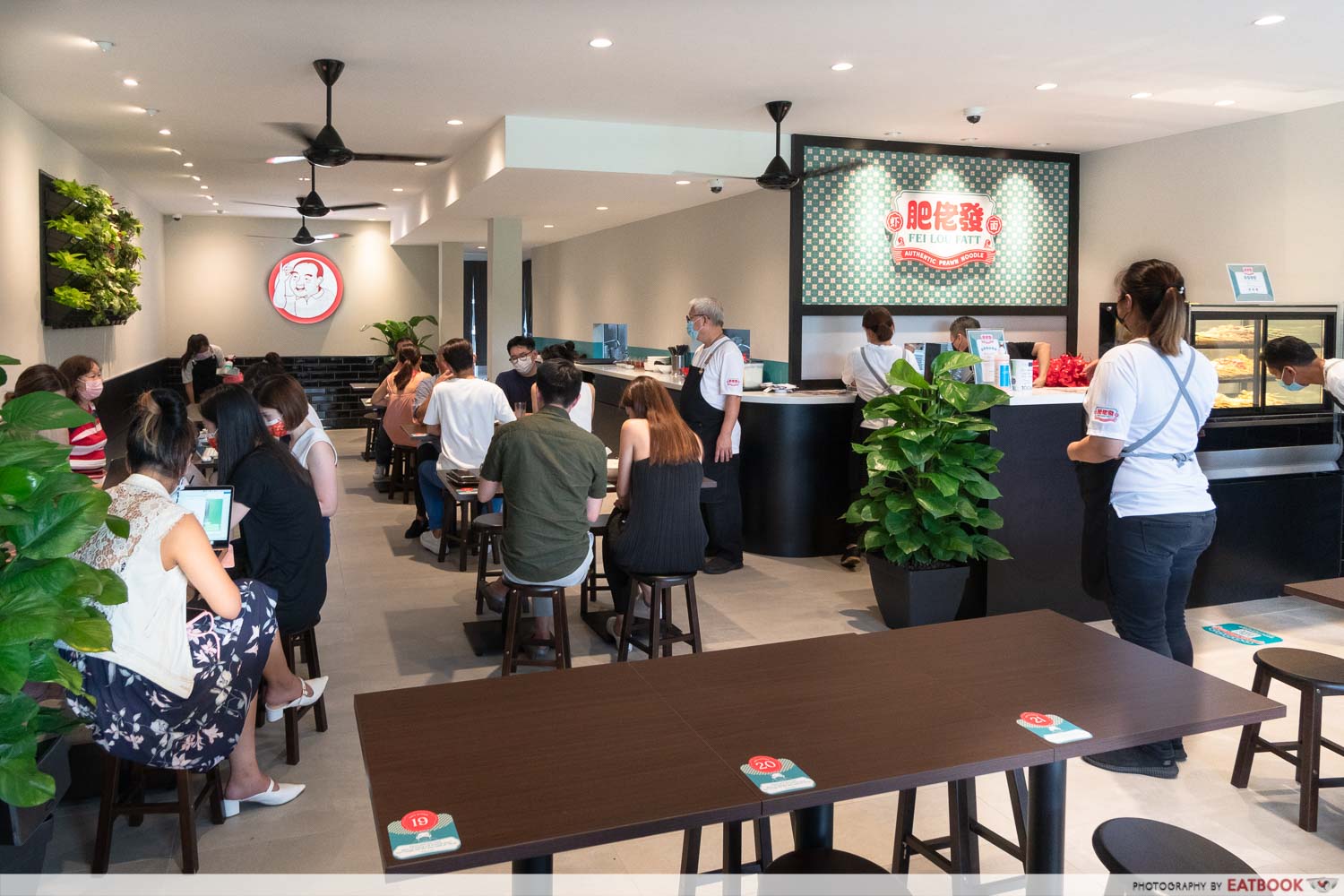 The star on the menu is the Signature Fei Lou Noodle ($20). It isn't cheap, but each bowl is served with jumbo ang kar prawns, 12-head abalone, pork ribs braised with a family recipe, beansprouts, kang kong, and your noodle of choice. Don't skimp on the addition of their special hae bee hiam chilli! Apart from the noodles, Fei Lou Fatt also sells lok lok from $1.20. Unique seasonings including furikake and mala are available.
Read our Fei Lou Fatt review.
Address: 928 Upper Thomson Road, Singapore 787121
Opening hours: Daily 8am to 10pm (last order at 9:30pm)
Tel: 6252 3400
Website
Fei Lou Fatt Review: Prawn Mee With 10-Hour Broth And Mala Lok Lok By White Restaurant Founder
---
7. Breakfast Grill 
---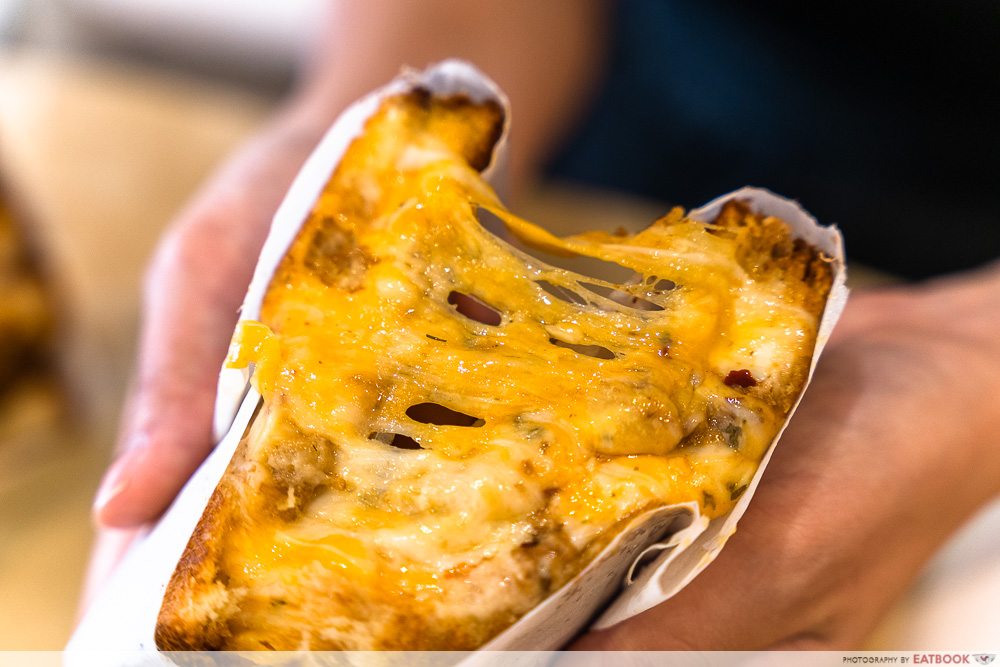 Lovers of thick sandwiches and grilled cheese a la Korio, mark Breakfast Grill on your to-dine list. This East Coast cafe is a homage to loaded sammies, with nine flavours to choose from.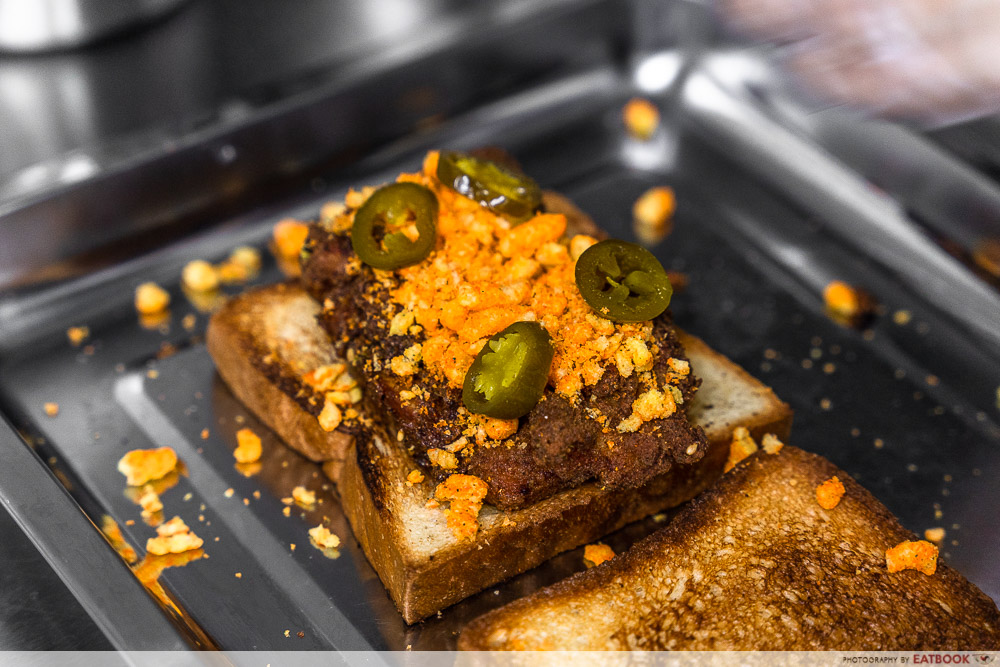 Start off with the Cheeses ($10) if it's your first time here. The sandwich may look thin, but looks are deceiving as this parcel contains a blend of mozzarella, red and white cheddar, Colby Jack, and mozzarella balls for a striking cheese pull.  Another winner is the Hot Chick ($15.50), which comes with a chicken cutlet crusted in Jalapeño Cheetos.
Read our Breakfast Grill review.
Address: 380 East Coast Road, Singapore 428986
Opening hours: Daily 8am to 4pm
Tel: 8363 9502
Website
Breakfast Grill Review: Affordable Loaded Sandwiches Including A Cheetos Chicken Sammie In East Coast
---
8. Love Handle 
---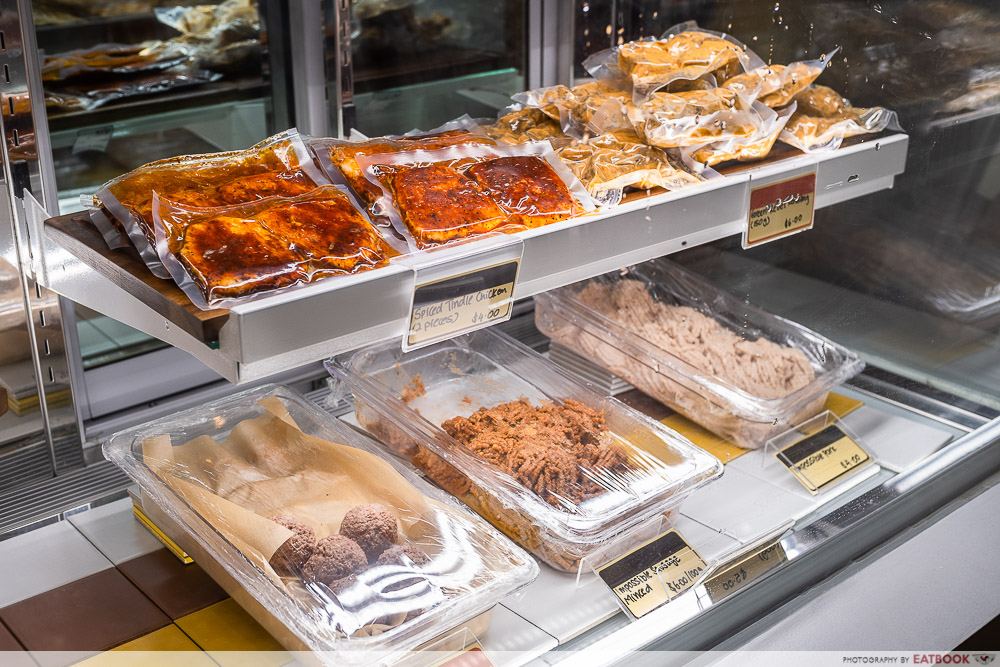 Calling all plant-based diners and Veganuary converts, Asia's first plant-based butcher is in town. Named Love Handle, the dual-concept deli and diner in Ann Siang has a rounded menu of plant-based food, as well as a counter where you can shop for plant-based "meats".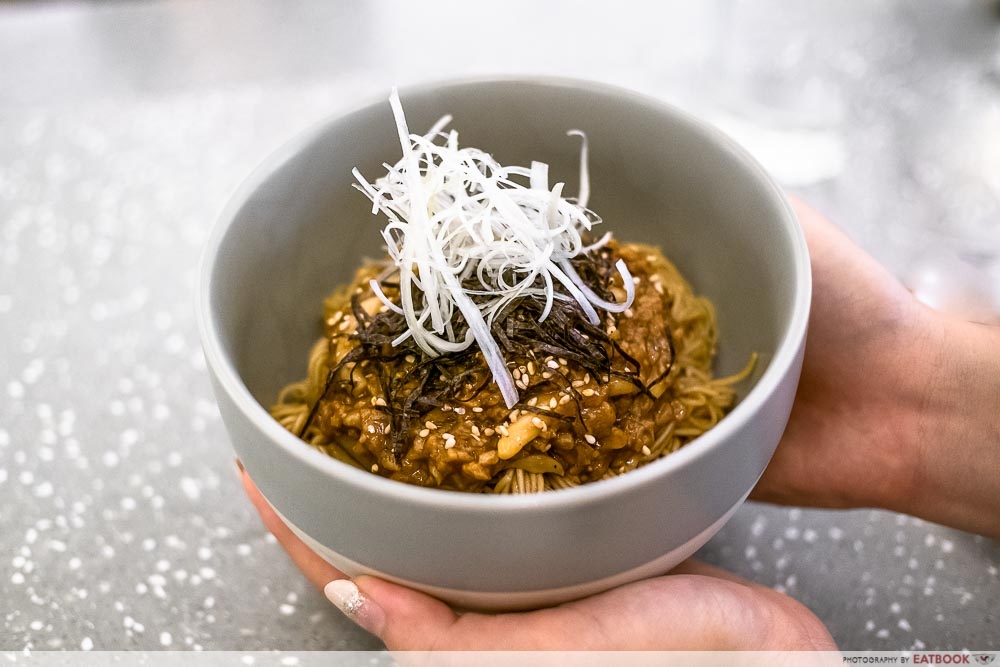 Come try out their burgers, especially their Pulled Rendang Burger ($16++), which has a taste and texture borderline indistinguishable from actual beef rendang. Otherwise, the Mee Sua with Ginger Soy Chicken ($12++) is another interesting item to try. The ginger soy "chicken" in question is a well-marinated plant-based mince, served with springy mee sua noodles.
Read about our experience at Love Handle.
Address: 8 Ann Siang Hill, Singapore 069788
Opening hours: Mon-Wed 11am to 10pm, Thurs-Sat 11am to 10:30pm, Sun 10am to 6pm
Tel: 8886 7112
Website
Love Handle: New Plant-Based Butcher Opens In Ann Siang With Meatless Rendang Burger And More
---
9. Sweet Rex Tanjong Pagar
---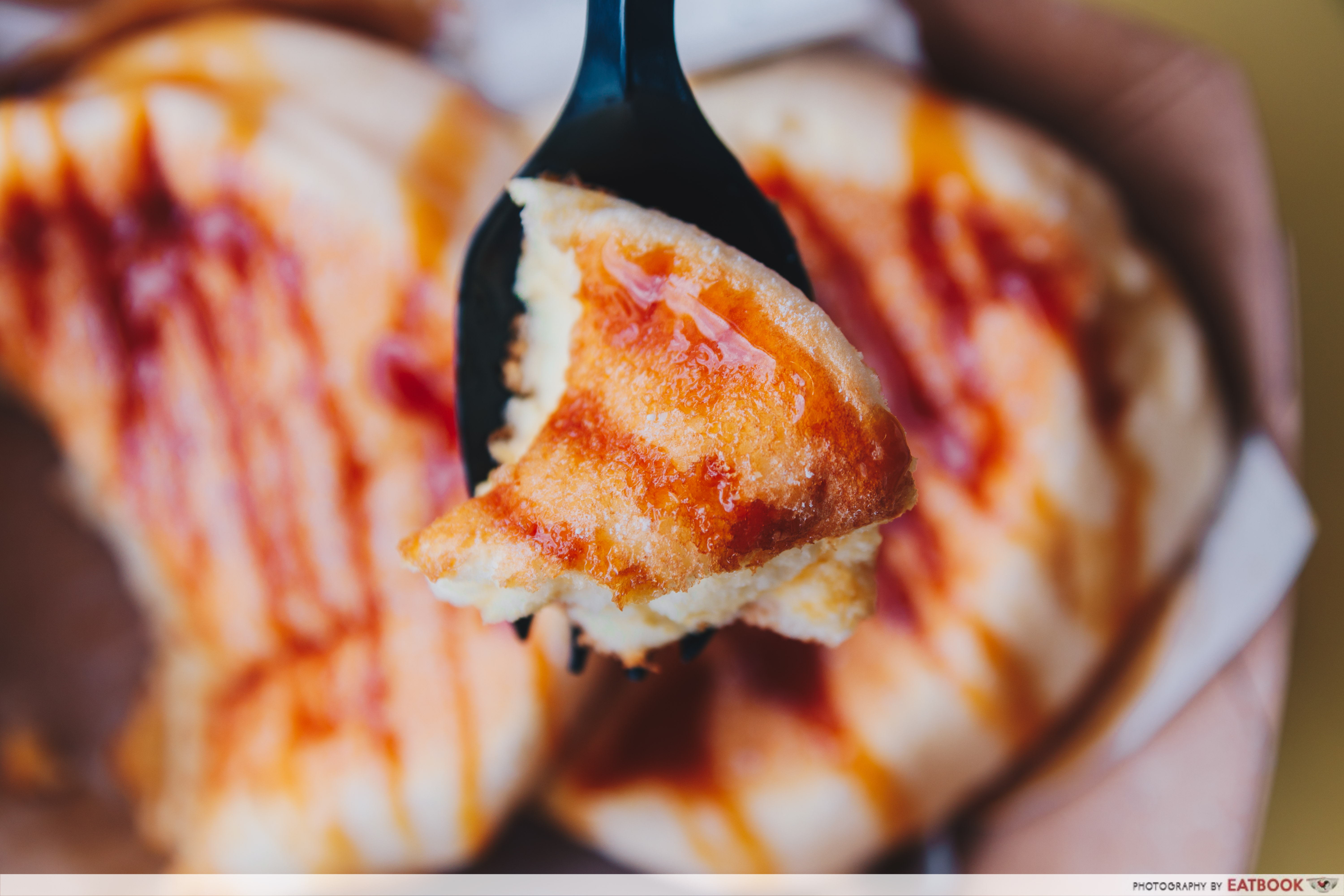 Sweet Rex first made a name for themselves with their super-affordable souffle pancakes, sold out of a hawker stall at Alexandra Village Food Centre. Now, they've opened their first cafe concept in Anson Road, along Tanjong Pagar.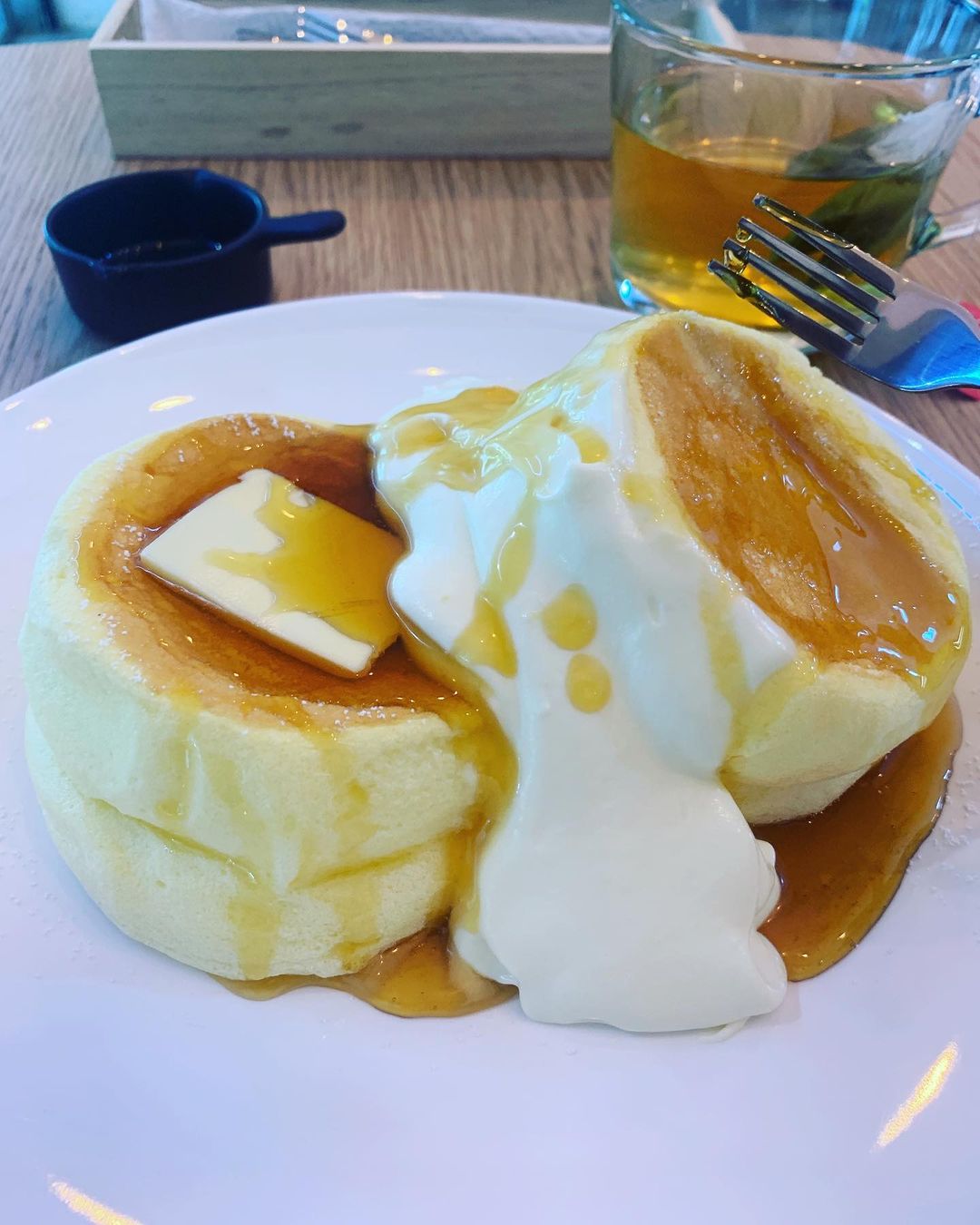 Image credit: @sdeleven
The souffle pancakes here start at $9.80 and are available in four other flavours too. Outside of souffle pancakes, you can enjoy Basque burnt cheesecake here, in 11 different flavours, such as tiramisu, matcha, and dark chocolate.
Read more about Sweet Rex Tanjong Pagar.
Address: 10 Anson Road, #01-01, International Plaza, Singapore 079903
Opening hours: Mon-Fri 12pm to 7pm
Tel: 8163 7630
Website
Sweet Rex Opens First Cafe In Tanjong Pagar With Souffle Pancakes Under $10
---
10. Chunz 
---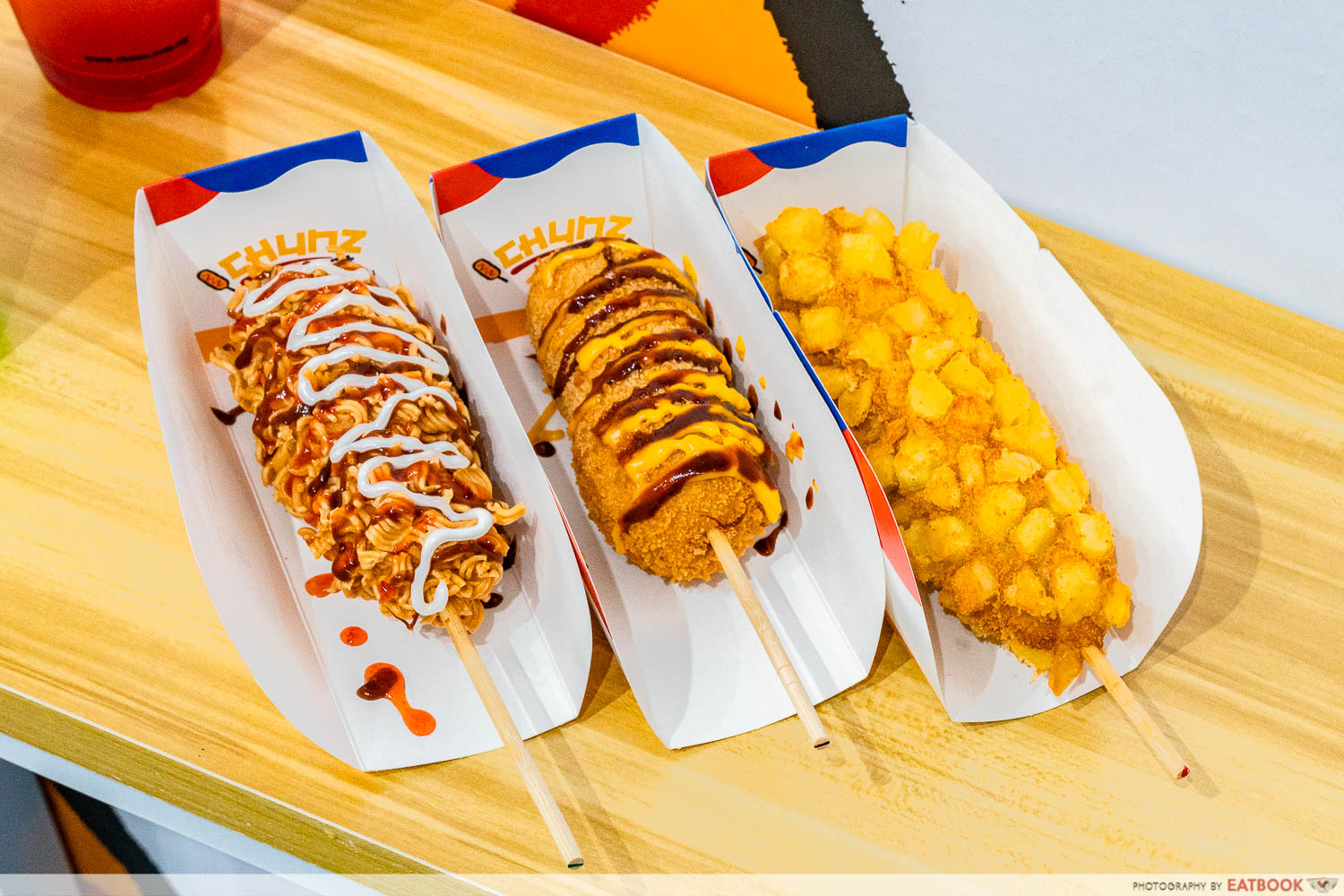 Hailing from Malaysia is Chunz, an all-new Korean snack joint in Dhoby Ghaut. The kiosk has gone viral on TikTok for serving up corn dogs with some serious cheese pull action.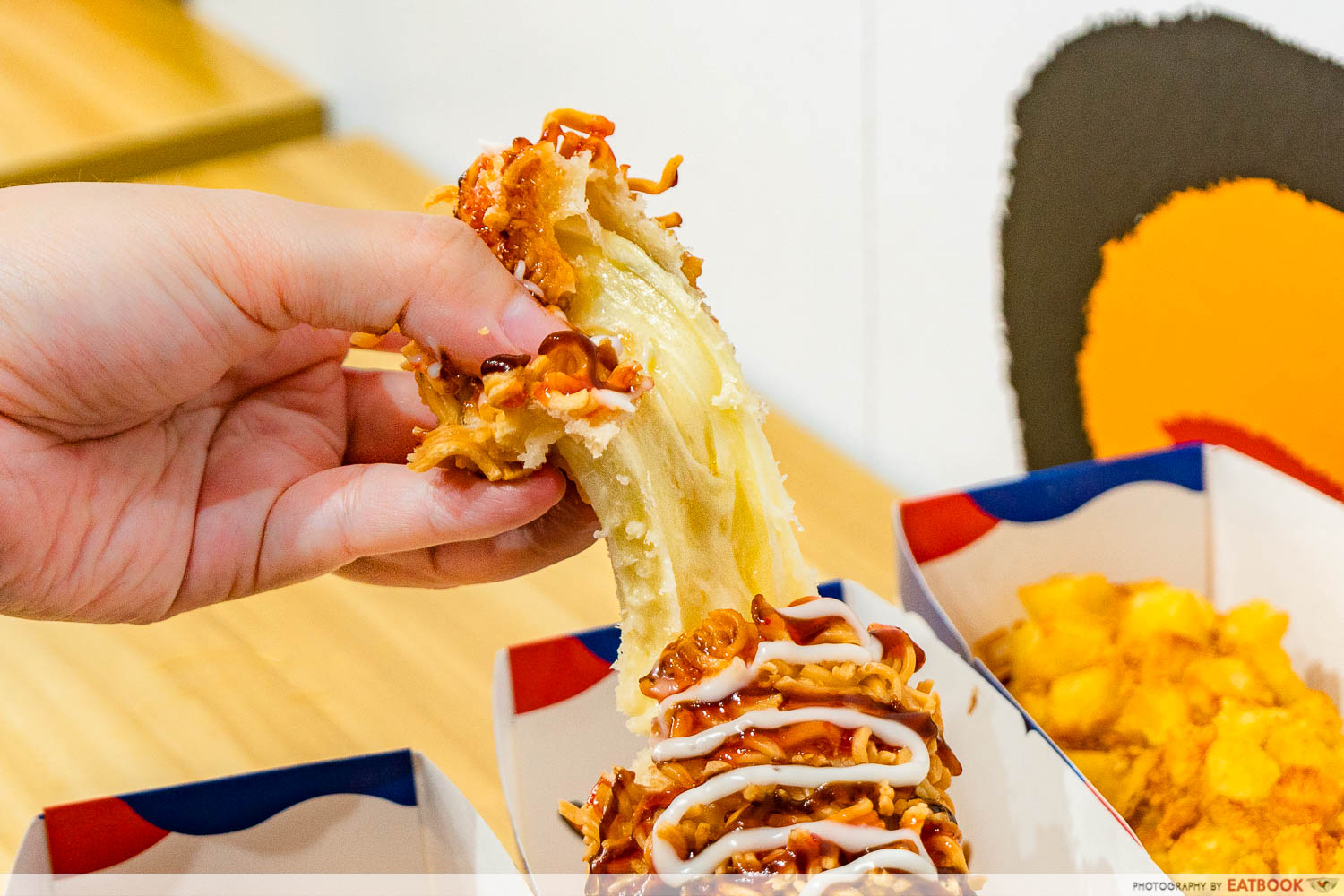 Start off by ordering their Mozza Mania ($6.50), a corn dog stuffed with an entire block of mozzarella cheese, crumbed in panko, then deep-fried. If you prefer a potato or ramen coating, that's possible too, with the addition of $1. Another recommendation we have is the Mozza Cheddar ($6.50), stuffed with a trio of mozzarella, cheddar, and half a hotdog.
Read our Chunz review.
Address: 1 Selegie Road, #01-04, GR.iD, Singapore 188306
Opening hours: Daily 10am to 10pm
Website
Chunz: New Korean Snack Cafe Serving Viral Potato And Ramen Corn Dogs In Dhoby Ghaut
---
11. Birds of Paradise Tanjong Pagar 
---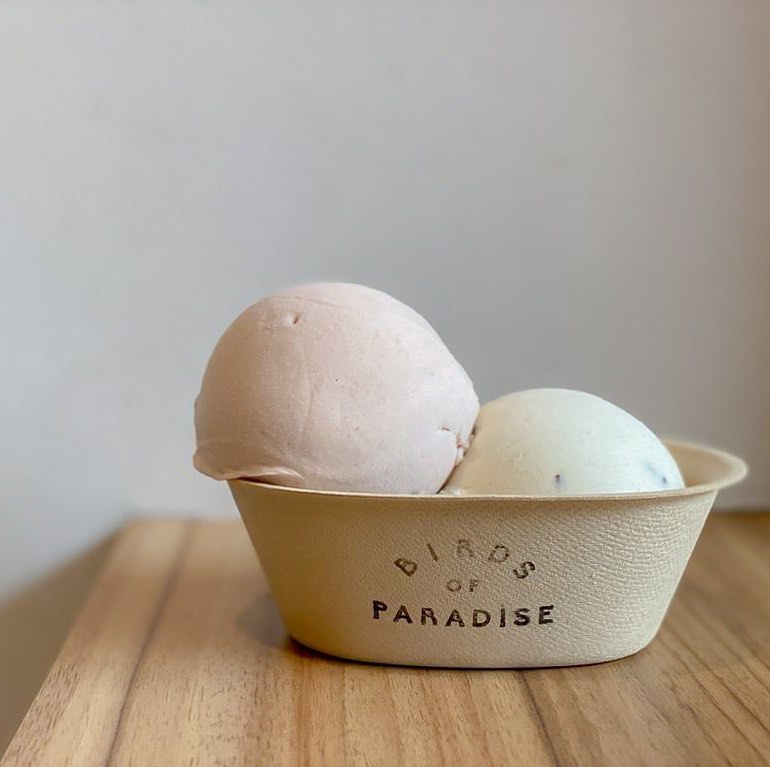 Image credit: @bopgelato
Birds of Paradise is one of Singapore's OG homegrown ice cream cafes. With outlets formerly only in the East, the brand has since opened up a central location along Craig Road! Located in an old-school shophouse, the quaint ice cream parlour offers takeaway, as well as limited seats for dining in.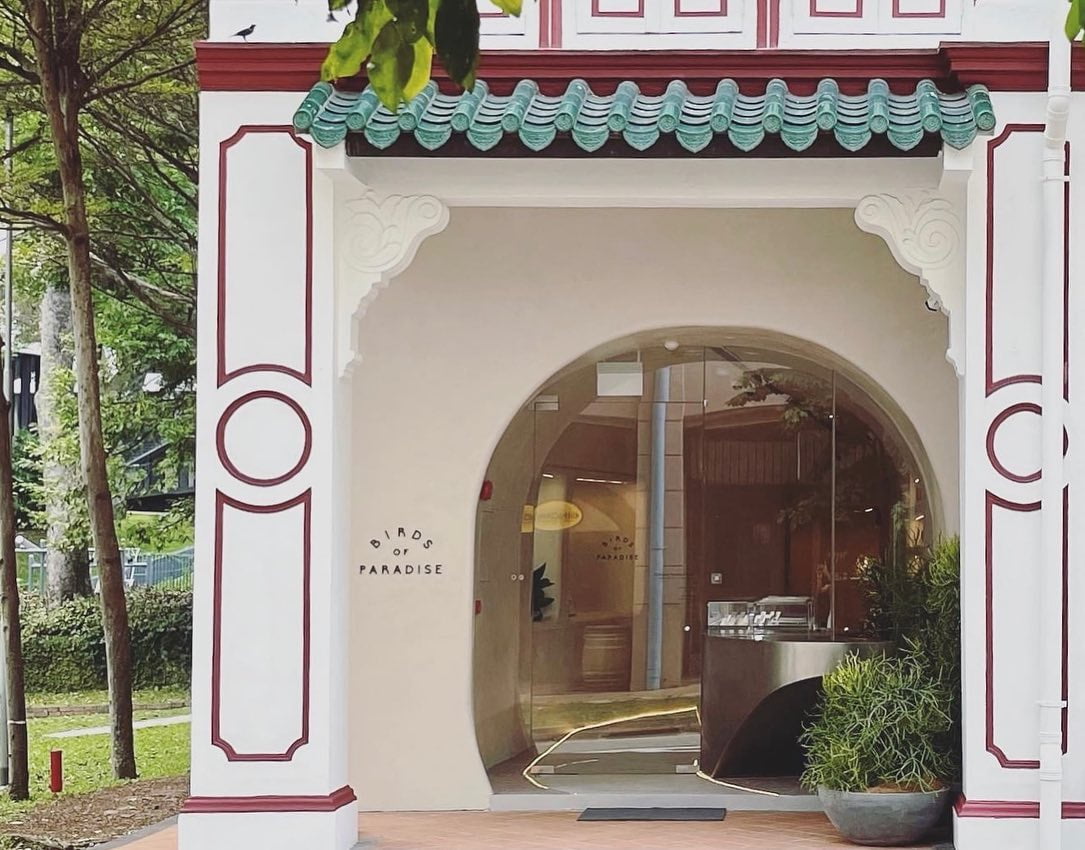 Image credit: Birds Of Paradise Gelato Boutique
A single scoop starts at $5, while a double scoop is priced at $8. Look out for interesting flavours such as Sea Salt Hojicha, and Strawberry Basil.
Find out more about Birds of Paradise Tanjong Pagar!
Address: 53 Craig Road, #01-01, Singapore 089691
Opening hours: Tue-Sun 12pm to 10pm
Tel: 9678 6092
Website
Birds Of Paradise Gelato Opens Their Third Outlet In Tanjong Pagar
---
12. GelatiAmo
---
Fans of authentic Italian gelato can head down to GelatiAmo, a new gelato cafe in Fusionopolis run by Italian chef Loris Massimini. The cafe seats up to 30 people, making this a great place to nab dessert or have a quick catch-up with friends.
A single scoop starts at $4.20, while a double scoop costs $7.70. There are a handful of standard flavours, but zone in on the experimental offerings. The Burrata Balsamico ($5) marries rich mascarpone cheese with 12-year-old balsamic vinegar for a creamy, slightly tart scoop. Have this with waffles, brioche, or doughnuts, for an additional fee. 
Read our GelatiAmo review.
Address: 1 Fusionopolis Way, #B1-11, Connexis, Singapore 138632
Opening hours: Mon-Sat 11am to 8:30pm, Sun 2pm to 8:30pm
Website
GelatiAmo: New Gelato Cafe By Italian Chef With Burrata Balsamic, Ferrero Rocher And More Flavours
---
New restaurants in Singapore to dine at
---
Head down to any of these new restaurants in Singapore this March 2022 to start the month on a good note. If you're looking for other dining experiences to check out, we have a guide to the oldest restaurants in Singapore, as well as this halal restaurants guide for you to peruse.
13 Oldest Restaurants In Singapore Still Open Today, Including A Teochew Eatery From 1845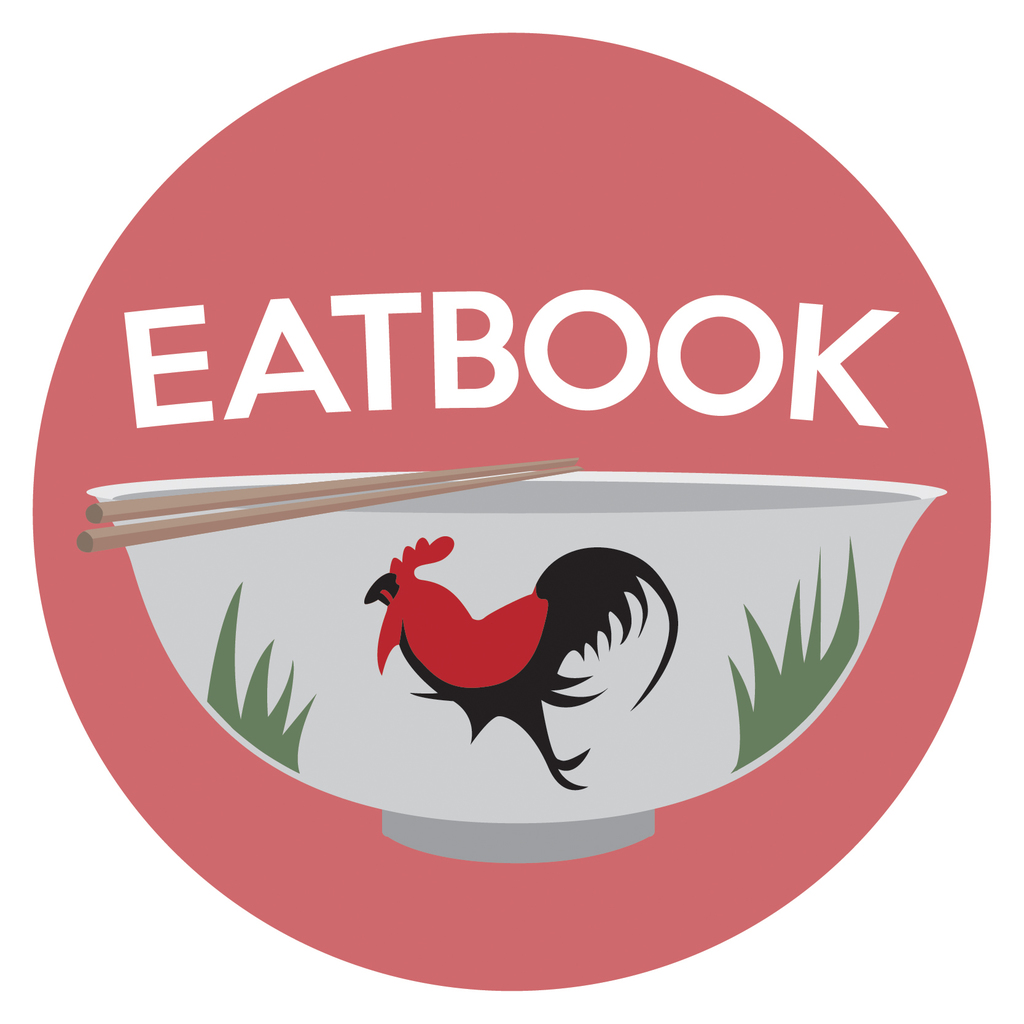 Drop us your email so you won't miss the latest news.