---
Singapore Food Festival 2023 stalls to check out
---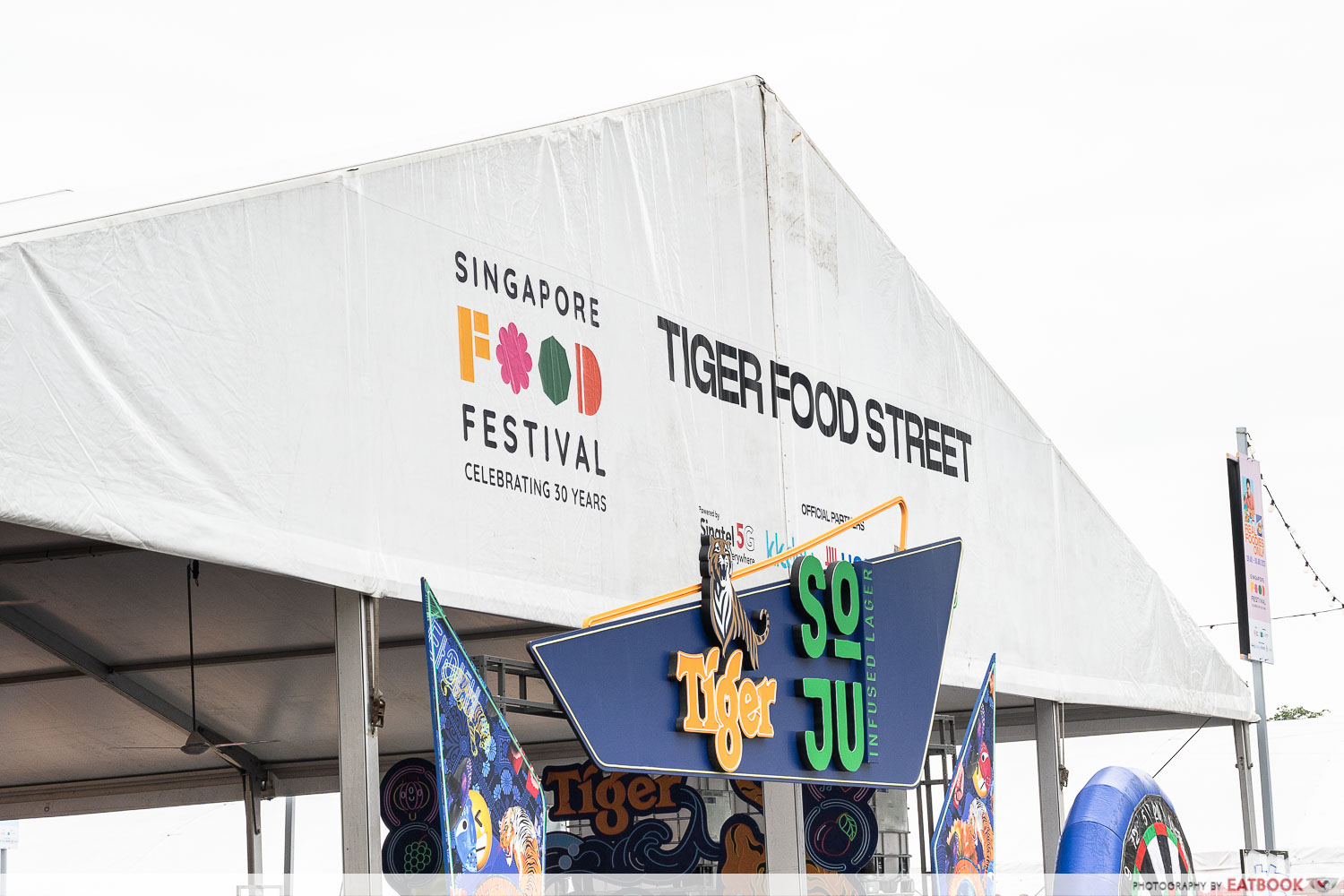 Returning for the second time since the pandemic is Singapore Food Festival 2023—the fiesta's largest installation yet, with hybrid masterclasses, food tours, culinary workshops, and festival exclusives all around the island. Running from now till 30 July 2023 at the Bayfront Event Space in front of Marina Bay Sands, you can look forward to more than 100 vendors, an old-school mama shop, and three new zones! If you're headed down to the event, here are the 12 best Singapore Food Festival 2023 stalls that you ought to put on your list.
---
1. Sourbombe Bakery
---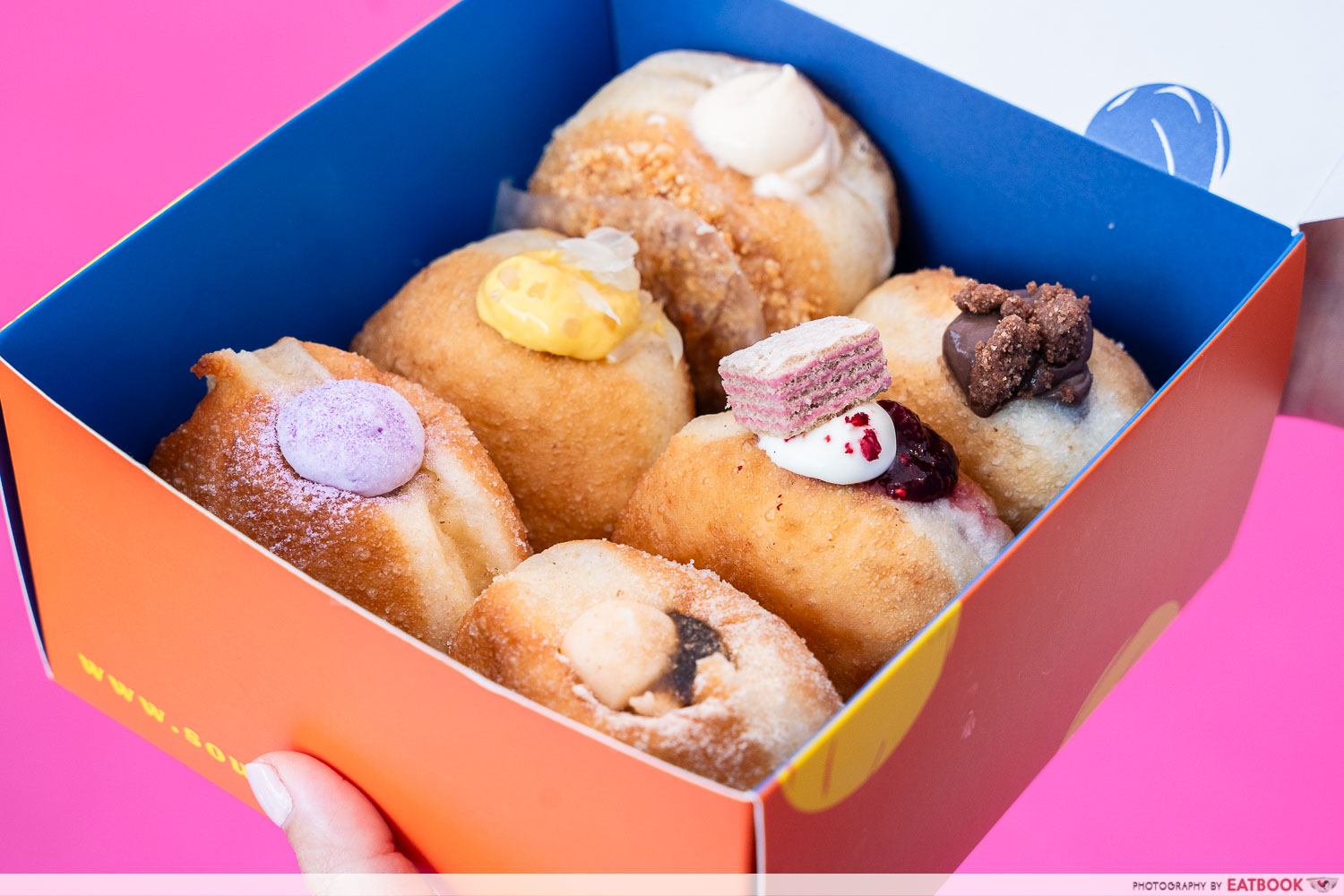 If there's one zone we highly recommend you check out, it's Sweets Alley—and you can't leave without having some sourdough bomboloni from Sourbombe Bakery, the brainchild of MasterChef Singapore runner-up Genevieve Lee.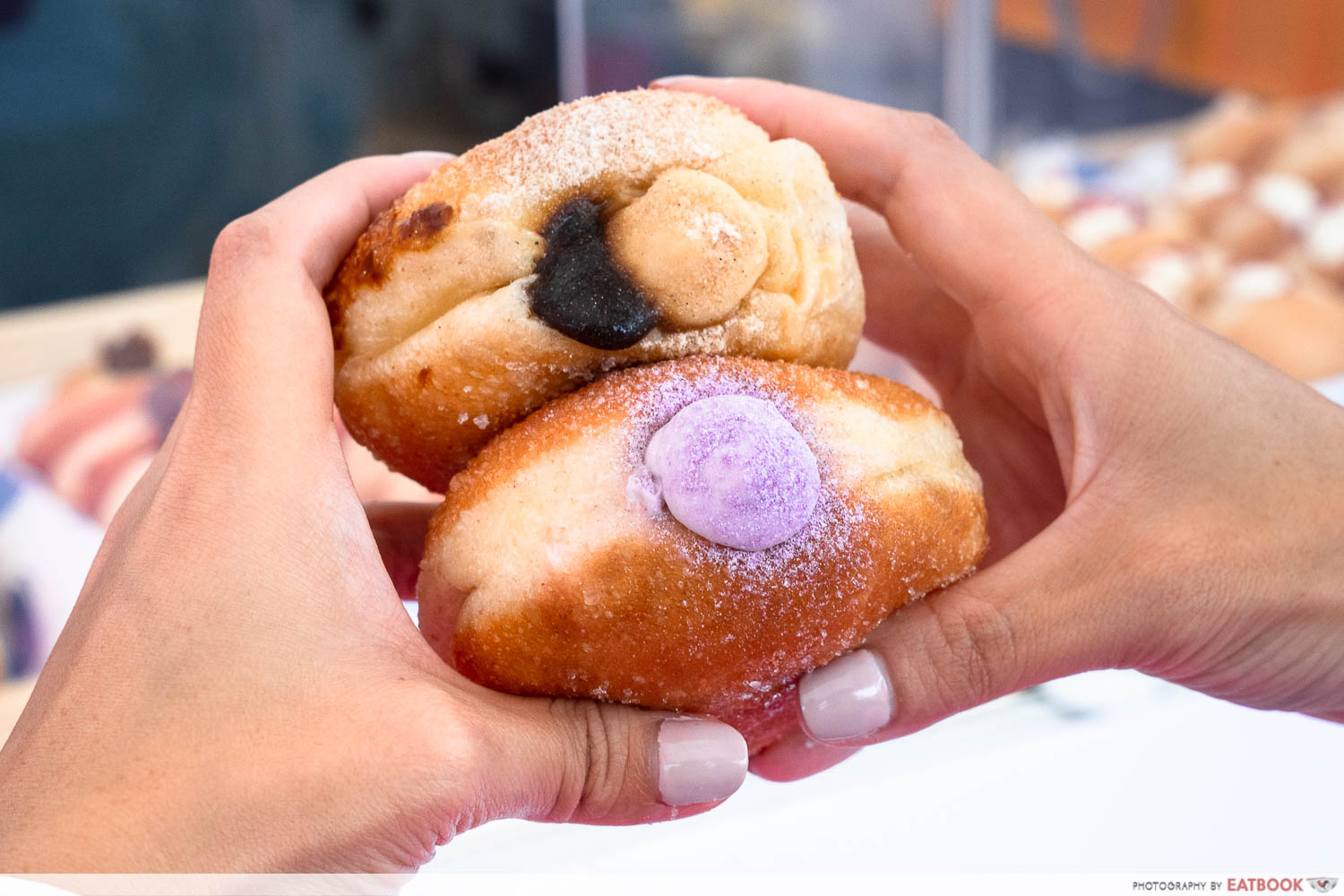 She's created four SFF-exclusive flavours: White Rabbit Sourbombe, Milo Dinosaur Sourbombe, Classic Tauhuey Sourbombe, and Taro Attap Sourbombe, each of which is priced at $6. We loved the Tauhuey, filled with soybean custard plus actual beancurd jelly and coconut caramel, though the light orh nee cream of the Taro was just as delightful.
Zone: Sweets Alley
Website
Sourbombe Bakery is not a halal-certified eatery but uses no pork or lard
Sourbombe Bakery Opens In Jewel Changi With Creme Brulee Doughnuts, Lavender Soft Serve And More
---
2. Dearbombe
---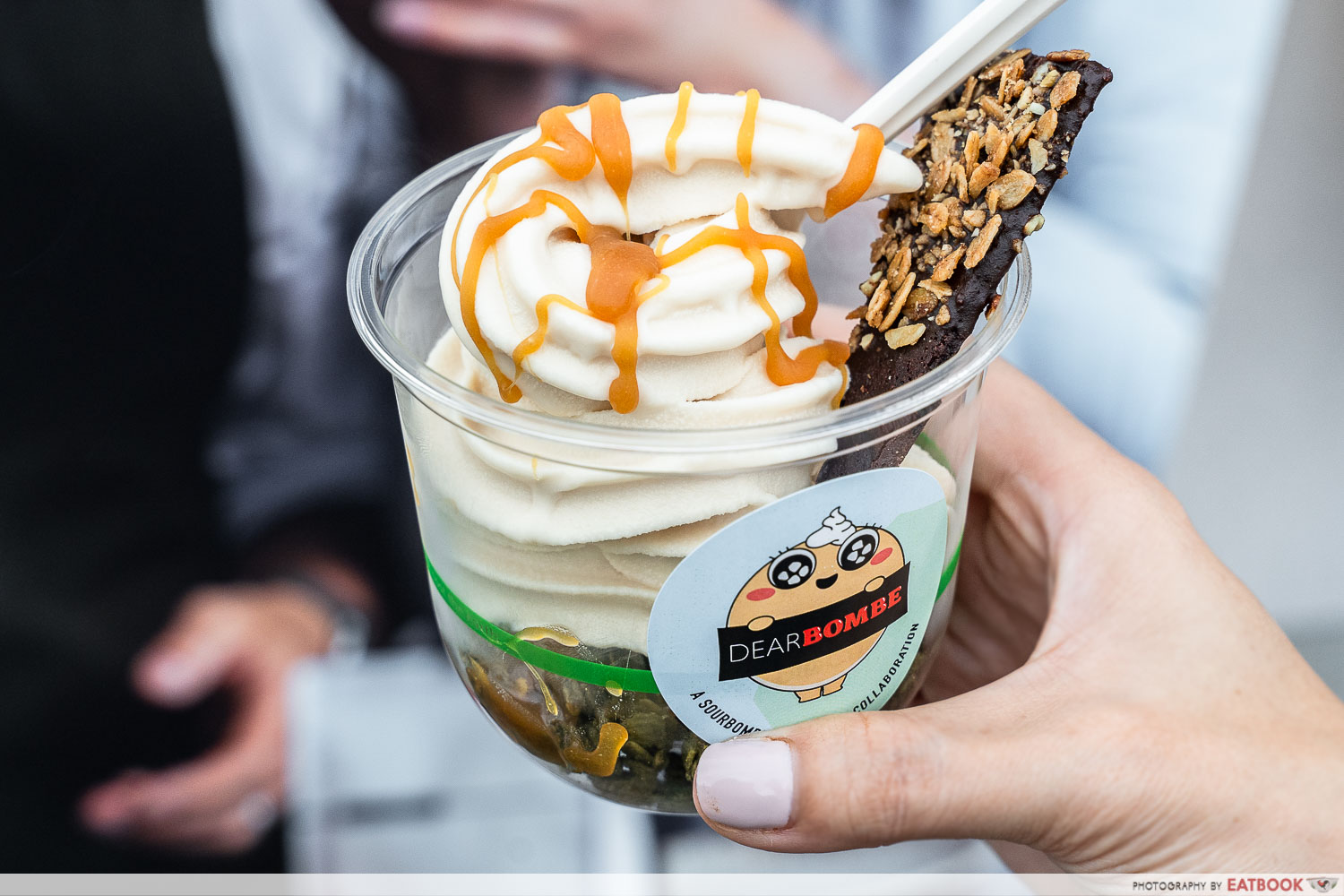 Put ex-Waku Ghin chef Christopher Kong and MasterChef runner-up Genevieve Lee together, and you get Dearbombe, a collaborative effort that you'll get to experience only at the Singapore Food Festival. They've combined forces to put out an all-day breakfast menu headlined by Breakfast Bombes such as Gen's Blue Planet ($8), topped with strawberry yoghurt Chantilly, with blueberry jam, pistachio rose butter, and matcha pecan granola, and Chris' PB&J ($8), where the same strawberry yoghurt Chantilly is paired with raspberry jam, crunchy peanut butter, and strawberry macadamia granola.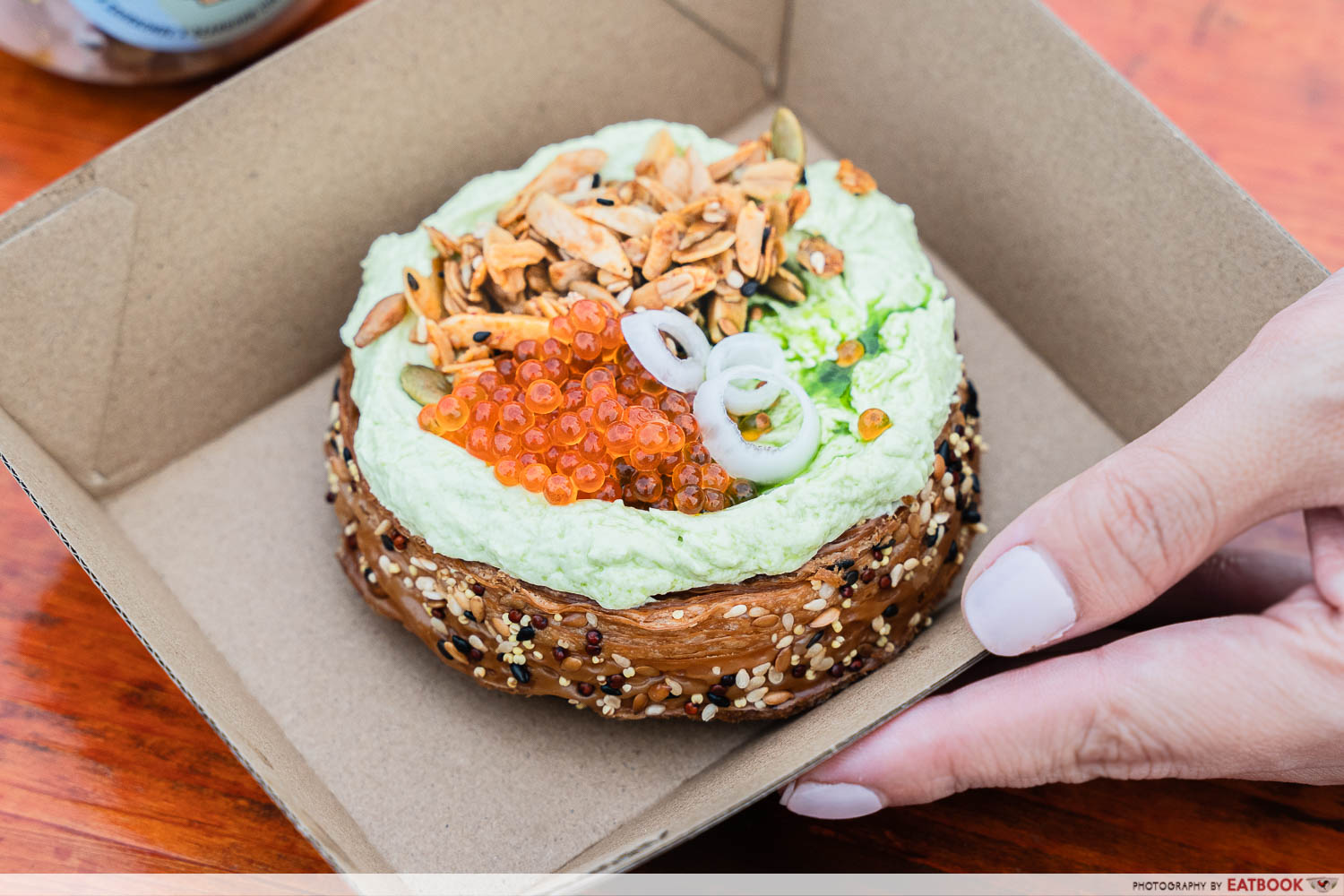 They've got all-day breakfast crolls too, riding on the viral croissant roll trend, of which we tried Trout Roe & Chives ($14), piped with chive mousse, then jazzed up with cured ocean trout roe and Dearborn's first-ever savoury granola.
Another exclusive is the granola milk soft serve Parfait ($12), made with Oatside and drizzled with salted maple syrup, paired with dark chocolate sable and your choice of granola.
Zone: Food Cartel
Dearbombe is not a halal-certified eatery
---
3. Whiskdom
---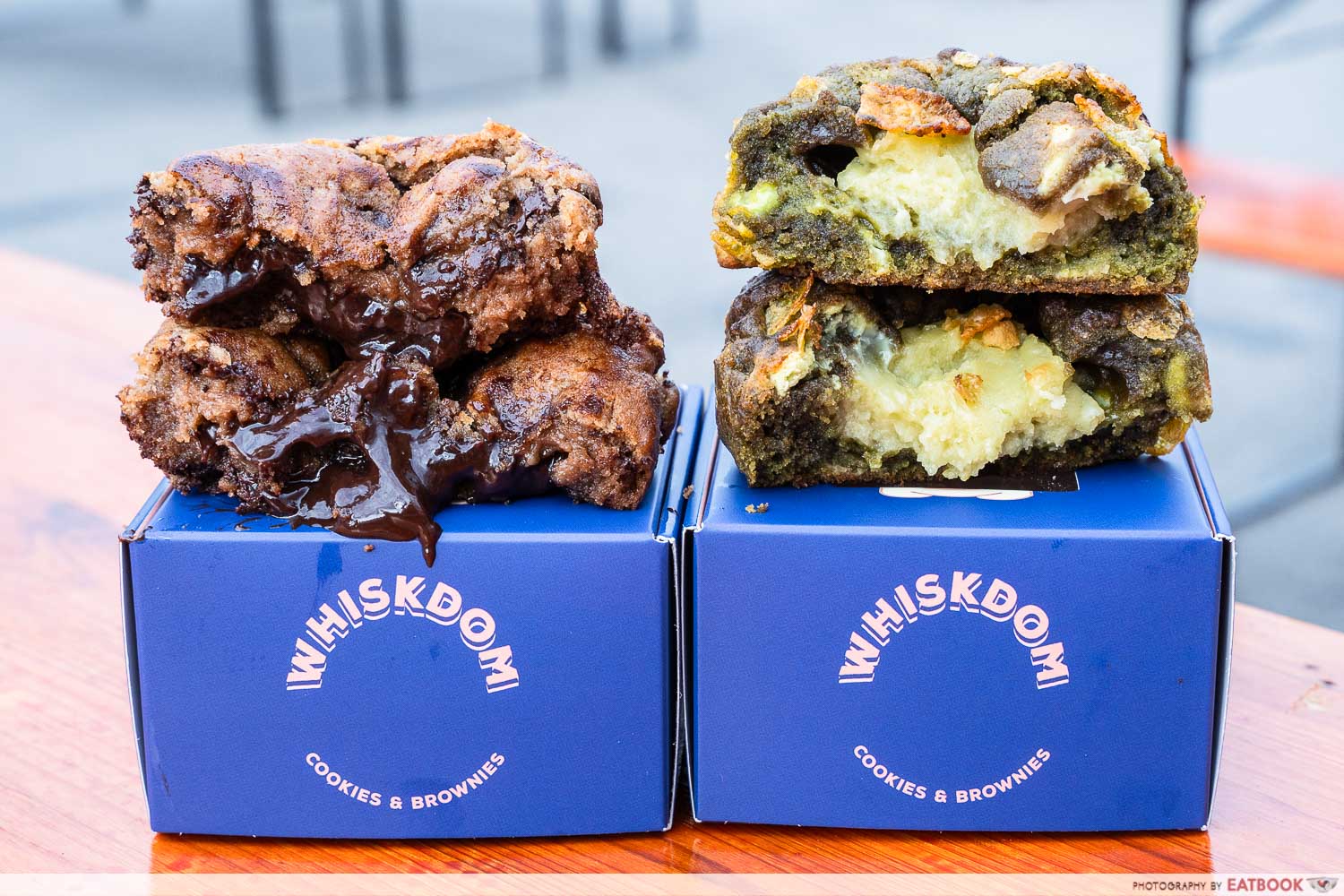 You might be able to find Whiskdom at FYP Cafe in Somerset, but you're not gonna get their Singapore Food Festival exclusive flavours there: Stylo Milo ($6.50) and Kaya Cheesecake ($6.50)—Levain-style, chunky, soft cookies with the brand's signature lava centres.
Best eaten warm, Stylo Milo is ultra chocolatey and rich. Heads up to pack along wet wipes and tissues, because this will get messy. Don't worry, there's a wide selection of their other flavours here too, including Creme Brulee and Matcha Lava, as well as blackout brownies such as Speculoos Delight and Oreo Peanut Butter, all of which are priced at $6.50 each.
Zone: Sweets Alley
Website
Whiskdom is not a halal-certified eatery but uses no pork or lard
FYP Cafe Review: New Glamping-Themed Cafe By Whiskdom And Big Big Fries At Orchard Central
---
4. Oatside
---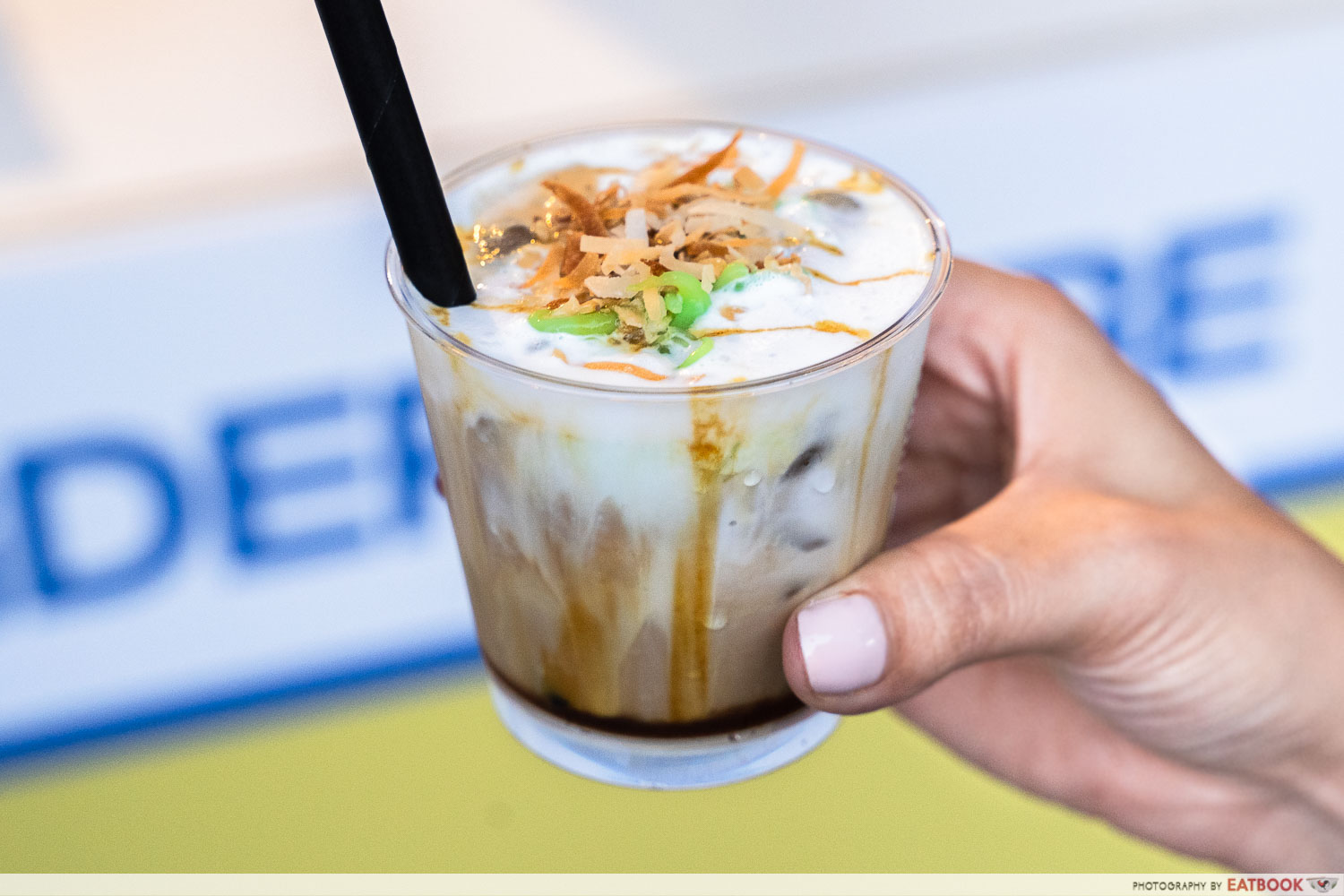 Oatside emerged champs when we taste-tested 10 oat milk brands in Singapore; if you've never had the chance to try it, this is it. Head to their booth in Cafe Boulevard, where they've partnered with local specialty coffee roaster PPP Coffee to create three Oatside-based drinks. These include Iced Oat Latte with coffee jelly, and Iced Oat Chendol, where Oatside's coffee oat milk is paired with chendol jelly and coconut mousse. Each drink costs $7.60, and features a different PPP coffee pod.
Zone: Cafe Boulevard
Website
Oatside is not a halal-certified eatery but uses no pork or lard
---
5. One Prawn & Co
---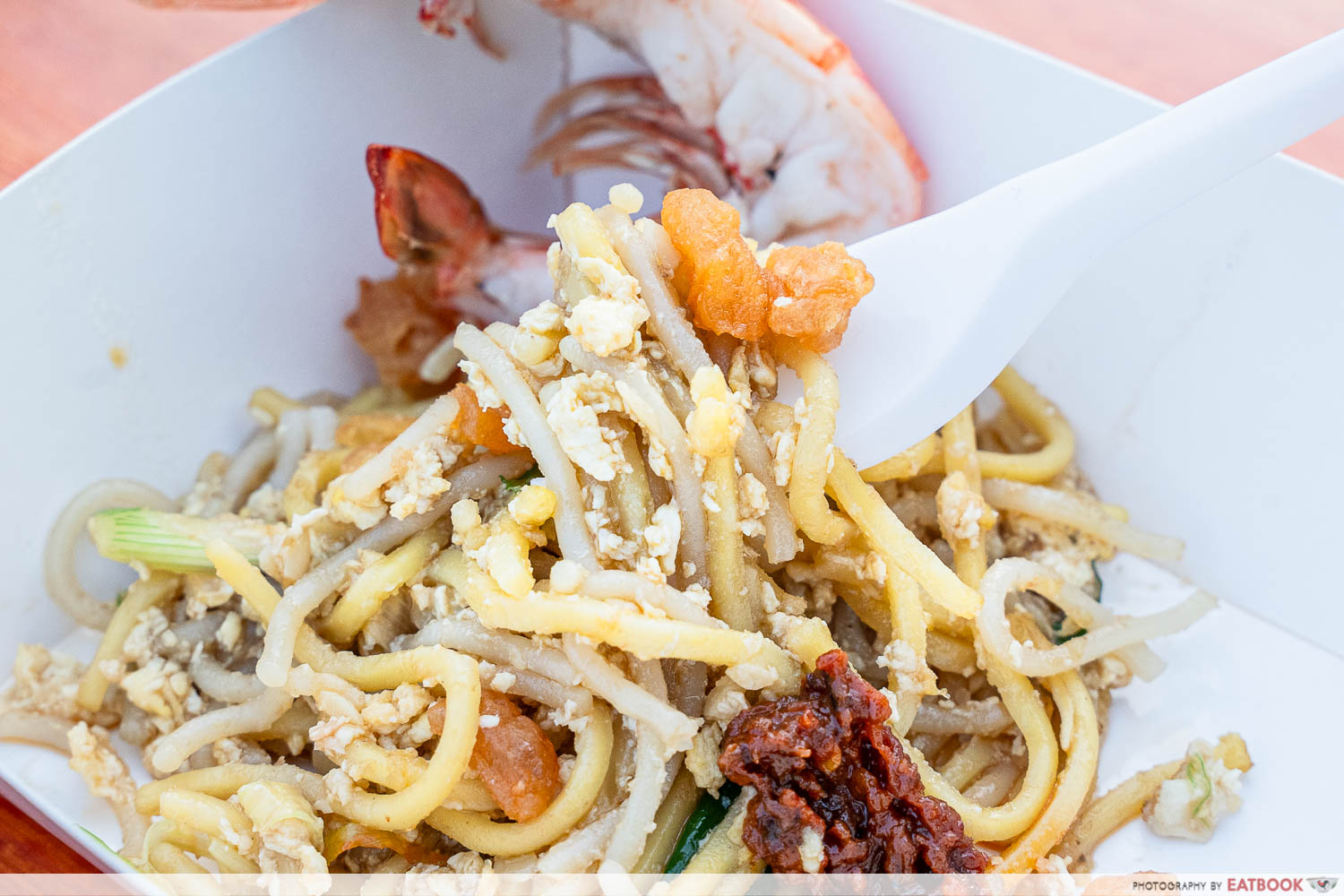 Michelin Bib Gourmand awardee One Prawn & Co sets up shop at the Singapore Food Festival too, though you won't be able to order ex-Burnt Ends chef Gwyneth Ang's famous prawn mee here. Instead, she's created Hokkien Mee ($12), fried with her super rich Prawn Bisque ($10), and served with house-made sambal.
If you're just after the soup, there's the bisque option. Otherwise, try her Prawn Paste Chicken Wings ($14) or Cheesy Chilli Crab Style Fries ($15), which are recommended pairings with Tiger Beer.
Zone: Tiger Food Street
Website
One Prawn & Co is not a halal-certified eatery
One Prawn & Co Review: Claypot Prawn Mee With Extra-Gao Soup By Ex-Burnt Ends Chef
---
6. Chun Feng Man Mian
---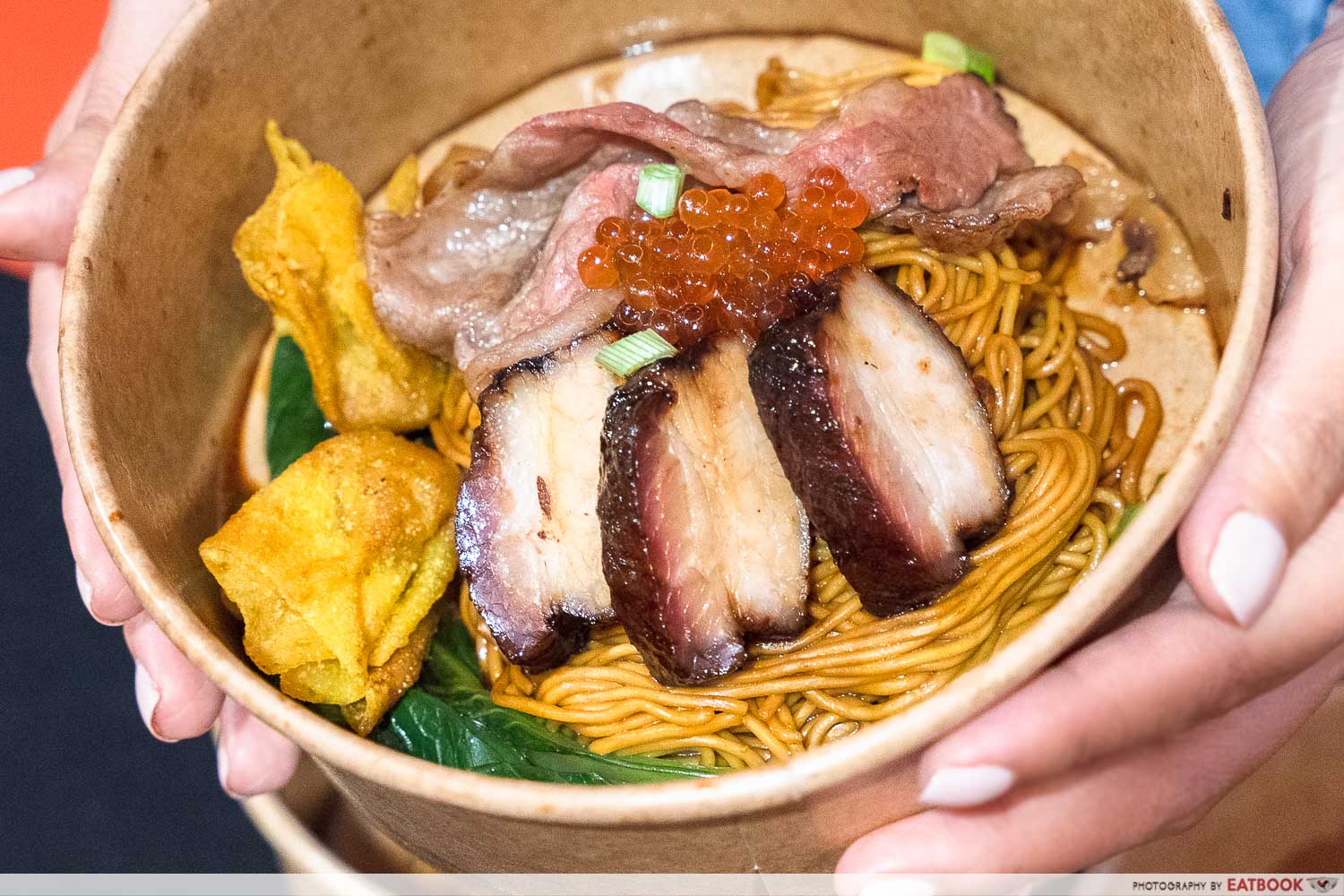 Chun Feng Man Mian made waves earlier this year for their atas wonton mee, served with truffle and caviar. If you've not made it to Amoy Street Food Centre before they close at 2:30pm each weekday, fret not, because they're now here each evening at the Singapore Food Festival. Their SFF-exclusive is an upgrade on the signature Iberico Char Siu Noodle ($10)—with added slices of Wagyu on the noods, resulting in Iberico Char Siu & Wagyu Duo Noodle ($15).
Alternatively, their menu also includes Spicy Wagyu Noodle ($12) for a mala option, and Soya Chicken Noodle ($12), starring famous soya sauce chicken restaurant Lee Fun Nam Kee's chicken. The most basic, and classic, dish is Iberico Char Siu Noodle ($10), or you could order a glammed-up Truffle Iberico Char Siu Noodle ($12) too.
Zone: SG Food Walk
Website
Chun Feng Man Mian is not a halal-certified eatery
Chun Feng Man Mian Review: Truffle Wonton Mee And Iberico Pork Char Siew In The CBD
---
7. The Hainan Story
---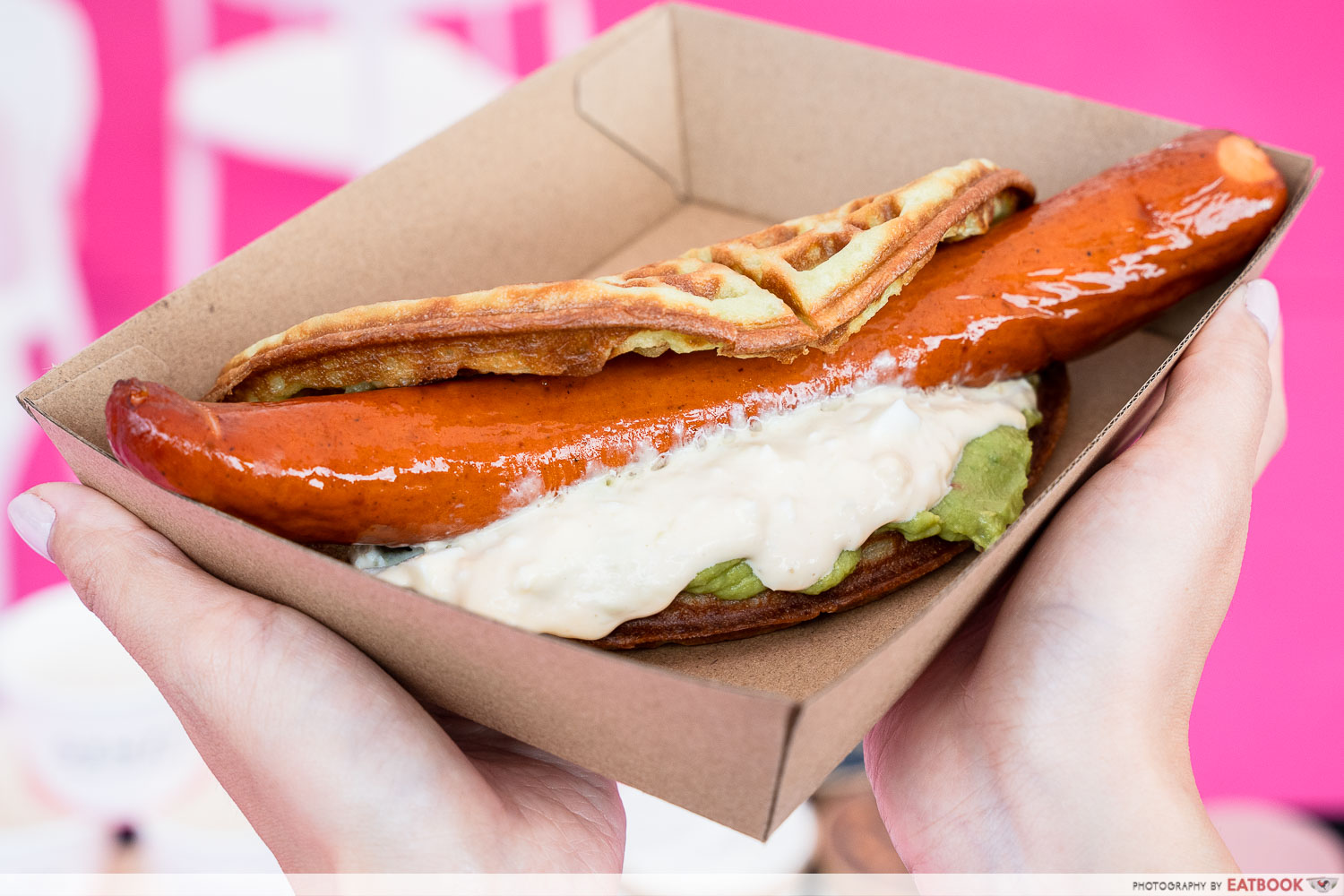 We ranked some of the best old-school waffles in Singapore, but nowhere did we find Waffle Dream Boat ($10) like that at The Hainan Story booth at the Singapore Food Festival. Here, a freshly baked pandan waffle is the wrap that holds a six-inch smoked pork cheesy sausage and lickings of avocado and egg mayo.
If that's too wacky for you, try their Pandan Waffle with Gula Melaka Kaya ($4), and wash either waffle down with Gourmet Blended Ice Lemon Tea ($5), which seemed to be a pretty popular pick amongst fellow festival-goers.
Zone: Sweets Alley
Website
The Hainan Story is not a halal-certified eatery
The Hainan Story Opens At NEX With Rojak Pandan Waffles, Pig's Trotter Assam Curry And More
---
8. Cheeky Bee Hoon
---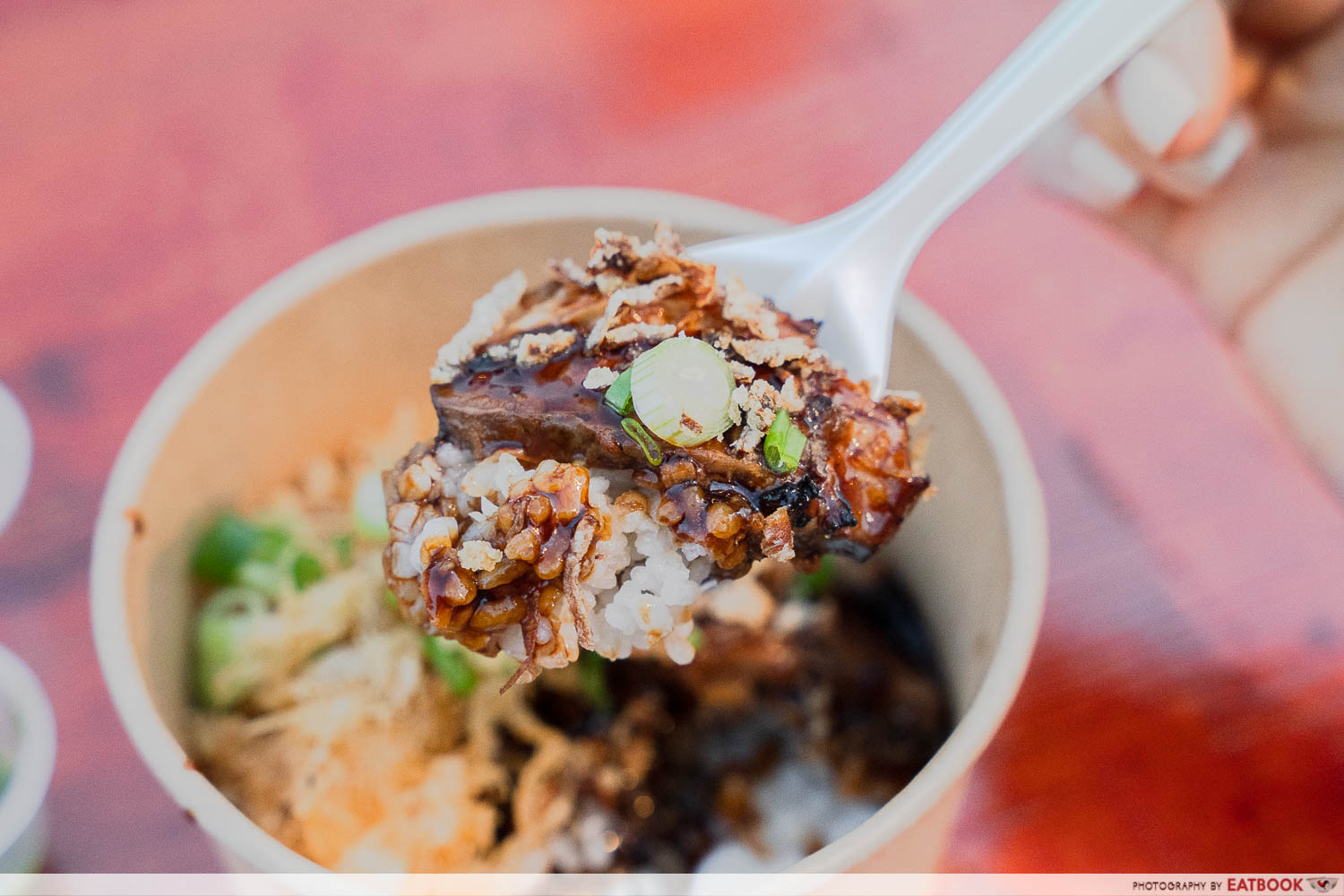 Relatively new Bedok eatery Cheeky Bee Hoon makes their maiden appearance at the festival with two scrumptious SFF dishes: Cheeky Braised Pork Pork Lard Pearl Rice ($12) and Salted Egg Fried Crispy Chicken ($6). Chef Darwin Wong, previously of French-Japanese eatery JIDAI Restaurant, has even come up with a tasty coriander dip that you can request.
Of course, his Signature Cheeky Bee Hoon ($14), with its handmade bee hoon from Sarawak, is also available here, though you should probably stick to the umami pork lard rice while the festival is ongoing.
Zone: SG Food Walk
Website
Cheeky Bee Hoon is not a halal-certified eatery
Cheeky Bee Hoon Review: Braised Pork Belly Bee Hoon, Crab Dumplings And More In Katong
---
9. Le Matin
---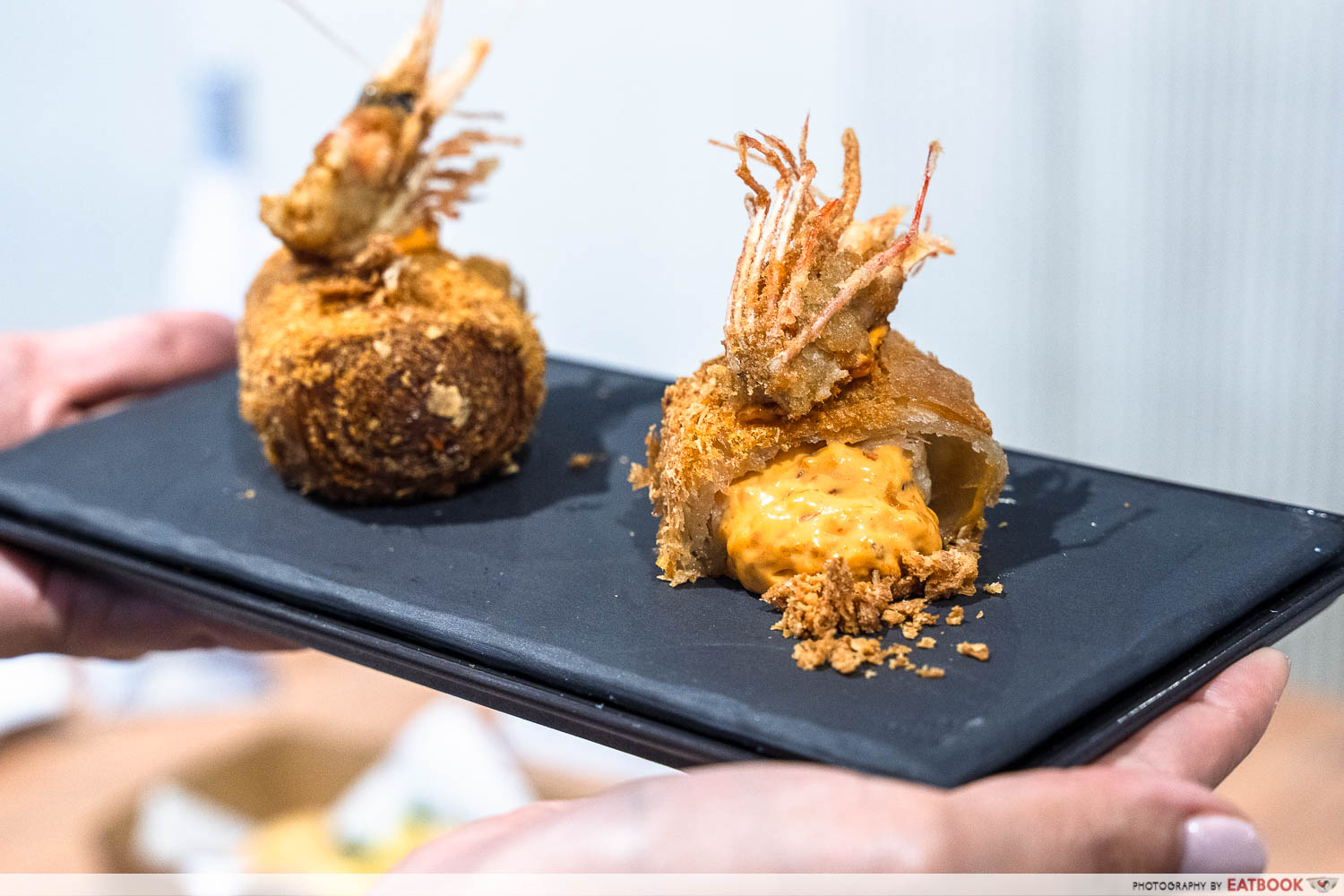 Le Matin really needs no further introduction, what with the craze for Chef Al-Matin's bake boxes during the Circuit Breakers. So it should come as no surprise that he's got not one, but two booths at Singapore Food Festival, found on Cafe Boulevard and in Food Cartel.
His SFF creation is Hae Bee Hiam Laminated Donut ($12), though this is only sold in the air-conditioned Chef's Arena tent, where you'll be able to get your hands on his Croissant Amazake Soft Serve Cone ($10) and Octopus and Sea Urchin Brioche Feuilletee ($15). At the Cafe Boulevard booth, go instead for the exclusive Le Matin Mignardise Box ($38), or a la carte pastries such as his famous Kouign Amann ($7).
Zone: Cafe Boulevard
Website
Le Matin is not a halal-certified eatery but no uses no pork or lard
Get Croissant Amazake Soft Serve With Brown Butter Waffles And More At Le Matin
---
10. Fan Bao Bao
---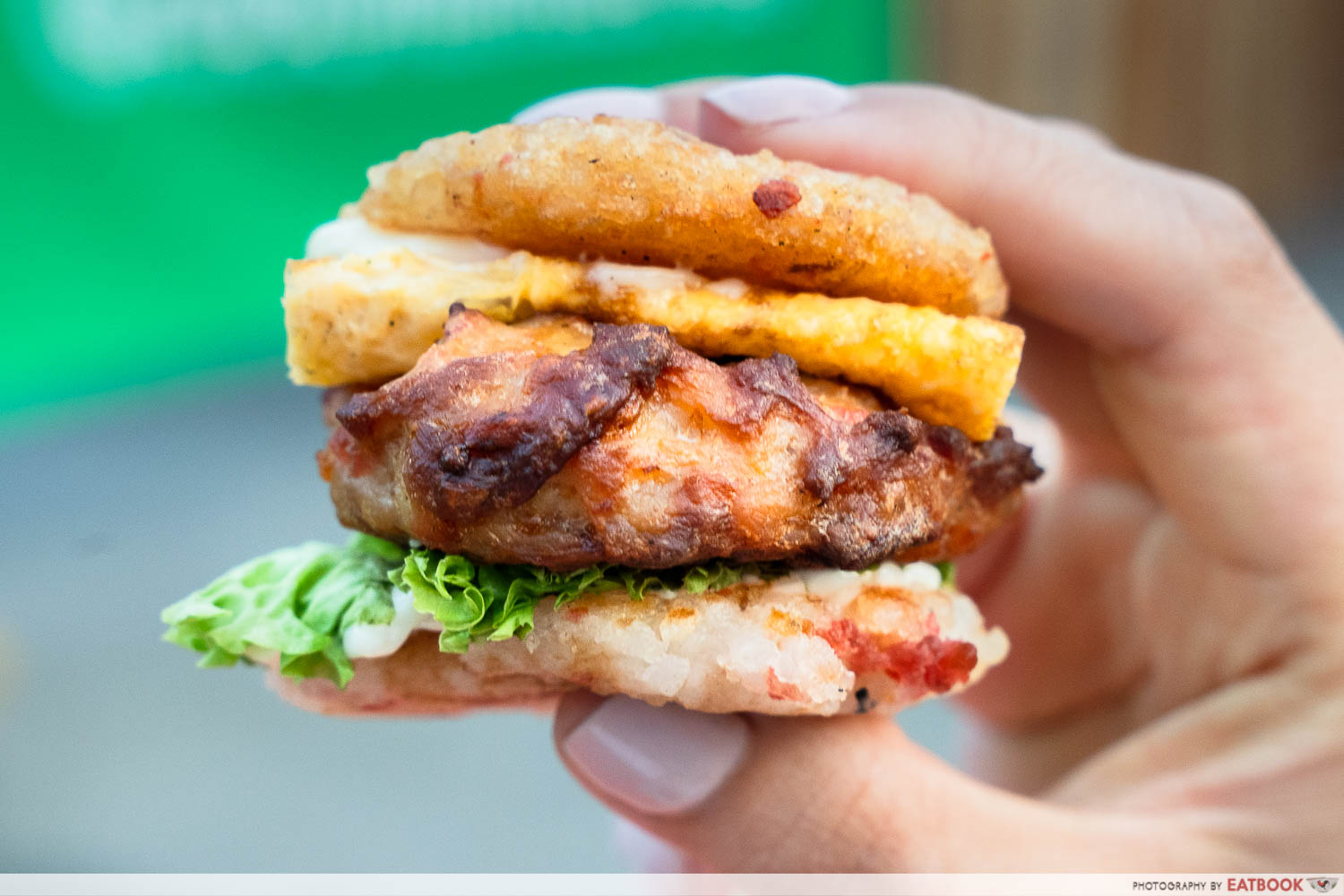 If you're looking for just a small bite, Fan Bao Bao at Tiger Food Street has a short menu of five sliders to tide you over. Start with their Singapore Food Festival-exclusive Chicken Claypot Rice Burger ($16), which condenses an entire meal into a handy little package. For a vegetarian-friendly option, there's Hakka Lei Cha Burger ($16). Opt for Erupting Mango Sticky Rice Burger ($12) to check out their take on the Thai dessert.
Zone: Tiger Food Street
Fan Bao Bao is not a halal-certified eatery
---
11. Aroma Truffle x Brine
---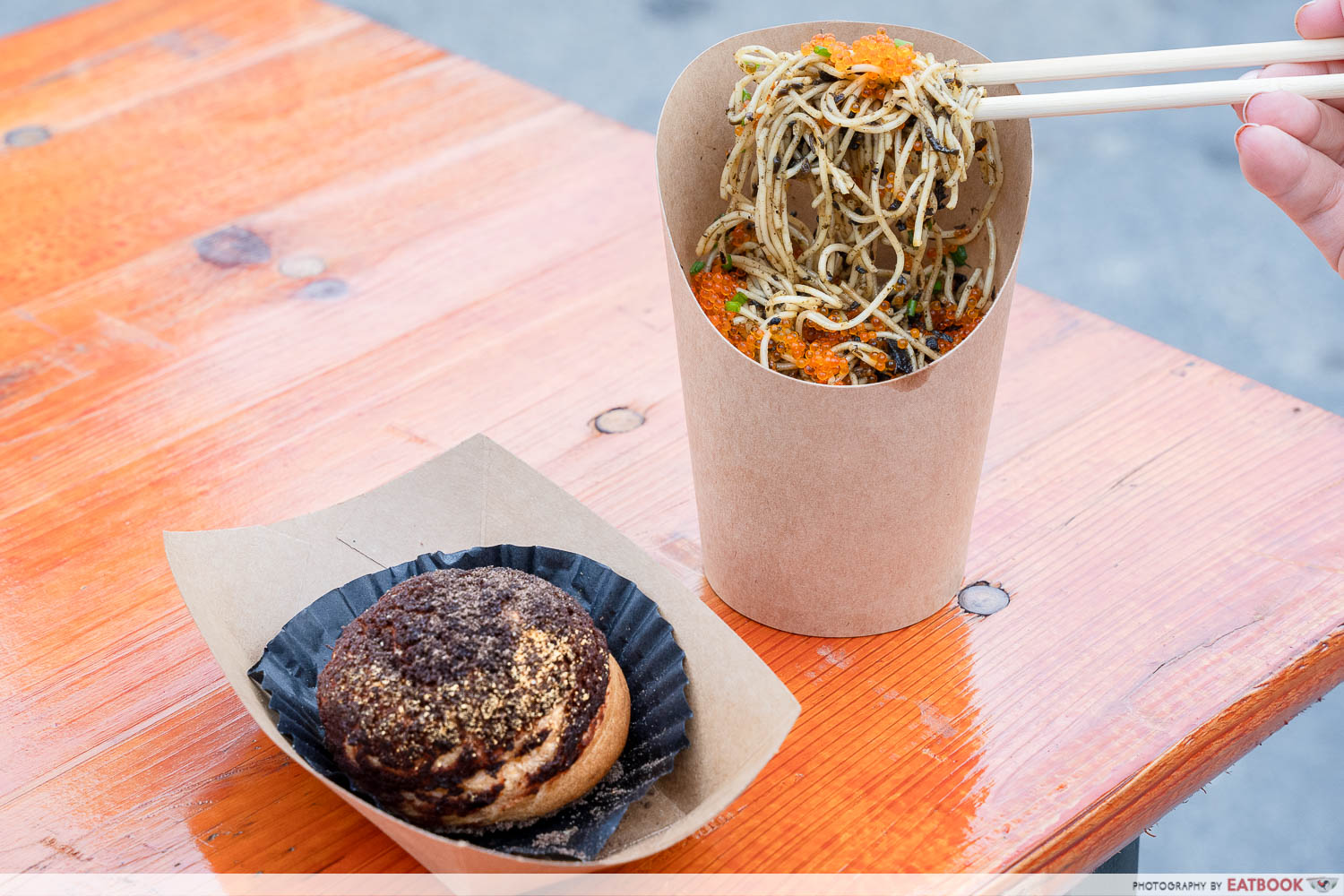 The brand behind one of Singapore's most strongly flavoured truffle chips, Aroma Truffle, partners with contemporary restaurant Brine at SFF 2023 for a whole festival-exclusive menu so you could easily have a five-course truffle meal right here. If that's a bit too OTT, there's a 3-course Truffle Combo ($32) to satisfy your truffle cravings, which comes with Sourdough with Truffle Butter ($12), Truffle Cappellini with Olive Vegetables and Tobiko ($16) and Truffle Zest Pate Choux ($8).
Jam-packed with the flavour of black truffle, you could also opt for Crushed Potato with Truffle Bechamel ($14) or Chicken Karaage with Truffle Jus and Shaved Truffles ($17).
Zone: Food Cartel
Aroma Truffle x Brine is not a halal-certified eatery
---
12. Atas Butter
---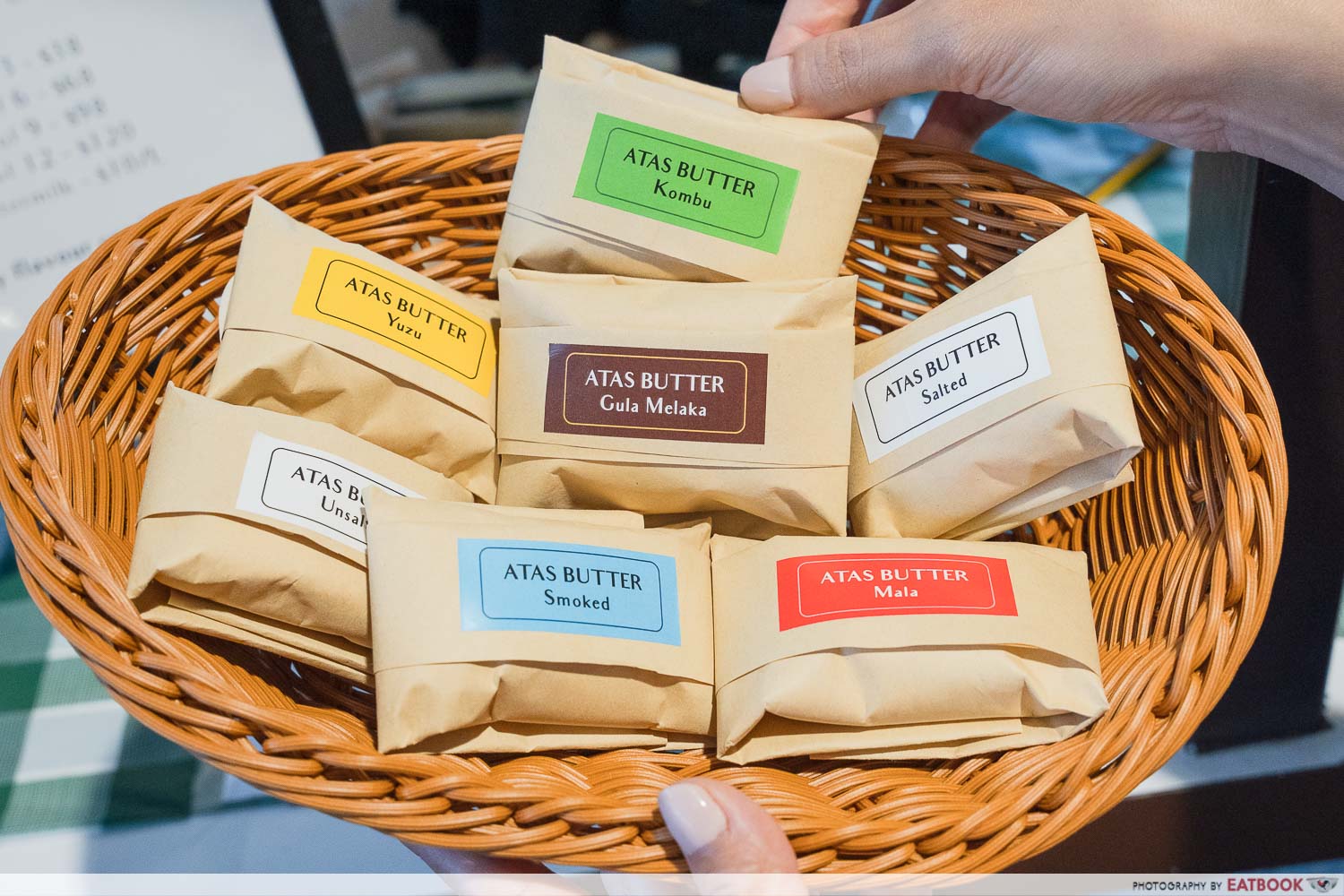 If you're looking to do some shopping, stop by Atas Butter at the Gourmet & Wine Market in Chef's Arena for cultured butter that's locally churned and hand-kneaded. It's made in small batches, and is so fresh, any butter you purchase or get delivered has been produced a maximum of five days prior.
Choose from flavours including Mala, Kombu, Yuzu and more, which you can pre-order for delivery the following month. They're sold in bundles of three ($38), six ($68), nine ($98), or 12 ($120), inclusive of delivery. If you'd like to enjoy their butters there, get the Tasting Platter ($30), for Kombu, Smoked and Gula Melaka butters with crackers!
Zone: Food Cartel
Website
Atas Butter is not a halal-certified eatery
---
Best Singapore Food Festival 2023 food stalls
---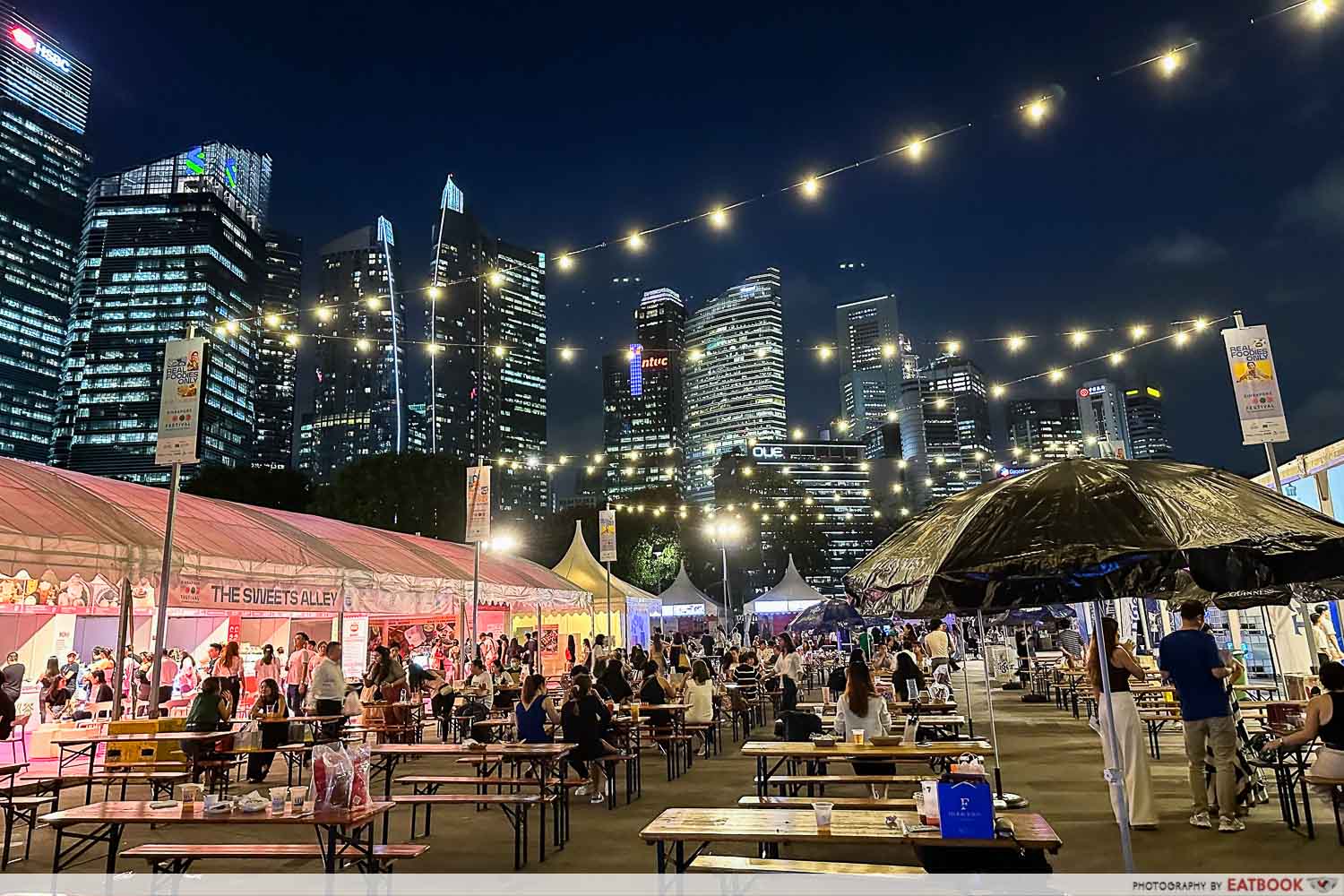 A Single Entry Pass to Singapore Food Festival 2023 is priced at $8, while a Premium Pass will set you back $18. This pass, as well as the Drinking Pass ($28), allows you access to all the zones, plus entrance to the air-conditioned Food Cartel. Both the Premium and Drinking passes are good for multiple entries to the festival; the Premium also comes with a gift from SG Mama Shop and a free drink, while the Drinking Pass gets you one free drink, beer, and cocktail. Get these passes on their website, or on-site at the Bayfront Event Space! P.S.: this is a cashless event, so leave your cash at home.
Address: 12 Bayfront Avenue, Singapore 018970
Opening hours: Mon-Fri 5pm to 10:30pm, Sat-Sun 10:30am to 10:30pm
Photos taken by Casandra Nicholas.
This was a media tasting at Singapore Food Festival 2023.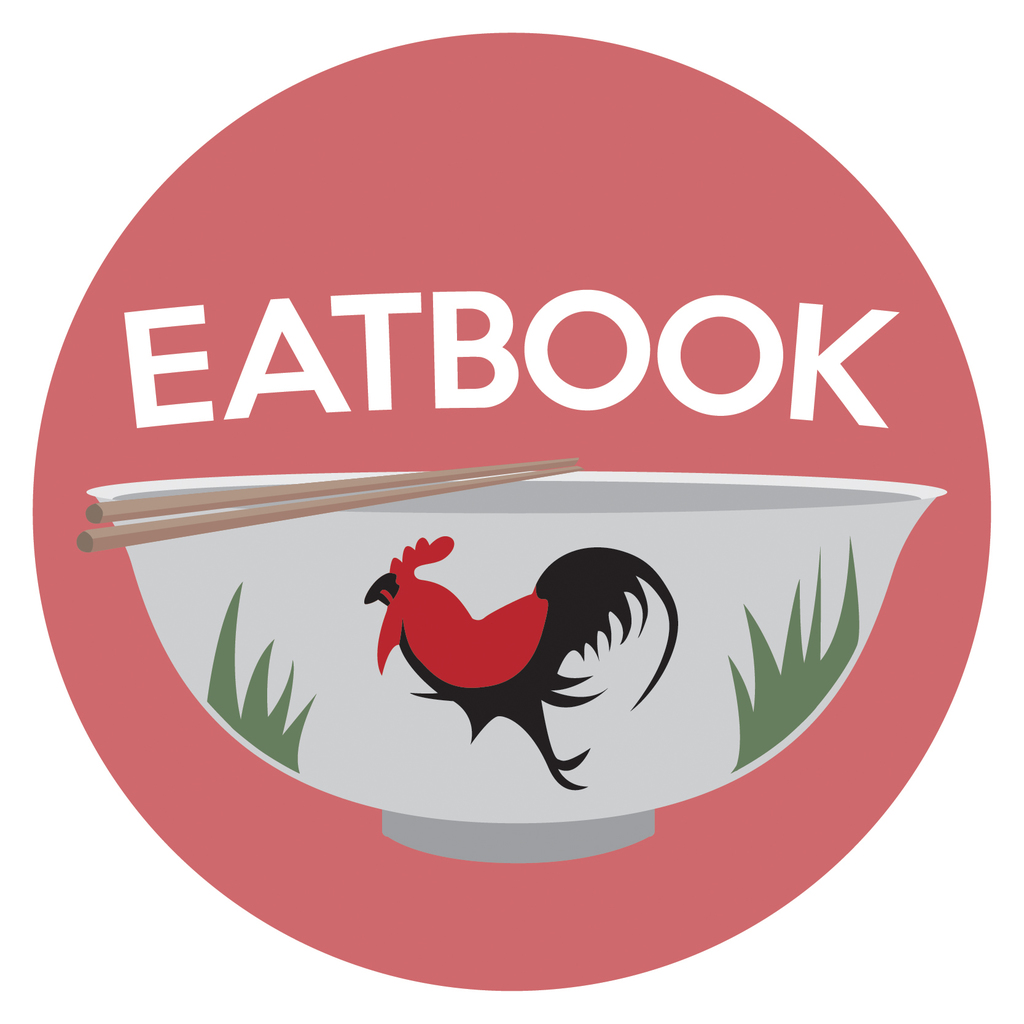 Drop us your email so you won't miss the latest news.