---
Eat your fill and eat even more
---
I've always blamed my huge appetite for burning a hole in my pocket. Going for buffets is one of the best deals for big eaters but let's be real, these supersized meals ain't cheap. Being on a constant look out for huge portions that are value for money, I've found 10 places with free and unlimited add-ons to unleash the glutton in you!
---
1. Nasi Lemak Kukus
---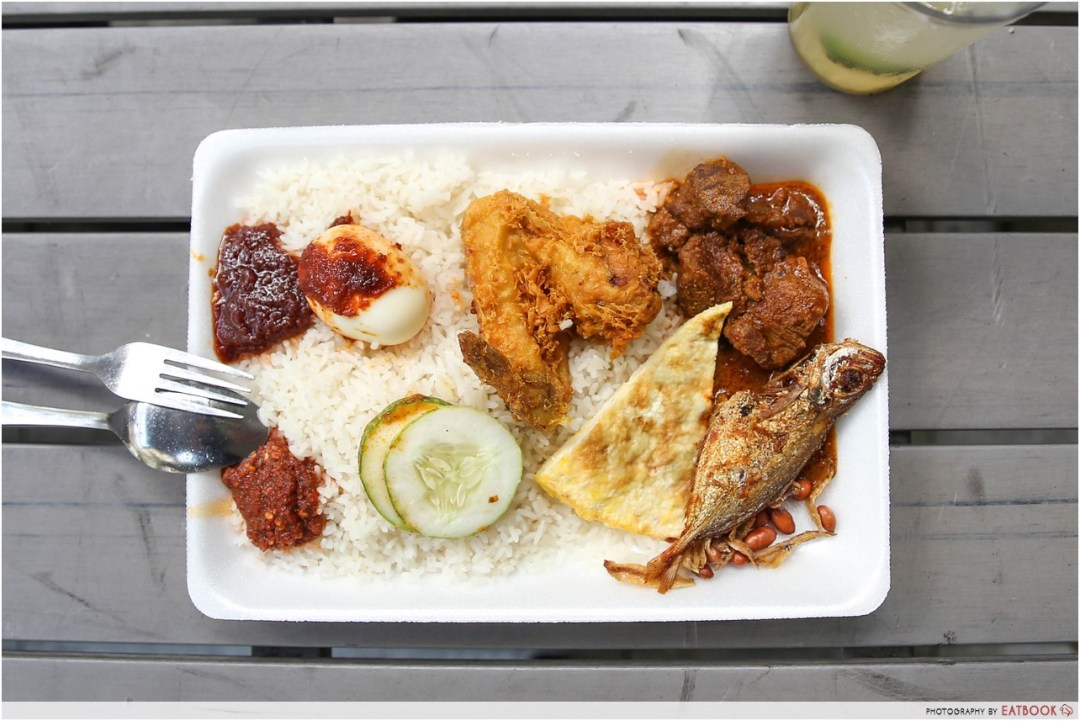 Jio your teammates to Nasi Lemak Kukus when you feel like you can eat a horse after an intense workout because you get to pile on warm fragrant nasi lemak rice for free! Choose your own ingredients or a Chicken Wing Set ($4), which contains a hard boiled egg, omelette, ikan bilis, fried fish and chicken wing. The flavourful coconut rice and their signature chilli should tame that growling stomach of yours.
Address: 229 Selegie Road, Singapore 188344
Opening hours: Mon-Sat 12pm to 11pm
Tel:  8222 9517
Read the full review here.
---
2. Hanare Japanese Cafe
---
Hanare Japanese Cafe, the sister of Teppei, is a great place to hang out at. Treat yourself right with Bara Chirashi set ($17.60) that consists of a bowl of rice with generous cubes of fresh sashimi, miso soup and 4 unlimited side dishes. Their side dishes are just as mouthwatering as their chirashi! They have more than 20 sides to choose from and some popular ones include sweet and sour fish, sushi, chawanmushi and gyoza.
Address: 99B Tanjong Pagar Road, Singapore 088520
Opening Hours: Mon-Sat 12pm to 2:30pm, 6:30pm to 10pm
Tel: 6222 1976
---
3. Menya Musashi
---
Menya Musashi embraces your big appetite with free ramen upsize up to 5 times the regular portion. That's a whopping 600g – or almost 5 packets of maggie mee worth – of noodles! If you are craving for a thick pork broth, order White Kakuni Ramen (S$14.90++). Dunk your springy noodles in the full-bodied broth and slurp away!
Address: 252 North Bridge Road,  #01-16,  Raffles City Shopping Centre, Singapore 179103
Opening hours: Mon-Sun 11:30am to 10pm
Tel: 6336 6500
Menu
---
4. L'Entrecote
---
Those who think happiness is finding the last few fries at the bottom of the bag simply have not been to L'Entrecote. Specialising in steak and fries,  this bistro is out to satis-fry you. Sink your teeth into Trimmed Entrecôte Steak ($32.90++) soused with their legendary sauce and chomp on unlimited crispy French fries. Now that, my friends, is happiness.
Address: 36 Duxton Hill, Tanjong Pagar Conservation Area, Singapore 089614
Opening hours: Mon-Thur 12pm to 11pm, Fri 12pm to 11:30pm, Sat 5pm to 11:30pm, Sun 12pm to 10:30pm
Tel:  6690 7561
Menu
---
5. Tonkatsu by Ma Maison
---
Well known for their crispy and succulent Tonkatsu, Ma Maison also satisfies the hangry with free-flow rice, miso soup and side salad! Indulge in Rosu Katsu Set ($18.80++) and soak up the slightly sticky yet fluffy Japanese pearl rice with as much miso soup as you want. 
Address: 333A Orchard Road, #02-35/36, Mandarin Gallery, Singapore 238897
Opening Hours: Mon-Fri 11am to 3pm, 5pm to 10pm, Sat-Sun 11am to 10pm
Tel: 6733 4541
---
6. Karu's Indian Banana Leaf Restaurant
---
I never ever finish my bowl of curry at Indian restaurants because I fail at rationing my rice all the time. If you're like me, you'll have to give Karu's Indian Banana Leaf Restaurant a visit as they provide an unlimited supple of 2 vegetable sides, papadum and briyani rice for you to mop up all your curry! Order Chicken Biryani Meal ($9) and experience the traditional way of dining here by eating with your hands and plating your food on banana leaf.
Address: 896 Dunearn Road, #05-01, Sime Darby Centre, Singapore 589472
Opening Hours: Tues-Sun 10:30am to 10pm
Tel: 6762 7284
Menu
---
7. Ramen Dining Tamaranbai
---
For big eaters like me, a bowl of ramen is never enough. Here at Ramen Dining Tamaranbai, you can please your appetite with a bowl of Pure Tonkotsu ($12.80++) AND unlimited side dishes such as stir-fry cabbage & chashu, flavoured rice, aubergines and many more.
Address: 17 Stanley Street, Singapore 068736
Opening hours: Mon-Fri 11:30am to 3pm, 5:30pm to 10pm, Sat 12pm to 9.30pm
Tel:  9062 6379
---
8. Dallas Restaurant & Bar
---
Pure joy is rare and that's why eating a toothsome bloody steak will get you there. Dallas Restaurant & Bar goes the extra mile to give you something more than pure joy. For only $35++, their unlimited premium cut steak on weekends will convert you into a carnivore while you're there.
Address: 3 Temasek Boulevard, #03-302/303, Suntec City Sky Garden, Singapore 038983
Opening Hours: Mon–Wed 11:30am to 12pm, Thu–Fri 11.30am to 1am, Sat-Sun 11.30am to 12am
Tel: 6333 4068
Menu
---
9. Hifumi Japanese Restaurant
---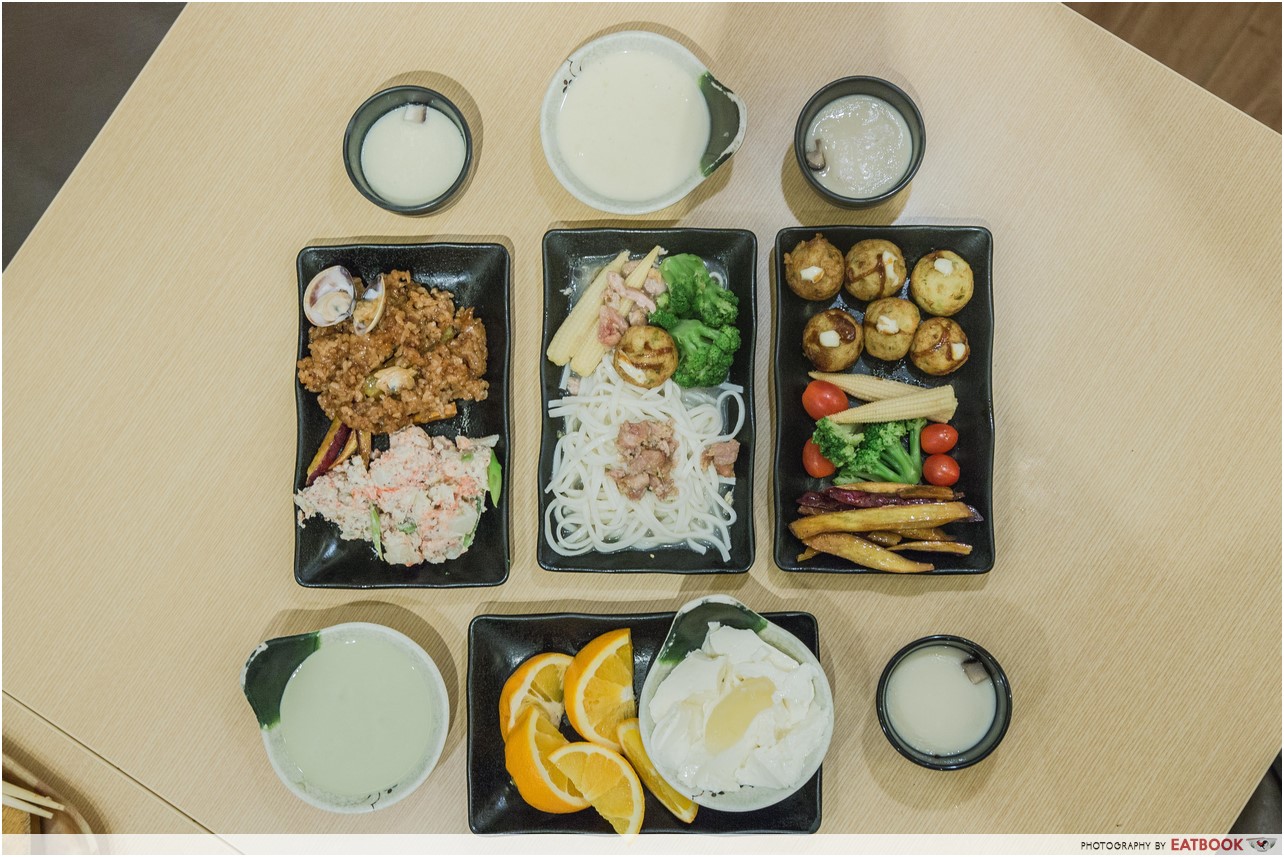 A place starring appetizers instead of main courses, Hifumi Japanese Restaurant welcomes all gourmands out there with open arms. Order Seafood Hot Pot Ramen ($16.99++) or any other main course to get your entry ticket to their appetiser bar. Stuff yourself with unlimited mouthwatering appetizers such as fried squid with tartar, shoyu pork ribs, matcha cheese cups and many more!  
Address: 6 Raffles Boulevard, #02-106A/B, Marina Square Shopping Mall, Singapore 039594
Opening hours: Mon-Sun 11:30pm to 3pm, 5pm to 10:30pm
Tel:  6337 4721
---
10. Ramen Keisuke Tori King
---
Time to load up on protein at Ramen Keisuke Tori King. Order Tori King Ramen ($11.90++) or any ramen of your choice and enjoy unlimited hard-boiled eggs, seasoned beansprouts and sesame seeds! Submerge your hard boiled eggs in the tasteful broth and eat as much as your tummy desires. Don't give chance hor.
Address: 100 Tras Street, #03-15, 100AM, Singapore 079027
Opening hours: Mon-Fri: 11:30am to 3pm, 5:30pm to 10pm, Sat-Sun: 11:30pm to 10pm
Tel: 6604 6861
---
Knock me out now
---
Whether it's taming a growling stomach or training to be a competitive eater, these places will definitely keep you satisfied and make it worth your penny. Comment down below if you know any other places with unlimited add-ons!