---
Eat your fill and eat even more
---
I've always blamed my huge appetite for burning a hole in my pocket. Going for buffets is one of the best deals for big eaters but let's be real, these supersized meals ain't cheap. Being on a constant look out for huge portions that are value for money, I've found 10 places with free and unlimited add-ons to unleash the glutton in you!
---
1. Tengawa Hokkaido White Curry
---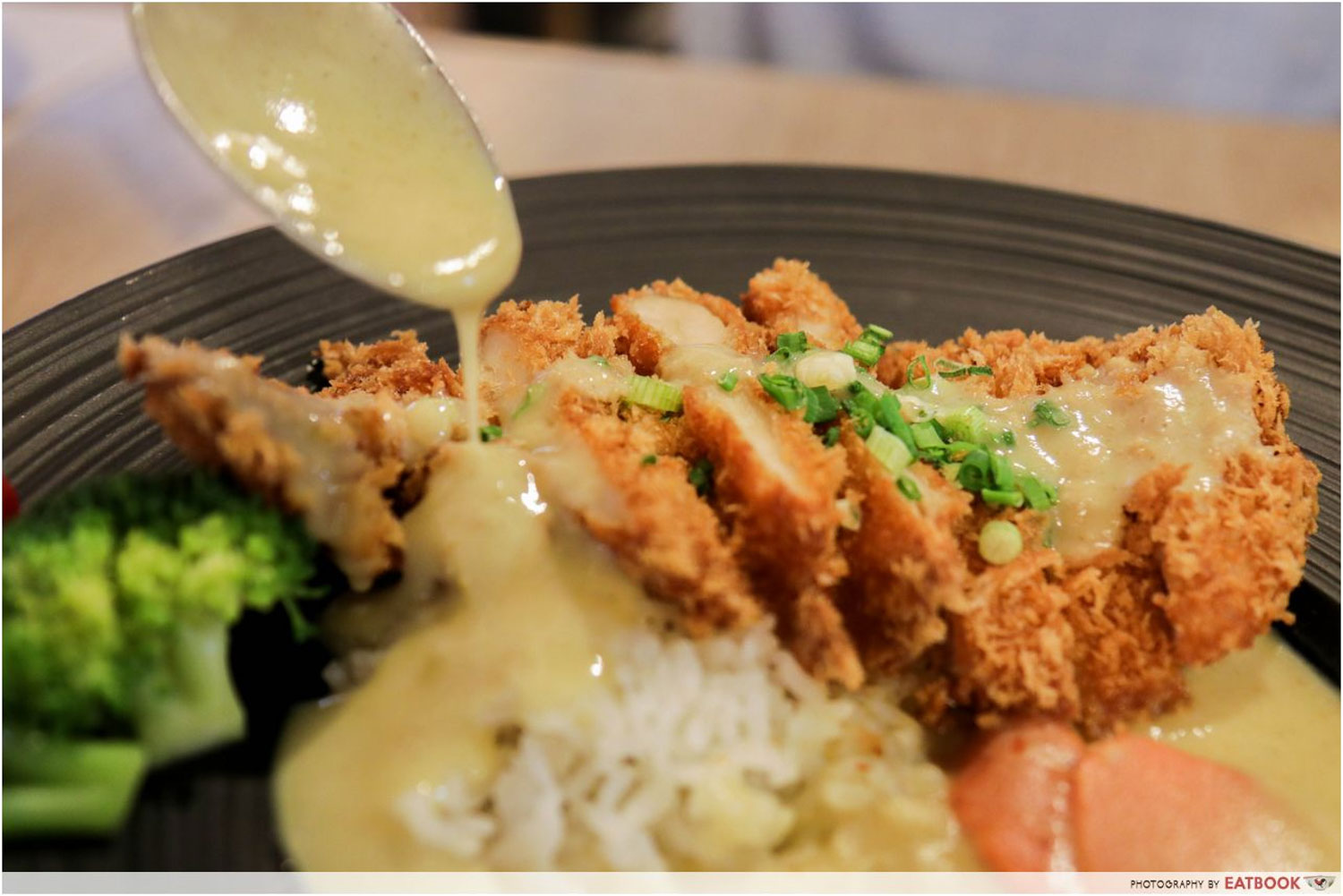 Japanese curries usually disappoint me with either too little rice or too little gravy. But that's not a problem at Tengawa Hokkaido White Curry, as they offer both free-flow rice and unlimited top-ups of curry!
Prepared with Hokkaido milk, the velvety curry goes well with any meat. But it truly shines in their Crunchy Chicken Katsu White Curry Set ($15.80++). Milky, mildly spicy, and a tad savoury, the sauce adds depth to the crispy cutlet.
Check out our full review of Tengawa Hokkaido White Curry!
Address: 9 Raffles Boulevard, #02-16, Millenia Walk, Singapore 039596
Opening hours: Daily 11:30am to 10pm
Tel: 6265 1314
---
2. Morton's Bar
---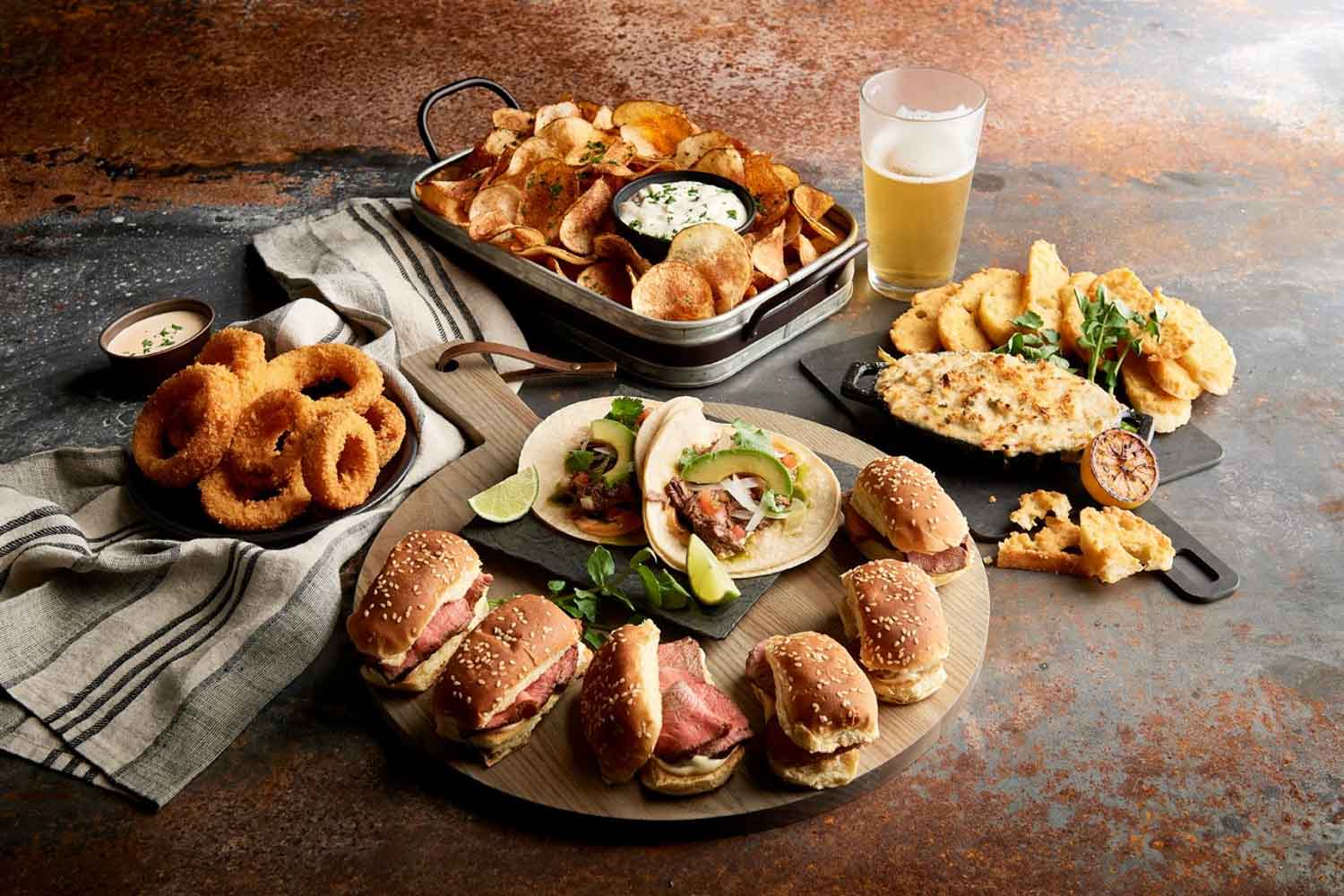 Image credit: Morton's The Steakhouse's Facebook Page

Off-work hours are precious, so end your day on the right note by having a tipple at Morton's Bar. Drop by from between 5 to 7 pm and enjoy their complimentary free-flow filet mignon sandwiches. The tender beef slices are sandwiched between fluffy buns, creating a savoury treat that you simply can't miss.

Unfortunately, these sandwiches are rolled out every half hour. Keep an eye on the food leaving their kitchen doors, or risk missing out on them!

While you're waiting for the next batch, make a beeline for their signature Mortini. Considering the 85-gram of vodka in it, these cocktails are a bargain at $15.95++.

Address: 5 Raffles Avenue, Level Four, Mandarin Oriental Hotel, Singapore 039797
Opening hours: Mon-Sat 5pm to 11pm, Sun 12pm to 9pm
Tel: 6339 3740
Website
Menu
---
3. Charcoal-Grill & Salad Bar Keisuke
---

It seems Keisuke Tanada – the brains behind Omurice Keisuke and now Charcoal-Grill & Salad Bar Keisuke – can do no wrong. The latter is garnering snaking queues with their Charcoal Grilled Mackerel Set ($11.90++) and other sumiyaki-style dishes.

While your dish is prepared, hop by their free flow salad bar and placate your hunger with the extensive spread of side dishes. A good starting point is their kanakama coleslaw; the shreds of crab stick empowers the creamy slaw with tinges of sweetness.

Check out our full review of Charcoal-Grill & Salad Bar Keisuke!

Address: 60 Paya Lebar Road, #B1-16, Paya Lebar Square, Singapore 409051
Opening hours: Daily 11:30am to 2:30pm, 5:30pm to 10pm
Website

---
4. L'Entrecote
---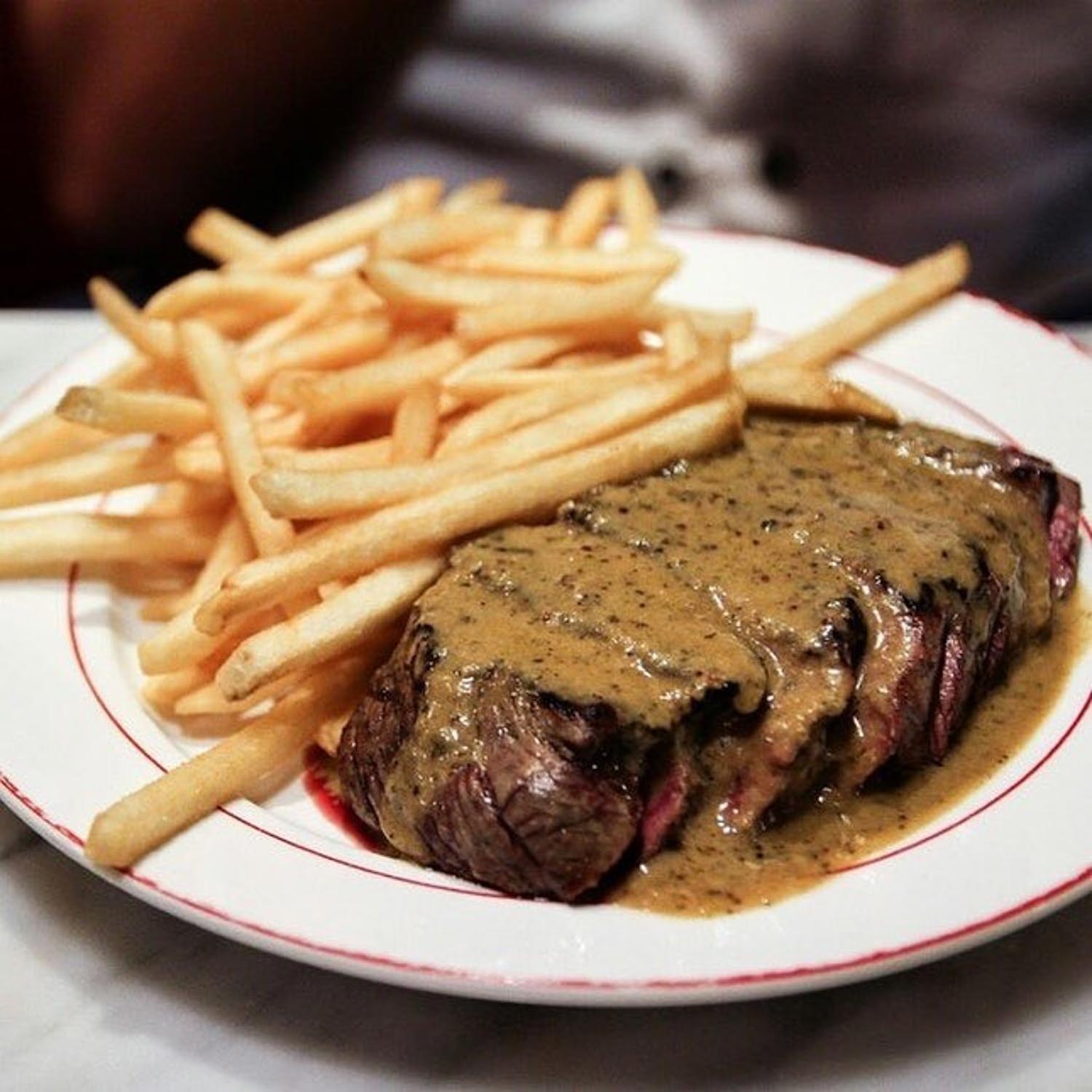 Image credit: @lentrecote_sg
Those who think happiness is finding the last few fries at the bottom of the bag simply have not been to L'Entrecote. Specialising in steak and fries,  this bistro is out to satis-fry you. Sink your teeth into Trimmed Entrecôte Steak ($32.90++) soused with their legendary sauce and chomp on unlimited crispy French fries. Now that, my friends, is happiness.
Address: 36 Duxton Hill, Tanjong Pagar Conservation Area, Singapore 089614
Opening hours: Mon-Thur 12pm to 3pm, 6pm to 10:30pm, Fri 12pm to 3pm, 6pm to 11pm, Sat 5pm to 11pm, Sun 12pm to 3pm, 5:30pm to 10pm
Tel:  6690 7561
Website
Menu
---
5. Dallas Restaurant & Bar
---

Image credit: @shaun_tsc

Pure joy is rare and that's why eating a toothsome bloody steak will get you there. Dallas Restaurant & Bar goes the extra mile to give you something more than pure joy. For only $35++, their unlimited premium cut steak on weekends will convert you into a carnivore while you're there.
Address: 3 Temasek Boulevard, #03-302/303, Suntec City Sky Garden, Singapore 038983
Opening Hours: Mon–Wed 11:30am to 12pm, Thu–Fri 11.30am to 1am, Sat-Sun 11.30am to 12am
Tel: 6333 4068
Website
---
6. Hifumi Japanese Restaurant
---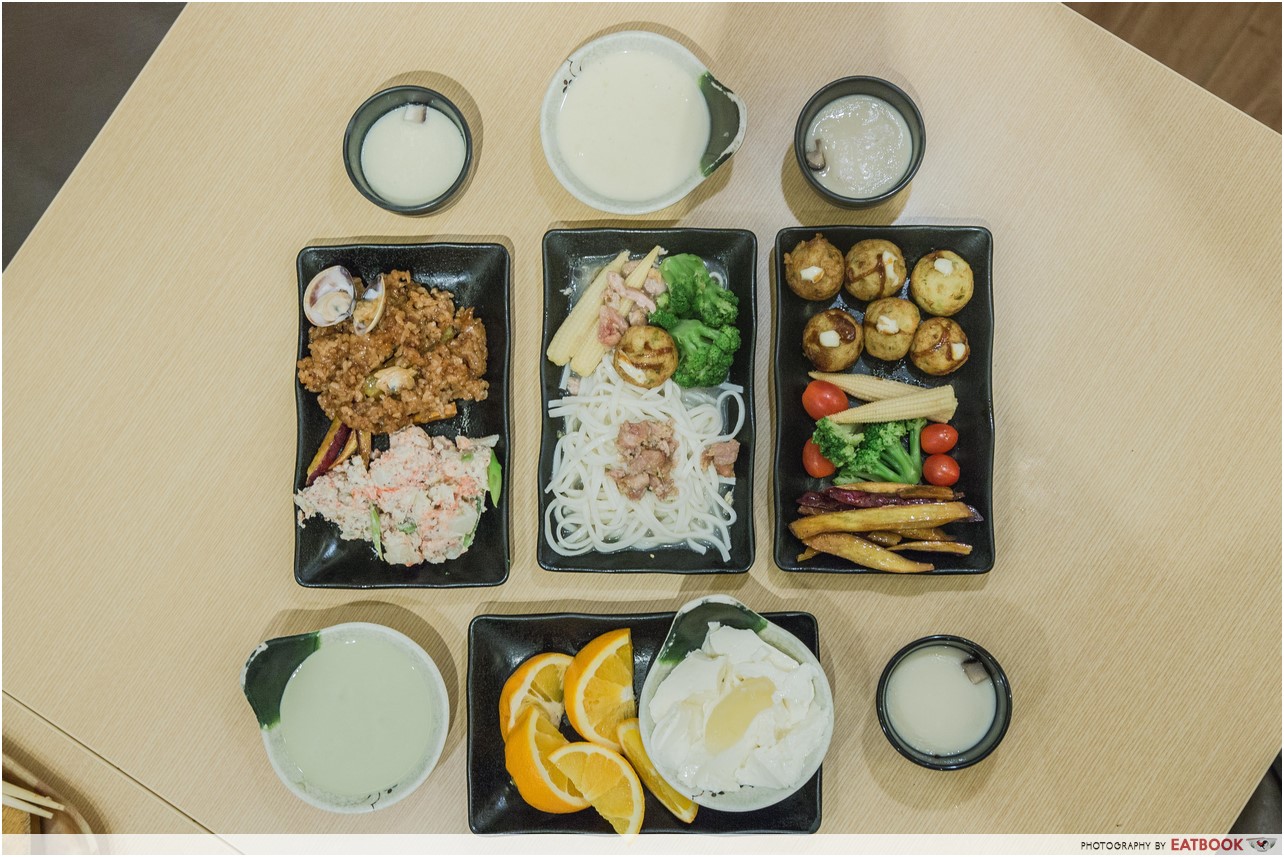 A place starring appetizers instead of main courses, Hifumi Japanese Restaurant welcomes all gourmands out there with open arms. Order Seafood Hot Pot Ramen ($16.99++) or any other main course to get your entry ticket to their appetiser bar. Stuff yourself with unlimited mouthwatering appetizers such as fried squid with tartar, shoyu pork ribs, matcha cheese cups and many more!  
Address: 6 Raffles Boulevard, #02-106A/B, Marina Square Shopping Mall, Singapore 039594
Opening hours: Mon-Sun 11:30pm to 3pm, 5pm to 10:30pm
Tel:  6337 4721
Website
---
7. Ramen Dining Suzuki
---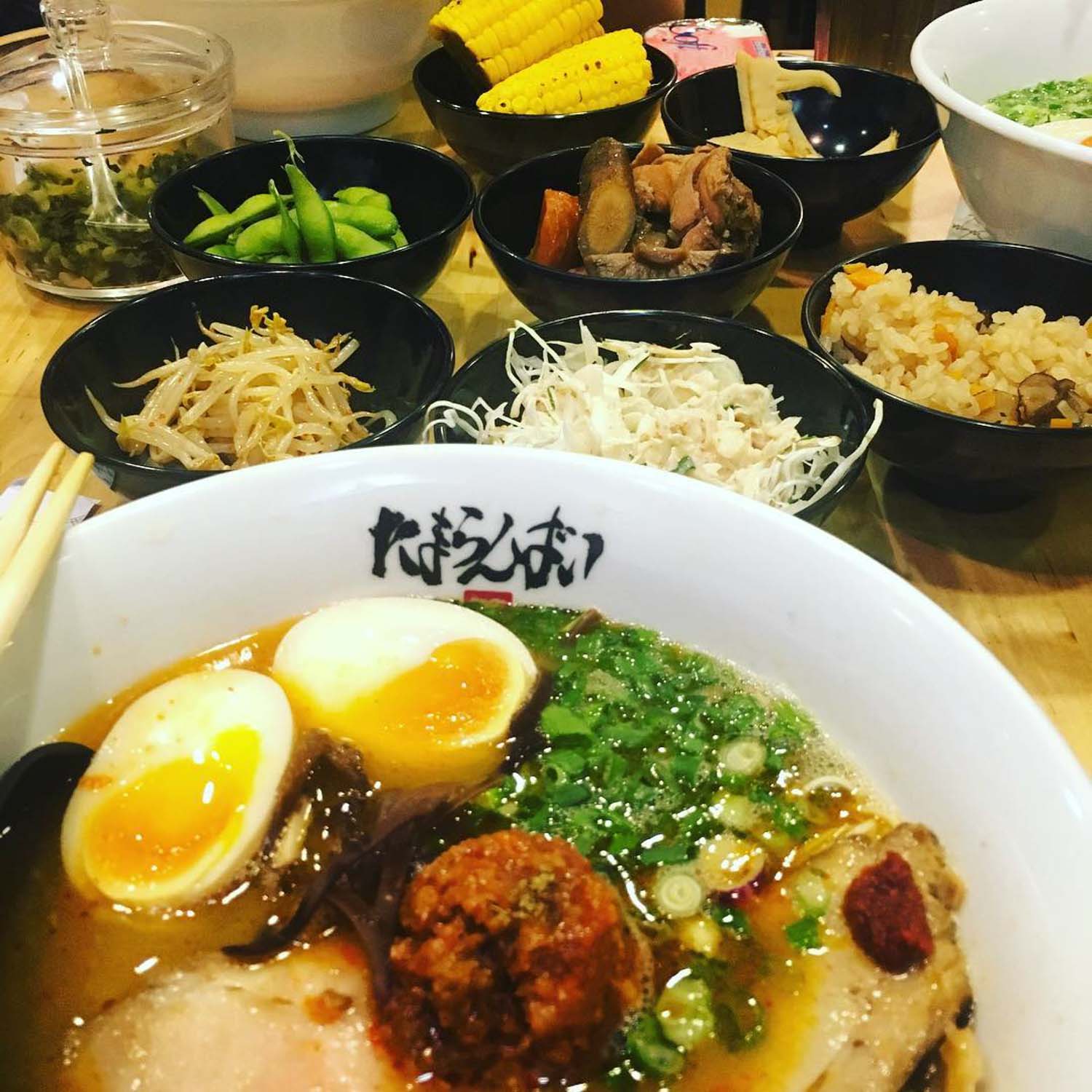 Image credit: @jolenejolene
For big eaters like me, a bowl of ramen is never enough. Here at Ramen Dining Suzuki, you can please your appetite with a bowl of Pure Tonkotsu ($12.80++) AND unlimited Osozai (Japanese style deli) dishes such as stir-fry cabbage & chashu, flavoured rice, and aubergines.
Address: 17 Stanley Street, Singapore 068736
Opening hours: Mon-Fri 11:30am to 3pm, 5:30pm to 10pm, Sat 12pm to 9.30pm
Tel:  9062 6379
---
8. Knickers + Bockers
---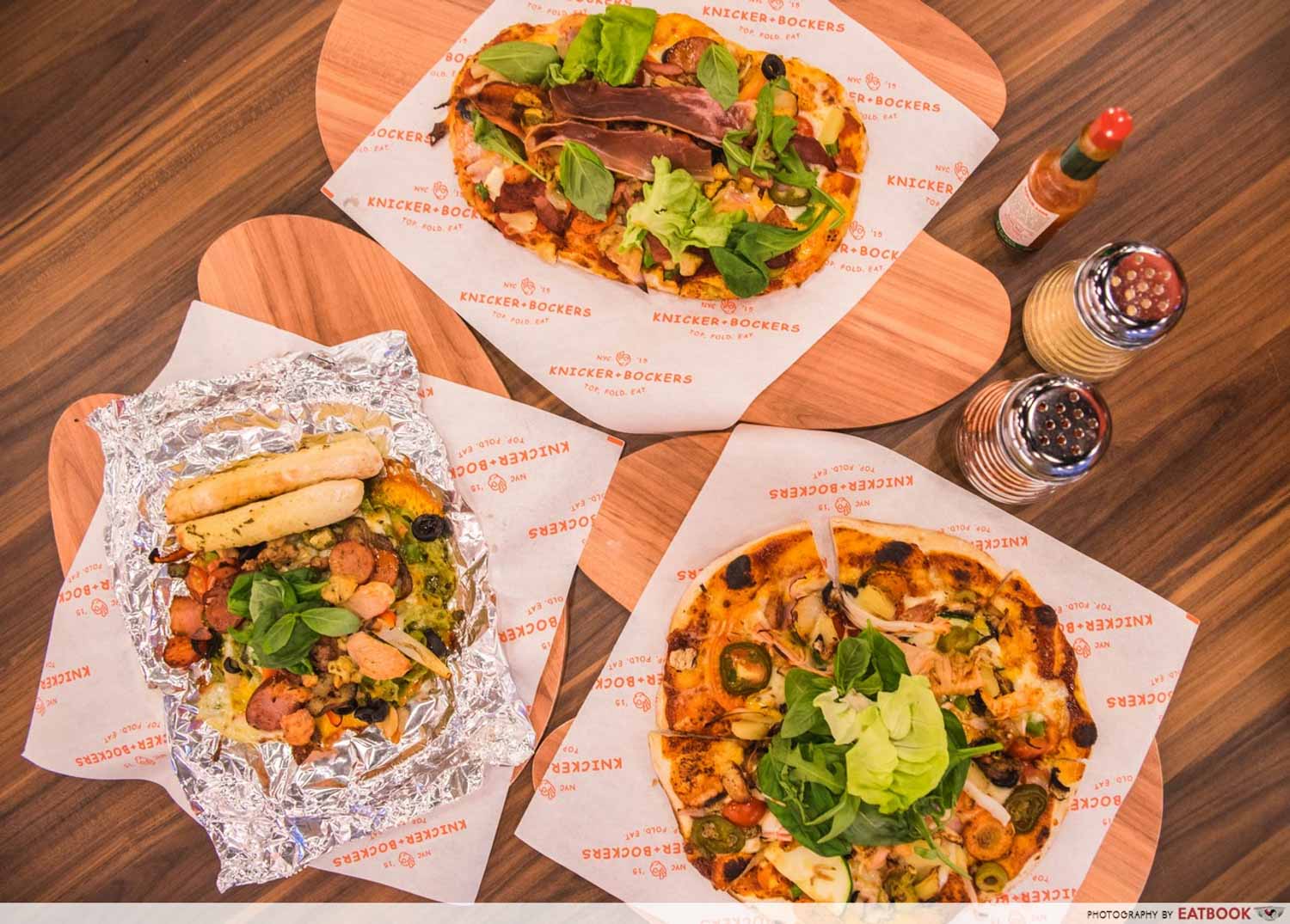 Mention Knicker + Bockers and your friends might assume that you're talking about a clothing store. But this pizza store is the only place in Singapore where you can Design-your-own-pizza ($13.90) with unlimited toppings. Bury your creation with every topping on the menu – BTW, there are 50 available – and savour a pizza which tastes different at every bite.
Check out our full review of Knicker + Bockers!
Address: 10 Collyer Quay, #B1-10, Ocean Financial Centre, Singapore 049315
Opening hours: Daily 8:30am to 8pm
Tel: 6509 9247
Website
---
9. Kim's Family Korean Restaurant
---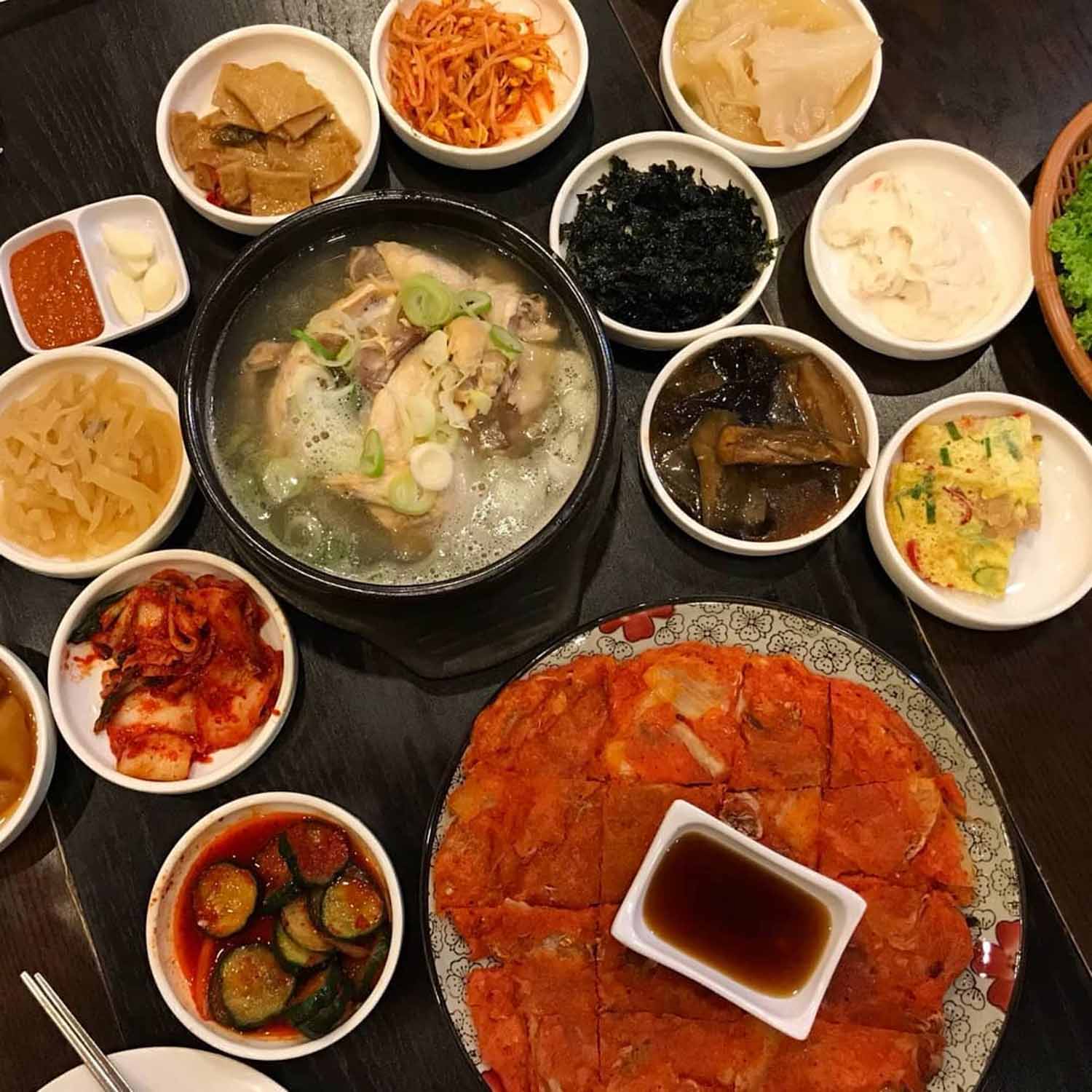 Image credit: @cll642
Banchan (side dishes) are synonymous with Korean cuisine and Kim's Family Korean Restaurant pampers you with free-flow side dishes. From Budae Jigae ($36++) to Daeji Bulgogi ($25++), every main is accompanied by 12 different side dishes. My favourite is the potato salad, which has been puréed to a fine texture and glides off my tongue. Diced apples are also hidden in the potato and contrast nicely with their crunchiness and fruity sweetness.
Address: 17 Lorong Kilat, #01-06, Singapore 598139
Opening hours:  Mon-Sat 12pm to 2:30pm, 5pm to 10pm, Sun 5pm to 10pm
Tel: 6465 0535
Website
---
10. Simple Burger Inc
---

Staring at the assortment of vegetables on display at the entrance, you may mistake Simple Burger Inc for a salad bar. But, just as its name suggests, this sleek joint is actually a burger specialist. The leading actor is their Chicken Patty Burger ($8), which instantly reminds you of Sausage McMuffin with its bold flavours.
There's a free-flow buffet of greens here, so feel free to stack your burger with tomatoes, pickles, and more!
Check out our full review of Simple Burgers Inc!
Address: 1 Maju Avenue, #B1-21/22, myVillage, Singapore 556679
Opening hours: Daily 10am to 10pm
Tel: 6634 2526
Website
---
Knock me out now
---
Whether it's taming a growling stomach or training to be a competitive eater, these places will definitely keep you satisfied and make it worth your penny. Comment down below if you know any other places with unlimited add-ons!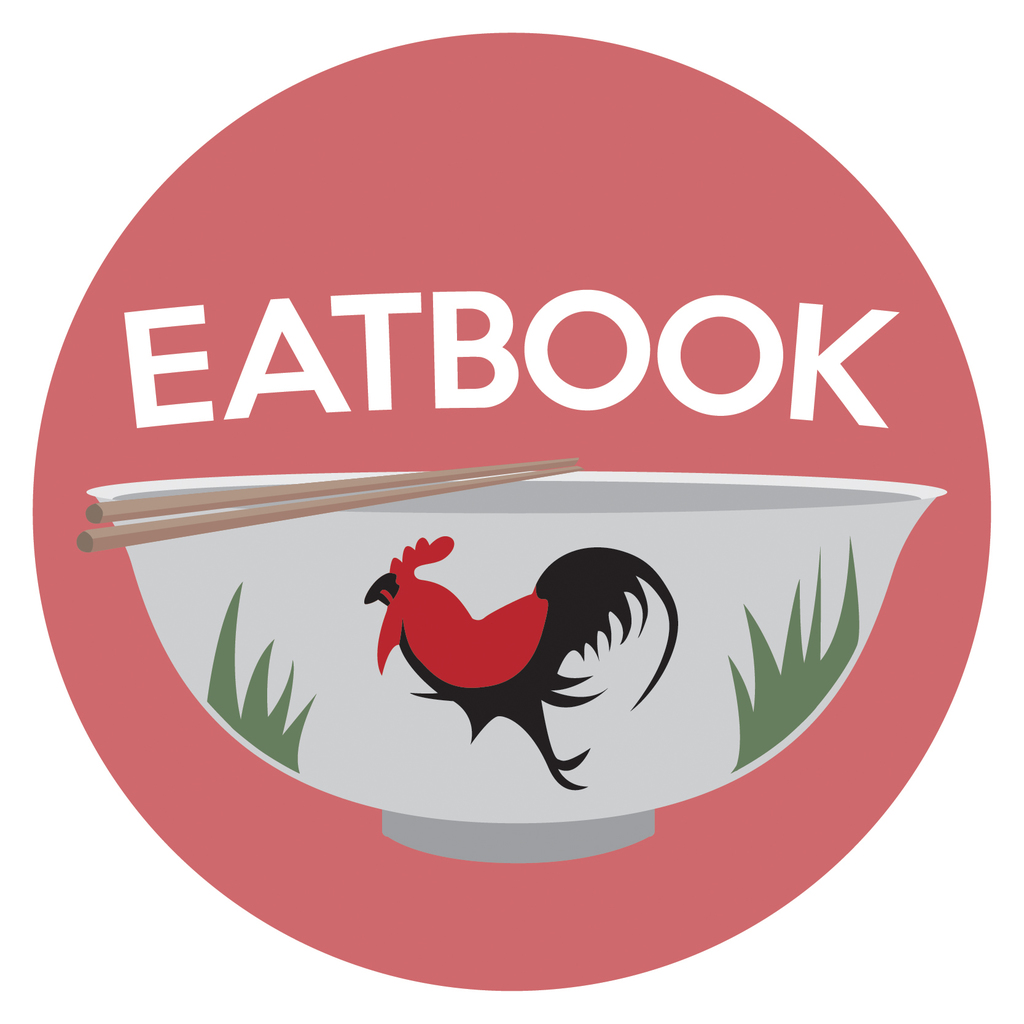 Drop us your email so you won't miss the latest news.