---
Waterway Point food guide
---
You might already know from our Punggol food guide that the neighbourhood is buzzing with dining options, from affordable hawker fare to family-friendly restaurants. Waterway Point, the bedrock mall of Punggol, is similarly loaded with choices for where and what to eat on any given day. If you find yourself there hungry while chilling with a friend or wanting a place to hit up to dabao a meal, our Waterway Point food guide is here to help.
27 Punggol Food Places Including Salted Egg Yolk Zi Char And Korean Smashed Burgers
---
1. Xian Dan Chao Ren 
---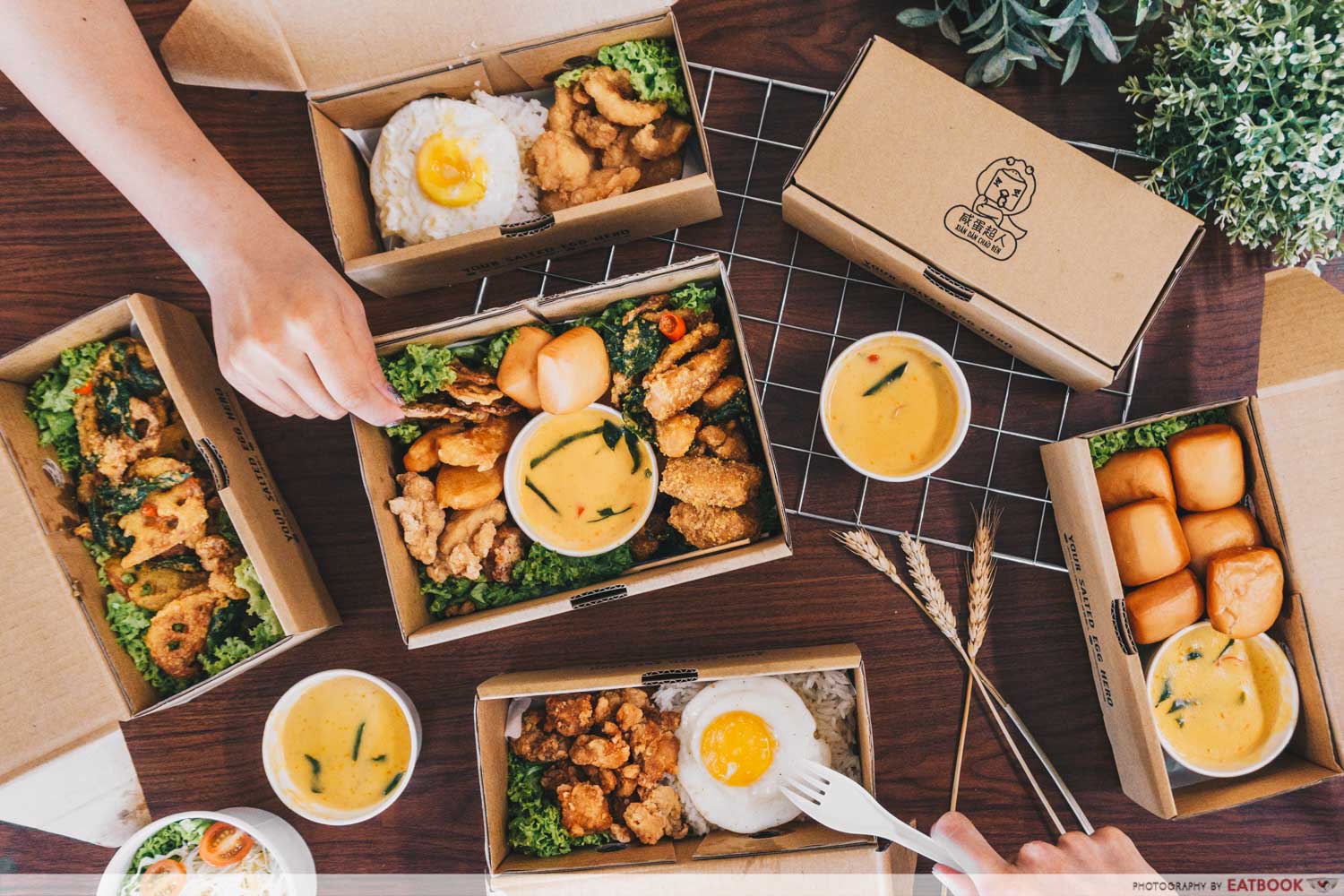 Salted egg everything is the name of the game at Xian Dan Chao Ren. This food kiosk serves up snacks and bento boxes dressed with a salted egg sauce or crumble, great for mealtimes or a Netflix sesh. For light bites, dabao their Man Tou ($4.90) or Lotus Root ($4.90).Other options include Chicken ($5.90), or Fish ($5.90), which you can add $2 to make a bento meal with rice and a sunny side-up egg.
Read our Xian Dan Chao Ren review.
Unit number: #B1-K4
Opening hours: Daily 11am to 10pm
Tel: 9618 9069
Website
Xian Dan Chao Ren Review: Salted Egg Mantou, Lotus Root, Chicken, And Platters From $4.90 At Waterway Point
---
2. Gram Pancakes 
---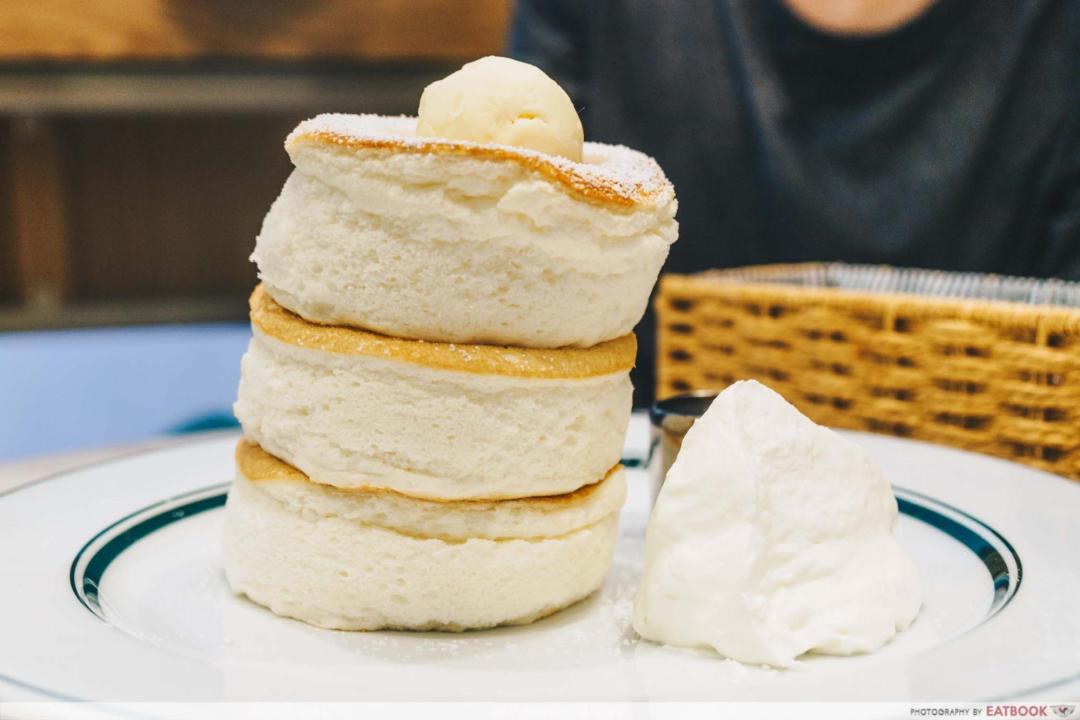 Famed souffle pancake cafe from Osaka, Gram Pancakes, has recently opened their sophomore outlet at Waterway Point. Situated in the mall's West Wing, the cafe offers Gram's signature Premium Pancakes ($18.90), a stack of three cloud-like pancakes with a dollop of butter, syrup, and whipped cream on the side. Otherwise, get their regular, non-souffle pancake in flavours such as matcha and tiramisu from $15.90.
Read our Gram Pancakes review.
Unit number: #01-643
Opening hours: Daily 11am to 10pm
Website
Gram Cafe & Pancakes Review: Jiggly Souffle Pancakes From Osaka Arrives In Singapore
---
3. Din Tai Fung  
---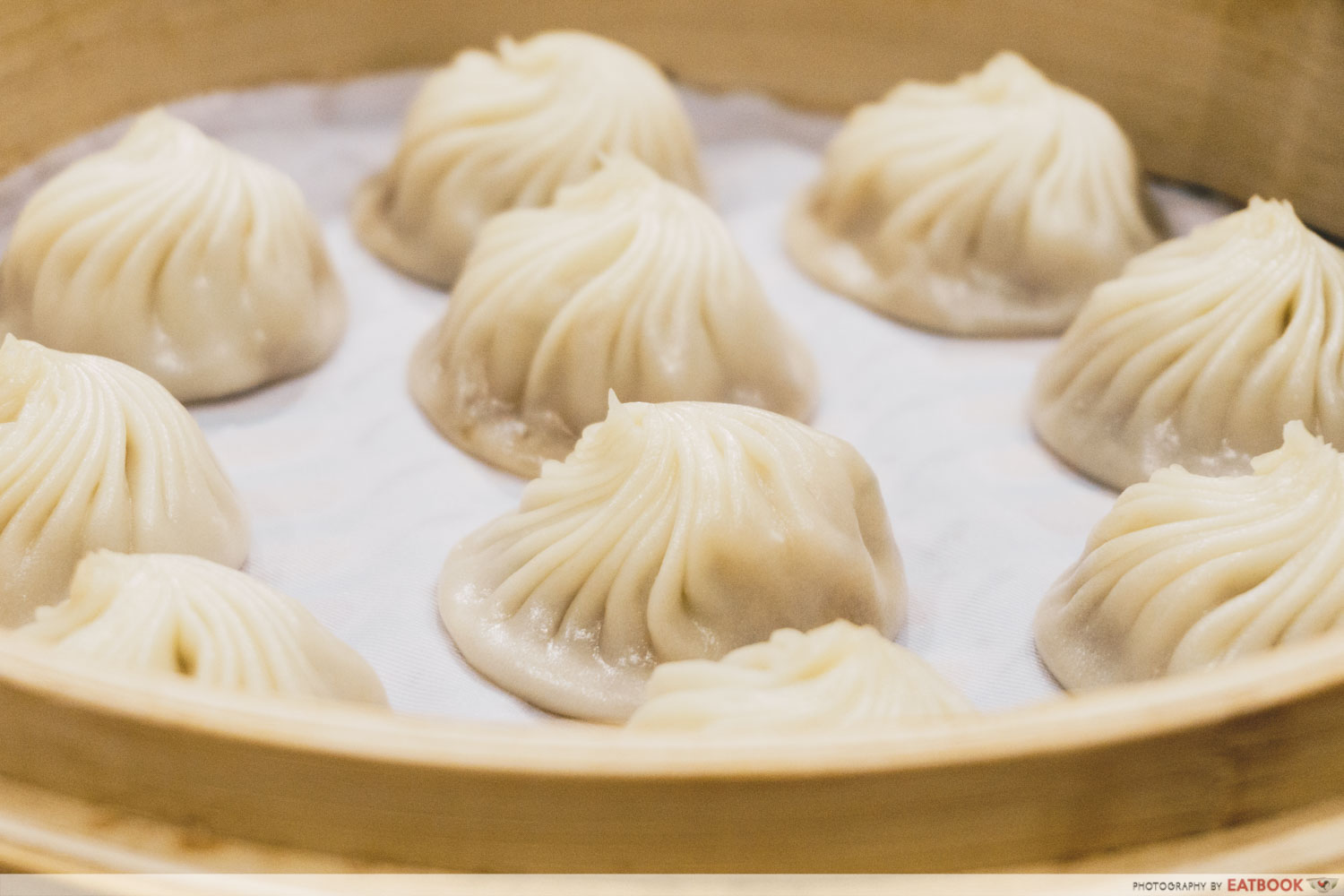 Din Tai Fung is a go-to restaurant for many locals wanting a quick Taiwanese food fix. You know the drill: order their broth-filled Xiao Long Bao ($12.80++), their wok hei-rich Pork Chop Fried Rice ($13++), and round it off with a side of shatteringly crisp Sliced Duck In Crispy Spring Onion Pastry ($7.80++).
Unit number: #01-22
Opening hours: Sun-Thurs 11:30am to 9pm, Fri-Sat 11:30am to 9:30pm
Tel: 6384 7767
Website
---
4. Gyu-Kaku 
---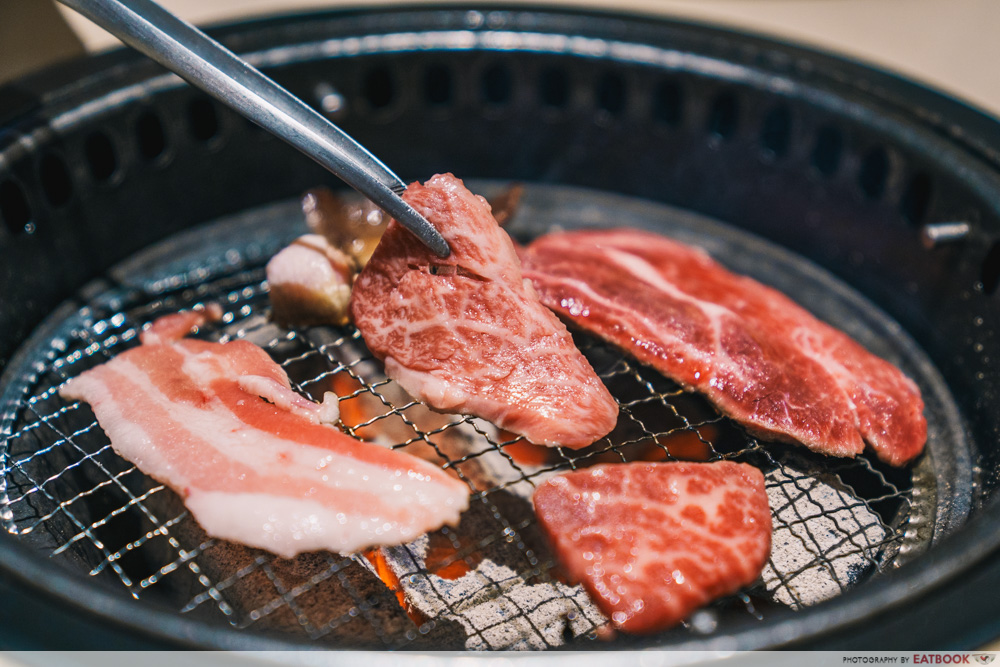 Those looking for a special occasion treat or simply to indulge in a meat-fuelled feast can dine at Gyu-Kaku. The casual Japanese barbecue joint has three all-you-can-eat buffet tiers: their premium Japanese Wagyu Buffet ($86.80++ per person), and their Australia Wagyu Buffet ($66.80++ per person), which entitles you to an unlimited selection of fatty, marbled beef, or their Weekday Standard Buffet ($58.80++) for free-flow standard meat, greens and sides. The last buffet option is only available from Monday to Thursday, except on public holidays.
Unit number: #01-33
Opening hours: Daily 11am to 10:30pm
Tel: 6858 4001
Website
22 Japanese Buffets In Singapore From $19.90++ For Unlimited Sashimi And Yakiniku
---
5. Genki Sushi 
---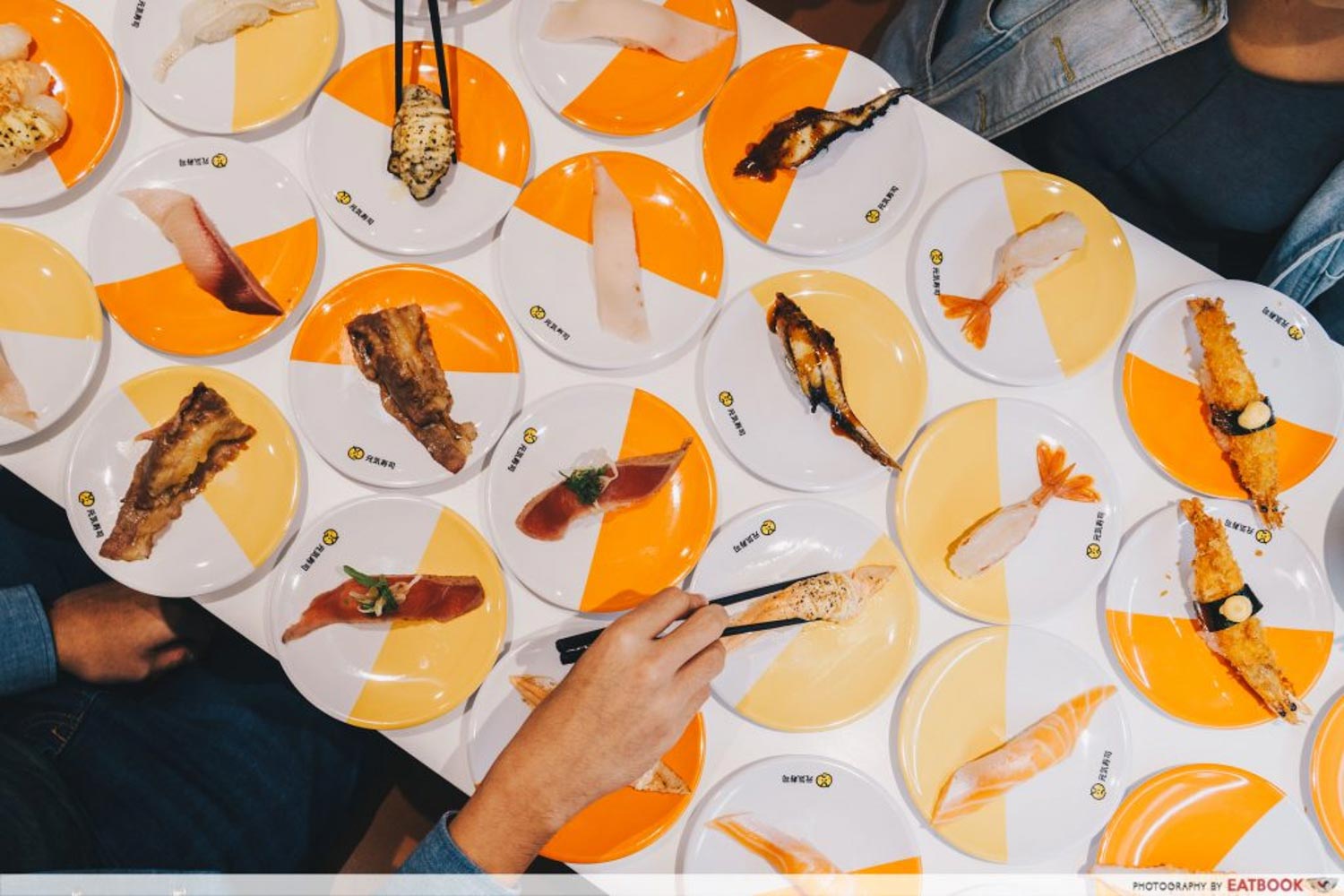 Another crowd favourite for kaiten sushi is Genki Sushi. Choose from a wide array of affordable, delicious Japanese bites, including upsized popular Dai Man Zoku sushi, topped with premium ingredients, and mini bowls of staple Japanese donburi, as well as noodle dishes. Most items cost less than $5 too! Be warned, though, that you're going to have to wait in line for a while.
Unit number: #02-23
Opening hours: Daily 11am to 10pm
Tel: 6957 2728
Website
---
6. Hototogisu Ramen
---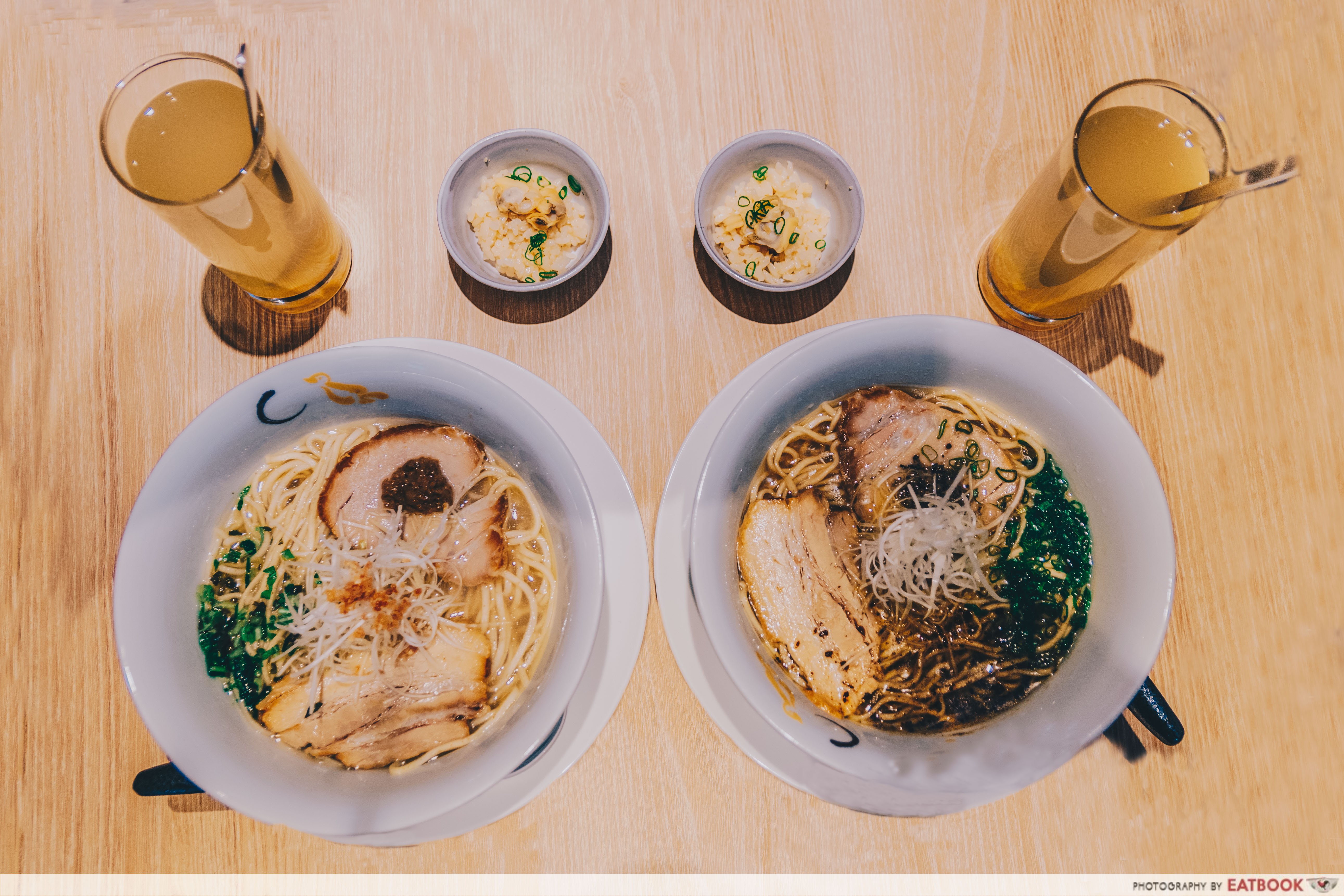 Hototogisu Ramen is a Michelin-starred ramen brand that hails from Tokyo. At their Waterway Point outlet, you can get their exclusive Yuzu Cappuccino Ramen ($15.90++), where umami, pork-rich broth is cut with zingy yuzu foam. The noodles here are thin, yet QQ, making them thoroughly slurpable. No MSG is added to any of their ramen dishes, so rest assured if you're health-conscious.
Unit number: #01-65
Opening hours: Daily 11:30am to 10pm
Website
---
7. So Pho
---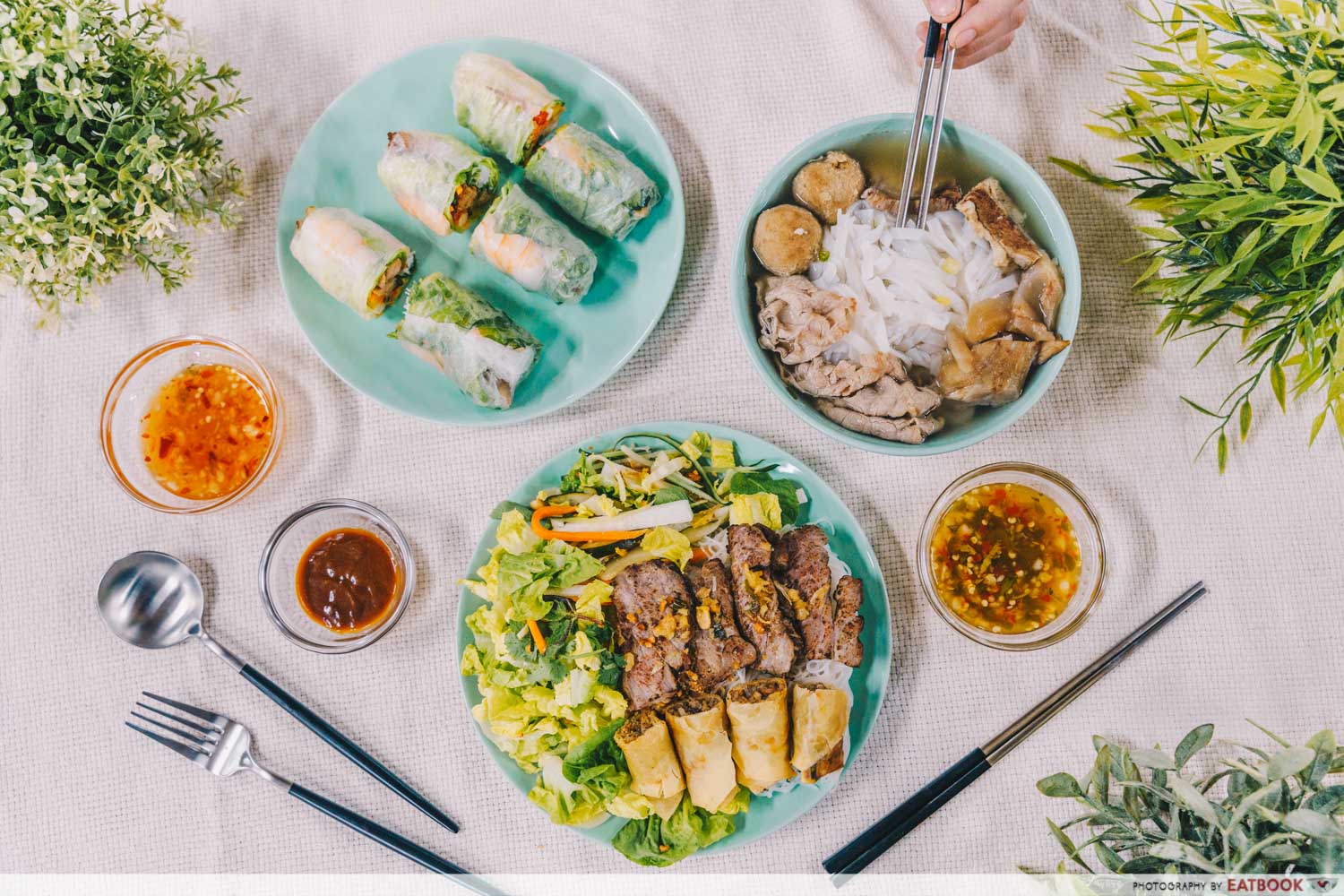 So Pho offers halal-certified Vietnamese food that doesn't break the bank. You can't go wrong with their Pho Noodle Soup ($10.80++), which comes topped with sliced beef and beef balls, or their Bun Cha Bo Vien ($16.80++), which sees rice noodles topped with spring rolls, flame-seared beef, and greens, all dressed in a piquant sweet sauce.
Unit number: #01-28
Opening hours: Daily 11am to 10pm
Tel: 6385 8378
Website
---
8. Osaka Ohsho 
---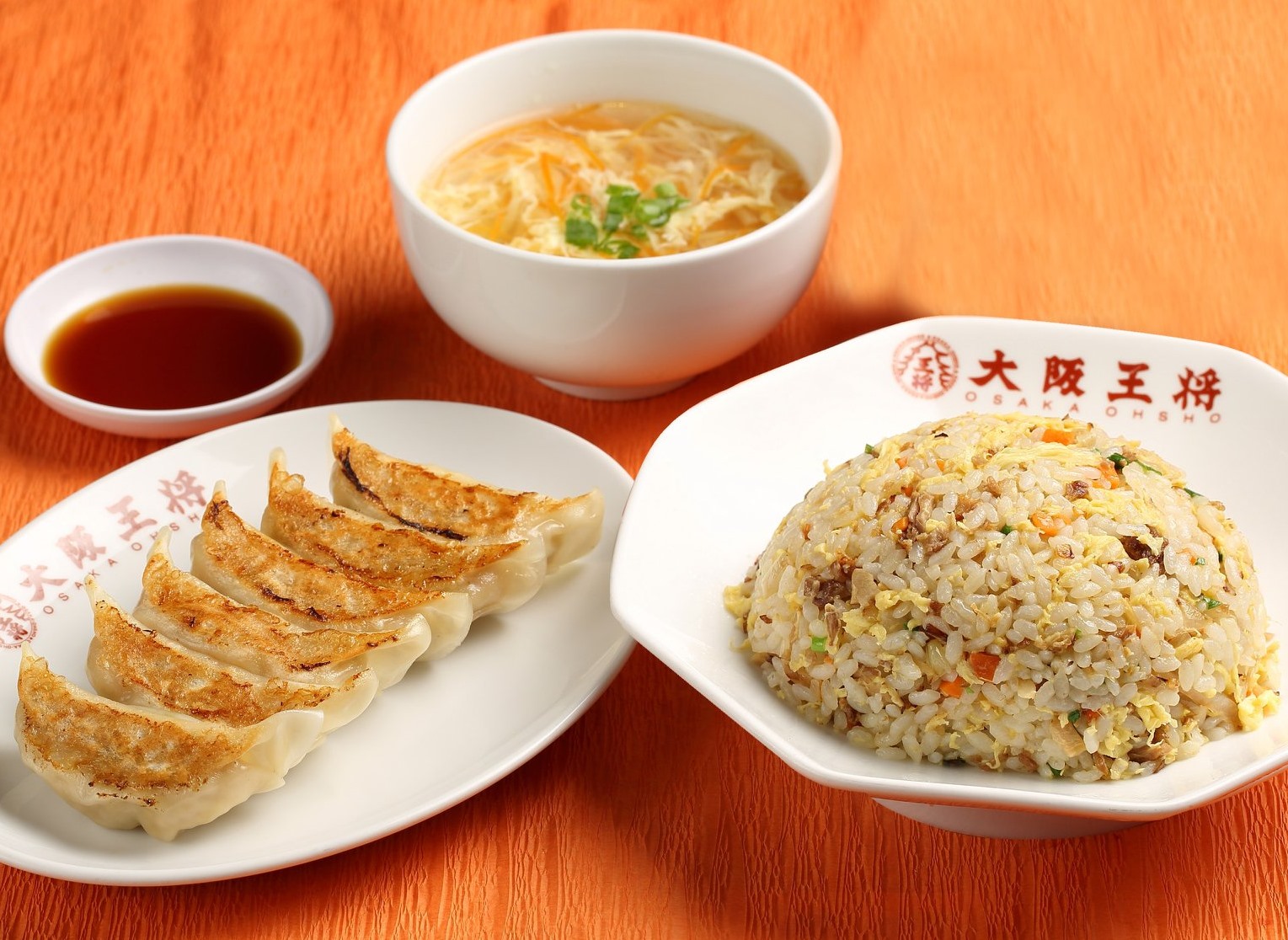 Image credit: Osaka Ohsho
Osaka Ohsho began as a gyoza specialist in the late 1960s, and has since expanded to 300 outlets worldwide. Their outlet in Waterway Point offers a medley of their gyoza options, including their signature Osaka Ohsho Gyoza ($3.90 for eight pieces), stuffed with pork and chives, and seared till the skin of the dumpling is crisp. Get a full meal when you order their gyoza and fried rice as a set for $13.90++, which comes with a bowl of soup as well.
Unit number: #B1-14
Opening hours: Daily 10am to 10pm
Tel: 6385 8719
Website
---
9. Tenderfresh Classic 
---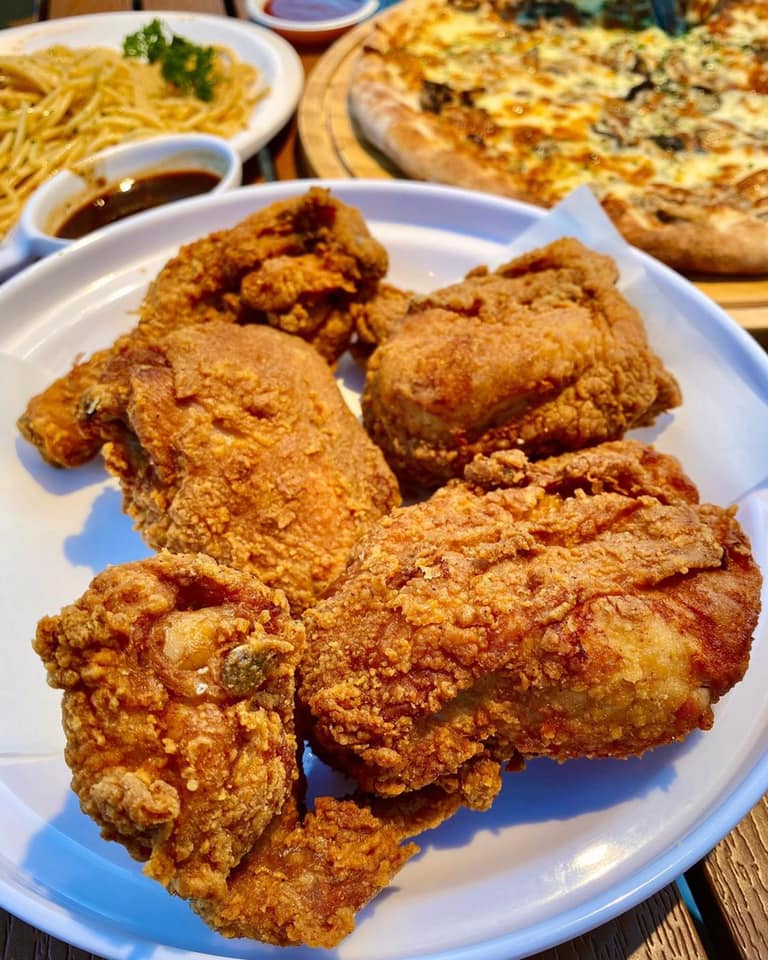 Image credit: Tenderfresh
Some say Tenderfresh is home to the best fried chicken you can find in Singapore. Whether you subscribe to the sentiment or not, you can't deny Tenderfresh has affordable fried chicken and Western fare. Their Crispy Fried Chicken Wing is priced at $4 for two pieces, but if you're feeding more mouths, get their Family Set, which comes with nine pieces, for $29, or $33 with sambal.
Unit number: #B2-04
Opening hours: Daily 11am to 11:30pm
Tel: 6386 3800
Website
---
10. White Restaurant 
---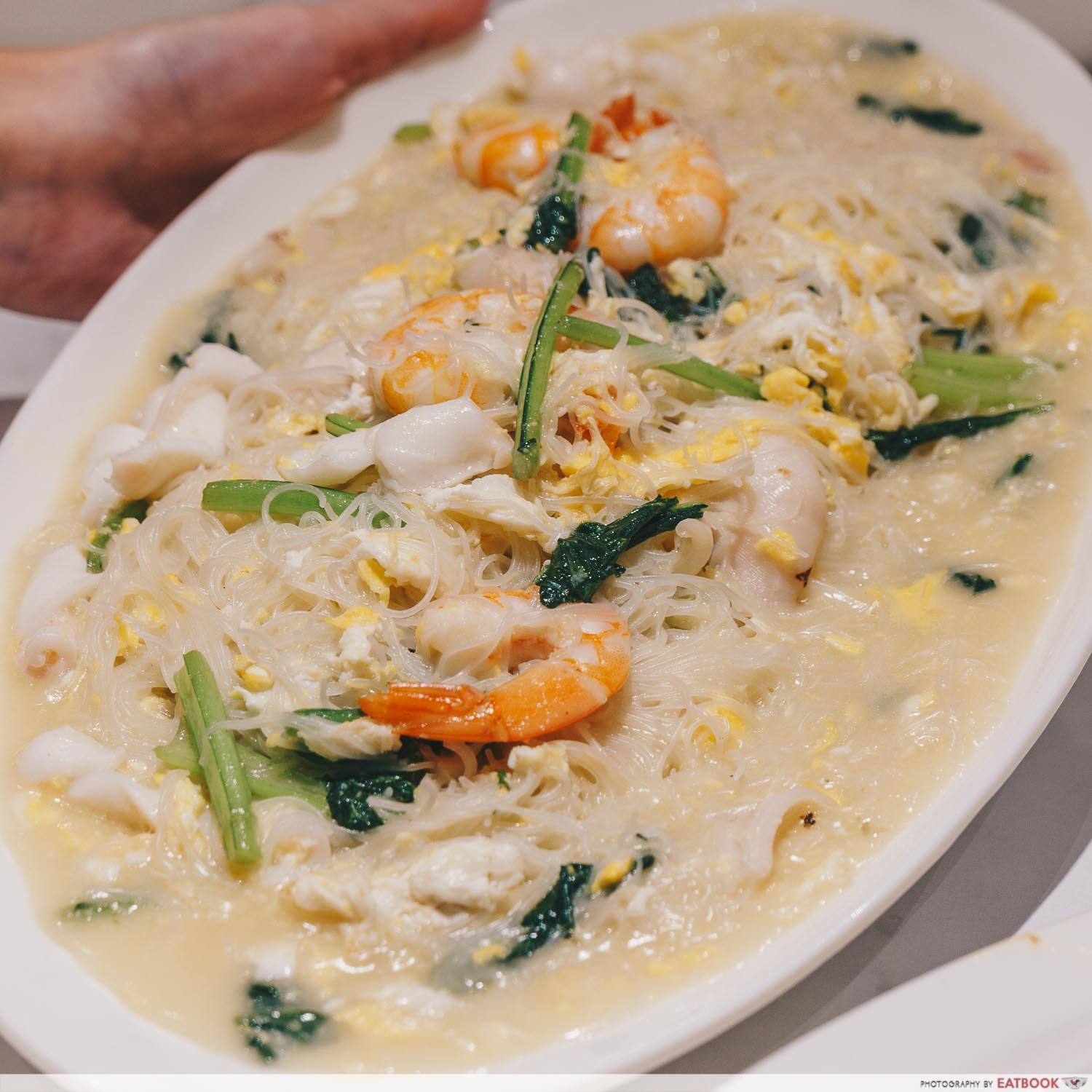 White Restaurant is home to Sembawang's famous white bee hoon, as well as other zi char classics. Order their Original White Bee Hoon (from $6.50++), loaded with fresh seafood, springy bee hoon, a moreish sauce, and fiery sambal to finish. Apart from their signature dish, there are a variety of other chef specialities to try, such as their Salted Egg Pork Rib ($15.80++), and Hei Zhor ($13.80++)—a deep-fried meat and seafood roll.
Unit number: #B1-12
Opening hours: Daily 11am to 9:30pm
Tel: 6702 2002
Website
---
11. PUTIEN 
---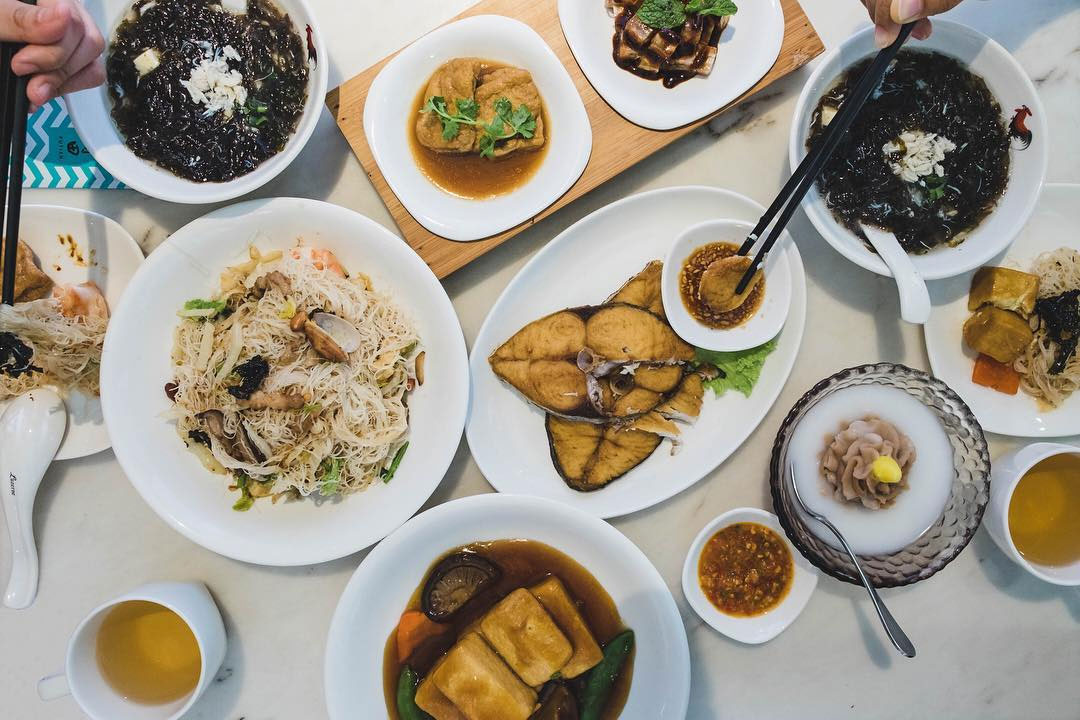 Acclaimed Fujian restaurant PUTIEN is another great place to satisfy Chinese food cravings in Waterway Point. With fresh ingredients being a priority, you can expect simple, yet flavourful dishes here. Order the 100-Second Stewed Yellow Croaker ($14.90++), a whole steamed fish stewed with ginger for precisely 100 seconds to maintain its light, fresh sweetness. Other musts include the Stir-Fried Yam ($15.90++), where yam cubes are fried with a crisp batter, and the Seafood Lor Mee ($14.90++), starring a medley of seafood and slurpable noodles.
Unit number: #B1-21
Opening hours: Daily 11:30am to 3pm, 5:30pm to 10pm
Tel: 6702 2002
Website
---
12. PappaRich
---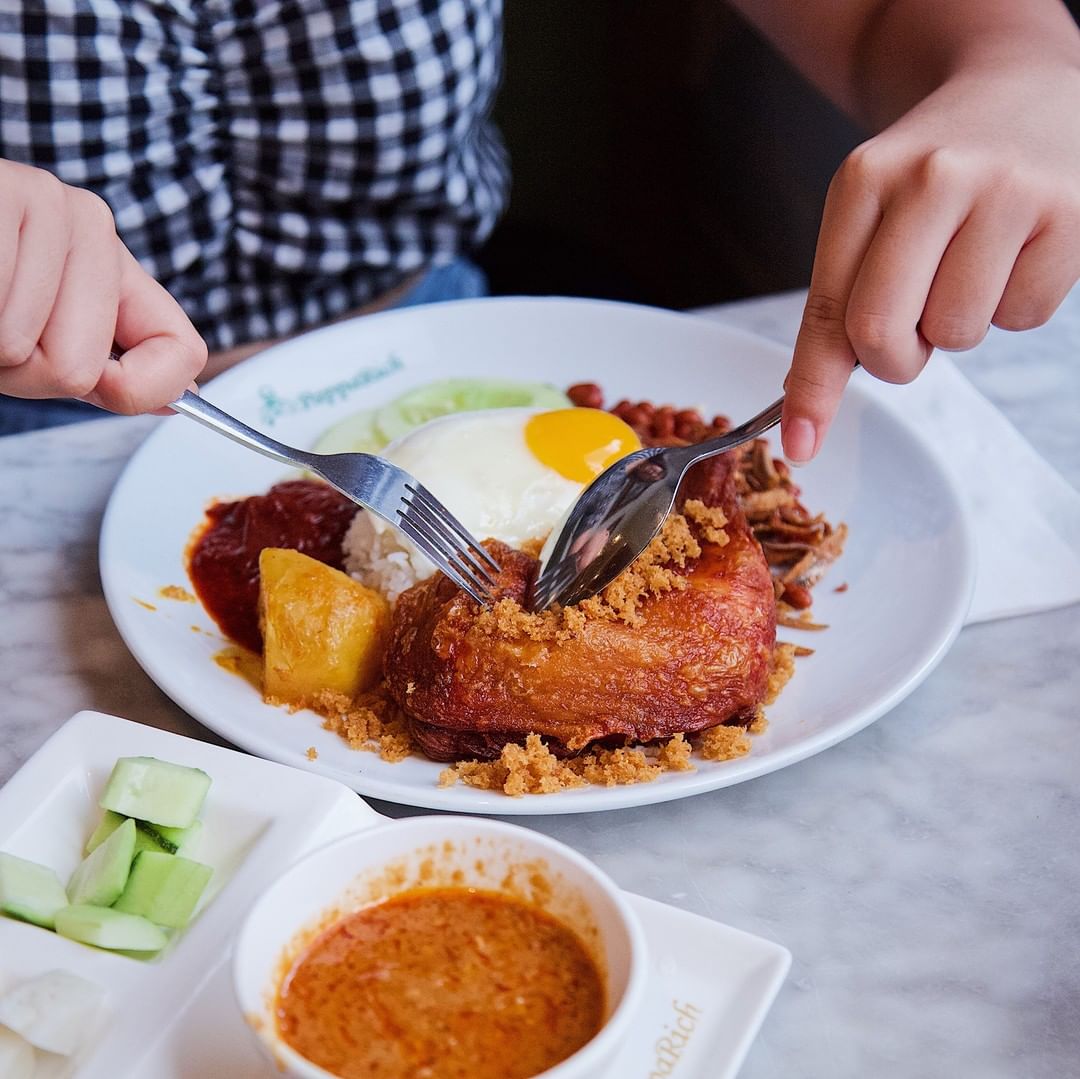 Image credit: PappaRich
Halal-certified PappaRich offers a variety of local dishes to satisfy your cravings, from prawn mee to nasi lemak, and more. What's notable, though, is that if you're vegetarian, the eatery has meatless dishes such as Impossible Fried Rice ($15.90++), and Nasi Lemak with Impossible Rendang ($16.90++). The former is an egg fried rice stir-fried with Impossible mince, while the latter features coconut milk-steamed rice served alongside rendang made with chunks of Impossible meat.
Unit number: #B1-17
Opening hours: Mon-Fri 11am to 9pm, Sat-Sun 10am to 10pm
Tel: 6386 3323

---
13. Dian Xiao Er
---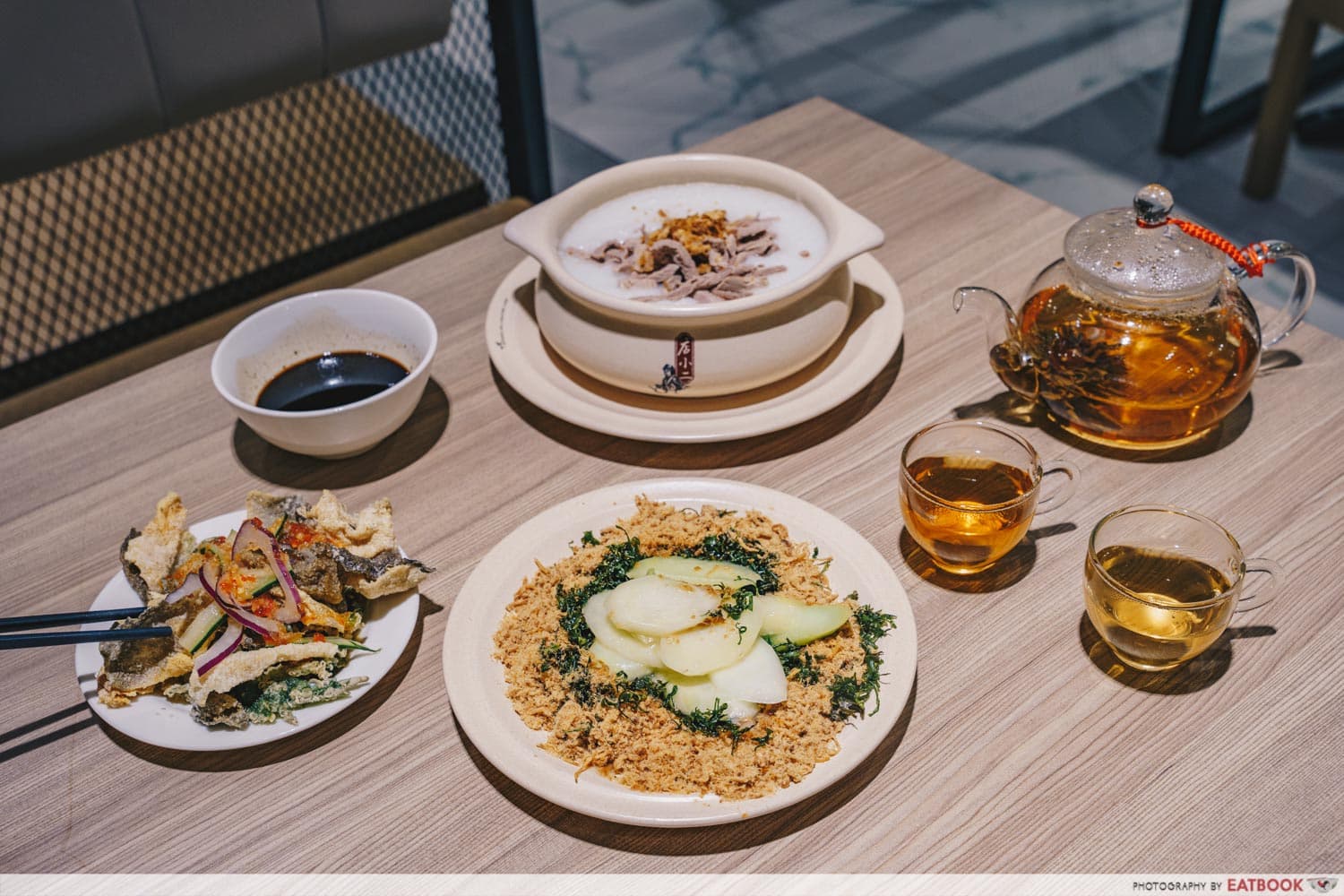 For wallet-friendly set menus, head down to Dian Xiao Er. Their weekday set lunch, available from 11:30am to 2:30pm, is priced at $34.80++ for two, and includes four courses, as well as rice and tea. Highlights from this menu include their famed Herbal Roast Duck, which you can choose between Angelica Herb or Ten Wonder Herbs flavours, and their Crispy Fried Tofu with Spicy Sauce.
Unit number: #01-30
Opening hours: Mon-Thurs 11am to 3pm, 4:30pm to 9pm, Sat-Sun 11:30am to 9pm
Tel: 6385 8513
Website
---
14. Lao Huo Tang
---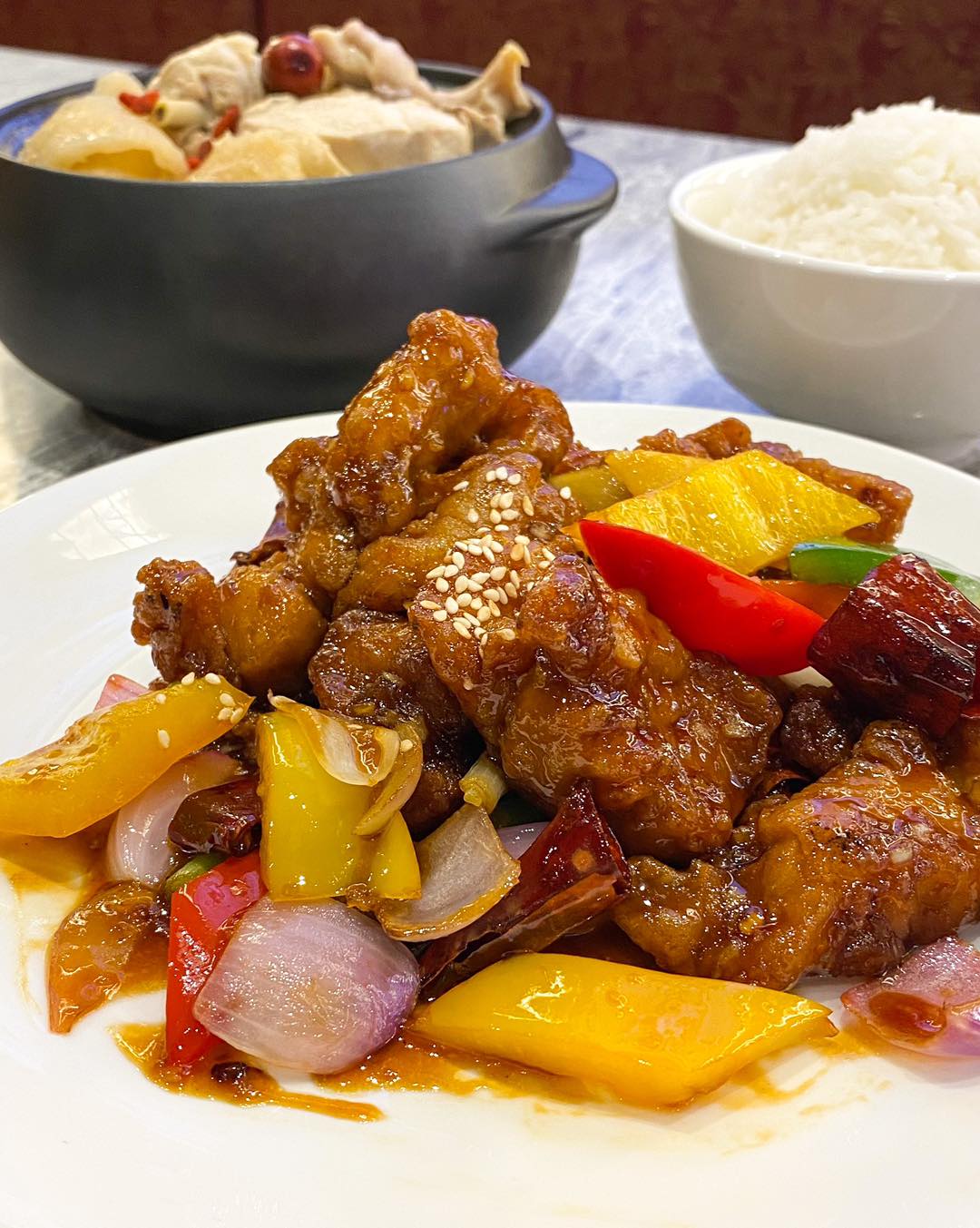 Image credit: Lao Huo Tang
For Chinese double-boiled soup and zi char dishes that soothe the soul, dine at Lao Huo Tang. They often have promotions on their soup, spanning Salted Vegetable Duck Soup, Buddha Jumps Over The Wall, Mummy's ABC Soup, and more. Soups are priced at $11, and all boiled from scratch in-house, with only natural ingredients.
Unit number: #B1-22
Opening hours: Daily 11am to 9pm
Tel: 6386 0830
Website
---
Where to eat at Waterway Point in Punggol
---
The next time you're in Punggol wondering what Waterway Point food options there are, refer to this guide. For more dining options in the area, learn more about Creamier opening soon in Punggol, or King of Fried Rice in Sengkang.
Address: 83 Punggol Central, Singapore 828761