---
Eat at these Yio Chu Kang food joints
---
A quiet suburban area in the North-East of Singapore, Yio Chu Kang may not be the first place that comes to mind when you're eating with your buddies. However, amidst the lush greenery and HDB estates, the estate has an array of interesting food options. From large pizzas at $20 to comforting pasta dishes, here are some affordable places to eat around Yio Chu Kang.
---
1. L'Rez
---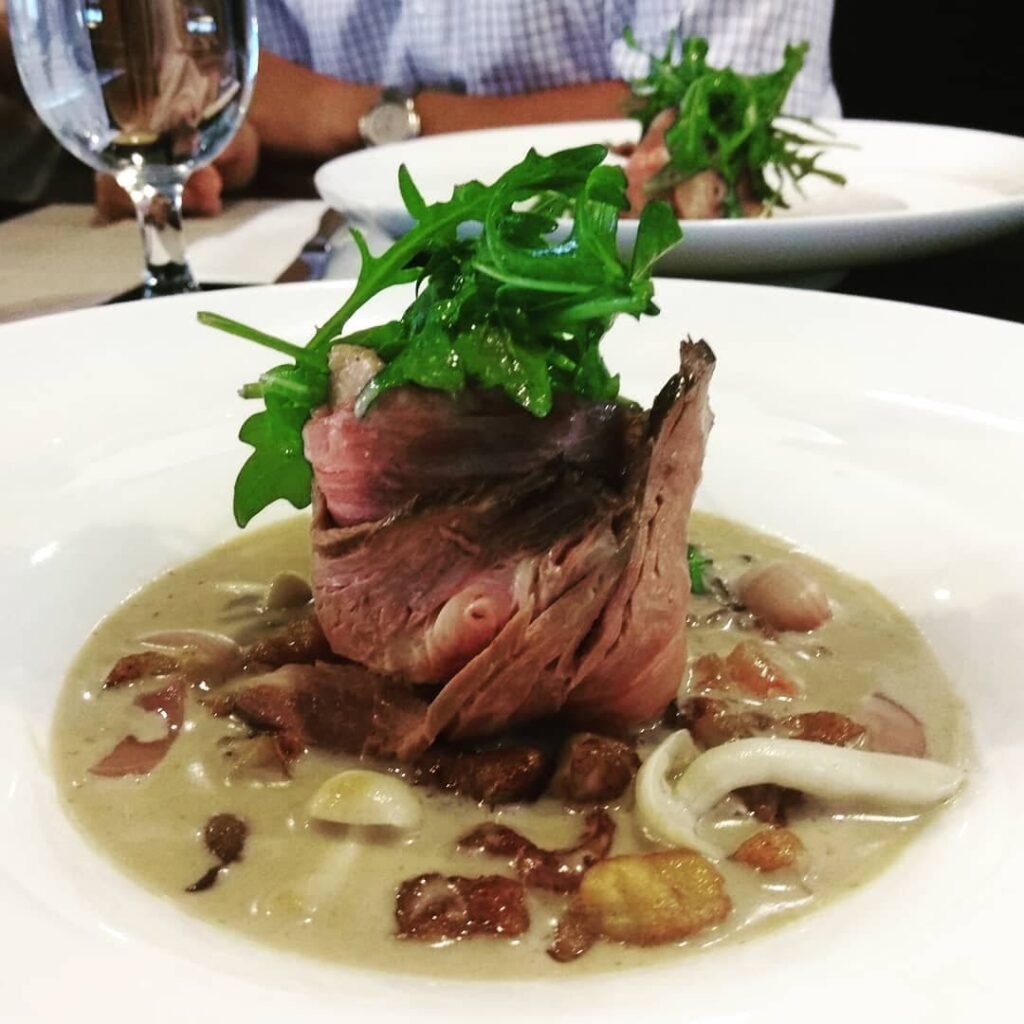 Image credit: @tants.bsac
A training restaurant set up by Nanyang Polytechnic, L'Rez boasts fine dining options prepared by students at only $15 for a three course meal. Final year students of the Diploma of Food and Beverage Business are tasked to run the restaurant, and develop their own food menu items. 
Affordable and restaurant-quality mains include Pan Fried Seabass with Caramelised Pineapple Sauce, Beef Stroganoff, Miso Glazed Salmon, and Duck Tataki with Mango Tomato Salsa Sauce.
As this is a student restaurant, do note that it is only opened during the school term. Check their Facebook page
Address: 180 Ang Mo Kio Avenue 8, Level 3, Block F, Nanyang Polytechnic, Singapore 569815
Opening hours: Mon-Fri 11:30am to 2:30pm
Tel: 6451 4384
Website
---
2. Ho Bee Roasted Food
---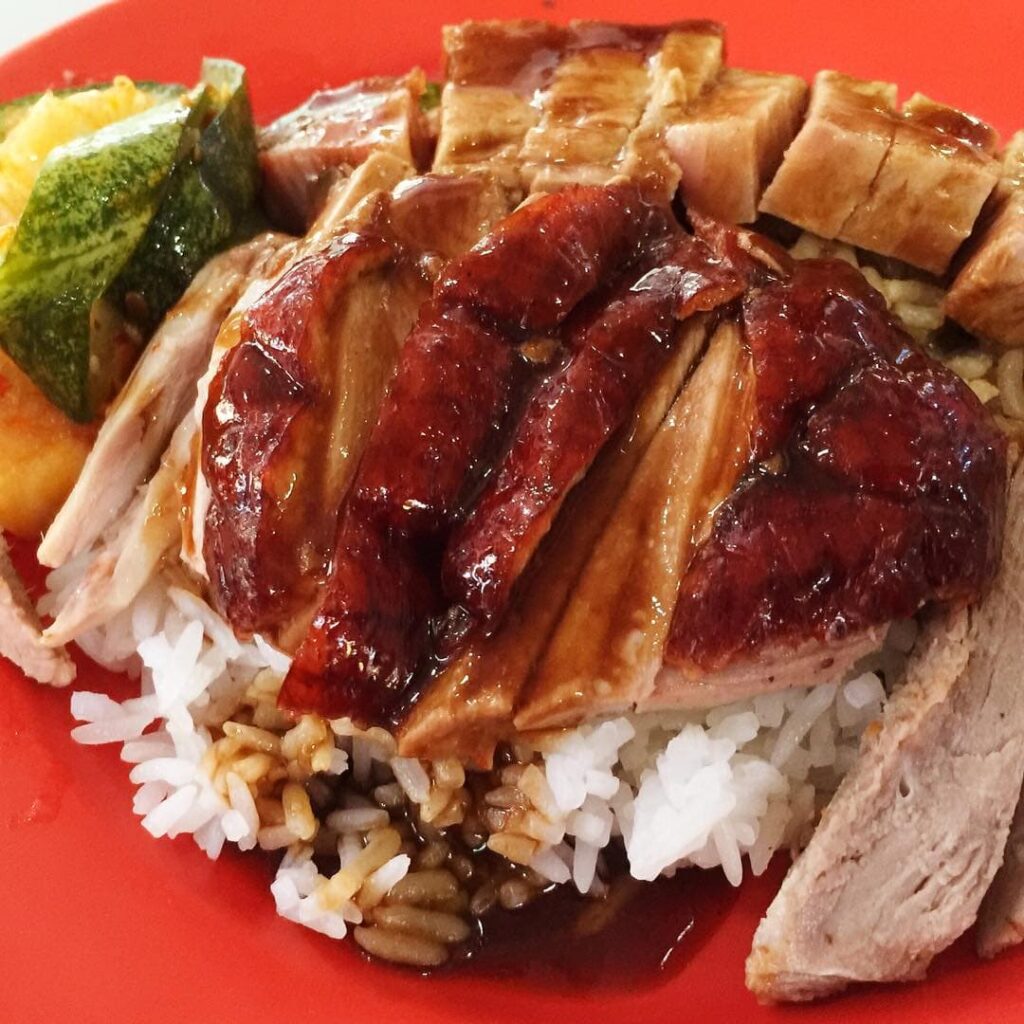 Image credit: @sengcgoh
An old-school hawker stall situated in Ang Mo Kio 628 Market & Food Centre, Ho Bee Roasted Food serves plump and juicy meat that's sure to satisfy you. The roasted pork here is worth mentioning with its beautiful meat-to-fat ratio, and crackling exterior that pairs well with their freshly made chilli sauce. 
For a taste of everything, we recommend getting the Each Person Set ($7.50), which has a mix of roasted duck meat, roasted pork, BBQ pork laid on a bed of white rice everything.
Address: 628 Ang Mo Kio Ave 4, #01-84, Singapore 560628
Opening hours: Thur-Tues 11am to 9pm
Tel: 9227 5608
---
3. Soi 19 Wanton Mee
---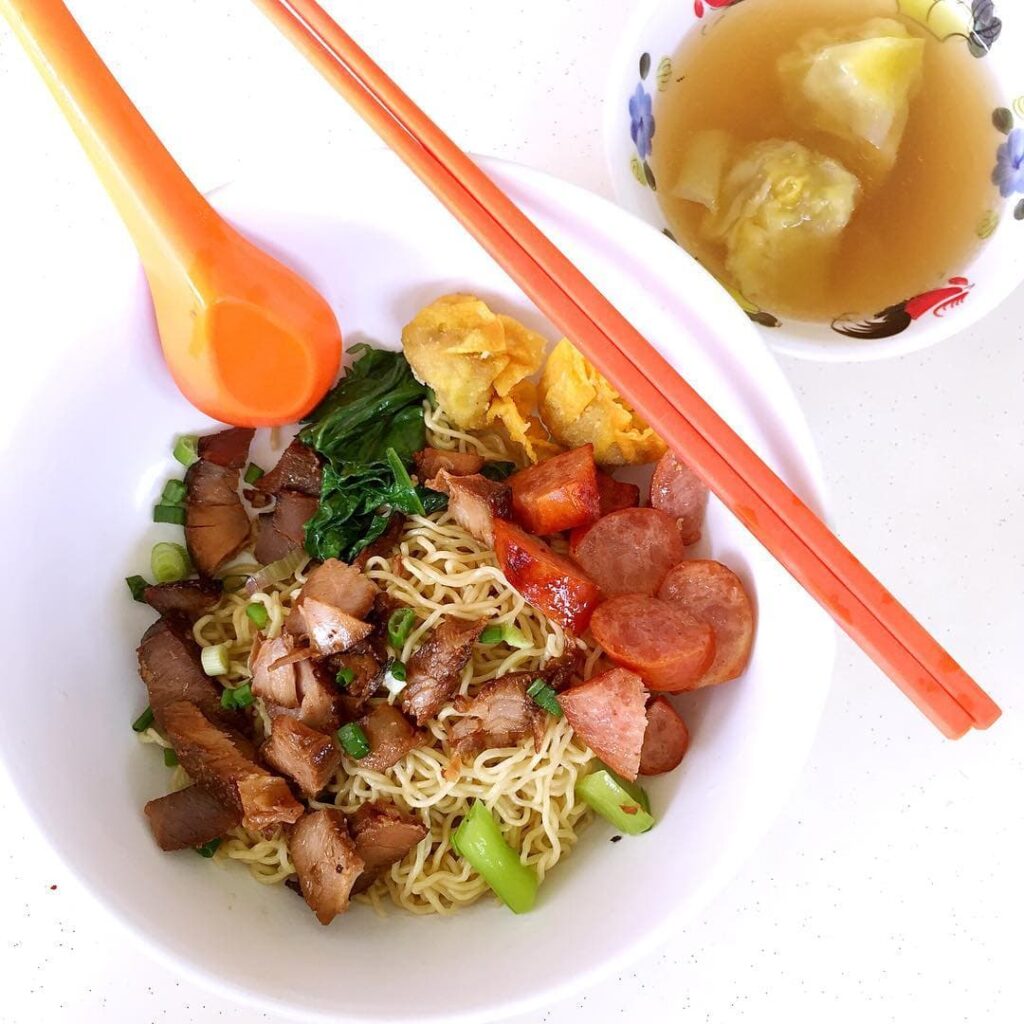 Image credit: @thequirkyfoodie
Soi 19 Wanton Mee is no stranger to the masses. Bursting into popularity two years ago, this Thai-styled wonton mee is both affordable and yummy. Tossed in an addictive dry sauce and dressed with crispy wontons, char siew, and crackling pork lard, their otherwise plain-looking noodles are both springy and flavourful, with just a hint of MSG. The noodles come in three sizes—Regular ($4), Large ($5), and Jumbo ($6)—and are paired with a robust bowl of hot wonton soup. Portions run a little small, so we suggest getting the Large bowl for a fuller meal.
Address: 151 Ang Mo Kio Ave 5, Stall 5, Singapore 560151
Opening hours: Tues-Sun 7am to 3:30pm
Tel: 9138 8881
---
4. Ristorante Italiano Pietro
---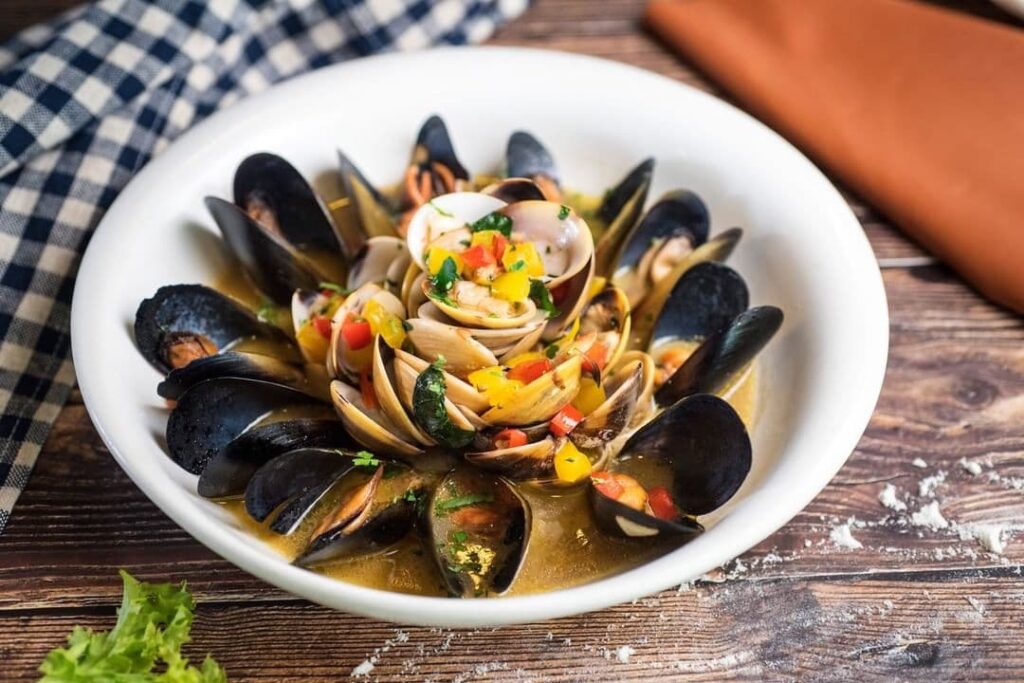 Image credit: @pietroitalian_sg
Ristorante Italiano Pietro is an Italian restaurant located just off Yio Chu Kang Road, opened by an ex-Raffles Hotel chef who honed his skills in Italy. This semi-fine dining restaurant dishes out a wide variety of homey Italian dishes, including freshly made pasta dishes such as Linguine al Cartoccio ($26)—a crayfish and seafood pasta baked in parchment paper—and Spaghetti alle Vongole ($20), a classic pasta dish infused with garlic, parsley, and white wine. Their oven baked pizzas are not to be missed as well, Bismark ($22) is a thin crusted pizza that is topped with feta cheese, honey baked ham, rocket salad, mozzarella, and a sunny side up. 
Address: 12 Jalan Kelulut, Singapore 809030
Opening hours: Mon-Sun 11:30am to 2:30pm, 6pm to 10:30pm
Tel: 6484 5528
Website
---
5. Teck Kee Cooked Food
---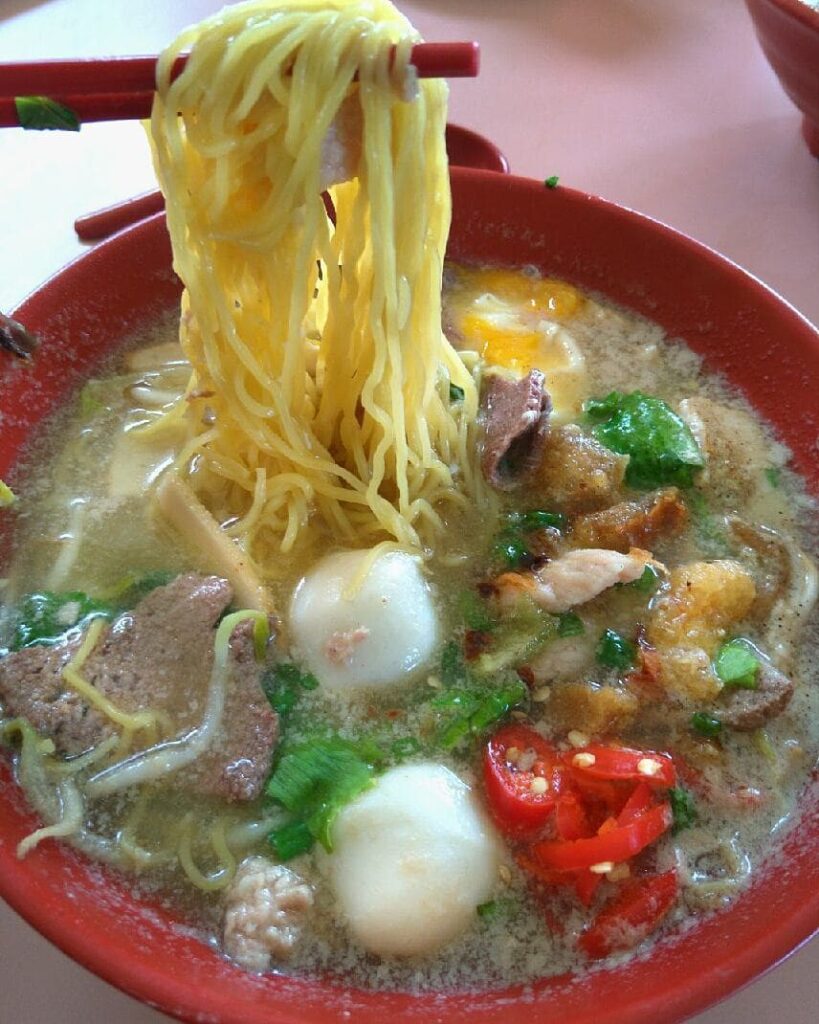 Image credit: @jimmyhweebeng
Teck Kee Cooked Food gets the stamp of approval from the older generation. Marked by its long queues and snaking lines, this stall is famous for their Sheng Mian (from $3) which consists of springy noodles served with fish balls, fresh pork, and liver. Sheng mian is a tricky dish to perfect. Overcook the noodles and you'll get a sticky, gooey mixture, with a strong alkaline aftertaste; undercook it and you'll get a bite of raw, floury noodles. Here, the noodles are cooked beautifully, and are paired with a clear, robust soup and fresh ingredients. 
Address: 226H Ang Mo Kio Street 22, #01-23, Kebun Baru Food Market, Singapore 568226
Opening hours: Mon-Sun 8am to 2:30pm 
---
6. Kow Loon Hong Kong Dim Sum
---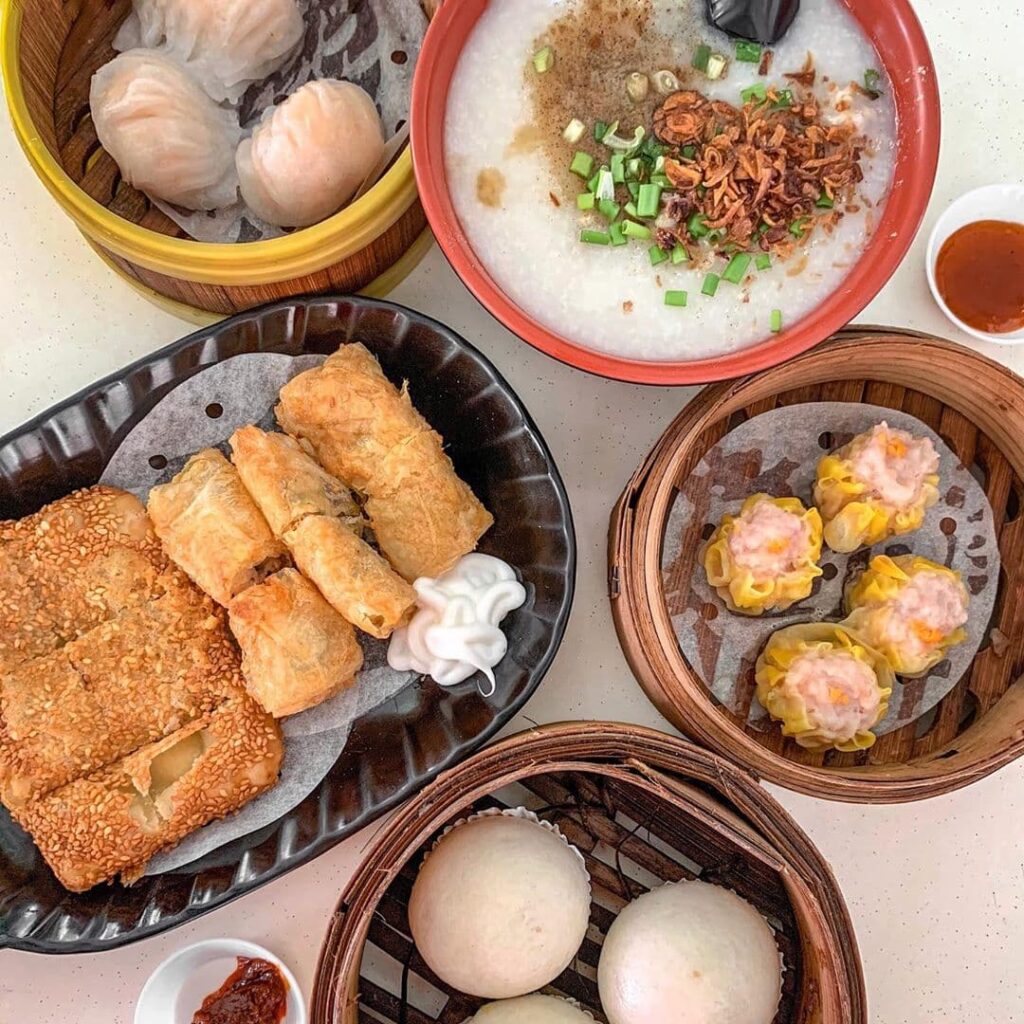 Image credit: @chubbytwinz
Taking up three stalls at a coffee shop in Ang Mo Kio, Kow Loon Hong Kong Dim Sum sells a wide range of handmade dim sum such as Liu Sha Bao ($3.80 for three pieces), Shrimp Dumplings ($3.80 for three pieces), and Pan Fried Turnip Cake ($3.20). Their Pan Fried Turnip Cake comes with a slightly charred exterior that gives the dish a satisfying bite, and their Enoki Mushroom Cheong Fun ($3.20) is an innovative dish with enoki mushrooms wrapped in a chee cheong fun exterior. 
Address: 151 Ang Mo Kio Avenue 5, #01-3030, Singapore 560151
Opening hours: Daily 8am to 9pm
Tel: 9685 9371
---
7.  Yun Seafood Fish Head Steamboat
---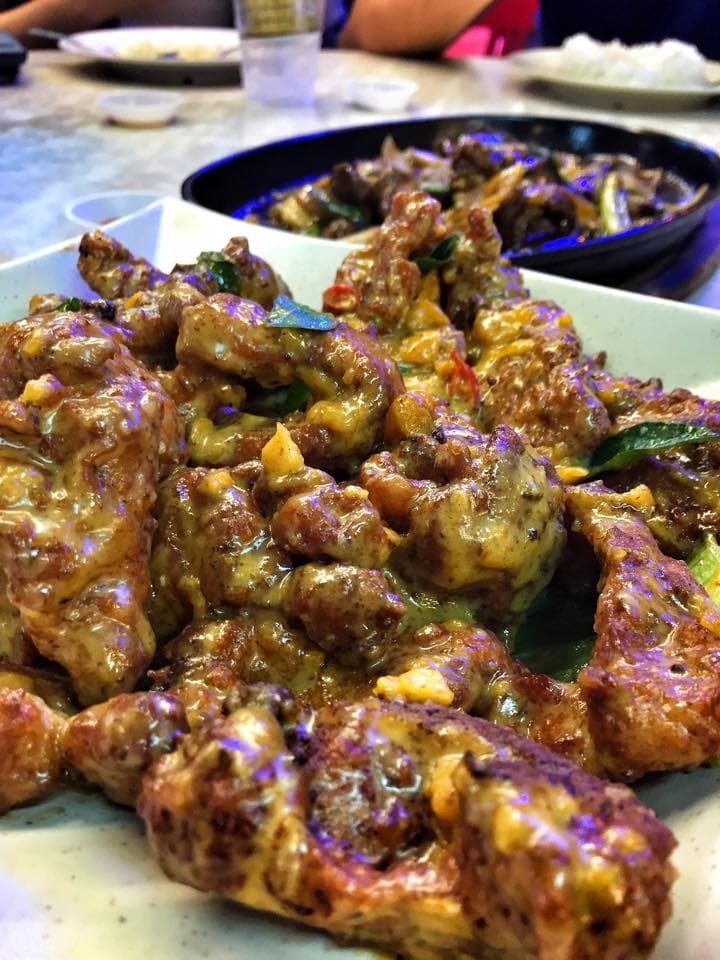 Image credit: Yun Seafood's Facebook page 
Yun Seafood Fish Head Steamboat serves piping hot zi char dishes that can be paired with their signature Fish Head Steamboat. You can choose either pomfret or grouper as your protein, with prices ranging from $25 to $54. The soup is flavourful from the addition of plums, dang gui (female ginseng), and yam, and will leave you slurping up the very last drop. 
Address: 632 Ang Mo Kio Avenue 4, #01-948, Singapore 560632
Opening hours: Daily 10am to 10:30pm
Tel: 8112 8352
---
8. La Pizzaiola
---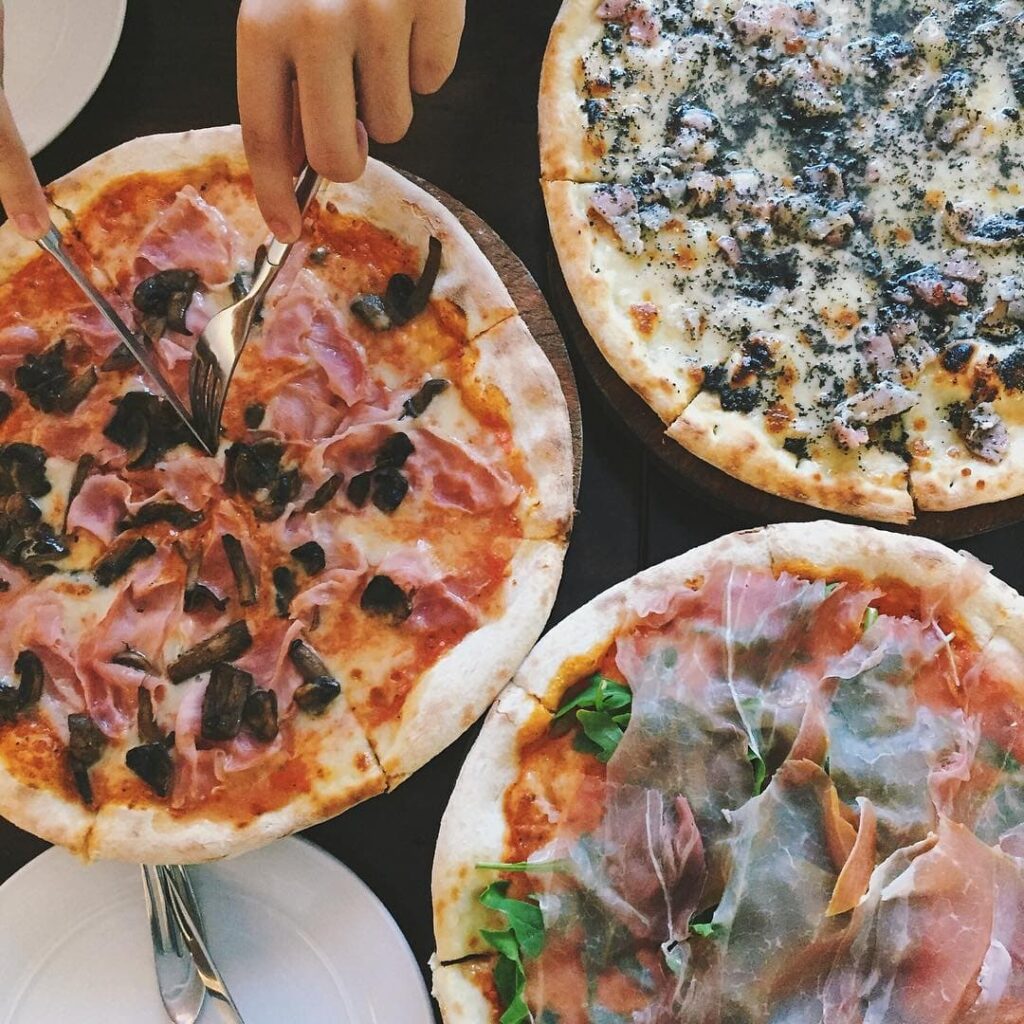 Image credit: @meladela
La Pizzaiola is a humble Italian restaurant serving Neapolitan pizzas freshly baked in a wood fired pizza oven. Huge and generous with its toppings, these Italian pizzas are priced below $20. Their Rucola Parma Pizza ($18.90) comes with generous slices of parma ham, while their La Pizzaiola Speciale ($21.90) is a fancy affair consisting of mozzarella, roast beef, parmesan, Italian rockets, and a drizzle of truffle oil. 
Other noteworthy dishes include their Squid-ink Linguine con Granchio ($18.90)—al dente pasta that's served in an extremely rich white wine sauce and a generous serving of luscious crab meat. 
Address: 19 Kalidasa Avenue, Singapore 789398
Opening hours: Tues-Sun 11:30am to 2:30pm, 5:30pm to 10:30pm
Tel: 6455 4648
---
9. Gim Tim Restaurant
---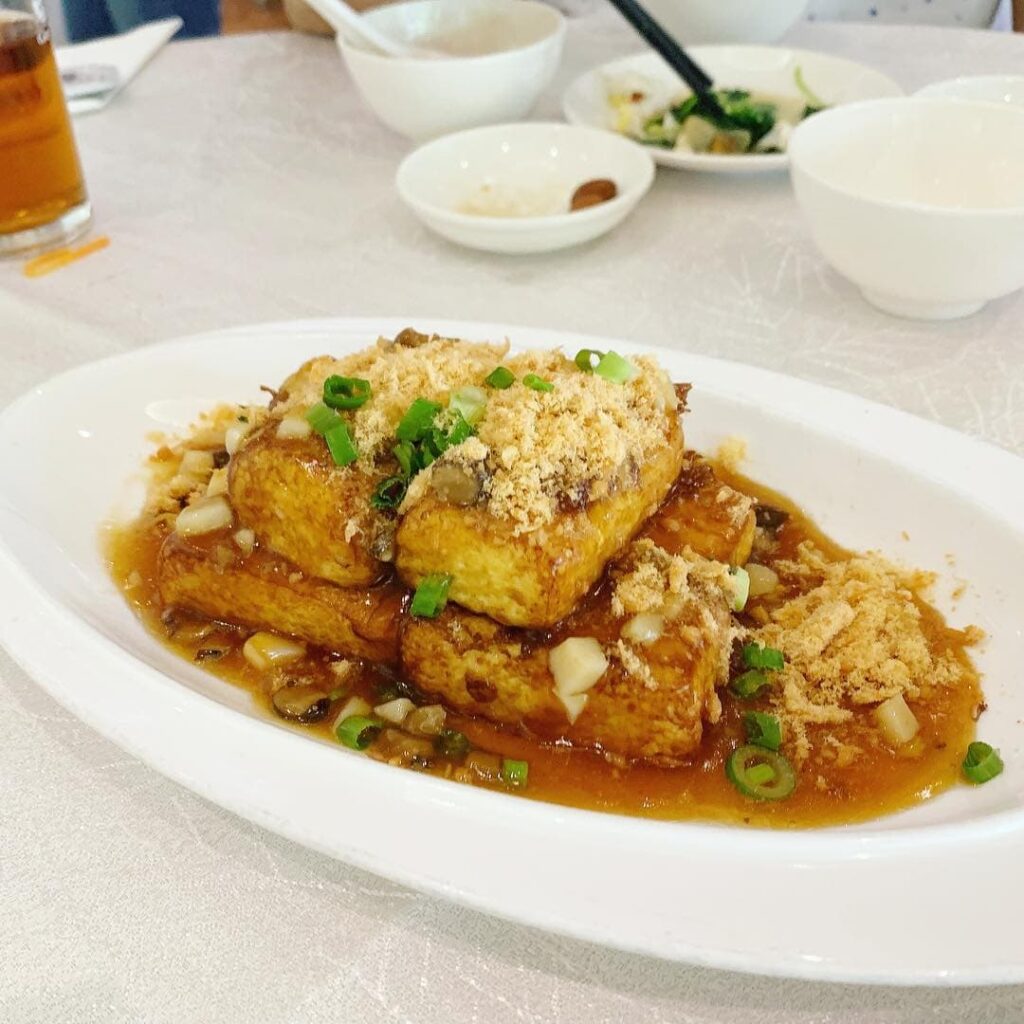 Image credit: @veryeng
A restaurant dishing out Hokkien and Cantonese cuisine since 1989, Gim Tim Restaurant is perfect for a traditional dinner with your family. This restaurant serves amazing dishes such as the Red Grouper Prepared Two Ways (seasonal price), Deep Fried Scallops with Yam ($28+), and Crispy Chicken with Sotong Paste (from $15+).
They also have a Deep Fried Vanilla Ice Cream ($2.80+) that holds a crispy, golden brown exterior, with a beautiful vanilla ice-cream core that doesn't melt even after frying. This is a must-try for those who have never tasted fried ice-cream! 
Address: 157 Ang Mo Kio Avenue 4, #01-546, Singapore 560157
Opening hours: Mon-Sun 11:30am to 2:30pm, 6pm to 10:30pm
Tel: 6459 7766
Website
---
10. IshiroSG
---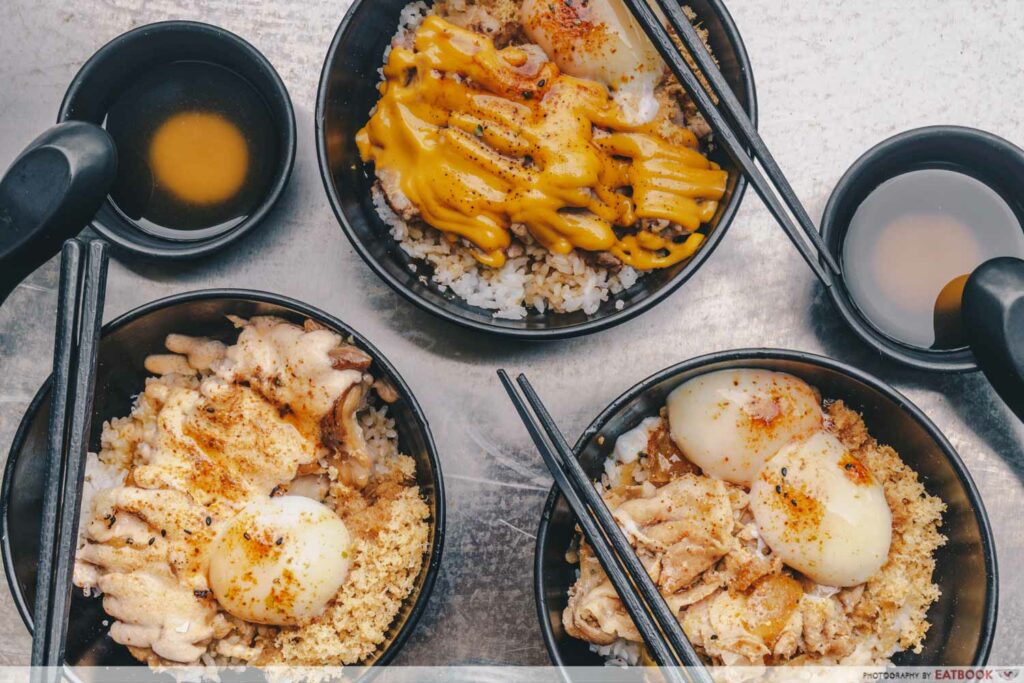 If you're looking for oishii Japanese fare without breaking the bank, Ishiro is a great option. The stall is located in Nanyang Polytechnic's food court, so it isn't exactly suitable for date night. 
Nonetheless, this hawker stall dishes out scrumptious bowls of donburi at a fraction of the price of rice bowls served at a restaurant. Prices start at $4.80 a bowl, and you can expect protein options such as beef, chicken, and unagi. The set comes with a molten egg, miso soup, and a fruit. We recommend the Iberico Pork Bowl ($5), as the meat comes in generous portions, and is well-marinated to mask any porky flavour. It is also cooked with slices of onion for a mild sweetness.
Address: 180 Ang Mo Kio Avenue 8, Stall 3, Block P1 Foodgle Hub Canteen, Nanyang Polytechnic, Singapore 569830
Opening hours: Mon-Fri 9am to 7pm, Sat 9am to 1:30pm
---
Best Yio Chu Kang food places for a satisfying meal
---
The next time you are in the neighbourhood, do give this food gems around the area a try, as this place boasts affordable and quality food! For those who live in the area, do drop us a comment if there are any other great food options that we can check out in the area.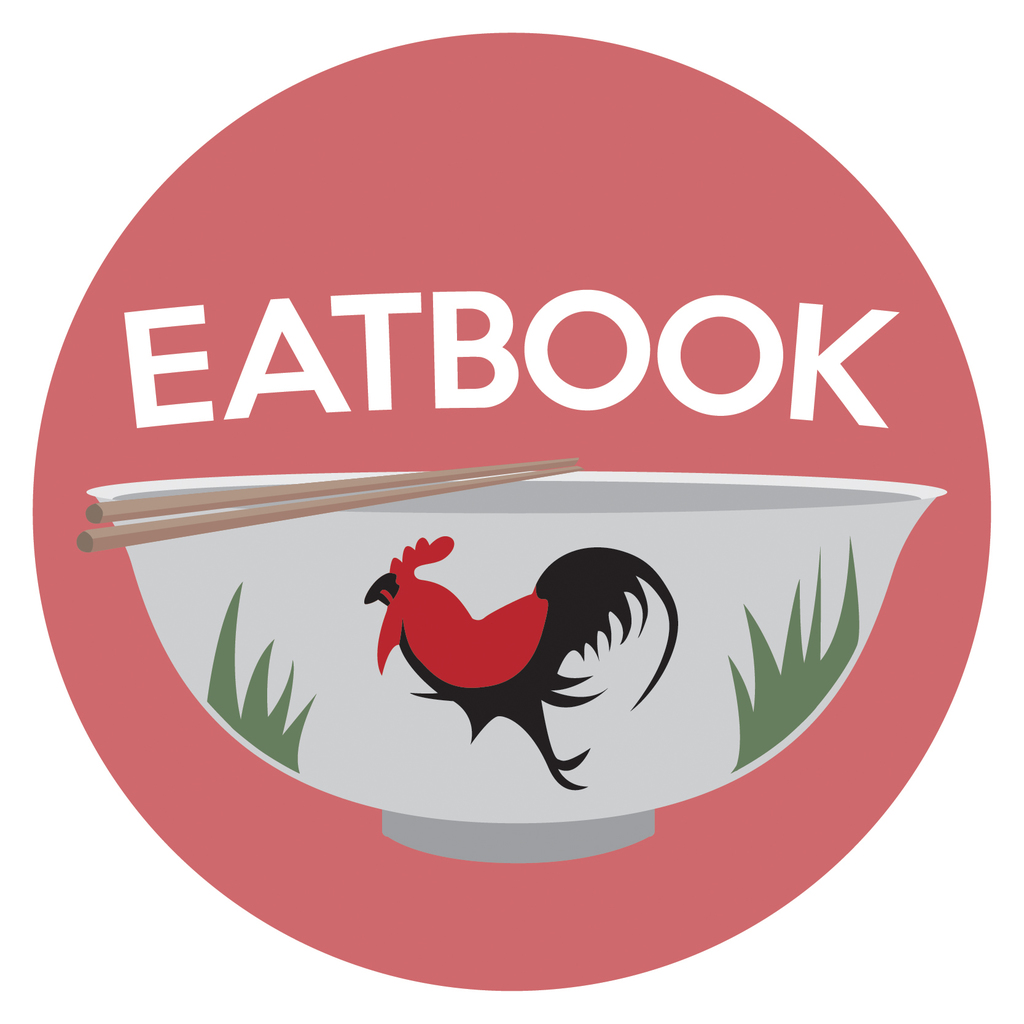 Drop us your email so you won't miss the latest news.