---
Best restaurants in Singapore
---
2020 has been a write-off for many, but the F&B industry has forged on. We've bid some establishments goodbye, and seen the emergence of many new dining options amidst the doom and gloom. Some of these provided some much-needed cheer to the year we've spent stuck in Singapore. As we round up the year that has passed, here's our list of 10 best restaurants in Singapore for the year 2020, acclaimed as part of our Eatbook Top 50 Awards. These restaurants have been shortlisted for their great food, and affordability, ringing in the till at under $50 per diner.
---
1. Shrimp Prawn Seafood
---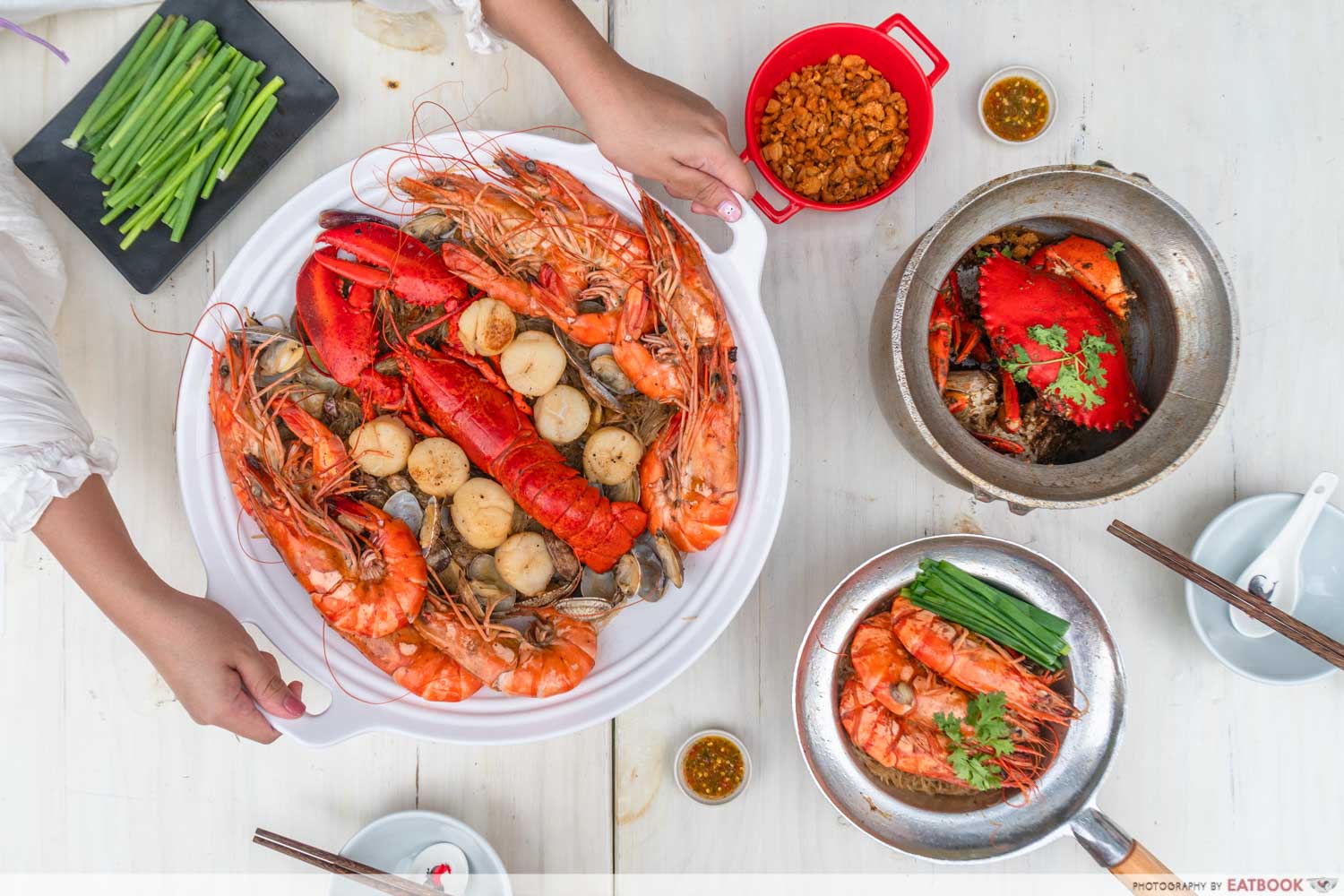 We first encountered Shrimp Prawn Seafood after a two-hour queue at their Chatuchak Night Market Singapore pop-up. Imagine our delight when they set up shop at Boat Quay, selling the same seafood glass noodles. For $18.80, you get a serving of Steelpot Prawn Vermicelli in airconditioned comfort, with a view of the Singapore River to boot. If prawns aren't your thing, there's an assortment of other seafood items, as well as a huge Seafood Vermicelli Platter for sharing, priced from $138.
Read our Shrimp Prawn Seafood review.
Address: 53 Boat Quay, Singapore 049842
Opening hours: Mon-Fri 11:30am to 10:30pm, Sat-Sun 4:30pm to10:30pm
Tel: 8375 3888
Website
Shrimp Prawn Seafood is not a halal-certified eatery.
---
2. Sum Dim Sum
---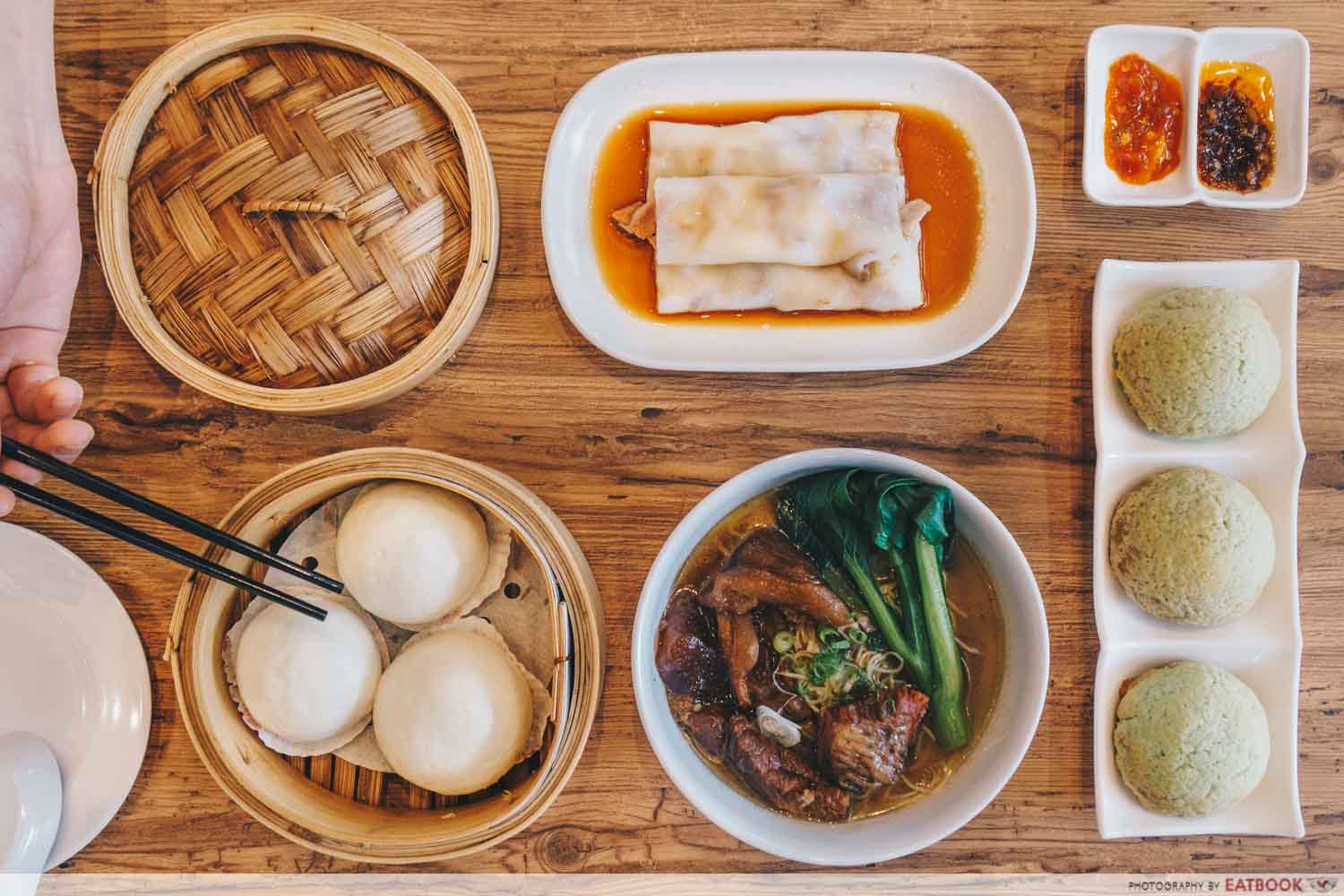 Dim sum fans should definitely head to Sum Dim Sum in Jalan Besar. We were wowed by their Signature Crispy Pork Buns ($6+), tinged green with pandan, and Golden Custard Buns ($4.50+), which burst with golden lava custard when you bite into them. Consider heading here when you're looking for a late-night dim sum snack!
Read our Sum Dim Sum review.
Address: 161 Jalan Besar, Singapore 208876
Opening hours: Mon-Fri 11:30am to 11:30pm, Sat 10:30am to 11:30pm, Sun 10:30am to 11pm
Website
Sum Dim Sum is not a halal-certified eatery.

---
3. Menbaka Ramen
---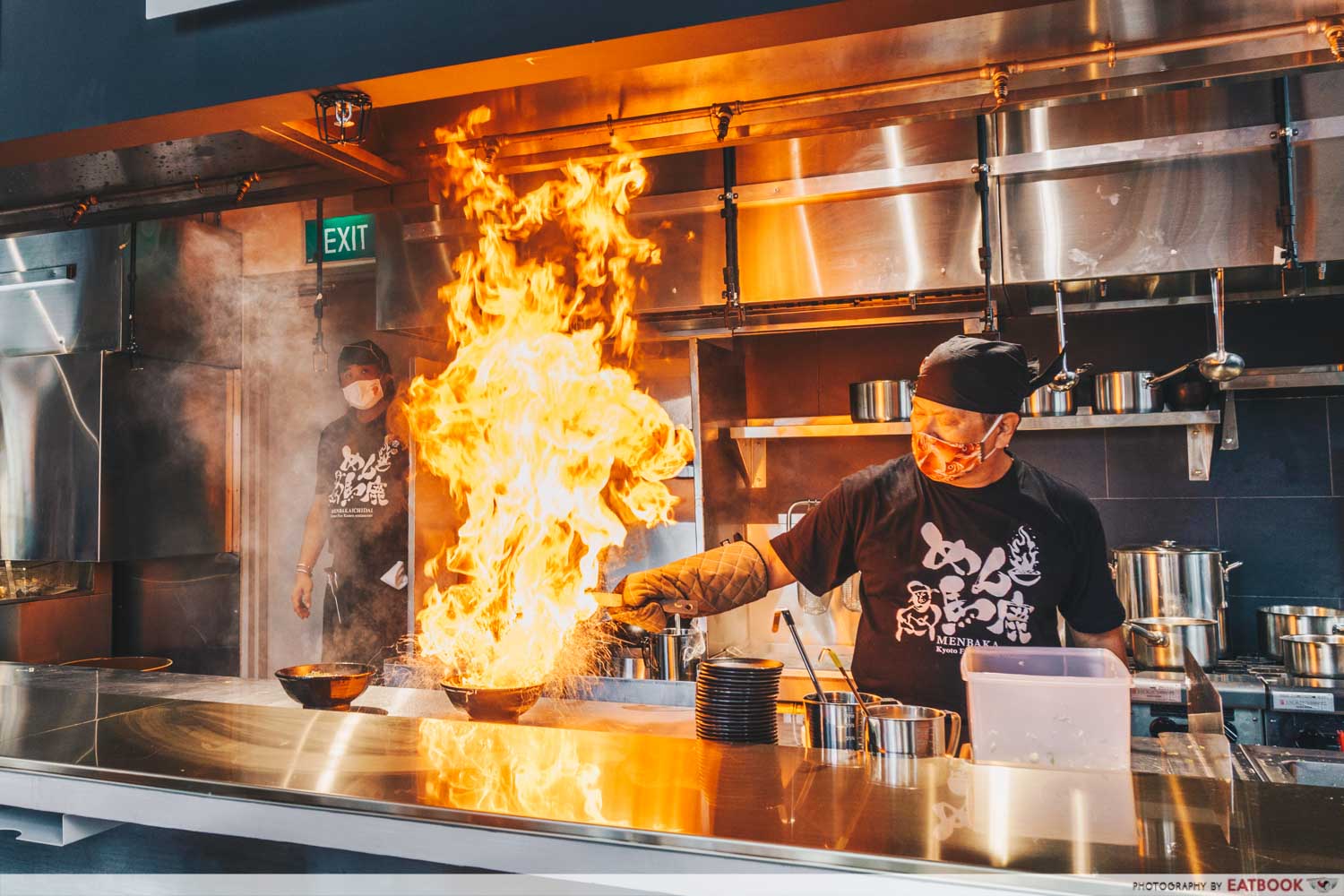 If you're into the theatrical, pay a visit to Menbaka Kyoto Fire Ramen at Cineleisure Orchard. Here, you get bowls of ramen that are literally set on fire in front of you, with signs warning you to stay in your seat. We particularly enjoyed the Shoyu Fire Ramen ($17.90++), which features an umami-packed, chicken-based, broth made with a 220-year old blend of shoyu, and two different kinds of fish shavings. It's finished with lots of fresh, thinly sliced negi, and flaming hot negi-infused oil, for a smoky, charred taste.
Read our Menbaka Ramen review! 
Address: 8 Grange Road, #05-03, Cineleisure Orchard, Singapore 239695
Opening hours: Daily 12pm to 9pm
Tel: 9459 9926
Website
Menbaka Ramen is not a halal-certified eatery.
---
4. 8ASH
---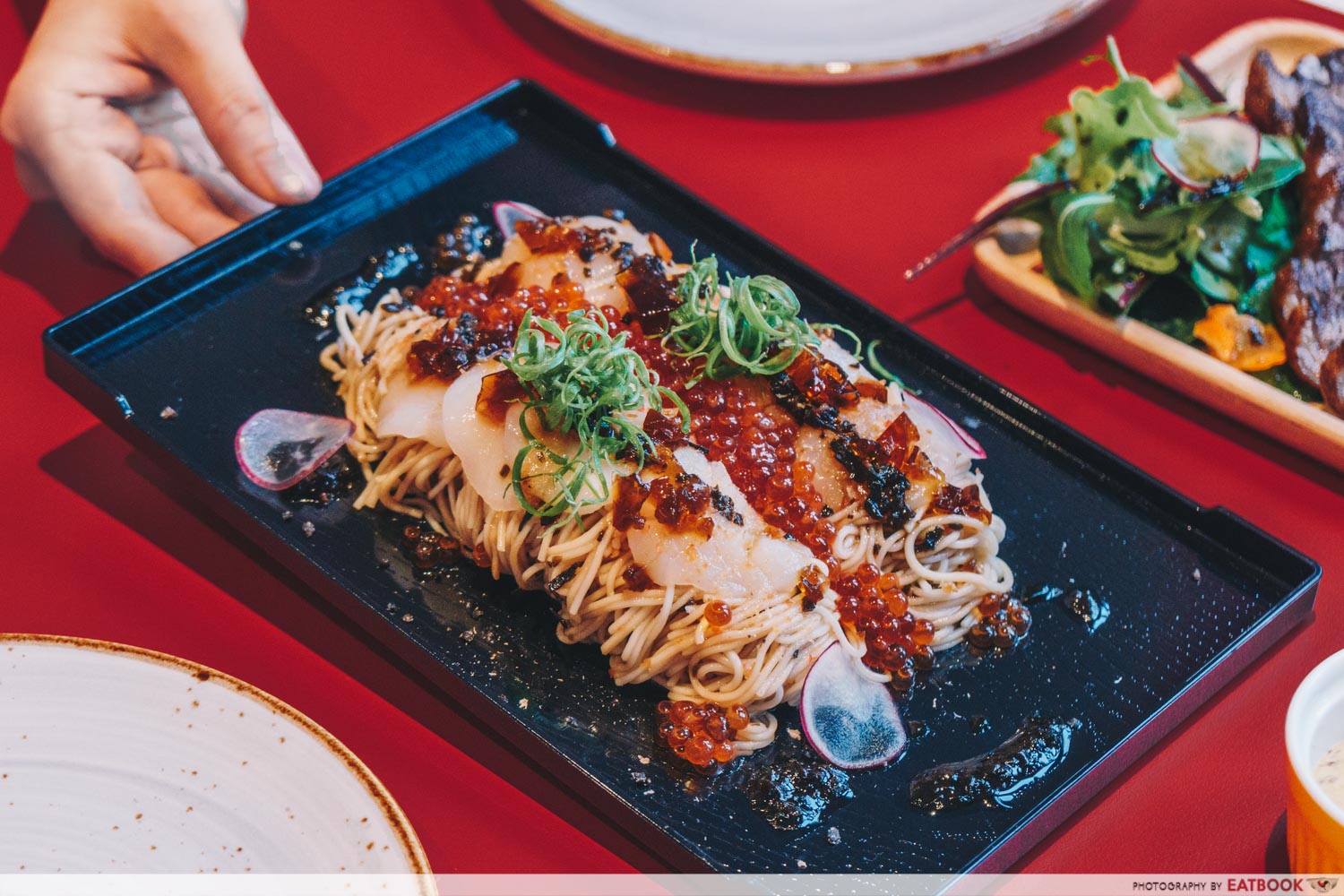 New kid on the Ann Siang block 8ASH has decor reminiscent of Pop's Diner in Netflix's hit teen series Riverdale. The Chilled Hokkaido Scallop Somen ($25) blew us away with its moreish combination of chilled noodles tossed in a shio kombu dressing, topped with Hokkaido scallops, sakura ebi powder, ponzu jelly, and ikura. Noteworthy too was the Hoshi Wagyu Steak ($18), that spotlights the picanha cut of meat that's fast gaining popularity these days.
Read our 8ASH review!
Address: 8 Ann Siang Hill, Singapore 069788
Opening hours: Mon-Wed 11am to 10pm, Thurs-Sat 11am to 10.30pm
Website
8ASH is not a halal-certified eatery.
8ASH Review: Riverdale Pop's Diner-Lookalike Serves Katsu Burgers And Scallop Somen
---
5. Rappu
---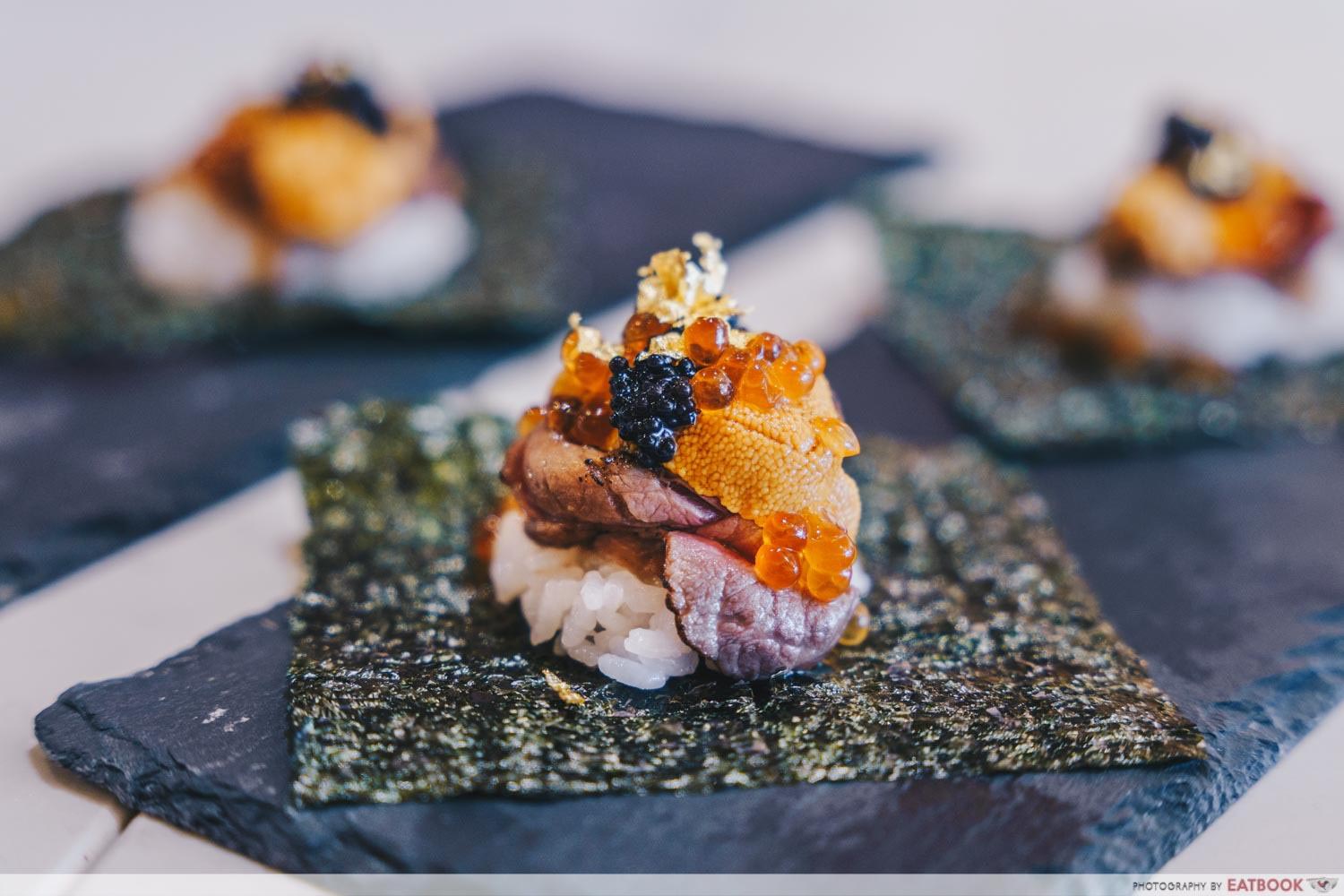 Sushi omakase doesn't have to burn a hole in your wallet, as Rappu proves. A full sushi roll course here will only set you back $36++, with premium ingredients such as engawa and kampachi featuring in the hand rolls.
Everything is made fresh to order, and we noted that the sushi rice is constantly replenished throughout the night. If you're up for a splurge, get the High Roller ($28++), a decadent roll of wagyu, caviar, uni, and ikura. It's even finished with edible gold leaf!
Read our Rappu review.
Address: 52 Duxton Road, Singapore 089516
Opening hours: Tue-Fri 5:30pm to 10:30pm, Sat-Sun 12pm to 3:30pm, 5:30pm to 10:30pm
Website
Rappu is not a halal-certified eatery.
Rappu Review: New Sushi Restaurant By The Feather Blade Serves A Full Handroll Course At $36++
---
6. Soi Candy
---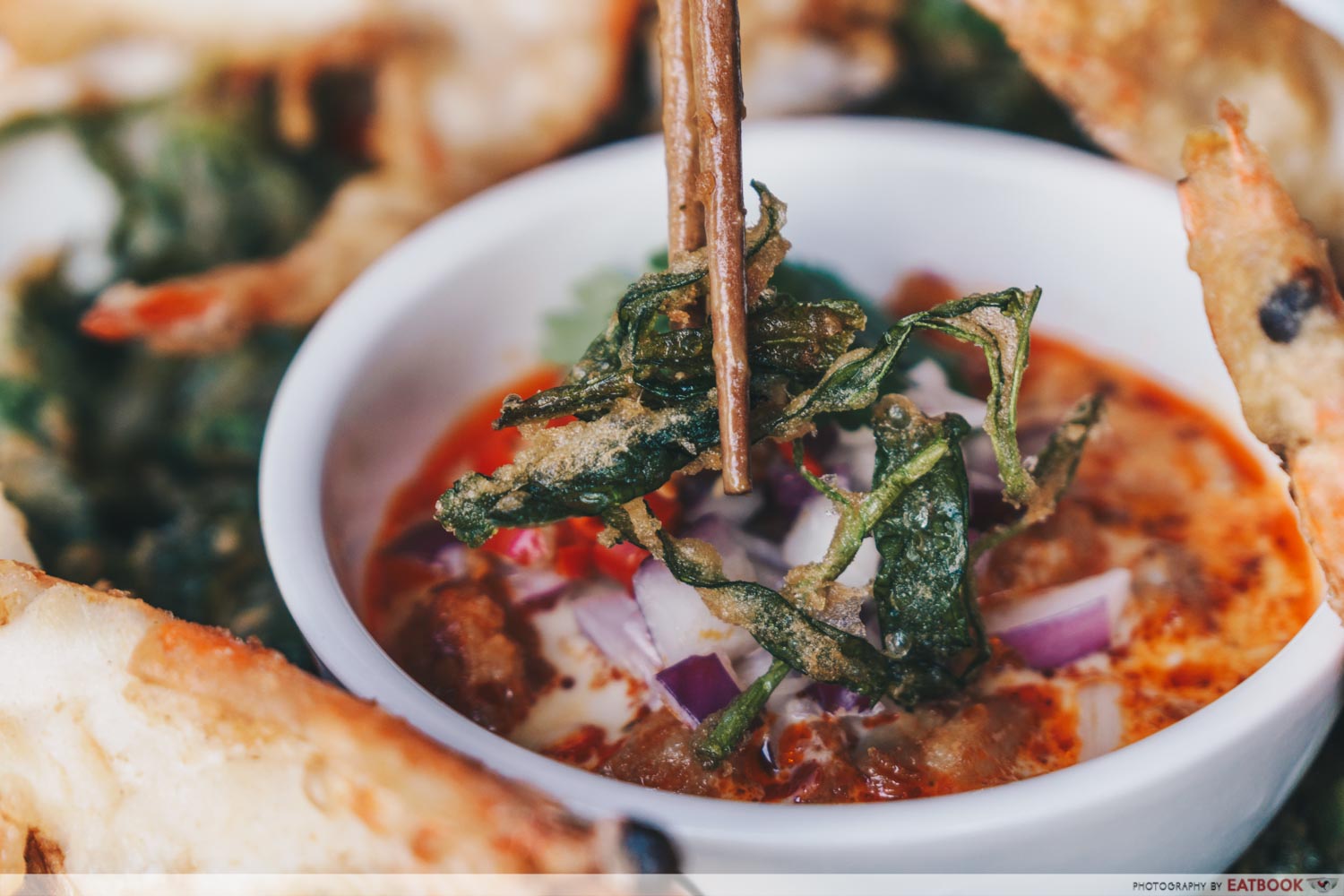 Put Soi Candy on the list for your next Tanjong Pagar jaunt. This eye-catching eatery specialises in Northern Thai cuisine and prides itself on making almost everything on the menu in-house. They use spices and spice pastes that are specially imported from Chiang Rai.
The Signature Softbone Pork Longan Stew With Rice Noodles ($10.90) and Crispy Kangkong With Seafood and Speciality Dip ($21.90) were our favourite dishes of the meal, and the Thai Milk Tea (from $4.90), served cold without ice, was great too.
Read our Soi Candy review! 
Address: 20 Tanjong Pagar Road, Singapore 088443
Opening hours: Tue-Sat 11:30am to 3pm, 5pm to 10:30pm
Tel: 8875 3095
Website
Soi Candy is not a halal-certified eatery.
Soi Candy Review: Northern Thai Noodle Bar With Pork Stew And Tempura Kangkong In Tanjong Pagar
---
7. Miznon
---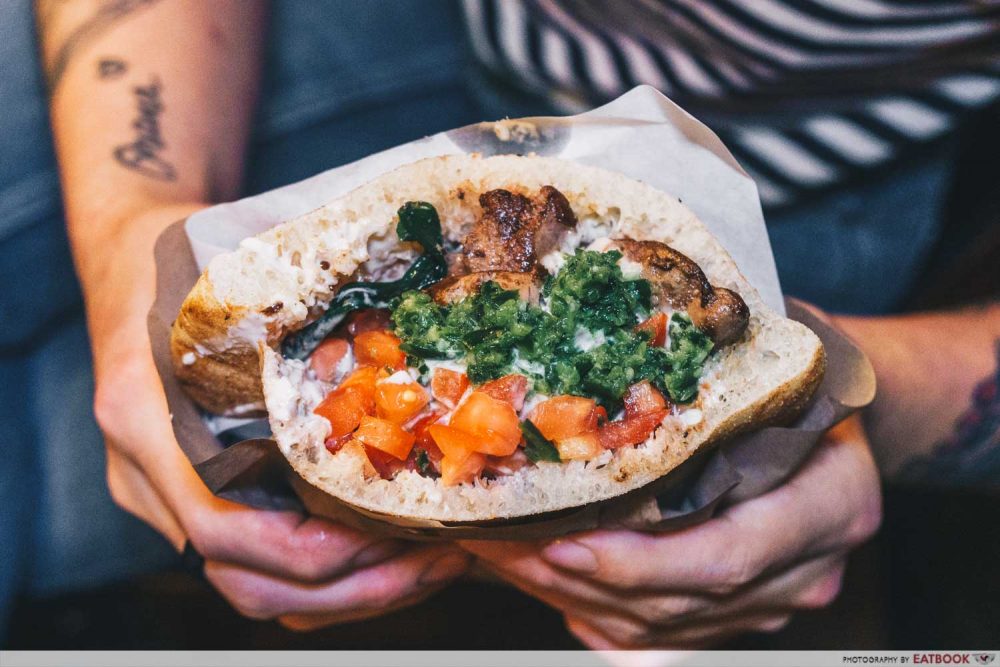 Joining our culturally diverse list of best restaurants in Singapore this 2020 is Miznon, a new addition to the Telok Ayer 'hood that's drawn snaking queues since its opening. The famous Israeli bistro, opened by Israel's equivalent of Gordon Ramsay, has outposts in capital cities all over the world.
You've not tried pitas if you haven't tried Miznon's fluffy, soft iterations, packed with a multitude of fillings. Besides staples like Steak & Egg ($21), they do a Chicken Liver Pita ($18) that's so good, it's made us offal converts.
Read our Miznon review!
Address: 6 Stanley Street, #01-01, Singapore 068725
Opening hours: Mon-Sat 11am to 11pm
Tel: 9015 5319
Website
Miznon is not a halal-certified eatery.
Miznon Review: New Pita Bistro By MasterChef Judge In Telok Ayer Draws Long Queues
---
8. Overrice
---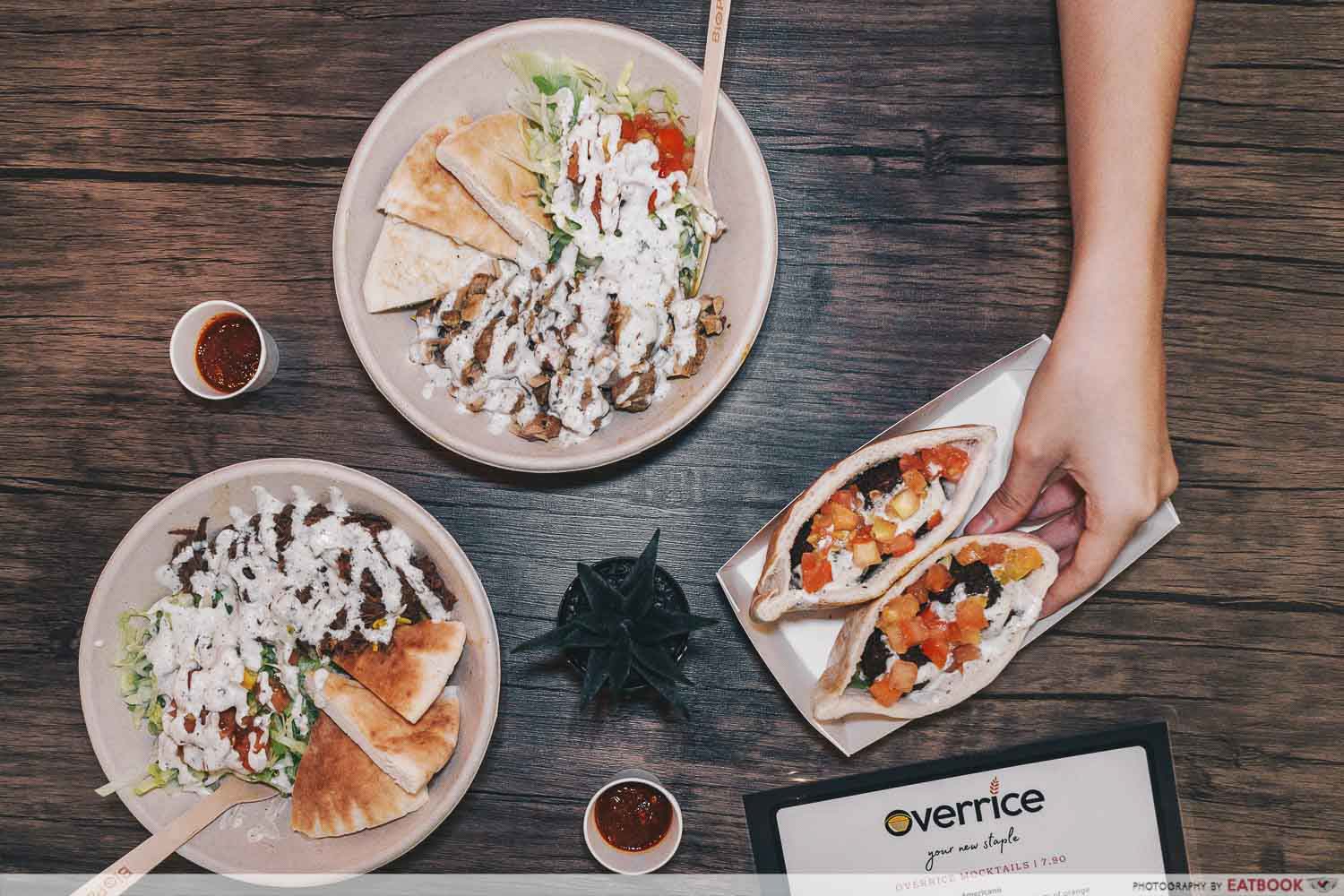 Overrice is Singapore's answer to New York City's famed food truck, The Halal Guys. We tried, and loved, the Pulled Beef Signature Bowl ($10.90), that comes loaded with smoky pulled beef, and a mix of lettuce and diced tomatoes served over a warm bed of fragrant basmati rice. This rice bowl also comes with fluffy, and slightly chewy, slices of pita, which pair well with the beef and their 'secret white sauce'.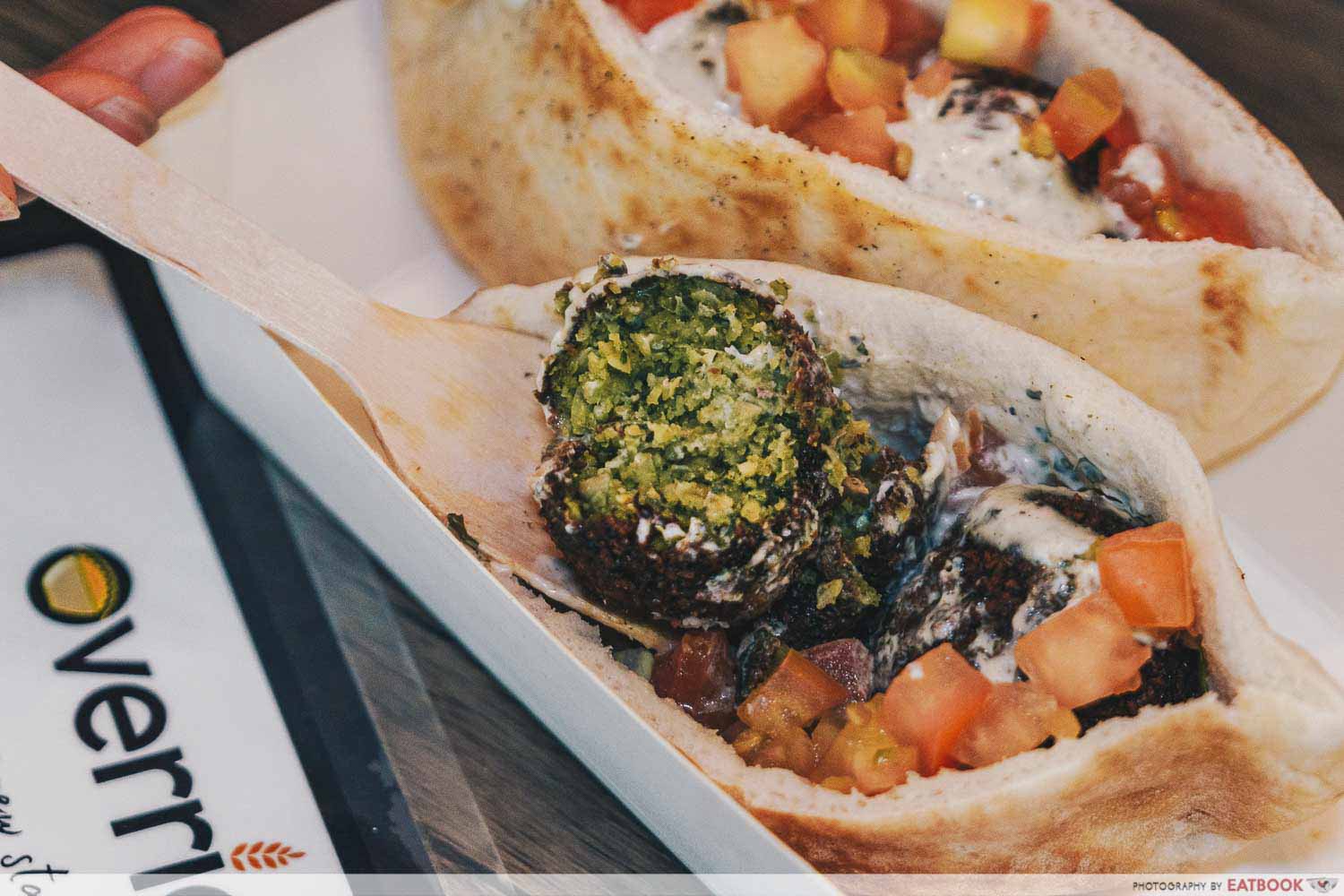 For a non-rice option, try the Falafel Pita Pocket ($6.90), which features the same pita from the rice bowl, but stuffed with nutty, aromatic falafel. You can opt for chicken in your pita and rice bowls too if beef and falafel don't catch your fancy.
We review Overrice here!
Address: 48 Arab Street, Singapore 199745
Opening hours: Wed-Sun 12pm to 3:30pm, 6pm to 9:30pm
Tel: 8877 1827
Website
Overrice is a halal-certified eatery.
---
9. SSAK3
---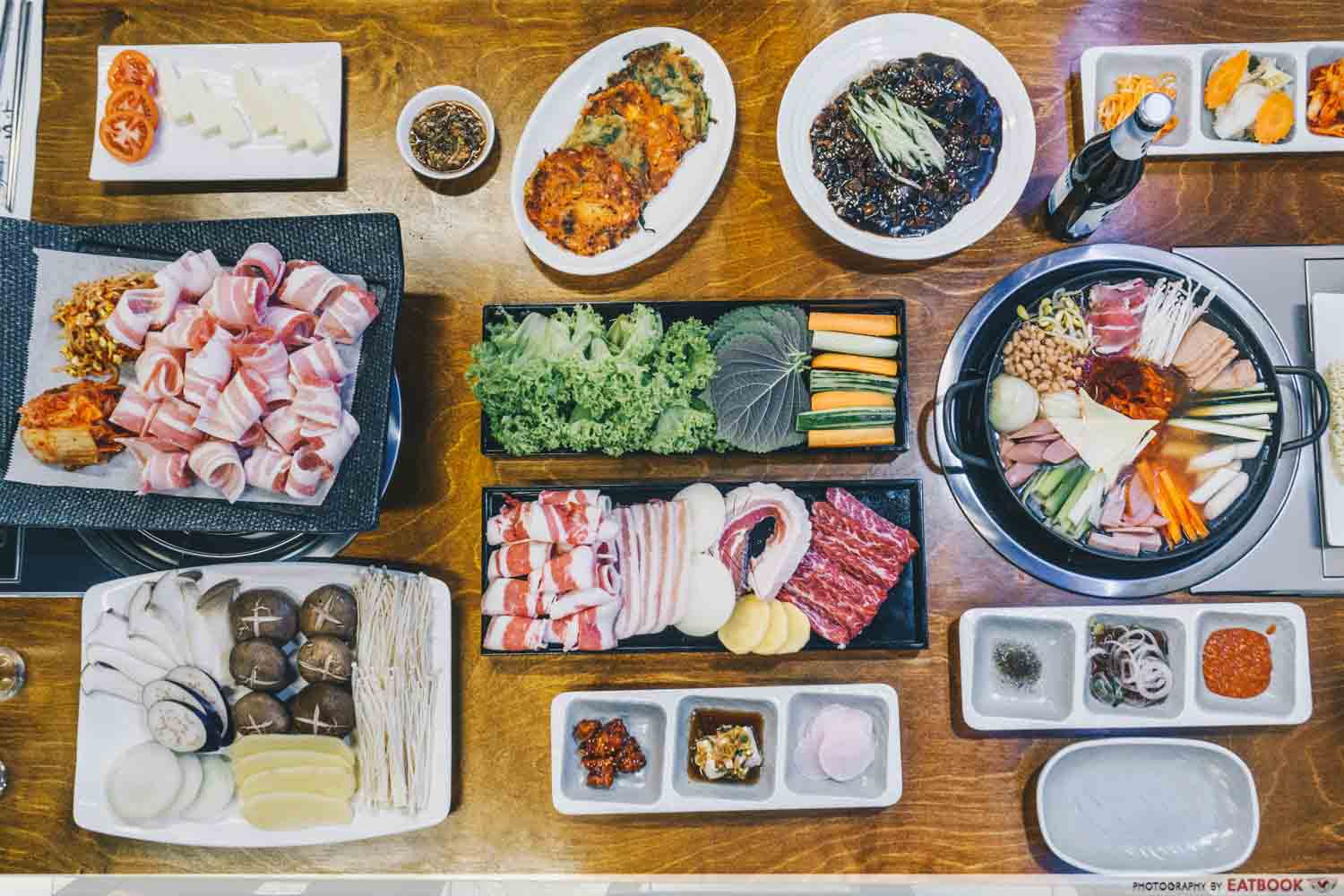 The K-wave shows no sign of dying out any time soon, so if you're on the lookout for the real K-drama feels, consider heading to SSAK3 in Bras Basah Complex. At this Korean barbecue joint, the stoves are still lit with disposable gas canisters and come nightfall, the place is full of post-work ahjussi knocking back cups of somaek.
Try the Planer Porkbelly ($12+ for 150g) and top up $4+ for Grilled Cheese with your samgyeopsal (grilled pork). What's most worth it is the SSAK 3 Assorted Set ($40+ for 500g) that's good for two to three to share, and comprises beef and pork.
Read our SSAK3 review!
Address: 231 Bain Street, #02-01, Bras Basah Complex, Singapore 180231
Opening hours: Mon-Fri 11:30am to 2:30pm, 5:30pm to 10:30pm, Sat-Sun 11:30am to 10:30pm
Tel: 6336 4476
Website
SSAK3 is not a halal-certified eatery.
SSAK3 Review: Affordable Korean BBQ With Samgyeopsal, Honeycomb Pork, Army Stew And More At Bras Basah
---
10. Yanxi Palace Steamboat
---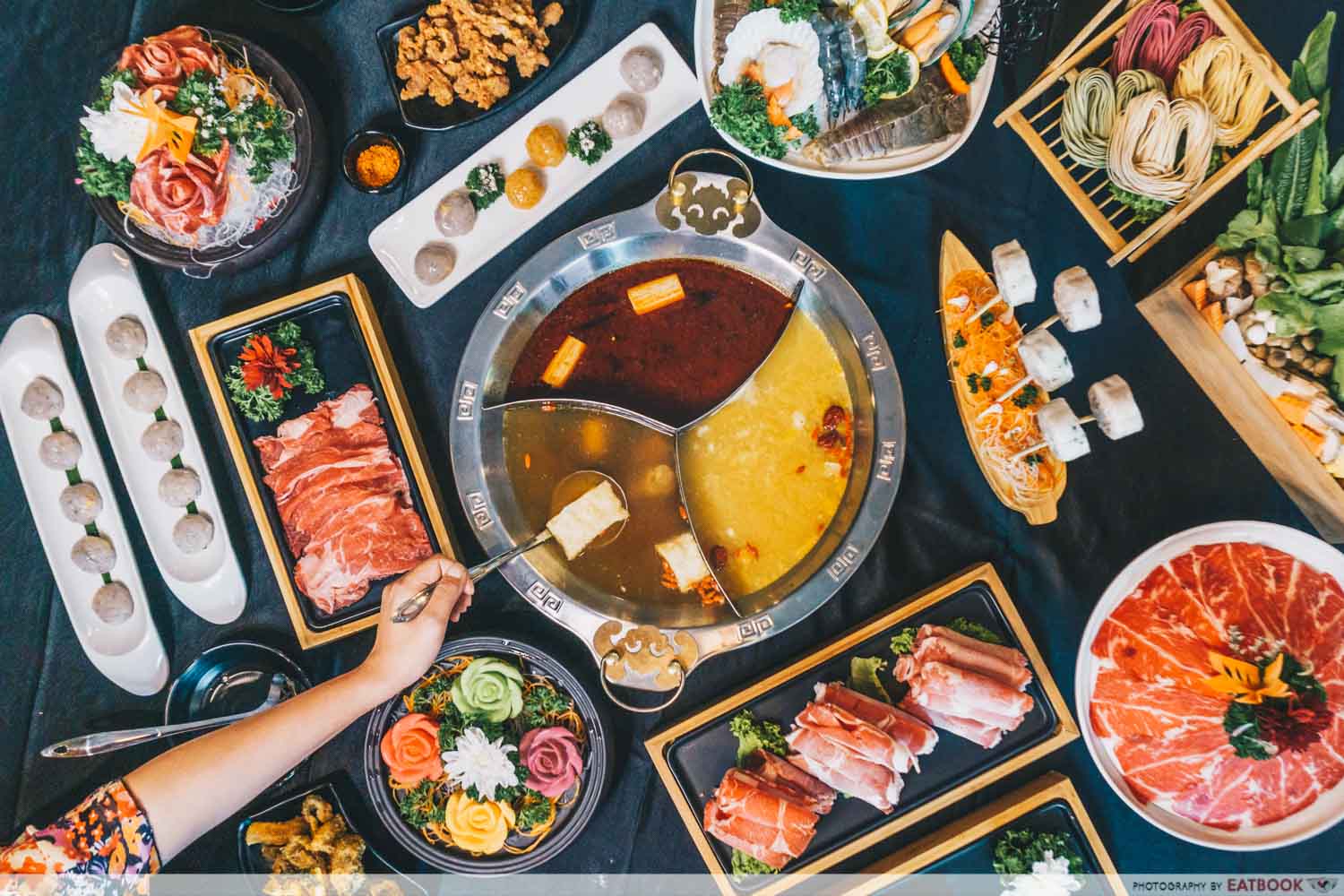 Have hotpot with double-boiled premium soups such as Buddha Jumps Over the Wall (from $10.50) and Imperial Elixir Youth Soup (from $11.50) at Yanxi Palace Steamboat, an eatery themed after the popular palace drama that's made it to our list of best restaurants in Singapore in 2020. Like the soups, the hotpot ingredients here are also made from scratch in-house, with our favourite being the Seafood Lollipop ($12), made with cuttlefish paste dyed with naturally derived colouring.
Read our Yanxi Palace Steamboat review!
Address: 175A Chin Swee Road, Singapore 169879
Opening hours: Sun-Thurs 12pm to 12:30am, Fri-Sat, PH Eve and PH 12pm to 2am
Tel: 8858 9711
Website
Yanxi Palace Steamboat is not a halal-certified eatery.
Yanxi Palace Steamboat Review: IG-Worthy Hotpot With Over 100 Menu Items, Including Buddha Jumps Over The Wall Soup
---
Our best restaurants in Singapore for 2020
---
Thus concludes our round-up of 10 best new restaurants in Singapore for 2020. In a year that we've been unable to travel, we've seen various international brands set foot on our shores, and new eateries bringing us tastes from all over the world. Besides restaurants, check out our lists of best buffets, cafes, and desserts for the year!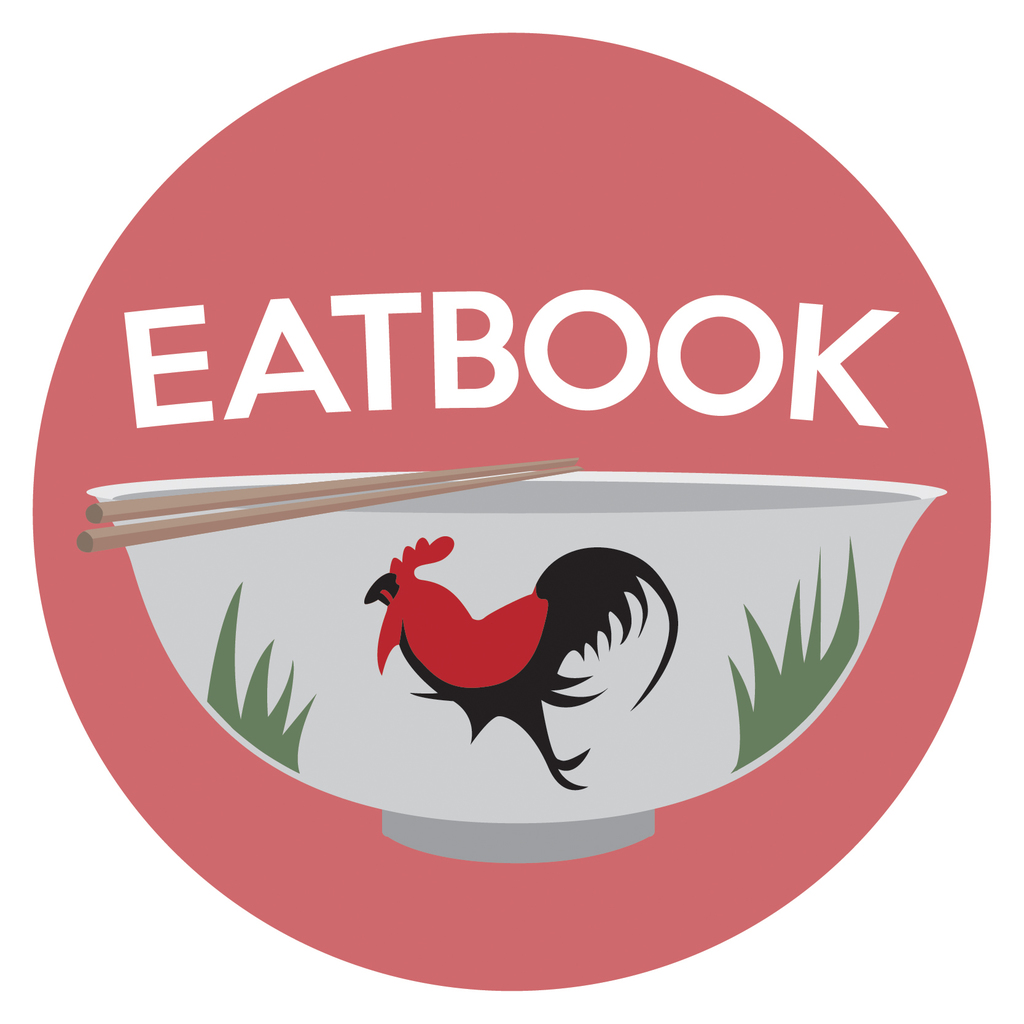 Drop us your email so you won't miss the latest news.