---
New restaurants in Singapore this August 2022
---
August means National Day, so celebrate the month in true-blue Singaporean fashion with good food. If you're stuck on where to dine, here's our round-up of new restaurants and cafes in Singapore this August 2022 to add to your to-dine list.
---
1. Apricus Cafe
---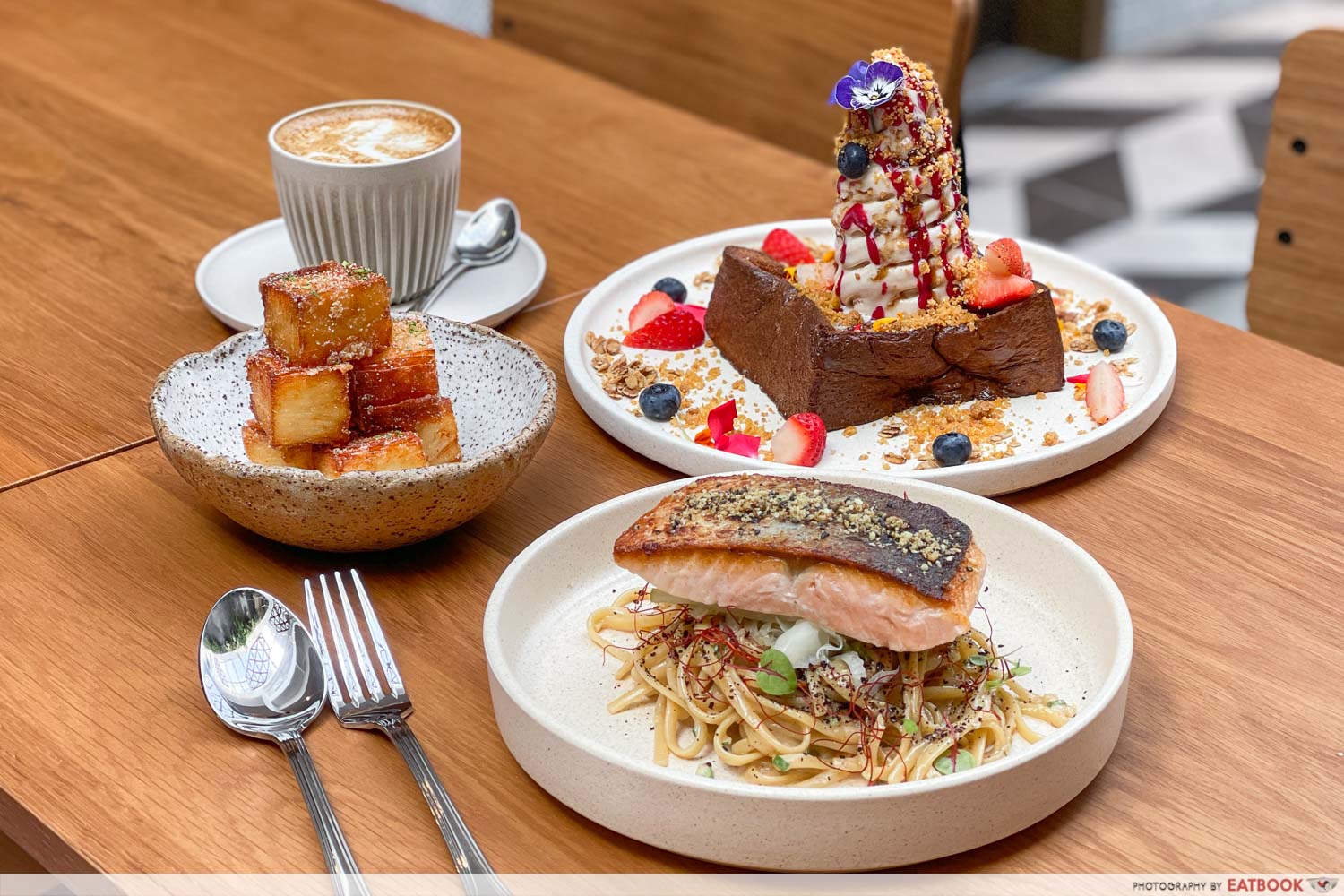 Folks behind renowned The Populus cafe have branched out to the Sengkang heartlands with the all-new Apricus Cafe. This Australian-inspired cafe destination has a menu chock full of brunch mains, from pastas to burgers, as well as breakfast items and desserts. We loved their Norwegian Salmon Brown Butter Linguine ($23+), where al dente linguine comes with a buttery sauce, and a generous slab of salmon cooked just so. Another must is their Apricus French Toast ($22+), a towering sweet brunch treat made up of sweet vanilla brioche, and roasted rice soft serve.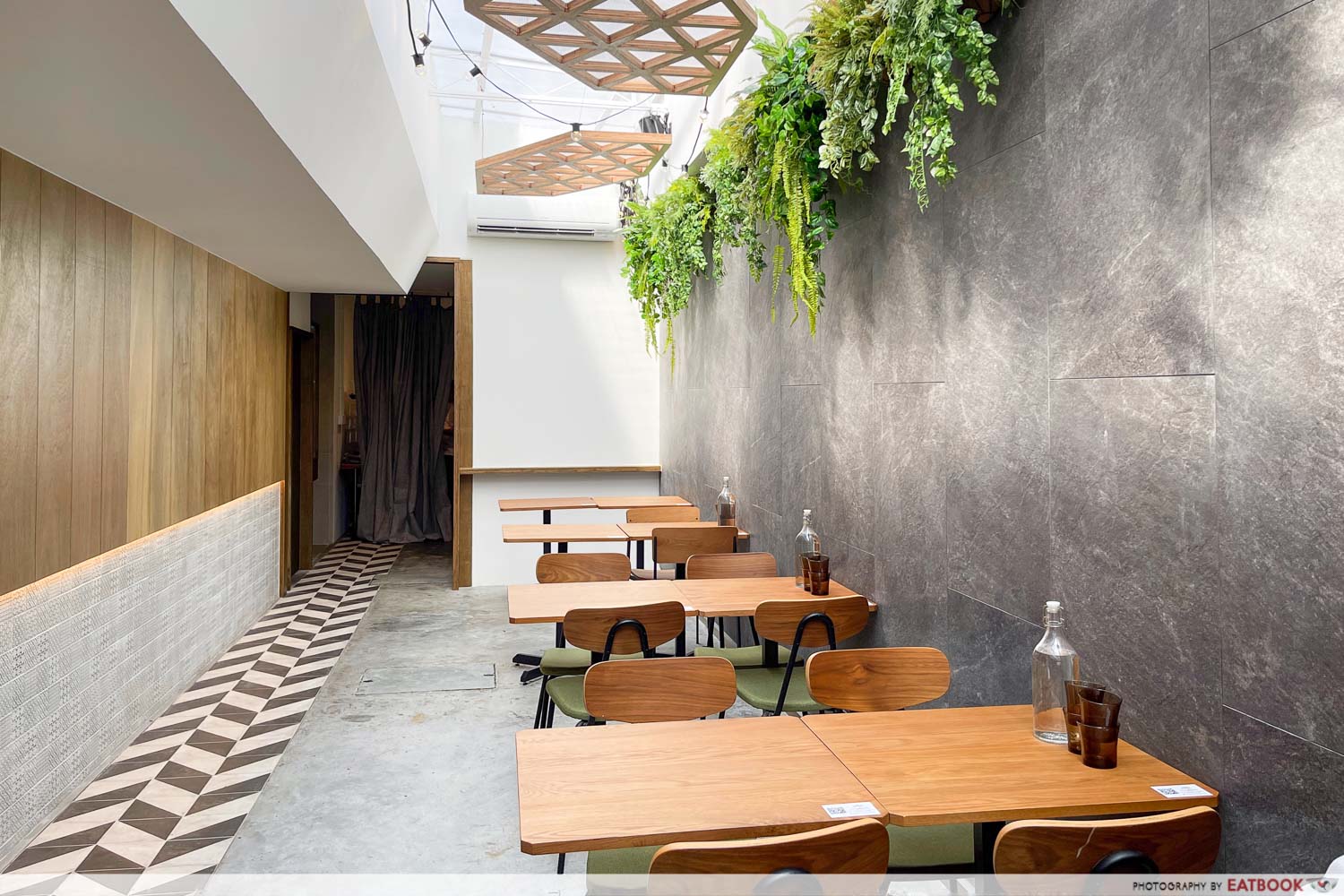 Apricus Cafe's larger interiors also make this a great place to dine with the fam or friends on a lazy Sunday morning. The natural light and plant fixtures dotted around the space adds to its airy, open vibes.
Read our Apricus Cafe review.
Address: 248 Jalan Kayu, Singapore 799472
Opening hours: Wed-Mon 9am to 6pm
Website
Apricus Cafe is not a halal-certified eatery, but their food contains no pork or lard.
Apricus Cafe Review: New All-Day Brunch Cafe In Sengkang By People Behind The Populus
---
2. Whisking Bakes 
---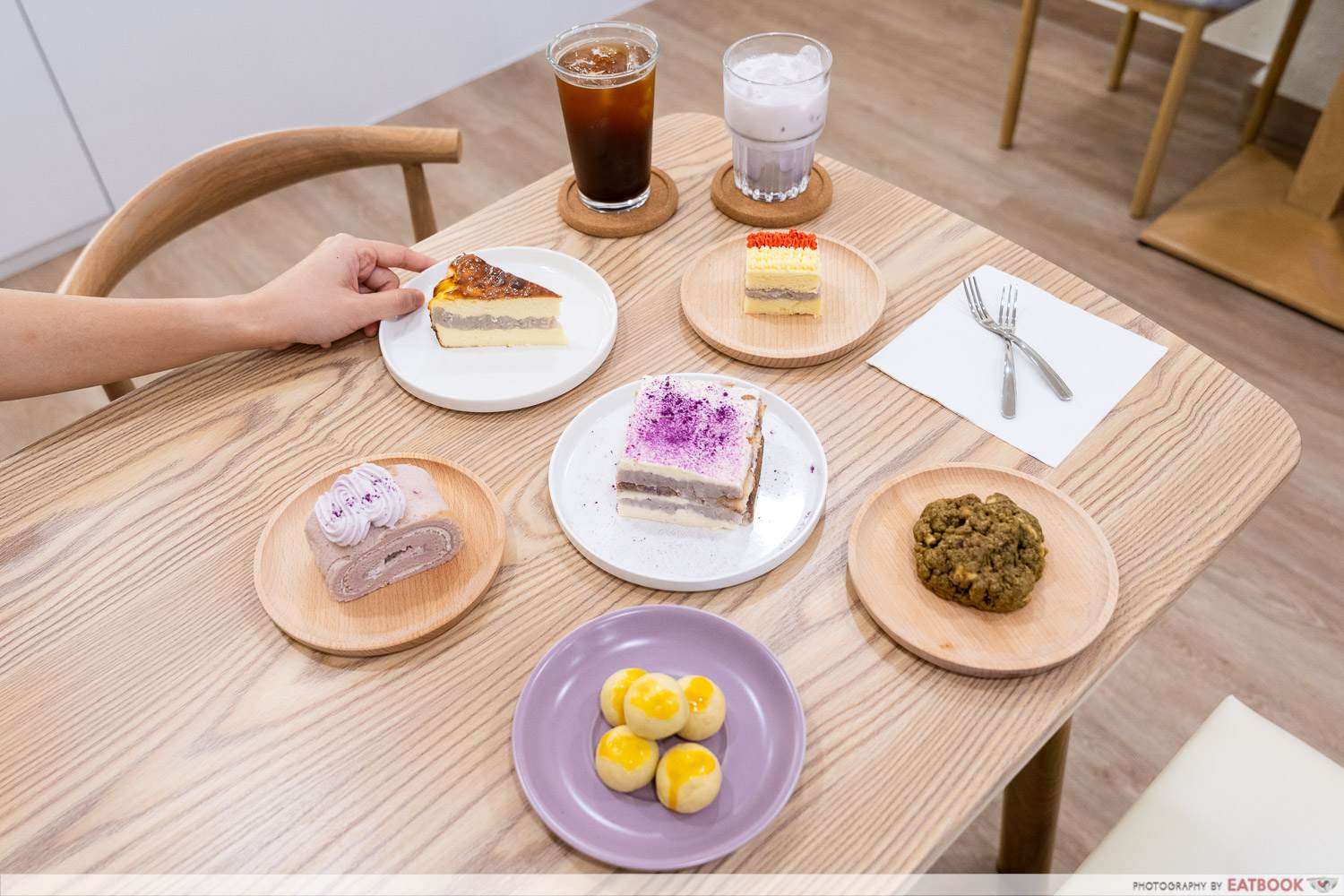 Taro lovers, this one is for you. Popular home-based business, Whisking Bakes, has opened Singapore's first taro-themed cafe, centred around affordable orh nee desserts. Plus, the cafe is open till 12am on Fridays and Saturdays, making them a great late-night dessert pick.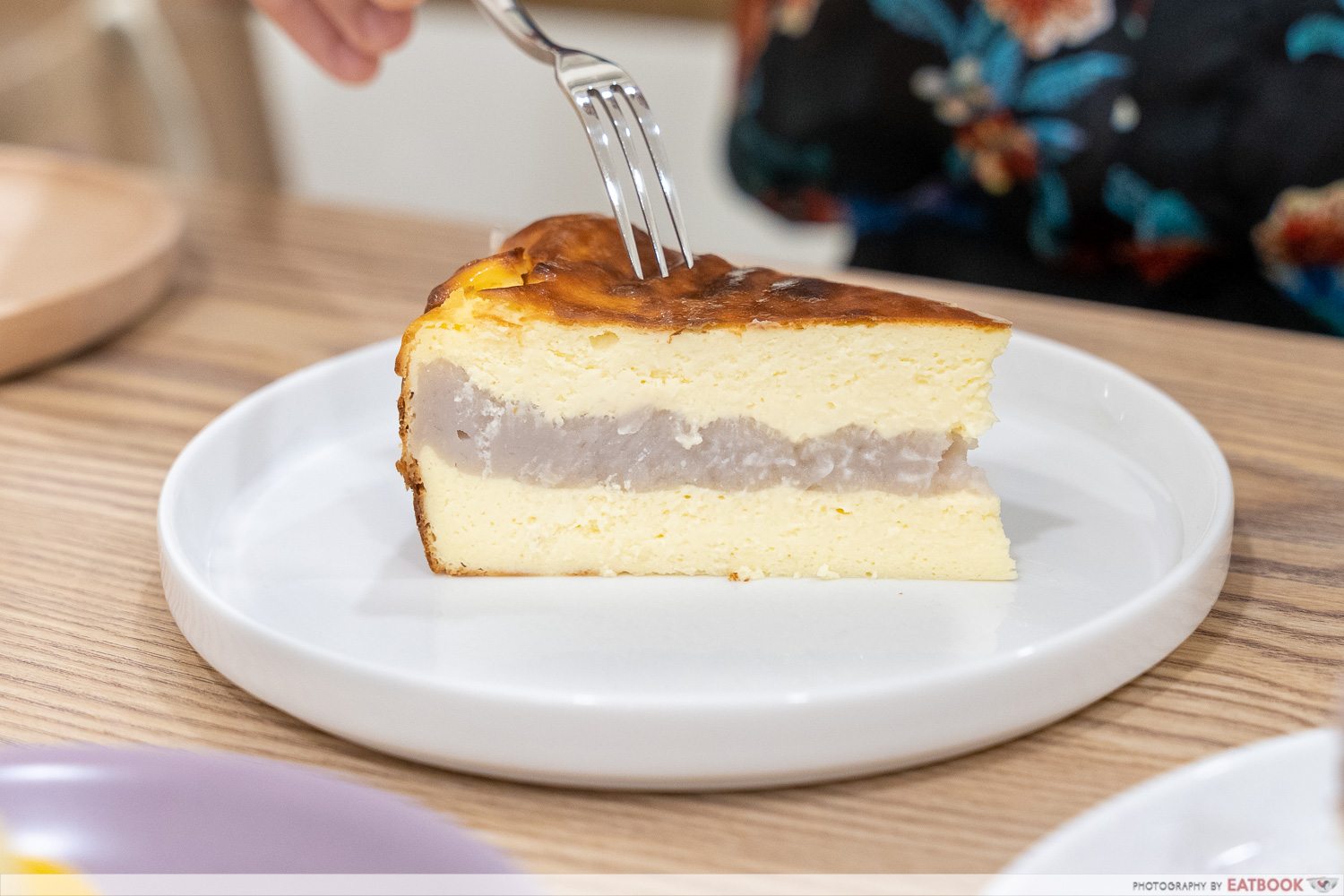 The yam paste they use across their bakes is made fresh in-house daily, so you're really getting quality here. Experience that for yourself when you get their Taro Burnt Cheesecake ($7.50), where custardy cheesecake is halved with a thick layer of yam paste, or in their lighter Taro-misu ($6), which remixes the tiramisu with taro milk and yam paste.
Read our Whisking Bakes review.
Address: 466 Crawford Lane, #01-08, Singapore 190465
Opening hours: Tue-Thurs 12pm to 10pm, Fri 12pm to 12am, Sat 10am to 12am, Sun 10am to 4pm
Tel: 8850 5918
Website 
Whisking Bakes is not a halal-certified eatery.
Whisking Bakes Review: First Taro Cafe In Singapore By HBB With IG-Famous Orh Nee Tarts, Taromisu And More
---
3. Sinful Cakes 
---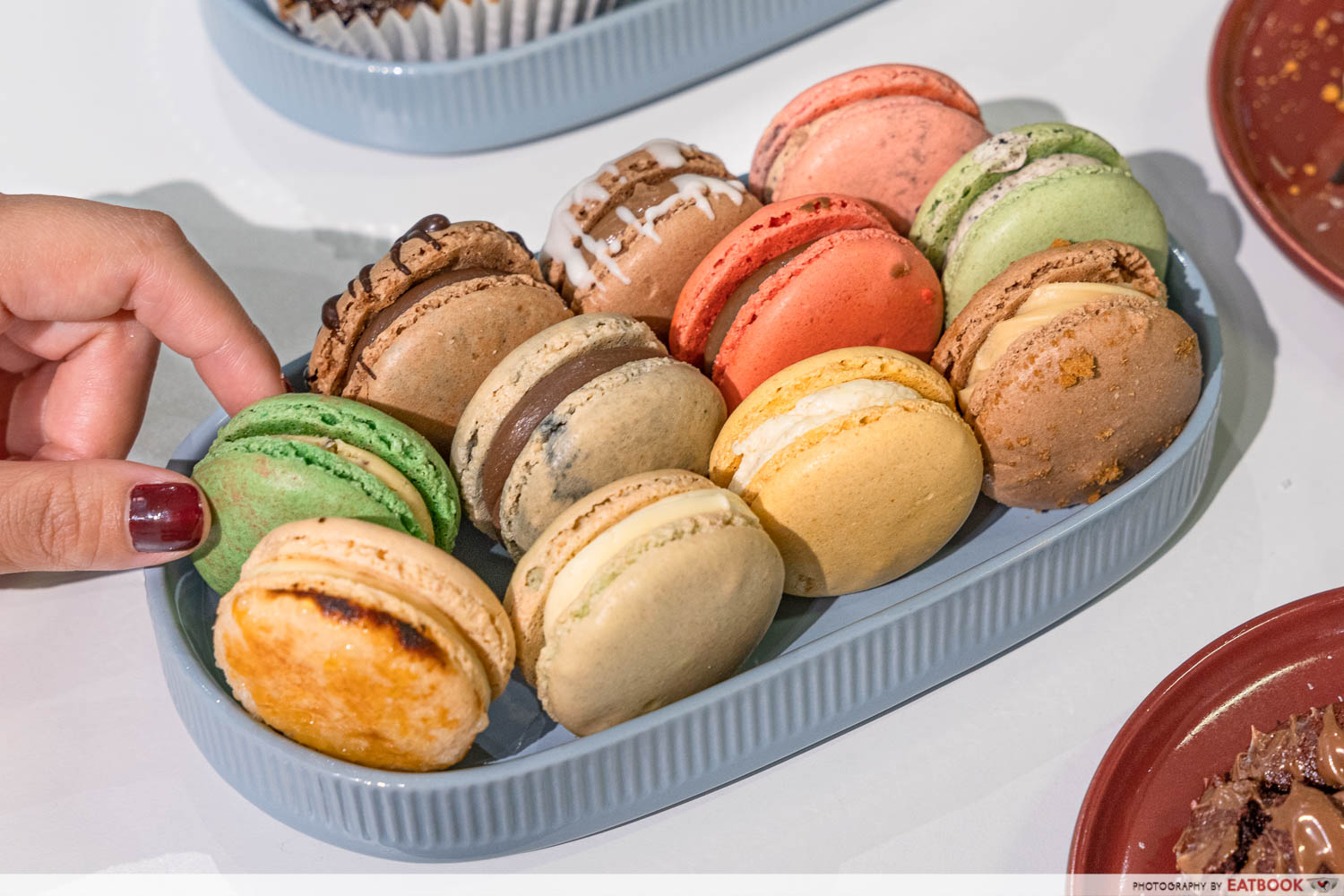 Local Muslim-owned patisserie Sinful Cakes has reopened at City Gate, just a quick walk away from Bugis MRT Station. They're best known for their macarons, available in locally-inspired flavours such as Waffle Crisps, Ovomaltine, Thai Milk Tea, Onde-Onde, and more. Get one macaron for $2.50, or a box of 12 for $25.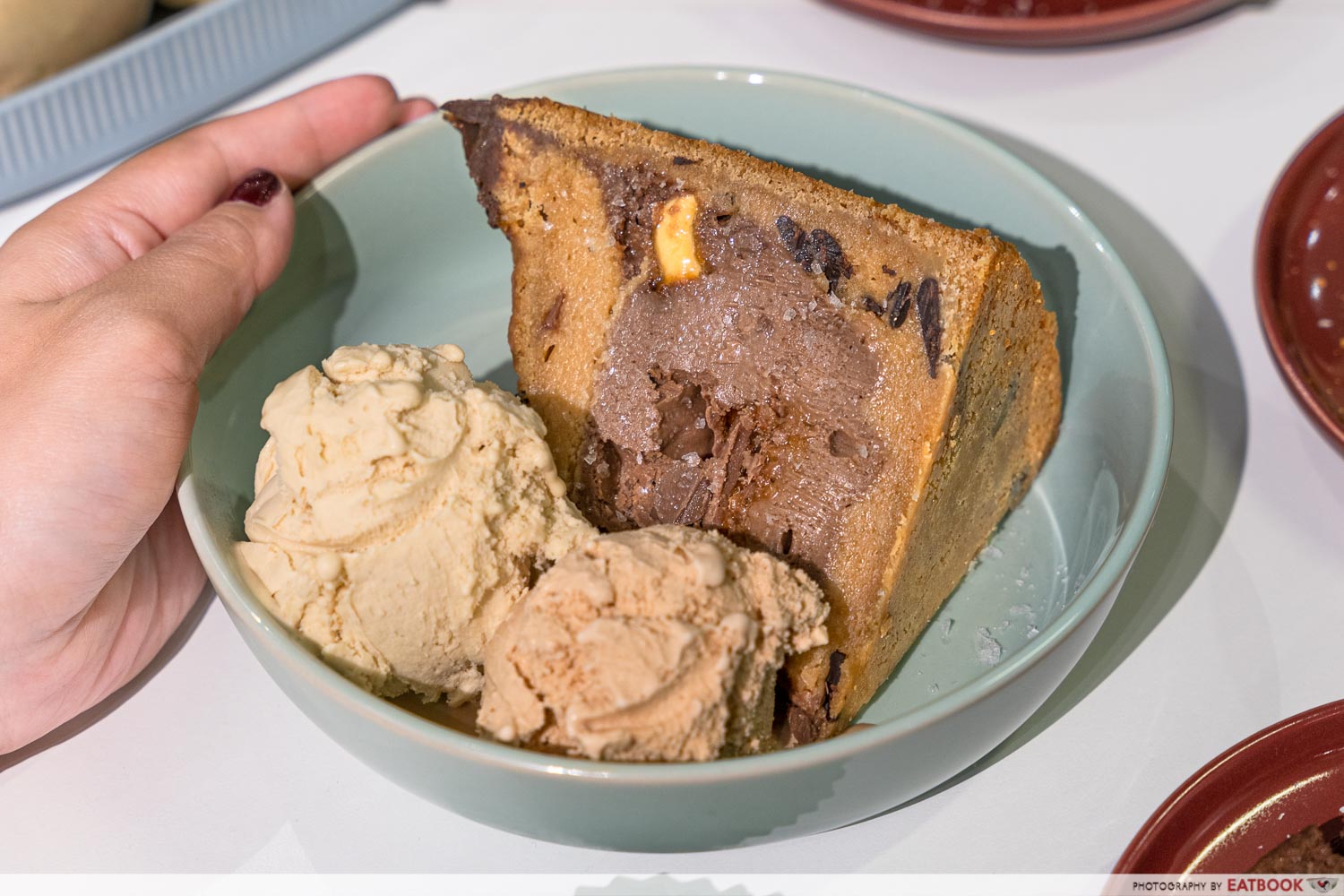 Sinful Cakes also has a wide range of other bakes, including cookies with molten middles, burnt cheesecakes, and cinnamon buns! We're big fans of their Cookie MAK ($15), a fudgy hybrid between a cookie and cake. Each Cookie MAK is a whopping 1.7kg, so you're best off sharing this with a friend.
Read our Sinful Cakes review.
Address: 371 Beach Rd, #02-44/45 City Gate, Singapore 199597
Opening hours: Tue-Sun 12pm to 8pm
Website
Sinful Cakes is not a halal-certified eatery, but is Muslim-owned
Sinful Cakes Reopens In Bugis With IG-Famous Macarons, Cookie Cake And Rainbow Cinnamon Bun
---
4. Nic & Tom Eatery 
---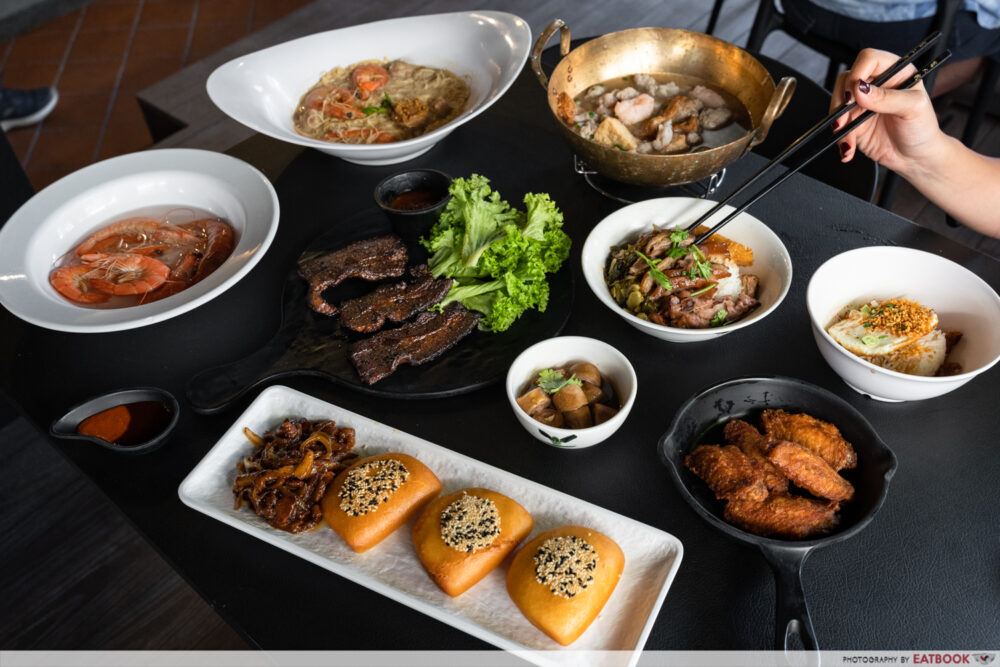 Nic & Tom Eatery came onto our radar when they opened in Serangoon Gardens last year, all because of their seafood cheese bee hoon. This dish is a riff on the classic seafood white bee hoon dish, popularised by White Restaurant. Their Serangoon outlet is now closed, but they've recently reopened in Chinatown with all the dishes you know and love.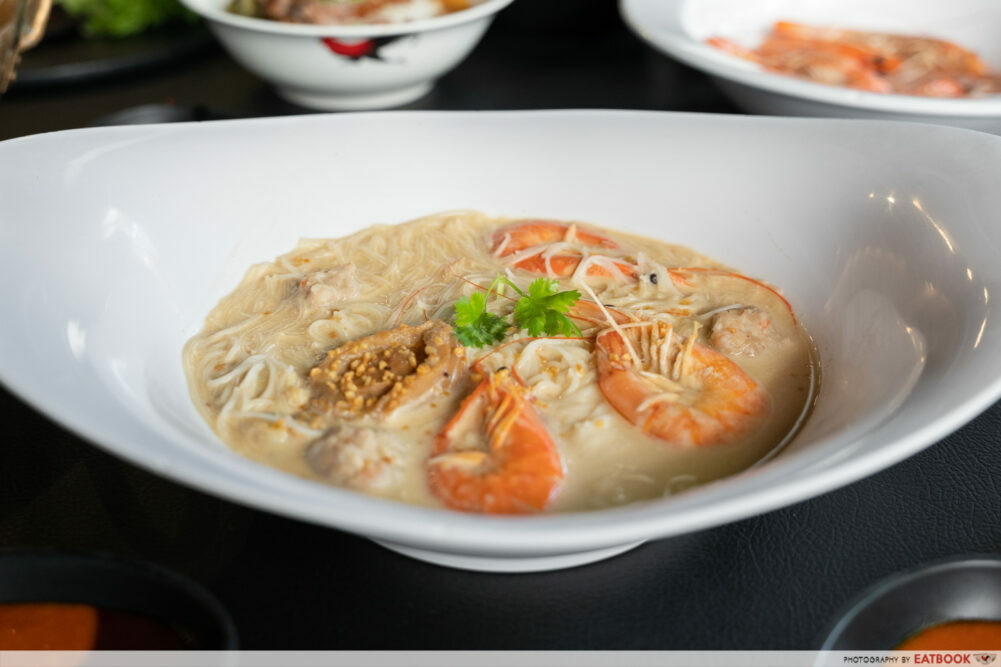 Their signature Seafood Cheese Beehoon is priced at $9.90++, but they have other variations of the dish on the menu, one of which contains scallops, and another, abalone. Another hot fave at Nic & Tom Eatery is their Pig Trotter Rice ($5.90++), which comes with melt-in-your-mouth braised pig trotters atop pearl grain rice.
Read our Nic & Tom Eatery review.
Address: 6 Sago Street, Singapore 059011
Opening hours: Daily 10am to 10pm
Website
Nic & Tom is not a halal-certified eatery
Nic And Tom Eatery Review: Abalone Cheese Bee Hoon, Pork Trotter Rice And More From $1.90 In Chinatown
---
5. NOMSTAR
---
Northshore Plaza is now fully open, which means all its F&B offerings are in operation. One of the highlights is NOMSTAR, a next-level food court that houses five well-known Asian eateries in one space.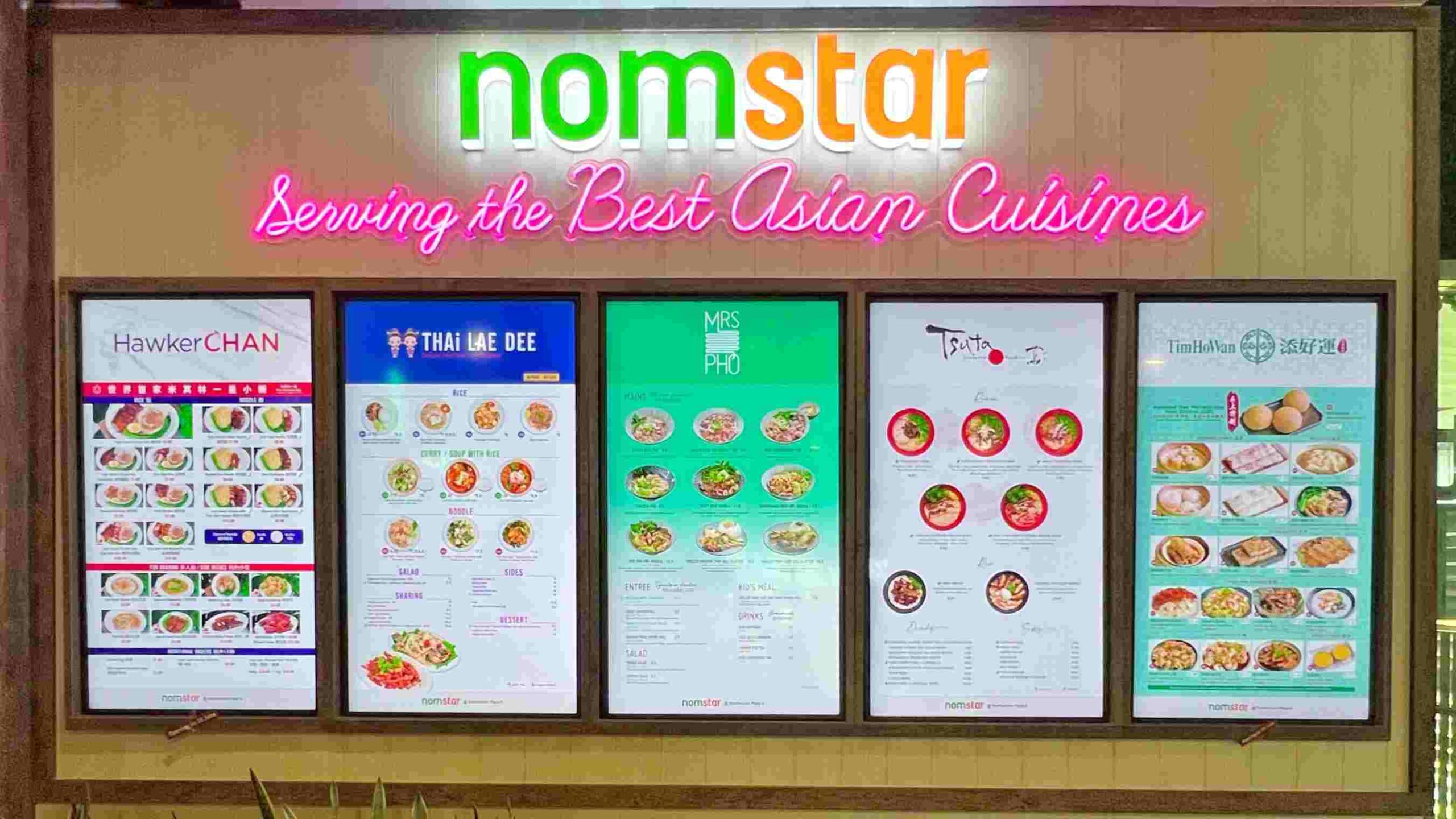 Swing by and grab dishes from Tim Ho Wan, Tsuta, Hawker Chan, Mrs Pho, and Thai Lae Dee. Though the full menus from the respective eateries aren't available at NOMSTAR, you still get a decent selection of their bestselling items. This is the place to check out if you and your friends can't decide on a single cuisine for your next outing!
Check out our NOMSTAR review.
Address: 418 Northshore Drive, #03-02, Northshore Plaza II, Singapore 820418
Opening hours: Mon-Fri 11am to 9:30pm, Sat-Sun 10:30am to 10pm
Website
NOMSTAR is not a halal-certified eatery.
NOMSTAR: Tim Ho Wan, Tsuta, Hawker Chan And More Famous Eateries Open In New Punggol Food Court
---
6. ASPA 
---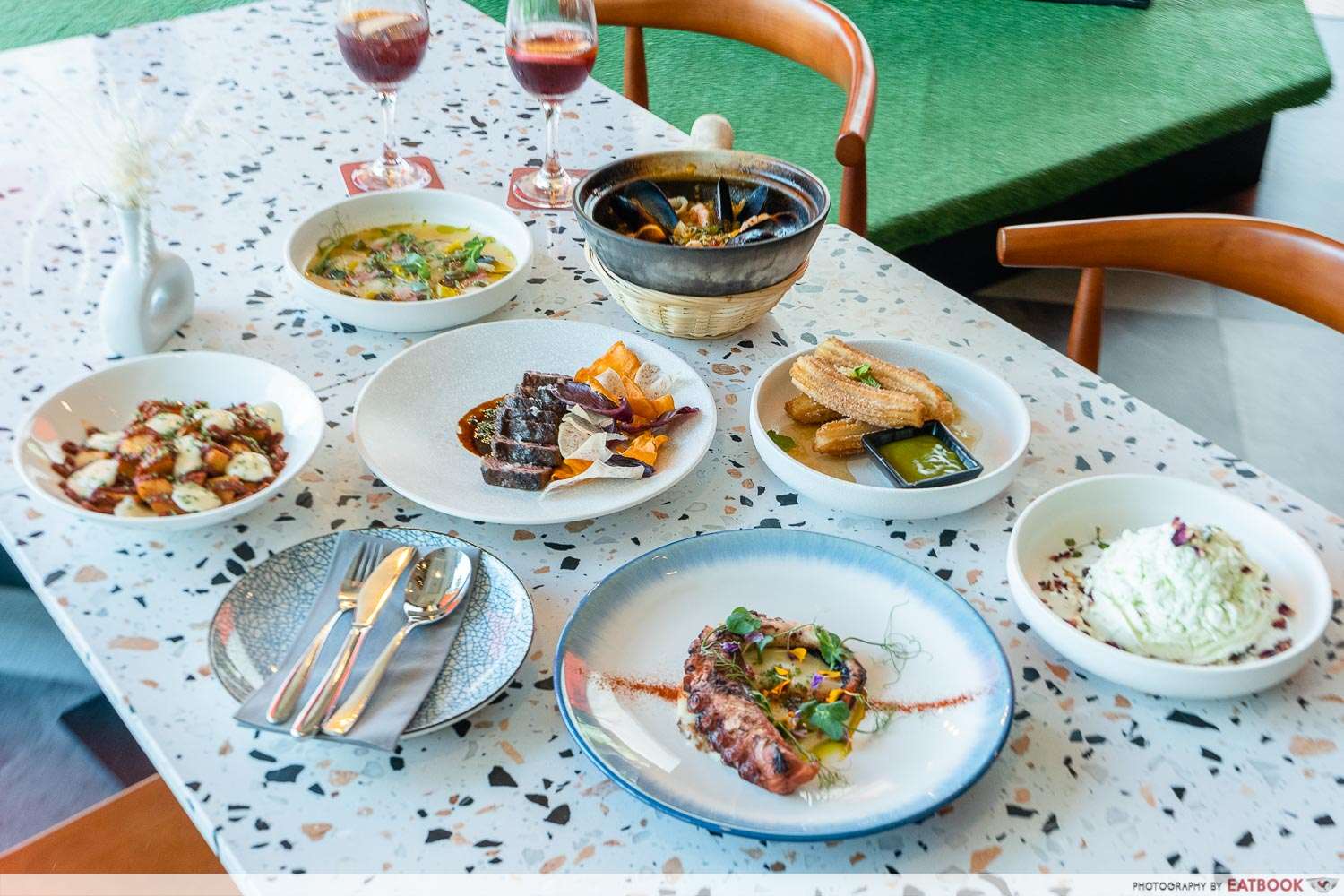 Pasir Ris' Downtown East isn't usually the first place that comes to mind when we think of top-notch Spanish restaurants, but this is set to change now that ASPA is in the hood. The casual tapas restaurant has a wallet-friendly menu of Spanish bites, including Singapore's first claypot paella.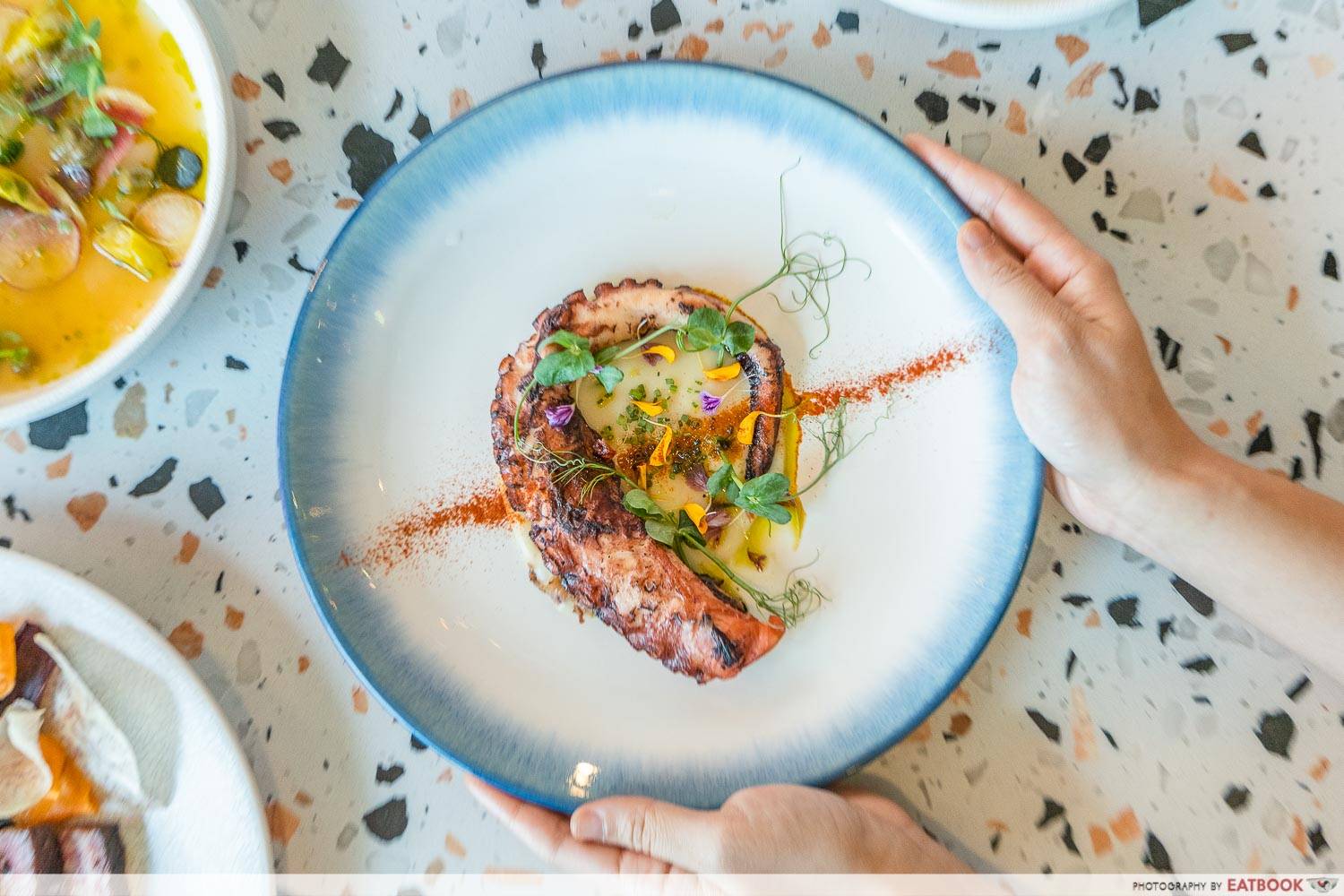 We're not going to stop raving about the Roasted Octopus ($16++), where a whole octopus leg is cooked in beer till it is fork-tender, then served on a bed of buttery mash. Another big hit is their Patatas Bravas ($10++), which levels up the classic crispy potato dish with house-made sambal and garlic aioli.
Read our ASPA review.
Address: 60 Pasir Ris Drive 3, Singapore 519497
Opening hours: Daily 12pm to 11pm
Tel: 9139 5375
Website
ASPA is not a halal-certified eatery.
ASPA Review: Affordable Tapas Restaurant In Pasir Ris With SG's First Claypot Paella
---
7. Vin Geek 
---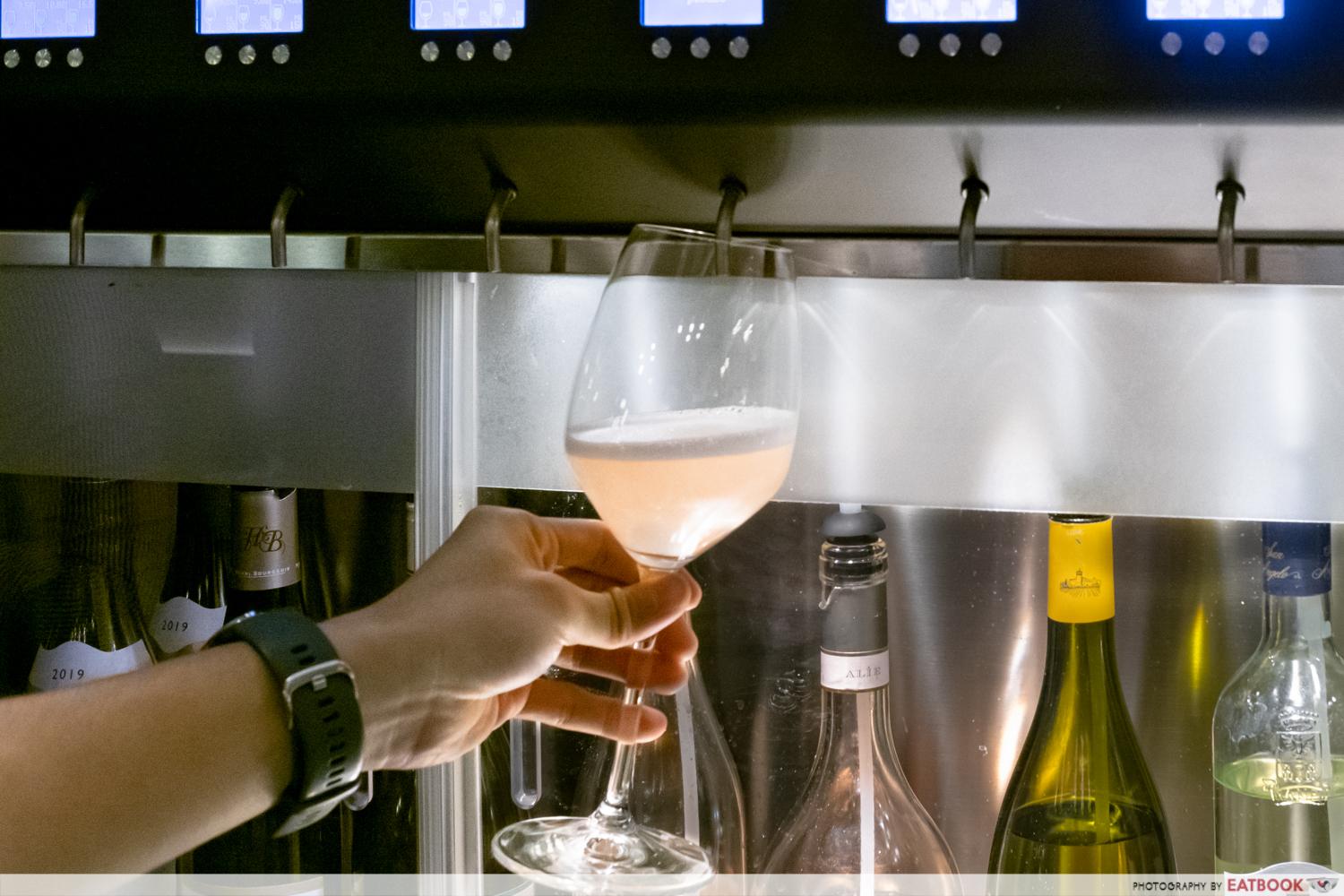 New kid on the Orchard block Vin Geek is a restaurant bar with a cool self-dispensing wine machine and elegantly plated dishes to fill you up. Select from 24 bottles on display, and enjoy a tasting portion (30ml), half glass (90ml), or full glass (180ml) of your chosen vino. Prices start from as low as $2.50+ for the tasting portion of a rosé, so you can sip and sample without breaking the bank!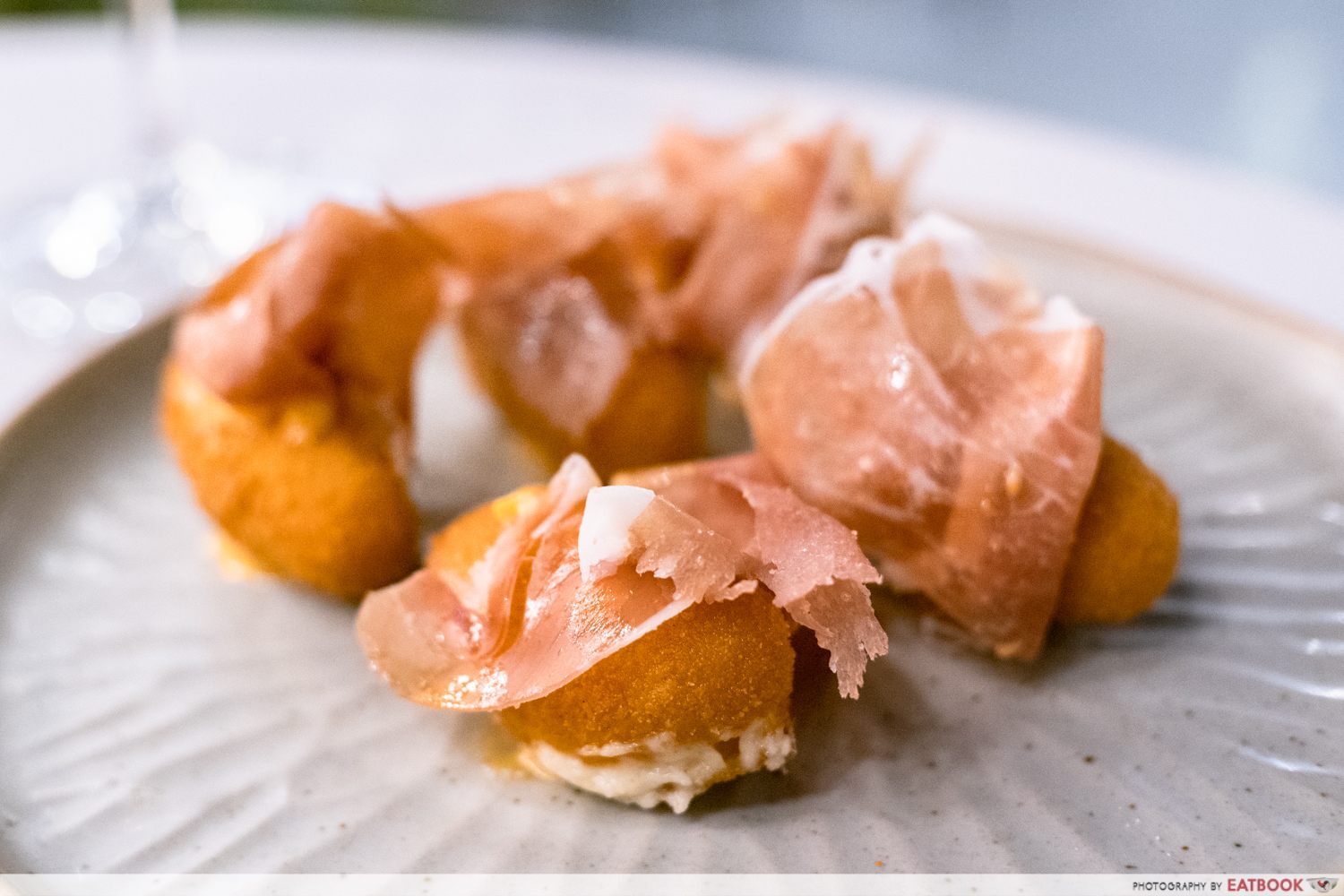 Food wise, start with the bite-sized Jamon Ham Croquettes ($18+), crisp on the outside with an oozy mozzarella middle. Those who love their carbs will enjoy the Carbonara ($30+), which comes with crispy guanciale bits. Otherwise, the perfectly cooked Wagyu Ribeye ($48+) is great for sharing among your meat-loving friends. Then, round up the meal with a side of Chocolate Tart ($16+), a decadent dessert featuring a rich chocolate ganache with a buttery and crunchy shell for textural contrast.
Read our Vin Geek review.
Address: 9 Scotts Road, #01-04/05/06/07, Pacific Plaza, Singapore 228210
Opening hours: Daily 11:30am to 10pm
Tel: 6334 1622
Website
Vin Geek is not a halal-certified eatery.
This Hidden Restaurant Bar In Orchard Lets You Dispense Your Own Wine From $2.50
---
8. Hor Fun King
---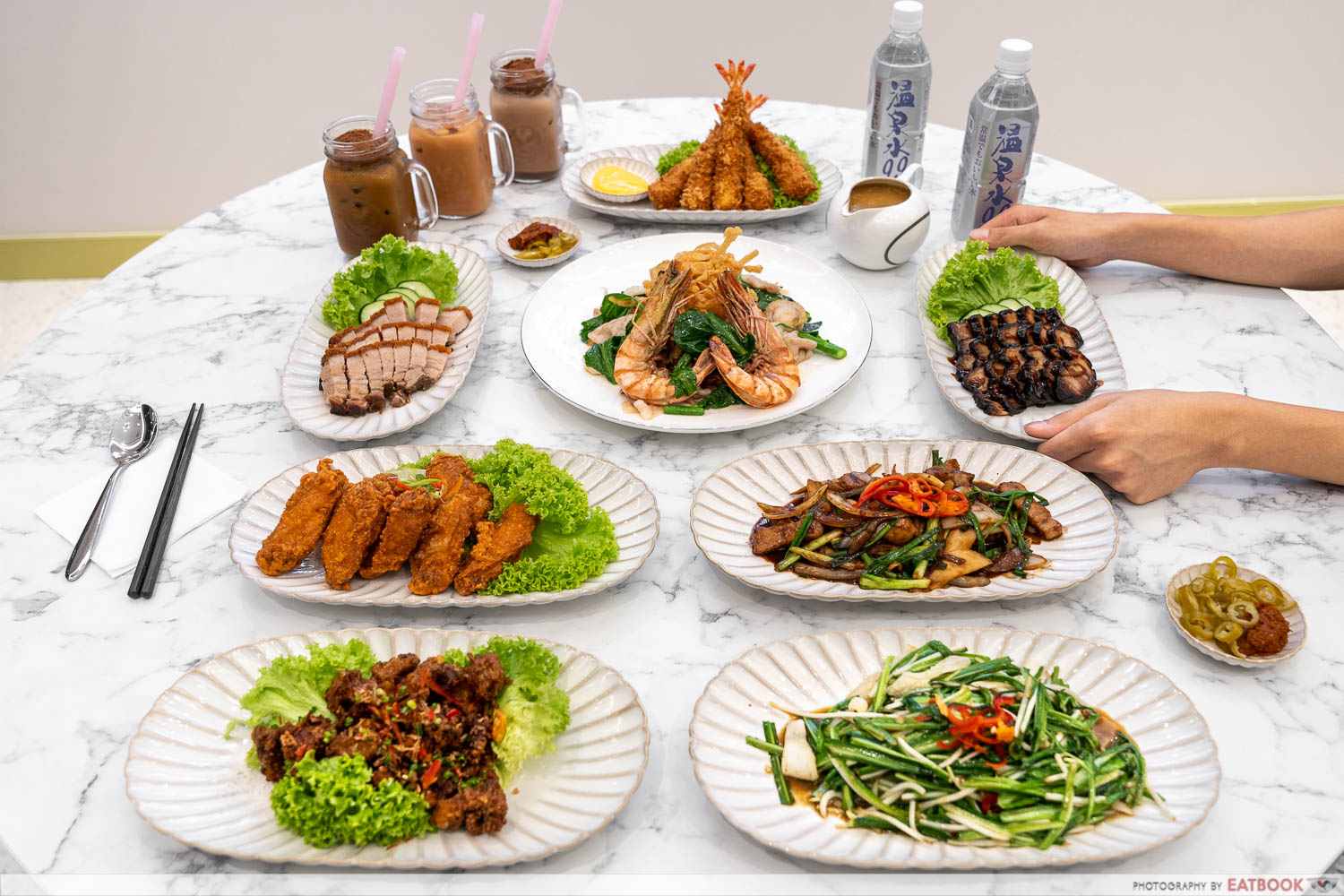 If your favourite zi char dish is hor fun, then you'll be happy to know that Novena's Square 2 is home to Hor Fun King. The hor fun specialist is the first in Singapore to have crispy hor fun, which you can find as a topping on their Signature Hor Fun King ($38.90++) dish. This dish stars brown hor fun stir-fried to smoky, wok hei ends, and dressed with a variety of seafood, as well as Iberico pork. The dish is completed with a 36-hour, slow-cooked Iberico pork and seafood broth.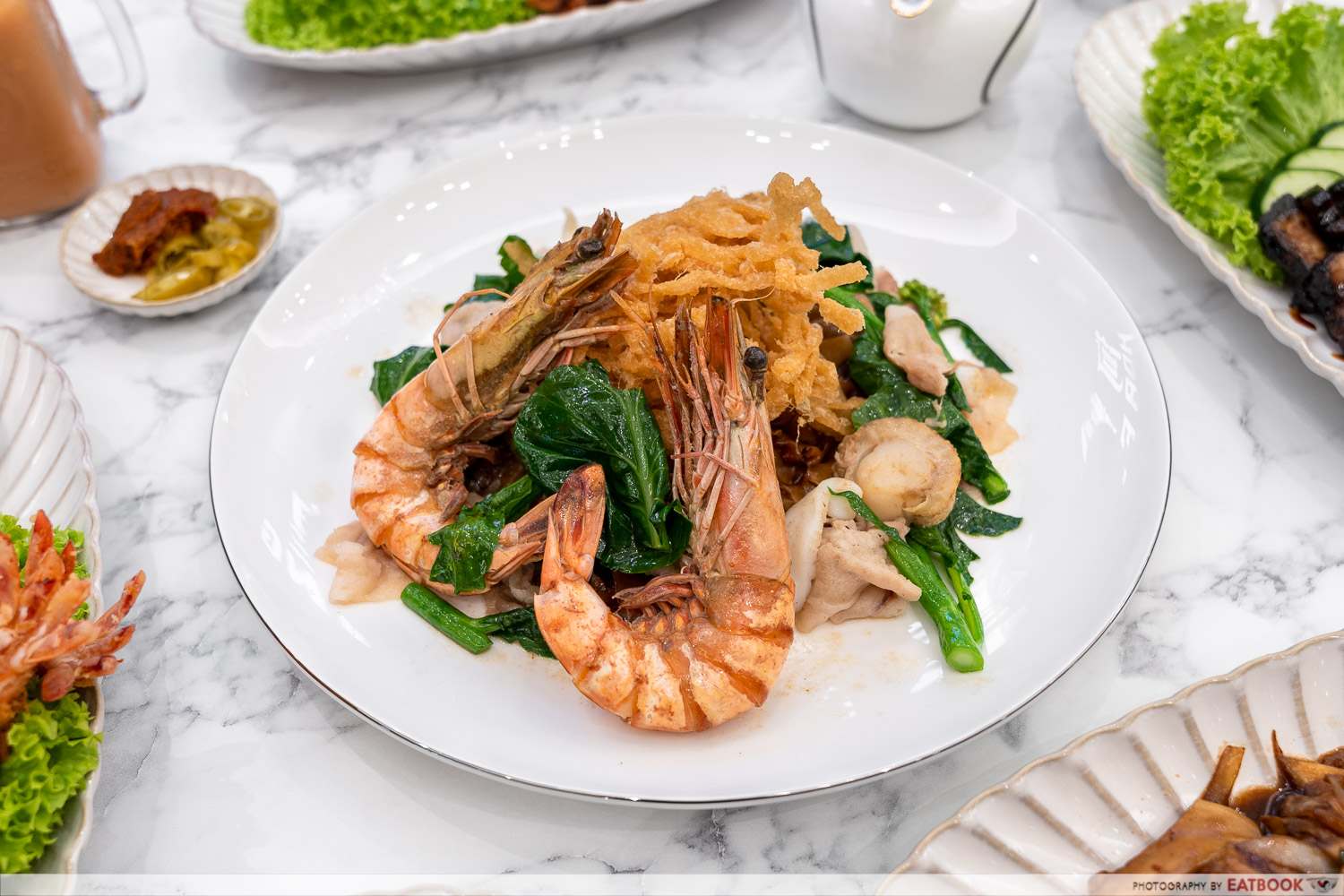 Aside from the hor fun offerings, the restaurant also has roast meats that we highly recommend, including their Iberico Pork Belly Char Siew ($16++) and Roasted Chestnut Pork ($16++). 
Read our Hor Fun King review.
Address: 10 Sinaran Drive, #03-66, Square 2, Singapore 307506
Opening hours: Sun-Thurs 11:30am to 9:30pm, Fri-Sat 11:30am to 10pm
Website
Hor Fun King is not a halal-certified eatery.
Hor Fun King Review: SG's First Crispy Hor Fun With 36-Hour Iberico Pork Bone Seafood Broth In Novena
---
9. JU Signatures
---
Serangoon Gardens levelled up its status as a foodie destination thanks to JU Signatures. The casual, modern dim sum eatery is founded by Chef Wong Kok Shyong, a dim sum stalwart who counts The St. Regis Singapore, JW Marriott Jakarta, and Peony Jade as part of his resume.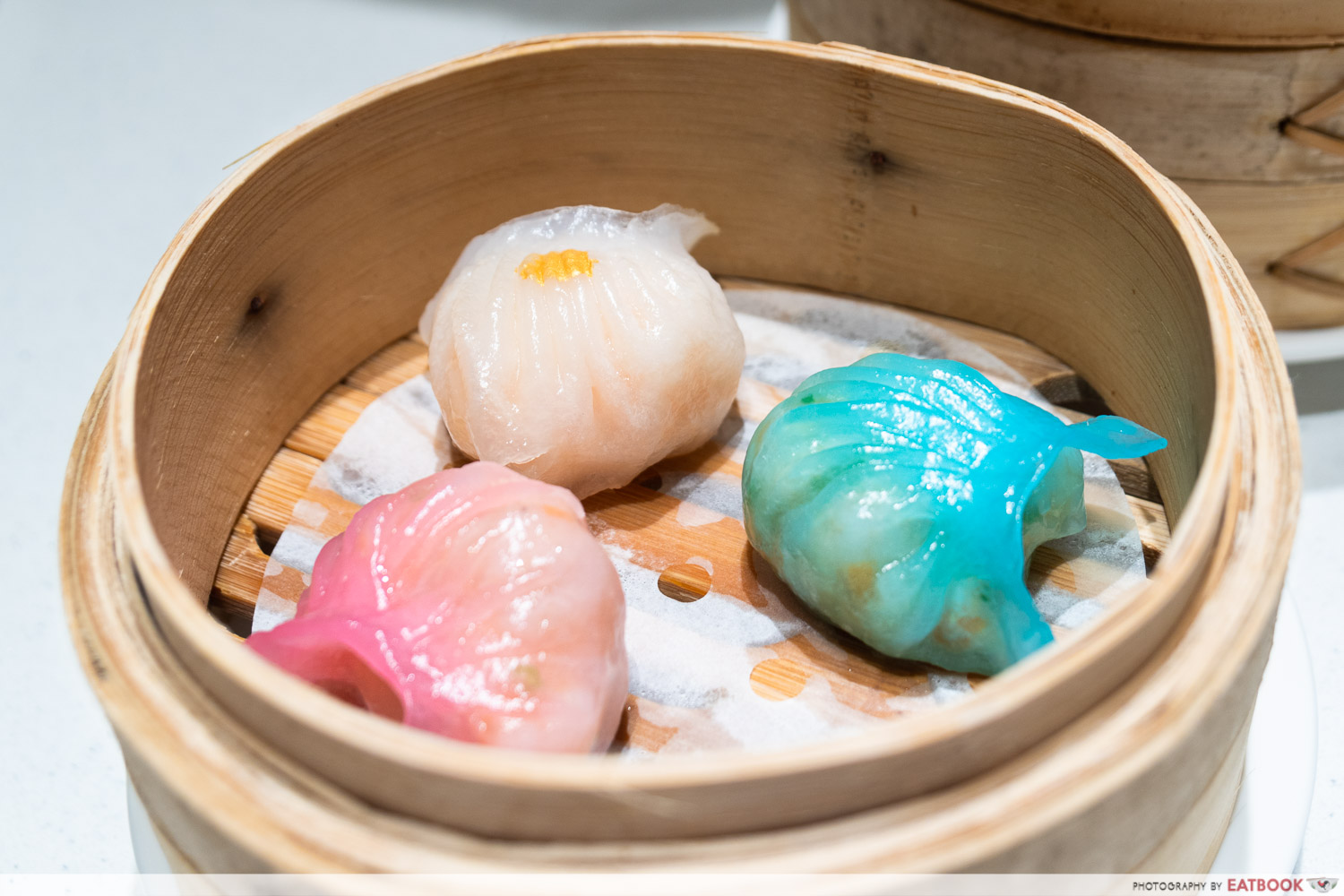 The menu mixes modern dim sum interpretations with the classics. For example, they're turned the popular liu sha bao into a Yuan Yang Love Swans with 'Lychee' Ball ($10.80++), where a sculpted, swan-shaped mochi ball is filled with a molten salted egg yolk middle. There's also their colourful Har Gao ($7.80++), which comes with different fillings beyond just plain shrimp.
Read our JU Signatures review.
Address: 4 Maju Avenue, Singapore 556682
Opening hours: Tue-Sun 9am to 2:30pm
Website
JU Signatures is not a halal-certified eatery.
---
10. Buey Tahan See Food 
---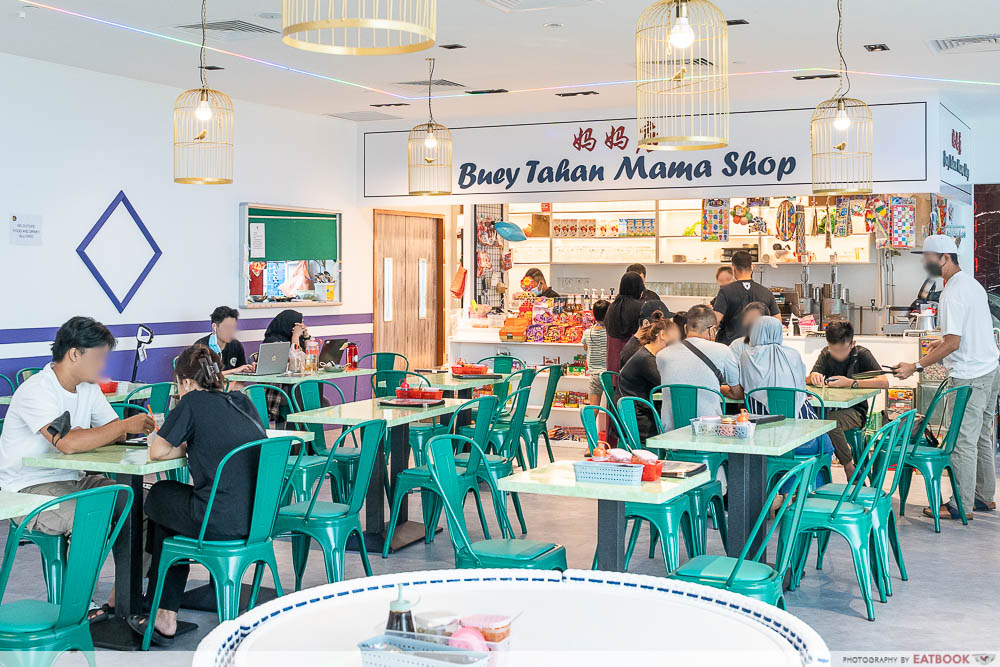 Buey Tahan See Food is a household name in the seafood restaurant scene, but their recent opening in Downtown East refreshes their image with an exciting, void-deck-mama-shop-themed interior.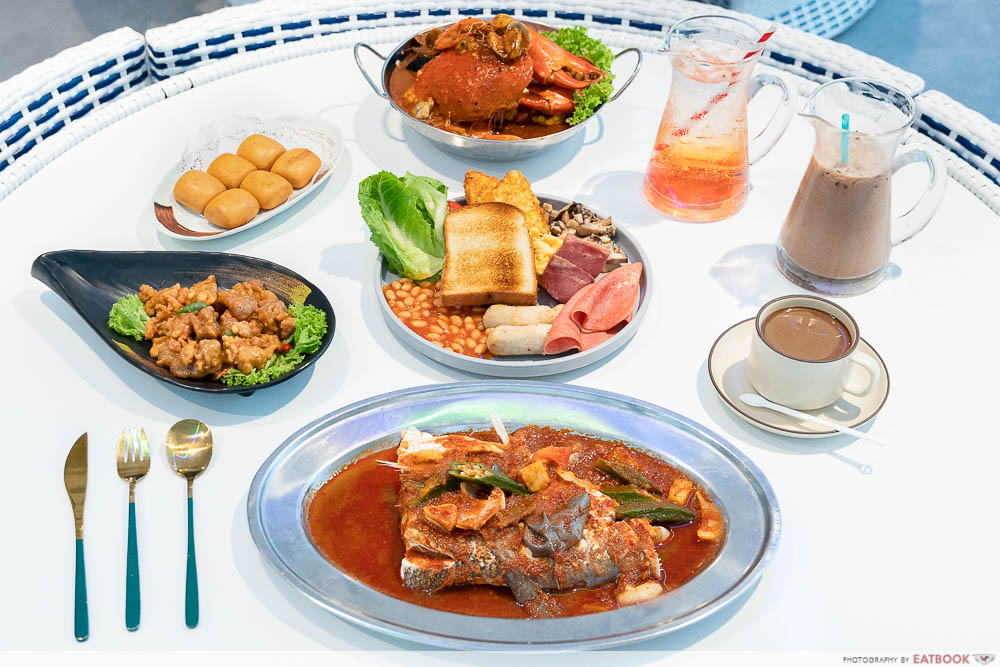 On the food front, you get all their seafood classics, as well as seafood in a bag options that are great for feeding the fam. The Single Crab In Da Bag Imperial Pot ($49.90/$79.90) is a great choice if you're feeding two or three. The dish comes with 500g of Sri Lankan crab and 250g each of prawns, clams, mussels, potatoes, and corn, all dressed in their signature spiced gravy.
Read our Buey Tahan Seafood review.
Address: 1 Pasir Ris Close, #04-101, E!Hub, Singapore 519599
Opening hours: Daily 8am to 12am
Tel: 8815 2024
Website
Buey Tahan See-Food is a halal-certified eatery.
---
11. Lola's Cafe
---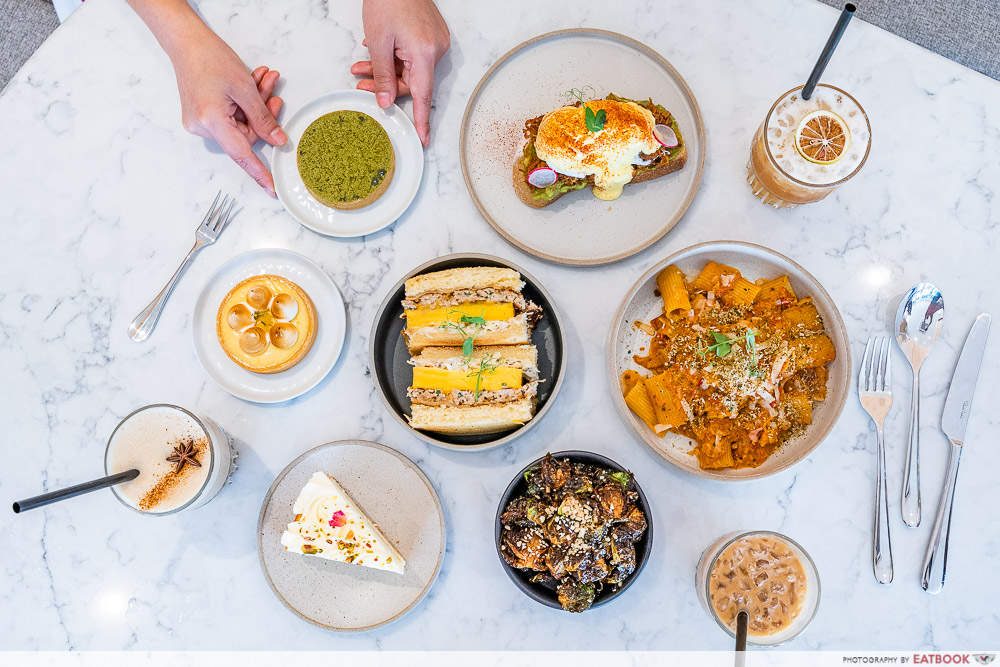 Lola's Cafe is a popular pick amongst those who live near their flagship in Kovan. If you've never gotten the chance to swing by because Kovan's just a tad out of the way, then rejoice at the fact that Lola's Cafe has opened a second outlet in Holland Village.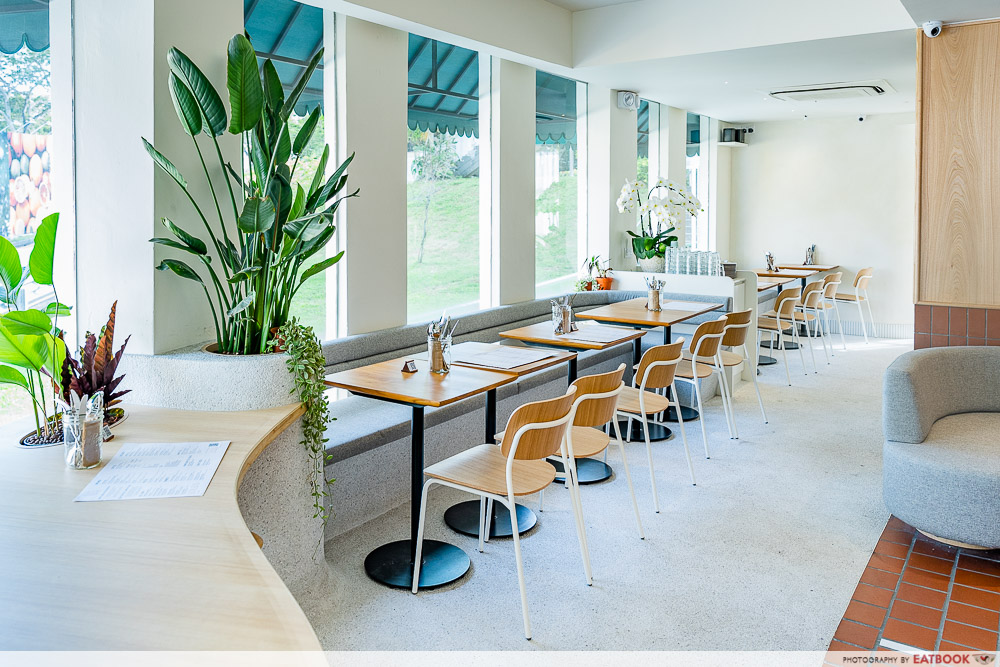 The Scandinavian-style interiors are matched by an equally eye-catching menu, featuring brunch staples including Lola's Breakfast ($23++) and Pulled Pork & Avocado Eggs Benedict ($18++),available till 3pm daily. They've also got three outlet exclusive items, especially Spicy Crab Rigatoni ($20++), generously dressed with strips of blue swimmer crab meat.
Read our Lola's Cafe Holland Village review.
Address: 48 Lorong Mambong, Singapore 277699
Opening hours: Tue-Sun 9am to 9:30pm
Website
Lola's Cafe is not a halal-certified eatery
Lola's Cafe Holland Village Review: New Scandi-Style Cafe With Outlet-Exclusive Tsukune Sando And More
---
12. Sooner or Later 
---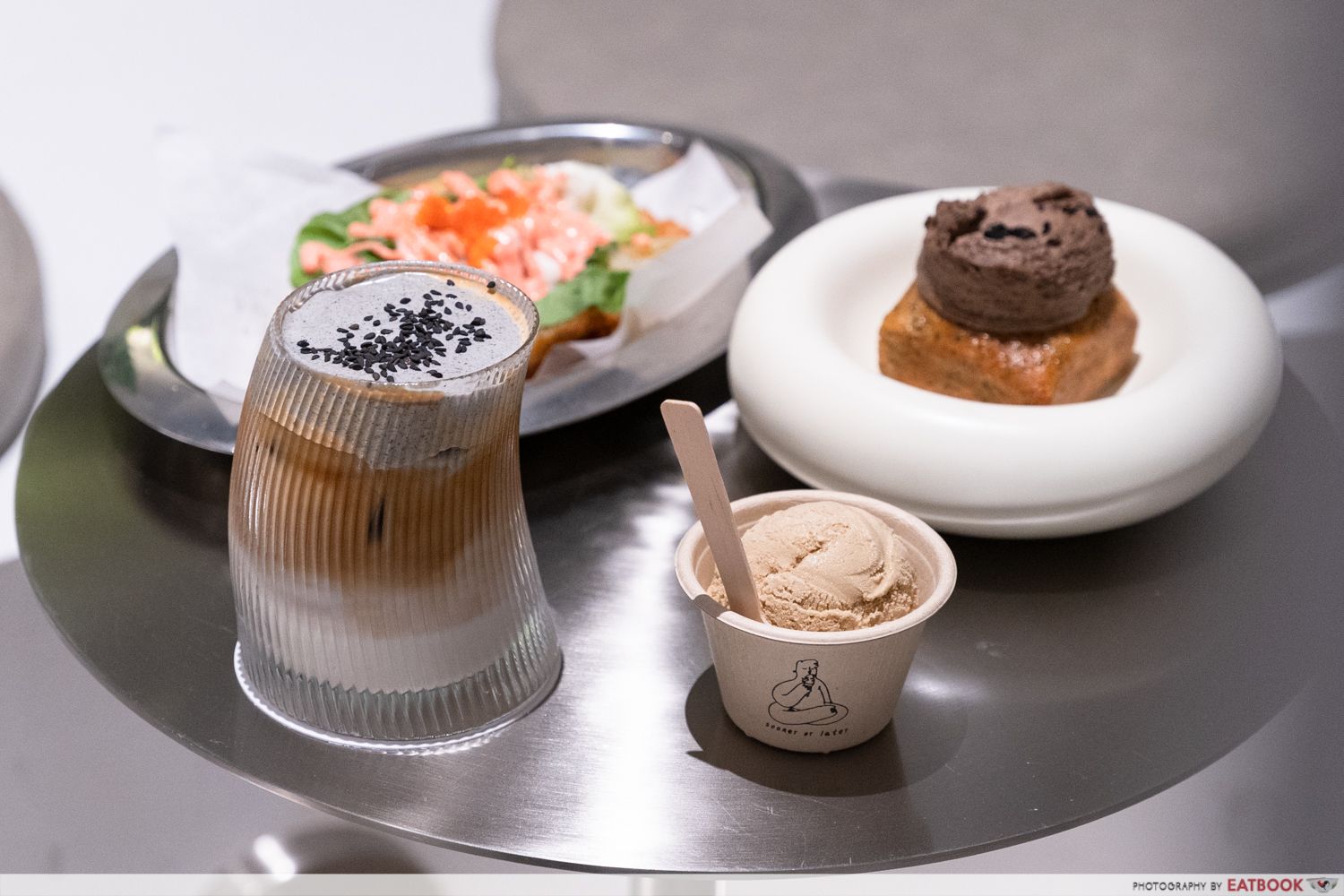 Sooner or Later is a new cafe on Haji Lane that has taken Instagram and TikTok by storm thanks to their ultra-sleek, minimalistic interior, and unique coffee beverages. Sharing a shophouse space with Plop Apparels, Sooner or Later is located on the second floor, while the clothing shop is on the first.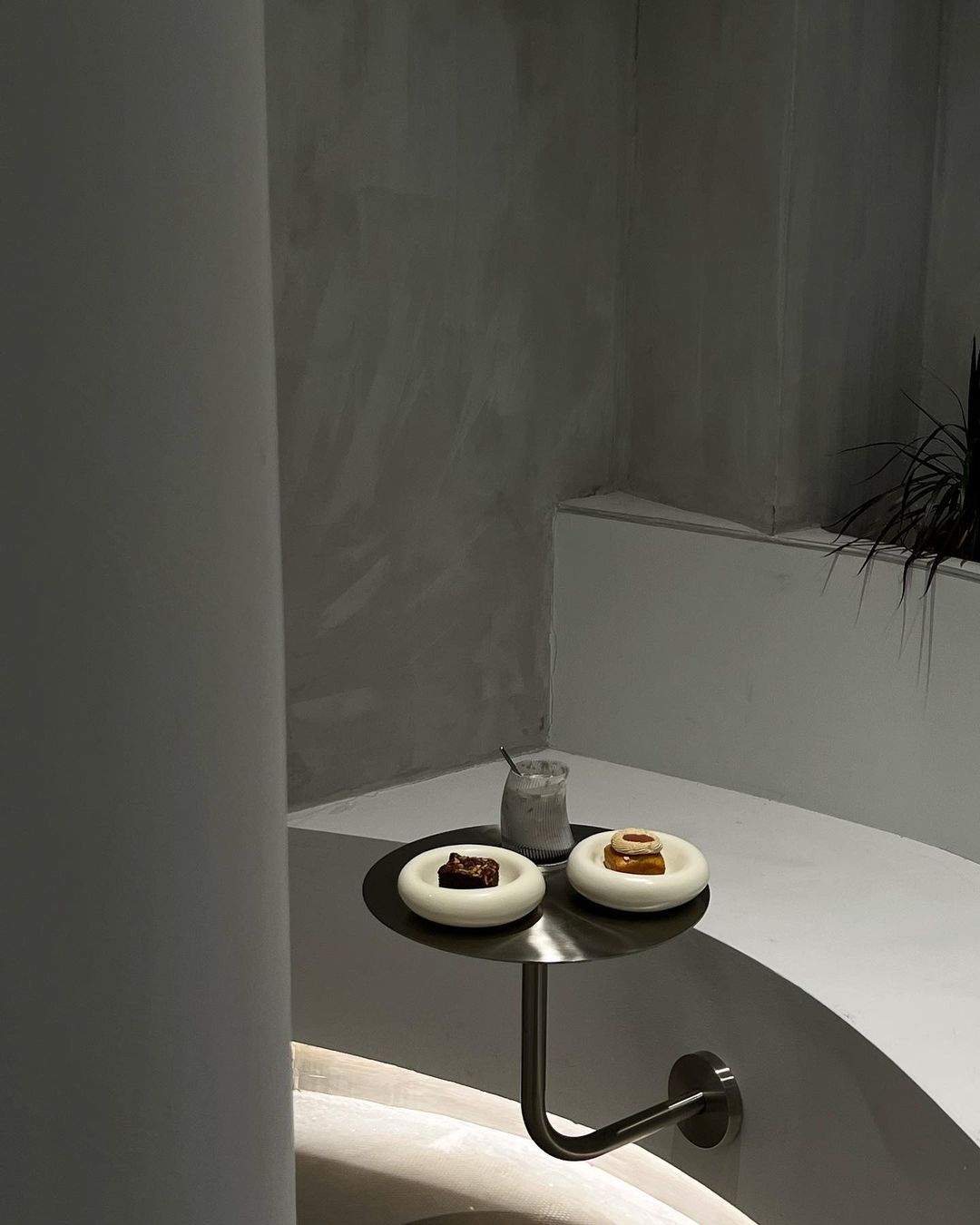 Image credit: @soonerorlater.hajilane
A must-order is their Black Sesame Latte ($8), where a milky latte is served in a striking, curved glass, and topped with a rich black sesame foam. If you'd Iike bites to go along with your coffee, then Sooner or Later has a range of ice cream that you can have as is, with waffles, or atop a brownie. Prices start at $4.80 for a single scoop. Waffles cost an additional $6, and brownies a $5 top-up.
Read our Sooner or Later review.
Address: 17 Haji Lane, Singapore 189210
Opening hours: Tue-Thurs 11am to 11pm, Fri-Sun 11am to 12am
Website
Sooner Or Later is not a halal-certified eatery.
This New Minimalist Cafe On Haji Lane Has Black Sesame Latte And Osmanthus Oolong Ice Cream
---
13. Paris Baguette Raffles City
---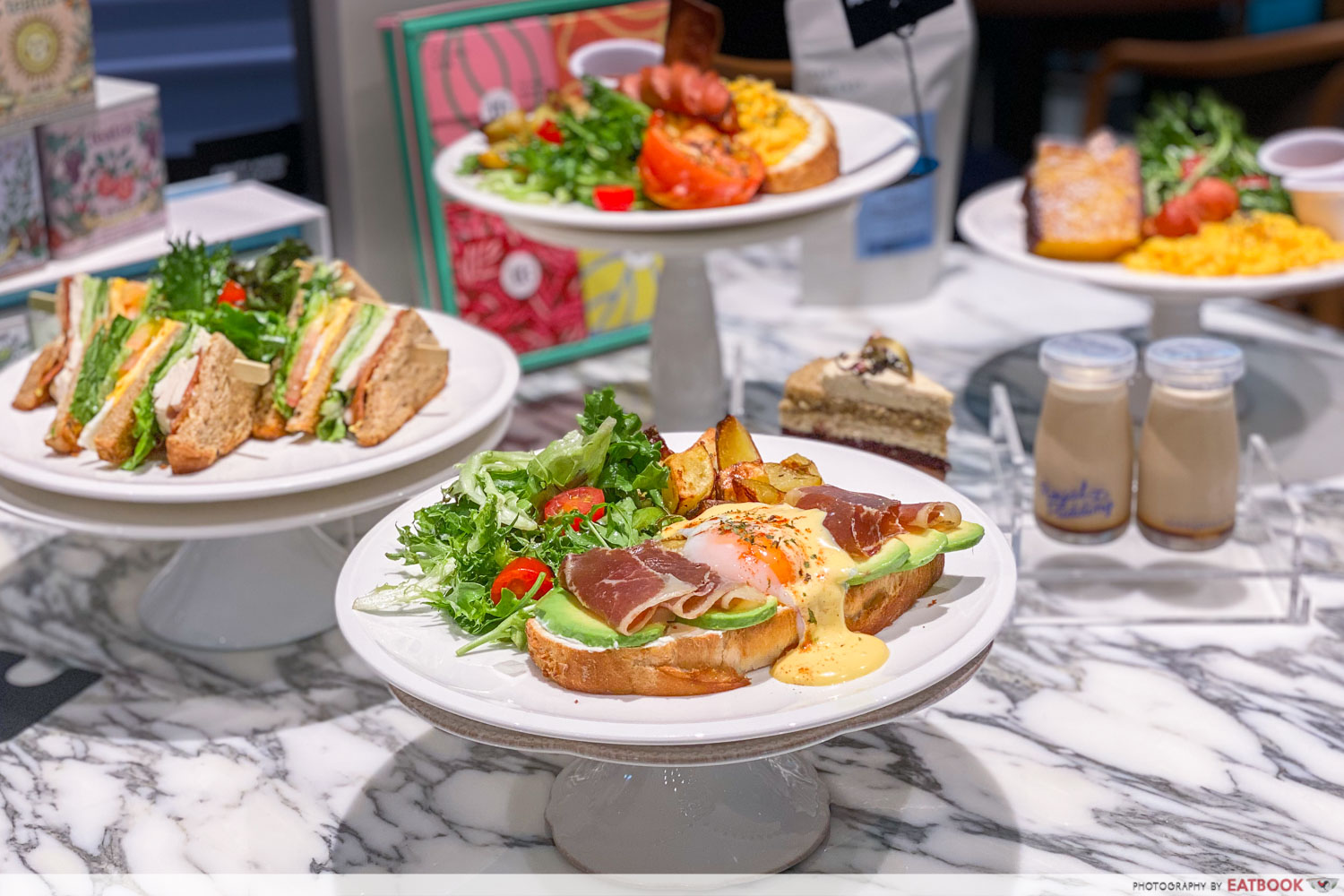 Paris Baguette, the French-themed cafe from Korea, is now at Raffles City Shopping Centre. The open concept space at the mall's entrance to City Hall MRT Station is their first retail-cafe concept, with a tea bar and a new all-day brunch menu.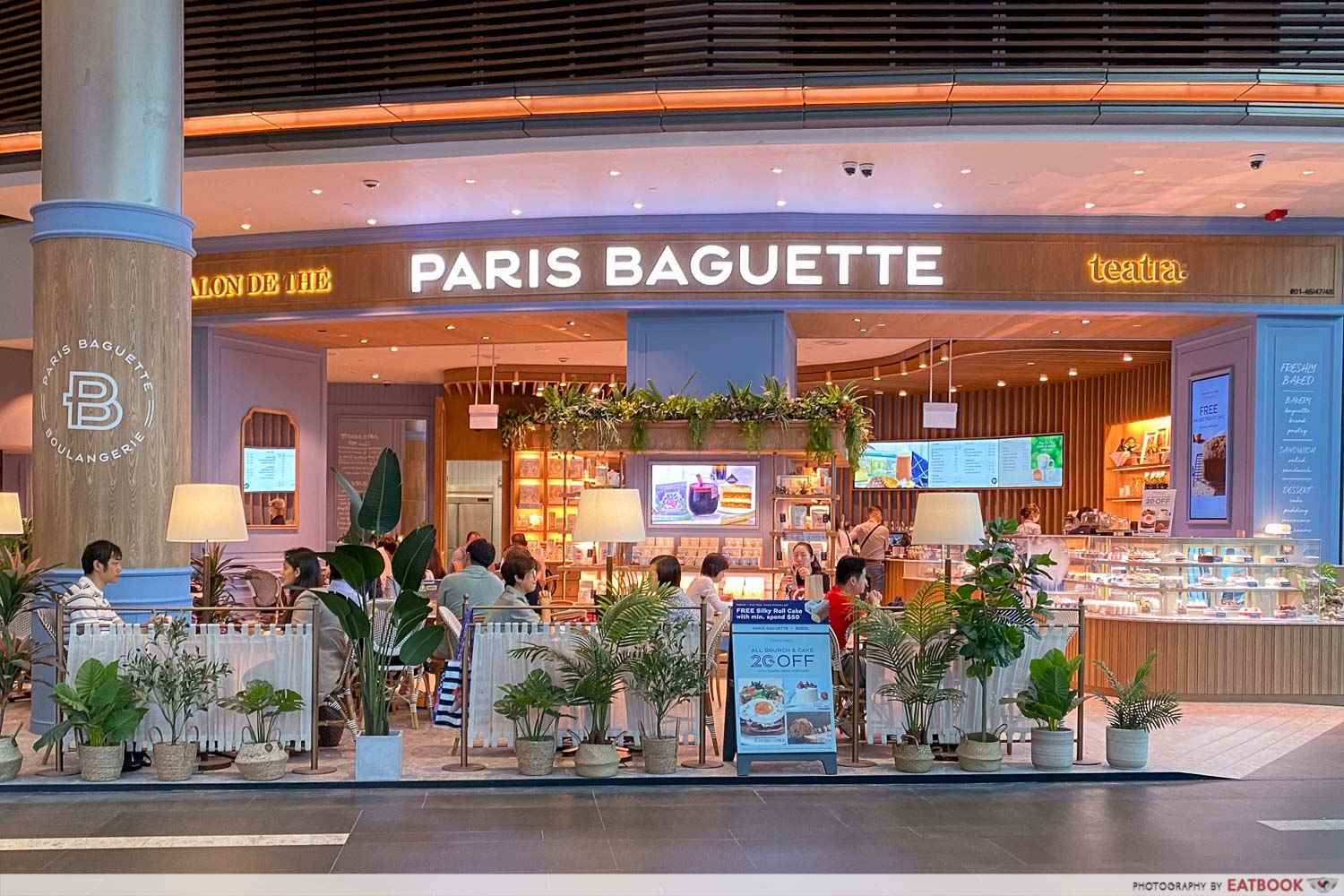 The brand's very own range of teas are available for sale, and as tea-crafted beverages including TEATRA Tea-infused Mocktail (from $7) and TEATRA Tea Fruity Mulled Wine (from $9.50)━get this in alcoholic or non-alcoholic versions. On the all-day brunch front, enjoy Korean Honey Castella French Toast ($21.90), Bresaola (Beef Ham) Eggs Benedict ($22.50), and the PB Big Breakfast ($22.50), all of which will also be introduced at Paris Baguette at ION Orchard and Jewel Changi.
Address: 252 North Bridge Road, #01-46/46A/47/48, Raffles City Shopping Centre Singapore 179103
Opening hours: Daily 8am to 10pm
Tel: 6250 0430
Website
Paris Baguette is is not a halal-certifed eatery, but does not use pork or lard.
---
14. La Petite Boulangerie 
---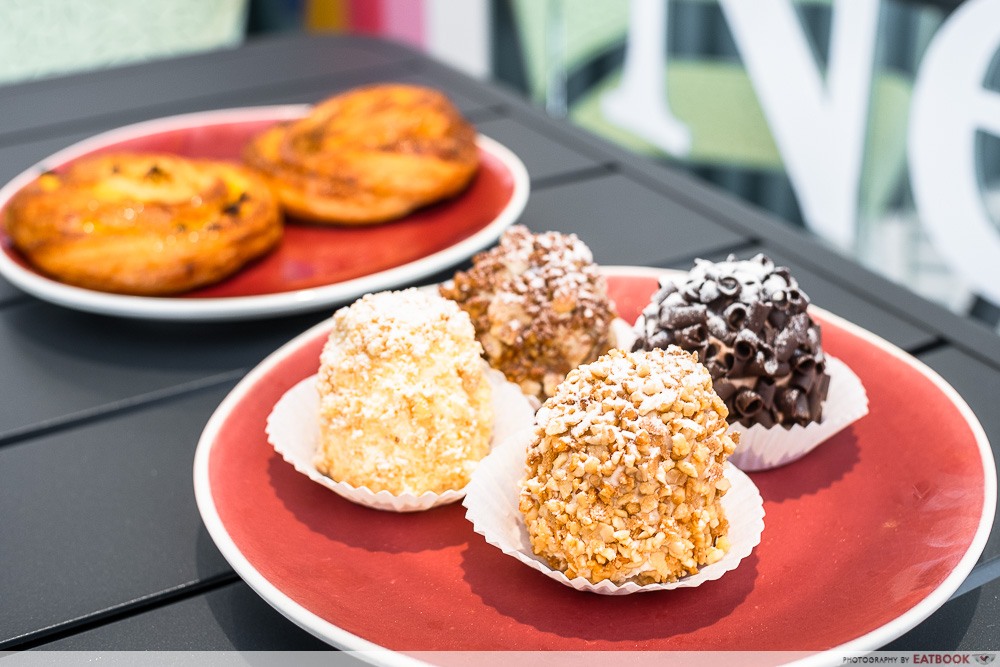 Housed within a furniture store along Marne Road in Farrer Park is La Petite Boulangerie, a new French patisserie that claims to be the first cafe in Singapore to sell Merveilleux. This French-Belgian pastry is made with airy meringue and flavoured cream, and is priced at $9 at La Petite Boulangerie. The range of flavours they have includes classics such as Hazelnut Praline, and Valrhona Chocolate.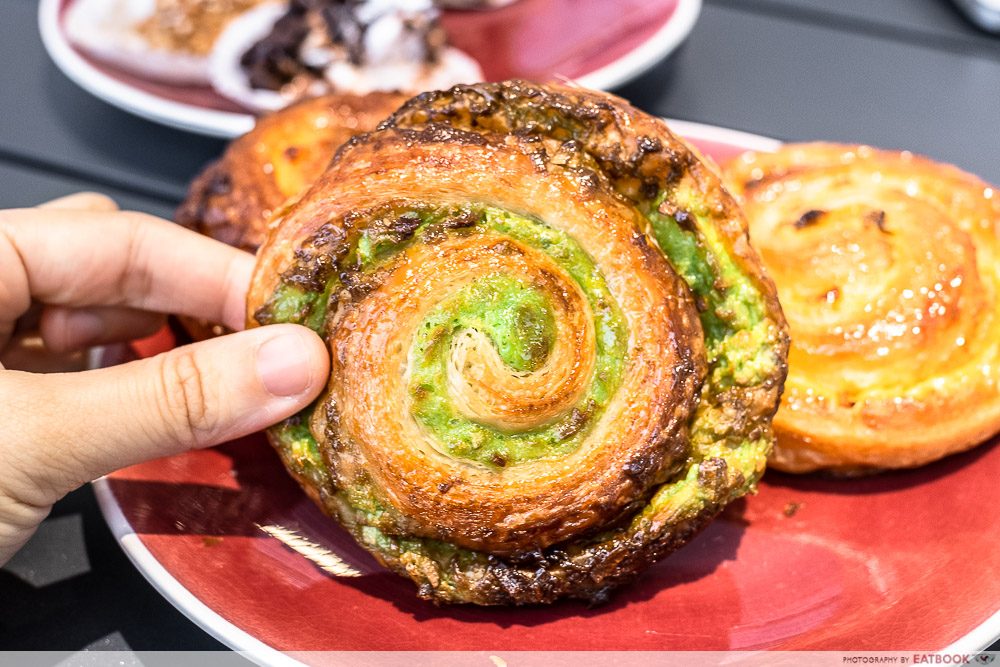 Apart from the merveilleux, the patisserie has other locally-inspired French bakes, including a Pandan Kaya Coconut Escargot ($5.50). This fragrant snack melds buttery pastry with a rich, eggy house-made kaya.
Read our La Petite Boulangerie review.
Address: 2 Marne Road, Singapore 208393
Opening hours: Tue-Sat 10am to 6pm, Sun11am to 5pm
Tel: 8428 3548
Website
La Petite Boulangerie is not a halal-certified eatery.
This Hidden French Cafe Has SG's First Merveilleux Dessert, Kaya Danish And More Near Farrer Park MRT
---
15. Lobsterfest at Lime Restaurant
---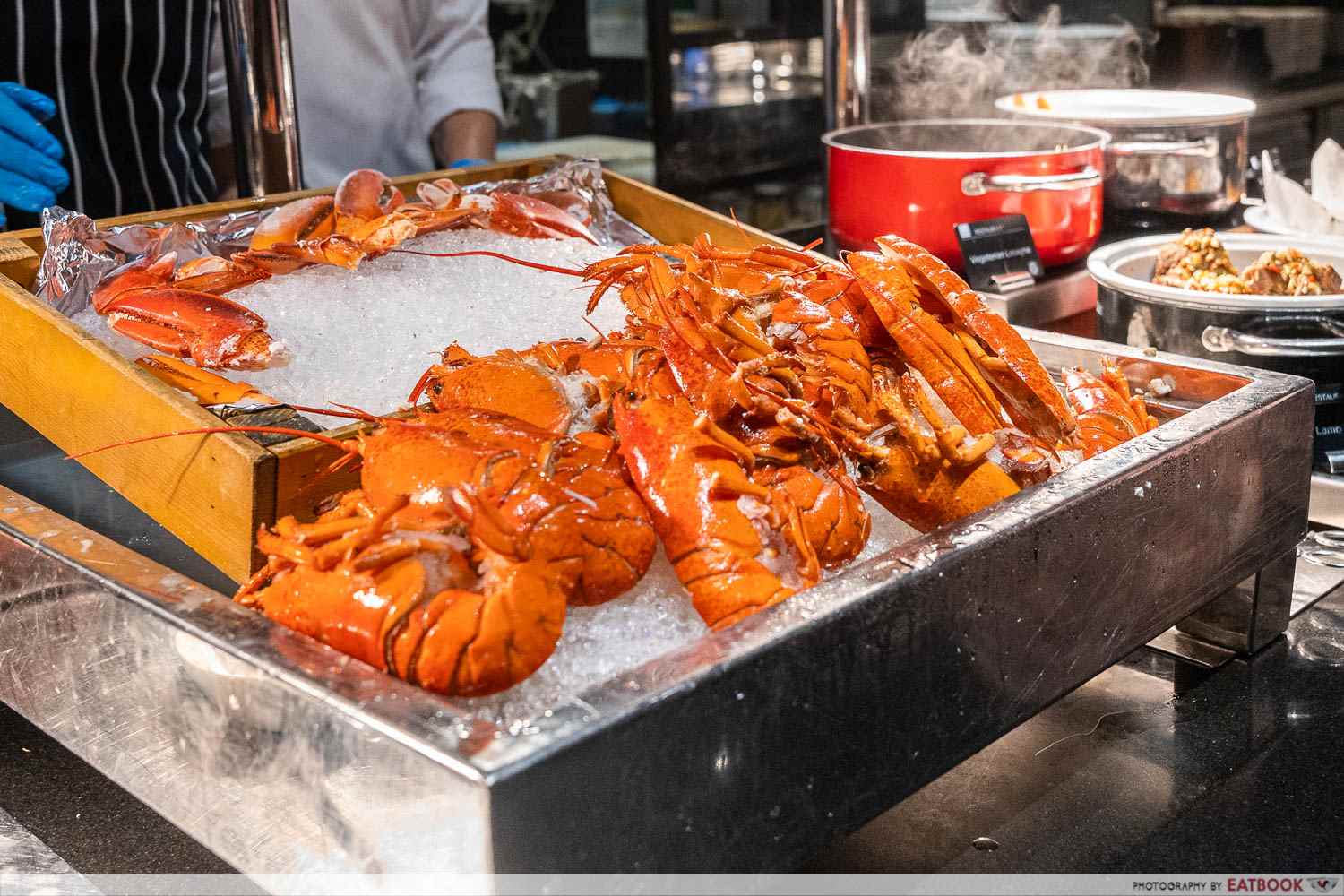 Lobster fans, listen up: Lobsterfest is back after a two-year hiatus! From now till the end of the month, you can indulge in all the crustaceans you want at Lime Restaurant's returning buffet. The Buffet Brunch ($88++) is only available on the weekends, while the Buffet Dinner ($138++) can be had throughout the week.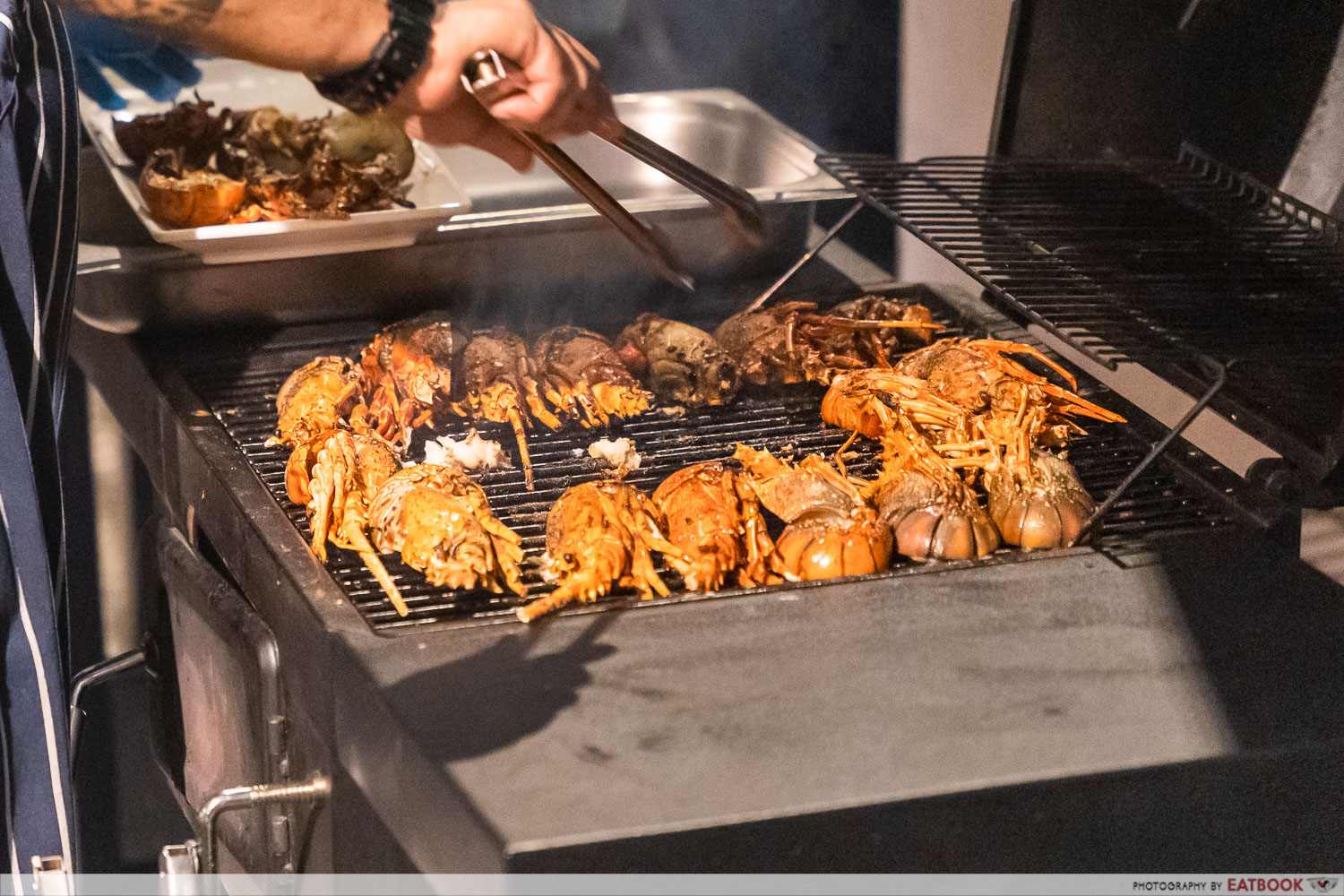 At the buffet, you'll find lobsters prepared in all sorts of ways, including chilli crab-style and a version with garlic paste and wine. The most fascinating of these, however, has got to be the signature Lobster Laksa or the rich and creamy Lobster Risotto in Tarragon Cream, so be sure to give them a shot.
Address: 3 Upper Pickering Street, PARKROYAL COLLECTION Pickering, Singapore 058289
Opening hours: Daily 6:30am to 10pm
Website
---
New restaurants and cafes in Singapore for August 2022
---
Check out these new restaurants and cafes in Singapore for August 2022 the next time you're looking for a place to dine! Also, Mid-Autumn Festival is coming, so don't forget to nab some mooncakes. Check out our affordable mooncakes guide for great early bird deals.
10 Affordable Mooncake Sets To Gift Family And Friends This Mid-Autumn Festival