---
New restaurants in Singapore this May 2023
---
Hot on the heels of Hari Raya comes May, an equally exciting month for the food scene in Singapore. There is a whole slew of notable names making their mark on Singapore, from popular Japanese mochi doughnut brand, Mister Donut, announcing their flagship opening in Bishan, to New Zealand's famed Allpress Espresso Cafe establishing their first local pop-up along Duxton Road. That's just the tip of the iceberg—for more, read on to find out all the new restaurants and cafes that are worth checking out in Singapore this May.
---
1. Bulgogi Syo
---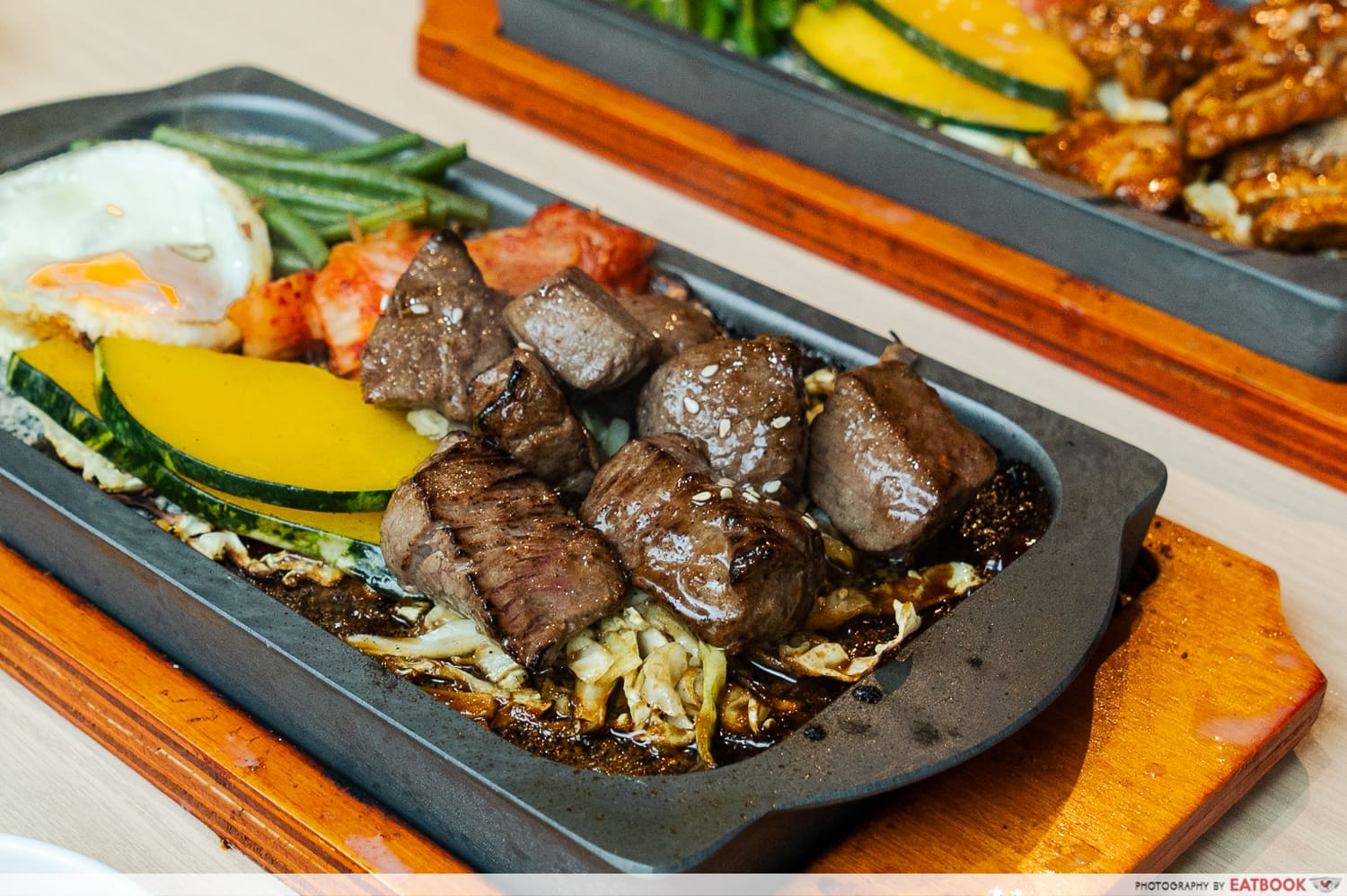 If teppanyaki and K-BBQ had a child, it would look a lot like Bulgogi Syo. This new Korean hot plate restaurant in Bugis Junction is run by the folks behind the K-BBQ franchise, Seorae, which recently also opened an outlet in Sengkang.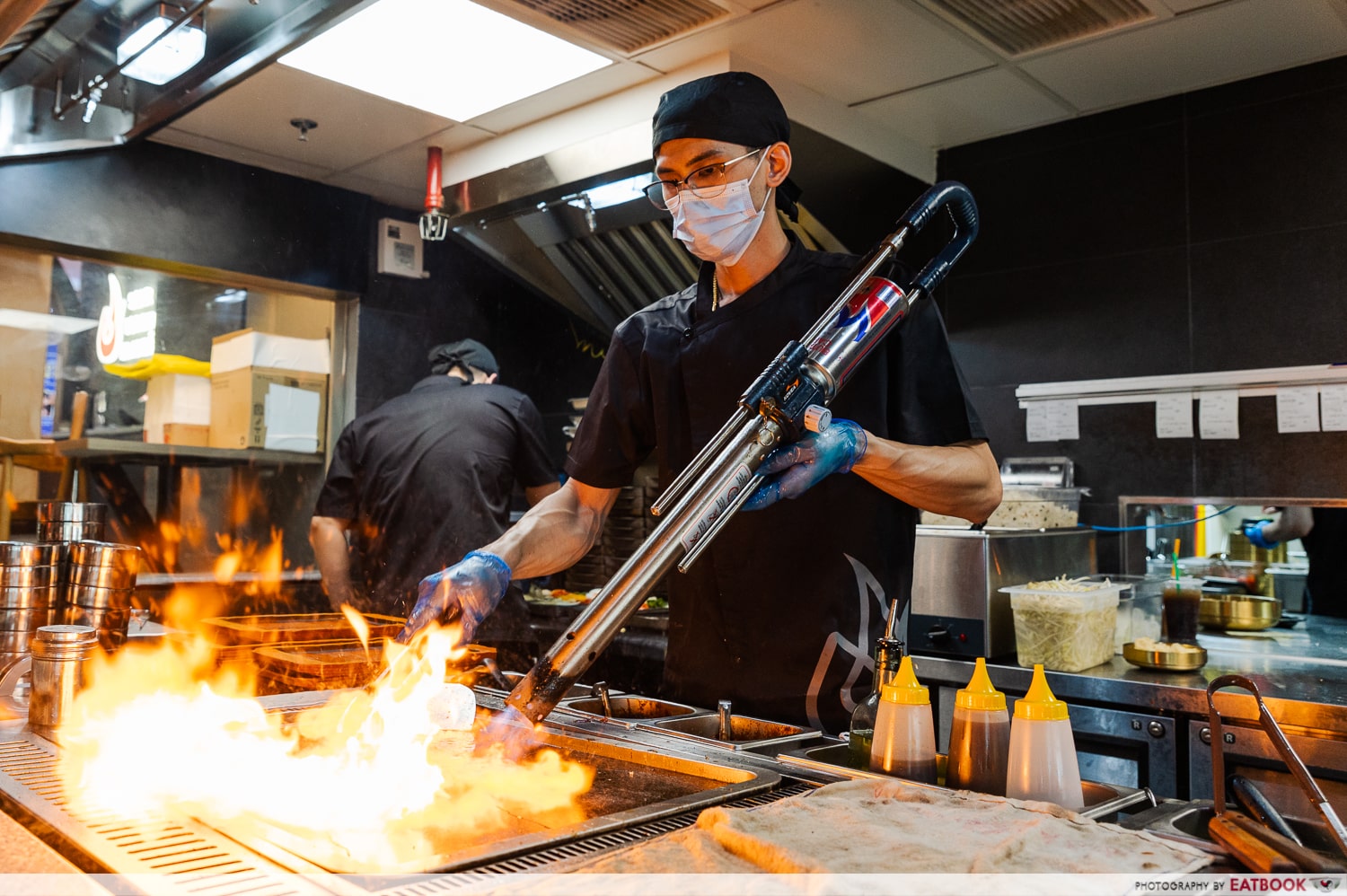 At Bulgogi Syo, diners can expect solo hotplate portions of barbecued meat and greens, all prepared with the eatery's signature three-step grilling process: meat is first seared to lock in its juices, then torched, and finally flambéed tableside. If you want to go all out, get the Angus Beef Tenderloin ($35.50++), served with a full steak. Otherwise, get the Duroc Pork Belly ($20.90++), where marbled pork belly meets a lightly spicy Korean gochujang marinade. All sets come with rice and banchan.
Read our Bulgogi Syo review.
Address: 200 Victoria Street, #02-49, Bugis Junction, Singapore 188021
Opening hours: Daily 11:30am to 10pm
Tel: 9880 9719
Website
Bulgogi Syo is not a halal-certified eatery.
Bulgogi Syo Review: New Korean Hotplate Restaurant With Unique Three-Step Grilling Process
---
2. Tonkatsu ENbiton
---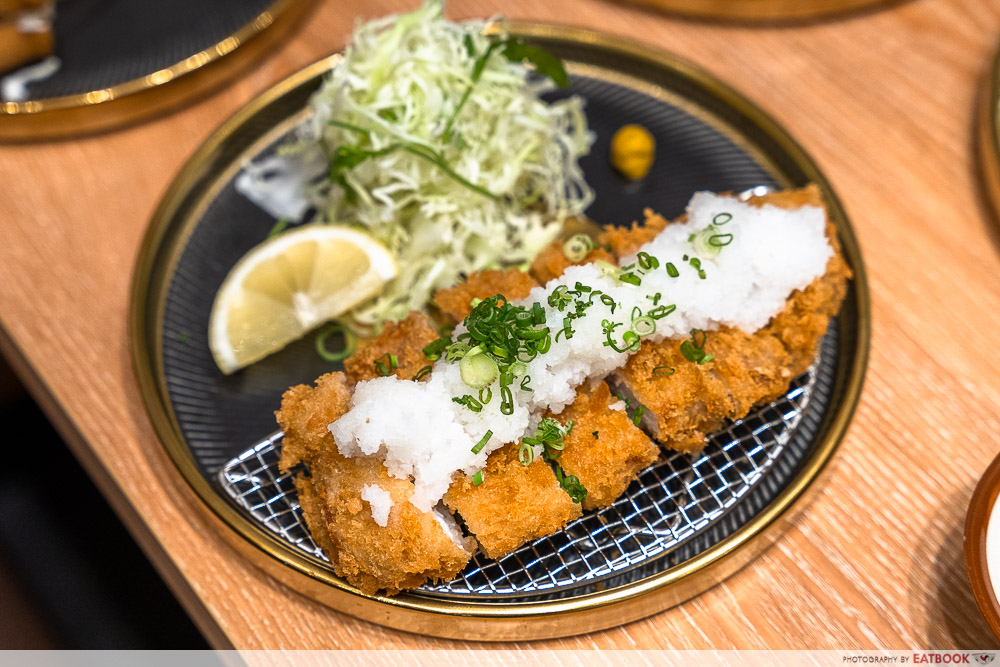 We're no strangers to varieties of premium pork in Singapore, but Tonkatsu ENbiton's signature offering of yuzu pork threw us for a loop. The Japanese restaurant in VivoCity is the first local eatery to offer yuzu pork from Kagoshima, sourced from pigs fed on a feed mixed with native yuzu. The result: juicy, flavourful pork that's laced with moreish fat.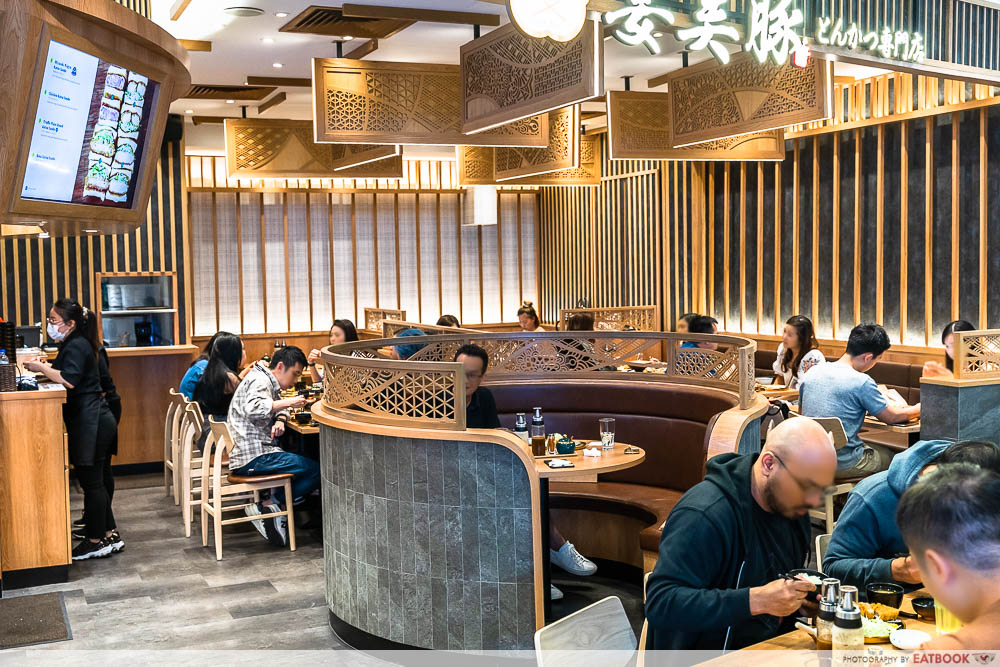 The Oroshi Yuzu Rosu Katsu Set ($24++) is a house signature, served with 150g of katsu-ed loin, served with grated yuzu ponzu radish atop for freshness. Another must-have is the Rosu Katsu Sando with Signature Yuzu Pork ($17+), where a slab of katsu pork is glazed with a smoky teriyaki sauce, topped with a zingy slaw, and sandwiched between toasted shokupan.
Read our Tonkatsu ENbiton review.
Address: 1 Harbourfront Walk, #B2-27/27A, VivoCity, Singapore 098585
Opening hours: Daily 11am to 10pm
Tel: 6268 8633
Website
Tonkatsu ENbiton is not a halal-certified eatery.
Tonkatsu ENbiton Review: Yuzu Pork Tonkatsu, Wagyu Katsu And More In VivoCity
---
3. Elijah Pies
---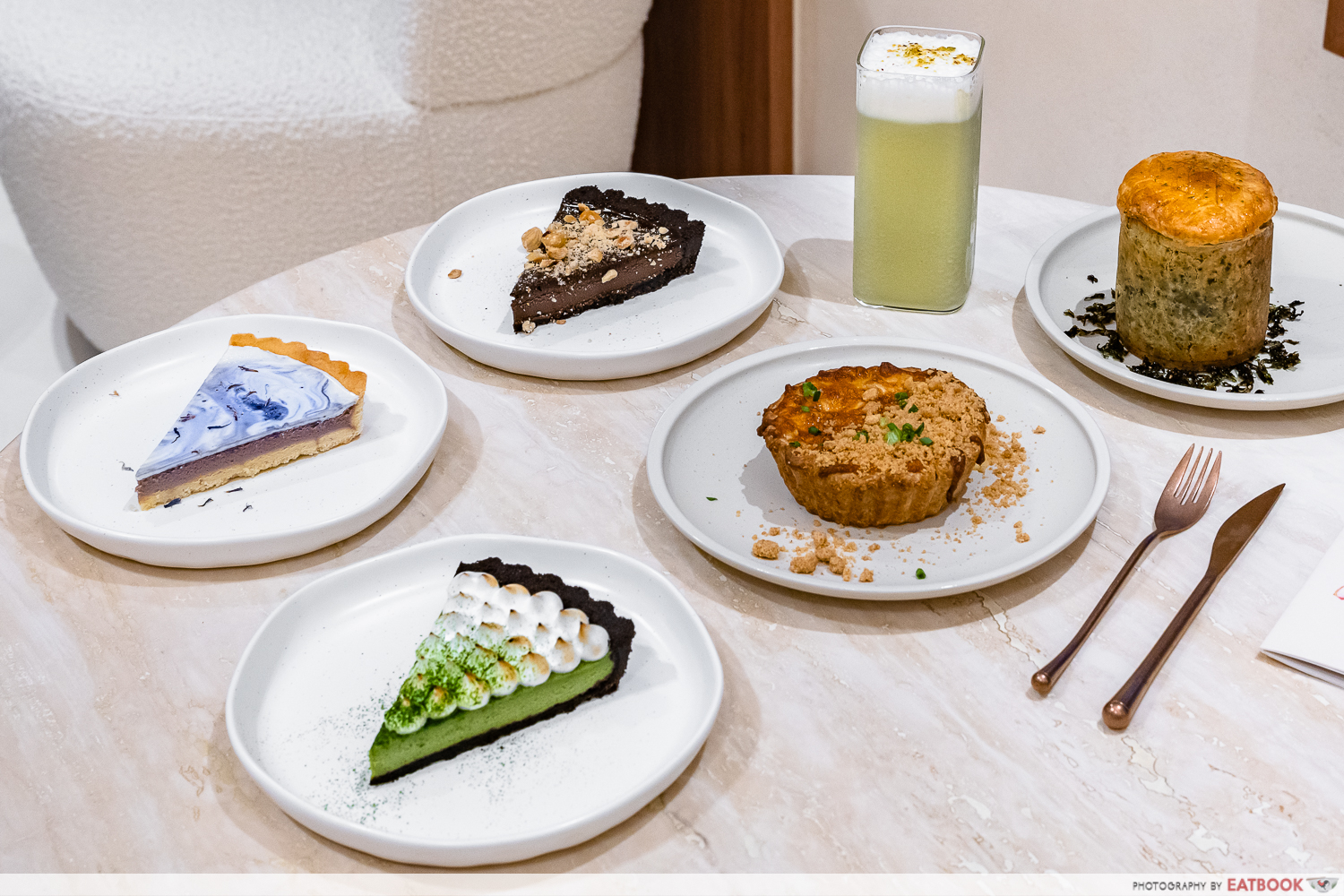 Just in: homegrown pie shop Elijah Pies has launched their first dine-in cafe in the heart of the CBD, at Tanjong Pagar Plaza! The popular bakery is most known for their beautifully crafted pies in an assortment of flavours. Head to the aesthetic cafe for their famous Nutella Pie ($7.50++), a rich dessert featuring a chocolate crust, dark chocolate middle, and roasted hazelnuts on top. Their Wild Berry Lavender Pie ($7.90++) is another signature; this pretty pie comes with a tangy berry yoghurt filling and light floral notes.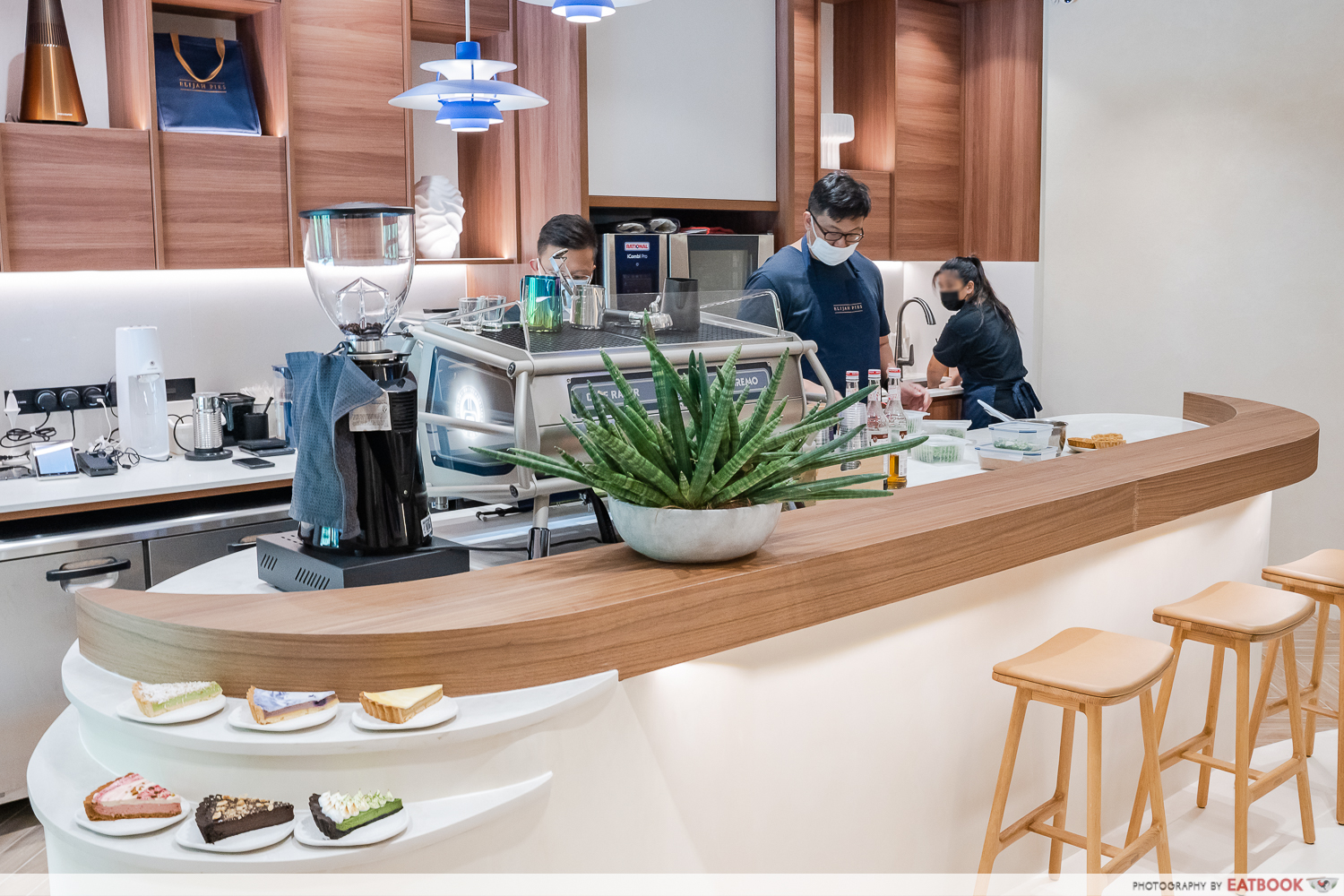 While you're there, try their savoury pies, too. The Mac N' Cheese ($12.90++) is a noteworthy pick that stars house-made mac and cheese with beef salami and chives, topped with a mound of shredded cheese that's baked till golden perfection.
Read our full Elijah Pies review!
Address: 7 Tanjong Pagar Plaza, #01-102, Singapore 081007
Opening hours: Mon-Wed 10am to 6pm, Thurs-Sun 10am to 10pm
Tel: 9855 9480
Website
Elijah Pies is not a halal-certified eatery.
---
4. BHC Chicken
---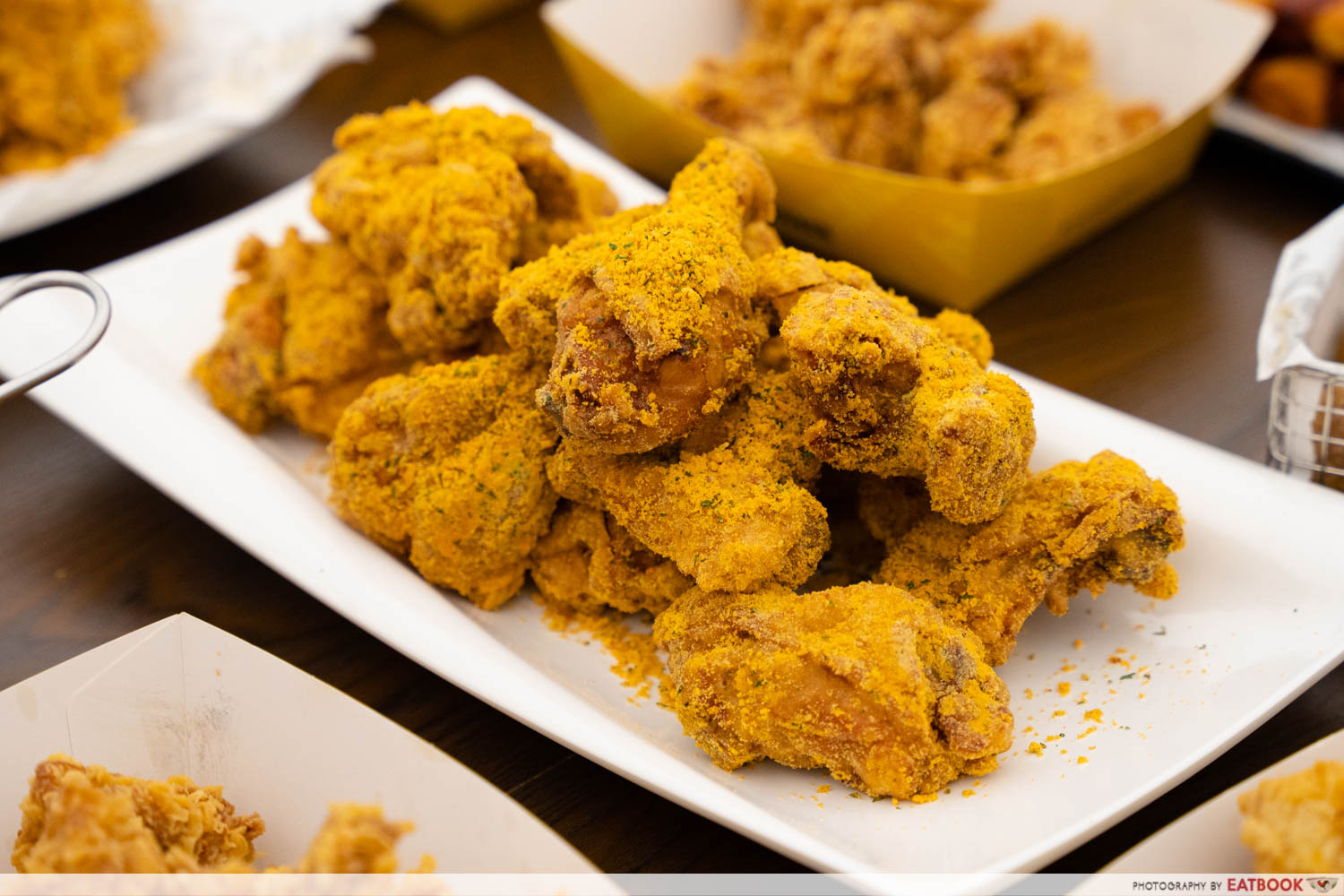 You no longer have to head to Seoul to enjoy your BHC Chicken fix, as the popular South Korean fried chicken chain has now made its way to Singapore. Their first outlet has opened in Marina Square, and boasts a menu of all its signature dishes.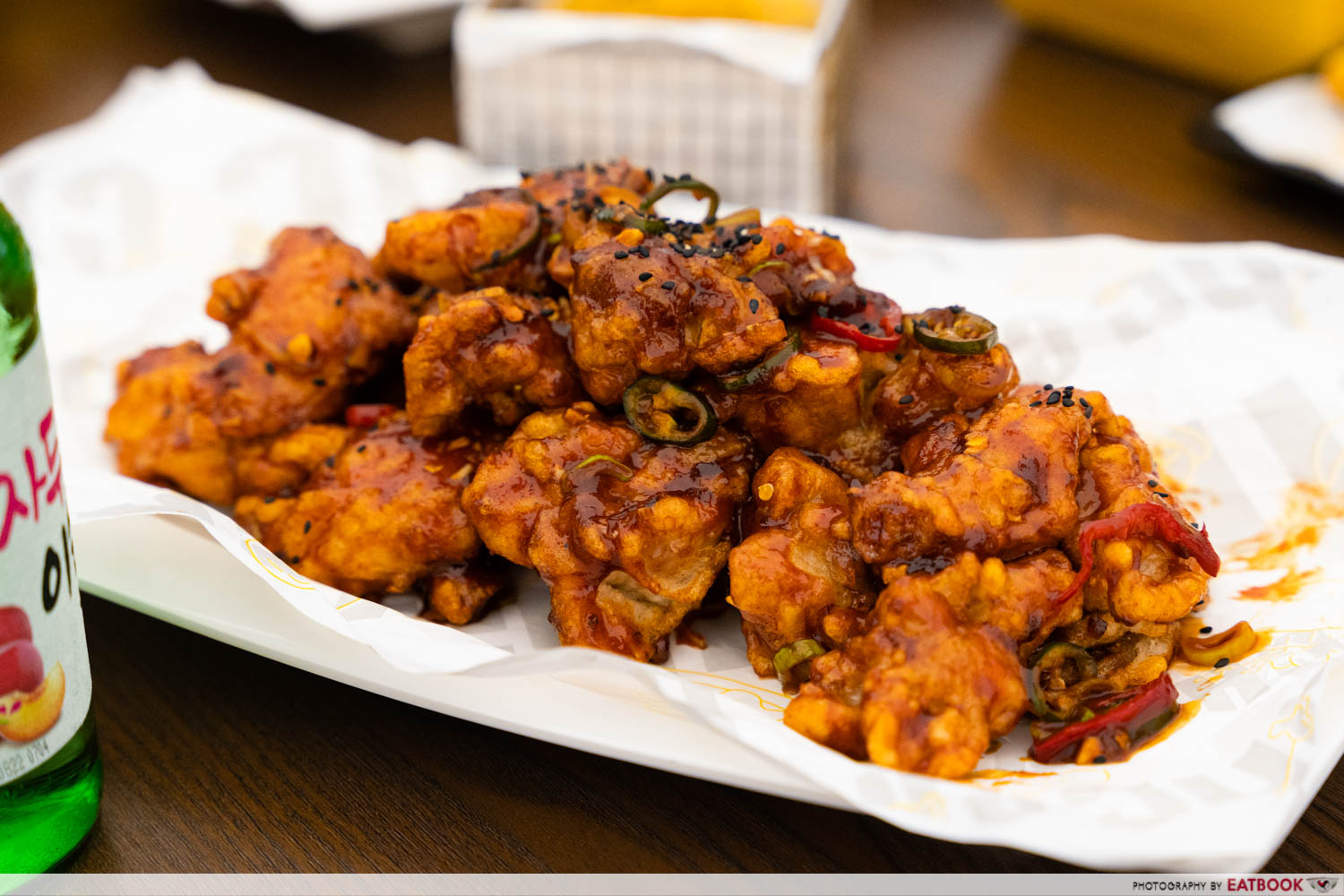 Order their famed Bburinkle Chicken, where you pick your cut of fried chicken, and enjoy it tossed in a super savoury cheese, garlic, and onion powder. Each portion is served with an accompanying creamy dip, and is priced from $23.90++ for wings. Our fave was the Retro (from $21.90++), a super classic take on fried chicken with the perfect amount of crunch and heat.
Read our BHC Chicken review.
Address: 6 Raffles Boulevard, 02-332A/02-332F, Marina Square, Singapore 039594
Opening hours: Sun-Thurs 11am to 9pm, Fri-Sat 11am to 10pm
Website
BHC Chicken is not a halal-certified eatery.
BHC Chicken Review: Famous Korean Fried Chicken Is Now In Singapore
---
5. Garang Grill Express
---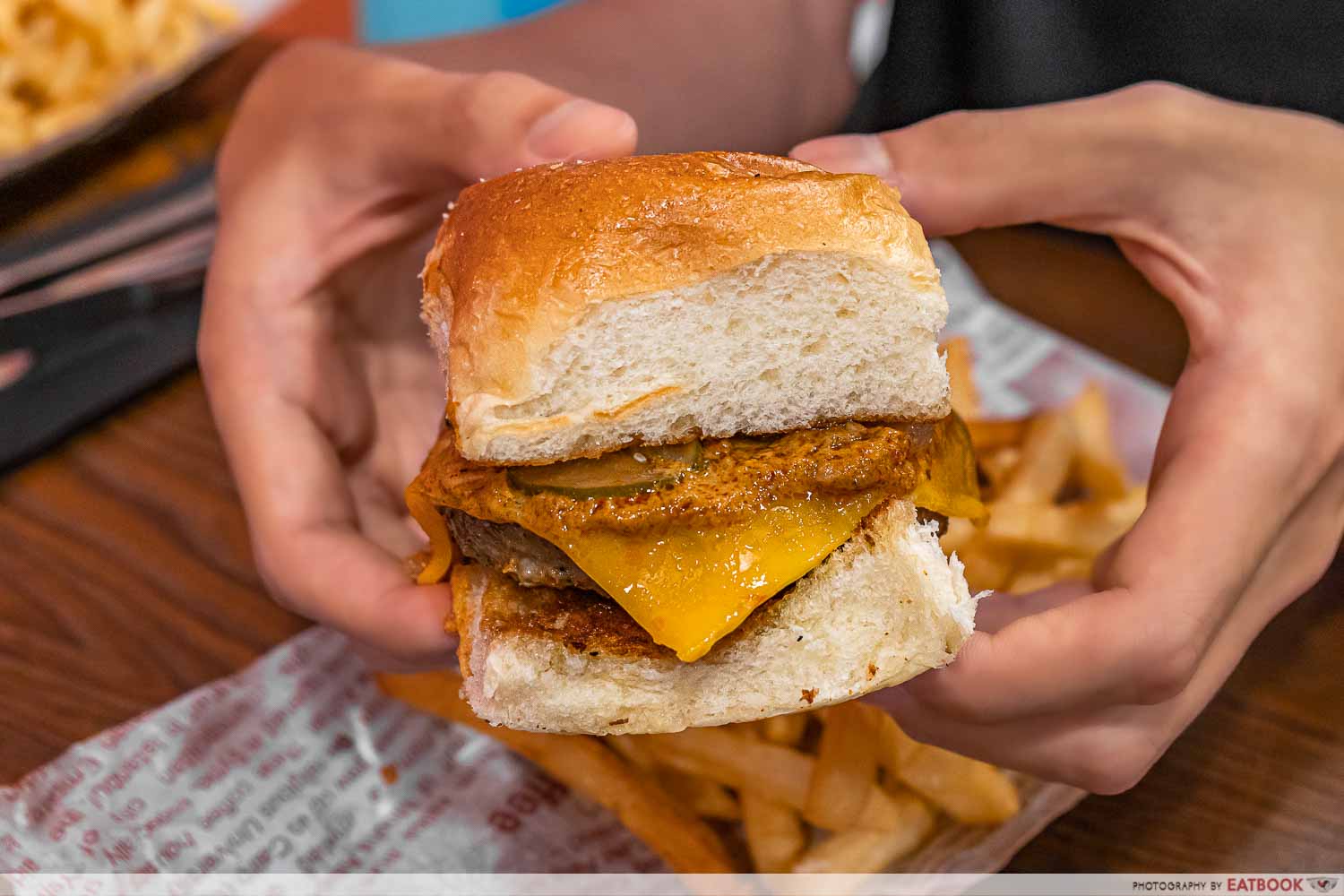 If you know of New Ubin Seafood and their time-honoured zi char dishes, then it's time to add Garang Grill Express, their sister fusion Western eatery, to your radar. Located at City Gate, the eatery offers a selection of burgers and old-school Western dishes with a local twist. Their Smoked Burger – Buah Keluah Rich Sauce ($17.50) is a Peranakan take on a cheeseburger, while their Smoked Burger – Raya's Rendang ($17.50), sees reinvents the wheel with a coconutty rendang sauce.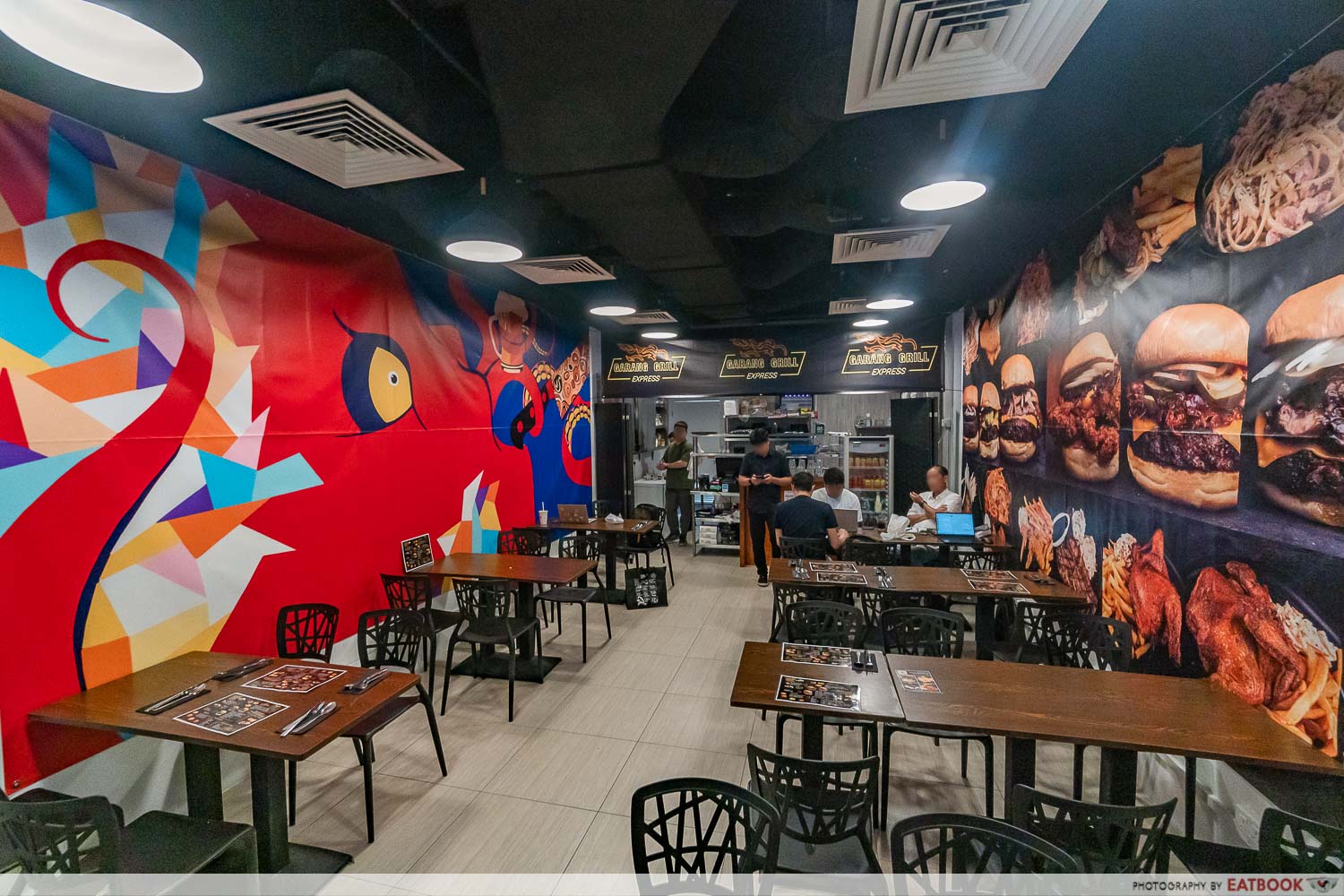 Go for the Mushroom Chicken Chop ($11.90) that's no fuss, no frills, just plain, good and hearty Western fare elevated with your choice of two sides.
Read our Garang Grill Express review.
Address: 371 Beach Road, #02-29, City Gate, Singapore 199597
Opening hours: Tue-Sun 11am to 9:30pm
Tel: 9740 6870
Website
Garang Grill Express is not a halal-certified eatery.
Garang Grill Express Review: Fusion Western Food By New Ubin Seafood Founders At Beach Road
---
6. 88 Pocha
---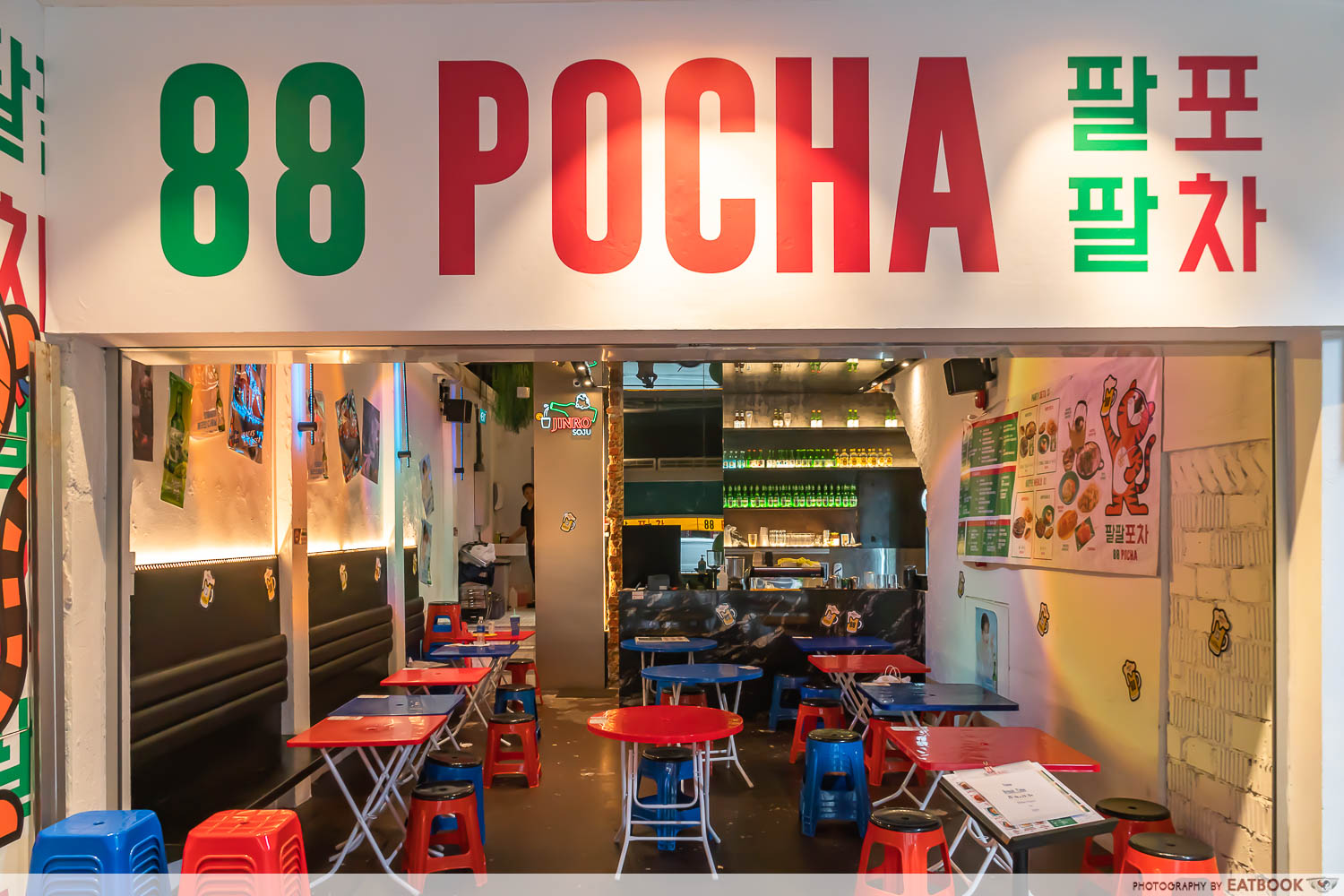 88 Pocha is a new Korean eatery in Holland Village that recreates the pocha experience for Singaporean diners. If you don't already know, pocha, AKA pojangmacha, refers to a roving roadside stall one finds all over Korea. These small stalls tend to sell freshly prepared street food, from tteokbokki to ramyeon.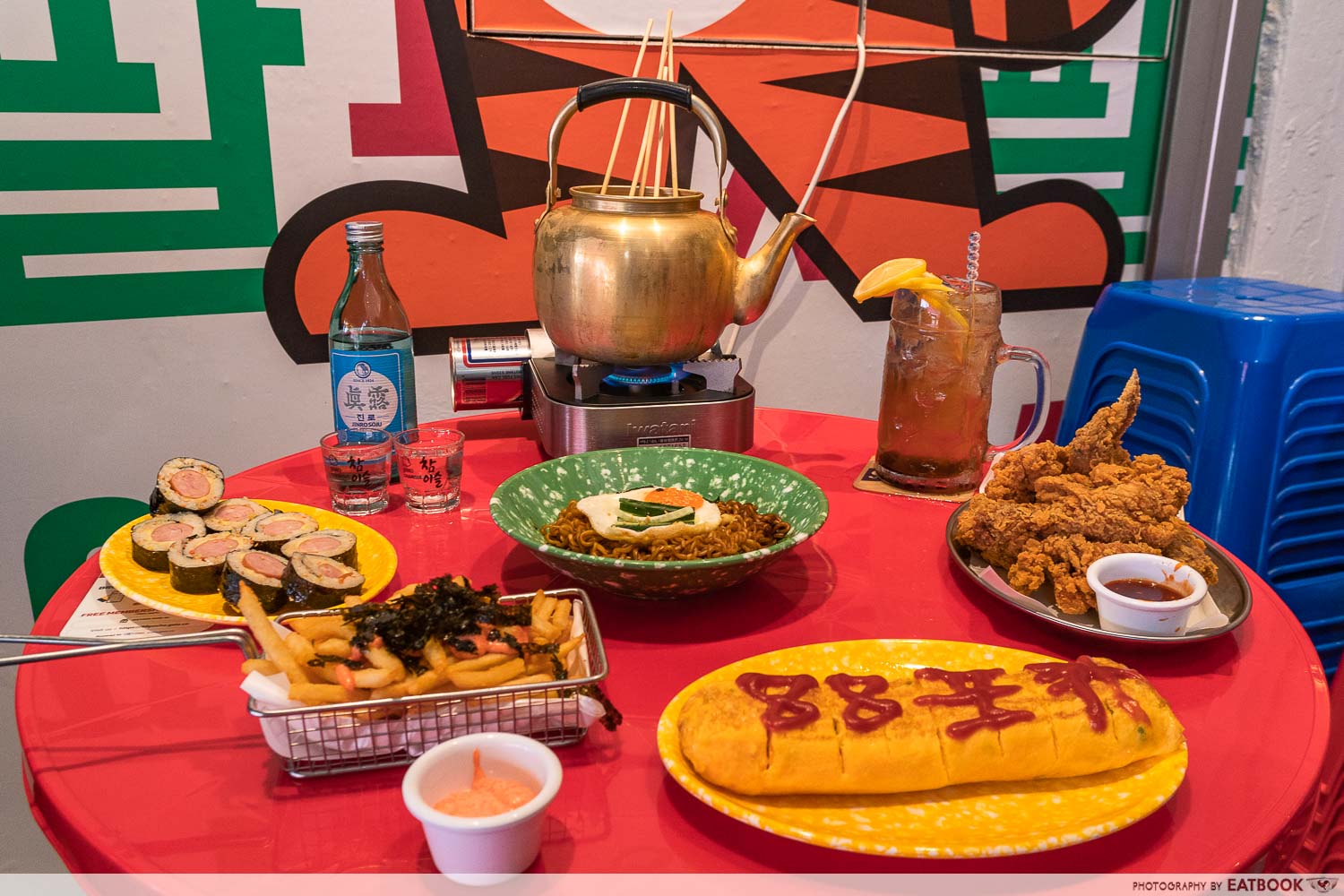 You don't have the same pocha experience at 88 Pocha, but the dishes and atmosphere here come pretty close. The Sausage Gimbap ($11.88), for instance, is a fun take on gimbap with a cheesy chicken sausage in the middle. On cooler evenings, get their Odeng Soup ($18.88), a Korean take on oden that sees soup served in a traditional nickel kettle.
Aside from savoury eats, there's also dessert, soju, and beers to complete your meal. There's indoor seating, an outdoor too, if you want to fully immerse yourself in the vibes.
Read our 88 Pocha review.
Address: 26A Lorong Mambong, Singapore 277685
Opening hours: Mon-Fri 11:30am to 3pm, 5:30pm to 12am, Sat-Sun 11:30am to 12am
Tel: 6235 9950
Website
88 Pocha is not a halal-certified eatery.
88 Pocha Review: Pojangmacha-style Eatery With Korean Fried Chicken And Truffle Jjajangmyeon
---
7. 808 Eating House
---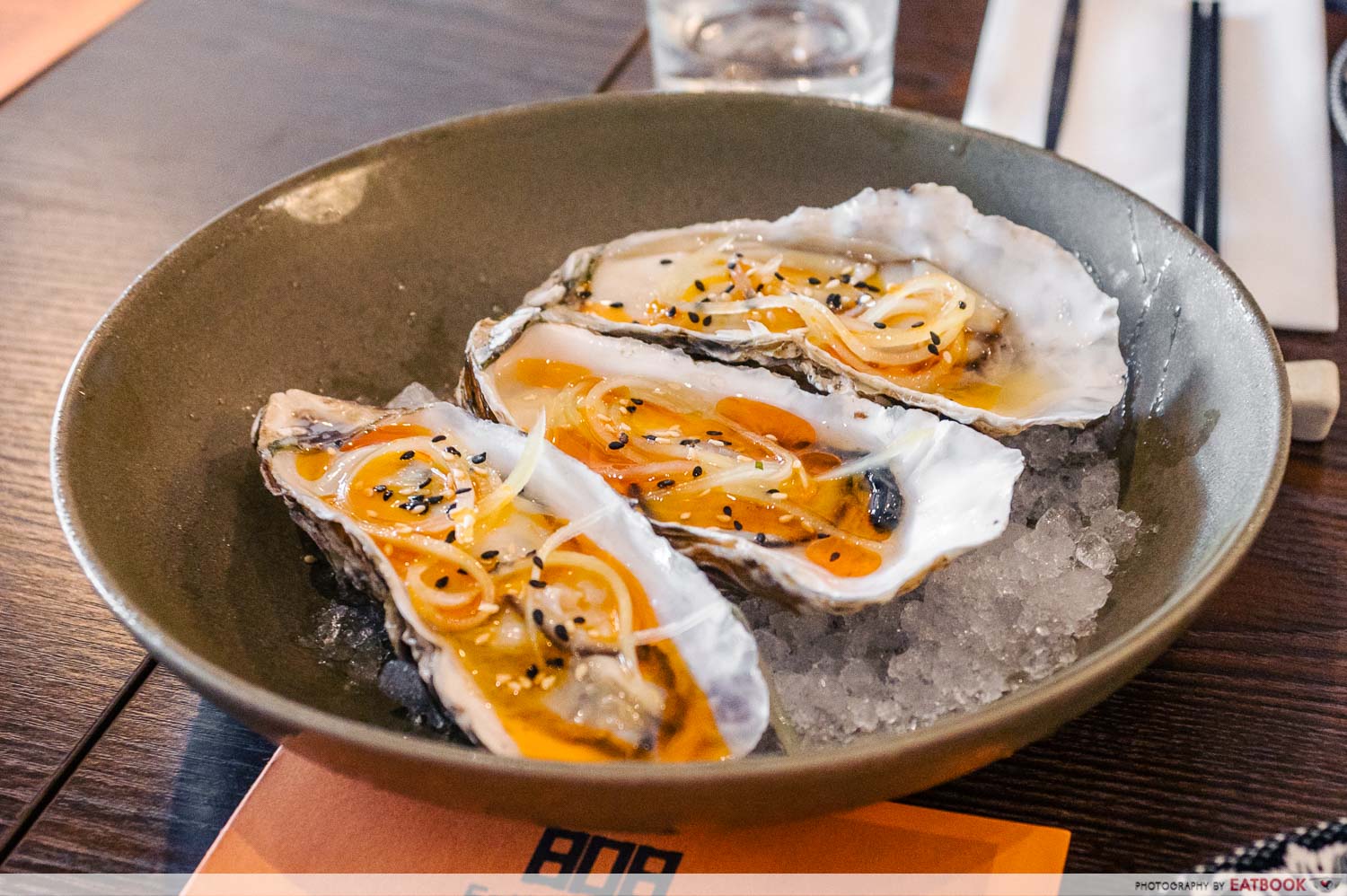 2022 was the year fine dining died, allegedly. Whether you subscribe to the notion or not, we can all appreciate having the upper echelons of gastronomy made accessible to a wider public, as 808 Eating House does. Run by Chef Eugene Chee, who has worked in multiple three-starred Michelin restaurants, 808 Eating House offers Southeast Asian cuisine that impresses with its attention to ingredients.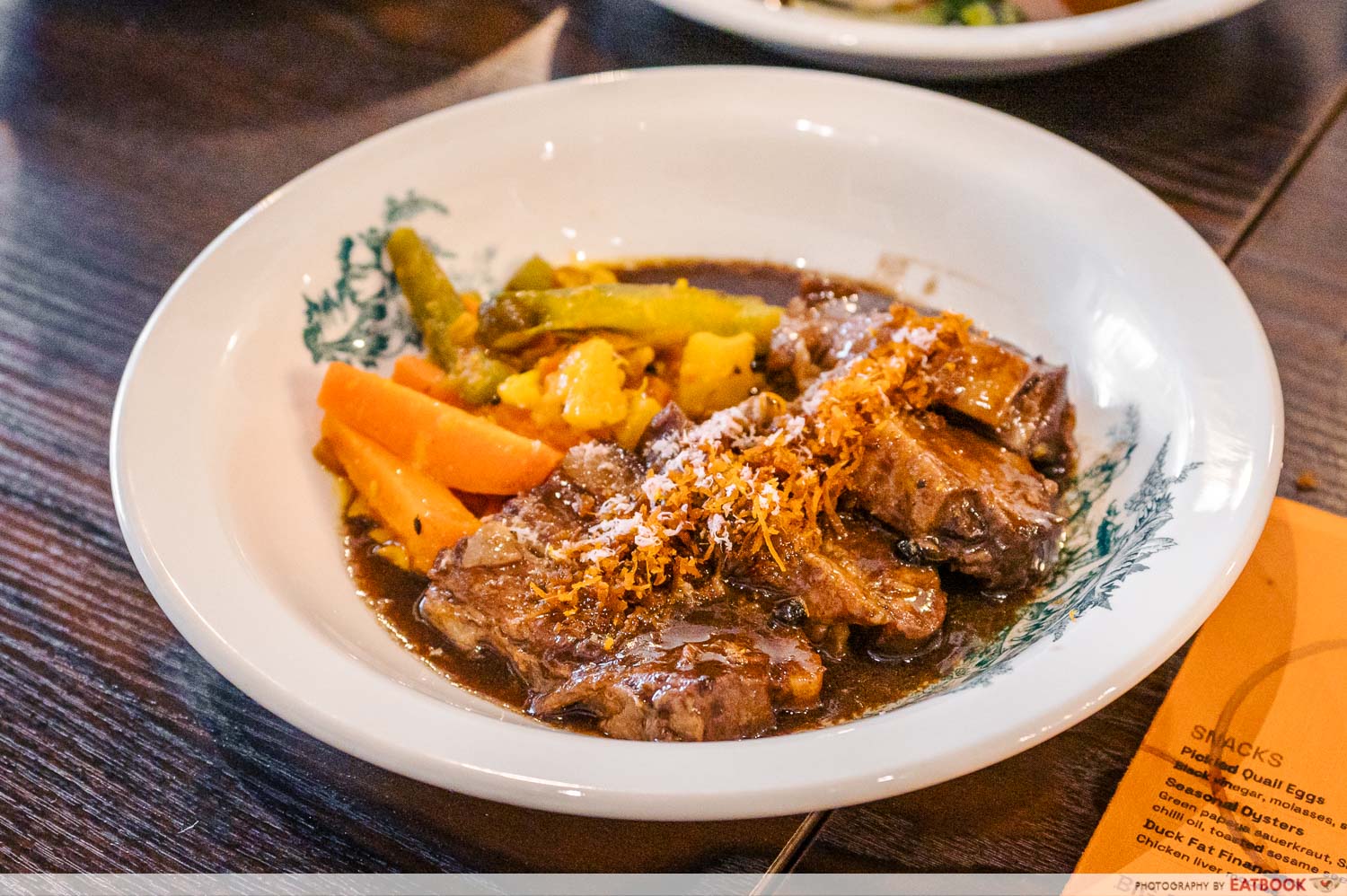 From Miyagi oysters drizzled with Sichuan oil made in-house, to Buah Keluak Pork Belly ($26++) slow cooked for 12 hours with a rich buah keluak sauce, 808 Eating House offers refined dishes at very reasonable prices for the quality one gets. Swing by for date nights or just to treat yourself to a memorable meal.
Read our 808 Eating House review.
Address: 153 Joo Chiat Road, Singapore 427431
Opening hours: Tue-Sun 12pm to 3pm, 6pm to 11pm
Tel: 8946 8089
Website
808 Eating House is not a halal-certified eatery.
808 Eating House Review: Buah Keluak Pork Belly And Sichuan Chilli Oysters At Joo Chiat
---
8. Micro Bakery Kitchen
---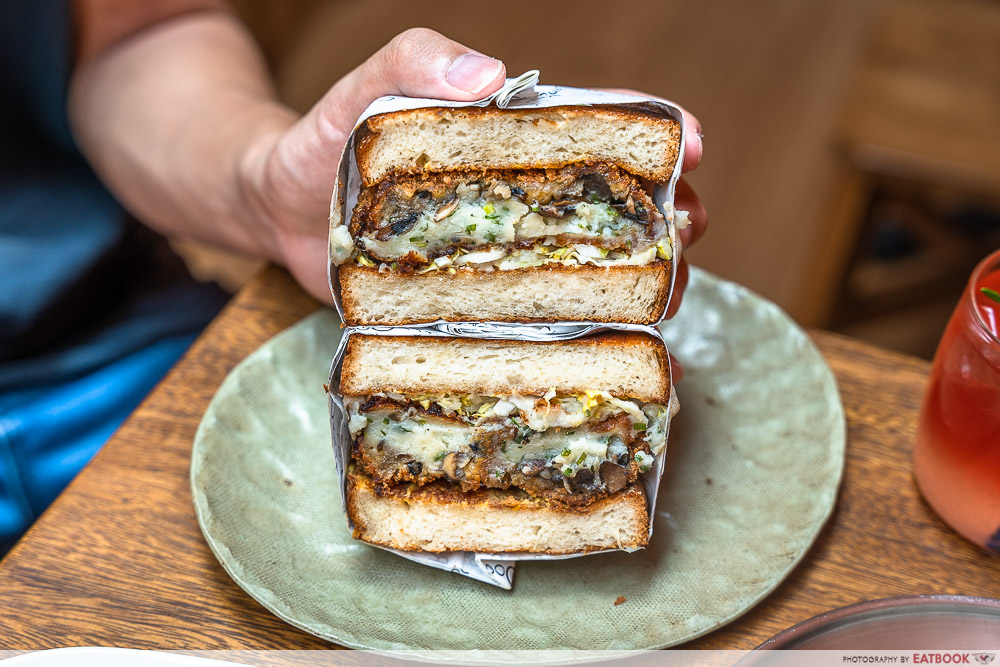 Famed local cafe Micro Bakery Kitchen has opened their second outlet in Tiong Bahru, taking over the outlet formerly occupied by Forty Hands. Expect an all-new sandwich menu here, with two sandos: the Nagaimo Croquette ($18+), starring a deep-fried yam croquette, and Grilled 4 Cheese ($16+), a quadruple whammy of creamy cheeses, grilled between house-made sourdough.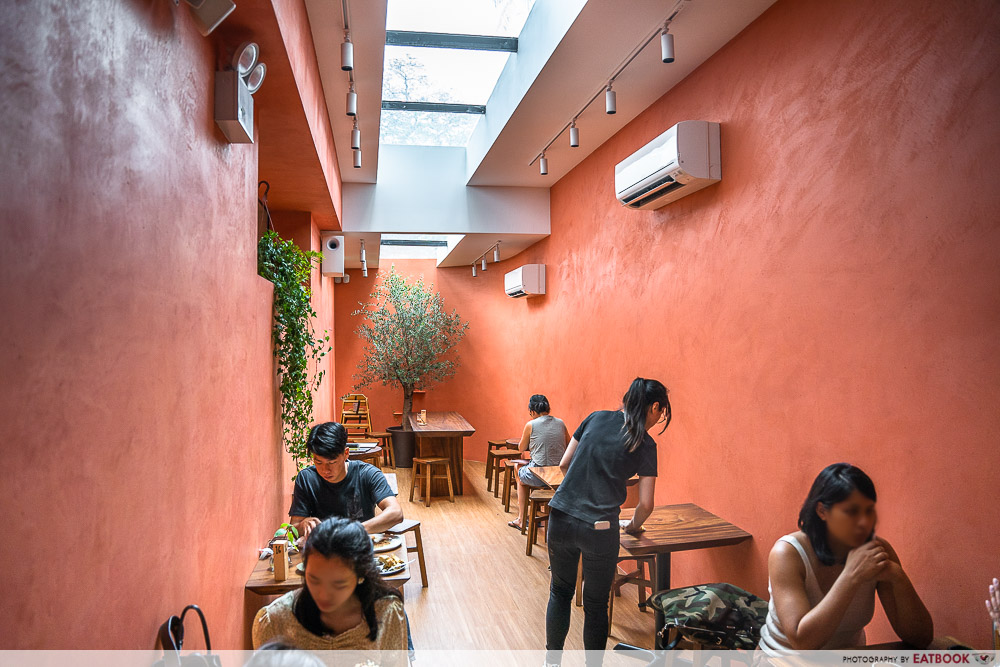 The small, intimate space is also great to unwind at over a coffee, and some of their smaller bakes, such as their  Banana Walnut Cake ($6+).
Read our Micro Bakery Kitchen review.
Address: 78 Yong Siak Street, Singapore 163078
Opening hours: Wed-Sun 8am to 4pm
Website
Micro Bakery Kitchen is not a halal-certified eatery.
Micro Bakery Kitchen Opens In Tiong Bahru With Japanese-Inspired Sandos And Fresh Bakes Daily
---
9. Coach Cafe
---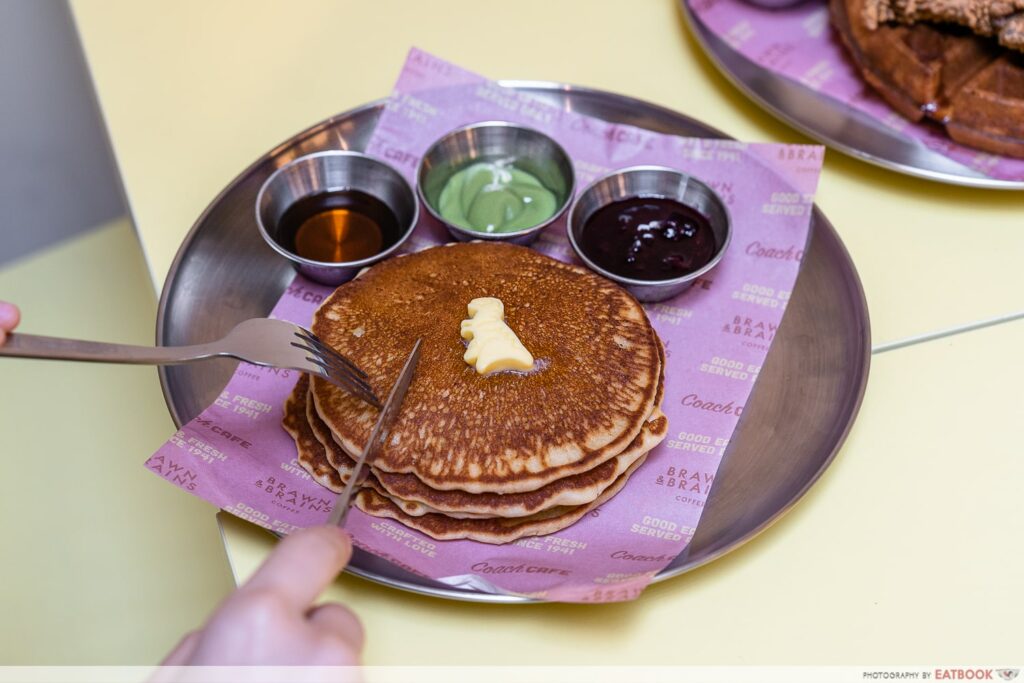 ICYMI: the world's first Coach Cafe has officially opened its doors! Located in the buzzy Keong Saik neighbourhood, the retro-chic space is a collaboration between the fashion brand and popular local cafe Brawn & Brains Coffee. Fill up on classic brunch fare such as the Chicken & Waffles ($18++), which pairs freshly baked waffles with deep-fried battered chicken, and Classic Pancakes ($16++): fluffy pancakes with maple syrup, house-made kaya, and mixed berries jam.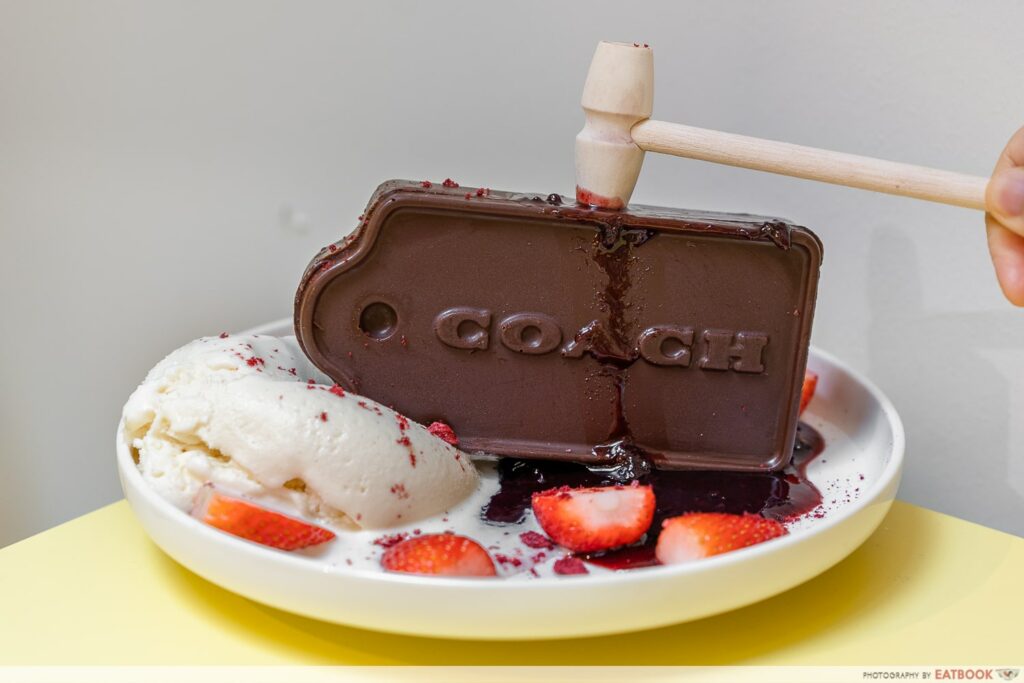 For dessert, you won't go wrong with the Zesty Lemon Curd ($5.20++) and Cherries & Cream ($5.20++) Donuts! If you're visiting there for dinner instead, there's also a whole slew of plated desserts to try, including The Hangtag Surprise ($25++), an IG-worthy chocolate hangtag with a hidden surprise within.
Address: 5 Keong Saik Road, Singapore 089113
Opening hours: Thurs-Tue 9am to 3pm, 6pm to 9pm
Website
Coach Cafe is not a halal-certified eatery.
---
10. Two Bake Boys 
---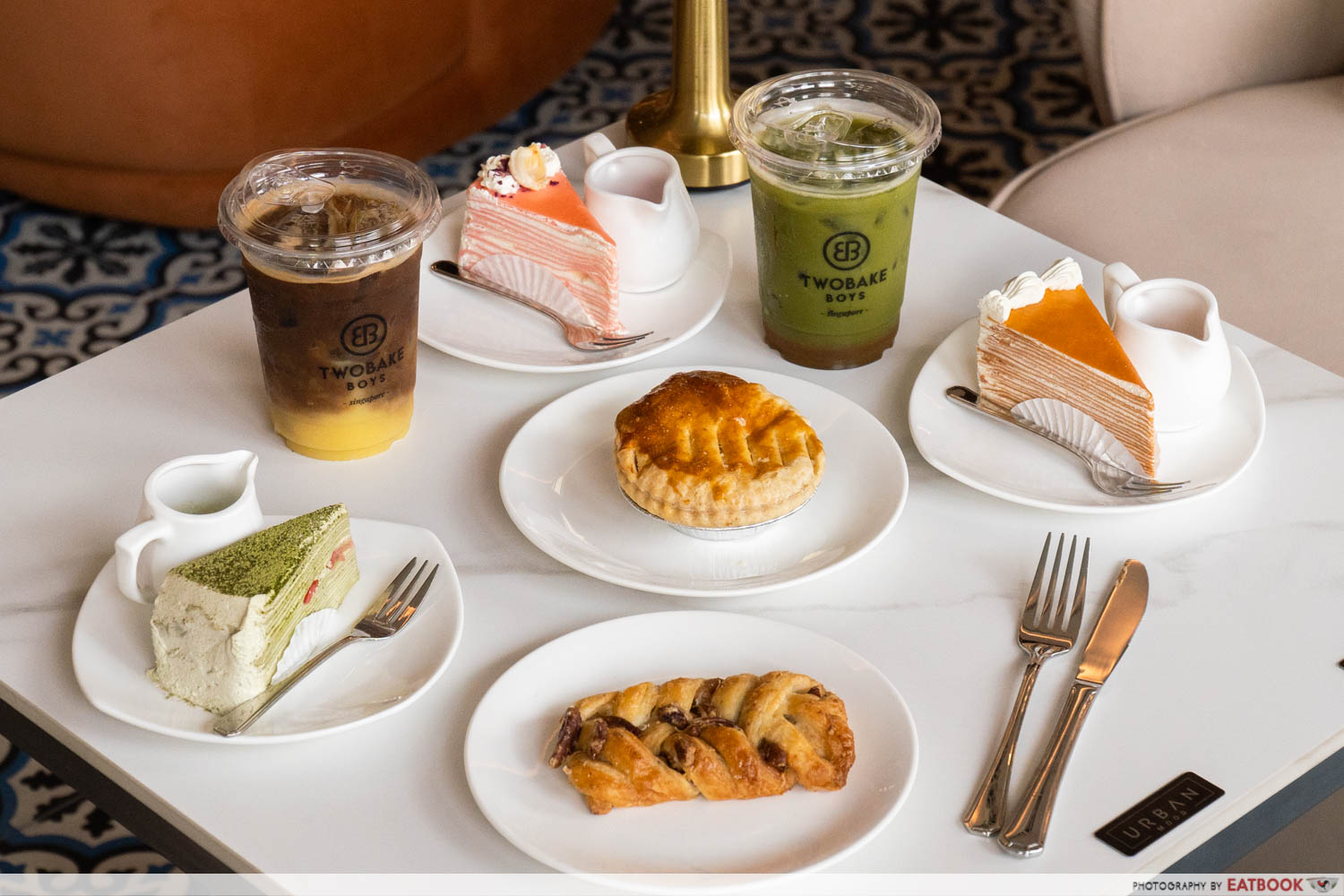 Two Bake Boys, a popular former home-based-business-turned-cafe, has recently reopened its flagship cafe in Balestier's Shaw Plaza. They're best known for their signature Thai milk tea-inspired mille crepes, but have since begun offering crispy crepes with Thai flavours, including Tom Yum Chicken Floss ($7.80) and Nutella Banana ($6.80).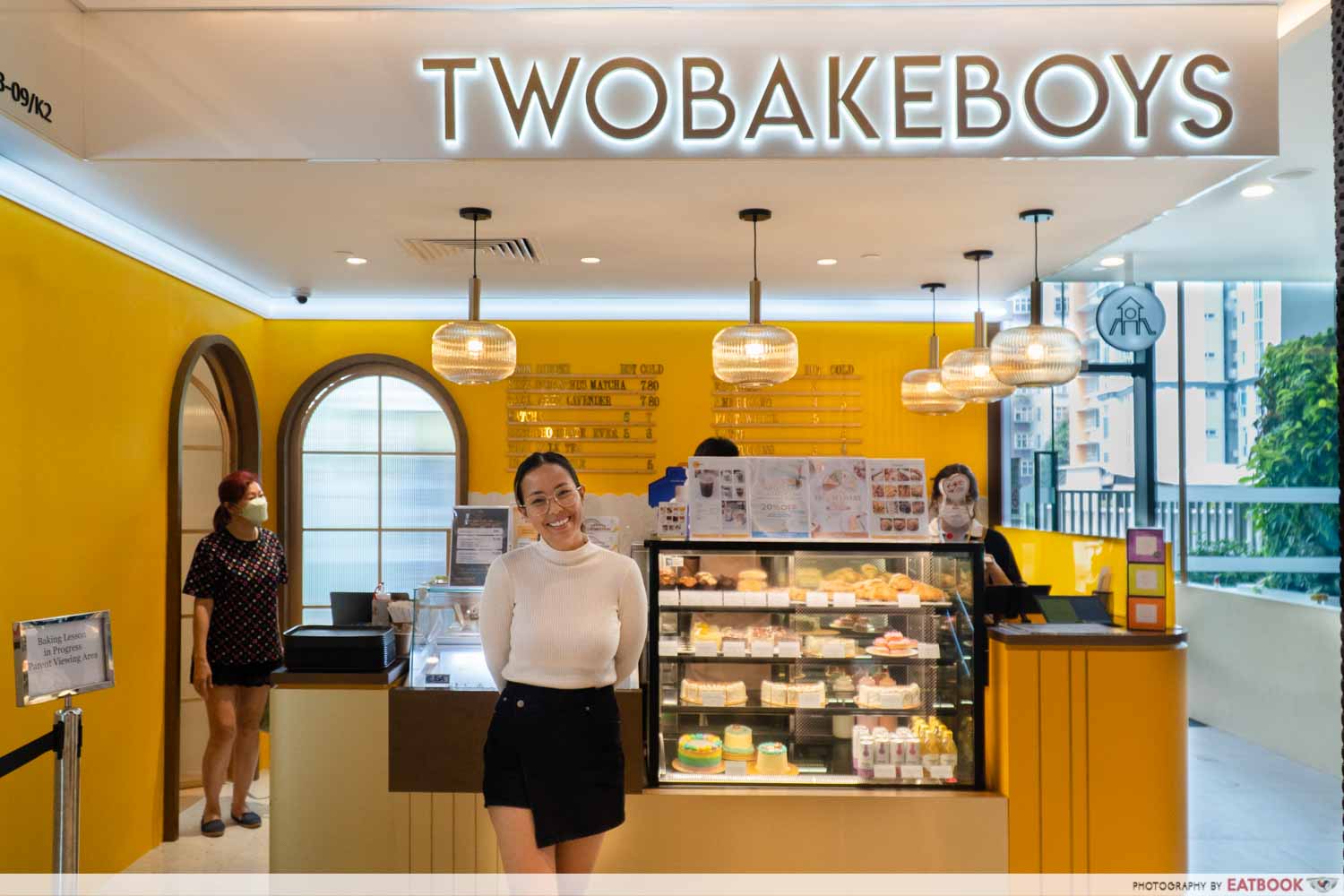 They've phased out their savoury menu otherwise, but still offer a wide selection of drinks, including fusion coffees and Thai milk teas with a twist.
Read our Two Bake Boys review.
Address: 360 Balestier Road, #03-09/K2, Shaw Plaza, Singapore 329783
Opening hours: Daily 10am to 10pm
Tel: 8782 6566
Website
Two Bake Boys Cafe is in the process of getting halal-certified.
---
11. Muji Cafe
---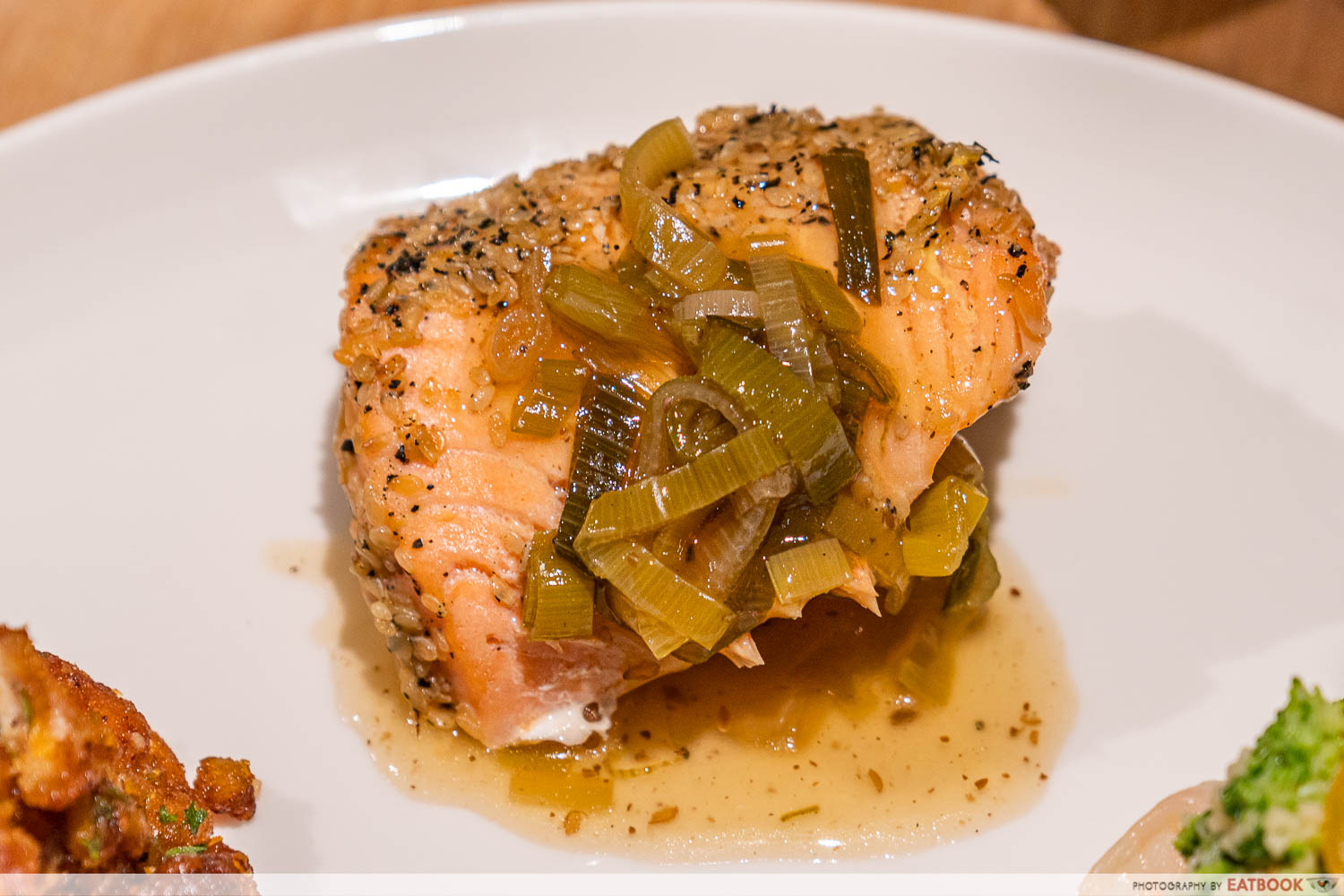 CBD folk, here's a new spot for lunch: the Muji Cafe has just opened at 100AM, their third cafe in Singapore. The minimalistic eatery serves their deli-style dishes hot or cold, with prices starting under $5.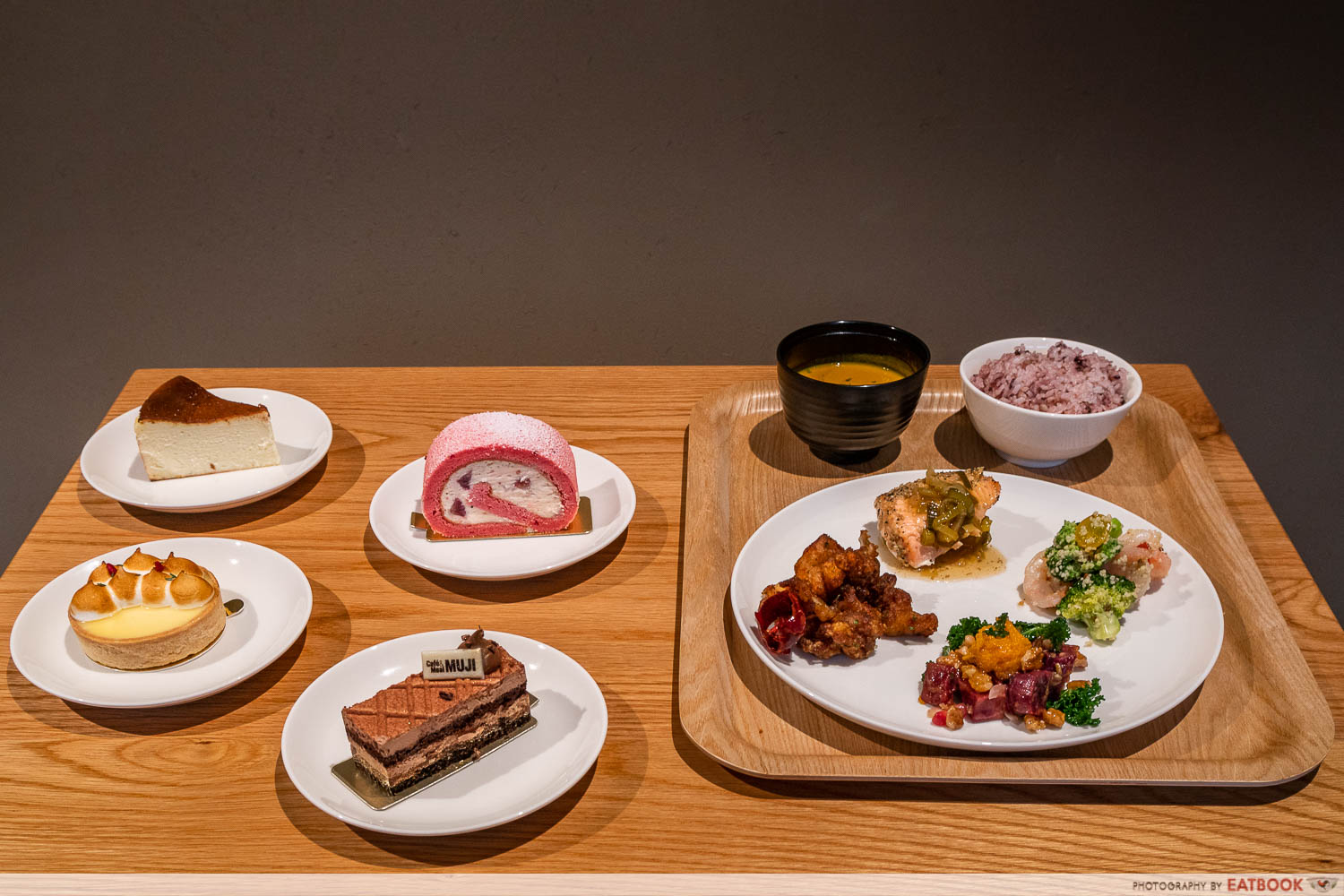 For starters, get their Sakura Chicken with Curry Miso and Dried Chilli ($4.80), prepared with Sakura chicken, prized for its juicier, leaner meat. For mains, opt for their 4 Deli Set Meal ($19.80), served with rice, soup, and four deli items of your choice—Japanese cai png, if you will.
Read our Muji Cafe review.
Address: 100 Tras Street, #04-04/08, 100AM, Singapore 079027
Opening hours: Daily 11:30am to 8:30pm
Tel: 6443 0159
Website
Muji Cafe is not a halal-certified eatery
Muji Cafe Opens In Tanjong Pagar With Curry Miso Fried Chicken And More
---
12. Estate
---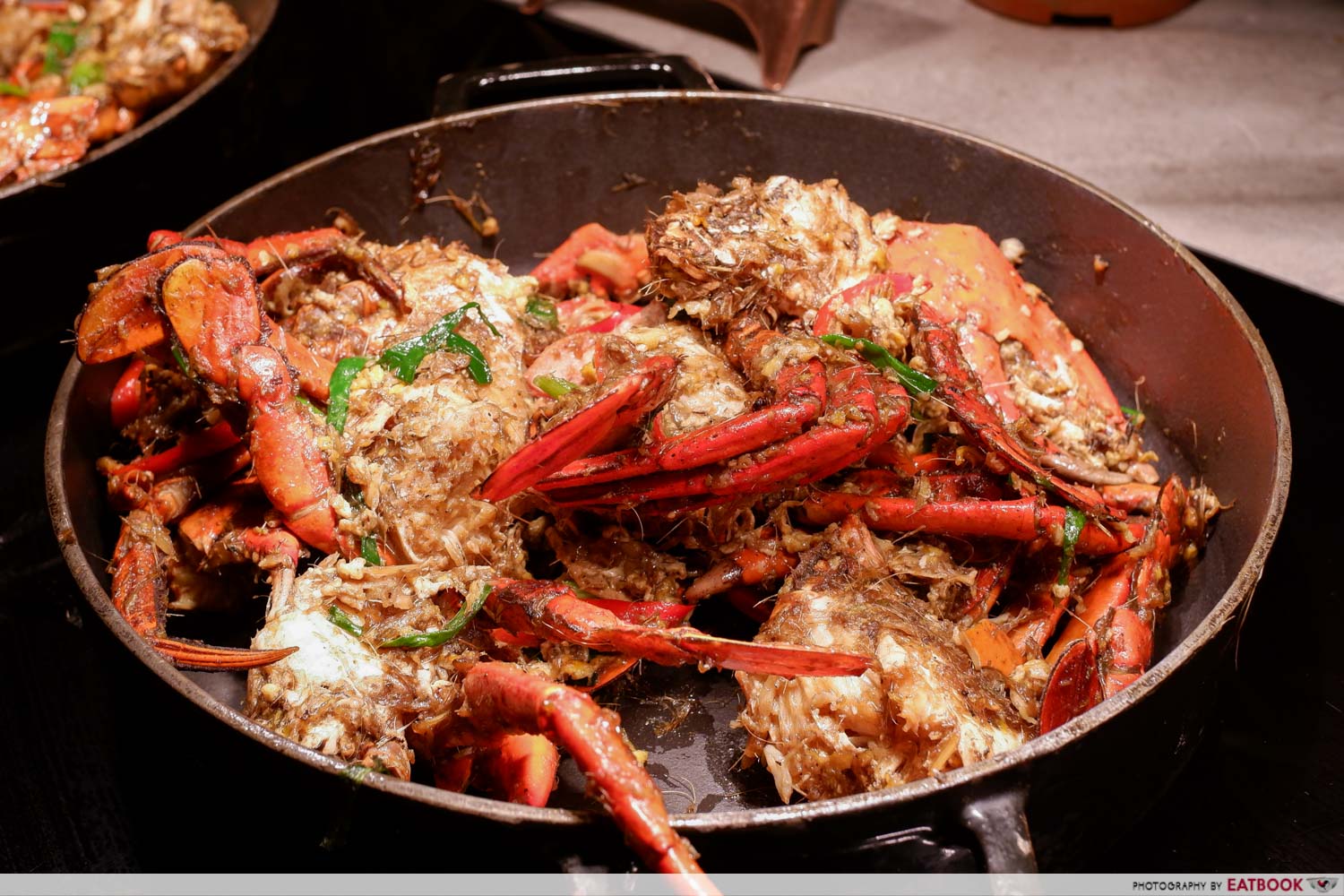 Seafood lovers, this one's for you. Estate, Hilton Singapore Orchard's all-day buffet restaurant, has brought back their popular Estate's Lobster, Crab, and Seafood Dinner Buffet ($158++ per adult)! The all-you-can-eat seafood bonanza takes place every Thursday from 6:30pm to 10pm.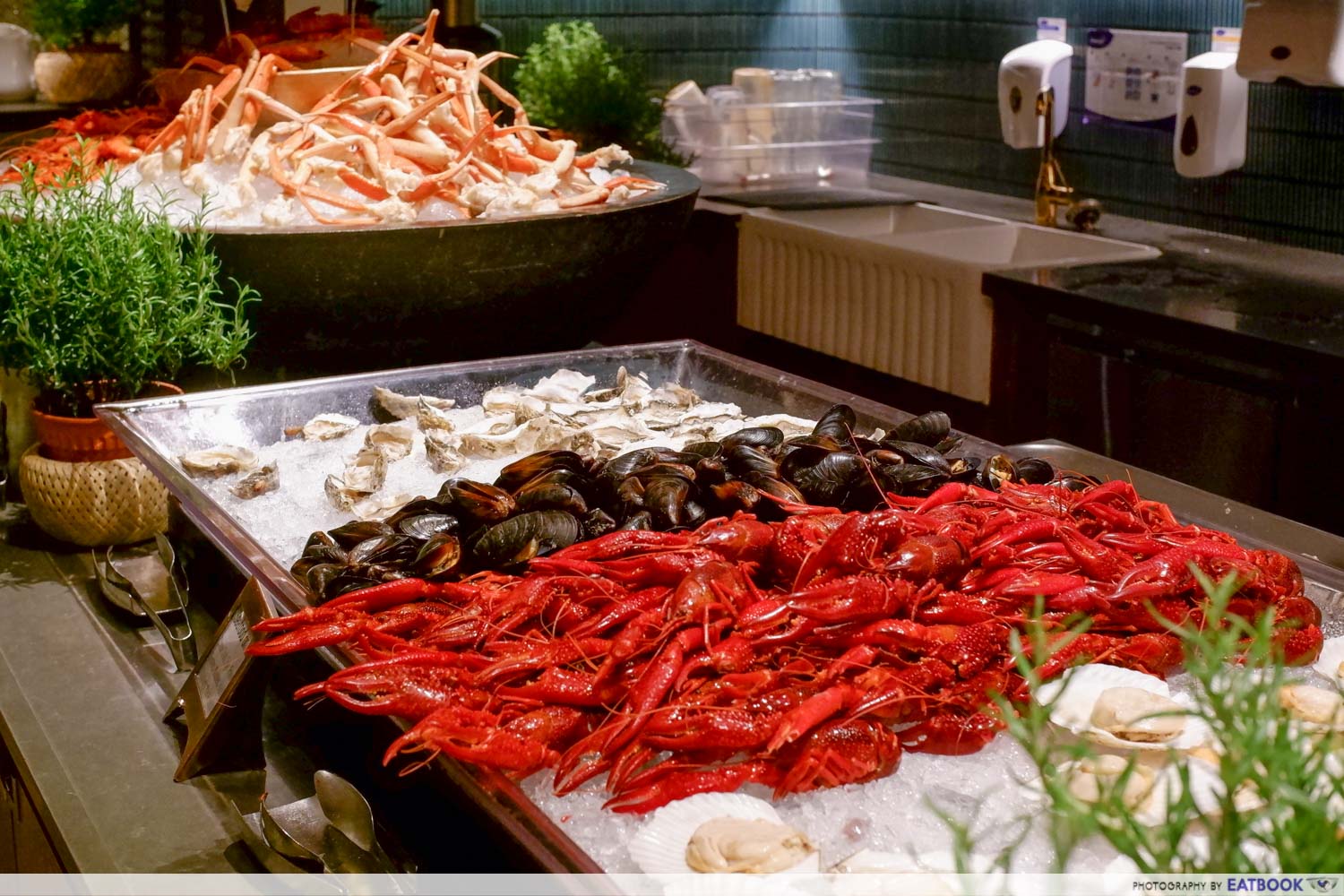 Their seafood selection is touted as one of Singapore's largest for any buffet setting, so you'll definitely satisfy all those cravings here. Highlights from the cold section include Maine lobster, tiger prawns, snow crab, yabbies, and freshly shucked seasonal oysters. Besides Estate's regular lineup of fresh cheeses, salad bar, grill section, and dessert display, the buffet also has cooked-to-order dishes such as Lobster Tagliatelle and Steamed Flower Crab Noodle. Don't forget to grab a serving of their signature Lemongrass Crab and Singapore Chilli Crab too, as these are prepared with live crabs that are delivered to the hotel each day.
Address: 333 Orchard Road, Level 5, Hilton Singapore Orchard, Singapore 238867
Opening hours: Daily 6:30am to 10pm
Website
Estate is not a halal-certified eatery.
---
13. My Kitchen
---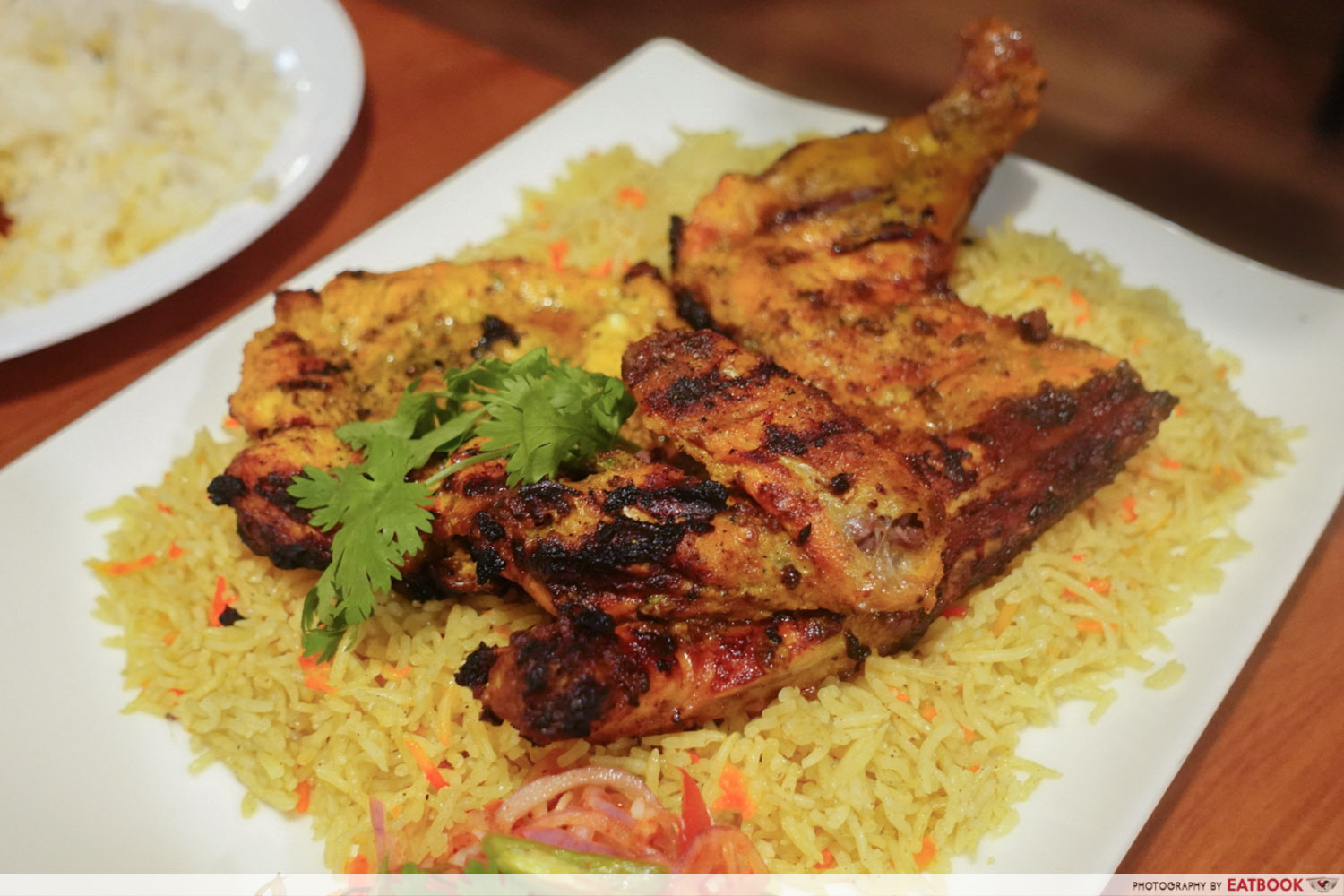 Those looking to satisfy their Indian food cravings without breaking the bank can head to My Kitchen, a casual eatery located along Tanjong Katong Road. Aside from the usual North Indian fare including paneer and chicken masala, they've also got interesting dishes such as Anchovy Fries ($7.50), Kerala Porotta ($2.50) AKA layered prata, and Mutton Biryani ($12) that's served in a bamboo tube.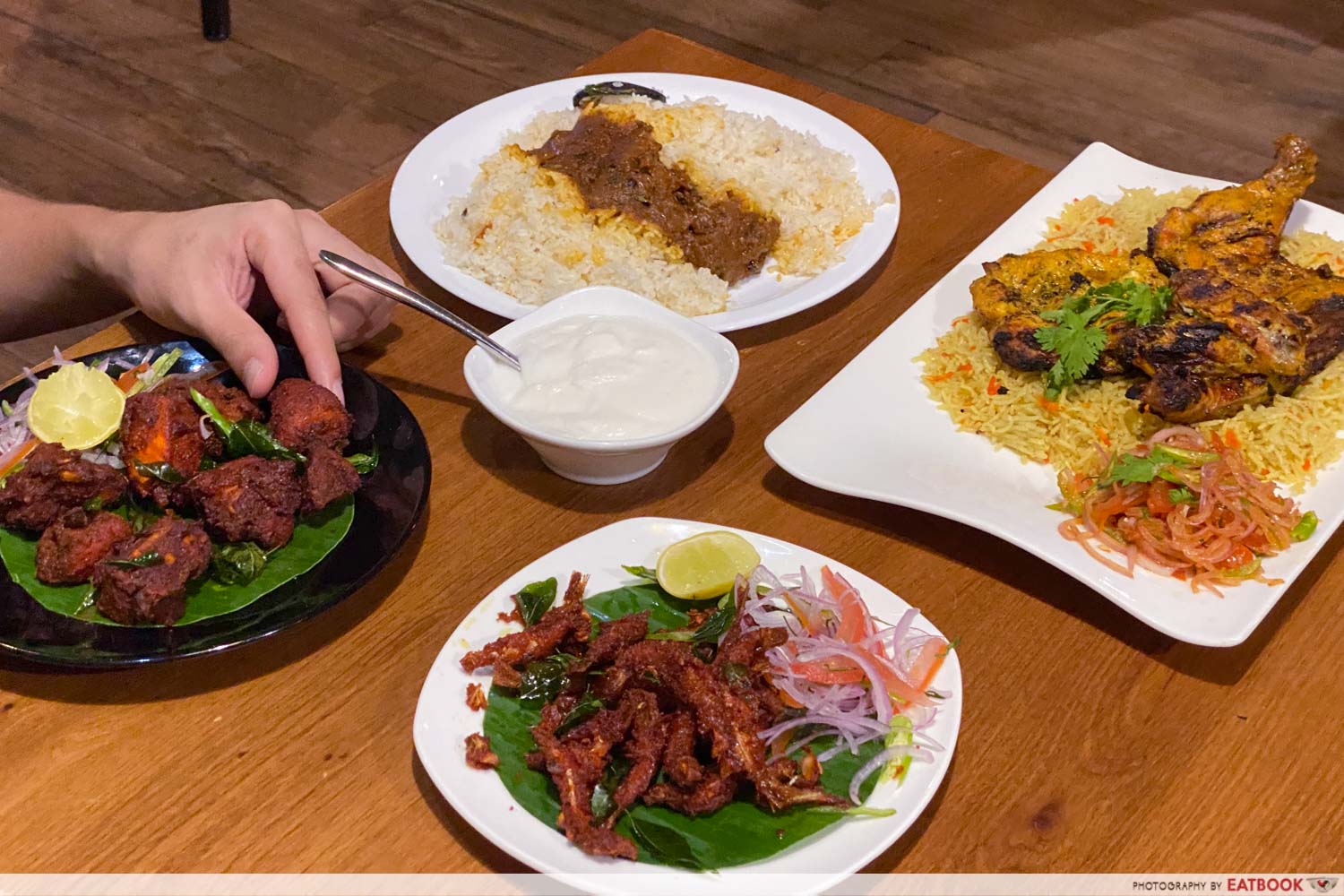 The Fish Molley ($10) is another unique number, with a recipe that originates from central Kerala, India. This sees the fish cooked in a creamy coconut-based gravy and served with crispy appam for a more complete meal. The Al-Faham Chicken With Mandhi Rice ($30.90) also comes highly recommended, featuring a barbecued half-chicken that's charcoal-grilled and marinated with fragrant Arabian spices.
Address: 308 Tanjong Katong Road, Singapore 437091
Opening hours: Mon-Fri 11am to 10pm, Sat-Sun 11am to 12am
Tel: 8247 2729
Website
My Kitchen is not a halal-certified eatery.
---
New restaurants and cafes in Singapore for May 2023
---
Here are all the new restaurants to dine at this May. For more novel eats, check out Bazaar Lambak, a newly opened giant pasar malam in Tampines.
This Giant Halal Food Bazaar At Tampines MRT Has XXL Salted Egg Squid, Nutella Apam Balik And More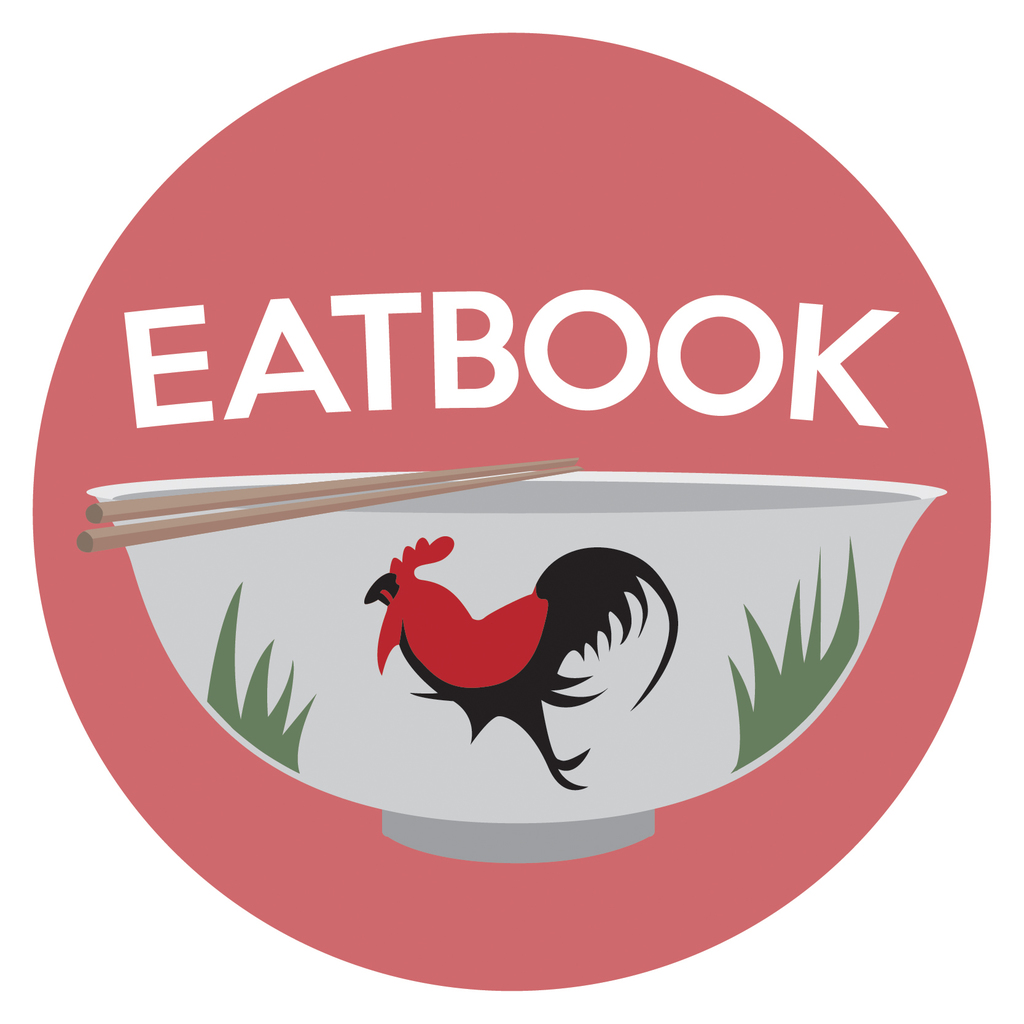 Drop us your email so you won't miss the latest news.