---
Food places to bring Trump and Kim to
---
It's safe to say that the Trump and Kim meeting in Singapore will be one of the most exciting things to happen in our Little Red Dot this year. The summit, which will be taking place on 12 June 2018, will be held at Capella in Sentosa. Now, judging by the size of both leaders, we assume having good food is a must. And if there's one thing Singapore is known for, it is exactly that. Here is our list of 10 food places we'd suggest bringing Trump and Kim to!
---
1. Five Star Corner
---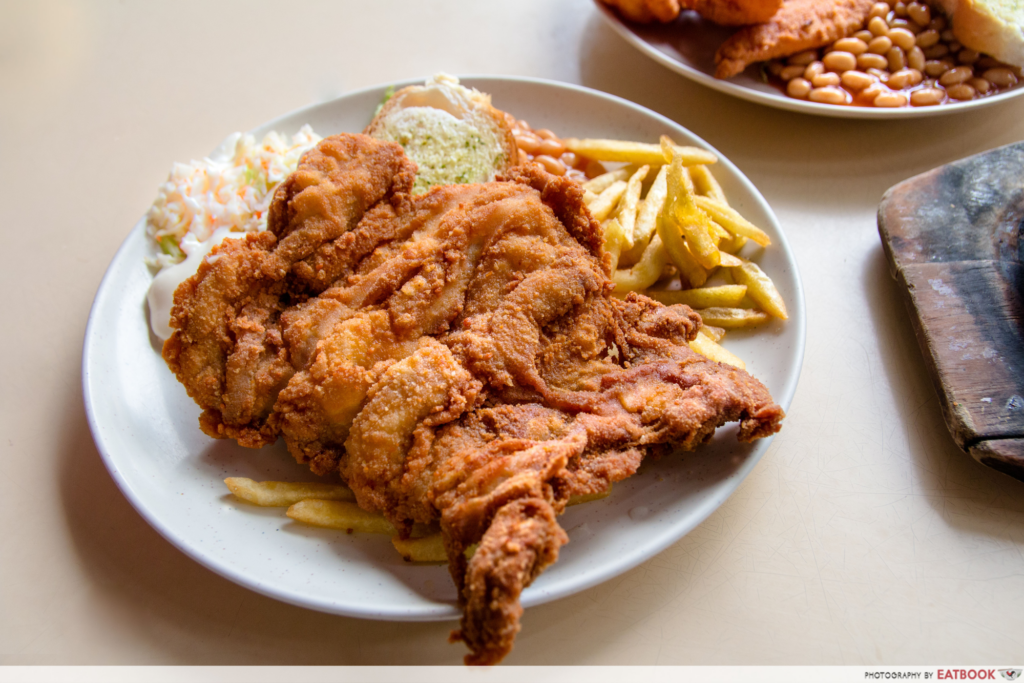 In the words of Trump, the dishes at Five Star Corner are yuge (huge). There are many reasons why we believe this hawker Western food stall will impress both leaders. For starters, the Chicken Cutlet ($6) will definitely fit Trump's American XXL appetite, while the Black Pepper Steak ($9.50) might impress Kim thanks to the sizzling sounds and rising smoke that come with it when it's being served.
5 Star Corner Review: Cheap And Good Old-School Western Stall With Huge Portions
Address: 805 Hougang Central, #01-116, Food Park, Singapore 530805
Opening hours: Daily 11am to 9pm
---
2. Meet 4 Meat
---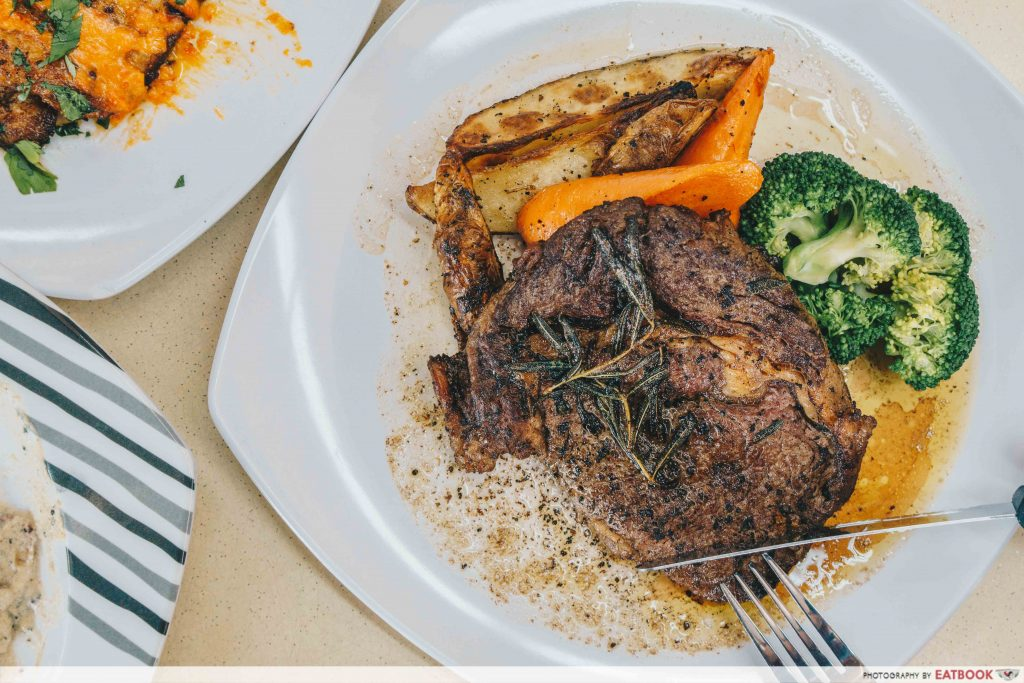 Since we don't know who will be paying Kim's bill, a meal at an expensive steak restaurant might be out of the question. To keep the budget low but quality high, both leaders can consider dining at Meet 4 Meat. Run by an ex-chef from Wooloomooloo Steakhouse, which is one of Singapore's best steak restaurants, a slab of juicy, 100% Aussie Ribeye will only set them back $16 per person. On top of that, it's located along the historic stretch of Katong, so they can squeeze in a short sightseeing session too. #doublekill
Meet 4 Meat Review: Ex-Wooloomooloo Chef Opens A Hawker Stall Serving Quality Steak
Address: 228 East Coast Road, Brunners Coffeeshop, Singapore 428925
Opening hours: Mon-Fri 10:30am to 9:30pm, Sat-Sun 8:30am to 9:30pm
Tel: 8290 3605
---
3. Pasir Ris Food Centre
---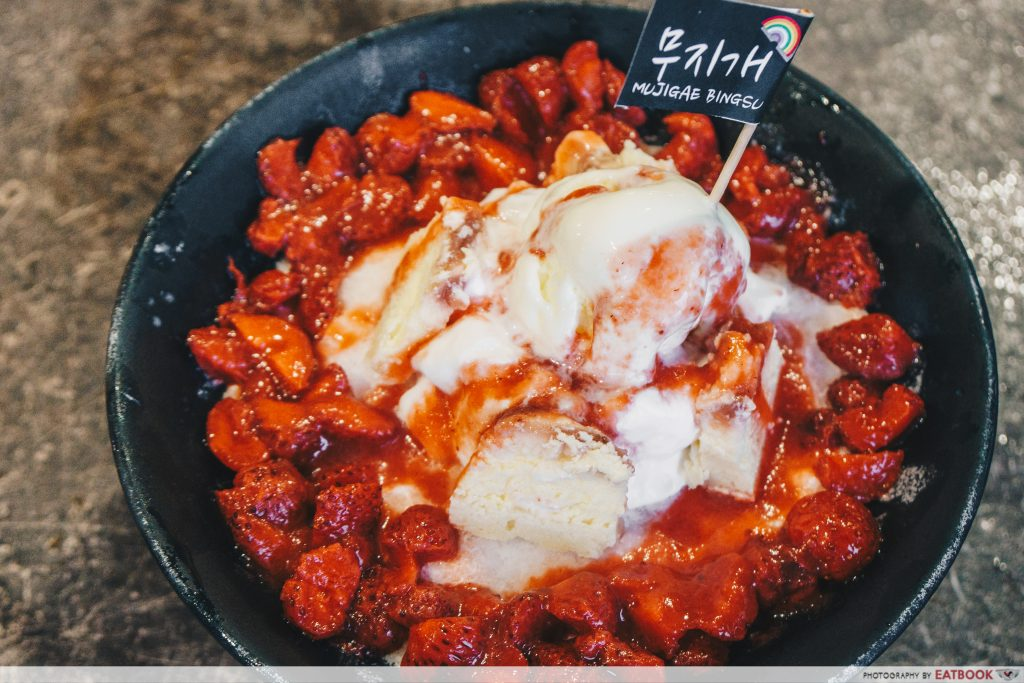 To truly experience Singapore, a trip to a hawker centre is a must. And while most would recommend more famous ones such as Maxwell Food Centre and Amoy Street Food Centre, there might not be enough food there to suit their fussy fancies. As such, the best hawker centre to bring both powerhouses to would be Pasir Ris Central Hawker Centre. The two-storey food centre offers both old-school grub and more atas dishes including army stew, bingsu, burgers and wagyu beef bowls!
Address: 110 Pasir Ris Central, Singapore 519641
Nearest MRT Station: Pasir Ris
---
4. Upot
---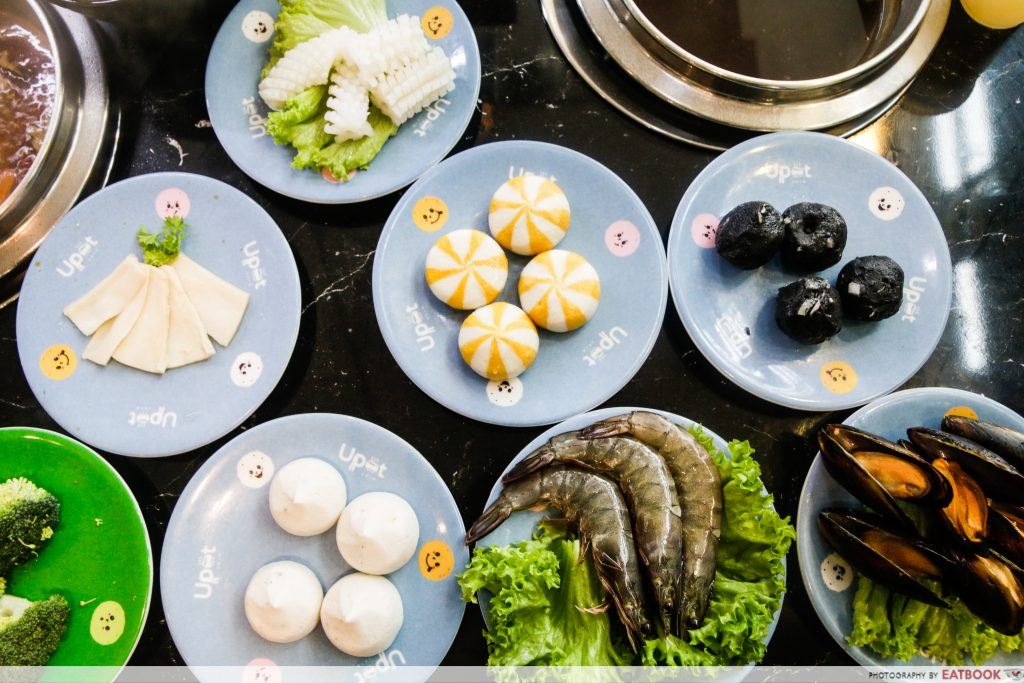 Sharing is caring, but I doubt both leaders are the sharing sort. That is why Upot will be ideal if they are looking to see what the fuss is all about behind Singaporeans' love for steamboat. Here, ingredients are displayed on a conveyor belt, and you are given your own personal hot pot to cook your food in. Soup bases include Taiwanese Herbal Pork Rib Soup ($8.80++), Thai Tom Yum ($7.80++), Wild Mushroom Soup ($7.80++), Japanese Kombu & Bonito soup ($7.80++), Xiaolongkan Old Hotpot ($9.80++), and Tomato Soup ($7.80++).
Upot Review: New Conveyor Belt Hot Pot Restaurant With Dishes From $0.99++
Address: 10 Eunos Road 8, #01-137/138, Singpost Centre, Singapore 408600
Opening hours: Mon-Thur 11:30am to 3pm, 6pm to 10pm, Fri-Sun 11:30am to 3pm, 5:30pm to 10pm
Tel: 6741 6666
Website
---
5. Vatos Urban Tacos
---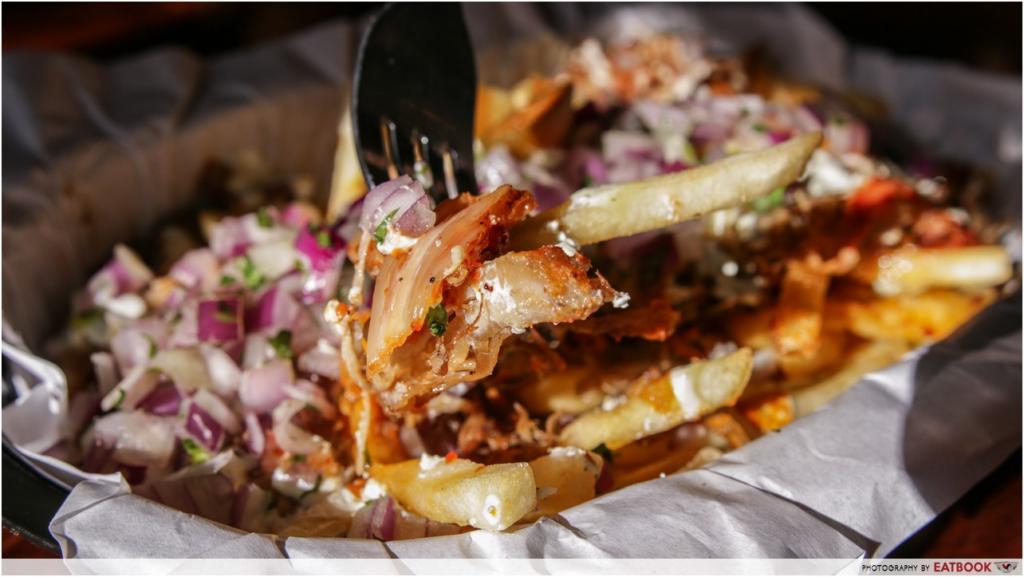 Trump may outrightly dislike Mexico, but we are pretty sure he has a soft-spot for Mexican food – or at least Tex-Mex dishes. And a place that takes a Korean spin on Tex-Mex food is Vatos Urban Tacos. Great for easing Kim into this fusion cuisine, is the Kimchi Carnitas Fries ($18++) topped with braised carnitas pulled pork, sauteed kimchi, melted cheese, sour cream and house-made hot sauce.
Vatos Urban Tacos Review: Hipster Korean-Mexican Food Worth Your Money
Address: 36 Beach Road, South Beach Quarter, Singapore 189766
Opening hours: Mon 5:30pm to 11pm, Sun & Tue-Thur 12pm to 11pm, Fri-Sat 12pm to 12am
Tel: 6385 6010
---
6. Mr and Mrs Mohgan's Roti Prata
---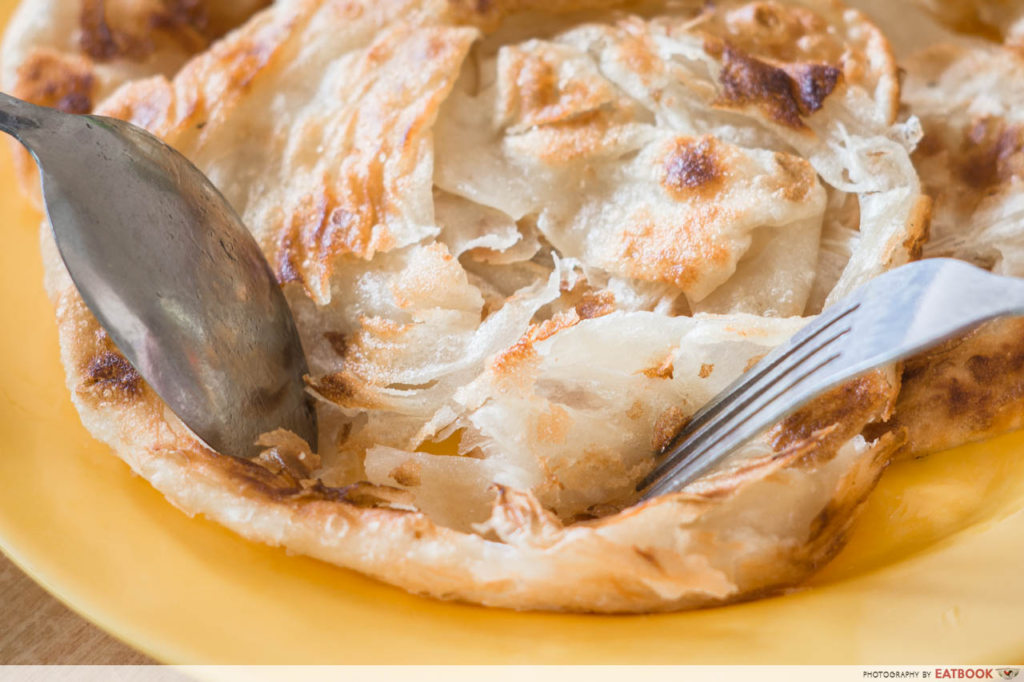 Since carbs are scientifically known to improve one's mood, we daresay having prata for breakfast can help set the tone for a positive day ahead and maybe, just maybe, allow them to easily come to an amicable agreement. And the best place to get kosong prata ($0.90) is at Mr and Mrs Mohgan's Roti Prata, with each prata boasting a crispy exterior and fluffy layers inside. Each prata is also accompanied by a side of dalcha or fish curry, making it a more satisfying meal.
Mr and Mrs Mohgan's Roti Prata Review: Super Crispy Prata And Flavourful Curries At Joo Chiat
Address: 7 Crane Road, Singapore 429356
Opening hours: Wed-Mon 6:30am to 12:30pm
Tel: 9794 3124
---
7. The Ship
---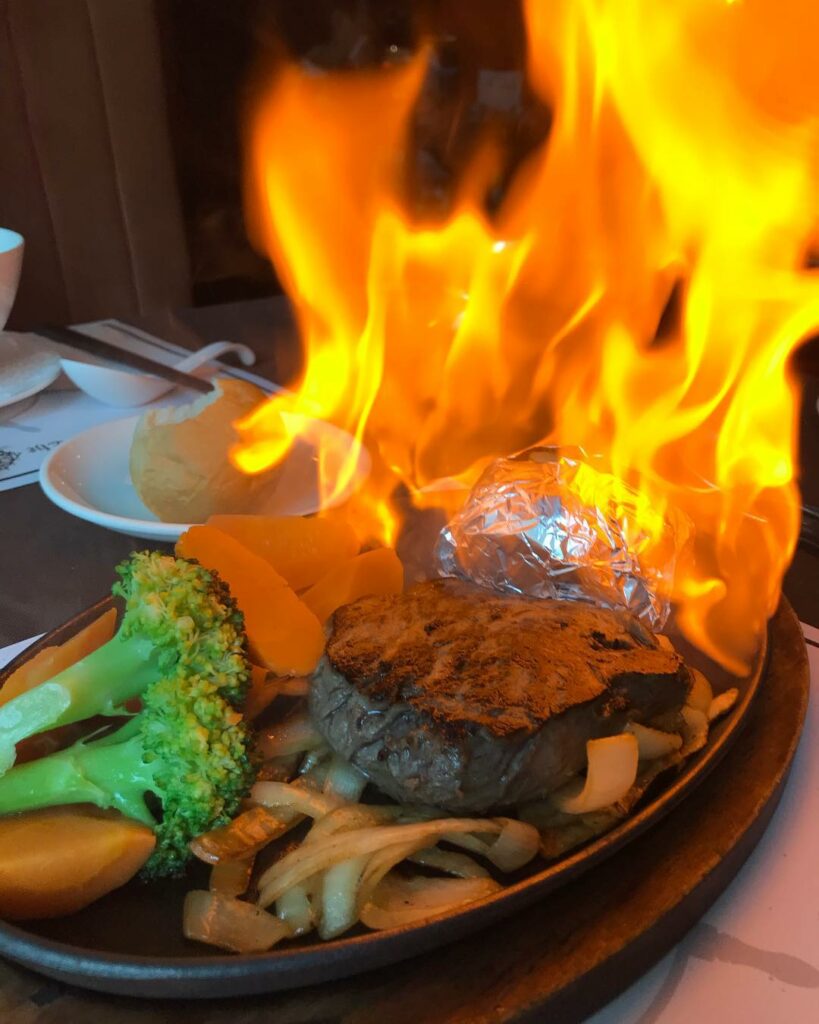 Image credit: @food_wine_life
We can 100% agree that things will get heated up at the summit. And while no firearms are allowed, a display of fiery action is still possible with a flaming dish at long-standing restaurant The Ship. Here, they can order the Ship Steak ($36.90++), which is flambéd with brandy at your table for a spectacle – Kim's favourite. 
Address: 1 Scotts Road, #03-16/18, Shaw Centre, Singapore 228208
Opening hours: Mon-Thur 11am to 3pm, 5:30pm to 9:30pm, Fri-Sat 11am to 3pm, 5:30pm to 10pm
Tel: 6235 2235
Website
---
8. Goodwood Park
---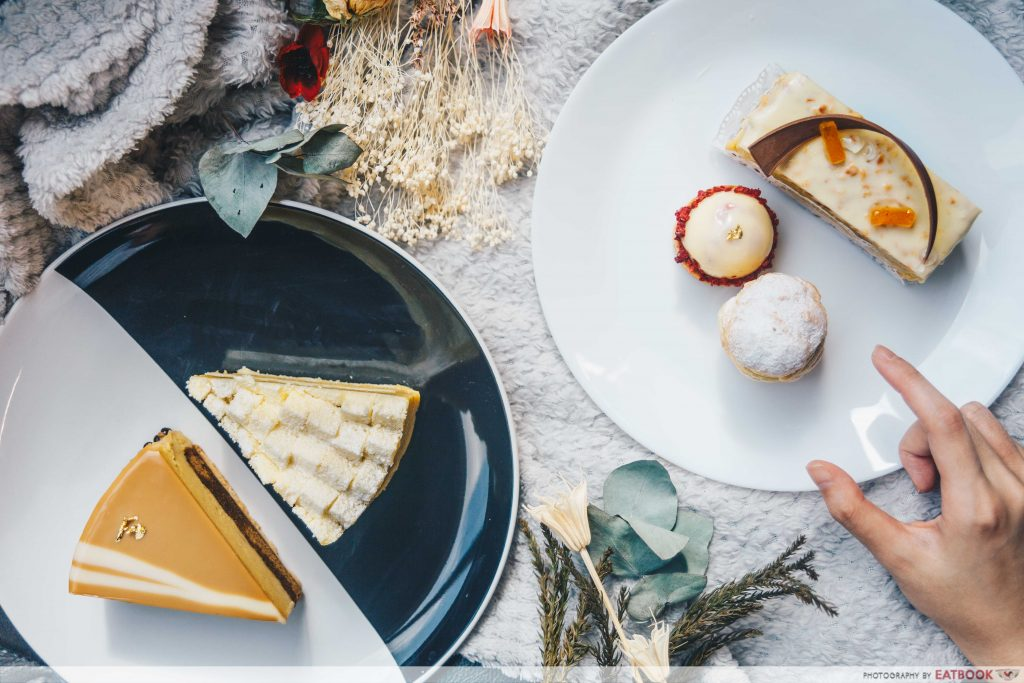 As I write this article, I couldn't help but wonder if Trump or Kim has ever eaten durian before. Well, if they haven't, a great way to introduce them to this pungent fruit is at Goodwood Park's annual Durian Buffet (from $38.80++ per person). No stranger to most Singaporeans, the fiesta showcases a bunch of toothsome durian creations such as D24 Mousse Cake and D24 White Chocolate Raspberry Dome.
The Goodwood Park Durian Buffet 2018 Is Happening Soon And Here Are This Year's Must-Tries
Address: 22 Scotts Road, Goodwood Park Hotel, Singapore 228221
Buffet timing: Daily 12pm to 2:30pm, 6pm to 10:30pm
Tel: 6737 7411
Website
---
9. NY Night Market
---

Image credit: @foodiecoffeelover
If there's one restaurant that can make both leaders feel comfortable, it's NY Night Market. Sure, it is not a North Korean restaurant – obviously – but it does offer zhng-ed up Western food boasting Korean flavours. Plus, it mirrors the cosmopolitan markets of New York City, giving Trump a taste of home. To sweeten the mood, they should get Cream The Curry ($13.90++), which comes with a cloud of whipped cream that is lit up to reveal beef curry with Korean rice cakes, mushrooms, and vegetables.
Address: 3 Gateway Drive, #01-08, Westgate, Singapore 608532
Opening hours: Daily 11am to 10pm
Tel: 626 24078
Website

---
10. Royal Plaza on Scotts
---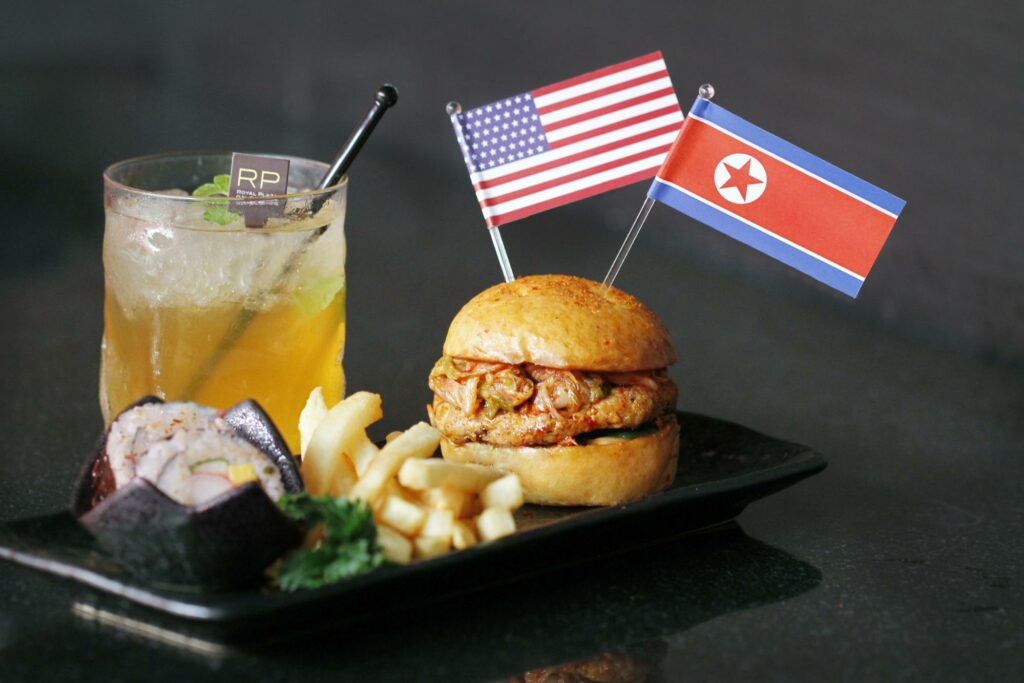 To end our list, we have Scotts Lounge's Trump-Kim Burger ($12++) and Summit Iced Tea ($6++). Available from 8 to 15 June 2018 between 6pm and 10pm, this is currently the only dish that is specially created for both presidents. The scrummy burger meshes up American and Korean flavours, and is made up of a minced chicken and kimchi patty and seaweed. It also comes with kimbap and fries, making it really value for money.  
Address: 25 Scotts Road, Level 2, Royal Plaza on Scotts, Singapore 228220
Available from 8 to 15 June 2018, 6pm to 10pm
Tel: 6737 7966
Website
---
Places to bring Trump and Kim to for dinner
---
Singapore is a heaven for food lovers, so there are plenty of restaurants that will cater to both Trump and Kim's palates. If you have any suggestions on where to bring the duo, do let us know in the comment section below!