---
New restaurants in Singapore this April 2023
---
April looks to be a month full of fresh places to dine at. For one, we've got over a dozen new restaurants in Singapore to spotlight this month, alongside new cafes. From lava waffles to XXL Taiwanese shaved ice, a new Sichuan restaurant with sold-out duck stew to a bao burger joint, here are all the new restaurants in Singapore to visit this April 2023.
---
1. Synthesis
---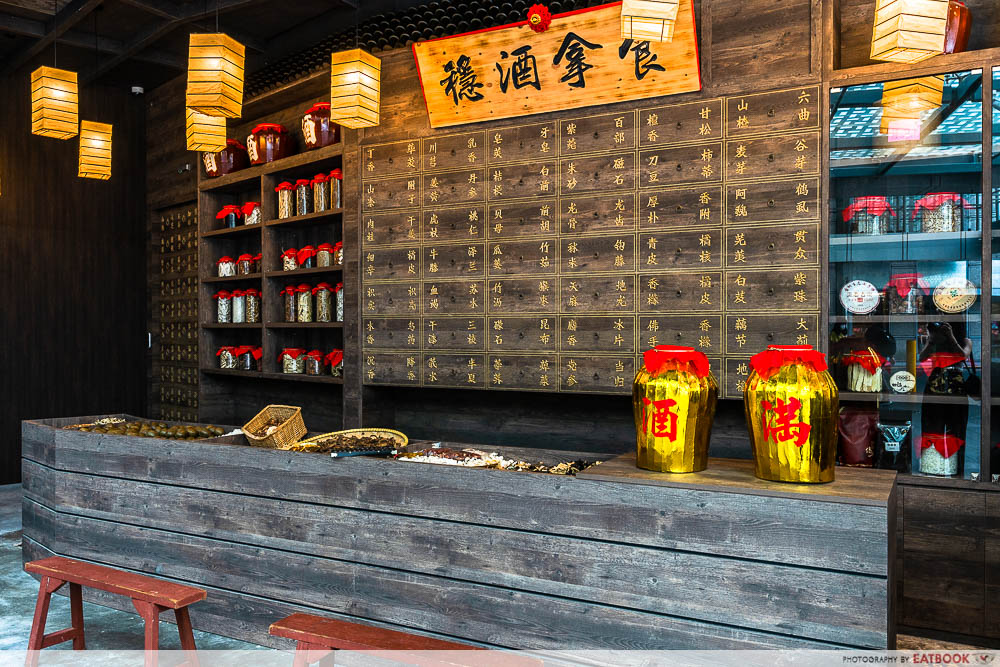 Synthesis has been making waves on social media the past month for its striking, traditional Chinese medicine hall-inspired decor, and the fact that it opens till 2am. Located in Suntec City, the restaurant bar is great for a chill meal with friends, or a TGIF celebration.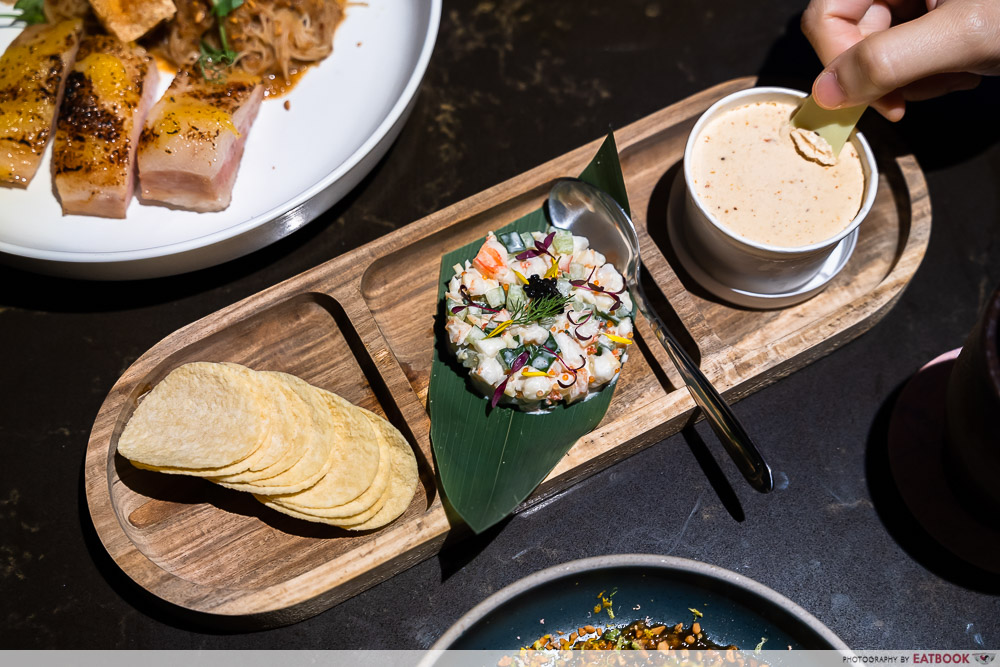 The menu here is replete with modern Singaporean dishes, from Laksa Prawn Tartare ($22++), served with laksa gelato—don't knock it till you try it!— and Heavenly Char Siew ($22++), starring a whole fillet of Iberico Pork grilled till tender. If you love cocktails, the bar has a fair few TCM-inspired ones to try as well, though we guarantee they taste way better than the herbal drinks your mom used to force you to down when you were under the weather.
P.S.: the eatery is founded by the same folks behind the mama shop-inspired hidden restaurant, Mama Diam.
Read our Synthesis review.
Address: 3 Temasek Boulevard, #01-643, Suntec City Tower 4, Singapore 038983
Opening hours: Sun-Thurs 4pm to 10.30pm, Fri-Sat 4pm to 2am
Tel: 9727 4649
Website
Synthesis is not a halal-certified eatery.
Synthesis Review: TCM-Themed Restaurant Bar With Suan Pan Zi Carbonara, Opens Till 2AM
---
2. Numb Restaurant
---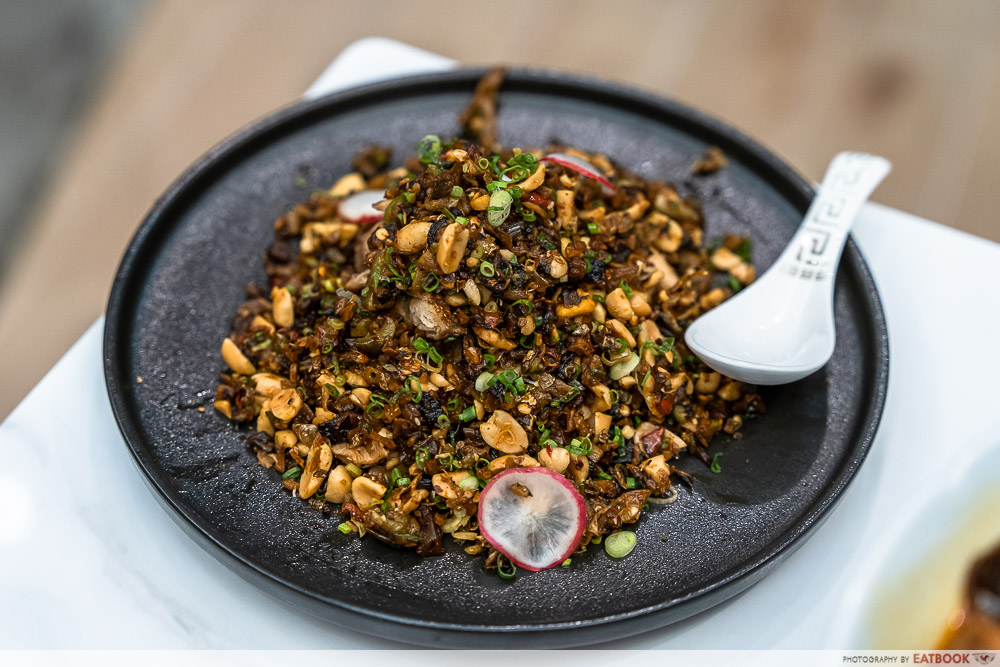 CBD workers looking to spice up their nine-to-six ought to swing by the brand-new Numb Restaurant. The Sichuanese eatery offers both traditional and modern takes on popular mala dishes, as well as other regional classics. Get their signature Applewood Smoked Crispy Chicken ($33.80++), where boneless chicken thigh pieces are roasted with crunchy peanuts, tempeh pieces, and Sichuan peppercorns.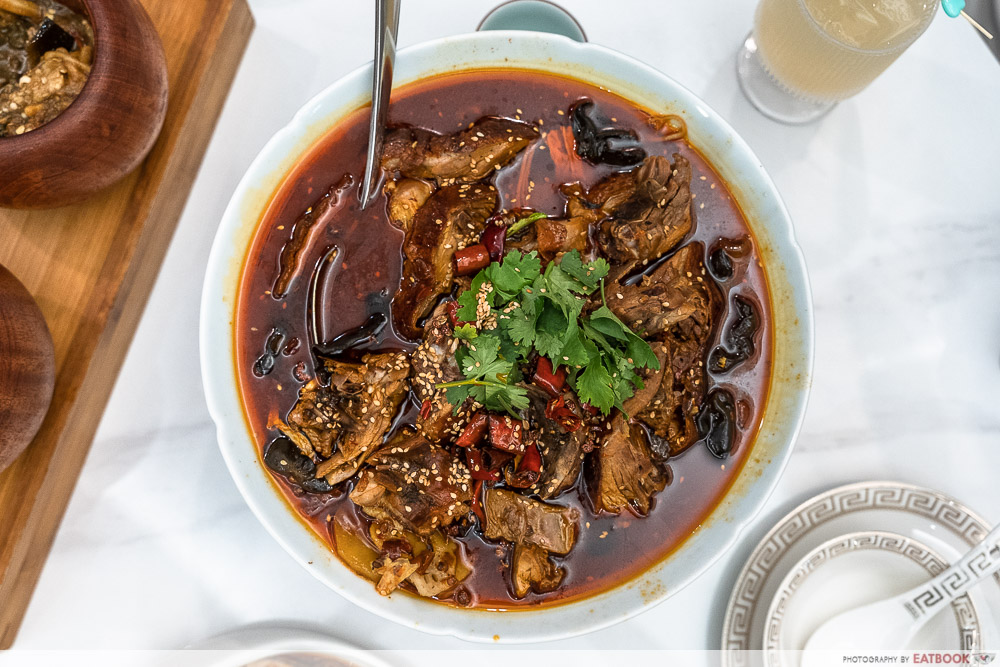 Smoky, numbing, and lightly floral, this is a sure crowd-pleaser. Another one of the menu's main attractions is the Trendy Peking Duck in Spicy Stew ($39.80++). Definitely made for sharing, this generous stew is packed with duck, beancurd sticks, sliced lotus root, kelp, black fungus, enoki mushrooms. Be sure to call two days in advance to pre-order this if you want it on your table, as the dish often sells out!
Read our Numb Restaurant review.
Address: 5 Straits View, #01-12, Marina One West Tower, Singapore 018935
Opening hours: Mon-Sat 11am to 3pm, 5pm to 10pm
Tel: 9460 1960
Website
Numb Restaurant is not a halal-certified eatery.
Numb Review: Modern Sichuan Eatery Mala Peking Duck In Marina One
---
3. LUMI F&B
---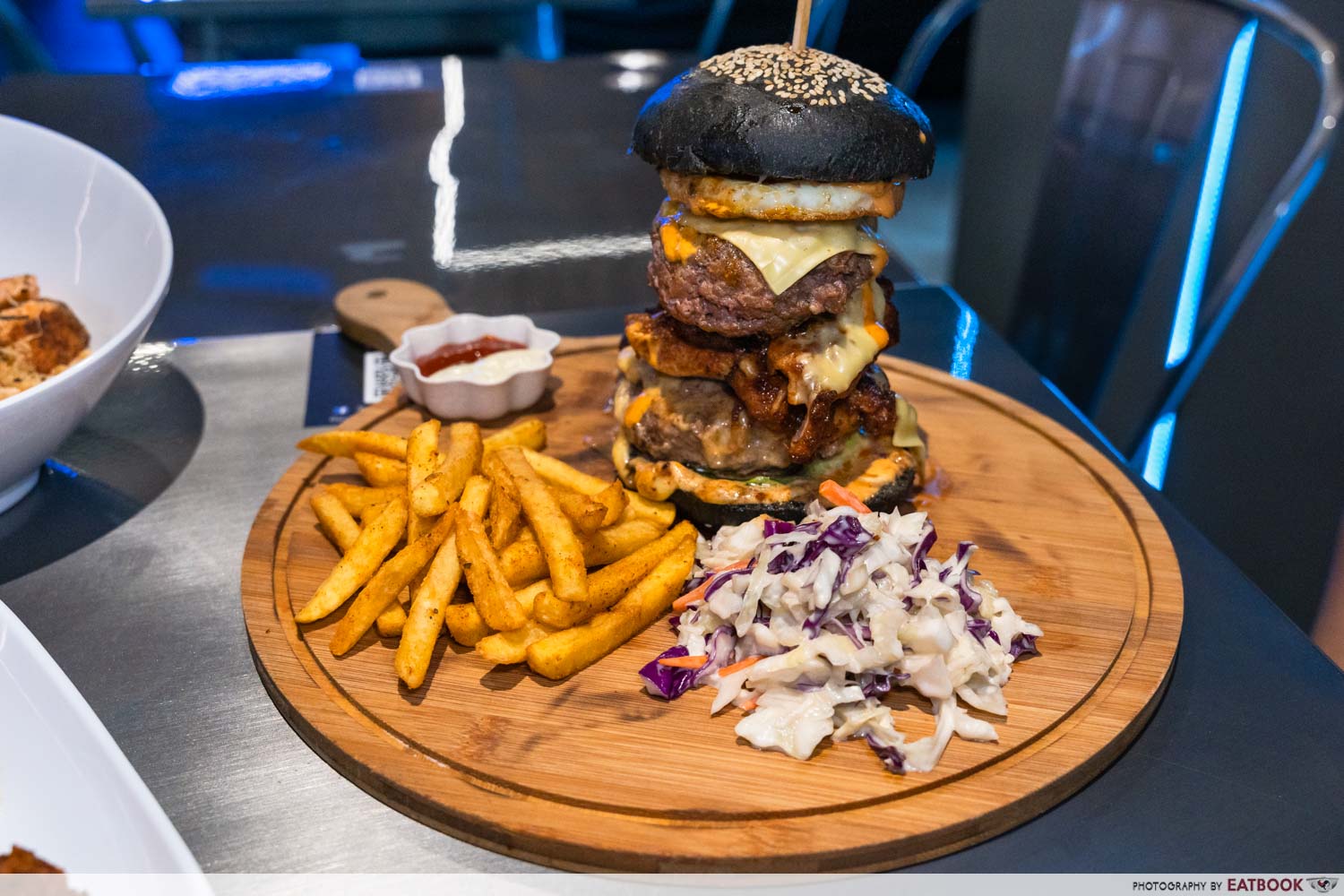 Cafe lunches under $10 are increasingly rare to come by, which makes our discovery of LUMI F&B even sweeter. The halal-certified eatery offers $6.50 set lunches, which come with one main.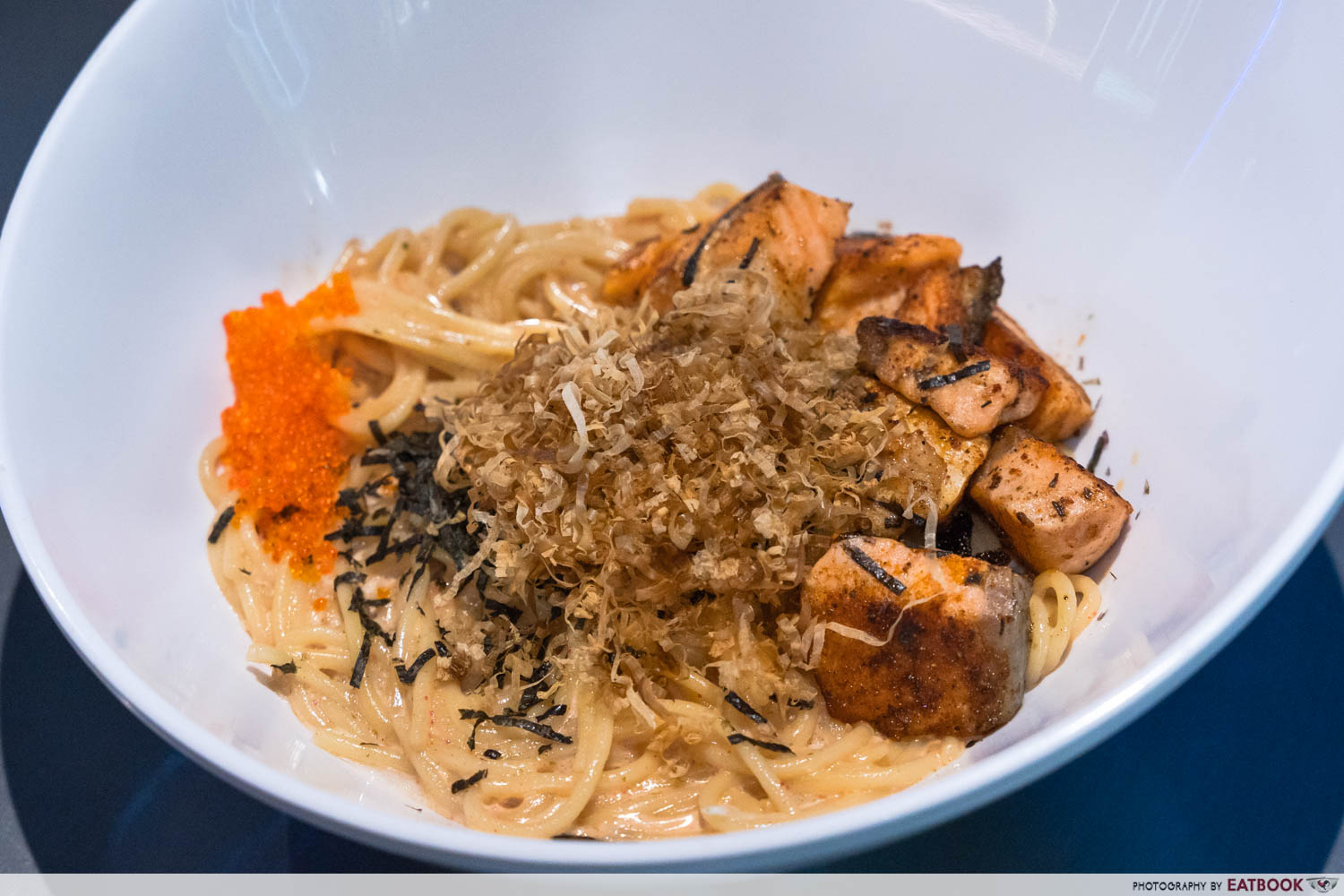 Aside from this affordable option, LUMI F&B also has a variety of Western fusion bites, from the Salmon Kurimi Pasta ($15), a wafu-style pasta with grilled salmon, mentaiko, and pops of tobiko pearls. If you're coming with an appetite, the Gigabite Burger ($30) is an XXL burger not to be missed: it comes with Wagyu patties, chicken thighs, a fried egg, and various other toppings, sandwiched between two charcoal buns.
Read our LUMI F&B review.
Address: 38 Jalan Pemimpin, #01-03 M38, Singapore 577178
Opening hours: Daily 11:30am to 10:30pm
Tel: 9144 9549
Website
LUMI F&B is a halal-certified eatery.
LUMI F&B Review: XXL Burgers And $6.50 Set Lunch At This Neon-Lit Bistro
---
4. 8Bar Espresso
---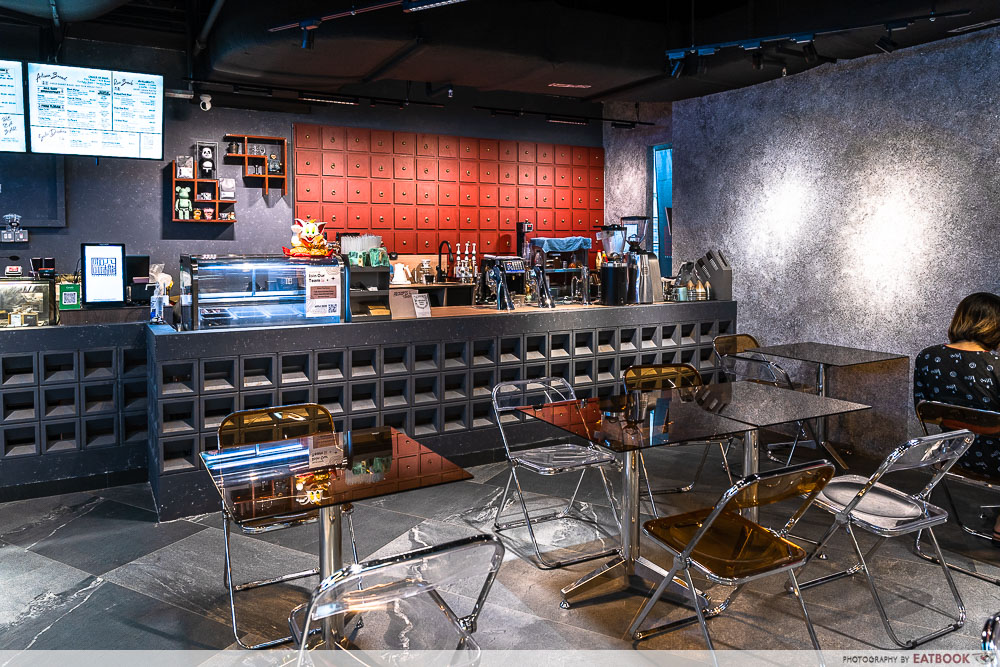 TCM hall decor seems to be quite the interior trend for new restaurants and cafes in Singapore of late. 8Bar Espresso is another eatery that has clamoured on the bandwagon, with TCM elements sprinkled throughout its space and serveware. You can expect a substantial range of cafe bites here, ranging from sweet toasts to savoury rice bowls and bagel sandwiches.
Also, the cafe serves a variety of specialty coffee and tea beverages; the former is made with coffee roasted by the brand themselves. Those unsure of where to start on the menu should zone in on their Lu Rou Fries ($13+), topped with bits of Taiwanese braised pork, before trying their Deep Dive Bowl ($19+), a donburi bowl served with torched shrimp and scallops.
Read our 8Bar Espresso review.
Address: 10 Eunos Road 8, #01-131, SingPost Centre, Singapore 408600
Opening hours: Daily 9:30am to 9pm
Tel: 8892 2094
Website
8Bar Espresso is not a halal-certified eatery.
8Bar Espresso Review: TCM Hall-Inspired Cafe With Furikake Bagels And Black Sesame Latte
---
5. Tenderbest Makcik Tuckshop
---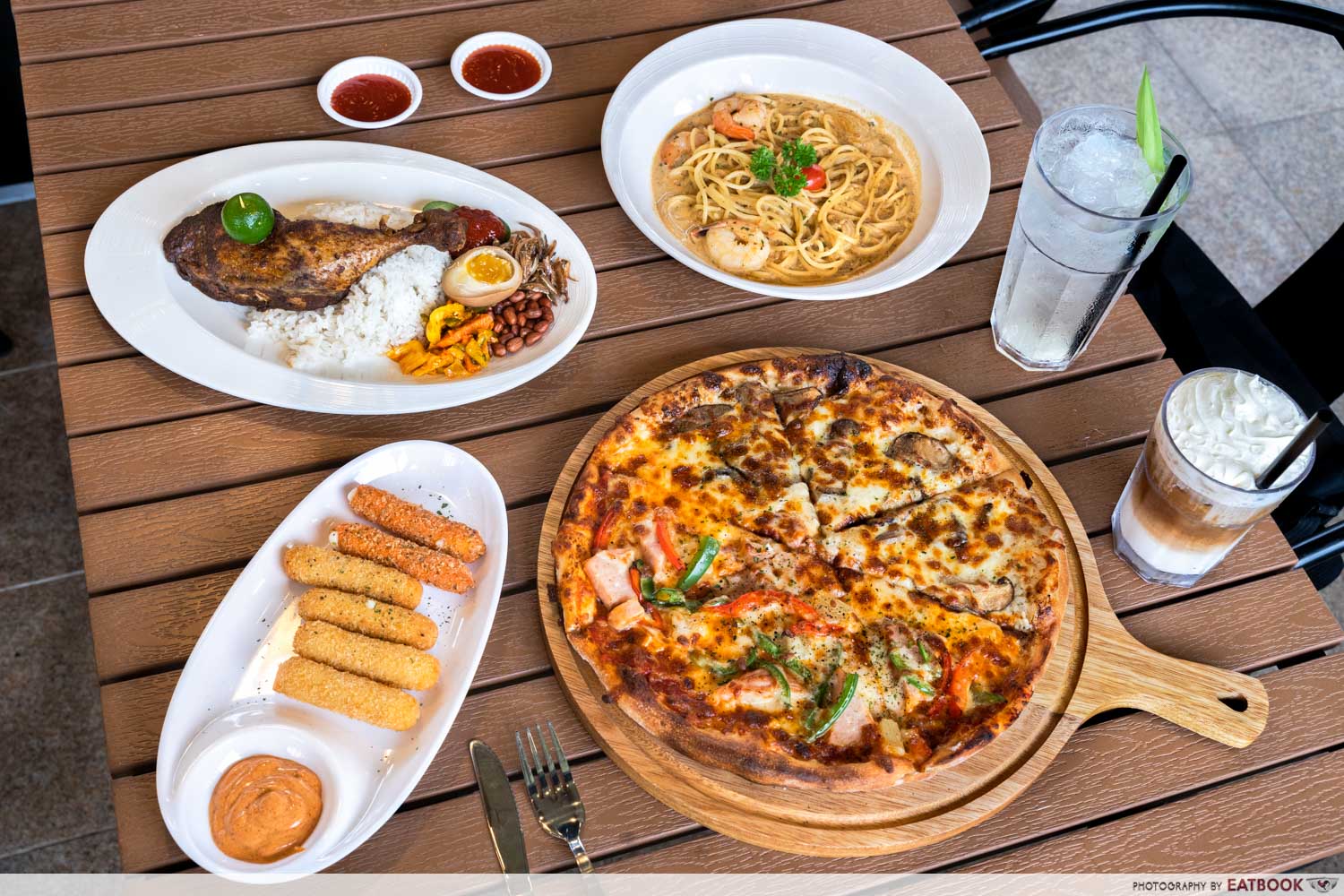 Sengkang residents, here's a new eatery to check out. Tenderbest Makcik Tuckshop, located in the Sengkang Riverside Park, marries waterfront views with Asian fusion fare at wallet-friendly prices. The menu here is extensive, offering dishes such as nasi lemak, pizza, fried chicken, pasta, and salads, so you'll be spoilt for choice.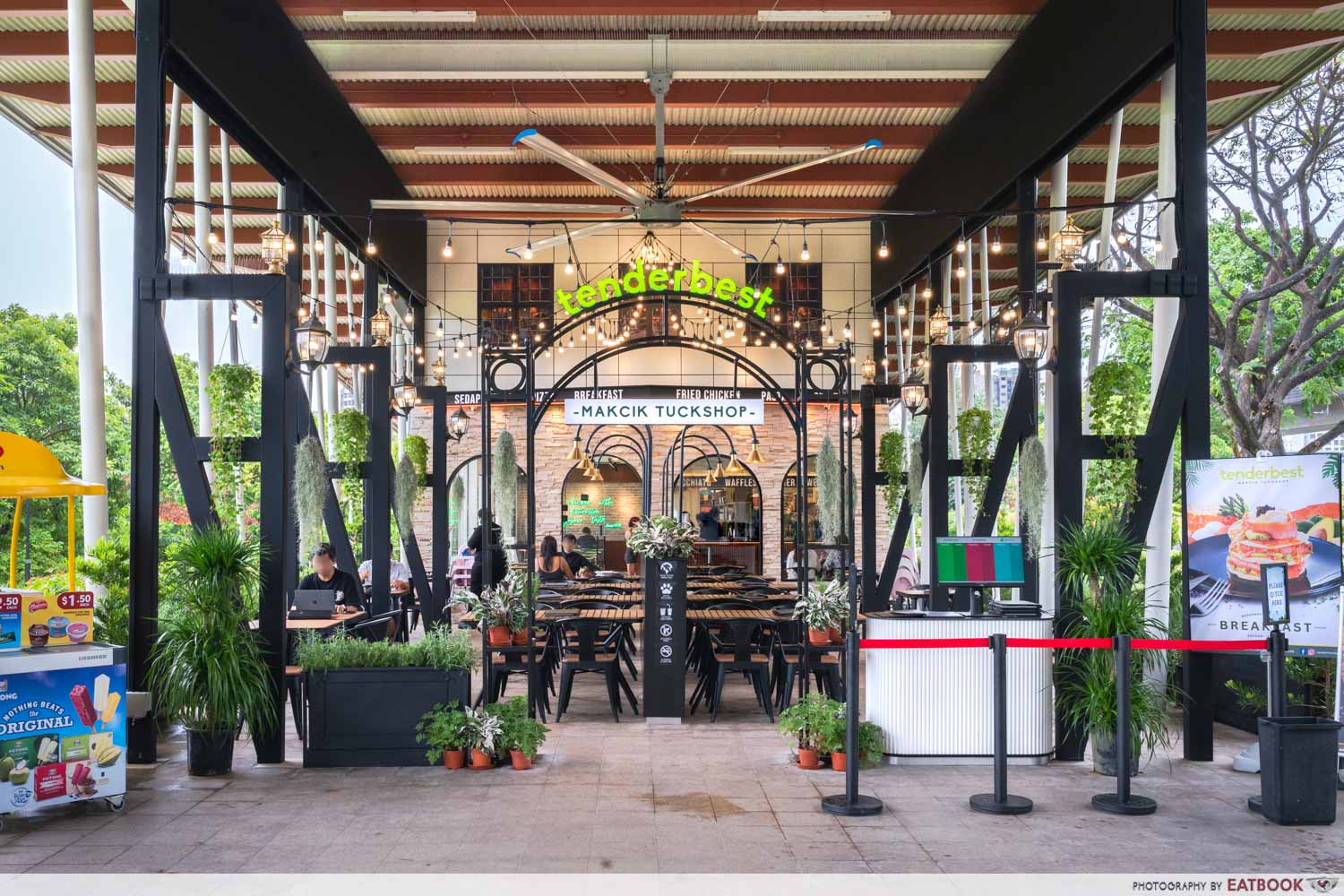 Over the weekends, they also serve up pancake stacks, eggs benedict, French toast, and avocado toast as part of their Early Bird Breakfast menu, so swing by from 8:30am to 10:30am to enjoy these offerings.
Read our Tenderbest Makcik Tuckshop review.
Address: 50 Anchorvale Street, Sengkang Riverside Park, Singapore 544834
Opening hours: Mon-Fri 11am to 10:30pm, Sat-Sun 8:30am to 10:30pm
Website
Tenderbest Makcik Tuckshop is a halal-certified eatery.
Tenderbest Makcik Tuckshop Review: New Fusion Restaurant In Sengkang With Riverside Views
---
6. Luckin Coffee
---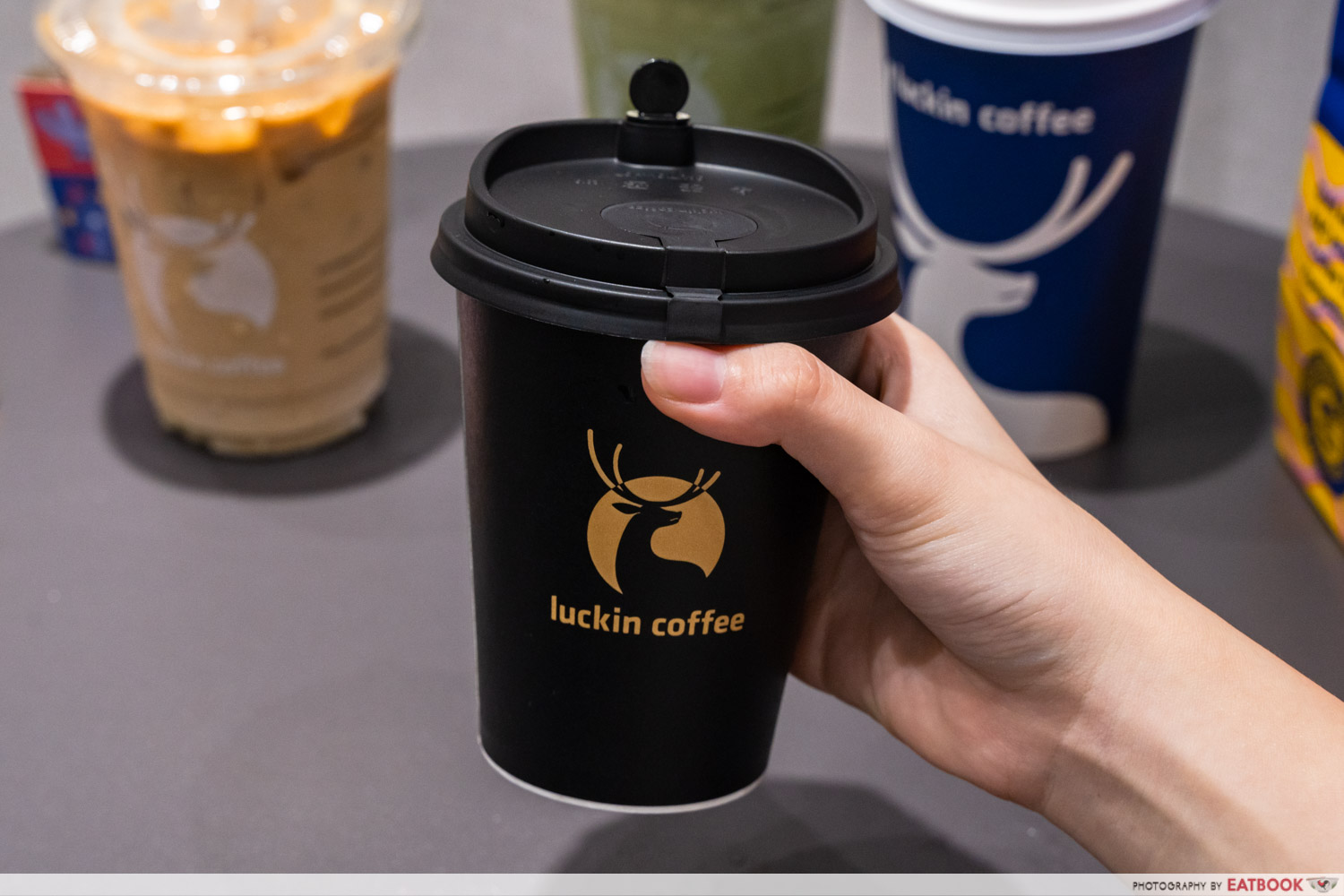 China's equivalent of Starbucks, Luckin Coffee, has made its debut in Singapore with two outlets: one located in Marina Square, and another in Ngee Ann City. Before their arrival, the brand was met with quite the scandal due to a corporate fraud lawsuit in 2020, so if the name sounds familiar to you, you now know why.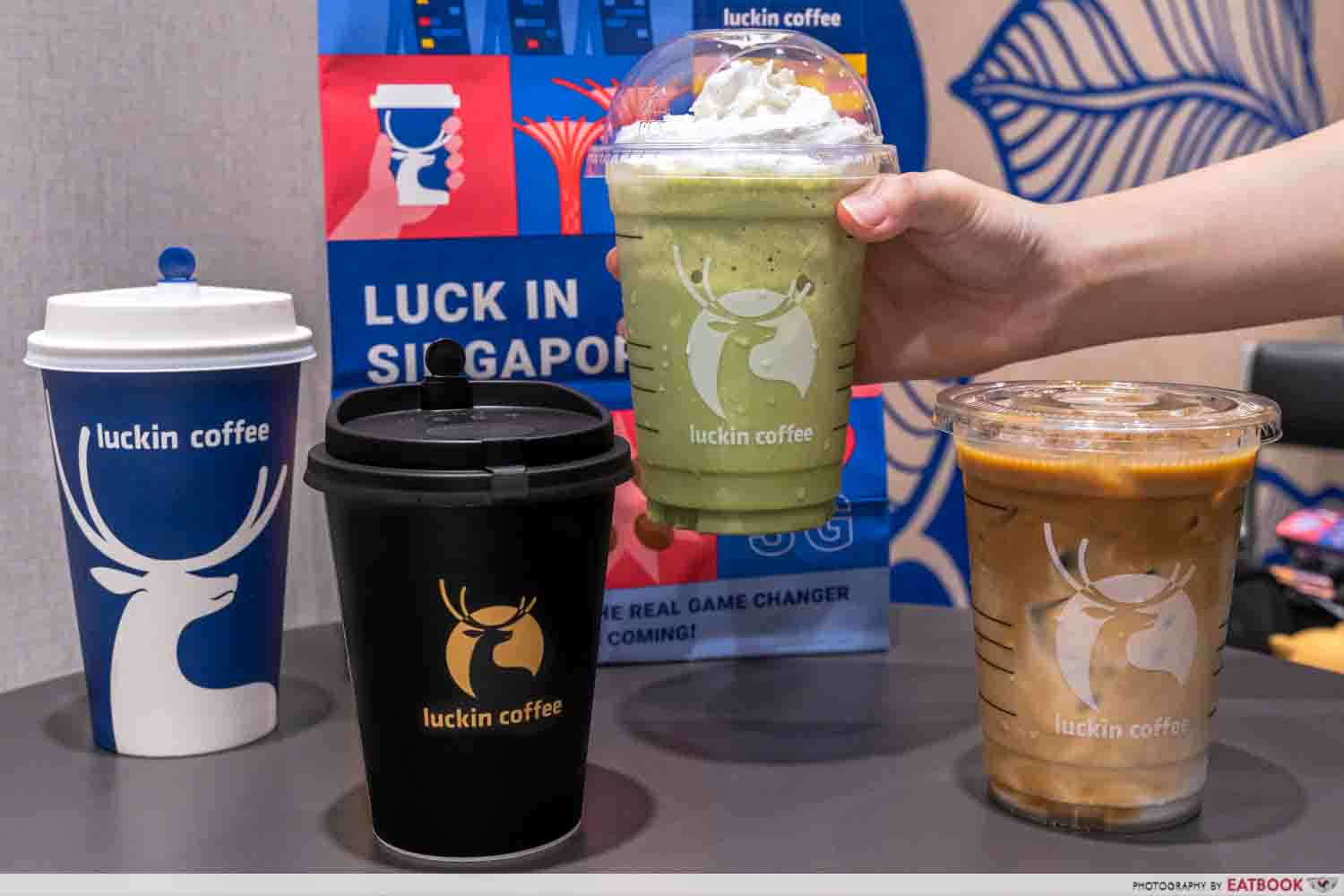 Enjoy a variety of Luckin Coffee's award-winning drinks here, including their Little Black Cup Specialty Single Origins Espresso (SOE) Series, which earned the brand a platinum medal at the IIAC International Coffee Tasting Competition. For those who prefer lighter beverages, the Coconut Latte ($6.40) is one to get, starring raw, cold-pressed coconut milk that gives the drink an added richness.
Read our Luckin Coffee review.
Marina Square
Address: 6 Raffles Boulevard, #02-153, Marina Square, Singapore 039594
Opening hours: Daily 8am to 10pm 
Ngee Ann City
Address: 391 Orchard Road, #01-K2, Ngee Ann City Civic Plaza, Singapore 238872
Opening hours: Daily 9am to 10:30pm
Website
Luckin Coffee is not a halal-certified eatery.
Luckin Coffee: Chinese Coffee Chain With Famous Coconut Latte Opens In Marina Square
---
7. House of Bao
---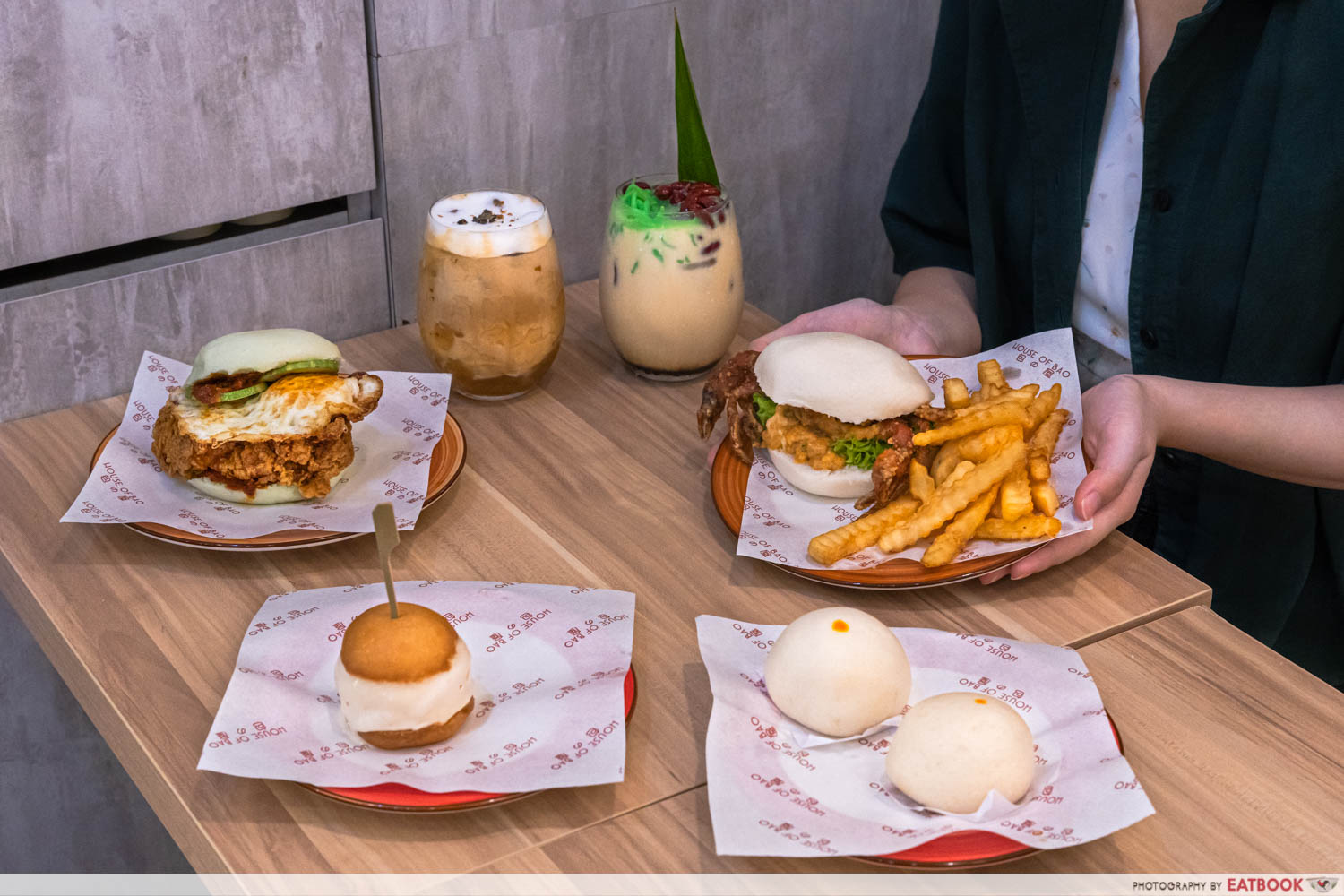 If you're a fan of the handmade bao burgers served by eateries such as Abundance and Bao Makers, then you'll love House of Bao. The eatery is founded by Lee, who comes from the family behind Malaysia's famed Taiping Bao.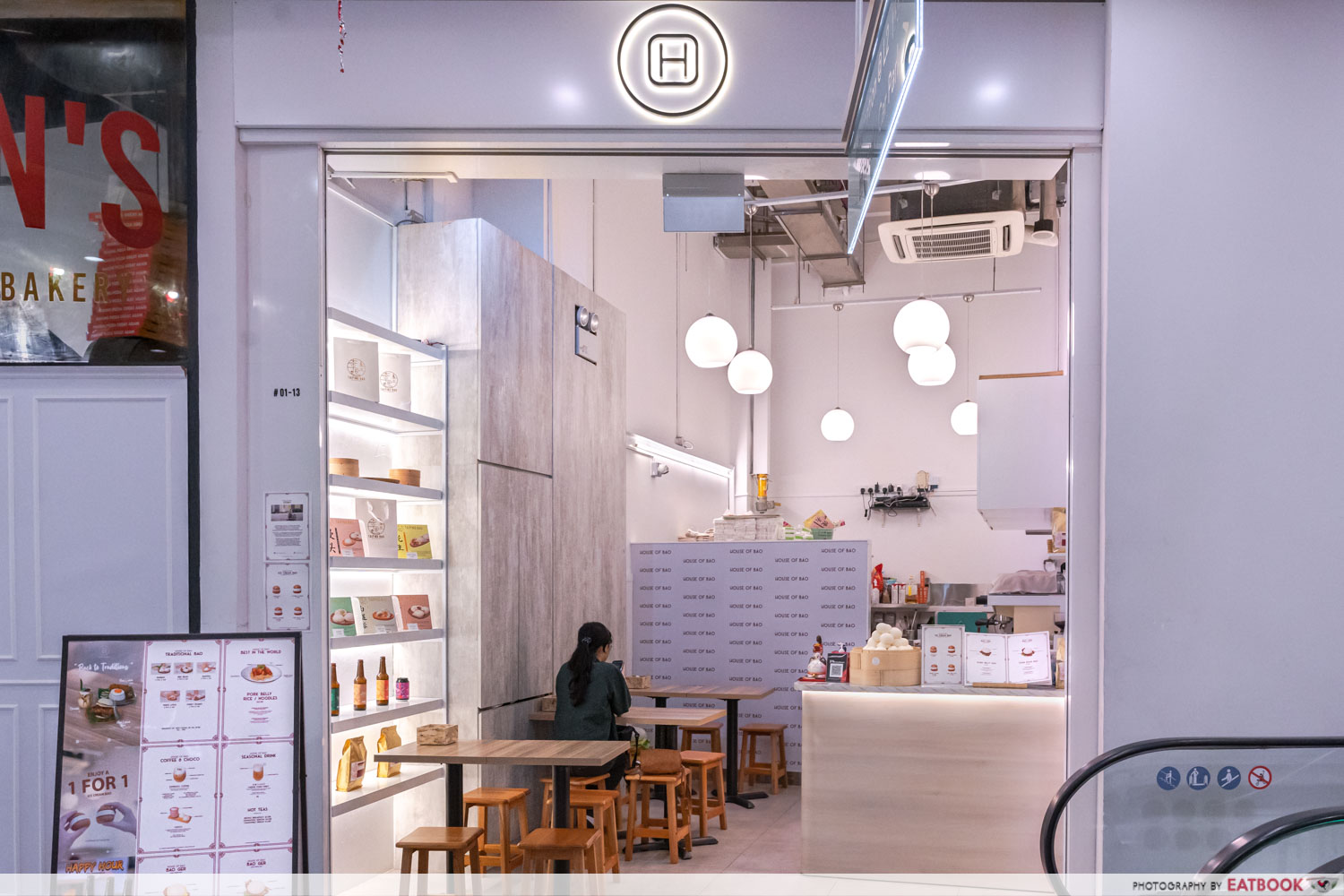 At his Singaporean venture, diners can enjoy "bao-gers" that come with generous fillings, including Pork Belly ($12.90), and soft-shell crab ($14.90). Else, swing by to try some of Taiping Bao's old-school baos, priced at $3 for two. These come in fillings such as Pandan, Red Bean, White Lotus, and Sweet Peanut.
Read our House of Bao review.
Address: 321 Alexandra Road, #01-13, Alexandra Central Mall, Singapore 159971
Opening hours: Tue-Sun 10am to 9:30pm
Website
House of Bao is not a halal-certified eatery.
This New Cafe Has Handmade Bao With Chilli Crab, Ice Cream Mantou And More
---
8. Want Food Taiwanese Delights
---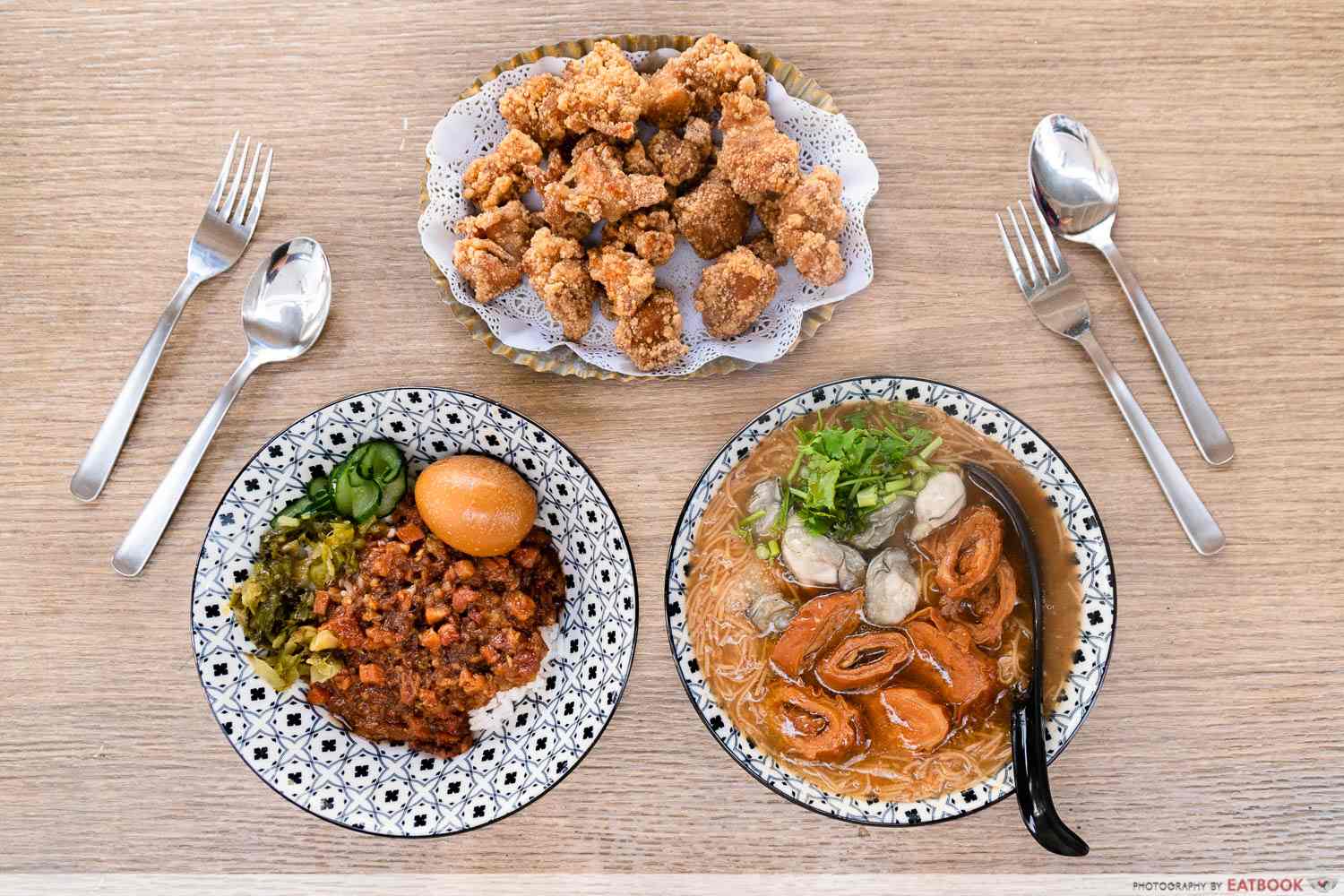 Taiwanese food lovers living in the West, rejoice, as Want Food Taiwanese Delights has opened their second outlet in Holland Village. We first reviewed and raved about their dishes when we tried them out at their flagship Chinatown outlet, so this is your chance to try them out for yourself if you've yet to visit the OG.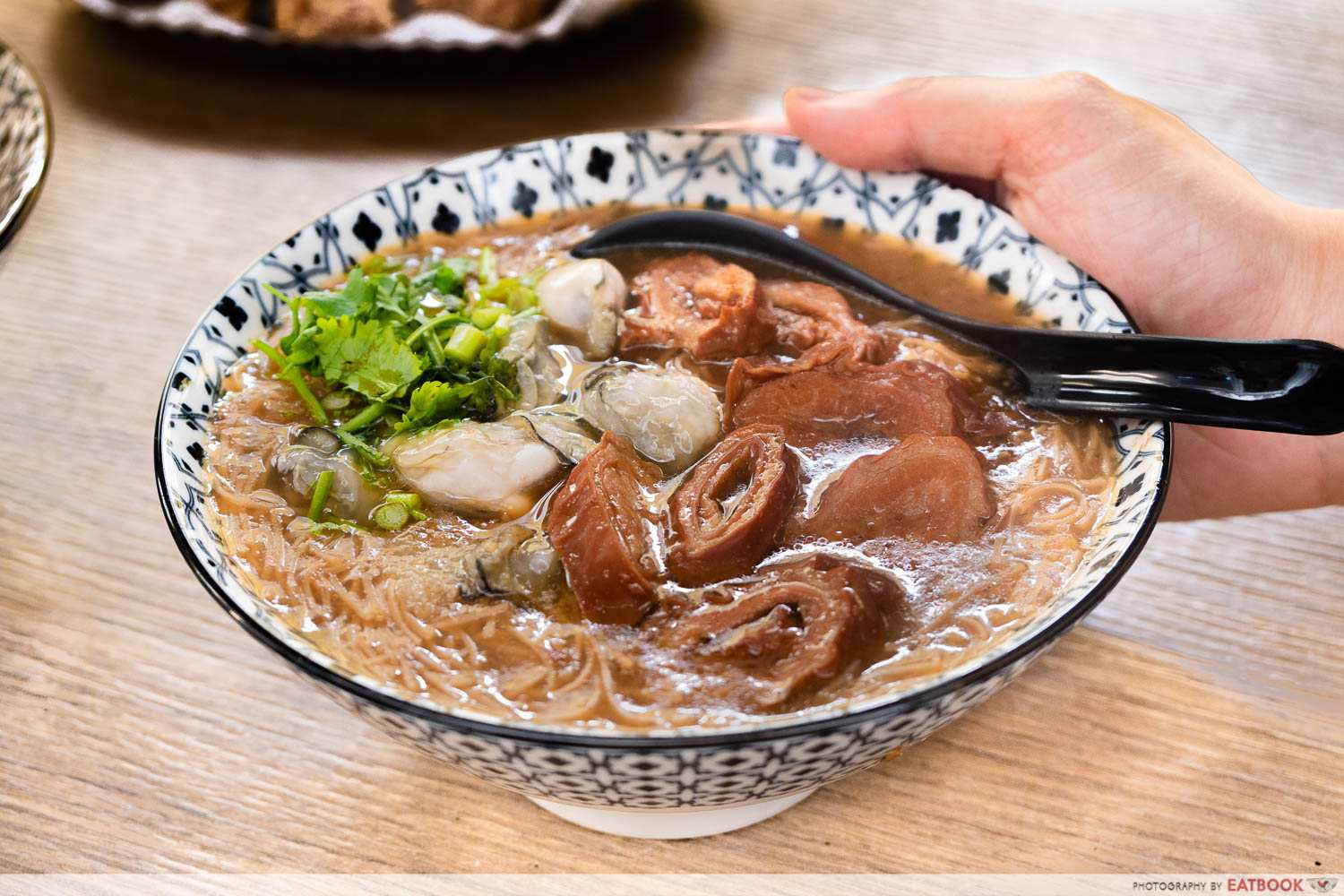 Zone in on their Signature Oyster Intestine Mee Sua ($6.90/$9.90), Taiwanese Salty Crispy Chicken ($8.90), and Taiwanese Braised Minced Pork Bento ($10.90) when you're there, as each offers classic Taiwanese flavours at relatively affordable prices.
Find out more about Want Food Taiwanese Delight's Holland Village opening.
Address: 25 Lorong Liput, #01, Singapore 277735
Opening hours: Wed-Mon 10am to 3:30pm, 5pm to 9pm
Tel: 9396 9800
Website
Want Food Taiwanese Delights is not a halal-certified eatery.
Want Food Taiwanese Delights Opens In Holland Village With Legit Lu Rou Fan And More
---
9. Yang Xiao Xian
---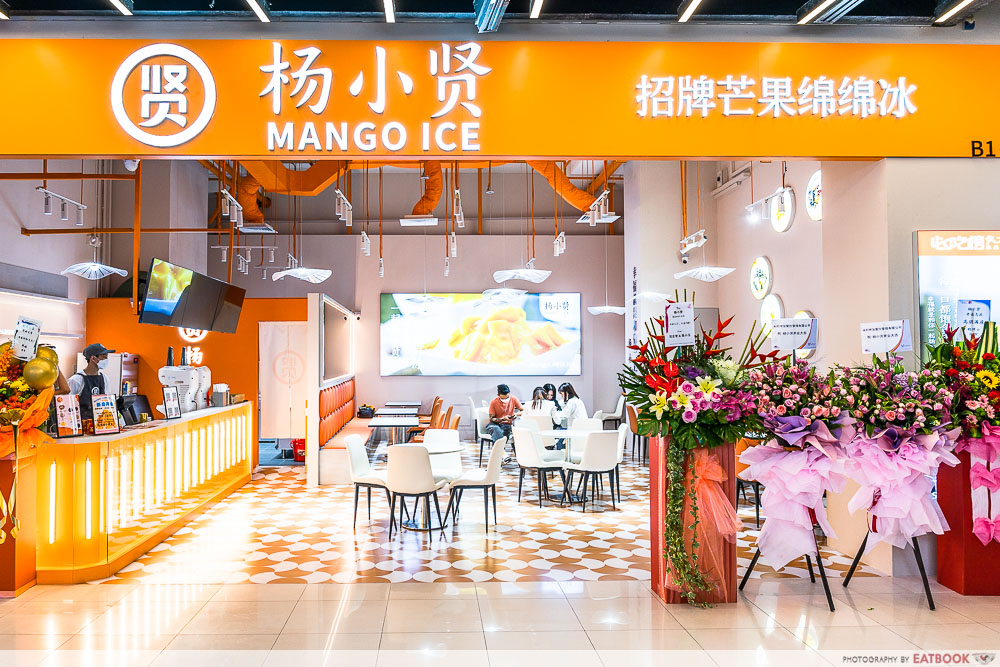 If you've ever been to Taiwan, you might have heard of Yang Xiao Xian, a famous shaved ice chain. The brand has since expanded to Singapore, with their first outlet located at Orchard Gateway.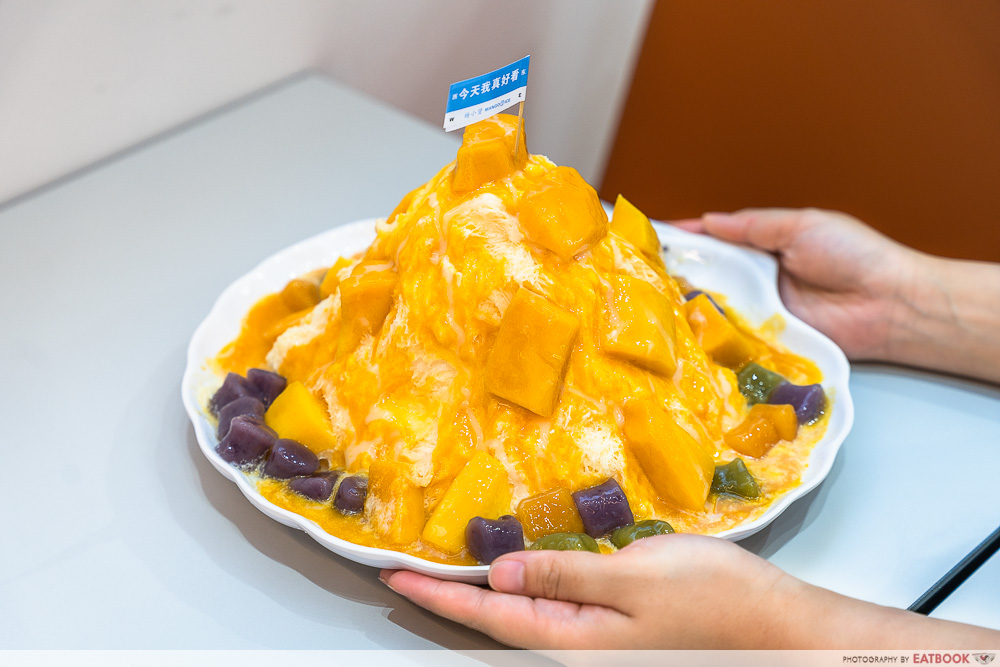 Try out their famous Mango Milk Ice, a creamy concoction doused in mango syrup, and topped with pieces of fresh mango, as well as QQ taro balls for chew. Get this in the standard portion, which is priced at $16.80, or come with friends and get their XXL portion, which feeds up to five for $28.80. Aside from mango, you can enjoy their shaved ice in other flavours, or enjoy the wider variety of Taiwanese sweet treats on the menu if you prefer.
Read our Yang Xiao Xian review.
Address: 277 Orchard Road, B1-12, Orchardgateway, Singapore 238858
Opening hours: Daily 10:30am to 10:30pm
Website
Yang Xiao Xian is not a halal-certified eatery.
Yang Xiao Xian: XXL Mango Ice At Famous Taiwanese Milk Ice Chain In Somerset 
---
10. Ceres Haus
---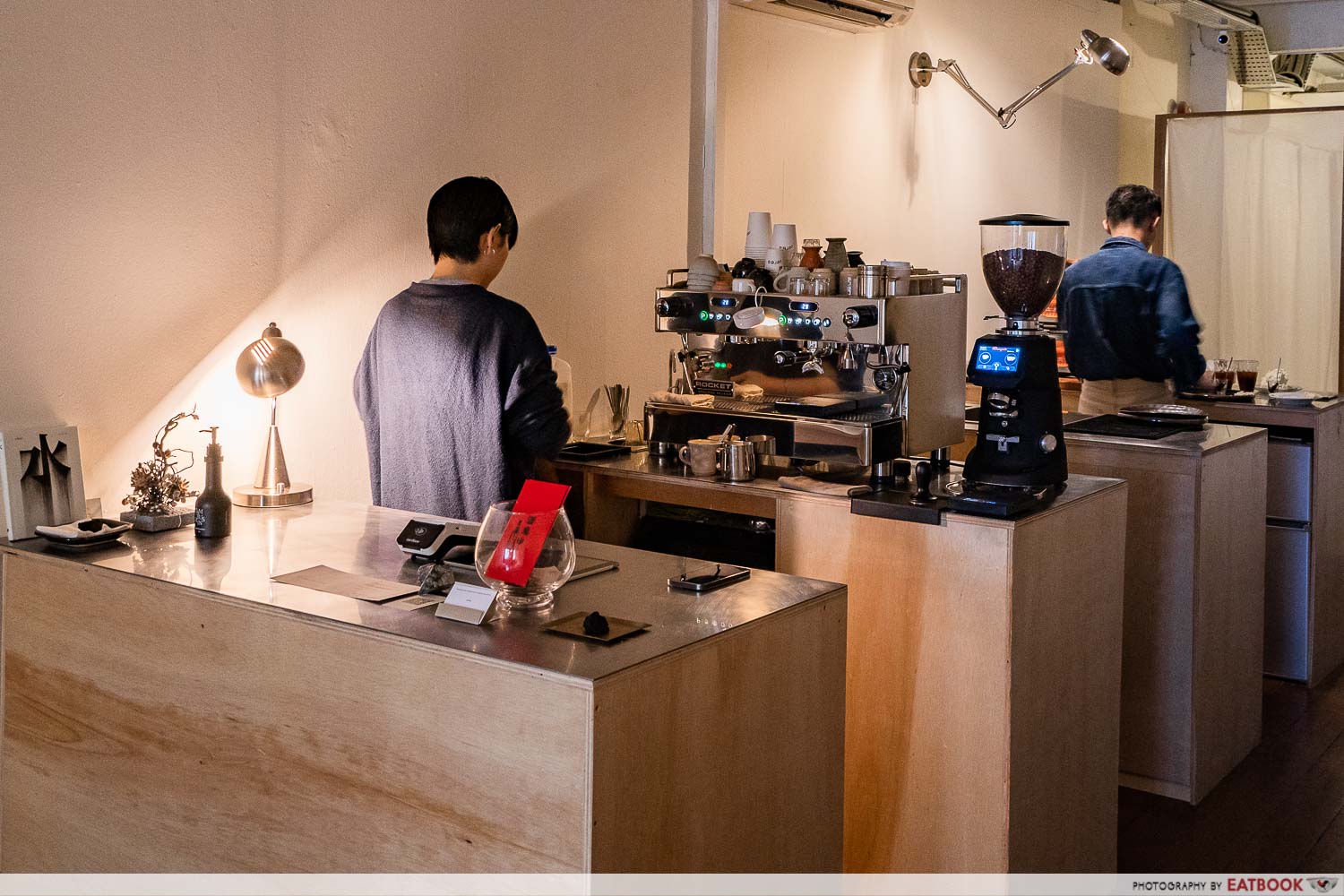 The Clarke Quay and Boat Quay areas are filled with cafes to visit, but the brand-new Ceres Haus is a worthy addition to your roster. The cafe by day, wine bar by night offers visitors minimalist, Japanese-style decor with relaxed low lighting, and a simple menu of coffees and teas, priced from $4, as well as a selection of light bites.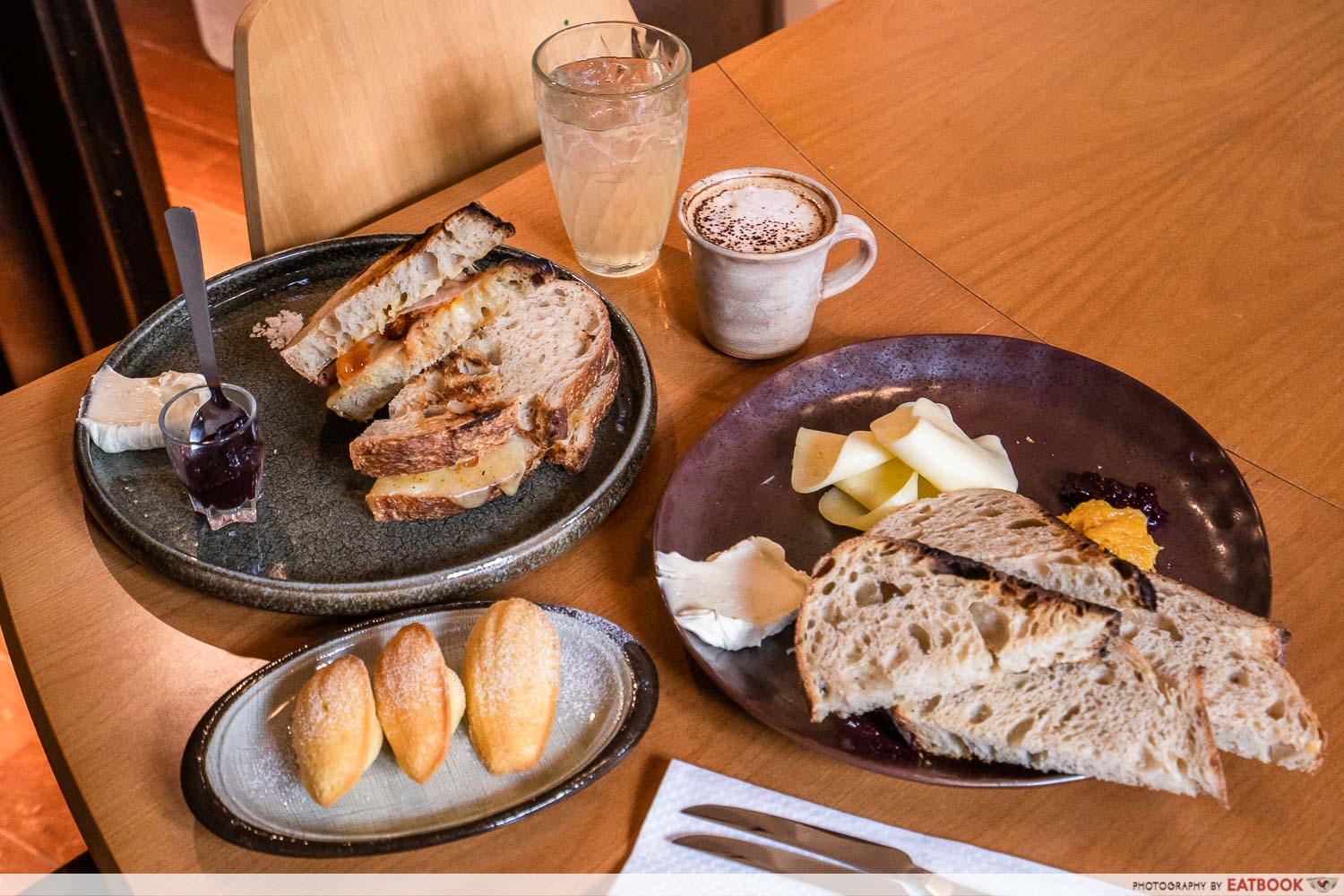 Pair any of their house-made, baked-to-order Madeleines ($6+ for three pieces) if you'd like to enjoy some sweet switch your coffee. Else, there is a selection of breakfast toasts and sandwiches to try out if you're there for a more substantial meal.
Read our Ceres Haus review.
Address: 18A Circular Road, Singapore 049374
Opening hours: Mon, Wed-Thurs 10:30am to 5pm, Fri-Sun 10:30am to 10:30pm
Website
Ceres Haus is not a halal-certified eatery.
---
11. Pretzel Planet
---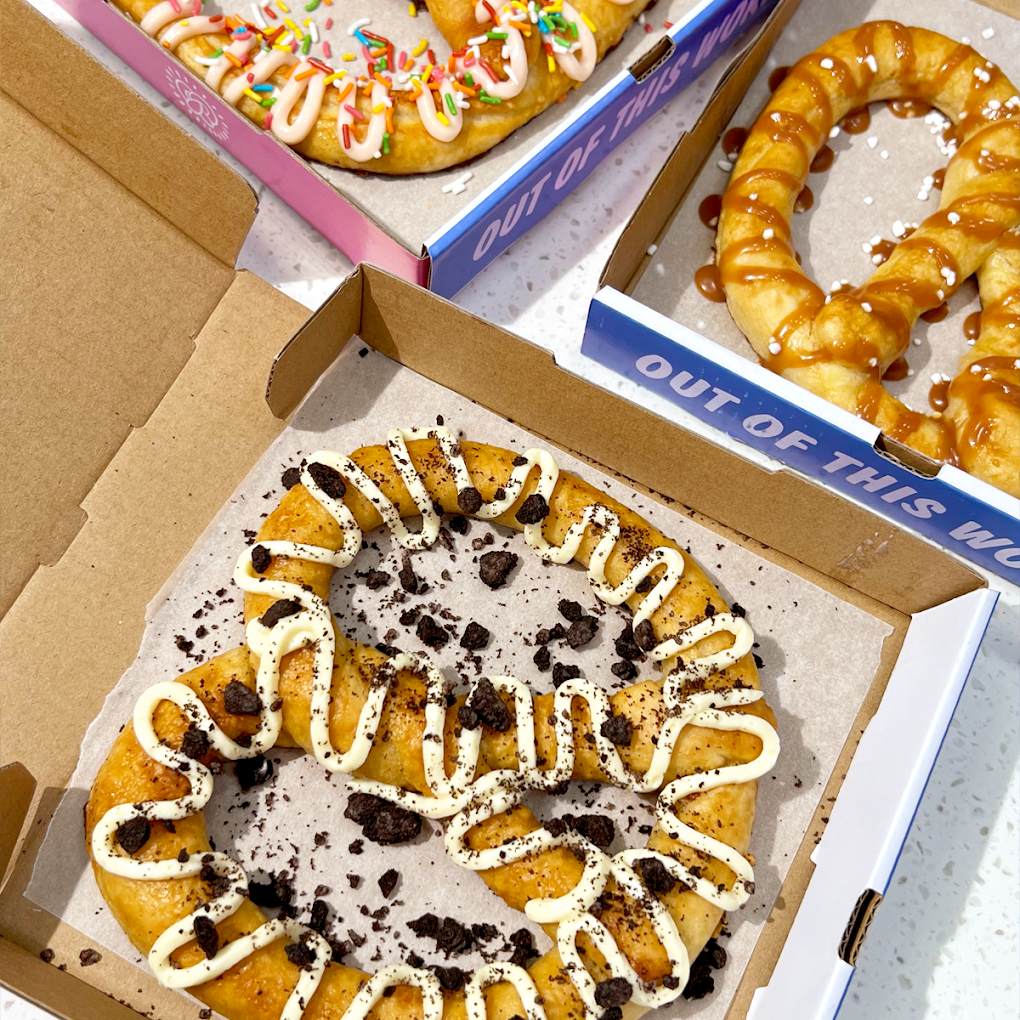 Image credit: @pretzelplanet
Move over Auntie Anne's, there's a new pretzel joint in town: Pretzel Planet, located in Sengkang Grand Mall, promises American pretzels with funky sweet and savoury toppings, ranging from Mentaiko ($5.50)  to S'mores Supreme ($5.50).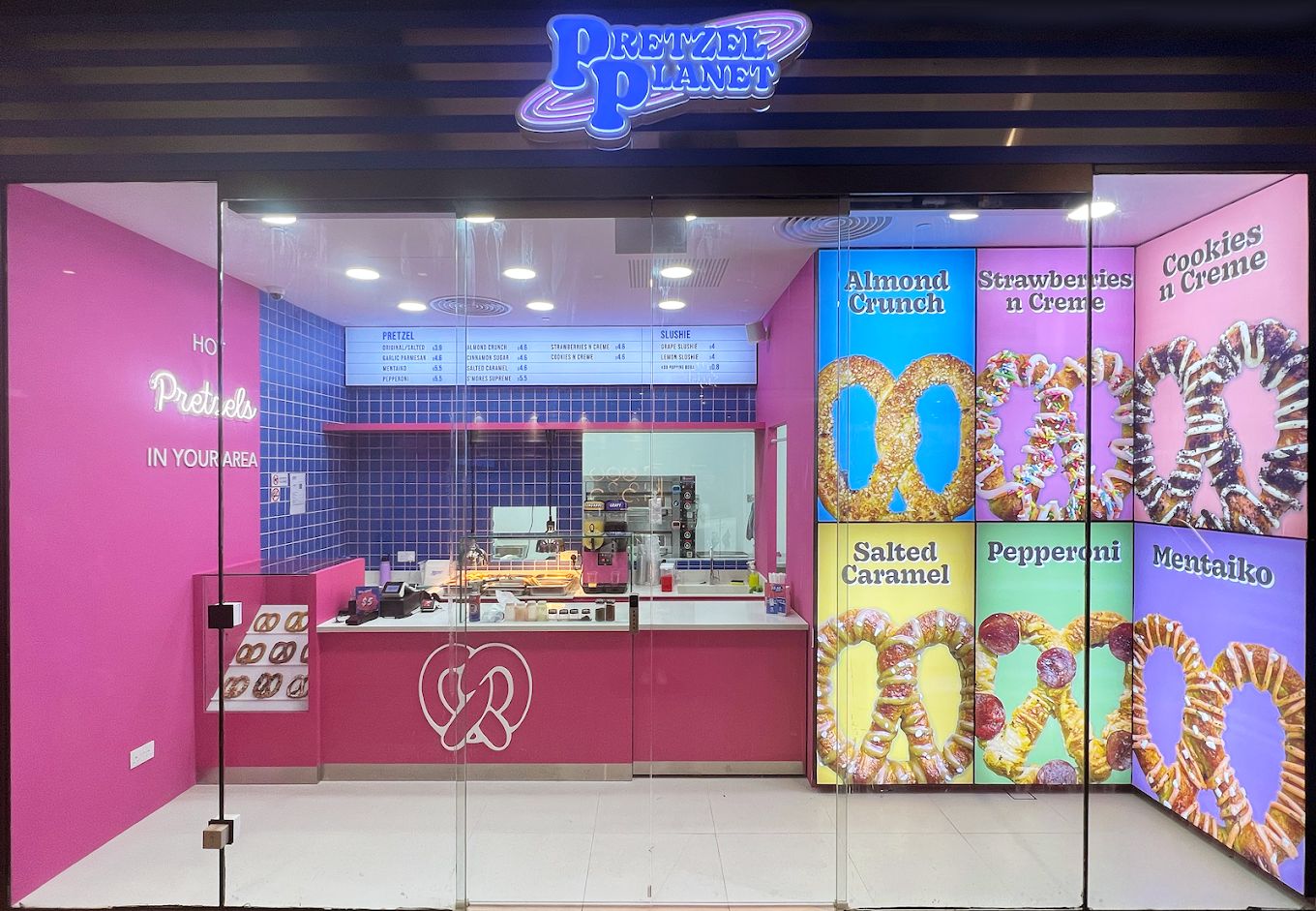 Image credit: @pretzelplanet
Aside from pretzels, the new kiosk also sells slushies to quench your thirst, priced from $4. They're in the process of applying for halal certification too!
Read our Pretzel Planet review.
Address: 70 Compassvale Bow, #01-67, Sengkang Grand Mall, Singapore 544692
Opening hours: Daily 11am to 9:30pm (or sold out)
Website
Pretzel Planet is not a halal-certified eatery but uses no pork or lard.
This New American Pretzel Shop Has Mentaiko, S'mores, And Pepperoni Pretzels
---
12. Phat Fingers
---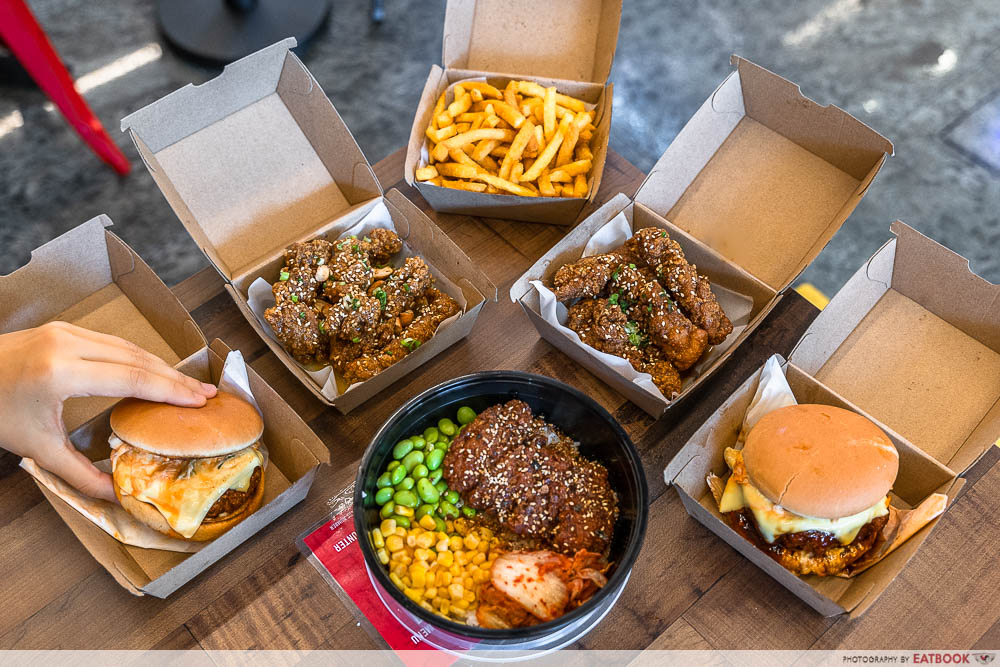 Korean fried chicken fast food joint, Phat Fingers, has opened their second outlet at Clementi's NEWest Mall. Here, you can get an extensive selection of Korean burgers, rice bowls, and fried chicken, served up with different sauces and seasonings. In our opinion, the Honey Butter Chicken Tenders ($9.99) is the dish to try.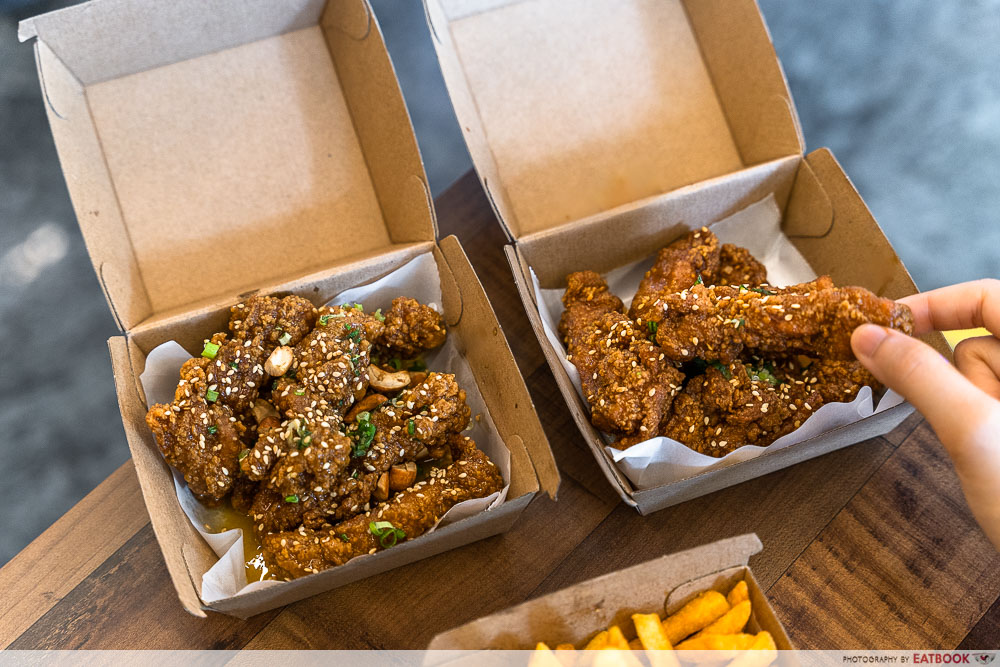 These tender, twice-fried chicken strips are tossed in a sauce reminiscent of the popular honey butter chips beloved in Korea, with just the right amount of dressing to avoid it becoming too cloying. For something a little healthier, try their Chicken Cutlet Rice Bowl ($8.99), which comes with house-made kimchi, vegetables, and a fried chicken cutlet, served atop short-grain rice.
Read our Phat Fingers review.
Address: 1 West Coast Drive, #01-73, NEWest Mall, Singapore 128020
Opening hours: TBD
Website
Phat Fingers Clementi is not a halal-certified eatery.
Phat Fingers Review: $8 Honey Butter Korean Fried Chicken And More Near Telok Ayer MRT
---
13. Hellu Coffee
---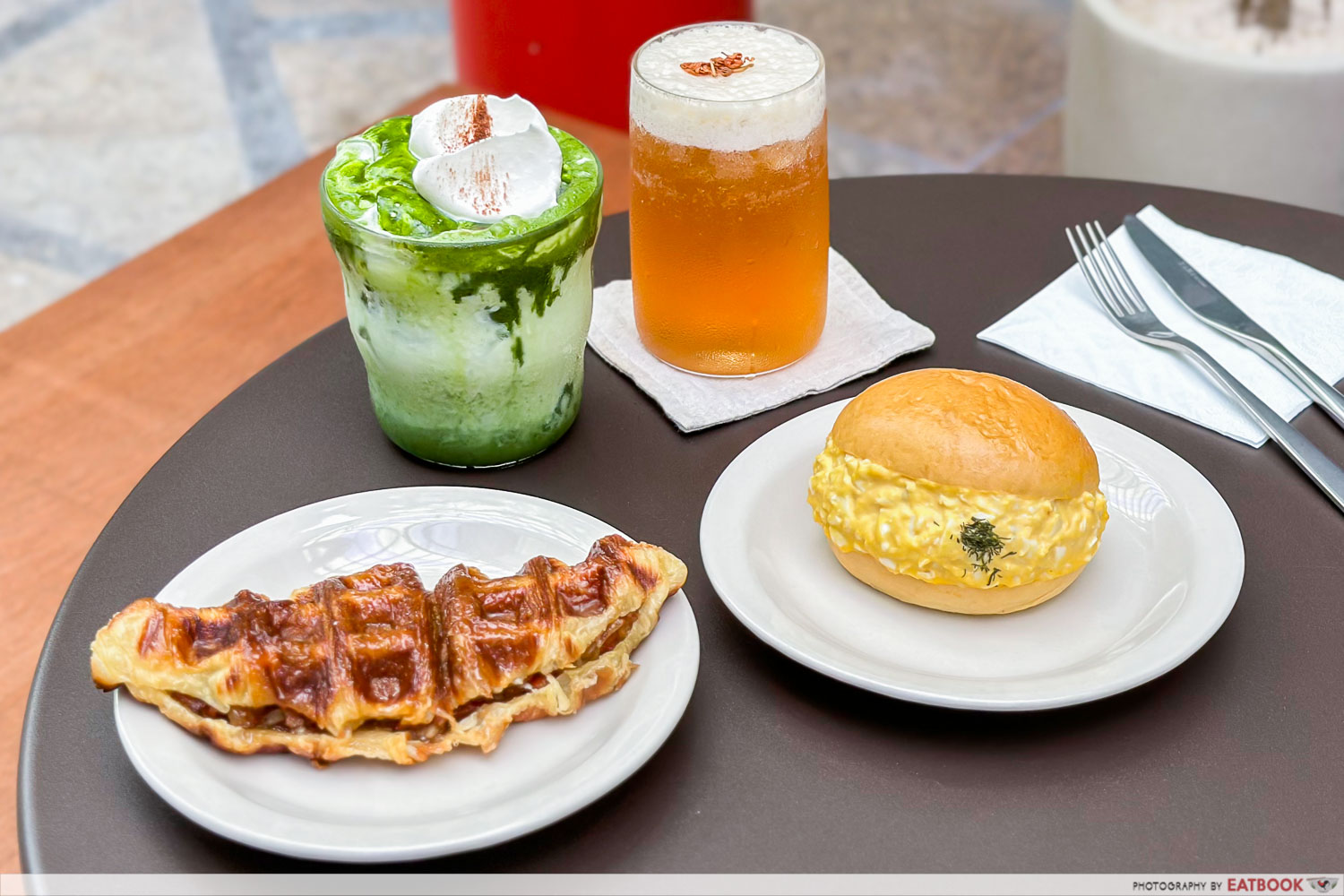 If you're looking for a pet-friendly haunt in the CDB, visit Hellu Coffee. The small 16-seater cafe offers a variety of stuffed croffles, priced at $7.90, packed with fillings such as maple baon or sesame cream. They've also got a stunning Egg Mayo Roundwich ($5), where a generous portion of egg mayo spread is nestled between sweet brioche buns. Also expect a wide selection of beverages on the menu, including specialty coffees and teas.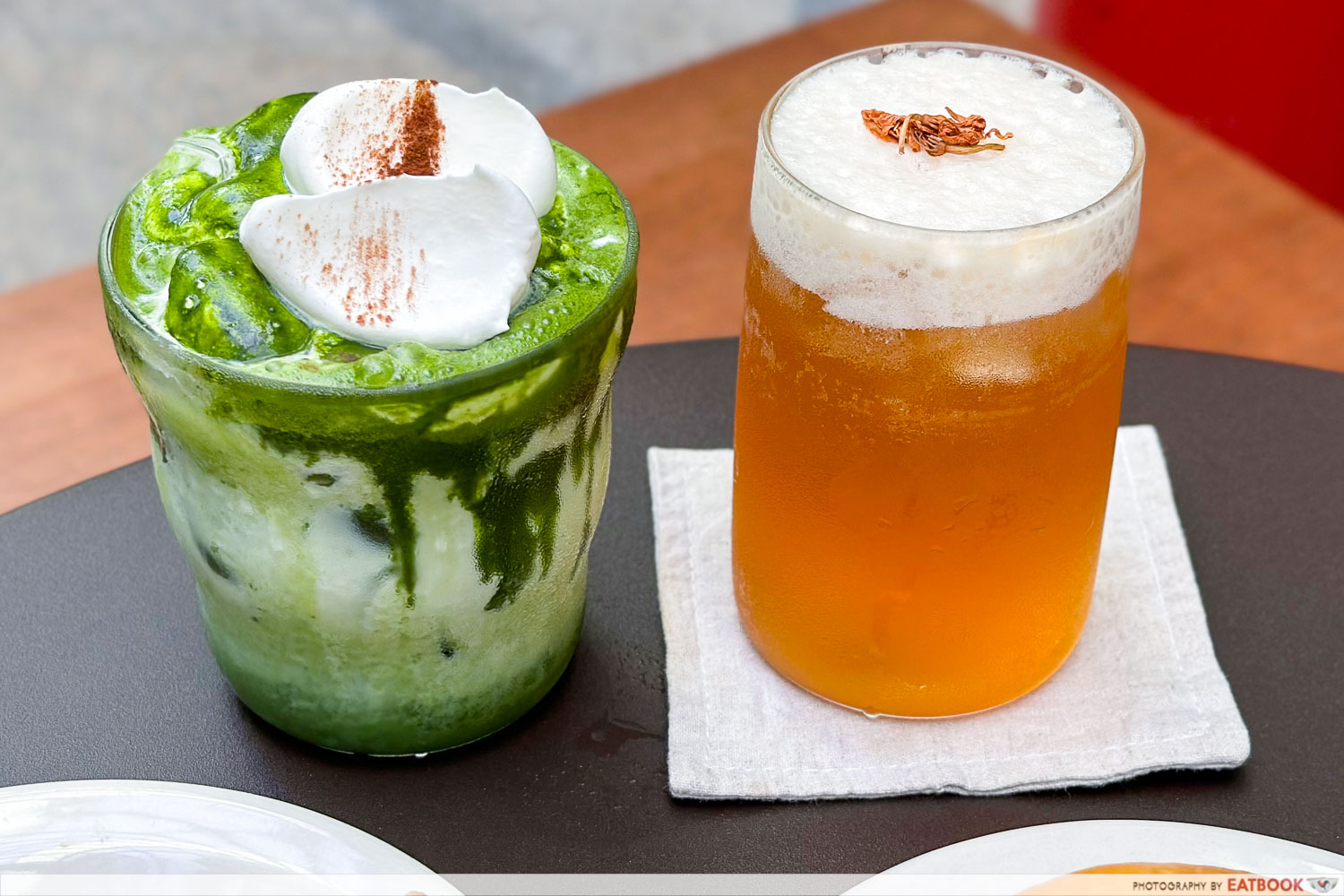 They have a range of Creamus too, which are inspired by foamy Einspanner coffee drinks. 
Read our Hellu Coffee review.
Address: 135 Amoy Street, #01-05, Far East Square, Singapore 049965
Opening Hours: Mon-Fri 8am to 6pm, Sat 10am to 4pm
Website
Hellu Coffee is not a halal-certified eatery.
---
14. Cafe Brera At Reunion
---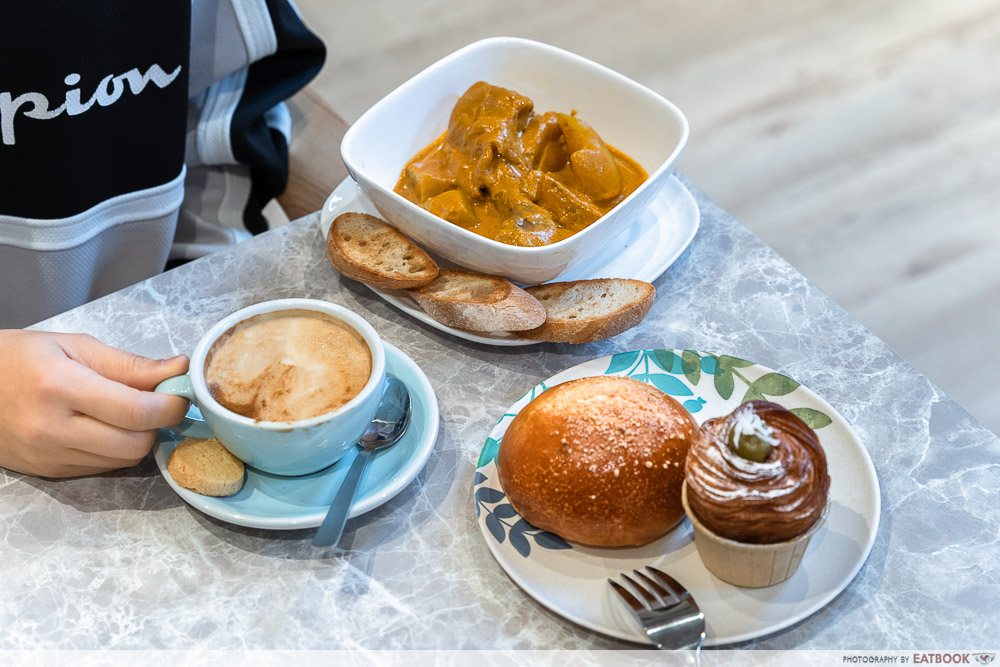 Bakery Brera is known for being one of the early pioneers of the cruffin in Singapore, alongside a wide range of viennoiseries and house-made bread loaves. Since then, they've established a new outlet in the National Museum of Singapore, known as Cafe Brera at Reunion.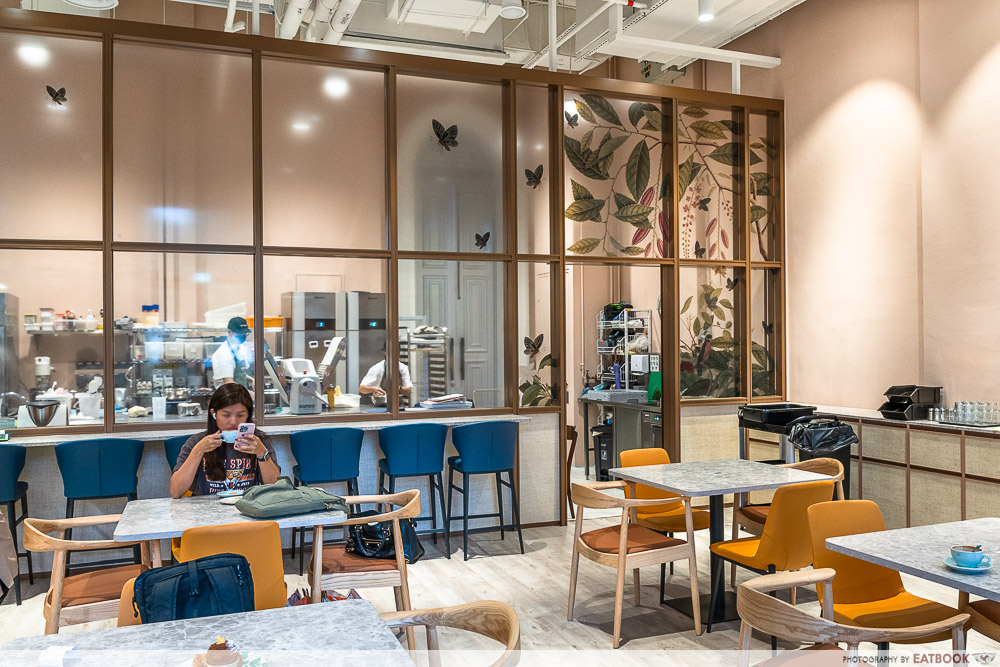 The stunning cafe is packed with natural light for chill vibes—great for a relaxed afternoon with friends. Aside from their cruffins, the cafe will also have a selection of savoury eats, including their homely Cafe Brera Chicken Curry ($10.80+), where Chinese-style chicken curry is served with slices of toasted bread, made in-house.
Read our Cafe Brera at Reunion review.
Address: 93 Stamford Road, #01-06, National Museum of Singapore, Singapore 178897
Opening hours: Daily 9am to 5pm
Tel: 8413 6360
Website
Cafe Brera at Reunion is not a halal-certified eatery.
Bakery Brera Opens Cafe At National Museum With Famous Cruffins, All-Day Brunch And More
---
15. Kooks Creamery
---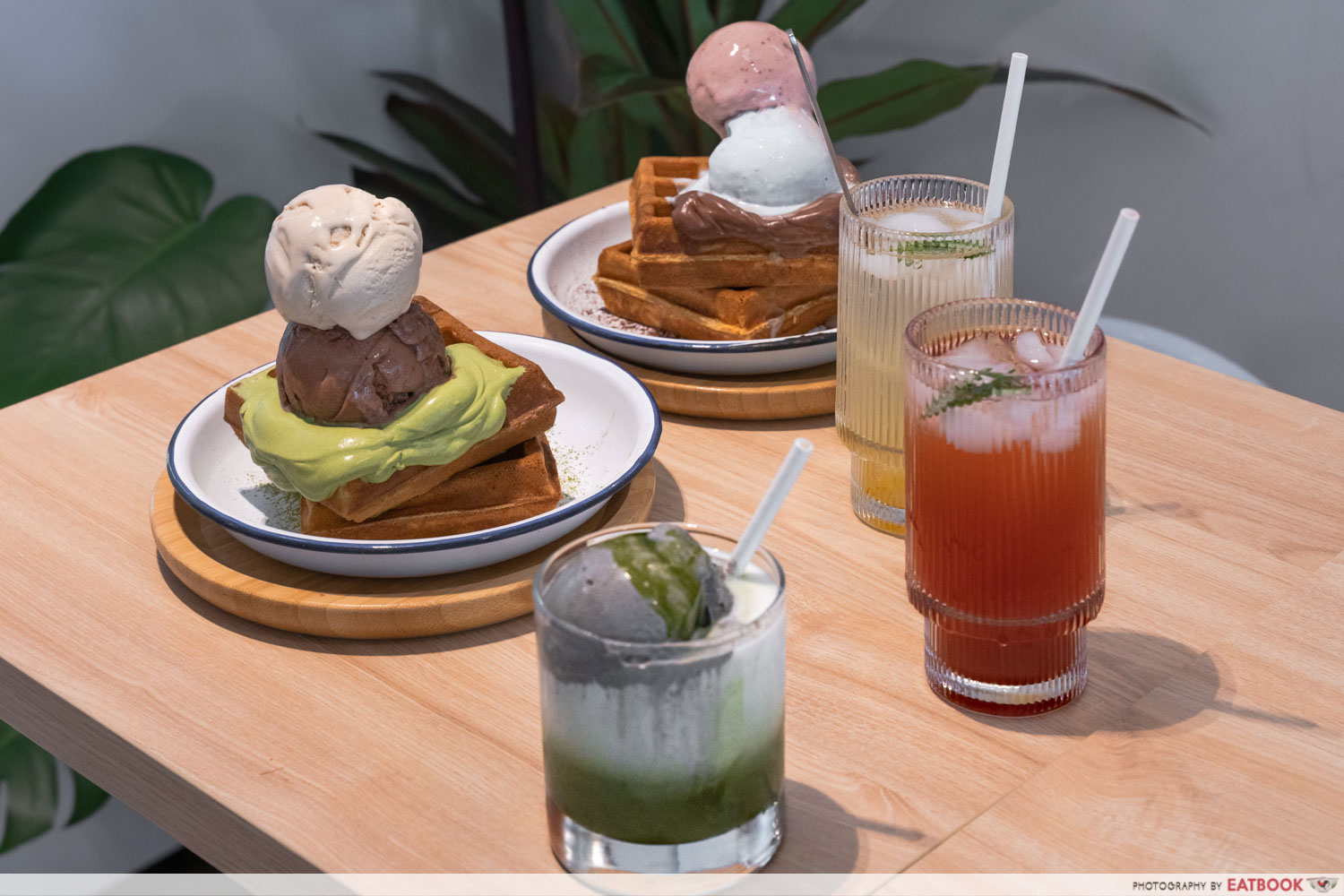 Kooks Creamery is popular for their insta-worthy molten lava cookies, paired with artisan ice creams. Recently, two new items have been added to their lava series: Lava Waffles (from $8.50) and Lava Latte ($5.50). Their Lava Waffles comprise crispy waffles made with French butter, topped with a light and fluffy Chocolate or Matcha ganache. 
You can also top up extra to pair these waffles with any ice cream scoop of your choice. Get a single scoop (from $4.30) or a double scoop (from $7.50) for the full experience, including their recommended vegan flavours, Strawberry Balsamic (+$2) that's light and fruity, and Chocolate Peanut Butter with Cacao Nibs (+$2) which is nutty and rich. 
Website
Full list of outlets
Kooks Creamery is not a halal-certified eatery but uses no pork or lard.
---
16. Peony Jade
---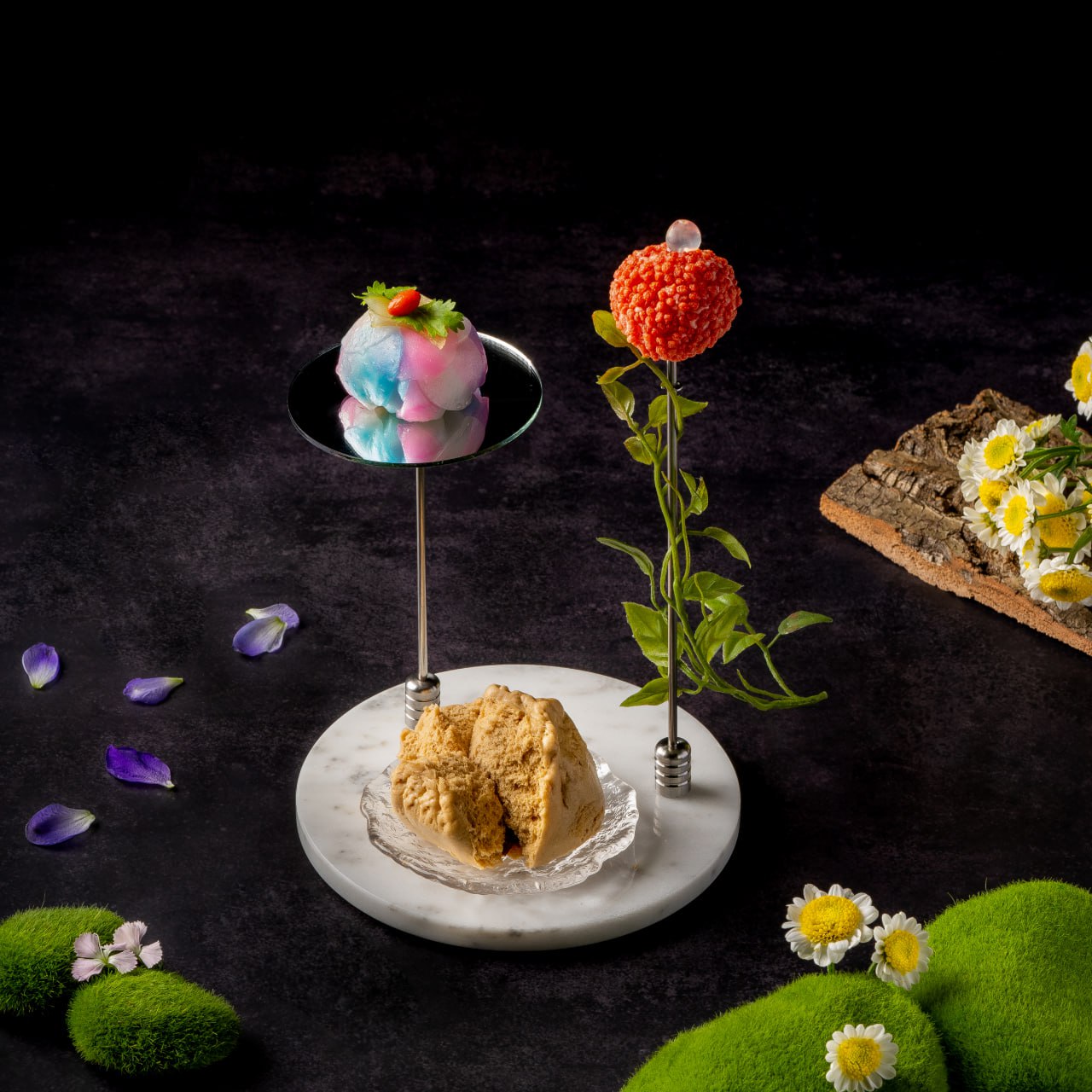 Image credit: Peony Jade
In case you missed it, Peony Jade is no longer located at Keppel Club; rather, they've moved to a new location in the heart of the CBD, at AMARA Singapore. The Michelin-recognised Chinese restaurant has just launched a weekend-only OMAKASE Handcrafted Dim Sum Escapade, priced at $68++ an adult, and $48++ for children aged six to 12.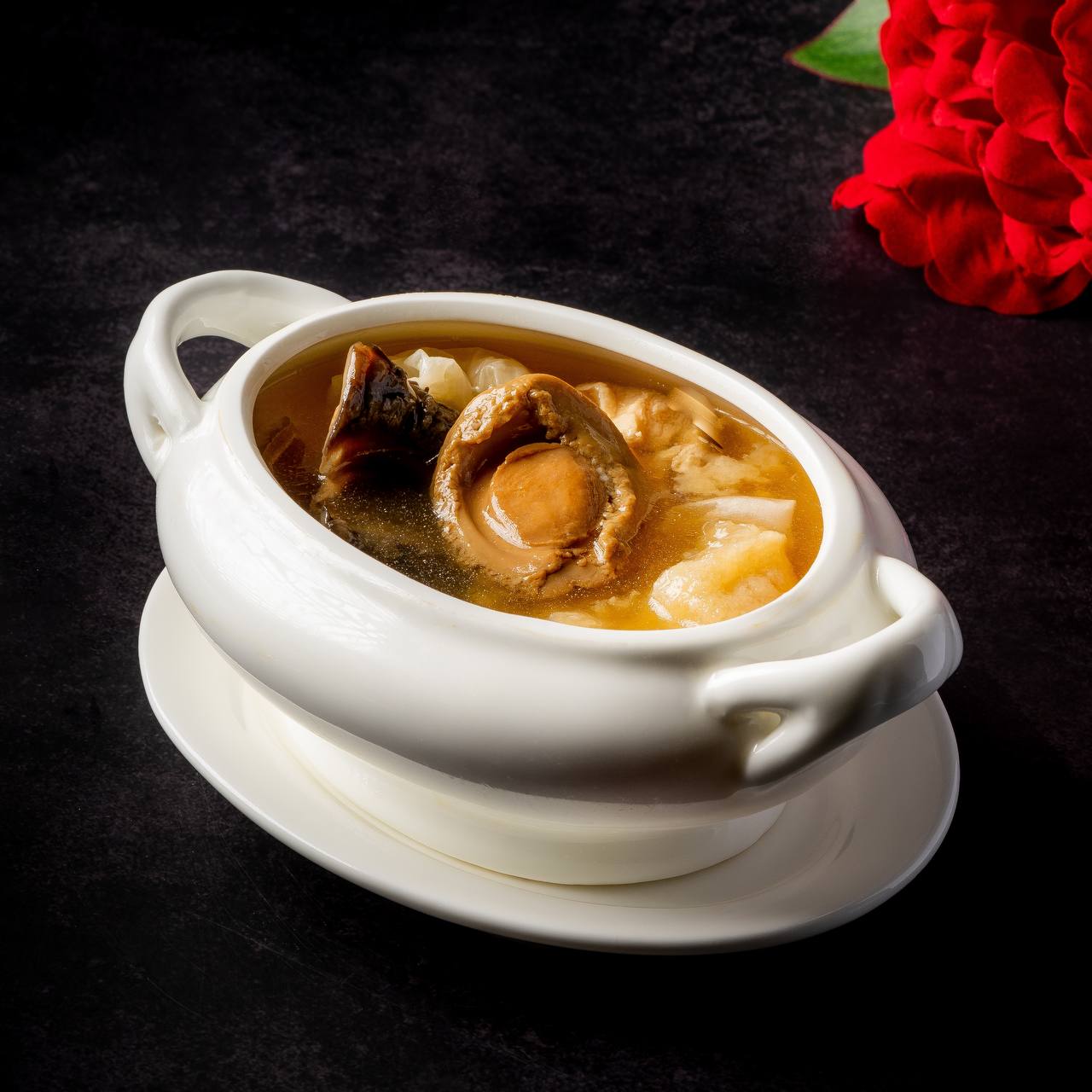 Image credit: Peony Jade
This ultra-luxe weekend indulgence starts with Double-Boiled Buddha Jumps Over The Wall and Baked Lobster with Cheese, which every diner gets one serving of. Then, you'll be presented with 12 handcrafted dim sum items, themed according to season. These include Litchi Empress, a lychee dumpling with prawn mousse and a lychee bubble, and Show-Mai, featuring a runny-yolked quail egg and mentaiko sauce, torched at the table. That's not all: you'll also get a free flow of Peony Jade appetisers and Cantonese dishes such as Crispy Passion Fruits Mayonnaise Prawns and Cantonese-Style Sweet and Sour Pork Shoulder Meat.
Address: 165 Tanjong Pagar Road, Level 2, AMARA Singapore, Singapore 088539
Dim Sum Brunch hours: Sat-Sun 10:30am to 2:30pm
Tel: 6276 9138
Website
Peony Jade is not a halal-certified eatery
---
17. YUN NANS Stonepot Fish
---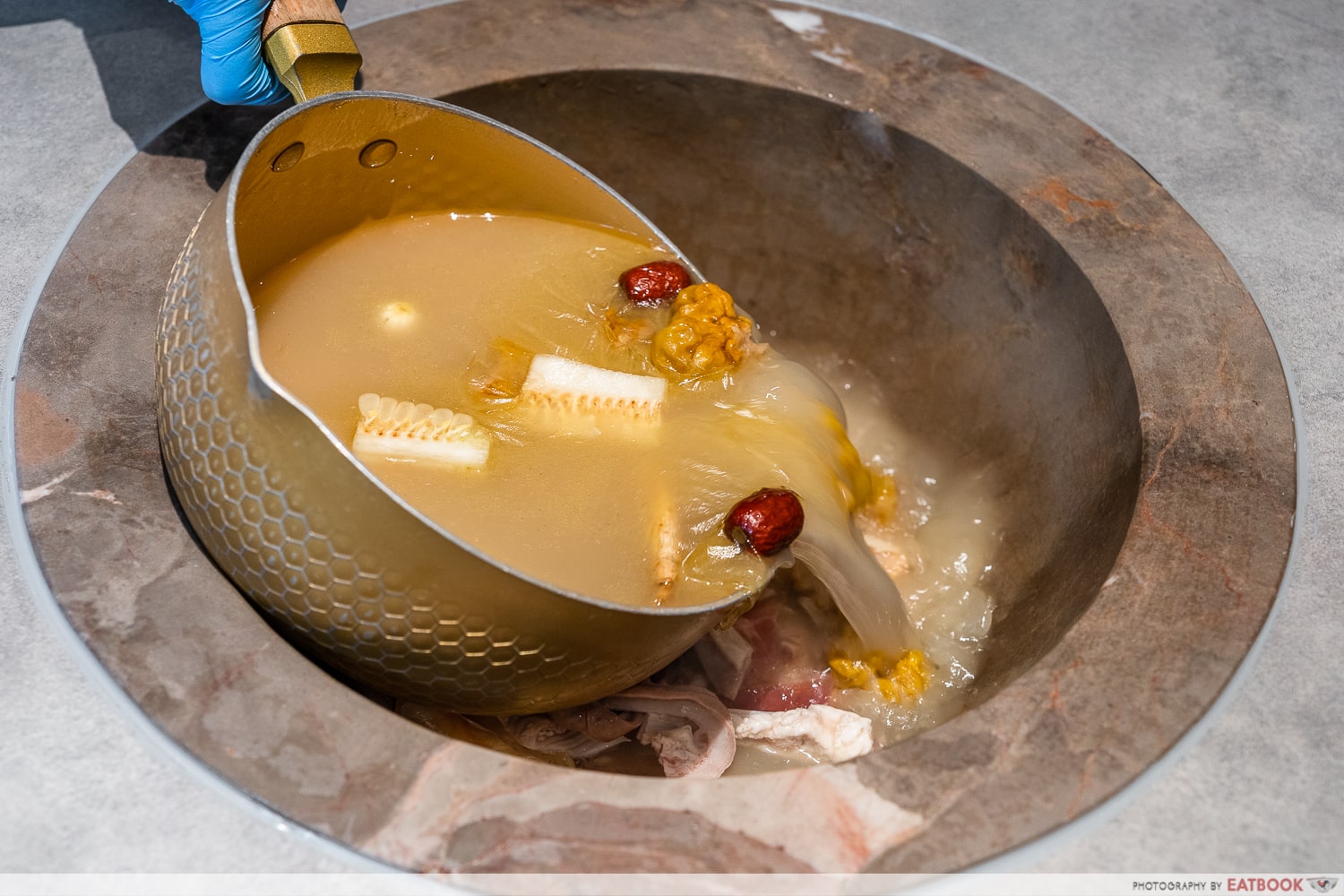 YUN NANS Stonepot Fish has done it again with their latest dish: Stonepot Chicken Soup with Pig's Stomach ($39.80++/$68.80++), which is said to be the first of its kind not just in Singapore, but in the world.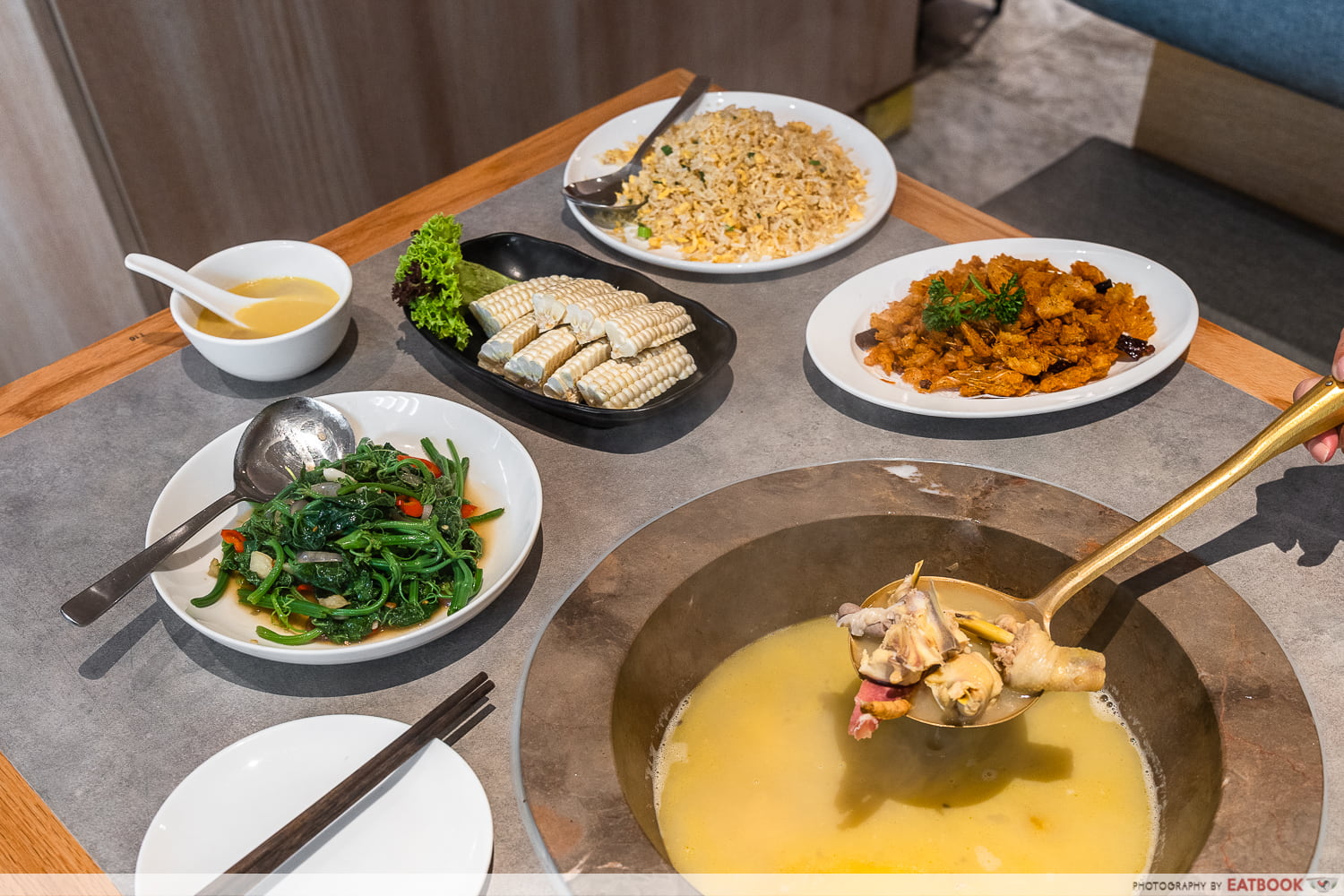 Prepared with a stock base that's simmered for more than six hours with a medley of ingredients including duck, old hen, chicken feet, Chinese ham, and more, this new pressure-steamed soup also stars fresh Kebir chicken that's raised exclusively for the restaurant, and Hainan peppercorns. Other new menu items include Deep-Fried Crispy Shrimp Heads ($9.90++) and YUN NANS Signature Fried Rice ($8.80++), which is fried with a blend of three soya sauces.
Find out more about YUN NANS Stonepot Chicken Soup with Pig's Stomach.
Address: 930 Yishun Avenue 4, #01-103, Northpoint City, Singapore 769098
Opening hours: Daily 11:30am to 10pm
Website
YUN NANS Stonepot Fish is not a halal-certified eatery.
---
New restaurants and cafes in Singapore for April 2023
---
Aside from the new eateries we've mentioned, two major food-filled bazaars are happening all through Ramadan, so if you're keen to visit these, you can check out the links to our Geylang Serai guide and our Kampong Gelam guide.
12 Kampong Gelam Bazaar Stalls To Try This Ramadan For Salted Egg Mac & Cheese, Chilli Crab Churros And More
Featured image adapted from @pretzelplanet.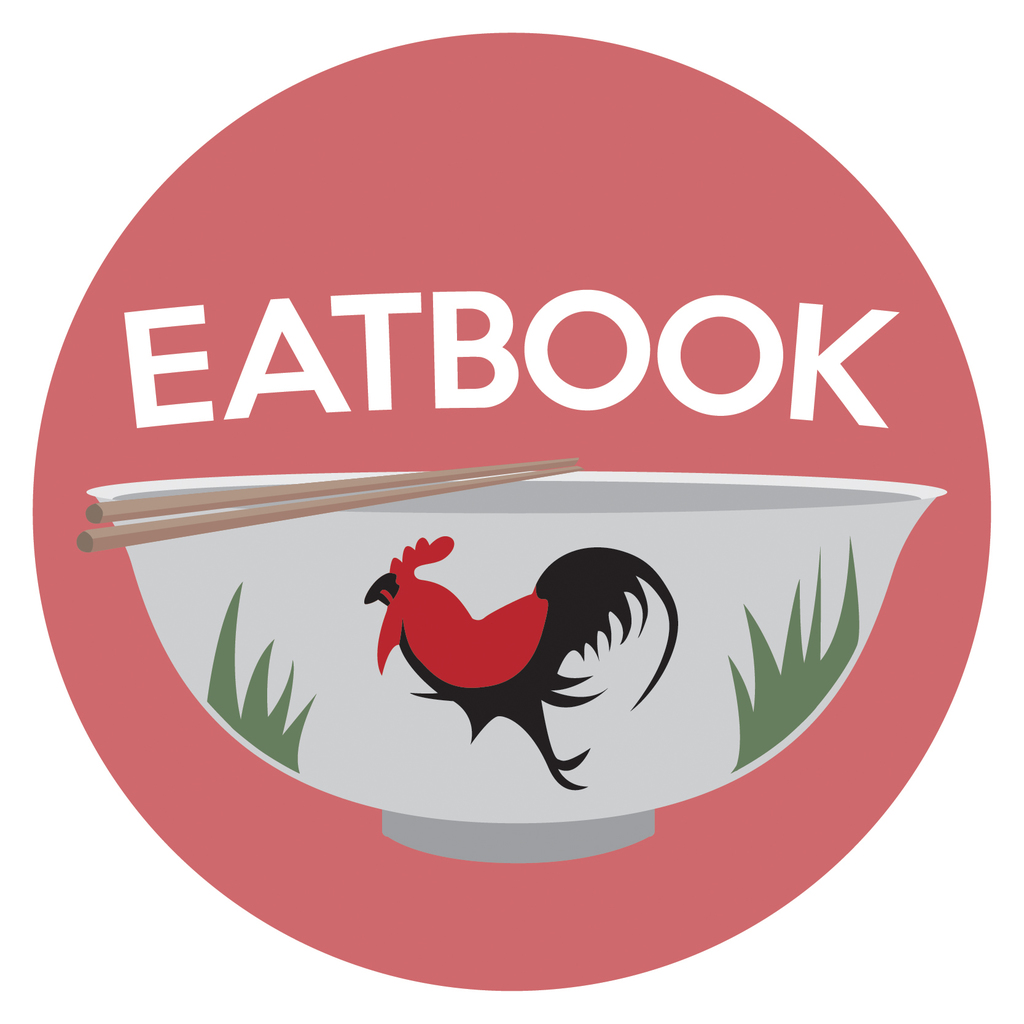 Drop us your email so you won't miss the latest news.