---
Pig out with these delicious pork trotters
---
Pork trotter is a dish I simply can't say no to. Some may prefer pork belly, but I prefer the trotter for its unique texture. The light springiness as I sink my teeth into the meat, and the gelatinous feel of the unctuous skin is mouthwatering. 
If you share my love for pork trotters, here are 10 pork trotter dishes to check out!
---
1. The Leggy Business
---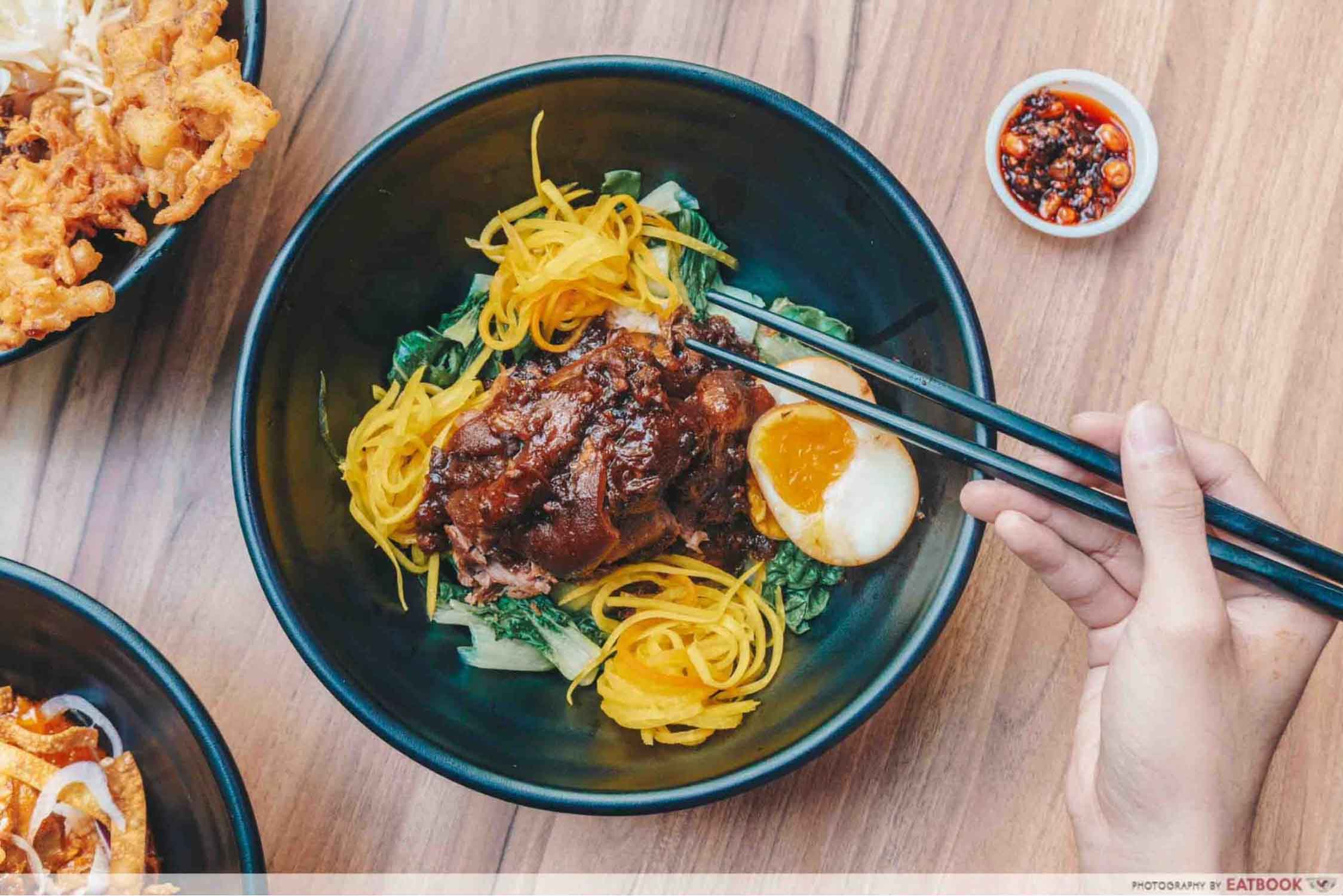 The Leggy Business dishes up an eclectic array of Asian-inspired rice bowls, including their crowd-pleasing Leggy Bowl ($7.50). I love the chef's emphasis on natural flavours and Southeast Asian spices in their signature bowl, where the braised pork trotter is spiked with the mellow sweetness of pandan.
The pickled papaya is a judicious addition as well. Its sour tang neutralises the savoury minced meat sauce while also refreshing your palate.
Check out our full review of The Leggy Business!
The Leggy Business Review: Unique Thai-Inspired Bowls By Ex-Cook Of A Bangkok Michelin-Starred Restaurant
Address: 67 Ubi Avenue 1, #01-05/07, Starhub Green, Singapore 408942
Opening hours: Mon-Fri 10am to 3pm
Tel: 9710 8302
Website
---
2. Fatty Thai
---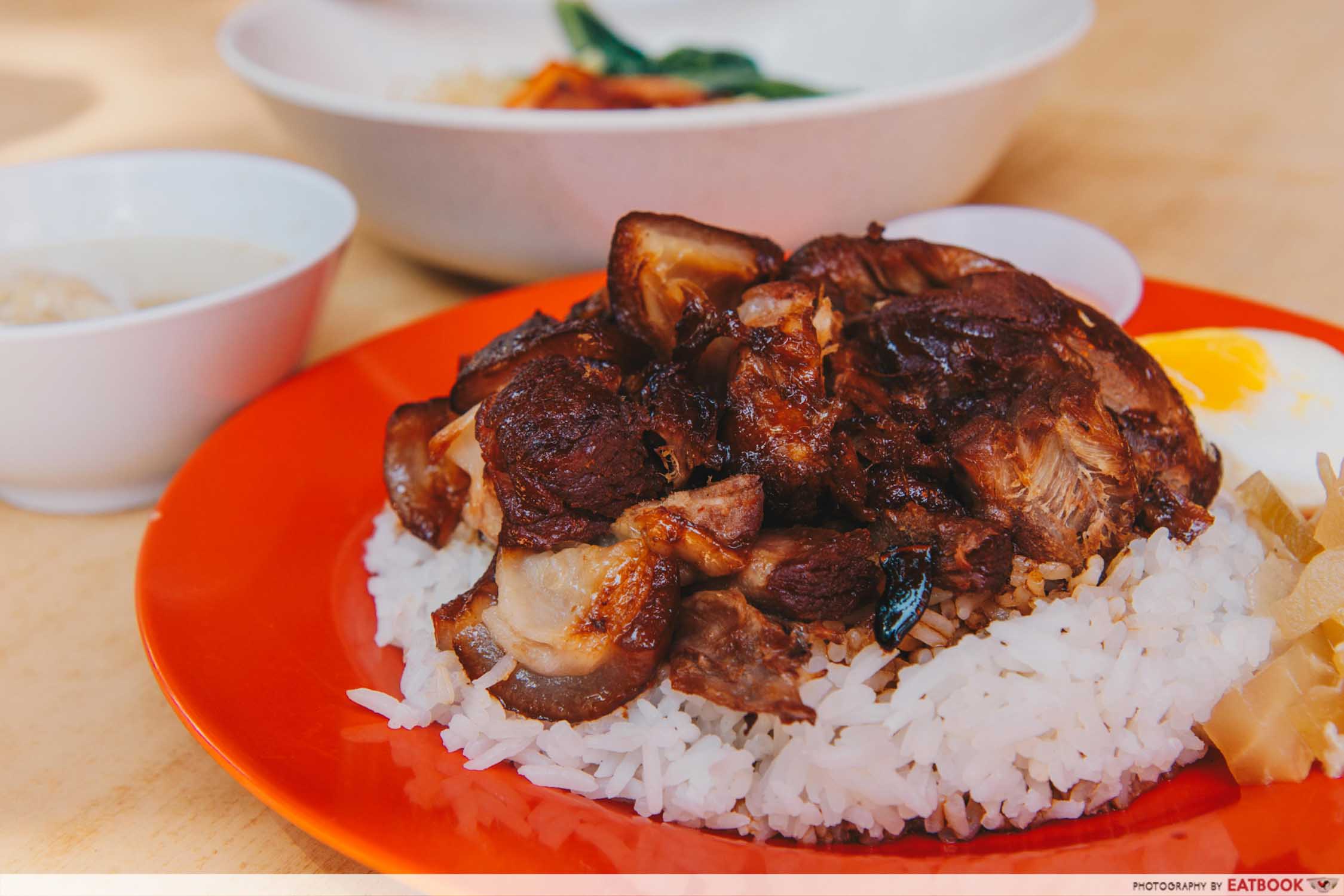 I fell in love with Khao Ka Moo ($5) during my trip to Bangkok and Fatty Thai's version of the dish brought me back to the streets of Yaowarat and Silom. Juicy and tender, the braised meat marries well with the fluffy rice. An added bonus is the skin that's part gooey, part chewy. Aroi mak indeed!
Check out our full review of Fatty Thai!
Fatty Thai Review: Thai Wonton Mee and Pork Trotter Rice At A Beach Road Stall
Address: 341 Beach Road, Singapore 199567
Opening hours: Mon 9am to 8pm, Tue-Sat 9am to 7pm
Tel: 9383 8842
Website
---
3. Ciao
---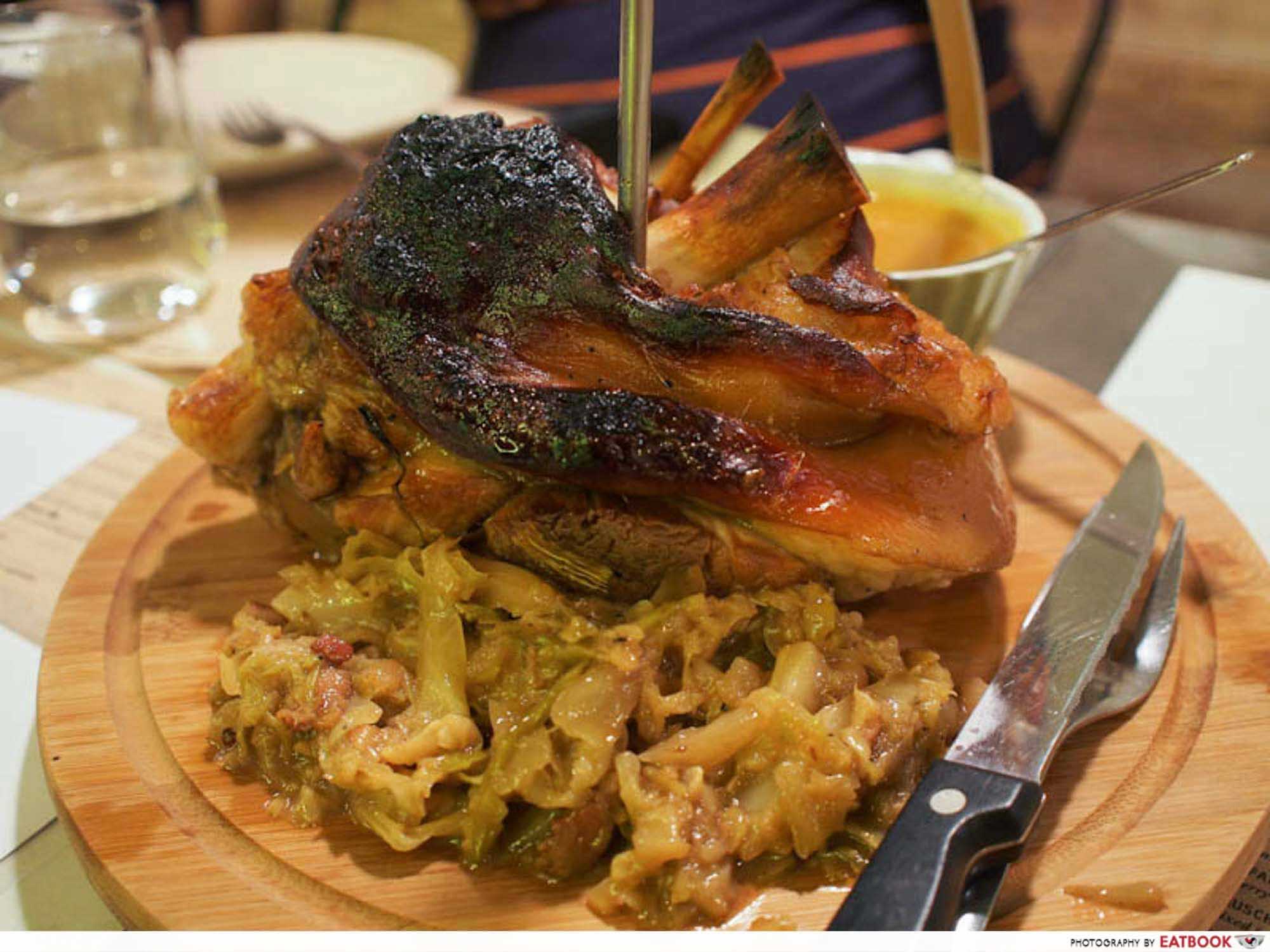 Ciao specialises in homely Italian fare and its Stinco Di Maiale Alla Birra ($42++) warms both your heart and belly. Knives seem to be redundant here, as the meat easily peels off the bone. Served on the side, the beer sauce jazzes up the pork knuckle and creates a more full-bodied flavour.
Check out our full review of Ciao!
Address: 8 Haji Lane, #01-01, Singapore 189201
Opening hours: Tue-Sun 11:30am to 2am
Tel: 9726 3688
Website
---
4. Authentic Mun Chee Kee King Of Pig's Organ Soup
---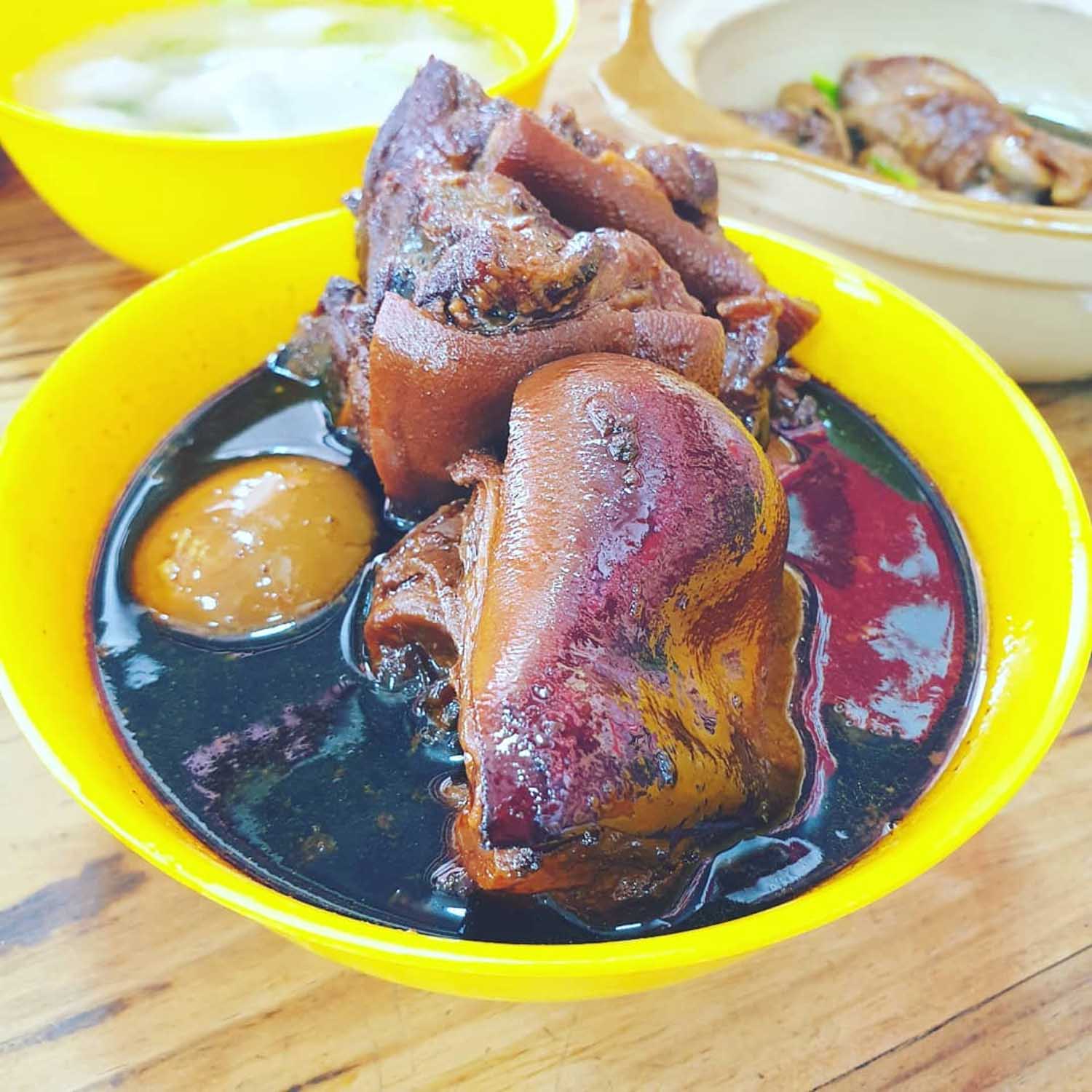 Image credit: @eatingnomster
While Authentic Mun Chee Kee King of Pig's Organ Soup is renowned for Pig's Organ Soup ($4/$6), their Vinegar Pig's Trotter ($7) has also garnered a strong fanbase. The black vinegar injects a tart zing, which blends well with the herbal notes of star anise and spicy hints of old ginger.
Furthermore, the stall opens till as late as 5am, making it the perfect solution to your late-night supper cravings.
Address: 207 Jalan Besar Road, Singapore 208893
Opening hours: Daily 10am to 5am
Tel: 8678 0207
Website
---
5. DAL-IN
---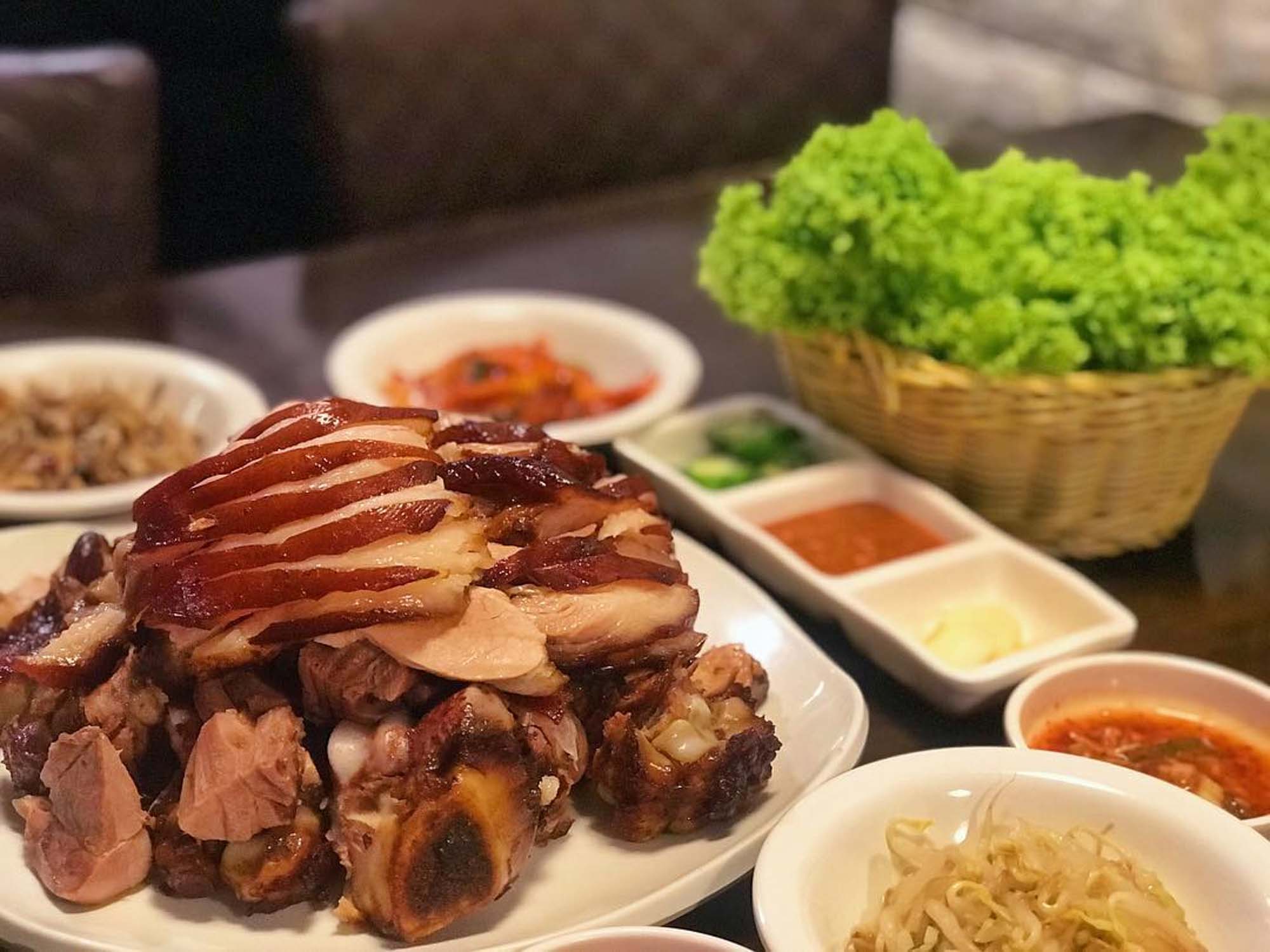 Image credit: @sara_atheniza
Rally your friends to try the Jokbal ($38++/$43++) at DAL-IN! Similar to how it's done in Korea, enjoy the meat as a ssam. Wrap the lightly seasoned protein with a leafy vegetable, add some garlic and bean paste, and let it cascade down your mouth with a cohesive burst of flavours. You won't find the taste too heavy, as the vegetable relieves your palate of the greasy meat.
Address: 17 Boon Tat Street, Singapore 069618
Opening hours: Daily 11:30am to 3pm, 5:30pm to 2am
Tel: 6225 1006
---
6. Good Year Seafood Village
---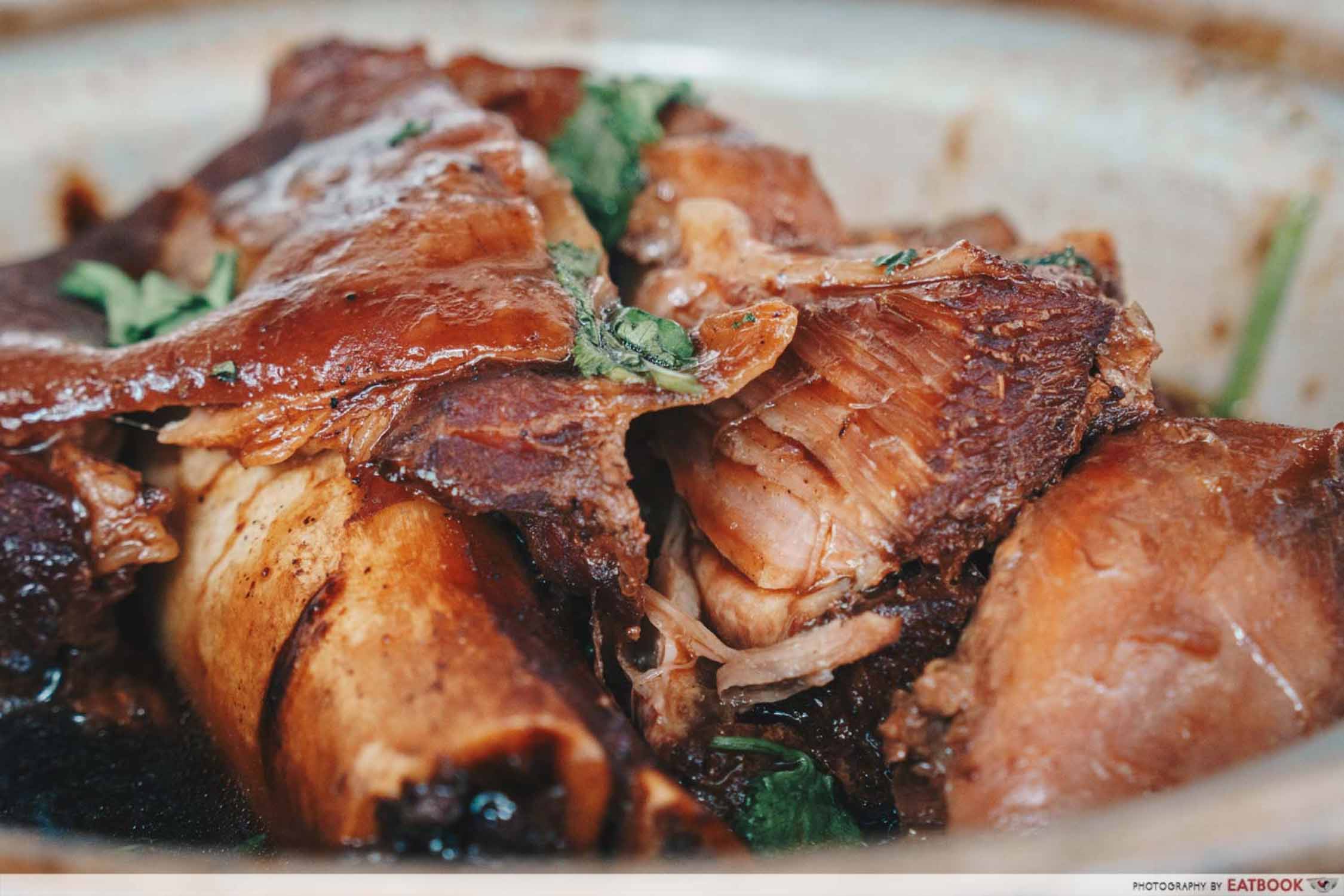 Hiding in an ulu neighbourhood in Tampines, Good Year Seafood Village thrills with its tender Braised Pig's Trotter ($6.80+). The honeyed gravy complements the savoury meat, allowing the porky tang of the protein to take centre stage. There are light whiffs of ginger as well, balancing the fatty flesh with its earthiness.
Good Year Seafood Village Restaurant Review: Herbal Bak Kut Teh With Kampong Vibes In Tampines
Address: 15 Tampines Avenue, Singapore 529788
Opening hours: Daily 11am to 10:30pm
---
7. Stuttgart Blackforest Boutique S-Cafe
---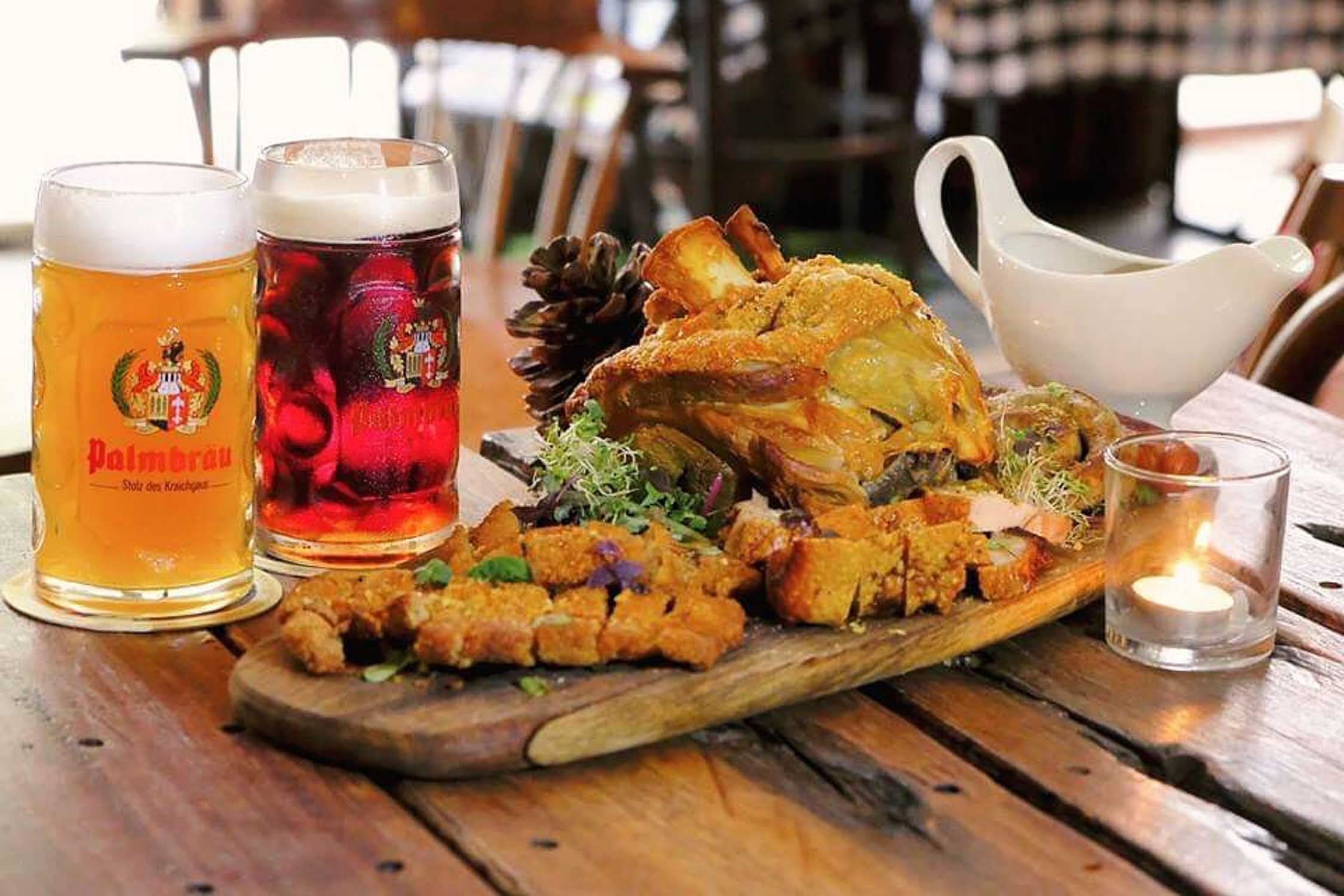 Image credit: @sbbscafe
Eating at Stuttgart Blackforest Boutique S-Cafe introduces you to German classic and treats you with popular local beverages. The crowning glory of their menu is Schweinshaxe ($22.80++). This knuckle is fried to a satisfying crisp, as every bite unleashes resonant crackles. Impressively, the shank preserves its moisture and supple texture, despite being roasted for long hours.
Address: 9 Bras Basah Road, #01-01, Rendezvous Hotel Gallery, Singapore 189559
Opening hours: Daily 11am to 11pm
Tel: 6336 8675
Website
---
8. Mr Lorbak
---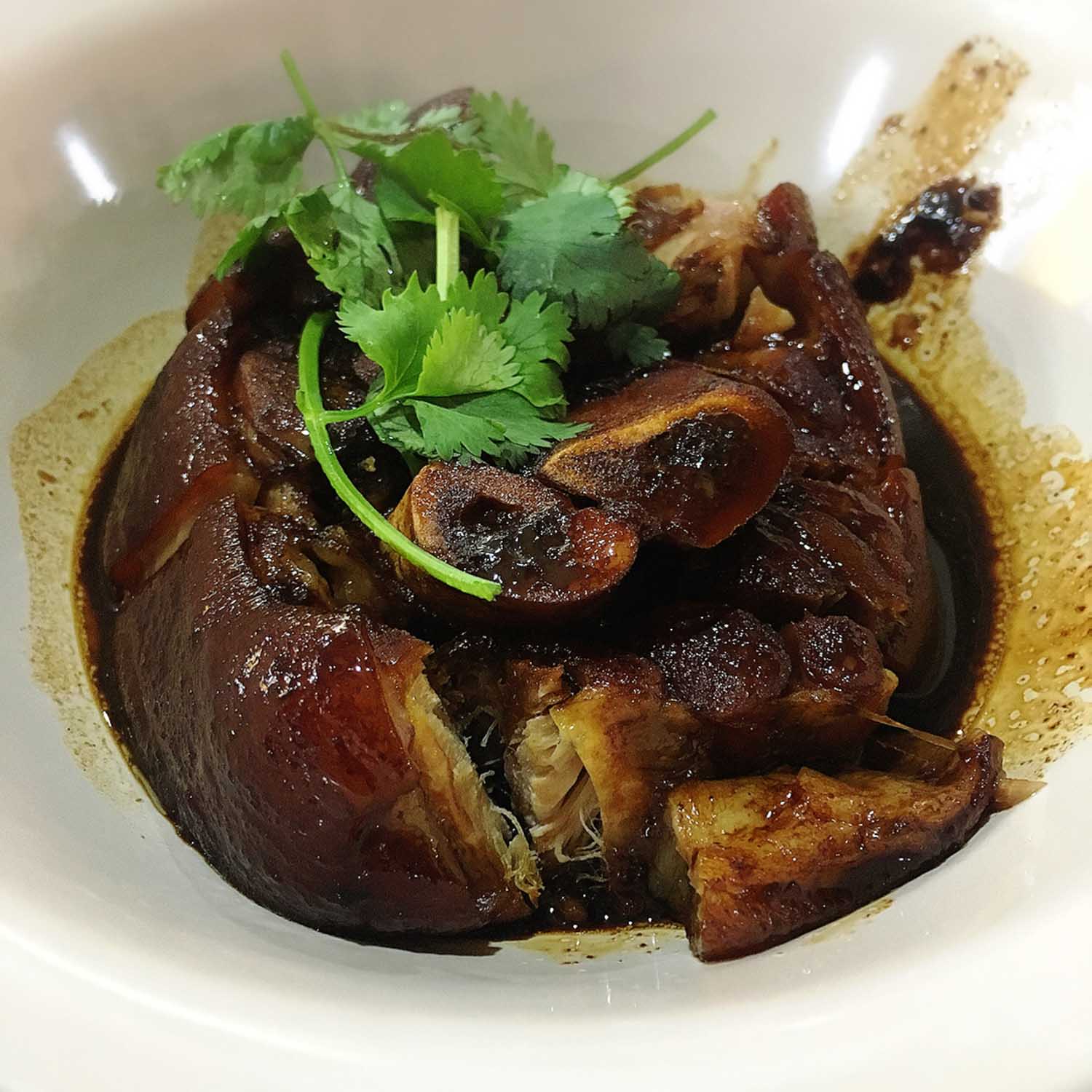 Image credit: @francispeh
Living up to their name, Mr Lorbak braises an incredibly soft Pork Trotter ($7). The fats seem to melt into the flesh, such that every bite is an addictive medley of buttery and savoury. This lor bak goes best with the house-made chilli sauce, which undercuts the meat's robust taste with its piquant zing.
Mr Lorbak Review: Cheap And Good Lu Rou Fan With Egg At $3.50 At Ubi
Address: Blk 350 Ubi Avenue 1, #01-947, Singapore 400350
Opening hours: Wed-Mon 11am to 7pm
Tel: 9226 2417
Website
---
9. Seng Kee Bak Kut Teh
---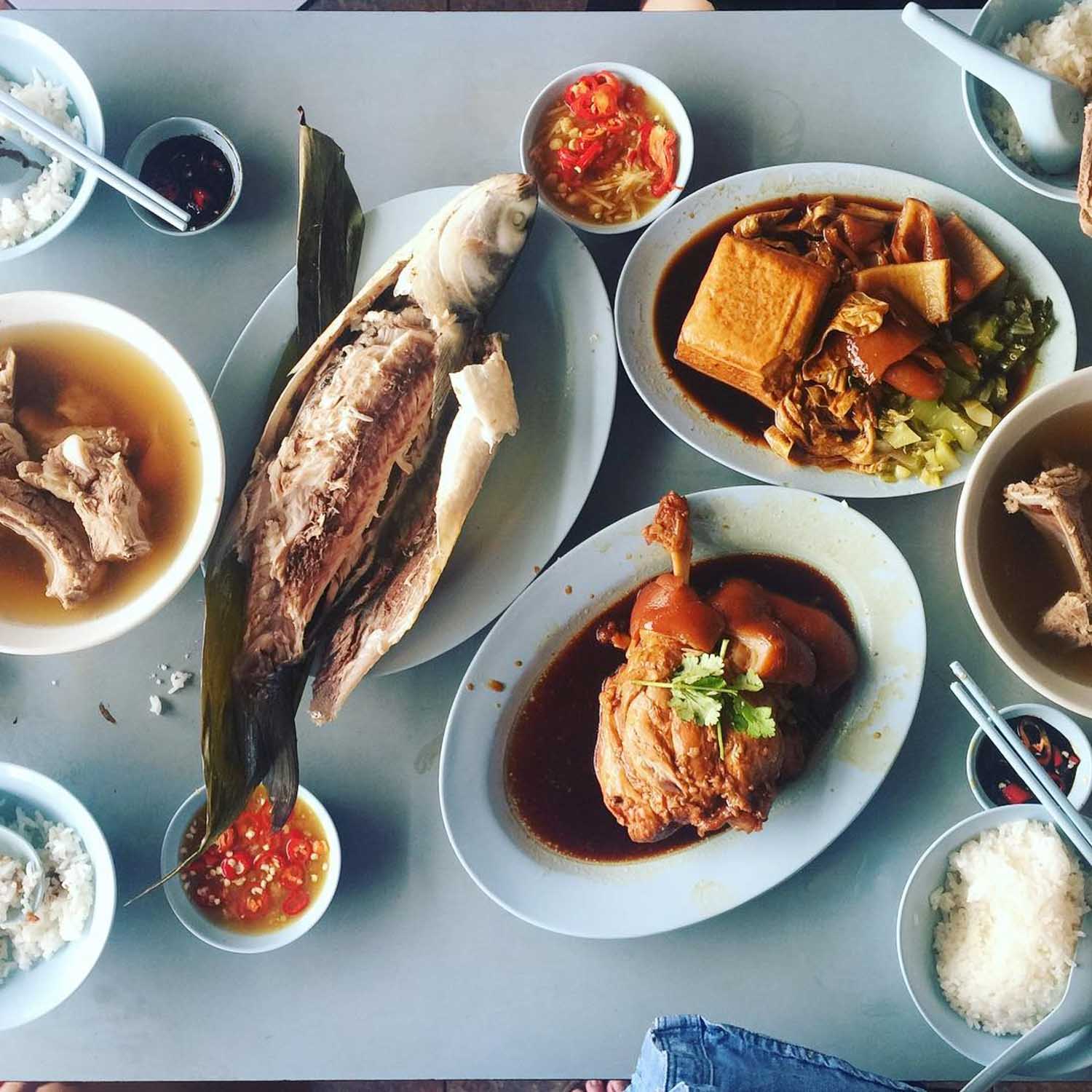 Image credit: @jojoteng
The Braised Pig Trotters ($4/$5/$6) at Seng Kee Bak Kuh Teh are the perfect way to treat yourself as you are pampered with a generous slab of hind hock. Their pork leg supplies a pleasant duality of textures. Every mouthful allows you to appreciate the succulence of the shank and semi-liquid consistency of the fats.
Address: 453A Ang Mo Kio Avenue 10, #01-06, Chong Boon Market & Food Centre, Singapore 561453
Opening hours: Daily 11am to 9pm
---
10. Lao Liang
---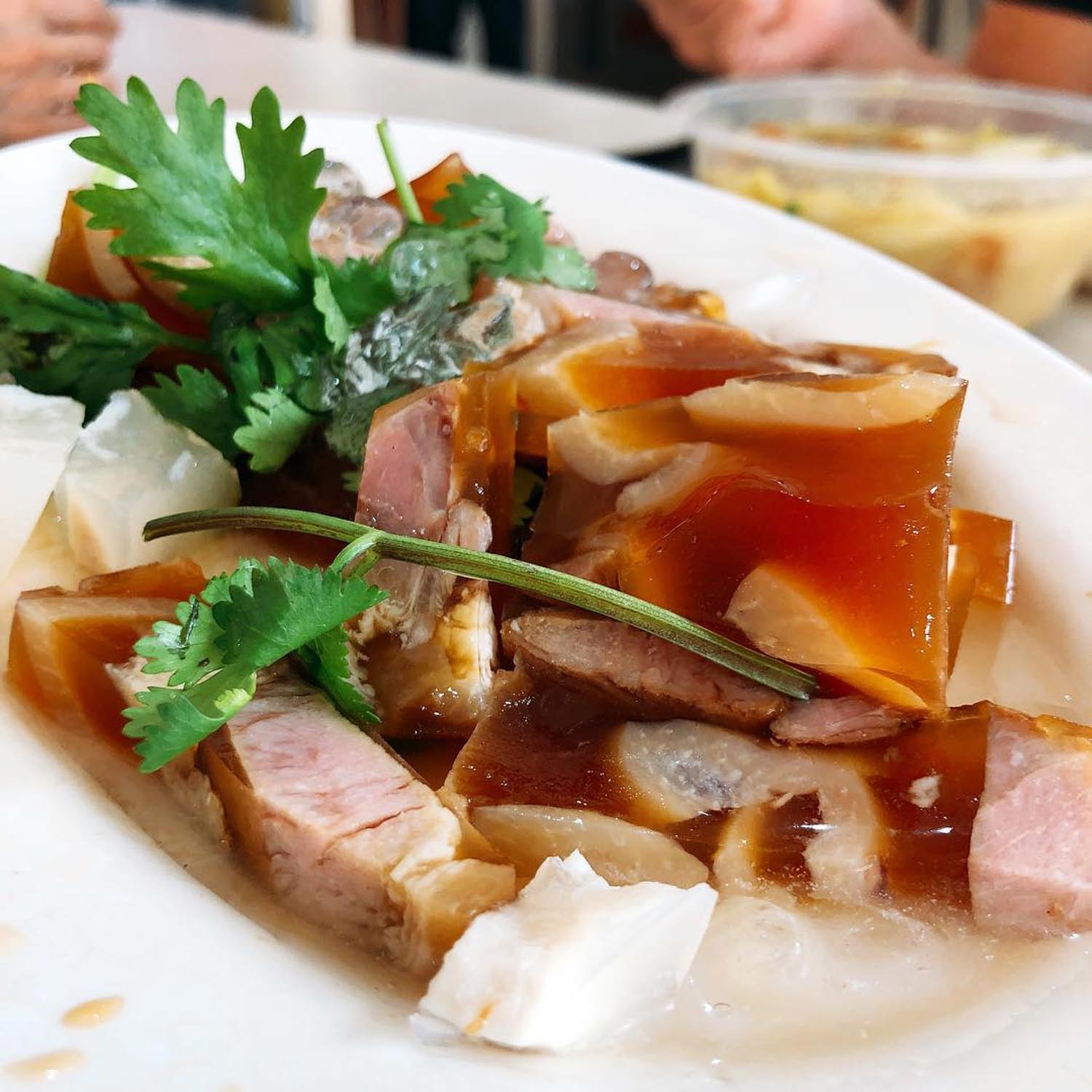 Image credit: @howicworld
Lao Liang is the last few stalls in Singapore to still offer Pig's Trotter Jelly ($5/$8/$10). In preparing these aspics, trotters are cooked for 10 hours to melt their collagen into gelatin. The gelatin is then mixed with chunks of meat before chilling for another full day.
The result of the tedious preparation is a bouncy jelly which boasts a savoury oomph. Feel free to dip the jelly in the chilli sauce! Laced with accents of ginger and vinegar, the relish enhances the jelly with a tangy kick.
7 Berseh Food Centre Stalls For Oyster Cake, Cheap Halal Mookata And More
Address: 166 Jalan Besar, #02-37, Berseh Food Centre, Singapore 208877
Opening hours: Tue-Sun 11am to 3pm
---
Not your typical pork trotters
---
Treat yourself to these delicious pork trotters and indulge in their luscious taste and gelatinous texture. If you have an unquenchable thirst for meat, check out our review of Don Lechon. This hidden gem in Paya Lebar dishes up legit lechon – spit-roasted suckling pig – for under $10
Don Lechon Review: Spit-Roasted Crispy Suckling Pig Under $10 At Paya Lebar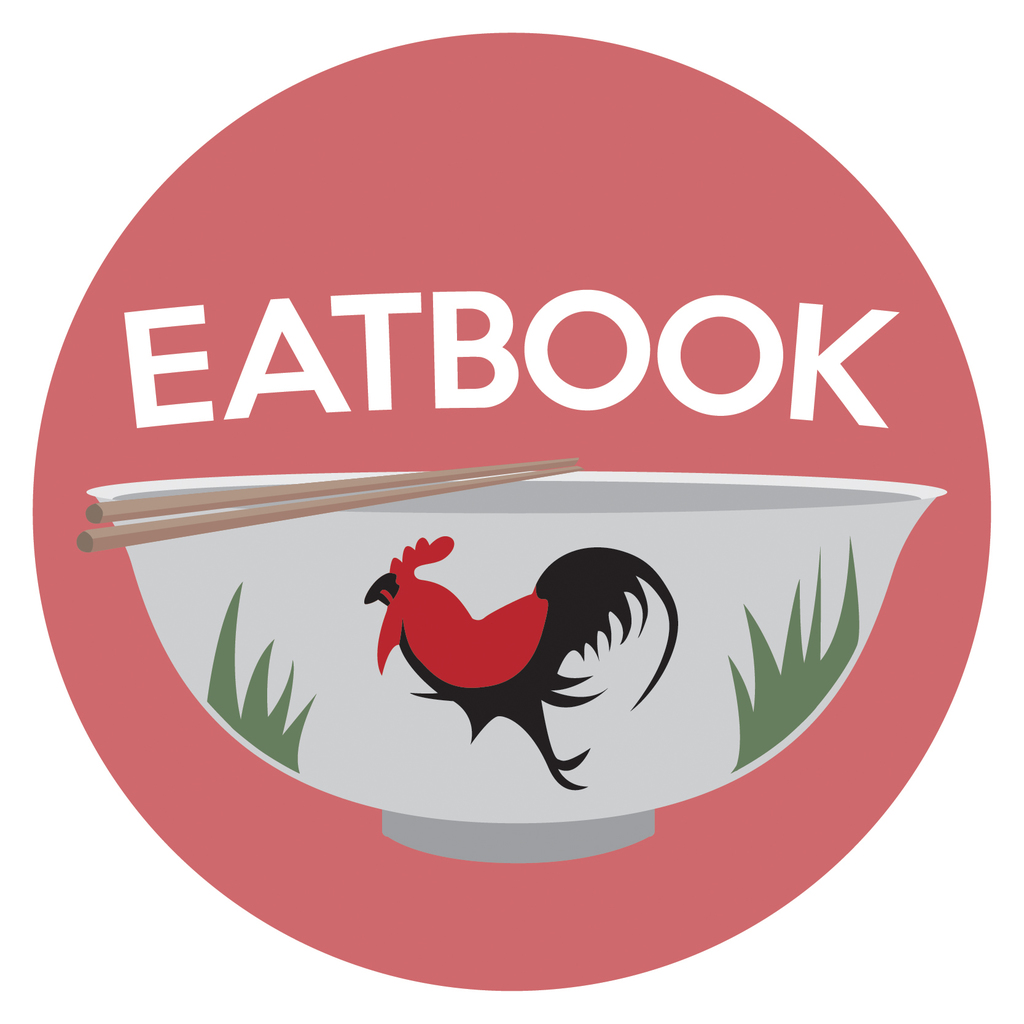 Drop us your email so you won't miss the latest news.