---
Atas hawker food at regular hawker stalls
---
Hawker centres used to only serve classics like wonton mee and chicken rice, but with more modern hawker centres such as Yishun Park Hawker Centre popping up, that's no longer the case. Now, we have stalls incorporating food trends to good old hawker fare, to serve us nosh such as truffle chicken rice, cheese lobster nasi lemak, and beef rendang burgers. Not to mention, you can now have your favourite dishes such as wagyu bowls and mentai maki that were only found in restaurants, at hawker centres! Check out these 10 stalls that serve affordable atas hawker food which are good duplicates of restaurant dishes.
---
1. Whathefish!
---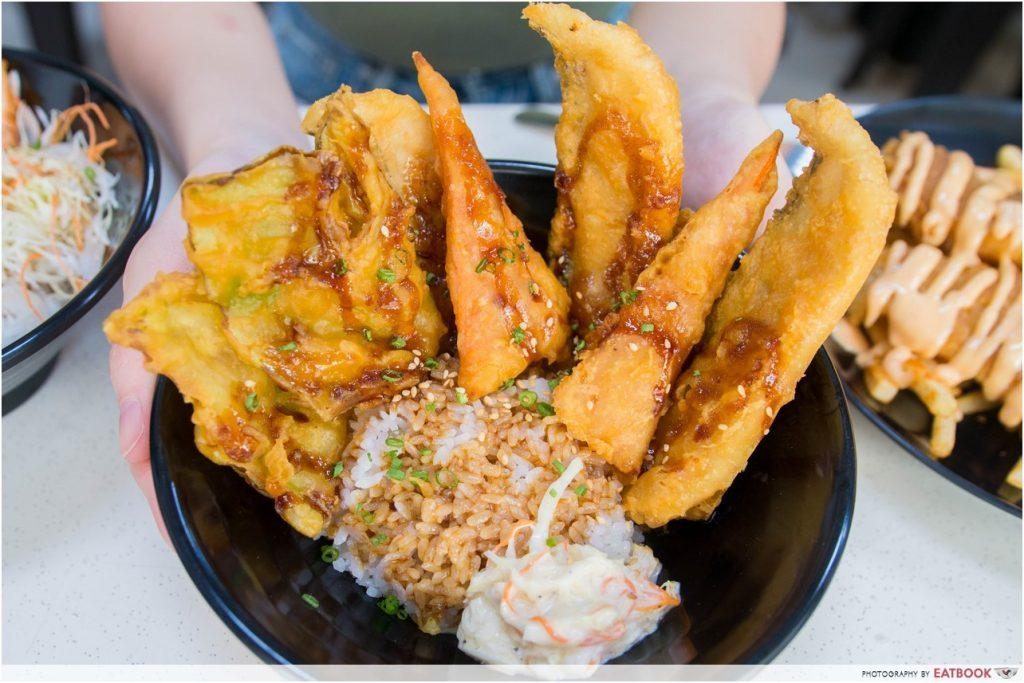 Whathefish! is a fish-centric hawker stall that offers exceptional fish dishes, like their Crispy Seabass Rice Bowl ($5.90). Served with two thick pieces of seabass and crispy battered vegetables, your belly will be pleased. This bowl is a hot-seller here, so make sure you ring them up before heading down.
Check out our full review of Whathefish!!
Address: Blk 1 Tanjong Pagar Plaza, #02-04, Dingxin Mei Shi Coffeeshop, Singapore 082001
Opening hours: Mon 11am to 2:30pm, Tue-Fri 11am to 2:30pm, 5pm to 8pm
Tel: 8644 8652
Website
---
2. Donya Japanese Cuisine
---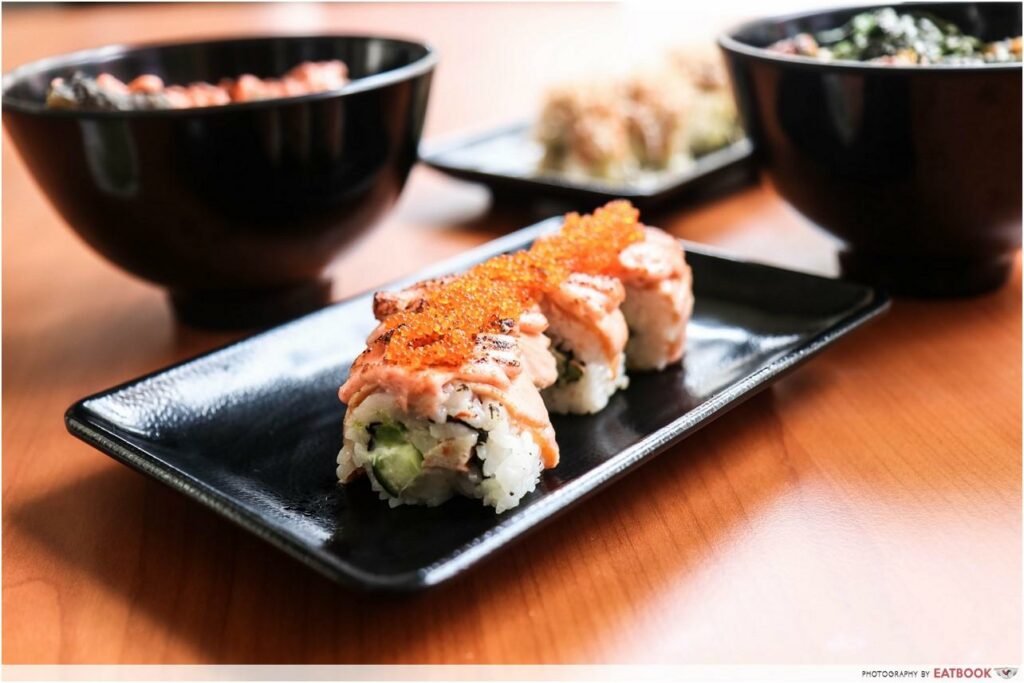 If I were Superman, Japanese cuisine would be my kryptonite. Be it ramen, donburi, sushi or teppanyaki, the list of my favourites goes on and on. Donya Japanese Cuisine might be your next go-to eatery for affordable Japanese dishes if you're like me. One of their best dishes is the Mentai Maki ($5.80), covered with torched salmon and mentaiko sauce and drizzled with crunchy tobiko – one maki roll just wouldn't be enough. For those who love a dish that's sugar, spice and everything nice, their Chicken Karaage Curry Don ($6.80) and Chicken Katsu Curry Don ($6.80) will not disappoint.
Check out our full review of Donya Japanese Cuisine!
Address: 126 Lorong 1 Toa Payoh, Singapore 310126
Opening hours: Daily 11am to 2:30pm, 5pm to 9pm
Tel: 8866 2126
Website
---
3. Tasty Street
---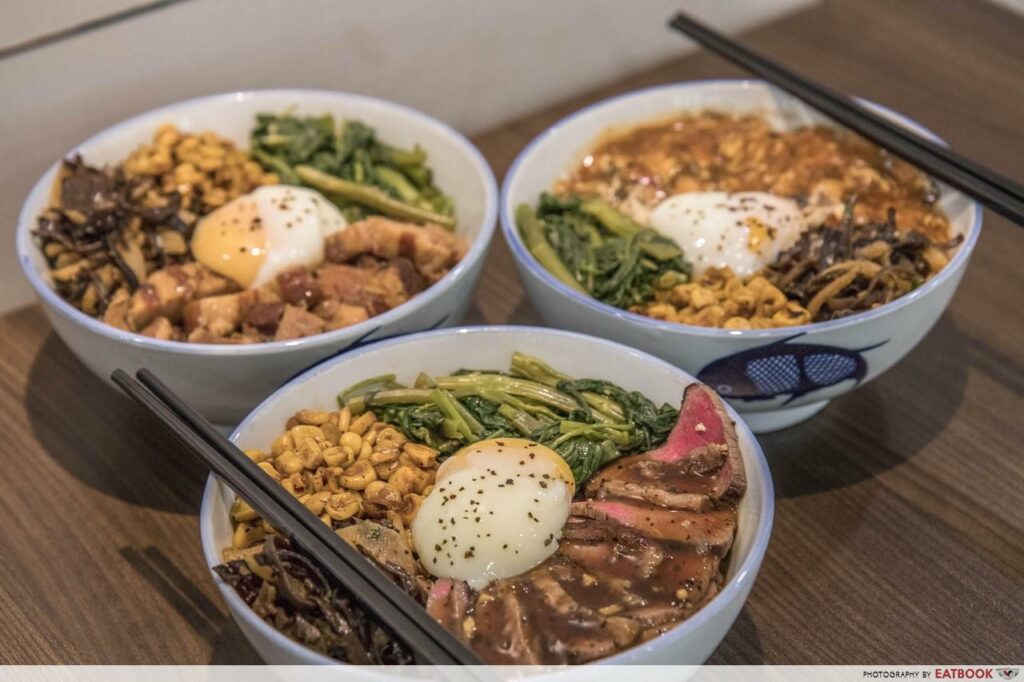 Decorated atas cai fan dishes, AKA rice bowls, have been significantly hyped up. There has to be something in their fancy ingredients to get this trend rolling, and Tasty Street killed it with their Asian Black Pepper Wagyu Beef Bowl ($6.50) and Iberico Lor Bah Bowl ($6.50). We dug into their bowls, and the former had lean wagyu beef that was surprisingly juicy and tender given that it was just $6.50. The black pepper gave the beef an extra kick without overpowering the entire bowl while the luscious pork belly in the other dish created a melt-in-the-mouth sensation. At such affordable prices and generous portions, it just seems too good to be true.
Check out our full review of Tasty Street!
Address:1 Buona Vista Drive, #02-01, MOE Cafeteria, Singapore 138675
Opening hours: Mon-Fri 9am to 3pm
Website
---
4. Plum and Rice
---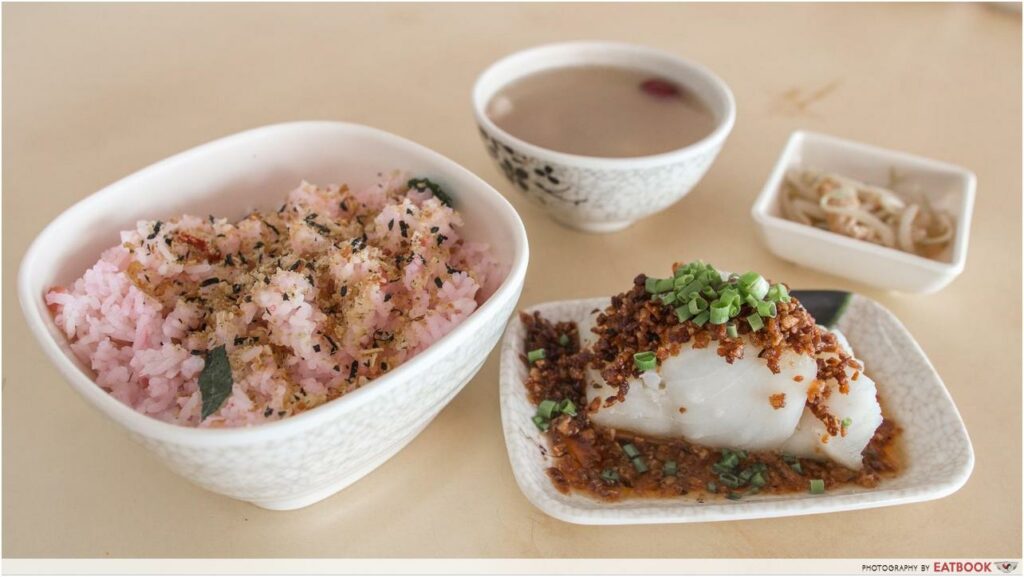 Plum and Rice serves Japanese-Chinese fusion dishes such as umeboshi (pickled plums) rice and porridge, braised pork belly, pork shoulder and even cod fish! Get a Set C – umeboshi rice, cod fish, a side dish and soup ($6), which is a staple on their menu. The lush and tender cod fish will definitely drive you to come back for more!
Check out our review of Plum and Rice!
Address: 216 Bedok North Street 1, #01-45, Singapore 460216
Opening hours: Tue-Sun 8am to 2pm
Website
---
5. Hambaobao
---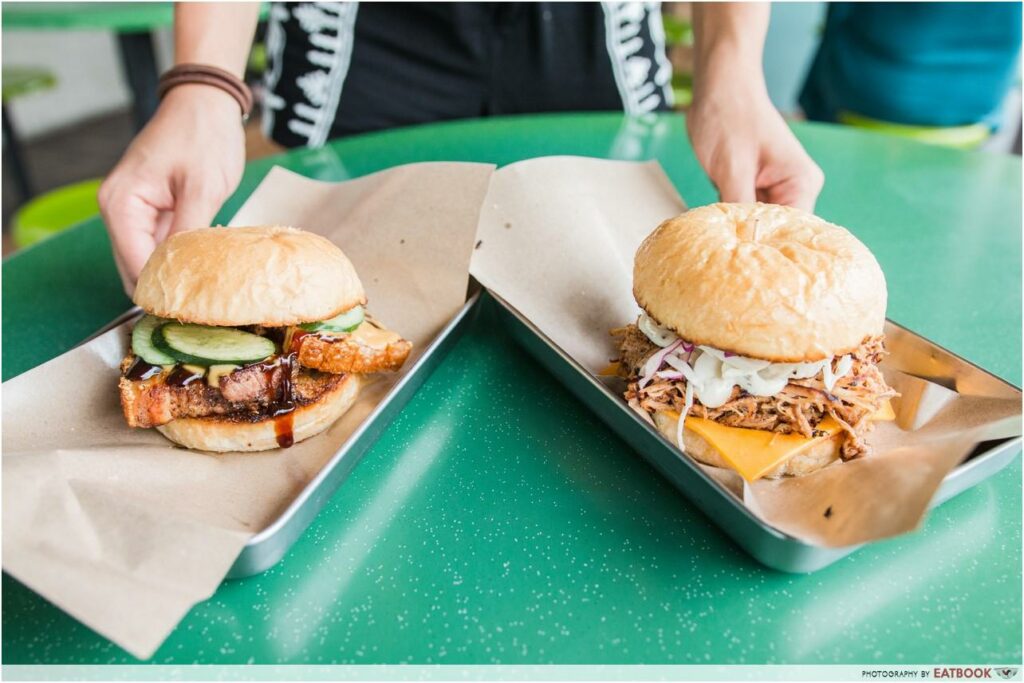 Burgers will always be my constant happy meal, all year round. Any cheap, lip-smacking, juicy burger will easily win my heart. So I was glad that Hambaobao came into the picture. No one would've thought that sio bak would taste even more glorious in a burger. Prices for their burgers, including their famous Crispy Pork Belly Burger and Spiced Pulled Pork Burger, start at $5 each. 
Check out our full review of Hambaobao!
Address: 144 Upper Bukit Timah Road, #04-49, Beauty World Food Centre, Singapore 588177
Operating hours: Wed-Sun 12pm to 8pm
Tel: 9667 5254
Website
---
6. Kazan Japanese Cuisine
---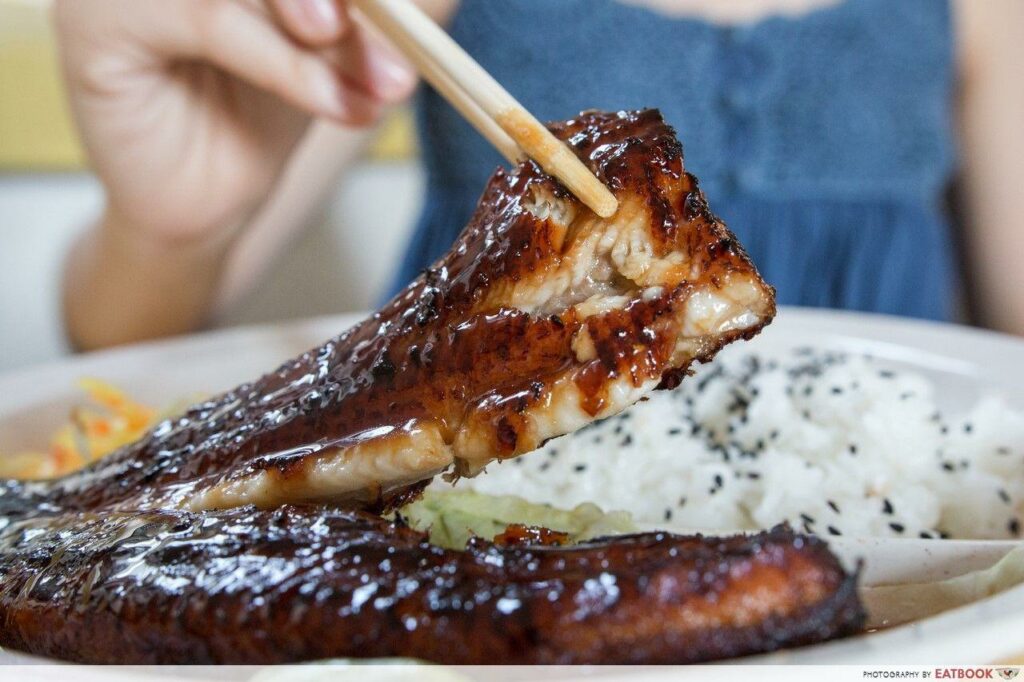 When I came across Kazan Japanese Cuisine, I knew I had to try their affordable Japanese dishes. Their Unagi Set ($8) is served with Japanese rice and miso soup. The thick and fleshy unagi sat on the plate, glazed in a coat of teriyaki sauce just waiting to be devoured. With such pocket-friendly prices, this stall will definitely be a welcomed addition to your go-to Japanese eateries.
Check out our full review of Kazan Japanese Cuisine!

Address: 335 Smith Street, #02-001, Chinatown Complex Market & Food Centre, Singapore 081006
Operating Hours: Mon-Fri 12pm to 8:30pm, Sun 12pm to 6:30pm
Tel: 8455 5229
---
7. Buta Kin

---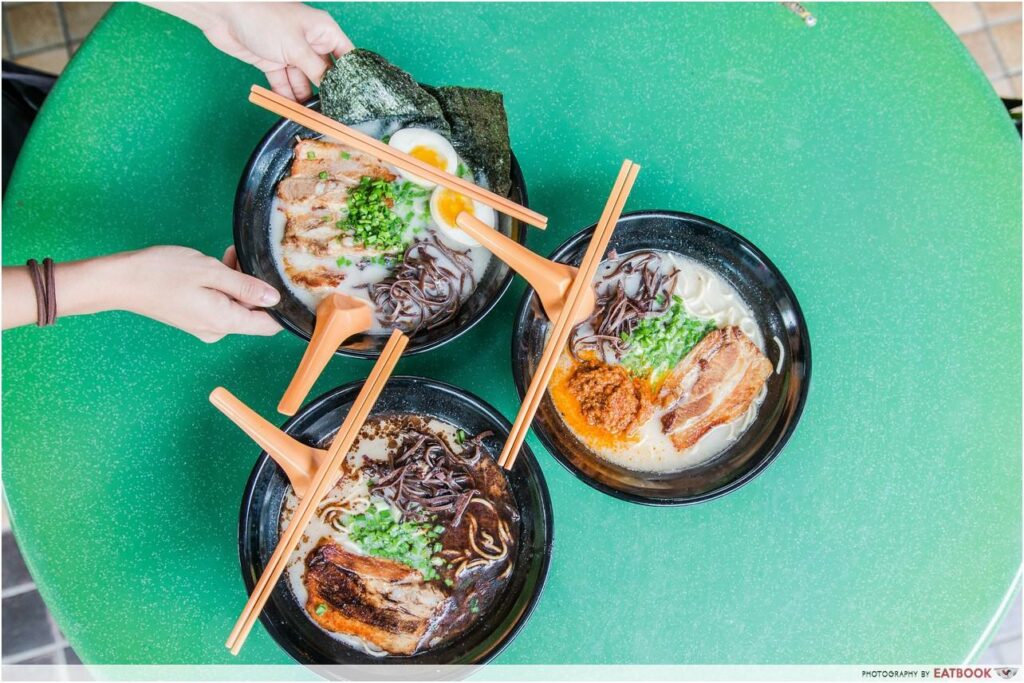 Nothing beats a piping hot bowl of ramen on a breezy, rainy weather. Buta Kin's prices range from $3.50 to $6.90. The Special Tonkotsu Ramen ($6.90) will give you the most bang for your buck. You'll find three thick slices of chashu, a whole hanjuku (soft-boiled) egg, black fungus and nori (seaweed). Using quality ingredients for a typical hawker stall, you'll realise that Buta Kin isn't your plain vanilla Japanese kopitiam stall that sells instant noodles disguised as ramen.
Check out our review of Buta Kin!

Address: 144 Upper Bukit Timah Road, #04-28, Beauty World Food Centre, Singapore 588177
Operating hours: Tue-Sun 11am to 9pm
---
8. Urban Smokeshack

---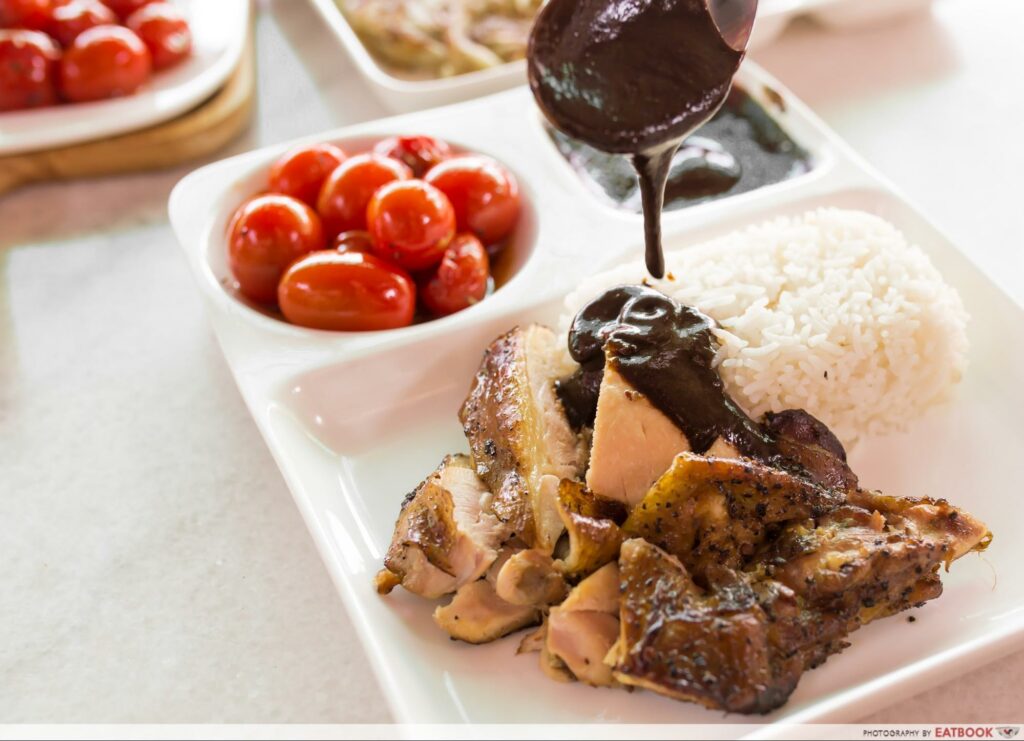 For a house-smoked meal, Urban Smokeshack is the hawker stall that won't be smoking up your wallet. Drool upon their Chicken Thigh with Buah Keluak Sauce ($6), which features an entire chopped chicken thigh with lemongrass rice. Drizzle on their house-made buah keluak sauce to enhance the robustness of this dish.   
Check out our full review of Urban Smokeshack!
Address: 348 Bedok Road, #02-19, Singapore 469560
Opening hours: Tue-Sun 12:30pm to 2pm, 6pm to 9:30pm
Website
---
9. Jia Xiang Nasi Lemak

---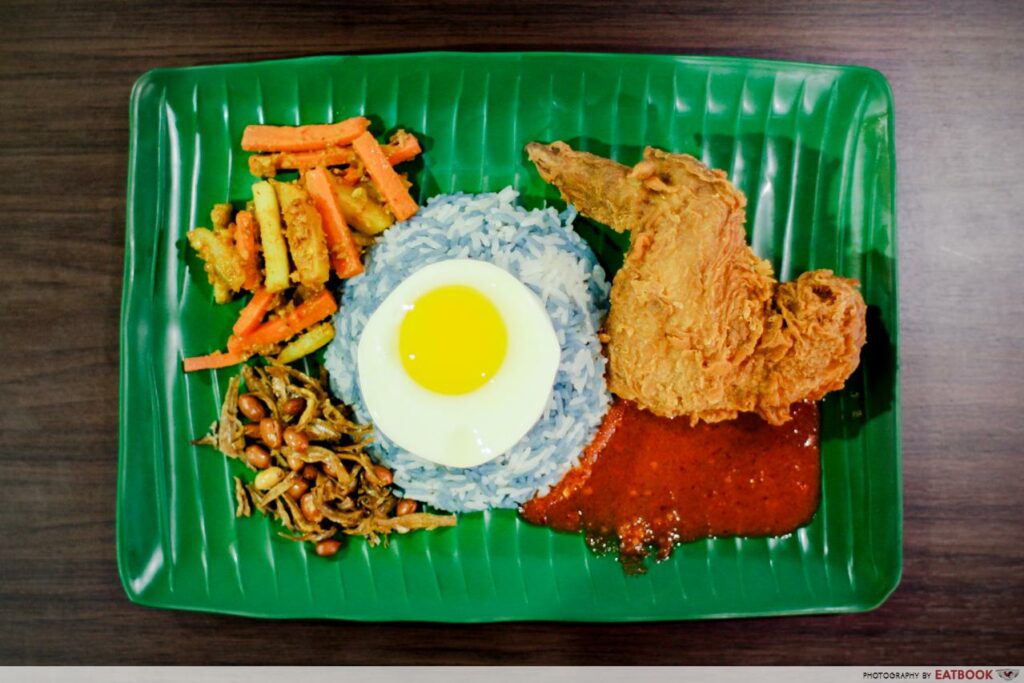 The nasi lemak competition is already fierce with Chong Pang Nasi Lemak and Ponggol Nasi Lemak stirring up the game. Adding oil to the flame is the new Jia Xiang Nasi Lemak, a stall set up by a two young brothers who prepare blue and white nasi lemak rice using butterfly pea flowers. A set that comes with a chicken wing and sunny side up goes at $3. Their rendang chicken ($3) is a must-try if you're visiting on Tuesdays or Saturdays. To complete this aesthetically pleasing, yet scrumptious meal, pair it with their Butterfly Pea with Honey Lime ($2) or Butterfly Pea Teh C ($2).
Find out more about the new-generation hawkers behind Jia Xiang Nasi Lemak!
Address: 114 Lavender Street, #01-08/09, CT Hub 2, Singapore 338729
Opening hours: Mon-Fri 9am to 3pm, Sat 11am to 4pm
Tel: 9889 3466
Website
---
10. Famous Sungei Road Trishaw Laksa

---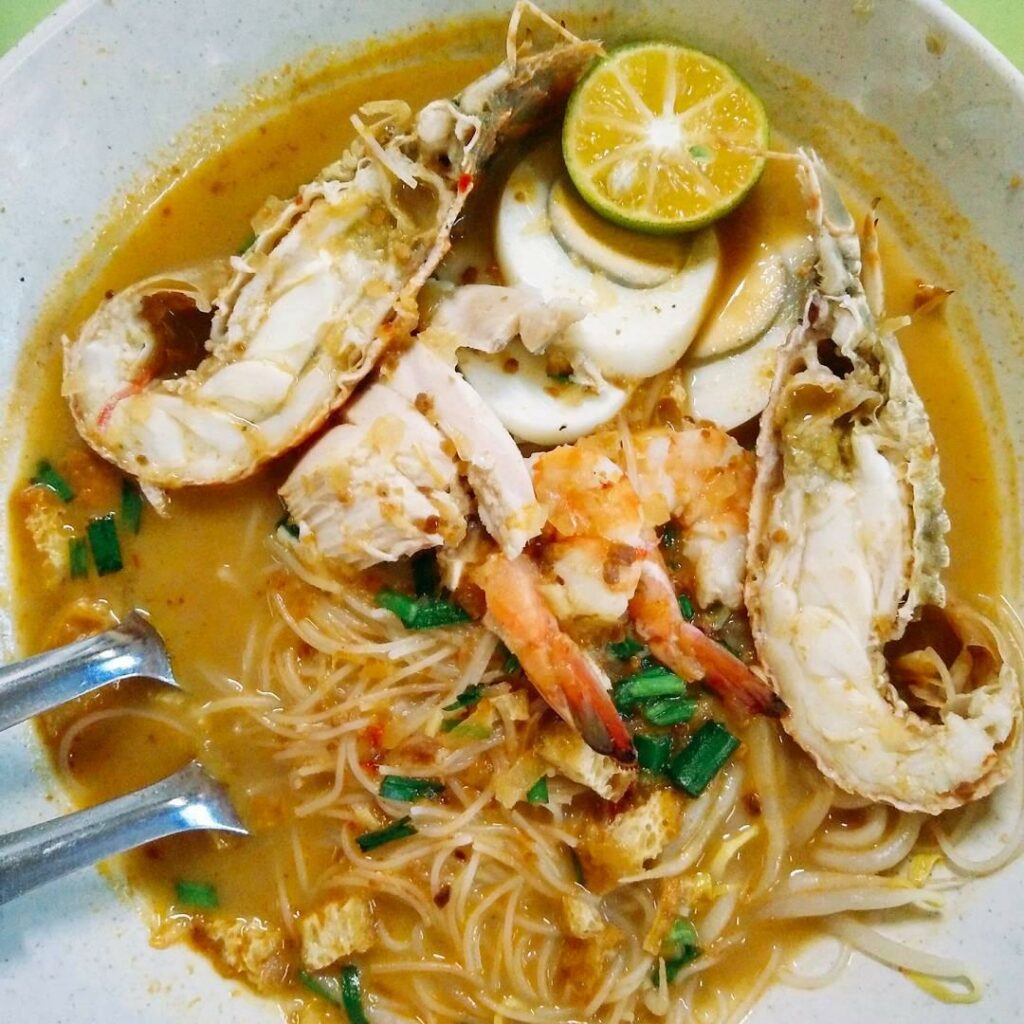 Image credit: @tame_bunny

Singaporeans love their spicy food and we're blessed to have a wide variety of spicy delights like laksa, curry and mee siam. Famous Sungei Road Trishaw Laksa brings a tangy twist to our beloved mee siam with their Fruit Juice Crayfish Mee Siam ($6). Its sweet, spicy and sour taste is distinctive from the rest I've tried. Fresh fruit juice is used instead of assam, which helps make this classic dish less jelak. 
Check out our full review of Famous Sungei Road Trishaw Laksa!
Address: 531A Upper Cross Street, Hong Lim Market & Food Centre, #02-66, Singapore 051531
Opening hours: Mon-Sat 11:30am to 5:30pm
---
High-end hawker dishes at a low price
---
If you've ever walked past a restaurant gazing longingly at that unagi bowl and realising your wallet isn't on par with your taste buds, we hope this list comes in handy. Let us know if you've come across any other atas hawker dishes served at an affordable price!