---
Best hawkers in Singapore this 2020
---
Hawker culture is the backbone of our national love for food. This year, we celebrate 10 best hawkers in Singapore that have newly entered the scene as part of our Eatbook Top 50 2020 Awards. These stalls have bravely weathered the COVID-19 storm to serve us humble, hearty dishes year-round.
From Singapore's first yakiniku in a kopitiam to mee hoon kway by a MasterChef finalist, here are the winners.
---
1. Jia Li Seafood Soup
---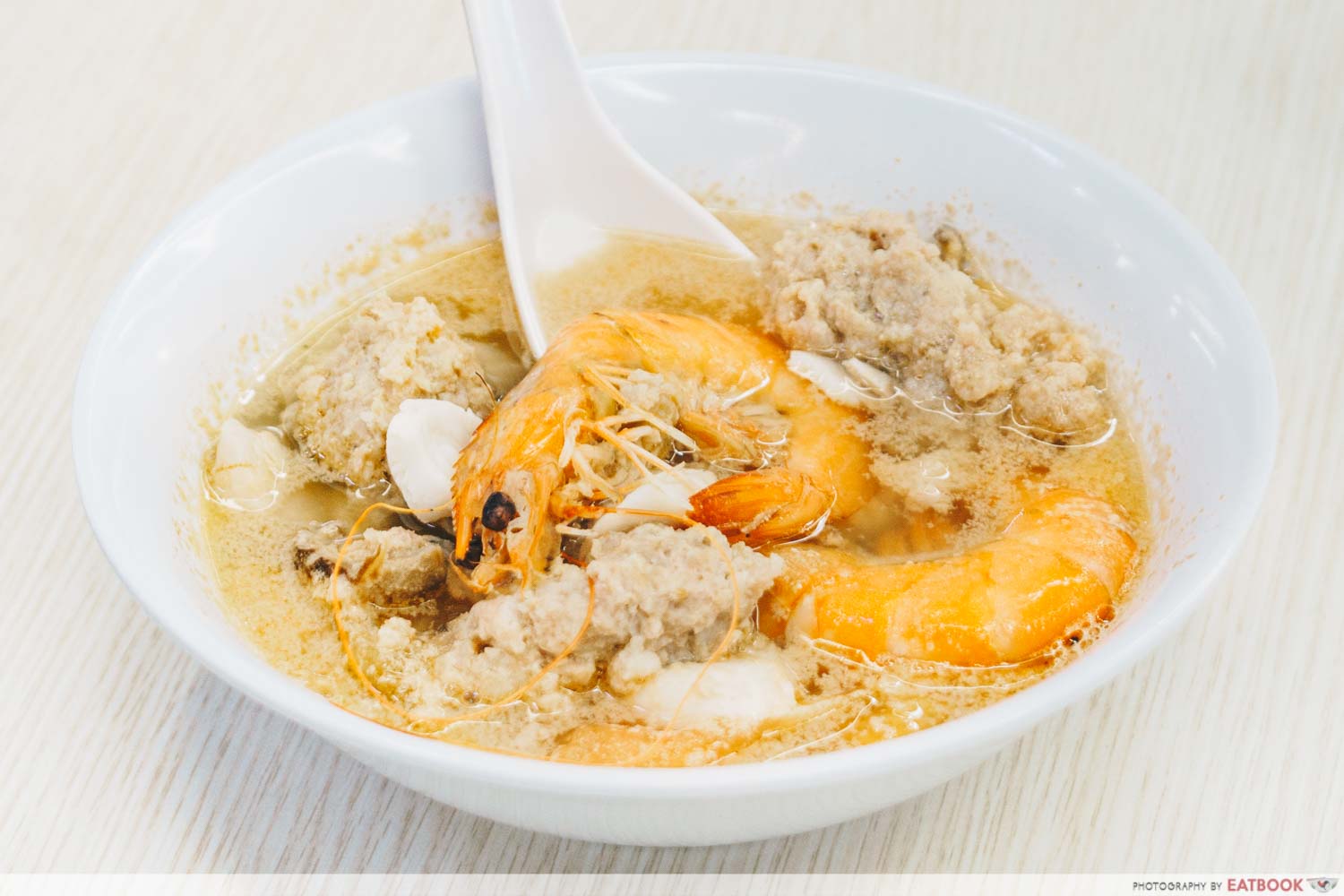 Formerly based in Marsiling, Jia Li Seafood Soup has undergone a rebranding and move to Aljunied, bringing its umami seafood soup closer to the city centre. A signature is the Seafood Soup (from $6.50), served with your choice of either dory, batang, or red grouper fish, alongside succulent prawns and handmade meatballs.
If you're feeling indulgent, try their Crayfish Soup (from $12), cooked with crayfish halves for sweet, briny depth.
Read our Jia Li Seafood Soup review.
Address: Blk 115 Aljunied Avenue 2, #01-35, Singapore 380115
Opening hours: Daily 10:30am to 10:30pm
Tel: 9225 0168
Website
Jia Li Seafood Soup is not a halal-certified eatery.
Jia Li Seafood Soup Review: Umami Crayfish And Seafood Soup Hidden At Aljunied
---
2. Yakiniku Warrior
---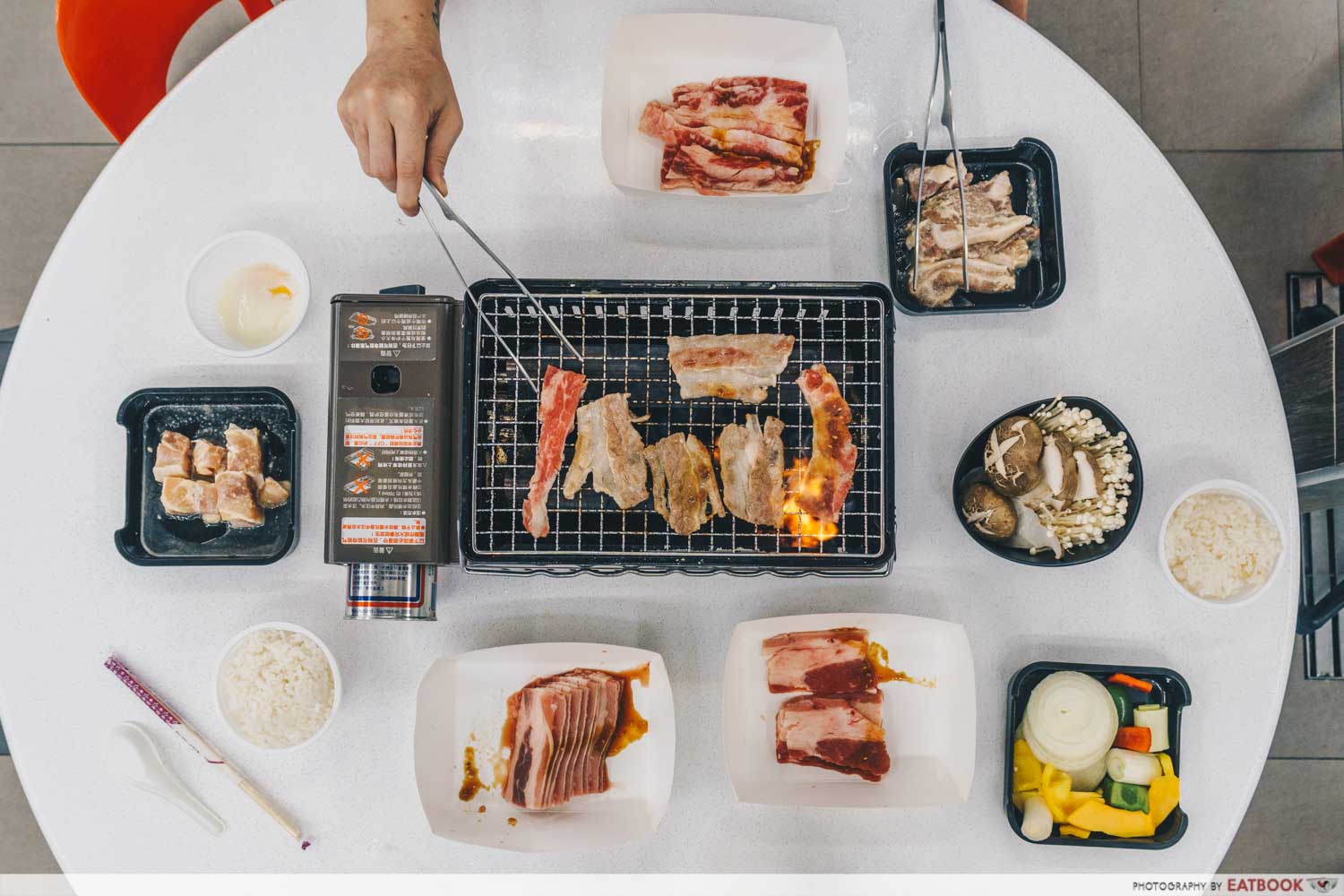 Singapore's first-ever yakiniku in a coffeeshop recently sprang up near Aljunied MRT Station in the form of Yakiniku Warrior. Run by a former banker, this unique hawker store serves meat platters that you DIY barbecue at your table.
Prices are affordable here, and we highly recommend the Premium Karubi Set ($14) for 100g of US beef short ribs, as well as the Beatbox Set ($12), totalling 250g of chicken, pork, and beef. All orders come with complimentary vegetables and pearl grain rice.
Read our Yakiniku Warrior review.
Address: 121 Geylang East Central, Singapore 380121
Opening hours: Mon-Wed, Fri-Sun 6pm to 11:30pm
Website
Yakiniku Warrior is not a halal-certified eatery.
Yakiniku Warrior Review: Singapore's First Yakiniku In A Coffee Shop Has Barbecue Meat Platters From $6
---
3. Birdhaus
---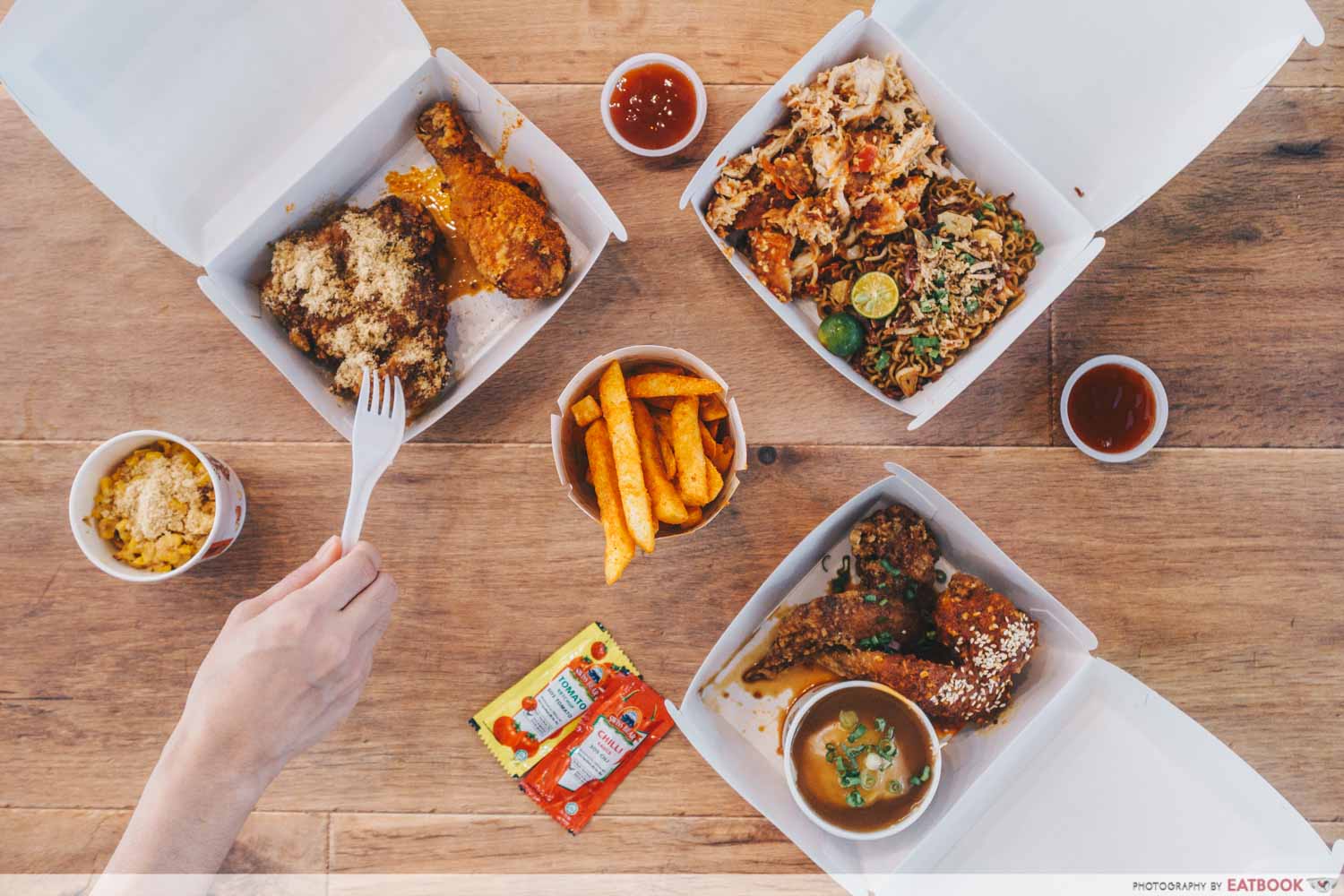 If you're familiar with Burgs by Project Warung, you'll be pleased to know that the enterprising hawker group now has a fried chicken outlet known as Birdhaus. Its location may be in a slightly ulu part of Bukit Merah, but their Geprek With Indomie ($7.50) is well worth travelling for.
Geprek is Indonesian-style fried chicken that has been crushed, then smothered with sambal, and Birdhaus' is made in-house—expect zesty, zingy spice with every forkful. They also sell a 2 Piece Wings Meal ($6.50), which you can pick your flavour of chicken for, ranging from Garlic Parmesan to Honey Soy.
Read our Birdhaus review.
Address: 119 Bukit Merah Lane 1, #01-40, Singapore 151119
Opening hours: Daily 11:30am to 9:30pm
Website
Birdhaus is not a halal-certified eatery, but it is Muslim-owned.
Birdhaus By Project Warung Review: Fried Chicken With Sambal And Indomie By Burgs Founders In Bukit Merah
---
4. TORCHED
---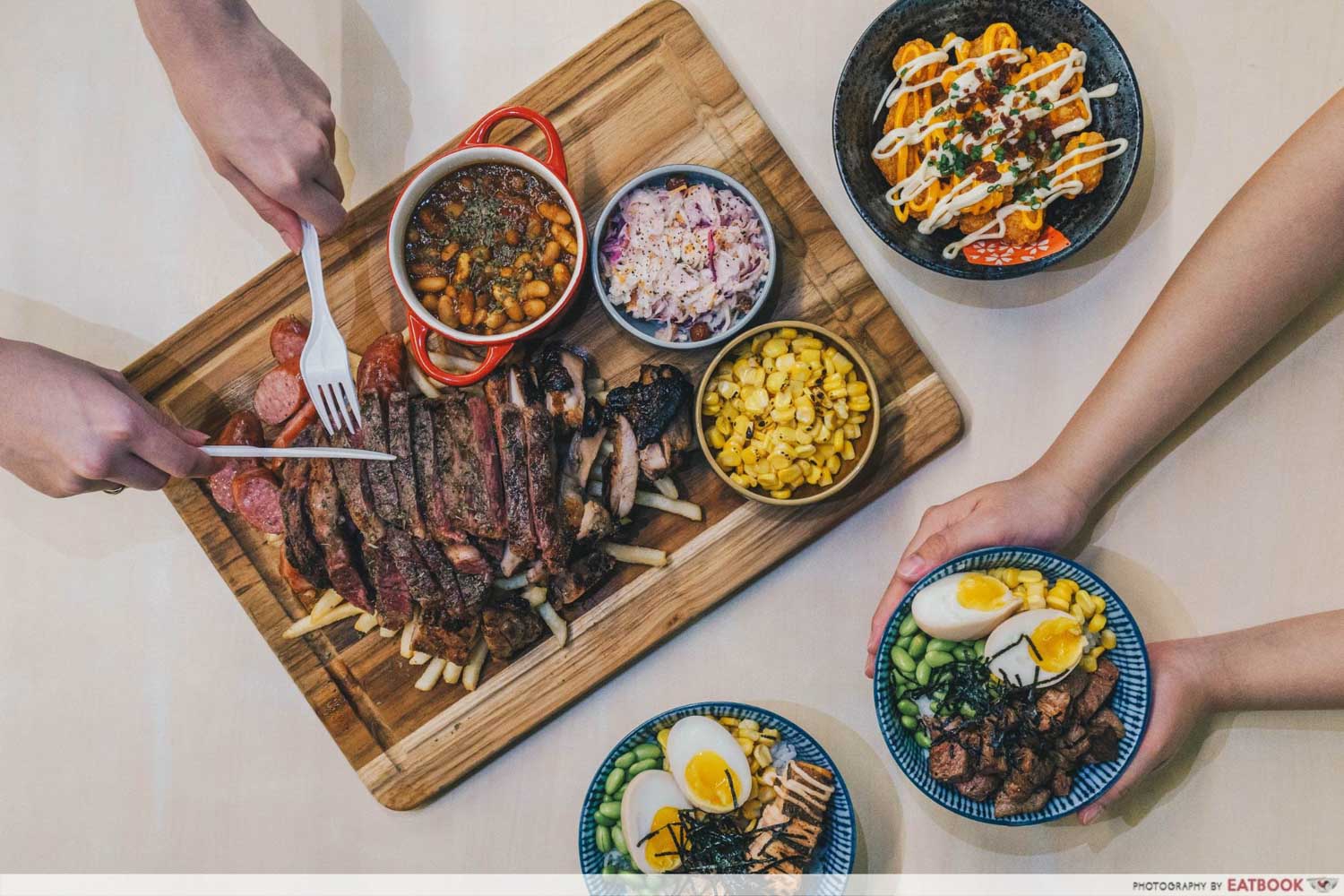 Clementi-based Western food stall TORCHED specialises in grilled meats and rice bowls. One of their specialty items is their Meat Platter for 2 ($49), served with sausages, steak, grilled honey soy chicken, fries, coleslaw, BBQ baked beans, and corn.
If you have a smaller appetite, though, go for their burgers or rice bowls, of which we did like the Torched Mentaiko Salmon Rice Bowl ($12), where the fish comes doused with smoky mentaiko mayonnaise.
Read our TORCHED review.
Address: 107 Clementi Street 12, FoodPark, Singapore 120107
Opening hours: Daily 11:30am to 2pm, 5pm to 8pm
Tel: 9665 6181
Website
TORCHED is not a halal-certified eatery.
TORCHED Review: New Hawker Stall With XXL Meat Platters, Mentaiko Salmon Don And More At Clementi
---
5. Skirt & Dirt
---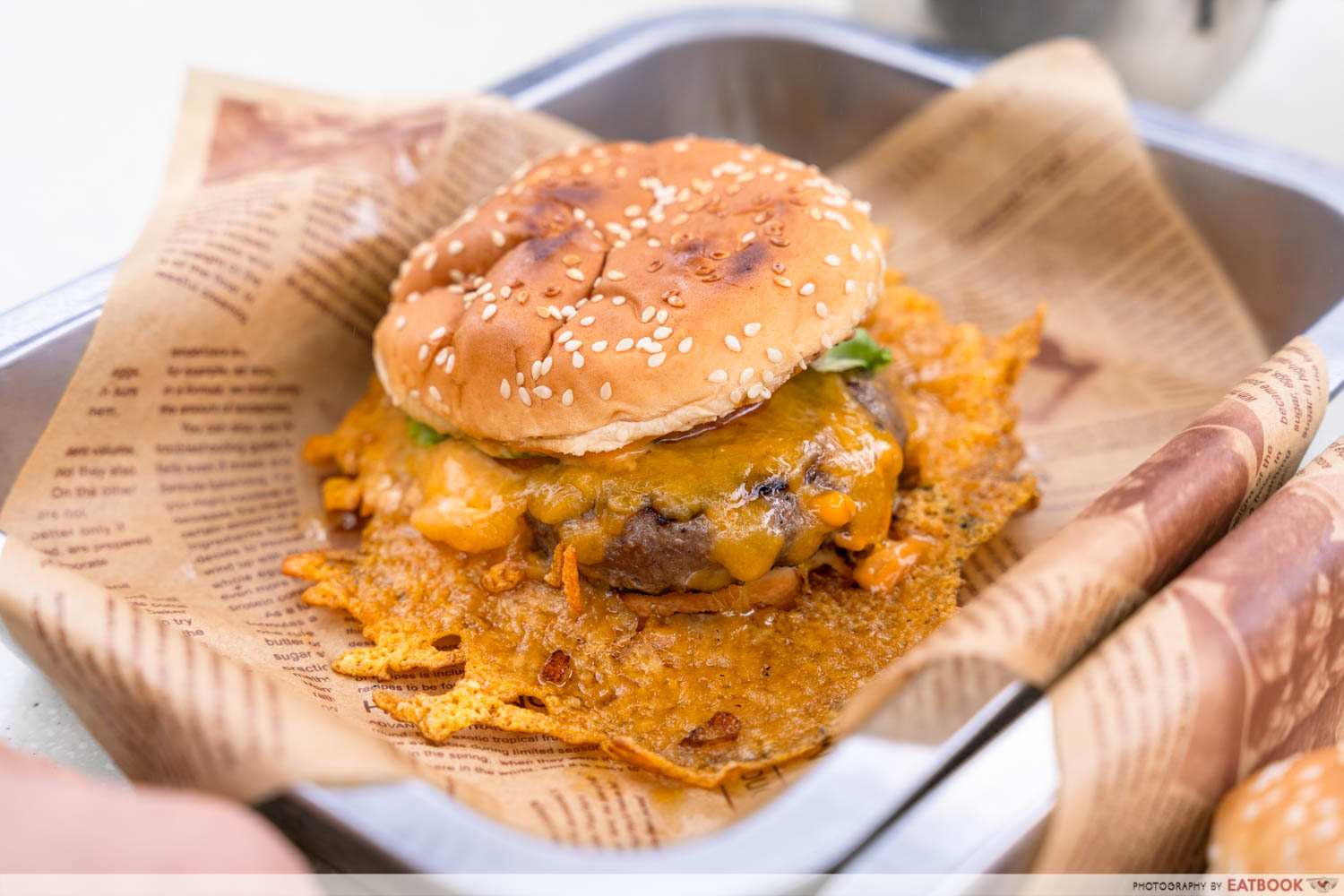 Skirt & Dirt sets itself apart from burger-focused hawker stalls in Singapore with their one-of-a-kind Cheese Skirt Burger ($6.80). Juicy beef patties are grilled with a cheddar skirt, that has melted to a crisp to offer a sharp, snappy kick to the burger.
Top up $2 to your order to get two sides along with your dish, and choose from Cajun fries, soup of the day, or house salad. If you want to really indulge, get their loaded Cheese Dirt Fries ($4), an XL portion of french fries served with cheese, bacon, jalapenos, and relish.
Read our Skirt & Dirt review.
Address: 30 Seng Poh Road, #02-66, Tiong Bahru Market, Singapore 168898
Opening hours: Daily 11am to 7pm
Website
Skirt & Dirt is not a halal-certified eatery.
Skirt & Dirt Review: Unique Cheese Skirt Burger Stall At Tiong Bahru Market
---
6. Mad Roaster
---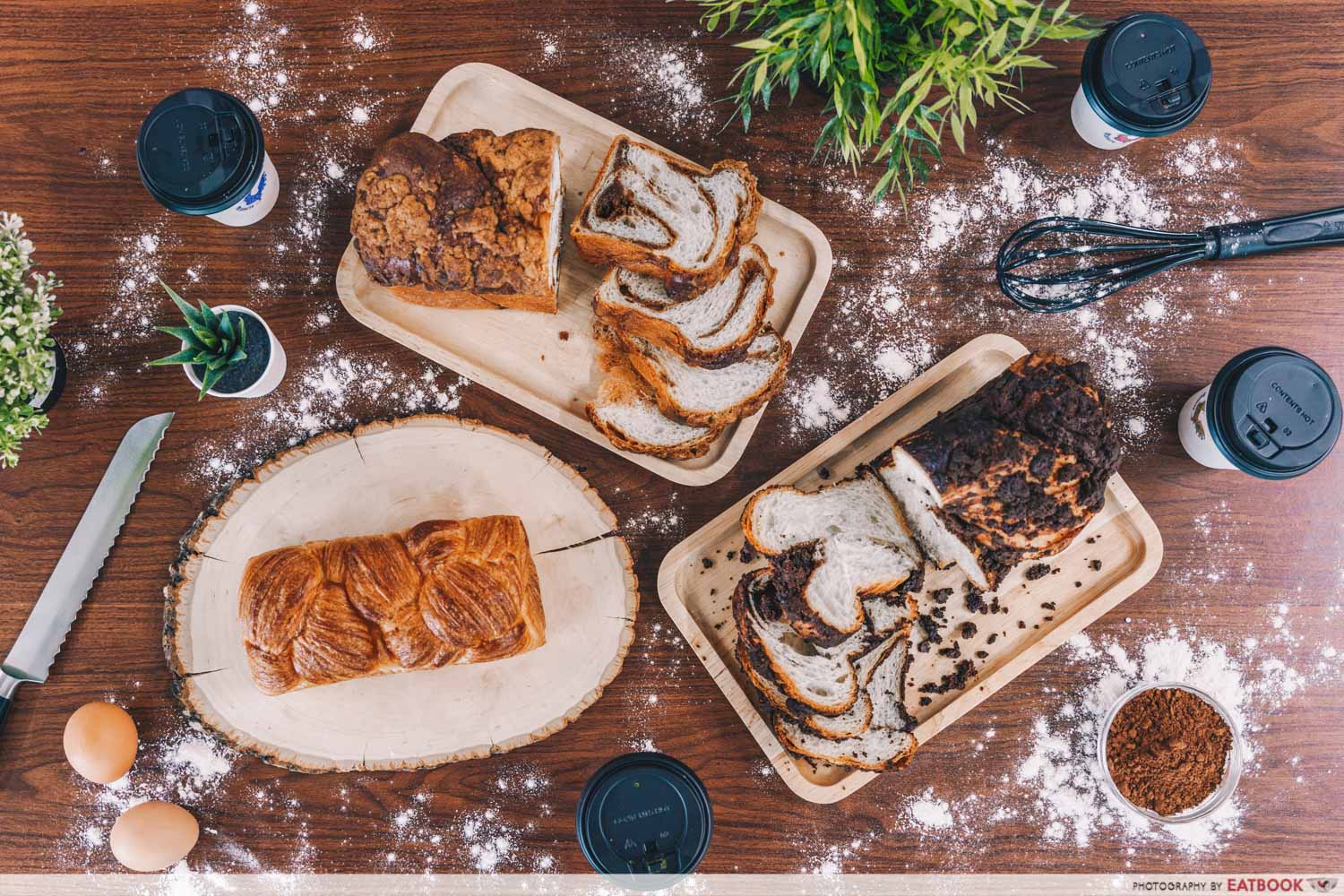 Nestled in the second floor of Amoy Street Food Centre is Mad Roaster, a cafe in a hawker stall. Run by a young lawyer, the stall serves her handmade Laminated Brioche, Chocolate or Cinnamon Babka loaves ($18 each), available also by the slice ($2) to enjoy with their array of coffees.
Opt for their Honey Butter Latte ($4), a sweet concoction inspired by the Korean potato chip snack, or Matcha Latte ($4), which uses first flush green tea, to go along with your slice of bread. The artwork featured on each cup of coffee is done by the refugees that Mad Roaster's founder advocates for, so your caffeine fix contributes to a greater good too.
Read our Mad Roaster review.
Address: 7 Maxwell Road, #02-107, Amoy Street Food Centre, MND Complex Annexe B, Singapore 069111
Opening hours: Mon-Fri 8am to 3pm, Sat 11am to 2pm (Closed on public holidays)
Website
Mad Roaster is not a halal-certified eatery.
Mad Roaster: Hawker Stall Has Chocolate Babka And Honey Butter Coffee At Amoy Street Food Centre
---
7. The Headless Baker
---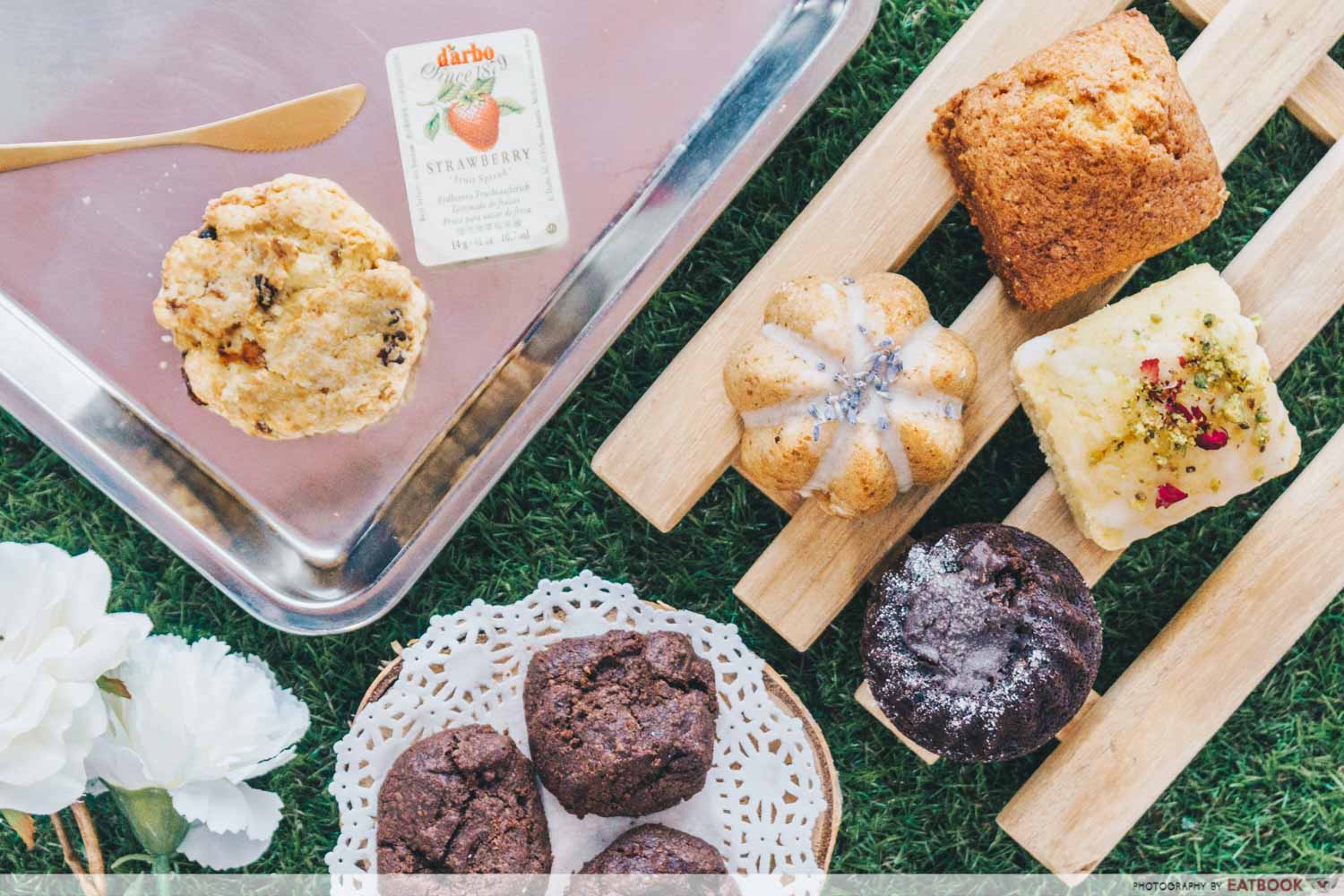 Serving delicate cafe-style desserts is The Headless Baker at Buona Vista's Ghim Moh Food Centre. The menu contains freshly-made bakes such as Sable Cookies ($2 for 3), Scones ($2), and adorable Bundt cakes in flavours such as Earl Grey ($4), Chocolate ($4), and Lemon Pistachio ($3).
If you don't have a sweet tooth, you'll still be able to appreciate their savoury Basil And Tomato Focaccia ($2).
Read our The Headless Baker review.
Address: 20 Ghim Moh Road, #01-64, Singapore 270020
Opening hours: Wed-Sun 7am to 2pm
Tel: 9740 0538
Website
The Headless Baker is not a halal-certified eatery.
The Headless Baker Review: Earl Grey Cakes, Sea Salt Cookies And More From $2 At Buona Vista
---
8. The Patio
---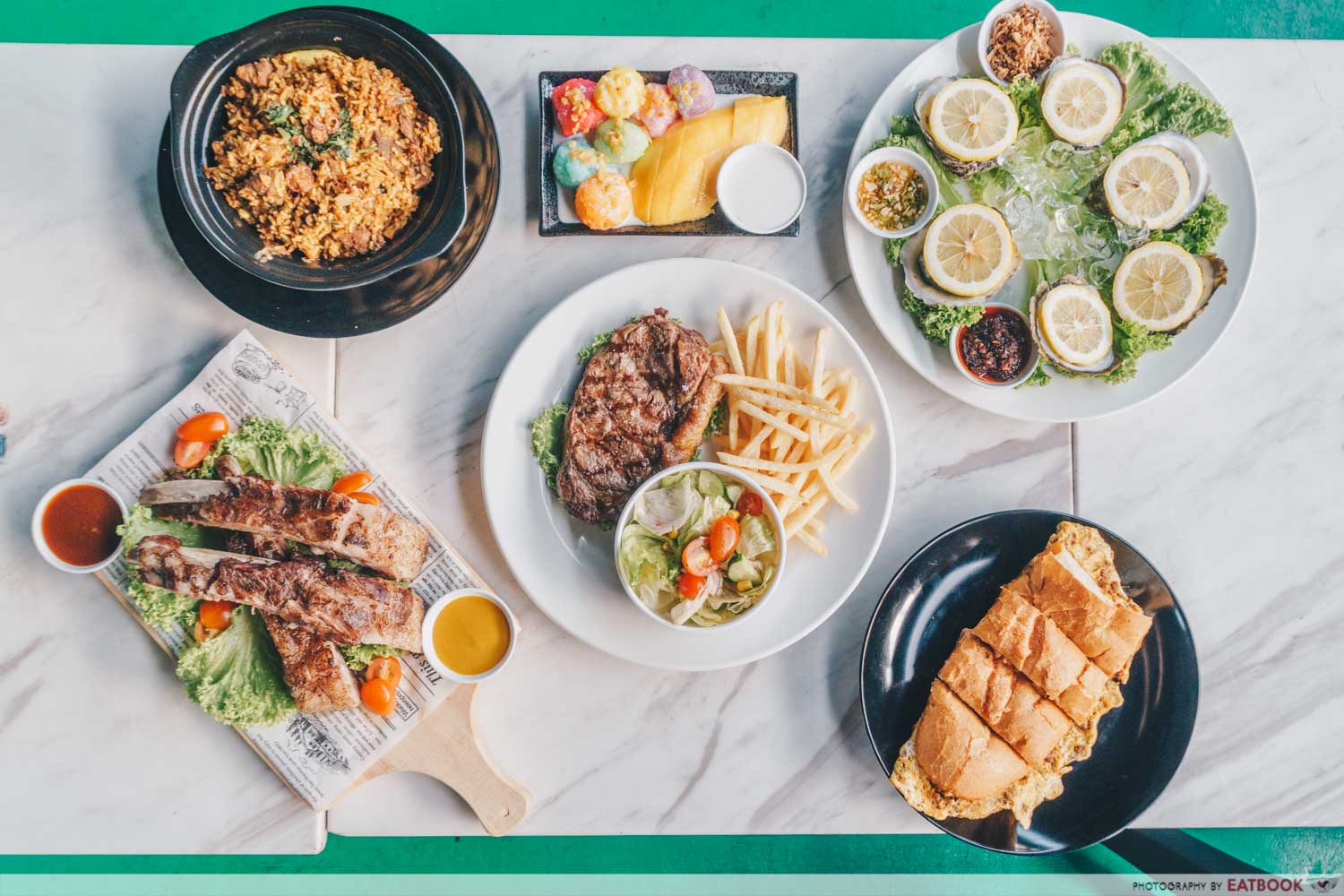 The Patio at Sembawang is a next-gen hawker centre with five stalls on its premises: First Grill, Daily Dough, Phuket Thai Kitchen, Xcelyn and Fazs Satay. 
You get the best of all worlds on-site, be it the hearty Mutton Roti John ($5.90) from Daily Dough, or Prime Striploin Steak ($16) from First Grill. The latter sees a hefty portion of 220g of beef, fries, and salad, all at such an affordable price.
Read our The Patio review.
Address: 1018 Sembawang Road, Singapore 758495
Opening hours: Daily 11am to 1am
Tel: 6969 0716
Website
The Patio is not a halal-certified eatery.
---
9. San Pin Seafood Soup Pao Fan
---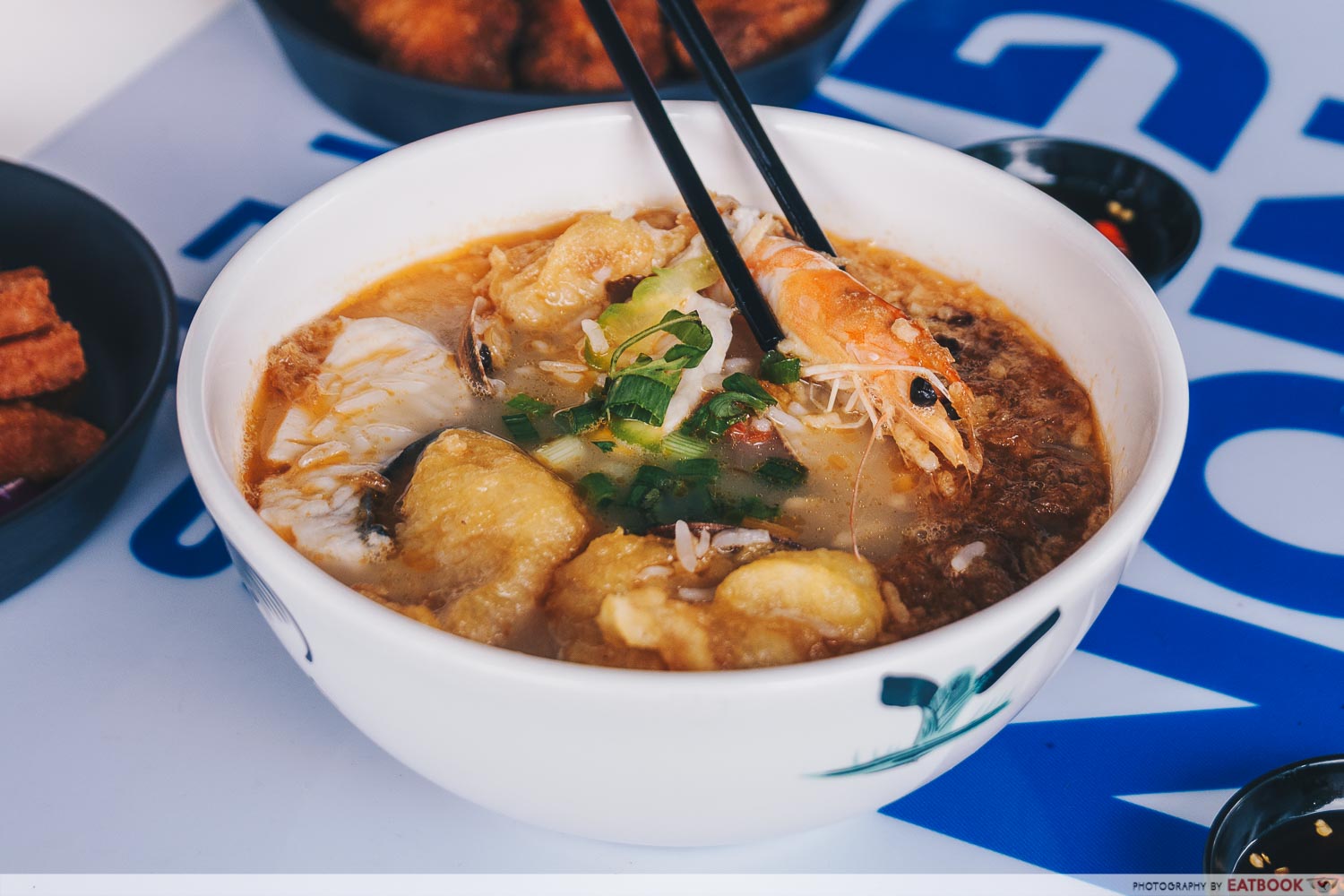 Pao fan has long been thought of as Chinese banquet fare, but 2020 has made it a trendy hawker dish that will only get more popular next year. One stall that helped spearhead pao fan's popularity is San Pin Seafood Soup Pao Fan, run by an ex-Jumbo Seafood Chef.
The Seafood Pao Fan (from $6) lets you choose from lala, fried fish, or prawns to go along with a collagen-rich broth and a mixture of puffed and steamed rice.
Read our San Pin Seafood Soup Pao Fan review.
Address: 27 Foch Road, #01-02, Hoa Nam Building, Singapore 209264
Opening hours: Daily 10:45am to 8pm
Website
San Pin Seafood Soup Pao Fan is not a halal-certified eatery.
San Pin Seafood Soup Pao Fan Review: Seafood Pao Fan From $6 In Kallang
---
10. Jiak Song Mee Hoon Kway
---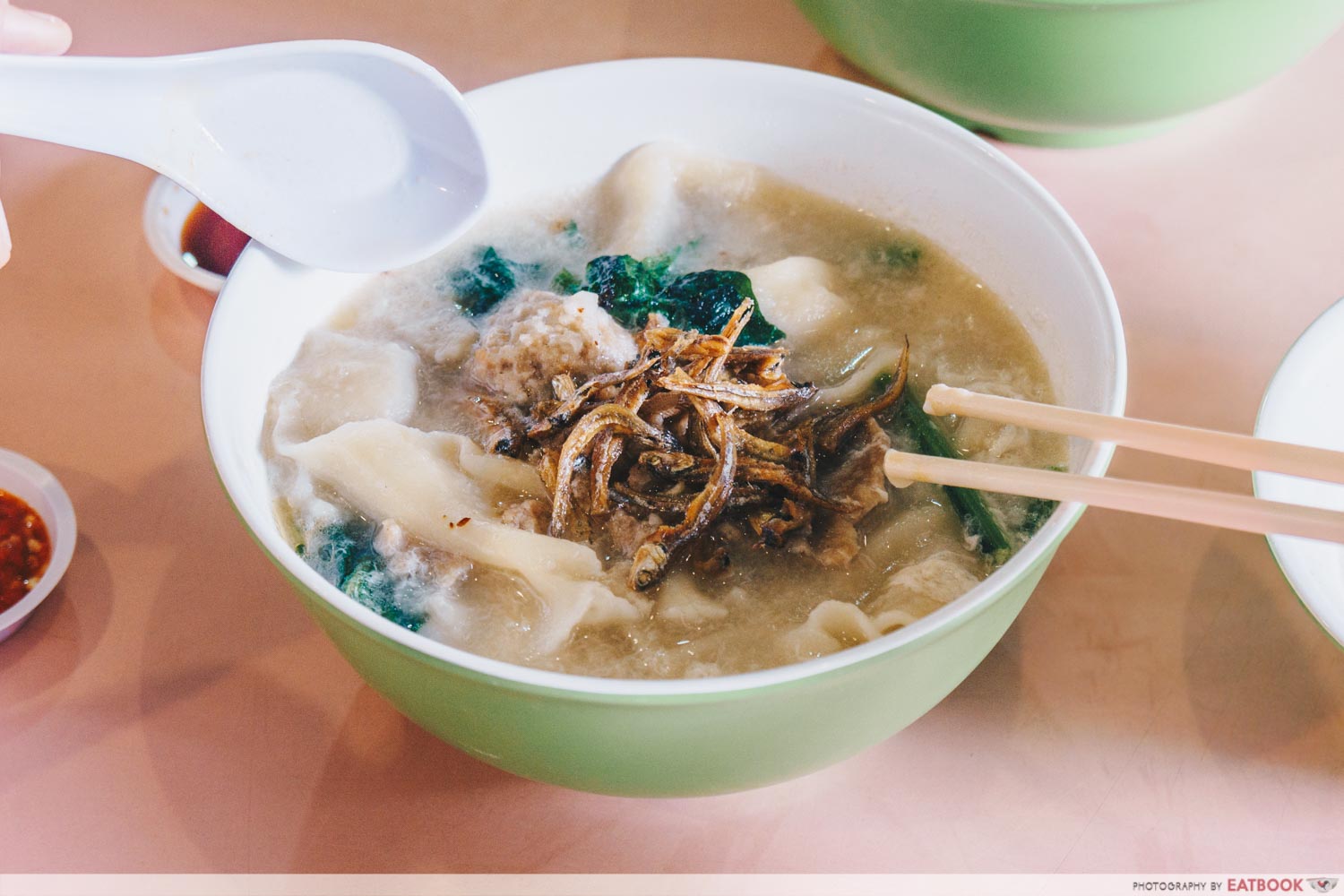 Run by an ex-MasterChef finalist, Jiak Song Mee Hoon Kway makes all their noodles by hand, to order. Apart from their dedication to quality noodles, the broth in their Signature All-In Combo Soup Mee Hoon Kway ($5) is hearty, and dressed with ingredients like ikan bilis, pork slices, and a housemade pork ball, as well as a shrimp ball.
If you prefer dry noodles, the stall also has you covered with their Signature Dry Mee Hoon Kway ($3.50), accompanied by a rich dark sauce and piquant chilli on the side.
Read our Jiak Song Mee Hoon Kway review.
Address: 11 Telok Blangah Crescent, #01-108, Singapore 090011
Opening hours: Daily 9am to 1pm (or until sold out)
Website
Jiak Song Mee Hoon Kway is not a halal-certified eatery.
Jiak Song Mee Hoon Kway Review: Delicious Handmade Mee Hoon Kueh By Ex-MasterChef Finalist
---
Best new hawkers in 2020
---
From heritage dishes to desserts, the winners above have proven the diversity of the hawker scene in Singapore. For more Eatbook Top 50 winners, check out the best cafes in Singapore, and the best restaurants in Singapore for the year!