---
Best cafes in Singapore 2020

---
Singapore isn't short of pretty cafes and we've been on the lookout for those with nice vibes, IG-worthy interiors, and good food where you can comfortably chill with a small group of friends. Here's our list of 10 best new cafes of the year for the Eatbook Top 50 Awards 2020. Make sure to bookmark it so you know where to grab a hearty brunch.
---
1. French Fold
---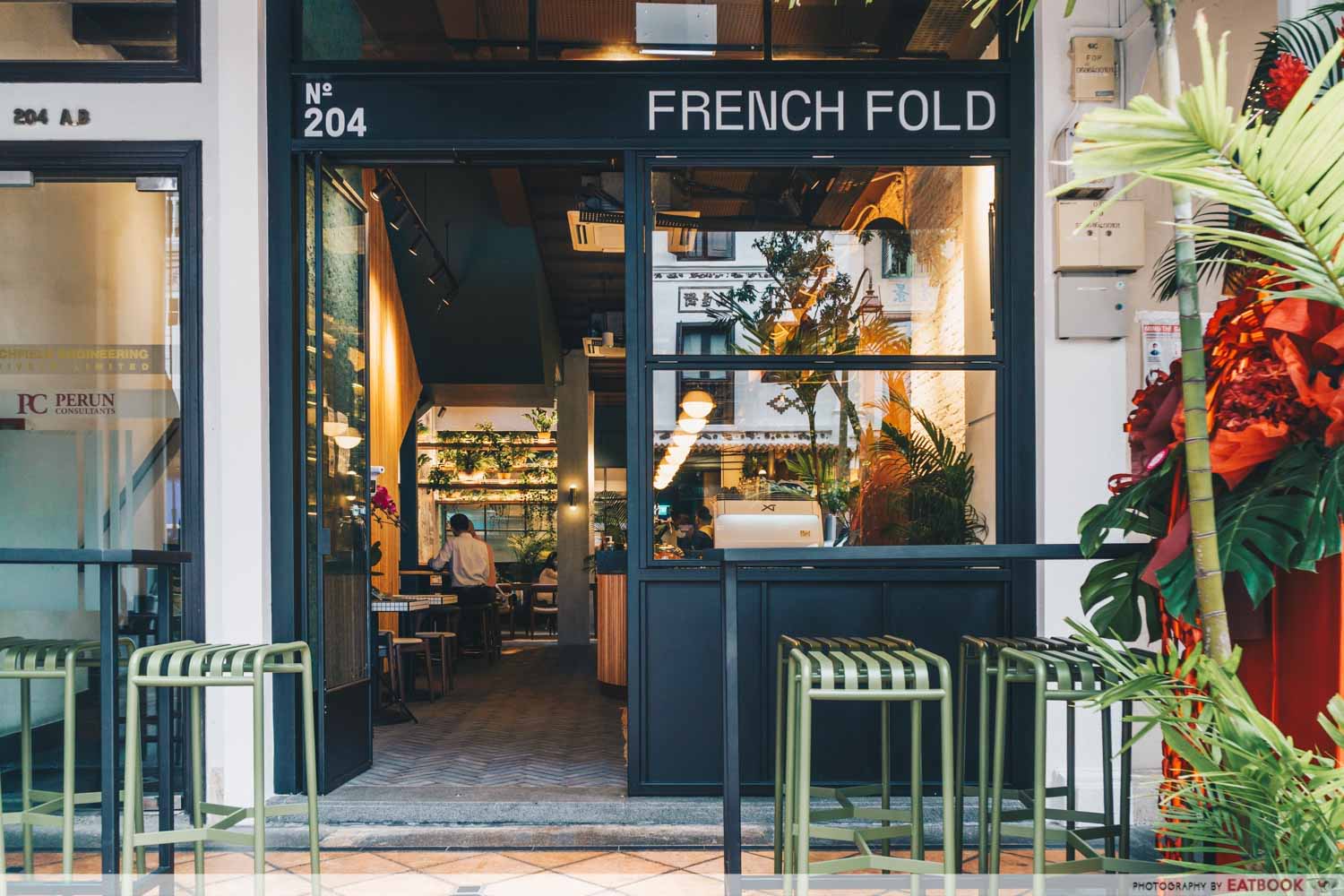 French Fold is a cosy bistro which almost seems to come straight off the streets of France. Home to galettes and crepes, French Fold sports a homely vibe complete with natural lighting, little pots of plants, and wooden furnishing.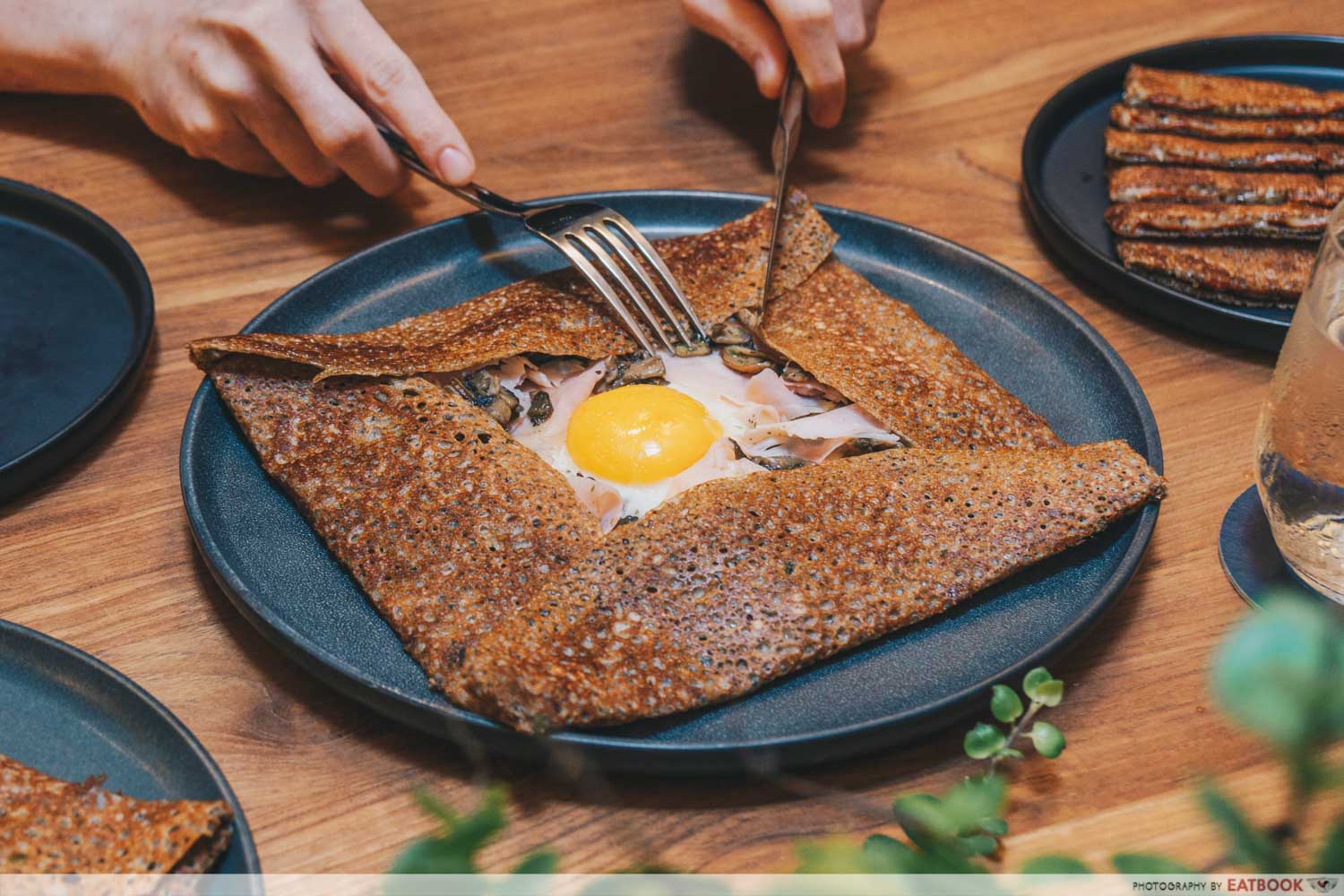 One of the most popular items on French Fold's menu would be the No.4 ($17). This savoury galette is decked with ham, sauteed mushrooms, and a sunny-side-up egg with runny yolk perfect for the 'gram. If you're looking for something sweet, go for the Manuka Honey ($10) crepe which is served with an earthy scoop of sea salt hojicha ice cream.
Check out our full review of French Fold.
French Fold Review: New Bistro Serves French Galettes And Crepes With Gelato In Telok Ayer
Address: 204 Telok Ayer Street, Singapore 068640
Opening hours: Daily 8am to 10:30pm
Website
French Fold is not a halal-certified eatery.
---
2. Korio
---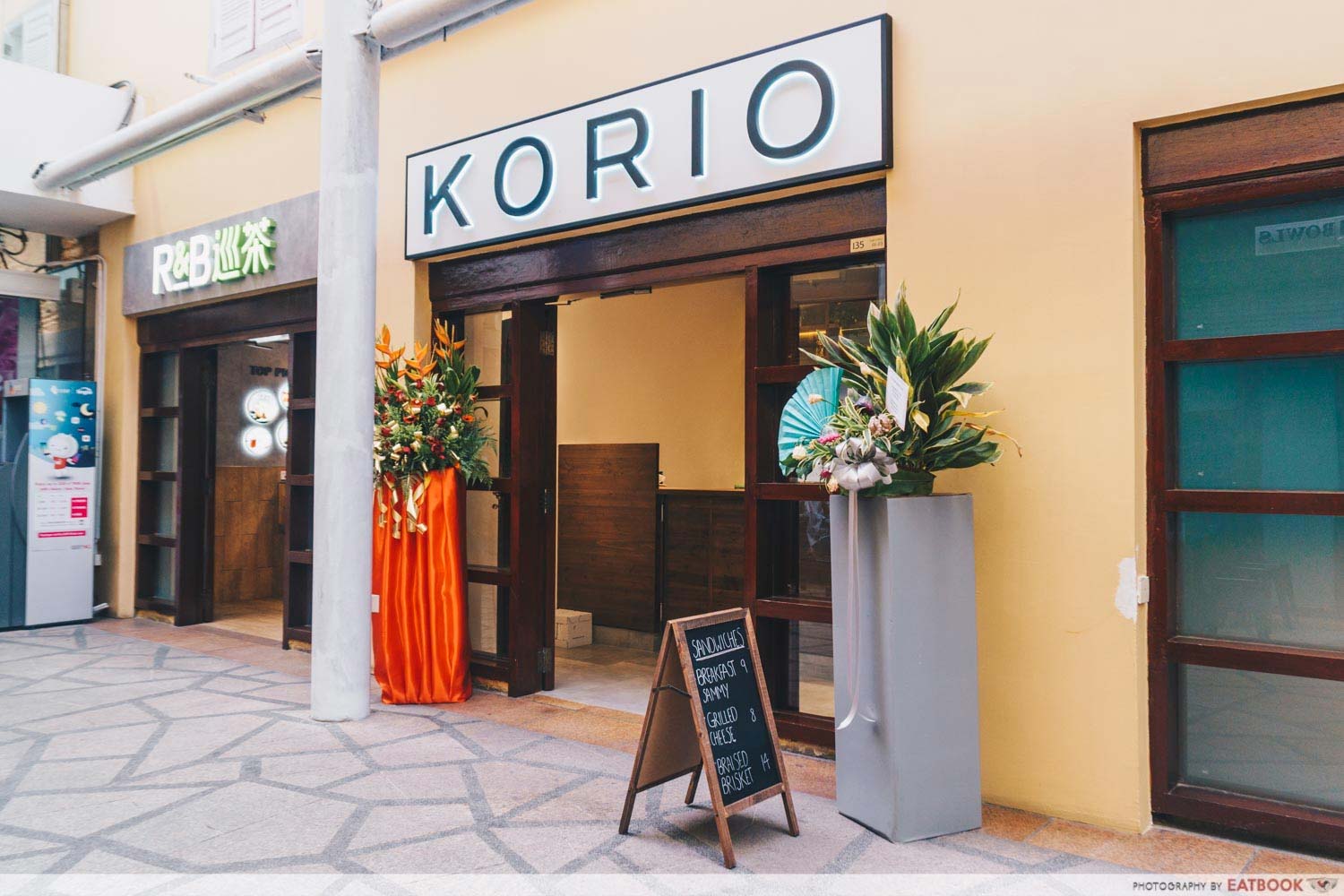 Those down for melty grilled cheese sandwiches would love Korio, which is largely a takeaway kiosk. However, tables and chairs dotted in the vicinity give you the option to enjoy their sandwiches piping hot.
Korio's menu has changed quite a bit since our last visit. Thankfully, our favourite Grilled Cheese ($13) remains on their menu. Loaded with cheddar and American cheese for that stretchy cheese pull, this sandwich also comes with caramelised onions for a natural layer of sweetness. The kiosk also sells brioche doughnuts in flavours like Caramelised Biscuits ($5) and 70% Dark Chocolate ($5).
Check out our full review of Korio.
Korio Review: Brooklyn-Inspired Brioche Donuts And Grilled Cheese Toasts At CBD
Address: 135 Amoy Street, #01-03, Far East Square, Singapore 049964
Opening hours: Tue-Fri 9am to 2pm, Sat 9am to 1:30pm
Tel: 9771 6491
Website
Korio is not a halal-certified eatery.
---
3. PIVOT
---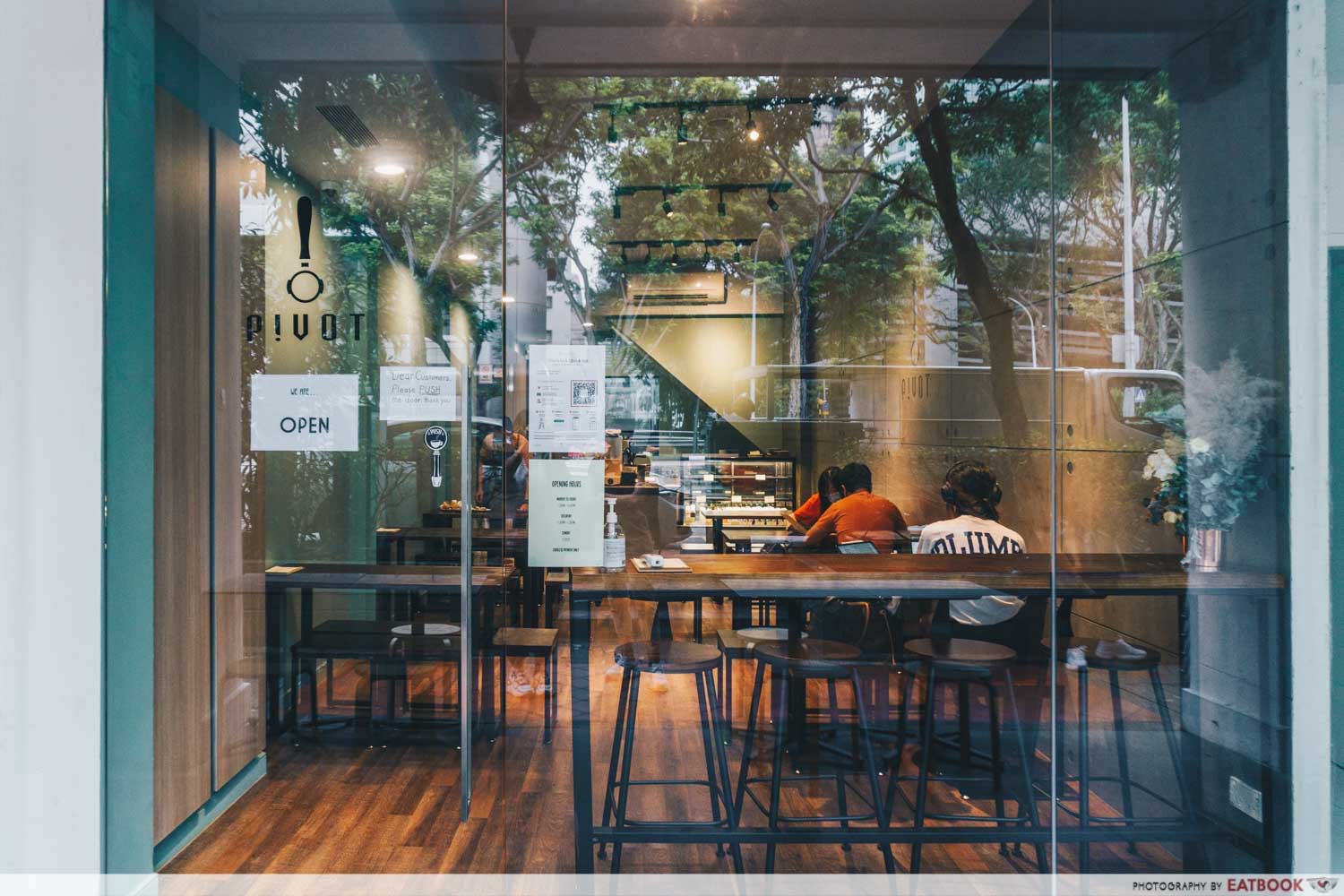 Early-risers headed to the CBD can consider visiting PIVOT, which is located near Raffles Place MRT Station, and opens at 8am. Expect a comfortable ambience in the cafe, with industrial-style furnishing and dim lighting.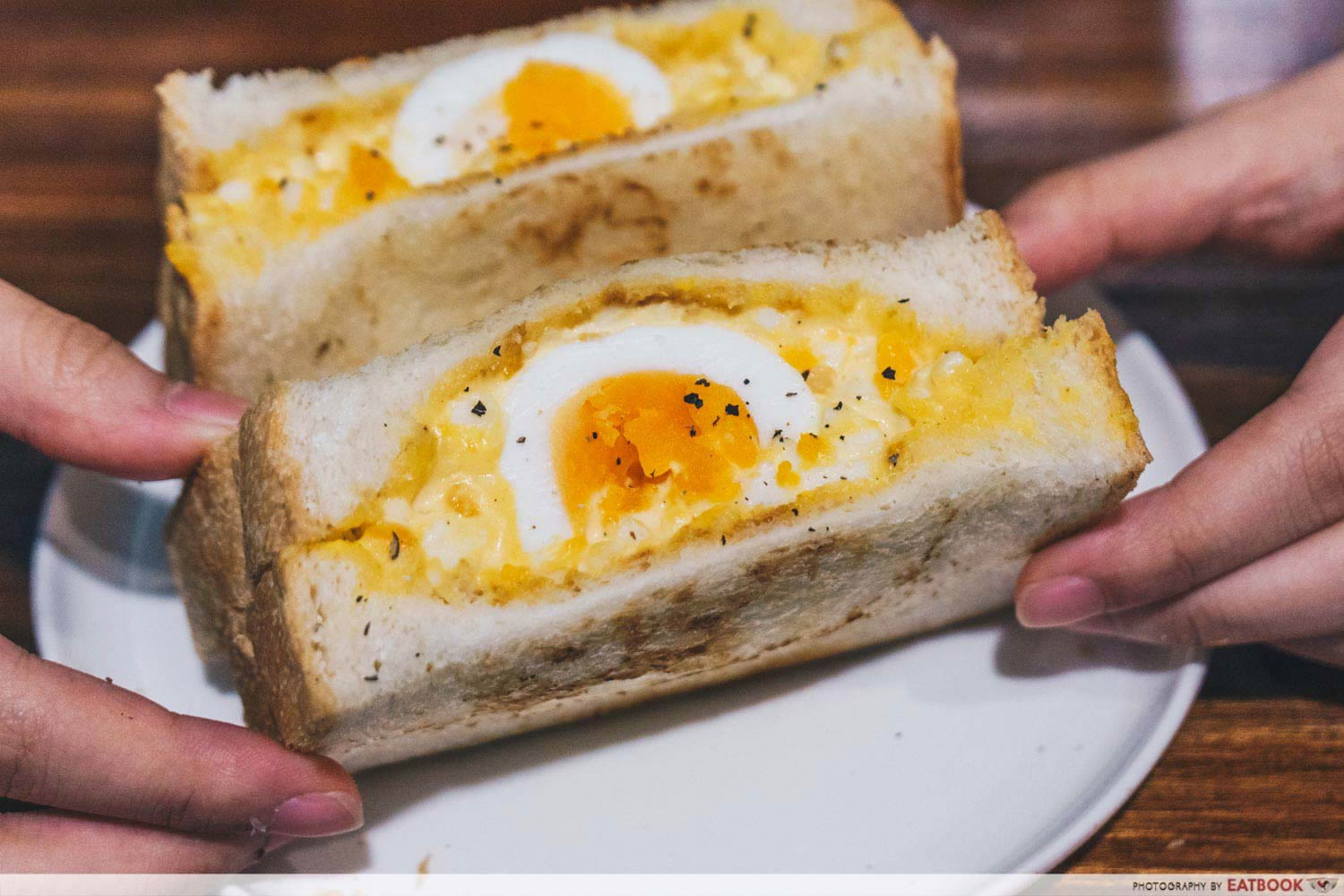 Start your day with the Tamago Sando ($7), a filling combination of egg mayo and jammy egg between fluffy shokupan bread. Our sweet-toothed readers can also grab one of their mini cakes which are often available only after 10am. We loved the Oh! Gee Cha ($8.50) best—a sweet treat with aromatic hojicha mousse and candied chunks of apple.
Check out our full review of PIVOT.
PIVOT Review: Tamago Sandos And IG-Worthy Hojicha Cakes At CBD Cafe
Address: 10 North Canal Road, Singapore 048823
Opening hours: Mon, Wed-Fri 8am to 6pm, Sat-Sun 9:30am to 6pm
Tel: 9129 1965
Website
PIVOT is not a halal-certified eatery.
---
4. Bee's Knees
---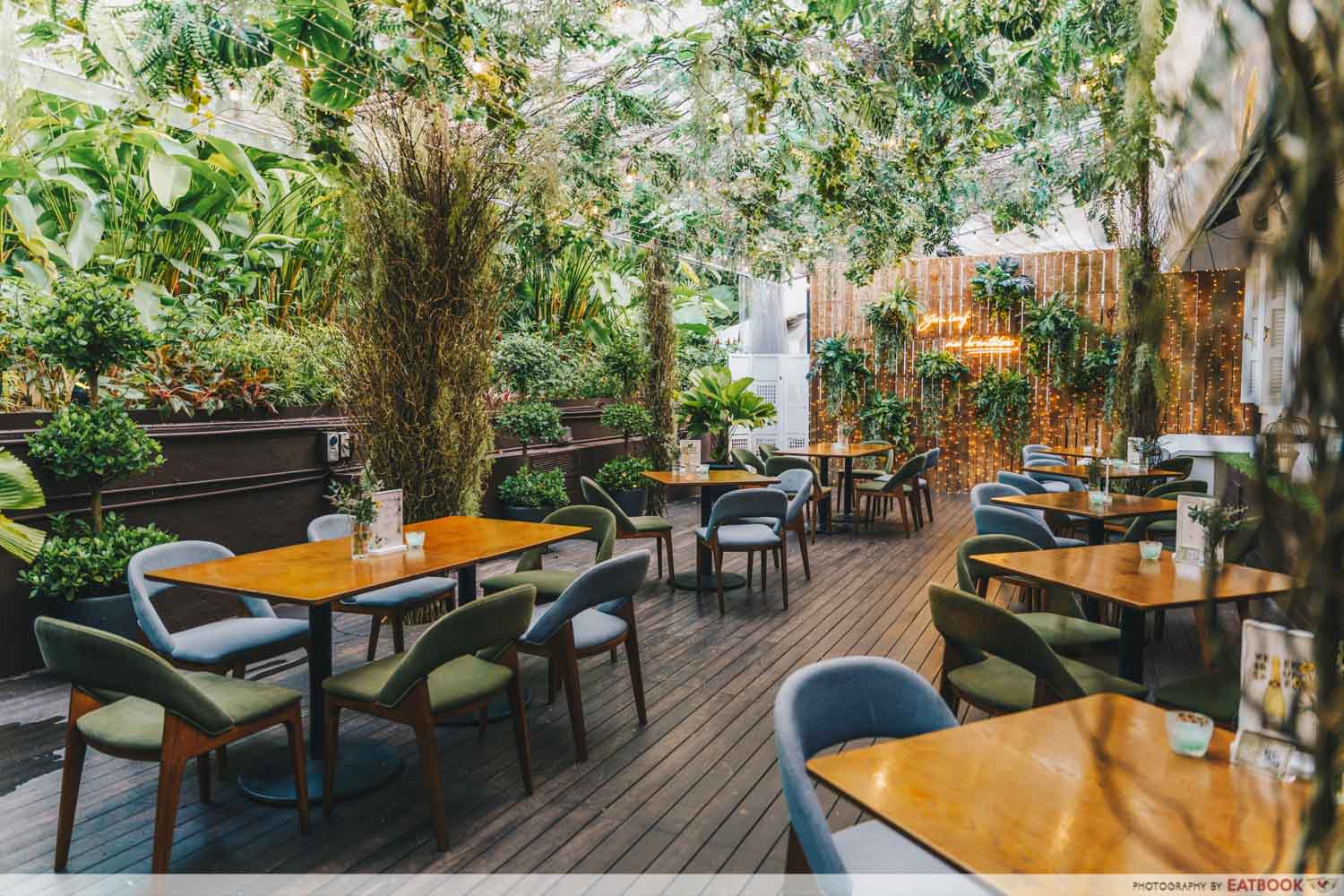 If you're one for eateries with a view, Bee's Knees lets you enjoy your meal surrounded by lush greenery. Cafe by day and a dinner-and-cocktail spot by night, Bee's Knees has a full-revamped menu including loaded fries and 'thicc and chonky' burgers.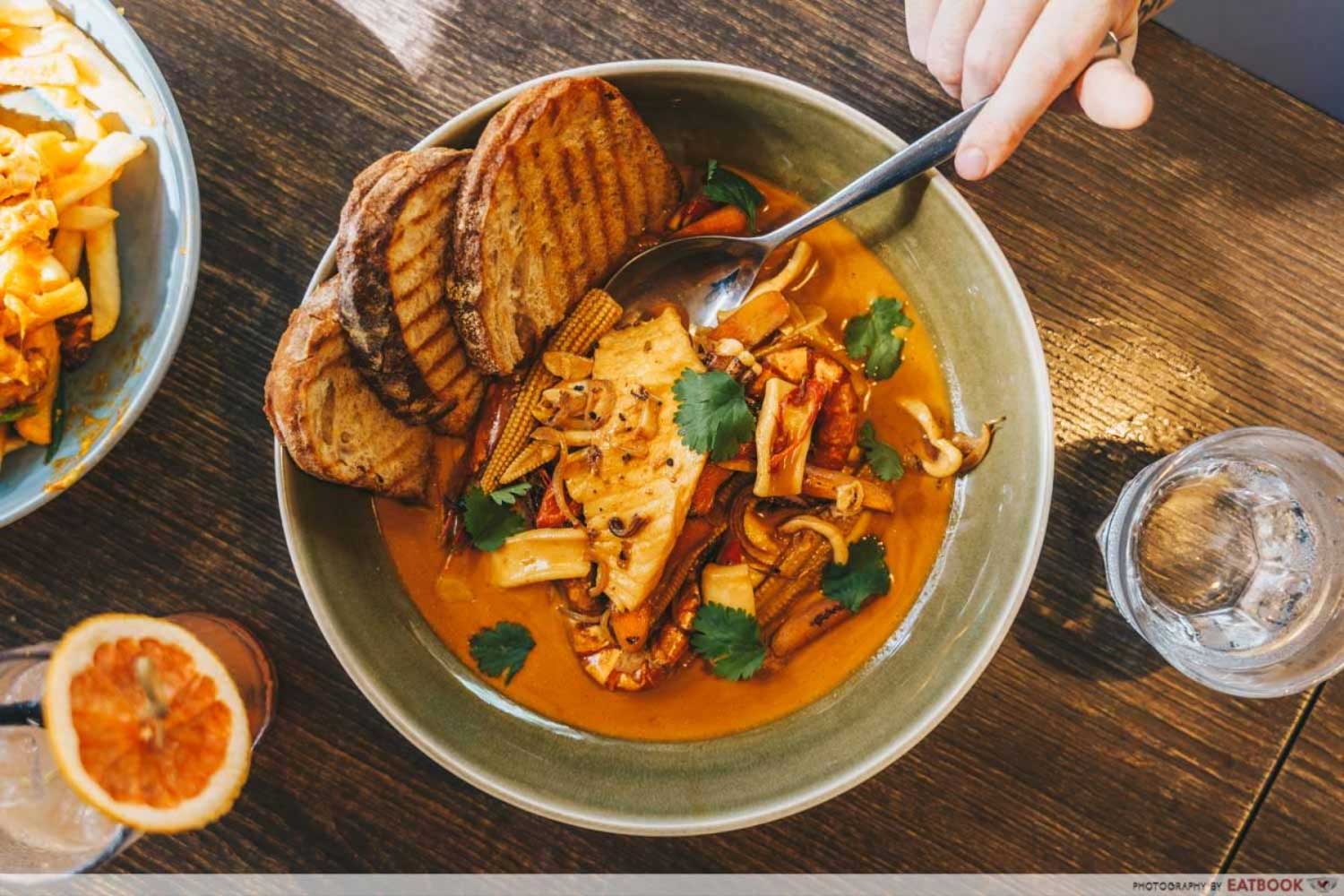 We enjoyed the Seafood Stew ($28), topped with liberal amounts of fresh snapper, squid, and succulent prawns. This is served with crisp slices of sourdough toast and creamy mash. Another crowd favourite from the cafe would be their Spicy Duck Loaded Fries ($17). This one's an lush side drizzled with chunks of duck meat, mayonnaise made from duck fat, and piquant Sriracha.
Check out our full review of Bee's Knees.
Bee's Knees Review: Scenic Garden Cafe Has Spicy Duck Loaded Fries And Squid Ink Pizza
Address: 50 Cluny Park Road, Level 1, Botanic Gardens, Singapore 257488
Opening hours: Daily 8am to 10pm
Tel: 9815 3213
Website
Bee's Knees is not a halal-certified eatery.
---
5. Apollo Coffee Bar
---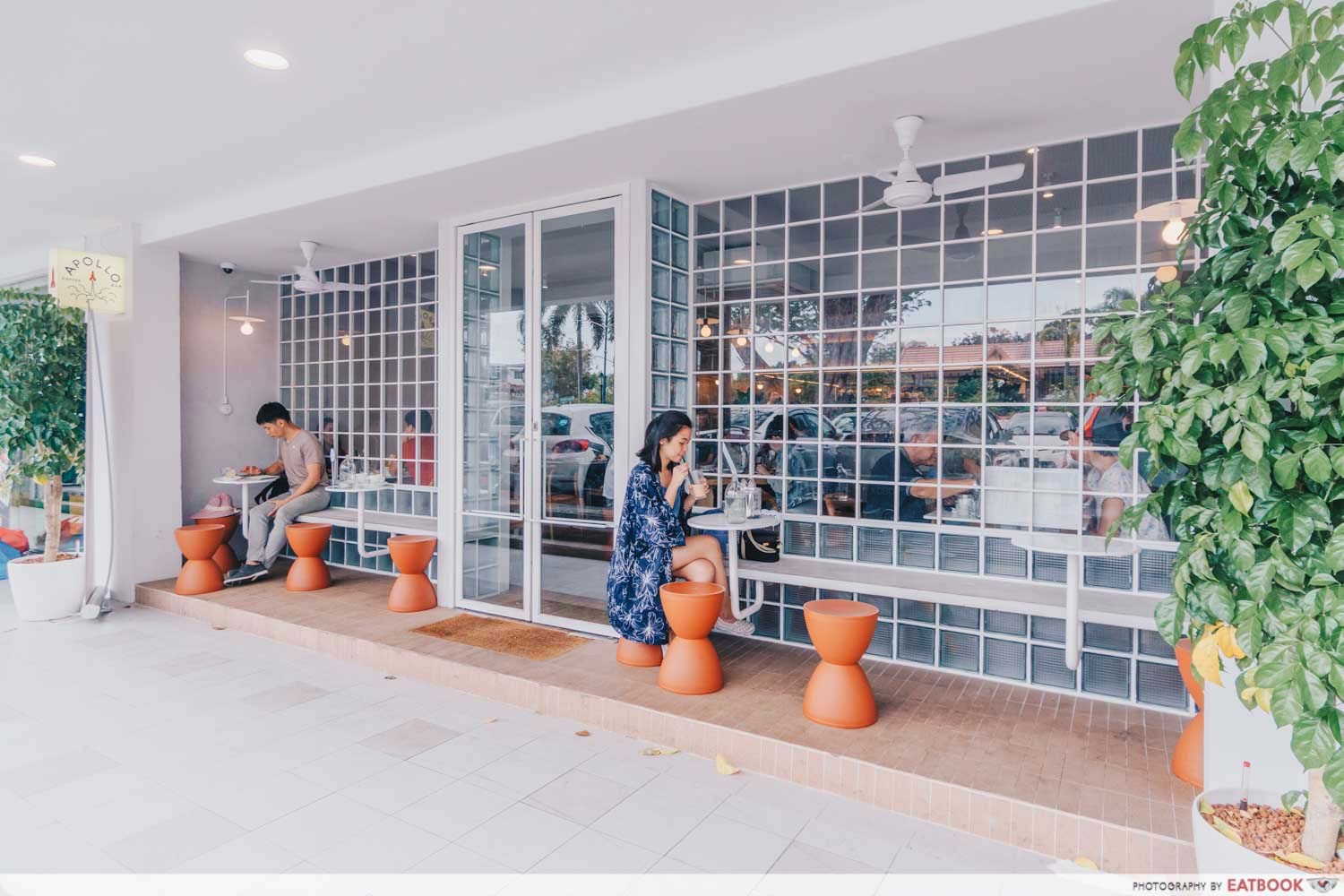 Frequently packed with hungry patrons, Apollo Coffee Bar is opened by the team behind Atlas Coffeehouse and Columbus Coffee Co. Their extensive menu is made up of brunch items from 9am to 4pm, Small and Large Plates from 12pm, and All-day Favourites which are mainly sweets.
Apollo Coffee Bar's Honey 'Prench' Toast ($19.80) is one for the gram. Look forward to a thick, fluffy slice of French toast topped with caramelised chunks of poached pear. For something savoury, we also loved the indulgent Breakfast Burger ($17.70), piled thick with molten cheese, scrambled eggs, luscious bacon, and onion jam for some natural sweetness.
Check out our full review of Apollo Coffee Bar.
Apollo Coffee Bar Review: New Cafe At Serangoon Gardens That Reminds Us Of Bali's Sisterfields
Address: 65 Serangoon Garden Way, Singapore 555961
Opening hours: Tue-Sat 9am to 10pm, Sun 9am to 7pm
Tel: 6246 3875
Website
Apollo Coffee Bar is not a halal-certified eatery.
---
6. Baker's Bench Bakery
---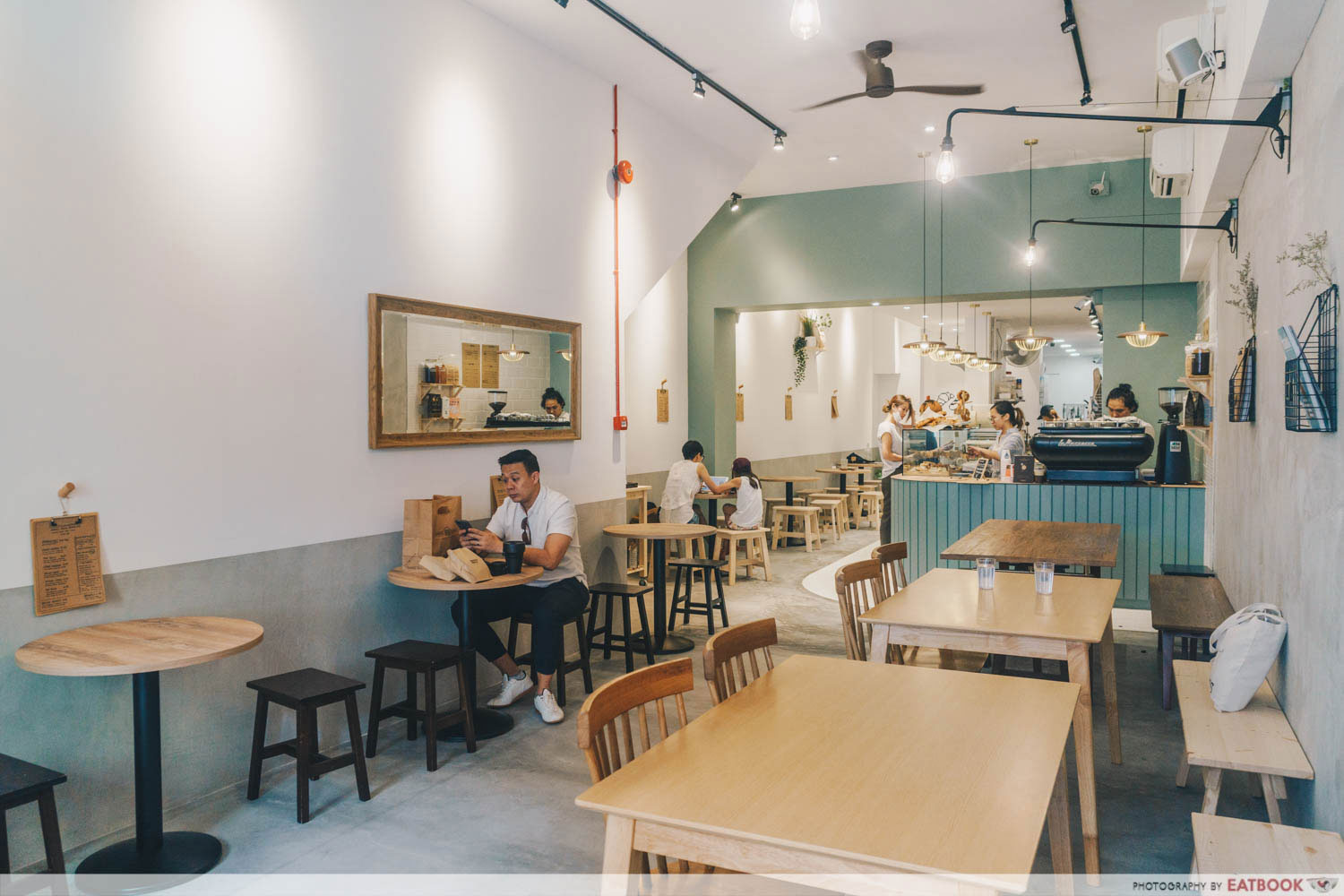 Next on our list of best cafes this 2020 is Baker's Bench, a bakery cafe serving freshly housemade bakes. Fitted with minimalist furnishing in muted colours, the cafe has a welcoming atmosphere. As you enter, expect to be greeted by their quaint display of mouthwatering bakes on their counter.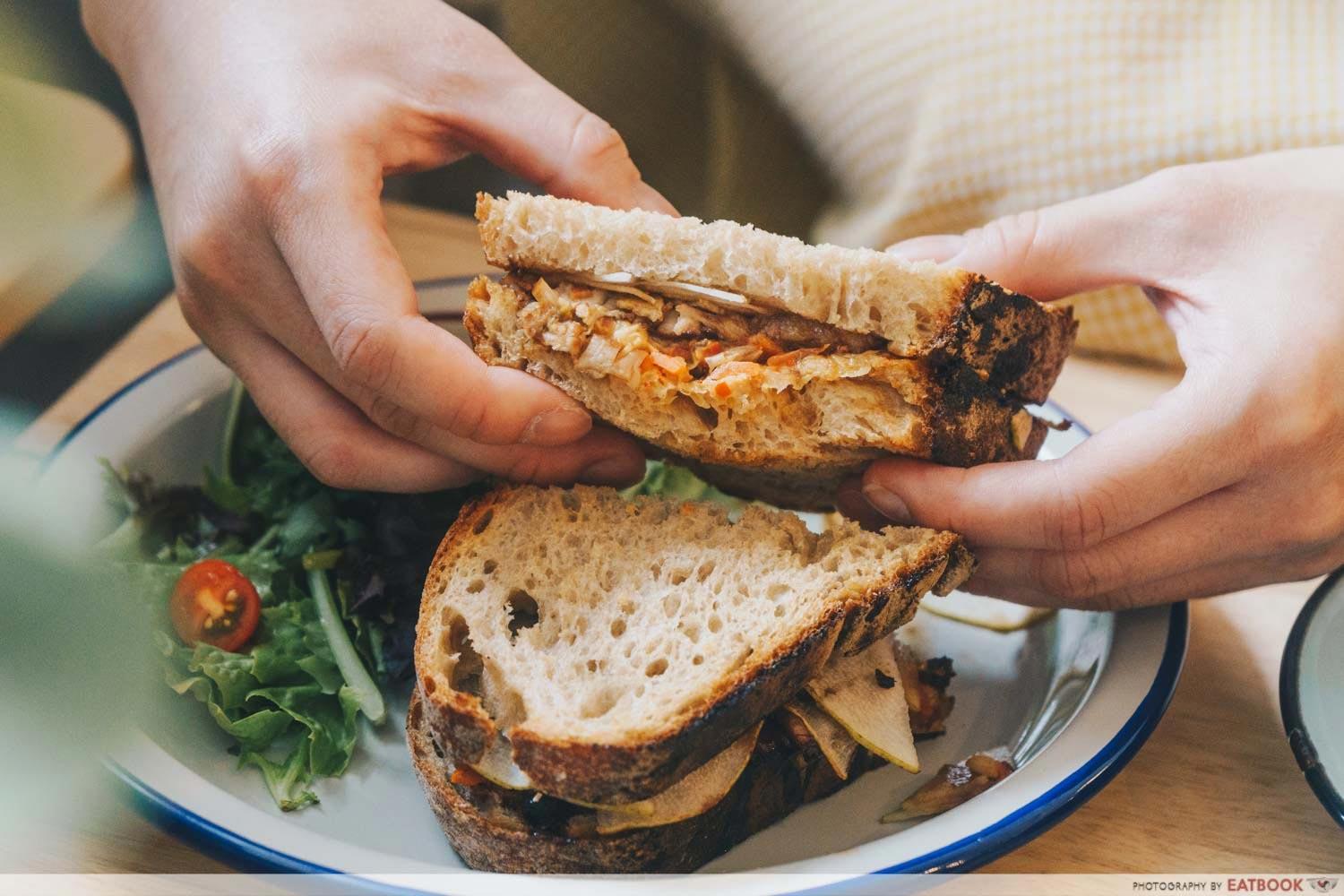 For something satisfying, go for the Pork Belly Sandwich ($14). It packs smoky pork glazed with coffee marinade, crunchy garlic chips, honeyed slices of pear, and tangy kimchi mayonnaise snug between sourdough toast. Otherwise, the Sticky Bun ($5) is a popular choice, served warm and topped with toffee and specks of caramelised walnuts.
Check out our full review of Baker's Bench Bakery.
Baker's Bench Bakery Review: New Minimalist Cafe With Build-Your-Own Brunch Platters And Pork Belly Sourdough
Address: 6 Bukit Pasoh Road, Singapore, 089820
Opening hours: Wed-Sat 8:30am to 5pm, Sun 8:30am to 4pm
Website
Baker's Bench Bakery is not a halal-certified eatery.
---
7. For The People

---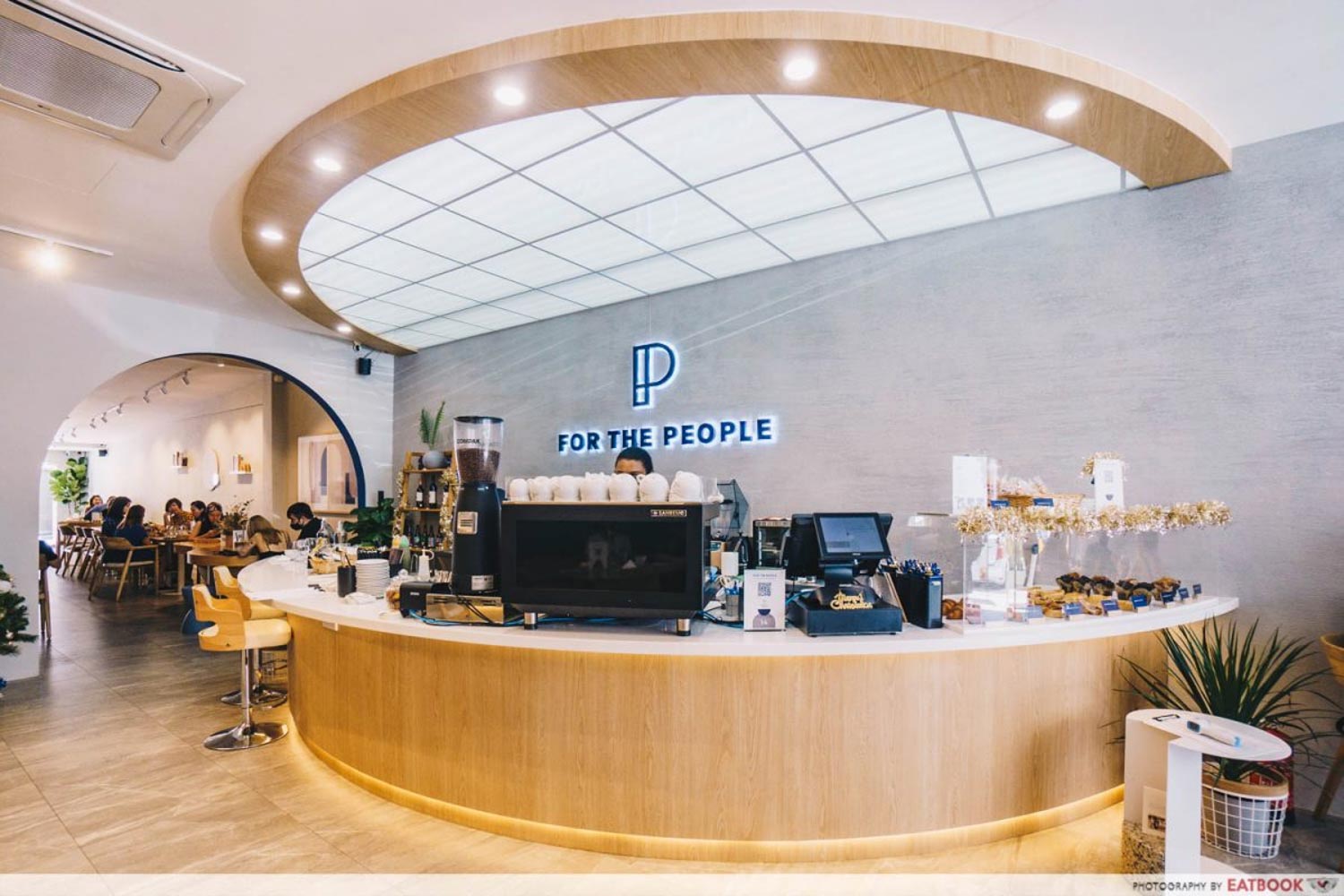 If you're looking for a new haunt with comfortable vibes, For The People has a minimalistic and seriously gorgeous interior. They are home to an extensive range of sweets, sides, and mains which include burgers and pasta dishes. Apart from that, the cafe also has a separate brunch menu till 4pm.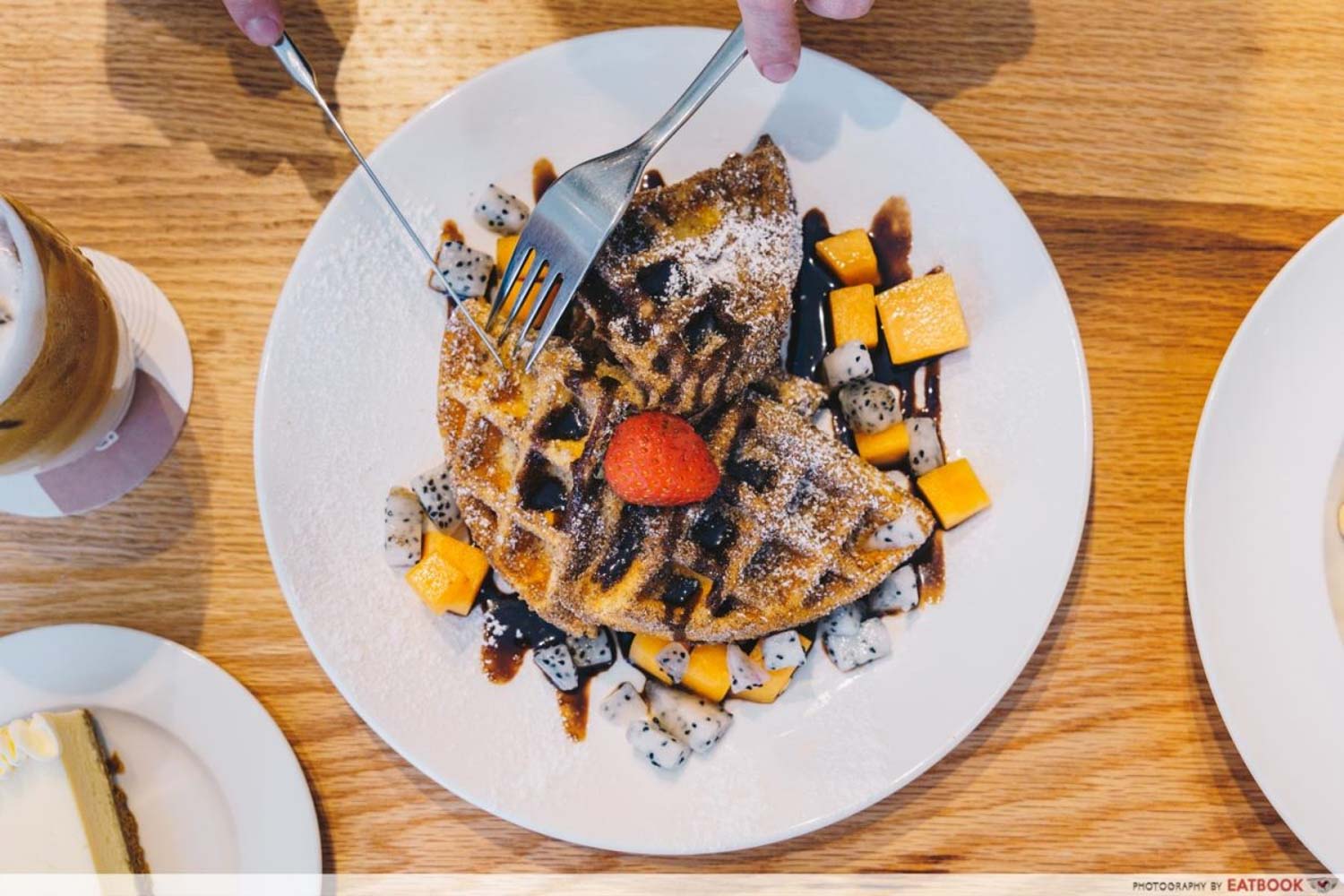 Satiate those sweet cravings with their popular Crispy Churro Waffles ($14+), generously speckled with cinnamon sugar. A drizzle of chocolate sauce and cubes of fresh fruit give an extra splash of refreshing sweetness. If you're feeling like indulging, add a scoop of Earl Grey, French Vanilla, or Triple Chocolate ice cream for an additional $3.50.
Check out our full review of For The People.
For The People Review: Gorgeous Cafe With Churro Waffles And Cinnamon Croissants In Bendemeer
Address: 11 Hamilton Road, #01-00, Singapore 209182
Opening hours: Tue-Sun 9:30am to 10pm
Tel: 8133 4819
Website
For The People is not a halal-certified eatery.
---
8. Maison Sucree
---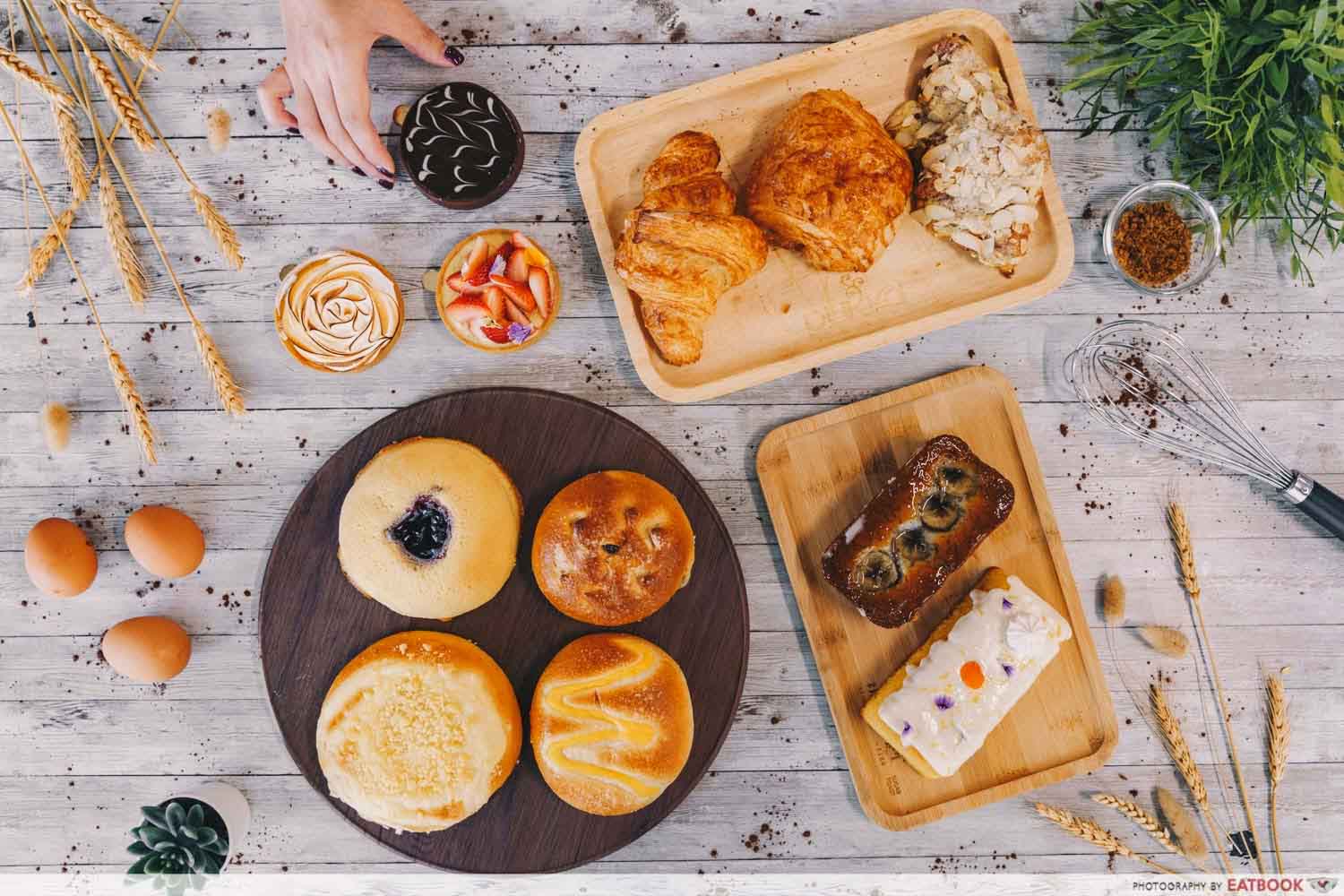 Muslim-owned Maison Sucree at Redhill is opened by the same people behind Ashes Burnnit and Burgs by Project Warung, serving Almond Croissants ($4.50), Lemon Drizzle Tea Cakes ($5.50), and jam or custard-filled buns from only $2.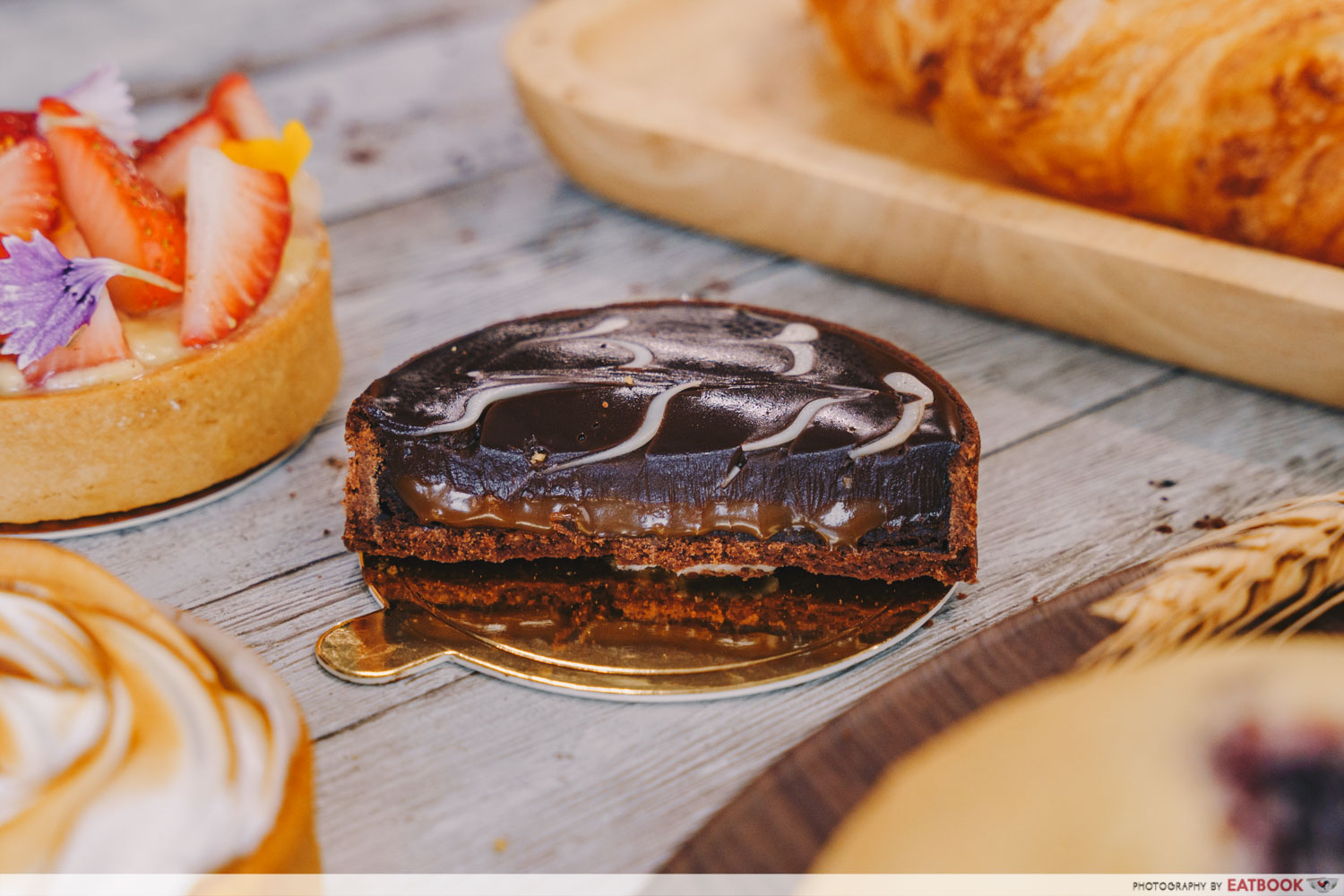 The menu here is expansive, as there are also beautiful tarts priced at $7 each to choose from. They are currently more of a bakery, but will be transitioning into a dine-in cafe come early 2021.
Check out our Maison Sucree review!
Maison Sucree Review: New Bakery-Cafe With Almond Croissants, Salted Caramel Chocolate Tart And More In Redhill
Address: 63B Lengkok Bahru, #01-362, Singapore 152063
Opening hours: Tue-Sun 10am to 9pm
Tel: 8779 2580
Website
Maison Sucree is not a halal-certified eatery, but it is Muslim-owned.
---
9. Kream & Kensho
---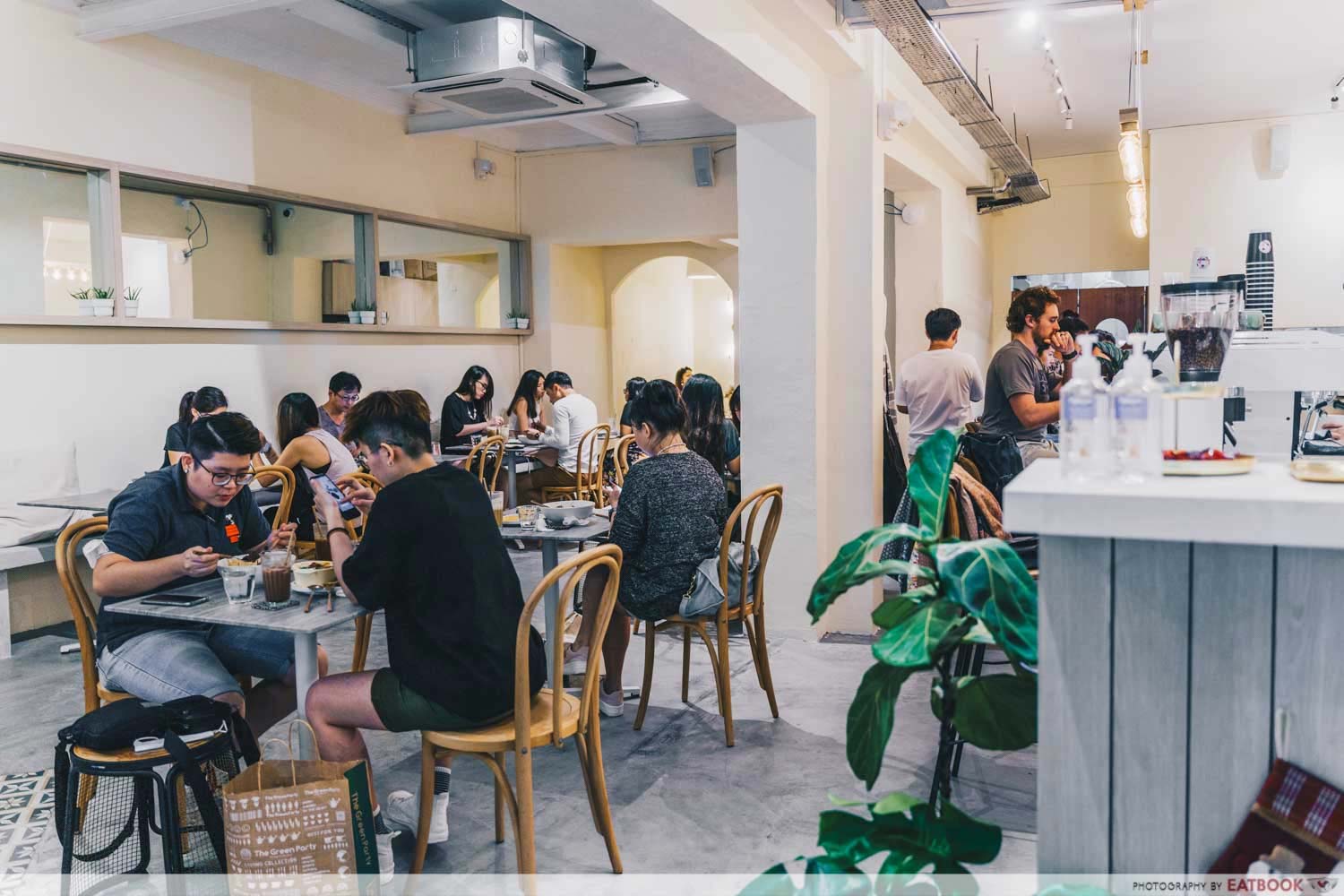 Instagram foodies might have had Kream & Kensho grace their feed at some point. Known for their clean, minimalistic interior, the cafe's dishes are a tad pricey but are worth it for their generous portions and flavour.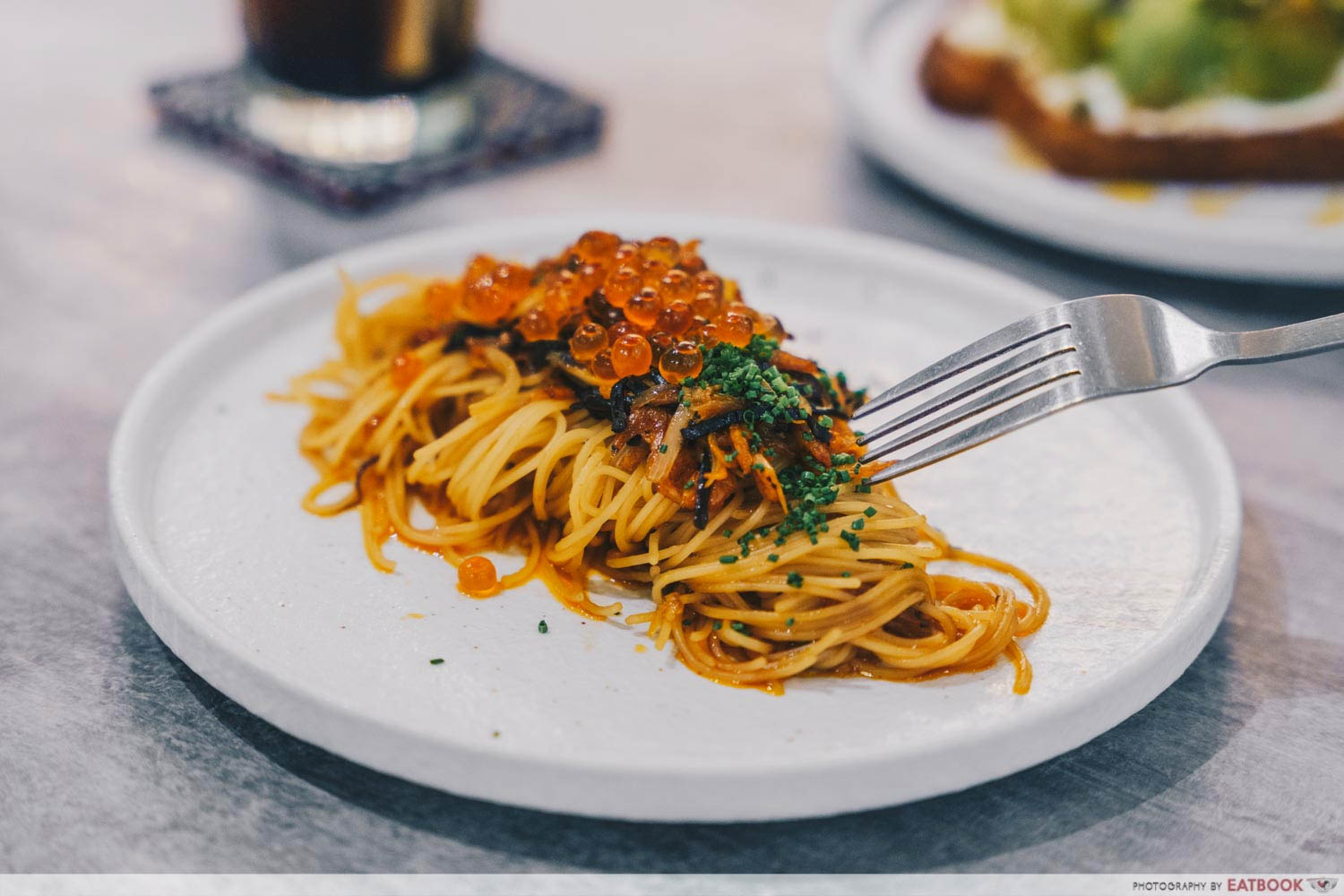 Their neatly presented Sakura Ebi Capellini ($18) comes with fried ebi, kelp, and ikura atop al dente pasta. Expect a party of textures from the well-fried ebi, slightly stringy kelp, and little balls of ikura which pop as you bite into them.
Check out our full review of Kream & Kensho.
Kream & Kensho Review: Ikura Pasta And Grape Matcha Toast In Outram Park
Address: 35 Kampong Bahru Road, Singapore 169355
Opening hours: Mon-Thurs, Sat 9am to 6pm, Fri 9am to 10:30pm, Sun 9am to 4pm
Website
Kream & Kensho is not a halal-certified eatery.
---
10. Onalu
---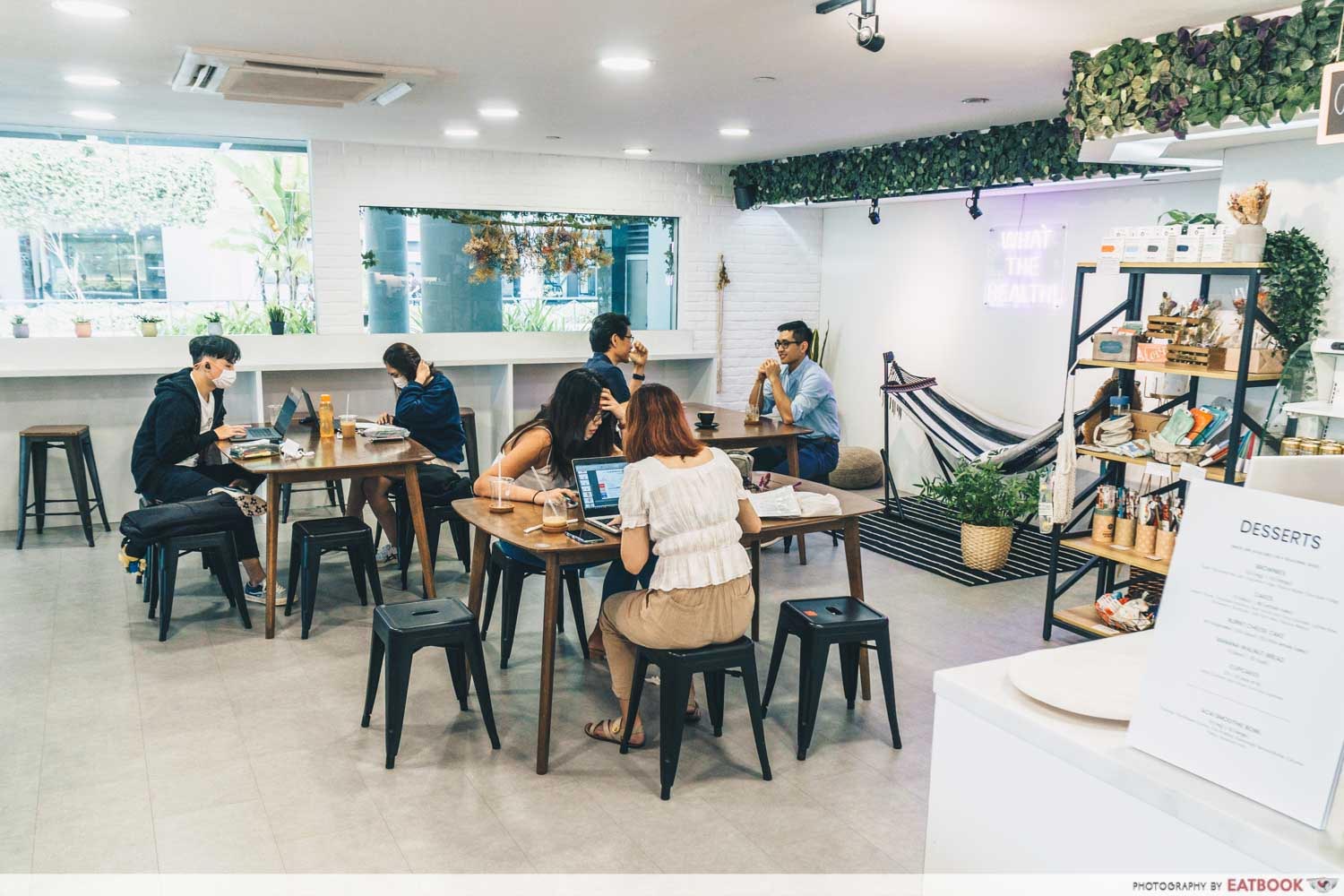 Last on our list of best cafes this 2020 brings us housemade bagels from Onalu. Pop by any time in the afternoon to see this cafe packed with students from the university it is located in.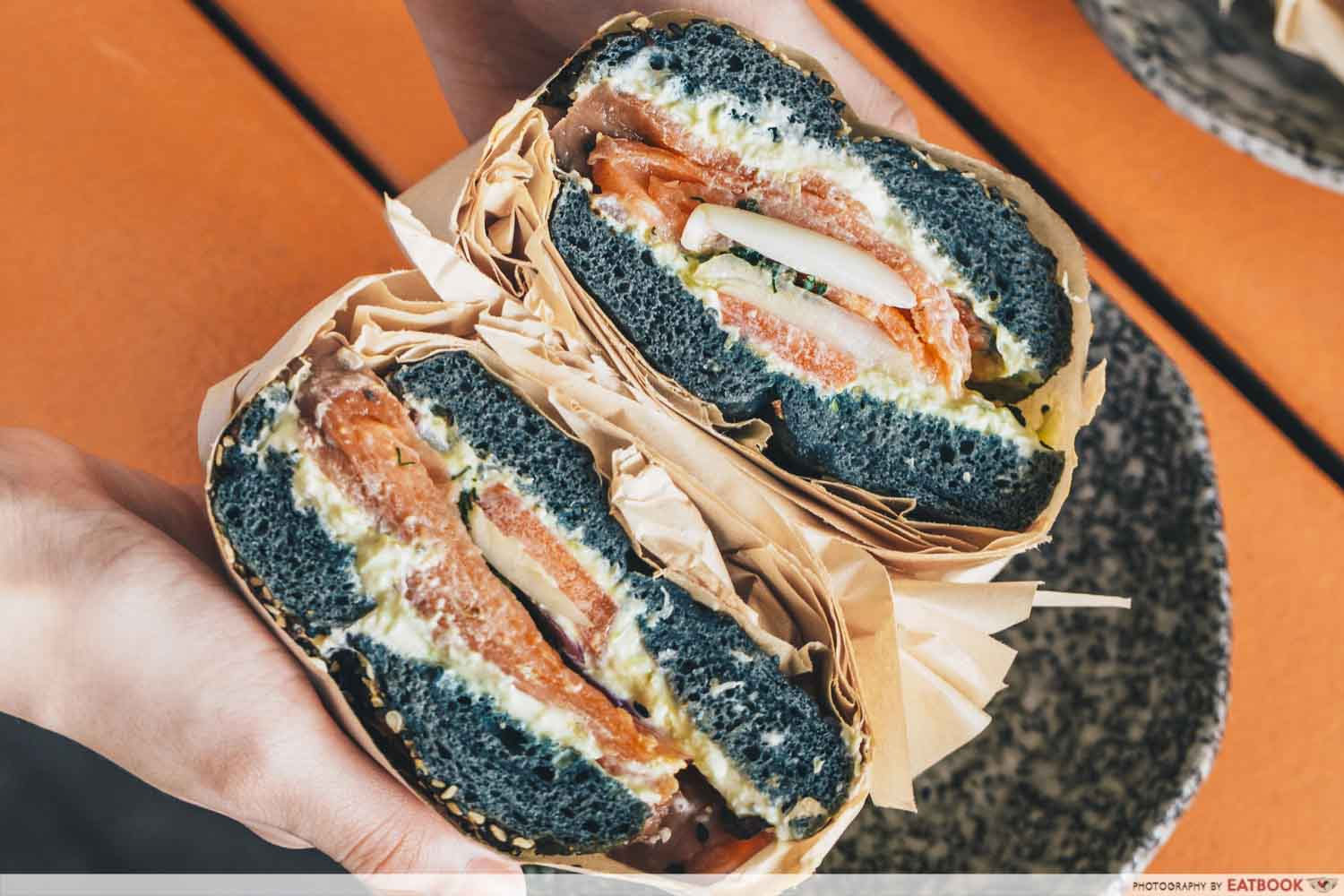 Onalu is home to a wide variety of bagels and if their menu doesn't quite entice you, feel free to even customise your own. Hearty and filling is their Somethin' Fishy ($11). This chunky baby features soft slices of smoked salmon and tangy scallion cream cheese stuffed between chewy bagels. Shoutout to their in-house baker and founder, Samantha, who makes their bagels moist with just the right amount of bite.
Check out our full review of Onalu.
Onalu Review: $10 House-made Bagel Sandwiches and Mochi Brownies At Dhoby Ghaut
Address: 60 Stamford Road, #01-11, Singapore 178900
Opening hours: Tue-Fri 10am to 7pm, Sat-Sun 10am to 6pm
Tel: 8268 5900
Website
Onalu is not a halal-certified eatery.
---
End 2020 with our list of best cafes in Singapore
---
With the year-end bustle, take a break to unwind by visiting one of these cosy hangout spots from our list of best cafes this 2020, and have a nice HTHT session with a friend over brunch.
For more of our favourite food haunts, check out the full list of Eatbook Top 50 Awards 2020! Whether you're looking for new restaurants or a high tea person, our lists will have something for you.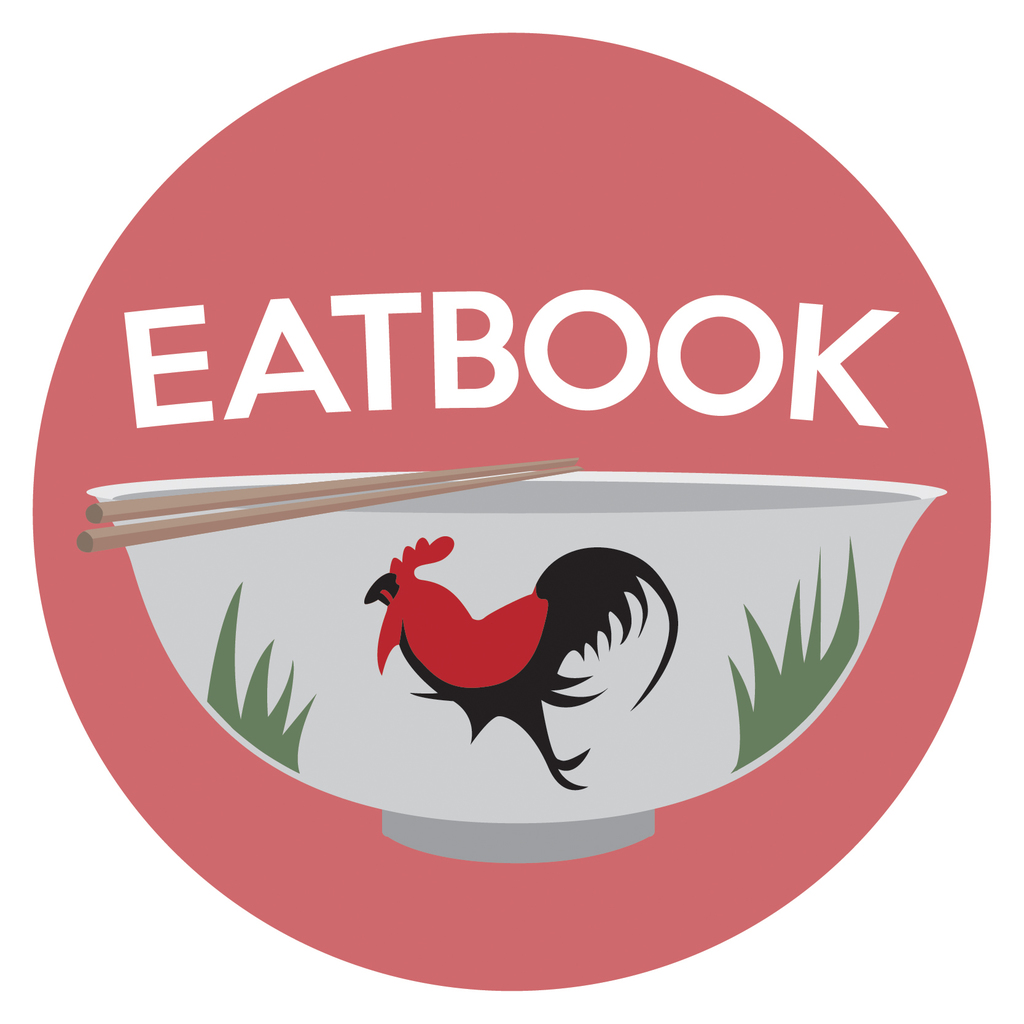 Drop us your email so you won't miss the latest news.