---
New Restaurants in July 2018
---
In a foodie paradise like Singapore, there's no end to new restaurants popping up! And this month, those with a sweet tooth will be #blessed with new toothsome treats such as bubble tea, fluffy pancakes, and the return of llaollao! Make a date with your friends and check out these 10 new restaurants in July 2018!
---
1. TP Tea
---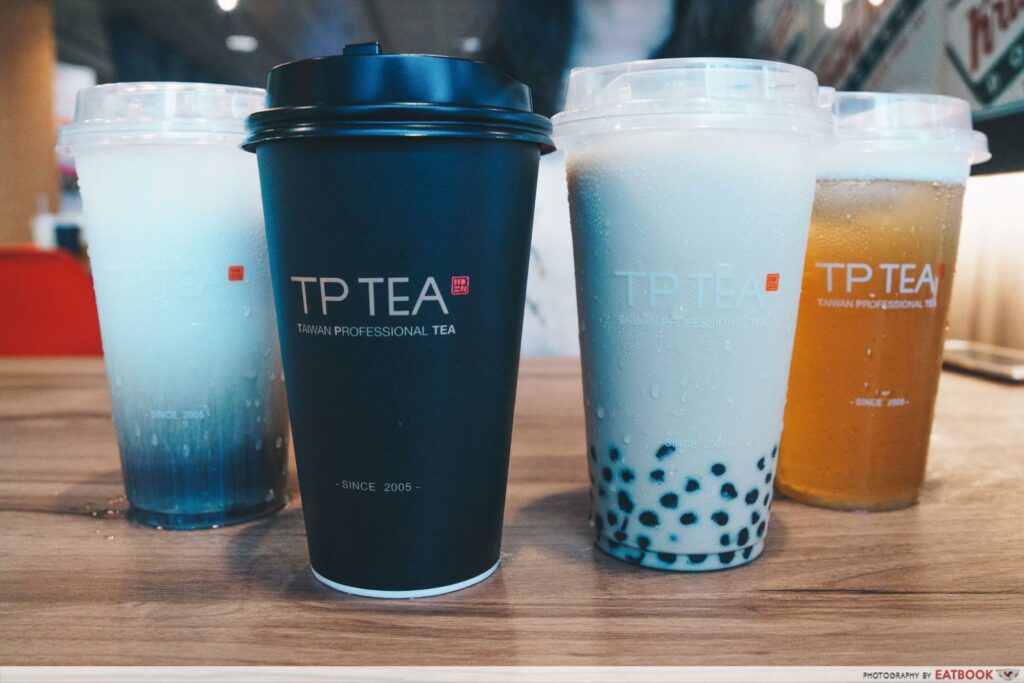 Bubble tea lovers out there, you're in for a treat. Hailed from the great land of bubble tea, popular Taiwanese beverage tea chain TP Tea has set foot on Singapore, with its first outlet opened at Changi Airport. A must-try would be their specialty Tie Guan Yin Latte ($4.60), which has a right mix of bitter and sweet. Instead of overpowering the taste of the traditional tea, the thick milk foam complemented it, making the Tie Guan Yin slightly sweeter, and much more rich and flavourful.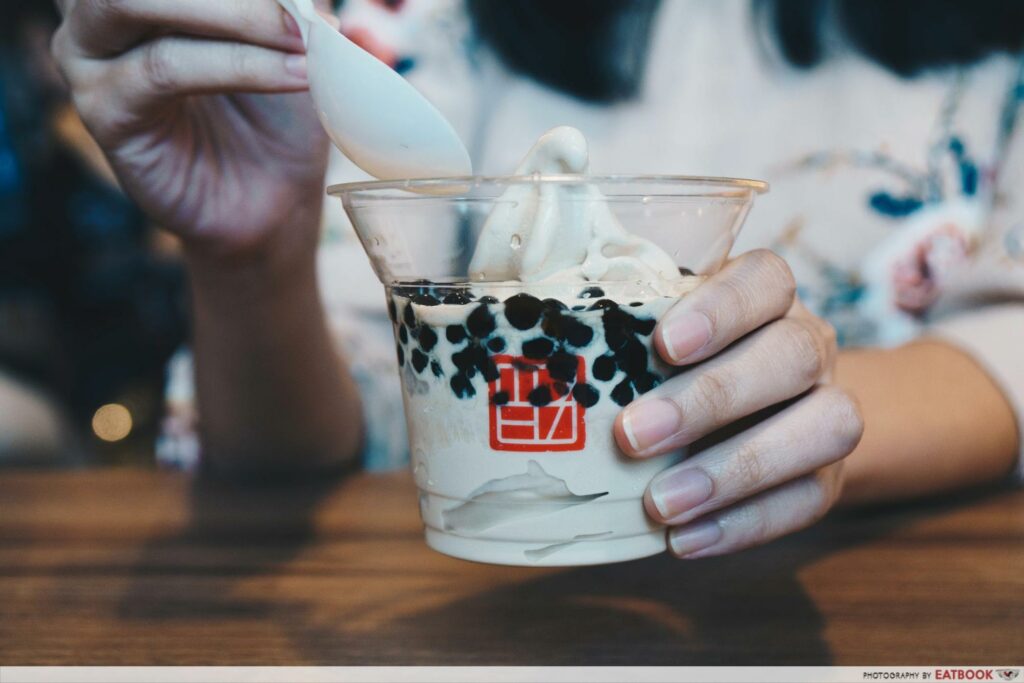 Here's a fun fact: TP Tea's where the OG tapioca pearls come from! Chew on these freshly made pearls with their other crowd-favourite, Pearl Black Tea Latte with Red Beans ($5.30) – a unique concoction of pearls, sweet red beans and smooth tea latte. Or have a taste of their Pearl Milk Tea Soft Serve Ice Cream ($3.60), which was creamy but not too sweet, and went well with chewy pearls.
TP Tea (茶湯會) Review: Famous Bubble Tea Shop From Taiwan Opens 24/7 At Changi Airport
Address: 60 Airport Boulevard, Level 2 (Departure Hall), Changi Airport Terminal 2, Singapore 819643
Opening hours: Daily 24 hours
Website
---
2. Konjiki Hototogisu
---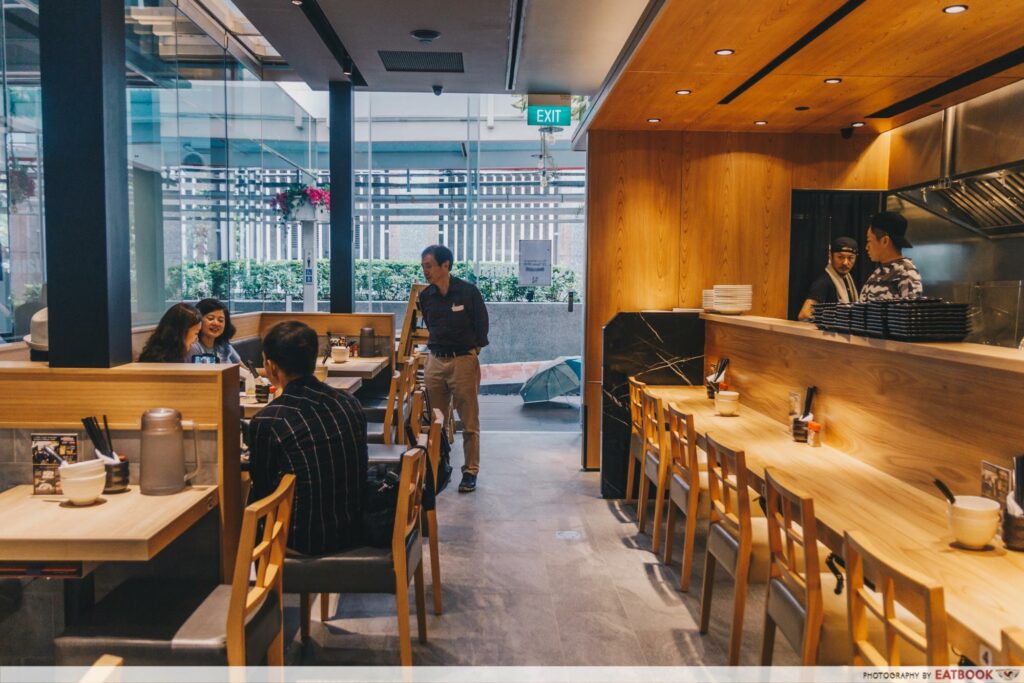 Konjiki Hototogisu is not to be considered as "just another ramen shop". It has been awarded the Tokyo Michelin Bib Gourmand for four years consecutively, despite its humble beginnings. Serving an unconventional yet full-bodied triple-base soup of clams, pork bone and dashi broth, along with whole grain noodles are what set this ramen joint apart.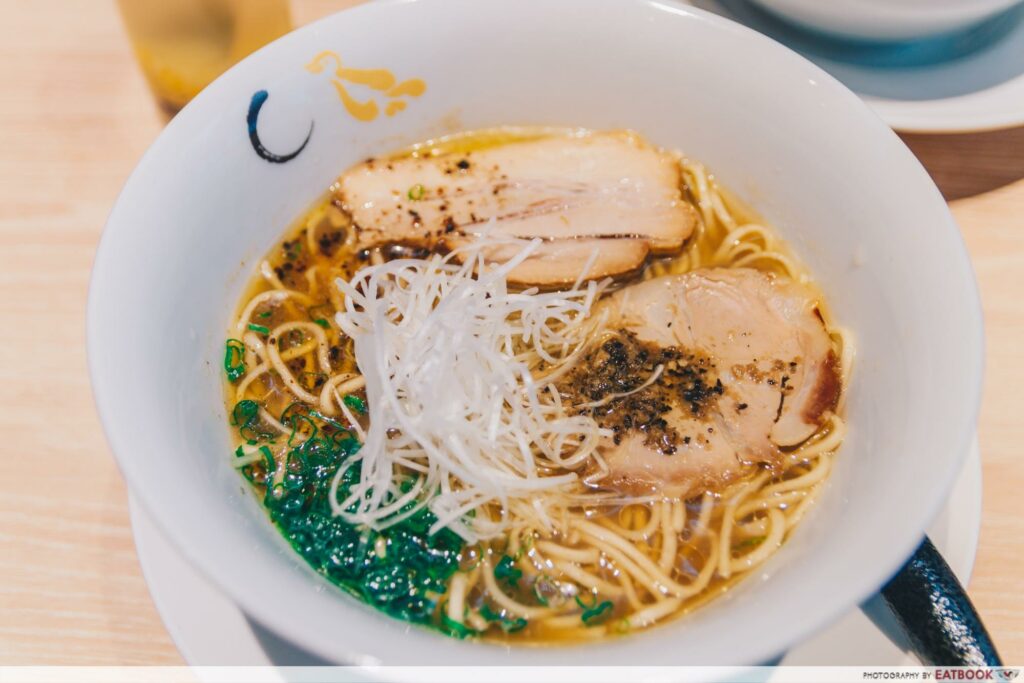 Do not shy away from dining at Konjiki Hototogisu just because it is located at Chijmes. The prices here are wallet-friendly –great for dining out with friends on days leading up to payday. Each order of ramen also gets you a complimentary portion of clam rice to whet your appetite. We recommend ordering Shoyu Hamaguri Soup Signature ($14.90++) or Tonkotsu Spicy ($14.90++) for a fiery kick.
Konjiki Hototogisu Ramen Review: Tokyo Michelin Bib Gourmand Truffle Ramen Arrives In Singapore
Address: 30 Victoria Street, #01-17, Chijmes, Singapore 187996
Opening hours: Daily 12pm to 3pm, 5pm to 9:30pm
Tel: 6256 3155
Website
---
3. Llaollao
---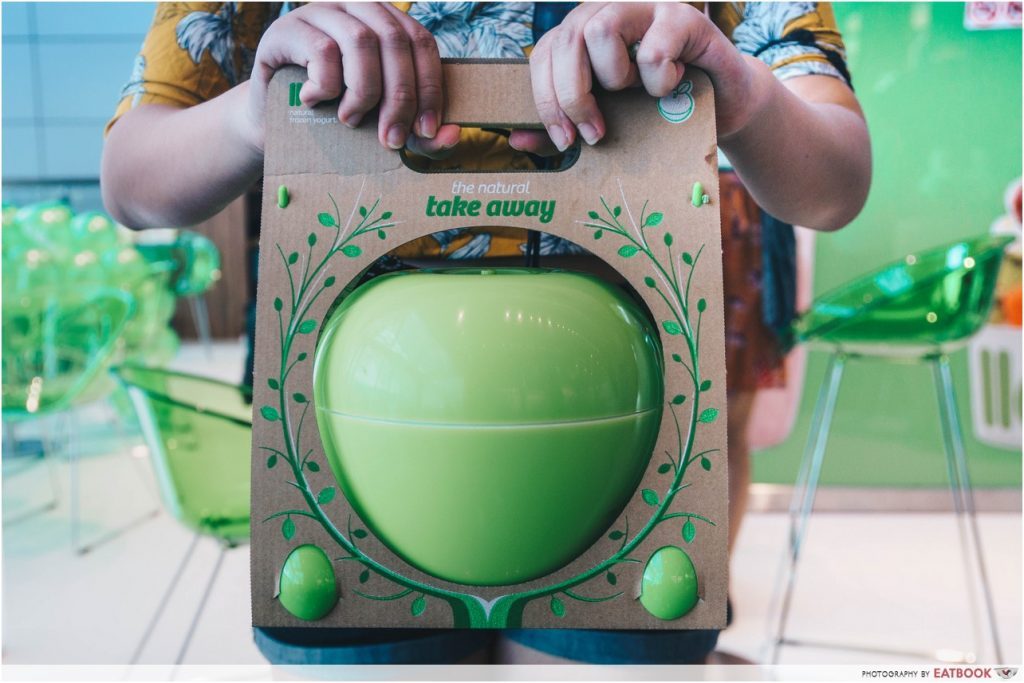 Llaollao is back! Located at Changi Airport Terminal 2's Departure Hall, this popular froyo shop has returned after a year of silence. The best part is, they're now open 24/7, so you can get your froyo fix just before you fly off! If you're not going to the airport anytime soon, fret not, as they have an outlet at Tampines 1 as well.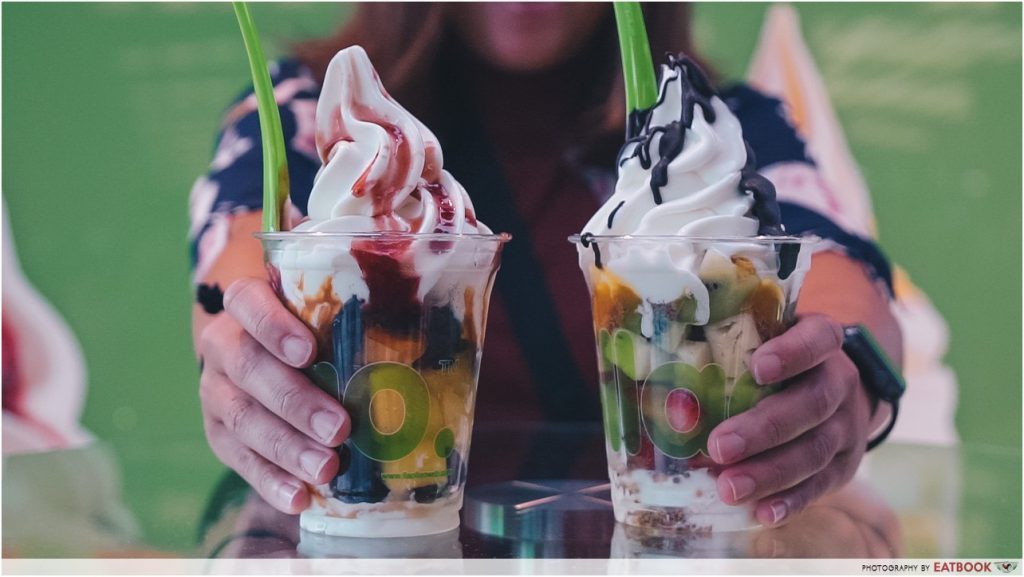 Everything on the menu is the same, with an additional Pistachio Sauce added to the family. Even though it's in a shade of green that is not visually appealing, this nutty sauce was quite popular when we did an office taste test! There's also an adorable green apple takeaway container that's available for a limited time.
Llaollao Is Now Back In Singapore At Changi Airport Terminal 2
Address: 60 Airport Boulevard, Level 2 (Departure Hall), Changi Airport Terminal 2, Singapore 819643
Opening hours: Daily 24 hours
Website
---
4. Belle-Ville
---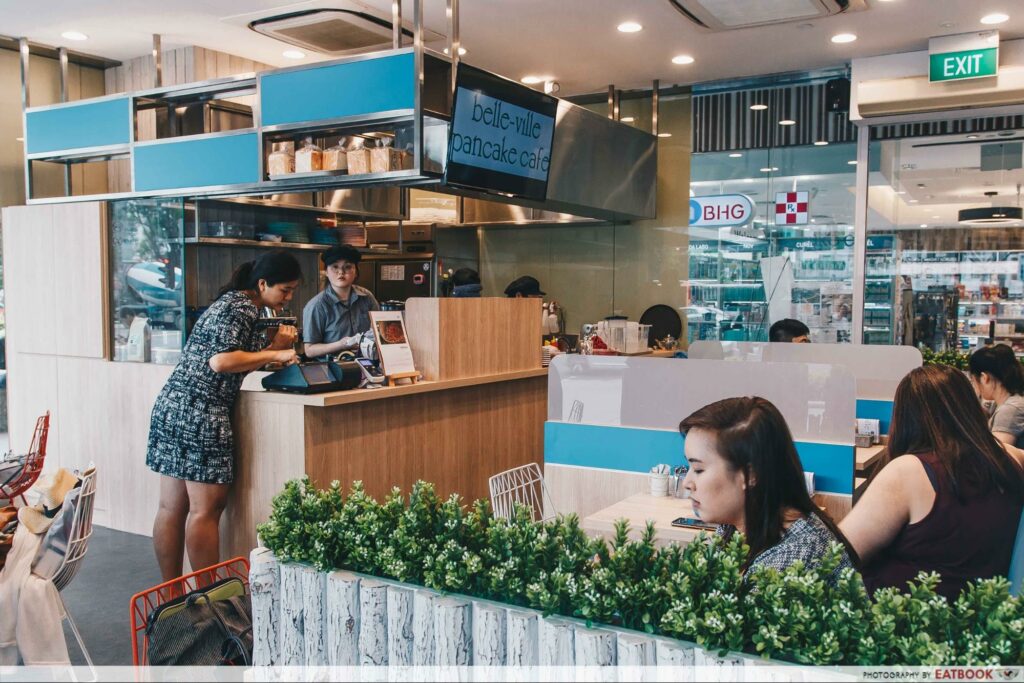 Belle-Ville is a Japanese pancake cafe that came all the way from Osaka. This place serves up gorgeous looking fluffy millefeuille pancakes of several flavours such as mixed berries and matcha. Besides these sweet treats, they also offer savoury items in their menu such as katsu sandwich.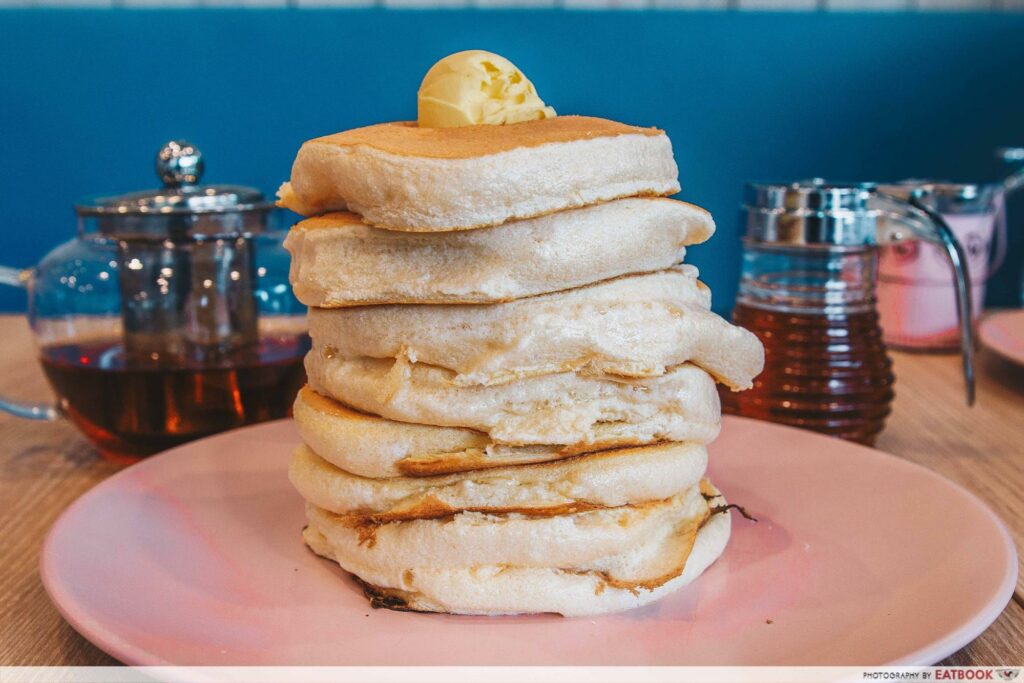 One can never go wrong with original flavoured food. Get your hands on Belle-Ville's Millefeuille Pancake ($7.90++ for four, $11.90++ for eight pieces) and you won't ever regret! These fluffy and jiggly goodness taste similar to a castella cake, where it bears a relatively strong egg taste. While the pancakes we often eat are firm and soft, the ones at Belle-Ville are on the runnier side.
Belle-ville Pancake Cafe Review: Fluffy Japanese Pancake Stacks At Bugis Junction
Address: 230 Victoria Street, #01-01B, Bugis Junction Towers, Singapore 188024
Opening hours: Daily 8am to 8:30pm
Tel: 6255 5456
Website
---
5. Tsui Wah
---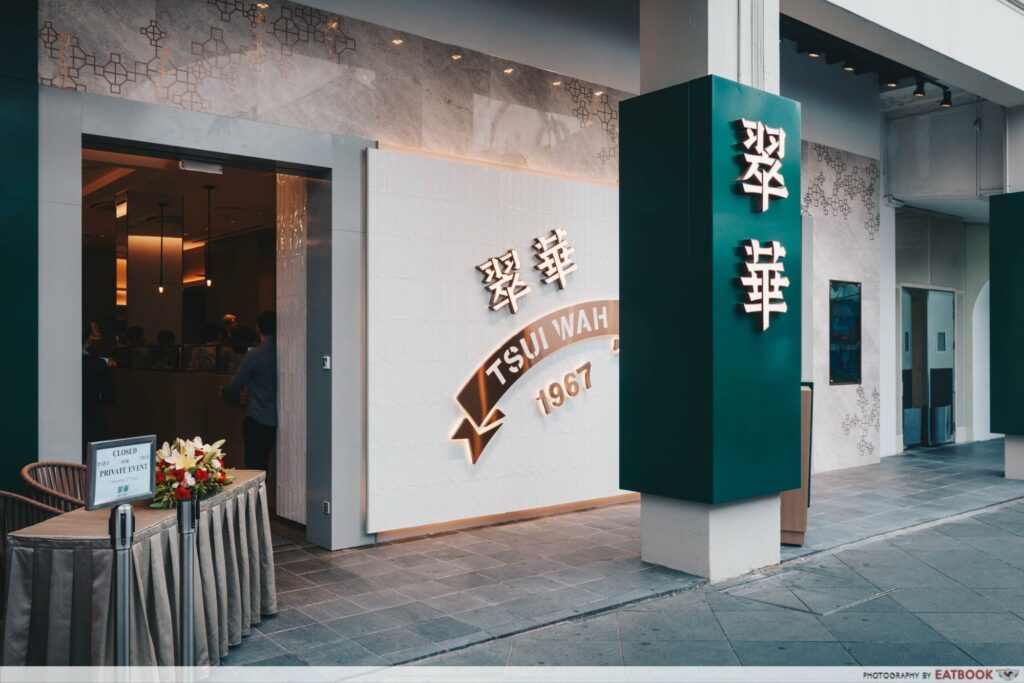 One of Hong Kong's most famous eateries, Tsui Wah, opened their first Singapore outlet at Clarke Quay about two weeks back. If you've checked out the cha chaan teng, you'd know that the place hasn't been spared from relentless queues since day one of business.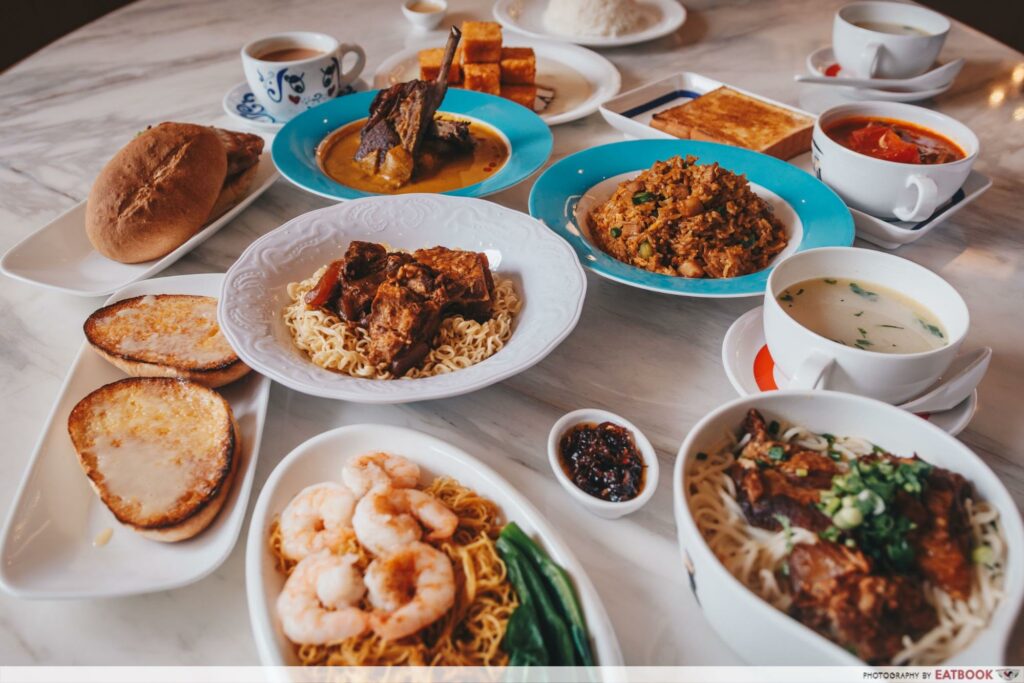 From noodles to rice and buns, you can expect to find most of the dishes from their Hong Kong outlets here. Their signature Crispy Bun w/ Condensed Milk ($4++) paired with Hot/Iced Milk Tea ($3.50++ for hot, $4++ for iced) lived up to our high expectations. They also have hearty mains, and we also went home impressed with their Lamb Chop Curry with Steamed Rice ($29++) and Kagoshima-style Pork Cartilage with Tossed Instant Noodles ($9.50++)!
Tsui Wah Review: Famous Hong Kong Cha Chaan Teng Opens First Outlet In Singapore
Address: 3A River Valley Road, #01-03, Clarke Quay, Singapore 179020
Opening hours: Daily 11am to 11pm
Tel: 6250 9270
Website
---
6. Yaowarat Thai Kway Chap
---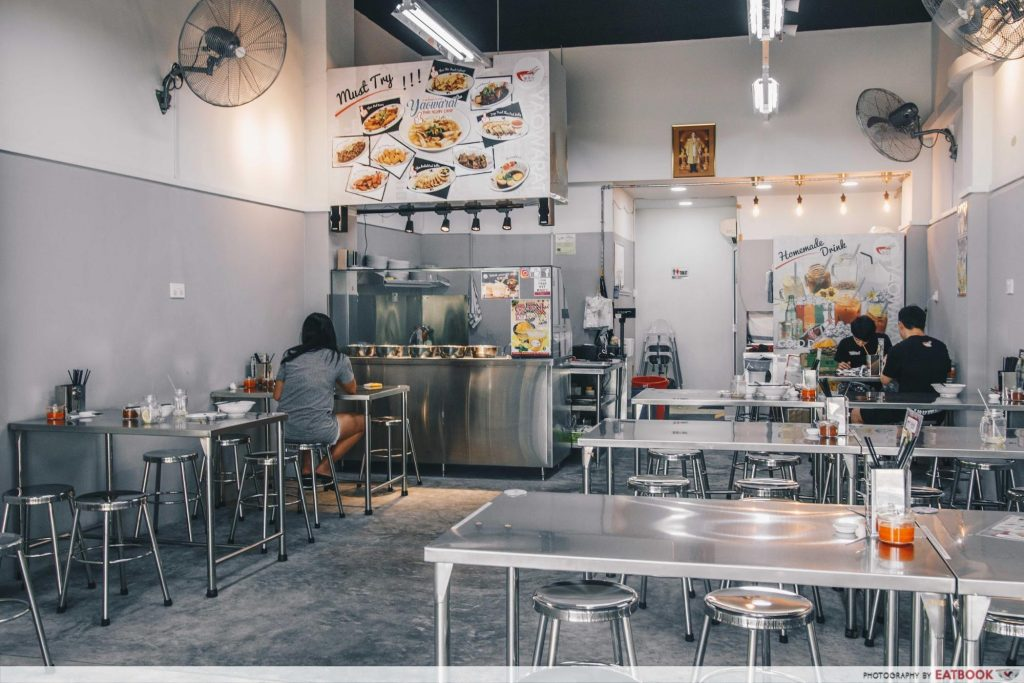 Located near famous brunch spot, Lola's Cafe, along Upper Serangoon Road is Yaowarat Thai Kway Chap. The eatery is decked up with metal tables and stools, reminding us of the roadside eateries in Bangkok.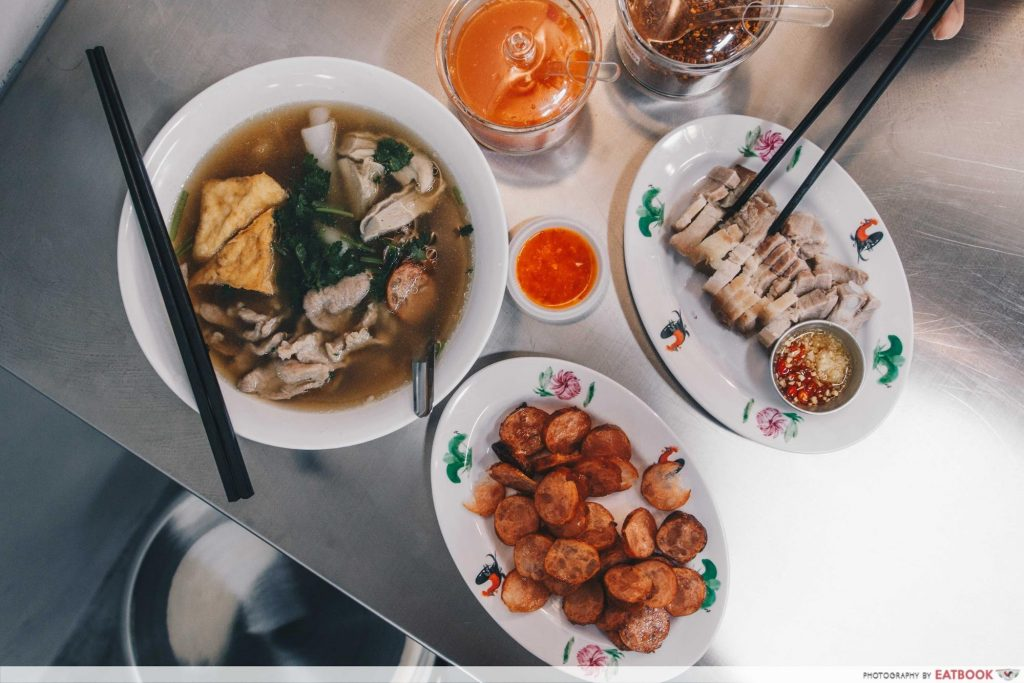 The meu is heavy with meat dishes, and a must to get is their Signature Thai Kway Chap ($5), which comes with tau pok, offal, fish sausage, and pork slices. Unlike Singapore-styled kway chap, this noodles in this version were curled up in rolls – not flat – while the broth was clear and peppery.
Yaowarat Thai Kway Chap Review: New Cheap Thai Kway Chap Eatery At Kovan
Address: 945 Upper Serangoon Road, Singapore 534711
Opening hours: Tue-Thur 11am to 3pm, 5pm to 11pm, Fri-Sat 11am to 3pm, 5pm to 1am
Tel: 8822 5637
---
7. Chix Hot Chix
---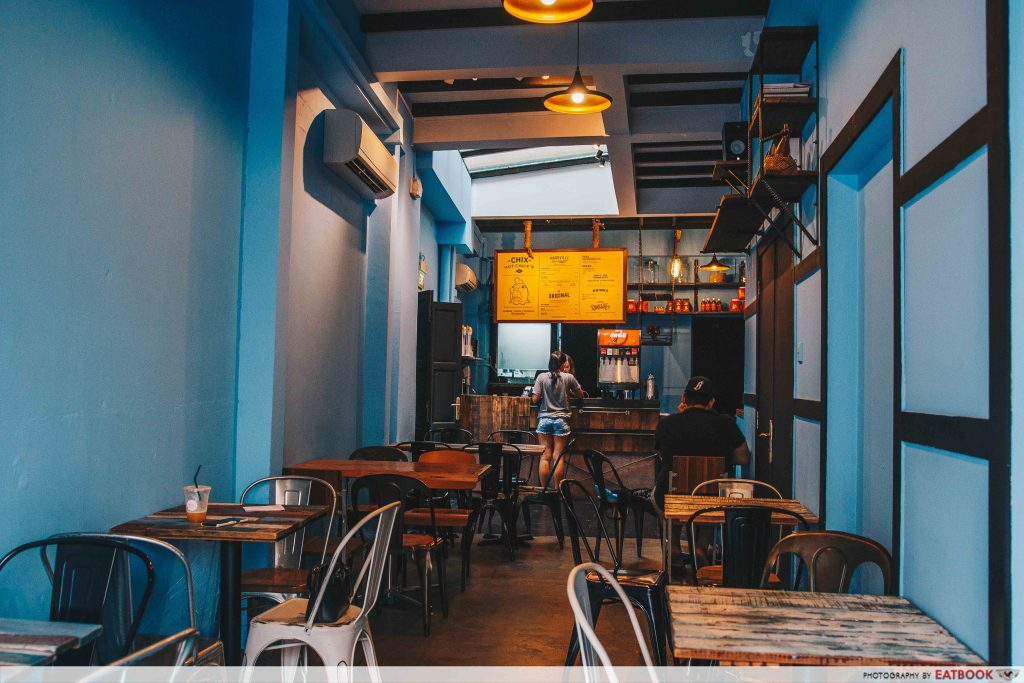 Opened by actor-singer, Taufik Batisah, Chix Hot Chix serves up Nashville fried chicken. The cosy eatery is conveniently located in Arab Street – a short 10-minutes walk from Bugis MRT! While fried chicken is nothing new, this joint got our attention as they use ghost pepper – one of the spiciest chillies in the world – to season their chicken.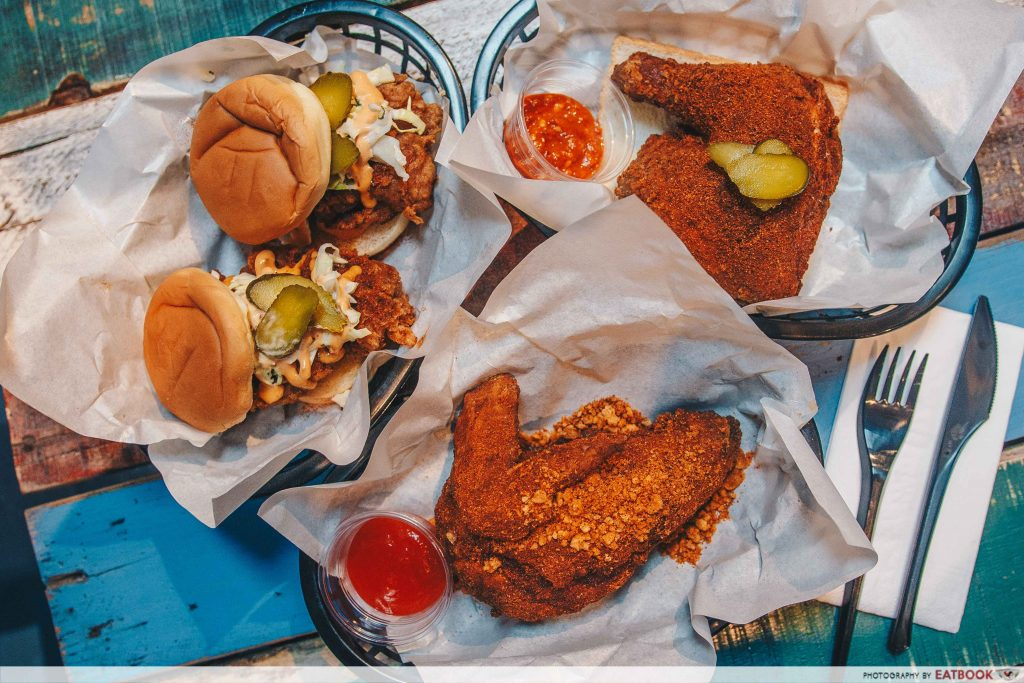 For $9.90, you get a quarter chicken – either a Thigh & Leg or Breast & Wing. The skin was papery thin and made a crackling sound as we sink our teeth in. It was dusted with a mix of New Orleans-inspired spices too, which gave the chicken a scrumptious taste.
Chix Hot Chicken Review: Taufik Batisah Opens A Fried Chicken Cafe At Bugis
Address: 1 Jalan Pisang, Singapore 199069
Opening hours: Tue-Sat 12pm to 9pm
Website
---
8. Haikee Brothers
---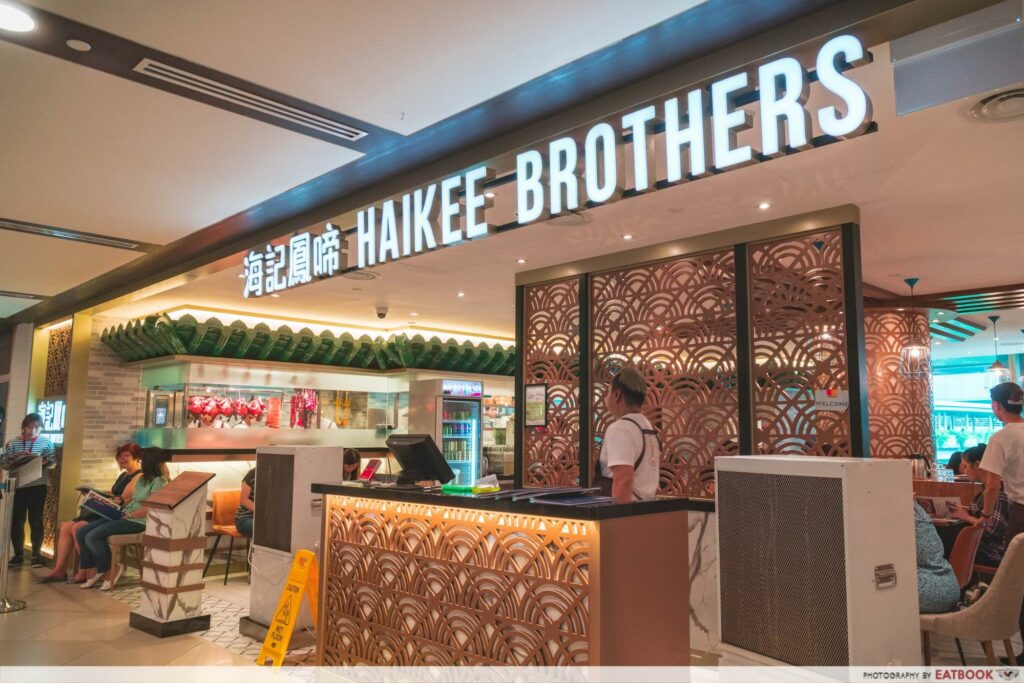 Adding on to the list of eateries specialising in soy sauce chicken is Haikee Brothers. Helmed by a pair of brothers, the cafe sells soy sauce chicken prepared using a family recipe that was passed down from the 1950s!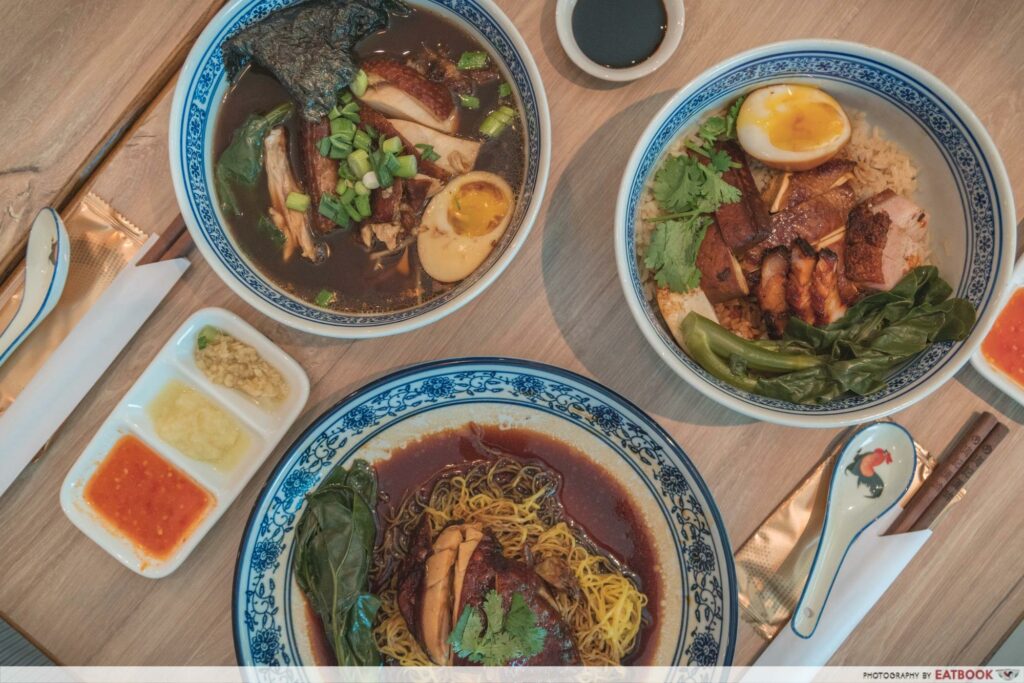 When we visited the cafe, we enjoyed their HKB Soy Chicken Ramen ($6.50++) and Soy Delicious Bowl ($7.80++), which was chicken stock-infused rice topped with braised beancurd, egg, soy sauce chicken, char siew, and sio bak. Besides their signature Soy Sauce Drumstick Mee Kia ($6.50++), their extensive menu also consists of dim sum, soup, ad claypot dishes!
Haikee Brothers Review: Soy Sauce Chicken Ramen And Rice Bowls At Chinatown
Address: 133 New Bridge Road, #02-39, Chinatown Point, Singapore 059413
Opening hours: Daily 11:30am to 10pm
Tel: 6244 4408
Website
---
9. Tiong Bahru Bakery
---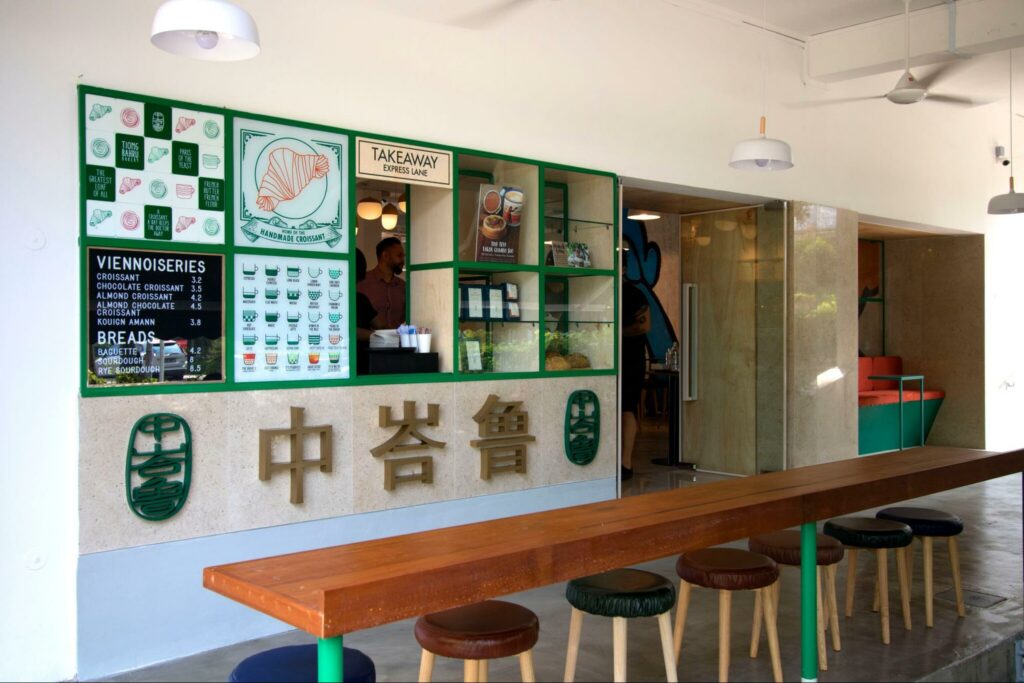 While this is surely no new name, Tiong Bahru Bakery is still stirring up much buzz and excitement with the opening of their new outlet at Chip Bee Gardens. Sporting an old-school bakery look, this new outlet also has a take away express lane so you don't have to squeeze with the crowd just to get your hands on their Croissant ($3.20)!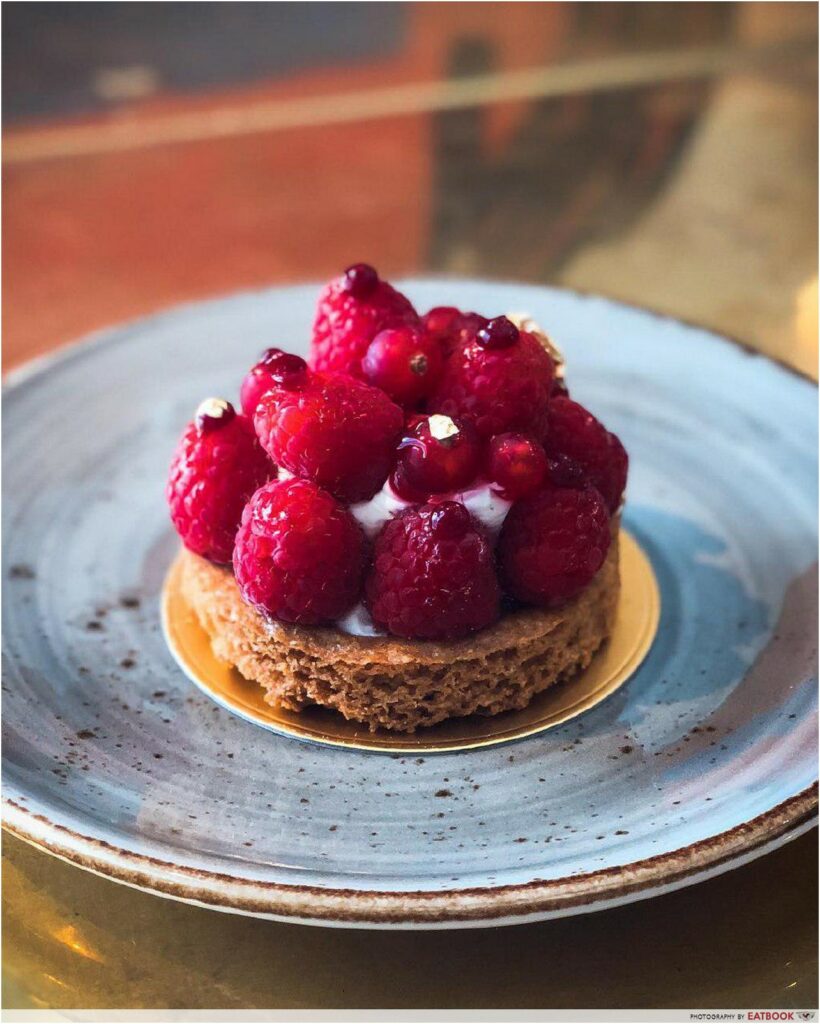 The usual stars of TBB such as their croissants, Kouign Amann ($3.80), and Baguette ($4.20) are all available at this new outlet. For those with a sweet tooth, you can also expect a wide variety of desserts including Coconut Cheese Cake ($8), Pandan Flad ($6.50), and Chocolate Eclair ($6.50)! Their Merah Saga Tart ($9.50), a breton shortbread crust topped with vanilla cream, raspberries, raspberry confit dots, and gold leaf flakes, is one must-have that is only available till the end of July!
Address: 43 Jalan Merah Saga, Singapore 278115
Opening hours: Daily 8am to 8pm
Tel: 6811 4868
Website
---
10. The Spot
---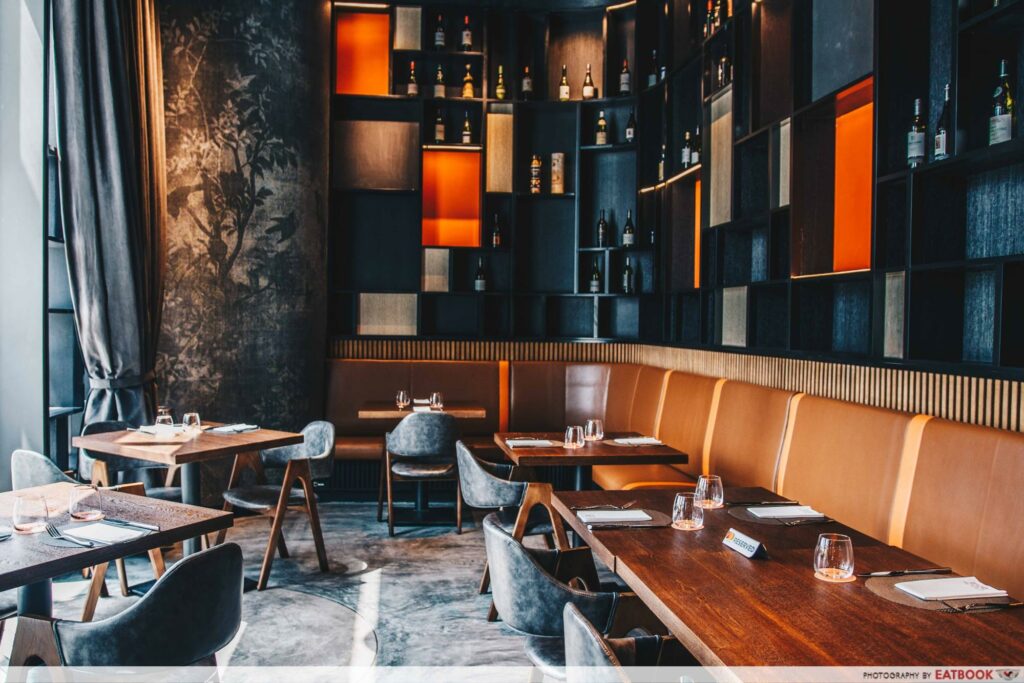 Ask anyone, and you will know our senior writer, Katie, is difficult to impress. So we know she really meant it when she said that The Spot is in the running for being one of the best restaurants in the CBD. Opened by the guys behind 1855 The Bottle Shop, the all-day dining venue encompasses a multitude of concepts: it is a cafe with good pulled coffee, a restaurant highlighted by well-executed creations, as well as a spiffy cocktail bar boasting innovative small bites. Plus, there's even a Macallan tasting bar and a hidden cigar lounge that's great for stag nights.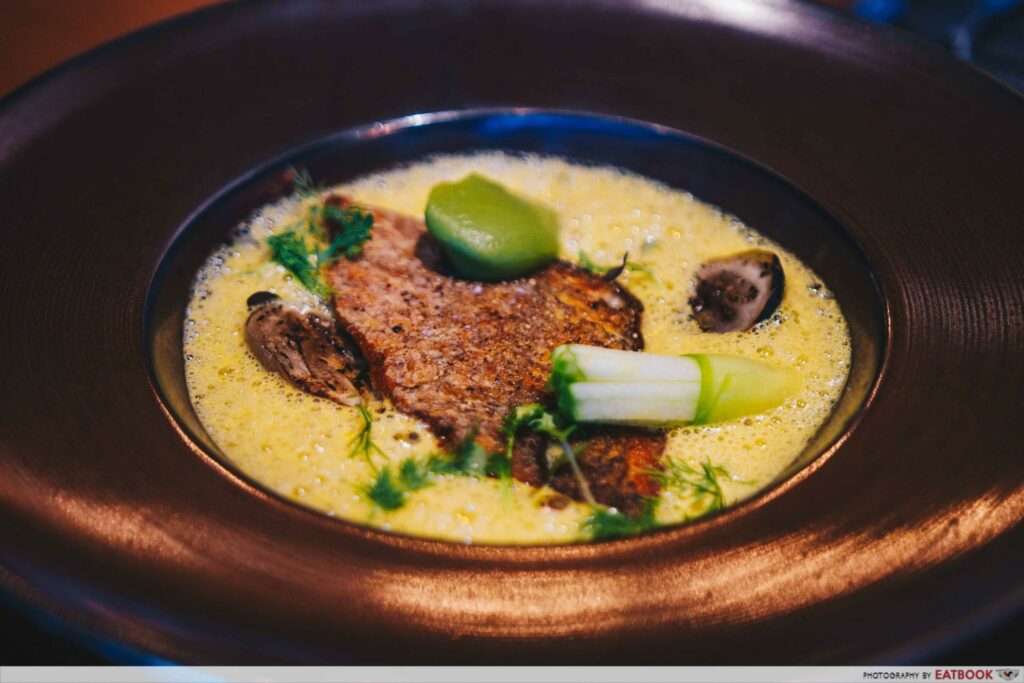 Helming the kitchen is Chef Lee Boon Seng, formerly from Osia and Curate. Marrying his European training with his Asian upbringing, the dishes are complex, yet familiar in taste. A favourite is the Pan-fried Red Snapper ($28++) with green curry emulsion. The sweet flavour of the crispy fish complemented the mild, yet spicy emulsion, that was balanced out with an eggplant and spinach puree.
Address: 5 Straits View, #01-26/27, Marina One, Singapore 018935
Opening hours: Mon-Tue 7:30am to 11pm, Wed-Fri 7:30am to 12am, Sat 5pm to 12am
Tel: 6284 2637
Website
---
BONUS: Harry Potter Cafe
---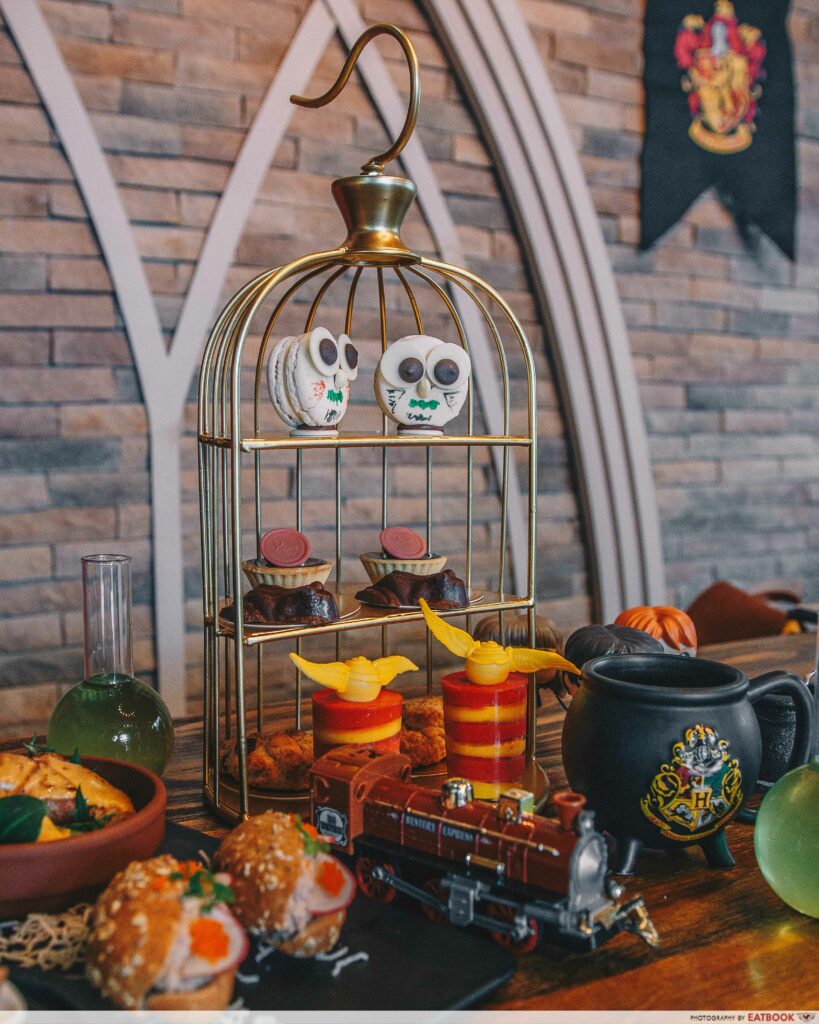 Potterheads would be familiar with Platform 1094, or "the Harry Potter cafe". While they're not a new kid on the block, you'd want to check out their latest addition – the Hagrid's English Afternoon Tea ($55/2 pax). The mix of sweet and savoury bites are adorably adorned with decorations inspired by the novel. That's not all, the candles that come with it change their colour at the flick of the magic wand!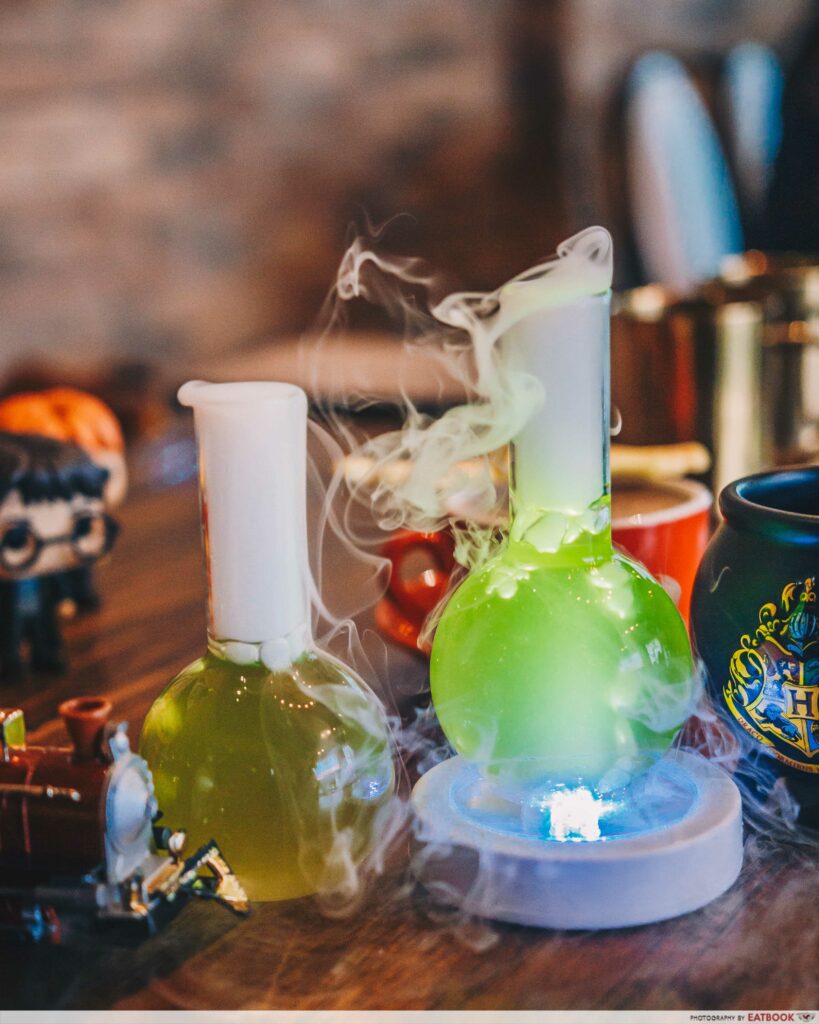 A notable savoury would be the Potato slyther-in Bacon with Cheddar Cheese – chunks of potato wrapped in bacon, covered in melted cheddar cheese. Potato. Bacon. Cheese. You simply can't go wrong with this holy trinity.  
Wash your magical afternoon tea down with their Green Frog Flexi that comes in potion jars. The apple-infused green tea had a light and refreshing flavour, with a slightly bitter aftertaste.
Tip: Drop in some dry ice and watch your potion bubble!
Address: 1094 Serangoon Road Singapore 328192
Opening hours: Tue to Sun: 11AM – 10PM
Tel: 6204 6003
Website
---
Holiday on
---
July is the month where we return to school or work after the mid-year break. If you are feeling the blues already, hit up these new restaurants over the weekends to treat yourself and have a mini holiday feasting on the good food. If not, you can also check out Sentosa GrillFest, the food festival that is happening at Sentosa Siloso Beach this month!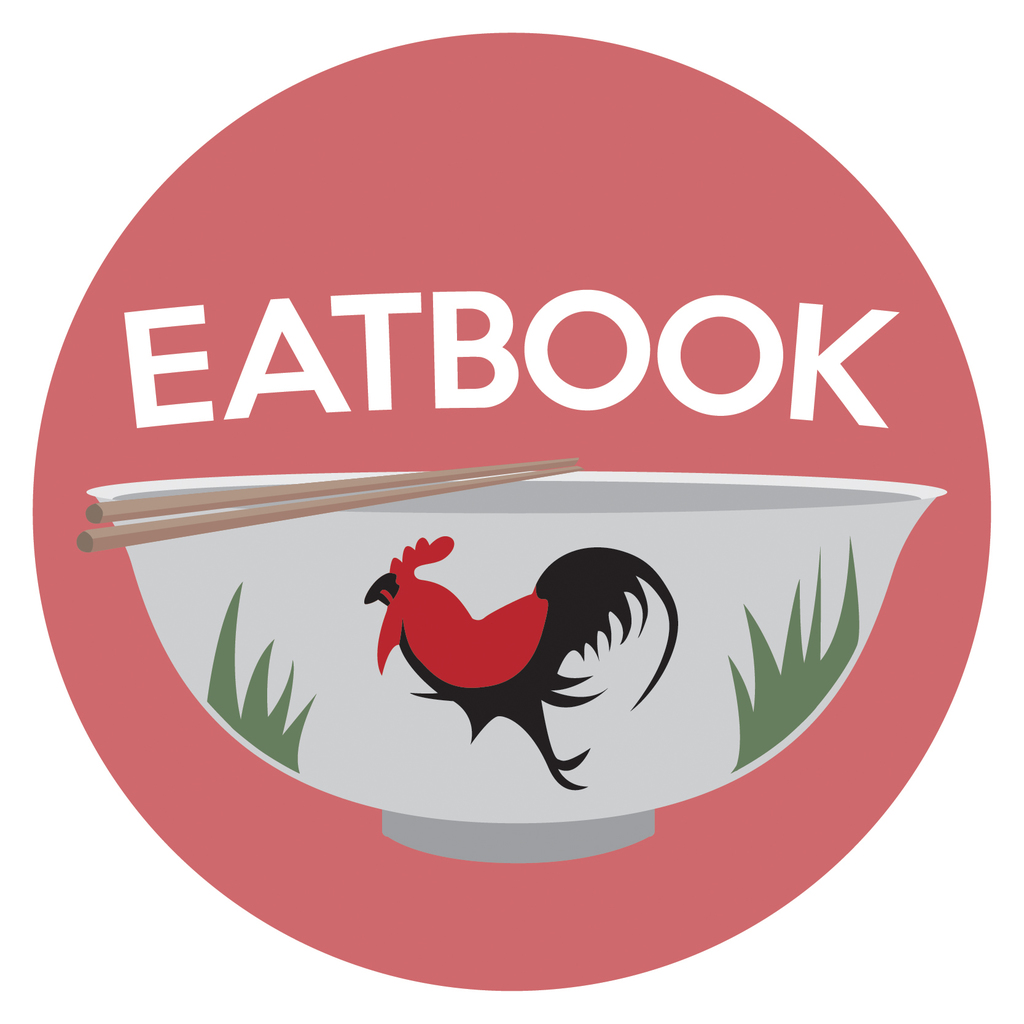 Drop us your email so you won't miss the latest news.