---
New restaurants in Singapore this October 2022
---
October may not spell the onset of autumn in Singapore, but it does mark the steady closing of 2022 as we head into the final quarter. With that, diners can expect heaps of 20 restaurants and cafes in Singapore this October 2022 to try out. We've got a handful of trendy bagel joints, cool cafes, and dessert spots in this list, among others.
---
1. Lee's Confectionery 
---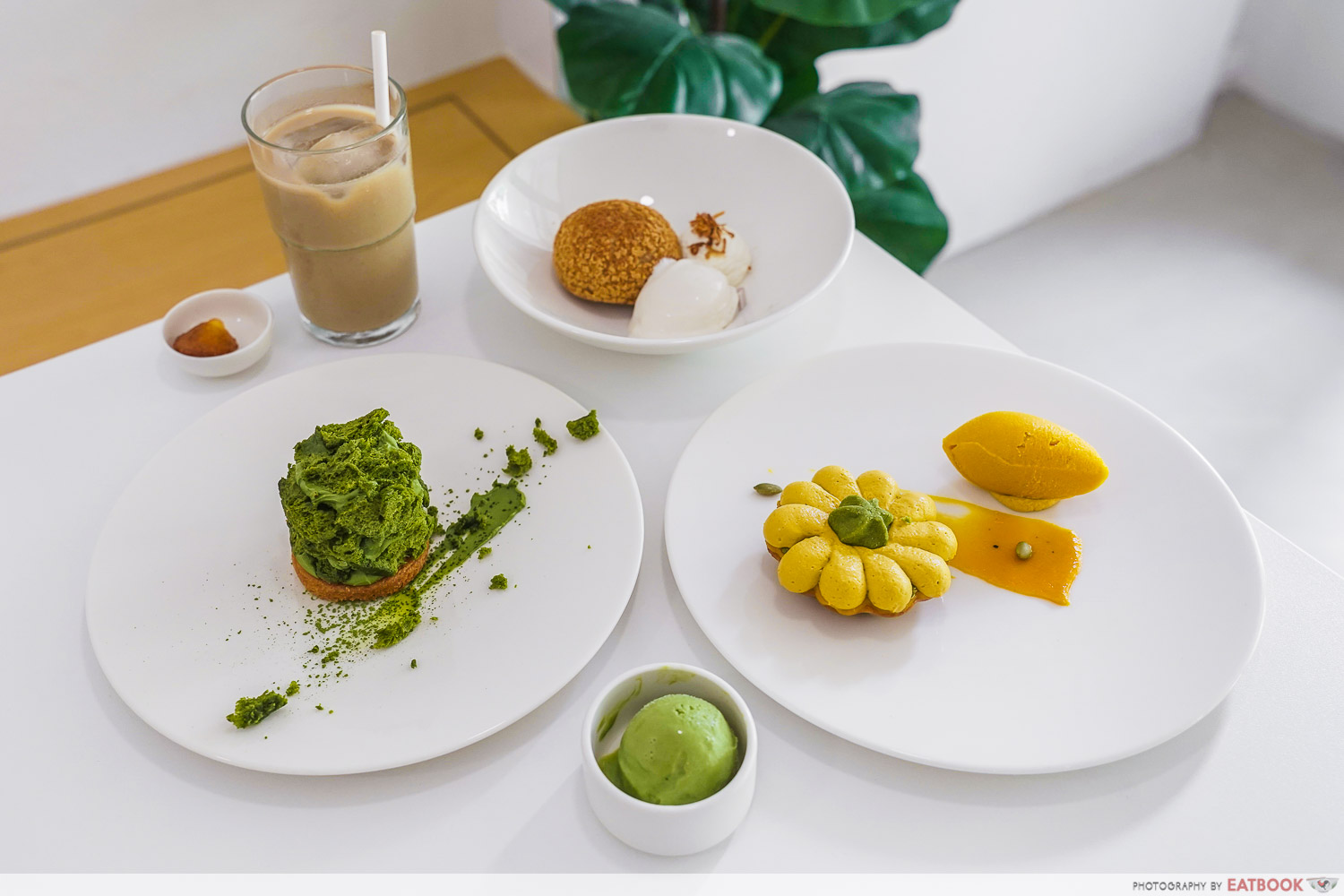 Lee's Confectionery's unassuming name and location at a HDB carpark in Jurong belie the refined plated desserts that dot the cafe's menu. The confectionery is run by chef Lee Yin Quan, who is classically trained in France and worked at numerous acclaimed patisseries there.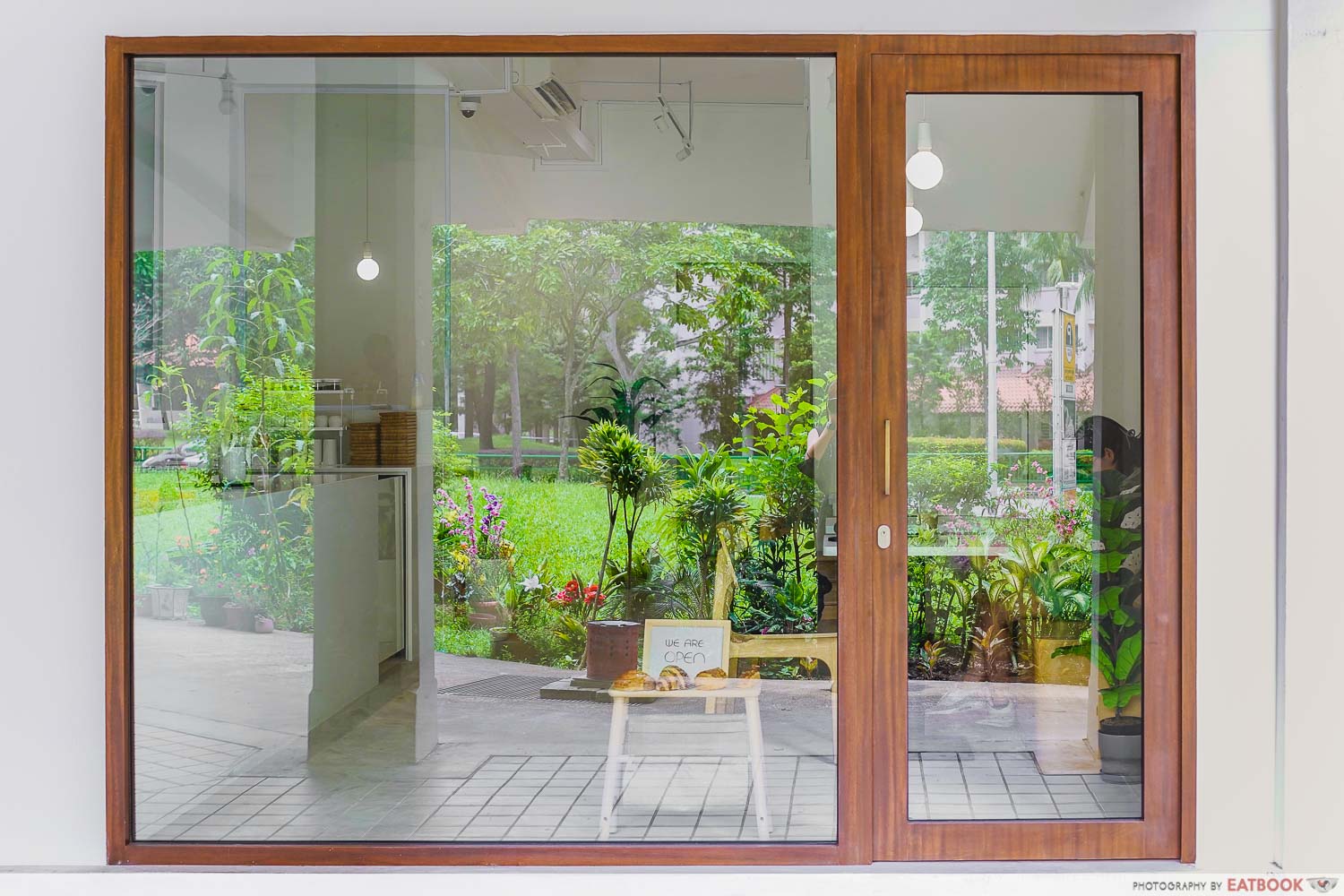 The minimalistic space lets the colourful desserts make a statement. Each plate is priced at $9 for takeaway, or $11 when dining in stores. While most of the items rotate, there are two fixtures: Tart, a lime and almond tart served with lime sorbet, and Madu, a pastry with a honey caramel middle and Horlicks ice cream.
Read our Lee's Confectionery review.
Address: 343 Jurong East Street 31, #01-59, Singapore 600343
Opening hours: Daily 10am to 10pm
Tel: 9183 8447
Website
Lee's Confectionery is not a halal-certified eatery, but does not use pork or lard.
Lee's Confectionery Reopens In Jurong East With Plated Pastries In Taro Coconut And Pumpkin Flavours
---
2. Dopa
---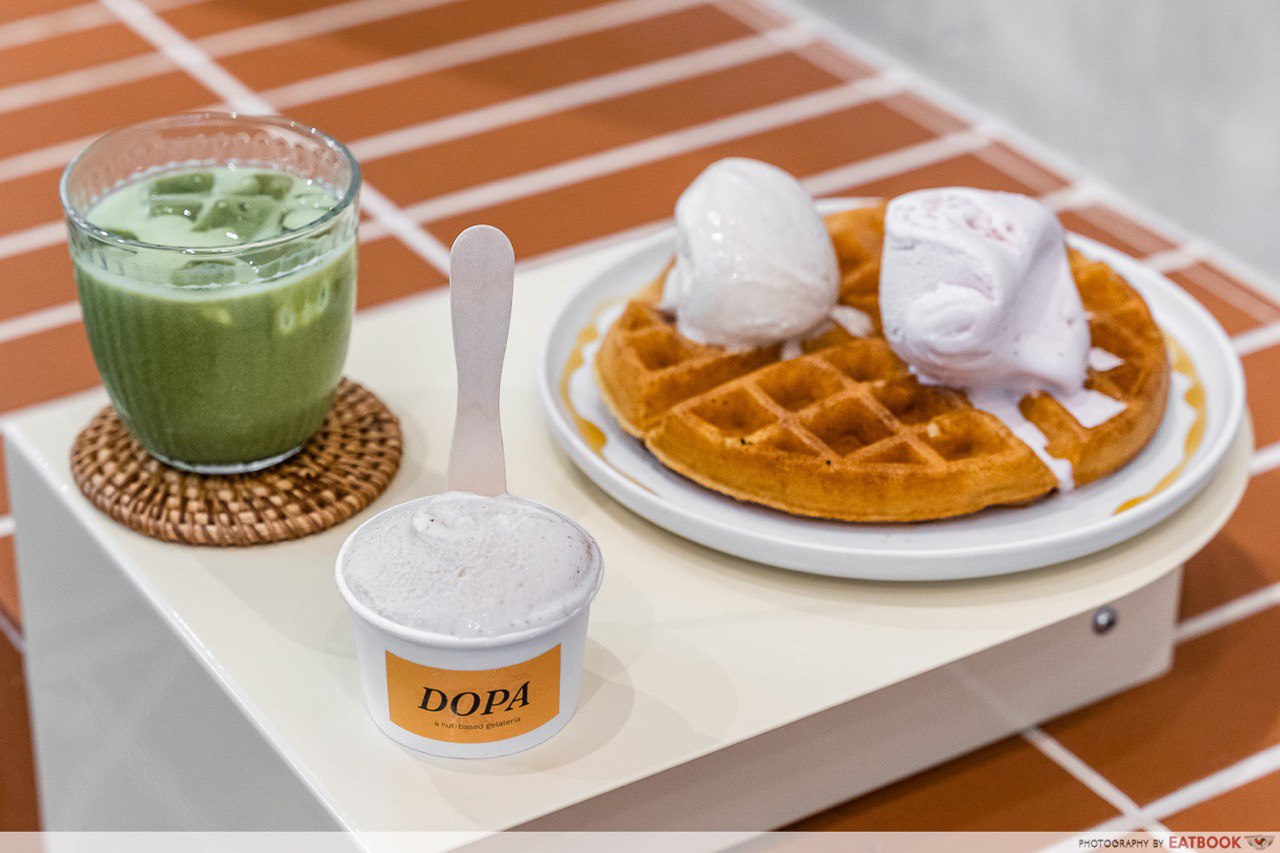 Whether you know them as Dopa or as Dopa Dopa, you'll be happy to know that the famous gelateria has finally established a second outlet in Tanjong Pagar Plaza. They're best known for their nutty gelatos, especially their Pistachio flavour, which is made with nuts sourced from Italy, and then roasted in-house. A single scoop here starts from $5, which you can then enjoy in a waffle (+$6), a cone (+$1), or a cup.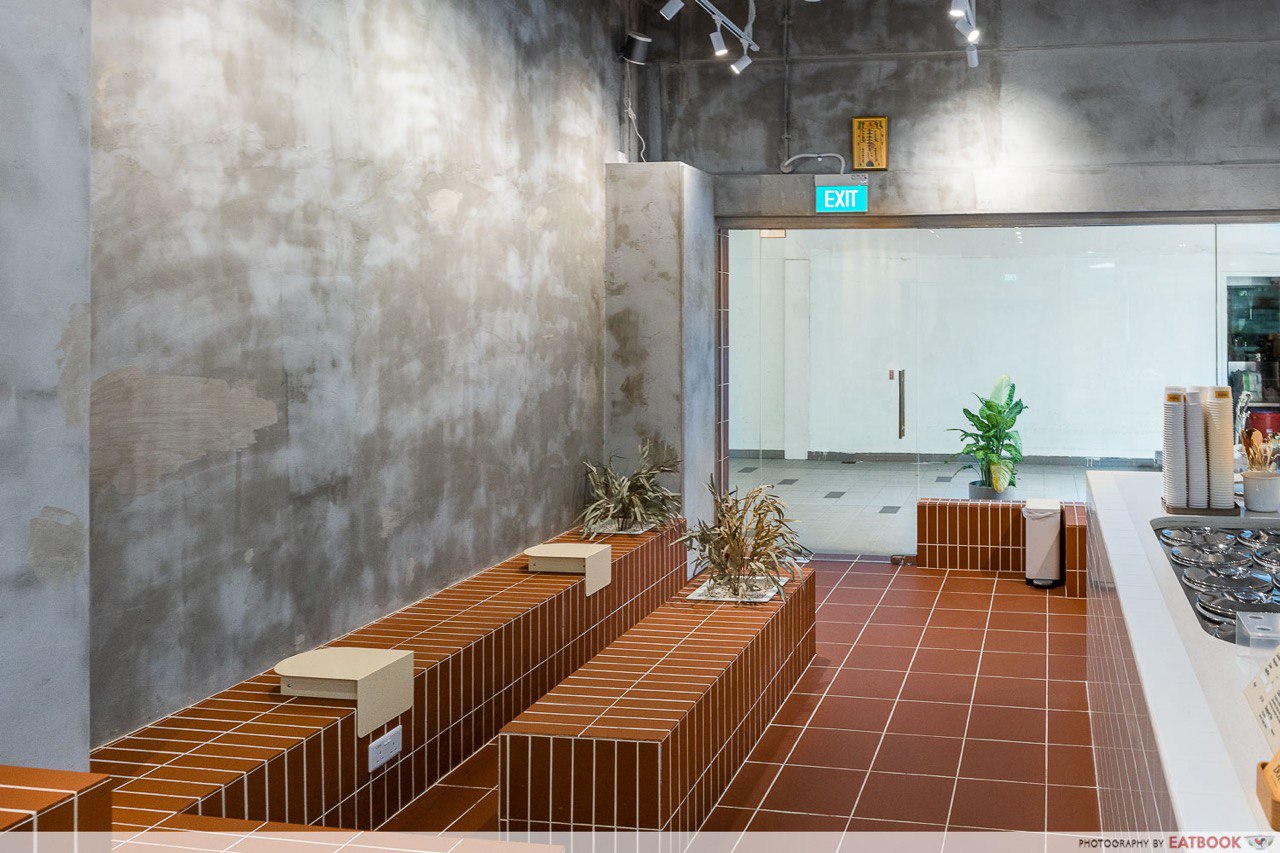 We also particularly love how the new space is outfitted. Instead of the bright yellows that define their Boat Quay flagship, this Tanjong Pagar iteration is all about Korean-style minimalism, with casual brick benches, and a sleek industrial countertop.
Read our Dopa review.
Address: 7 Tanjong Pagar Plaza, #01-07, Singapore 081007
Opening hours: Mon-Thurs, Sun 12pm to 10pm, Fri-Sat 12pm to 10:30pm
Website
Dopa is not a halal-certified eatery.
Dopa Review: Famous Gelato Cafe Opens In Tanjong Pagar With Macadamia And Maple Pecan Flavours
---
3. Tipo 
---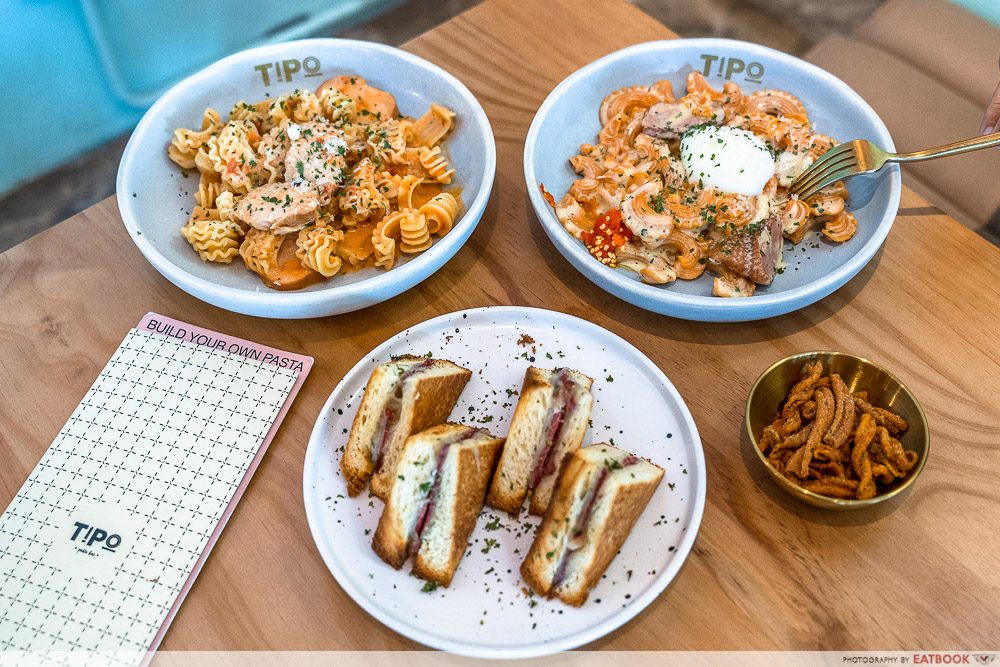 A household name in the Muslim-friendly restaurant scene is Tipo, best known for their DIY pasta menu that's always been ahead of the curve. While there are plenty of build-your-own pasta joints to pick from these days, Tipo gives you a reason to keep coming back with their all-new space along Aliwal Street, and their array of fresh, hand-made pastas in lesser-known shapes.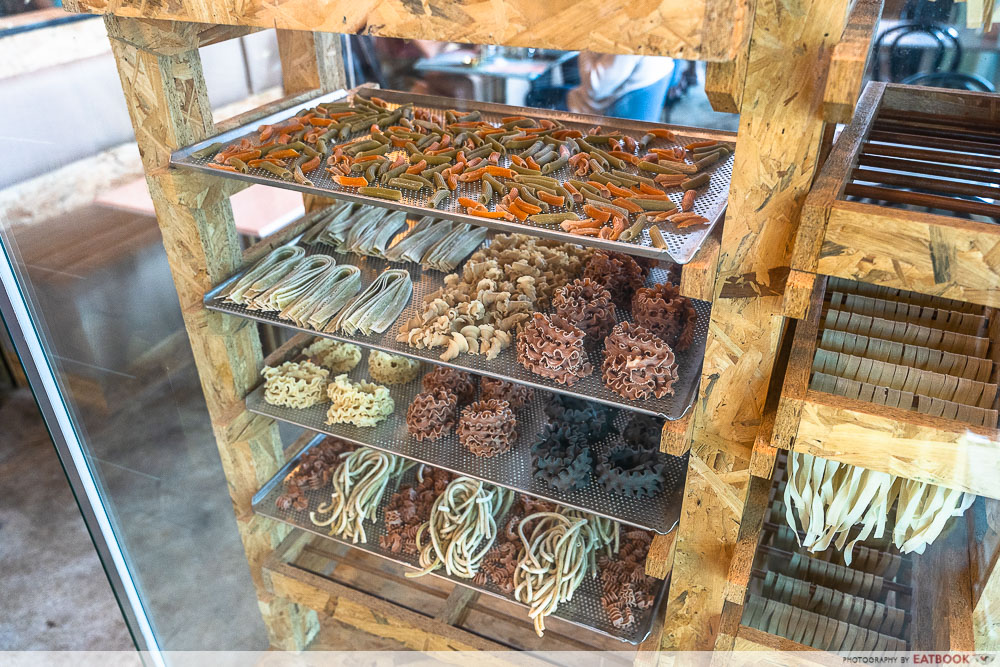 Prices start from $9.90+ for the DIY option, where you get 120g of pasta, and your choice of sauce, protein, and topping.
Read our Tipo review.
Address: 28 Aliwal Street, #01-07, Singapore 199918
Opening hours: Daily 11am to 10pm
Tel: 8768 0785
Website
Tipo Pasta Bar is not a halal-certified eatery but it is Muslim-owned.
Tipo Pasta Bar Review: Halal-Friendly Pasta Bar With DIY Options From $9
---
4. Madu The Bakery
---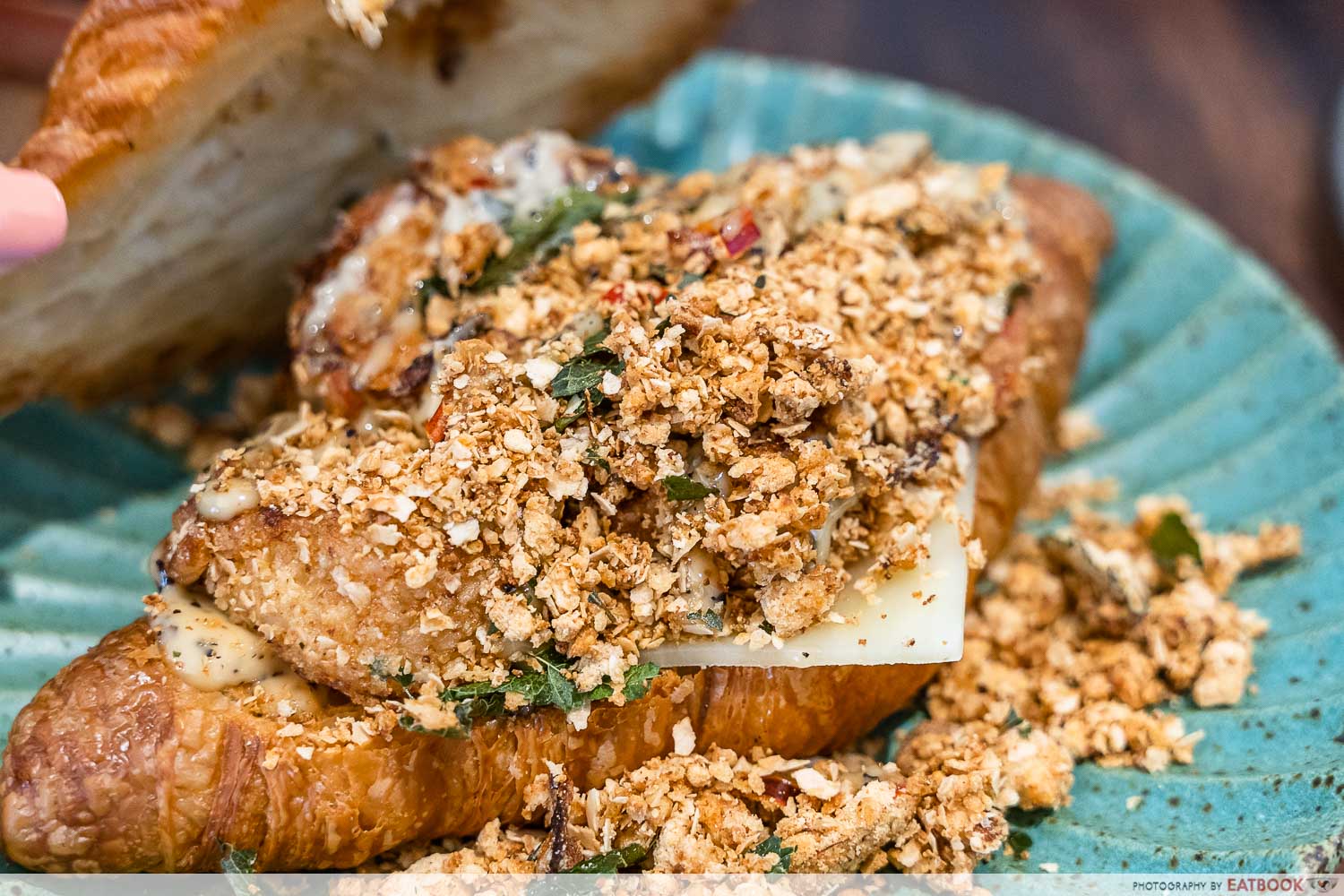 Former home-based biz Madu The Bakery has opened a brick-and-mortar flagship to much fanfare. Located near Boon Keng, the bakery is run by a young baker who hails from Medan.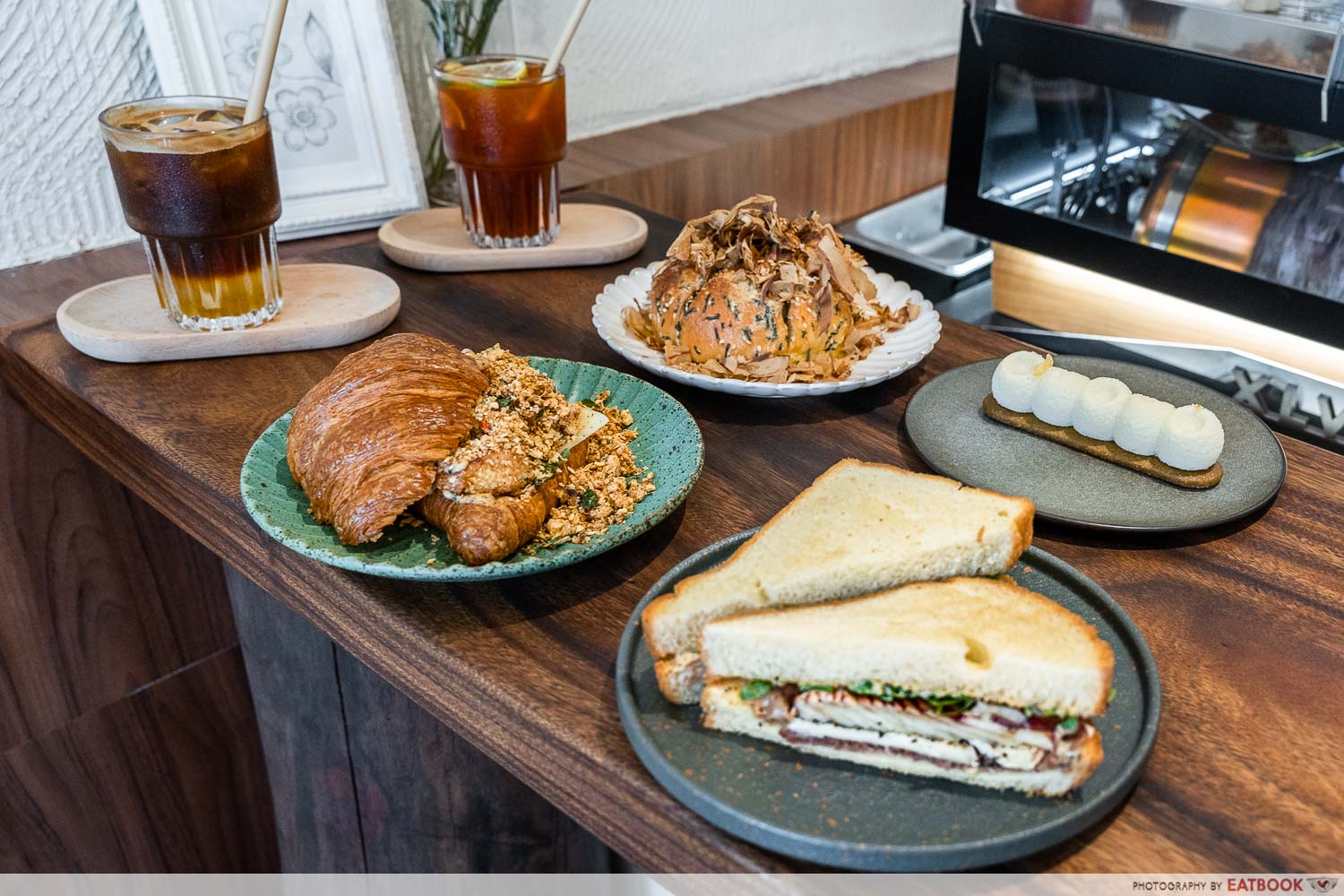 On the menu are bakes that are definitely inventive, from the wildly popular Cereal Prawn Croissant ($13.90+), which reinvents the zi char dish with a buttery croissant, cheddar cheese, tiger prawns, and crispy cereal crumbs, all finished with a bright yuzu mayo. Don't skip trying their savoury buns, available in three flavours: Classic Garlic ($5.50+), Umami Mushroom ($6+), and Mentaiko ($6.50+).
Read our Madu The Bakery review.
Address: 421 Race Course Road, Singapore 218668
Opening hours: Tue-Sun 10am to 8pm
Tel: 8750 7672
Website
Madu The Bakery is not a halal-certified eatery.
Madu The Bakery Review: Popular Cafe With Cereal Prawn Croissants And Shiitake Mushroom Buns
---
5. B For Bagel 
---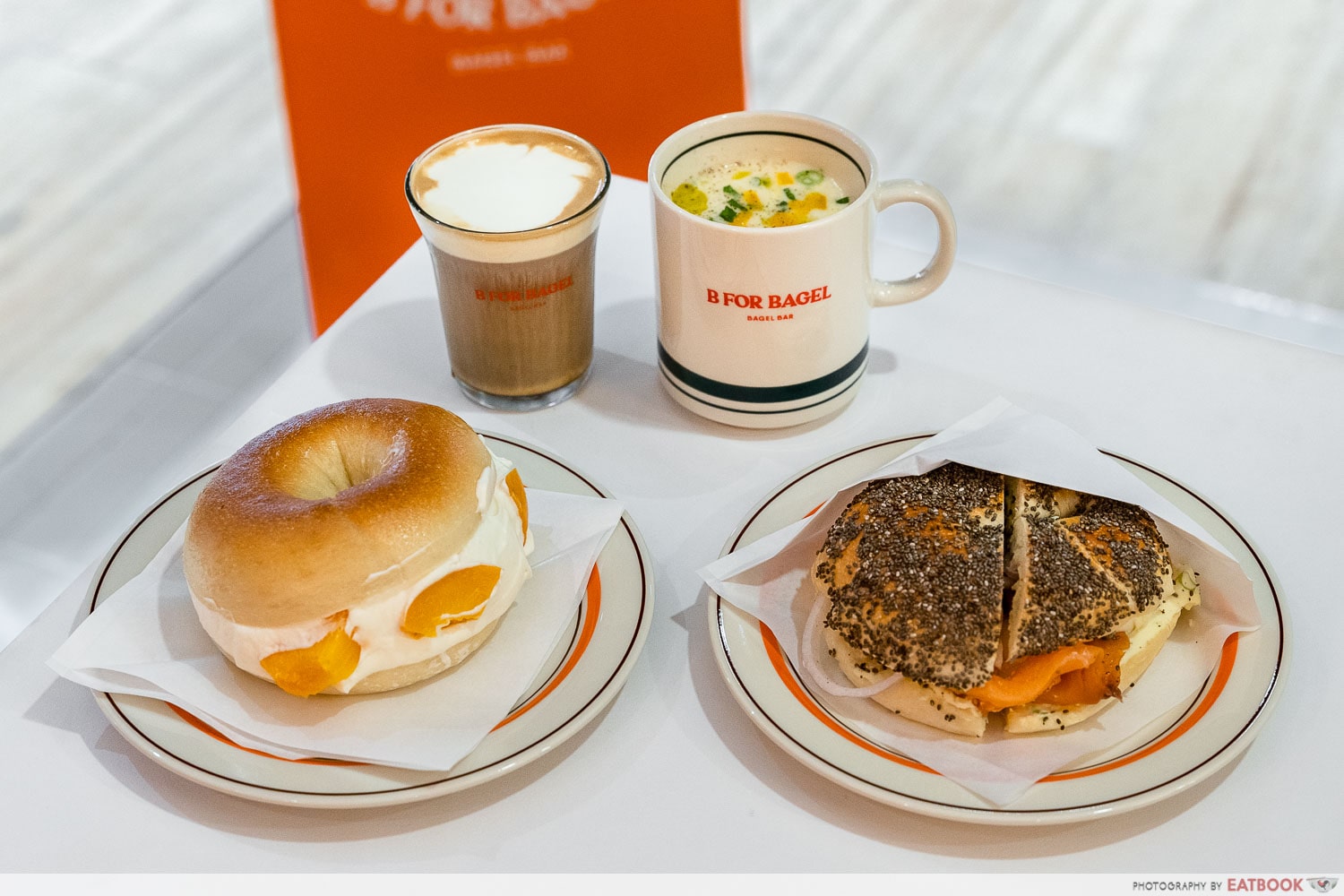 The bagel train in Singapore is chugging along steadily, with so many new bagelries popping up across the city of late. One that recently joined the fray is B For Bagel, which hails from Gangnam, in Seoul. The Korean cafe makes all their bagels from scratch, offering both sweet and savoury options, as well as soups and coffees. They've got bagels in numerous flavours, with prices starting under $5, but you can opt for filled bagels and turn them into a set meal with soup.
A unique pick here is the Peach Cloud ($7.50+), a bagel that reinvents the Japanese cream fruit sandwich with whipped cream and peach slices, sandwiched between a fluffy plain bagel.
Read our B For Bagel review.
Address: 163 Tanglin Road, #B1-125,126, Singapore 247933
Opening hours: Daily 10am to 5pm
Tel: 8781 0079
Website
B For Bagel is not a halal-certified eatery.
B For Bagel Review: Korean Bagel Shop In Tanglin Mall With Smoked Salmon And Peach Bagels
---
6. The Nursery Cafe & Bar
---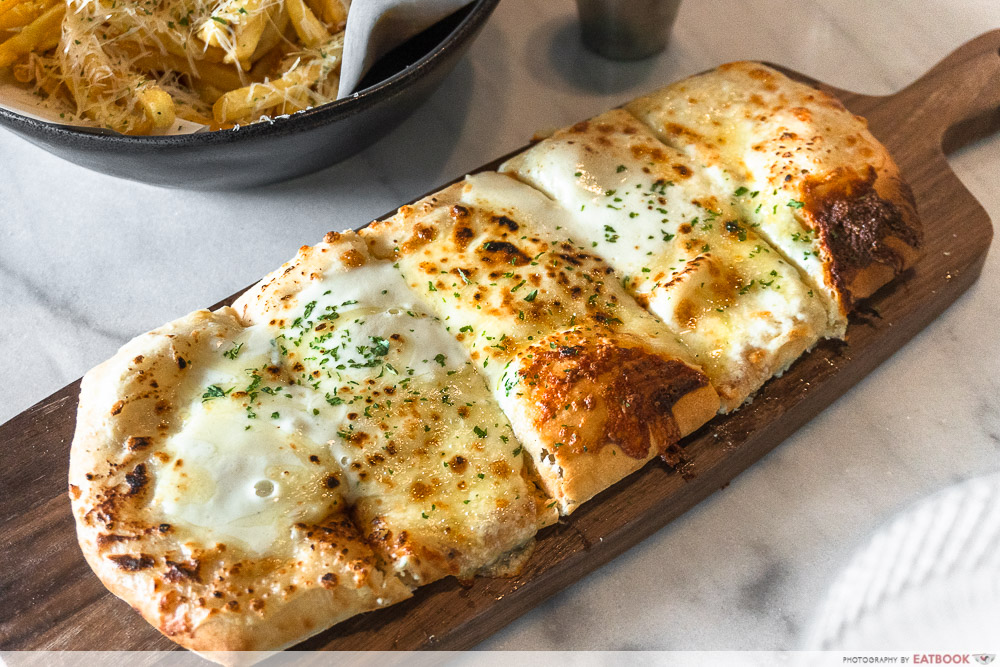 Sembawang gang, here's one for the radar: The Nursery Cafe & Bar is a gorgeous garden-themed bistro located in Gambas Crescent. The space is currently in their soft launch phase and sells a selection of bar bites, brunch dishes, waffles, and pizzas for diners.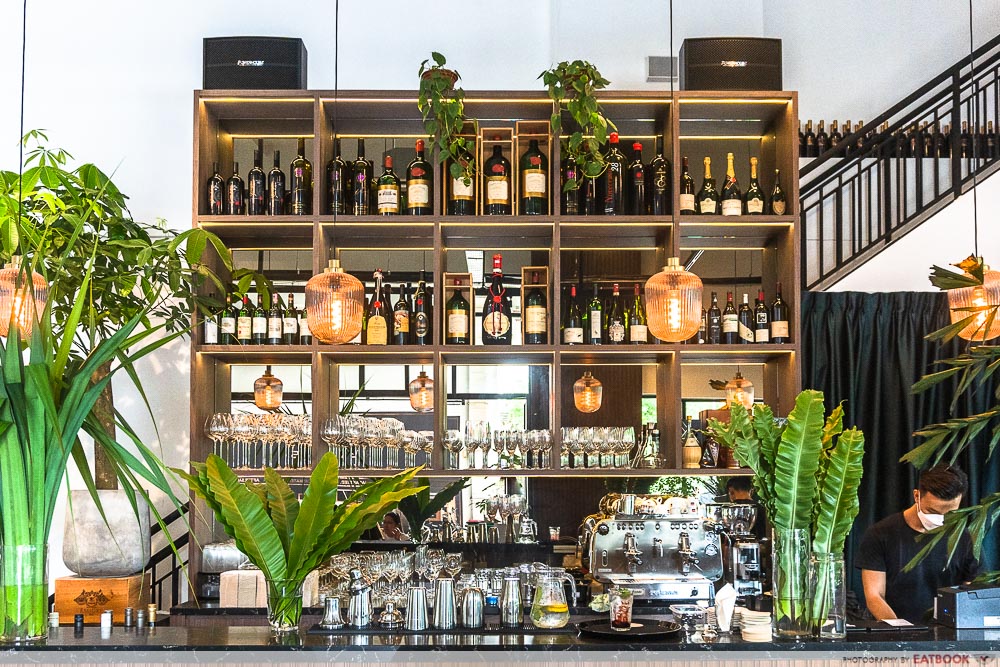 Highlights include their satisfyingly cheesy Four Cheese Pizza ($12.90+), loaded with mascarpone, blue cheese, Gran Moravia, and classic mozzarella. Overall, this is a great place to visit for brunch, or after-hours, to unwind with casual bites and a cocktail or two. 
Check out The Nursery Cafe & Bar review.
Address: 7 Gambas Crescent, #01-16 ARK @Gambas, Singapore 757087
Opening hours: Mon 2pm to 10pm, Wed-Fri 2pm to 10pm, Sat 12pm-12am, Sun 2pm-10pm
Website
The Nursery Cafe & Bar is not a halal-certified eatery.
The Nursery Cafe & Bar Review: New Garden-Themed Cafe In Sembawang With Brunch Food And Bar Bites
---
7. May Pho 
---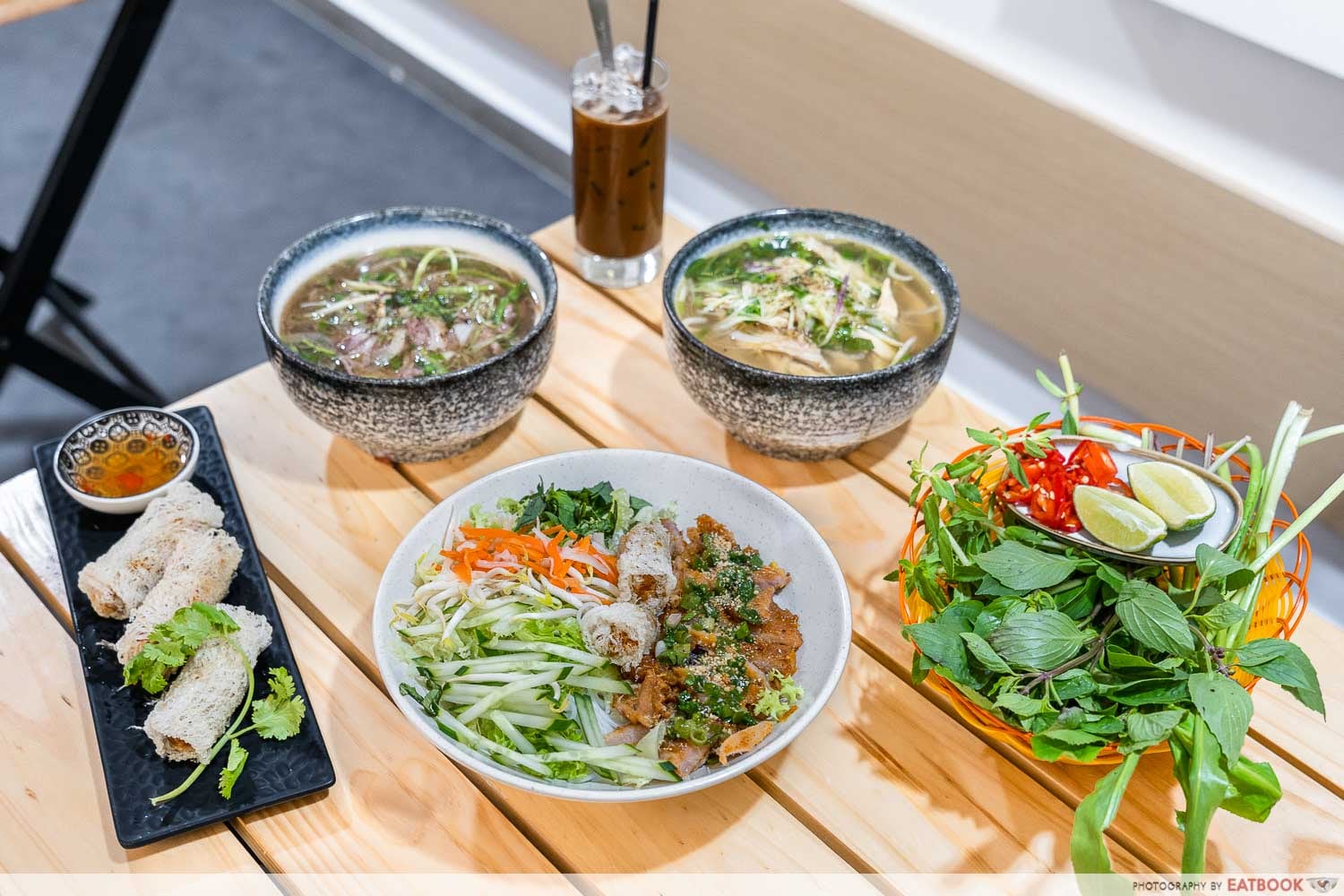 Vietnamese food seems to be in the spotlight of late, so get your fix at May Pho, a relatively new eatery in Chinatown that's run by a native Vietnamese cook. The dishes here offer the standard selection of Vietnamese dishes Singaporeans are familiar with. There's beef and chicken pho, both with full-flavoured broths slow-cooked for hours, sans MSG.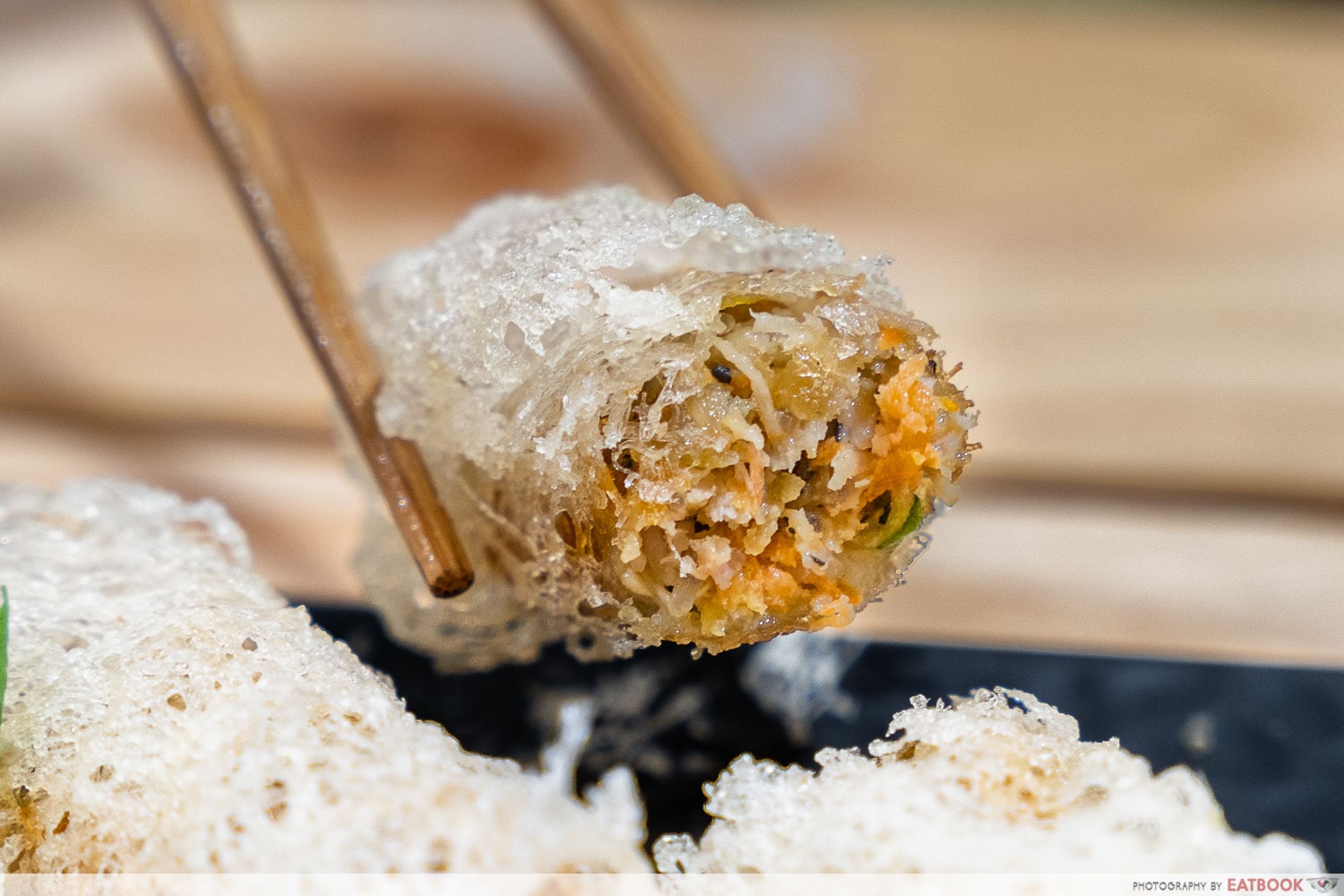 There's also the airily crisp and addictive Spring Rolls ($6.90), packed with a well-seasoned meat filling, served with house-made chilli that's next-level, in our books. May Pho also does legit Vietnamese drip coffee, both iced and hot, if you'd like to round off the meal with a caffeine boost.
Read our May Pho review.
Address: 150 South Bridge Road, #01-16, Fook Hai Building, Singapore 058727
Opening hours: Wed-Mon 11:30am to 9pm
Tel: 9646 2589
Website
May Pho Culture is not a halal-certified eatery.
May Pho Culture Review: Legit Pho And Vietnamese Food In Chinatown
---
8. Cafe Gui 
---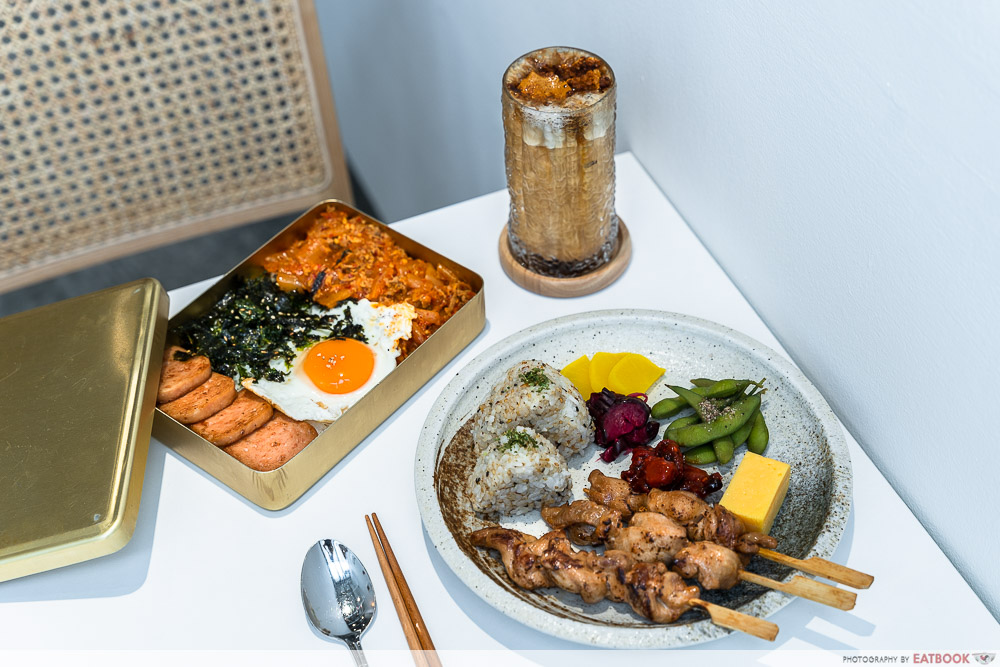 Take a break from the regular Western brunch fare of eggs and toast and check out Cafe Gui, a cosy Japanese-Korean cafe in Novena. This minimalist cafe serves up a photogenic Dosirak Rice Bowl ($15.90+), comprising fried spam, kimchi, pickles, shredded seaweed, and short-grain rice, held in an aesthetically pleasing gold bento box.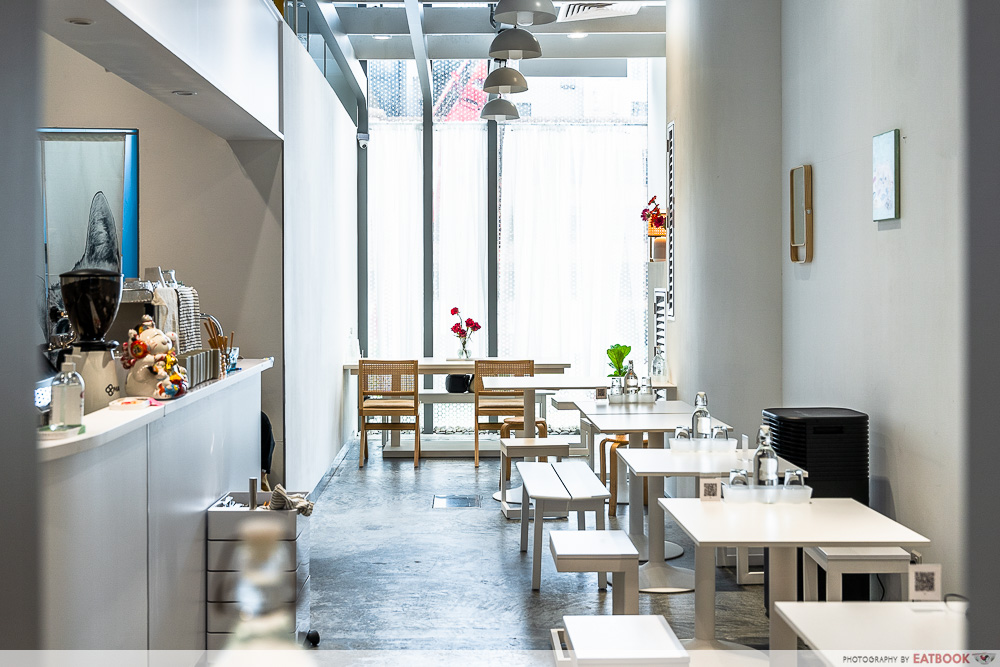 The new cafe also offers fusion hotdogs, well-priced at $13.90+ with a serving of nori-spiked fries. Try the Japanese Canadian Premium Okonomi Hotdog, which comes with a sweet and umami-packed sauce and bonito flakes on top of savoury sausage. Wash it all down with Dalgona Honeycomb ($9.90+), a caffeinated pick-me-up with fresh espresso, creamy milk, and sweet honeycomb shards.
Address: 103 Irrawaddy Road, #02-10, Royal Square, Singapore 329566
Opening hours: Tues-Fri 9am to 6pm, Sat-Sun 9am to 5pm
Website
Cafe Gui is not a halal-certified eatery.
---
9. Missus 
---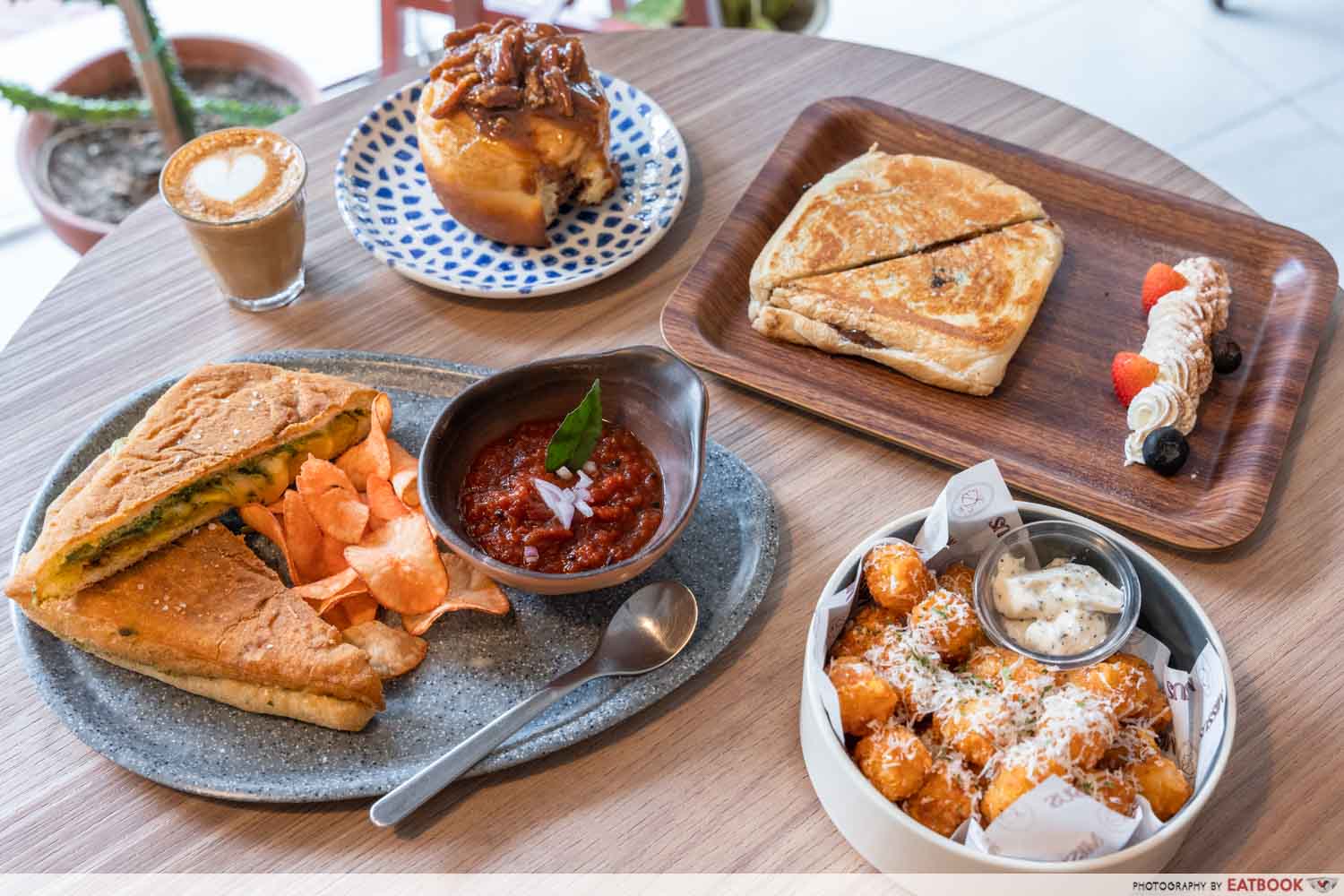 Missus is a fairly new Muslim-owned bakery cafe along Hamilton Road that became popular for their grilled cheese menu and fresh pastries that are prepared in-house. A must-try is the Slumdog Grillionaire ($19+), a playful twist on the classic grilled cheese that includes masala potato cubes, coriander pesto, and the cafe's signature cheese blend, all held between ciabatta bread that's also baked in the premises.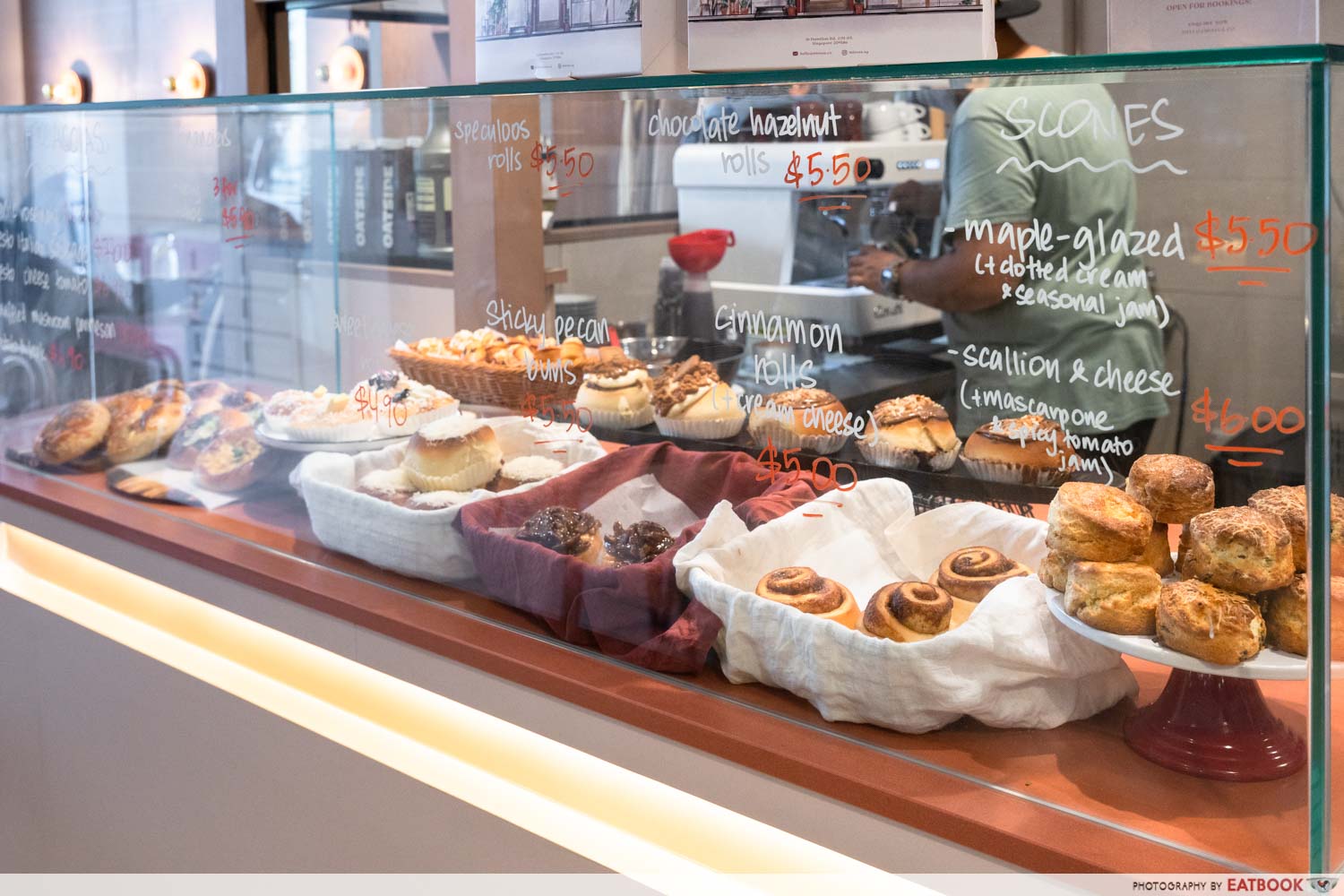 Those with a sweet tooth will enjoy The Great Grilled Choc Sandwich ($13+), a sinful treat featuring a creamy, Mexican chocolate lava filling packed within house-baked white bread. Alternatively, go for the Sticky Pecan Bun ($5.50+), a chunky number with cinnamon sugar swirls, topped with a sticky-sweet caramel drizzle and crunchy pecans.
Read our Missus Cafe review.
Address: 103 Irrawaddy Road, #02-10, Royal Square, Singapore 329566
Opening hours: Tues-Fri 9am to 6pm, Sat-Sun 9am to 5pm
Website
Missus is not a halal-certified eatery.
Missus Review: Muslim-Owned Cafe And Bakery With Masala Grilled Cheese, Sticky Pecan Buns And More
---
10. 59 Hutong Yakiniku 
---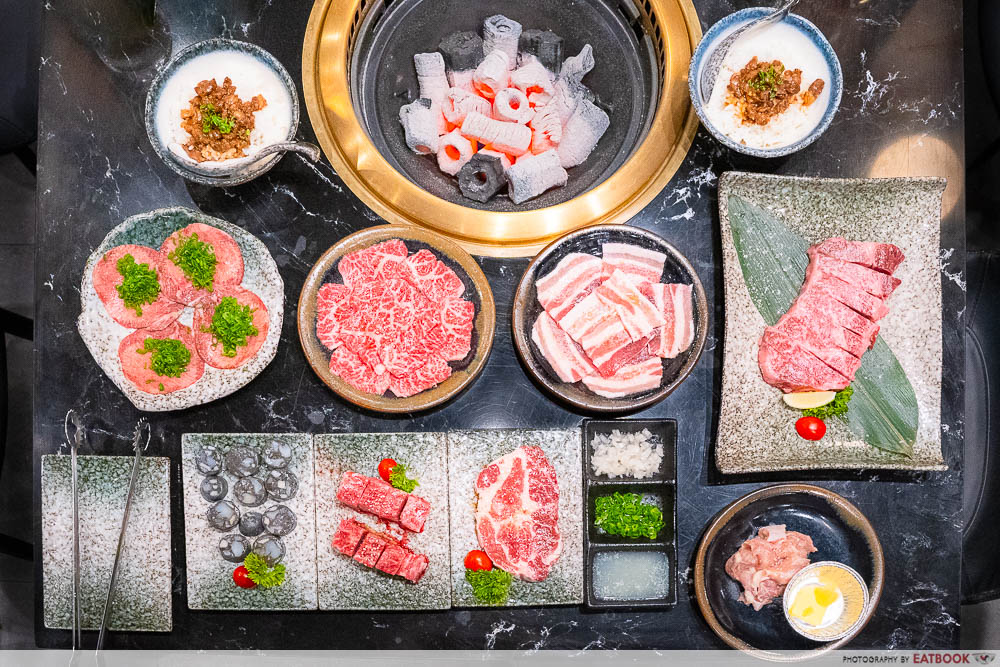 59 Hutong Yakiniku is a collaboration between Taiwan's most popular Japanese BBQ joint, Hutong Yakiniku, with local dining start-up, 59. The newly opened restaurant is where it's at for barbecue that doesn't guise the natural flavours of their meats with various marinades, but lets the cuts speak for themselves.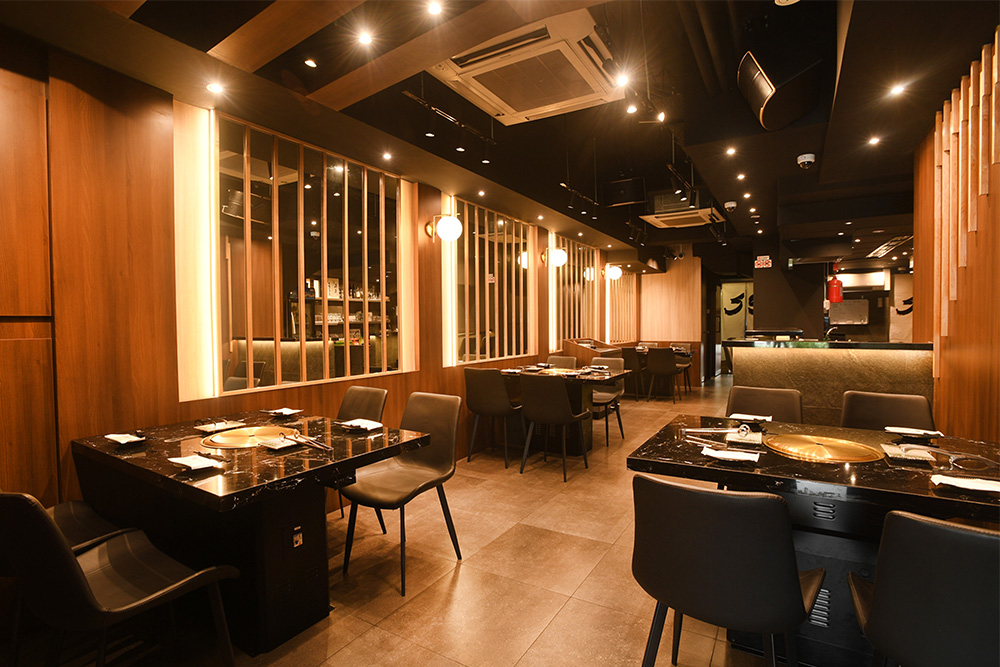 Everything here is sourced from premium producers, whether it be the tender Iberico Pork Shoulder Blade ($22++), to the A5 Wagyu Ribeye Roll ($72++). Unconventional parts such as beef tongue are also available if you wish.
Read our 59 Hutong Yakiniku here.
Address: 35 Boat Quay, Singapore 049824
Opening hours: Daily 12pm to 3:30pm, 5:30pm to 11pm
Tel: 6235 3818
Website
59 Hutong Yakiniku is not a halal-certified eatery.
59 Hutong Yakiniku Review: New Taiwanese BBQ Restaurant With A5 Wagyu Beef And Iberico Pork
---
11. Simple Cafe
---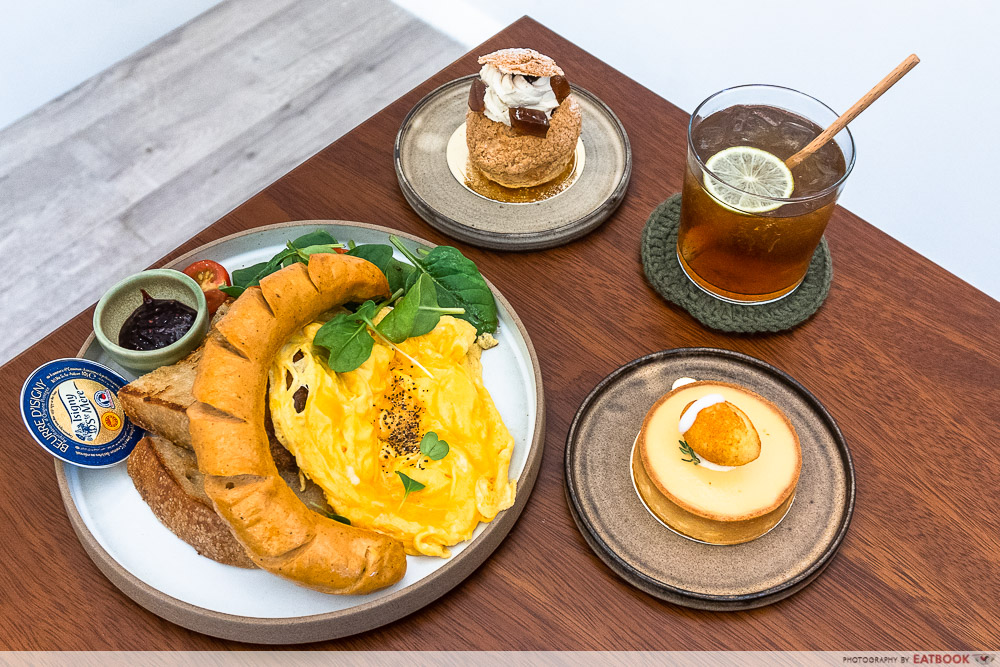 We first reviewed Simple Cafe when they opened in NEWest, but the Taiwanese cafe has since relocated to the more central Lavender. They've expanded the menu to include hot dishes, but the real star remains the pastries, from the zesty Lemon Cake ($9+) to their fluffy Wintermelon Choux ($9+), laced with lemon curd and brown sugar jelly.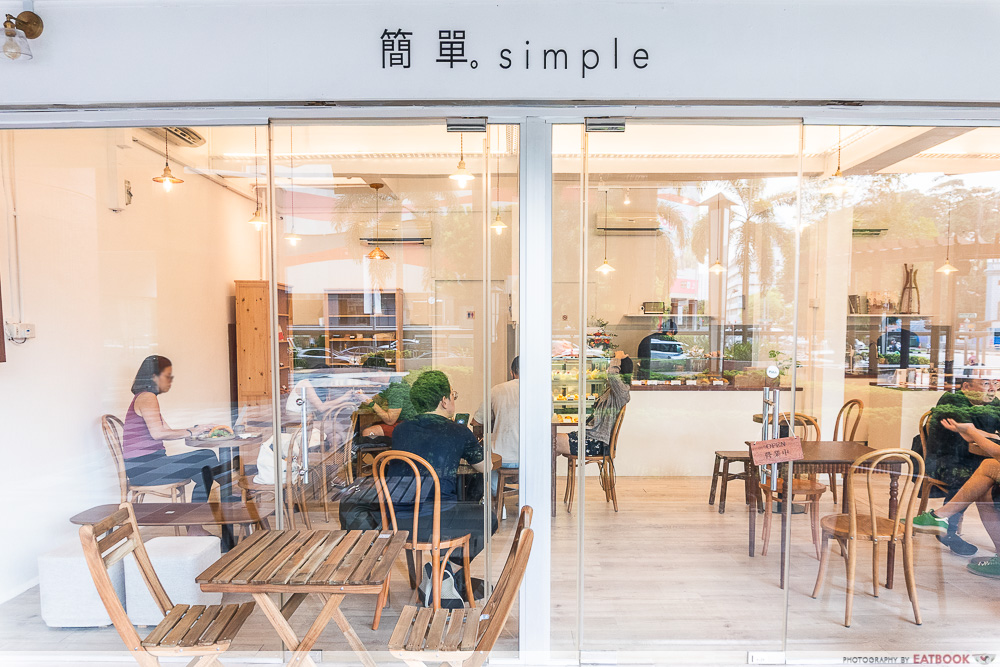 If you are here for mains, then get the Simple Breakfast ($17+), a fuss-free combination of eggs, chicken cheese sausage, your bread of choice, and a side salad.
Read our Simple Cafe review.
Address: 462A Crawford Lane, #01-73, Singapore 191462
Opening hours: Tue-Sun 9am to 6pm
Tel: 9618 1572
Website
Simple Cafe is not a halal-certified eatery.
Simple Cafe Review: Charming Cafe Near Bugis With Dainty Desserts And Taiwan Vibes
---
12. La Grigne 
---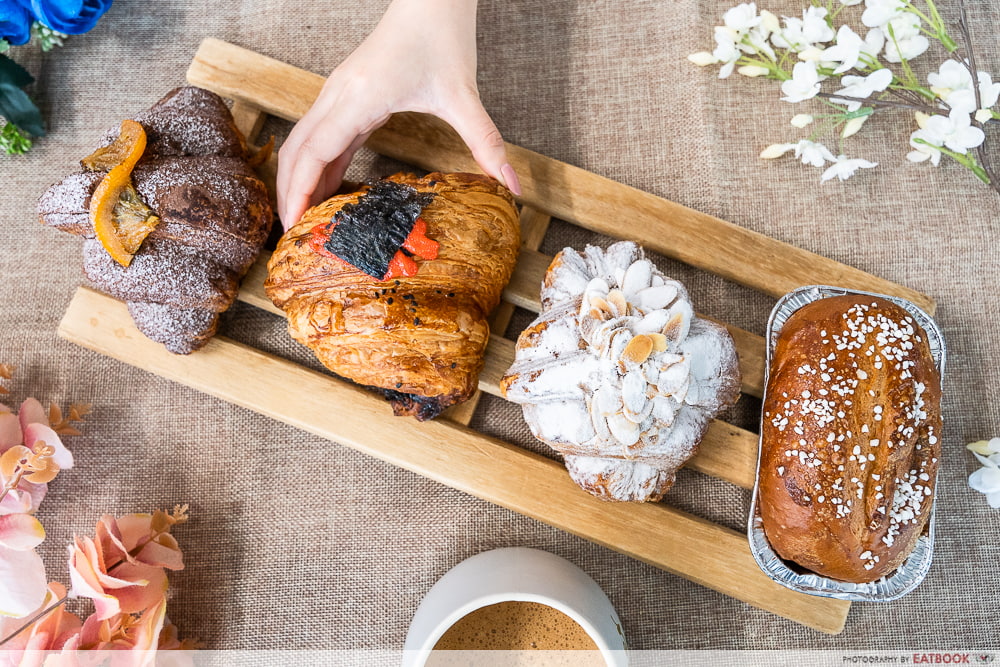 La Grigne is another bakery making waves on social media for their medley of flavoured croissants. The Salmon Mentaiko Croissant ($5.50) is especially popular, topped with a touch of torched mentaiko roe, and a honey shoyu salmon middle.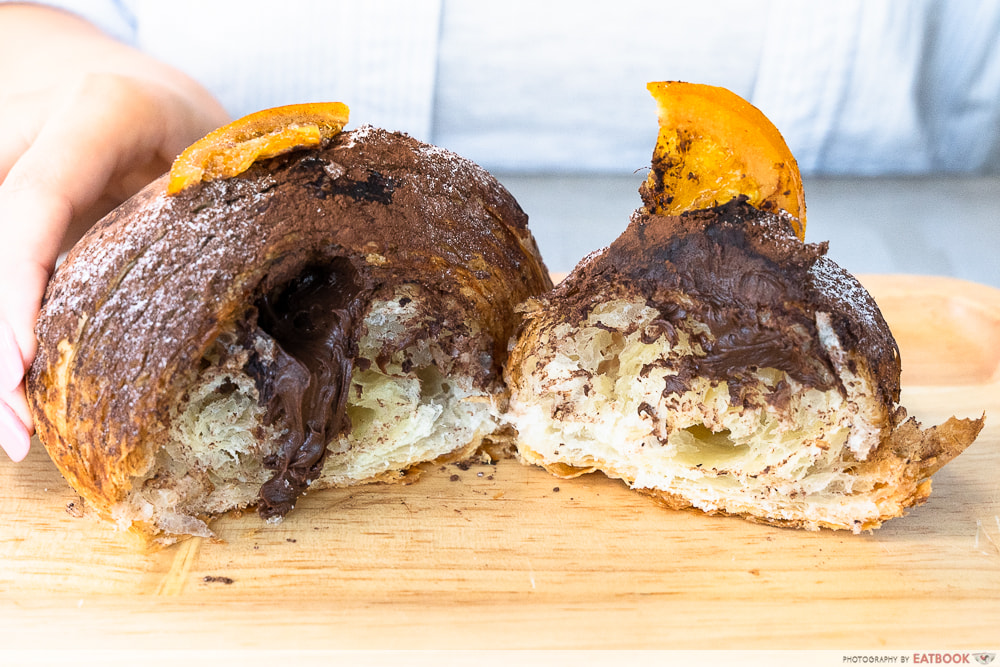 For sweets, go for the Chocolate Lava Croissant ($4), which is as luscious as it sounds. The small bakery is a takeaway-only concept housed near Maxwell Food Centre, so do note that there aren't seats for dining.
Read our La Grigne review.
Address: 33 Erskine Road, #01-02, Singapore 069333
Opening hours: Tue-Sun 10am to 6:30pm
Tel: 8831 7175
Website
La Grigne Patisserie is not a halal-certified eatery.
La Grigne Patisserie Review: New French-Japanese Bakery Near Maxwell Food Centre
---
13. Fav.grillbar 
---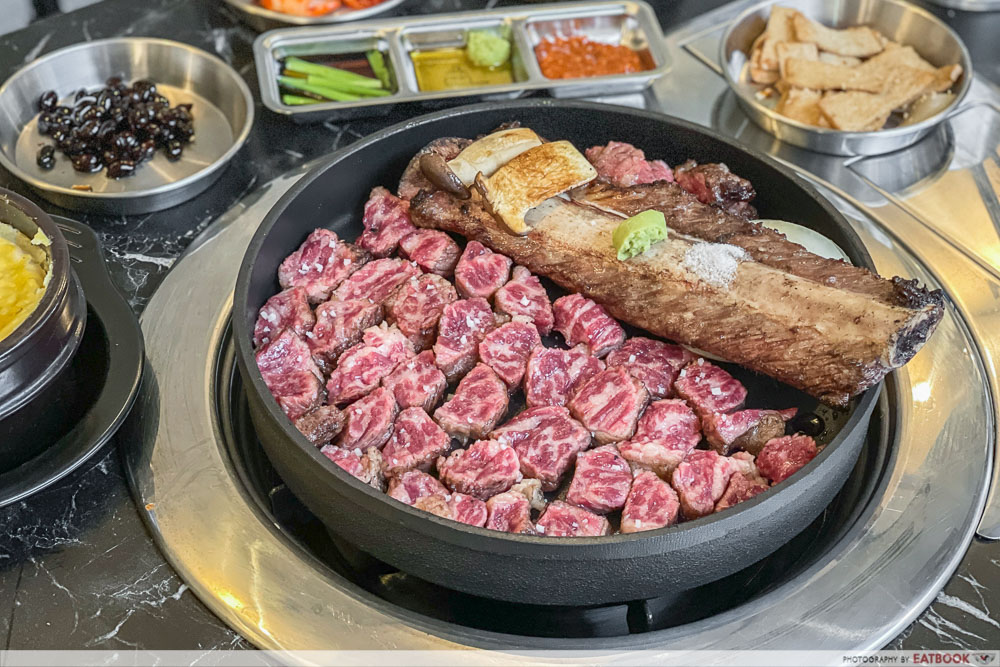 Get your late-night K-BBQ cravings sorted at Fav.grillbar, an Outram Park Korean food joint that opens till 12am. The restaurant wowed us with their unique selection of banchan and their Fav Set ($98+), which feeds two to three with tender, charcoal-grilled short ribs sliced into bite-sized pieces at the table.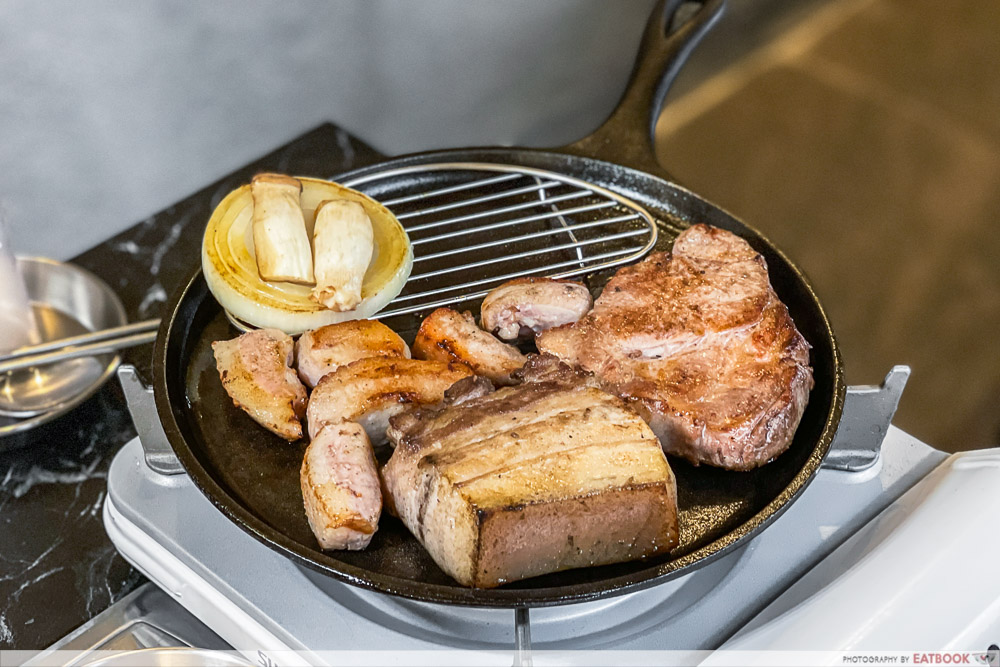 If you're Team Pork, then the Pork Set ($65+) should please, with its trio of pork belly, jowl, and collar. 
Read our Fav.Grillbar review.
Address: 63 Neil Road, Singapore 088896
Opening hours: Mon-Sat 5pm to 12am
Tel: 8922 8513
Website
Fav.grillbar is not a halal-certified eatery.
Fav.grillbar Review: New KBBQ Bar Opens Till 12AM, Serves Tender Beef Short Ribs And Free Steam Egg
---
14. September Coffee
---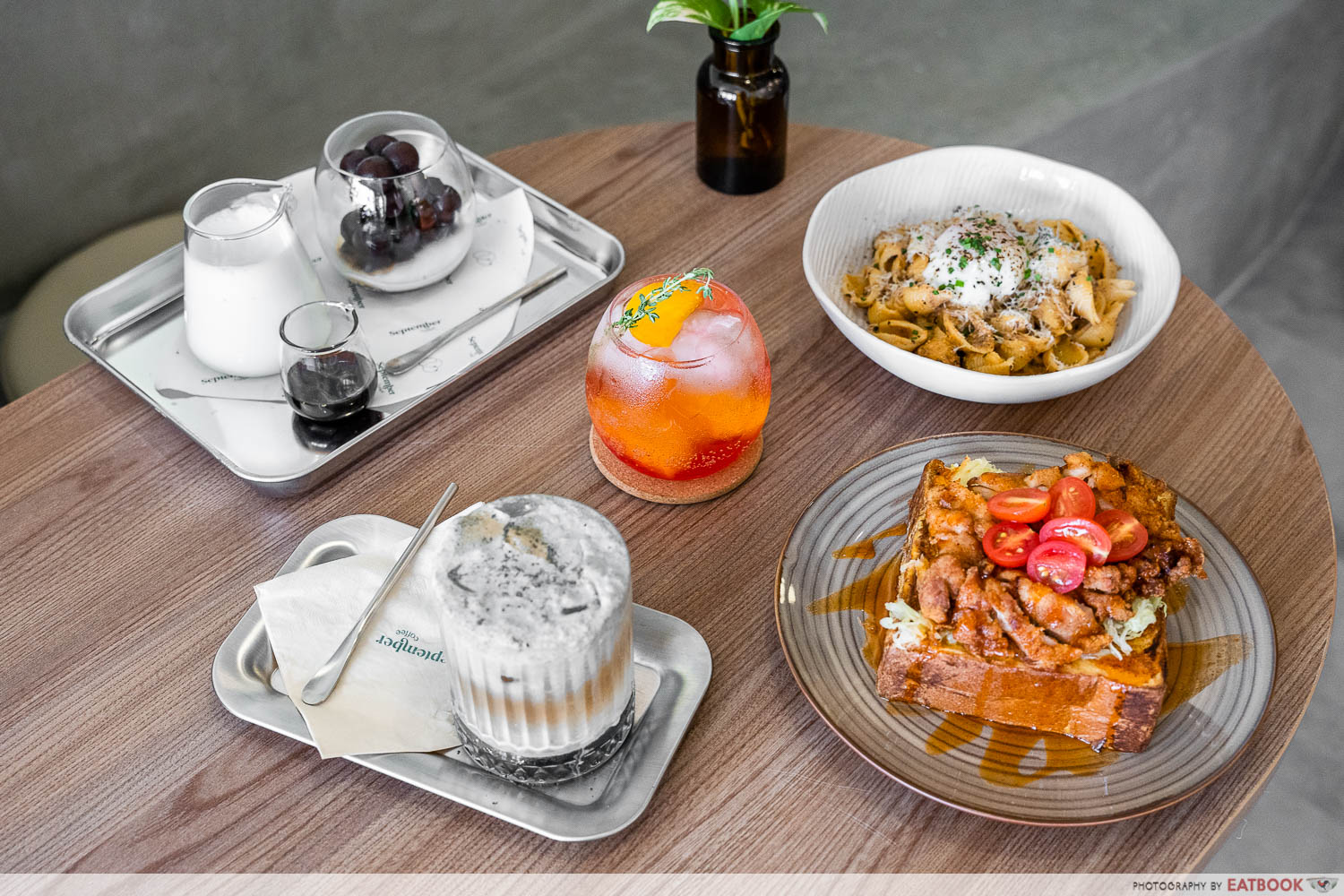 September Coffee became a bit of a TikTok sensation when it first opened. Though they brand themselves as a cafe, the eatery also does lunch and dinner, beyond just standard brunch bites. The Beef Ragu ($20++) is worth the trip down—one gets Conchiglie pasta, AKA large pasta shells, tossed in an unctuous beef ragu sauce, topped with an onsen egg.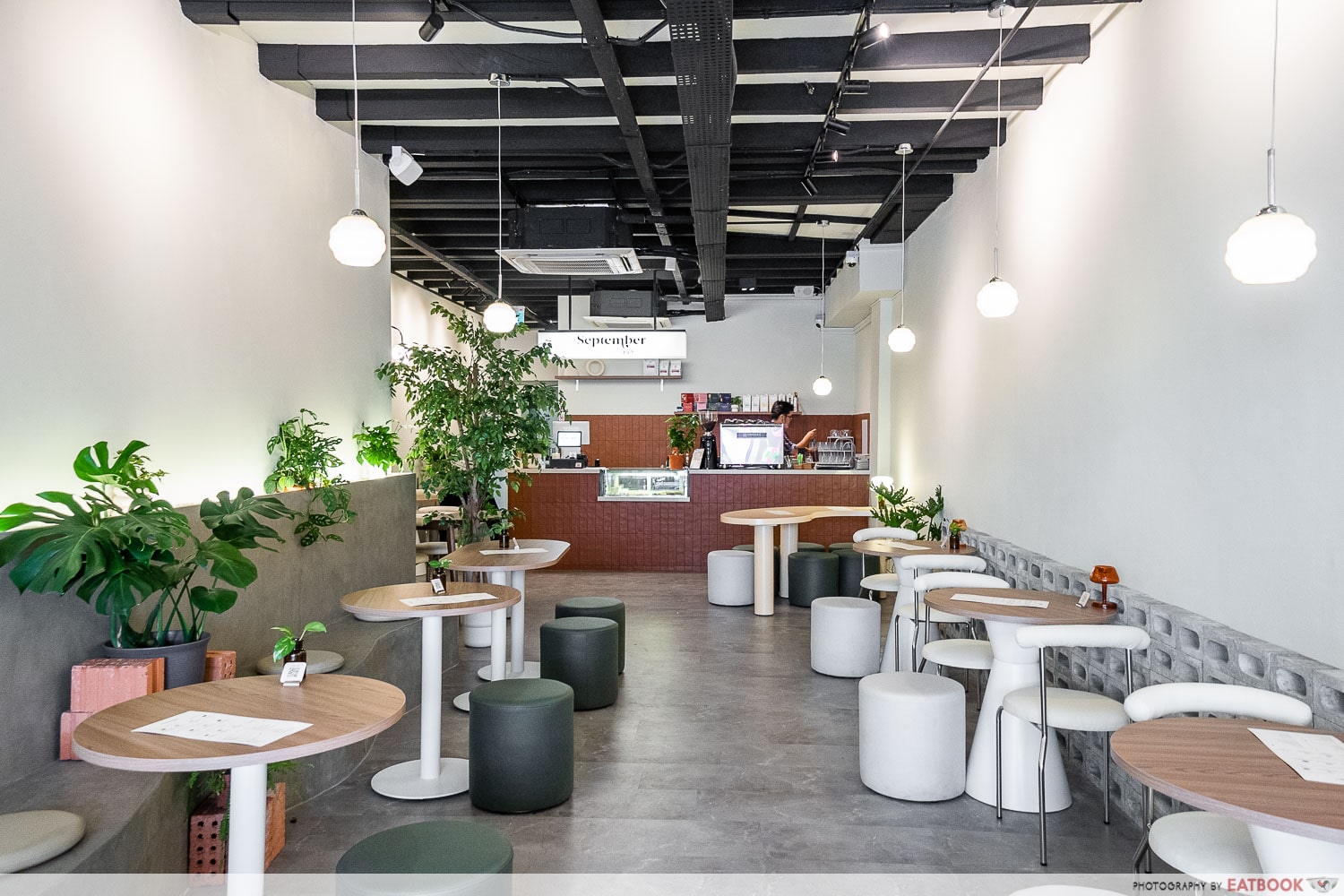 If you'd just like to come by for coffee, the Iced Black Sesame Latte ($8++) is a must; it's an addictive mix of goma cream with a milky latte.
Read our September Coffee review.
Address: 258 South Bridge Road, #01-01, Singapore 058807
Opening hours: Tue-Thu 11am to 9pm, Fri 11am to 10pm, Sat 10am to 11pm, Sun 10am to 9pm
Website
September Coffee is not a halal-certified eatery.
September Coffee Review: Minimalistic Cafe With Fried Chicken French Toast And Sesame Latte In Chinatown
---
15. NBCB 
---
Tongue in cheek eatery NBCB first opened in Orchard Central selling affordable gourmet cheeseburgers. They've since expanded to i12 Katong, bringing with them all their classic menu items so Easties can enjoy the same fare.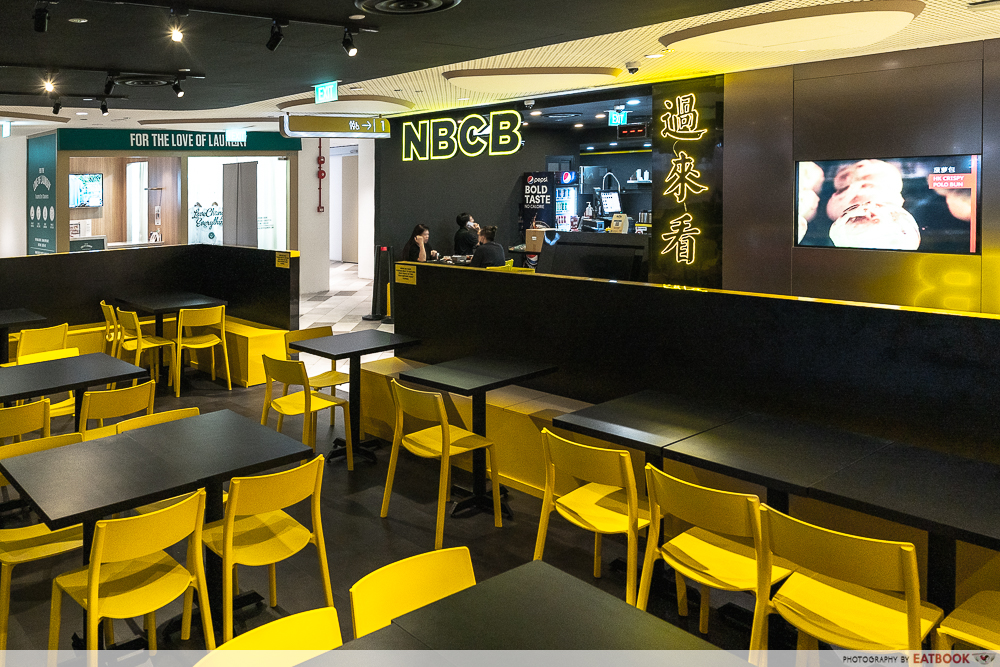 Prices start at $8.90 for their single patty beef and chicken burgers and go up to $15.90 for their DCB, or double cheeseburger. All of the burgs come with a moreish secret sauce and fresh greens.
Read our NBCB review.
Address: 112 East Coast Road, #01-17, i12 Katong, Singapore 428802
Opening hours: Daily 11:30am to 9pm
Tel: 8872 0160
Website
NBCB Review: $8.90 Brioche Burgers, Horlicks Milkshake And More In Katong
---
16. Wooly's Bagels
---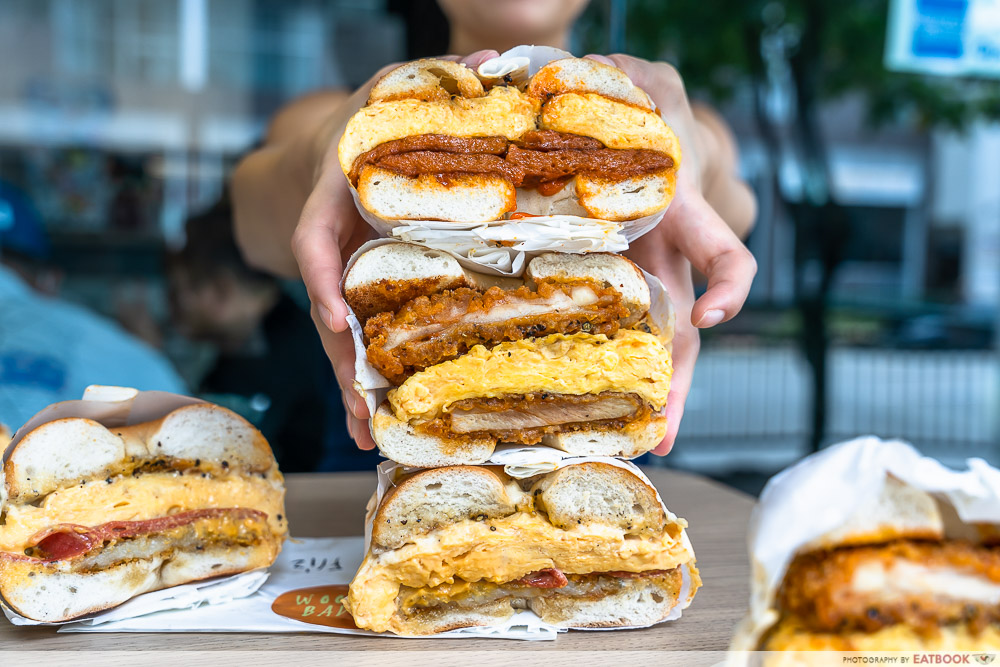 Another bagelry for the books is Wooly's Bagels, located at Farrer Park's City Square Mall. The Muslim-owned eatery has a number of inventive bagel flavours, from the Double Chicken Frizzle ($13.90), which tastes akin to a McSpicy, to the Bagel S'MORE ($7.90), a sweet, gooey stack of melted marshmallows and Nutella. Waiting times can be a tad long when it gets busy; there were only two people working in the kitchen when we visited.
Read our Wooly's Bagels review.
Address: 89 Rangoon Road, #01-03, Singapore 218375
Opening hours: Daily 11am to 8pm
Website
Wooly's Bagels is not halal-certified, but uses halal-certified ingredients.
Wooly's Bagels Review: Loaded Otah And S'mores Bagel Sandwiches Near Farrer Park
---
17. Alley on 25 
---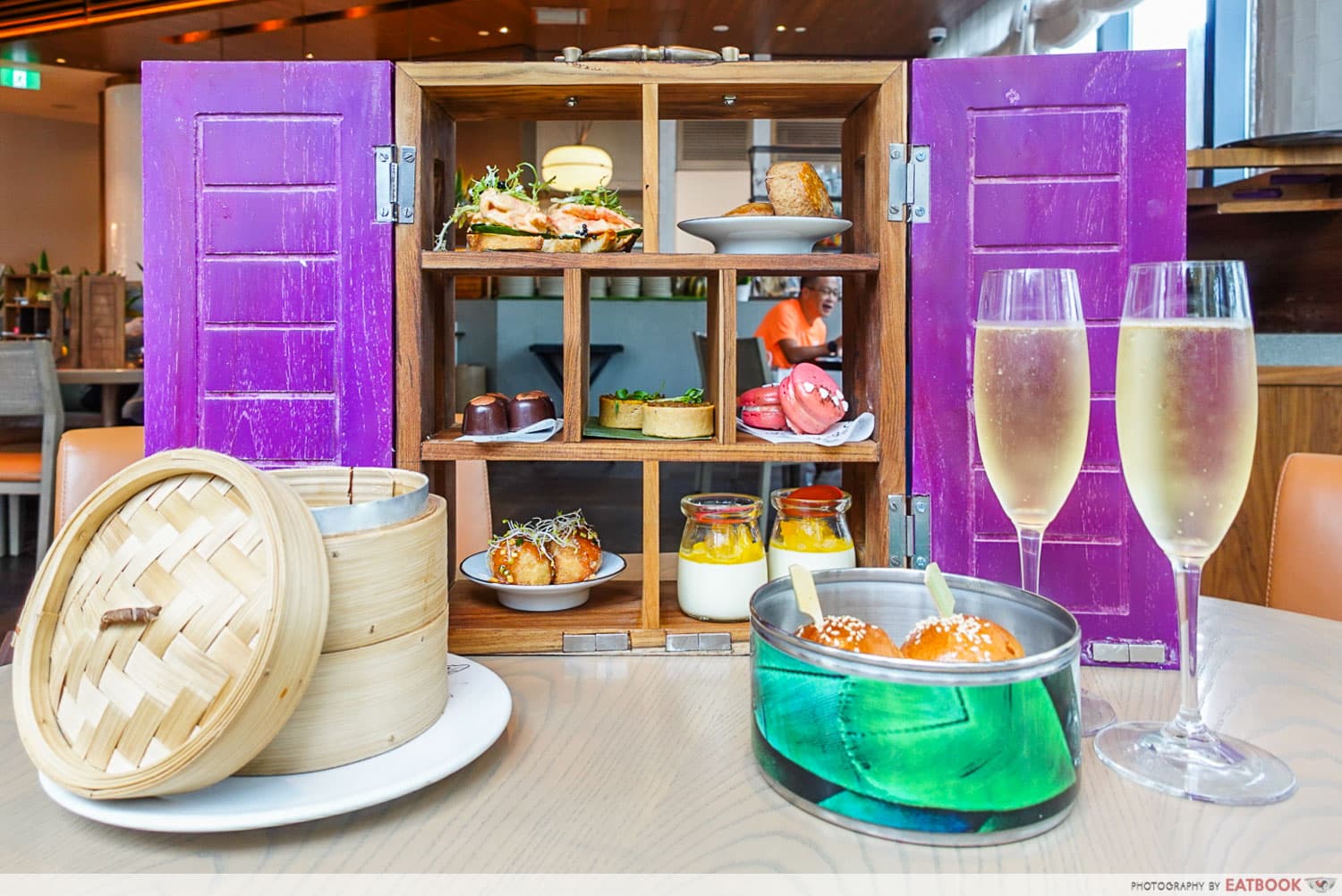 Andaz Singapore is back with a new high tea concept, Kampong Glam Afternoon Tea ($55++), with treats inspired by the hipster neighbourhood. Held on the hotel's 25th level every day from 3pm to 5pm, the afternoon tea features sweet and savoury treats with a local twist, including the Sambal Prawn Sandwich with Avruga caviar, and the deep-fried Hainanese Chicken Arancini with spicy cucumber salsa. There's also the Spiced Dark Chocolate Bon and Sumac Strawberry Macaron to satisfy your sweet tooth.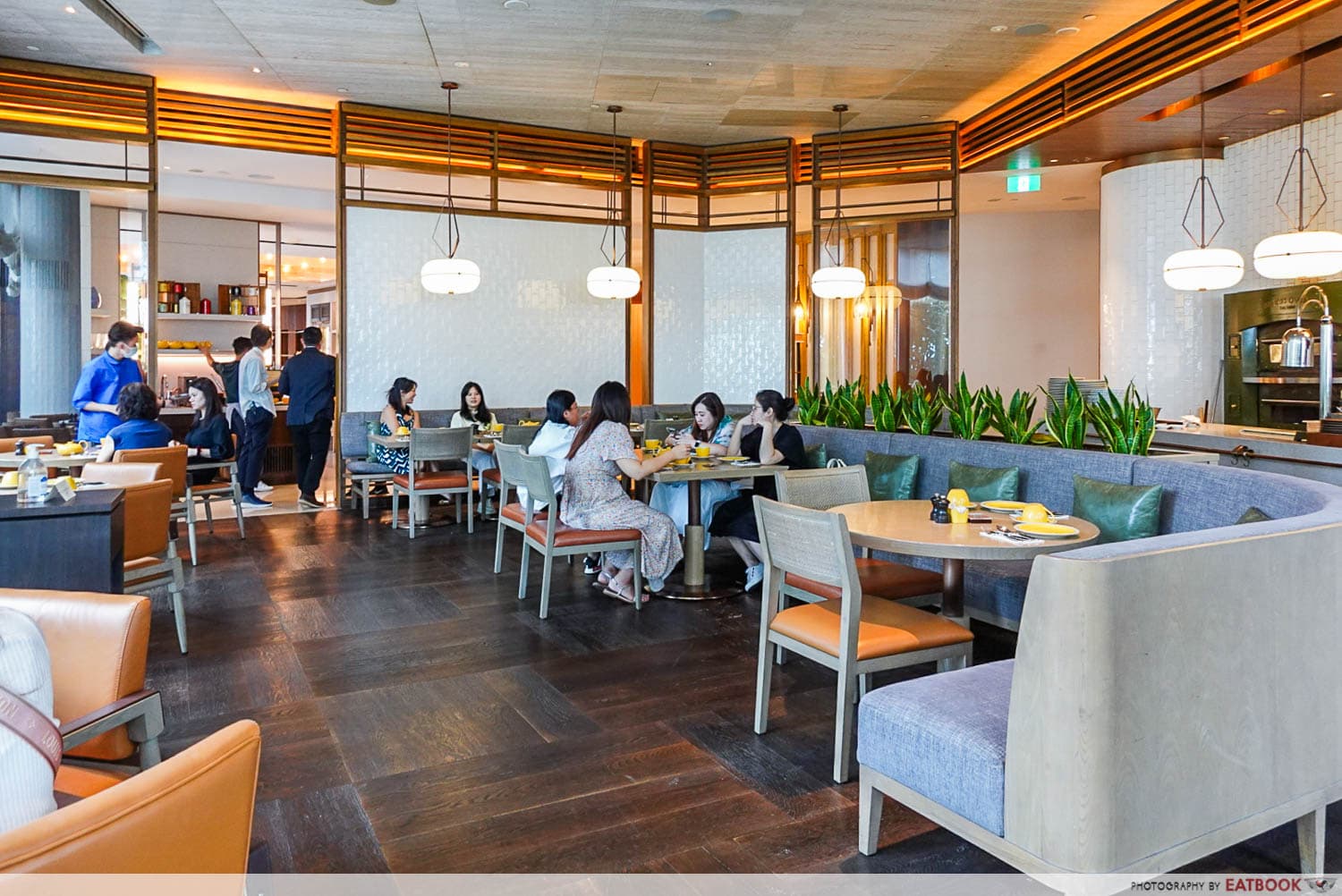 Free-flow coffee, TWG Tea, and teh halia are also available, as well as champagne, which you can enjoy at an additional $26++ per glass.
Address: 5 Fraser Street, Level 25, Singapore 189354
Opening hours: Daily 7am to 10:30pm
Tel: 6408 1288
Website
Alley on 25 is not a halal-certified eatery.
---
18. Kakushin
---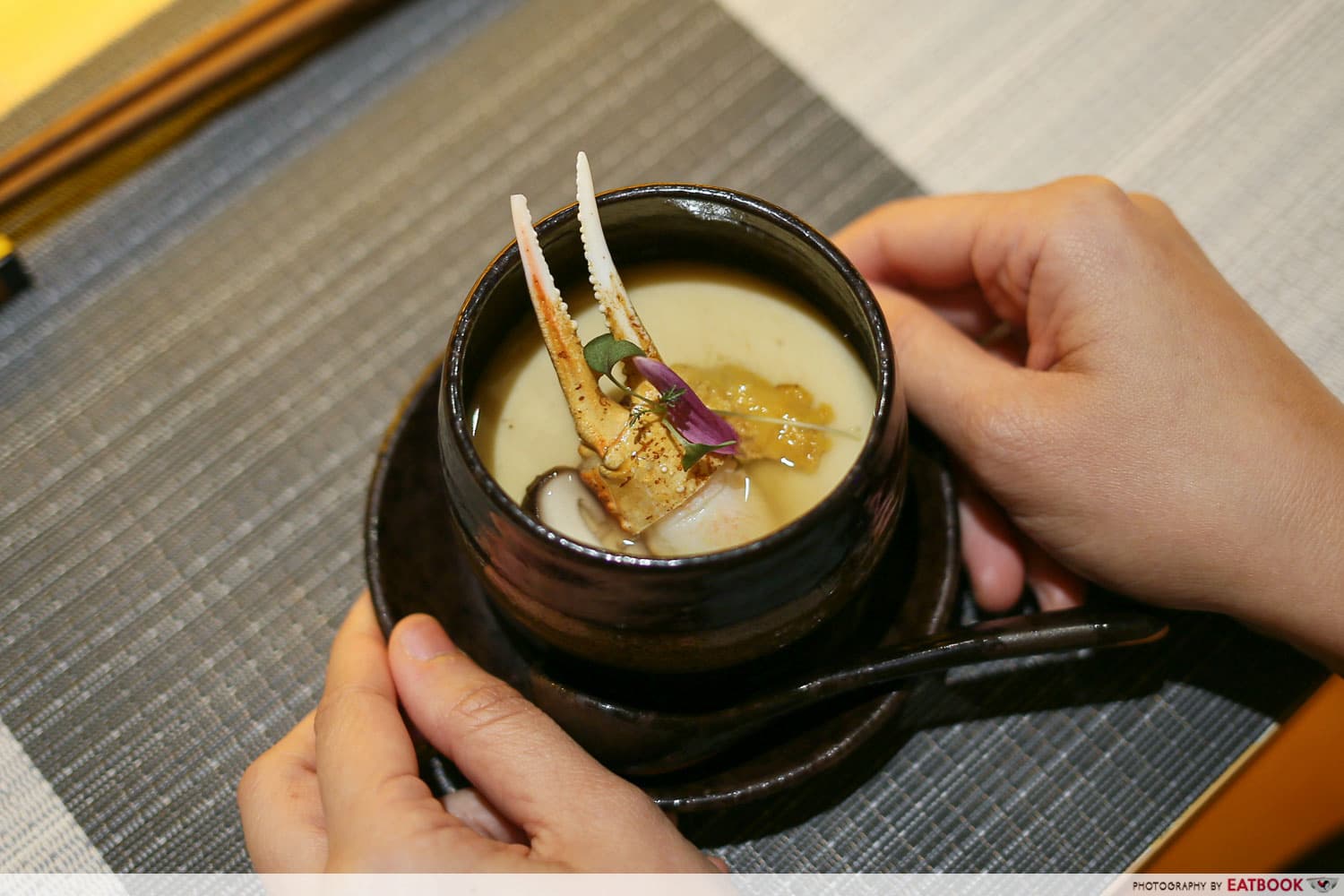 If you're planning to celebrate a special occasion, bookmark Kakushin. This newly opened omakase restaurant in Scotts Square is helmed by Chef Chan, who has cut his teeth at famous Japanese restaurants including Tatsu Sushi. Go all out and splurge on the omakase lunch ($228++) or dinner ($328++). The latter is an eight-course bonanza with decadent highlights such as Chargrilled A5 Kagoshima Wagyu with Truffle Balsamic Sauce and Snow Crab with Uni Chawanmushi. It also includes a premium selection of seasonal sashimi and nigiri sushi that's painstakingly prepared by hand, piece by piece.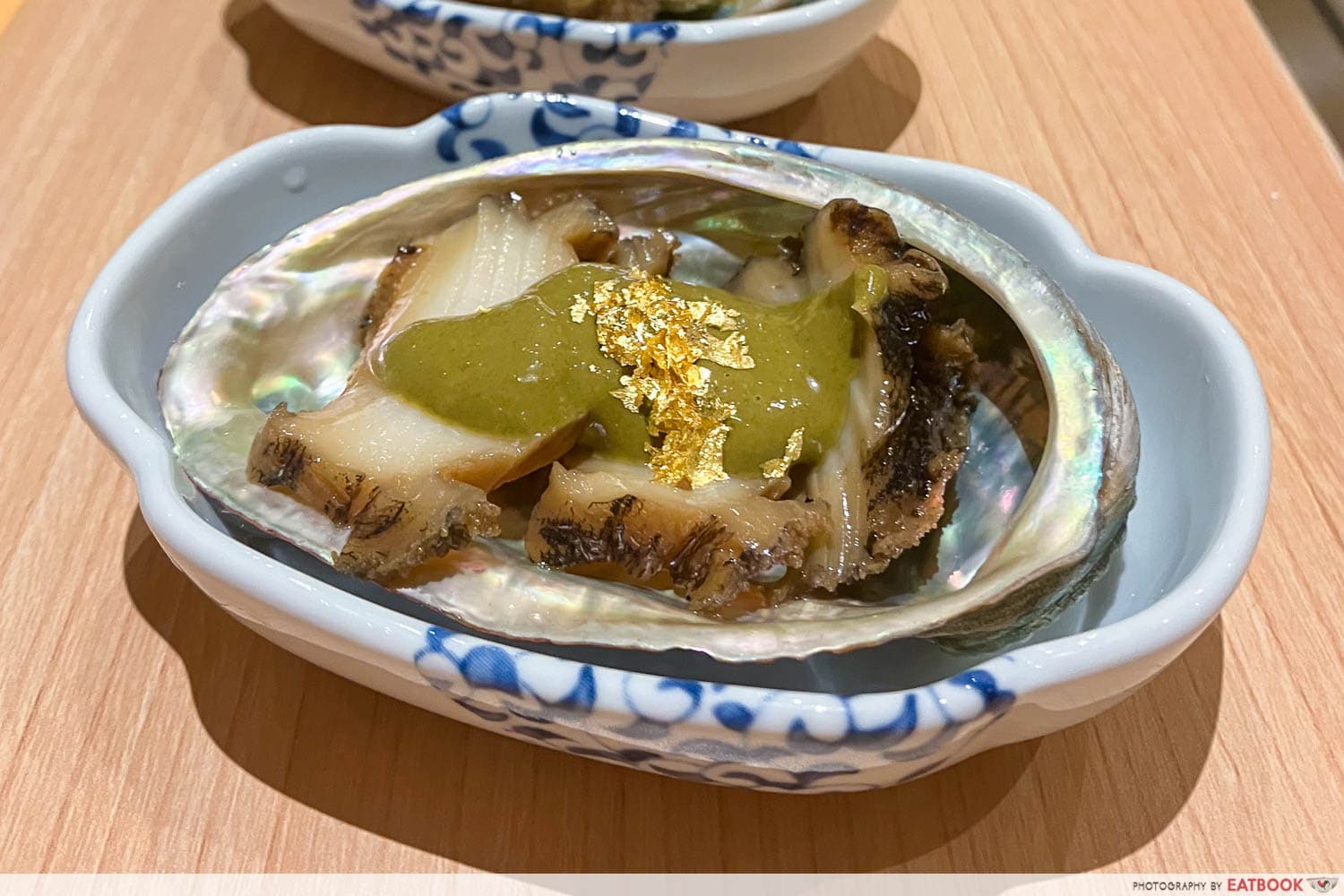 The ingredients, which are all of top-notch quality, are directly flown in from popular markets in Japan, such as Toyosu Market. If you're on a tighter budget, try their a la carte lunch items instead, with more wallet-friendly items including the Unagi with Anago Don ($36++): grilled freshwater eel and sea eel atop rice, in the restaurant's signature sauce.
Address: 6 Scotts Road, #02-03, Scotts Square, Singapore 228209
Opening hours: Tue-Sun 11:30am to 3pm, 6pm to 10pm
Tel: 9759 2338
Website
Kakushin is not a halal-certified eatery.
---
19. Kozen Sushi Bar
---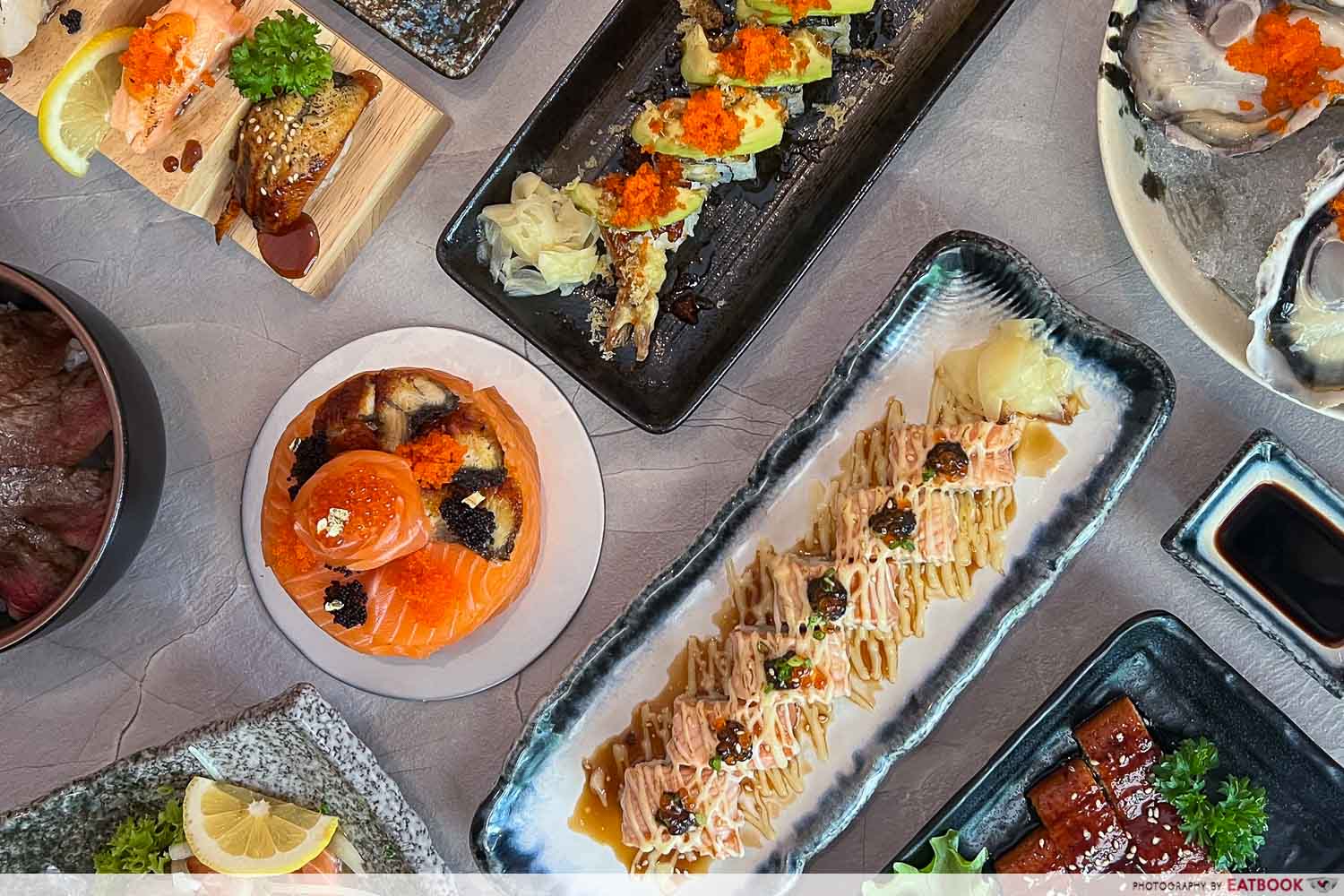 Kozen Sushi Bar in Farrer Park's Flanders Square offers unique maki rolls, fresh sashimi, and sushi cakes guaranteed to wow. We highly recommend sharing the Kozen Sashimi Set ($50.80++) to start, which comes with a platter brimming with lean and fatty cuts of red and white fish, as well as other seafood.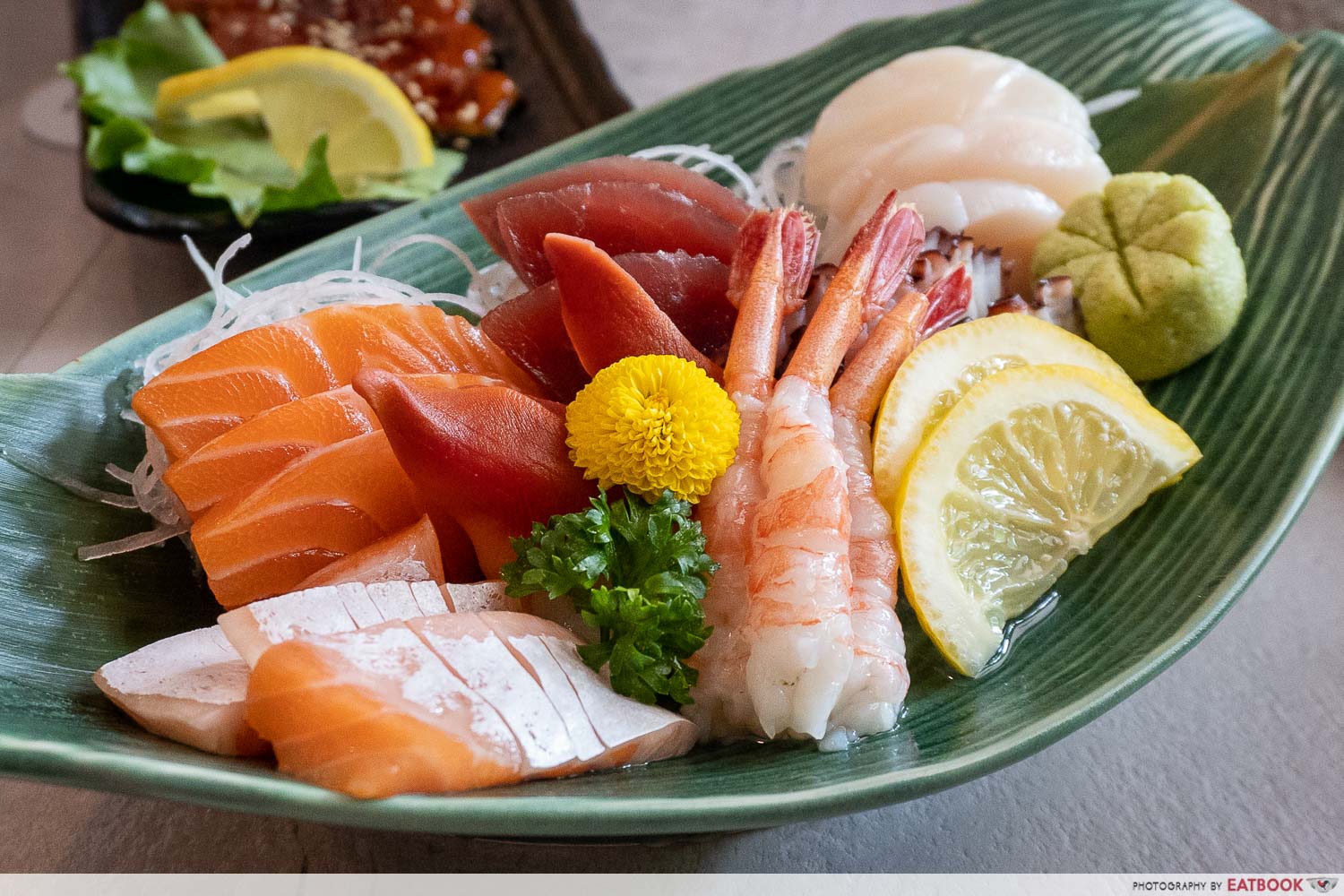 If you want to get unconventional, order any of their Mini Sushi Cakes instead, priced at $27.50++. Each comprises a salmon base dressed with luxurious toppings, from scallops to ikura pearls. There's plenty to pick from on the maki roll front, whether it be the classic flavour combo offered by the Unagi Avocado Roll ($22.90++) or the indulgent Black Truffle Foie Gras Roll ($30.50++).
Address: 22 Flanders Square, Singapore 209306
Opening hours: Wed-Mon 12pm to 3pm, 5pm to 10pm
Tel: 6816 0253
Website
Kozen Sushi Bar is not a halal-certified eatery
---
20. Leckerbaer
---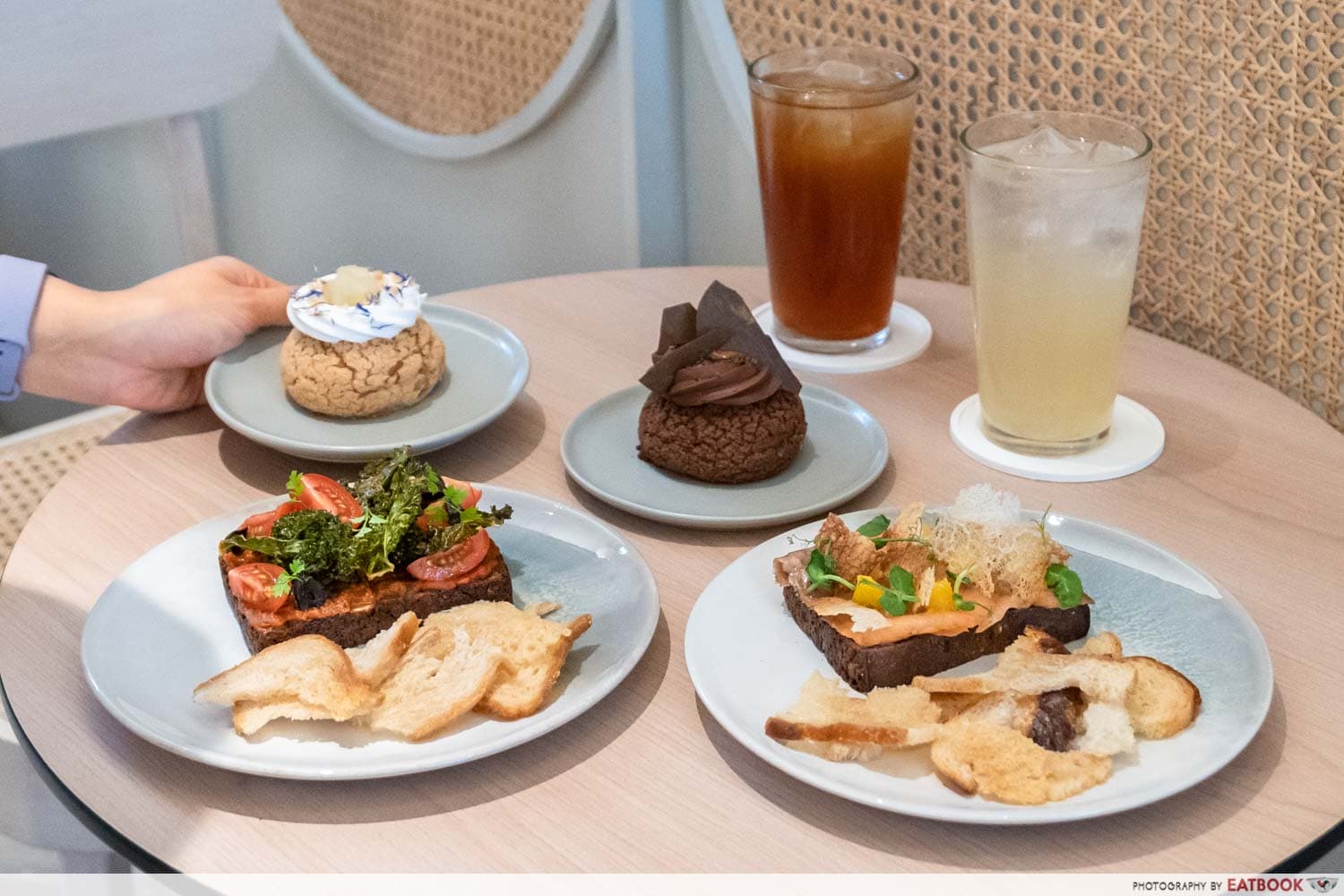 Leckerbaer is already known for their quaint and artisanal Småkager butter cookies, but since opening their first overseas shop in Singapore in 2020, they have added new mainstays to the menu. This includes choux cream puffs, tarts, bottled desserts, and open-faced sandwiches.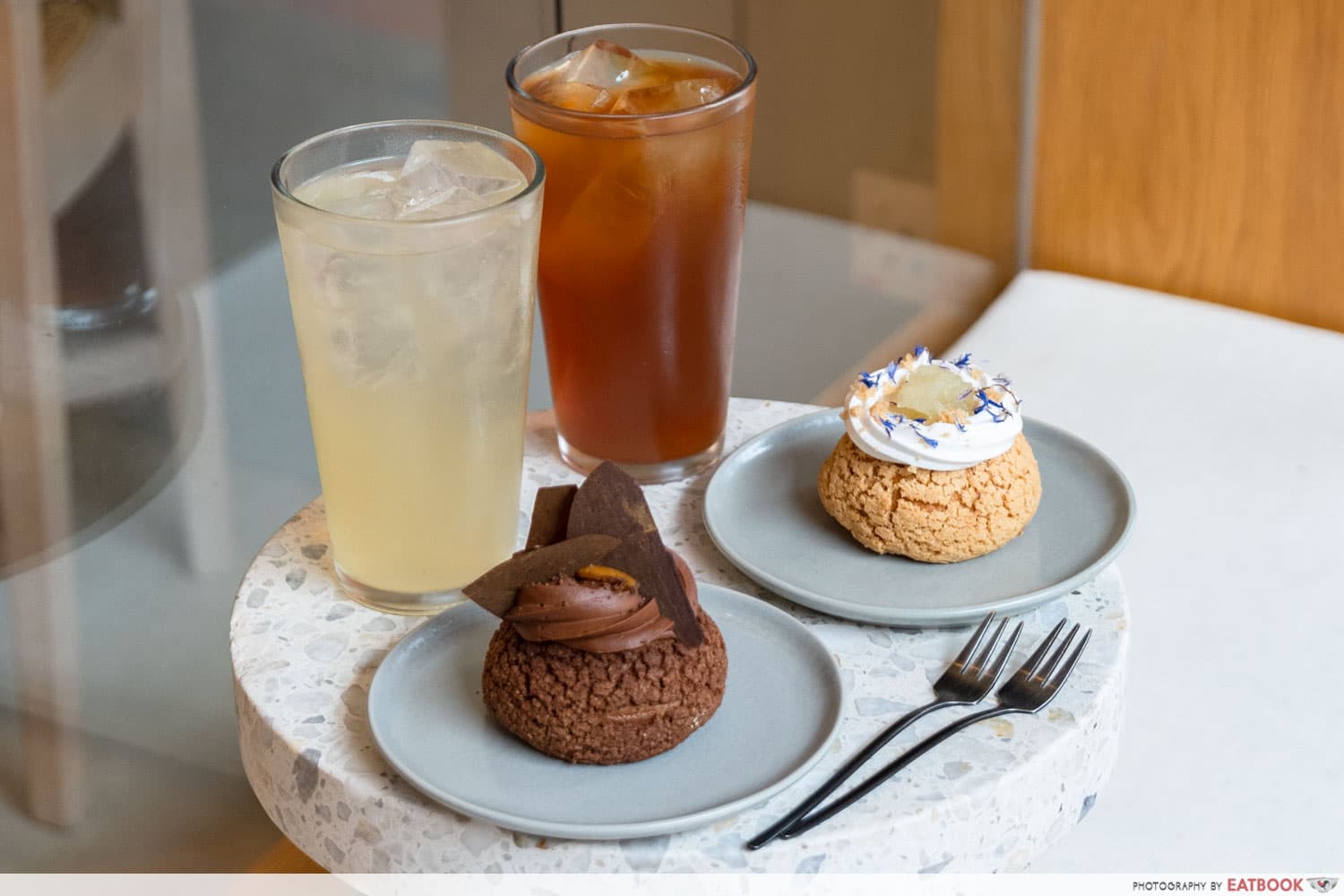 Exclusive to the Keong Saik outlet, Leckerbaer offers savoury and healthy bites such as the Tapenade & Kale Chips sandwich ($13.50++) that's tangy and flavourful from tomatoes, black garlic, and crispy kale atop a piece of seedy rye bread. End the meal on a sweet note with either the decadent Choco Cream Puff or the lightly flavoured Apple Pie Cream Puff, both priced at $8.50++.
Address: 14 Keong Saik Road, Singapore 089121
Opening hours: Mon-Thurs 10am to 10pm, Fri 10am to 11:30pm, Sat 12pm to 11:30pm, Sun 12pm to 10pm
Tel: 6223 3053
Website
Leckerbaer: Famous Danish Confectionery Opens In Singapore With IG-Worthy Desserts From $2.80
---
21. Revolver
---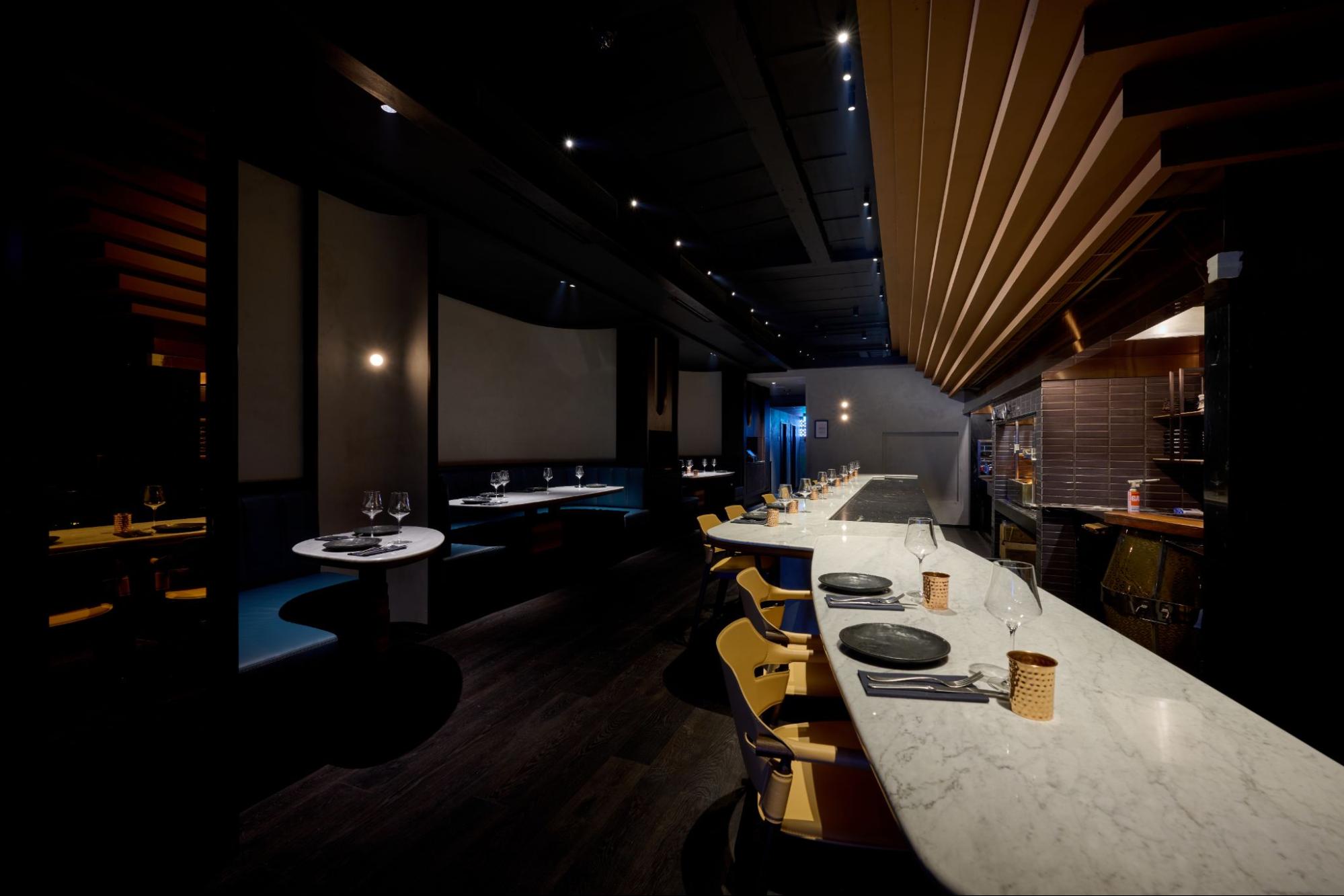 Image credit: @revolver_sg
Contemporary Indian grill restaurant Revolver celebrates its first year with the Full Calibre Menu, a series of sharing plates that will be available as add-ons to their tasting menus (from $99++) from October.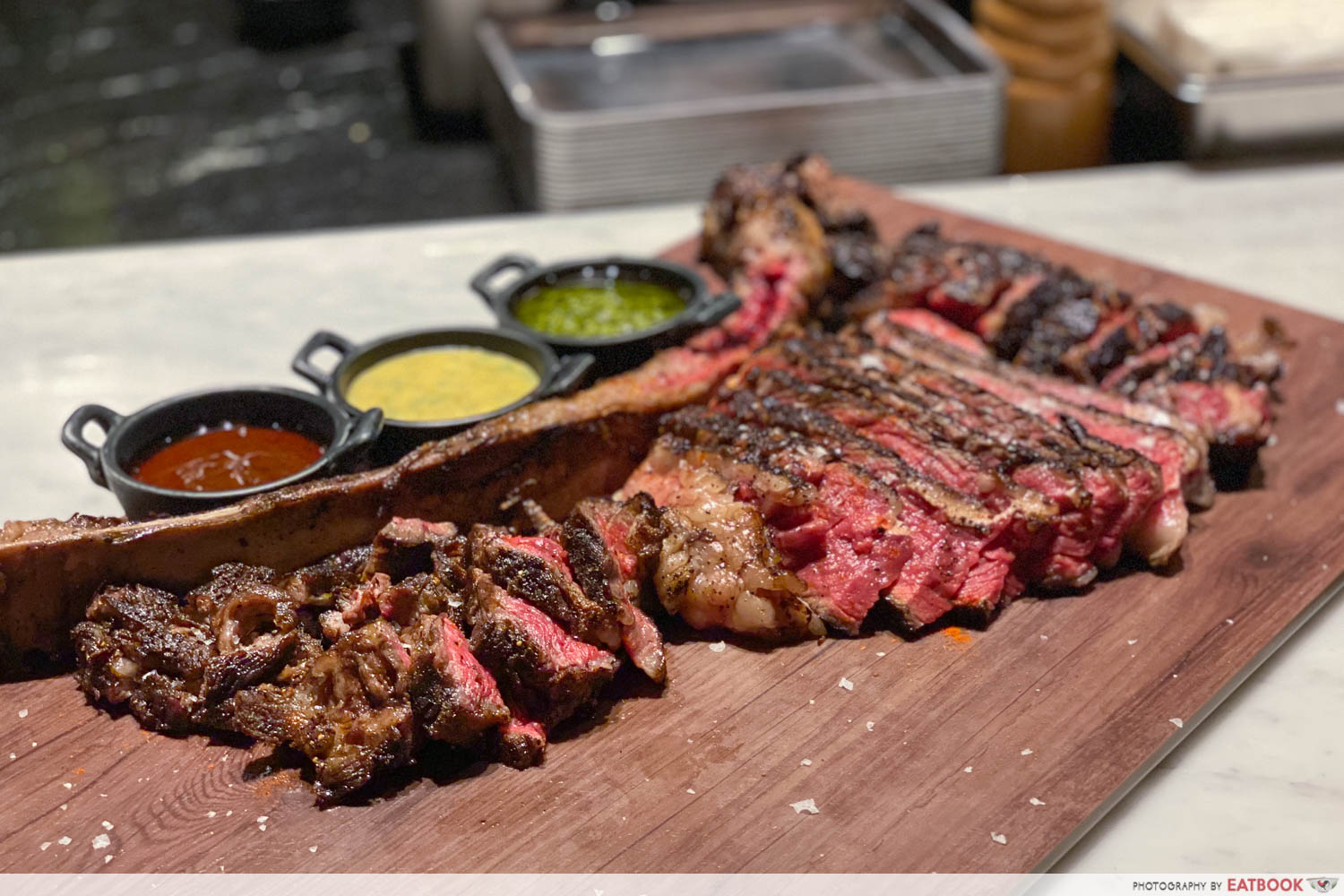 Good for up to four diners, there's a whole Corsican Sea Bass with Coriander & Dill, Alaskan King Crab Pepper Fry, and a massive Margaret River Tomahawk with ABC Sauce, charred to a perfect medium-rare over the open grill. Prices are unavailable at this time.
Address: 56 Tras Street, Singapore 078995
Opening hours: Wed 6pm to 12am, Thurs-Sun 11:45am to 2:30pm, 6pm to 12am
Tel: 6223 2812
Website
Revolver is not a halal-certified eatery
---
22. Keef the Beef
---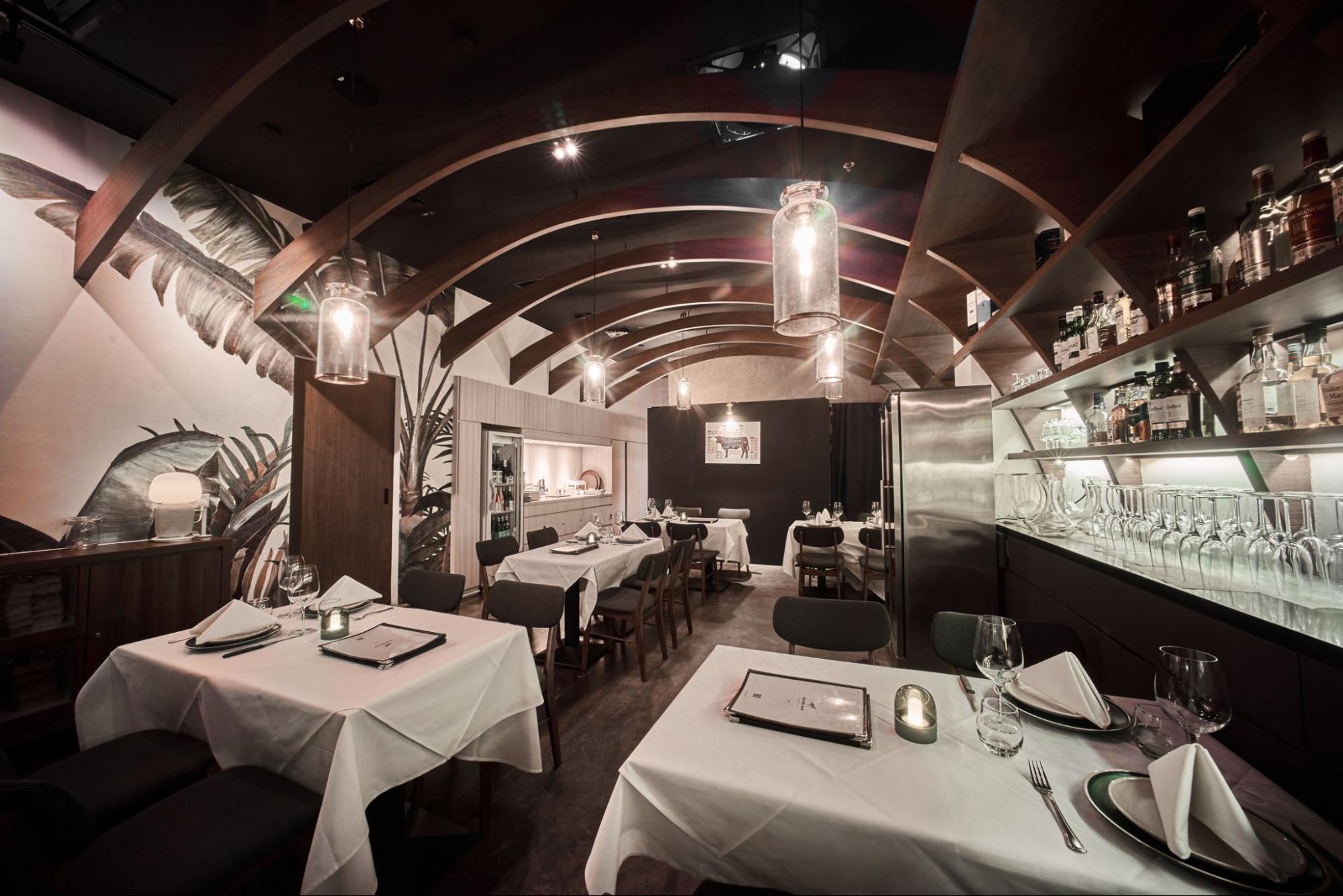 Image credit: @keefthebeefsg
Local steakhouse Keef the Beef first began just before the COVID-19 Circuit Breakers as a delivery-only service operated by steak fanatic Keith Wong, and his wife Jeanne. Their restaurant at the Grandstand in Turf City has a steady crowd of regulars, many of whom love hosting family functions in the Netflix-equipped private rooms.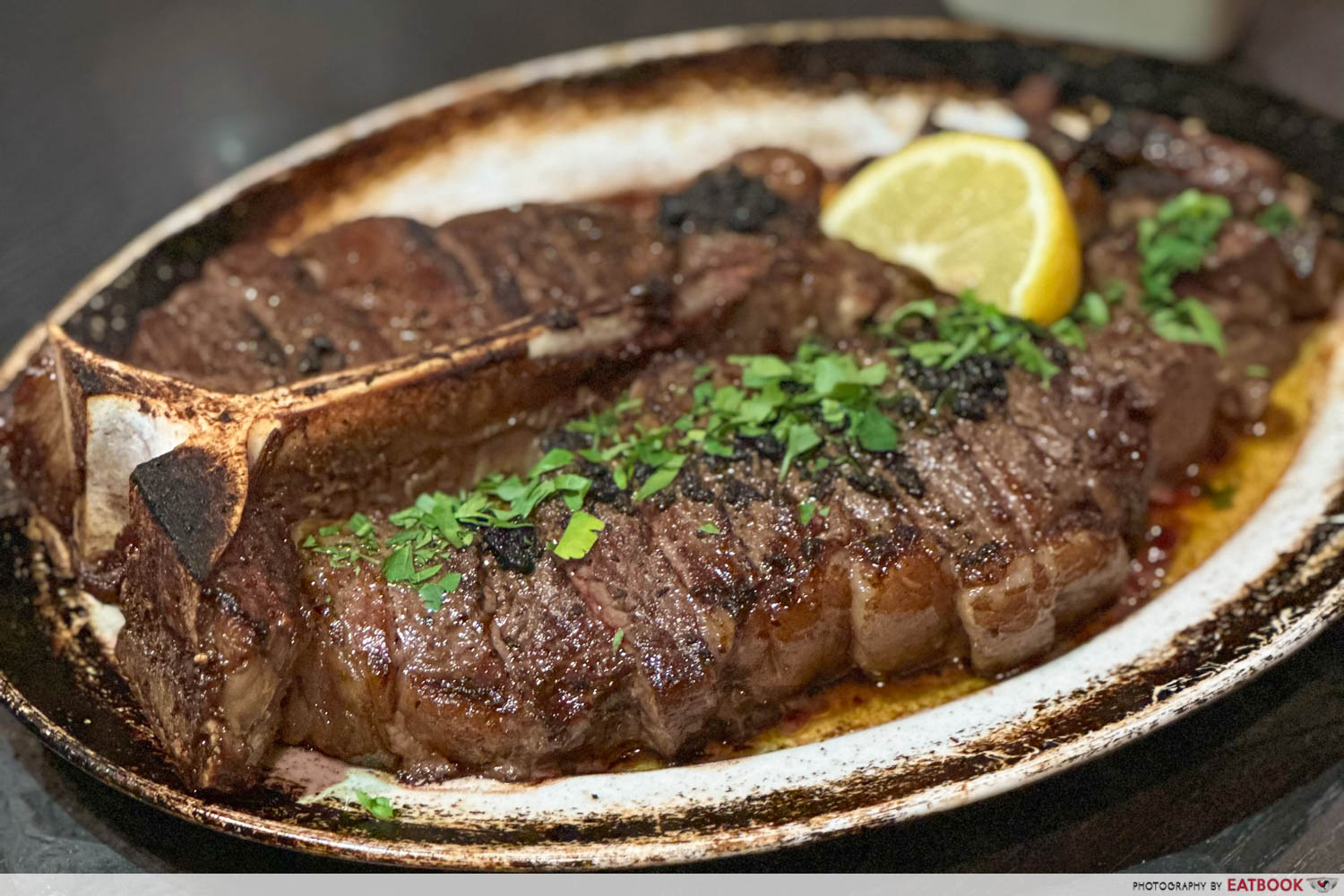 One of Keith's favourite steakhouses in the world is Peter Luger in Brooklyn, New York━The PL (from $119++) is his spin on it, and comes bubbling in a butter-based sauce, fresh out of a 1000˚F Salamander. Pair this with Bone Marrow ($29++ for three pieces) and finish this starter off with a Marrow Waterfall ($8++), AKA a shot of whisky poured down the bone into your mouth.
Address: 200 Turf Club Road, #01-12, The Grandstand, Singapore 287994
Opening hours: Sun-Mon, Wed-Thurs 11:30am to 3pm, 5pm to 11pm, Tue 5pm to 11pm, Fri-Sat 11:30am to 3pm, 5pm to 12am
Tel: 6972 1582
Website
Keef the Beef is not a halal-certified eatery
---
23. OMMA Korean Charcoal BBQ
---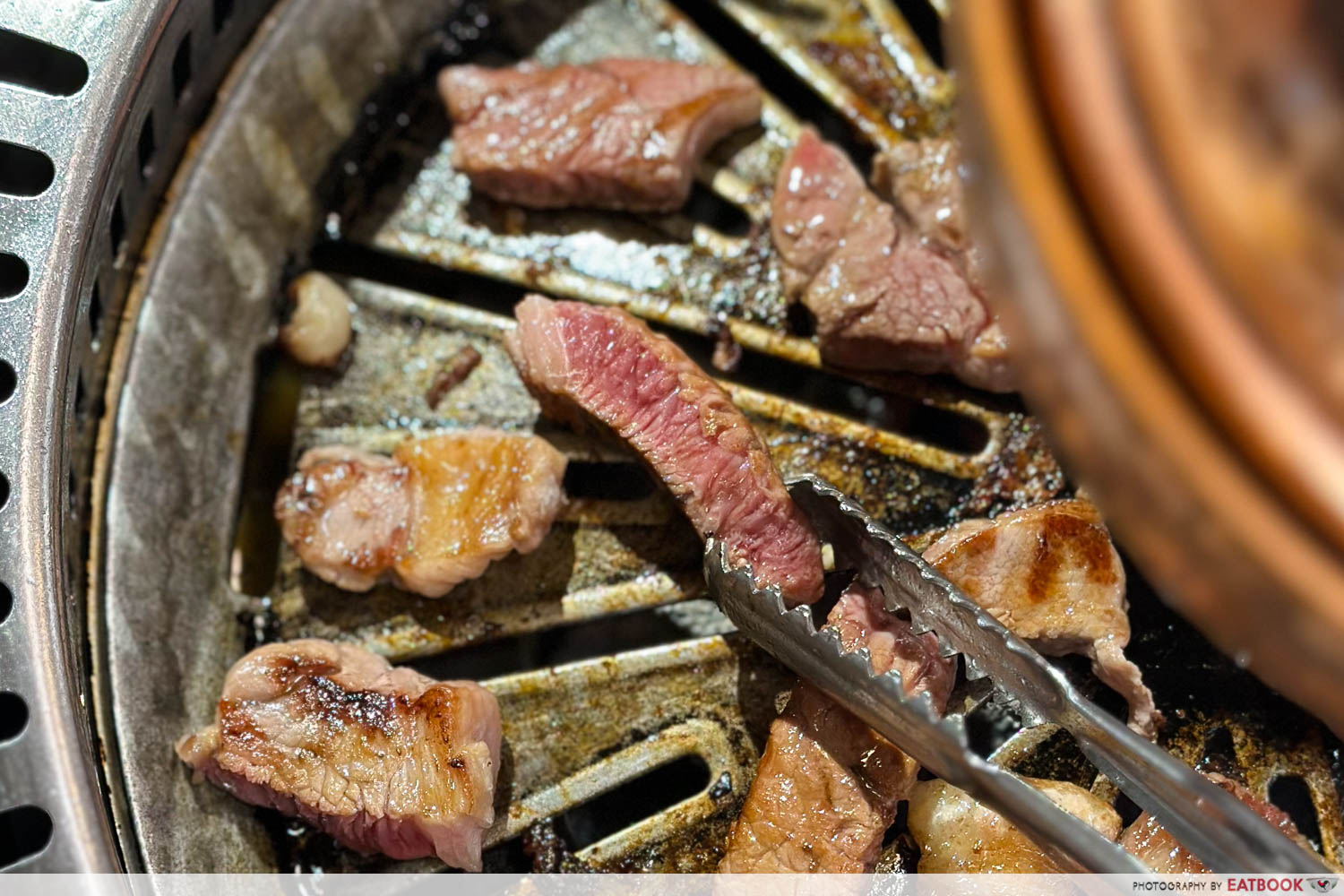 New to OMMA Korean Charcoal BBQ is Lumina Lamb ($49++), a free-range, grass-fed breed that thrives on chicory herb pastures. The sustainably farmed meat is also antibiotic- and GMO-free, harvested from animals that are kept happy and stress-free, to produce an extra-tender, non-gamy finish.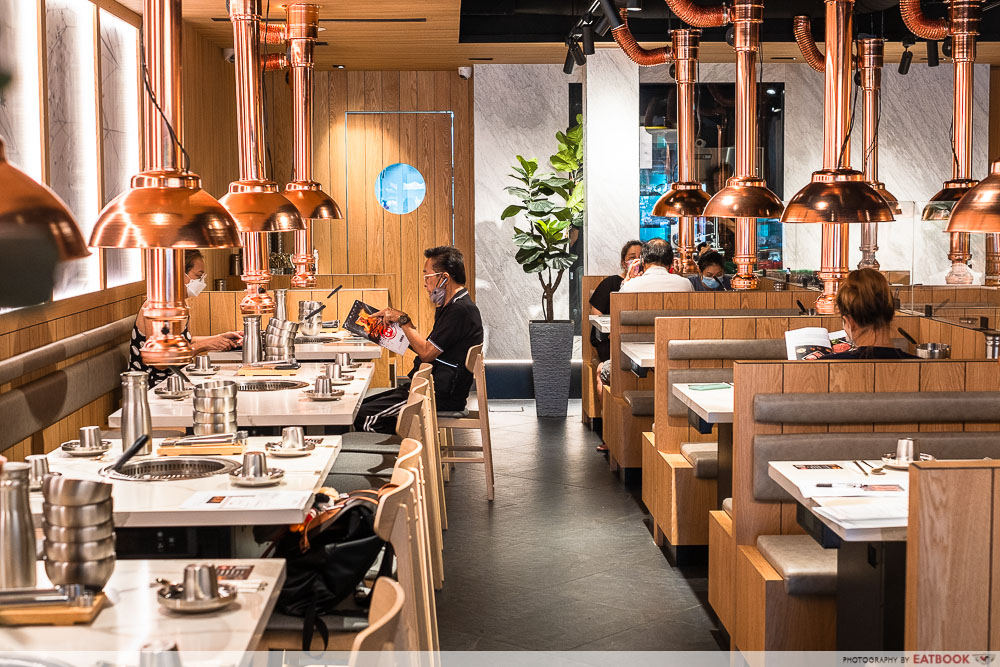 Enjoy this alongside more than 60 a la carte options on the menu here, with prices starting from $8.80++. Whichever your choice of meat, you'll get to grill them on one of five specially selected woods: applewood, cherry, pecan, hickory, and jarrah, to best complement the barbecue.
---
24. Gyusan
---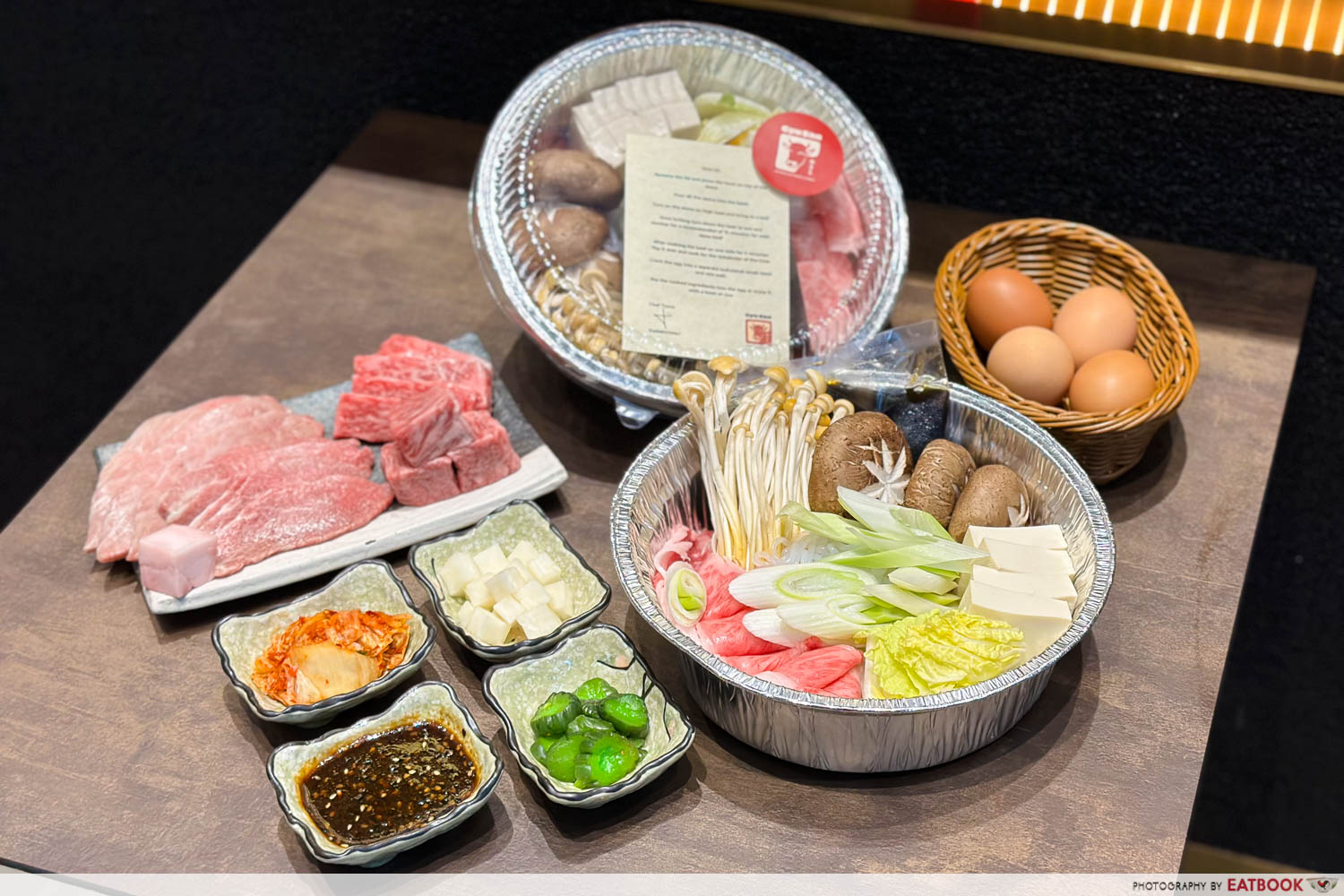 We recently paid a visit to Gyu San in Guoco Towers, Tanjong Pagar, to try their premium A5 Wagyu sandos. Now, the Wagyu specialist butchery has launched take-home sets for sukiyaki and yakiniku, starring Kamichiku 4% Miracle Gyu. If you're wondering why 4% Miracle, it's because this particular beef is the top 4% of A5 Kamichiku Wagyu bred only by 12 licensed farmers in Japan. To be more precise, only 28% of the beef they produce is certified A5, and this is the creme de la creme of that crop.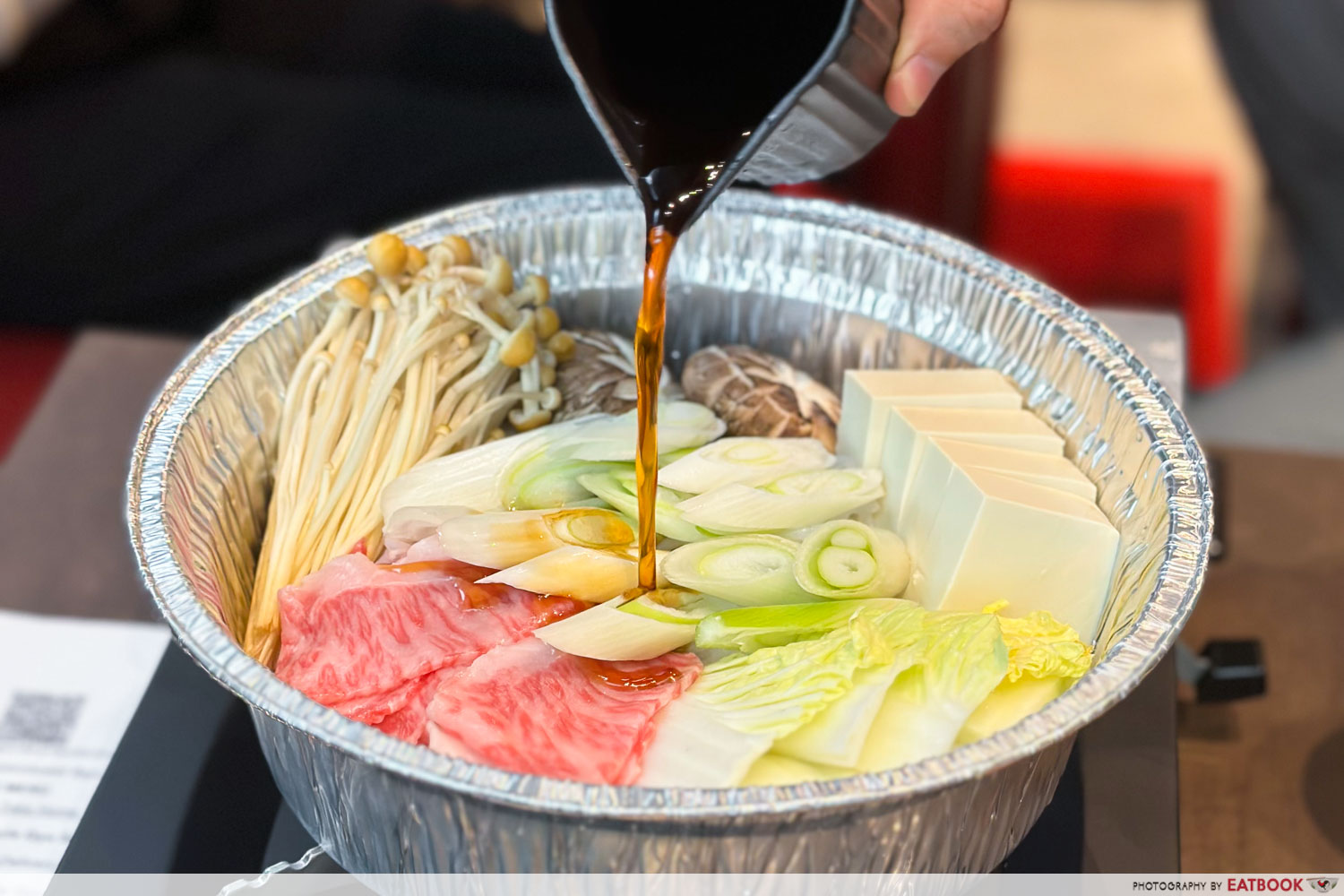 The Kamichiku 4% Miracle Gyu Sukiyaki Set, good for two to four, is priced at $88+ for self pick-up, or $98+ inclusive of delivery. This comes with 350g of the beef, a house-made sukiyaki tare, Napa cabbage, assorted mushrooms, shirataki, tofu, negi, and four fresh Japanese eggs that you can dip the beef into. 
Address: 7 Wallich Street, #01-03, Guoco Tower, Singapore 078884
Opening hours: Daily 11:30 am to 9pm
Website
Gyu San is not a halal-certified eatery
---
New restaurants and cafes in Singapore for October 2022
---
Check out all these new restaurants and cafes in Singapore for October 2022. For more eats, check out our Ah Gong Minced Pork Noodle review and Al Mahboob Rojak review.