---
Geylang Supper? Try Lunch Instead
---
We've all seen the Geylang Supper guides featuring 126 Dim Sum and the like. But there's a whole unchartered territory that hasn't been covered – lunch time in the red light district. Compared to the bustling scene at night, Geylang is an absolutely ghost town in the day. Here's a guide for people who want to explore this treasure trove of local food haunts that is Geylang but don't want to squeeze through the insane crowds at night.
---
1. Penang Seafood Restaurant
---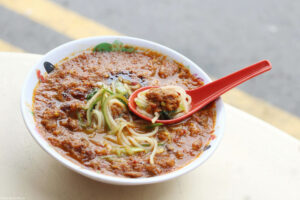 Thinking of a weekend trip to Penang to pig out on their amazing hawker fare? Save the airfare for a rainy day and head down to this unassuming Penang food haven behind Aljunied MRT. Yes, you'll wonder what on earth you're doing standing outside a dodgy eatery that has laminated food pictures plastered to the grimy walls. But you won't regret coming here after you've tried their Assam Laksa ($5.20).
The tangy fish gravy starts off with an explosive burst of flavour and mellows into a mild heat that will leave you wanting more. The contrast of the potent shrimp paste, tender mackerel, crunchy cucumbers, refreshing pineapples and sour tamarind creates a wonderful equilibrium of flavours and textures that's quite difficult to achieve. This is easily the best Assam Laksa I've had in Singapore, and it's definitely comparable to the ones you get in Penang.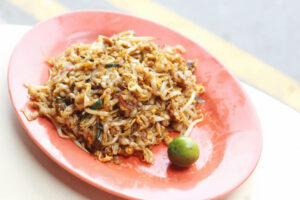 Their Penang Fried Kway Teow ($5), also impresses with silky smooth noodles coated in fragrant lard and an aromatic wok hei. Tossed together with an abundance of fresh bean sprouts, Chinese sausage, and cockles, this is a glorious plate of sin you wouldn't want to share.
Opening hours: Daily: 11am – 12am
Address: 76 Lor 25A Geylang, Singapore 388258
---
2. BBQ Box
---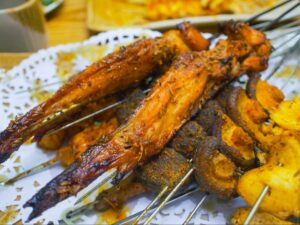 Source
If you're new to the world of Chinese barbecue skewers, there's no better place to get acquainted than BBQ Box. They offer a huge variety of meats from chicken wings to pork intestines and beef tendon. These meats are seasoned with a spicy Chinese spice rub, skewered, before they are grilled to perfection over a charcoal fire. Other classic skewers you shouldn't miss out on include Enoki, Mantous, Lamb, and Asparagus. Each skewer costs only $1 – $2, so feast away on these affordable Chinese satays and wash everything down with a bottle of Tsingtao!
Opening hours: Daily: 2pm – 2am
Address: 103 Geylang Road, Geylang Serai, Singapore 389212
---
3. Rochor Beancurd
---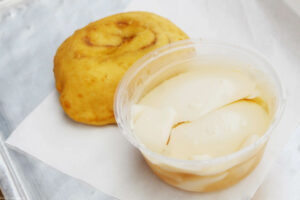 When it comes to tau huey, nothing tastes better than the old school version at Rochor Beancurd. It only costs $1.20, but the nostalgia and comfort that comes along with the warm silky beancurd is priceless. If you're greedy like us, grab a fluffy ham jing peng ($1) to go along with your tau huey, because what is life if you don't have some carbs with your tau huey? It's nothing compared to the Xi De Li ham jing peng we featured in our Clementi guide, but this is pretty decent too!
Opening hours: Daily: 24 hours
Address: 745 Geylang Rd, 389653
---
4. Leong Kee (Klang) Bak Kut Teh
---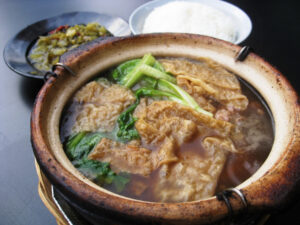 Source
There are two kinds of people in the world: people who love the peppery style of Teochew Bak Kut Teh, and people who love Malaysia's herbal version. If you're a fan of Klang Bak Kut Teh, Leong Kee's claypot Bak Kut Teh ($6) is a must try. The soup is full of aromatic herbal notes, and the pork ribs are fork tender and well-infused with earthy flavours.
For greater satisfaction,  pile on the beancurd skin and get ready to sweat it out over this robust pork stock. Leong Kee also does a mean pig's trotter ($6), so brace yourself for a porky feast if you happen to find yourself on this side of Geylang.
Opening hours: Daily: 11am – 9pm, Closed on Wednesdays
Address: 205A Sims Ave, Singapore 387506
---
5. Char
---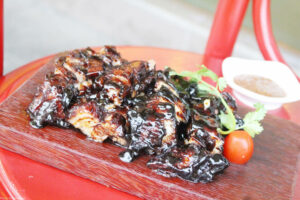 The hipster, quirky interior of Char will leave you suspicious because it looks nothing like the traditional Cantonese restaurants you go to with your family. But once you have a bite of the fatty, caramelised char siew ($6 for 100g, minimum 300g), all doubts will be erased! The heat from the accompanying chili sauce balances out the sweetness of the char siew sauce and cuts through the fattiness of the pork, making this simply irresistible. It's definitely not your conventional form of char siew, but it's an appetising variation worth trying.
Opening hours: Tue – Sun: 1130am – 230pm, 6pm – 10pm
Address: 393 Guillemard Rd, Singapore 399790
---
6. Collin's Grille
---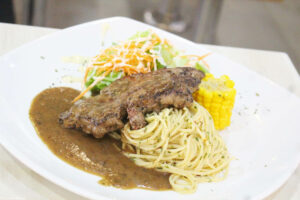 I was at the intersection at one of the streets in Geylang when a waft of amazing fragrance hit my nose. Following my dog-like sense of smell, I found myself at Collins Grille ordering a medium rare sirloin steak ($10.90). What a strange occurrence to be ordering steak at a non-descript kopitiam along the road. But it would have been a huge missed-steak had I not taken the plunge.
Portions were generous for the price – the thick slab of sirloin came with a side of salad, corn, and aglio olio. The steak was perfectly seasoned and seared, and it would put some steak restaurants out there to shame. Although the black pepper sauce felt a little excessive, this is definitely a great place for affordable steak. No, I did not get salmonella after this. Even more reason to visit!
Opening hours: Daily, 11am – 4am
Address: 56/58 Lorong 25A Geylang Singapore 388248
---
7. Geylang Claypot Rice
---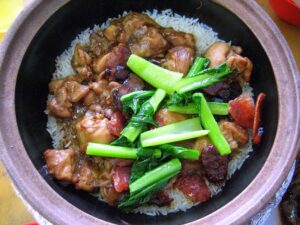 Source
Waiting for claypot rice seems to be one of our local favourite pastimes, and if this is your hobby as well, you have to try Geylang Claypot Rice. The wait for this pot of deliciousness could range anywhere from 25 mins to an hour, and the owners advise patrons to call ahead to make their orders. It's might feel like a great deal of effort just for a meal, but it'll all be worth it once you mix that fluffy, charred rice up and pop a piece of succulent chicken into your mouth.
Opening hours: Tue – Sun: 1130am – 330pm, 5pm – 12am
Address: 639 Geylang Road, Singapore 389570
---
8. Turtle House
---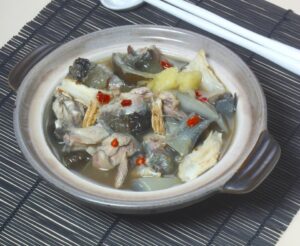 Turtle soup is one of those exotic delicacies you have to try at least once in your life. The turtle soup ($40/60) at Turtle House features tender stew turtle parts in a clean, herbal broth. The addition of rice wine accentuates the sweetness of the soup, making this one tasty and nourishing dish. Don't squirm, but my favourite part to eat is the gelatinous turtle skin, which I'm sure is packed full of nutrients!
Opening hours: Daily, 11am – 12am
Address: 1 Geylang Lor 23 Highpoint House 6, Geylang Serai, Singapore 388352
---
9. Hock Gin Fish & Duck Porridge
---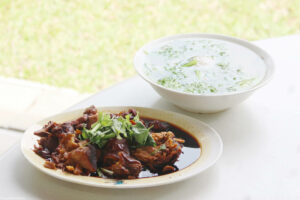 $6 at Hock Gin will get you a liberal amount of flavourful pork trotters. The meat could have been more tender, but sauce was not too cloying or salty. Their fish soup ($5) fared much better, with the clear savoury broth and generous slices of fresh fish. Although Piao Ji Fish Soup still ranks first in our hearts, this is a more affordable alternative!
Opening hours: 530am – 330pm
Address: 733 Geylang Road, Singapore 389644
---
10. L32 Self-Made Noodles
---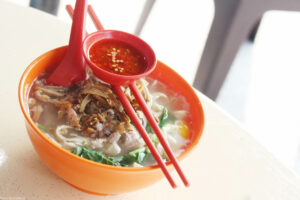 If you're tired of constantly being let down by the typical food court ban mian, and feel like you'll never be able to find a decent version in Singapore, head down to Geylang Lorong 32 for the most amazing bowl of ban mian in Singapore. And I am not even exaggerating when I say this. You can immediately taste the difference once you take a bite of their firm yet bouncy noodles. It has that distinct handmade quality that sets it apart from the factory made noodles most other places use. The broth is also not at all oily, and the ingredients they use are of superb quality. This bowl of ultimate comfort food is definitely worth battling the heat for!
Opening hours: Tue – Sun: 12pm – 1030pm
Address: 558 Geylang Road Singapore 389527
---
11. The Tuckshop
---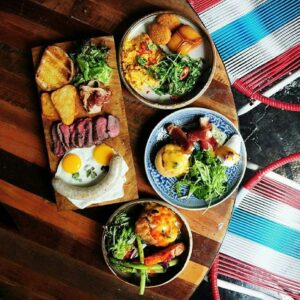 Source
Who said you can only find local food in Geylang? The Tuckshop breaks tradition by being a super hipster cafe serving up brunch in this sea of Chinese delights. Their menu is so indie, they beat the cafes on our Bugis Cafe Guide hands down. They have eclectic local food meets western cafe grub type of selections like the Chilli Scrambled Eggs with Fresh Crab ($20), Taro Creme Puff ($9), and Pork Floss Wings ($10), making this a unique cafe you have to visit at least once!
Opening hours: Daily, 11am – 12am
Address: 403 guillemard road, Singapore 399795
---
Geylang Food
---
With all the good food available at daytime in Geylang, you'll no longer have to brave through the swarms of people or wait 30 minutes for your meal just to see what the hype about Geylang is.