---
Korean garlic cream cheese bread in Singapore
---
Korea has given us many beloved dishes, but one street food classic is definitely taking the top spot as a breakfast favourite of late: garlic cream cheese bread.
Pillowy milk buns, slathered with garlic butter, stuffed with ooey-gooey cheese and topped with garlic crisps are what #breadporn dreams are made of, so we're only too happy to share that bakeries in Singapore have been sporting this speciality on their shelves.
For the best Korean garlic cream cheese bread in Singapore and where to find them, read on. Both in-store bakeries and home baker options are listed below.
Rotiboy Coffee Bun Recipe: Make Your Own Coffee Bun With Simple Ingredients
Bakeries
---
1. Barcook Bakery
---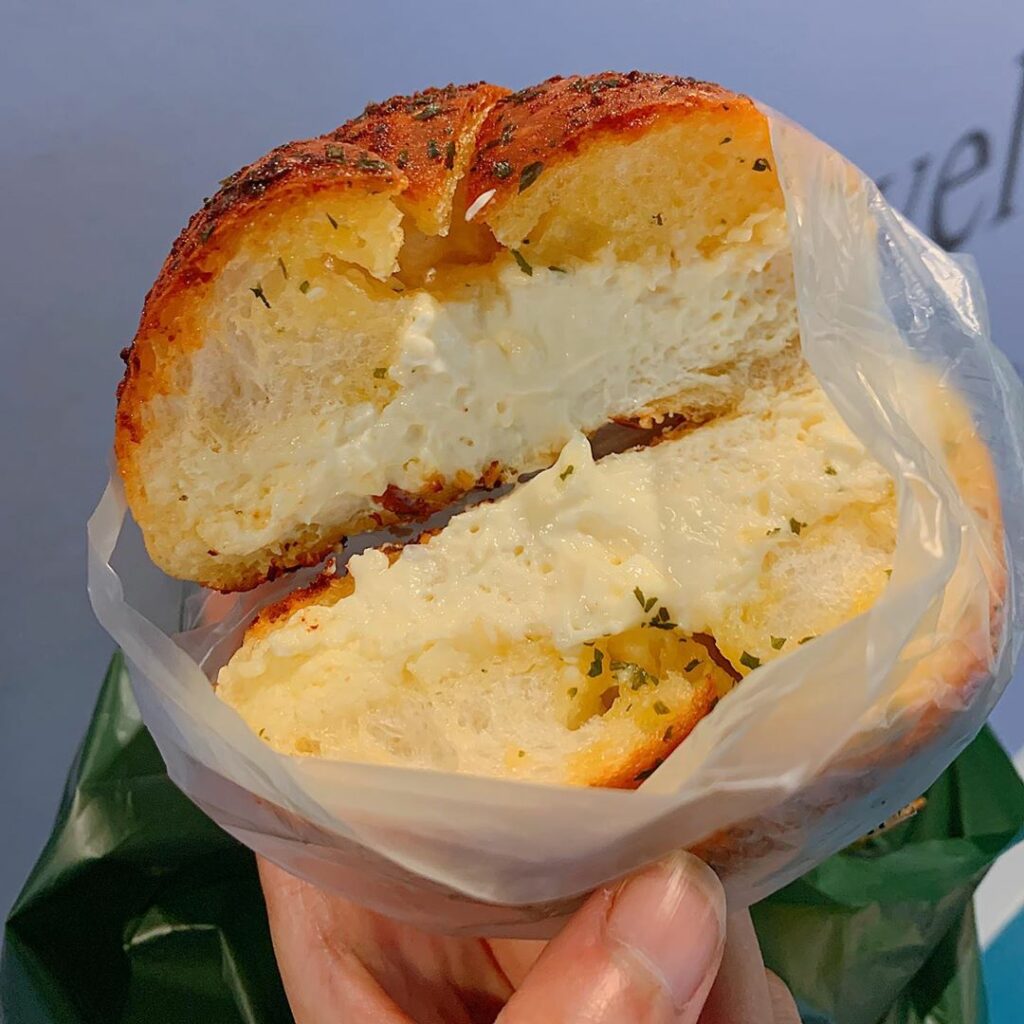 Image credit: @foodie.holics
Locally-owned Barcook Bakery is a staple for lovers of soft brioche buns. While they are renowned for their Japanese-style bakes, including one of the best cream cheese raisin buns we've ever had, their seasonal selection is all about Korea. The starring role is taken by their Garlic Cream Cheese ($1.80) bun, where milky, sugary brioche dipped in garlic butter meets a generous pat of cream cheese. This is definitely one of the sweeter ones we've had, so bear this in mind if you prefer your buns savoury.
Website | Full list of locations
---
2. Paris Baguette
---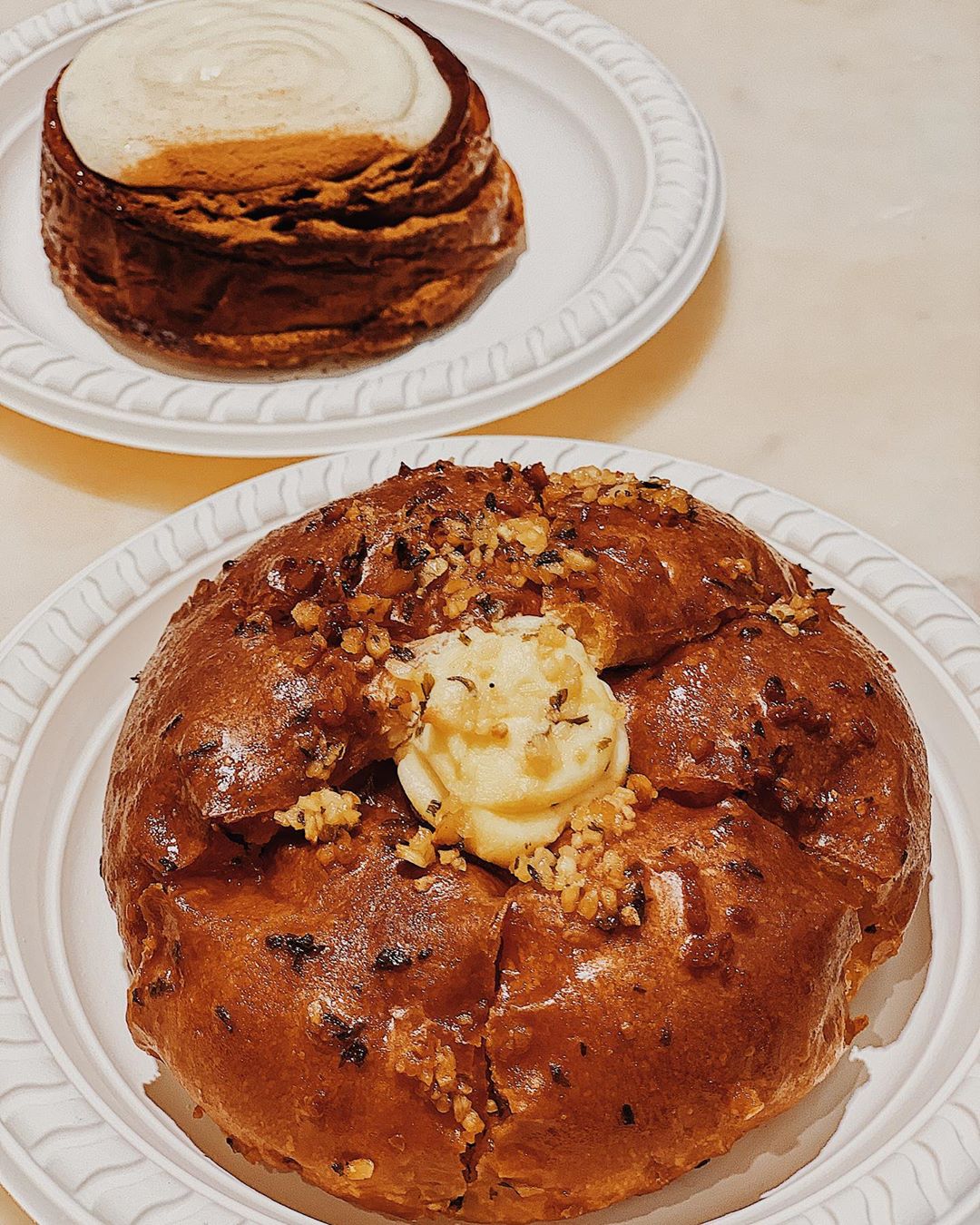 Image credit: @foodteyrapy
Come to Paris Baguette for their tarts and stay for their buns. The Cream Cheese Garlic Bread ($4.20), has a golden brown, crisp skin brushed with garlic butter, and when pulled apart, reveals creamy cheese packed in. The use of garlic here is unrestrained in the best way possible, so expect the bread to be punchy.
Website | Full list of locations
Paris Baguette Has New Pulut Hitam And Matcha Cheese Tarts For $3.50
---
3. Desem Bakery
---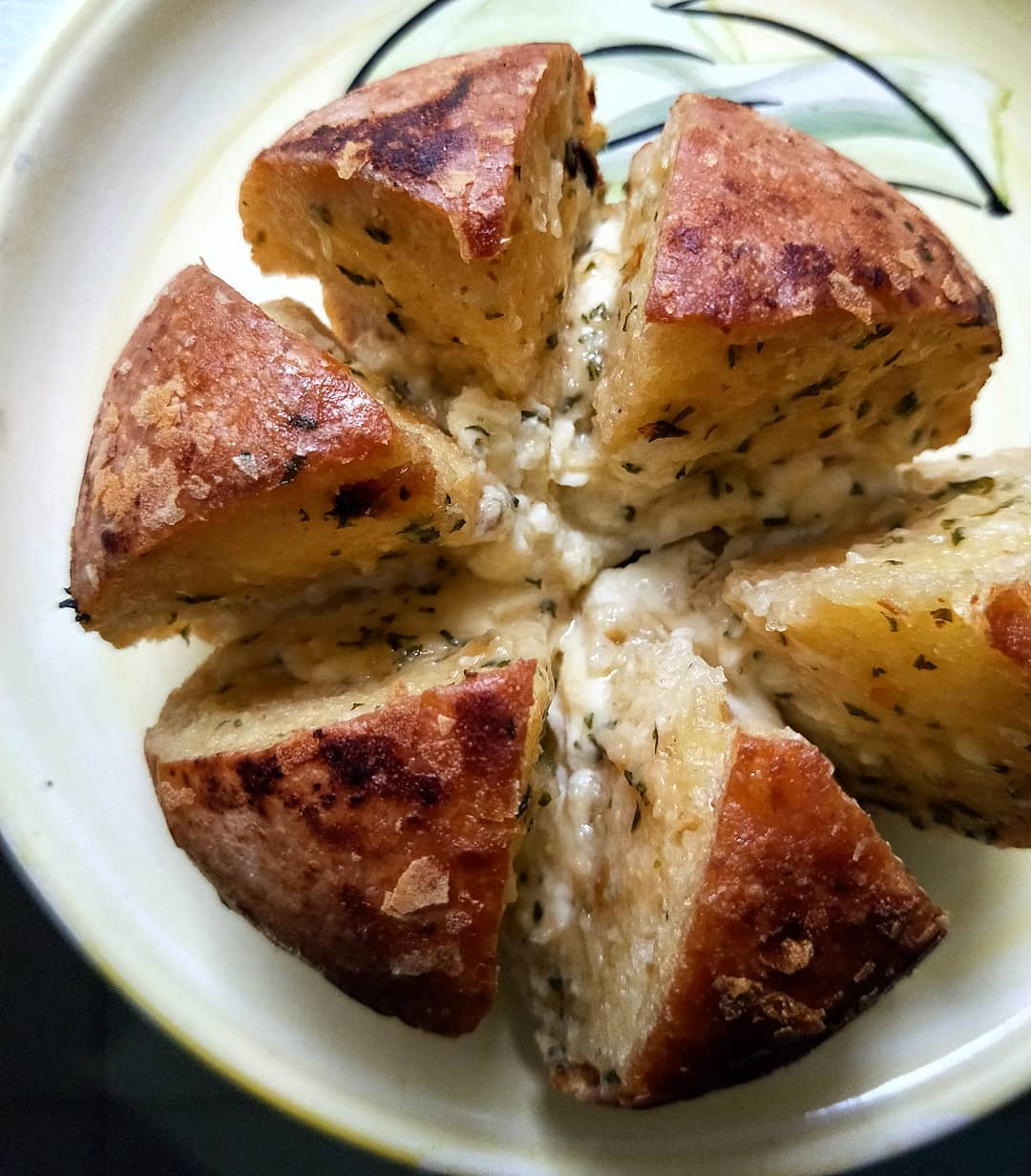 Image credit: @genqmlee
One of the best-kept secrets in Singapore is Desem Bakery, a Japanese bakery along Jalan Mas Puteh that draws a loyal crowd for its dedication to using top quality ingredients to achieve its cloud-like rolls and buttery scones. The bakery's take on Garlic Cream Cheese Sourdough ($5.50) is sin with a capital S, as buns are hand-dipped into a vat of housemade garlic butter before the cheese is added. Fine French butter is used, naturally. The fact that the buns are sourdough also means they have a tang that sets them apart from the sweeter ones on the market.
Address: 25 Jalan Mas Puteh, Singapore 128630
Opening hours: Wed-Fri 4pm to 8pm, Sat-Sun 2pm to 7pm
Tel: 8137 8796
Website
---
4. Swee Heng 1989 Bakery
---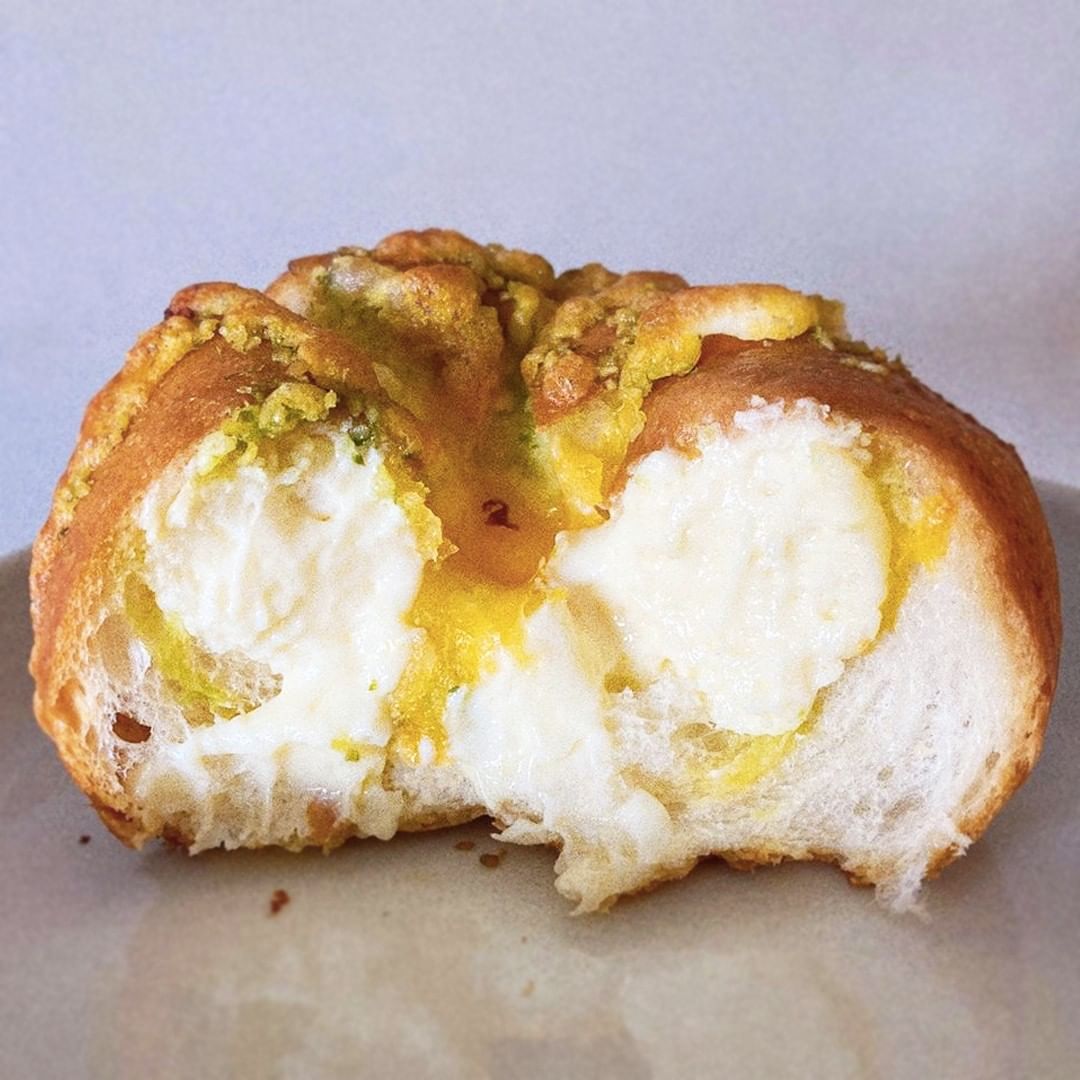 Image credit: @buneatz
Fans of bread with a good, crispy crust, Swee Heng 1989 Classic has got your back. Their Crispy Garlic Cream Cheese ($2.50) bread has a thin outer crust that is all ASMR satisfaction when you bite down into it, unveiling a mound of cream cheese and a flavourful pat of garlic butter that does not overwhelm. Plus point: the bakery is halal-certified.
Website | Full list of locations
June Bakery Review: Old-School Bakery With $1.20 Orh Nee And Cheese Tarts That Can Rival BAKE
---
5. MK Levure Naturelle
---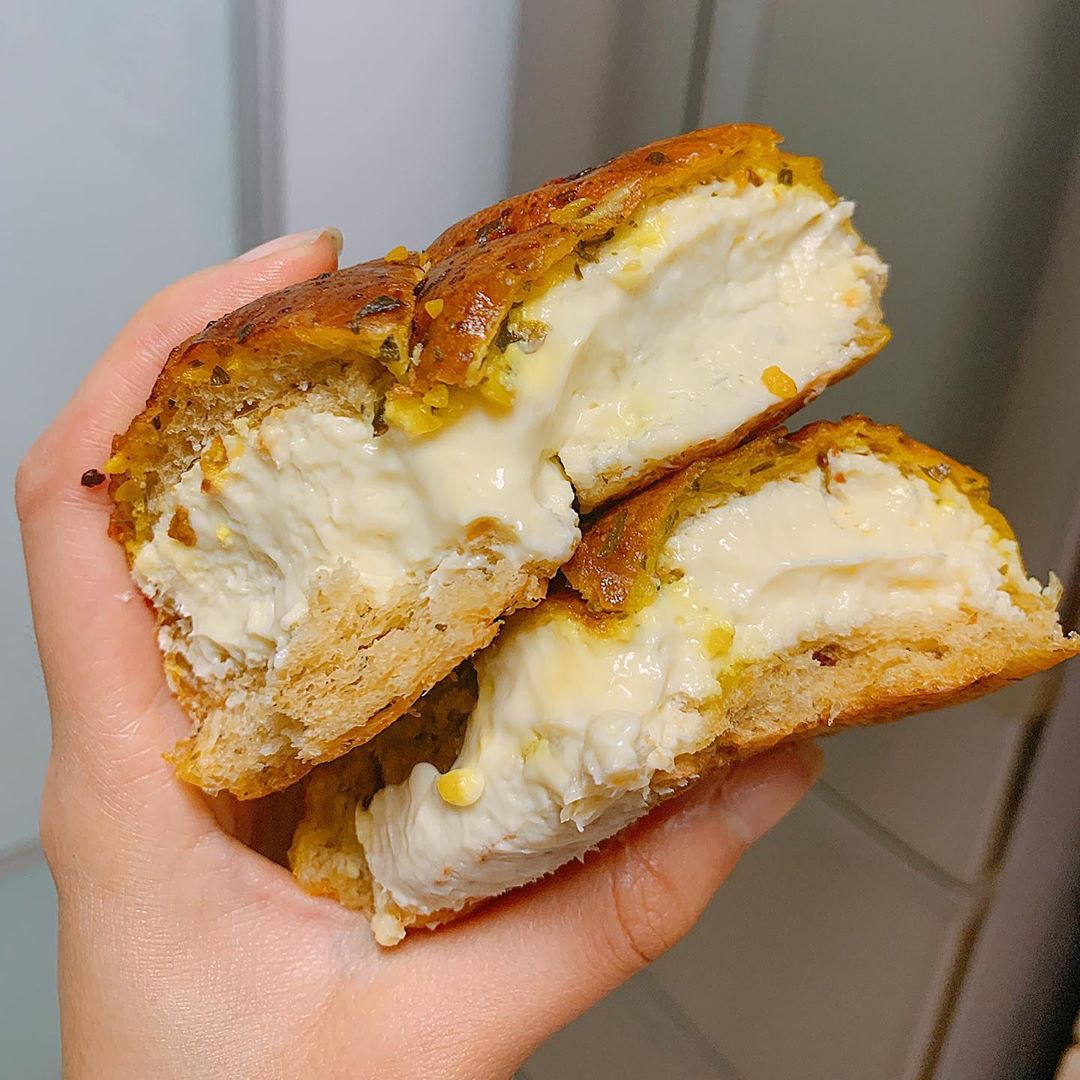 Image credit: @foodie.holics
Founded by a family of Singaporeans, MK Levure Naturelle has gone on to become a staple heartland bakery. Some bread reviewers on Instagram tout their Garlic Cream Cheese Buns ($1.80) as one of the best in Singapore, given that it has an intensity of garlic and cream cheese flavours, an impressive bread-to-filling ratio, and the bun is ultra-soft.
Website | Full list of locations
---
6. Luna Patisserie
---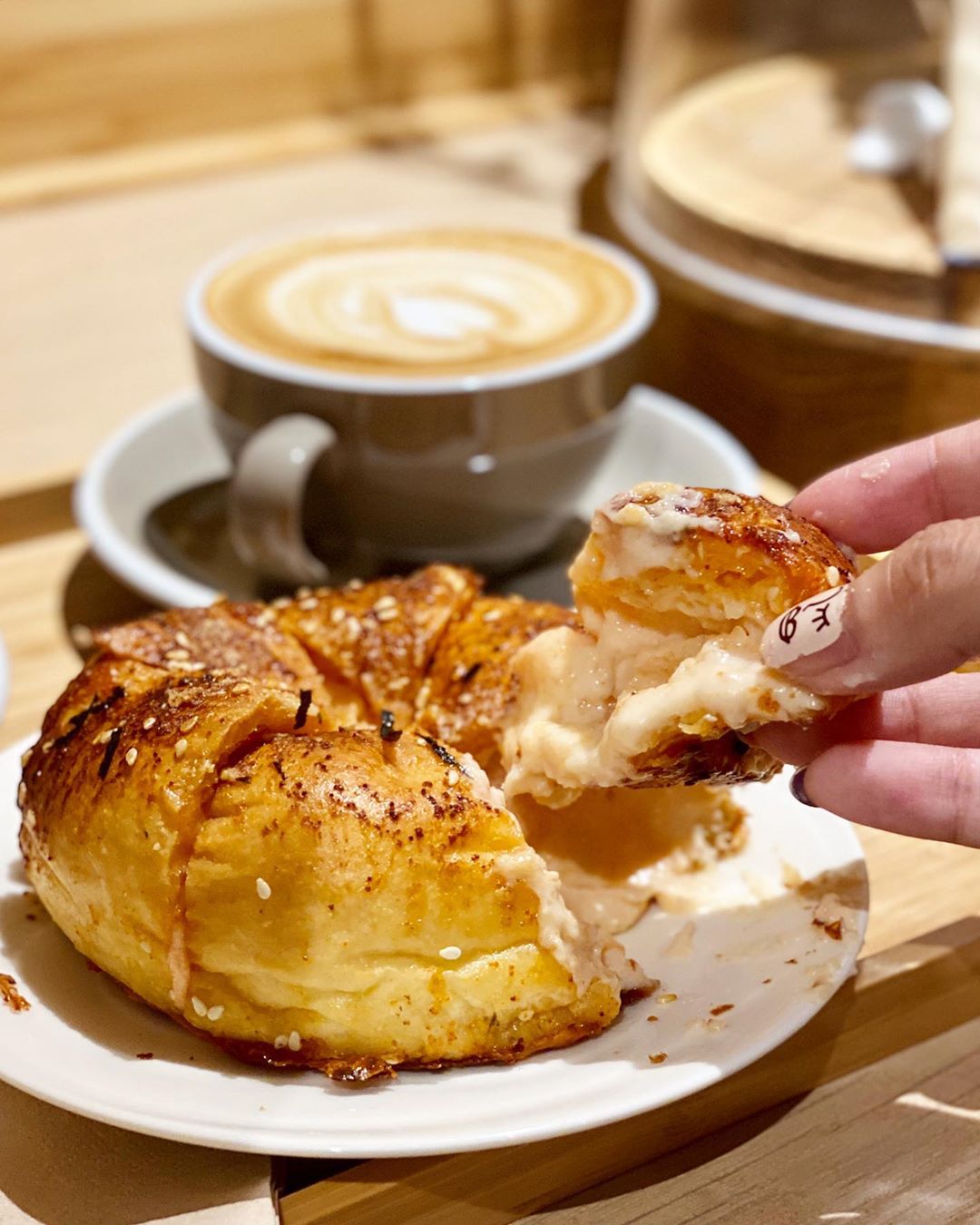 Image credit: @nomninjas
Everyone knows Luna Patisserie for their delicate cakes, but the bakery also makes fantastic buns. They have taken the garlic cream cheese bread trend to the next level with two new versions: a Mentaiko Garlic Cream Cheese Bread ($6) and a Truffle Garlic Cream Cheese Bread ($6). The cream cheese comes flaked with mentaiko so it's extra savoury, and the bun itself is topped with crunchy garlic flakes for maximum texture. Truffle fans will definitely enjoy the loaded truffle profile of the latter, but honestly, mentaiko is our pick. The price seems steep, but the bun is big enough to feed two. For more on Luna Patisserie, read our review.
Address: 53 Amoy Street, Singapore 069879
Opening hours: Mon-Fri 12pm to 6:30pm, Sat-Sun 12pm to 4pm
Website
LUNA Review: New Cafe At Amoy Street Selling Orh Nee And Dark Chocolate Speculoos Cakes Under $10
---
7. Baker Talent
---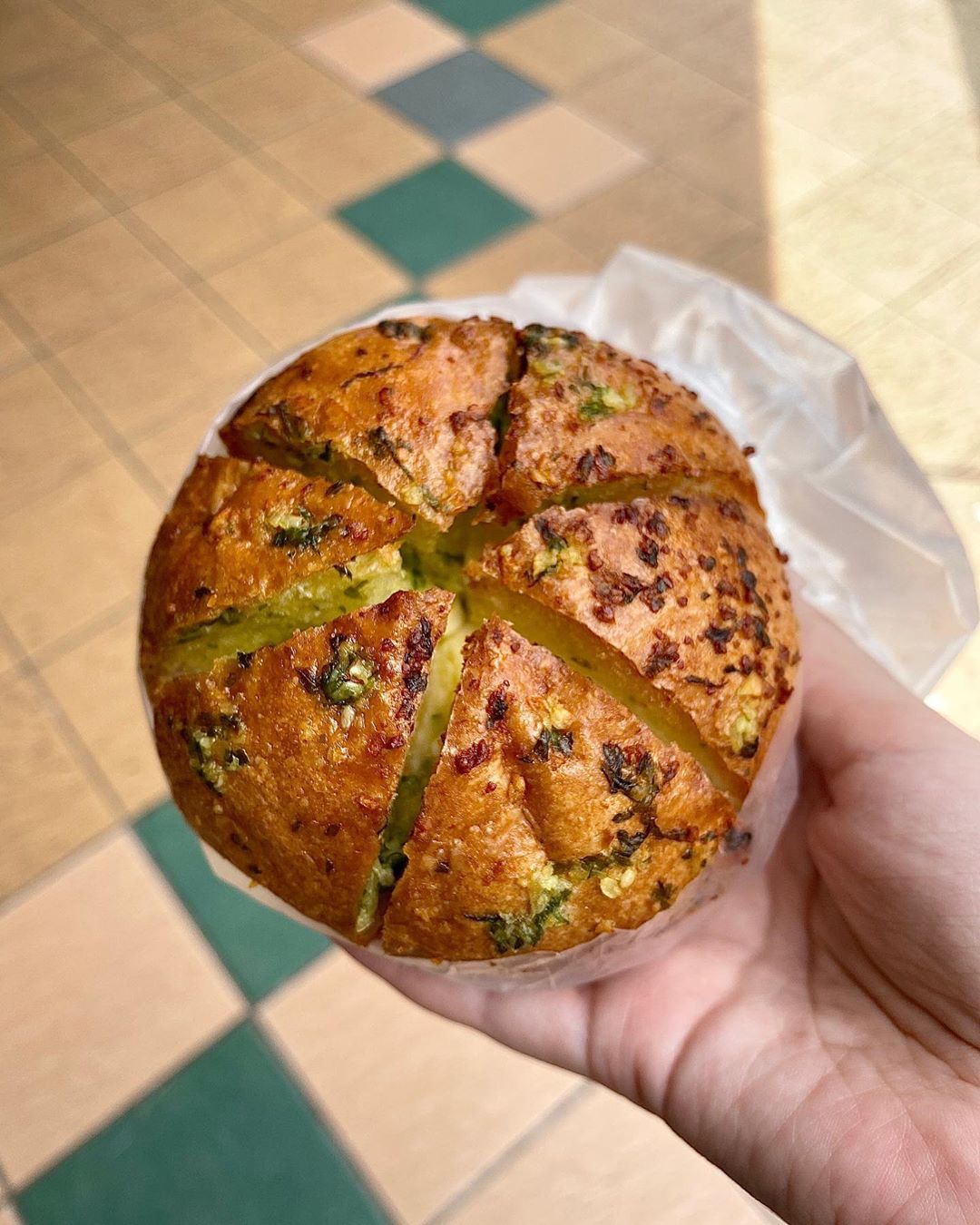 Image credit: @loafmesomebread
Just because Baker Talent's Garlic Cream Cheese Bread is one of the cheapest we've seen at $1.60, does not mean its quality is any less than the rest. This humble neighbourhood bakery has branched out from castella cakes to embrace this Korean street food bun, and their take marries fluffy milk bread with dense cream cheese to a delightful end. The slathering of garlic butter is just right, keeping the bun from becoming too jelak.
Website | Full list of locations
New BreadTalk Wheelock Store Has Truffle Croissants, A Soy Milk Bar And More
---
8. Huluruk Myeon House
---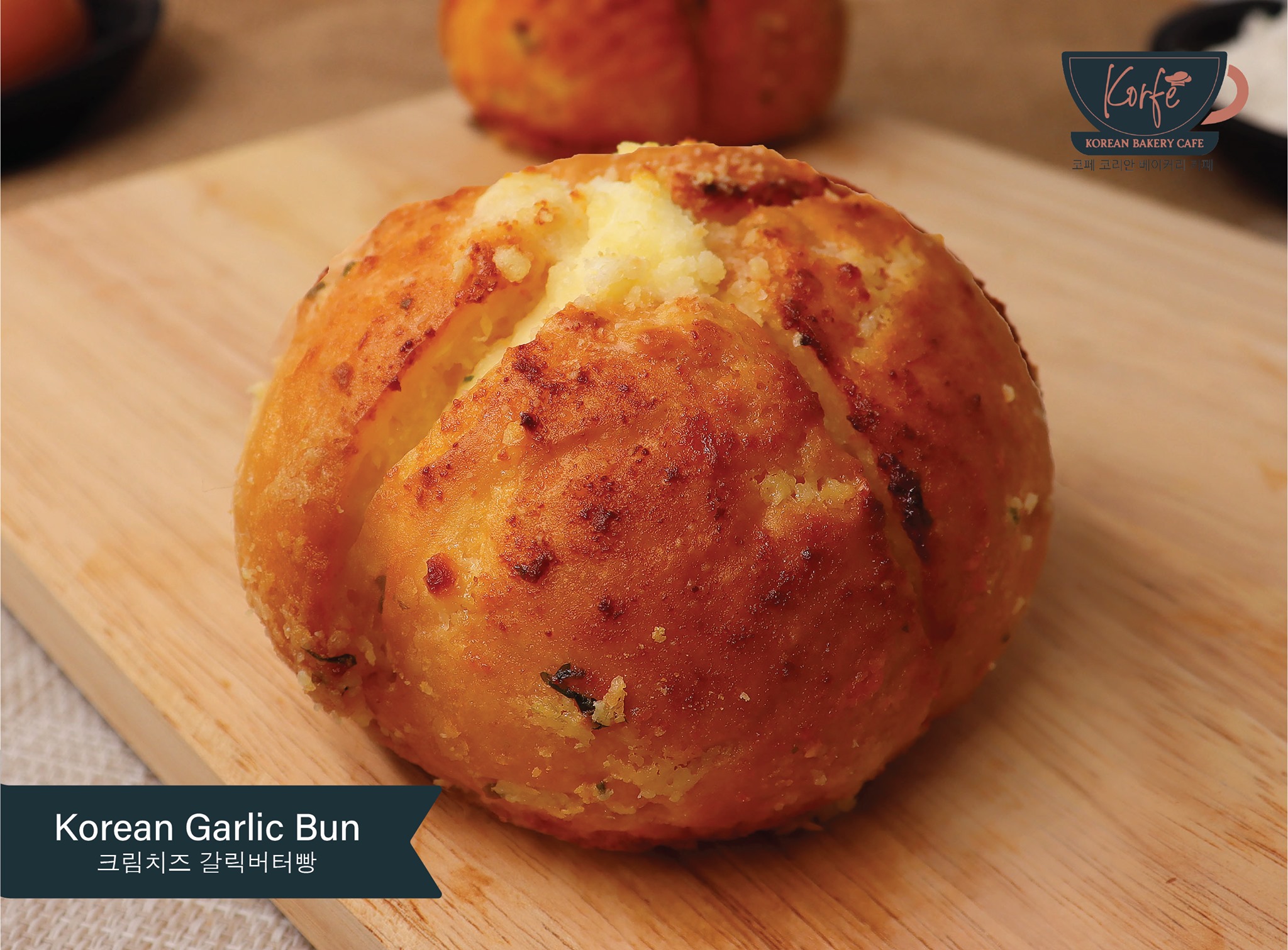 Image credit: Huluruk Myeon House
Korean noodle restaurant Huluruk Myeon House has branched out into bringing Korean buns to Singapore. Its Korean Garlic Bun ($2.10) is one of the most buttery around, and depending on the day, could veer towards being a touch greasy. Don't write it off just yet, though, as Huruluk Myeon House also has other buns worth purchasing, like its Injeolmi and Nutella Cookie offerings that are a massive hit.
Address: 9 Bishan Place, #01-40, Bishan Junction 8, Singapore 579837
Opening hours: Daily 11:30am to 10pm
Website
---
9. Proofer
---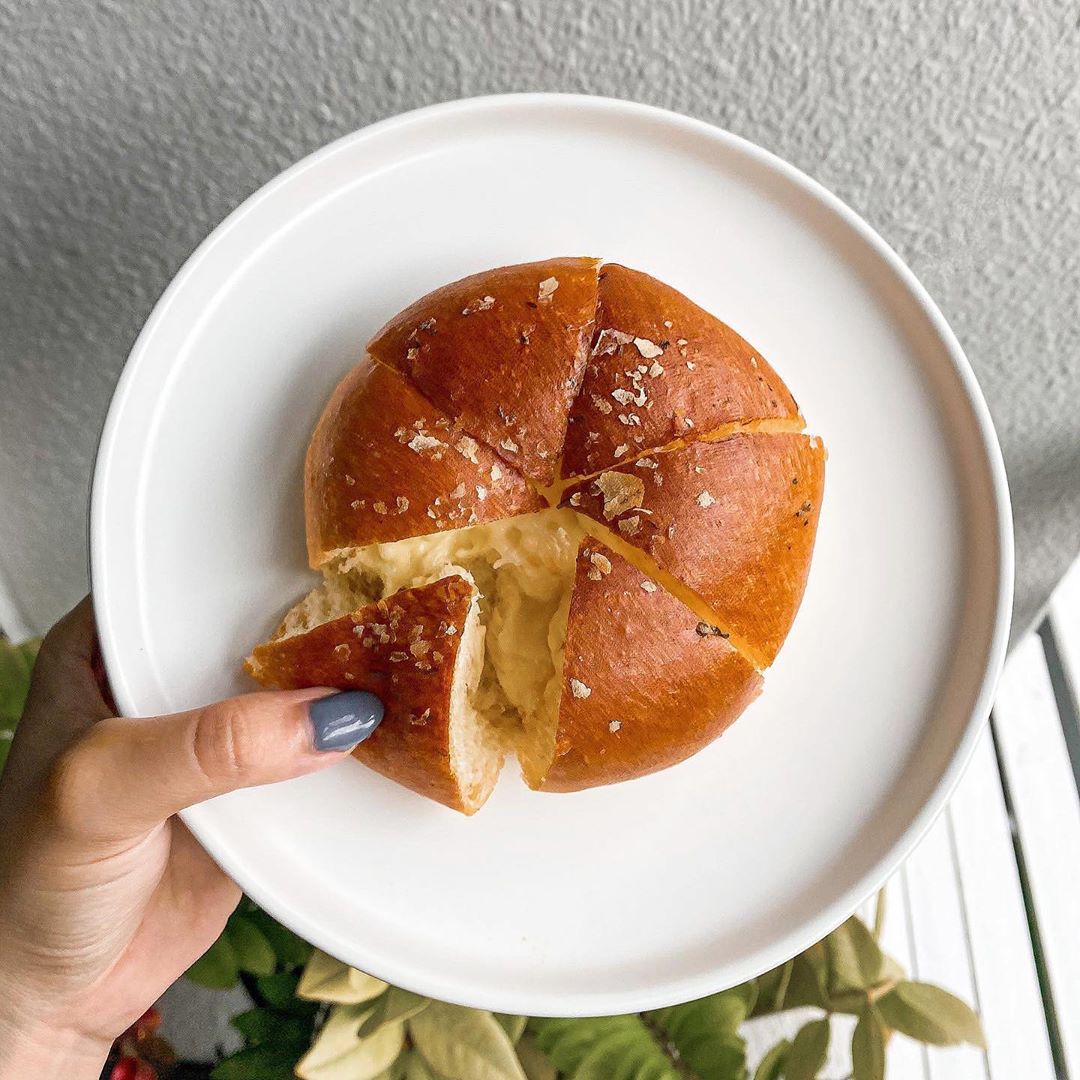 Image credit: @carbs.monster
Proofer Boulangerie's take on the Garlic Cream Cheese Bun ($2) is made for those who prefer milder flavours. The sweetness from the brioche and cream cheese are the main things you can expect from this bun, with a whisper of garlic to tie it all together.
Website
Full list of locations
Home bakers
---
10. Buttered Hands
---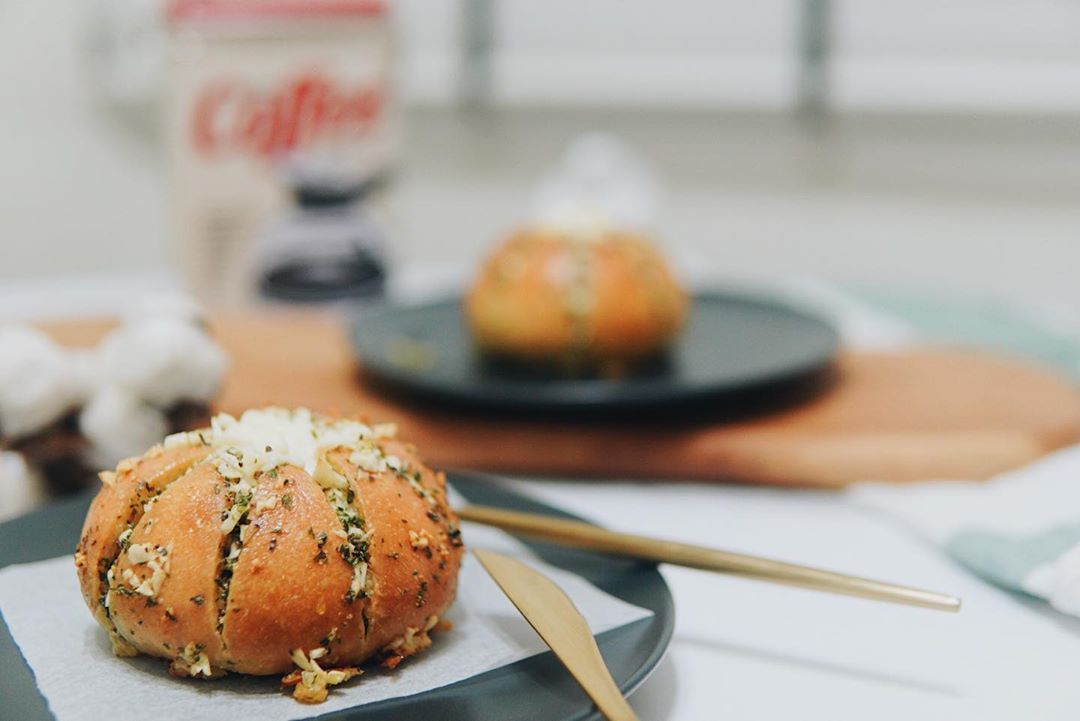 Image credit: @butteredhands
Muslim-owned home bakery, Buttered Hands, made a name for themselves with their tarts and bombolinis (Italian-style stuffed doughnuts), but they have since branched into savouries with their Garlic Cream Cheese Buns ($10 for two). These buns don't shy away from garlic ─ perfumed with generous amounts of the herb and stuffed with cream cheese, these buns are the dictionary definition of "rich".
---
11. Farine Affair
---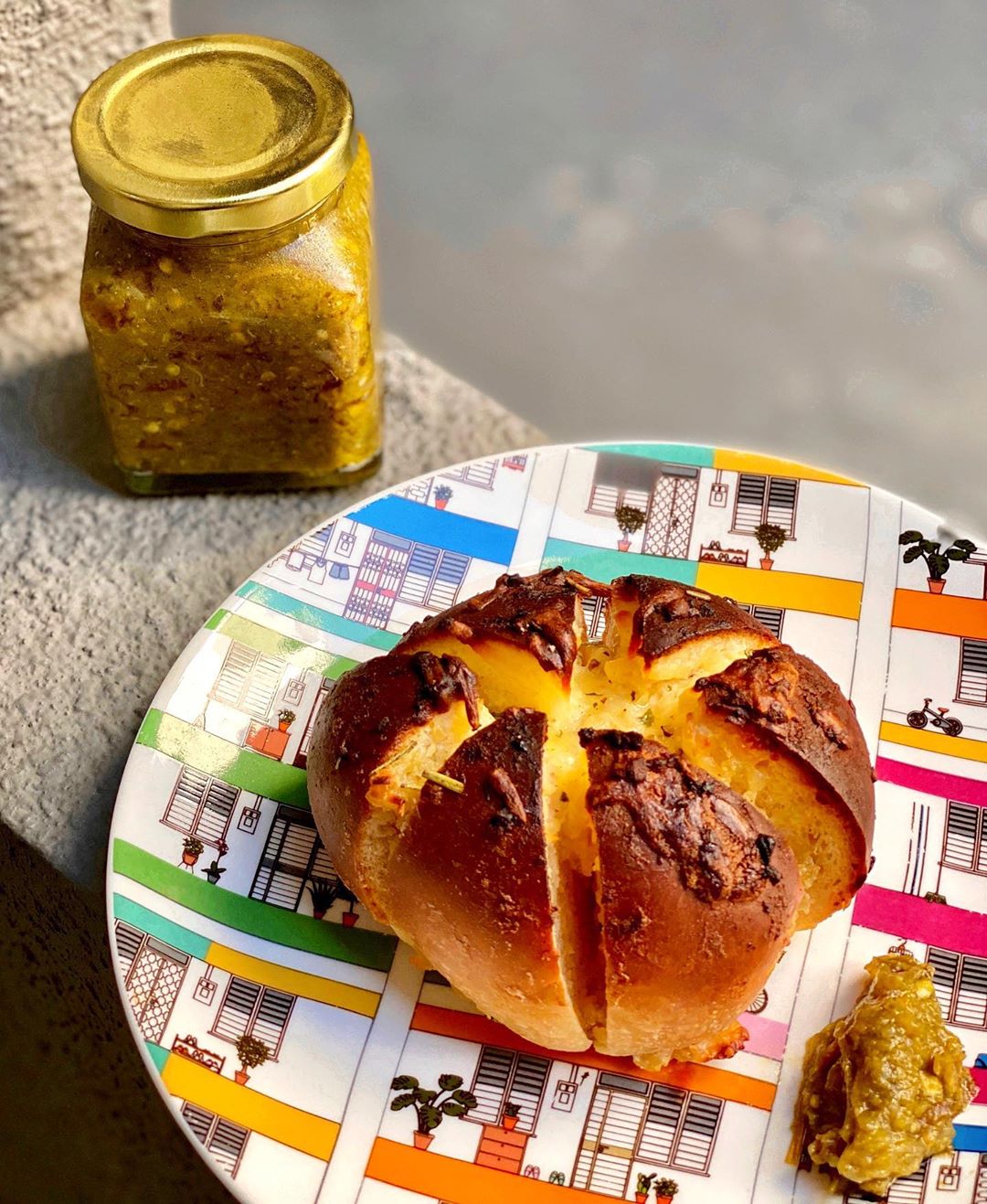 Image credit: @renztan
French ingredients get applied to these Korean buns at Farine Affair. These home bakers really know bread and specialise in sourdough, but they've branched out into offering Herb Garlic Cream Cheese Bread ($27.50 for five). Instead of pure cream cheese, there's the addition of mozzarella for a more savoury factor and a very IG-worthy cheese pull. These buns taste more like classic Italian garlic bread, savoury and aromatic thanks to herbs being infused in the butter.
25 Home Bakers Selling Unique Bakes Such As Matcha Chiffon Cake, Pineapple Tarts, Choux Pastries And More
---
12. Garlic Chezzy Bakery
---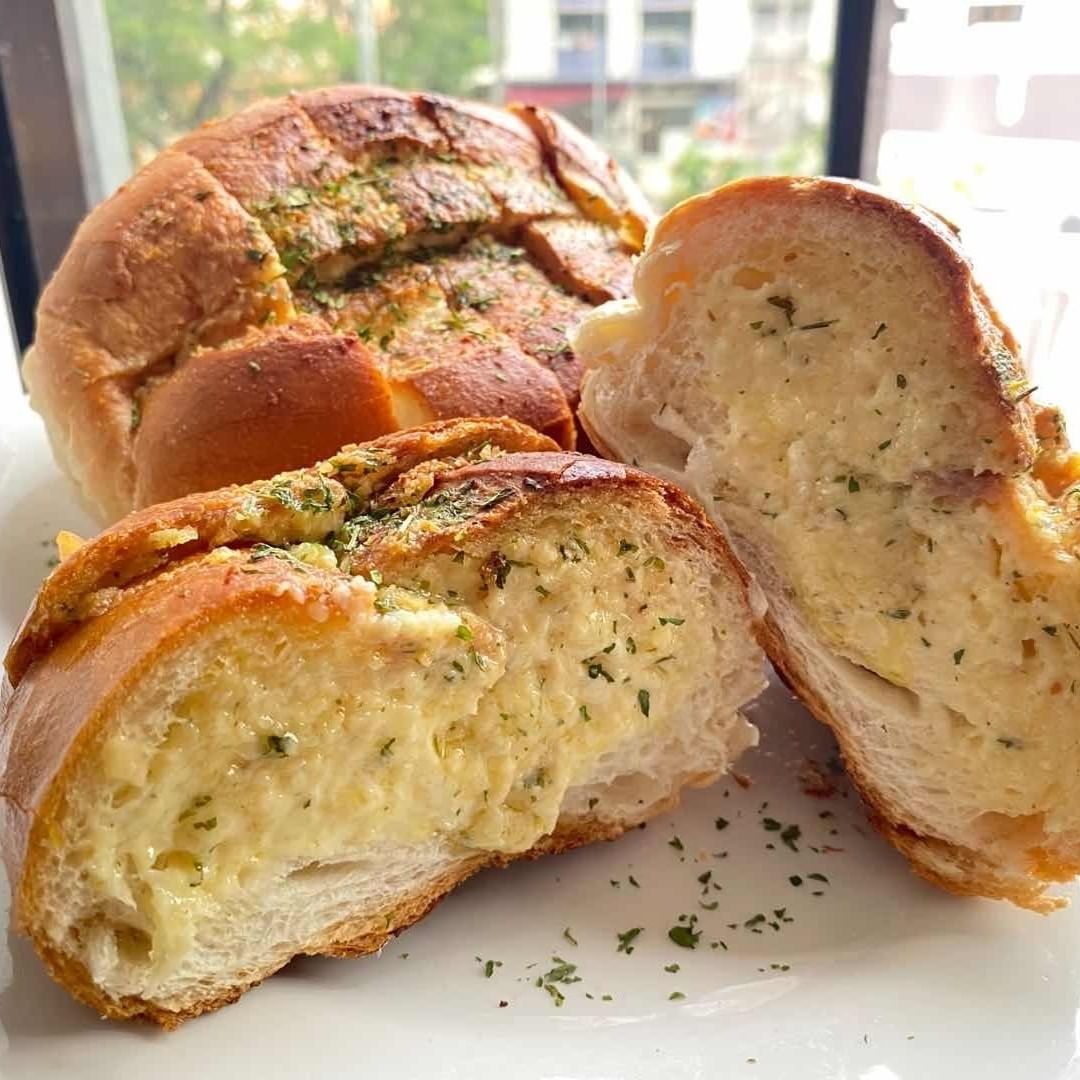 Image credit: @garlic_chezzybakery
This home baker is completely dedicated to garlic cream cheese bread, but instead of buns, they have loaves. These are packed full of cheesy, garlicky lava that ooze when you pull the bread apart. Garlic Chezzy Bakery's loaves go for $7.50 each, or three for $20.
---
13. Dough And Batter
---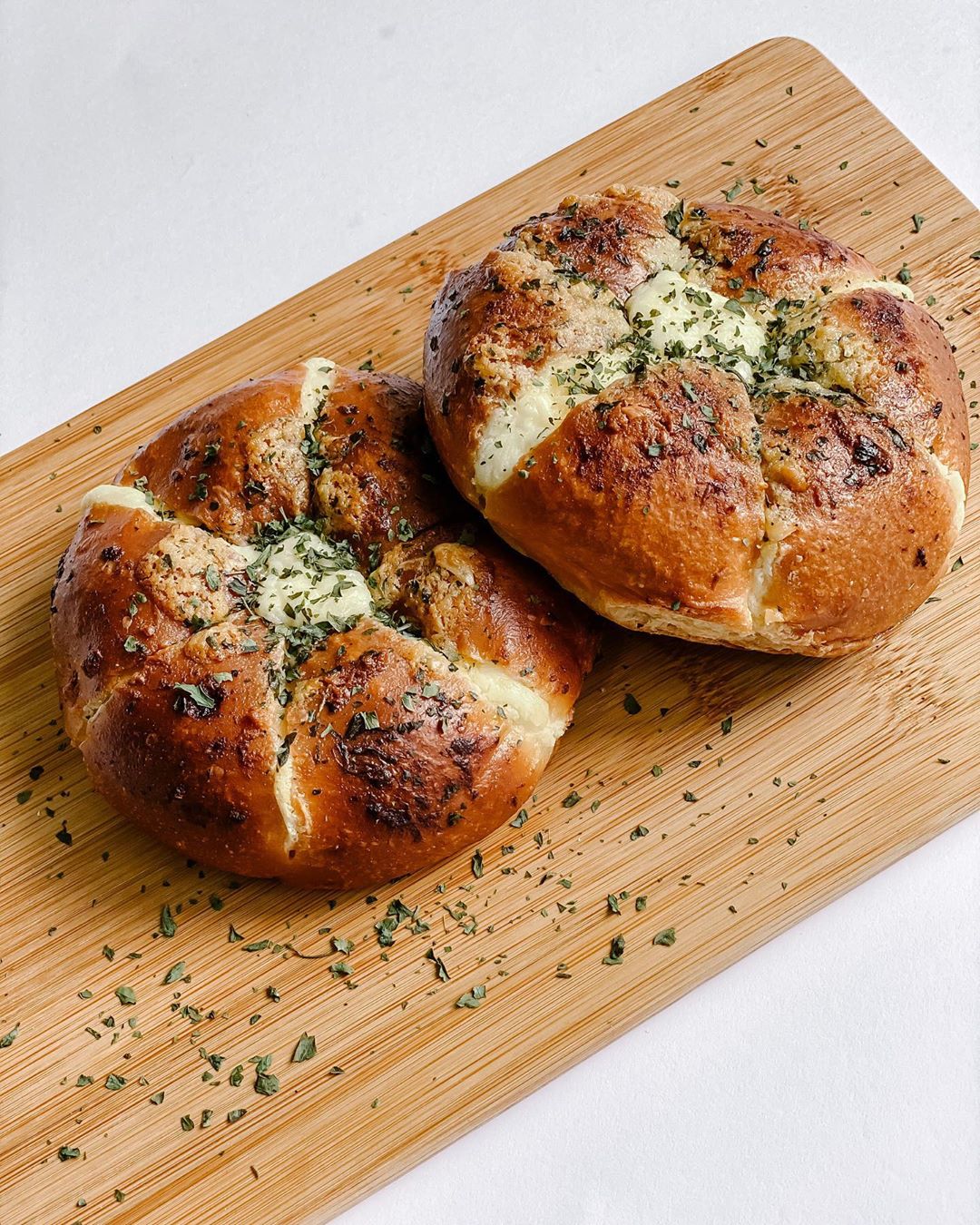 Image credit: @dough.and.batter
This Muslim-run home baker Dough And Batter does both sweet and savoury bakes, and their Garlic Cream Cheese Buns ($12 for three) are a bestseller. Twice-baked so the bun has a crisp shell but retains its chewy, soft interior, each bun is then piped full of lush cream cheese. These buns are finished with a garlic glaze to create a flavour bomb. Only available via pre-order, the buns sell out quite quickly, so be sure to keep a close eye on their Instagram page for the next drop.
---
14. Awildflower Bakery
---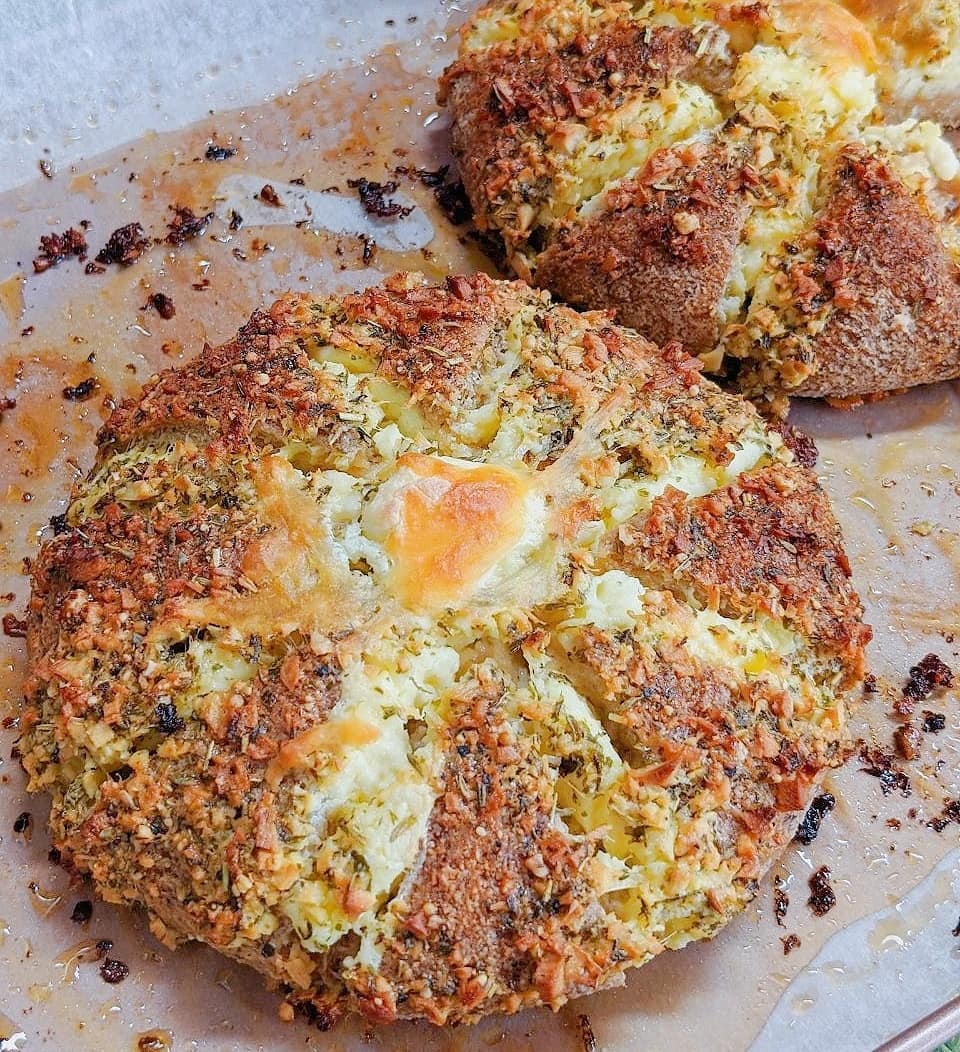 Image credit: @awildflowerbakery
Awildflower Bakery's take on the trend is a tad pricier than most, but here's the justification ─ this home baker's goods are all keto-friendly, therefore they're low carb, and low in sugar too. All bakes are made with monk fruit sweetener instead of sugar, including their Garlic Cream Cheese Bread ($35). Instead of milk bread, expect a heartier, more traditional French-style loaf brimming with cream cheese and peppered with a near-obscene amount of garlic chips for crunch. One loaf can feed two to three as well.
Kamome Bakery Review: Japanese Cafe With Red Bean Butter Buns, Mentaiko Baguettes And More
---
15. Doux Patisserie
---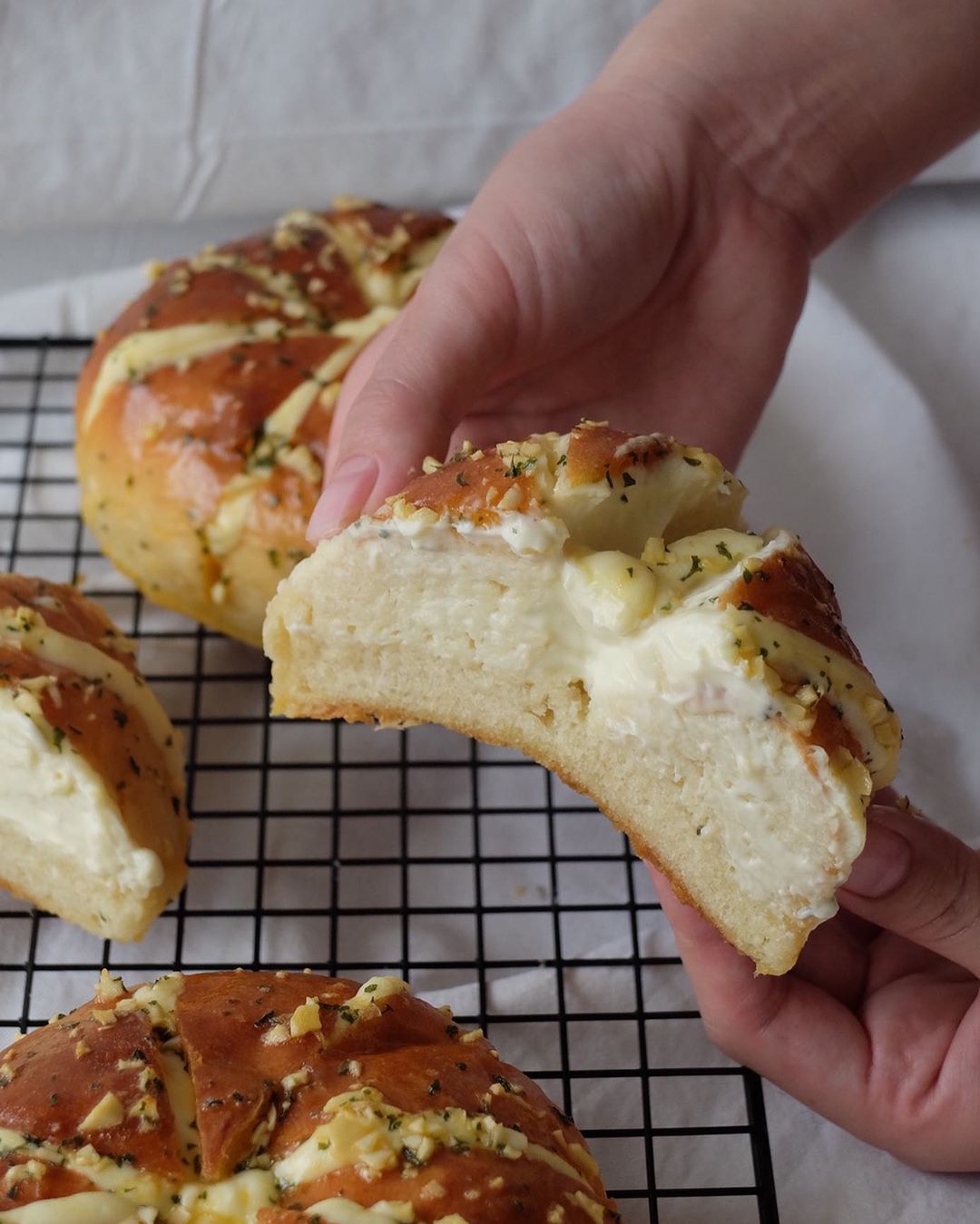 Image credit: @douxpatisserie.sg
Best known for their Chinese New Year bakes and single-serve tiramisus, Doux Patisserie has now branched out into making Korean Garlic Cream Cheese Buns (price TBD) with some of the most intense bun-to-filling ratios we've seen. Softy, creamy and packed with garlic flavour, fans rave about them as one of the most fragrant buns on the market. These are available only via pre-orders on Instagram DM, and sold in batches of four.
---
16. Tokkopang
---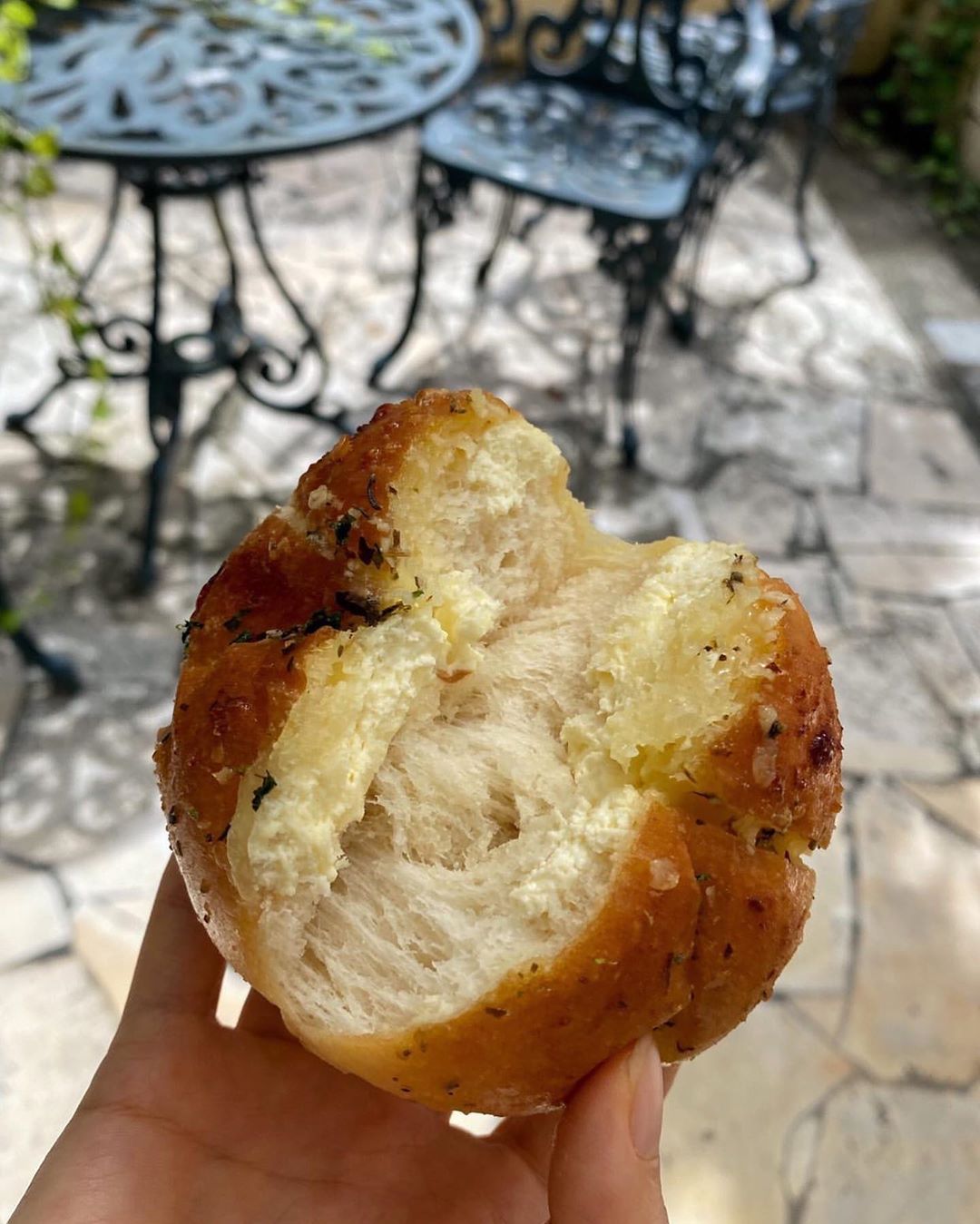 Image credit: @tokoppang
Tokoppang, an Instagram bakery, is entirely dedicated to the Cream Cheese Garlic Bun ($7 for two, $14 for four), though instead of sticking to the sweeter Korean recipe, they have taken things down the savoury route with three types of cheeses in their bread — parmesan, mozzarella and cream cheese. Glazed with garlic butter and dusted with Italian herbs, these buns are an aromatic, cheesy explosion.
Teochew Meat Puff Opens A Stall in Woodlands So You Can Get This Snack Without A Pasar Malam
---
Best Korean garlic cream cheese bread in Singapore
---
Whether your ideal garlic cream cheese bun is made with milk or traditional bread, stuffed with cream cheese or mozzarella, loaded with more or less garlic butter, it doesn't matter ─ there's something on this list to satisfy every carb lover.
Featured image adapted from @dough.and.batter, @nomninjas, and @foodie.holics