---
New restaurants in Singapore this July
---
In the blink of an eye, it's July and we're already past the halfway mark of 2023. This month, you'll find many new restaurants, cafes, and bakeries dotted across the island. From Korean fried chicken prepared by a robot to a hidden Japanese bakery and cafe with legit shokupan, here are our top new restaurants in Singapore for July 2023.
---
1. Ralph's Coffee
---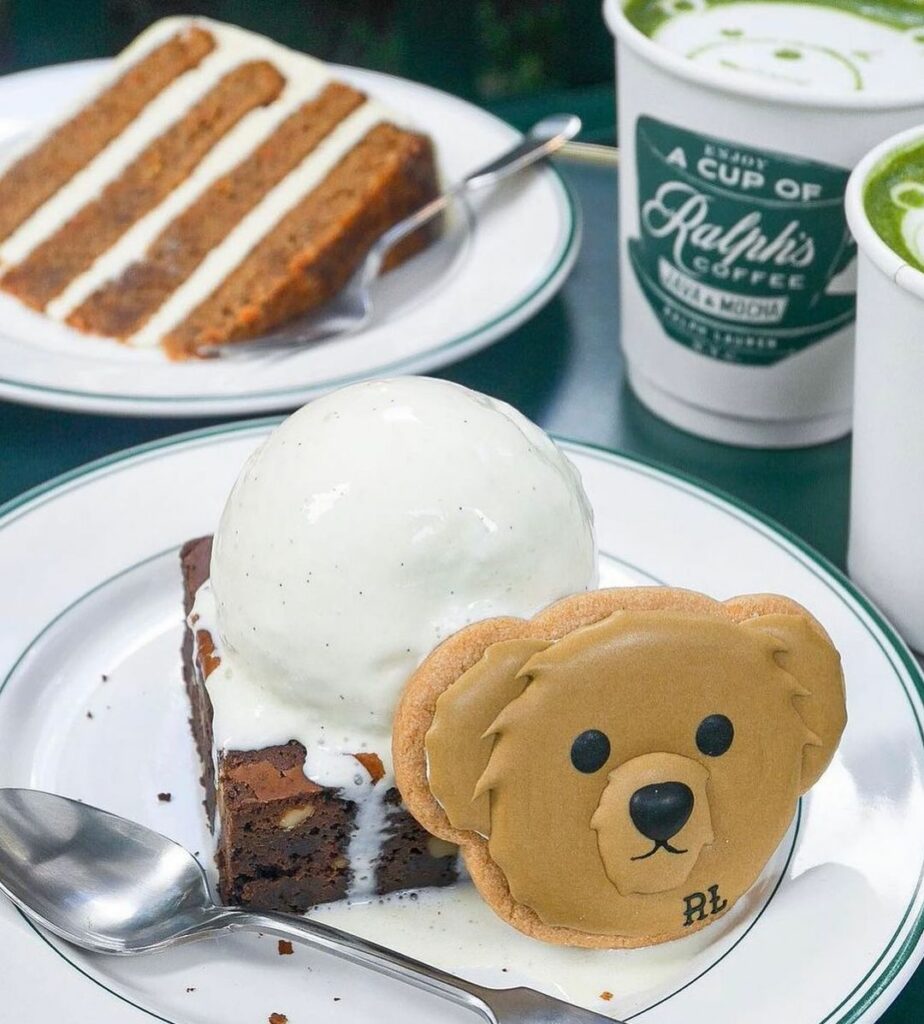 Image credit: @ralphscoffee
Ralph Lauren fans will soon have something to be excited about, the fashion brand's upcoming cafe launch in Singapore. Ralph's Coffee is set to open in The Shoppes at Marina Bay Sands in mid-July 2023. You can expect the brand's signature dark green colours here at the dine-in cafe, with vintage-inspired furnishings. Food-wise, they are known for their chunky New York-style cookies, as well as their Five Layer Chocolate Cake (price TBD) which are said to be a mainstay at the new MBS cafe. Coffee will be served here, too.
There are no updates on the Singapore branch at the moment, but we'll add more details here when we get more information.
Read our Ralph's Coffee Singapore feature!
Address: 2 Bayfront Ave, #01-72 The Shoppes at Marina Bay Sands, Singapore 018972
Opening hours: TBD
Website
Ralph's Coffee is not a halal-certified eatery.
Ralph Lauren Cafe To Open In MBS By Mid-July With Cakes, Coffee And More
---
2. Anna's Sourdough 
---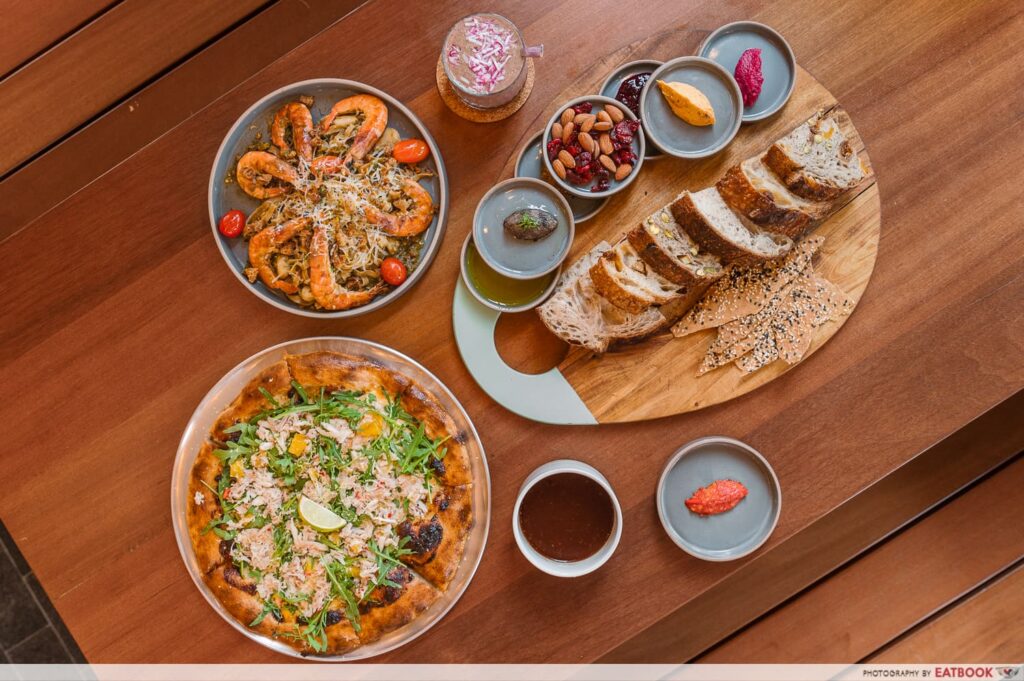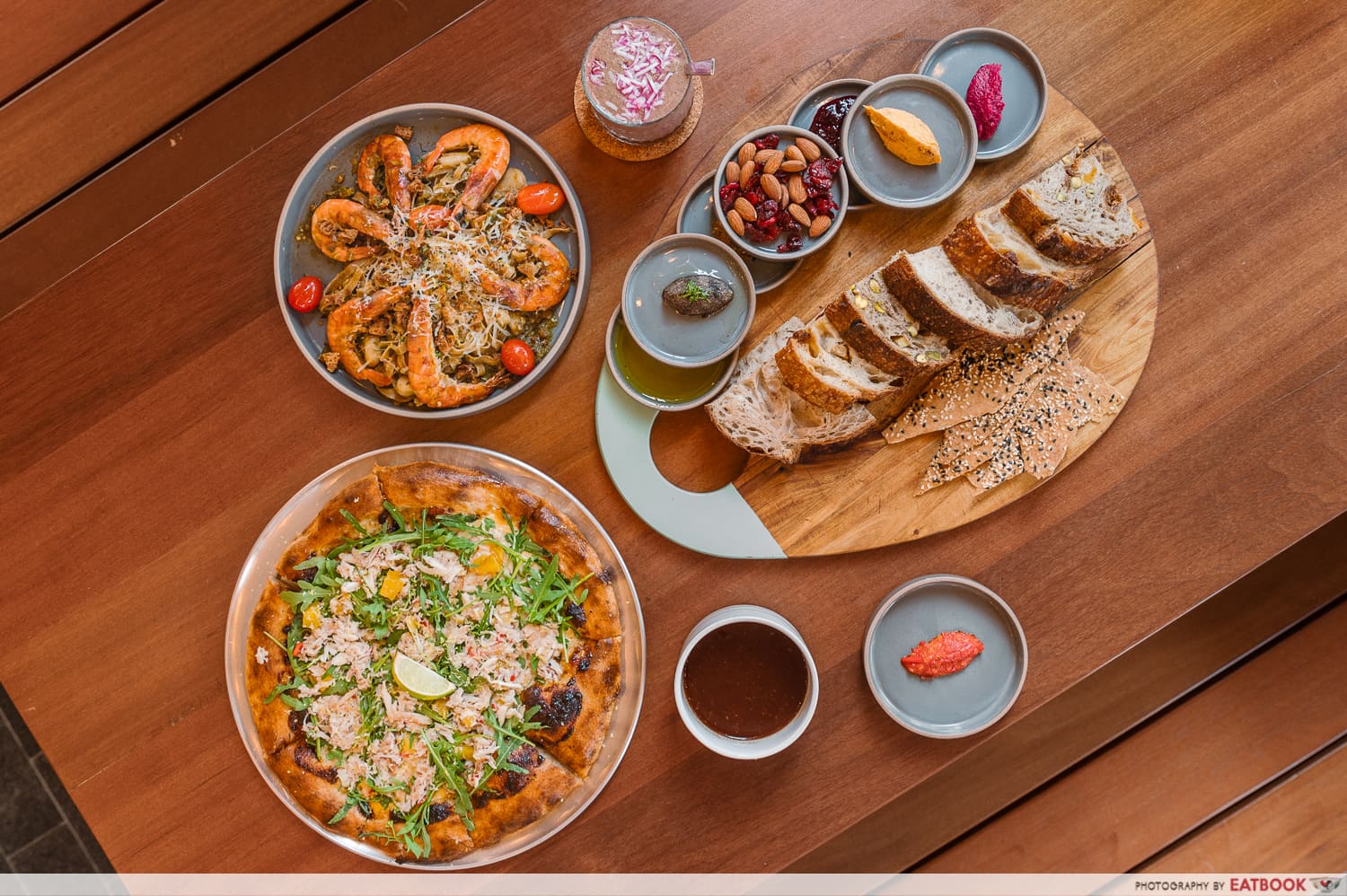 Anna's Sourdough is a sourdough specialty cafe in Punggol, where the menu extends beyond the usual suspects of sourdough bread. Instead, you'll find sourdough pizza, pasta, and even drinks here!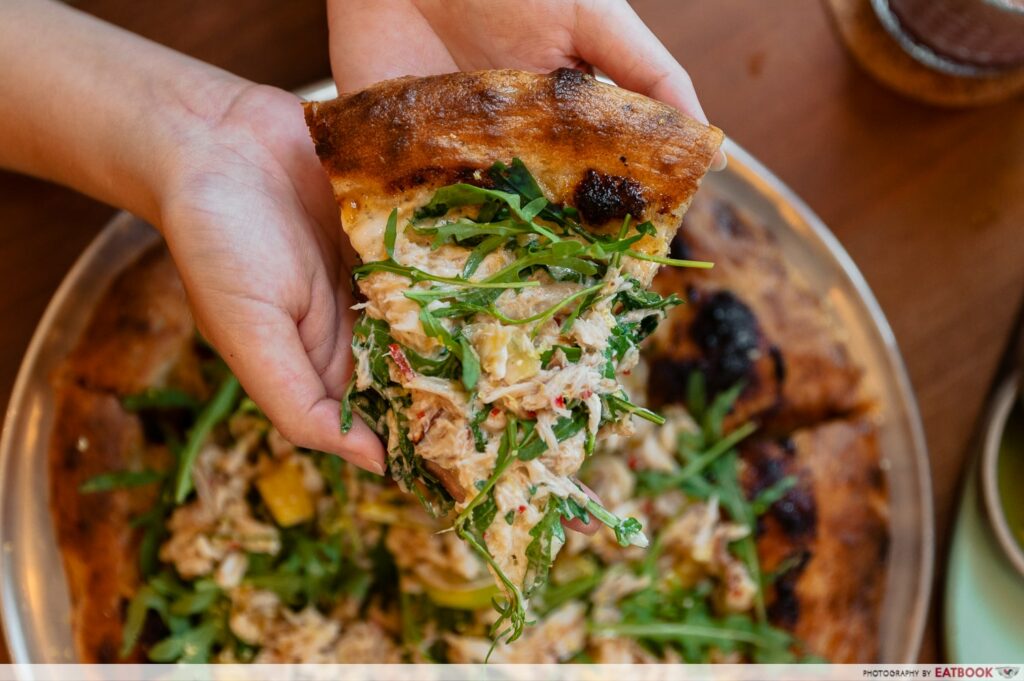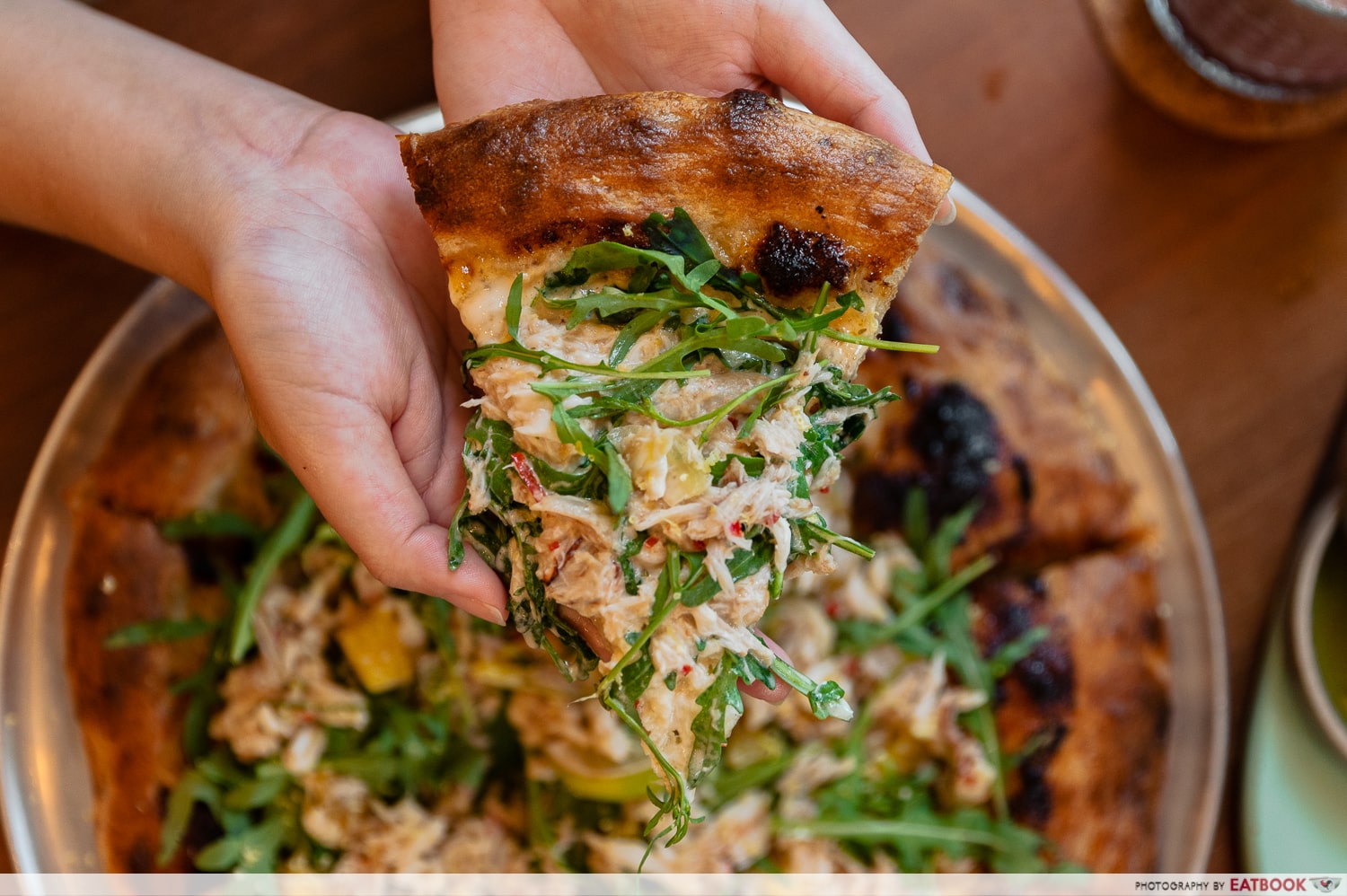 Founded by Anna Lim, who is also behind The Soup Spoon, the sourdough starter and dishes here are all made in-house. We had the Dribs and Drops Diversity Board ($20++), which comes with six slices of sourdough toast and a variety of dips and spreads, as well as Green Chilli Prawn Aglio Olio ($32++), starring a handmade sourdough tagliatelle. We especially loved our order of Crab and Mozza ($35++), topped with Thai green mango slices and blue swimmer crab meat marinated in lime juice with kaffir lime leaves and red chillies.
Read our Anna's Sourdough review!
Address: 681 Punggol Drive, #01-04, Oasis Terraces, Singapore 820681
Opening hours: Sun-Thurs 8:30am to 9:30pm, Fri-Sat 8:30am to 10pm
Tel: 6966 7503
Website
Anna's Sourdough is a halal-certified eatery. 
Anna's Sourdough Review: Handmade Sourdough Pasta, Crab Pizza And More In Punggol
---
3. Wanderlost 
---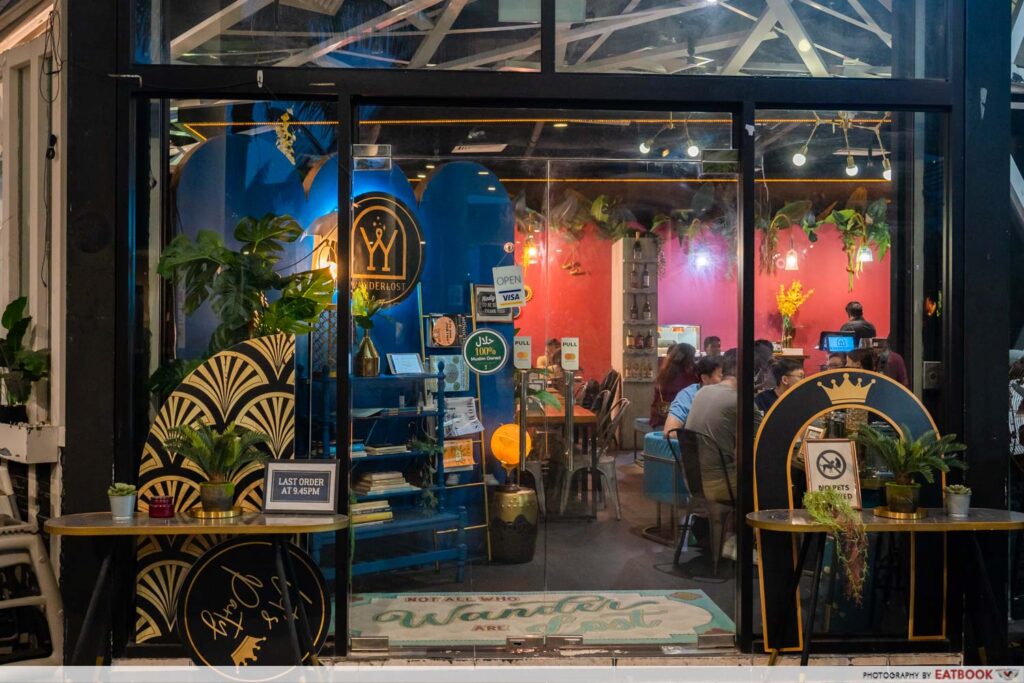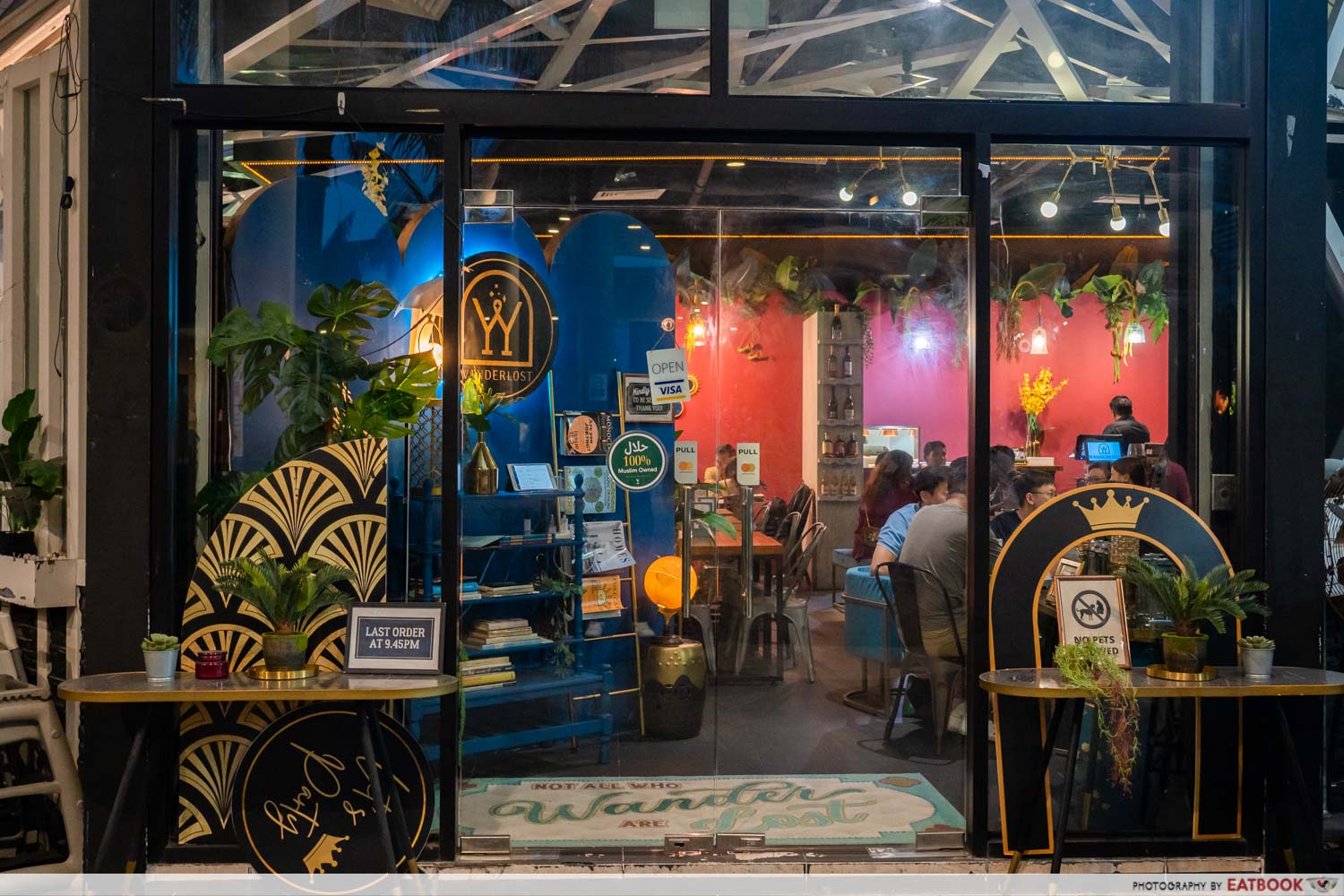 Head to Bugis+ for Wanderlost, a fairy tale-inspired rooftop bar that's also Muslim-owned! Try their Bone-in Braised Beef Ribs ($39+), slow-cooked with caramelised onions and spices. We enjoyed its super tender finish and melt-in-your-mouth gelatinous bits, paired with button mushrooms and mashed potatoes.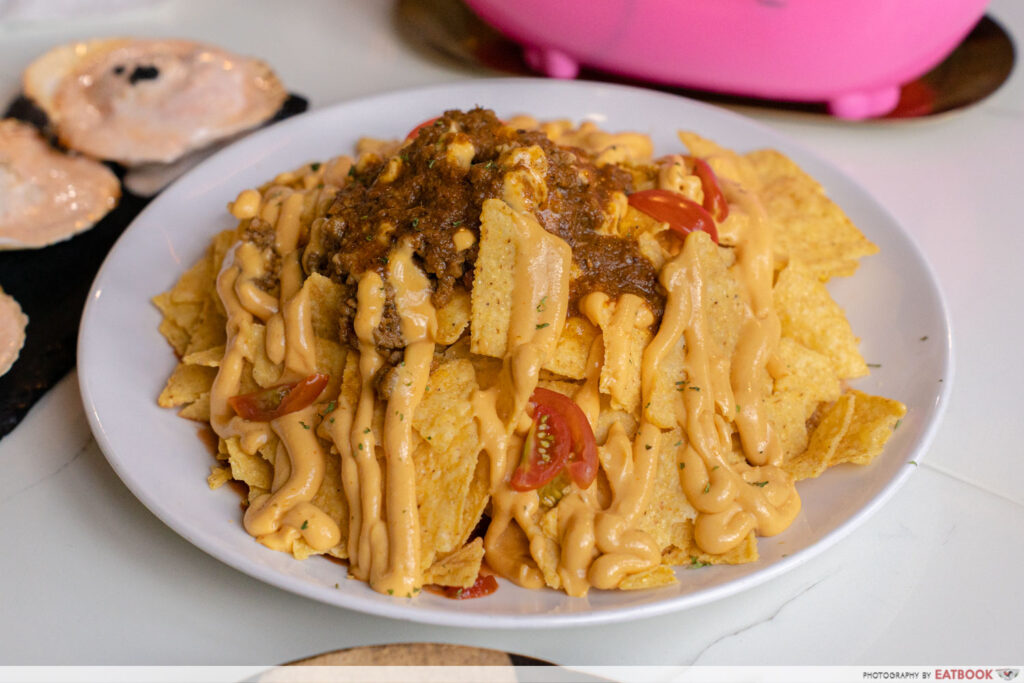 They've got a Ramly burger-inspired Wanderamly Burger Lecak ($28+) too, which comes with a 180g, egg-wrapped beef patty, fries, and salad. Alternatively, order the Wanderendang Nachos ($17+), a local twist on nachos, topped with minced beef rendang. 
Read our Wanderlost review!
Address: 201 Victoria Street, #07-04, Bugis+, Singapore 188067
Opening hours: Mon-Fri 5:30pm to 11pm, Sat-Sun 12pm to 11pm
Tel: 9145 8755
Website
Wanderlost is a Muslim-owned eatery.
Wanderlost Review: Fairy Tale-Inspired Rooftop Bar With Rendang Nachos And More In Bugis
---
4. FYP Cafe 
---

FYP Cafe is somewhat of a hidden gem in the heart of town. Located in Orchard Central, this glamping-inspired cafe serves loaded bagels and lava cookies by Whiskdom, alongside freshly made XXL fries by Big Big Fries. There's also a nice selection of coffee and tea-infused drinks on offer.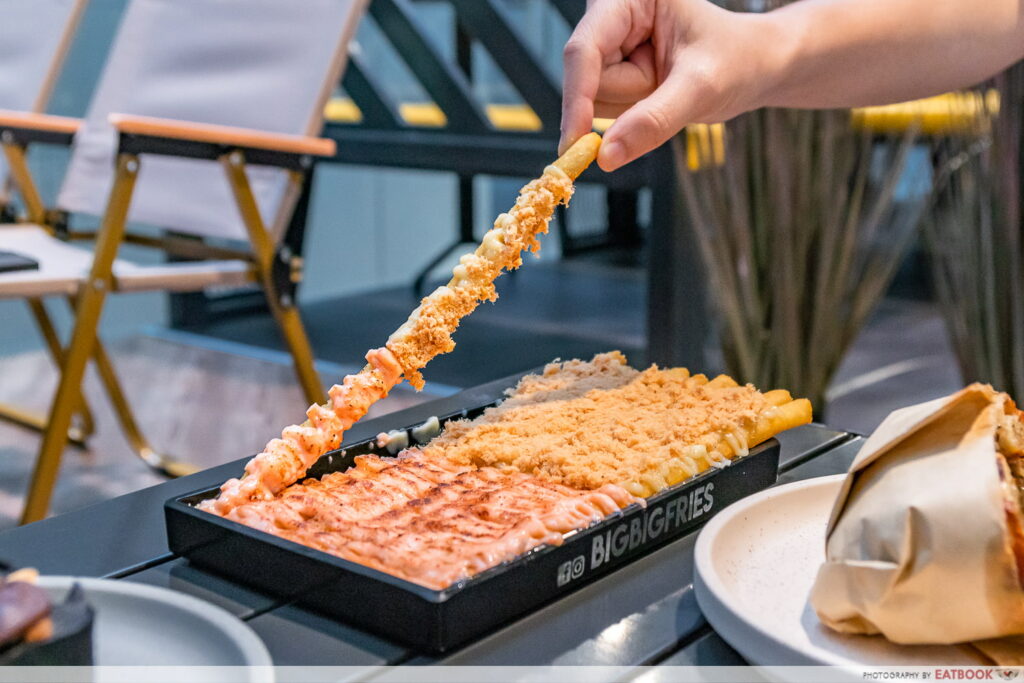 Do order Big Big Fries' famous handmade fries, priced at $12.90+ per portion. You can choose up to two out of six flavours, including Nacho Cheese and Truffle Mayonnaise, but we highly recommend sticking to what they're most known for: Mentaiko Mayonnaise. Other must-tries from the menu are the Truffle Beef Steak ($14.90+) bagel and Matcha Lava Cookie ($6.50+), which pairs matcha with white chocolate.
Read our full FYP Cafe review.
Address: 181 Orchard Road, #04-22, Orchard Central, Singapore 238896
Opening hours: Sun-Thurs 11am to 10pm, Fri-Sat 11am to 11pm
Website
FYP Cafe is not a halal-certified eatery.
FYP Cafe Review: New Glamping-Themed Cafe By Whiskdom And Big Big Fries At Orchard Central
---
5. Fico 
---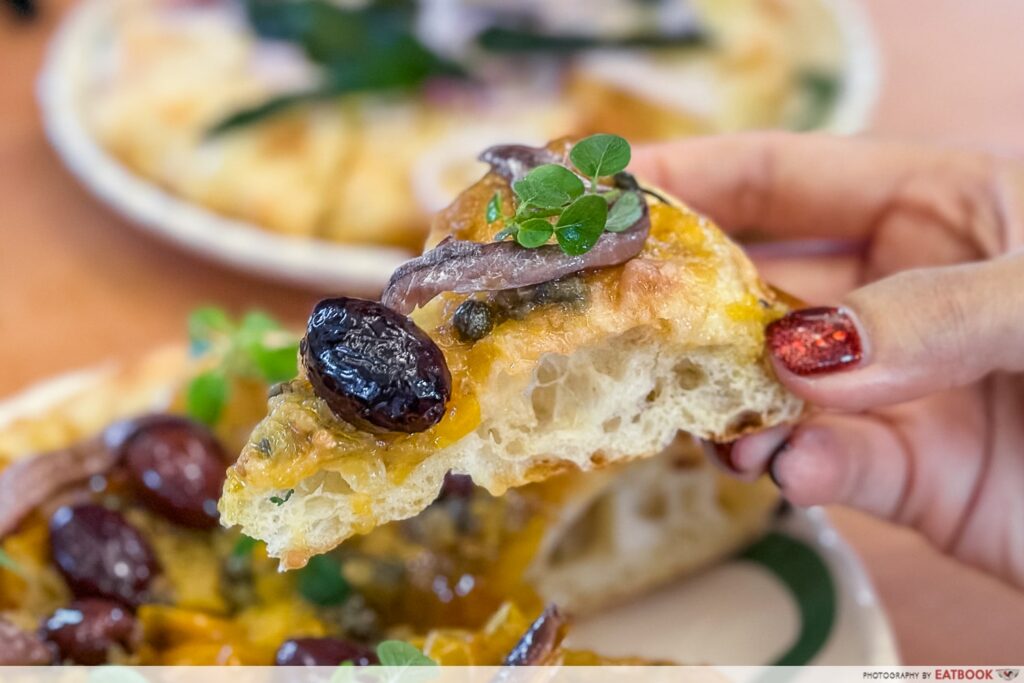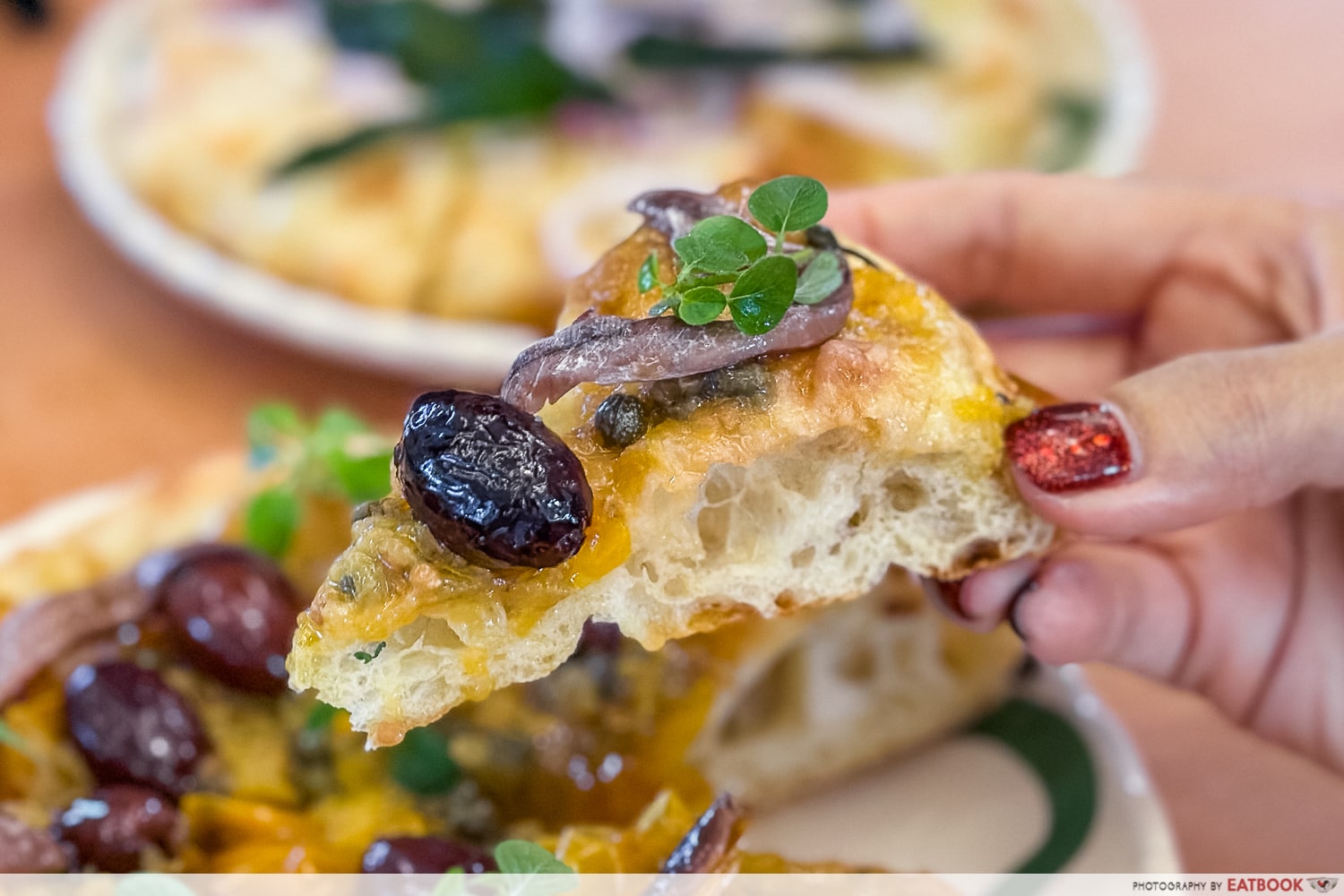 One of the latest Italian spots to hit town is Fico in East Coast Park, headed by Chef-Partner Mirko Febbrile, who used to be Chef de Cuisine at Michelin-starred Braci. This is the Pugliese native's first restaurant, which goes back to basics and embraces the Southern Italian region's no-frills, no-waste dining traditions.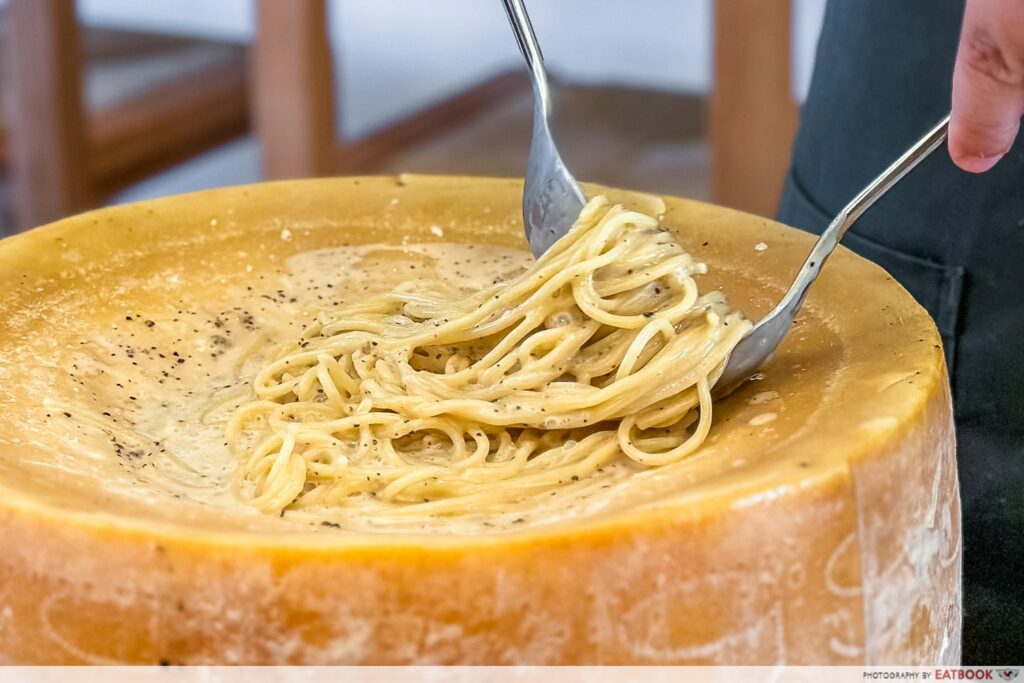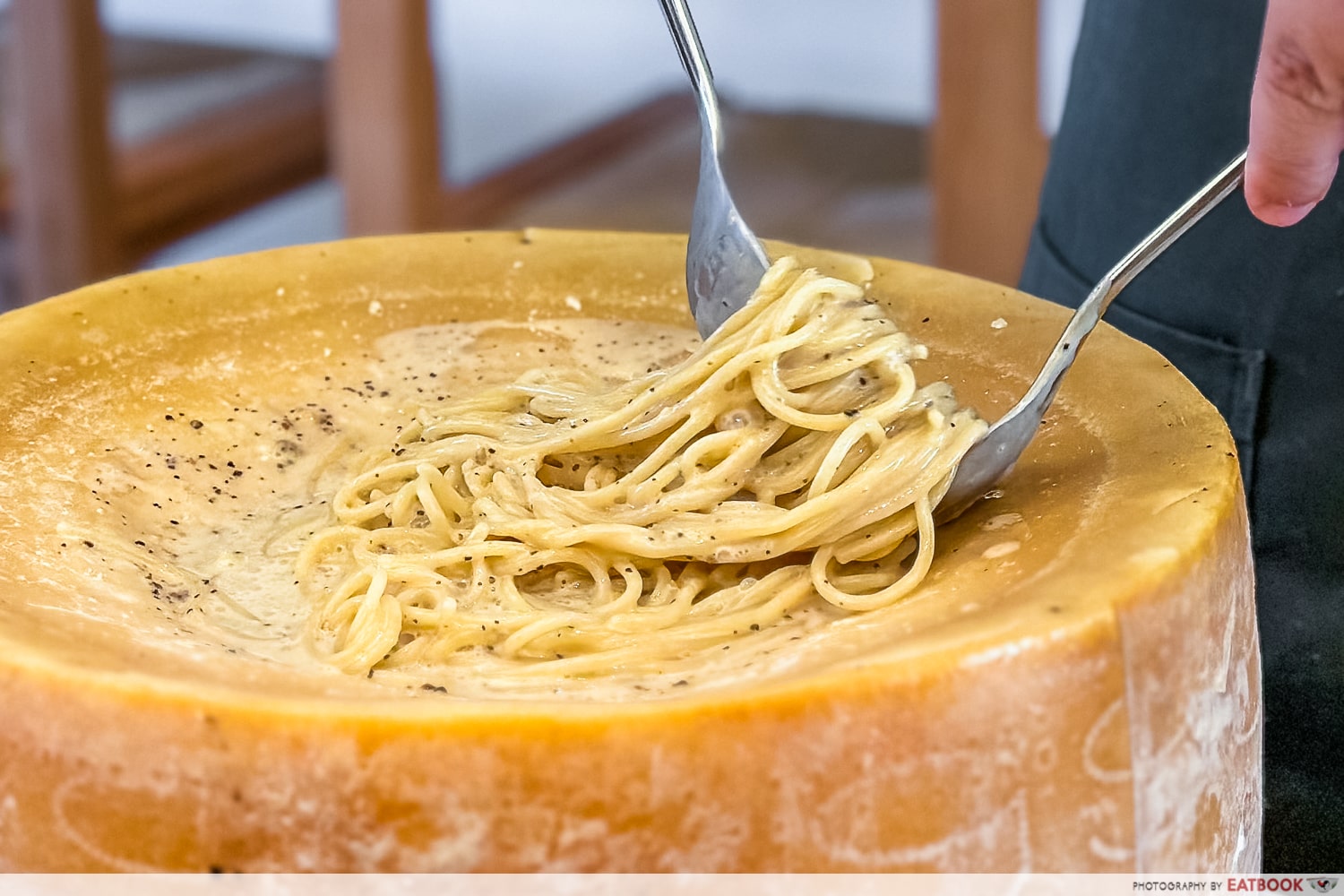 You'll be forgiven for thinking you've left Singapore behind, with its balmy, super chio indoor and outdoor seats. Start with one of Mirko's focaccina━a focaccia-pizza cross that comes as Tropea Onions ($18++), topped with cheese and honey, or Piennolo Giallo Tomatoes ($22++), laden with anchovies, olives, capers and oregano. 
On the pasta front, consider Denti del Drago ($25++) for a rarely seen white ragu, or Spaghetti ($26++) for cacio e pepe cooked in a pasta wheel. Don't miss Grilled Pork Collar ($38++) or any of their desserts, which you can pick off a dessert trolley, priced at $14++ for two!
Read our Fico review! 
Address: 1300 East Coast Parkway, East Coast Park Area F, Singapore 468964
Opening hours: Tue-Thurs 5:30pm to 10:30pm, Fri-Sun 11:30am to 3pm, 5:30pm to 10:30pm
Tel: 8121 7208
Website
Fico is not a halal-certified eatery
Fico Review: Michelin-Starred Chef Opens Stunning Restaurant With Cheese Wheel Handmade Pasta And More
---
6. Coucou Authentic Swiss Restaurant and Bar
---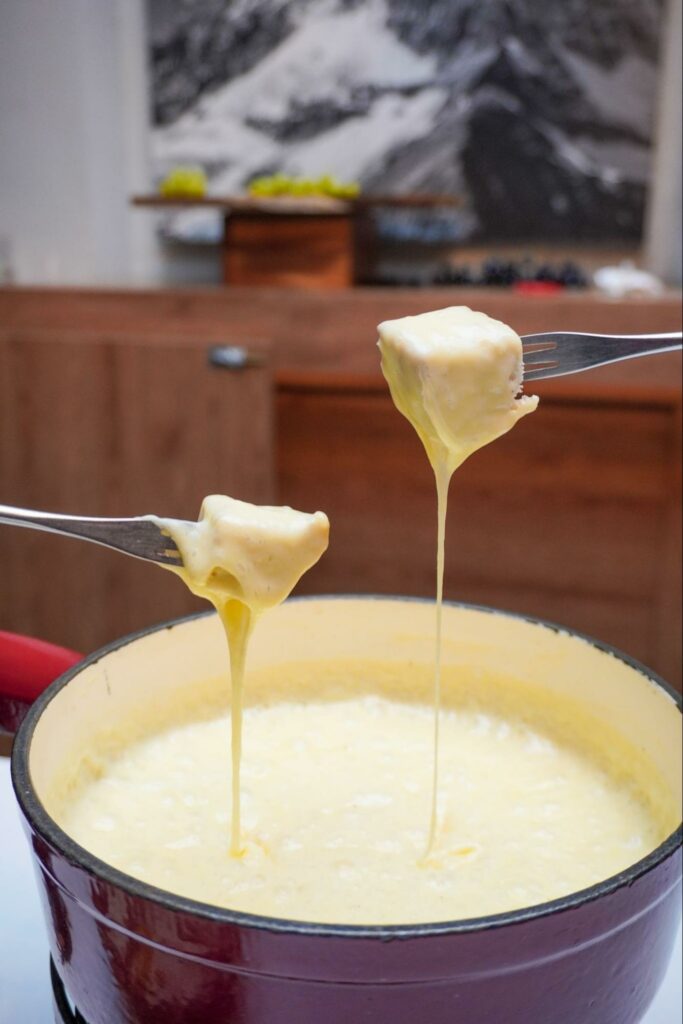 Image credit: @coucou.restaurant
For a taste of Switzerland, check out Coucou Authentic Swiss Restaurant and Bar on Craig Road, just behind Tanjong Pagar Plaza. Run by a native Swiss, stepping into this restaurant will whisk you right into a ski lodge in the Swiss Alps with their Fondue Moitie-Moitie ($38++ per person), which you can even get in a locally inspired Fondue aux Piments ($38++ per person) version, loaded with chilli padi.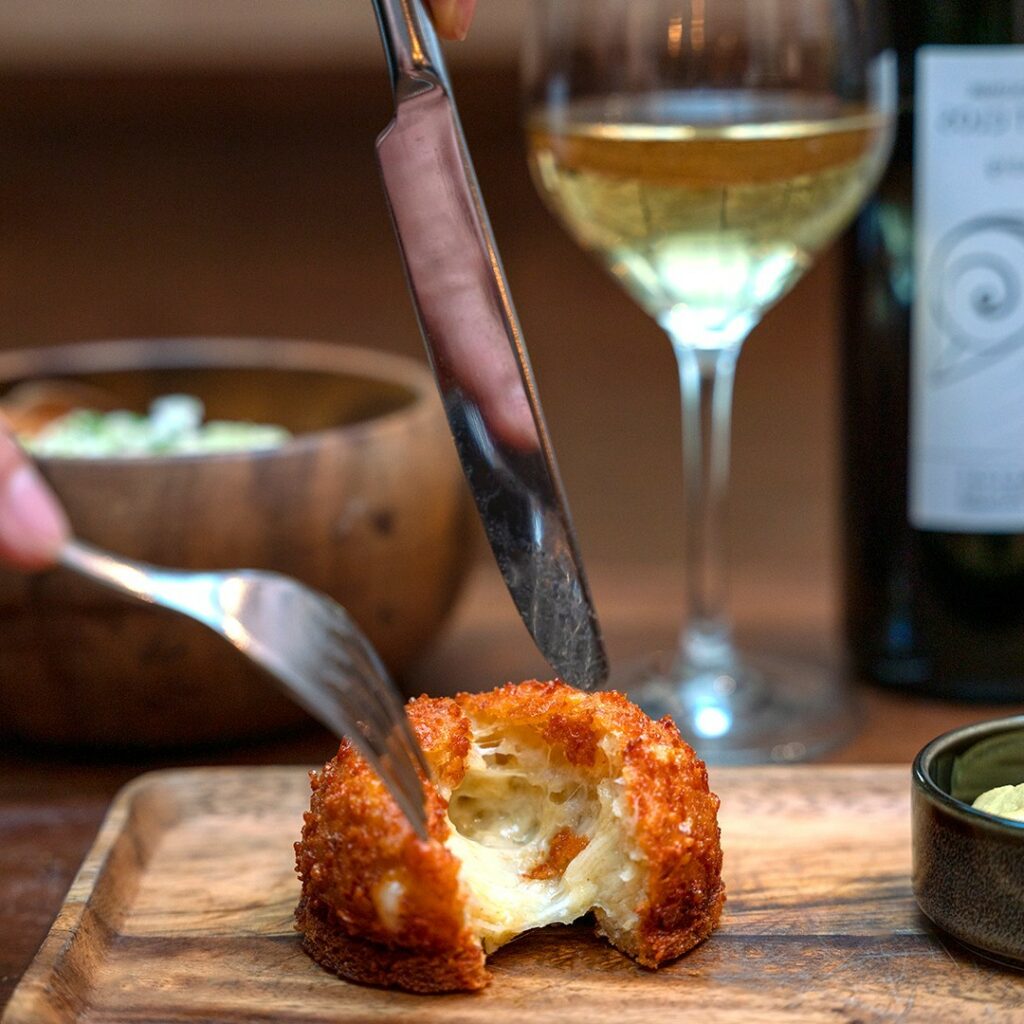 Image credit: @coucou.restaurant
For something that's super traditional, get an order of Malakoff ($12++), a breaded and deep-fried dome of melted Gruyere cheese that's actually Russian in origin. Of course, you'll also find Rosti Saucisse de Saint-Gall ($28++) on the menu, for the potato pancake served with a veal sausage and onion gravy, and Meringues a la Double Creme de Gruyere ($20++), a super indulgent dessert of meringue with double cream from Gruyere.
Address: 9 Craig Road, Singapore 089669
Opening hours: Sun-Thurs 12pm to 2:30pm, 6pm to 11pm, Fri-Sat 12pm to 2:30pm, 6pm to 12am
Tel: 6226 0060
Website
Coucou Authentic Swiss Restaurant and Bar is not a halal-certified eatery
---
7. Paaru
---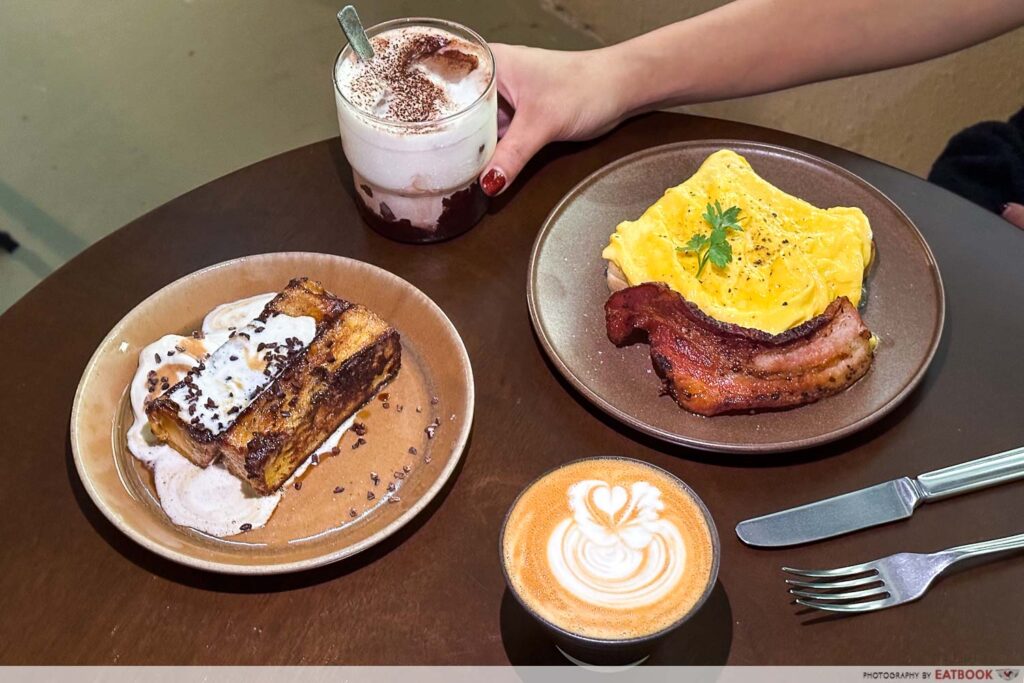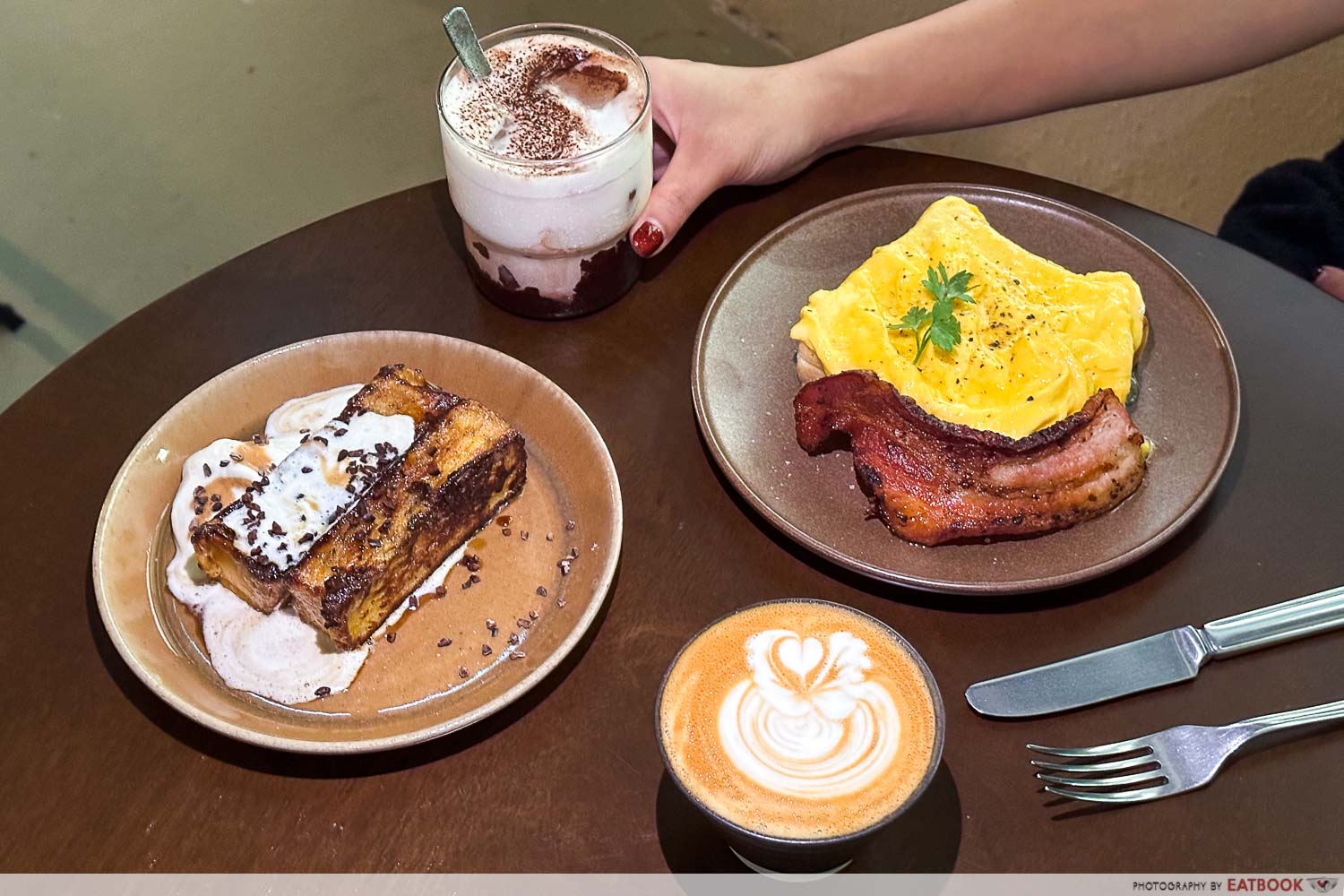 Trek up Pearl's Hill in Chinatown to find Paaru, a Japanese-inspired cake and bakery that's been going viral on TikTok for their gorgeous, Japanese teahouse interior. It's not hard to choose what you're having, with just five food items on the menu centred around house-baked shokupan, AKA Japanese milk bread.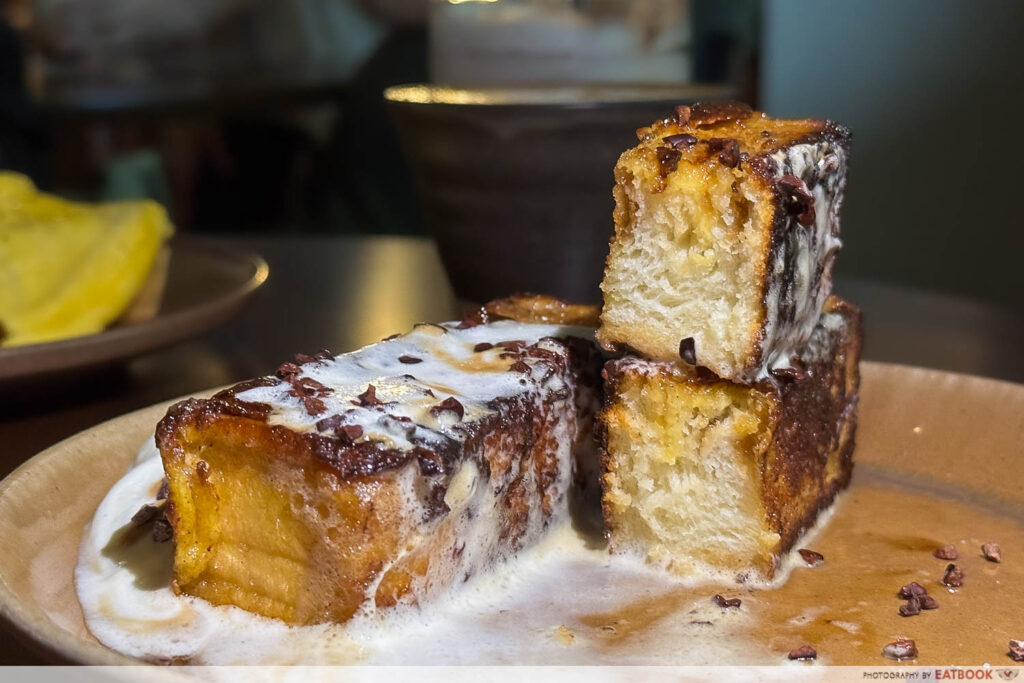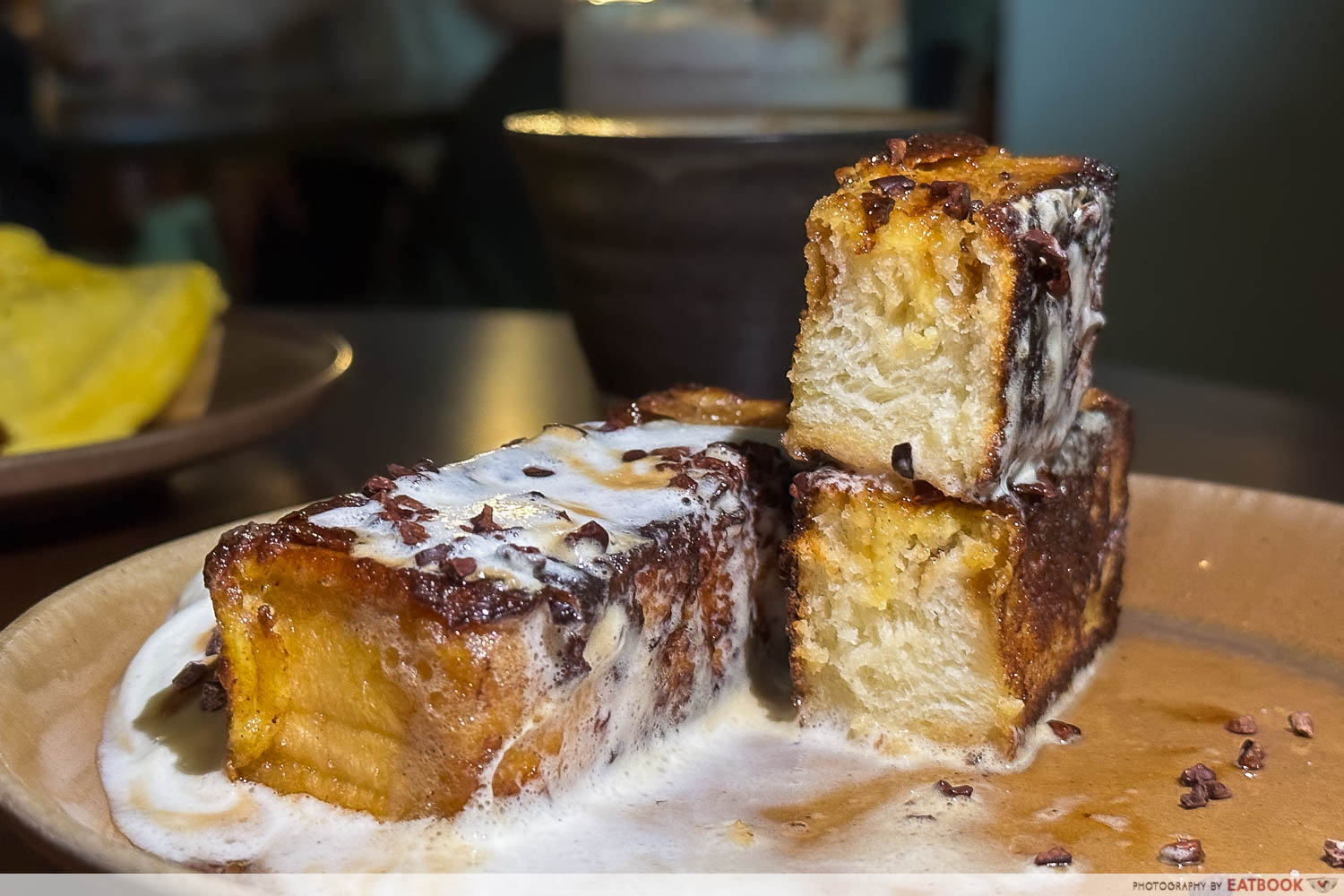 French Toast Shokupan ($12++) is a sweet option, which we loved for its crisp, caramelised exterior and the bread's characteristic chew. It's served with Japanese brown sugar syrup, and sprinkled with cacao nibs as well as sea salt. You can also order Eggs on Shokupan (from $11++) for poached or scrambled eggs with add-ons such as portobello mushroom ($5++) and thick-cut bacon ($6++).
Address: 195 Pearl's Hill Terrace, #01-61, Pearl's Hill Studio, Singapore 168976
Opening hours: Mon-Tue, Thurs-Fri 9am to 7pm, Sat-Sun 9am to 6pm
Website
Paaru is not a halal-certified eatery
This New Japanese-Inspired Cafe And Bakery In Chinatown Has Shokupan French Toast And More
---
8. Coexist Coffee
---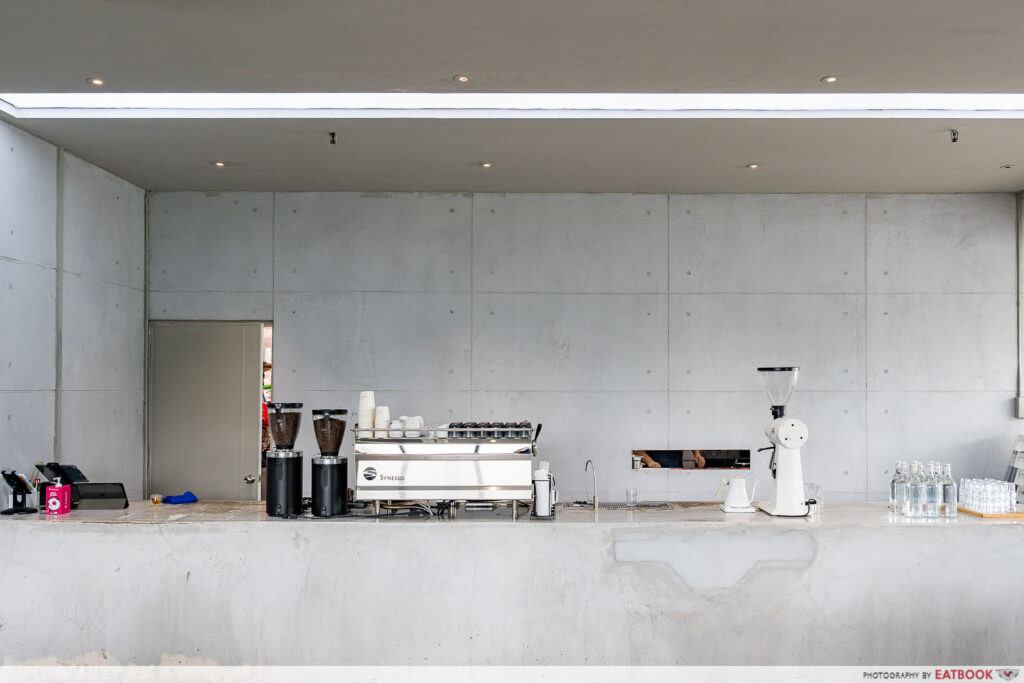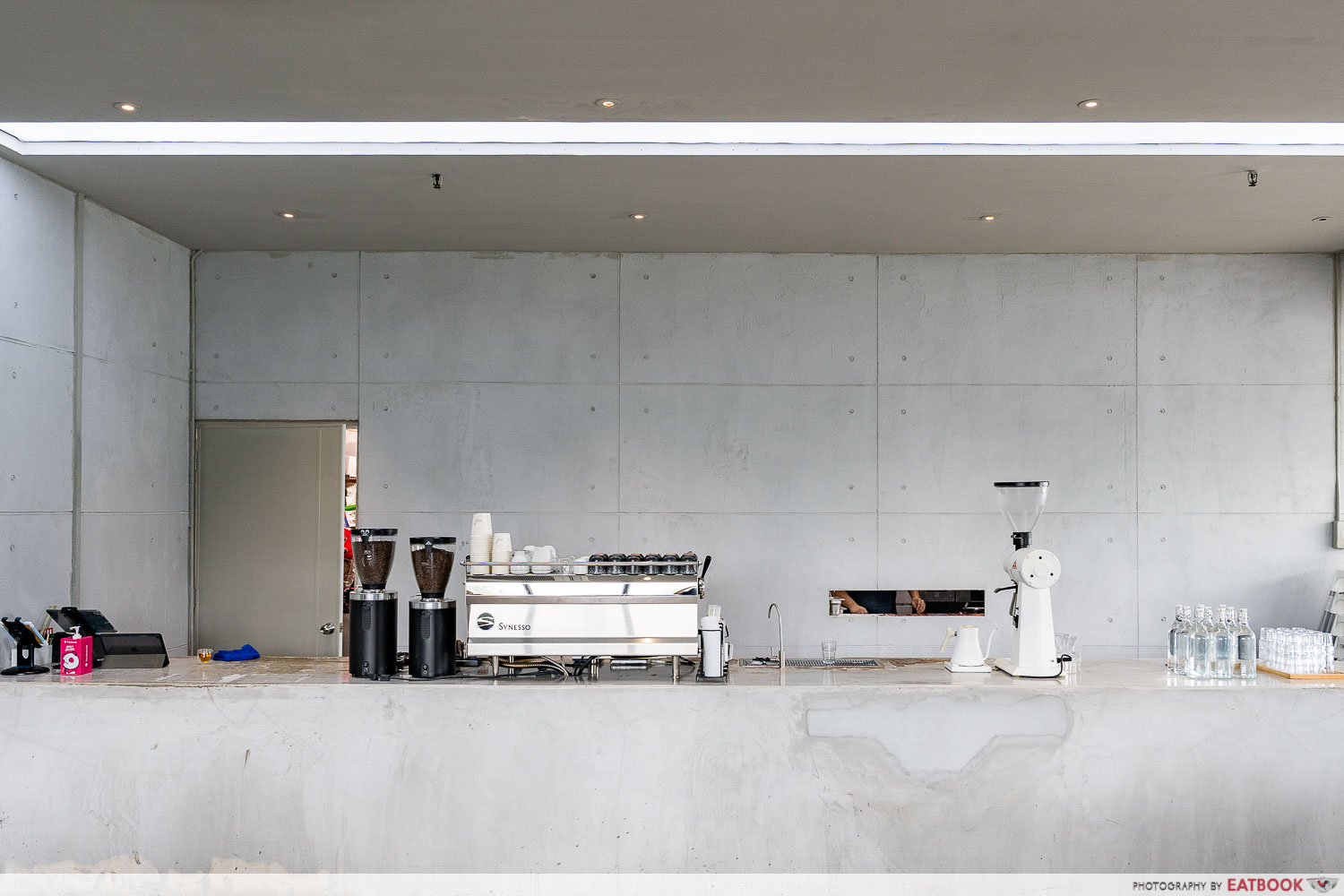 Coexist Coffee is back at Hillview! You can find them at the same rooftop location in Hillview Building, which they vacated three months ago, with a new menu, and revamped with a minimalist industrial concept.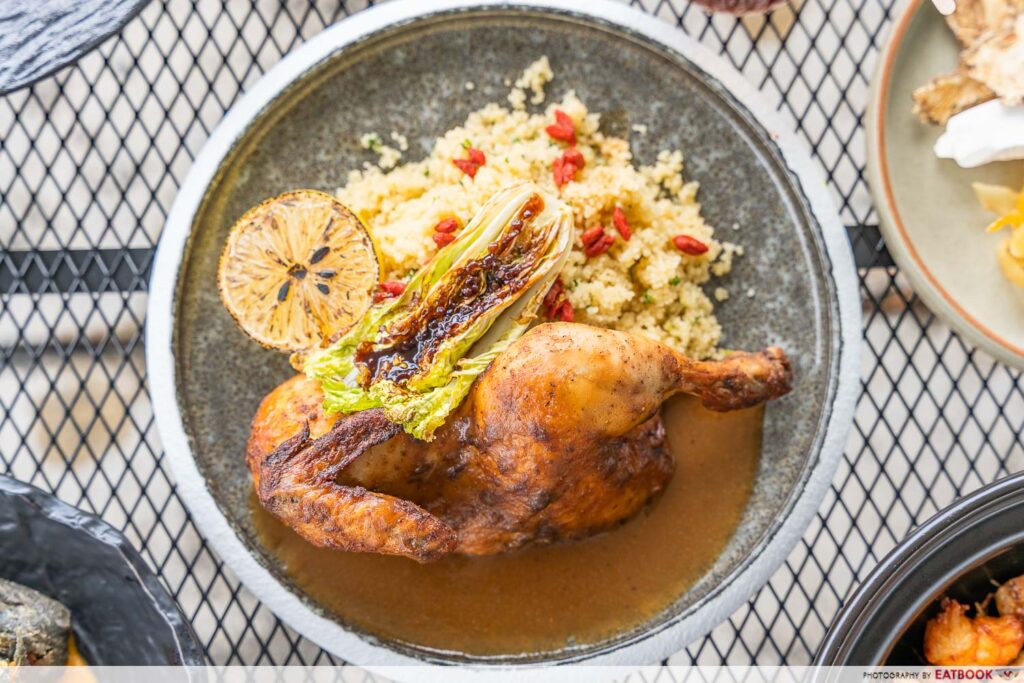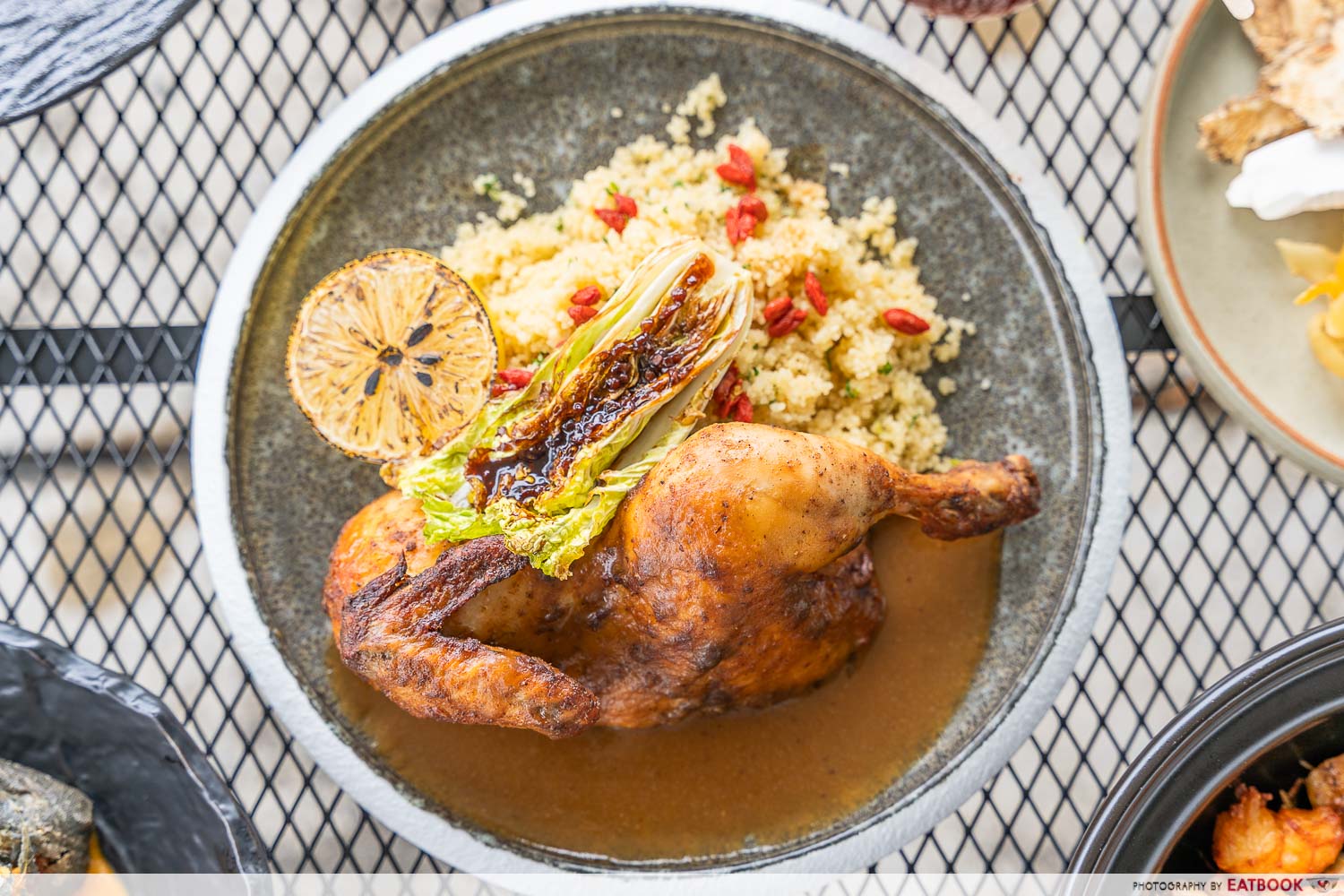 Highlights of the new, modern Singaporean menu include Herbal Chicken "Rice" ($22++) and Assam Barramundi ($28++), both of which feature house-made marinades, rempah and more. For desserts, check out Goreng Pisang ($12++), for house-baked banana cake with little balls of fried banana fritters, and Thai coconut ice cream.
Address: 48 Hillview Terrace, #08-00, Singapore 669269
Opening hours: Daily 8am to 6pm
Website
Coexist Coffee is not a halal-certified eatery
Coexist Coffee Is Reopening At Hillview With Otah You Tiao, Satay Quesadilla And More
---
9. The Bank
---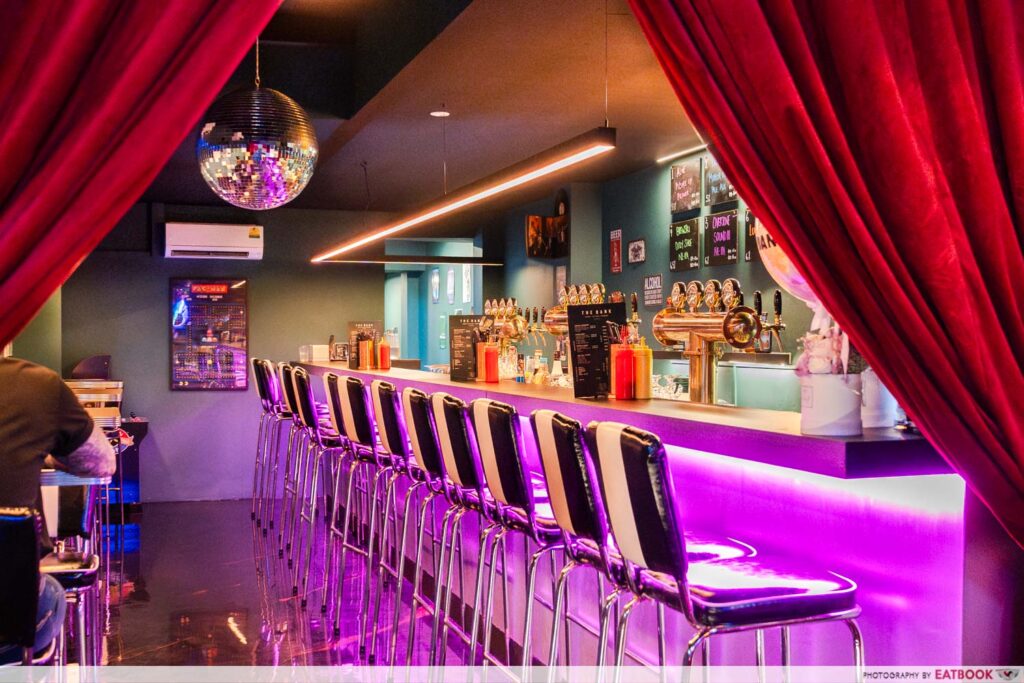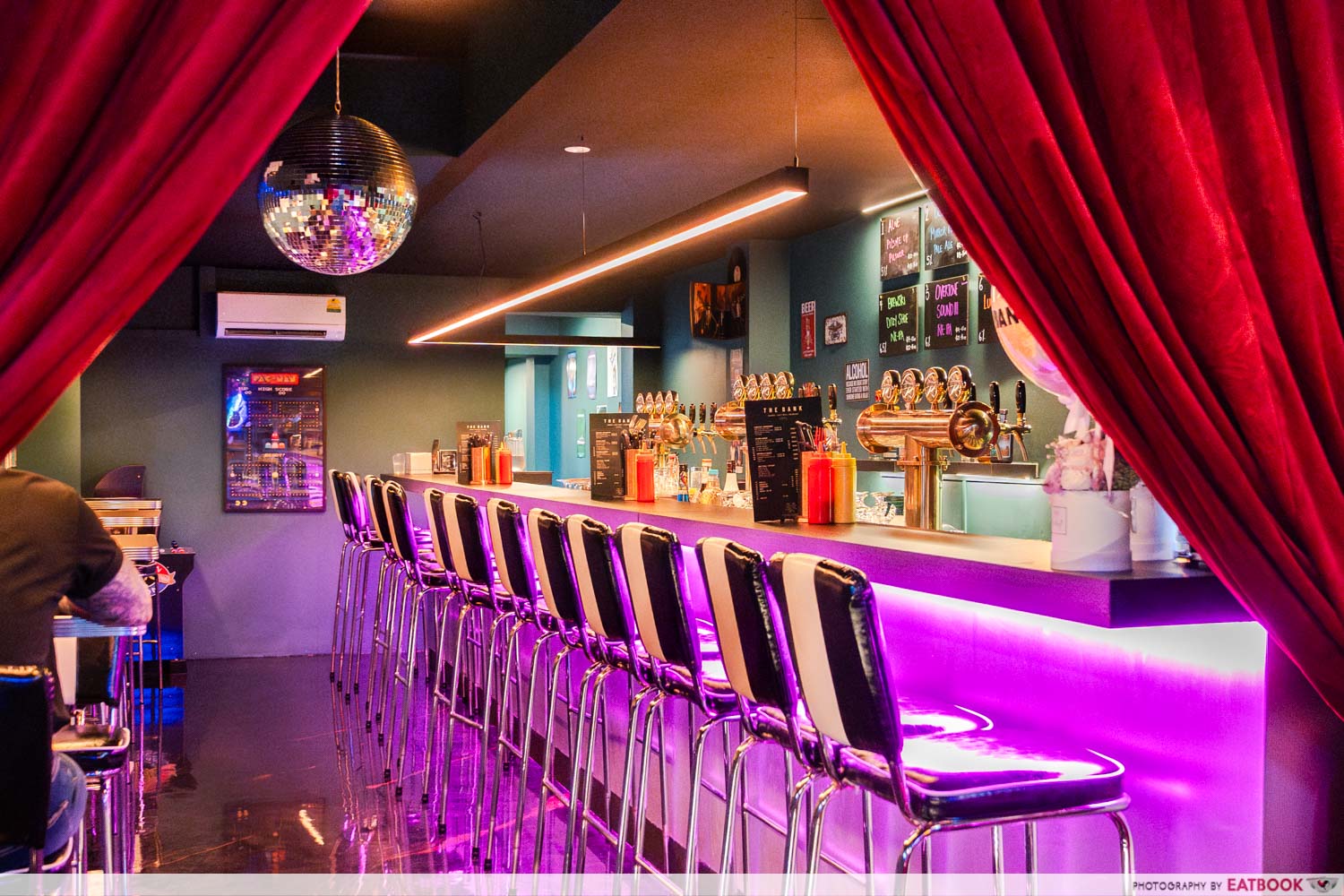 Hidden behind an ATM in Tanjong Pagar is The Bank, by the same folks behind the now-defunct Burger Joint in Amoy Street. Come here for good ol' fashioned burgers in a space that's meant to mimic an 80's American diner.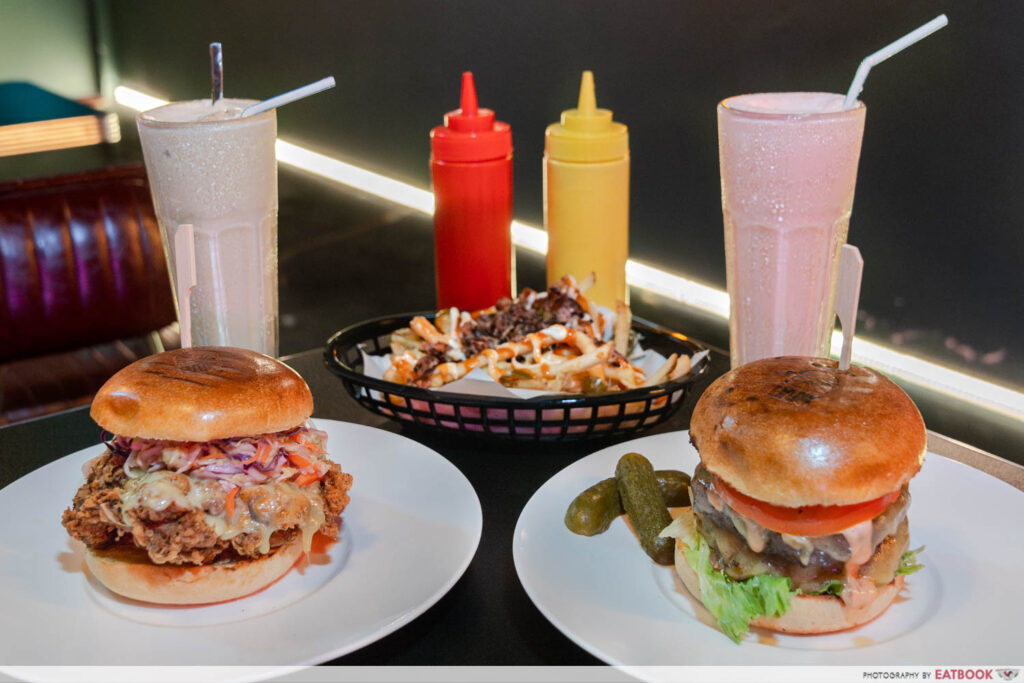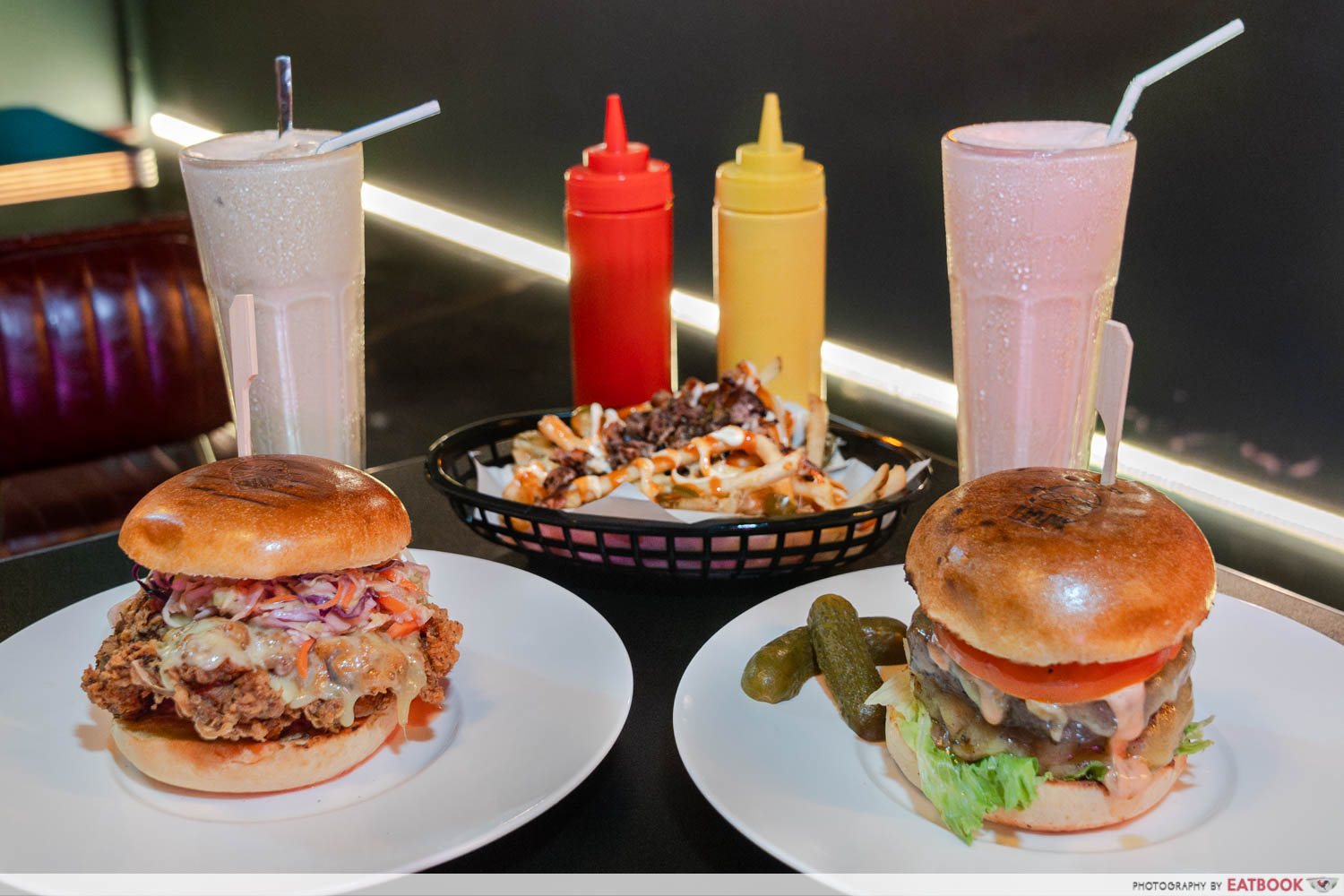 Have one of their milkshakes, which are made with only Haagen-Dazs ice cream and milk, in flavours such as Vanilla, Chocolate, Strawberry, or Oreo. Each is priced at $12++, otherwise, you can add Reese's peanut butter cups to any with a top-up of $2++.
On the burger front, don't miss their Chicken Burger ($18++), where a whole buttermilk-fried chicken leg comes with your choice of Spicy Coleslaw or Bacon with Herb Aioli. Alternatively, go for Signature Cheeseburger (from $18.80++), where the beef patty is hand-butchered and ground in-house with 100% Angus beef.
Address: 46 Craig Road, Singapore 089684
Opening hours: Mon-Thurs 11:30am to 11pm, Fri-Sat 11:30am to 12am, Sun 11:30am to 8pm
Tel: 6980 6875
Website
The Bank is not a halal-certified eatery
This Hidden Retro Diner Has XL Buttermilk Chicken Burger, Spicy Bacon Cheese Fries And More In CBD
---
10. Gordon Grill
---
Established in 1963, Gordon Grill at Goodwood Park Hotel is a stalwart in the fine dining scene. To celebrate their 60th anniversary this year, the restaurant has come up with a slew of nostalgic dishes for you to try from 1 to 30 July 2023.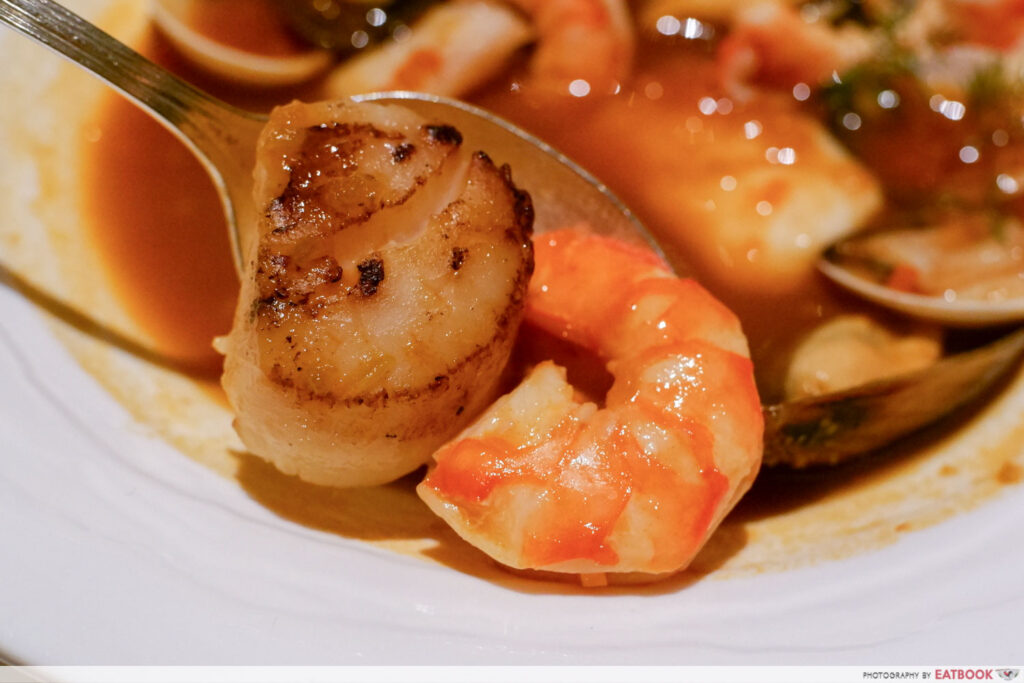 Tuck into old-school classics that have withstood the test of time; there's the Seafood Bouillabaisse ($48++), loaded with scallop, clams, mussels, tiger prawns and  Beef fans should also try the Steak Diane Black Angus Tenderloin ($78++) that's worth the splurge. The steak is flambéed tableside with a brandy and comes topped with mushroom sauce, mashed potatoes, and steamed veggies on the side.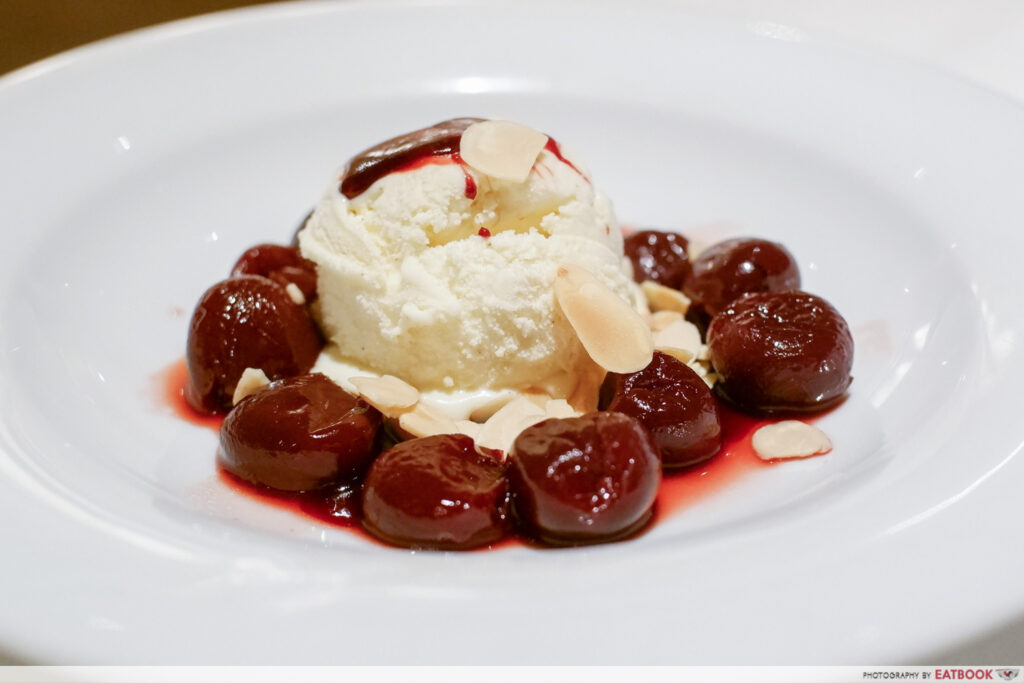 For dessert, you won't go wrong with their signature Cherry Jubilee ($24++), also flambéed tableside with brandy for a fun visual experience, and paired with vanilla bean ice cream.
Address: Goodwood Park Hotel, 22 Scotts Road, Singapore 228221
Opening hours: Daily 12pm to 2:30pm, 6:30pm to 10pm
Tel: 6730 1744
Website
Gordon Grill is not a halal-certified eatery.
---
11. Little Farms Table
---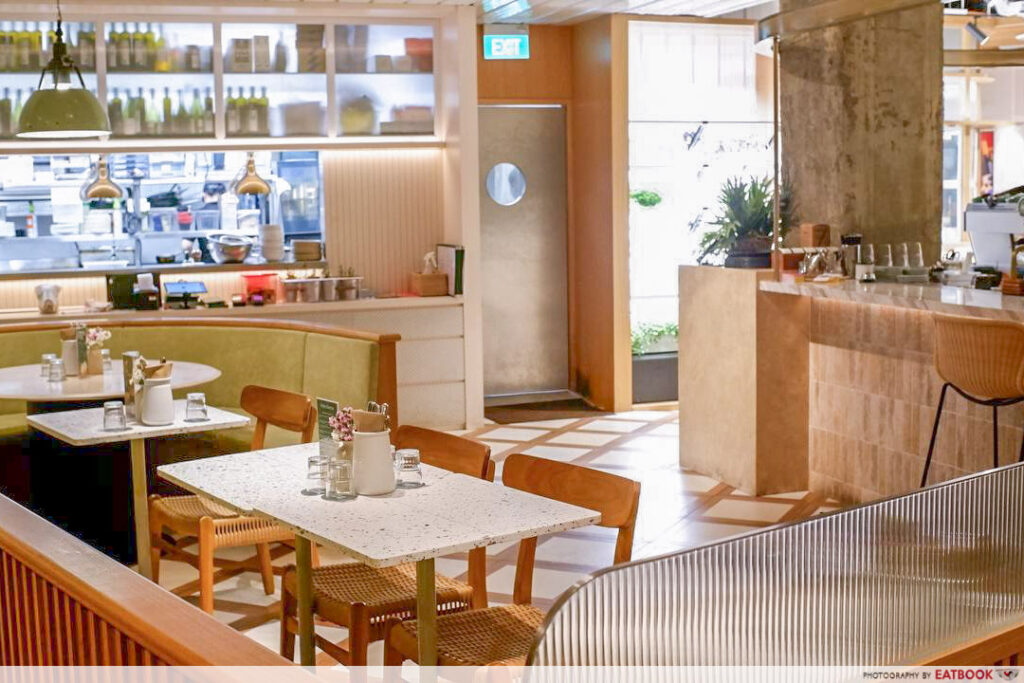 If you're looking for a new dinner spot for a casual date night or gathering with friends, consider Little Farms Table in Tanglin Mall. The chic and cosy restaurant has just introduced new dinner specials on their menu, including fresh pastas, sharing sides, and drool-worthy steaks.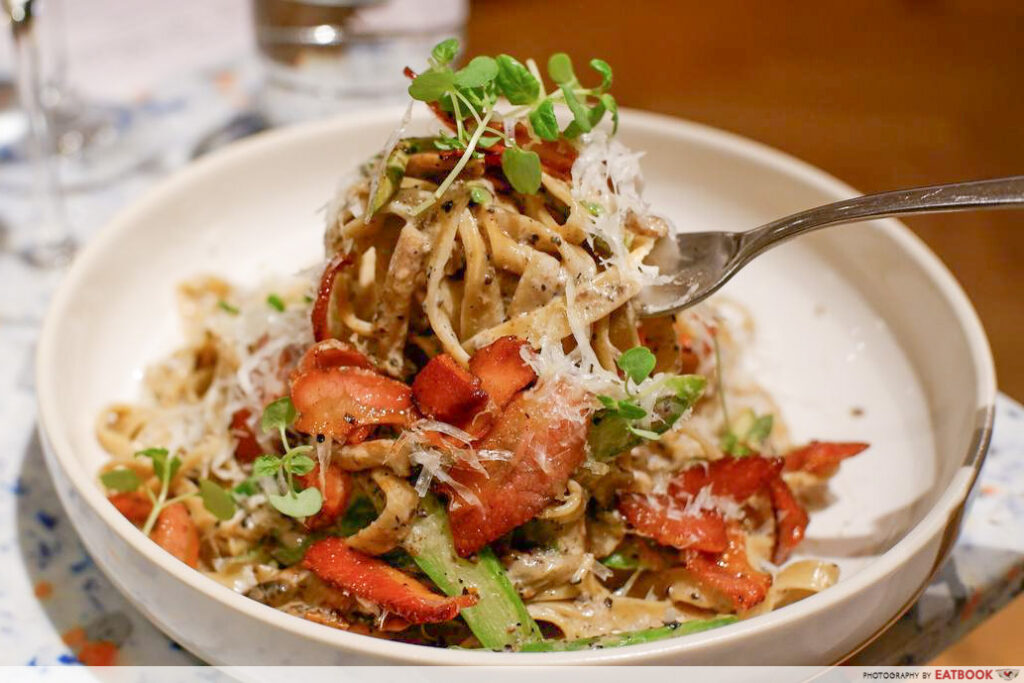 The Crispy Pork Jowl Tagliatelle ($27++) comprises fresh pasta with a fragrant medley of savoury guanciale, shimeji mushrooms, and pecorino cheese, tossed in a truffle cream sauce. There's also the hearty Ox Cheek & Mushroom Parpadelle ($26++), featuring local mushrooms and tender ox cheek braised in a rich tomato sauce. Otherwise, fill up on the Sirloin ($38), a 200g slab of quality steak that's best shared among the table.
Address; 163 Tanglin Road, #02-138, Tanglin Mall, Singapore 247933
Opening hours: Sun-Thurs 7:30am to 9:30pm, Fri-Sat 7:30am to 10pm
Tel: 3163 6344
Website
Little Farms Table is not a halal-certified eatery.
---
12. Keong Saik Bakery
---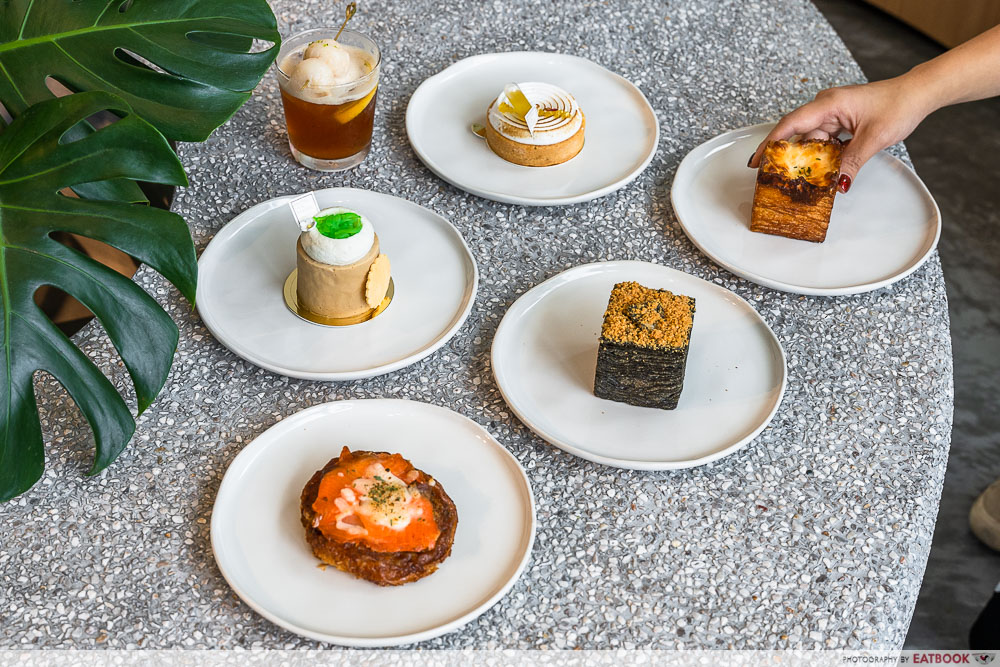 Keong Saik Bakery's flagship is now no longer on Keong Saik Road but in Luzerne, a building in Bendemeer that also houses SYIP. The stunning space reminds us of cafes in Korea, with an actual walk-through display of their bakes, including Miso Salmon Kouign-amann ($6.60++), Mentaiko Cheese Croissant Cube ($6.40++), and Muah Chee Croissant Cube ($5.90++).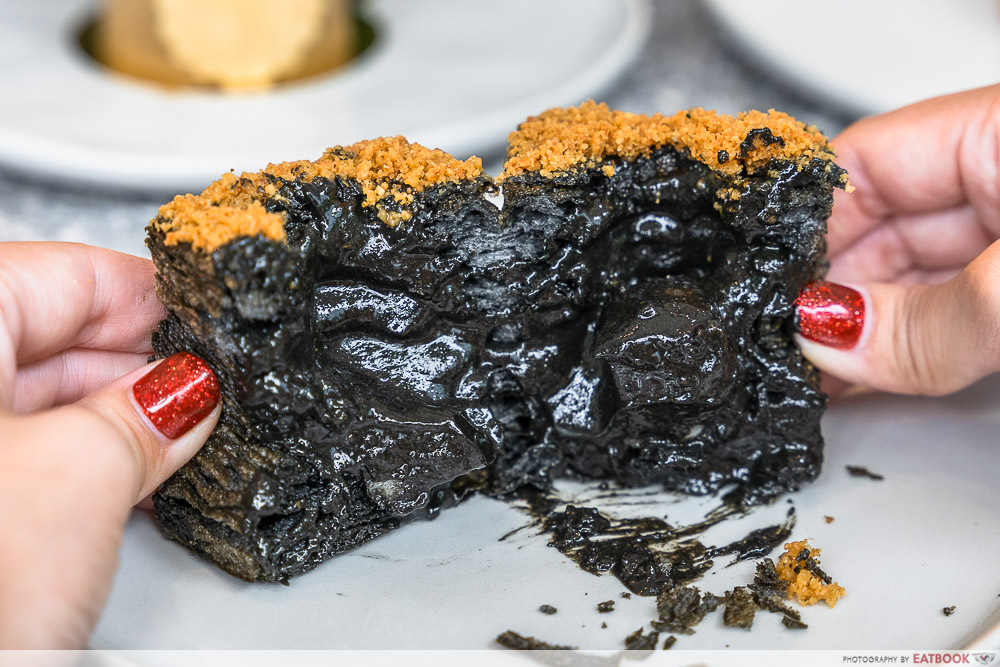 New to the menu are some made-to-order items, including Kimchi Korean Fishcake Sando ($14++) and Otak Mac N Cheese ($15.90++), which we loved for its spicy, rempah-spiced fish paste jazzing up your regular mac 'n cheese. For something tart and appetising, consider Pulau Limau ($8.50++), a lime custard tart that comes complete with a pipette of juice to make it even more sour.
Read our Keong Saik Bakery review!
Address: 70 Bendemeer Road, #01-03, Luzerne, Singapore 339940
Opening hours: Mon-Fri 8am to 7pm, Sat-Sun 8am to 6pm
Tel: 9021 9626
Website
Keong Saik Bakery is not a halal-certified eatery.
Keong Saik Bakery Review: Muah Chee Croissant Cube, Otak Mac N Cheese And More In Bendemeer
---
13. Yeast Side 
---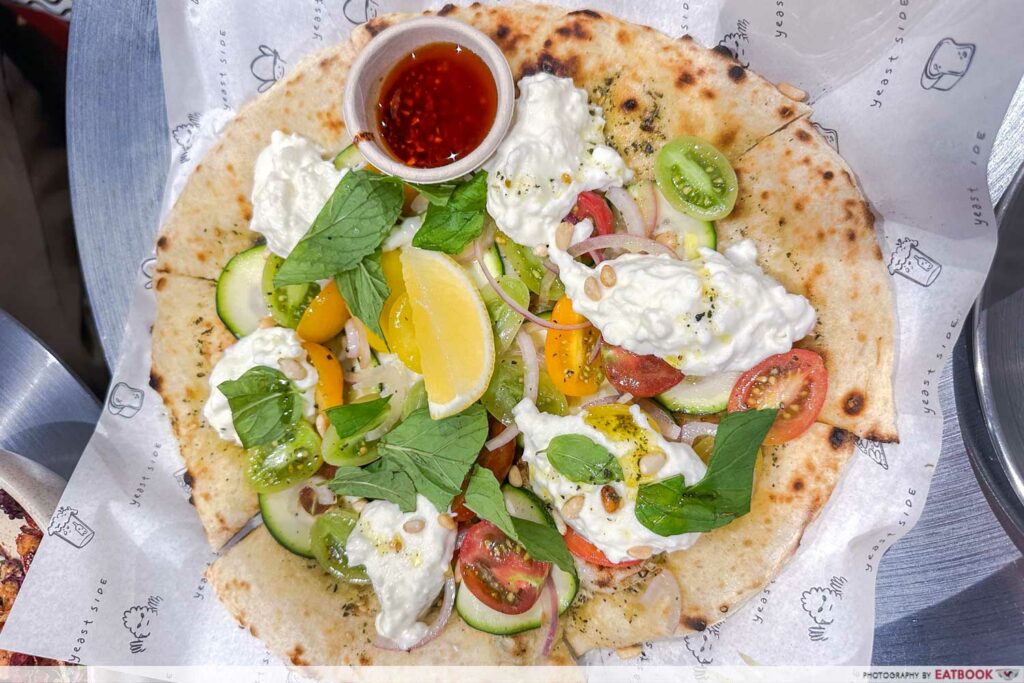 For this month only, Yeast Side is rolling out a special pizza in collaboration with Artichoke. The Man'ousche ($24++) is a veggie-friendly pizza with heirloom tomatoes, zucchini, and za'atar, topped with creamy burrata, feta, pine nuts, mint, and lemon. To finish, it's drizzled with chilli oil and a fresh wedge of lemon for brightness.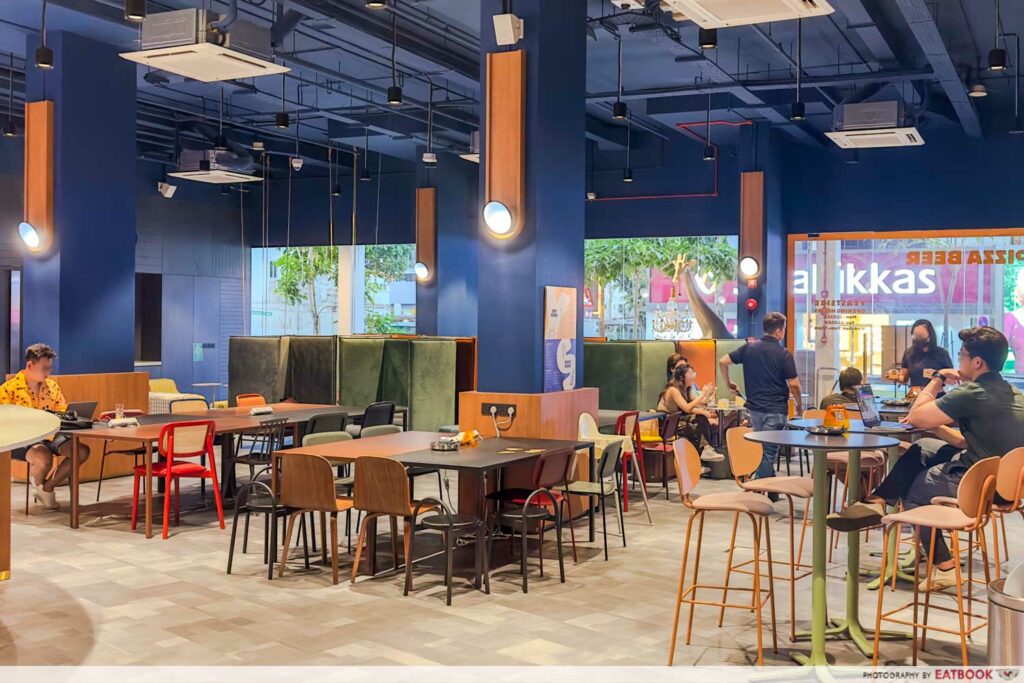 You can also look forward to other new menu items, including Shroooms! ($20+) pizza and Let's Caulihummus ($16++): creamy hummus made with cauliflower. Don't forget to end things on a sweet note: their Bailey's Basque Burnt Cheesecake ($8.50++), served with berry sauce and crumble, is a must-try!
Read our full Yeast Side review.
Address: 2 Perumal Road, #01-06, Singapore 218773
Opening hours: Wed-Sun 9am to 10:30pm
Website
Yeast Side is not a halal-certified eatery.
Yeast Side Review: Fresh Sourdough Pizzas, Circle Croissants And More Near Farrer Park
---
14. Robert Chicken 
---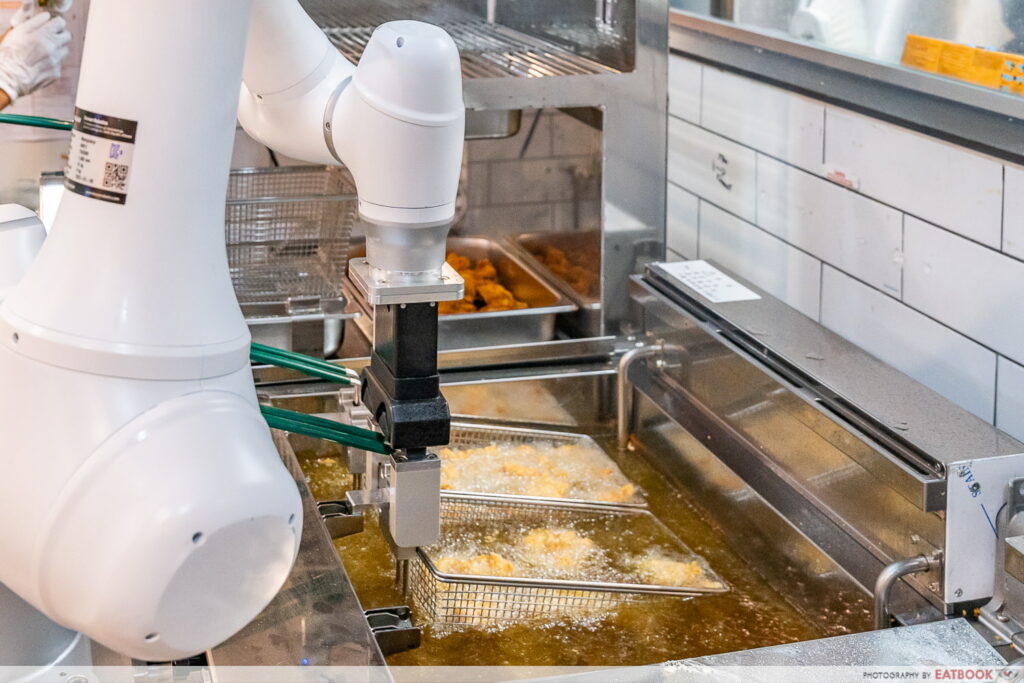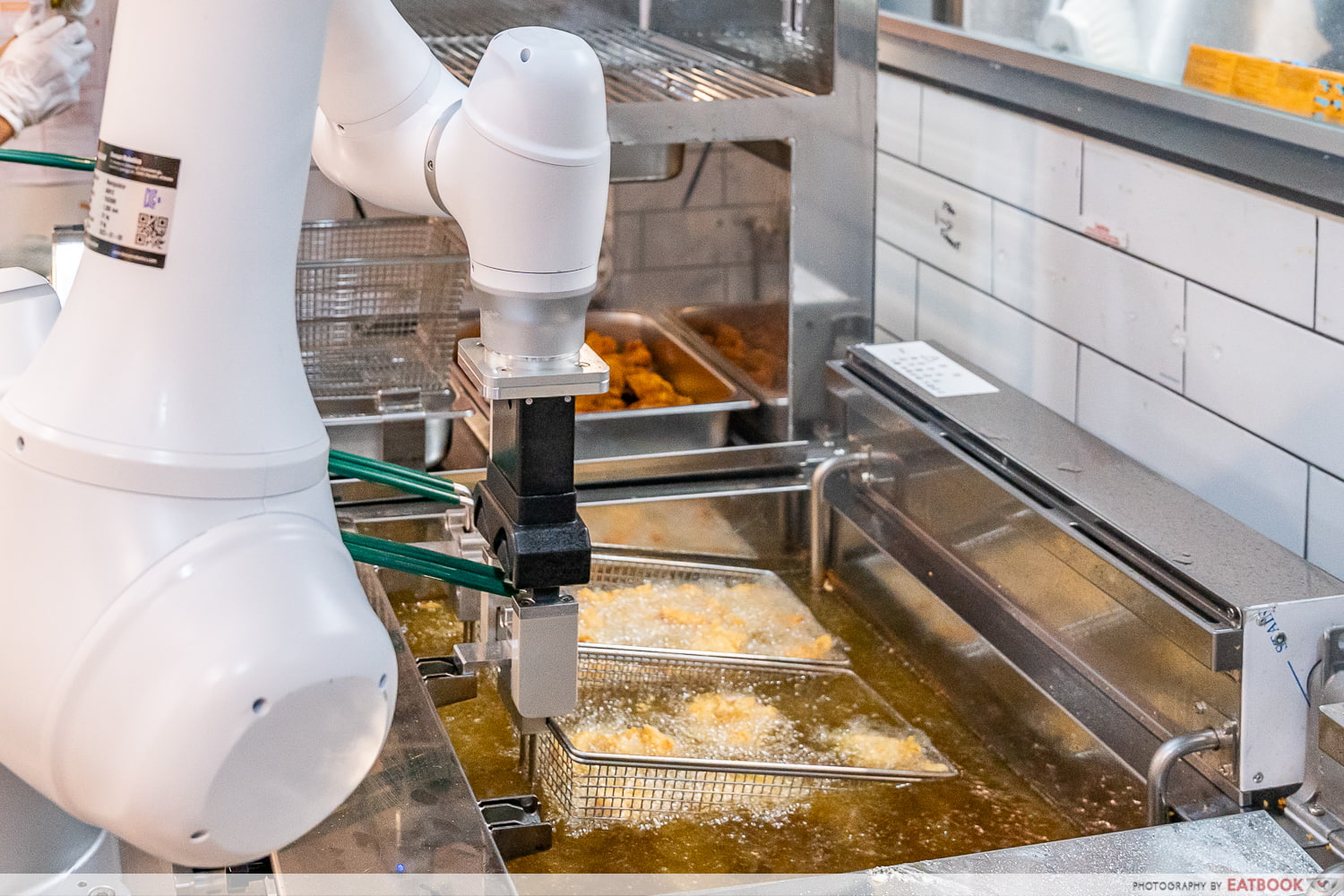 A robot chef frying up fried chicken—that's what you're getting at Robert Chicken, a Korean fried chicken chain that has opened its first outlet here in Basement One of Great World. Here, a flexible mechanical arm is what handles the majority of the preparation process, and it's quite the spectacle—you can see it in action in this Instagram post. You have a range of fried chicken flavours to select from, such as Original, Butter Soy, Chipotle Mayo, Sweet and Spicy, and Black Pepper.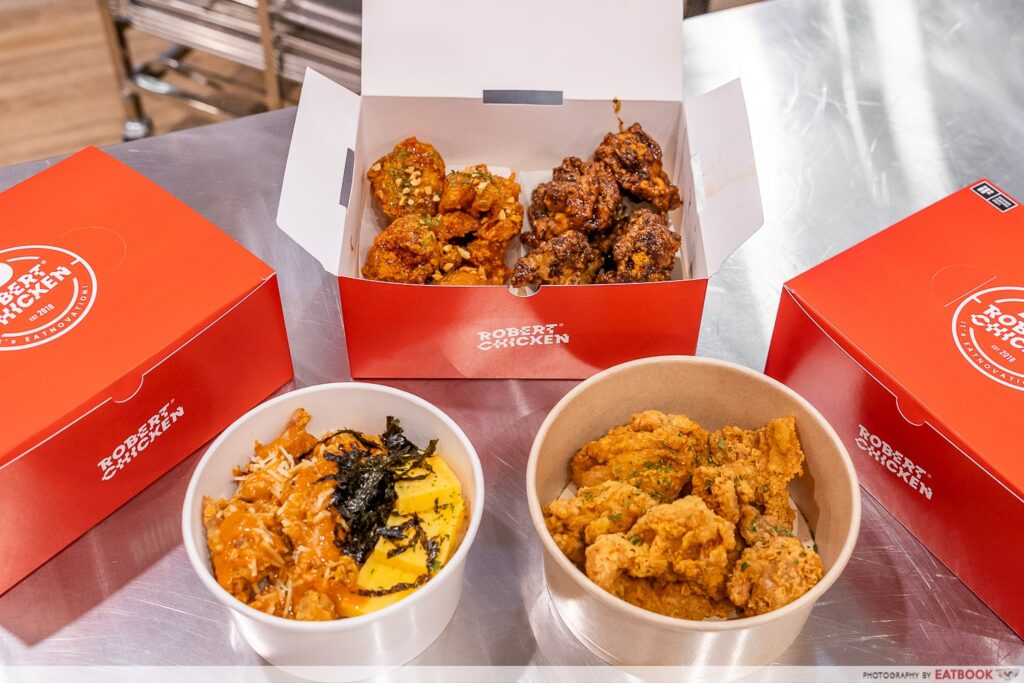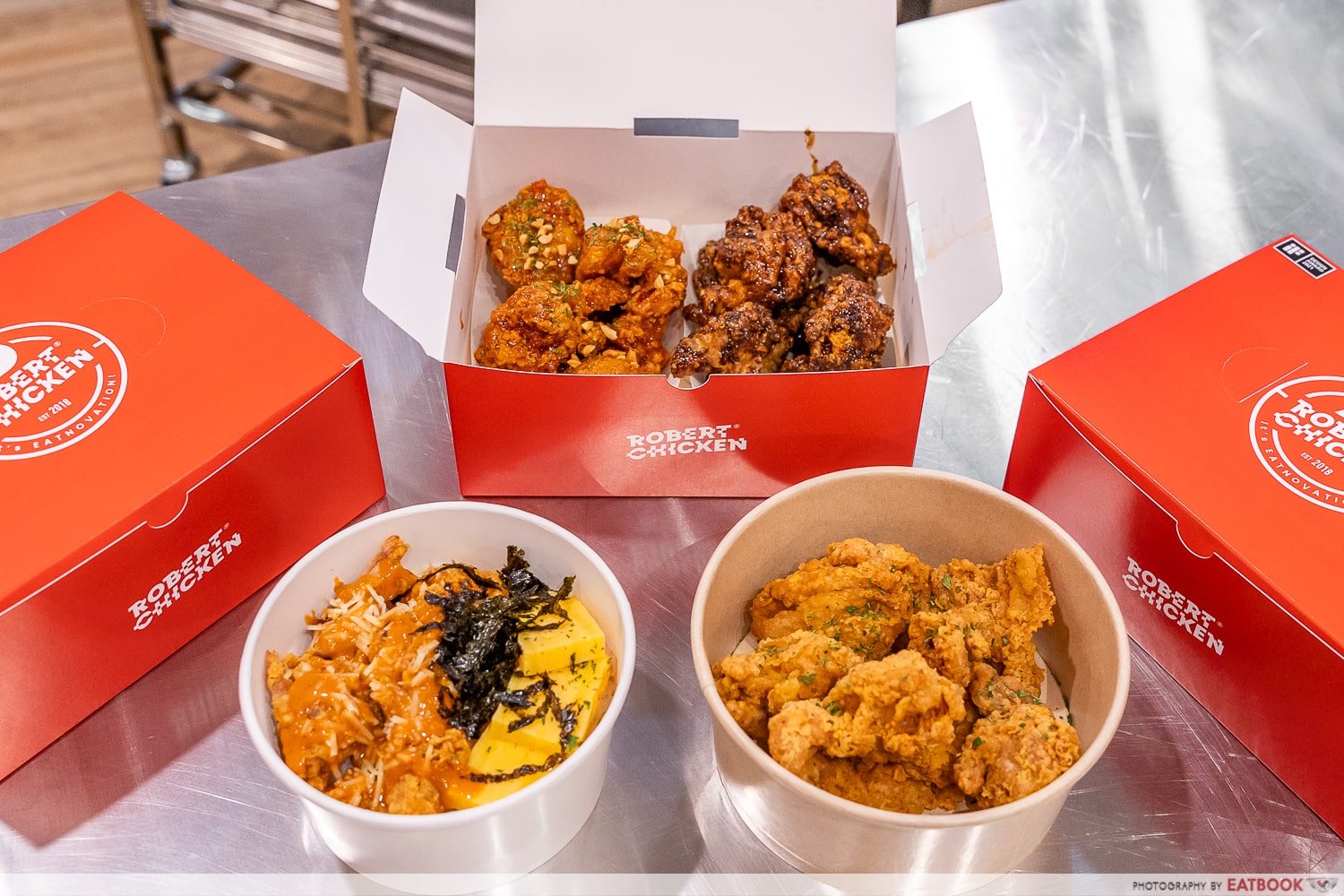 You can choose to order 6 pieces for $11, 12 pieces for $18.90, or a substantial 18 pieces for $28.90. At present, boneless fried chicken is the sole option available, but that alone guarantees a scrumptious meal. For the fickle-minded, you can opt for the Half-Half Chicken ($22.50), which allows you to pick any two flavours. This way, you get the best of both worlds.
Read our Robert Chicken coverage.
Address: 1 Kim Seng Promenade, #B1-K123, Great World, Singapore 237994
Opening hours: Daily 10am to 9pm
Tel: 6737 3855
Website
Robert Chicken is not a halal-certified eatery.
This New Korean Fried Chicken Chain Has A Robot Chef At Great World
---
15. COLLIN'S Mandai 
---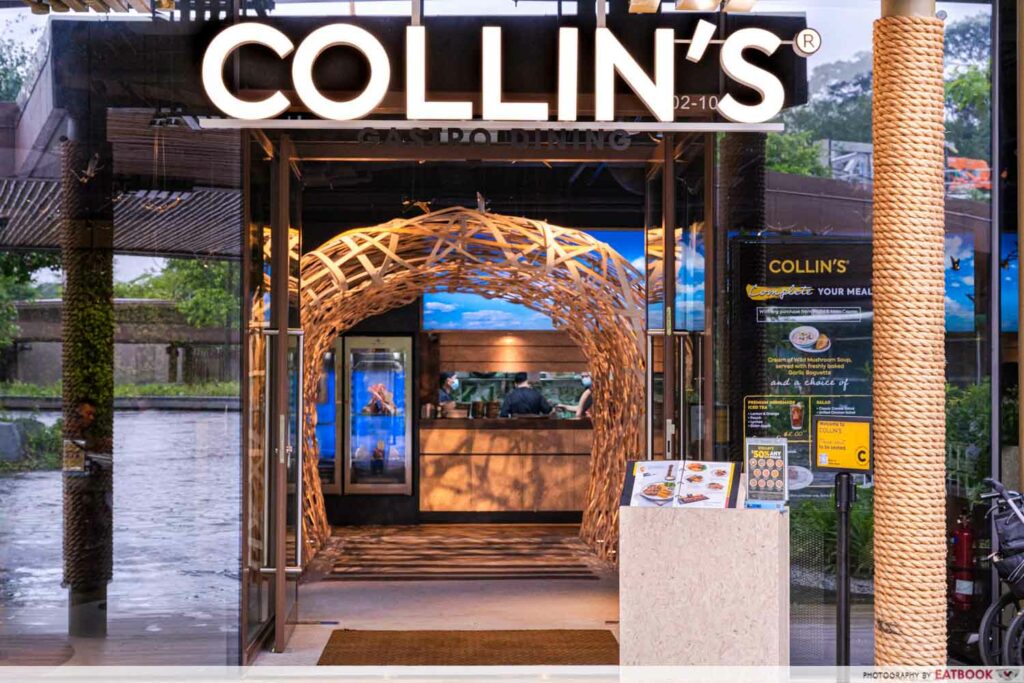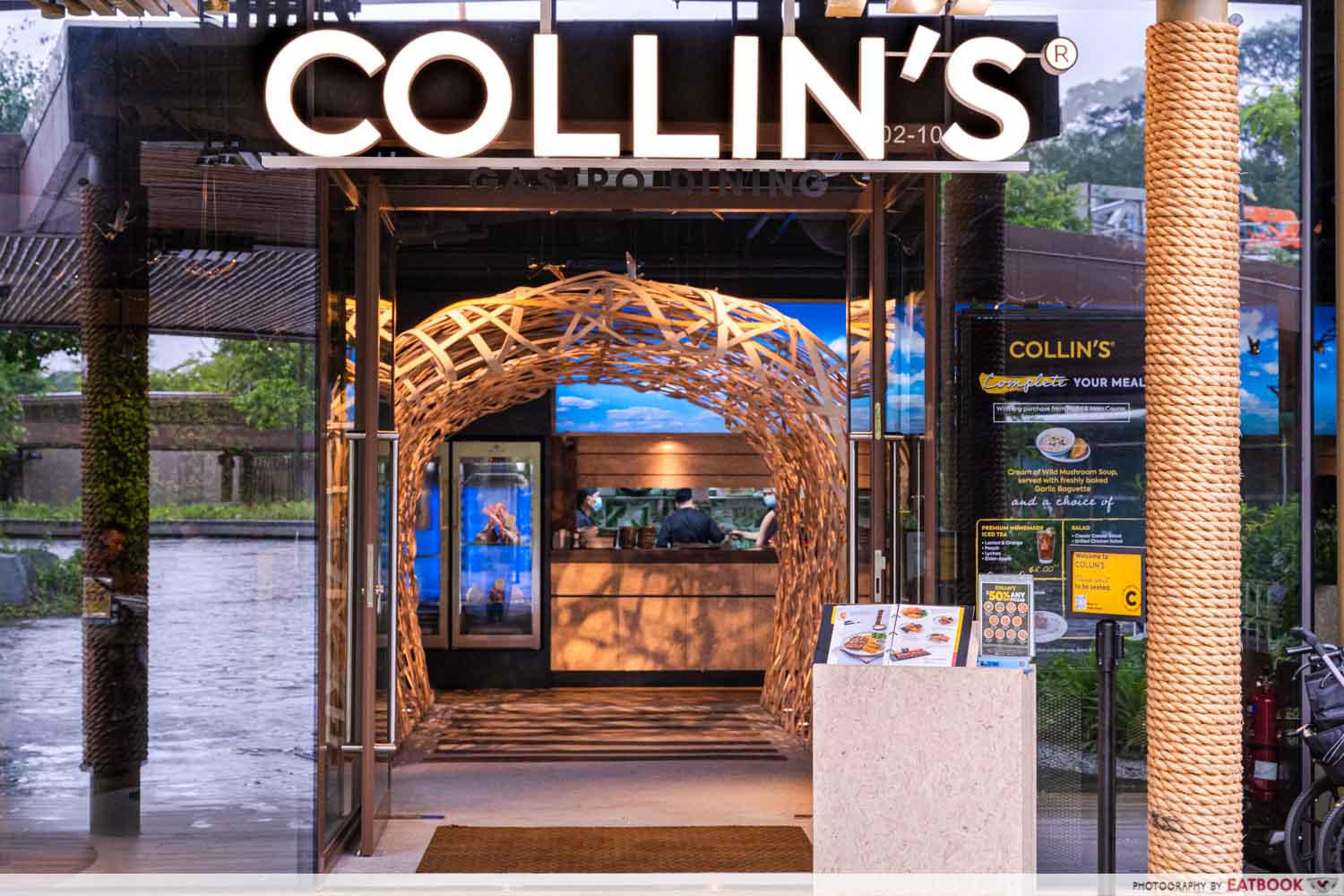 Despite the abundance of COLLIN'S outlets in Singapore, the popular Western restaurant chain continues to expand rapidly. In just this year, they have launched four new branches, including a recent addition near Mandai Wildlife Reserve's Bird Paradise. This particular outlet features a captivating aviary-themed interior, where guests can enjoy their meals with hanging wooden birds and a unique human-sized bird's nest positioned nearby.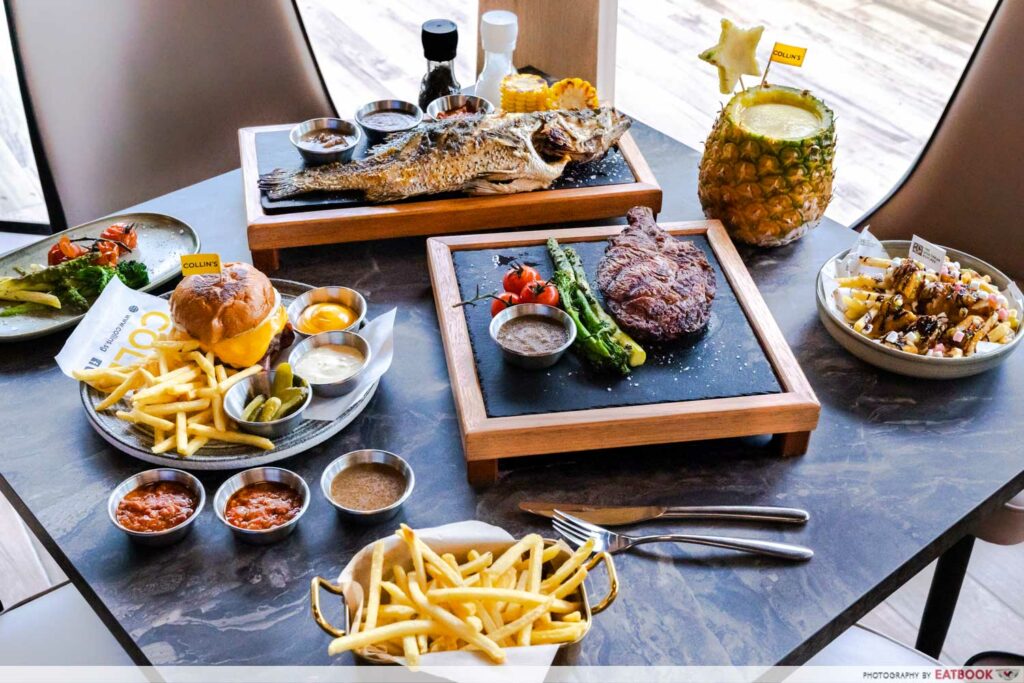 In terms of eats, this COLLIN'S outlet has some fan favourites as well as Mandai exclusives. These include the Jack's Creek 450 Days Grain-fed Wagyu Ribeye ($68++), a high-grade steak served with tomato, broccolini, and black pepper sauce, and the Red Sea Seabass ($58++), which comes with ratatouille, grilled corn, shoestring fries, and a choice of either black pepper, brown onion gravy, or COLLIN'S house-made harissa sauce.
Read our COLLIN'S Mandai coverage
Address: 20 Mandai Lake Road, #02-10, Mandai Wildlife West, Singapore 729825
Opening hours: Daily 9am to 9pm
Tel: 6320 0331
Website
COLLIN'S is not a halal-certified eatery.
COLLIN'S New Mandai Outlet Has Bird Park-Inspired Decor, Grain-Fed Wagyu And More
---
16. Bottega di Carna
---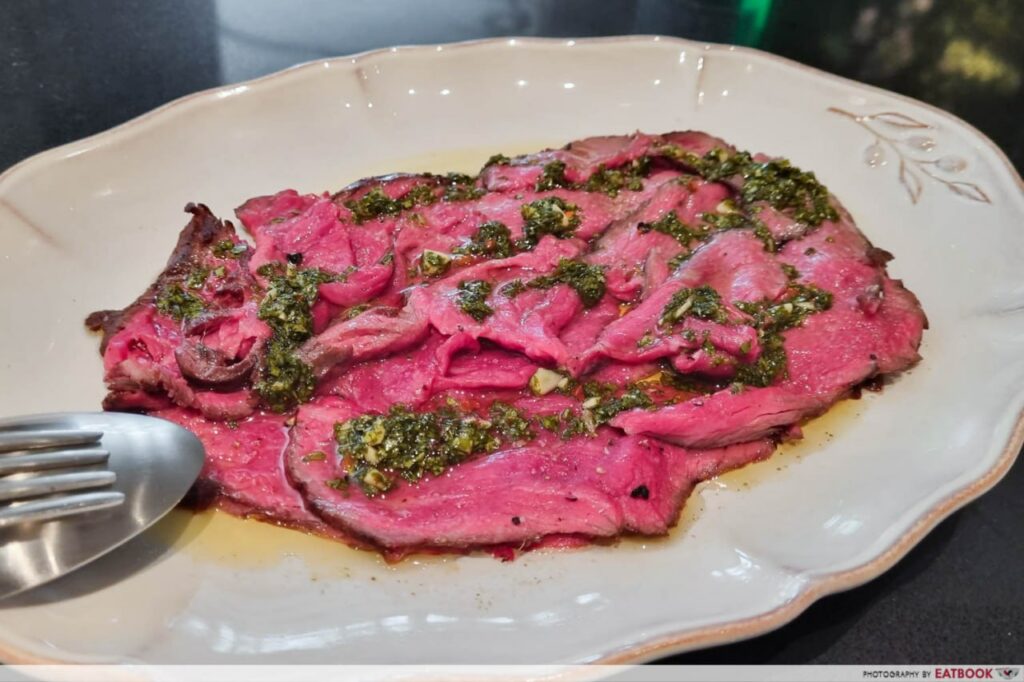 Dario Cecchini, touted "the world's great butcher" by the New York Times, and star of Netflix's Chef's Table, has opened Bottega di Carna, his latest restaurant here in Singapore. You can find it on the third floor of the stylish Mondrian Singapore Duxton, serving customers its range of exquisite meat. If you're a fan of beef, be sure to start your meal here with the Carpaccio Di Culo ($28++), which features wonderfully fresh and succulent raw beef elevated by salsa verde.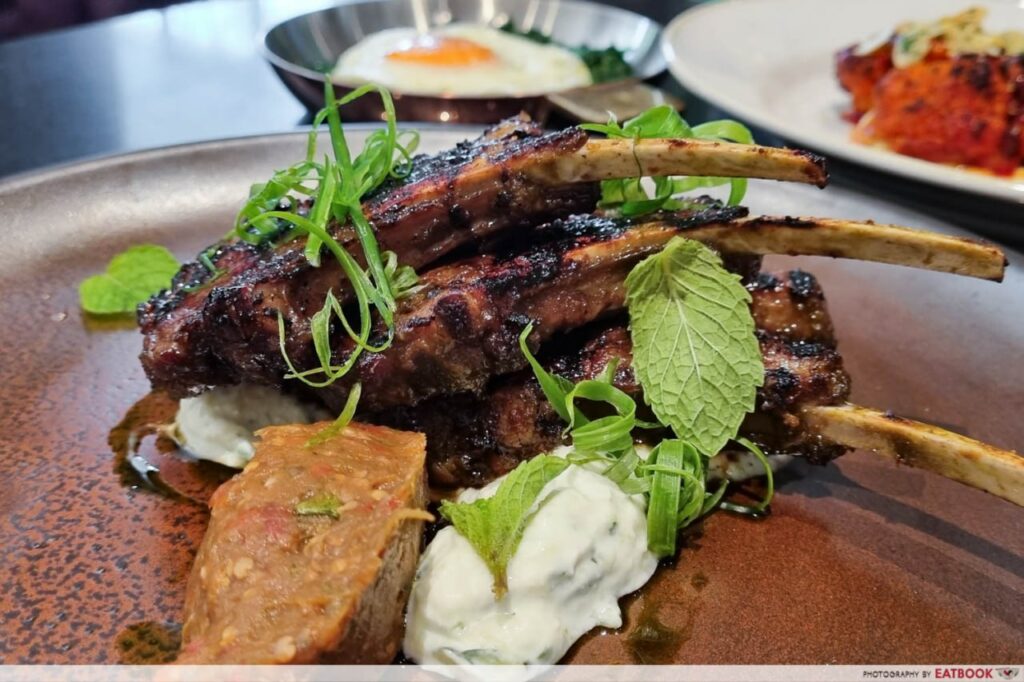 As for mains, even those who aren't usually taken with lamb meat will find much to love in the Lamb Cutlets ($48++). Juicy, well-grilled, and not too gamey, this dish is a must-try at Bottega di Carna. Other great dishes to check out include the Octopus Kycuaba ($42++), Roasted Cauliflower ($26++), and beef-centric mains such as the Stockyard Ribeye ($88++).
Address: 16A Duxton Hill, #03-01, Mondrian Singapore Duxton, Singapore 089970
Opening hours: Daily 7am to 12am
Tel: 6019 6000
Website
Bottega di Carna is not a halal-certified eatery.
---
17. Mister Donut Novena
---

When Mister Donut first opened a standalone kiosk in Bishan, it was met with much fanfare. Here's the good news: the Japanese chain has launched a second outlet in Novena, this time a dine-in cafe with coffee and tea!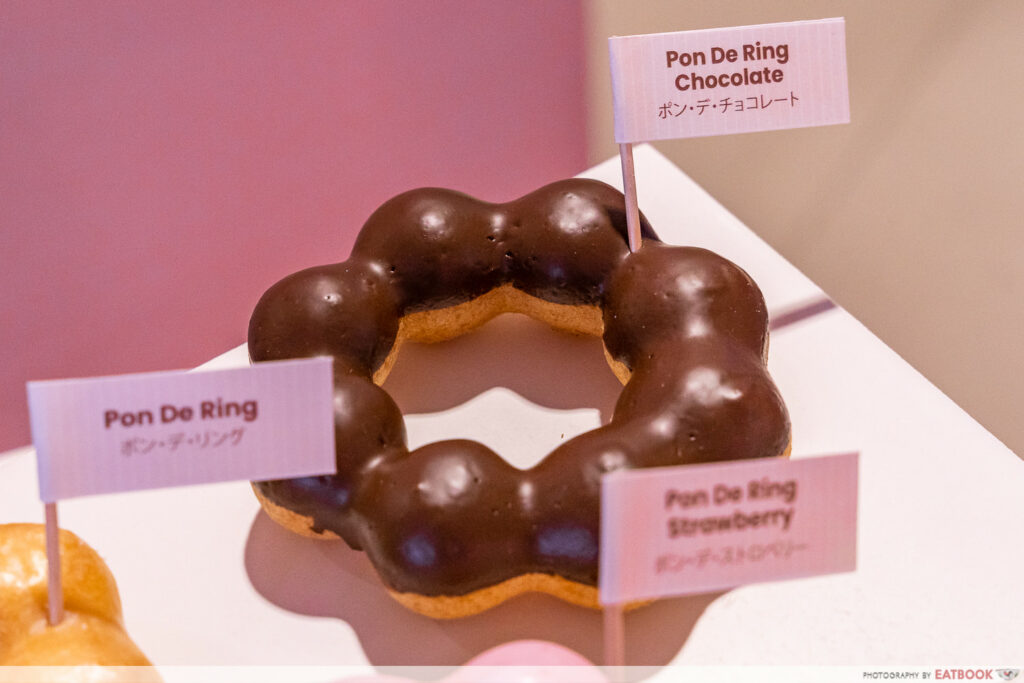 The popular doughnut chain is most known for their mochi doughnuts, the Pon De Ring: a Japanese-style doughnut made with tapioca flour. Try the Singapore-exclusive Pon De Ring Chocolate ($2.50) that's also available at the first branch in Junction 8. Otherwise, for something a little different, consider the Angel French Cruller ($2.50) that's made with a denser, cake-like dough and glazed with sugar.
Check out our Mister Donut Novena feature!
Address: 238 Thomson Road, #01-72/73, Velocity @ Novena Square, Singapore 307683
Opening hours: Daily 11am to 9pm
Website
Mister Donut is not a halal-certified eatery.
---
18. Bernie's
---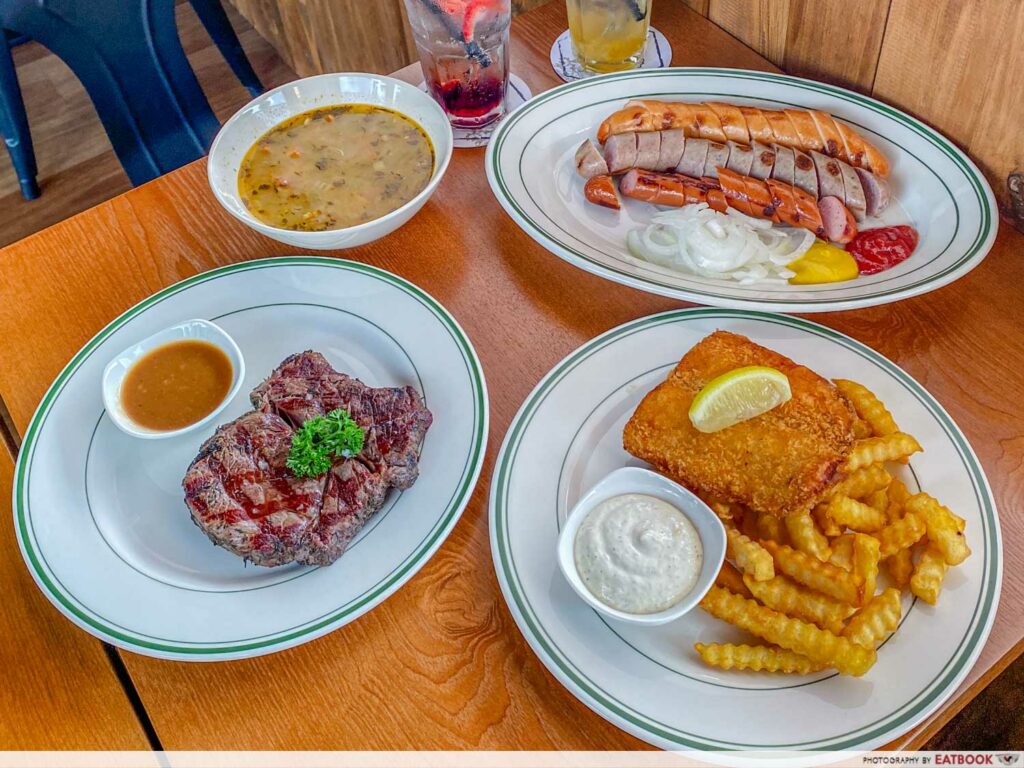 Bernie's specialises in American-themed dining, and they offer both brunch and dinner options. Opt for their bestselling mains such as Fish & Chips ($14+), NZ PS Ribeye ($25+ for 250g), and Blackened Fish ($14+). They also have side dishes, including the Waldorf Salad ($7+) and Chicken Gumbo Soup ($7.50+).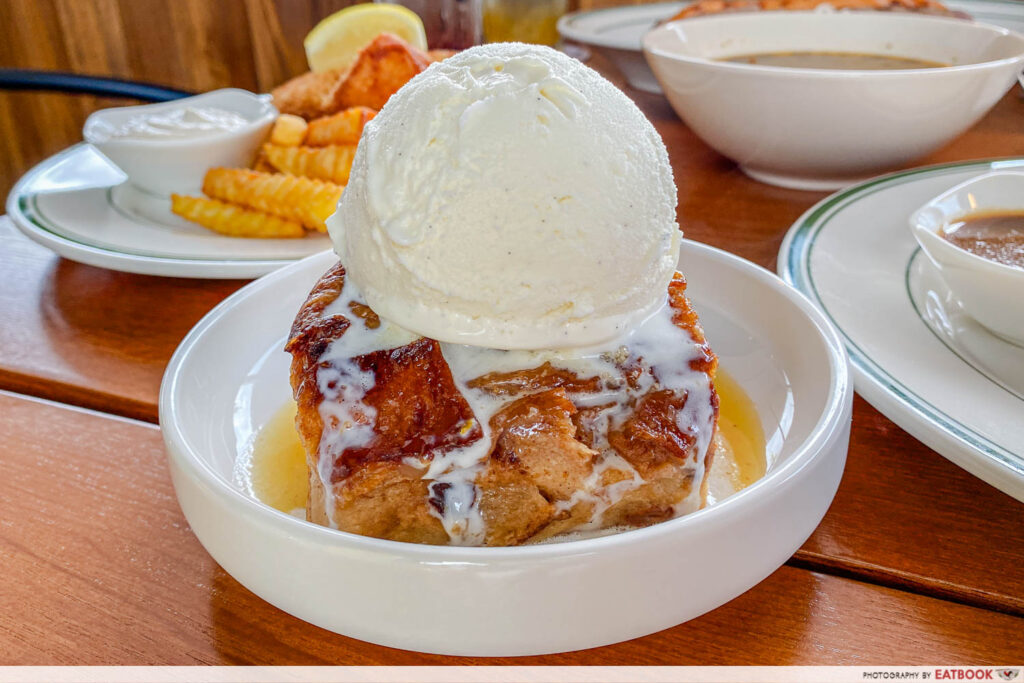 Dessert-wise, the New Orleans Bread Pudding ($9.50+) is a popular choice. 
They also have a Weekend Brekkie Menu from 11:30am to 2pm, starring dishes such as Bernie's Elvis Waffle ($12.50+). This features banana slices, butter, maple syrup, whipped cream, and the pop star's favourite ingredient peanut butter. Alternatively, go for the Simple American Breakfast ($13.50+) that has eggs cooked according to your preference, pan-fried potatoes, toast, and your choice of coffee or tea. 
Address: 5-9 Jalan Riang, Singapore 358987
Opening hours: Tue-Fri 11:30am to 10pm, Sat-Sun 9:30am to 10pm
Website
Bernie's is not a halal-certified eatery. 
---
New restaurants and cafes in Singapore for July 2023
---
Now that you have this list of new restaurants in Singapore for July, save it for the next time you're looking for somewhere to dine!
In other related food news, check out our $5 Western review, where we spotlight a hidden gem hawker stall in Kallang selling $5 Western mains. Otherwise, read our Tha Chang Noodle Bar review if you're up for delicious Thai boat noodles in the CBD.
Tha Chang Noodle Bar Review: Popular Boat Noodle Eatery From Golden Mile Now In CBD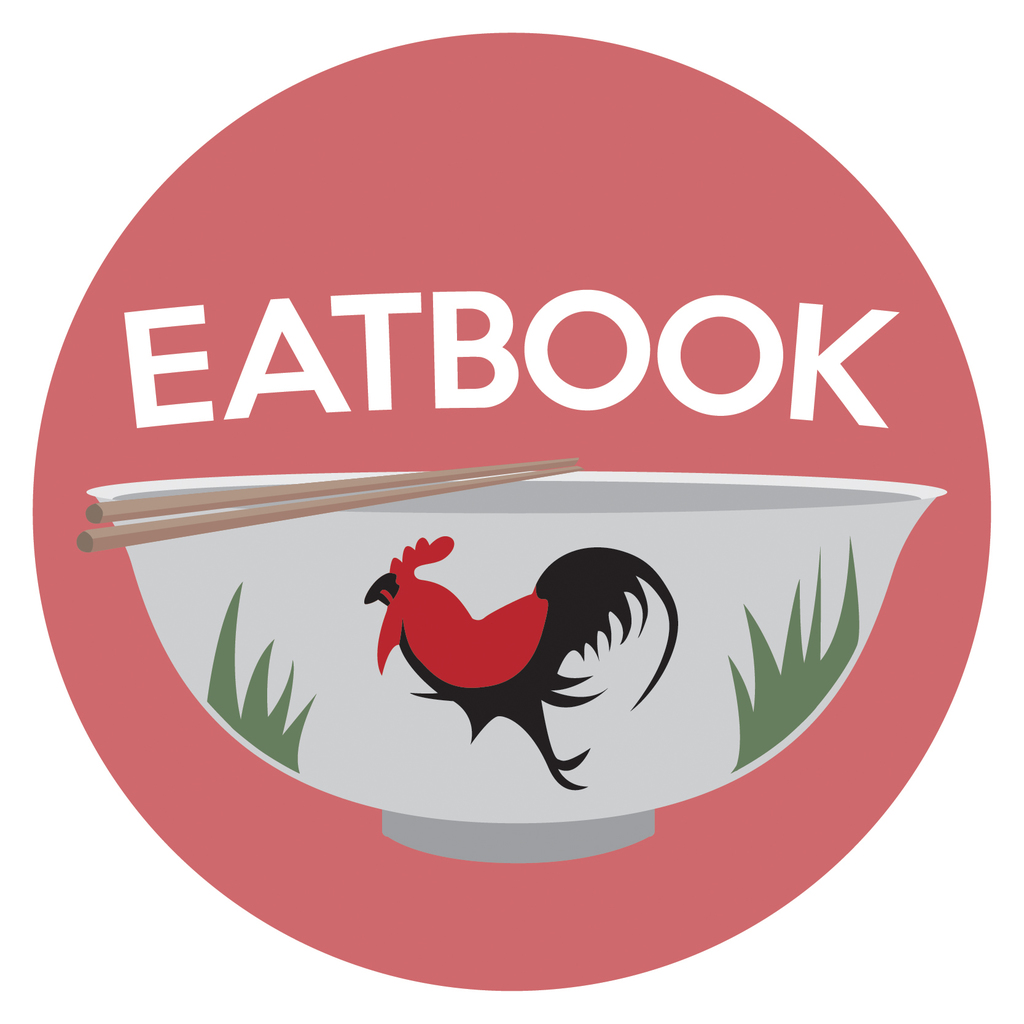 Drop us your email so you won't miss the latest news.