---
New restaurants in Singapore this June
---
The middle of this year comes with plenty of new restaurants and cafes in Singapore. From popular cafes revamping their concepts to Singapore's very first duck Korean barbecue, there's plenty to look forward to when planning your next meals. 
Read on for the full rundown of new restaurants to check out in Singapore this June 2023.
---
1. M5 Coffee
---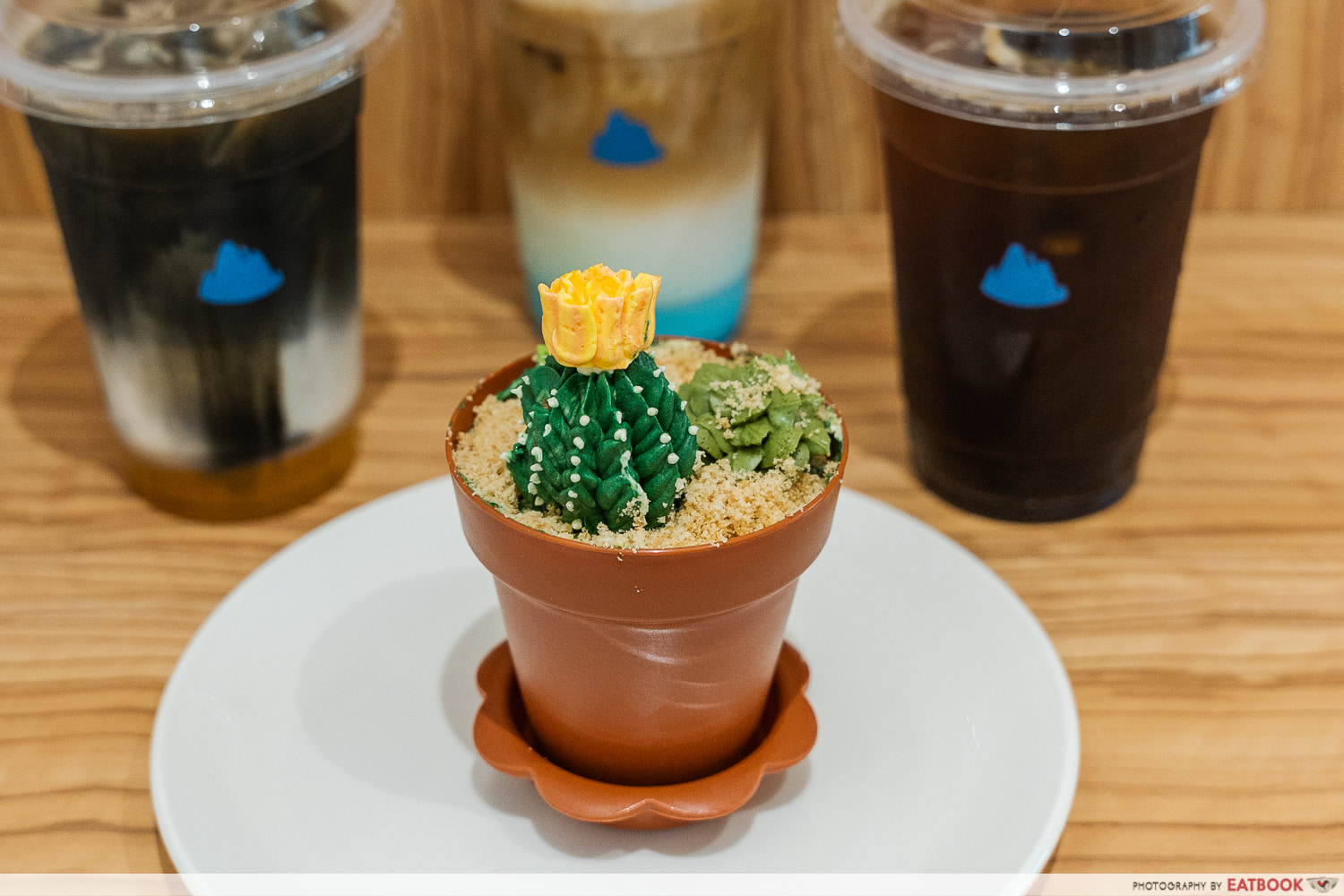 Taiwanese coffee chain M5 Coffee recently opened their first international offshoot in Singapore, right in the heart of town. The Orchard Gateway cafe offers mountain-inspired drinks such as a Singapore-exclusive Mount Faber ($7), a three-layered drink comprising their premium coffee blend with milk, blue curacao syrup, and sea salt flakes. They also have an IG-worthy Bamboo Charcoal Honey Caffe Latte ($7.50) that's made with honey, milk, and bamboo charcoal for an earthy note.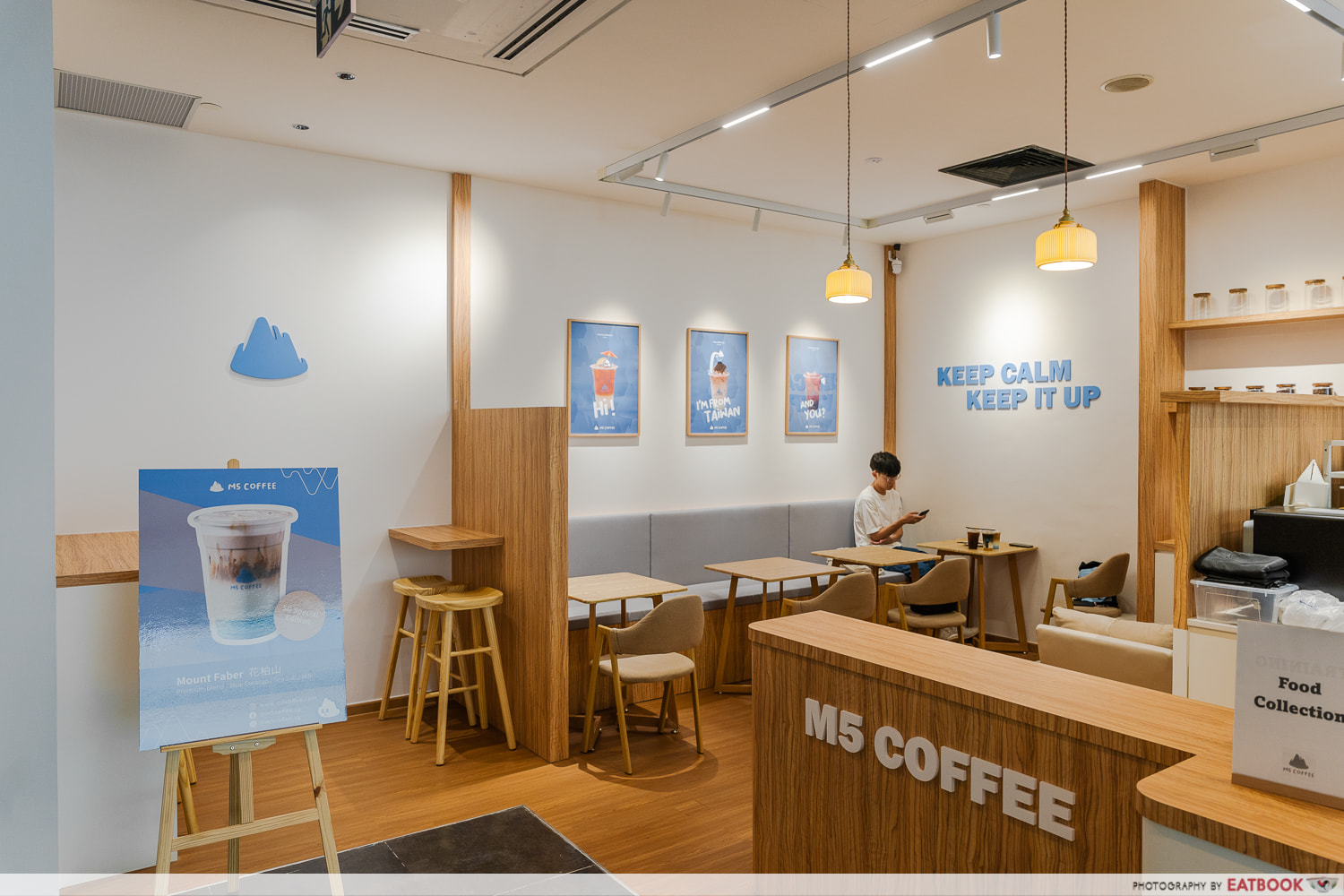 Those with a sweet tooth can indulge in their array of desserts. A signature item is the Cactus Cupcake ($11), an aesthetically pleasing treat made of Biscoff biscuits, dark chocolate cake, and buttercream. They also serve a trendy Taro Coconut Cake ($8.50), made with fresh orh nee. 
Read our M5 Coffee review.
Address: 277 Orchard Road, #B1-01, Orchard Gateway, Singapore 238858
Opening hours: Daily 10:30am to 8:30pm
Website
M5 Coffee is not a halal-certified eatery.
M5 Coffee: New Cafe From Taiwan With SG-Exclusive Blue Coffee, Charcoal Honey Latte And More
---
2. Keong Saik Bakery
---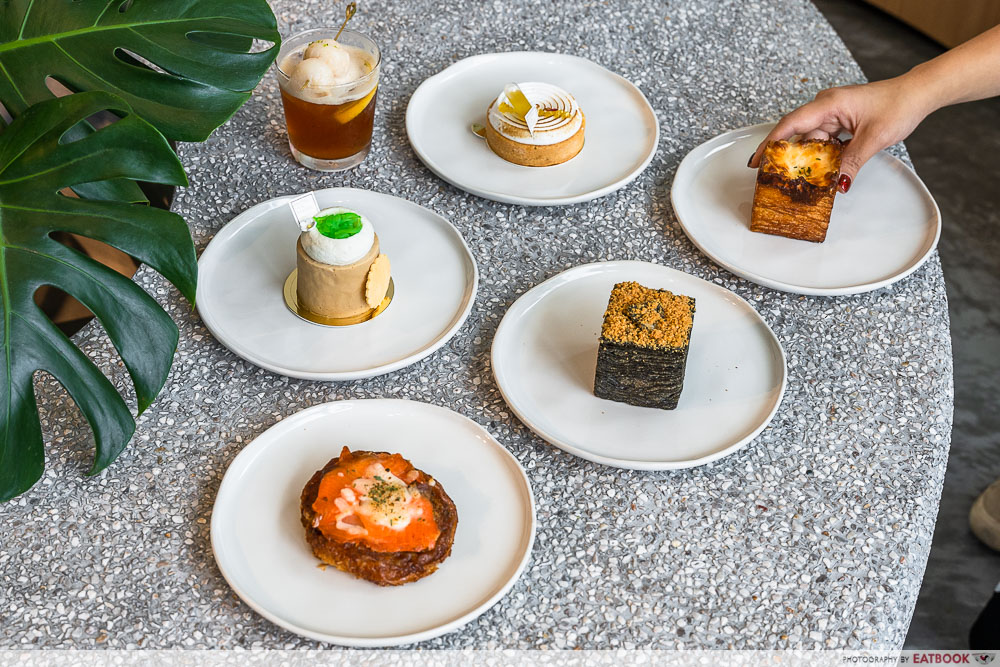 Cult favourite local bakery Keong Saik Bakery has relocated from its OG premises in Chinatown. Now, the brand has set up its flagship in Bendemeer, at the Luzerne, where you can get all their beloved classics and a new menu of hot items. The striking new, futuristic interior is also a serious upgrade from their former, more rustic shophouse premises.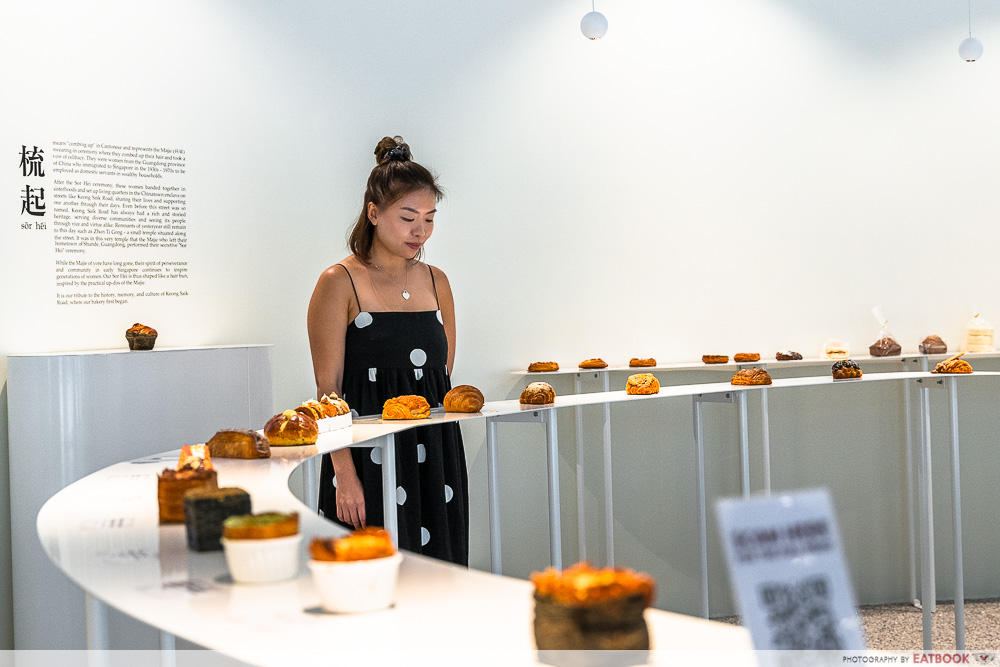 With over 20 pastries on the menu, it's an understatement to say that you'll be spoilt for choice. We recommend zoning in on their Mentaiko Cheese Croissant Cube ($6.40++) and Muah Chee Croissant Cube ($5.90++). The former stars flaky croissant with a creamy mentaiko middle, while the latter riffs on the mochi croissant trends with a bit of local flair. On the hot food front, the Otak Mac N Cheese ($15.90++) was a winning treat. Not too jelak, just spicy enough, and with a healthy dose of cheese, this dish offered comfort and indulgence in one bite.
Read our Keong Saik Bakery review.
Address: 70 Bendemeer Road, #01-03, Luzerne, Singapore 339940
Opening hours: Mon-Fri 8am to 7pm, Sat-Sun 8am to 6pm
Tel: 9021 9626
Website
Keong Saik Bakery is not a halal-certified eatery.
Keong Saik Bakery Review: Muah Chee Croissant Cube, Otak Mac N Cheese And More In Bendemeer
---
3. Common Man Night Shift
---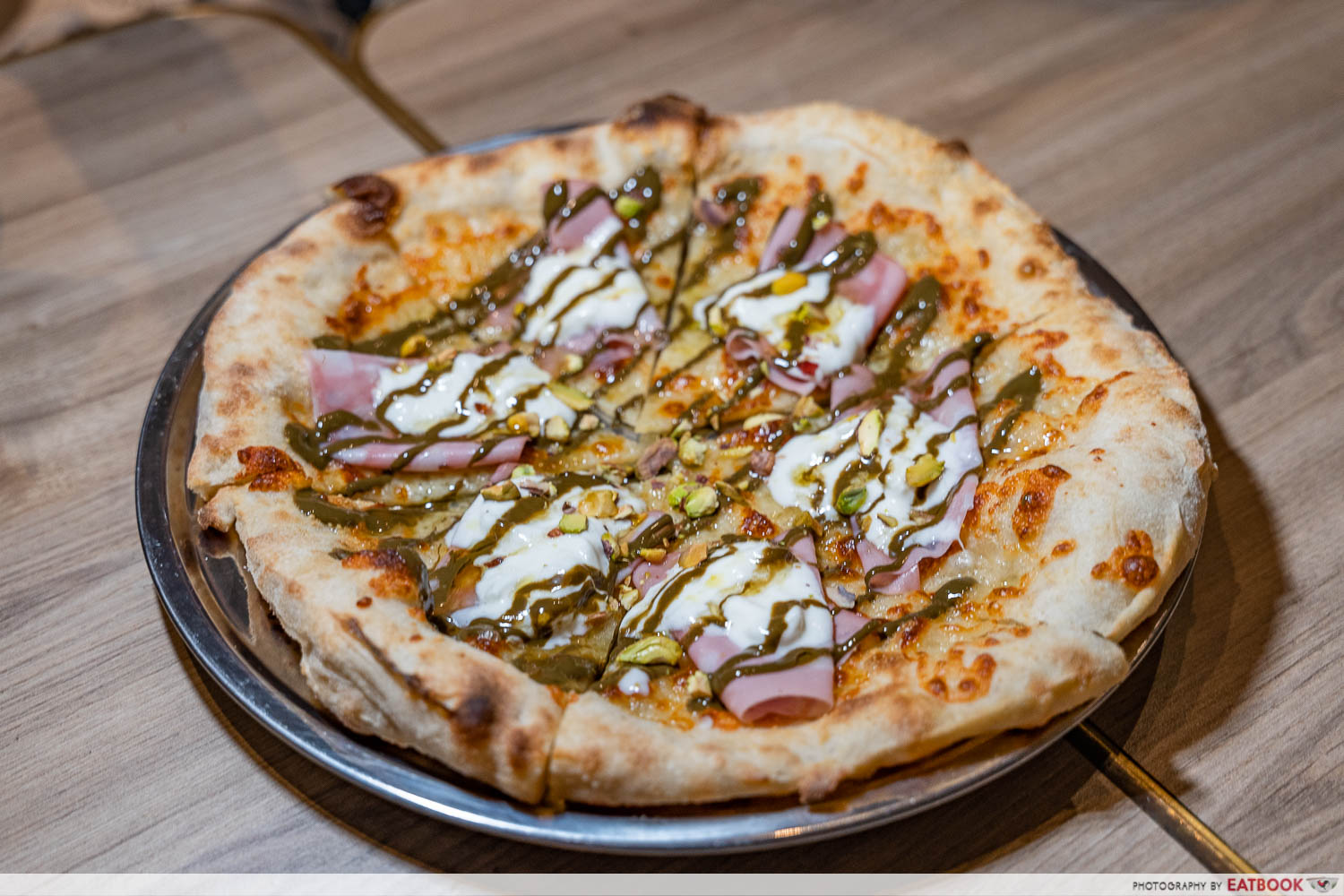 For casual date nights and dinner catch-ups with friends, head to Common Man Night Shift, a night-time concept by popular cafe Common Man Coffee Roasters. Previously known as Drunk Farmer, the dinner-only concept offers a new menu with sourdough pizzas in unique flavours, fusion sides, and a huge selection of natural wines.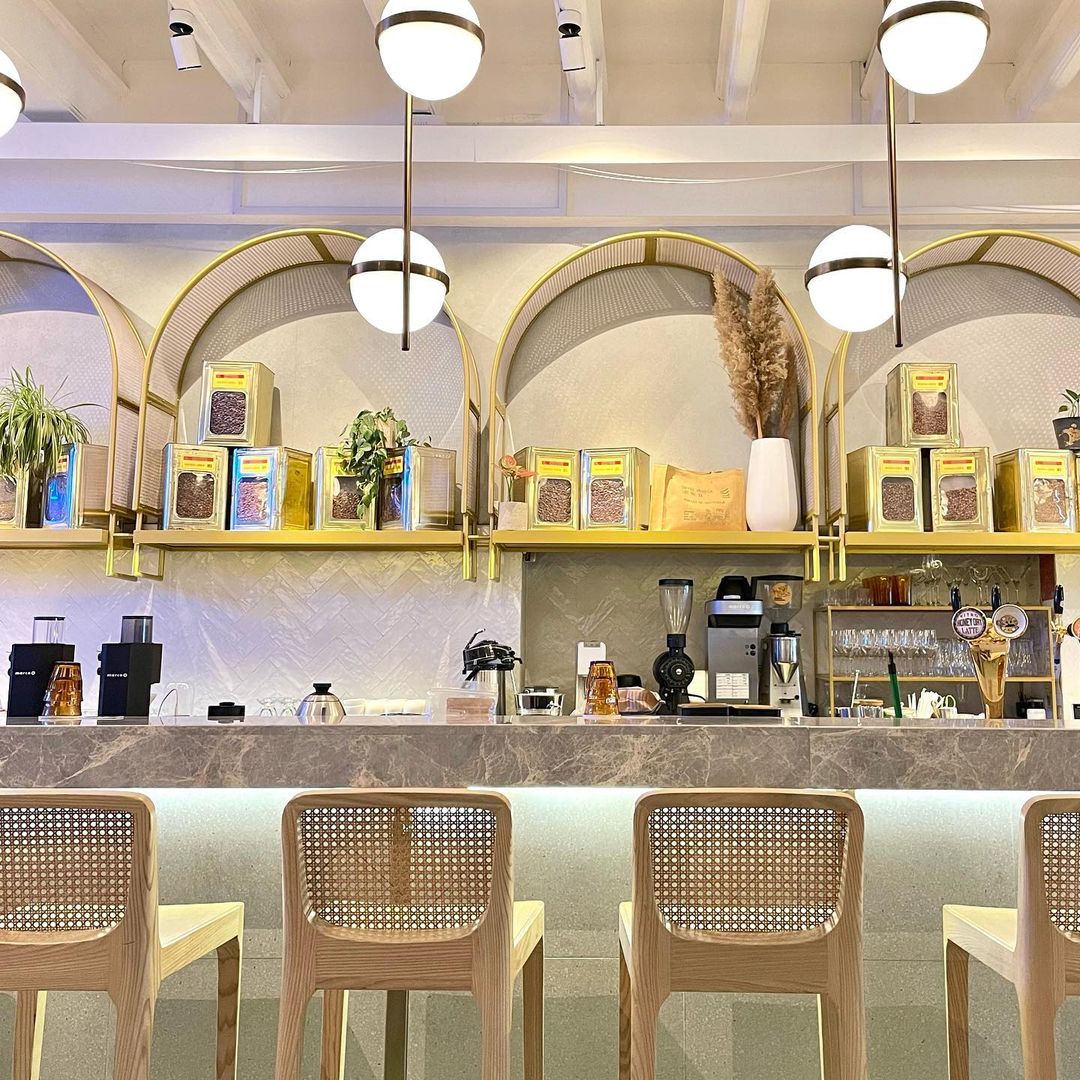 Image credit: @nicheatss
If you're into rich and full flavours, we recommend their Duck & Foie Gras Pie ($38++): flaky puff pastry encasing a meaty filling of minced duck and foie gras. There's also a creamy Cacio E Pepe Udon Pasta ($24++) that combines handmade udon pasta with Pecorino cheese and black pepper. For pizza, you won't go wrong with the Umami Magic ($22++) for sharing. This stars Common Man's signature 12-inch sourdough pizza base with a mix of cheeses, mushrooms, a runny egg, and chilli crisp AKA Lao Gan Ma. 
Read our Common Man Night Shift review.
Address: 11-12 Stanley Street, Singapore 068730
Opening hours: Tue-Thurs 6pm to 10pm, Fri-Sat 6pm to 11pm
Tel: 6877 4855
Website
Common Man Night Shift is not a halal-certified eatery.
Common Man Night Shift Review: Handmade Cacio E Pepe Udon And Lao Gan Ma Pizza In Chinatown
---
4. Super Sub Hotdogs
---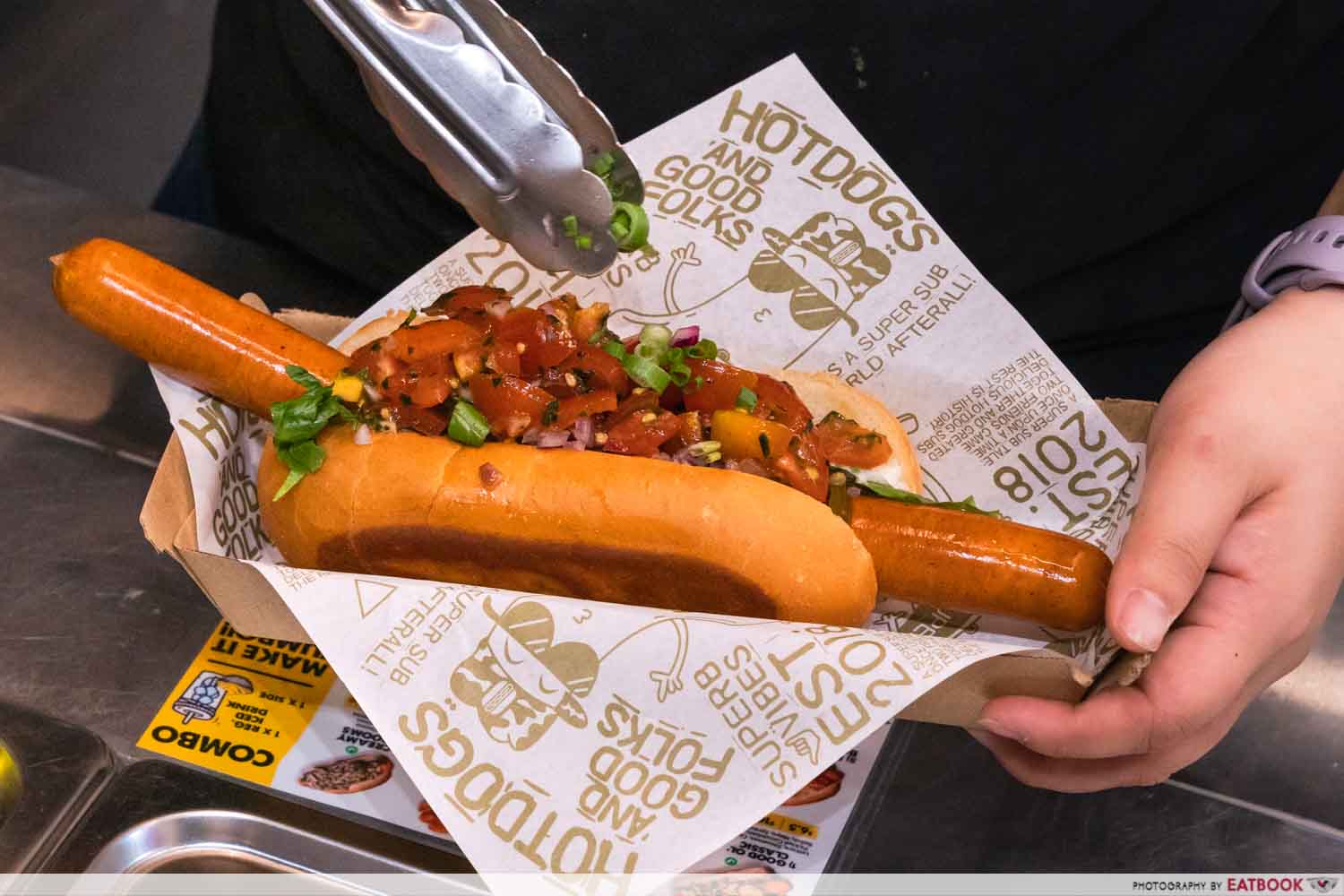 Easties, here's one for you: homegrown hotdog eatery Super Sub Hotdogs has a brand new outlet in Tampines, with their very own 12-inch jumbo hotdogs on the menu. Most of their items cost under $10, so they're relatively wallet-friendly too.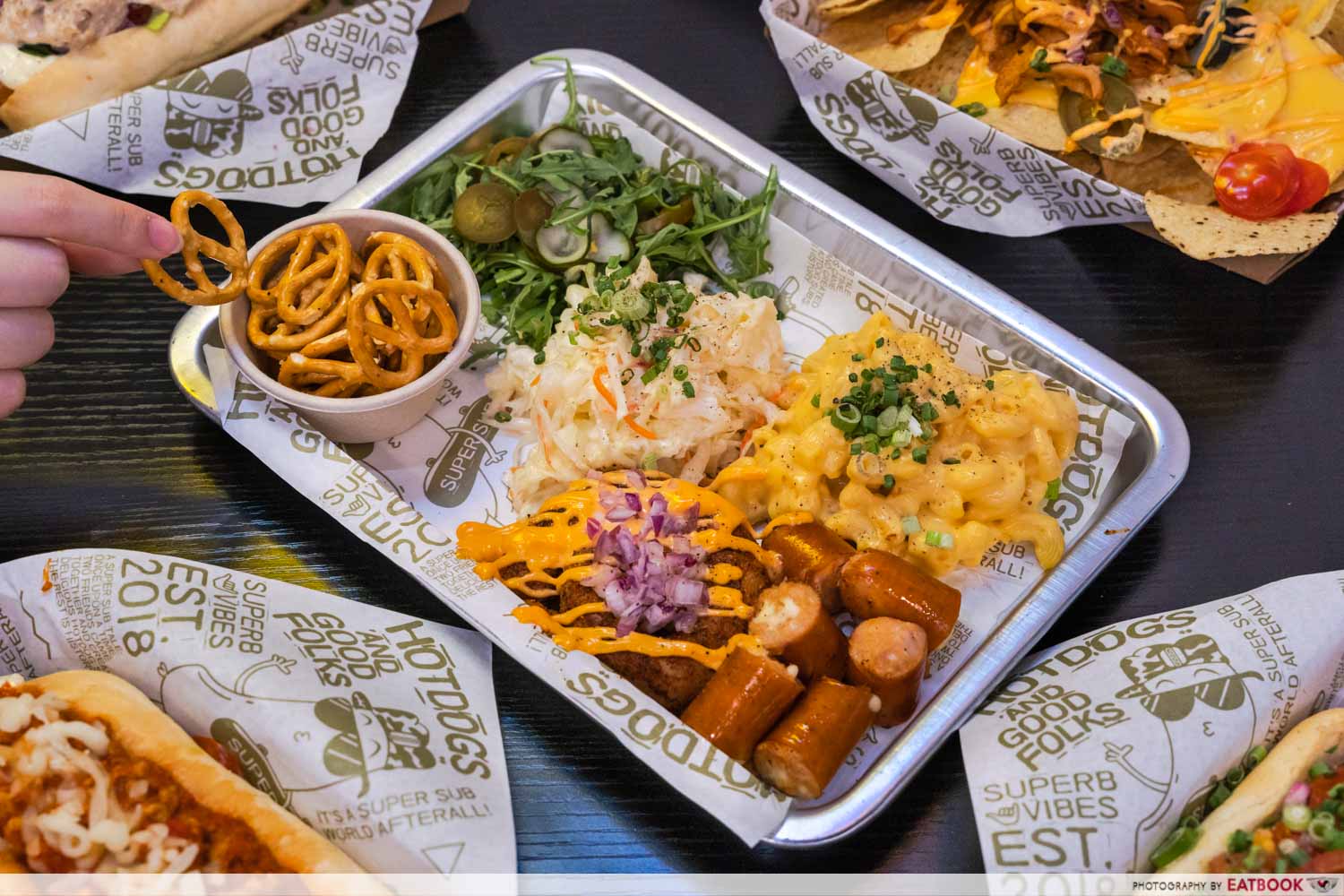 Their unique toppings are a major selling point for Super Sub Hotdogs, so you can have your 'dog with toppings ranging from yuzu crabmeat to chicken bolognese. If you're dining with a group, order their Super Platter ($18), which comes with six small bites: chicken sausages, cheesy hotdogs, mac and cheese, coleslaw, truffle pretzels and rocket salad.
Read our Super Sub Hotdogs review.
Website | Full list of outlets
Tel: 9742 3095
Super Sub Hotdogs is not a halal-certified eatery but uses no pork or lard.
Super Sub Hotdogs Review: New XXL Loaded Hotdogs And Jumbo Drinks In Tampines
---
5. Waa Cow
---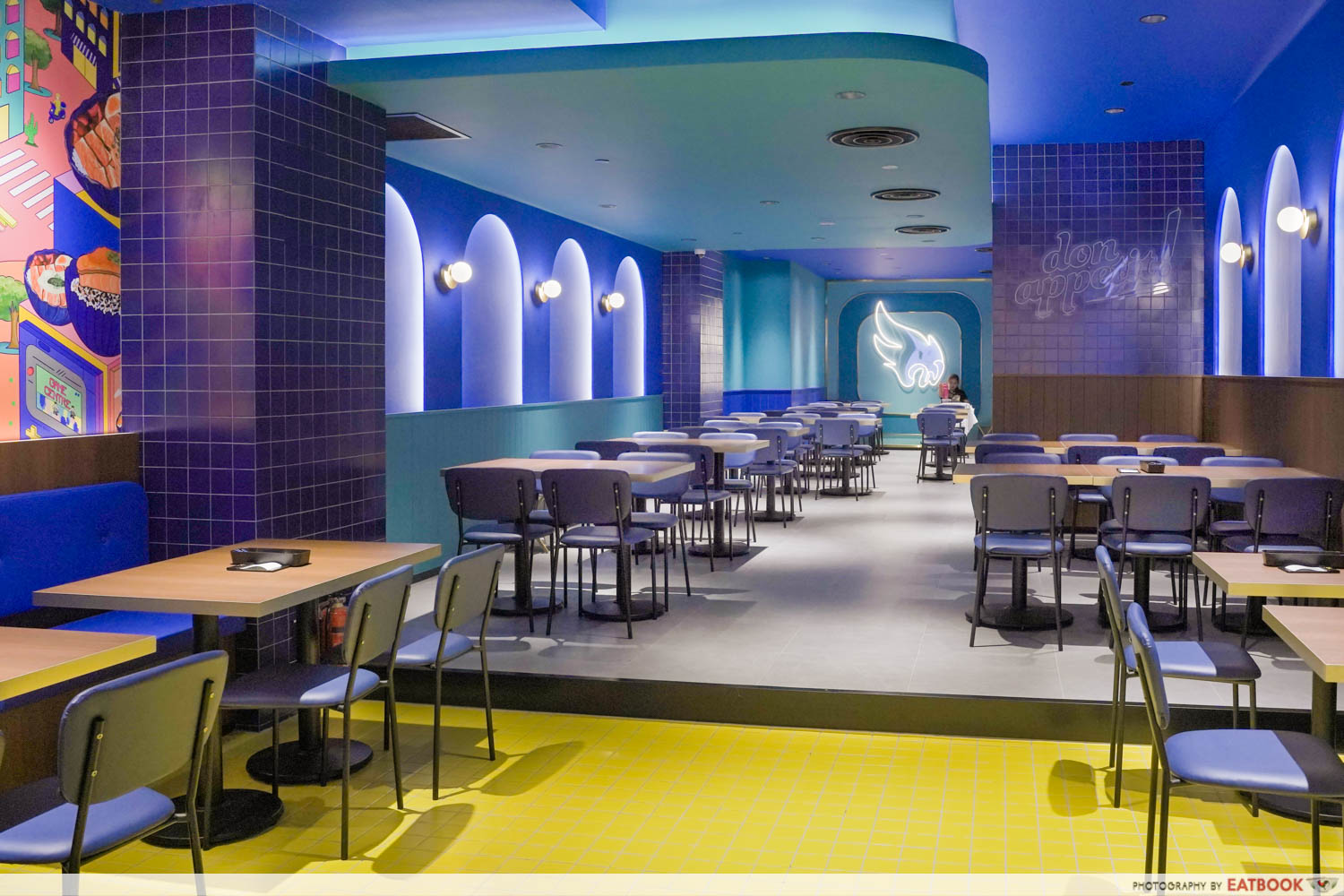 Popular Japanese barbecue and beef don eatery, Waa Cow, has opened a new flagship outlet in VivoCity. They're best known for their premium Wagyu beef bowls that are priced around $25, all of which will be available at the new outlet, alongside some exclusives.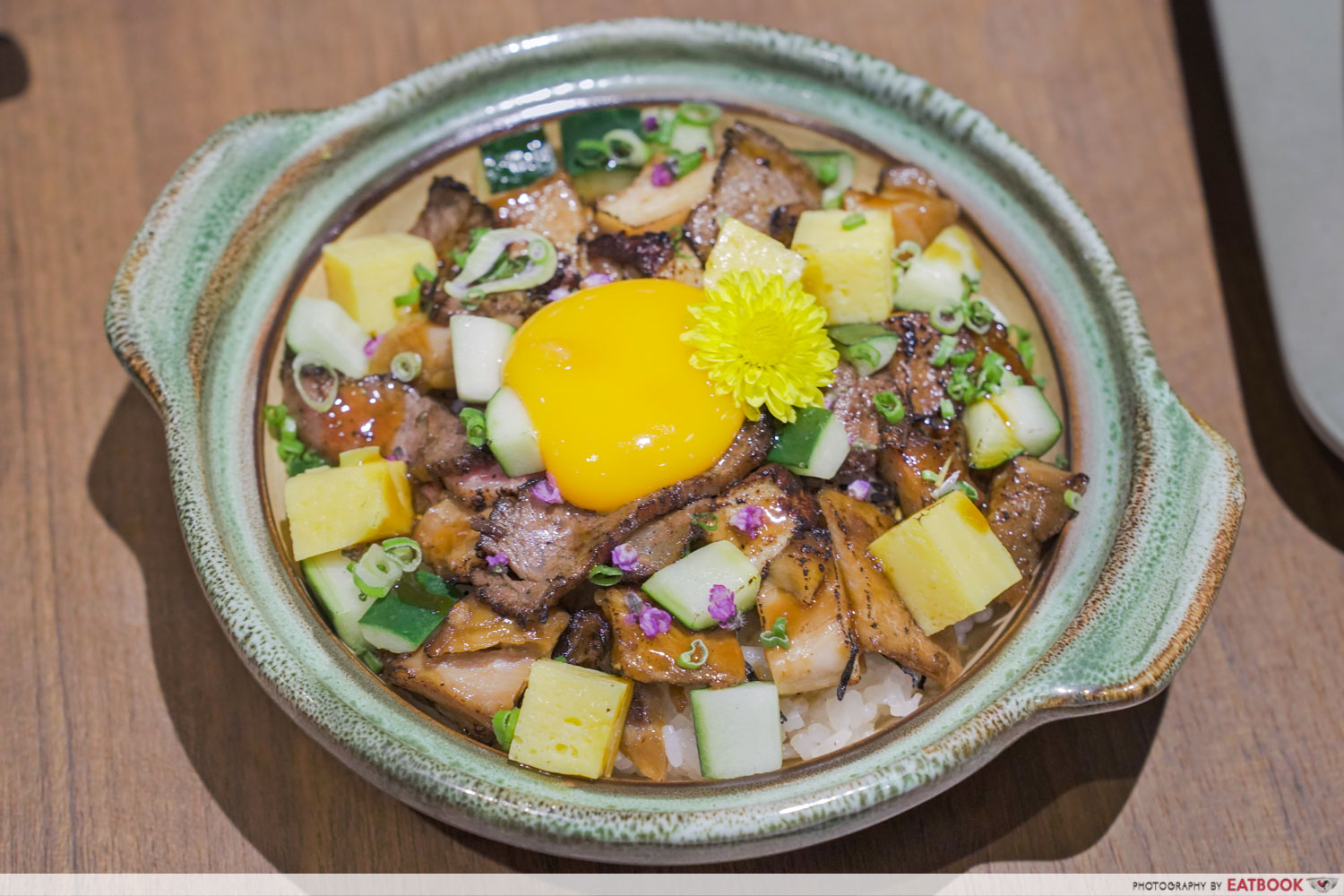 The Meat Lovers Chirashi ($35.90++) is a dish we highly recommend. This all-in bowl will please any carnivore, thanks to its combination of Iberico pork jowl, Wagyu slices, teriyaki chicken, and foie gras, along with chunks of cucumber and tamago to sweeten the deal. Pair your donburi with any of their new appetisers and sides, including their Dragon Prawn Maki ($19.90++), where deep-fried, sweet prawn meets avocado and a zesty mentaiko mayo. 
Read our Waa Cow review.
Address: 1 HarbourFront Walk, #01-188C, VivoCity, Singapore 098585
Opening hours: Daily 10am to 10pm
Website
Waa Cow! is not a halal-certified eatery.
Waa Cow Review: Premium Wagyu Don, XXL Seafood Bowl And More At New VivoCity Flagship
---
6. Niu Dian Holland Village 
---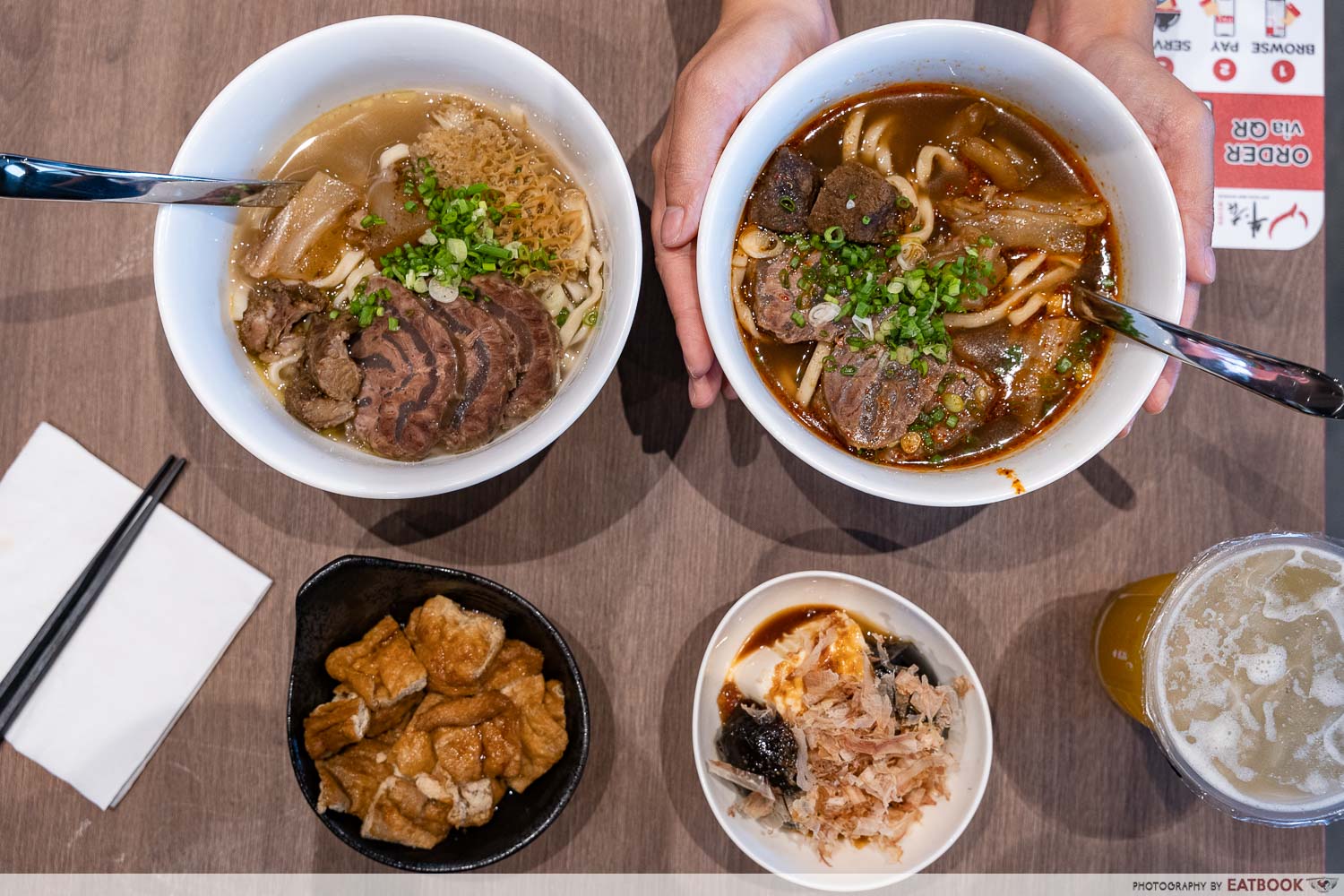 Niu Dian, the Taiwanese beef noodle eatery that has been endorsed by Show Luo, has opened their second outlet in Singapore, this time in Holland Village. This follows their first Balestier outlet, also the brand's first overseas opening.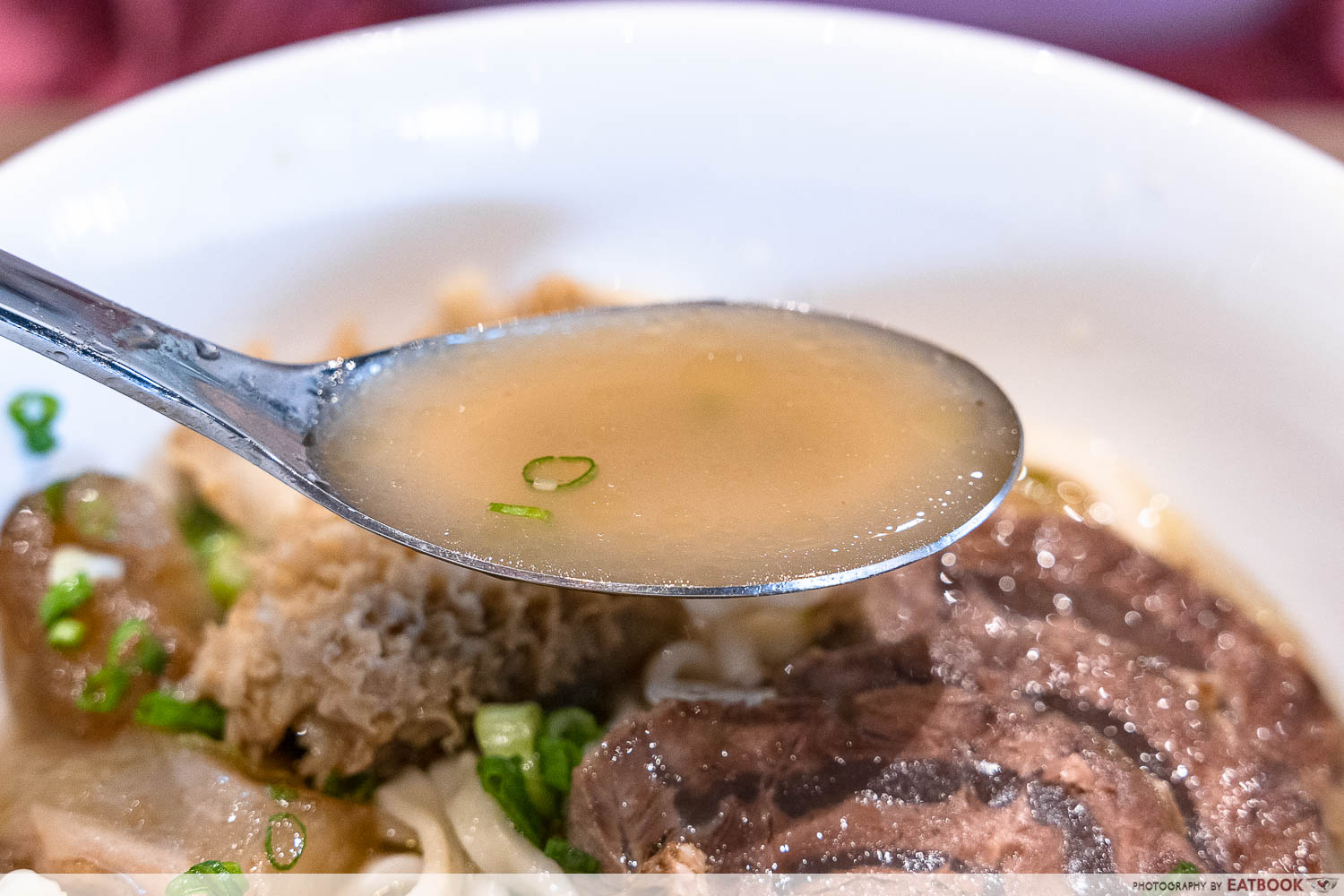 They're best known for having a spot on the Taiwanese Michelin Bib Gourmand list, as well as their famed Combination Specialty Beef Noodles ($19.90++). The latter allows you to choose between two types of broth: Original or Braised. We say go for the former, which has been simmered for 24 hours and is full of beefy goodness. The Holland Village outlet will also have their new beef rice bowls, priced from $15.90++. These are a fusion between lu rou fan, beef donburi, and oyako don—a bed of pearl grain rice is topped with slices of beef, and a runny omelette cooked in stock.
Read our Niu Dian review.
Address: 15A Lorong Liput, Singapore 277730
Opening hours: Sun-Thurs 11am to 9:30pm, Fri-Sat 11am to 10pm
Website
Niu Dian Beef Noodles is not a halal-certified eatery.
Niu Dian Review: Show Luo-Endorsed Beef Noodles From Taiwan Now In Singapore
---
7. SODENG Korean Restaurant
---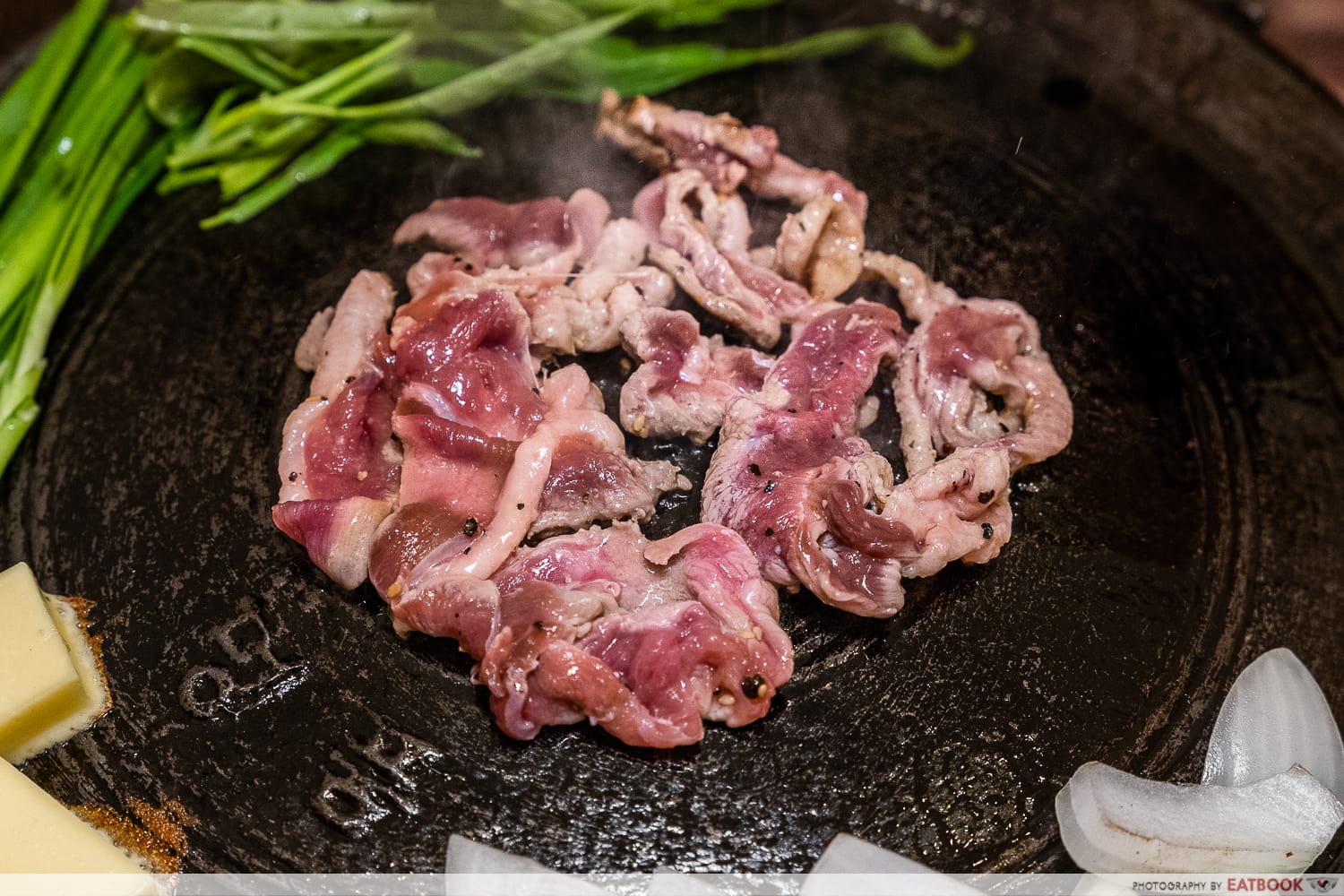 The brains behind popular Busan pork stew eatery Um Yong Baek have recently opened a new Korean eatery that brings another novel K-BBQ concept to our shores. SODENG Korean Restaurant is Singapore's first duck Korean barbecue restaurant. Duck isn't the most common barbecue protein, but SODENG definitely validates the novelty. Young fresh ducks are used in the dishes here, so the meat isn't gamey at all.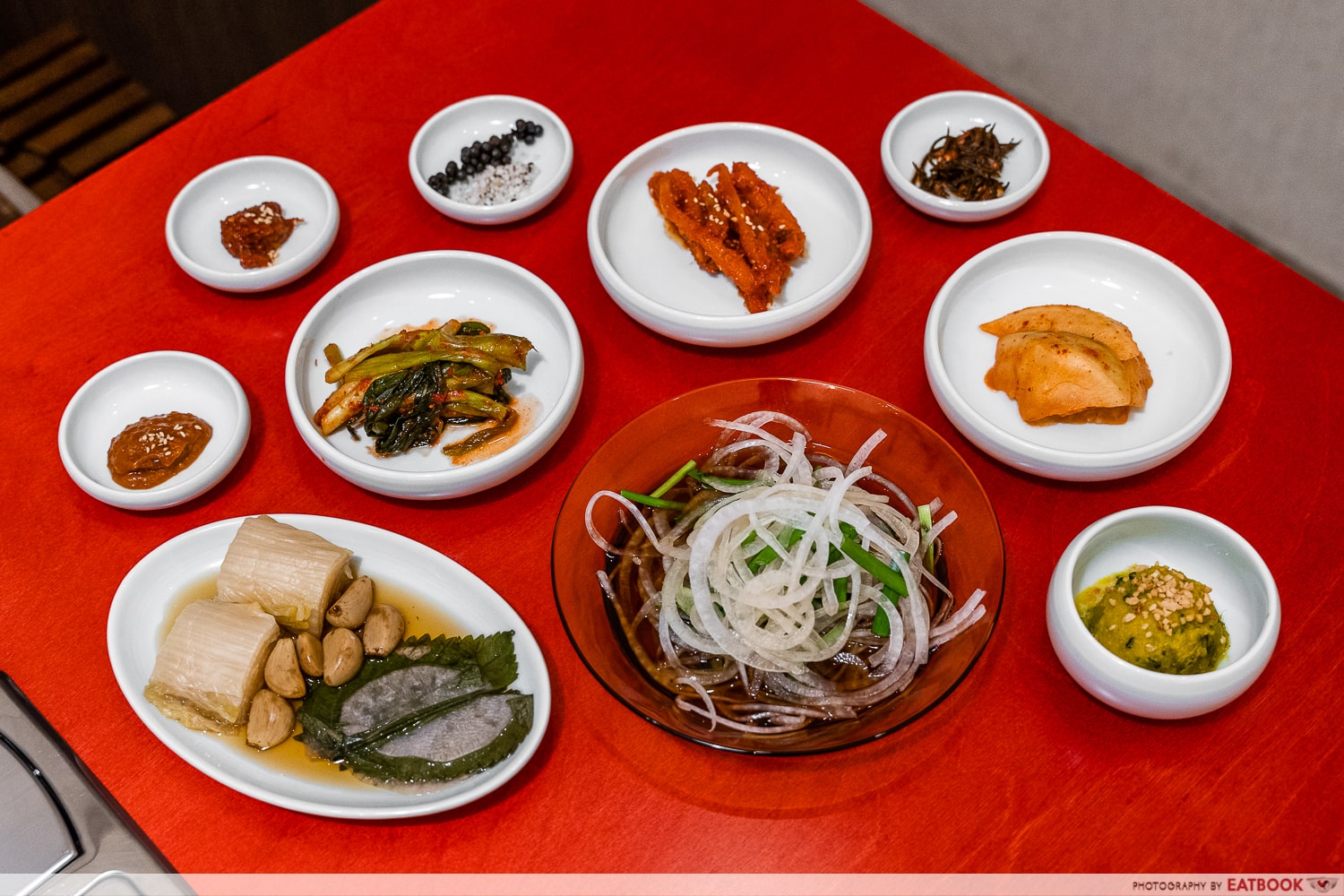 Have your duck with a selection of banchan, made by Korean experts, and be wowed by how each pickle delivers something new to the palate. Aside from duck, SODENG also serves up whole marinated beef prime ribs, known as Woo-Dae Galbi ($42++ per person). The ribs are marinated in a secret sauce that has its roots in one of Korea's most famous bulgogi restaurants, so don't skip this course.
Read our SODENG Korean Restaurant review.
Address: 175 Telok Ayer Street, Singapore 068623
Opening hours: Mon-Sat 11:30am to 3pm, 5pm to 10pm
Tel: 8503 8253
Website
SODENG Korena Restaurant is not a halal-certified eatery
SODENG Korean Restaurant Review: Unique K-BBQ Duck, Duck Mandu And More In Telok Ayer
---
8. Mutiara Seafood
---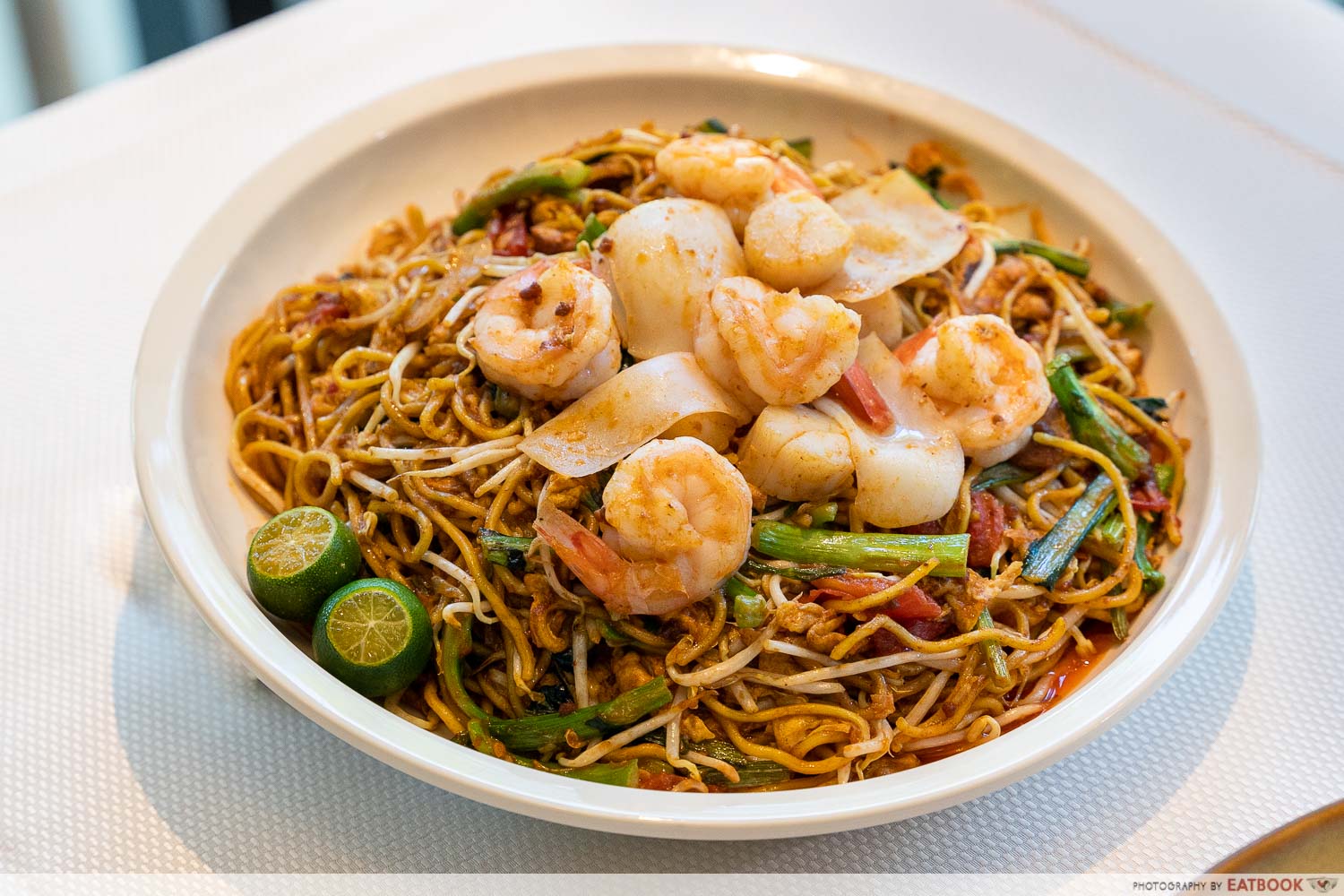 The JUMBO Seafood Group have finally opened their very first halal concept, Mutiara Seafood, located in Geylang Serai. Don't expect the halal-friendly copy-paste of the regular JUMBO menu here, though. Mutiara Seafood has all the OG's classics available, as well as a selection of Indonesian-style grilled dishes.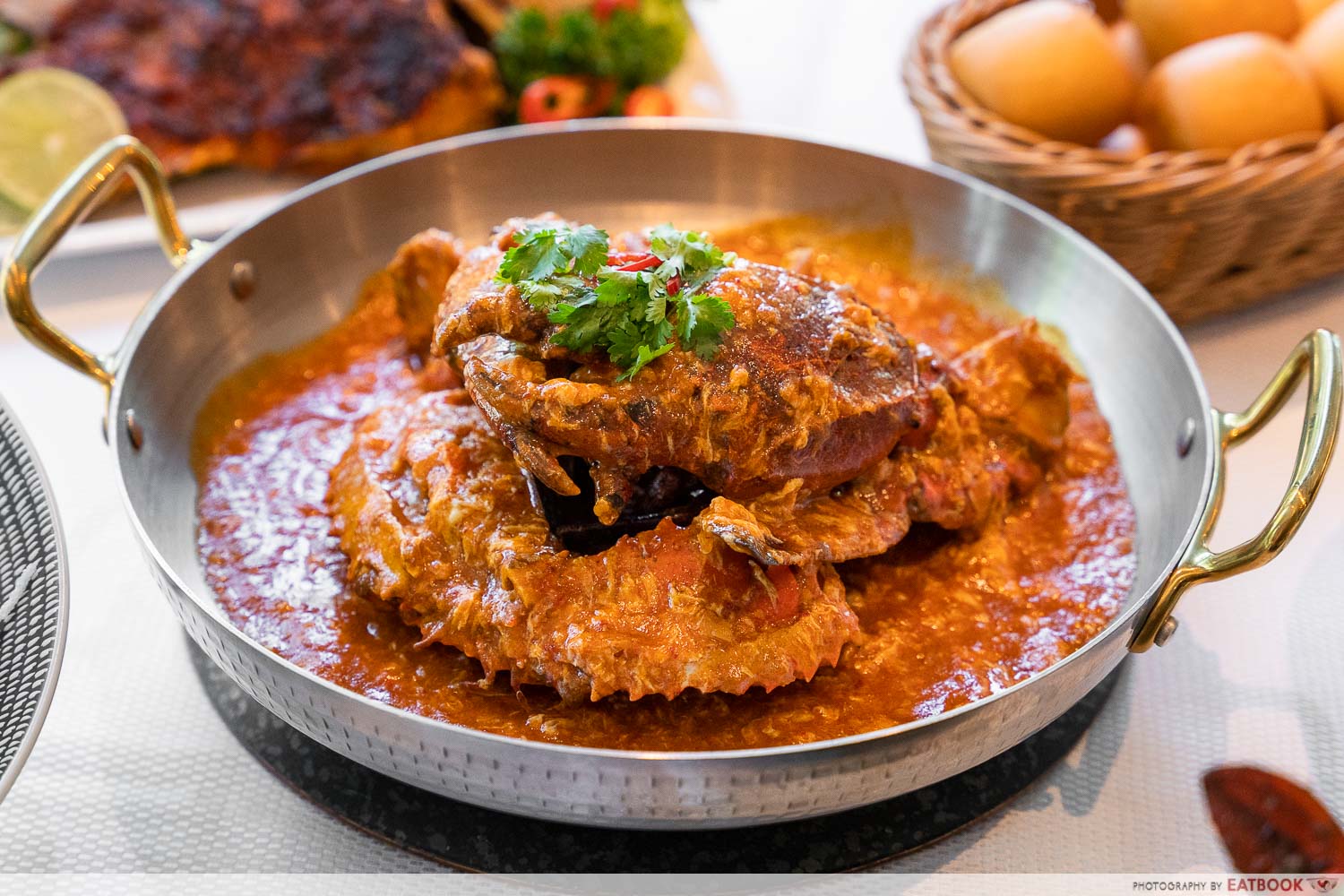 The menu is chock full of family-friendly dishes, great for celebrating special occasions or just for coming together with your loved ones. Highlights include their Mee Goreng Gaya 'Melayu' ($20++/$30++/$40++), a seafood mee goreng medley, Udang Bakar Jimbaran ($28++ for four prawns), where prawns are chargrilled till juicy, and their famed Signature Chilli Crab (market price). The latter dish has a recipe that's tweaked slightly for Mutiara Seafood, starring a sauce that's a touch less sweet and more garlicky.
Read our Mutiara Seafood review.
Address: 1 Engku Aman Turn, #01-02 & #02-02/03, Wisma Geylang Serai, Singapore 408528
Opening hours: Daily 11:30am to 3pm, 5pm to 10pm
Tel: 6816 3030
Website
Mutiara Seafood is a halal-certified eatery
Mutiara Seafood Review: Jumbo Group's First Halal Restaurant Has Indonesian Grilled Seafood And More
---
9. Mister Donut
---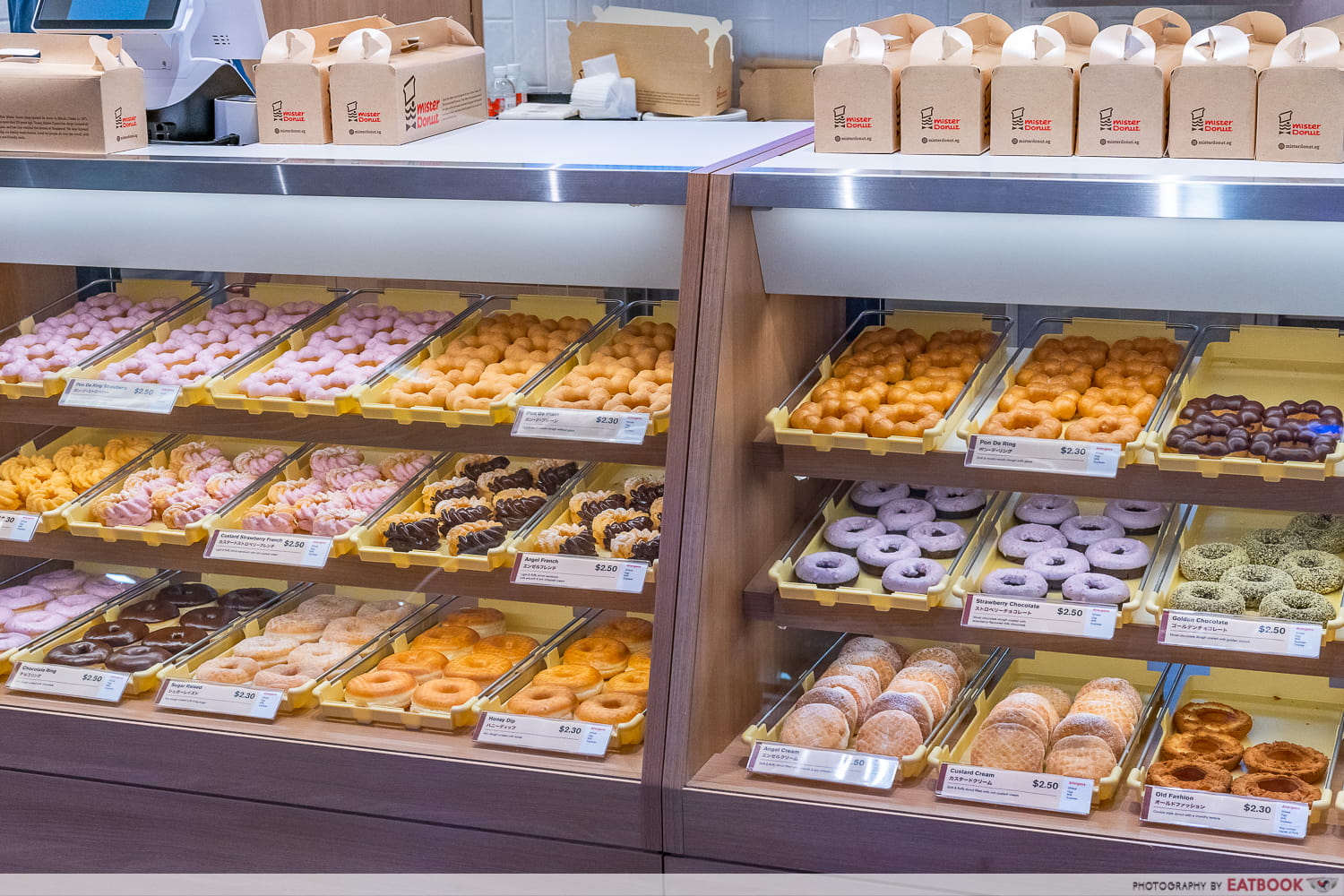 The arrival of this famous Japanese mochi doughnut bakery to Bishan Junction 8 has caused quite a stir locally, with queues for the outlet lasting up to three hours. If you're willing to brave the chaos, then here's the doughnuts worth your buck: the Pon De Ring Chocolate ($2.50) is a house signature for a reason, with its QQ dough and chocolatey glaze that isn't too sweet.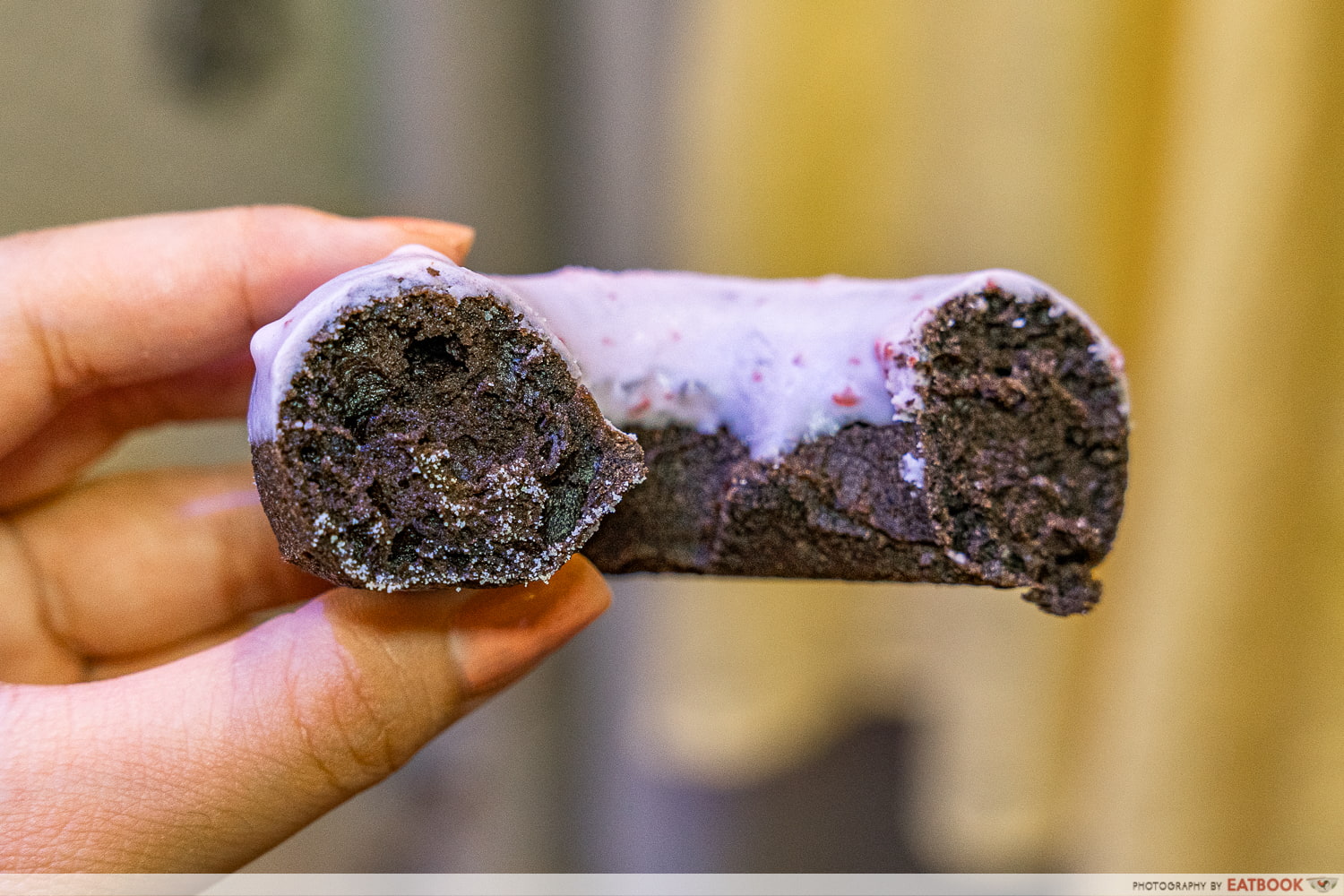 The Singapore-exclusive Strawberry Chocolate ($2.50) is a must-try too. While the doughnut itself doesn't have the mochi texture of the Pon De Ring, the airy, dark chocolate bread pairs well with the berry and white chocolate glaze. Mister Donut also sells crullers, and sourdough doughnuts known as Yeast Donuts. 
Read our Mister Donut review.
Address: 9 Bishan Place, #02-27A, Junction 8, Singapore 579837
Opening hours: Daily 11am to 8:30pm
Website
Mister Donut is not a halal-certified eatery.
---
10. Miss Saigon
---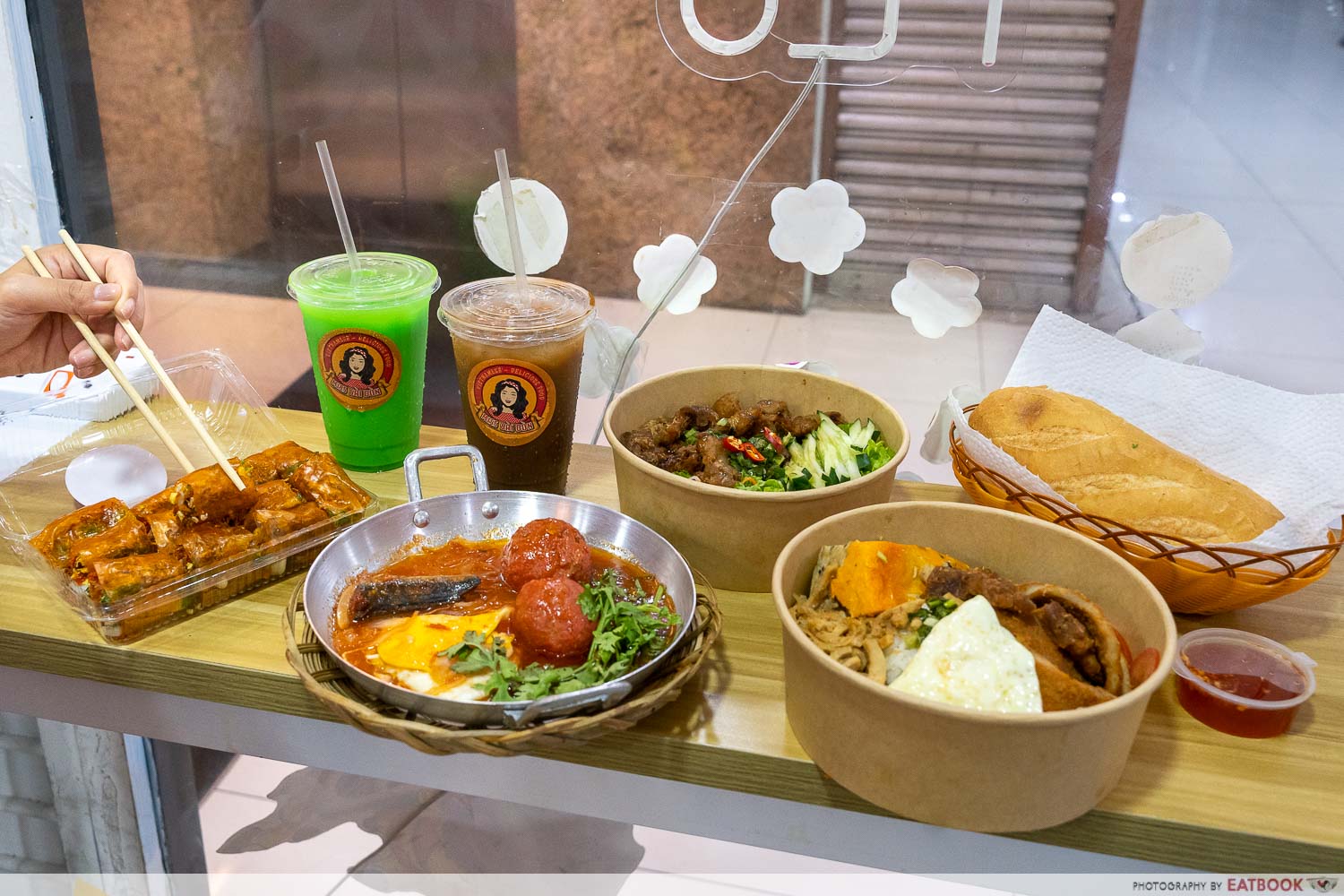 If you're peckish in Orchard late at night and looking for somewhere for supper, then swing by Miss Saigon. The 24/7 eatery is run by the folks behind Banh Mi Saigon, and offers a range of casual Vietnamese eats round the clock. All their usual banh mi offerings from their flagship outlet are available here, along with some new additions.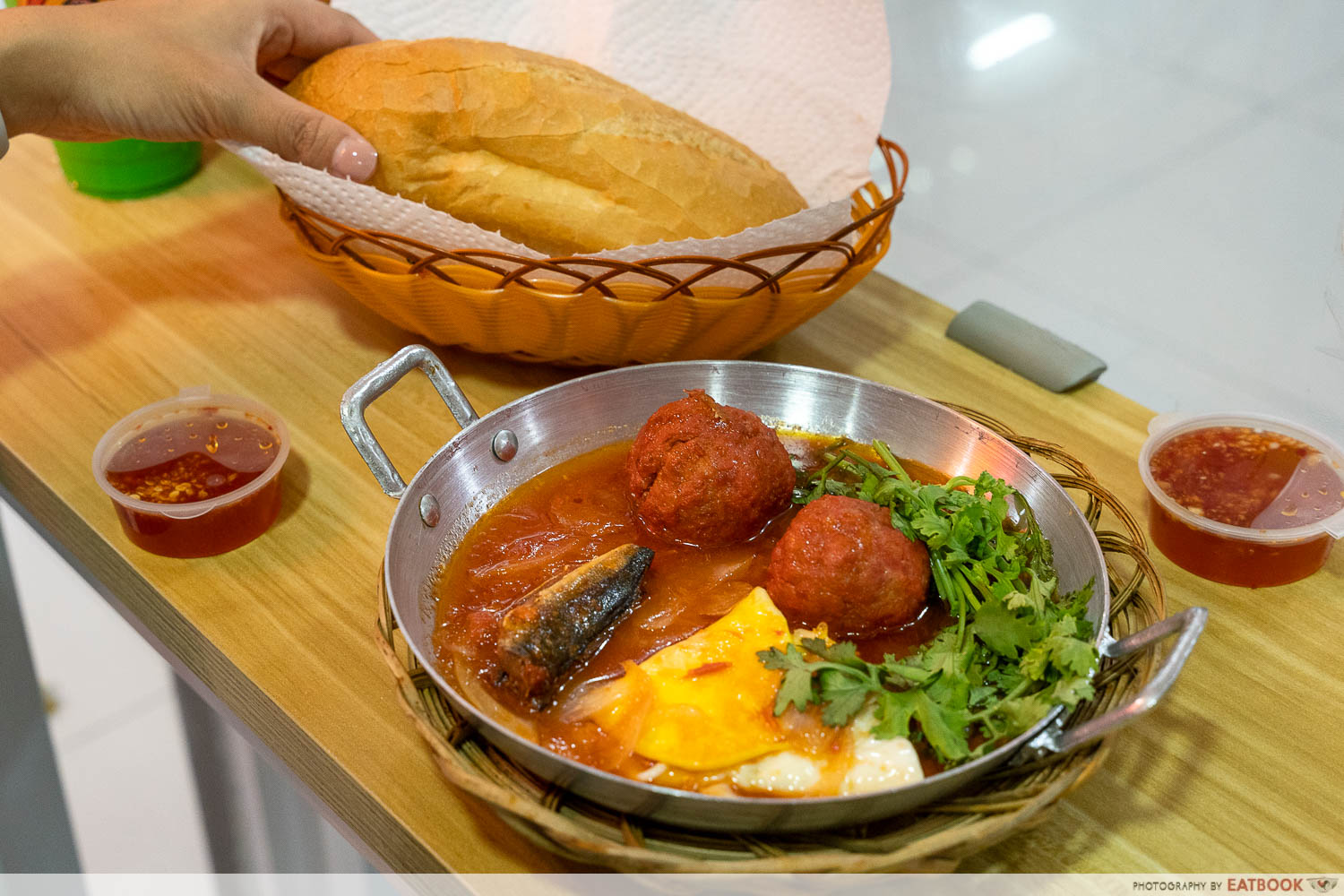 One of these is the Banh Mi Chao ($12),  a Vietnamese breakfast dish served with house-made meatballs, sardines, an egg, all doused in an oniony tomato sauce. You get a baguette along with your order too. Other highlights include their Bun Thit Nuong ($9.90) and  Fine Rice Noodle Salt Baked Chicken ($9.90), noodle dishes topped with grilled meats, and a delicious fish sauce and chilli dressing.
Read our Miss Saigon review.
Address: 150 Orchard Road, #02-56, Orchard Plaza, Singapore 238841
Opening hours: Daily 24 hours
Tel: 8925 3959
Website
Miss Saigon is not a halal-certified eatery
Miss Saigon Review: Legit Vietnamese Banh Mi Eatery In Orchard That's Open 24/7
---
11. Ume San 100
---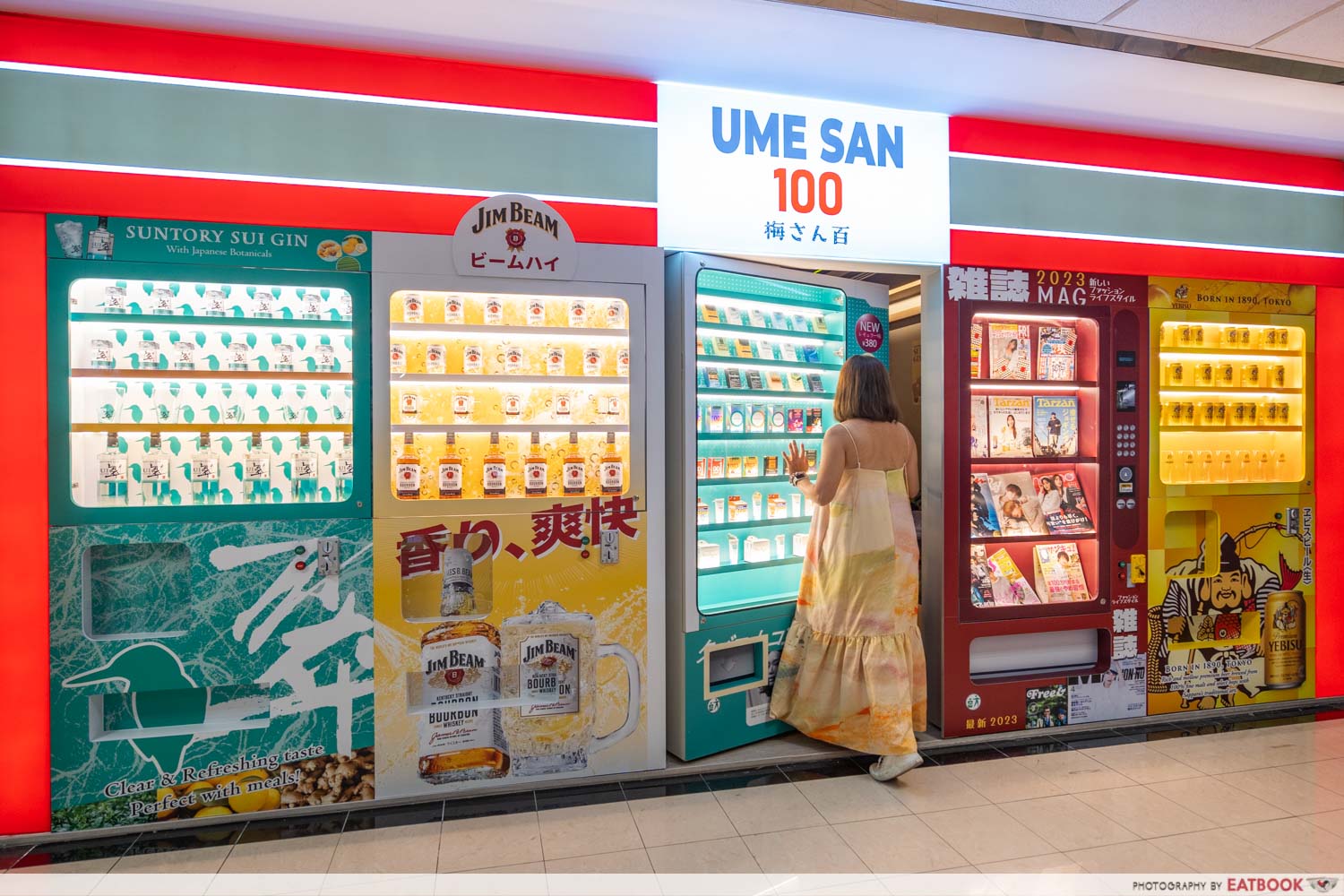 Fortune Centre isn't just a hub for great vegetarian food, it is also home to Ume San 100, a brand-new Japanese bistro bar. To visit Ume San 100 is to first have to search for its entrance, for it is also a hidden bar. Look out for a wall of brightly coloured vending machines on the mall's second floor, push your way through, and voila.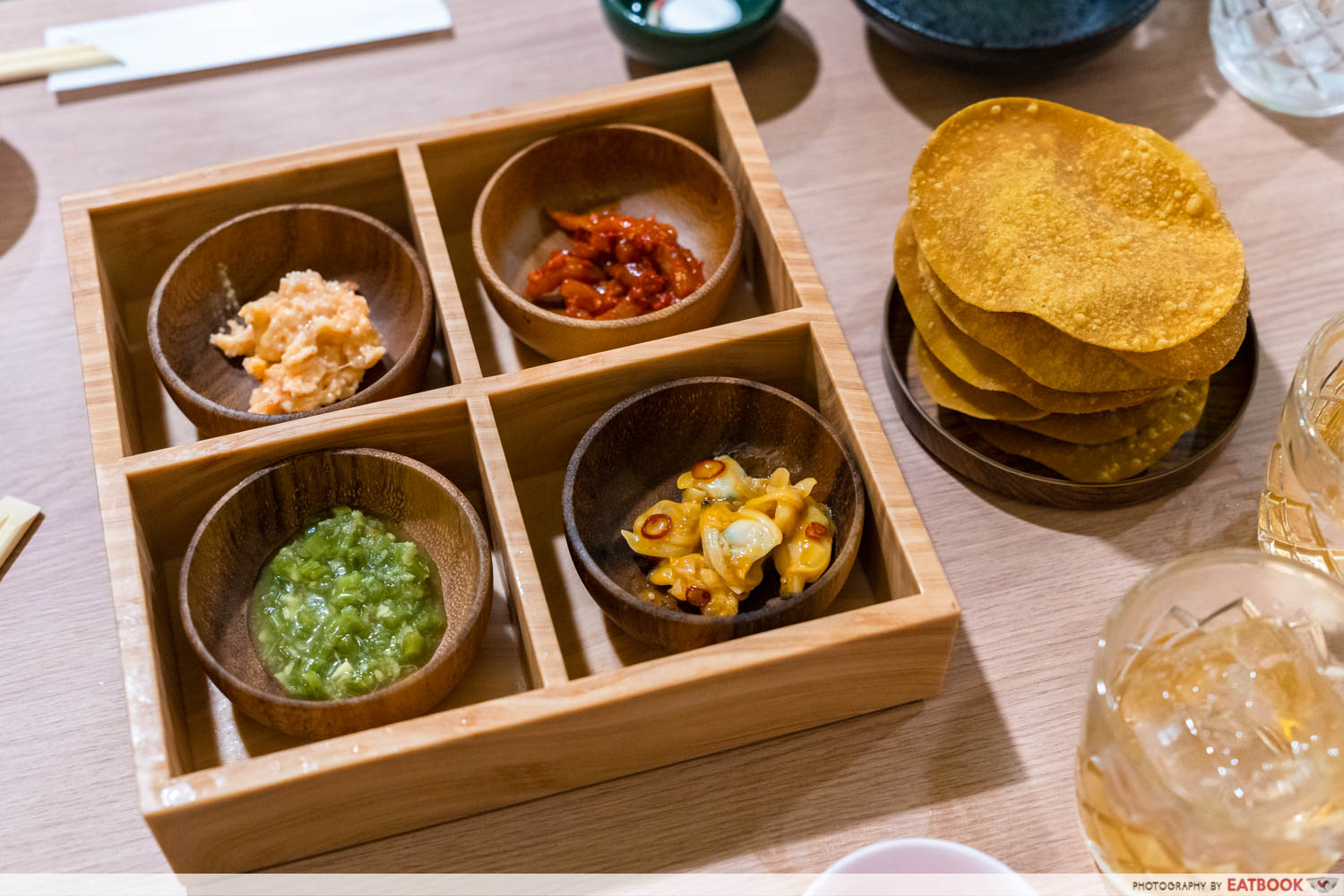 The bar boasts Singapore's largest collection of umeshu, with over 40 varieties of the plum wine, alongside other Japanese spirits. Aside from their extensive drinks menu, the bar also has light bites to wash down your beverages with, including Garlic Chicken Karage ($16++), and their Umesan Nachi Pagoda ($20++), a quartet of pickled seafood served with deep-fried gyoza skin—a Japanese spin on chips and dips.
Read our Ume San 100 review.
Address: 190 Middle Road, #02-07, Fortune Centre, Singapore 188979
Opening hours: Daily 5pm to 11pm
Website
Ume San 100 is not a halal-certified eatery
Ume San 100: New Japanese Bar Hidden Behind Vending Machines Has SG's Largest Umeshu Collection
---
12. Wildcard
---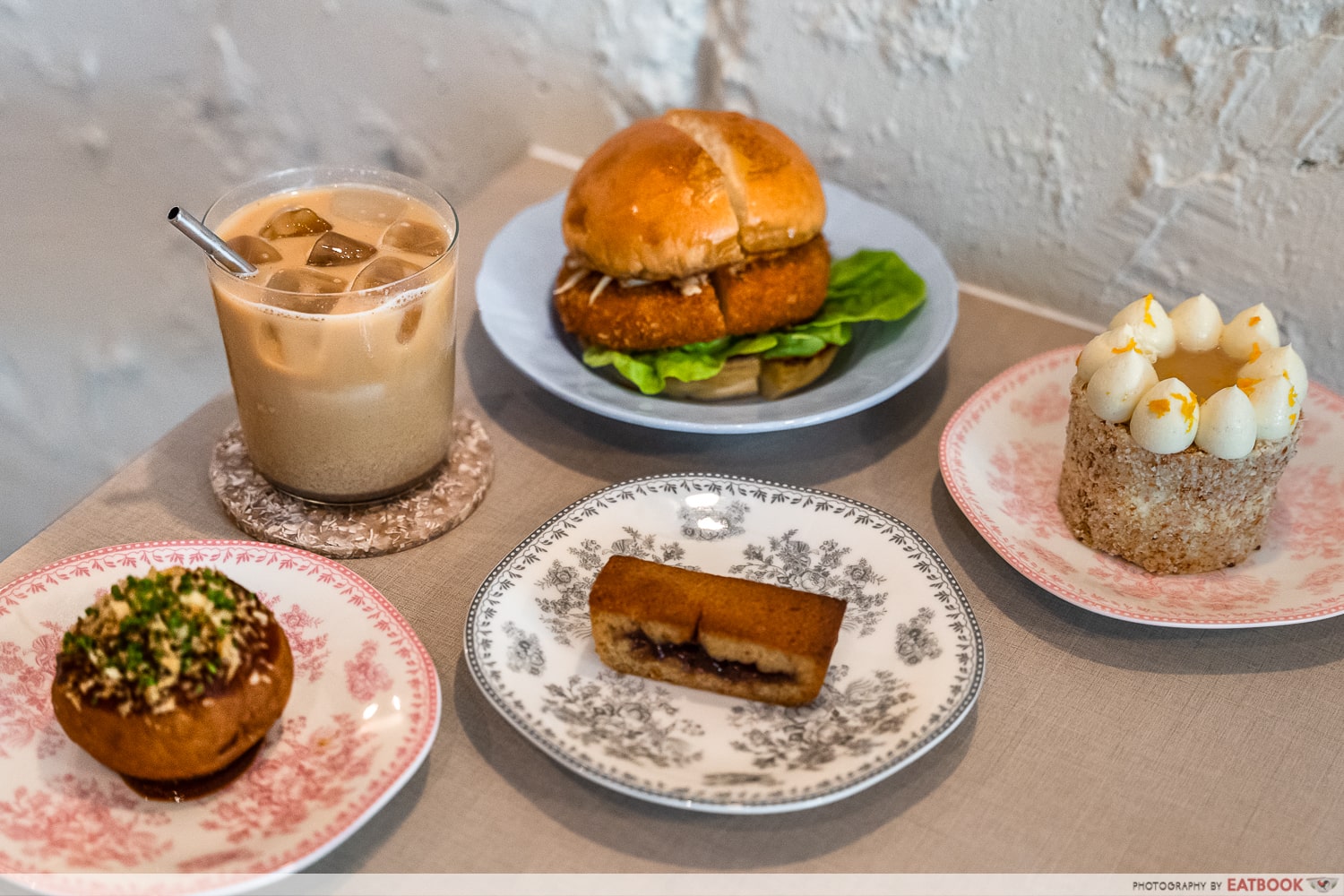 Wildcard is a new cafe in the Outram Park 'hood founded by the folks behind the popular Maxi Coffee Bar. Aside from their popular coffee beverages, you get a selection of trendy bites here, including the Prawn Sando ($22+), packed with a thick prawn katsu patty, and dressed with a fermented chilli aioli.  Sweets are available as well, so don't miss their selection of cakes, from their Financier ($5+) to their Carrot Cake ($7+).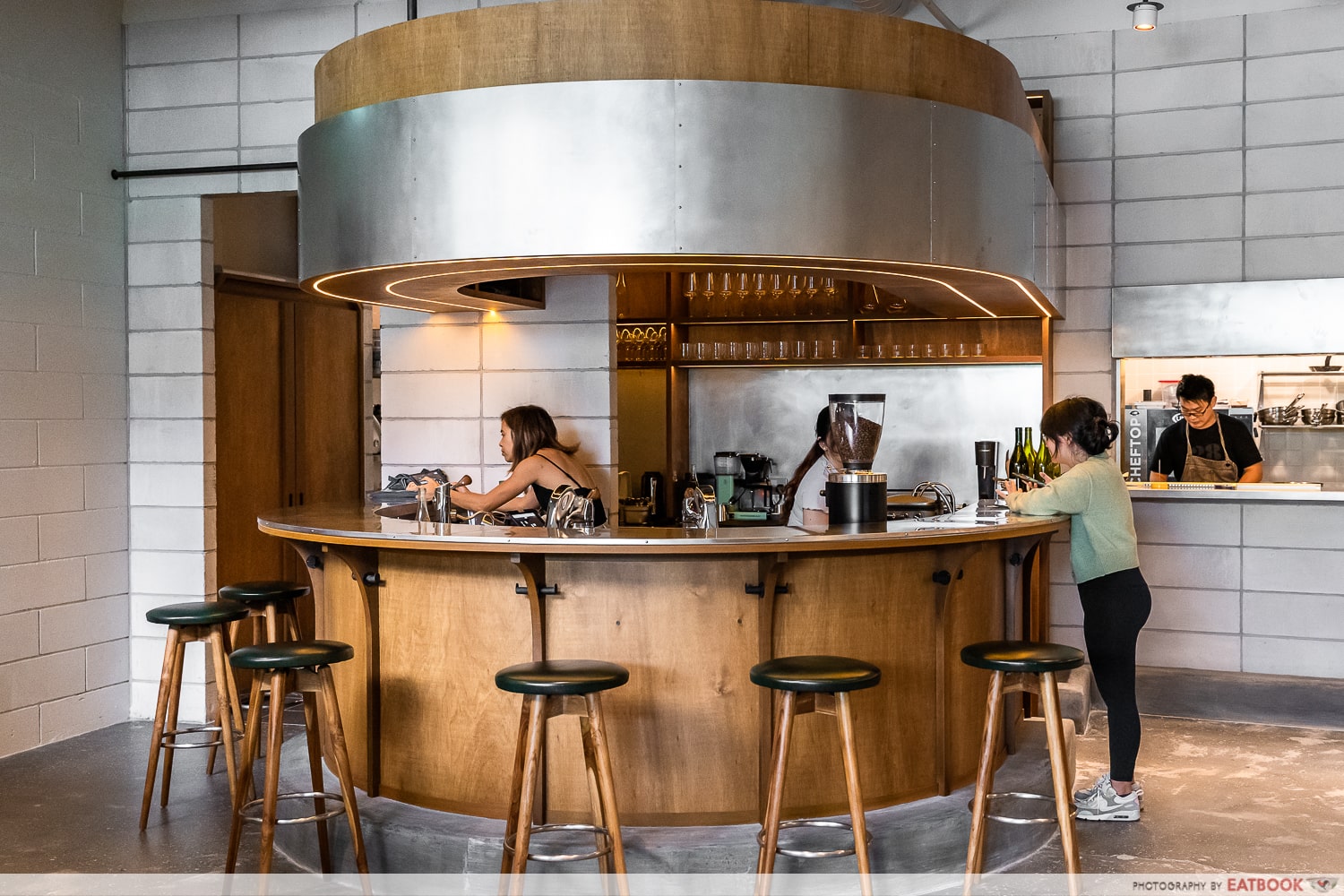 While Wildcard fronts as a chill cafe during the day, the eatery transforms into a wine bar by night, with a different menu, so it's a great one to bear in mind if you're in the area looking for a relaxed dinner location.
Read our Wildcard review.
Address: 405 Havelock Road, #01-03, Furama RiverFront, Singapore 169633
Opening hours: Sun-Wed 8am to 11pm
Website
Wildcard is not a halal-certified eatery
Wildcard: New Cafe By Maxi Coffee Bar Founders In Outram With Oxtail Doughnuts And More
---
13. Gyu San Charcoal Bar
---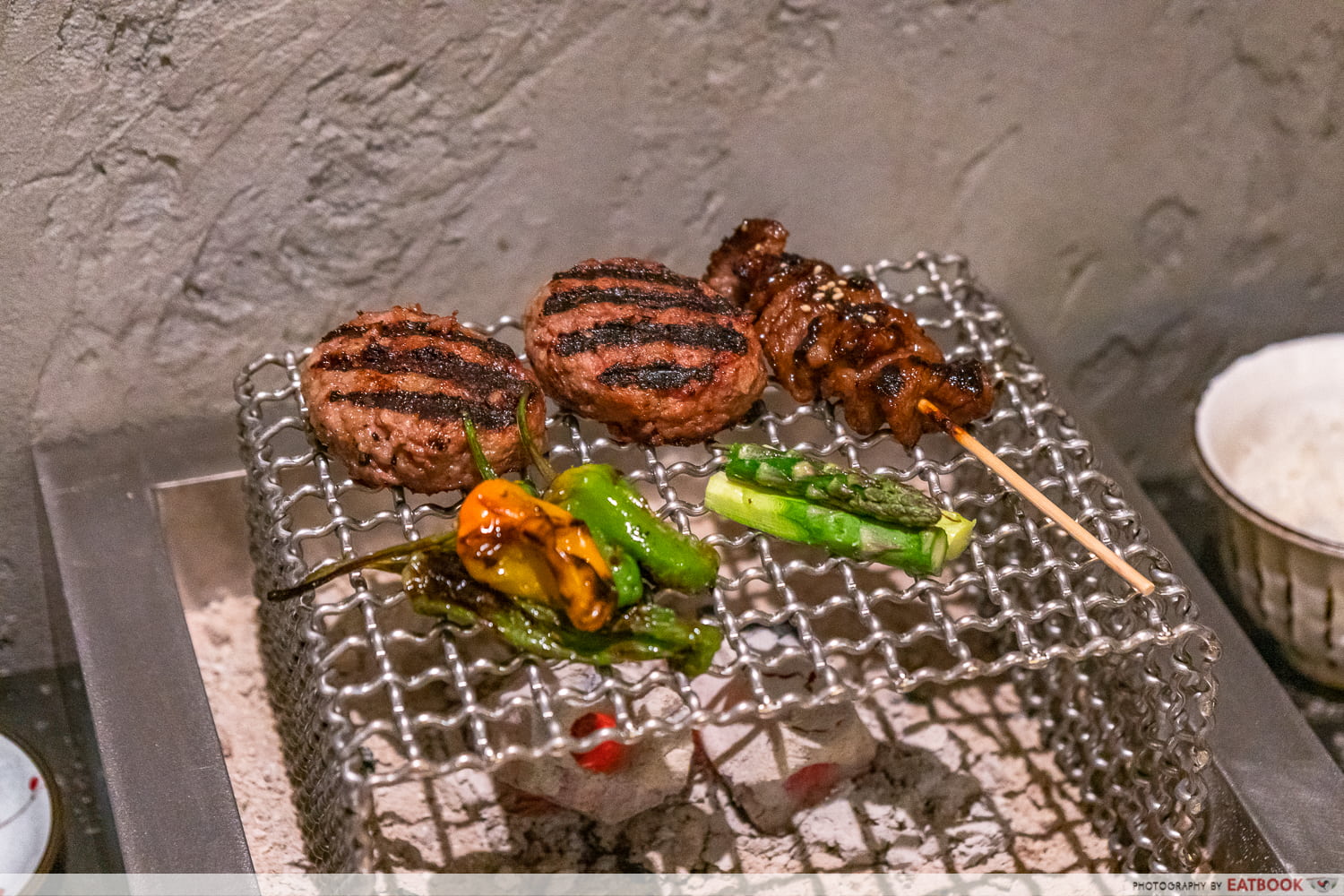 The team behind Wagyu sando shop Gyu San has come up with a brand-new concept: Gyu San Charcoal Bar. Located in Forum The Shopping Mall, the new Orchard restaurant offers an affordable A5 Wagyu Japanese Hamburg Set ($23.80++) that comes with a side salad, as well as unlimited rice and miso soup. Each set gets you two handmade Wagyu hamburg patties that are cooked to order over binchotan, AKA Japanese charcoal, in the open-concept kitchen. Then, the beef patties are served to your table on top of a personal grill to keep them warm.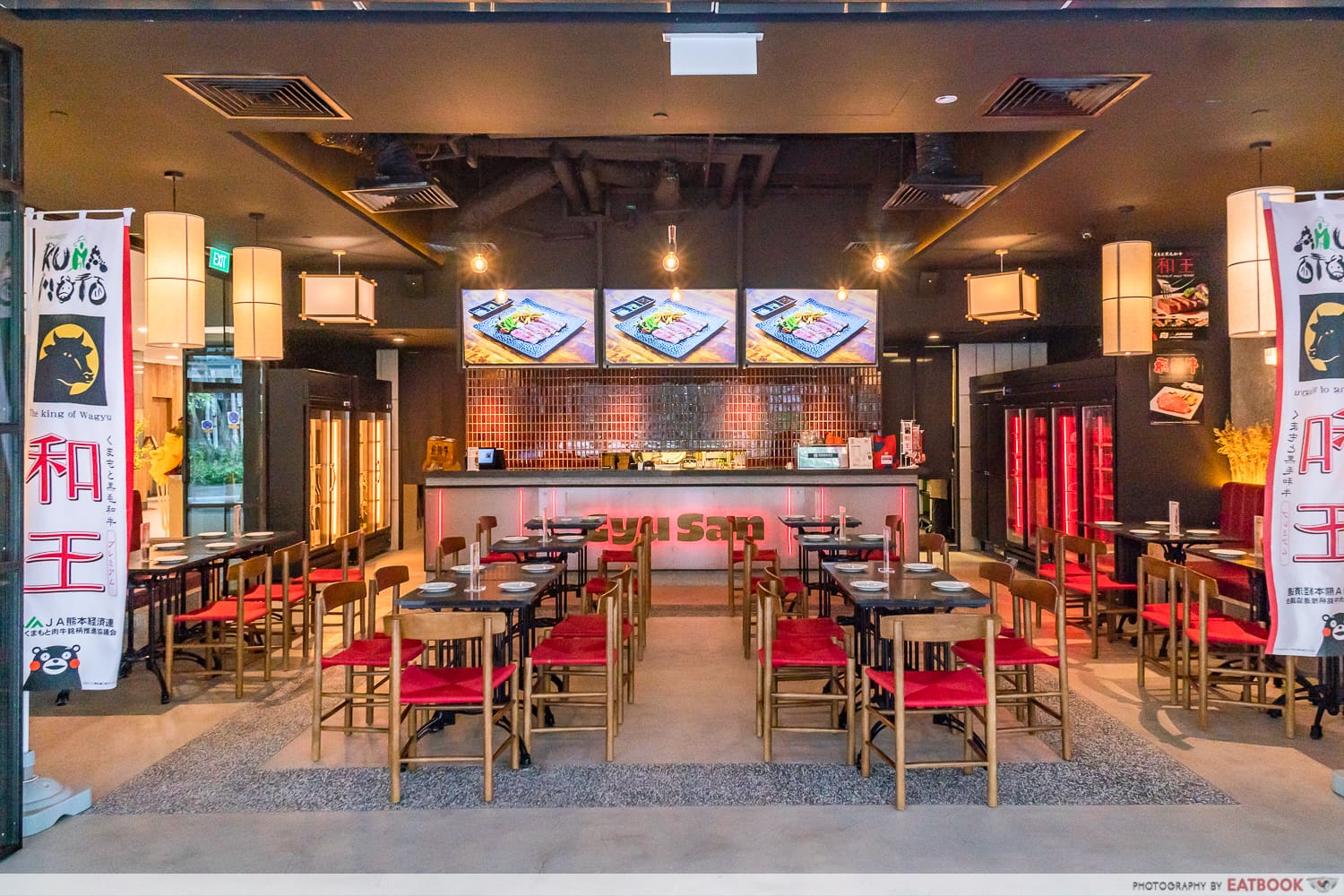 If that's not enough meat for you, zhng up your meal with an extra patty at an additional cost of $8.50++, or get more toppings such as shishito ($5.50++) peppers and shiitake ($3.50) mushrooms. Don't forget to try their impressive condiment selection too, where you can mix and match eight unique sauces that are free of charge. 
Read our Gyu San Charcoal Bar review.
Address: 538 Orchard Road, #01-28, Forum The Shopping Mall, Singapore 238884
Opening hours: Daily 11am to 3pm, 5pm to 10:30pm
Tel: 8313 6633
Website
Gyu San is not a halal-certified eatery.
---
14. Tinto
---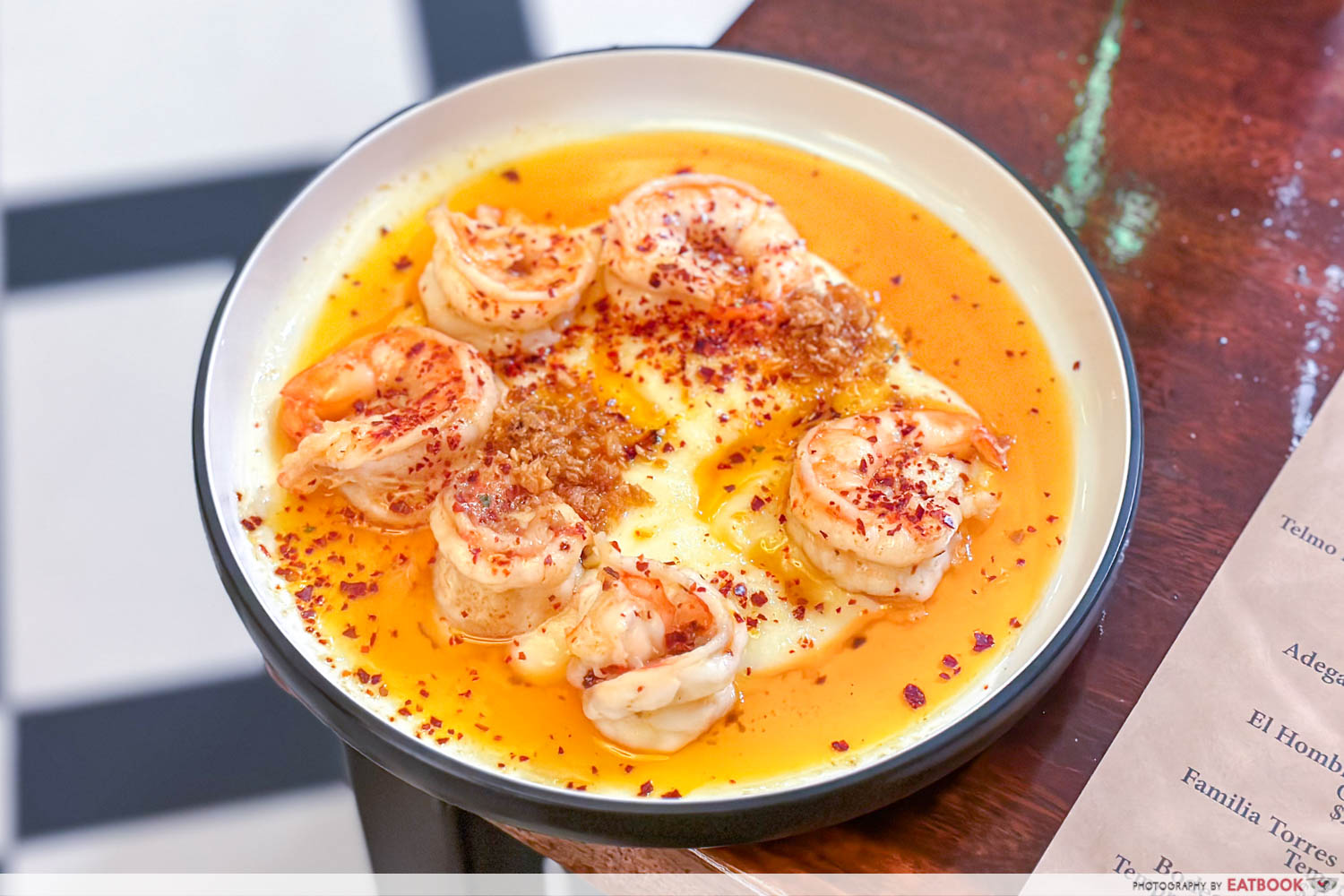 If you've previously been to OLA Cocina del Mar at Marina Bay Financial Centre, and were bummed when they shuttered, head to Tinto on Dempsey Hill instead━helmed by Peruvian Chef Daniel Chavez and his wife Chef Tamara Chavez. Designed by Tamara, the space is meant to bring you into a Spanish home, while the food includes tapas dishes that the couple have discovered through their travels.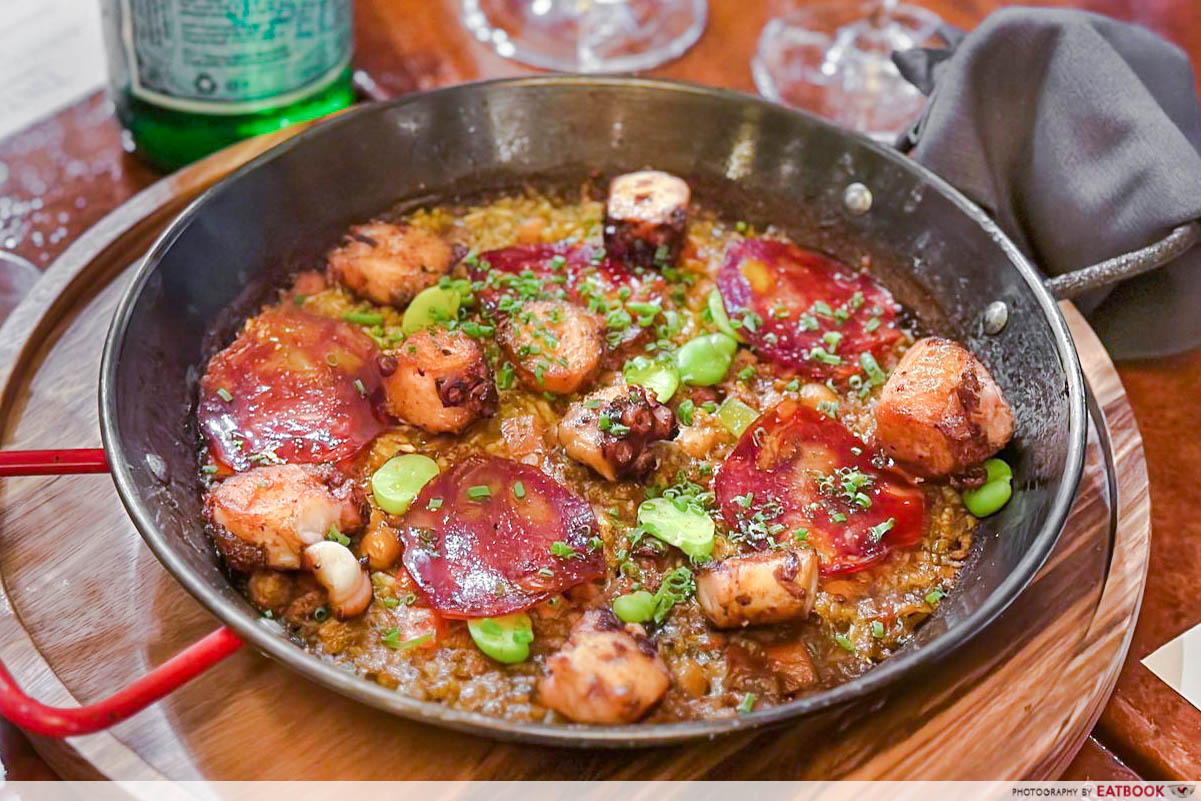 Start with a Gazpacho ($10++) for a cold tomato and Japanese cucumber soup with raspberry vinegar and heirloom cherry tomatoes, then move on to Cangrejo ($18++), a crab and avocado salad with salmon caviar. Look forward to their signature Tinto Paellas, such as New Valenciana ($32++/$58++), topped with marinated chicken, chorizo and more; for something different, consider their fideuas: a Valencian coastal dish that's like paella, but prepared with pasta.
Address: Blk 10 Dempsey Road, #01-21, Singapore 247700
Opening hours: Mon-Thurs 5:30pm to 10:30pm, Fri-Sun 11:30am to 3pm, 5:30pm to 10:30pm
Tel: 9729 5002
Website
Tinto is not a halal-certified eatery
---
15. Tajine Moroccan Tapas & Cocktail Bar
---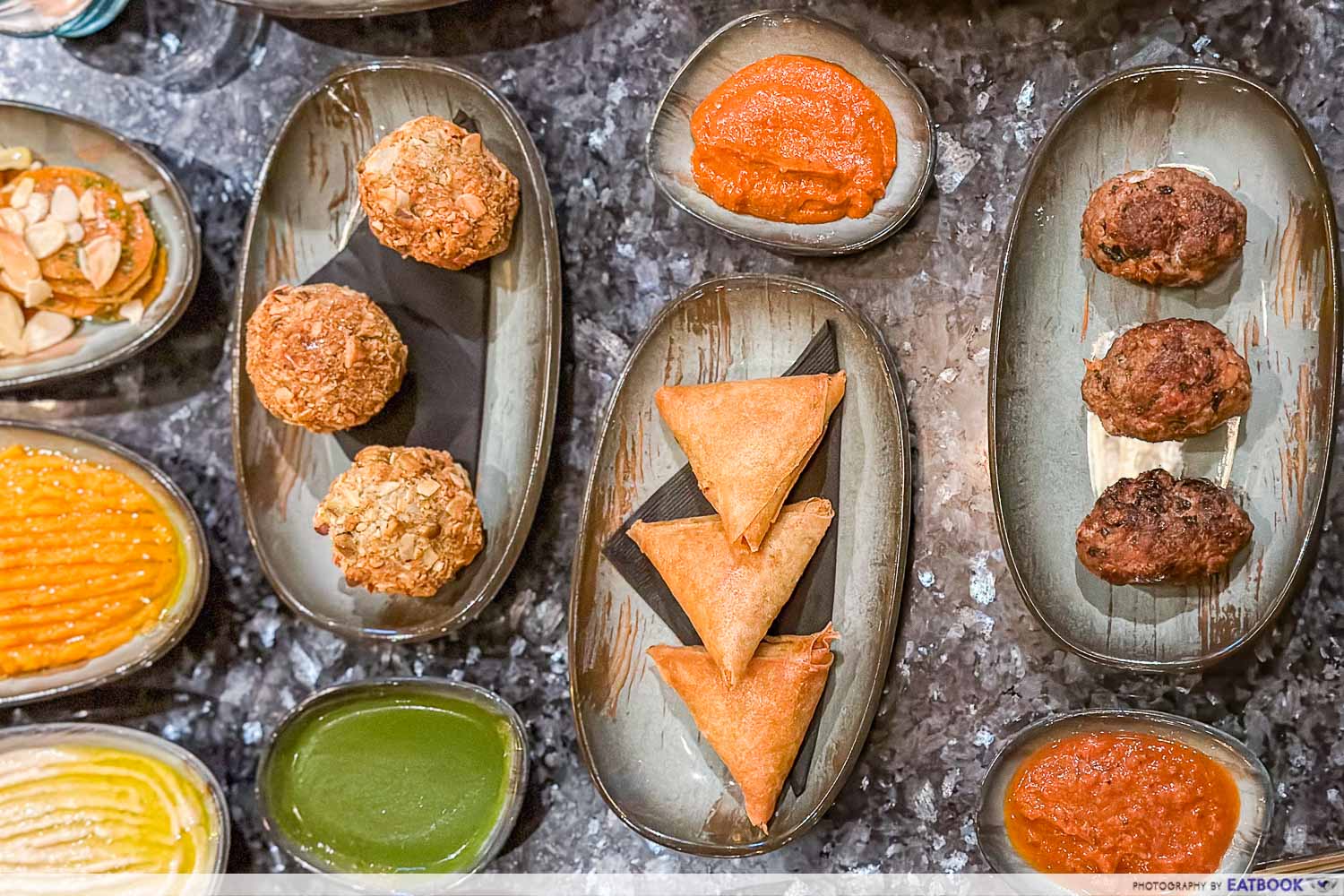 One of Mohamed Sultan Road's latest openings is Tajine Moroccan Tapas & Cocktail Bar, which claims to be Singapore's first concept of its kind. At Tajine, classic Moroccan ingredients such as preserved lemons and spice blends are made in-house, and feature in dishes such as Khizou Mchermel ($16++), a bright orange salad.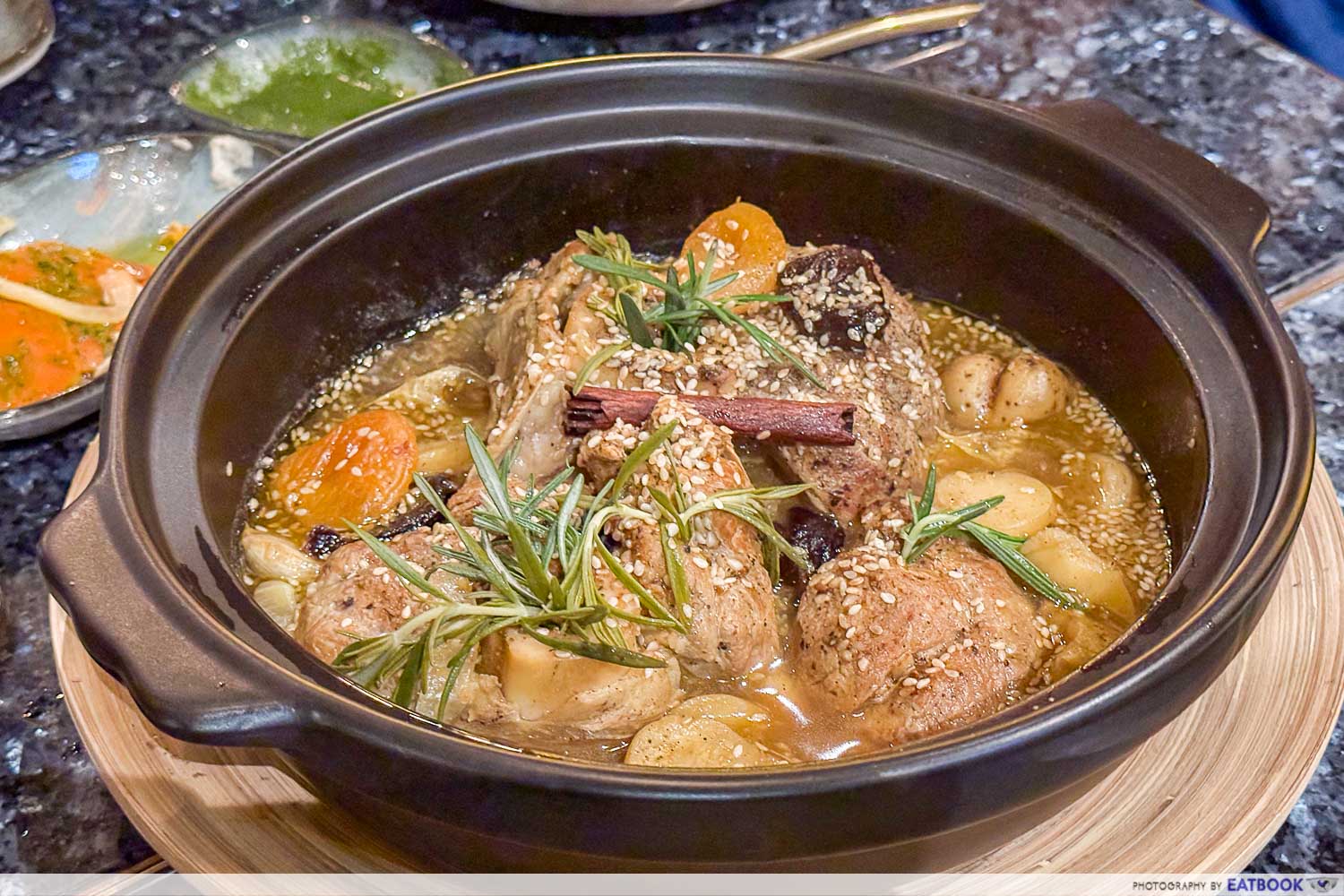 Try their Briouates ($19++), for wild-caught Atlantic sardines in a filo pastry triangle, before getting one of their tajines, cooked in the iconic earthern claypot with its cone-shaped lid. We recommend the Milk-fed Veal Shank ($98++) that's good for up to four to share, and to finish your meal with an order of Moroccan Tea ($12++) alongside some Sorbet ($16++), fragrant with orange blossom and lemon peel. 
Address: 18 Mohamed Sultan Road, Singapore 238967
Opening hours: Tue-Fri 12pm to 3pm, 5pm to 11pm, Sat 11am to 3pm, 5pm to 11pm, Sun 11pm to 3pm, 5pm to 10pm
Tel: 6690 7566
Website
Tajine Moroccan Tapas & Cocktail Bar is not a halal-certified eatery.
---
16. Unkai Sushi
---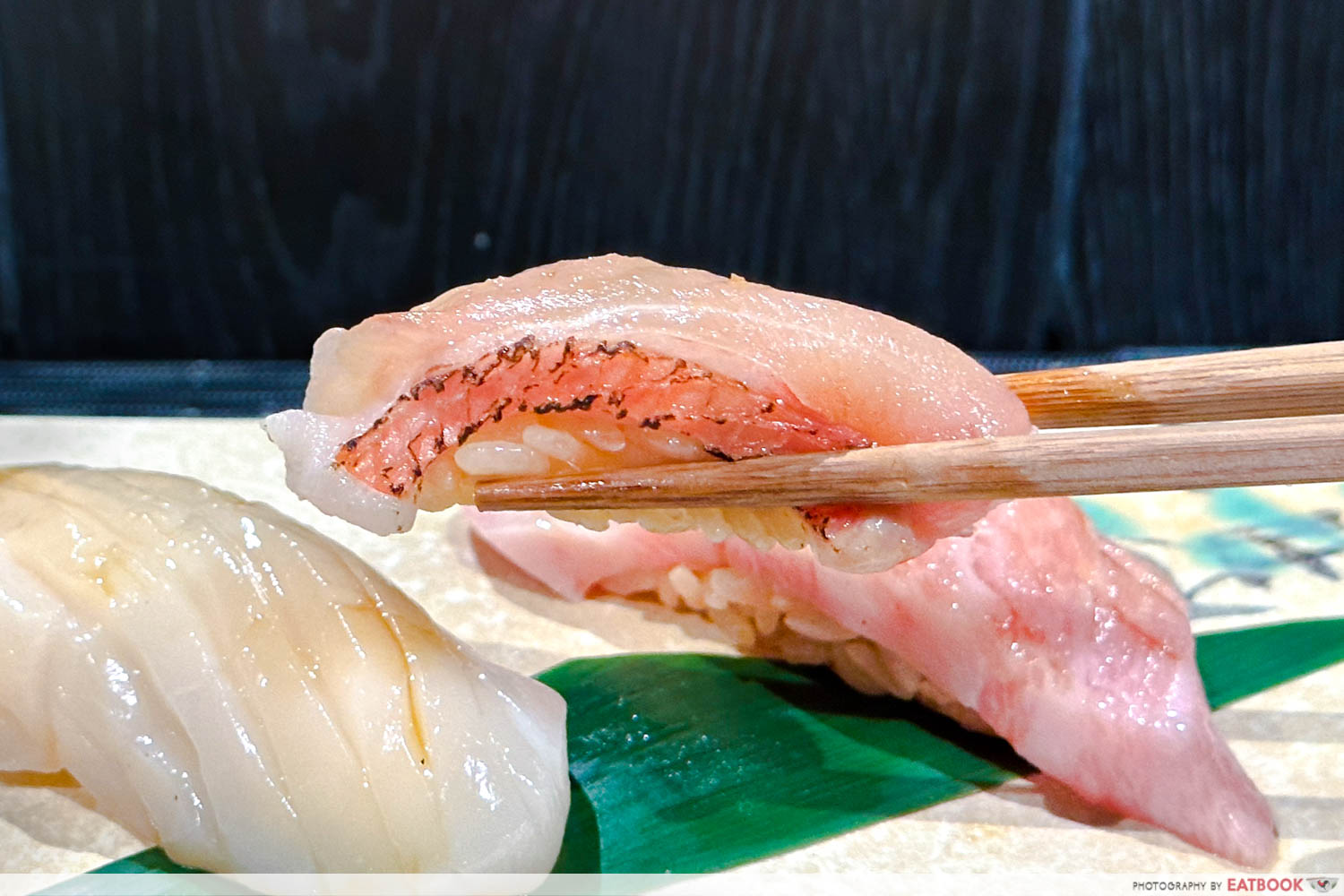 New to Unkai Sushi is a $68++ omakase lunch menu that comes with eight courses, including chawanmushi, seasonal sushi, and even a mini chirashi don. Top up $38++ for Chef Eugene Lam's signature Magic Bowl instead of the chirashi don, for an ultra indulgent rice bowl laden with the best of the season's sashimi. Here's the catch: this omakase lunch is not available for seats at the sushi counter.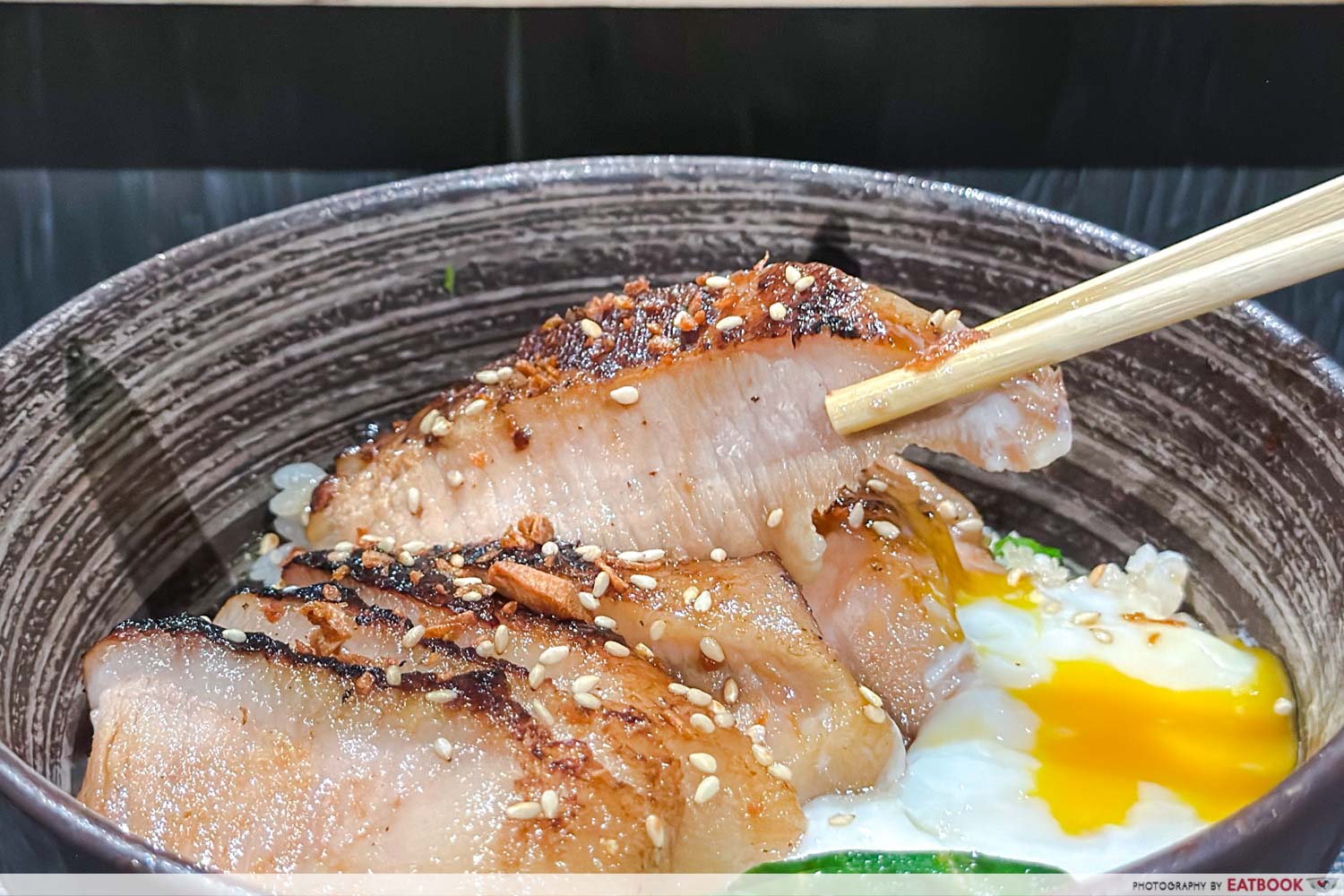 Otherwise, check out Unkai's special five-course lunch sets, priced from just $26++. These include Bara Chirashi Don ($26++), Gindara Miso Yaki ($28++), Pork Cheek Rice Bowl ($28++), and even A5 Kagoshima Wagyu Don ($68++). 
Address: 1 Tanglin Road, #01-10, Orchard Rendezvous Hotel, Singapore 247905
Opening hours: Daily 11:30am to 2:30pm, 6pm to 10pm
Tel: 9634 8508
Website
Unkai Sushi is not a halal-certified eatery
---
17. Ikkoten
---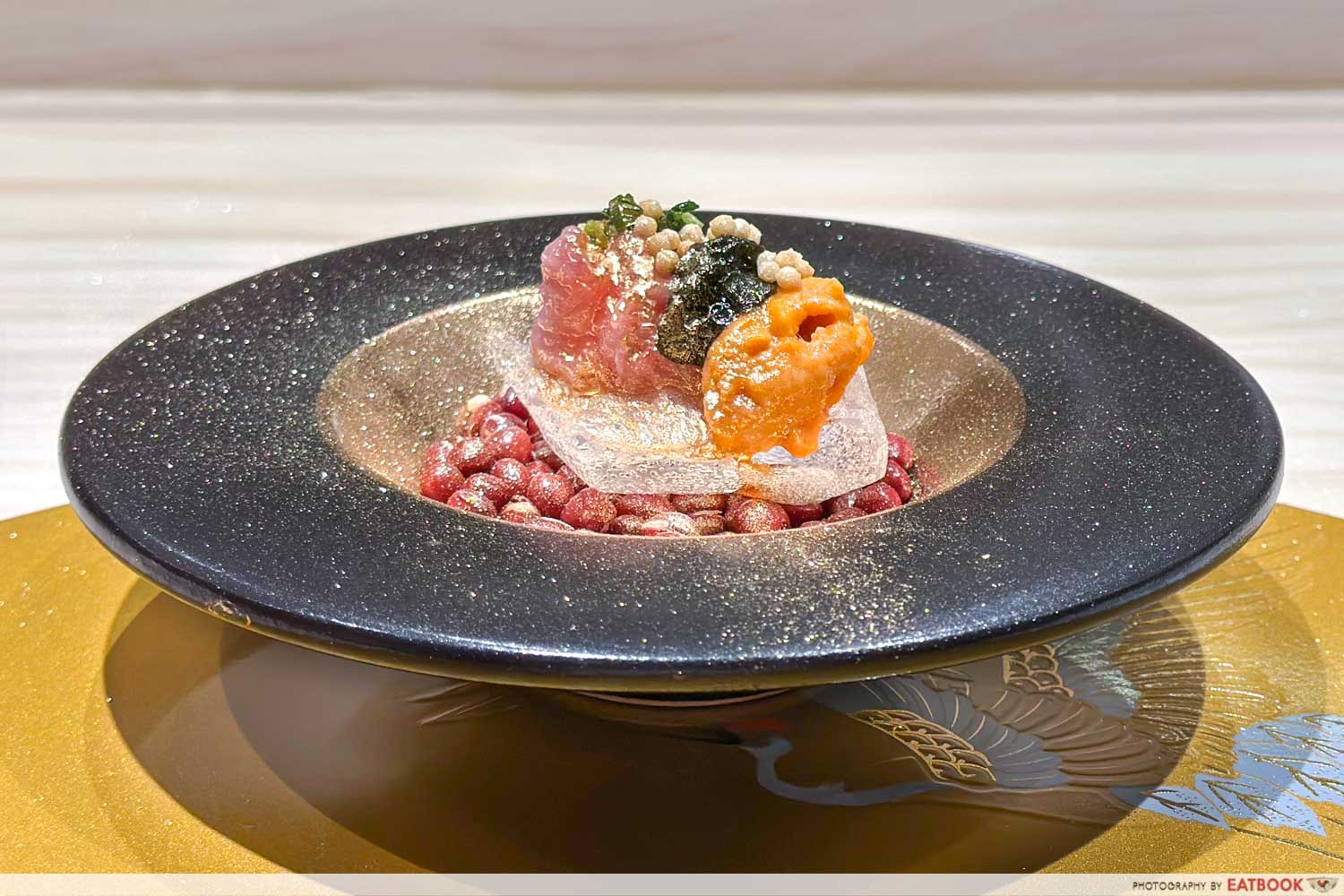 Under a month old, the newest omakase restaurant to hit Telok Ayer is Ikkoten, which you should put on your list for Kyoto-style kaiseki by Executive Chef Brandon Low. Translated, Ikkoten reads 'Paradise on Earth', which the restaurant hopes to create for every diner.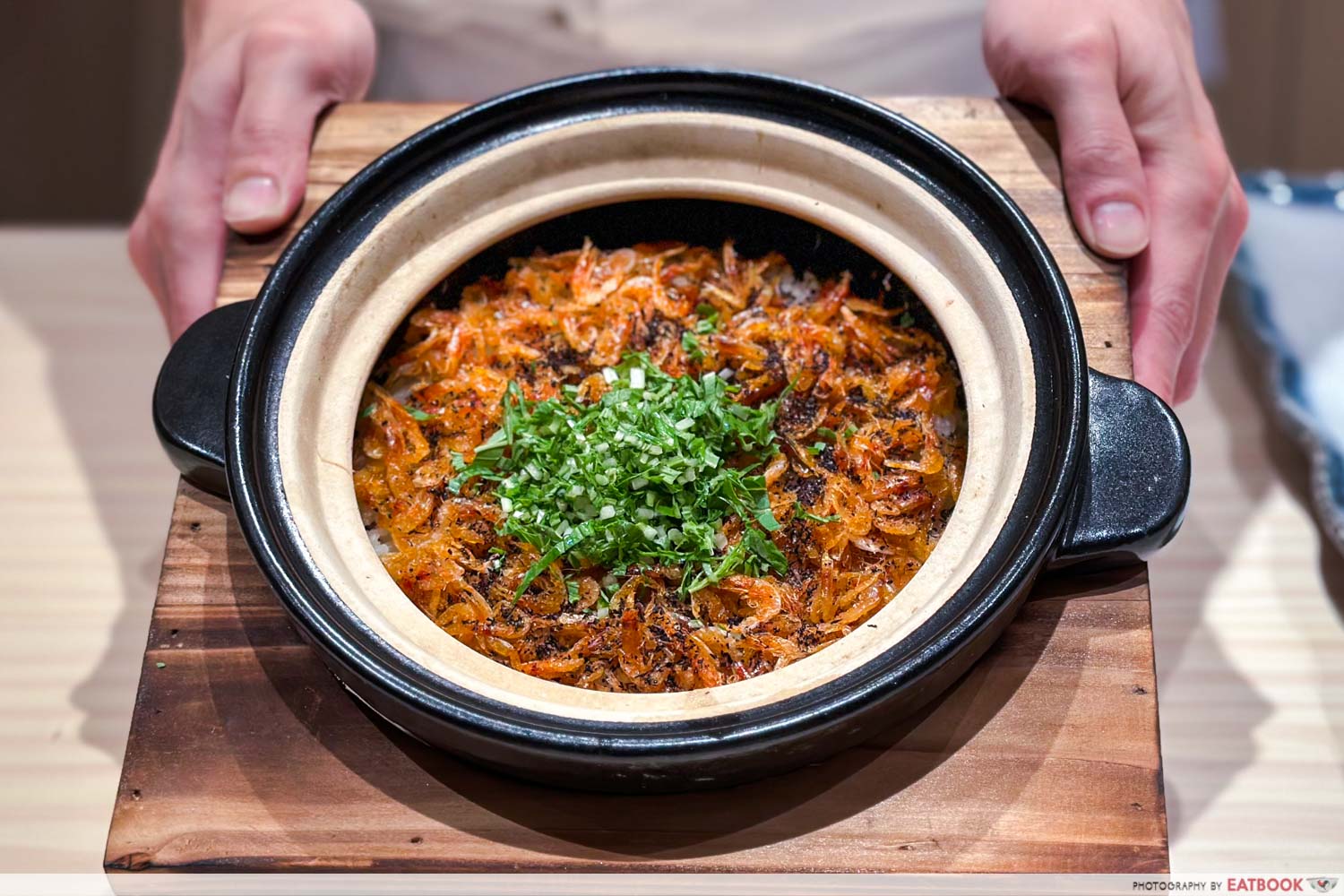 A five-course kaiseki lunch omakase here will set you back $88++, while dinner sees two mainstay options of a nine-course ($198++) or 11-course ($298++) feast. If you're after an even more elevated experience, book your premium 11-course omakase ($398++) at least three days ahead, to accommodate the ordering of ingredients for this meal. Highlights include Chef's signature dish of crystal cracker topped with negitoro, uni and more, and the donabe, the leftovers of which are made into onigiri and packed in bamboo leaves for you to take home.
Address: 86 Telok Ayer Street, Singapore 048469
Opening hours: Daily 12pm to 2:30pm, 7pm to 10:30pm
Tel: 8666 9924
Website
Ikkoten is not a halal-certified eatery
---
New restaurants and cafes in Singapore for June 2023 
---
Aside from these new eateries, there are also a handful of highlights to pay attention to if you're a foodie, from the latest food festival, GastroBeats 2023, running from now till 25 June 2023, to the opening of the new Thai Supermarket in Aperia Mall. Don Don Donki opens in PLQ too, officially!
14 Best Things To Buy At The New Thai Supermarket, Including Coffee Beer And More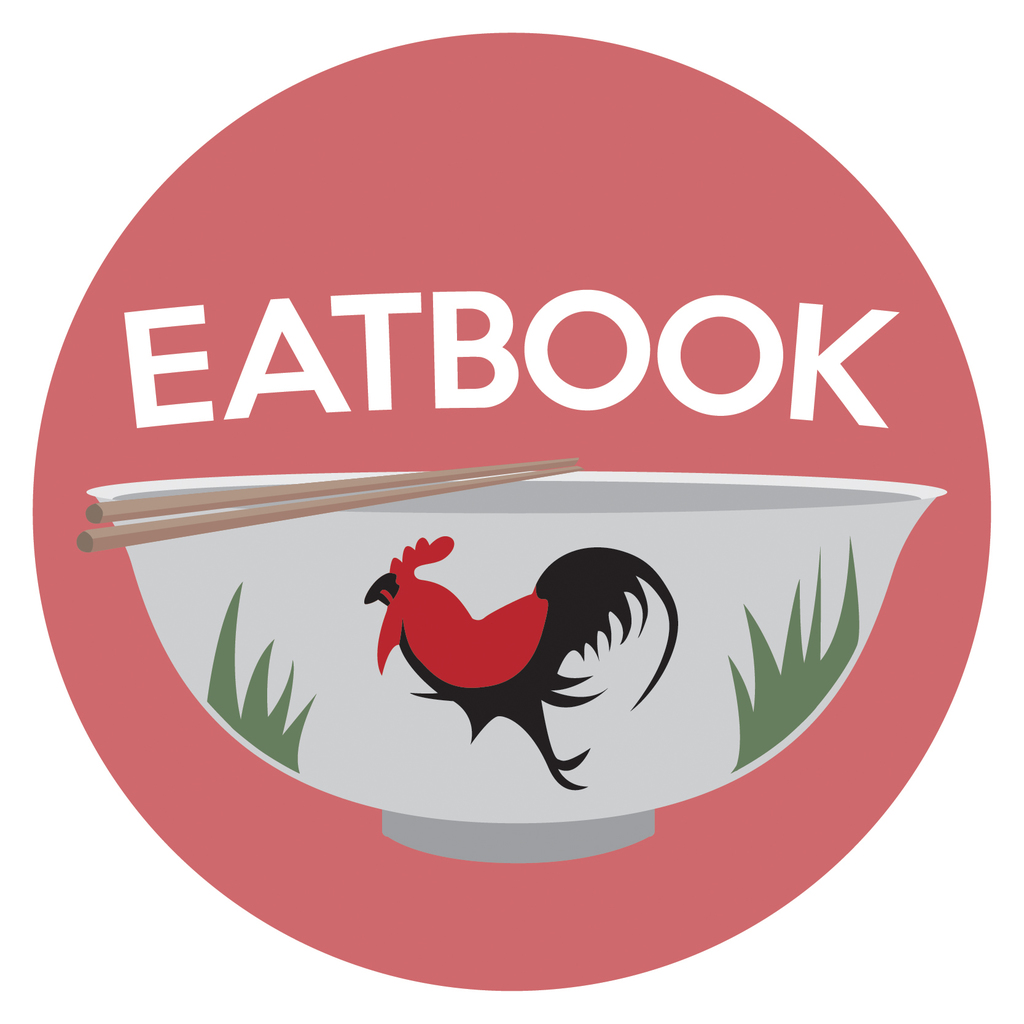 Drop us your email so you won't miss the latest news.