---
New restaurants in October 2020
---
Now that Phase 3 looms, the buzz around our food and beverage scene is greater than ever. The proof is clear: the past month has seen a jump in new restaurants opening around Singapore, so let us take you through some of our tried-and-tested highlights for where to dine this October.
Rice Cooker Pad Thai Recipe: Easy And Tasty Pad Thai Made With A Rice Cooker
---
1. Shake Shack Suntec City
---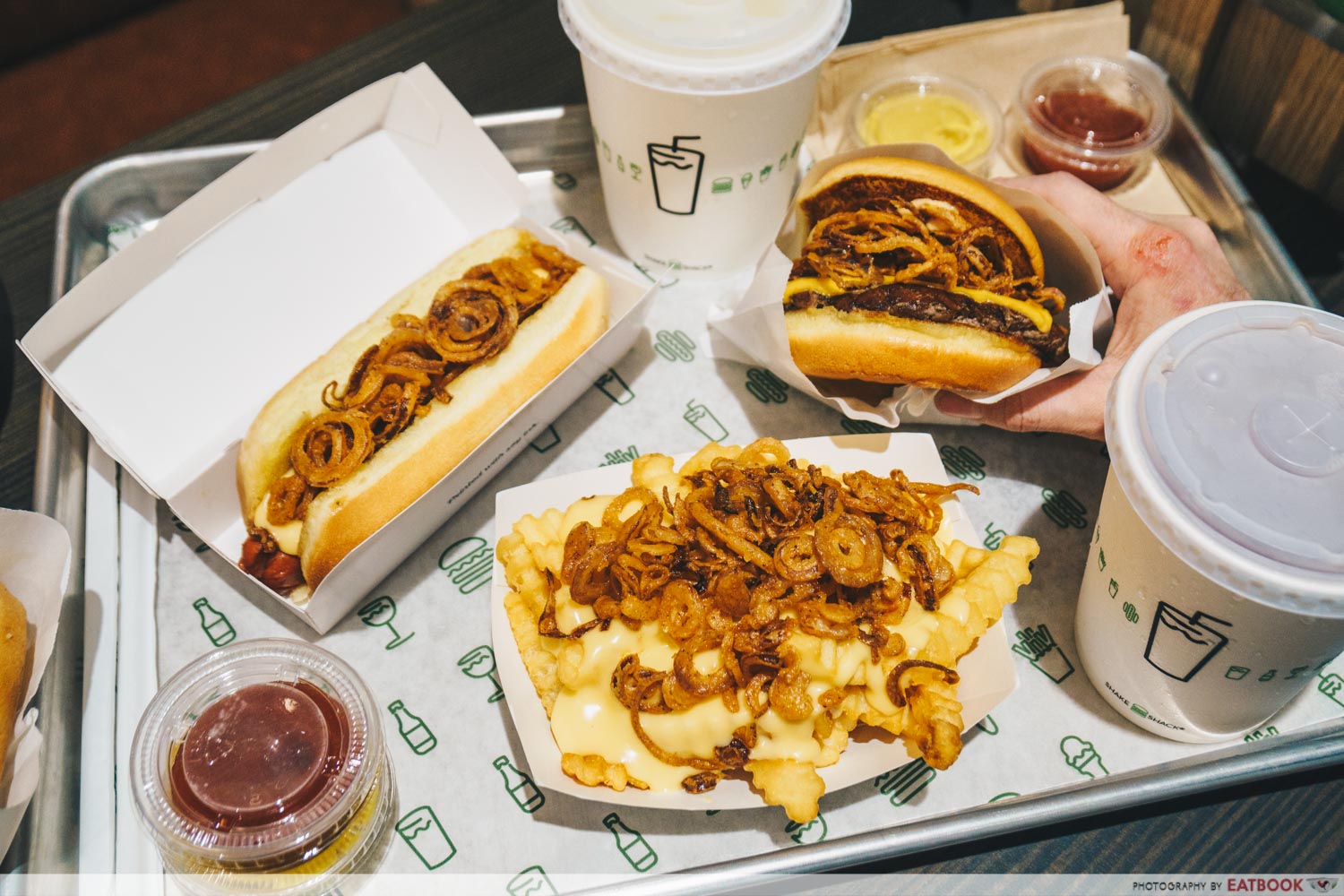 Shake Shack's fourth outlet in Singapore arrives at Suntec City's West Wing, with limited-edition menu items in tow. Known as the ShackMeister menu, the classic hotdog, cheese fries and ShackBurger get upgraded with a heaping scoop of fried shallots, marinated in ale and a signature blend of spices. The ShackMeister Burger (from $10.90) is a must-have, given how the crunchy spiced shallots add oomph to the combination of juicy beef and melted cheddar. Also available at the new outlet is the Matcha Made In Heaven (from $7.50), a matcha and yuzu strawberry frozen custard dessert that's a win for matcha lovers around.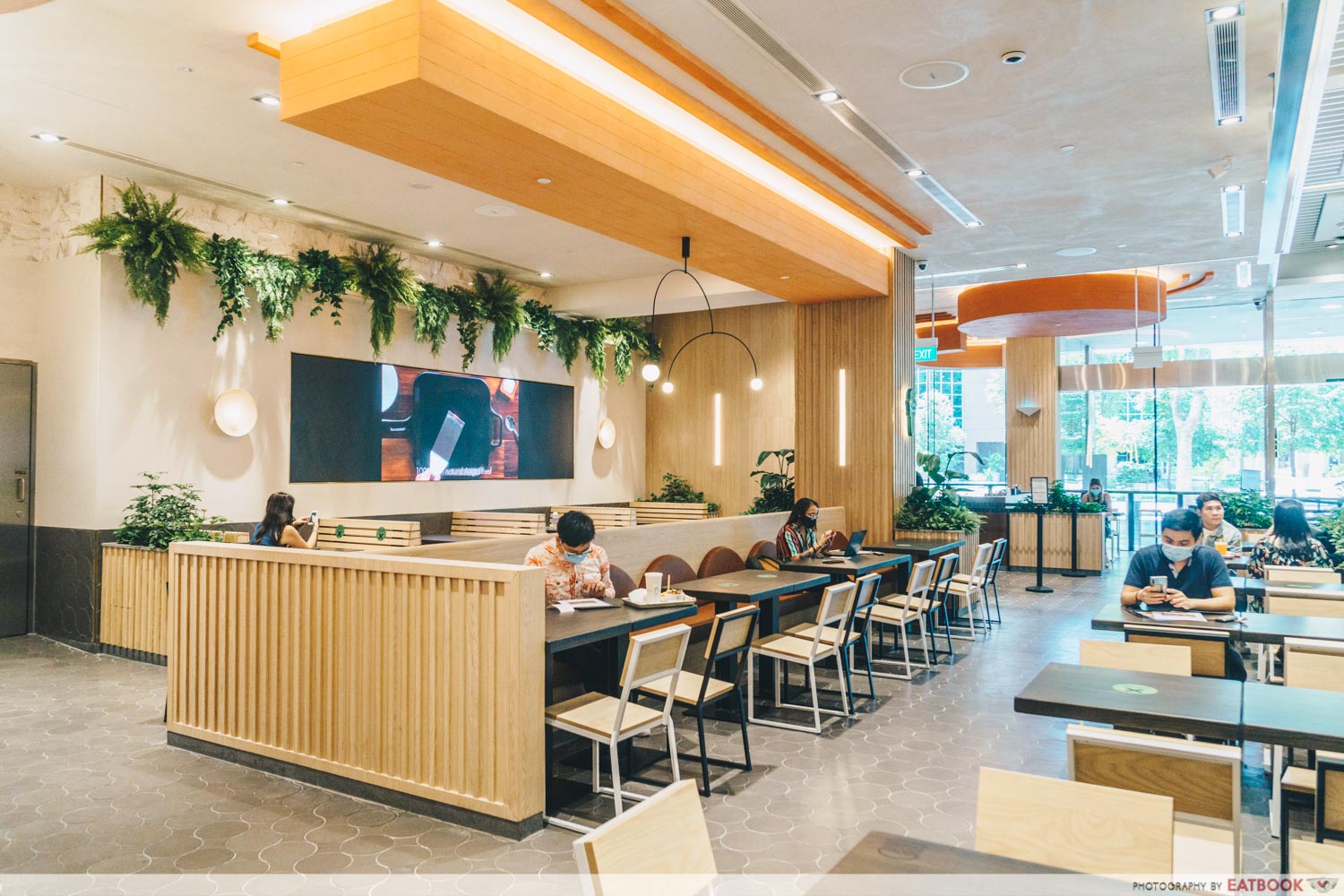 The Suntec City outlet is great for just hanging out at too. Suffused with natural light and green elements to mimic the outdoors, diners can feel relaxed as they tuck into their well-earned burger after braving the queue.
Check out our full review of Shake Shack Suntec City.
Address: 3 Temasek Boulevard #01-357, Suntec City Mall, Singapore 038983
Opening hours: Daily 11am to 9:30pm
Website
---
2. Shrimp Prawn Seafood
---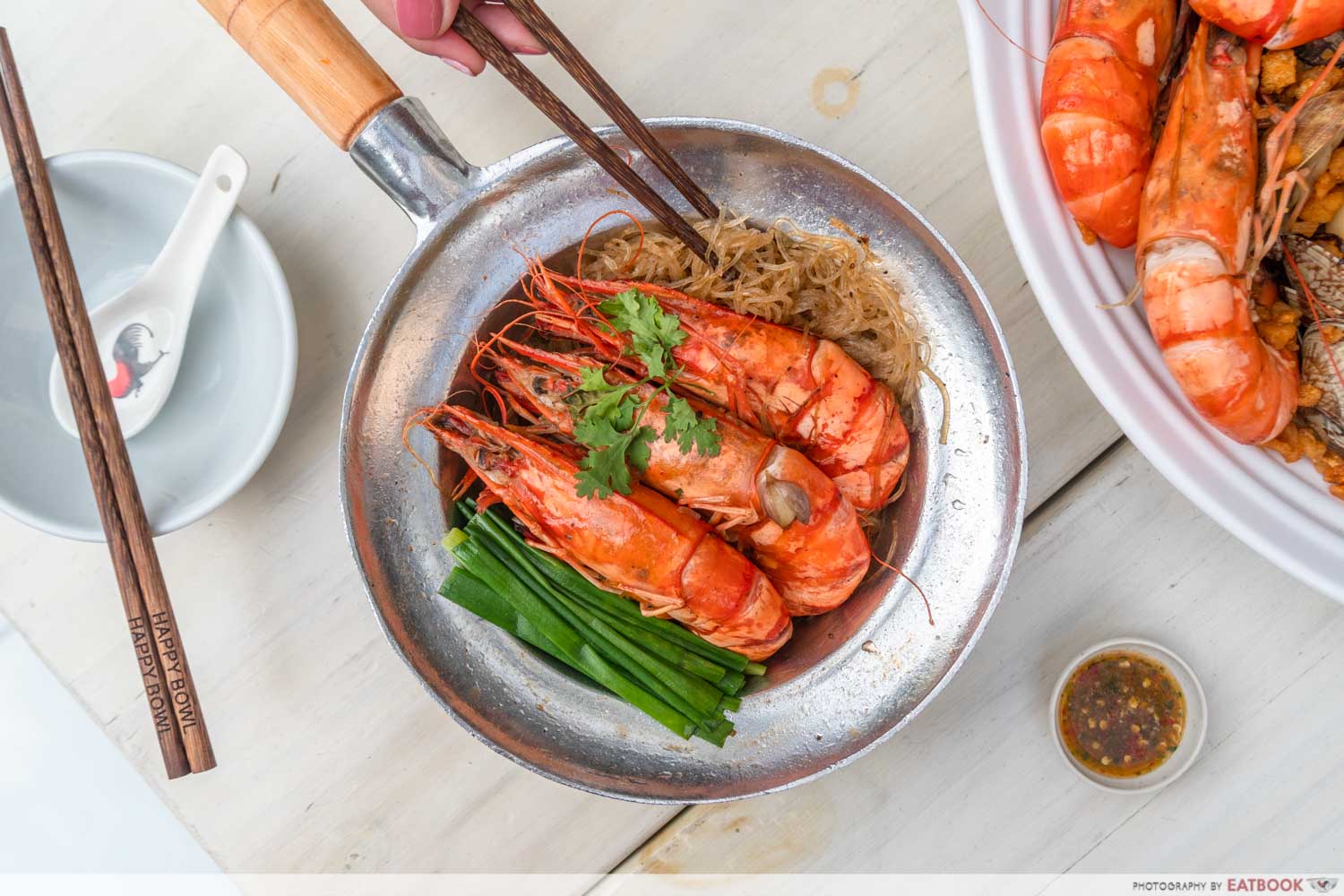 We rarely dole out a 9/10 rating for eateries, so when we do, you know Shrimp Prawn Seafood is a new restaurant worth being on your bucket-list. Parked along Boat Quay, they grew out of a pop-up stall at the popular Chatuchak Night Market event in Singapore. Now with a permanent space, seafood lovers can finally get their hands on Shrimp Prawn Seafood's Goong Ob Woonsen ($18.80) whenever they like. Better known as Shrimp Glass Noodles, these are cooked in a steel pot. Every serving comes with a generous trio of large prawns and glass noodles glazed with wok hei, garlic and black pepper. Aside from this signature dish, the restaurant also has other seafood vermicelli on the menu, and a hulking seafood platter best shared with friends.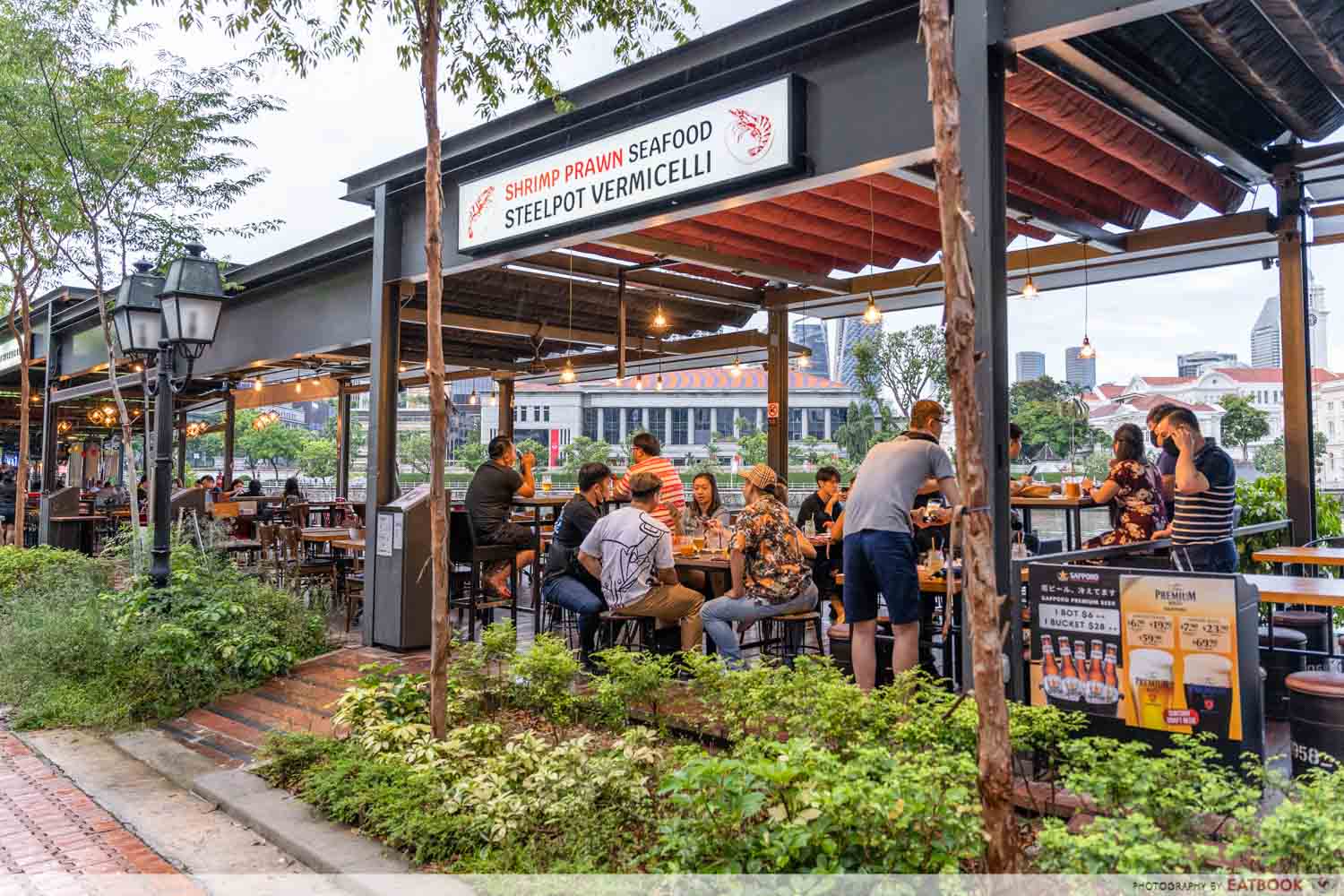 The restaurant itself is cosy, with an al fresco dining area that overlooks the Singapore River, though it might be a touch warm on humid nights.
Check out our full review of Shrimp Prawn Seafood.
Address: 53 Boat Quay, Singapore 049842
Opening hours: Mon-Fri 11:30am to 10:30pm, Sat-Sun 4:30pm to10:30pm
Tel: 8375 3888
Website
Shrimp Prawn Seafood is not a halal-certified eatery.
Durian Lab Cafe Review: Ah Seng Durian Opens Dessert Cafe At Bukit Merah
---
3. Onalu
---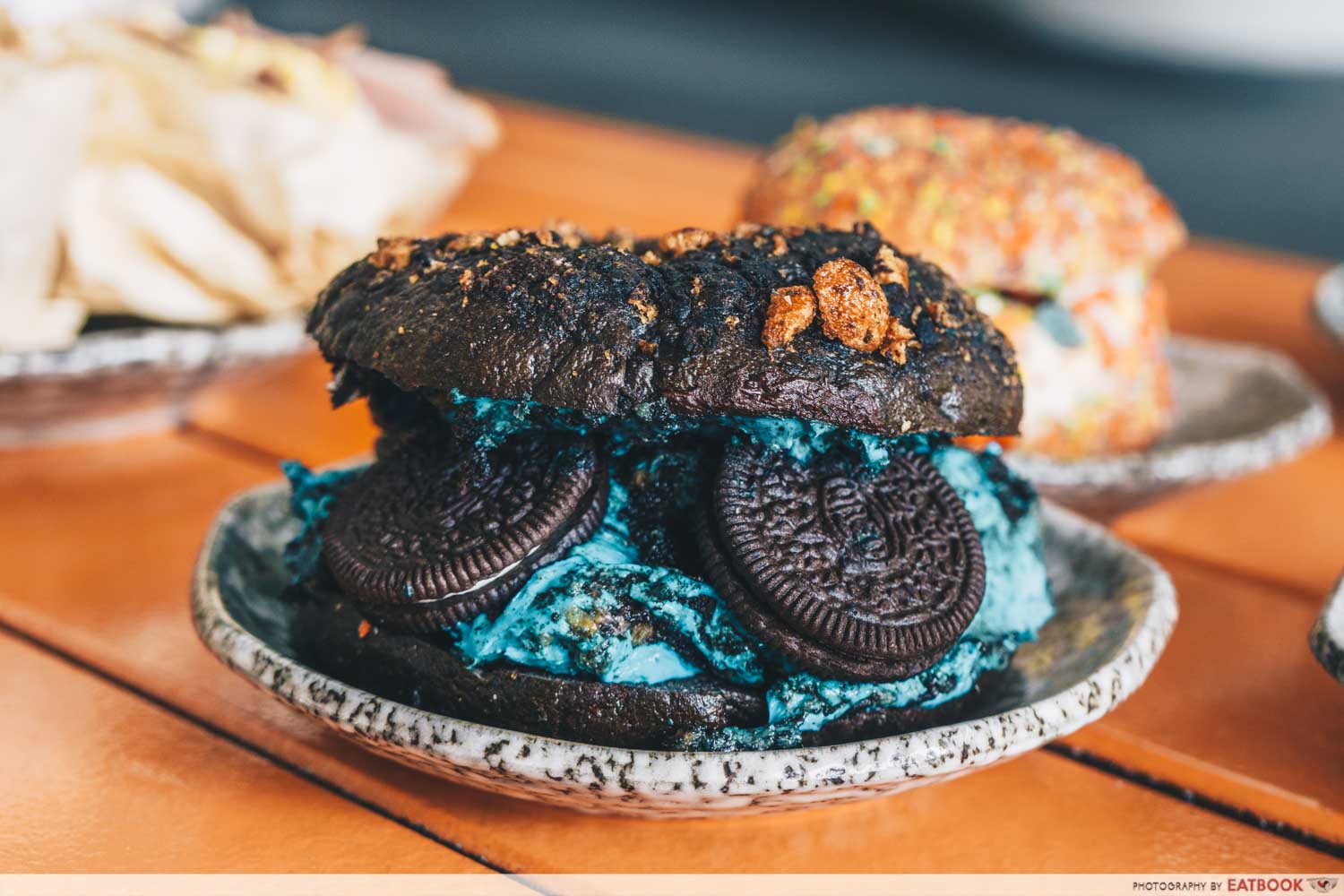 Onalu, a bagel-centric cafe, recently revamped their concept to focus on a menu of sweet and savoury bagels made fresh daily. On the savoury end, the likes of The Big Breakfast ($15) make for the perfect morning pick-me-up, where two plain toasted bagels sandwich silky scrambled eggs, hashbrowns, bacon and ham. For sweets, try the Cookie Monster ($10), a charcoal black bagel packed with vivid blue cream cheese and dressed with Oreos.
The cafe also shares a space with Grams, a bakery that makes mochi cookies and brownies, which are right on trend right now.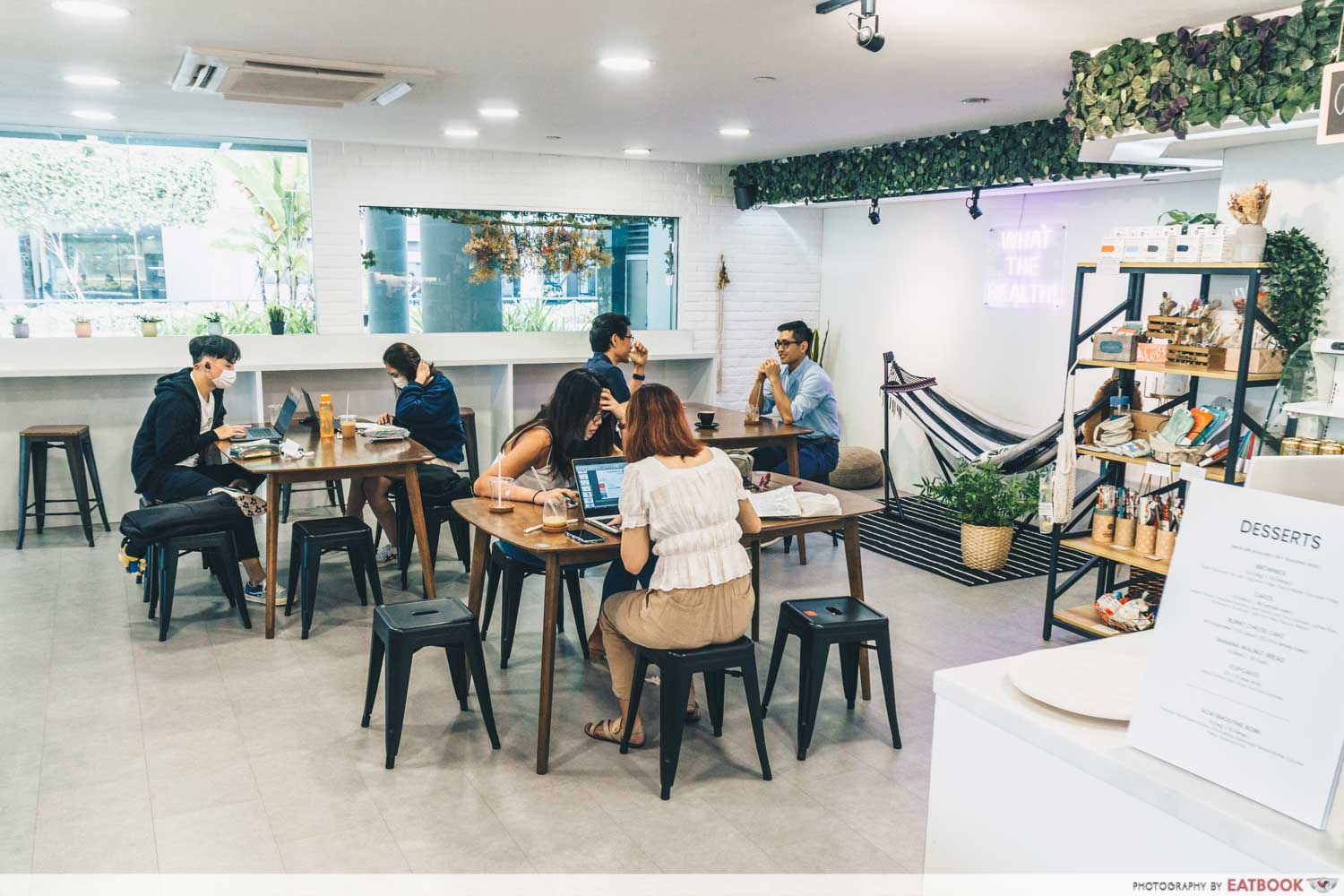 Situated in SMU, the small cafe is bright, airy, and often populated by students seeking a quick lunch or teatime break.
Check out our full review of Onalu.
Address: 60 Stamford Road, #01-11, Singapore 178900
Opening hours: Mon-Fri 10am to 7pm, Sat-Sun 10am to 6pm
Tel: 8268 5900
Website
Onalu is not a halal-certified eatery.
---
4. Ramen Keisuke Niku King
---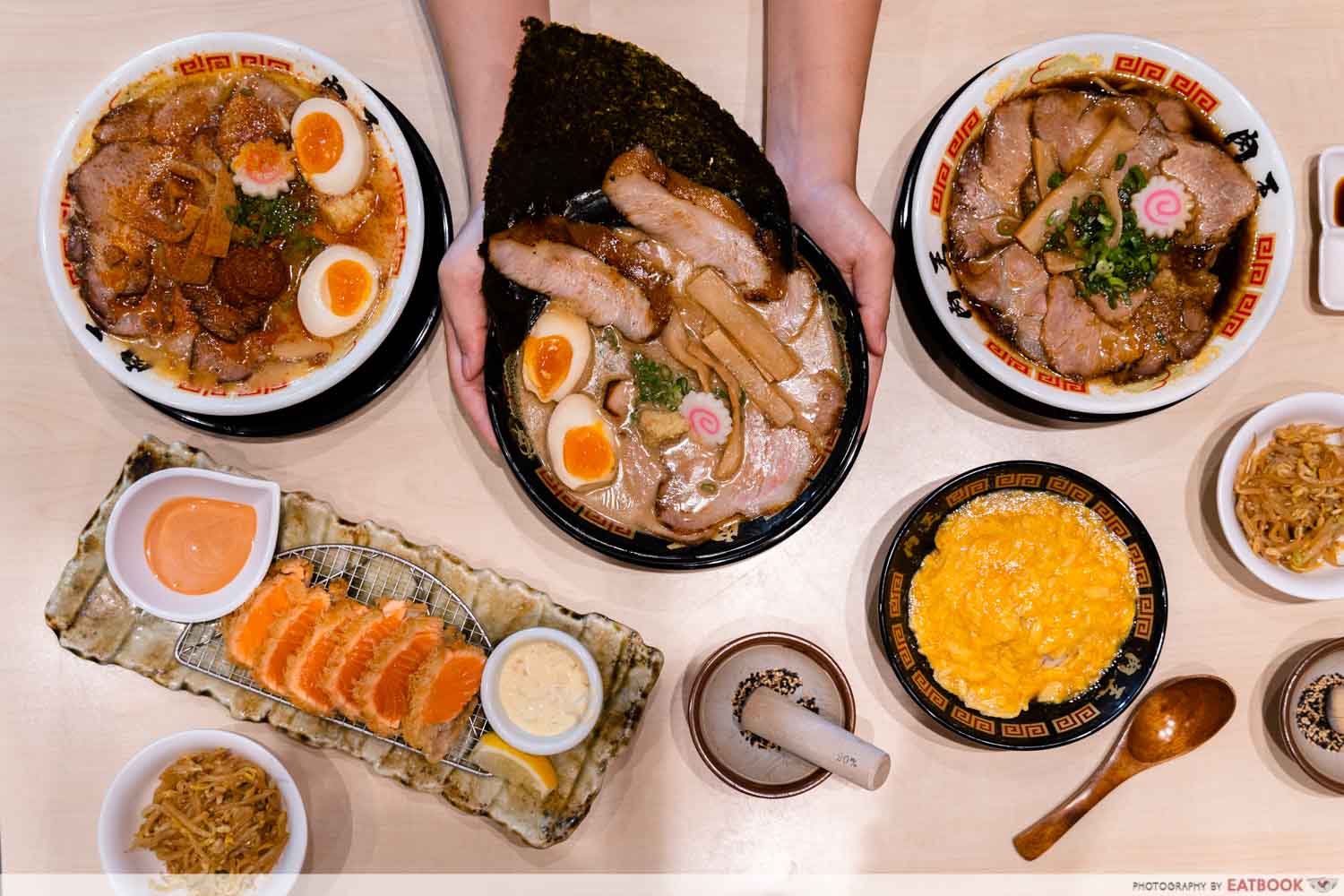 Ramen Keisuke's new restaurant in Payar Lebar Square is a meat lover's paradise. Their speciality is tonkotsu ramen topped with an ultra-generous serving of tender chashu, and we'd highly recommend the Niku King Miso Ramen with Flavoured Egg ($14.90). Add an extra $1 for the addition of spicy paste and relish the piquant kick it adds to the umami white miso soup and ramen. Another highlight not to be missed is the Keisuke Egg on Rice ($3.90), a bowl of pearl grain rice dressed with golden scrambled eggs and chashu ─ the definition of comfort food.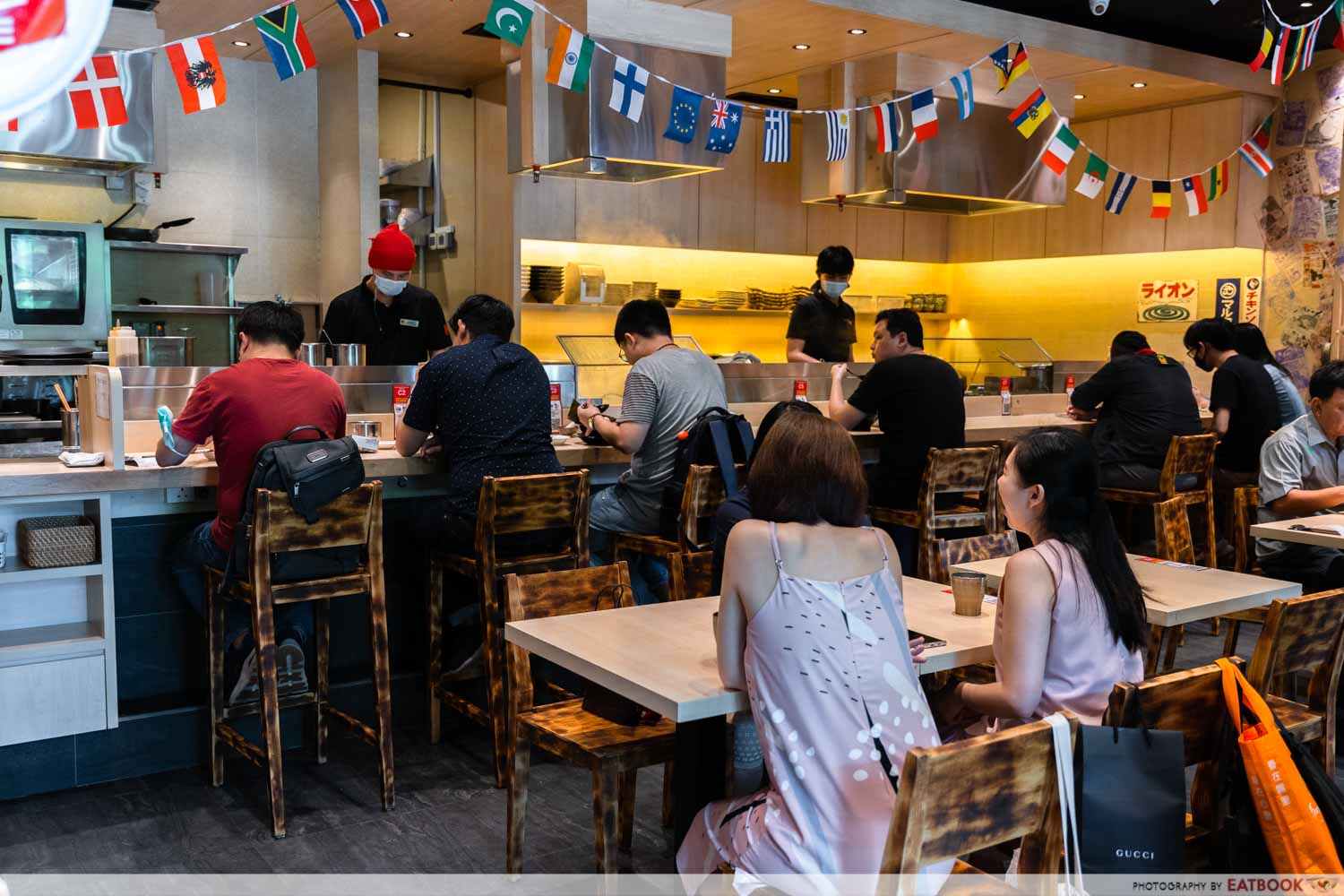 As for the eatery itself, the 49-seater space is atypical of most smaller Japanese diners, though it has ample room for socially-distant dining.
Check out our full review of Ramen Keisuke Niku King.
Address: 60 Paya Lebar Road, #01-02, Paya Lebar Square, Singapore 409051
Opening hours: Mon-Sat 11:30am to 10:30pm, Sun 11:30am to 10pm
Tel: 6214 3345
Website
Ramen Keisuke Niku King is not a halal-certified eatery.
---
5. Spuds
---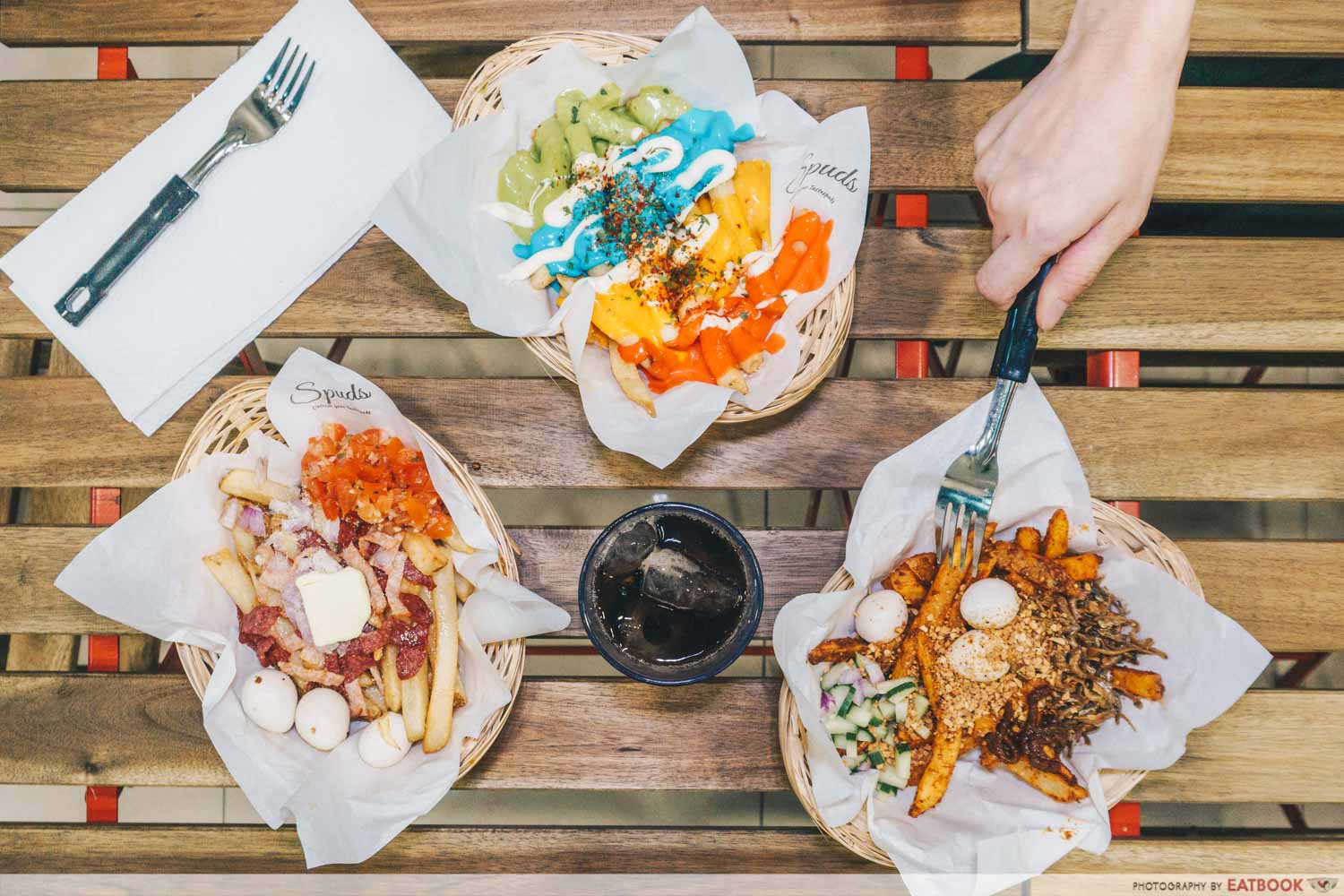 If French fries are your favourite side, then at Spuds, you'll be happy to know that they're now the main act. The French fries specialty cafe serves up fried potatoes in offbeat combinations like the Bolobolo ($7.90), which is inspired by nasi lemak, and the Sunshine ($7.90), which nods to American breakfasts and has quail eggs. Also on the menu is the striking Unicorn ($7.90), where the fries are coated with rainbow nacho cheese.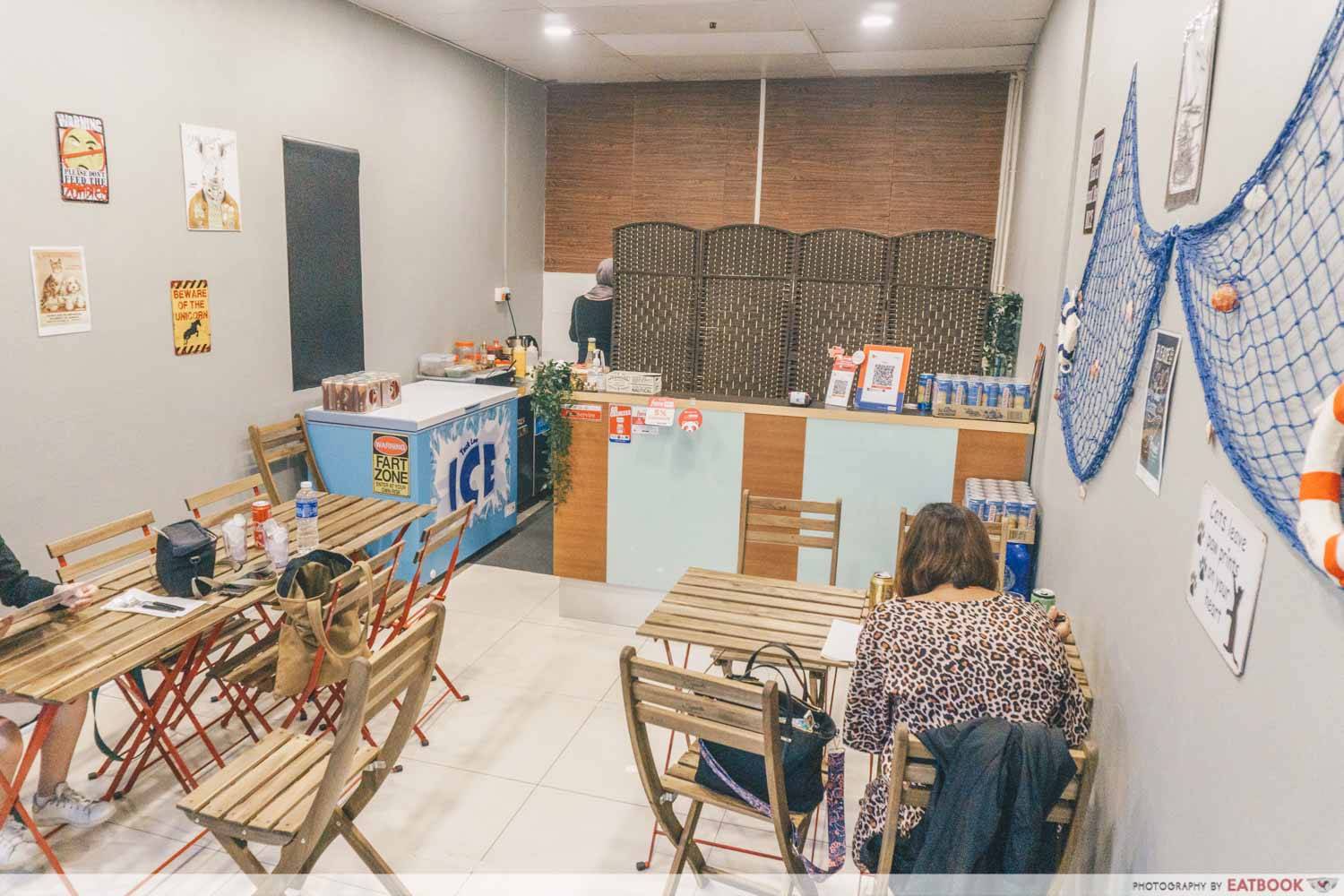 Located at the basement of Midpoint Orchard, Spuds is a homely, quiet cafe that is great to park yourself at for a chillout session with your friends.
Check out our full review of Spuds.
Address: 220 Orchard Road, Midpoint Orchard, #B1-07, Singapore 238852
Opening hours: Daily 11:30am to 9pm
Website
Spuds is a halal-certified cafe.
Dolc Patisserie Review: New Patisserie Selling IG-Worthy Tarts With Strawberry And Basil In Outram
---
6. Luke's Lobster
---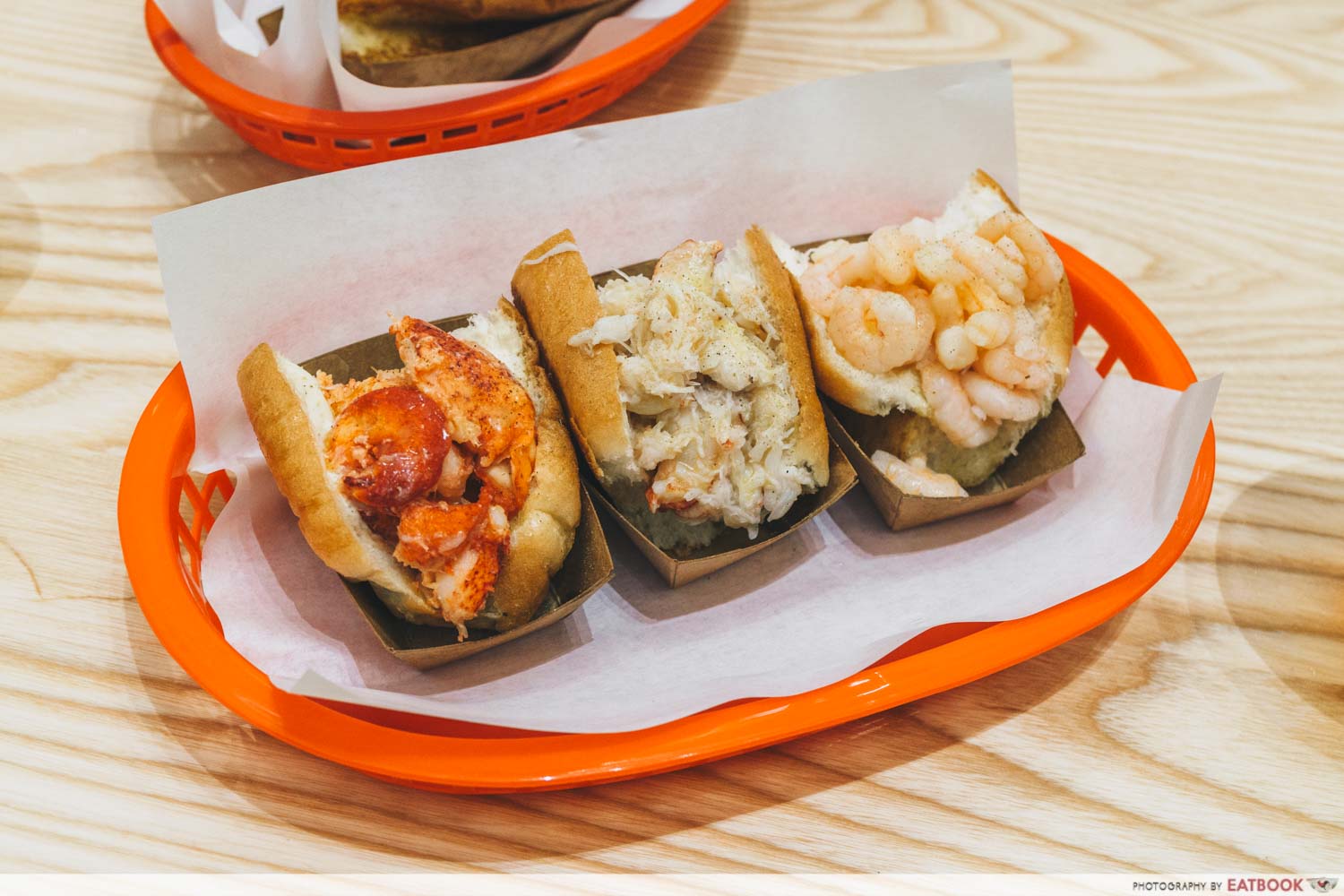 The highly-anticipated opening of Luke's Lobster in Singapore did not disappoint. Apart from the buttery Lobster Roll ($25.50) that everyone knows the franchise for, head down to this new restaurant for their Lobster Grilled Cheese (price TBA), as well as the hearty Lobster Bisque ($12.90), a creamy seafood soup with chunks of lobster meat.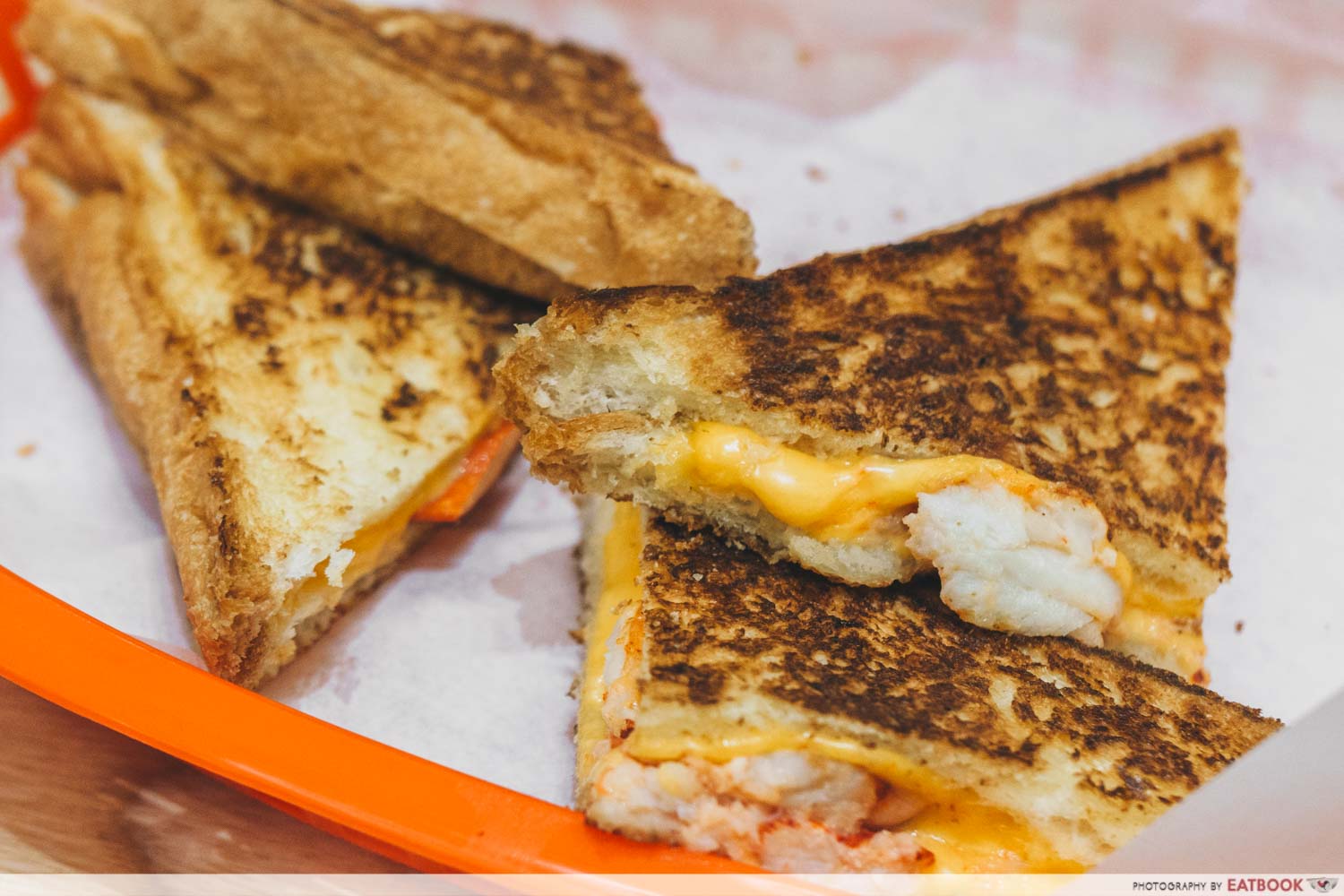 Parked across Shaw House, the eatery is also conveniently located in the heart of Orchard Road, just a quick walk from the nearest MRT exit.
Check out our full review of Luke's Lobster.
Address: 350 Orchard Road, #01-K4, Shaw House, Isetan Scotts, Singapore 238868
Opening hours: Daily 10am to 9pm
Tel: 6592 7642
Website
Luke's Lobster is not a halal-certified eatery.
---
7. Fatbowls
---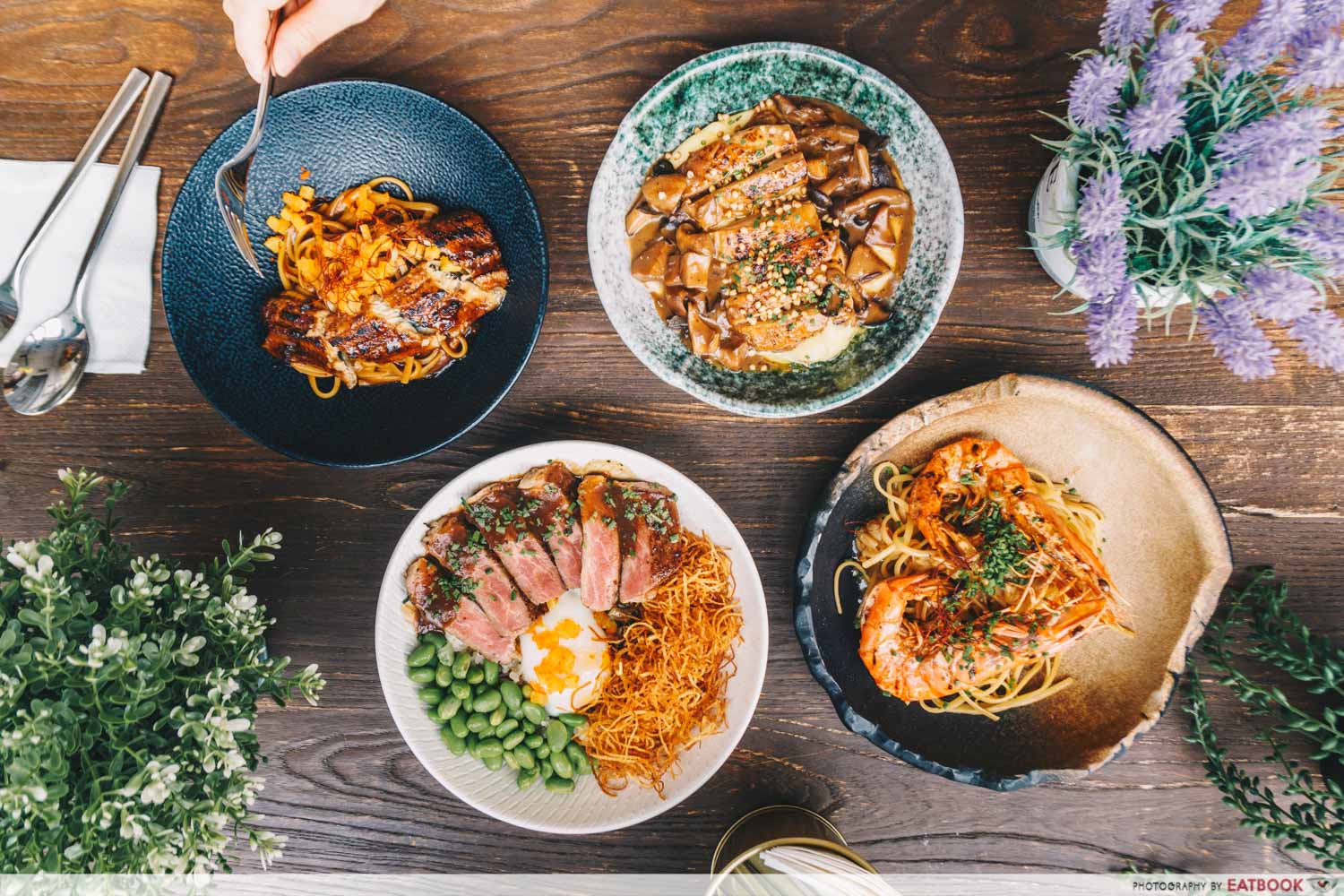 Though the meandering Bukit Pasoh stretch is not known for affordable dining, the new shadow restaurant, Fatbowls, is an exception. This lunchtime-only concept is available within Restaurant Beurre, and has French-style mashed potatoes, pastas and rice bowls on the menu.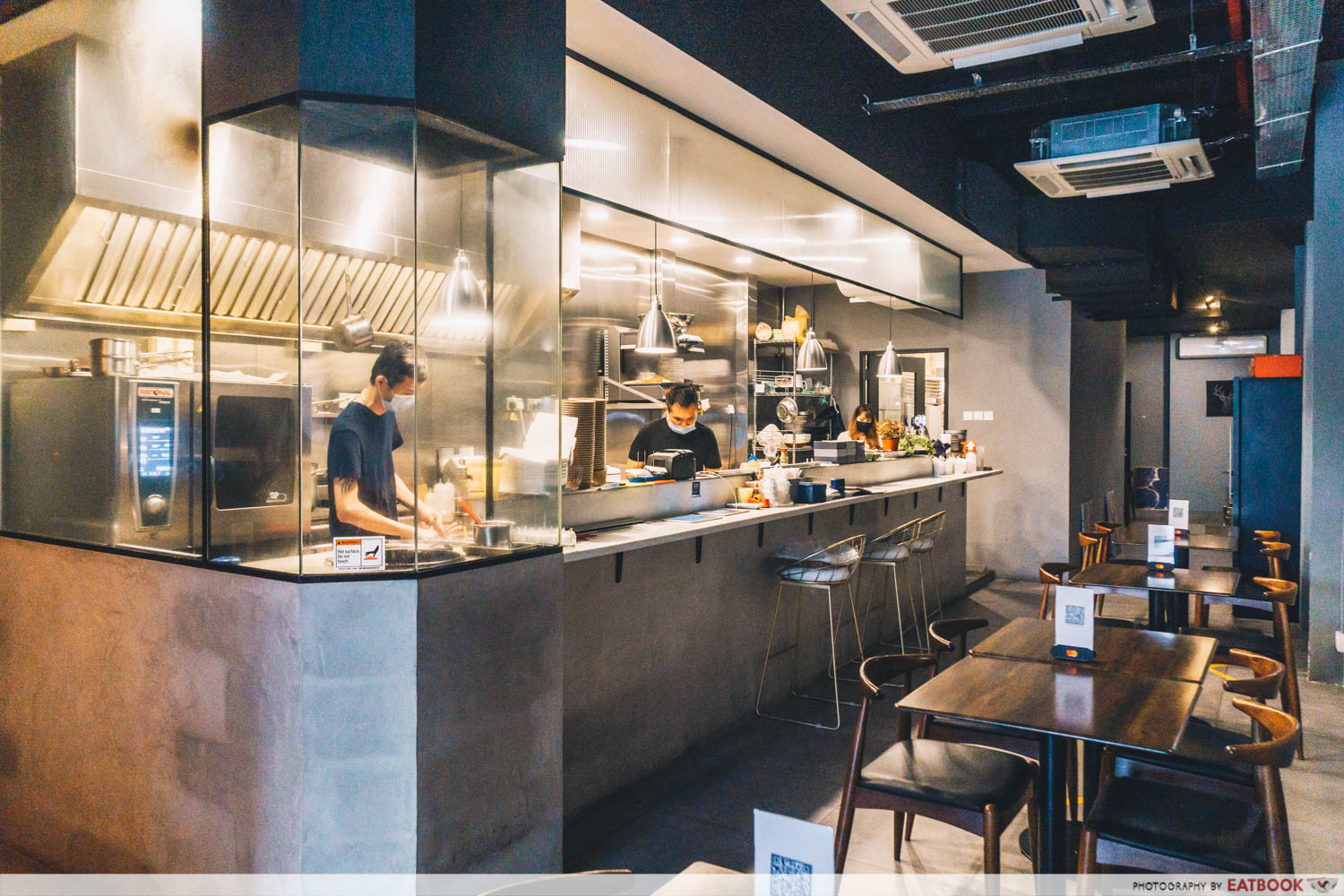 The Truffle Chicken Mash ($14.90) is glorious, topped generously with mushrooms and a tender sous-vide chicken leg. Their Supreme Wagyu Rice is another favourite of ours, as a generous serving of wagyu beef and buttery Japanese rice only set us back $14.40.
Check out our full review of Fatbowls.
Address: Restaurant Beurre, 23 Bukit Pasoh Road, Singapore 089837
Opening hours: Tues-Sat 12pm to 3pm
Tel: 9660 0597
Website
Fatbowls is not a halal-certified eatery.
---
8. Bloom Artisan
---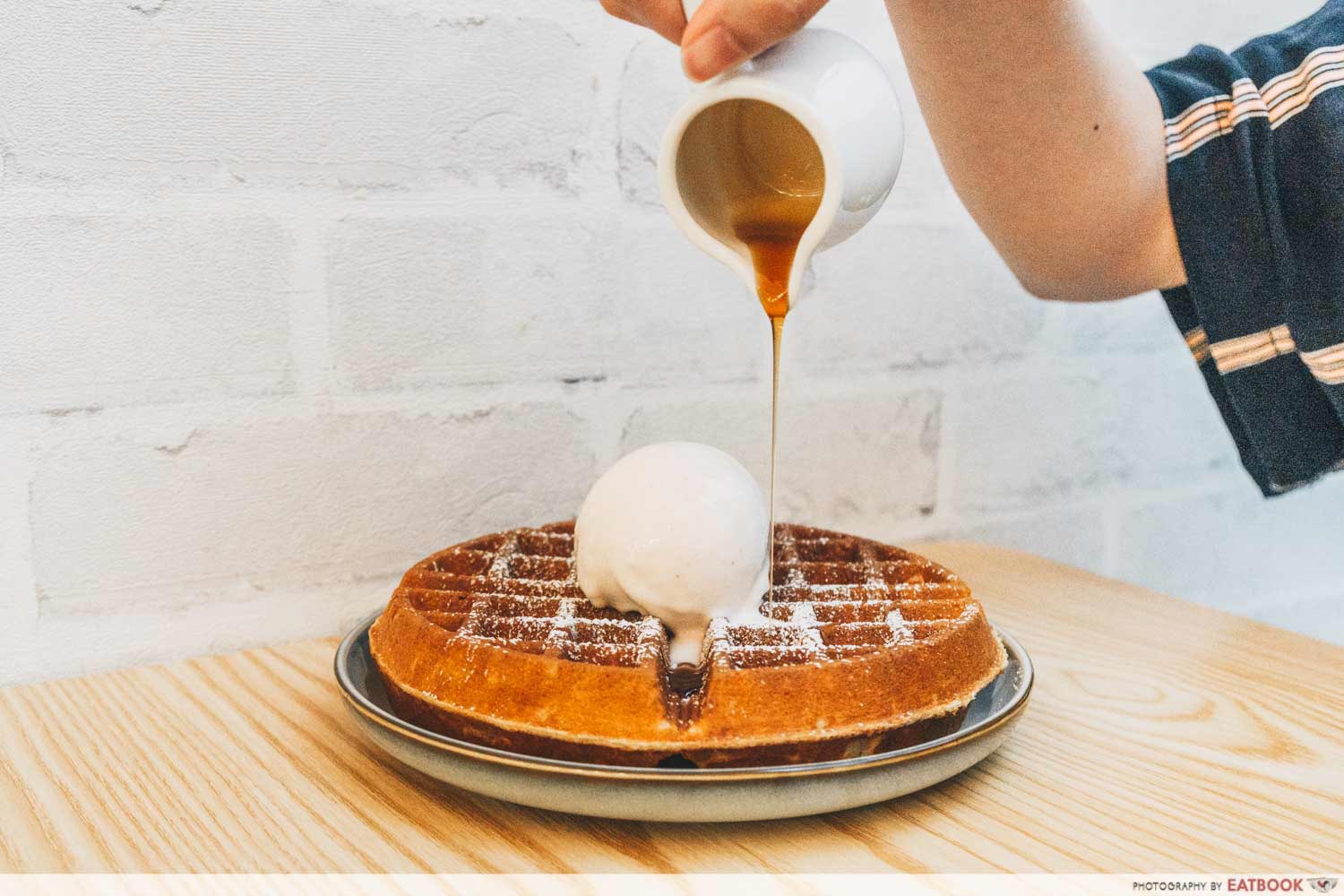 Those who live in Yishun should head down to Bloom Artisan for a weekend treat. The cafe specialises in gelato and sourdough waffles, both of which are made by hand in-house. The gelato menu is chock-full of unique flavours like Wheatmilk and Whisky Cran-cherry (from $3.50), best enjoyed with a warm Brown Butter Sourdough Waffle ($4) to share with a friend.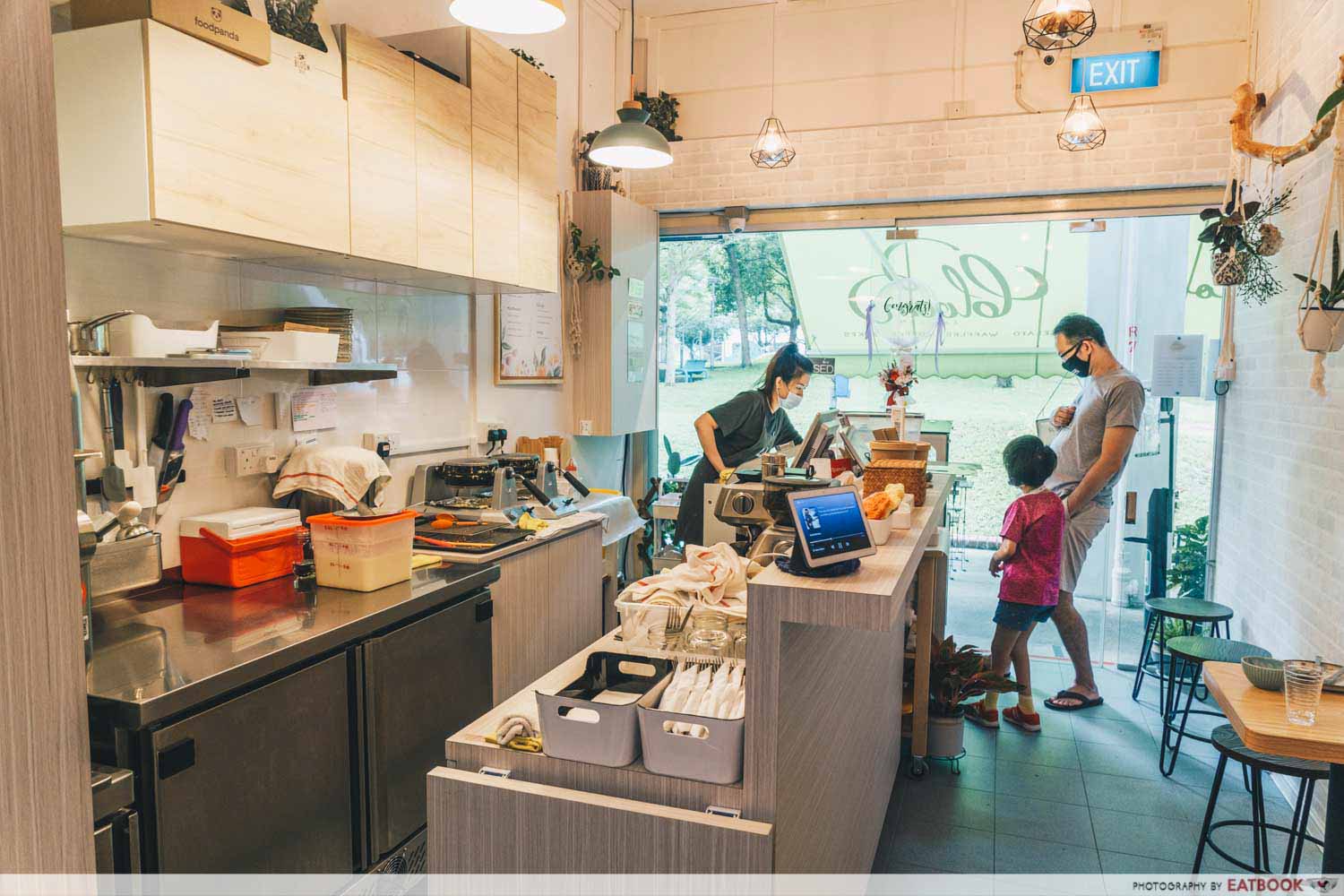 The snug cafe is about a 15-minute walk from Yishun MRT. Once you arrive, expect a warm ambience and equally jovial staff to greet you.
Check out our full review of Bloom Artisan.
Address: 645 Yishun Street 61, #01-322, Singapore 760645
Opening hours: Mon, Wed-Fri 12pm to 10pm, Sat-Sun 11am to 10pm
Tel: 9889 0366
Website
Bloom Artisan is not a halal-certified eatery.
24 Cookie Bakers In Singapore For Levain Cookies, Chocolate Lava Brookies And More
---
9. Beauty In The Pot NEX
---

The latest Beauty In The Pot arrives at NEX, complete with unicorn-themed decor and a new broth base for your hotpot. Known as the Drunken Chicken Broth, this herbal soup now has a limited edition upgrade ─ served with a shot of flaming Moutai Chinese liquor, try out this new option with your hotpot as part of their opening special at no extra cost.
Their new restaurant is also clad in pastels, and to celebrate their unicorn theme, the new outlet will also have unicorn ice cream available for a limited period, so if you don't want to miss out, you ought to make a reservation for a hotpot date ASAP.
Check out our first look at Beauty In The Pot NEX.
Address: 23 Serangoon Central, #02-01, NEX, Singapore 556083
Opening hours: Daily 11:30am to 3am
Tel: 6805 8172
Website
Beauty In The Pot NEX is not a halal-certified eatery.
---
10. Urban Table
---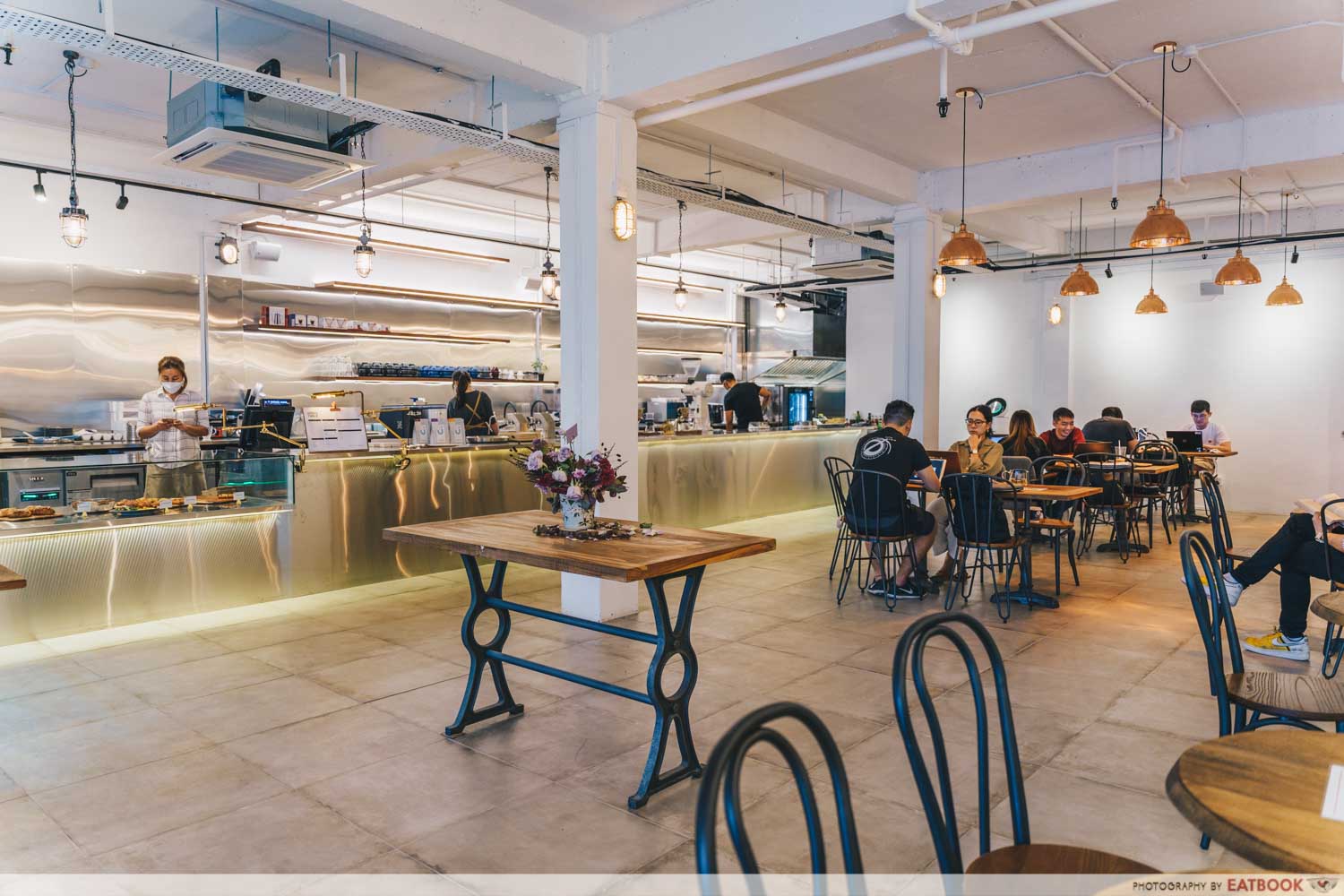 Now that travelling to Korea is out of the picture,  we have to make do with finding pockets of Seoul in Singapore. Fortunately enough, you can locate a slice of Sinsadong in Serangoon with Urban Table. This new Seoul-inspired cafe is run by a Korean lady boss and sells both speciality coffee, fresh bakes, as well as cakes.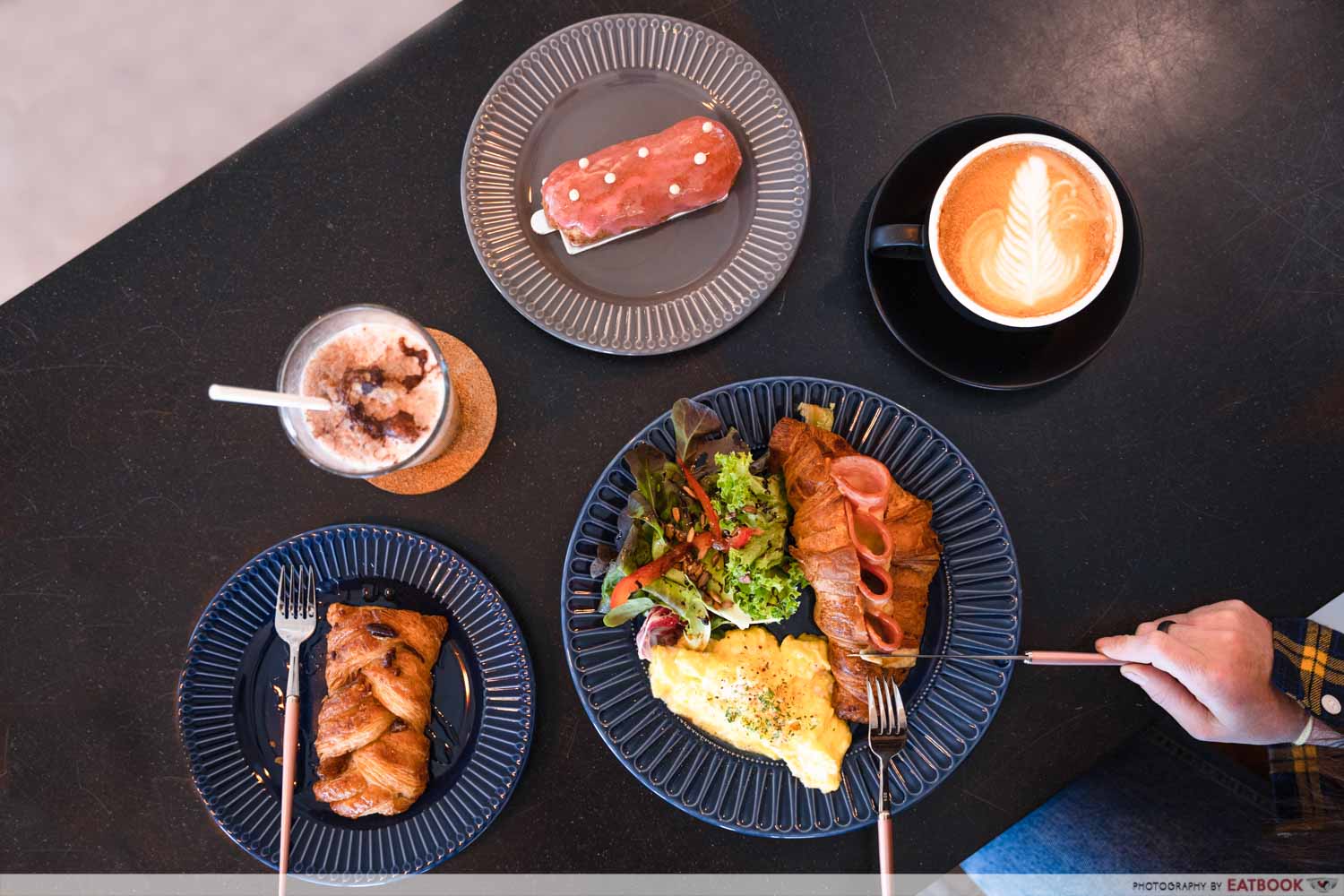 The spacious, industrial-style locale is great for weekend brunch, and they do have their signature All-Day Breakfast ($14.90) to satisfy. A buttery croissant laced with ham slices and cheese is served along with moreish scrambled eggs and a salad, leaving you with enough room to try out their pastries, like the Maple Pecan Croissant ($4.50) after.
Check out our full review of Urban Table.
Address: 10A-E, Yio Chu Kang Road, ICB Shopping Centre, Singapore 178905
Opening hours: Tue-Sat 9am to 9pm, Sun 9am-6pm
Urban Table is not a halal-certified eatery
---
Dine at these new restaurants this October 2020
---
Whether it is cafe fare, bagels, a seafood feast or mashed potatoes you crave, the new restaurants in Singapore this October 2020 has plenty to satisfy you. If you prefer to check out hawkers instead, read our review of Jiak Song Mee Hoon Kway, run by an ex-Masterchef contestant, or pay a visit to Kuroshiro in Marsiling, a hawker stall that sells Hokkaido white curry.
Jiak Song Mee Hoon Kway Review: Delicious Handmade Mee Hoon Kueh By Ex-MasterChef Finalist